! >
Broadway To Vegas
  
  REVIEWS INTERVIEWS COMMENTARY NEWS

| | |
| --- | --- |
| | |
BOLSHOI THEATRE ARTISTIC DIRECTOR VICTIM OF ACID ATTACK - - FILM SOUNDTRACK BYE-BYE BIRDIE CD REVIEW - - THE TOY AND MINIATURE MUSEUM - - 2013 NATIONAL MFA PLAYWRIGHTS FESTIVAL - - PRINCE ALBERT II OF MONACO DOESN'T LIKE GRACE KELLY MOVIE - - CIRQUE DU SOLEIL LAYS OFF 400 & CLOSES TWO SHOWS - - PRESIDENT AND MRS. OBAMA'S GIVE TO QUEEN ELIZABETH - - CLEVELAND INSTITUTE OF MUSIC BENEFIT - - DONATE . . . Scroll Down




Copyright: January 20, 2013
By: Laura Deni
CLICK HERE FOR COMMENT SECTION


RUSSIA'S BOLSHOI THEATRE ARTISTIC DIRECTOR VICTIM OF ACID ATTACK
Sergei Filin. Photo: Moscow Bolshoi Theatre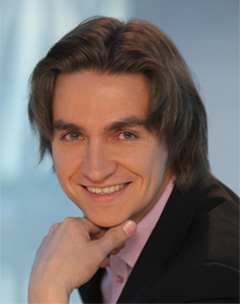 Don't let the tutus fool you. The revered Bolshoi ballet company has a history of being militant. Broken glass deliberately placed in ballet shoes, hair pulling, rigged devices to cause a bad performance or create injury.

The latest weapon - acid.

Sergei Filin, 42, who has been the artistic director of the famed Moscow Bolshoi Theatre since March 2011, is in a hospital suffering from severe facial burns and desperately fighting to retain at least partial eyesight. His injuries include third-degree cornea burns.

According to a statement from the Bolshoi, the artistic director was attacked by a masked man.

Last Thursday evening Filin attended a special performance at the Chekhov Moscow Art Theatre in honor of the 150th birthday of Konstantin Stanislavsky, who inspired a school of acting that was adopted in America as the Method and made famous by Marlon Brando. That well publicized event was attended by Moscow's rich and famous.

As Filin returned home at about a half hour before midnight, he parked his car and began walking towards his apartment door, the assailant shouted to Filin, then threw acid in his face. Filin received help from a security guard who was posted at nearby cars.

According to Interfax News Agency and First Channel TV, doctors are fighting to save his sight and his condition is listed as stable.

Ekho Moskvy radio said that doctors indicated it would take him at least six months to recover.

Doctors also related that Filin will need plastic surgery and will lose his hair. Bolshoi officials had planned to immediately send Filin to a foreign clinic - probably in Germany or Israel - for treatment. However, according to General Director of the Bolshoi theatre Anatoly Iksanov, after emergency eye surgery on Friday the Bolshoi said their plans to send him out of the country for burn treatment were postponed while the eye specialists attempted to save his eyesight.

Bolshoi spokeswoman Katerina Novikova said the doctors had stated his right eye was badly burned and it would not be clear for days whether the operation was a success.

Although heavily bandaged, Filin was well enough to conduct an interview with REN TV. "I got scared and I thought he was going to shoot me. I turned around to run, but he raced ahead of me."

Filin said in the interview with REN TV that the attacker wore a hood and either a mask or a scarf, so only his eyes were visible.

The attack is another revelation into the dark underbelly of the highly competitive world of pirouettes and pliés. Off stage, the real life drama has been far more sinister than any ballet plot.

Novikova told Channel One that Filin had "received threats before and that they suspect that he fell victim to the notorious infighting and rows between different groups of dancers and managers at the theatre."

Within the past two months, Filin's email and Facebook accounts were hacked, his car vandalized, and he received a number of threatening phone calls. Reportedly, he was offered personal security protection but rejected it, saying he didn't think his enemies would resort to physical violence.



The Bolshoi Theatre is home to the famed ballet company.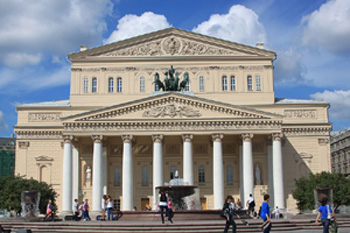 Filin, a Moscow native, joined the Bolshoi's ballet troupe in 1988. He was a progressive.

In 1997, he took part in the Bolshoi Theatre New Year Premieres of works by young choreographers - he and Anastasia Yatsenko danced the lead roles in Alexander Ratmansky's ballet Capriccio to music by Igor Stravinsky.

In 1998, as part of the same New Year Premieres project, he danced the part of Teacher in the Russian premiere of The Lesson, by Danish choreographer, Fleming Flindt, to music by Georges Delarue with the part of Pupil danced by Inna Petrova.

He was one of the first dancers to perform Alexei Ratmansky's ballet, Charms of Mannerism, to music by Richard Strauss (1997 - a Postmodern-Theatre enterprise).

In 2004, he played one of the leads in the Mayakovsky Theatre premiere of the ballet-comedy Love through the Eyes of a Detective after the play by Peter Shaffer The Private Eye, which was directed by Sergei Artsibashev. The choreographer was Vyacheslav Gordeyev.

Filin was named its artistic leader in March 2011, after three years in a similar position at the Stanislavsky & Nemirocih-Denchenko Theatre in Moscow.

There was "fierce rivalry" for the Bolshoi position at the time, according to RIA Novosti.

According to The Guardian, "the company's internal dealings can be as murky and turbulent as state affairs - and Filin wouldn't be the first artistic director to pay the price."

In 1995 Kirov director Oleg Vinogradov suffered a mysterious beating, allegedly by members of the Russian mafia.

The Bolshoi has a reputation of being militant. In a BBC article titled "Ballet wars at the Bolshoi" written by Alexander Kan, a statement reads:

"Acid may be the newest and nastiest weapon in instances of infighting at the Bolshoi, but the tensions go back decades.

"Bolshoi dancers have been known to place crushed glass inside each other's ballet shoes, or set an alarm clock to go off during a tour de force (a feat of technical skill during a ballet performance)."

In the "Soviet" days, nobody reported the incidents, which also included hair pulling.

Police speculate over the motives including disputes over money or property and the on-going clash of ballet traditionalists who want to return the Bolshoi back into the type of dance performed during the Soviet era, when the company was run by Yuri Grigorovich, a choreographer whose ballets "came with black-and-white morality and a dynamic athletic style perfectly suited to official tastes. "

In the late 1980s a company dancing faction who wanting to experience a more modern western repertory staged a campaign to go modern.

"The struggle to oust Grigorovich was as prolonged and desperate as any politburo coup d'etat," reported The Guardian.

Recently the Bolshoi has benefited from high profile dancer Nikolai Tsiskaridze, who frequently appears on Russian television and has made no secret of his ambitions to direct the company and return it to the conservative Soviet traditions. He sharply criticized Filin in early 2012. His supporters include a core of loyal fans.



Alexei Ratmansky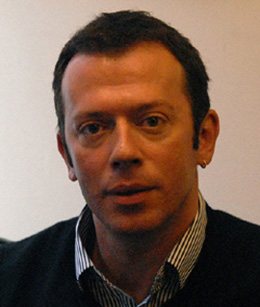 Former Bolshoi Ballet director (2004-08) Alexei Ratmansky, who is currently the artist in residence at the American Ballet Theatre, posted a scathing indictment on his Facebook page.

"What happened with Sergei Filin was not accidental," Ratmansky wrote. "The Bolshoi has many ills. It's a disgusting cesspool, of those developing friendships with the artists, the speculators and scalpers, the half-crazy fans ready to bite the throats of the rivals of their favorites, the cynical hackers, the lies in the press and the scandalous interviews of staff.

"This is all one snowball caused by the lack of any ethics at the theater," Ratmaksy penned, while also wishing Filin "a speedy recovery and courage."

Until Filin can return, assistant director Ruslan Pronin will take over as director of the ballet company.

The members of the Bolshoi Theatre Council of Trustees "express their solidarity with the family of Sergei Filin and the Theatre Company in connection with the horrific attack on the Artistic Director of Ballet," and issued the following statement:

"In the two years he has occupied this post, Sergei Filin has managed to seriously renew the Ballet Company and to conduct an artistic policy enabling the Bolshoi Theatre to remain the best ballet company in the world, and preserve its world cultural heritage at the same time as constantly developing.

"The attack on Sergei Filin will not go unpunished. Members of the Bolshoi Theatre Council of Trustees hope that the crime will be solved and the guilty parties named. The Council is ready to give all possible support to ensure that Sergei receives the best possible treatment.

"We hope Sergei will soon be back at work. We will be waiting for him."

The statement was signed by all members of the Council of Trustees: Alexander Budberg, Oleg Deripaska, Anatoly Iksanov, Vitaly Klintsov, Andrei Kostin, Vladimir Kozhin, Ziyavudin Magomedov, Alexei Mordashov, Mikhail Shvydkoy, Vasily Titov, Nikolai Tokarev, Viktor Vekselberg, Valentin Yumashev, and Alexander Zhukov.





Broadway To Vegas is supported through advertising and donations. Priority consideration is given to interview suggestions, news, press releases, etc from paid supporters. However, no paid supporters control, alter, edit, or in any way manipulate the content of this site. Your donation is appreciated. We accept PAYPAL. Thank you for your interest.



ART AND ABOUT


THE TOY AND MINIATURE MUSEUM IN KANSAS CITY showcases exquisite fine-scale contemporary art miniatures, the largest collection of its kind in the world.

Perfect in scale, these miniatures are working reproductions of actual pieces crafted by highly skilled artisans. The collection features tiny versions of decorative artifacts adorning exquisite homes and palaces from various eras – past and present.

Their collection of toys spanning from the Victorian era onward reflect more than advances in technology or tastes; they capture our cultural evolution.

Toys are more than simple playthings. Beautifully illustrating cultural customs, pastimes, and religious beliefs, toys have served as interactive teaching tools for generations of children. From the exquisite details of early dollhouses to the solid functionality of die-cast trains, timeless favorites such as dolls, and cars connect families through generations of playful memories.

The Museum is also home to the Marble Games and Gallery Room, filled with the colors, shapes and sounds of approximately one million marbles! This extensive marble collection was donated to the Toy & Miniature Museum by Cathy and Larry Svacina, who were collectors for years and decided to combine their collections once married. This collection is now one of the largest, widest-ranging marble collections in the world.

Visitors can try their hand at the game in a real marble ring, or become mesmerized by colorful marbles looping and winding through the intricate marble maze stationed in the middle of the room.

The Toy & Miniature Museum of Kansas is located in a historic 1911 mansion built for the family of Dr. Herbert Tureman, a prominent local physician. The Tureman house was designed by John W. McKecknie, an architect best known for his work on commercial projects such as the Tension Envelope Building. As the museum has grown in popularity, it also has grown in size. Major building renovation and expansion initiatives in 1989 and 2003 have brought the museum to its current size of 33,000 square feet.

ART, BASEBALL, RUM, TOBACCO, AND OTHER VICES

Underwater Kingdom by Franklin Alvarez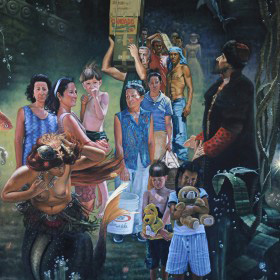 - the Revolutionary Island: Takes of Cuban History and Culture The Sarah and Darius Collection featuring Cuban artists: Rene Francisco, Esterio Segura, Ruben Alpizar, Carlos Valera (musician) and many more.

Nothing in Cuba is what it appears," says Darius Anderson and he should know from his 25 plus years traveling to that fascinating island. Anderson's passion for Cuba is reflected in this exhibit. Their diverse collection includes paintings, sculpture, cigar boxes, baseballs, posters and more.

"A culture is expressed through its art," said Kate Eilertsen, Executive Director of the Sonoma Valley Museum of Art. "The works in this exhibition provide a profound and realistic assessment of revolutionary to present-day Cuba. Some of the works are powerfully moving, like a series of near life-sized paintings of everyday Cuban people doing everyday things, but all under water. The impact comes when you find that every one of these people of all ages - men, women, even children - have died attempting to cross over by sea to Florida. This personalizes an ongoing tragedy still relevant today."

According to famous Cuban artist Ibrahim Miranda, "Our insular condition has been a decisive factor in our culture, influencing our myths, fantasies and our national psyche. The sensation of being isolated, separated from everyone, floating in the middle of the sea, has been a strong stimulus to the imagination of Cuban artists."

Officially opened last night and is on display through March 24, 2013 at the Sonoma Valley Museum of Art (SVMA) which is the largest visual arts organization in the San Francisco North Bay region.

On January 26, 2013 Sarah and Darius Anderson will share their passion for all things Cuba and discuss their life of art collecting in a lively conversation with SVMA executive director Kate Eilertsen.


SWEET CHARITY


CLEVELAND INSTITUTE OF MUSIC BENEFIT - ROBERTA FLACK: SET THE NIGHT TO MUSIC Featuring CIM Orchestra conducted by Carl Topilow with vocalist Roberta Flack.

Internationally acclaimed as one of the greatest songstresses of our time, Grammy Award-winning Roberta Flack remains unparalleled in her ability to tell a story through her music. Her songs, effortlessly traversing a broad musical landscape from pop to soul to folk to jazz, include Tonight, I Celebrate My Love, Killing Me Softly With His Song, and, of course, Set the Night to Music.

The benefit begins with patrons enjoying enjoy cocktails, a silent auction, and a gourmet dinner in addition to premier box and dress circle seating for the concert.

Presented by the Women's Committee of the Cleveland Institute of Music. January 26, 2013 in Severance Hall, Cleveland, Ohio.


50TH ANNIVERSARY OF MOVIE BYE BYE BIRDIE IS CELEBRATED IN A NEW CD


It was a movie that defied demographics, appealing to parents who hated rock as well as the teens who rocked and romanced to the beat.

The endearing and enduring Bye Bye Birdie.

Masterworks Broadway's commendable campaign to preserve the music of Broadway has now expanded to include film musical soundtracks. This is the first release in that division.

How can anyone not love this CD? The Broadway show was a hit. The film is an iconic masterpiece and the score is infectious and memorable.

Even Mad Men recorded a sing-a-long to the title song Bye Bye Birdie. Also in the Mad Man episode Love Among the Ruins in Season 3, the Madison Avenue ad agency was tasked with repurposing the same song for a jingle for a diet soda for women.

It's one of the most popular musical performed in high schools. The classic show started out as a 1960 Broadway musical. The Broadway success inspired the film adaptation in 1963.

The movie soundtrack, which is what we're talking about, stars Dick Van Dyke who won a Tony Award for the Broadway version, reprising his role as Albert Peterson, who for the movie version isn't a teacher but has a degree in biochemistry. Opposite Van Dyke was Janet Leigh as his long-suffering secretary and girlfriend Rosie DeLeon. Maureen Stapleton was cast as Albert's meddlesome mother Mae Peterson. Paul Lynde played to perfection the frazzled dad Harry MacAfee.



Ann-Margret and Bobby Rydell in Bye Bye Birdie. Photo: Sony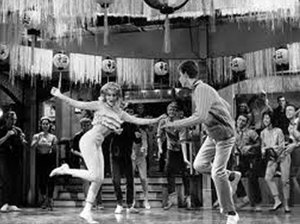 Jesse Pearson won the role of rock idol Conrad Birdie while real-life teen idol Bobby Rydell was cast as the put-upon Hugo Peabody. Ann-Margret was the teen-ager who swooned after Birdie and won the chance to kiss him.

The movie cast had numerous Las Vegas connections. Bobby Rydell who is fully recovered from undergoing life saving liver and kidney transplant surgery last July, is back performing and did a Las Vegas stand a week ago. His next gig is Saturday, February 16, at the Niagara Casino in Niagara Falls, NY.

On January 27, Dick Van Dyke, who already has a Tony, a Grammy and four Emmys, will receive the SAG Life Achievement Award, bestowed for his illustrious career as well as his humanitarian work.

Van Dyke, 86, last February wed Arlene Silver, 40. Referring to an interview Van Dyke gave regarding the upcoming award, the LA Times printed: "Sitting for an interview in the SAG Foundation Actors Center while Silver texts on the sidelines, he jokes, "When you marry a young girl, you marry her iPhone.'"

Maybe Van Dyke should play Telephone Hour for his bride.

In his memoir My Lucky Life In and Out of Show Business, Van Dyke admits that starring on Broadway in Bye Bye Birdie was his springboard: "It changed my whole life."



Next Sunday, January 27, Dick Van Dyke will receive the SAG Life Achievement Award. Alec Baldwin and Carl Reiner will do the honors.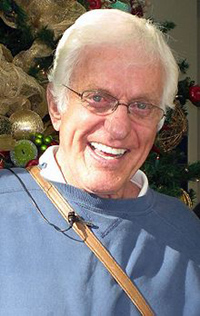 However, his book divulged a different opinion of the movie. Van Dyke wrote that he was "very disappointed" in the film because "they made it a vehicle for Ann-Margret."

While there is no doubt that the film version of Bye Bye Birdie was re-tooled for her and did make her a household name, Ann-Margret was well on her way to that perch before she was ever cast in this flick.

Prior to Bye Bye Birdie she had recorded three albums and received a Grammy Award nomination as Best New Artist Of 1962 (Peter Nero won). She had been part of a singing group the Suttletones which in August 1960 played at the Commercial Hotel in Elko, Nevada and at the Riverside Hotel in Reno. The following month they had a gig at the Dunes Hotel in Las Vegas. George Burns caught the show and Ann-Margret auditioned for his Christmas show at the Sahara Hotel in Las Vegas. She got the job and the two did a soft-shoe routine. Variety proclaimed, "George Burns has a gold mine in Ann-Margret...she has a definite style of her own, which can easily guide her to star status."

Burns continued to use her as the opening act for his Las Vegas nightclub act. That led to a January 27, 1961 Life Magazine cover story which lit the fuse for her meteoric rise.

In 1961, she filmed a screen test at 20th Century Fox and was signed to a seven-year contract at $300 per week. She made her film debut in a loan-out to United Artists in Pocketful of Miracles, with Bette Davis. Frank Capra directed. That was followed by the 1962 remake of Rodgers and Hammerstein's musical State Fair, playing the "bad girl" role of Emily opposite Bobby Darin and Pat Boone.

Then came Bye Bye Birdie, for which she was paid $35,000. Priceless was the film's rocket booster effect which landed A-M into the star realm.

Her role as teenager Kim MacAfee, earned her a co-starring slot with the real Elvis Presley in Viva Las Vegas. In June 1967, she debuted as a Las Vegas headliner at the Riviera Hotel. and later would do the same at at the Tropicana Hotel in Las Vegas. Listen to her sultry song delivery on this CD and you'll hear a sound that morphed into the Sex Kitten that became one of the hottest acts to ever draw a Vegas audience. From the Tropicana she would go on to star in her own mega production at the property then known as the Las Vegas Hilton.

Bye Bye Birdie features a book by Michael Stewart, music by Charles Strouse and lyrics by Lee Adams. The musical revolves around rock 'n' roll superstar Conrad Birdie (loosely based on Elvis Presley), who, to the dismay of his adoring fans, is about to be drafted into the army. . . .Comic complications ensue when, as part of one last publicity stunt cooked up by his agent (Janet Leigh, playing Rosie DeLeon), he promises to give a good-bye kiss to one lucky girl from Sweet Apple, Ohio, on The Ed Sullivan Show."

The score features such musical delights as How Lovely to Be a Woman, The Telephone Hour, Put On a Happy Face, A Lot of Livin' to Do and One Last Kiss.



Ann-Margret in The Telephone Hour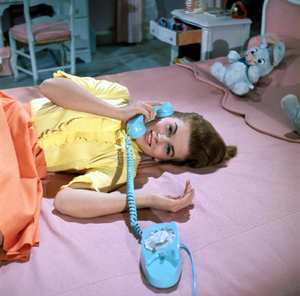 The musical direction was by Elliott Lawrence. Gene Bayliss, the associate choreographer, created the original staging for Telephone Hour and How Lovely To Be A Woman.

Telephone Hour is about the time when - instead of texting - people picked up something called a telephone, which had a cord attached to it, and actually talked to their friends - not while driving or walking down the sidewalk - but generally while curled up on their own bed.

There isn't a bad number in this production - all perfectly transferred to this CD.

Dick Van Dyke's show stopping Put On A Happy Face, Paul Lynde's sneering television tribute to Ed Sullivan, Hymn For a Sunday Evening, Jesse Pearson delivers his Elvis inspired One Last Kiss and A Lot of Livin' To Do.

Some of the numbers are longer in the film than they were in the Broadway production. There is also the addition of the title song, which had been cut from the stage show.

Bonus tracks include an unreleased version of One Last Kiss, two alternate takes from Ann-Margret of How Lovely to Be a Woman, and Bye Bye Birdie.

When the movie Bye Bye Birdie opened, it broke box office records at New York's Radio City Music Hall, earned acclaim and two Academy Award nominations, and became a beloved classic as well as a time capsule of a bygone era.

This CD is produced and annotated by Didier C. Deutsch who also produced the 2003 re-release. Timothy Sturges at Battery Studios in New York City remastered the album for this CD.

Original Motion Picture Soundtrack, Bye Bye Birdie (RCA Victor LSO-1081, 1963 – reissued Masterworks Broadway, 2012) Bye Bye Birdie

Opening Credits
The Telephone Hour
How Lovely To Be Woman
We Love You Conrad (Film Version)
Honestly Sincere
Hymn For A Sunday Evening
One Boy
Put On A Happy Face
Kids
One Last Kiss (Gym Rehearsal Outtake)
A Lot of Livin' To Do
The Sultans' Ballet (Film Version)
One Last Kiss
Rosie
Bye Bye Birdie (Reprise)
One Last Kiss (Film Version) (Bonus Track)
How Lovely To Be A Woman – Ann-Margret (Bonus Track)
Bye Bye Birdie – Ann-Margret (Bonus Track)
Tracks 5, 11 & 13 first issued on RCA Victor/BMG Heritage CD 82876 54217 2, 2003 Track 17 previously unreleased Track 18 RCA Victor mx. PPA3-2959, 1963, produced and arranged by Don Ralke Track 19 RCA Victor mx. PPA3-2900/single 47-8168, 1963, produced and arranged by Billy Strange (Mono).




THERESA REBECK TAKES PART IN 2013 NATIONAL MFA PLAYWRIGHTS FESTIVAL
Theresa Rebeck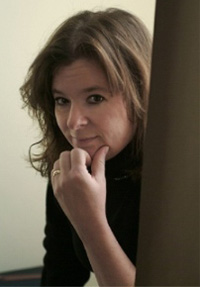 Theresa Rebeck, the acclaimed Broadway playwright and creator of hit NBC series Smash, has joined Theater Masters the 2013 National MFA Playwrights Festival taking place January 20th – 29th in Aspen, Colorado.

Rebeck will take part as a guest reader and mentor for the organization's 2013 winter season. That will feature a series of events ranging from open classes for actors and writers to panel discussions, and the acclaimed Take Ten, an evening of 10 minutes plays from leading MFA Playwriting Students from around the country - all taking place in various Aspen venues.

"We are thrilled to have Theresa Rebeck this season," said Julia Hansen, Theater Masters founder and Artistic Director - and former President of New York's Drama League. "In many ways how I started the Drama League's Director's Project is how I am now fostering new playwrights - by discovering new playwrights through our National MFA Emerging Playwright program and making alliances with major theaters and playwrights like Theresa - to guarantee the writer's work is developed and heard."

Kicking off the season on January 20th, the first event is an open class for actors and writers entitled Creating Original Works through Improvisation and Theater Games. That event will feature New York theater director Stephen Cedars and New York producer and dramaturg Ariana Paganett.

The fast-paced 2-hour class will focus on how to create scenes, characters, and plays using Improvisation and Theater Games.

Continuing on Saturday, January 26th are two rare opportunities to join in a discussion and reception with this year's directors, winning playwrights, and celebrated guests. Entitled Fireside Chats: Theater Today Gives Voice to Timeless Ideas, the panel discussion will take place at The Aspen Institute and will include Rebeck, Primary Stages Artistic Director Andrew Leynse, Theater Masters Founder Julia Hansen, and the 2013 winning playwrights. This event is free and open to the public.

Following the panel discussion is the Benefit Dinner in Honor of the Playwrights. Hosted at the home of one of Theater Masters' benefactors, the intimate dinner will also serve as an evening of conversation on American Theatre with this year's directors and winning playwrights.

The grand finale of this two-weekend festival, January 27th – 29th is Take Ten: An Evening of 10 Minute Plays by aspiring MFA playwriting students from around the country. This year, finalists from CalArts, Carnegie Mellon, Columbia, NYU, University of Iowa, University of Texas-Austin, UCLA, and Yale will have their ten minute works presented in a full evening over a three-day period. These projects are nurtured in Aspen and after further development, receive a spring Equity showcase production in New York City.

Based in Aspen, Colorado, Theater Masters is a not-for-profit organization dedicated to nurturing, developing, and producing or causing to be produced the work of the next generation of American playwrights.


SPREADING THE WORD


PRINCE ALBERT II OF MONACO

Prince Albert and his wife Princess Charlene, who resembles Grace Kelly.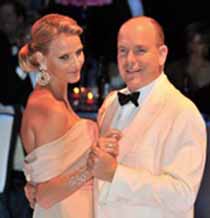 and his sisters Princess Caroline and Princess Stephanie have criticized an upcoming Hollywood movie about their, Grace Kelly, as "needlessly glamorized and historically inaccurate".

American-born Kelly was one of the world's most famous film stars when she Prince Ranier in 1956 and became Princess Grace of Monaco. The film centers on her life in 1962 when Kelly helped Ranier change Monaco tax laws.

Prince Albert said the makers of the film Grace of Monaco, which stars Oscar winner Nicole Kidman, and is due for release in 2014, had ignored "numerous requests for changes" and that a "series of scenes" were "purely fictional". "In no way does it constitute a biopic," he added.

The film also stars British actors Robert Lindsay as Greek shipping billionaire Aristotle Onassis, and Derek Jacobi as Count Fernando D'Aillieres. Milo Ventimiglia plays publicist Rupert Allan. US star Tim Roth plays Grace's husband Prince Rainier III of Monaco in the film directed by Frenchman Olivier Dahan.

In related news, the son of Grace Kelly does plan on visiting Doylestown, PA later this year to help open a museum exhibit about Princess Grace.

The James A. Michener Museum will be the first museum in the United States to host the exhibit which will be open to the public from October 31, 2013 to January 26, 2014.

MISALLIANCE a Script-In-Hand Performance of George Bernard Shaw's High-Flying Comedy.

Produced, adapted and directed by David Staller. Starring Maggie Buchwald, Hannah Cabell, Robert Creighton, Richard Easton Jon Fletcher, Alison Fraser, Maryann Plunkett, Jay O. Sanders, Zachary Spicer and Wesley Taylor. Guest host David Cote.

One of Shaw's most beloved plays, in Misalliance, the high-flying comedy, Shaw plays with mating habits and impulses!. The social and the political collide with the romantic and the practical; the aristocrats take on the middle classes and vice versa, and-to top it all off there's a glamorous aviatrix and a determinately tipsy socialist loose on the grounds! This is one of Shaw's most beloved of plays. Presented by the Gingold Theatrical Group on Monday, January 28, 2013 at The Players in NYC.

CHRISTINE EBERSOLE will lead a Master Class with Harvard undergraduates Friday, January 25 at Harvard in Boston. Admission free and tickets/RSVPs not required.

The following night the Celebrity Series of Boston presents An Evening with Christine Ebersole in Concert at the Sanders Theatre.

BROOKLYN CENTER FOR THE PERFORMING ARTS at Brooklyn College (BCBC) continues its 2012-2013 Target Storybook Series with The Little Prince on Sunday, January 27, 2013.

The Little Prince at BCBC features puppets designed by Emmy Award winner Michael Schupbach of Jim Henson's Muppet Workshop, and built by Monkey Boys Productions. Written by Rick Cummins and John Scoullar, this stage adaptation was originally produced Off-Broadway in 1993 at the John Houseman Theatre Complex starring Tony Award winner Daisy Eagan. The production is directed by Bristol Riverside Theatre's Founding Director, Susan D. Atkinson.

Few stories are as widely read and as universally cherished by children and adults alike as Antoine de Saint-Exupery's The Little Prince. Full of whimsy and wonderment, this new stage version of the classic tale incorporates puppetry, multimedia projections, and original music as it follows one brave little boy's journey through the universe, exploring the mysteries of grownups and the stars and searching for what is most important in life.

The centerpiece of BCBC's 2012-2013 family programming, the new Target Storybook Series features performances based on classic and contemporary children's literature, which is appropriate for ages 8-80.

The series aims to encourage the development of strong reading skills at home in children ages four to eight. Each show's Parents' Guide, containing literacy-based activity sheets, reading tips, and discussion topics, gives parents the opportunity to engage their children both before and after seeing each show.

SELECTED LETTER OF WILLIAM STYRON which he wrote to leading artists of his day, will be discussed by Rose Styron, wife of the late William Styron, and their daughter, Alexandra.

Scott Simon, host of NPR's Weekend Edition with Scott Simon, moderates.

January 28, 2013 at the JFK Presidential Library and Museum in Boston.


OTHER PEOPLE'S MONEY


CIRQUE DU SOLEIL is laying off 400 workers, mostly in its Montreal Office, according to a report first reported in the Montreal Gazette. About two-thousand of the company's employees work at the head office.

The Canadian Globe and Mail further elaborated that the cutbacks have to do with "Cirque du Soleil is sagging under the weight of a strong Canadian dollar and the fallout from the global recession."

The job cuts are set to begin at the end of this month and continue until the end of March.

That paper also reported that the entertainment juggernaut will close four Cirque shows.

The company has a 5,000-strong global work force. There are 19 Cirque du Soleil productions playing around the world, including seven shows in Las Vegas

THE CLEVELAND ORCHESTRA has announced that their 2012-13 season ticket sales will set a new all-time record. The value of tickets sold for the Orchestra's performances in November and December totaled $2.8 million, an increase of 62% over the same time last year. Holiday Festival ticket sales increased to an all-time record of $1,177,271, 16% over the previous record of $1,013,000 in 2007. Current season ticket sales revenue is on track to achieve an all-time record of $7.6 million, surpassing the previous record set in 2000-01, and $1.3 million more than last season.

THEATER FOR THE NEW CITY WILL CEREMONIALLY BURN ITS MORTGAGE JANUARY 26 to celebrate becoming debt-free. The gathering, to be attended by elected officials, local activists, artists and celebrities, will include performances and the opening of an art exhibit.

At the mortgage event, the Thunderbird American Indian Dancers will bless TNC's newly-secured permanent home with Native American dance, as they did in 1986 when the theater first moved into the First Avenue Retail Market Building.

A plaque will be unveiled that contains the names of all donors - over 200 in number - who contributed toward the effort. Major donors included Gerald Rupp, the Peg Santvoord Foundation, Aviva Spring, Betsy Von Furstenberg, Daniel Rose, Nesbitt Blaisdell. The Peg Santvoord Foundation gave a final $10,000 as a coup de grace.

Coinciding with the mortgage event will be the opening of a retro-spectacle, TNC: 40 Years of Struggle and Triumph, an art exhibit curated by Peter Ketchum with historical support from Carolyn Ratcliff. It features programs, scripts, and photos of historic TNC productions including plays by Charles Ludlam, Maria Irene Fornes and Sam Shepard.

TNC's mortgage started out at $717,000 in 1987. Last year $21,000 was raised and this year, the final $45,000 was secured. Crystal Field, Executive Artistic Director of TNC, says, "The economic downturn scared us, as did the fact that so many people were losing their homes because of their mortgages. Government grants were going down. It made us realize that Theater for the New City must have a guaranteed home, since we are a home for so many emerging artists: writers, directors, actors and theater companies." Since the demise of the much-loved Charas El Bohillo Arts Center, TNC has become increasingly the cultural center for the East Village.

Crystal Field adds, "TNC lives frugally and is now debt-free. At least we know now that they will never build another Wal-Mart on this site."

Elected representatives from TNC's district and neighboring districts who have been invited include: Mayor Bloomberg, Speaker Christine Quinn, City Councilpersons Rosie Mendez, Gale A. Brewer and Domenic M. Recchia, Jr.; Borough President Scott Stringer; US Congressional Representatives Carolyn Maloney, Nyadia Velazquez and Jerrold Nadler; State Senator Daniel Squadron; Assembly members Brian Kavanagh, Daniel Goradnik, Sheldon Silver and Deborah Glick; State Senator Tom Duane and his presumed successor, Brad Hoylman; DCA Commissioner Kate Levin and NYSCA Chair Aby Rosen and Executive Director Lisa Robb.

The event's celebrities list includes David Amram, Charles Busch, Vinie Burrows and The Love Show which are the performers of the R rated Nutcracker.

THE BURLINGTON DISCOVER JAZZ FESTIVAL ED BEMIS SCHOLARSHIP has been created in the memory of Ed Bemis who was a jazz innovator and historian, Radio DJ, lecturer and member of the Discover Jazz Advisory Board. He passed away last August.

The $2,000 scholarship will reward a jazz focused high school senior that has been accepted to college as a major or minor in music.

The Burlington Discover Jazz Festival is an annual event taking place in Burlington, Vermont.


PRESIDENT AND MRS. OBAMA MADE A GREAT GIFT CHOICE
Queen Elizabeth II, President Obama, Mrs. Obama and Prince Philip at Buckingham Palace State Dinner.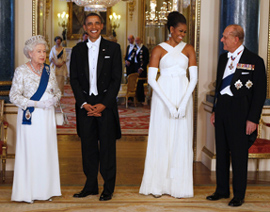 Heads of state, kings, queens and that ilk tend to receive copious amounts of gifts - given in admiration and sincerity and accepted with grace and gratitude. However, the stuff usually has no useful purpose for the receiver.

Finally, a gift that actually might please.

In honor of Queen Elizabeth II celebrating 60 years on the throne, President and Mrs. Obama gifted her with a 1950's era silver compact from Tiffany's.

You don't necessary need to be a queen to find such a rare treasure. Broadway To Vegas did a search and discovered that last month an E-bay seller sold such a used compact for a measly $44.00.

We're assuming the one the Obamas gave was never used, obtained from the Tiffany vault, and not engraved with somebody else's initials.

St. James Palace released lists of presents received in 2012 by Queen Elizabeth and Prince Philip - as well as any other royal who found they were on the receiving end of fools or others bearing gifts.

Royals are now banned from selling or giving away presents so all are recorded, and either used by the receiver, displayed in one of the Royal palaces or stored in one of their warehouses and should be traceable at all times.

Darn. We were looking forward to the yard sale.



KATIE ROCHE by Teresa Deevy. Directed by Jonathan Bank, Artistic Director of the Mint Theater.

Katie Roche is the final production of Mint's ambitious three-year project dedicated to the brilliant Teresa Deevy. Mint Theater Company has single-handedly put Deevy back onto the literary map with their acclaimed productions of Wife To James Whelan in 2010 and Temporal Powers in 2011.

Katie Roche and the Deevy Project are supported in part by a $40,000 grant from the National Endowment for the Arts.

Featured in the cast will be Margaret Daly, Jon Fletcher, David Friedlander, Thomas M. Hammond, Jamie Jackson, John O'Creagh, and Fiana Toibin. The title role will be played by Wrenn Schmidt who currently appears as Julia Sagorsky opposite Jack Huston and Mark Borkowski in Season 3 of HBO's Emmy-nominated Boardwalk Empire.

Katie Roche will have set design by Vicki R. Davis, costume design by Martha Hally, lighting design by Nicole Pearce, sound design by Jane Shaw, and prop design by Joshua Yocum.

Katie is a servant girl of uncertain parentage. She is wild with ambition and dreams of finding something great to do. Teresa Deevy's drama takes you on Katie's journey as she struggles to find herself and her destiny.

Originally produced by Ireland's Abbey Theatre in 1936, Katie Roche was included in the Gollancz Anthology of Famous Plays of 1936 along with Clifford Odets' Awake and Sing. The Abbey chose Katie Roche to kick off their US tour in 1937 and in 1938 it was produced in London.

Katie Roche was revived by the Abbey in 1949, 1975 and 1994 - each time to critical acclaim.

Teresa Deevy was born in 1894 as the youngest of thirteen children in Waterford, Ireland. Though she intended to teach, Teresa contracted Meniere's disease while at University College Dublin and lost her hearing.

She went to London to study lip-reading and the theater provided her an opportunity to practice - there she discovered her calling. Despite obvious obstacles and years of rejection, Teresa eventually became a celebrated playwright. She had six plays produced at Ireland's National Theater, the Abbey, between the years 1930 and 1936.

It was Katie Roche that solidified her place as Ireland's most important female dramatist since Lady Gregory. A servant girl whose mercurial ambitions reach for the heavens, Deevy's remarkable heroine introduced a study of feminine power with unprecedented subtlety and depth.

From January 26th to March 24th at the Mint Theater in New York City.

ROCK OF AGES welcomes Kate Rockwell and Teresa Stanley to the Broadway musical January 21, 2013 at the Helen Hayes Theatre. Rockwell takes over the roll of Sherrie and Stanley assumes the part of Justice.

THE JAMMER by Rolin Jones. Directed by Jackson Gay.

The New York City premiere of the 1950s-set play about roller derby.

Starring Patch Darragh, Dan Domingues, Christopher Jackson, Billy Eugene Jones, Keira Naughton, Kate Rigg, Jeanine Serralles, Greg Stuhr and Todd Weeks.

Billed as: "In this wild theatrical adventure, we plunge into the hard-boiled, bizarre world of professional roller derby in New York during the late 1950's. When Jack Lovington, a lovelorn Brooklynite, joins up with the rough and tumble New York Bombers, little does he know that his life is about to be turned completely upside down and that he's about to find himself on a most unexpected rollercoaster ride."

The design team includes scenic designer Wilson Chin, costume designer Jessica Ford, and lighting designer Paul Whitaker with original music and sound design by Broken Chord.

The Jammer officially opens January 22 for a limited engagement to February 10. Atlantic Stage 2 in New York City.

SILENCE! the unauthorized parody of The Silence of the Lambs, with book by Hunter Bell, music & lyrics by Jon and Al Kaplan, and direction & choreography by Tony Award winner Christopher Gattelli.

Starring Sean McDermott as Dr. Hannibal Lecter.

Also featured in the cast are David Ayers, Pamela Bob, Ashlee Dupré, Stephen Hanna, Natalie Joy Johnson, Howard Kaye, Topher Nuccio, Ronica V. Reddick, Kimberly Stern and Doug Trapp.

Set design is by three-time Tony winner Scott Pask, with costume design by David Kaley, lighting design by Jeff Croiter, and sound design by Carl Casella. Music Supervisor is Mark Hartman, with musical direction by Brian J. Nash.

The off-Broadway production has hosted an unusually large number of celebrity attendees including: Jodie Foster, Matt Bomer (twice), Perez Hilton, Joan Rivers, Kelly Ripa, Jonathan Demme, James Earl Jones, Josh Groban, Rachel Dratch, Justin Kirk, Jonathan Groff, T.R. Knight, Lisa Lampanelli, Andy Dick, Neil Simon, Corbin Bleu, Richard Kind, Alec Mapa, Ben Schwartz, Willie Garson, Steven Pasquale, Lindsey Shaw, Mario Cantone, Erin Cummings, Linus Roache, Stephen Schwartz, David LaChapelle, Jeremy Jordan, Chad Allen, Heather Matarazzo, James Lapine, John Kander, Chita Rivera, Danny Burstein, Vicki Lewis, John Billingsley, Georgia Engel, Christian Campbell, Will Swenson, Barrett Foa, Tovah Feldshuh, Randy Harrison, Stephen Flaherty, Julie Brown, Cady Huffman, Audrey Wasilewski, Andrew Keenan-Bolger, Barbara Feldon, Shuler Hensley, Reed Birney, Michelle Clunie, Anthony Heald, Seth Rudetsky, Scott Lowell, Donna McKechnie, James Barbour, Telly Leung, Howard McGillin, Brent Barrett, Karen Ziemba, Eden Espinosa, John Cunningham, Daniel Reichard, Annie Funke, Todd Robbins, Tricia Walsh Smith, Charlotte d'Amboise, John McDaniel, John Rando, Kara Lindsay, Chris Barron, Johanna Day, Carol Woods, Alex Wyse, and Lindsay Nicole Chambers.

The award winning production reopened Saturday, January 19, at the Elektra Theatre in New York City.


WHO'S WHERE




ROD STEWART on Wednesday, January 23, 2013 opens a show at Caesars Palace in Las Vegas, which runs through February 9, 2013.

THE MANHATTAN TRANSFER will be making harmonious music Thursday, January 24 at the Capitol Center for the Arts in Concord, NH. On Saturday they're in the spotlight at The Egg in Albany, NY.

JUSTIN BIEBER entertains Tuesday, January 22, at the Warner Cable Arena in Charlotte, NC. Wednesday's show is at the Philips Arena in Atlanta, GA. On Friday the screaming fans will be at the Amway Center in Orlando, FL. He opens a two night stand on Saturday, January 26, at the American Airlines Arena in Miami.

ELTON JOHN performs January 25 at Disneyland's Hyperion Theatre in Anaheim, CA. This historic concert marks Yamaha's 125th anniversary. Yamaha has built Elton's touring pianos for over 20 years and over this time he has given each its own name.

MARILYN McCOO & BILLY DAVIS, JR will be singing their hits (they have seven Grammy Awards and earned 15 gold and three platinum records) during their January 22-February 2 engagement at the Colony Hotel in Palm Beach, Florida.


FINAL OVATION


BILLE BROWN an Australian stage, film and television actor and acclaimed playwright died January 13, 2013 from cancer, two days after his 61st birthday.

He quietly celebrated that birthday surrounded by family and a few close colleagues which included Geoffrey Rush and Bryan Nason. Brown began his career in the early 1970s at Queensland Theatre Company, working alongside Geoffrey Rush.

Brown's career took him abroad to Britain, where he joined the Royal Shakespeare Company (RSC), and was the first Australian commissioned to write and perform in their own play – The Swan Down Gloves. The show opened at the Barbican Theatre (RSC's home theatre from 1982–2002) and had a Royal Command Performance.

While working in the United Kingdom, Brown also performed in the West End, at the Aldwych and Haymarket Theatres, the Chichester Festival Theatre, English National Opera and Dublin Theatre Festival.

In New York, Brown made his Broadway debut as an actor in 1986 in Michael Frayn's Wild Honey with Ian McKellen, directed by Christopher Morahan, and as a playwright with his adaptation of a benefit performance of A Christmas Carol in 1985, featuring Helen Hayes, Len Cariou as Scrooge, MacIntyre Dixon, Celeste Holm, Paul Julia, Mary Elizabeth Mastrantonion, Harold Scott, Carole Shelley, and Fritz Weaver, directed by W. Stuart McDowell. He was also an Artist-in-residence at the State University of New York in 1982.He was also a visiting Professor at the State University of New York, New Paltz.

Bille Brown returned to Australia to live permanently in 1996. He had an outstanding career on stage and performed for many leading Australian theatre companies, including Queensland Theatre Company, Sydney Theatre Company, Bell Shakespeare Company, Malthouse Theatre, Melbourne Theatre Company, Company B, State Theatre Company of South Australia, Marian St Theatre, La Boite and the Old Tote Theatre at the Sydney Opera House.

His work with the Queensland Theatre Company spanned four decades, following his first main stage production in 1971, Wrong Side of the Moon. Clearly an audience favorite, QTC cast Bille in 29 productions and produced four of his own written works. In recognizing his incredible contribution and support for the arts in Queensland, The Bille Brown Studio was officially opened on 5 July 2002 by the then Minister for Employment, Training and Youth and Minister for the Arts, Matt Foley.

The Bille Brown Studio today is home to QTC's Greenhouse program, a space for emerging artists, new works, exciting ideas and constant debate –"just how he would have wanted," according to the QTC.

He was the recipient of a 2009 Live Performance Australia Helpmann Award (Australia's equivalent of Broadway's Tony Awards) as Best Male Actor in A Musical for his role as King Arthur in the musical Monty Python's Spamalot, which had it's Australian premiere season in Melbourne.

CONRAD BAIN the Broadway, television and film actor died of natural causes on January 14, 2013 in Livermore, California. He was 89. He had spent the last years of his life living in a nursing home.

A naturalized citizen of the United States, Bain was born in Canada.

He studied at the Banff School of Fine Arts. After a stint at the Stratford (Ontario) Shakespeare Festival, Bain later studied in New York at the American Academy of Dramatic Arts, where his classmates included actor Charles Durning and comedian Don Rickles.

Bain appeared in the original Broadway production of Leonard Bernstein's Candide. His other Broadway theatre credits included Advise and Consent, An Enemy of the People, Uncle Vanya, and On Borrowed Time. On Off Broadway, he appeared in the original run of Steambath and in Jose Quintero's revival of Eugene O'Neill's The Iceman Cometh. In 1991, he appeared at the Pasadena Playhouse in a production of A.R. Gurney's The Dining Room, playing various roles from a dying father to a senile old man to a 5-year-old child.

In the early 1960s, Bain was one of the principal organizers of the Actors Federal Credit Union. In an article in the Credit Union Times, he recalled "...the effort grew out of the fact that, at least in the world of financial services, actors and other performers got no respect and, more importantly, no access to credit."

Bain served as the Credit Union's first president.

In the early 1970s, Bain appeared in New York-based films like Lovers and Other Strangers and Woody Allen's Bananas before achieving national recognition for his work in television. He is best known for his roles as Dr. Arthur Harmon, Bea Arthur's title character's conservative nemesis, who married her best friend Vivian, in Maude (1972-78) and as Park Avenue millionaire Phillip Drummond in Diff'rent Strokes (1978-86), where he took in 2 orphaned boys from Harlem, Willis and Arnold, (Todd Bridges, Gary Coleman) to live with him and his daughter Kimberley (Dana Plato) and housekeeper Mrs. Garrett. In 1979 he reprised his role of Phillip Drummond in The Facts of Life and again in 1996, Bain reprised his role of Phillip Drummond on the series finale of the Fresh Prince of Bel Air.

Bain is survived by his daughter Jennifer, and sons Mark and Kent. Their mother was the abstract painter and art collector Monica Sloan Bain. Bain and Sloan were wed in 1945. Their marriage lasted until her death in 2009.

MAX BURGDORF MILLER the legendary organist died Saturday, January 5, 2013. He was 85.

Max Burgdorf Miller served on the faculties of Boston University College of Fine Arts School of Music and the School of Theology at Boston University for forty-two years prior to his retirement. Simultaneously, Max was also University Organist and Director of Music at Marsh Chapel, as well as the Director of the Master of Sacred Music (MSM) program and Conductor of the Seminary Singers which he took on annual tours.

He received his Ph.D. from Boston University and was a Fellow of the American Guild of Organists. For many years he wrote an Ask Uncle Max column for The American Organist, the national publication of the American Guild of Organists.

His knowledge of the organ repertoire was impressive, and he was the guiding spirit in the founding of The Organ Library, located in the School of Theology. This has grown to be one of the largest collections of organ music in the world, accessible though a searchable database. The Organ Library awards the biennial Max B. Miller prize to outstanding books devoted to organ literature and performance.

He is survived by his wife of 52 years Elizabeth (Hyde) Miller and three sons Christopher Miller and his wife Deborah and their daughters Krystal and Victoria, Gregory Miller and Mark Miller and his wife Adrianne and their sons Robert, Samuel and Max.







Next Column: January 27, 2013
Copyright: January 20, 2013. All Rights Reserved. Reviews, Interviews, Commentary, Photographs or Graphics from any Broadway To Vegas (TM) columns may not be published, broadcast, rewritten, utilized as leads, or used in any manner without permission, compensation and/or credit.
Link to Main Page
---
Laura Deni



For the snail mail address, please E-mail your request.
CLICK HERE FOR COMMENT SECTION