! >
Broadway To Vegas
  
 SHOW REVIEWS CELEBRITY INTERVIEWS GOSSIP NEWS

| | |
| --- | --- |
| | |
NEVER TOO OLD TO PIROUETTE - - FIRST BROADWAY REVIVAL OF SUNDAY IN THE PARK WITH GEORGE - - BILLY JOEL CELEBRATES ACADEMY OF MUSIC ANNIVERSARY - - SHREK THE MUSICAL SELECTS SEATTLE'S 5TH AVENUE THEATER FOR WORLD PREMIERE - - PAULA VOGEL CHAIRS PLAYWRITING DEPT AT YALE - -GERRY MULLIGAN EXHIBIT AT GERSHWIN GALLERY DISNEY CONCERT HALL - - NINTH ANNUAL DIRECTORS LAB WEST - - PRINCESS GRACE FOUNDATION-USA THEATER AND PLAYWRITING APPLICATIONS - - DONATE . . . Scroll Down


Copyright: January 20, 2008
By: Laura Deni
CLICK HERE FOR COMMENT SECTION
88 YEAR OLD GIVES LIFE A PIROUETTE
John Lowe in rehearsal with the company. Photo by Arvon Wellen from Lantern Dance Theatre Company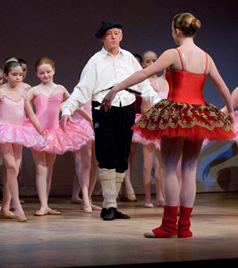 Three times a day 88 year old John Lowe heads to the bar and gets a leg up. He's not a drunk - rather he's a ballet dancer.

The former teacher gets down right perturbed when he sees people walking hunched over. Annoyance turns to outrage if the person is also smoking a cigarette.

When Lowe retired from teaching he looked for inspiration to Alison, his daughter. The proud father had watched her grow up to become a professional dancer who has received an invitation to join the Stuttgart Ballet Company.

Lowe was not only proud of her success, but fascinated by the dance moves.

At the age of 79 the pensioner put on dance shoes and began to pirouettes and plié.

He got hooked on the moves - even installing a ballet bar in his home when three times a day he uses a rope to stretch encourage his legs to reach higher and higher.

In addition to practicing at his home in Witchford, Cambridgeshire section of England, Lowe also does duty at the Chequer Studio in Ely - which is where he was discovered.

Last week-end the grandfather to 11 made his professional debut appearing as the woodcutter in Prokofiev's The Stone Flower as part of the Lantern Dance Theatre Company at The Maltings in Ely. Helen Pettit, artistic director with the company, offered up only praise as did the critics and audience.

Emphasizing that there is nothing effeminate about dancing, Lowe is dumbfounded that more men don't give it a try. He credits his love of the helping him tolerate his three year ordeal as a prisoner of the Japanese during the Second World War.

Lantern Dance Theatre Company was set up in 2005 by Helen Pettit, a professional dancer and choreographer, trained at the Rambert School of Ballet and Contemporary Dance, who has an exceptional record of teaching dance to people with Special Educational Needs. It is a charity and a not-for-profit limited liability company.

The dance group includes people of all ages from teenagers to pensioners. Some have severe learning disabilities.

Training together as one group is at the center of the company's activity. It creates an environment that is safe and stimulating at the same time: fun, hard work, supportive & challenging for everyone.

Caregivers are also welcome to attend and join in.

All members have sign the company's Code of Practice, which is about health, safety, professionalism and mutual respect. The training methods have been developed especially for integrated groups. The company endorses and uses Dance UK's Healthier Dancer and Healthier Dance Company guidelines.

Exercise for the elderly has long been touted by medical experts as helpful According to the American College of Sports Medicine, by the year 2030, the number of individuals in the United States 65 years and over will reach 70 million, and people 85 years and older will be the fastest growing segment of the population.

According to the American Council on Exercise, muscle mass decreases as we age. Beginning in the fourth decade of life, adults lose 3%-5% of muscle mass per decade, and the decline increases to 1%-2% per year after age 50. Muscle keeps us strong, it burns calories and helps us maintain our weight, and it contributes to balance and bone strength. Without it, we can lose our independence and our mobility.

It's becoming increasingly clear to the medical community that it's just as important for older adults to stay active as it is for their younger counterparts. Exercise helps maintain mobility and stamina, reduces the incidence of disease and leads to an overall better quality of life. ACE, America's Authority on Fitness, shares the following reasons why older adults need to get plenty of safe and appropriate exercise.

1. Exercise delays the onset of Osteoporosis by increasing bone strength. The bone robbing disease affects some 20 million women and 5 million men and leads to more than 250,000 hip fractures each year.

2. One of the top concerns of the elderly is losing control, becoming dependent or a burden to someone. Exercise helps older adults maintain a greater capacity to undertake the activities of daily living.

3. To increase metabolism. Strength training increases muscle mass, which elevates metabolism.

4. To maintain balance and improve reflexes to decrease falls. As adults age there is a natural decline in balance and coordination, which can be postponed and even prevented with proper strength and balance training.

5. To create a sense of community or feeling of belonging. Dance and exercise groups enhance social interactions for many older adults who may not otherwise leave their homes.

6. To improve pulmonary function which declines with age due to the degeneration of the vertebral disks, which alters the shape of the thoracic cavity.

7. It's a mood elevator - so get high on it. Exercise reduces the incidence of depression and improves self-esteem while providing a feeling of accomplishment. 8. To help prevent and regulate diabetes.

9. To improve flexibility, joint range of motion and functional movement. Circulation is also increased.

10. To improve cardiovascular strength. Cardiovascular exercise helps maintain a healthy heart and cardiovascular system reducing the risk of heart disease.

The Finnish town of Jyvaskyla has some of the fittest elderly in Europe, and many of them can be found dancing.

Research conducted at the town's university shows that active older people live longer and that regular exercise in your 40s and 50s has a direct impact on your health in later life.

There are 200 fitness classes offered to the town's seniors, all of which are heavily subsidized by the council to make them accessible to everyone.

The oldest student in one dance class is age 94.


ART AND ABOUT


GERSHWIN GALLERY CELEBRATES GERRY MULLIGAN

Gerry Mulligan performing in the 1980s. Photo: Library of Congress
The Ira Gershwin Gallery at Walt Disney Concert Hall in Los Angeles is currently celebrating the life of the late saxophonist, composer and arranger Gerry Mulligan whose career spanned five decades. He recorded and collaborated with a variety of renowned musicians and orchestras and is considered one of the leading jazz artists of his time. Mulligan's pianoless quartet of the early 1950s with trumpeter Chet Baker, Carson Smith on bass, and Chico Hamilton on drums, became a focal point of the West Coast Jazz movement and is still regarded as one of the more important cool jazz groups.

Born in New York on April 6,1927 Mulligan performed with such jazz immortals as Louis Armstrong, Count Basie, Lester Young, Duke Ellington, Miles Davis, Jack Teagarden, Dave Brubeck, and Billie Holliday. He was consistently voted number one in jazz polls around the world and has won a record twenty-nine consecutive Down Beat Readers Poll awards.

Mulligan collaborated with Judy Holliday on the musical Happy Birthday, adapted from the play written by Anita Loos, with music by Gerry Mulligan and lyrics by Judy Holliday. Happy Birthday premiered at the University of Alabama in December 1974.

Play with Fire, a play written by Dale Wasserman, with music by Gerry Mulligan, was performed at the Eugene O'Neill Theater in 1978.



Gerry Mulligan exhibition includes Mulligan's gold-plated baritone saxophone. Here it is draped with a ceremonial Tibetan scarf placed by the Venerable Lama Thamthog Rinpoche during the opening of the exhibition in Washington, D.C. Photo; Library of Congress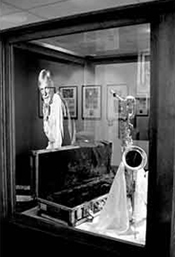 Mulligan wrote the score for the Jack Lemmon, Peter Falk, Elaine May film version of the Broadway comedy Luv, the French adventure film La Menace, starring Yves Montand, and wrote the title tunes for A Thousand Clowns, and I'm Not Rappaport.

Among the many items on display is Mulligan's gold-plated saxophone which was donated to the exhibit by his wife. The entire collection includes some 700 items which are divided into several categories reflecting Mulligan's diverse interests and accomplishments from his adolescent years until his death. Included are music for recordings, lead sheets and sketches, arrangements and parts for his Concert Jazz Band (the single largest category), miscellaneous arrangements for his Tentet, small-band arrangements, a few symphonic arrangements, correspondence with jazz notables and papers relating to different concerts and projects.

Gerry Mulligan passed away in January 1996. A Memorial Service "A Celebration of the Life of Gerry Mulligan" was held on February 12th, at St. Peter's Church in New York.

The Gerry Mulligan Exhibit is the fourth annual exhibition created for the Library of Congress/Ira Gershwin Gallery.

The Library of Congress Gallery at Walt Disney Concert Hall is the only permanent Library of Congress exhibition outside of Washington DC. The Gallery was established in 2003 as a satellite exhibit space of the Library of Congress.

So that visitors may have the opportunity to view different works from the Library's vast collection, the Library of Congress/ Ira Gershwin Gallery exhibition changes semi annually.


SPREADING THE WORD


NINTH ANNUAL DIRECTORS LAB WEST will take place May 17-24, 2008. Applications are now being accepted and the deadline for receipt of applications is Friday, March 21, 2008.

Like its New York inspiration at Lincoln Center Theater, Directors Lab West seeks mid-career directors to participate in a week long series of workshops, panels, roundtables, and symposia with some of the nation's leading theatre artists. Directors Lab West creates an intensive laboratory environment where theatre directors come together to inspire, educate, and challenge each other.

The Lincoln Center Theater Directors Lab, initiated as a pilot project in 1994 in New York, was designed as an interactive forum to engage emerging directors in an intensive study of their craft and to foster collaborative relationships among a community of artists. Customarily, theatre has been acknowledged first and foremost as a writer's medium. Writing workshops and readings abound, offering a durable arena in which they can develop their work. Directors, however, are at a distinct disadvantage. Recognizing the absence of a program that allows young directors to cultivate their skills, Lincoln Center Theater established the Lab, a series of workshops, seminars, readings, and productions that enable participants to learn and grow as artists and working professionals. Each spring some one hundred directors representing a broad cross-section of backgrounds are invited to examine ideas about their professions and discuss their roles in the theater. In its first year, the Lab attracted artists living and working in New York City. Yet by the second year, nearly one quarter of the applicants traveled in from other cities. Since then, this trend has continued and the Lab now has members from across the country, as well as from Brazil, Canada, Switzerland, India and others.

In April 2000, five alumni of the New York Lab - Nick D'Abruzzo, Ernest Figueroa, Olivia Honegger, Kappy Kilburn and Andrew Sachs - came together with the help of Lincoln Center Theater's Anne Cattaneo and organized the West Coast extension of the Lab. Many of those original five continue to make up the Steering Committee today. 2008 will be the ninth year of the Directors Lab West. Previous years sessions addressed issues such as producing theatre, working with writers and dramaturges, the relationship between actors and directors, movement, design and concerns and issues specific to Los Angeles Theater. In 2002 the Pasadena Playhouse became the hosting home of the lab.



For a donation of twenty dollars we encourage your opinions regarding topics of interest or what you feel we may have spent too much time covering.

We will also send you a perfectly acceptable Broadway To Vegas mousepad and a really nifty thank you note.

Please allow two weeks for delivery of your mousepad and thank you note. For that you will need to provide a name and mailing address. All information is kept confidential. We accept PAYPAL. Thank you for your interest.


GET WELL SOON TO...


BARRY HUMPHRIES creator of Dame Edna Everage was ordered by doctors to rest for six months because of complications from appendix surgery. Humphries, 73, has canceled a North American tour that was to have started this month. The Australian born comedic actor underwent surgery at a hospital in Sydney, Australia on December 30, 2007 and underwent further surgery this week.

He has also canceled a scheduled appearance at the Glasgow International Comedy Festival in March.

PAULA VOGEL

Paula Vogel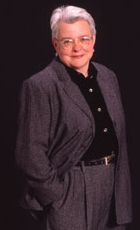 has been appointed Eugene O'Neill Professor (Adjunct) and Chair of the Playwriting Department at Yale School of Drama. The announcement was made by Yale University President Richard C. Levin. The five-year term is effective July 1, 2008.

"Yale School of Drama's leadership role in theatre training is a source of pride and celebration for the entire University," says President Richard C. Levin. "The appointment of Ms. Vogel reflects our commitment to attracting not only the most talented students, but also the world's leading practitioners to serve as their teachers." "Paula Vogel has distinguished herself as a unique and profoundly accomplished playwright and teacher," says Dean James Bundy. "Her extraordinary artistic achievements are matched only by her tireless commitment to, and remarkable track record in, the training and mentoring of young writers. I am certain that her vital creative intelligence and generous collaborative spirit will inspire not only the Playwriting department, but also the entire Yale School of Drama community, and I look forward to her influence on our program for years to come."

Paula Vogel has served as the Director of MFA and Undergraduate Playwriting at Brown University since 1984, and is the Adele Kellenberg Seaver Professor in Creative Writing. She previously taught courses in the Theatre Arts and Women's Studies programs at Cornell University. One of the most widely produced and honored playwrights writing in the English language, her plays include The Long Christmas Ride Home, The Mineola Twins, How I Learned to Drive, Hot 'n' Throbbing, The Baltimore Waltz, Desdemona, And Baby Makes Seven, and The Oldest Profession.

Her work has garnered numerous awards and prizes including the Pulitzer Prize for Drama, Susan Smith Blackburn Award, New York Drama Critics Award, Obie Award, AT&T New Plays Award, among many others, as well as fellowships from the Pew Charitable Trust, National Endowment for the Arts, and the John Simon Guggenheim Foundation. She is currently working on a new play entitled A Civil War Christmas, and her memoir Beyond the Beltway.


SWEET CHARITY


THE PHILADELPHIA ORCHESTRA celebrates the 151st anniversary of the Academy of Music with the annual Anniversary Concert and Ball, on Saturday, January 26. The Philadelphia Orchestra, led by Music Director Christoph Eschenbach, performs. Billy Joel makes a special guest appearance, in his first appearance with a major American orchestra.

Rising young talents Dísella Làrusdóttir, soprano, and Conrad Tao, piano, will be featured. Blue Man Group will perform an original work with The Philadelphia Orchestra, and the concert will be hosted by MSNBC's Chris Matthews.

Joel and the Orchestra will perform a selection of his popular works from a career spanning 30 years. The Orchestra gives the world premiere of an original classical composition by Mr. Joel. A portion of the Ball proceeds will support The Philadelphia Orchestra's Billy Joel Endowment Fund for Education. This marks the first time the performer/songwriter has created an endowment fund with an orchestra, although he has made significant donations to the music programs of New York University, the Juilliard School, Syracuse University, Eastman School of Music at the University of Rochester, the State University of New York at Purchase, the New England Conservatory, Tanglewood Music Center, and the Boston Symphony's Academy for Advanced Musical Study.

The gala champagne dinner and ball following the concert take place at the Park Hyatt at the Bellevue. Nine dance orchestras will be located throughout the hotel. Proceeds benefit the Academy of Music Restoration Fund and The Philadelphia Orchestra Association.

XANADU-THE ACTORS FUND SPECIAL PERFORMANCE takes place Sunday, January 27, at The Helen Hayes Theatre, NYC.


OTHER PEOPLE'S MONEY


PRINCESS GRACE FOUNDATION-USA ANNOUNCES AVAILABILITY OF THEATER AND PLAYWRITING APPLICATIONS which must be postmarked by March 31, 2008. Founded in 1982, the Foundation is dedicated to identifying and assisting emerging artists in theater, dance and film. Over the past 25 years, the Foundation has granted approximately 450 individuals with awards, honorariums and special project grants valued at over $5 million.

Princess Grace Theater Awards take the form of scholarships, apprenticeships and fellowships. Candidates must be United States citizens or have permanent resident status at the time of application. Grants are awarded based on the quality of the emerging artists' past work, their potential for future excellence, and the impact the collaboration between the nominating organization and the artist will have on the individual's artistic growth.

To apply for a theater grant, a candidate must be nominated by the Artistic Director of a theater company or the Dean or Department Chair of a professional non-profit theater school. Scholarships are commensurate with tuition costs; apprenticeships and fellowships are commensurate with proposed fees for artists' engagement with a company.

Ted Rawlins, Chair of the Theater Panel, observes, "I am extraordinarily pleased that Princess Grace Awards winners are artists whose work is filled with confidence and artistic bravery." Previous Princess Grace Award Theater recipients include Christopher Ashley, Oscar Isaac, Tony Kushner, Tina Landau, Eric Simonson, and Nilaja Sun.

To apply for a playwriting grant, individuals must submit an un-produced, unpublished full length play. Applicants must be United States citizens or have permanent resident status at the time of application The winning playwright receives a $7,500 cash grant, a residency (including transportation costs) at the prestigious New Dramatists, Inc. in New York City; the inclusion of their work in the library at New Dramatists; and representation by Samuel French, Inc. Past playwriting recipients include Kenneth Lin, James McManus, Adam Rapp and Kate Robin.

PALAZZO HOTEL the $1.8 billion dollar resort has officially opened in Las Vegas. On April 4th Jersey Boys, the 2006 Tony Award-winner for Best Musical opens for previews in the Jersey Boys Theater - a new theatre built especially for this dynamic, crowd-pleasing production. The cast will be led by Erich Bergen (Bob Gaudio), Rick Faugno (Frankie Valli), Jeremy Kushnier (Tommy DeVito) and Jeff Leibow (Nick Massi) as The Four Seasons, with John Altieri and Ken Krugman.

The ensemble includes Mike Backes, Natalie Bradshaw, Joseph Leo Bwarie, Joyce Chittick, Graham Fenton, Julia Krohn, Jason Martinez, Kristofer McNeeley, Jonathan Gerard Rodriguez, John Salvatore, Michael James Scott, Lauren Tartaglia and Colin Trahan.

The resort also boasts a 450,000 square foot shopping plaza with 50 international boutiques - an anchor store being Barneys from The Big Apple. There is also a spa which includes an indoor 40-foot rock climbing wall. The lobby features a 60 foot glass atrium with a 25-foot waterfall. Diana Ross and three time Grammy Award winner Seal, Andy Garcia and The Cineson All-Stars, the cast of Jersey Boys performed at the January 19 opening night event which was hosted by Wayne Brady.



SHREK THE MUSICAL has selected Seattle's 5th Avenue Theatre for its world premiere August 14 - September 21 prior to opening on Broadway in the Fall of 2008.

DreamWorks Theatricals and Neal Street Productions, Ltd. state Shrek the Musical is an entirely new musical based on the story and characters from William Steig's popular 1990 book Shrek!, as well as the DreamWorks Animation film Shrek, the first chapter of the Shrek movie series. The beloved swamp-dwelling ogre Shrek, Donkey and Fiona, and the other inhabitants of "Far, Far Away" have been featured in three major animated films and a popular television special to date.

Shrek The Musical features a book and lyrics by Pulitzer Prize winner, David Lindsay-Abaire, music byOlivier Award-winner and three time Tony-Award nominee Jeanine Tesori, and is directed by Jason Moore, who staged the Tony Award-winning Best Musical, Avenue Q.

The production is DreamWorks Animation's first venture in legitimate theater. The production was initiated by Jeffrey Katzenberg, Chief Executive Officer of DreamWorks Animation, and Sam Mendes, who has a long-term relationship with DreamWorks. A release states that Mendes, a big fan of the first Shrek film, suggested the idea of creating a musical to DreamWorks' Jeffrey Katzenberg around the time the second film was in production.

Other members of the creative team include Tony Award-winning set and costume designer, Tim Hatley and three-time Olivier Award-winning lighting designer, Hugh Vanstone, whose Broadway credits include Monty Python's Spamalot, Bombay Dreams, The Blue Room and Art.

The choreography is by newcomer Josh Prince, and Tim Weil is serving as music director.

THE RARE OUL' TIMES What do two of Ireland's most notorious drinkers and literary figures talk about over a pint of the black stuff? Set in John Ryan's famous Bailey Pub in Dublin, The Rare Oul' Times follows the legendary figures of Brendan Behan and Patrick Kavanagh discussing their successes, failures and love lives, with a drink in their hand naturally.

Nostalgia, humor and song flow as fast as the pints, promising to leave you with a tear in your eye and a smile on your face.

Monday, January 21- Saturday, January 26 at the Baby Grand, Grand Opera House, Belfast, Ireland.

COME BACK, LITTLE SHEBA a new production of William Inge's 1950 breakthrough play directed by Michael Pressman. The revival stars S. Epatha Merkerson, best known for her 13 seasons as Lt. Anita Van Buren on NBC's 'Law & Order stars as the slovenly and forlorn Lola, the meaty role that won Shirley Booth both a Tony for the original 1950 Broadway production and an Oscar for the 1952 movie version. Kevin Anderson is her alcoholic husband Doc; Zoe Kazan is cast as the sexy young boarder who shakes up their marriage. Presented by the Manhattan Theatre Club. Opening Jan. 24 at the Biltmore Theatre, NYC.

CONTRAPTION written and directed by Bilal Dardai. Performed by Kurt Chiang, Dina Connolly, Dana Dardai and Joe Dempsey.

Leonardo da Vinci slept only three hours a day. The creator of Kodak film killed himself, leaving behind a note reading, "My work is done. Why wait?" Contraption asks: If necessity is the mother of invention, is madness the wayward father?

The latest off-the-wall production from Neo-Futurists.

January 24 - March 1 Chicago.

SUNDAY IN THE PARK WITH GEORGE

The musical was inspired by the musical was inspired by the painting A Sunday Afternoon on the island of La Grande Jatte by Georges Seurat
its first Broadway revival. Music and Lyrics by Stephen Sondheim. Book by James Lapine. Directed by Sam Buntrock.

London's Menier Chocolate Factory's Olivier Award-winning production of Stephen Sondheim and James Lapine's Pulitzer Prize-winning musical now comes to Broadway. Daniel Evans and Jenna Russell will reprise their Olivier Award-winning performances as George and Dot. A timeless love story inspired by the life of painter George Seurat and his masterpiece Sunday Afternoon on the Island of La Grande Jatte, this stunning production recreates the world of the painting with breathtaking animated design.

Sunday in the Park with George features Daniel Evans as George, Jenna Russell as Dot and Marie, Michael Cumpsty as Jules and Bob, Alexander Gemignani as Boatman and Dennis and Jessica Molaskey as Yvonne and Naomi with Mary Beth Peil as Old Lady and Blair.

The cast will also include Ed Dixon (Mr. Charles), Santino Fontana (Soldier & Alex), Kelsey Fowler (Louise), Jessica Grove (Celeste #2 & Silent Artist), Alison Horowitz (Louise), Stacie Morgain Lewis (Frieda & Betty), Drew McVety (Louis & Billy), Anne L. Nathan (Nurse & Mrs. Harriet), Brynn O'Malley (Celeste #1) and David Turner (Franz & Lee).

The creative team includes Christopher Gattelli (Musical Staging), Caroline Humphris (Music Supervisor), David Farley (Set and Costume Design), Ken Billington (Lighting Design), Sebastian Frost (Sound Design) and Tim Bird (Projection Design).

Performances begin January 25 at Studio 54 in New York City.

CARNAGE, A COMEDY a revival of the biting satire by Adam Simon and Tim Robbins. Directed by Beth F. Milles.

Carnage, A Comedy follows the ridiculous pilgrimage and ultimate demise of televangelist Cotton Slocum. The play's twisted world, rife with survivalists, mercenaries, righteous bunnies, bloody yuppies and ministers calling men to arms, is brought to life by Actor's Gang company members Pierre Adeli, Lindsley Allen, Stephanie Carrie, Cameron Dye, VJ Foster, Scott Harris, Lauren Oppelt, Sandro Mastrobuono, Steven M. Porter, Chris Schultz, Donna Jo Thorndale and Justin Zsebe. Original music, performed by the actors, is composed by David Robbins with new elements added by cast member Cameron Dye.

"Carnage may be more relevant today than it was when we first did it 20 years ago," says co-author and Actors' Gang artistic director Tim Robbins. "The emergence of radical right wing theology as a legitimate political force has made this a much more dangerous time than the late 80s. Recent revelations about Blackwater, a private militia owned by fundamentalist Erik Prince and funded by tax-payer dollars, was a fear we gave life to in the play - but it wasn't a reality yet. As far as demagogues go, there are still just as many hucksters and zealots plying their wares from the Potomac to the Rio Grande."

Agrees Milles, "The exploration of human hypocrisy and the corruption of our faith and idealism have a sharp resonance today. Carnage questions what we're all reaching for - salvation and success. I'm excited to be working with The Gang again. There's a great new energy in the company these days, a mix of new and veteran company members. It is the bravest company of actors, and this play makes an important statement for today and our future."

Set design is by Sibyl Wickersheimer; lighting design is by François Pierre Couture; costume design is by Alix Hester; and production stage manager is Lindsey Turteltaub.

Carnage, A Comedy remains as timely as it did when it opened in 1987, begins previews on January 24, officially opening on Saturday, February 2 with performances continuing through March 8 at The Actors' Gang in Culver City, CA.

VICTORY

Morlan Higgins, Lovensky Jean-Baptiste and Tinashe Kajese in Victory. Photo by Ed Kreiger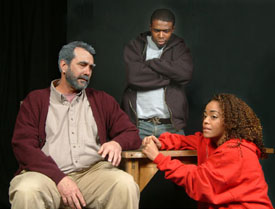 by Anthol Fugard. Directed by Stephen Sachs.

The United States premiere of Athol Fugard's powerful and moving new play about the search for hope in the New South Africa. Two young blacks looking for cash break into the house of an elderly white man. When the old man discovers them ransacking his home, an explosive, savage confrontation reveals the twisted emotional ties that bind them all.

Starring Morlan Higgins, Lovensky Jean-Baptiste and Tinashe Kajese.

Set Design by Travis Gale Lewis. Lighting Design by Christian Epps. Sound Design by WavMagic's David Marling. Costume Design by Shon Le Blanc. Prop Design by John Minchin. Makeup Design by Judi Lewin. Fight Director is Doug Lowry. Dialect Coach is JB Blanc. Production Stage Manager is Kerrie Blaisdell Scott Tuomey serves as technical director.

Produced by Simon Levy and Deborah Lawlor for The Fountain Theatre. In previews with the official opening on January 25. Performances continue through March 9 at The Fountain Theatre in Los Angeles, CA.

LET ME DOWN EASY a world premiere written and performed by Anne Deavere Smith. Directed by Stephen Wadsworth.

Anna Deavere Smith's newest one-woman show explores the resiliency and vulnerability of the human body. Channeling the dramatically different corporeal experiences of her many interview subjects, from survivors of the Rwandan genocide to the head coach of the national champion University of Texas football team, Smith captures a kind of grace on stage, a grace that will tell us about the resourcefulness of the human spirit. Officially opened last Wednesday with performances through February 3 at the Long Wharf Theatre in New Haven, CT.

MAME Music and Lyrics by Jerry Herman. Book by Jerome Lawrence and Robert E. Lee. Based on the novel by Patrick Dennis and the play Auntie Mame by Jerome Lawrence and Robert E. Lee.

Starring three-time Tony nominee Dee Hoty in the iconic title role and 5th Avenue favorite Richard White as her suitor, Beauregard. They lead a vast ensemble of 39 who "coax the blues right out of the horn" in more than 275 extravagant costumes, designed by 2006 Tony Award-winner Gregg Barnes. An impossibly tall, sleek staircase curves through the set, which is transformed as the trendsetting Mame revels through a parade of decades, from the art deco glamour of the 1920s to the ultra-modern chic of the 1950s.

Carol Swarbrick stars as Mame's theatrical sidekick, Vera Charles. Twelve-year-old Nick Robinson has been cast as young Patrick Dennis. Also featured are Kat Ramsburg as Agnes Gooch, Ben Gonio as Ito, Seán G. Griffin as Dwight Babcock, Laura Kenny as Mother Burnside, Michael Winters as Mr. Upson, Taryn Darr as Gloria Upson, Matt Owen as older Patrick Dennis, Timothy McCuen Piggee as Lindsey Woolsey and Karen Skrinde as Sally Cato. The ensemble includes David Alewine, Jeffrey Alewine, Greg McCormick Allen, Nicholas Beach, Gabe Corey, Michael Ericson, Meaghan Foy, Kristin Gaetz, Krista Gibbon, Timothy Gleason, Bryce Henry, Diana Huey, Brittany Jamieson, Anders Ledell, Nikki Long, Lauralyn McClelland, Cheryl Massey-Peters, Trina Mills, Kasey Nusbickel, Lindsay Powers, Heather Roberts, James Scheider, John David Scott, Jenny Singer, Pamela Turpen, Luke Vroman and Thaddeus Wilson.

An eccentric socialite in the Roaring '20s finds her madcap Manhattan lifestyle turned upside down when she is appointed guardian of her orphaned nephew. Auntie Mame takes him on one whirlwind adventure after another, proving that "life is a banquet." With a rogue's gallery of memorable characters - plus hilarious encounters with proper society - Mame has touched the hearts and tickled the funnybones of audiences everywhere. The irresistible score includes the title song, If He Walked Into My Life and We Need A Little Christmas.

Mame is directed by David Armstrong and choreographed by Dannul Dailey. The conductor/musical director is David Holcenberg. The set design is by Walt Spangler and lighting design by Tom Sturge. Ken Travis is the sound designer, Gregg Barnes is the costume designer and Lynda Salsbury is the associate costume designer. Mary Pyanowski is the hair/make-up designer and Jeffrey K. Hanson is the production stage manager.

February 9 - March 2 at the 5th Avenue Theatre in Seattle, WA.

THE EVILDOERS by David Adjmi. Directed by Rebecca Bayla Taichman.

Carol and Jerry celebrate their anniversary with friends Martin and Judy. But an evening of haute cuisine and expensive wine is cut short when Martin, no longer able to repress years of frustration, lashes out at the people he loves. Soon, Martin's pursuit of happiness wreaks havoc on the lives of this once-content quartet. With unexpected twists, David Adjmi's ferociously funny play unleashes the horror lurking behind a quiet dinner with friends.

World Premiere opened January 18 with performances to January 18 to February 9. Yale Repertory Theatre.

TO KILL A MOCKINGBIRD by Harper Lee. Directed by Samantha Wyer. Adapted by Christopher Sergel.

"Mockingbirds ... don't do one thing but sing their hearts out for us. That's why it's a sin to kill a mockingbird." Published in 1960, the novel To Kill a Mockingbird became a bestseller, selling over five million copies in thirteen countries and winning the 1961 Pulitzer Prize for fiction. In 1999, it was voted Best Novel of the Century by Library Journal.

Now this most beloved and widely read novel comes to life on the Kansas City Rep stage. The story begins as brother and sister Jem and Scout are growing up in the Deep South during the 1930s depression. Their idyllic childhood is jolted with the realization that prejudice and bigotry rule in their small town. When their father, a lawyer of principle and integrity, is asked to defend a young black man falsely accused of raping a white woman, they are forced to ask, what exactly is the color of justice?

Director Samantha Wyer is a graduate of the UMKC MFA Director's program and is currently the Associate Artistic Director at the Arizona Theatre Company. Conversation Series All Conversation Series events take place in the theatre immediately following the performance. Show times are indicated. Meet the Creative Team takes place Sunday, January 20. The Actor's Forum will be held on Sunday February 3 and Tuesday, February 5. The Scholar's Forum is Saturday February 4. Titled The Relevancy and Symbolism of Harper Lee's To Kill a Mockingbird this forum will feature a panel of middle school and high school educators with experience teaching the themes, plot and symbolism of To Kill a Mockingbird to local students. The panel will explore the continued relevance of this classic piece.

A co-production with Arizona Theatre Company with performances through February 17 at the Spencer Theatre of the Kansas City Rep.


| | | |
| --- | --- | --- |
| | | |
WHO'S WHERE


LET FREEDOM RING FEATURING DENYCE GRAVES mezzo-soprano and the Let Freedom Ring Choir, Rev. Nolan Williams, Jr., music director. Let Freedom Ring is a musical tribute celebrating the legacy of Dr. Martin Luther King, Jr. In addition to the musical program, the University presents The John Thompson Legacy of a Dream Award. This year's recipient is Rep. Eleanor Holmes Norton (D-D.C.).

This performance is free and open to the public. Tickets will be distributed in front of the Concert Hall and seating is on a first-come, first-served basis and is subject to availability. A live simulcast of the program will be presented in the Grand Foyer. Kennedy Center for the Performing Arts in Washington, D.C. Monday, January 21.

REBA McENTIRE AND KELLY CLARKSON on tour stop at the Norfolk Scope Arena in Norfolk, VA on Thursday, January 24. On Friday they are on stage at the Lawrence Joel Complex in Winston-Salem, NC. Saturday the show is at the Crown Center in Fayetteville, NC.

ALANIS MORISSETTE entertains Friday, January 25 at the Seminole Hard Rock Live in Hollywood, FL. On Saturday she is on stage at the St. Pete Times Forum in Tampa, FL.

THE SPICE GIRLS end their two week gig at the O2 Arena in London on Tuesday, January 22. On Wednesday they opens a three night stand at the Evening News Arena in Manchester, UK.

HANNAH MONTANA/ MILEY CYRUS Best of Both Worlds Tour rolls into the Jobing.com Arena at Glendale, AZ on Tuesday, January 22. On Thursday the show is at the Frank Erwin Center in Austin. Friday the Cajundome in Lafayette, LA is the place to be and on Saturday the event heads into the New Orleans Arena in New Orleans.

BOY GEORGE IN CONCERT George returns to the live stage in a series of exclusive intimate concerts in a stomping two hour marathon packed with his best known and widely loved hits from Culture Club, his solo career and new writing. He will be joined on stage by a surprise guest each night to duet on new material or perform new interpretations of songs from his vast catalogue.

Wednesday, January 23, to Sunday, January 27 at The Shaw Theatre in London.

JO DEE MESSINA has a special three-night appearance January 24-26 at John Ascuaga's Nugget in Sparks, NV.

JUDY COLLINS return January 22 to the Cafe Carlyle in Manhattan for a six-week engagement.

REGINA CARTER AND CARLA COOK I'll Be Seeing You: A Sentimental Journey. Regina Carter with her dare-devilish virtuosity and unfettered swing is a 2006 MacArthur Fellow and Kennedy Center. She delivers favorite takes through classic songs of the '20s, '30s, and '40s. She's joined by Grammy-nominated vocalist Carla Cook. January 25 at the Terrace Theater as part of the Kennedy Center Jazz Series. Kennedy Center for the Performing Arts in Washington, D.C.




PIFFLE AND PROFUNDITIES


BIG APPLE MAYOR MICHAEL BLOOMBERG delivered his State of the City address on Thursday, January 17. While addressing important issues such as the economy, housing, education, environment, public health and crime, Hizzoner opened up the speech with a flare for showmanship.

"It's great to be in Queens. Home of Louis Armstrong, Simon & Garfunkel, and the great Count Basie, who wrote my entrance music today - One O'Clock Jump. I'm specially glad to be here at the brand-new public pool and ice rink in Flushing Meadows Corona Park. I was hoping to ride in on a Zamboni but I couldn't get it through the Midtown Tunnel."

Next Column: January 27, 2008
Copyright: January 20, 2008. All Rights Reserved. Reviews, Interviews, Commentary, Photographs or Graphics from any Broadway To Vegas (TM) columns may not be published, broadcast, rewritten, utilized as leads, or used in any manner without permission, compensation and/or credit.
Link to Main Page
---
Laura Deni


CLICK HERE FOR COMMENT SECTION