! >
Broadway To Vegas
  
 SHOW REVIEWS CELEBRITY INTERVIEWS GOSSIP NEWS

| | |
| --- | --- |
| | |
SHAKESPEARE BEHIND BARS - - ELVIS PRESLEY BIRTHDAY CELEBRATION - - JERRY ORBACH MOURNED - - NATHAN LANE'S BAD BACK SLIP DISCS THE PRODUCERS - - REAL MEN MUSICAL BY CHARLES STROUSE - - HAROLD AND MAUDE: THE MUSICAL - - JOHN MAYER A BENEFIT FOR BROADWAY - - QUEEN ELIZABETH HONORS CELEBRITIES - - DONATE . . . Scroll Down


SHAKESPEARE BEHIND BARS
Curt Tofteland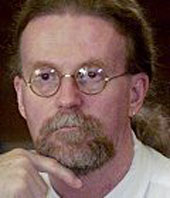 It's not your usual casting call turn out. They don't show up with Equity cards. The closest they ever came to being represented by an agent was a lawyer from the public defender's office. Their "credits" include murder, armed robbery and rape. They are prisoners at Luther Luckett Correctional Facility in La Grange, KY.

The program is Shakespeare Behind Bars. Founded by Curt Tofteland, director of the Louisville based Kentucky Shakespeare Festival, this year Shakespeare Behind Bars celebrates it's 10th anniversary. A documentary on the program is about to be showcased at Robert Redford's Sundance Film Festival.

Many might find it difficult to even be in the same room with those convicted of the most heinous crimes. Not Tofteland. He's been taking the Bard behind bars since 1995. In doing so, criminals who showed no remorse for their crimes have come to understand the agony they inflicted on others, while gaining the ability to change their behavior and reaction to problems. For the criminal to acknowledge the life altering grief that their crimes caused can also help the victims find closure. Tofteland spoke with Broadway To Vegas about this innovative and important program.



Hank Rogerson and Jilann Spitzmiller. Photo Philomath Films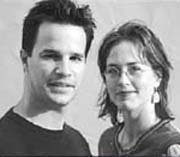 "It's wonderful," Tofteland said referring to Sundance. "Obviously, Shakespeare Behind Bars is an interesting story - in fact, many interesting stories within that program - but unless you have good filmmakers, good stories don't get told well."

Filmmakers Hank Rogerson and Jilann Spitzmiller of Philomath Films of Los Angeles and photographer Shana Hagan shot 170 hours of digital footage. Victor Livingston edited it into a 92-minute narrative. Music is by James Wesley Stemple.

The documentary, which took almost three years to complete, was shot at the prison during a nine-month period in 2002-03 when the inmates rehearsed and performed The Tempest, which has themes of vengeance, reconciliation and forgiveness.

It cost less than $500,000 and was produced with funds from the Independent Television Service, BBC and a grant from the Sundance Institute.



Hal Cobb (center) chokes back tears during a discussion with the audience after a performance. The productions become a catalyst for the inmates to confront and examine their pasts. Photo courtesy of Curt Tofteland. Photo by Andy Nelson.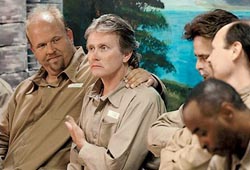 The prisoners cast themselves in roles reflecting their personal history and fate. Their individual stories, including information about their heinous crimes, are interwoven with the plot of The Tempest as the inmates delve deeply into the characters they portray - while confronting their personal demons. In this prison atmosphere, theater changes lives, as the words of Shakespeare act as a catalyst for the men to examine their crimes, and form new ways of thinking about themselves and the world.

The film follows 20 inmates for nine months as they rehearse and perform a full production of The Tempest. Inmates in prominent roles include; Hal Cobb, one of the founding members of the acting company, cast in the lead role of Prospero. Cobb is doing life for electrocuting his pregnant wife. DeMond Bush in prison for manslaughter, kidnapping and robbery. Jerry Guenthner, aka #096355, a former high school football star turned drug dealer, who is serving a 65-year sentence for killing an undercover policeman during a 1986 robbery. Sammie Byron, Jr., sentenced to life in prison for the 1983 rape-murder of Carol Fox. Lavassa Anderson doing life for robbing, sodomizing, and shooting two liquor store clerks, one of whom died. Leonard Ford serving a 50-year sentence for sexual abuse of minors.

Tofteland recalled how the Shakespeare Behind Bars program began.

"The original idea came out of reading an article in our Louisville newspaper, the Courier Journal, about a sociologist with an interest in at-risk middle school students. His idea was to take an S.E. Hinton novel and have a group of middle school students read that novel. His wife was the psychologist at Luther Luckett, which is a medium security adult male prison. She would hand select a group of inmates to read the same novel," explained Tofteland.

"Then they would travel the kids to the prison and have a dialogue with the inmates about that novel. Part of his idea was a softer version of the Scared Straight program that originated in California."



Leonard Ford in a rehearsal of The Tempest. Photo from Philomath Films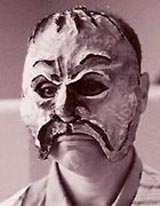 "Being a sociologist, he was interested in studying the effects of taking kids and showing them what prison was like and having them have a conversation with an inmate that perhaps had a very similar background as the kid. For the inmate to talk about what led him to end up in prison. He hoped there would be some mentoring. That the self esteem level of the inmates would be raised and also get the kids to think that education was important if, indeed, they were going to be able to find their way and make a living other than selling drugs or doing illegal activities, which a lot of this population of at-risk kids ended up doing."

"I met with him to talk about the program. I worked with at risk populations for many years. I was very interested in hearing the feedback about how that program was working," related Tofteland.

"I suggested that perhaps he might be interested in implementing a drama component and, of course, advocated Shakespeare and for it to be in the spring of the year around Shakespeare's birthday."

"Same exact format, in that, the inmates and the students read a play from Shakespeare, chose the same scene, cast, rehearse and produce it. And, the kids would follow the same format," he recalled.

"They would come and perform for the inmates. The inmates would perform for the kids and then they would have a dialogue - character to character - Romeo inmate talks to the Romeo 7th grade student."



Jerry Guenthner and inmates rehearsing The Tempest. Photo from Philomath Films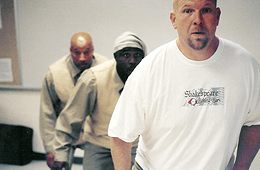 "He was very interested in that. So, we formed a partnership and I trained a group of middle school teachers on how to teach Shakespeare through performance."

"And, I worked with a second psychologist at Luther Luckett, Dr. Julie Barto, who happened to be an under graduate literature major and her area of expertise was Shakespeare," continued Tofteland.

"She had a very fond feeling about Shakespeare and she worked with the inmates in getting the play up on its feet."

When the sociologist's program reached a plateau he called Tofteland asking for suggestions. Tofteland offered to teach master classes and expand the program to the women's prison.

"I had them read Macbeth and had them produce The Witches Scene. That was my first experience of going into the prison and working with these two populations - at risk middle school kids and the female inmates," he recalled.



Tofteland directing the prisoners. Photo courtesy Curt Tofteland. Photo by Andy Nelson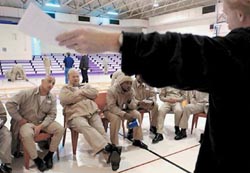 "The next master class was over at the male prison. I choose Romeo and Juliet and the death scene when Tybalt kills Mercutio. The juvenile is the protagonist, much like in the Hinton novels the juveniles are the protagonists. The workshop went very well."

That success spawned Barto to approve Tofteland's Shakespeare Behind Bars program. In 1996, with bed sheets for scenery, they staged their first full production, The Two Gentlemen of Verona.

The word heard around the prison yard was - encore.

"It got to the point where I said I'll continue to come back until you waste my time - and when you waste my time I am gone - since I am volunteering my time - that was 10 years ago."

Tofteland meets with the men twice weekly for two hours or more.

In order to participate, inmates must be free from infractions for one year. They are required to audition for Tofteland and the other participants. If accepted, the inmates must commit to the program by acting in plays and regularly attending rehearsals, have sponsorship from a current member and must be willing to serve a one-year apprenticeship.

In the beginning they were operating through the auspices of the Department of Psychology.

"A couple of years down the road, when Julie Barto left Kentucky to go to a federal prison in Florida, I was left without a sponsor in the prison. So, I applied for a program status. That is a very long process that you go through to establish your program as an independent program, that has by-laws and rules and regulations which can function in that prison in particular. Eventually, I was approved and Shakespeare Behind Bars became its own independent program."



Curt Tofteland, left and inmate Sammie Byron. Photo from Philomath Films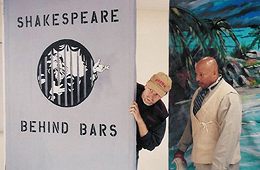 Funding for the Shakespeare Behind Bars comes from a variety of sources. The Norton Foundation gives the Kentucky Shakespeare Festival $20,000 annually for its educational programs and there is financial support from the Gheens Foundation.

Consider it money well spent.

"I have a ten year track record and I have no recidivism rate. None of the guys who have either been paroled or served out have come back to prison for different crimes," Tofteland emphasized.

"As more of that information gets out, more prisons around the country are paying attention to the program. What I hope will happen is we can create a national demonstration site here in Kentucky and, through the Federal Department of Corrections, begin to bring people to observe the program and get them to replicate the program in other prisons across the country."

"The umbrella organization is the Kentucky Shakespeare Festival," he continued. "We are the oldest free, professional, independently operated Shakespeare Festival in the United States. This is our 45th season of doing free Shakespeare in an inner city park in Louisville. We also have a very large educational program that I started in 1990 that serves about 55,000 kids across the region, with over 600 performance events. We travel to the schools and work with kids - kindergarten all the way through 12th grade. So, the umbrella organization has many different components in it, in that it serves many different audiences. But, the unifying factor is that it is always with the works of William Shakespeare."

Passionate about Shakespeare, he has a bugaboo about how it is taught.

"When I took over the festival in 1989 I'd meet new people for the first time and they asked what I did. I'd tell them and they'd always wrinkle their nose up. I knew it was the word Shakespeare. The reason that they don't have an appreciation or love of Shakespeare is that it was taught to them very badly. The teachers have actually ruined the experiences," he charged.



Teachers participating in From The Page To The Stage training program. Photo courtesy Curt Tofteland. Photo by Holly Johnson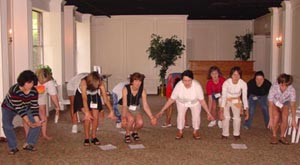 "I knew I needed to educate teachers. That is when I formed From The Page To The Stage - teaching Shakespeare in the classroom," continued Tofteland about the program developed in 1991 in conjunction with the Folger Shakespeare Library in Washington, D.C., modeled on their highly acclaimed teacher training program. "That is one of our programs tailored towards teachers in helping them teach Shakespeare through performance," he continued.

"From there I created educational programs that would go into the schools as a resource to teachers that had to teach Shakespeare, because it was mandated in their English classes, but didn't know how to do it well."

"We provide study guide material, pre and post activities and also two different kinds of experiences. One is Viewing and Doing, which is the kids watch professional actors and interact with them as they perform scenes or monologues from Shakespeare. The other one is a doing one, where the kids themselves participate in the project."

"We also have a Conflict Resolution Program. That is a program that came out of the learning curve of my working in the prisons. Most of the inmates had committed crimes because their resolution to a problem was to kill somebody. I found appropriate scenes in Shakespeare for them to perform - for them to inhabit characters that actually kill someone. They figure out why the character gets to that point. It helps them to reflect on their own lives and their own processes. I took that information and learning into the schools in a conflict resolution experience."



DeMond Bush, left, portrayed Horatio, and Jerry Guenthner had the title role in Hamlet. While in prison Bush has earned an associate college degree and a seminary diploma. Photo courtesy Curt Tofteland. Photo by Pam Spaulding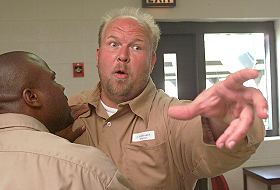 "I've always worked with "under dogs" in the classroom or in society and my heart always goes to them, because I recognize that they did not have the same familial situation that I had - they were not raised in empathic homes," related Tofteland who is the eldest of five children. Raised in a small North Dakota town by college educated, loving parents - he thought everyone was raised that way.

"My biggest epiphany in this work is that empathy not innate to the human spirit - it's something that is learned."

"Most of the inmates have quite horrendous familial situations. When somebody is raised in that, of course, that is what they are going to reflect. The only way to escape that reflection is for someone along the way to intervene and offer them an alternative behavior. In a lot of cases it is a teacher, minister, social worker or somebody outside the immediate family. For those that are in prison, coming from a disfunctional household is not an excuse for their behavior, because I don't allow excuses," he declared.

"There is only about three percent of the population that really is criminally insane like Charles Manson, that should never be allowed out into society. But, that's not the majority."



Former inmate Michael Smith (center, with visitor badge) joins old friends in a preshow cheer. The first Shakespeare Behind Bars alumnus to return to Luther Luckett to see a performance, Smith turned his life around and a year after release bought a house. Photo courtesy Curt Tofteland. Photo by Andy Nelson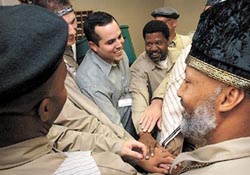 "I think of Shakespeare Behind Bars as a life course. It is preparation for inmates to function better within the system and to prepare them to come back out into society. Ninety percent of the 2.3 million inmates will come out. Who do you want to be living next to? I would rather be living next to someone who has been in Shakespeare Behind Bars because they have dealt with issues of conflict."

"What this program does is allow them the realization that they don't have to spend the rest of their life acting in that way. They have to take responsibility for the crime they did, but they can discover a truer more authentic self and that self is good."

"I hope the documentary will be an opportunity for people to see the kind of work this program does. I truly believe that when people see it they'll see the universality of it. They'll see that it can work in many different kinds of situations, not just in medium security prisons."

"The biggest coup for the film is getting to Sundance which, next to Cannes, is the biggest stamp of approval," he said of the screenings which take place Jan 21-28. "What we hope is that we'll find a commercial distributor. We are going to enter it in many more film festivals. The North American Broadcast rights have been optioned by a subsidiary of PBS, so we know that it will be on PBS. They have been very generous in allowing us to enter contests over the next couple of years before they broadcast it."

"At Sundance there were 624 documentary entries and you can bet, that out of the 624, they had some damn good documentaries. We were fortunate enough to be the one of the sixteen they selected. It is going to have a variety of showings out there. We are going to do a screening here in Louisville as a fund raiser for the festival. We'll do DVD so it can be distributed to what I hope will be other prisons and high school and middle school programs. I hope it will be able to be a teaching tool."

There have been six warden at Lucker Luckett since the inception of Shakespeare Behind Bars. Some more supporative than others.



After each show, the actors pass through this holding area and are subject to a strip-search as they head back to their cells. Photo courtesy Curt Tofteland. Photo by Andy Nelson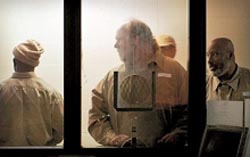 "The warden that was there during the making of the documentary is Larry Chandler," said Tofteland about the man who has a Masters Degree in Justice Administration from University of Louisville and Management from Brescia University. In March, 1999 Chandler was appointed as Warden of the Luther Luckett Correctional Complex, and in November, 2003, Chandler was appointed as Warden of the Kentucky State Reformatory.

"He is an amazing and innovative man," emphasized Tofteland. "He allowed film makers up in the tower, and in very secure situations - including solitary confinement."

"There is a metal detector you go through. You have to empty all your pockets. Backpacks, portfolio, all of that stuff, is gone through and hand searched. They have the prerogative to search you, if they so choose. The security is very professional. And, all of the people brought in there are briefed on their behavior. We've never had any problems."

Tofteland isn't in this for the money. Nor have there been many medals hung around his neck, though he deserves the accolades. Tofteland is philosophical.

"Well, I often tell the guys that when I get to heaven at the pearly gates and Saint Peter meets me, with my life book in his hands and opens it up and says - My, God, look at all of these negative things that you've done in your life. I will simply say - "Yes, Saint Peter that is true. But - Shakespeare Behind Bars - and with those three little words he'll say - 'Come on in.'"


THAT NAGGING BAD BACK
Brad Oscar takes over January 10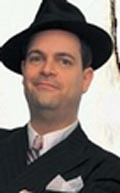 The London production of The Producers has multiple back problems.

First Richard Dreyfuss, who cast to play the role of Max Bialystock at London's Theatre Royal, dropped out citing slow recovery from back surgery.

He was replaced by Nathan Lane who was signed to play the part until January 8.

Lane, who won a Tony award for the role in the Broadway musical, has now dropped out of the show because of two slipped discs.

Taking over for Lane is Cory English, who played the part for five performances that Lane missed before Lane officially withdrew from the production. During one of those five performances, in the audience was Prince Charles and Camilla Parker Bowles who were said to have thoroughly enjoyed the Mel Brooks production, both laughing and clapping. On January 10 Brad Oscar will take over the part of Bialystock as previously scheduled. We hope his spine is in good shape.



Broadway To Vegas is supported through advertising and donations. Priority consideration is given to interview suggestions, news, press releases, etc from paid supporters. However, no paid supporters control, alter, edit, or in any way manipulate the content of this site. Your donation is appreciated. We accept PAYPAL. Thank you for your interest.


ELVIS PRESLEY 2005 BIRTHDAY CELEBRATION SPOTLIGHTS NEW BROADWAY SHOW


Any excuse for a party and for the devoted followers of Elvis Presley one of the most important weeks of the year is Birthday Week January 6 - Sunday, January 9. Thousands flock to Graceland to party and pay homage.

While many of the events are annual, new this year is the Broadway bound play All Shook Up with guests being promised "the latest news and updates."

All Shook Up, features a book by Joe DiPietro. A cast of 30 is directed by directed by Christopher Ashley. Currently playing Chicago's Cadillac Palace Theatre to January 23, the production will begin previews Sunday, February 20 and open on Thursday, March 24 at Broadway's Palace Theatre.

Happy Birthday Elvis on the Silver Screen takes place on Thursday with the unspooling of the concert film Elvis: That's The Way It Is, Special Edition. On Friday a Special Evening Tour of Graceland takes place where walkers will see Graceland decorated in all its Christmas splendor. Decorations for the 2004/2005 holiday season will be in place through January 9. As has become tradition, just for the dates of the Elvis Birthday Celebration, special Elvis exhibits from the Graceland Archives will be in place inside the residential area of mansion. Elvis Christmas music plays in the background.

The Official Elvis Collectors Club event will be highlighted by a reception but this is not your ordinary seated "theater-style" event. Rather, it will cover the entire plaza area and will include Elvis's airplanes, the Sincerely Elvis Exhibit and The Elvis Presley Automobile Musuem.

Current plans include an autograph session with Ray Walker and Gordon Stoker of The Jordanaires, James Sikking, Elvis's costar in Charro!, lifelong friend and Elvis Radio on Sirius DJ, George Klein, and an opportunity to meet, greet and hang out with the other Elvis Radio DJs; Memphis Mark Billingsly, Rob Grayson, Brian Jay, John Paul, Tonya J. Powers, Bill Rock, Rick Tarrant and Doc Walker. Guests will also be the first to hear the latest news and updates about the afore mentioned Broadway-bound play All Shook Up.

The Elvis Presley Birthday Pops presentation takes place at the Cannon Center for the Performing Arts, in downtown Memphis. The Memphis Symphony Orchestra presents a concert of Elvis music performed from the original music charts from Elvis Presley's concert tours. The Terry Mike Jeffrey Band serves as the rhythm section. Vocals by Terry Mike Jeffrey and guest vocalists.

The Elvis Presley Day Ceremony takes place on Saturday. The traditional ceremony with special program hosted by Graceland/EPE officials, features a birthday cake cutting and a proclamation of Elvis Presley Day by Memphis and Shelby County officials.

Elvis Fan Club Presidents Luncheon begins at noon at the Memphis Marriott East. The annual Elvis Birthday gathering of Elvis fan club presidents and officers is an invitation-only event.

Evening Scavenger Hunt Tour of Graceland where guests are invited to tour Graceland Mansion and the Elvis Presley Automobile Museum while simultaneously participating in a trivia scavenger hunt. Adult and Junior version of scavenger hunt are available.

Memphis RiverKings Celebrate Elvis's Birthday at the DeSoto Civic Center, Southaven, MS - just a few minutes south of Memphis on I-55. Join the Memphis RiverKings professional hockey team as they celebrate Elvis's Birthday and take on the New Mexico Scorpions. The first 2,000 fans through the doors will receive a limited edition commemorative Elvis Presley hockey puck.

An Elvis Birthday Tribute with Shawn Klush, Ryan Pelton, Justin Shandor, D.J. Fontana, Sweet Inspirations, The Fabulous Ambassadors Show Band on January 8 at the Star Plaza Theatre in Merrilliville, IN.

On Sunday, January 9th, it's the Charity Bash With The Brits at The Radisson Hotel, in downtown Memphis. Charity Bash presented by The Official Elvis Presley Fan Club of Great Britain and Elvis-Today magazine. Great Elvis disco party with a dee-jay. Dozens of guests and live cabaret from GMTVs Heath Ashton. Superb entertainment and loads of prizes. Nobody parties like the Brits! All Elvis fans welcome.

Queen Elizabeth II's annual New Year's list has honored a bevy of celebrities. In case you are confused about the new name calling, Her Majesty can bestow a variety of titles.

The Most Excellent Order of the British Empire is an order of chivalry established on June 4, 1917 by George V. The Order includes five classes in civil and military divisions, in order of seniority:

Knight or Dame Grand Cross (GBE)
Knight or Dame Commander (KBE or DBE)
Commander (CBE)
Officer (OBE)
Member (MBE)
Only the two highest ranks are knighted.

The Order is limited to 100 Knights and Dames Grand Cross, 845 Knights and Dames Commanders, and 8960 Commanders. There are no limits on the total number of members of the fourth and fifth classes, but no more than 858 Officers and 1464 Members may be appointed per year. Appointments are made on the advice of the governments of the United Kingdom and some Commonwealth nations.

Those receiving the CBE are;

Roger Daltrey, 60, who formed The Who in 1964 and fronted it for 40 years. He is being honored for not only his music and his charity work as patron of the Teenage Cancer Trust.

Comedian Eric Sykes, 81, best known for the TV comedy Sykes - in which he starred with Hattie Jacques - and slapstick film The Plank. He also recently appeared on the West End stage in Caught In The Net and starred opposite Nicole Kidman in 2001 movie thriller The Others.

Stage and screen actress Anna Massey, 67. She won a Bafta for her performance as a lonely spinster in the 1986 TV adaptation of Hotel du Lac. Massey also appeared in Alfred Hitchcock's Frenzy and Possession with Gwyneth Paltrow.



John Lill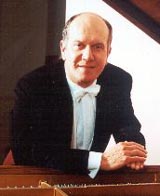 Alan Whicker, 79, television journalist. He long-running show Whicker's World aired in Britain from 1959 until 1988.

Quentin Blake, best-known for his illustrations for Roald Dahl books.

Classical pianist John Lill whose concert career spans 50 years. Unanimously described as the leading British pianist of his generation, he has worked with the Cleveland, New York Philharmonic, Philadelphia, Dallas Symphony, Baltimore Symphony, Boston Symphony, Washington and San Diego Symphony Orchestras. Lill was awarded the OBE for his services to music in 1978.

Those receiving the OBE award include;



Geoffrey Palmer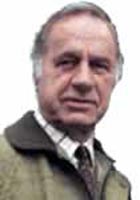 Geoffrey Palmer, 77, actor. He appeared in The Fall and Rise of Reginald Perrin and starred in Butterflies, Executive Stress and As Time Goes By. He was also in the film Mrs Brown, which starred Dame Judi Dench, his As Time Goes By co-star.

Actor Tom Wilkinson, 56, who starred in hit British comedy The Full Monty, Shakespeare in Love and received a best actor Oscar nomination for In the Bedroom.

ITV Pop Idol judge and record producer Pete Waterman gets his award his services to music. Waterman has written and produced more than 200 hit singles in 25 years for acts from Kylie Minogue to Steps.

John Sullivan, 48, creator of Only Fools and Horses. Sullivan also wrote classics Dear John, Citizen Smith and Just Good Friends.

Ray Cooney, 72, actor, author, producer and director, known for his farces Two Into One (1981) and Run For Your Wife (1983). As a producer and director he has been responsible for over thirty London productions, including Lloyd George Knew My Father, Whose Life is it Anyway?, They're Playing Our Song, Duet for One, Bodies, Chicago, Clouds and Children of a Lesser God. In 1983, Ray formed the Theatre of Comedy Company - bringing together the founder members consisting of Thirty West End stars - and he became its first Artistic Director.

Composer Karl Jenkins, 60. He became a jazz oboist joining the group Nucleus which won the Montreux Jazz Festival first prize in 1972. He joined 1970s progressive rock band Soft Machine before branching out as a writer and composer. He is probably best known for his Adiemus project including Dances of Time and Cantata Mundi which have been performed at major venues throughout the world.

Those receiving the MBE award include:

TV doctor Mark Porter.

Veteran actor Hugh Lloyd, 81.

Author Alan Plater who has written TV series including Dalziel and Pascoe, A Very British Coup, The Barchester Chronicles, The Beiderbecke Affair, Oliver's Travels and Fortunes of War as well as numerous works for radio and theatre.


SWEET CHARITY


JOHN MAYER: A BENEFIT FOR BROADWAY the Grammy-winning musician John Mayer meets Jon Pareles, chief pop music critic of The New York Times. This special evening featuring an exciting discussion between the musician and the critic and selected music. And it's all to benefit The Actors' Fund Al Hirschfeld Free Health Clinic and MusiCares Foundation. Monday, January 10 at the Hirschfeld Theater in NYC.



AFFLUENZA! by James Sherman.

William Moore lives quietly in his high-rise with only his loyal assistant, Bernard, and his six hundred and fifty million dollars. But things change quickly when he falls in love with Dawn, a young woman of simple means. His son and ex-wife believe Dawn is only after his money. To complicate matters further, Moore's nephew meets Dawn and falls for her too. Who gets what and who ends up with whom is revealed in surprise after surprise in this new comedy.

Mark Ciglar directs the casts that includes; Kip Niven, Sean Grennan, Martin English, Merle Moores, Jennifer Bradshaw and Elijah Murray.

Stage Manager William Christie and Carole Jo Bradley. Set Designer Del Unruh. Costume Designer Paul Hough. Light Designer Shane Rowse. Sound Designer Roger Stoddard. Properties Designer William Christie. Set Construction Gary Mosby.

January 7- February 20 at the American Heartland Theatre in Kansas City.

REAL MEN a world premiere of a new musical by Charles Strouse.

From the multiple Tony and Grammy Award-winning composer for some great Broadway musicals, including Annie, Bye Bye Birdie, Golden Boy, Applause and Rags, comes a brand-new musical made up entirely of brand-new songs.

Real Men explores the lives of men and their relationship with women, their children, their parents, and with each other over a lifetime. "It's all getting more complicated," observed Strouse. "Marriage is temporary, girls' navels are exposed on the street, and men kiss each other, so I've done what any man would do -- write a show about it!"

January 4 - January 30 at the Coconut Grove Playhouse in Coconut Grove, Florida.

I AM MY OWN WIFE by Doug Wright. Directed by Moises Kaufman. In a stunning tour-de-force performance, Jefferson Mays plays Charlotte von Mahlsdorf, a real-life German transvestite who miraculously survived two of history's most brutal regimes – Hitler's Gestapo and the East German secret police, the Stasi. Mays' performance, which had critics scrambling for superlatives, embodies not only the controversial Charlotte, but also playwright Doug Wright and more than 40 other characters from Charlotte's astonishing life.

Winner of the 2004 Pulitzer Prize for Drama and the 2004 Tony Award for Best Play and Best Actor in a Play.

January 8 - February 13 at the Goodman Theatre in Chicago.

HAROLD AND MAUDE: THE MUSICAL Book and Lyrics by Tom Jones. Music by Joseph Thalken. Based on the film by Colin Higgins. Directed by Mark S. Hoebee.

Based on the 1972 cult film, Harold & Maude: The Musical is perhaps one of the sweetest yet most unconventional love stories, profoundly moving and filled with delectable humor.

Harold, a 19 year-old fascinated by death and all its trappings, meets Maude, a vivacious and eccentric 79-year-old widow with hobbies that border on the felonious. With her unbreakable spirit, she becomes a beacon in the life of this self-destructive rich boy, and their unlikely romance awakens Harold to the beauty, possibility and meaning of life.

It's a love story, a sentimental black comedy, a ludicrous tear-jerker, and a grisly social satire wrapped up into one life-affirming musical. January 5 - February 6 at the Paper Mill Playhouse.

STONES IN HIS POCKETS by Marie Jones. Directed by Paul Mason Barnes.

Stars Joe Hickey and Timothy McCracken. Michael Ganio, scenic designer and costume designer; Kenton Yeager, lighting designer.

January 5–February 4 at The Repertory Theatre of St. Louis.

OKLAHOMA the Rodgers & Hammerstein's landmark musical that, quite simply, changed the American musical forever. On the heels of the wildly-acclaimed London and Broadway revivals, this sparkling new touring production is adapted from the Cameron Mackintosh presentation of the Royal National Theatre production.. January 4 - 9 at The Majestic Theatre in Dallas.


| | | |
| --- | --- | --- |
| | | |
WHO'S WHERE


MICHAEL FEINSTEIN performs at the Community Playhouse in Omaha, Nebraska on Saturday, January 8. Next Sunday he can be enjoyed at the Van Wezel Performing Arts Hall in Sarasota, Florida.

STEVE & EYDIE in the spotlight January 12-15 at the Stardust Hotel in Las Vegas.

JULIO IGLESIAS Spain's most charismatic singer performs seductive hits such as Moonlight Lady, A Media Luz, and To All the Girls I Loved Before, on stage Sunday, January 9 at the State Theatre in New Brunswick, NJ.

PAUL ANKA performing Friday, January 7 at the Performing Arts Center in San Luis Obispo, CA. On Saturday he can be enjoyed at the Cerritos Center in Cerritos, CA.

WESLA WHITFIELD starring at Le Jazz Au Bar in New York City January 11-23.

HOOTIE AND THE BLOWFISH perform January 8 at the Silverton Hotel in Las Vegas.

JOHNNY MATHIS in the spotlight Saturday, January 8 at the Ruth Finley Person Theater at the Luther Burbank Center for the Arts in Santa Rosa, CA.

K .D. LANG entertains Friday, January 7 at the Walt Disney Concert Hall in Los Angeles. Next Sunday, January 9, she'll be in the spotlight at the Arlington Theatre in Santa Barbara, CA.

DIANNE REEVES performs Saturday, January 8, at the Lincoln Theatre in Napa, CA.


FINAL OVATION
Jerry Orbach
JERRY ORBACH 69, died Tuesday at Memorial Sloan-Kettering Cancer Center in Manhattan, of prostate cancer. The Tony Award winning actor was Bronx born and bred. Orbach accomplished what few ever achieve. He steadily worked as an actor since the age of 20.

Orbach was honored by The Drama League in 2003. At that time the Drama League President Patricia Follert stated that Orbach, "has appeared in more American musicals than any other living actor." He successfully made the transition to television starring for 12 seasons in the original Law & Order playing cynical detective Lennie Briscow. He left to head the spin-off Law & Order: Trial by Jury, set to debut next year.

He began his career off-Broadway. After training with Herbert Berghof and Lee Strasberg, Orbach received his job off-Broadway as an understudy in the 1955 revival of The Threepenny Opera. The cast included Bea Arthur, Ed Asner, John Astin, Jerry Stiller, and Lotte Lenya. Eventually Orbach played the lead role of MacHeath.

In 1960, Orbach created the role of flamboyant interlocutor El Gallo in off-Broadway's The Fantasticks. Orbach was paid $45 per week.

The lanky, deep-voiced performer has starred in the Broadway production of; Carnival, Guys and Dolls, Annie Get Your Gun, The Natural Look, and Promises, Promises. He was also in the original Chicago and 42nd Street.

He also managed to make a film a year, including portraying Jennifer Grey's father in Dirty Dancing, the voice of the Chevalieresque candelabra in the Disney delight Beauty and the Beast, and Billy Crystal's agent in Mr. Saturday Night.

He went on to received a Tony Award for his performance in Promises, Promises.

In early December Orbach announced he has been diagnosed with prostate cancer. He is survived by his second wife, Elaine, whom he married in 1979. He is also survived by two sons from his first marriage to Marta Curro (1958 to 1975) Anthony and Christopher and two grandchildren.

In his honor the lights on Broadway were dimmed last Wednesday. A private funeral service was held Friday. A public memorial is being planned.
















Next Column: January 9, 2005
Copyright: January 2, 2005. All Rights Reserved. Reviews, Interviews, Commentary, Photographs or Graphics from any Broadway To Vegas (TM) columns may not be published, broadcast, rewritten, utilized as leads, or used in any manner without permission, compensation and/or credit.
Link to Main Page
---
Laura Deni


CLICK HERE FOR COMMENT SECTION