! >
Broadway To Vegas
  SHOW REVIEWS     CELEBRITY	INTERVIEWS     GOSSIP     NEWS 





A MIDLER-STREISAND FEUD?

Not everybody put on a party hat and drank their way into the next century. Some were in a different realm altogether. Mind-body medicine icon Deepak Chopra hosted three days of mind-body wellness seminars at the Palm Springs Marquis Resort. Highlight of the New Year's Eve celebration was receiving a special message from the Dali Lama transmitted from Sarnath, India
In Sedona, Arizona the Vortex lovers held a festival with a Buddhist blessing, temple dances, spirit invocations, discussions about the Rings of Truth and Vortex Energy. The seminar that sold out first was titled "You Don't Have To be Anti-Dragon to be Pro-Princess."

Six Buddhist monks, clad in their traditional spiritual robes, stood in front of the volcano outside the Mirage Hotel, Las Vegas. All of their praying and chanting didn't bring peace to Elton John and Tina Turner.

The two stars have carried their feud into the new millennium. They were on the same bill at the Thomas and Mack Center in Las Vegas. Never mind that the stage instructions indicated they might sing one song together. They not only didn't perform together, they didn't even see each other, much less speak. Each did separate sets - and stayed as far away from each other as a limo and security guards could provide.



TINA TURNER still fighting with Elton John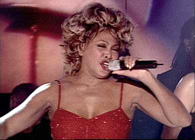 Also sticking it to each other were Bette Midler and Barbra Streisand. Those who paid to see Midler perform on New Year's Eve at Mandalay Bay got their money's worth - and she had spent a bundle on the production. "We have spared no expense. Look at all this crap." Midler even had a Streisand impersonator join her on stage. When a down close patron arrived late Midler zinged "You're late. Where were you, at Barbra's? Couldn't stand more than an hour, eh?"

Midler's show opened with her emerging from a gigantic half-globe singing From A Distance. In a performance that never dipped below sensational, her elaborate entry into the New Year included her dancers, with numbers 10 through 1 plastered on their bottoms, counting down into 2000 by lifting their skirts.



BETTE MIDLER sensational New Year's Eve show took jabs at Barbra Streisand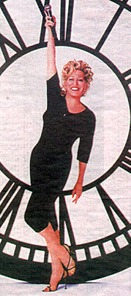 Midler's show lifted everyone's spirits. I'd seen and enjoyed Bette the last time she played Vegas. This production was not a reincarnation of that show, making one think they had paid for gourmet and received left overs on New Year's Eve. Fresh, vibrate, sensational. The Divine Miss M - is.

Streisand's performance on January 1 was a perfect match for those who enjoy playing Streisand records all night long. An older, more subdued crowd. The diva did bring her husband, James Brolin, on stage for a touching first dance of the New Year. But, this show as elegant and wonderful as it was, reminded me a lot of Barbra's show that I'd seen Jan. 1, 1994, also at the MGM-Grand. Nothing wrong with that - except - for the steep prices - and welcoming a new century into Las Vegas - Midler takes the prize. While Streisand didn't offer any potshots about Midler on stage, one gets the strong impression that they re not best friends.

If you thought the dropping of the new Times Square ball or the choreographed fireworks on the Eiffel Tower were spectacular - you missed the really good stuff. In Port Clinton, Ohio, a 120 pound, 16 foot fiberglass walleye fish named Captain Wylier Walleye was dropped from a crane into Lake Erie to commemorate the changing of the year.

On Upper Duval Street in Key West, Florida, a 6-foot, red, high heeled, drag queen named Sushi was flung off a hotel balcony. South Street dropped an alien - or a guy in an alien suit - into a swimming pool. At Sloppy Joe's Bar, ballyhooed as a favorite watering hole of Ernest Hemingway, a giant conch shell dropped at midnight.

In Auburn, Alabama the entire town joined together on New Years and wrapped toilet paper around a tree, called "toomers tree." Now to be outdone, in New Orleans a Voodoo Virgil Mass "for all souls moving forward into the new millennium" took place."


COMPUTER GLITCH AT AHMANSON WRECKS HAVOC

Disgruntled patrons at the Ahmanson Theatre, Los Angeles there to attend Les Miserable, started clapping, booing and walking out when a computer breakdown caused a 40 minute delay in the start of the musical last Thursday.

Some patrons were seated when it was announced there would be a 15 minute delay because the computers had malfunctioned and theatergoers could not pick up their will call tickets. After 15 minutes passed another announcement was made that the computer problem still wasn't fixed and that the performance would be further delayed.

Box officials then began walking up and down the aisles writing down numbers of empty seats so that tickets bearing those numbers could be passed out to the long line of waiting customers

One seated patron began cursing and screaming and was quickly subdued. "There were a lot of angry people," complained an our eye witness. "They were clapping and a lot of people left. The show didn't begin until 8:40."



Broadway To Vegas is supported through advertising and donations. Priority consideration is given to interview suggestions, news, press releases, etc from paid supporters. However, no paid supporters control, alter, edit, or in any way manipulate the content of this site. Your donation is appreciated. We accept PAYPAL. Thank you for your interest.


ELVIS WOULD HAVE BEEN 65

The heavy-lidded stare, the thick-lipped semi-pout, the curled upper lip, more overtly sensual than the androgynous Mick Jagger, more titillating than James Dean. When he was swore into the Army the school near my home postponed all tests that week, because the girls were too upset to concentrate. The man who rivaled Eisenhower as a 1950s mass phenomenon, Elvis Presley, would have turned 65 on January 8.



ELVIS PRESLEY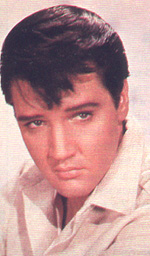 Fans will descend on Graceland to begin a week long celebration. Events include screenings of Presley movies and Elvis impersonator contests.A special Memphis presentation of Elvis-The Concert will take place at the Mid-South Coliseum. Elvis hasn't left the building on this one. He stars, via video, and live on stage are a 16-piece orchestra and a cast of Elvis' own original bandmates including; Joe Guercio conducting, The Sweet Inspirations back up, James Burton lead guitar, Glen D. Hardin at the piano, Jerry Scheff on bass guitar and Ronnie Tutt on drums. Male vocals will be performed by former member of The Stamps.

At the Elvis-A-Rama Museum in Las Vegas a birthday celebration for the King of Rock and Roll will feature Tim Welch portraying Presley in an hour performance that includes a birthday cake. You can even be married by an Elvis impersonator.

The boy from Tupelo, Mississippi came a long way from Heartbreak Hotel to an American icon - not even death could diminish his superstar status. T.V. Guide anointed him the Millennium's Numero Uno entertainer.

To understand Presley you must first understand the man who discovered, managed and was part owner of Elvis Presley: the late Thomas Andrew "Colonel" Parker, who lived in Las Vegas until his death. He was credited for creating Elvis, blamed for signing him to B-movie contracts, accused of mismanaging Elvis' finances, including the controversial decision that Parker encouraged of Elvis selling his early recording royalty rights to RCA in 1973. In 1981, the court-appointed guardian for Elvis' estate said that Parker and RCA records conspired to defraud the singer. Attorney Blanchard Tual called Parker's compensation excessive and shocking. Parker, who managed Presley for 32 years, earned 50 percent of every dollar that the singer made while he was alive.



COLONEL PARKER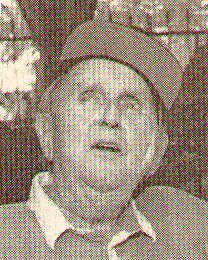 Fawn-colored pants, white shoes, a pink satin shirt with ELVIS embroidered on the back and a small Presley hat decorated with the hero's pictures festooned the fat, balding, cigar-smoking man.

He deliberately tried to look like a rube. But he was the shrewdest pitchman who ever came out of a small time carny into big-time showbusiness.

He started out traveling in carnivals where his parents worked. Orphaned as a child, he worked for his uncle's Great Parker Circus, and had his own pony-and-monkey act while a teenager. He was a barker, merry-go-round operator, candied-apple dipper and ice shaver for snow cones.

During the 1930s he ran a frankfurter concession and beat out the foot-long hot dog fad by using foot-long buns, sticking a bit of frank into each end, and filling up the middle with onions. When the suckers complained, he pointed to little chunks of hot dog previously arranged on the ground and said, "You dropped your meat, son; now just move along."

Later as a carny press agent, he got interested in singers, profitably managed Gene Austin, Hank Snow and Eddie Arnold.



ELVIS PRESLEY AND COL. PARKER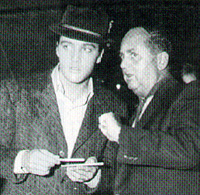 It was Presley who came to Parker. By 1955 the Colonel was considered the best manager for a country singer. Presley had little more than an inguinal tremor and a guitar. He also had a small recording contract with Sun Records. But RCA was looking for such a singer and had been trying to buy Presley's contract from Sun. Parker talked RCA into putting up $35,000, an unheard-of sum for a relative unknown. Sun sold.

Fearing overexposure, Parker drew the line at Presley recording more than three records a year, as opposed to big-time singers cutting up to eight.

The Colonel saw to it that Elvis was comfortable, that he had everything he wanted. He had some of Elvis' pals put on the payroll. And he promoted Elvis as no singer had been promoted before.



ELVIS PILLOW for a teen-age girl to dream on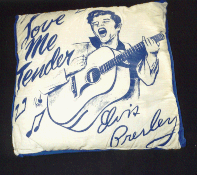 In August, 1956 the Colonel undertook one of his more profitable schemes. He engaged Howard Bell and Hank Saperstein of Special Projects, Inc. To handle all product merchandising. Before it was all over, there were no less than 78 different Elvis Presley products being sold, from T- shirts, to lipsticks, and sales were reported in the millions of dollars each month.

Saperstein also agreed to take over administration of the Elvis Presley Fan Club, which had been operating at a loss for several months.

Presley's gyrations terrified television network officials into ordering that for Presley's appearance on the Ed Sullivan Show, all cameras be focused above the subversive pelvis.

The daffiness surrounding Presley had civic leaders, clergymen and some parents upset. The problem was that Presley didn't just bounce to accent the heavy beat, but used an on toes bump and grind routine usually seen only in burlesque.

In Miami, one columnist called Presley's performance "obscene." In Jacksonville, he was threatened with jail.

A letter contest was run by Boston disc jockey Norm Prescott, who got 5,000 letters when he announced that he had hair shorn from the famous head. The famous clipping was even witnessed by a notary public.

On tour of Texas in April, 1956, fans kicked through a plate glass door in Amarillo trying to get him to autograph arms and underwear. In San Diego the shore patrol was called out to save him from his fans.



ELVIS PRESLEY (center) surrounded by THE JORDANNAIRES (1957) the most famous back up group of all time, who live in and regularly perform in Las Vegas.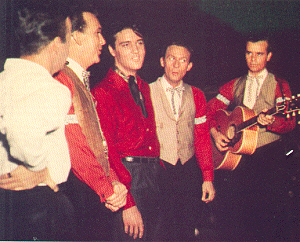 When Presley had played in Jacksonville the previous year the aroused fans stirred up civic leaders. When they discovered Presley was returning for a two-night gig they got ready. Juvenile Court Judge Marion Gooding prepared warrants, charging Presley with impairing the morals of minors. The judge said he would sign and serve them if Presley repeated his torso-tossing spectacle of the earlier visit.

"I don't do no dirty body movements," protested Presley. But he did tone down the act and no further action was taken by the judge.

Trinity Baptist Church staged a Prayer for Presley program after the Rev. Robert Gray said Presley had "achieved a new low in spiritual degeneracy. If he were offered his salvation tonight, he would probably say, No thanks, I'm on top.'" Then they bowed their heads and prayed.

The six shows were sold out with 2,200 Jacksonville teen-agers turning up at every performance. A line of uniformed cops and shore patrol were seated in the orchestra pit to keep the girls from storming over the footlights when Elvis sang his Hound Dog, finale.

Within a week of Elvis' first Sullivan Show, RCA released seven of his singles simultaneously. No one had done anything like that before.

Besides that, one of the songs Elvis sang on the Sullivan Show was Love Me Tender. He said it was the title tune from his first picture and he hoped everybody liked it. This created such a demand that RCA had to put it out earlier than originally planned, giving Elvis eight new singles.

At that time usually 200 to 300 prints of a film were released, but when Love Me Tender came out, 550 prints were ordered. In New York, promoters called out 35 policemen, hired 20 extra ushers and notified the city's truancy department when 3,000 teenagers - mostly girls- were lined up outside the Paramount Theater by 8 a.m. Within three weeks, the million dollars that had been sunk into the movie had been recovered. Never before had any Hollywood film got its money back so rapidly.



ELVIS PRESLEY at the New Frontier Hotel, Las Vegas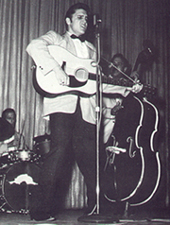 The last week of April, 1956, Presley headed into Las Vegas to perform at the New Frontier Hotel where he was to be paid $12,500 for a week's cooing and crying his way through Long Tall Sally, I Got A Woman, and Blue Suede Shoes.

The Colonel prefers cash. When the New Frontier pleaded that its check was good, Parker, .with eyes as soft as ball bearings, replied, "No check is good. Some are pretty good, but they got an atom-bomb testing place out there in the desert. What is some feller pressed the wrong button?"

RCA depended upon Elvis for 10% of its business. The colonel promoted unstintingly. He rented elephants and advertised his client with posters placed on their flanks, hired midgets to parade as the Elvis Presley Midget Fan Club.

Back then America had the draft. Presley was of draft age and draft dodging was out.

On January 4, 1957, four days before his twenty-second birthday, Elvis reported at Kennedy Veterans Hospital in Memphis for his pre-induction physical. Normally, the Army moved men through in groups of 40. Realizing what might happen with Elvis on the premise, rules were bent. He was the only potential recruit to be poked and prodded that day.

The following week, the Army recruiters in Memphis held a press conference, during which Capt. Elwyn P. Rowan said, "Physically he's an A-profile, and that's as high as you can go." Mentally? "Can't give you the exact score," he replied, "but Presley's score was about average."



GRACELAND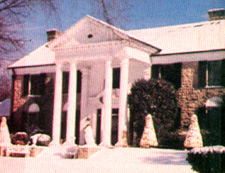 Elvis went home to Graceland, a new $100,000 home he'd bought in March, located in a small town called Whitehaven. Elvis supervised the remodeling of the 23-room structure made of tan Tennessee limestone with tall white colonial pillars.

He told friends he wanted to make his bedroom the "darkest blue there is, with a mirror that will cover one entire wall." He said he was going to decorate the entrance hall with a facsimile sky - clouds painted on the ceiling for daytime, little lights that blinked for stars at night.

He ordered purple walls with gold trim for the living room, dining room and sun room - with white corduroy drapes. The entire outside of the house was to be lit with soft blue spots making it seem the limestone had a life on its own, glowing in the dark. The ten-foot, wrought-iron gates had larger than life-size metal figures of Elvis playing the guitar.

On December 20, the government sent their greetings in person to Elvis at Graceland. Earlier in the week, both Army and Navy recruiters had visited Elvis offering him special enlistment opportunities. The Navy, through Chief Petty Office D.U. Stanley, even went so far as to say it would form an "Elvis Presley Company" with boys from Memphis if Presley would just sign the Navy enlistment papers.

Col. Parker refused to let Elvis go into Special Services and spend two years entertaining troops. "A sure way to debase your merchandise," he explained, "is to give it away."

When the notice finally arrived ordering him to report to the Memphis draft board office Jan. 20, 1958, he told newsmen he would miss his mother and father adding, "I'm kind of proud of it. It's a duty I've got to fill, and I'm gonna do it."

If Elvis was treating it lightly, Col Parker, Paramount Pictures and Hal Wallis were not. Parker moaned that Presley's time in the Army would cost the United States $500,000 a year in lost income taxes. The Army was unmoved.



ELVIS in Jail House Rock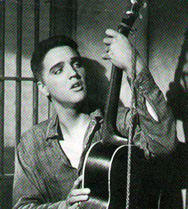 Paramount and Wallis pointed out that Elvis had been scheduled to report for King Creole the same week the Army wanted him. Between $300,000 and $400,000 already committed to the project would be lost if Elvis went into the Army before March. The draft board held a special meeting December 27 and granted Elvis a 60-day deferment so he could make the film.

On the cold, rainy Monday morning on March 24, Elvis reported to Local Board 86. Stripped to his skivvies in an Army hospital in Memphis, Private Elvis Presley was measured and weighted in at 195 pounds, six feet-one-half inch." His first duty was to take charge of 21 other recruits for the bus trip to Arkansas' Fort Chaffee reception center.

In his first three days of Army life Private Presley was inoculated, outfitted - size 12 GI boots - barbered and advanced $7 on his monthly pay of $78. RCA Records promised to mail him $4,000 a month, so he'd have a little spending money.

At the end of the first week Fort Chaffee's commandant, Brig. General Ralph Mace, announced that Presley stood up under induction "marvelously," and then sent him to Fort Hood, Texas, for combat training.

Four days later at Fort Hood, Presley was assigned to A Company, Second Medium Tank Battalion, Second Armored Division. Elvis was an exemplary soldier. Much of the Army is based on a philosophy of competitive gung-hoism that appealed to Elvis anyway.

But the Colonel was studying Army regulations and determined that Elvis could sleep off post if he had dependents living in the same area. So, Elvis rented a three-bedroom house and his parents came to stay.

But in August Elvis thought his world had collapsed. His mother had not been well. It had been difficult for her to walk and to concentrate or carry on a normal life. Elvis and his father decided she should return to Memphis where she could be under the care of the family doctor. Elvis drove her to the train on Friday, Aug. 8.



ELVIS'S BELOVED MOTHER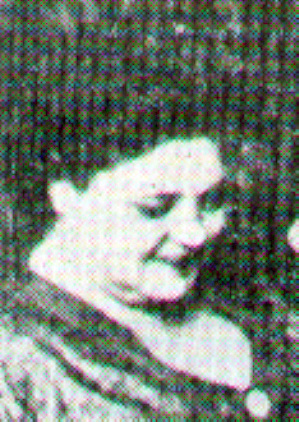 In Memphis, doctors said she had hepatitis. In three days, the doctors called Elvis in Texas asking him to come home as soon as possible.

Through Tuesday night, all day Wednesday and throughout the night, Elvis and his father took turns sitting at the bedside. When the end came, Thursday at three in the morning, Vernon was in the hospital room and Elvis was asleep at Graceland. Later the doctor announced that Mrs. Presley had died of a heart attack.

In the book Elvis by Jerry Hopkins, a close friend explained what happened. "She wanted to be what she thought Elvis wanted her to be. She wanted to look good for Elvis, to be thin and attractive. But she was not supposed to be thin, and she stayed heavy, began to put on more weight. She began to take pills, diet pills. I guess they became a habit with her. And then she switched to alcohol.

"All she wanted was to make Elvis proud. She just wanted him to be proud of her. And, of course, he was proud of her. But she kept on taking those pills, and drinking - and finally her big ol' heart gave out."

She was 46.

Mrs. Presley was buried on a hillside. Reporters took in every sob and mumbled syllable.

"Oh God," Elvis said. "Oh God, everything I have is gone..."

Elvis was given an extension on his emergency leave and remained in Memphis for another week. On Saturday, Aug. 24, he flew to Dallas where he told newsmen who greeted him at Love Field that his father would be accompanying him to Germany.

"One of the last things Mom said was that Dad and I should always be together," Elvis softly said. "Wherever they send me, Dad will go too. Before I went home, I was scheduled to leave for Germany about the first of September. Mom and Dad and I often talked about going to Europe. I guess that's where we'll go now - the two of us."



PRISCILLA PRESLEY
Within a few days of his arrival in Germany he started dating a 16-year-old German girl and then went dining with a Berlin starlet. But only Priscilla Beaulieu, the 14-year-old daughter of an Air Force captain, seemed to interest him for any length of time. He dated her for four months, until he was shipped back to the States.

Every date was the same, with Presley's father picking up Priscilla in a car. Vernon was dating a pretty blonde divorcee Davada "Dee" Elliott. Sometimes the four would double-date. "Elvis was not aggressive with me," Priscilla said in describing their courtship. "He never pushed. He was very gentle."

By middle January, 1960, Elvis had been promoted to sergeant and was commanding a three-man reconnaissance team. He was set for discharge.



COL. PARKER and ELVIS following Presley's discharge from the Army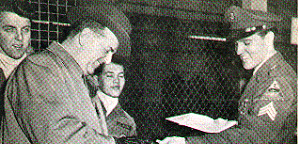 On March 3, Priscilla went with Elvis to the Frankfurt airport. He kissed her good-bye, and then with 79 other GIs and their families, he boarded a military air transport plane for the States. Two days later he was a civilian.

After two years in the Army Presley was still a reigning idol. His first post-Army TV appearance on ABC at $125,000 was signed a year before his discharge.

But it was Frank Sinatra that came up with the idea of how to welcome him home. Next Week: Part II



TAP DOGS shake a leg Jan. 9 Arnold Hall Theater, Air Force Academy, Colorado Springs, CO.

BEAU JEST an insecure woman hires a bogus Jewish fiance to impress her parents. Broward Stage Door Theatre, Coral Springs, FL through January 16.

THE SCARLET LETTER by Phyllis Nagy. This production is an unusual adaptation with a contemporary slant, while preserving the familiar story of Hester Pryne, Roger Chillingworth and Arthur Dimmesdale. Performances at the Fire Hall Theatre, Winnipeg, Canada January 7-9, 13-16 and 20-22.

LIZA MINNELLI drew the celebrity crowd to see her Minnelli on Minnelli show which closes tonight at the Palace Theater, NYC. Among the high profilers in to cheer and enjoy were; Kevin Spacey, Florence Henderson and Molly Shannon - and that was just on one night.


WHO'S WHERE

BRITNEY SPEARS

BRITNEY SPEARS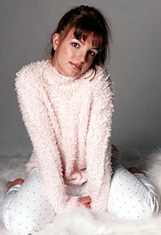 the lady that Prince William fancies, signed to appear March 8 Pensacola Civic Center, FL.

Rumors were leaked that Prince William had invited Spears to spend New Years Eve with him - that she declined but would consider Valentine's Day.

Buckingham Palace denied any correspondence or invitations ever occurred and implied that Spears representatives planted the item, which may mean that Wills is crazy about her.

William, and his brother, Prince Harry, accompanied their father, Prince Charles, to The Millennium Church Service for Wales today at the Tabernacle in Cardiff and then attended the BBC Songs of Praise for the Millennium service at the Millennium Stadium in Cardiff.

ALAN THICKE who has been part of the Broadway cast of Chicago, will join the touring company of Chicago portraying narcissistic lawyer Billy Flynn. Production slated for a January 18-23 run at the Tennessee Performing Arts Center, Nashville.

EILEEN HACKART stars in Kenneth Lonergan's play The Waverly Gallery. The 80-year-old Oscar winner portrays an art dealer battling Alzheimer's. Opens March 3 at the Promenade Theater, NYC.

FAITH PRINCE returns to Joe's Pub, NYC for two performances which will be recorded by DRG Records.

FRANK SINATRA, JR and the Frank Sinatra Orchestra January 7, Mashantucket, Conn.

THE MEMPHIS SYMPHONY under the baton of their new musical director David Loebel performing the Strauss Suite from Der Rosenkavalier, and David Shifrin playing the Mozart Clarinet Concert. January 7-9 Memphis, TN.

THE HARLEM GLOBETROTTERS dribble on over to the Pershing Auditorium, Lincoln, NB performing, their basketball antics Wednesday. The team is giving away lifetime passes to every baby born in the United States in the year 2000. That's a mighty expensive Millennium promo. The owner of the basketball team figured it out - if every U.S. baby born in 2000 attends just one game a year for the next 50 years, that tallies up to more than $3.5 billion worth of free tickets. If you are going to be a parent of a baby born in 2000 you can receive your child's numbered lifetime pass at www.harlemglobetrotters.com.

SUSAN LUCCI is keeping busy. At night she's taking over for a vacationing Bernadette Peters, co-starring with Tom Wopat in Annie Get Your Gun at the Marquis Theatre, NYC. During the day Susan is making the talk show rounds. On Wednesday Joel Siegel conducts a dressing room interview with her for Good Morning America and on Jan. 10, La Lucci guests on Live, With Regis and Kathie Lee.


THIS AND THAT

BACKSTAGE AT SALESMAN a behind-the-scenes documentary about the revival of Arthur Miller's Death of a Salesman will air tonight, January 2, on Showtime. The cable channel will also broadcast a taped performance of the Tony award winning play on January 8. Viewers can also go on line to chat with star Brian Dennehy.

THE EAGLES whose Greatest Hits album sold 26 million copies, on why they recently performed in Las Vegas at Mandalay Bay Resort. "There's a lot of cash out there in the desert."

ARETHA FRANKLIN wants to get into the food franchise business, opening Aretha's Chicken and Waffles.

BILLY IDOL AND CYBIL SHEPARD showed up separately to give the once over to their wax figures on display at Madame Tussaud's at the Venetian Hotel, Las Vegas.

FOREVER PLAID celebrated it's 3,000 performance at the Flamingo Hilton, Las Vegas. The marvelous 50's era revue, which started off Broadway has productions in various parts of the United States. If you have an opportunity to see Forever Plaid - don't miss it.

WORLD TELEVISION JOURNALISM CONFERENCE STARRING HUGH DOWNS see last week's Broadway To Vegas column, set for Las Vegas January 17-18 has been postponed until June 27-28. Maybe it will take place and maybe it won't.


Mention BROADWAY TO VEGAS for Special Consideration
Call (800) 942-9027









Next Column: January 9, 2000
Copyright: January 2, 2000. All Rights Reserved. Reviews, Interviews, Commentary, Photographs or Graphics from any Broadway To Vegas (TM) columns may not be published, broadcast, rewritten, utilized as leads, or used in any manner without permission, compensation and/or credit.
Link to Main Page
---
Laura Deni
broadway@broadwaytovegas.com
CLICK HERE FOR COMMENT SECTION