! >
Broadway To Vegas
  
  REVIEWS INTERVIEWS COMMENTARY NEWS

| | |
| --- | --- |
| | |
WHY DOES LINCOLN MATTER 150 YEARS LATER? - -HONEYMOON IN VEGAS GIVES BROADWAY A CHEESY SWEET DELIGHT - - BREAD & PUPPET THEARER IN THE CYCLORAMA - - FONTMARGARET BOURKE-WHITE FROM CORNELL STUDENT TO VISIONARY JOURNALIST - - TEEN MUSICIANS WIN GRAMMY FOUNDATION AND MUSICARES TEENS MAKE MUSIC CONTEST - - PHANTOM SETS ANOTHER BROADWAY RECORD - - PRINCE HARRY AND NEW YORK KNICKS BASKETBALL STAR CARMELO ANTHONY - - BARON WOLMAN AND THE EARLY YEARS ON ROLLING STONE - - DONATE . . . Scroll Down







Copyright: January 18, 2015
By: Laura Deni
CLICK HERE FOR COMMENT SECTION


WHY DOES LINCOLN MATTER 150 YEARS LATER?


April 2015 will mark 150 years since the assassination of Abraham Lincoln. Ford's Theater in Washington, DC is where President Lincoln took his final bow, so to speak. It's also the venue where John Wilkes Booth got not just 15 minutes of fame, but shot into infamy.

Over the next three month Fordís 150: Remembering the Lincoln Assassination honors the life and legacy of our 16th President with plays, musical, talks, art exhibits, and symposiums,.

Up first is The Widow Lincoln by James Still, directed by Stephen Rayne.

Ridiculed and disdained for her perceived sense of entitlement, Mary Lincoln sparked more controversy than any First Lady before or since. Set during the weeks following Abraham Lincolnís assassination at Fordís Theatre, The Widow Lincoln portrays a very human Mary in the aftermath of her husbandís death as she mourns the post-war life they will never share." Playwright James Still returns with an emotional drama that explores the tenacious attitudes and heartbreaking grief of the maligned 'Mrs. President.'"

Mary Bacon will make her Fordís Theatre and Washington debut in the role of Mary Lincoln. The all-women cast also features Caroline Clay, Lynda Gravatt, Melissa Graves, Sarah Marshall, Kimberly Schraf, Gracie Terzian and Brynn Tucker.

Stephen Rayneís design team includes Scenic Designer Tony Cisek; Costume Designer Wade Laboissonniere; Lighting Designer Pat Collins; Projection Designer Clint Allen and Sound Designers David Budries and Nathan A. Roberts. The Widow Lincoln also features Wig and Makeup Design by Anne Nesmith. The production team includes Production Stage Manager Brandon Prendergast and Assistant Stage Manager Hannah R. OíNeil. Fordís Theatre commissioned this world premiere as part of Fordís 150, a series of events marking the 150th anniversary of Lincolnís assassination.

January 23-February 22, 2015 at Ford's Theatre in Washington, DC.

On Thursday, January 29 there is The Widow Lincoln Meet and Mingle Following the 7:30 p.m. performance of The Widow Lincoln, talk theatre with fellow audience members as well as playwright James Still, who will be on hand to discuss the production. This free event takes place at the restaurant Bistro DíOc, located just across the street from Fordís Theatre. A cash bar will be available.

On Tuesday, February 3, 2015 a Post-Performance Discussion with the National First Ladies Library. Following the 7:30 p.m. performance, join Pat Krider, Executive Director of the National First Ladies Library, for a post-performance discussion on the changing role of the First Ladies over the past 150 years.

Freedom's Song: Abraham Lincoln and the Civil War is presented March 13-May 20, 2015 This epic musical features the words of Abraham Lincoln and music inspired by those who lived through the Civil War. Written by Frank Wildhorn, Gregory Boyd and Jack Murphy, with music by Frank Wildhorn. Directed by Jeff Calhoun and adapted by Richard Hellesen and Mark Ramont.

Abraham Lincoln Symposium takes place March 21

The Abraham Lincoln Institute and Fordís Theatre Society present a free symposium focused on the life, career and legacy of President Abraham Lincoln. Noted authors and historians will discuss aspects of his leadership, vision for reconstruction and the effect his assassination had on American society.

Silent Witnesses: Artifacts of the Lincoln Assassination can be viewed March 23-May 25, 2015.

This hallmark exhibition will reunite - for the first time since April 1865 - an extraordinary collection of artifacts that were in the Theatre or carried by Abraham Lincoln the night of his assassination.

Included within the exhibition are:



Lincoln Coat. Photo: Ford's Theatre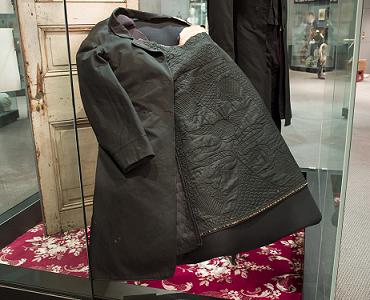 Abraham Lincolnís top hat, cuff buttons, a Brooks Brothers Great Coat and the contents of his pockets from the night of the assassination
Mary Todd Lincolnís black velvet cloak
John Wilkes Boothís derringer pistol
A letter from Dr. Charles Leale, the first to attend to the wounded president
The Bunting Flag from the Presidential Box at Fordís Theatre
Fragments from the gowns worn by Mary Todd Lincoln and guest Clara Harris
Goves belonging to Major Henry Rathbone
A bloody sleeve cuff and fragment from the costume worn by leading actress Laura Keene
A playbill for the performance of Our American Cousin
A violin and drumsticks used in the orchestra the night of April 14, 1865.

Additionally, Lincolnís carriage, which transported the President, Mary Todd Lincoln, Major Henry Rathbone and his fiancťe Clara Harris to Fordís Theatre, will be on display at the National Museum of American History, March 23 to May 25, 2015.

The Road From Appomattox is a dramatic imagining of the meeting between Robert E. Lee and Ulysses S. Grant on the day after Leeís surrender at Appomattox, Taking place April 9, The Road From Appomattox explores how two great and very different generals ended the war with mercy and the best interests of the country in mind.

The Lincoln Tribute is an around-the-clock event April 14-15 - marking the 150th anniversary of Lincolnís assassination. During the day on April 14 and 15, Fordís Theatre will present ranger talks; the one-act play One Destiny with actor Harry Hawk and Fordís Theatre co-owner Harry Ford revisit the events of April 14, 1865. As they reconstruct the sequence of events, they grapple with the question: Could John Wilkes Booth have been stopped? This 35-minute presentation explores the key facts of the assassination while capturing the emotions of that fateful night.

On the street outside, throughout the day and night, actors will provide first-person accounts about the end of the Civil War, the experience of being inside the theatre at the moment of the assassination, medical reports from the Petersen House, and the impact of Lincolnís life and death.

Starting the evening of April 14, Fordís will host Civil War living historians on Tenth Street to recreate the vigil for Abraham Lincoln. The public will be able to visit the Fordís Theatre campus throughout the night. The morning of April 15, Fordís will mark Abraham Lincolnís death at 7:22 a.m. with a wreath-laying ceremony; church bells will toll across the city, just as they did in 1865.

Now He belongs to the Ages occurs on April 14. Luminaries of stage and screen will present a moving commemorative tribute to President Abraham Lincoln at Fordís Theatre, 150 years to the day since his assassination. This evening event will include readings of Lincolnís words and stories, Civil War-era music, excerpts from Lincolnís favorite theatre and operas, and more. The event seeks to remind us that we not only lost a president; we lost a man who treasured his family, his friends and his country with a love so strong it could hold the Union together.






Broadway To Vegas is supported through advertising and donations. Priority consideration is given to interview suggestions, news, press releases, etc from paid supporters. However, no paid supporters control, alter, edit, or in any way manipulate the content of this site. Your donation is appreciated. We accept PAYPAL. Thank you for your interest.




ART AND ABOUT


BARON WOLMAN AND THE EARLY YEARS ON ROLLING STONE

Jimi Hendrix. Photo: Reading Public Museum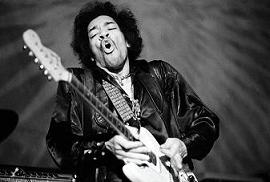 this exhibition allows guests to explore how photographers and editors of Rolling Stone guided the creation of the "rockstar" persona, from concert, to cover, to icon. Immortalized by writers, filmmakers, and musicians from Stephen King to Dr. Hook, the cover of Rolling Stone magazine has embodied generations of popular culture.

Contextualized in 35 framed photographs, contact sheets, and original covers, Backstage Pass presents an intimate view during a crucial period of cultural transformation in American history. Feeding the heightened political and cultural climate of the time, featured artists Jimi Hendrix, Janis Joplin, and Frank Zappa came to represent generational ideas through music, words, and visual imagery.

Backstage Pass is curated by Ben Ahlvers, gallery director at the Lawrence Arts Center in Lawrence, Kansas and organized by ExhibitsUSA.

January 24 - May 10, 2015 at Reading Public Museum in Reading, PA.

MARGARET BOURKE-WHITE FROM CORNELL STUDENT TO VISIONARY JOURNALIST Margaret Bourke-White graduated from Cornell in 1927. While on campus, she used a secondhand Reflex camera given to her by her mother to capture the light and the changing seasons around the University. Reflecting on her experience in 1933, Bourke-White said, ďit was the beauty of Cornell and of its environs that was the deciding factor in [my] choice of photography as a life work.Ē Over the next thirty years, as recorded in the Cornell Daily Sun, she enjoyed returning to campus to talk with students and show new work.

This exhibition provides a rare opportunity to show the young photographerís campus views, which she sold to classmates, along with iconic photographs taken during the years she worked on assignment for Fortune and Life magazines as a photographer, editor, and war correspondent. Well-known photographs of Fort Peck Dam and images of southern poverty are exhibited alongside pictures taken in Russia, Asia, Europe, and Africa, and later photographs of concentration camps. Bourke-Whiteís best work combines a deeply humanitarian sensibility with a keen recognition that she and her fellow photographers were recording history as it happened.

In 1971, shortly after Bourke-Whiteís death, Cornellís A. D. White Museum hosted the first comprehensive exhibition of her photographs. On view were not vintage prints - the first prints made after the photographer develops a negative - but ones printed about 1965 from her own negatives and with her permission. This exhibition presents a combination of vintage prints and those from 1965 made specifically for Cornell as a gift from the photographer and Life Magazine.

This exhibition was curated by Stephanie Wiles, the Richard J. Schwartz Director of the Johnson Museum.

January 24-June 7, 2015. The Johnson Museum of Art Cornell University, Ithaca, New York.





SWEET CHARITY


PRINCE HARRY AND NEW YORK KNICKS BASKETBALL STAR CARMELO ANTHONY

Prince Harry and NBA All-Star Carmelo Anthony (bottom row center) have a group photograph with Coach Core apprentices at the Coach Core Graduation at St James's Palace. Photo: Clarence House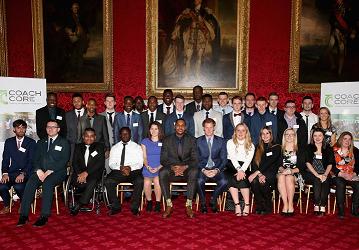 have teamed up for a coaching program that benefits youth.

Harry launched Coach Core last year with his brother Prince William and his wife Kate. The charity encourages kids from disadvantaged areas to transform their communities through sports. Harry and Carmelo came together as part of the partnership between the Royal Foundation and the NBA.

The New York Knicks faced the Milwaukee Bucks in an exhibition game last week in London. Prince Harry and the Knicksí Carmelo Anthony presented the first graduates from The Royal Foundationís Coach Core program with their certificates at a ceremony at St Jamesís Palace on Wednesday January 14.

Prince Harry received one of the more unusual gifts to mark a royal event - a size 15 basketball shoe.

NBA All-star Carmelo Anthony, who plays for the New York Knicks, gave His Royal Highness the enormous right boot he had signed on its toe and a team vest emblazoned with the name "Wales" above the number 15.

The presentation took place as the two men recognized the first graduates of an ambitious sports program - Coach Core - which boosts the career prospects and life skills of disadvantaged young people by training them to become professional sports coaches and mentors.

33 young people have completed the year-long Coach Core course and many said their practical coaching experience had helped overcome personal issues, such as anger management, and helped them find work or allowed them to pursue more formal qualifications at college or university.

Carmelo, 30, who grew up in a poor section of Brooklyn and then in Baltimore, is noted for his generously, having given millions to poverty-stricken youth.

Both the Prince and Anthony meet with the graduating apprentices before joining the formal graduation ceremony at which Prince Harry spoke. They were also be joined by retired NBA center John Amaechi, one of the first English basketball players to play in the league and a leading advocate for the power of good sports coaching. Prince Harry them joined the graduates and their guests at a reception afterwards.

The NBA is also working to support Coach Core in developing young, motivated and talented new basketball coaches through coaching experience and logistical support, meaning that The Royal Foundation now has three programs running in London, Glasgow and New York.

The Coach Core program has helped these young apprentices from disadvantaged backgrounds; who have dropped out of school; who were unemployed; who were struggling to find positive opportunities to gain qualifications, confidence and transferable life skills to learn technical sport skills with an emphasis on employability and mentoring skills.

In a speech Prince Harry praised the achievements of the young men and women, he said: "All those graduating today have also worked fantastically hard in getting to this point. Completing the Coach Core program has, I know, not been easy - but then trying to be the best you can be, isn't easy. "Having met a number of you over the past year or so, I have some understanding of the challenges you faced; William, Catherine and I have all been hugely impressed by the resilience and determination you have shown in overcoming these challenges."


HONEYMOON IN VEGAS GIVES BROADWAY A CHEESY SWEET DELIGHT


< Honeymoon in Vegas adapted for the stage by Andrew Bergman from his 1992 movie, is a campy, fluffy, fun - sweet - musical for Vegas old-timers and those who wonder what the place was like during the era of The Rat Pack, The Mob and when every hotel had lounge singers and a line of dancing showgirls. There was/is The Flying Elvi.

Although the musical captures the essence of Vegas of bygone days, it's set in the post Elvis present.

Honeymoon in Vegas has a talented cast lead by the charming, smooth-talking Tony Danza as suave, sleazy gambler Tommy Korman, the incredible Tony nominee (for Chaplin) Rob McClure as Jack Singer who has a commitment issue because his mother - who had been dead for 10 years - made him promise he wouldn't marry, which he explains in Never Get Married. Another of his standout numbers is I Love Betsy. The long suffering girlfriend, teacher Betsy Nolan is played by Brynn O'Malley. Think Adelaide in Guys and Dolls or Britain's one time Waitey Katie. The stress of waiting for Jack has made Betsy look a tad bit harder than your ordinary school marm. Her voice is wondrous.

Tony nominee Nancy Opel, as the ghost of Jackís mother, is laugh out loud funny.

Betsy delivers Jack an ultimatum Anywhere But Here, and he not only proposes but suggests that they elope to Las Vegas.

They check into the Milano hotel When You Say Vegas, a hoot of a song.

Tommy Korman is a widower whose beloved wife, Donna, a sun worshiper, died of skin cancer. While parts of this musical fall into the sight-gag and farce categories, Danza as Tommy singing Out of the Sun, isn't a farce, but a genuine (although funny) love song. Betsy Nolan reminds Tommy of his wife, even though she is the girlfriend of Jack Singer.

Tommy intends to win Betsy from Jack in a poker game explained in Forever Starts Tonight, while Betsy is shopping for a wedding dress, Betsy's Getting Married. The is probably the only show on Broadway in which the leading man could claim playing poker with friends was 'rehearsing,'

Obviously, obvious complications develop.



Brynn O'Malley, Rob McClure, David Josefsberg and the company. Photo: Joan Marcus.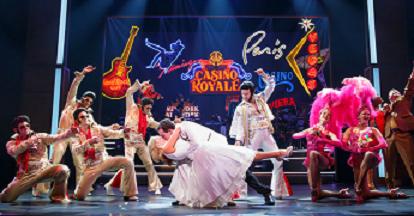 Oozing with talent, David Josefsberg makes exhaustive work look easy in dual roles as cheesy Vegas lounge singer Buddy Rocky, backed by hilarious showgirls Leslie Donna Flesner and Erica Sweany; and as an Elvis impersonator Roy Bacon. Higher Love, and Airport Song (sung by ticket agents) being the Flying Elvi songs.

Expect numerous award nominations.

The stage musical doesn't require deep thinking. It's high energy, fun, appropriately cheesy, with swinging, bouncing songs in an exceptional score by Tony Award winner Jason Robert Brown, who has proven with Parade, Urban Cowboy, 13, The Last Five Years, and The Bridges of Madison County that he can write all types of music. In this musical venture your toes will be tapping and a smile is bound to come to your face. The songs in this show actually have melodies.

Tony Danza who has starred in Las Vegas in his own song and dance show, and has never claimed to be the world's greatest singer, captures his role. The others nail their parts.

Gary Griffin directs to the point that one might suspect he owns a ruffled tuxedo shirt and a shark-skin suit. There is a fine line between being campy and insulting and Griffin's adroit directing dexterity qualifies him as a Cirque performer.

Sliding sets and projections by Anna Louizos aid the fast paced show which is set in New York, Las Vegas and Hawaii. Denis Jonesís choreography is Vegas, baby, circa 60's-70's.

Others in the cast include Catherine Ricafort as the devious Mahi - Friki-Friki- who is secretly employed by Tommy; Matthew Saldivar appers as Tommyís goombah, Johnny Sandwich, after changing his last name from Foccacia.

With: George Merrick, Matt Allen, Tracee Beazer, Grady McLeod Bowman, Barry Busby, Gaelen Gilliland, Albert Guerzon, Raymond J. Lee, Jessica Naimy, Zachary Prince, Jonalyn Saxer, Brendon Stimson, Cary Tedder, and Katie Webber.

Music director, Tom Murray; colorful costumes by Brian Hemesath; lighting by Howell Binkley; sound by Scott Lehrer and Drew Levy; wig and hair design by Charles G. LaPointe; props by Kathy Fabian/Propstar; flight effects by Las Vegas based Flying by Foy; production stage manager, Matthew DiCarlo; general manager, Roy Gabay Productions; company manager, Chris Aniello; production manager, Aurora Productions; associate producer, David Goldyn; orchestrations by Don Sebesky, Larry Blank, . Brown and Charlie Rosen; music coordinator, Michael Keller.

See in previews (they lasted two months) the show has finally, officially opened at the Nederlander Theatre in New York City. It might not be as much fun as hitting a mega jackpot, but it comes close. See it once - or twice.


MAKING A DIFFERENCE - TEEN MUSICIANS WIN GRAMMY FOUNDATION AND MUSICARES TEENS MAKE MUSIC CONTEST


Teen music artist Victoria Marchlewski has been selected as the winner of the fifth annual Grammy Foundation and MusiCares Teens Make Music Contest for her original interpretation of the importance of living above the influence of drug and alcohol use.

The contest asked young musicians, ages 14Ė18, to compose or create an original song and/or music video that celebrates life above the influence or brings attention to the consequences of substance abuse.

First-place winner Marchlewski, a sophomore at Paramus High School in New Jersey, submitted New Day, a song that encourages teens to live their lives to their fullest potential. It highlights the importance of perseverance and individuality to find the strength to make healthy choices, as illustrated in the lyrics: ďTomorrowís a new day, donít let it go to waste. Do what you gotta do, change what you need to change. Cause tomorrowís a new day and you got the power to say ĎNothiní can control me. Iím living my life for me and itíll be a real good day.íĒ

Recent Ridgecrest Center recovery high school graduate Sam Beckman of Nashville, Tenn., is the second-place winner for Peace Inside.Ē The songís inspirational lyrics offer hope to those struggling with addiction: ďAre you broken, sick, have you come undone? If you need a hand, Iíve been there before. Iíve been down that road before. If you let it, the sun will rise. In the light, the darkness dies. Thereís more to life, than getting by. Did you know your dreams are still alive? If you want it, thereís peace inside.Ē

Third-place winner Kalilah Perkins of Flagler Palm Coast High School in Palm Coast, Fla. wrote and rapped As Not Tonight. Her song underlines how substance abuse can remove a teenís chance to live life to the fullest and that there is hope by making healthy decisions, as explained in the lyrics: ďWhen I see kids harming their bodies, I just wish that they knew it. Life is too precious to wreck it, and it could end any second, from stupid careless decisions, yeah you guessed it. We have the liberty to choose the way we go, not succumbing to temptation I refuse to not say no. So weíre here to celebrate the life weíre freely given, so why would I inject death if Iím too busy living?Ē

The first-place winner receives two tickets to the 57th Annual Grammy Awards at the Staples Center in Los Angeles on Sunday, February 8, as well as a cash award of $500 and the opportunity to perform a set at the Acoustic Tent on the 2015 Vans Warped Tour in the city closest to her hometown. The second- and third-place winners receive cash prizes of $250 and $100, respectively, and all three winners have the opportunity to attend the 57th Annual Grammy Awards Backstage Experience Friday, February 6 during rehearsals. All three winners will have their original compositions posted on the MusiCares and Grammy Foundation's Grammy website, the Vans Warped Tour website, and the Above the Influence website in January. Winners will also be featured during National Drug Free Week from January 26 - February 1.

Honorable mentions go to Emilio Kanosh of Cedar City, Utah, for his song Freedom; and Eli Kaye-Karen of Brooklyn, NY, for his song What If?


SPREADING THE WORD


BREAD & PUPPET THEATER IN THE CYCLORAMA includes Captain Boycott, along with The Nothing Is Not Ready Circus and a visual art installation created by the theater's artistic director Peter Schumann. Performances and exhibit run January 24 through February 1, 2015. Cyclorama at the Boston Center for the Arts (BCA), in Boston.

In keeping with their long standing tradition of "sublime arsekicking puppetry," the award-winning Vermont-based Bread & Puppet Theater, featuring Artistic Director Peter Schumann and his troupe of puppeteers, returns to the Cyclorama at the BCA, bringing their signature powerful imagery, masked characters, and giant papier-m'chť puppets. Their nine day residency includes the evening show Captain Boycott, and The Nothing Is Not Ready Circus, a political art installation conceived by Schumann, along with the sale of Bread & Puppetís legendary Cheap Art and the opportunity to savor Schumannís home-made sourdough rye bread spread with garlic-laden aioli.

All the visuals are created by Schumann, including sculpting and painting of all the major masks and puppets, with input from the company. Now in its 51st year, the Bread & Puppet Theater is one of the oldest and most unique self-sustaining nonprofit theater companies in the United States. The theater champions a visually rich slapstick style of street-theater that is filled with huge puppets made of paper machť and cardboard, combined with masked characters, improvisational dance movement, political commentary, and a lively brass band. Although all Bread & Puppet events have a seriousness of purpose - a few laughs are always thrown in.

LUNAR NEW YEAR CELEBRATION Usher in the Year of the Sheep, a year characterized by peace, love, and woolly gentleness, with a family-friendly performance by the world-renowned Nai-Ni Chen Dance Company. This lively celebration of Chinese culture includes colorfully-clad dancers, ancient melodies played on traditional instruments, and awe-inspiring acrobats and lion dancers.

Sunday, January 25, 2015 at the Brooklyn Center for the Performing Arts in Brooklyn, NY.

DRUNK You've seen wine paired with food, but how about wine paired with texts? Join LABA ( A Laboratory for Jewish Culture ) fellows, ancient text scholars and a sommelier as they explore the relationship between wine and time through teachings, tastings and performances. A sensual mash-up indeed.

Saturday, January 24th at The Theater at the 14th Street Y in New York City.

LABAlive is the program's series of salon-style evenings during which audiences have a chance to experience excerpts of these new works alongside teachings of the ancient texts that inspired them. LABA is a recipient of a grant from the National Endowment of the Arts.


OTHER PEOPLE'S MONEY


CAESARS ENTERTAINMENT had a busy Thursday. Last Thursday they filed for bankruptcy and announced they had signed Mariah Carey to a two year contract calling for 27 shows per year.

Her show will include her 18 Number One hits.

She opens May 6, 2015.

PHANTOM Broadway's longest running show of all time is approaching an unheard-of 27 Years. It will celebrate this milestone on Monday, January 26 at The Majestic Theatre, the musicalís home for all 27 record-breaking years.

CONGRATULATIONS TO ALL OF THE OSCAR NOMINEES including two categories which might be of particular important to Broadway To Vegas readers:

Achievement in music written for motion pictures (Original score)
The Grand Budapest Hotel Alexandre Desplat. The Imitation Game Alexandre Desplat. Interstellar Hans Zimmer. Mr. Turner Gary Yershon. The Theory of Everything Johann Johannsson.

Achievement in music written for motion pictures (Original song)
Everything Is Awesome from The Lego Movie. Music and Lyric by Shawn Patterson. Glory from Selma. Music and Lyric by John Stephens and Lonnie Lynn. Grateful from Beyond the Lights. Music and Lyric by Diane Warren. Iím Not Gonna Miss You from Glen CampbellÖIíll Be Me. Music and Lyric by Glen Campbell and Julian Raymond. Lost Stars from Begin Again. Music and Lyric by Gregg Alexander and Danielle Brisebois.


CURTAIN DOWN


IF/THEN the Broadway musical, starring Idina Menzel, will close March 22, 2015 after 401 performances.



HELLO/GOODBYE by Peter Souter.

Directed by Tamara Harvey.

Starring Shaun Evans and Miranda Raison.

It's a new year. And Juliet, young, smart, and sassy has got herself a fresh start in a new flat. But there's a problem: amidst the boxes, a strange guy is also moving in - and he won't leave. He says the agency has messed up and her flat is actually his flat. As if that's not enough, the real problem is that, well, he's rather gorgeous.

This chic comedy is a modern metropolitan guide to falling in (and out of) love. January 21-February 28, 2015 at the Main Stage of the Hampstead Theatre in London.

CEDARS a theatrical adaptation of Native American poetry and prose. Conceived and adapted for the stage and directed by June Prager, the play is a collage of poetry and prose texts, masks, drumming, and music.

Performed by five Native American actors - Wolfen de Kastro (Aztec/Huastec/Maya), Joan Henry (Cherokee/Apache/Arawak), John Scott Richardson (Haliwa-Saponi/Tuscarora), Alana LaMalice (Dene/Cree) and Keith Taylor (Choctaw).

Through the poetic voices of contemporary Native American writers, the play gives a 21st century face to the struggles of indigenous people, depicting their adaptation into modern-day society and celebrating Native American culture and enduring spirit.

Participating writers include Arthur Tulee (Yakama), Tiffany Midge (Hunkpapa Sioux), Gail Tremblay (Onondaga/M'kmaq), Deborah A. Miranda (Ohlone-Costanoan Esselen), Alex Jacobs (Akwesasne Mohawk), William Michael Paul (Hunkpapa Sioux), Joseph Bruchac (Abenaki), Martha Brice (Tlingit), Molly McGlennen (Anishinaabe), and Evan Pritchard (M'kmaq).

Lighting Design is by Ellie Engstrom. Mask Design is by Roger Fernandes. Original music composed by Roger Upham (Blackfeet).

La MaMa will present the work, in association with Mirage Theatre Company, January 22 to February 1 in La MaMa's First Floor Theater, East Village, New York City.

HAL HOLBROOK IN MARK TWAIN TONIGHT This year marks the 59th consecutive year for this remarkable, award-winning one man show. Hal Holbrook has performed Mark Twain Tonight every year since 1954, making it perhaps the longest running show in theatre history. Hal Holbrook's portrayal of American icon Mark Twain reaches across boundaries and appeals to audiences of all ages.

Friday, January 23, at the McCallum Theatre in Palm Desert, CA.

MURDER FOR TWO book and music by Joe Kinosian and book and lyrics by Kellen Blair.

Directed by Scott Schwartz.

A vaudevillian mystery musical with an energetic two-man cast.

Great American novelist Arthur Whitney has been murdered at his own birthday party, and his killer could be any one of the guests. But this is no ordinary murder mystery. The entire world of this hilarious musical is brought to life by two incredible performers: one plays the detective, the other plays all 10 suspects, and both play the piano! Murder for Two is billed as "an irrepressibly wacky tour-de-force musical."

The acting company includes Joe Kinosian as The Suspects. Kinosian is the co-recipient (with Kellen Blair) of Chicagoís Joseph Jefferson Award, recognizing Murder for Two as Best New Work Ė Musical or Review following its record-breaking run at Chicago Shakespeare Theater. Ian Lowe reprises the role of Marcus following a highly successful Off Broadway run in the role at New World Stages. Kyle Branzel and Brandon Lambert serve as the understudies for The Suspects and Marcus, respectively.

The creative team includes Wendy Seyb (Choreographer), Beowulf Boritt (Scenic Design), Andrea Lauer (Costume Design), Jason Lyons (Lighting Design), Jill BC Du Boff (Sound Design), David Caldwell (Music Director), J. Scott Lapp (Assistant Director), Calleri Casting (Casting), Kat West (Production Stage Manager), and Production Core (Production Supervisor).

Murder for Two will run January 24 Ė March 1 on the Donald and Darlene Shiley Stage in the Old Globe Theatre, part of the Globeís Conrad Prebys Theatre Center in San Diego, CA.

BOSTON MARRIAGE by David Mamet, his only play to date with an all woman cast.

Directed by Andrea Moor.

Starring Helen Cassidy, Rachel Gordon and Amanda Muggleton.

Aa quick-fire comedy centered around wealth, excess, and the Boston elite.

The erudite Anna and Claire dwell together on the fringes of the Boston elite, but to keep themselves in the lifestyle to which they have become accustomed, Anna has been accepting expensive presents from a wealthy married man whoís become besotted by her. Claire, meanwhile, is aging disgracefully and is set on seducing a much younger woman, and wants not only Annaís blessing but her help.

With sarcasm and ribald banter it chips away at the pretensions and proprieties of high society and blows apart class distinction, while exploring the compromise needed to keep a marriage alive.

Designer: Stephen Curtis. Lighting Designer: David Walters. Composer/Sound Designer: Phil Hagstrom.

January 24-February 15, 2015 at Queensland Theatre in Brisbane, Australia. On tour to ten Regional Queensland venues February 17Ė March 27. Queensland Theatre Company in Brisbane, Australia is the state's flagship professional theatre company.

BASKERVILLE a Sherlock Holmes Mystery by Ken Ludwig.

Directed by Amanda Dehnert.

A fast-paced, highly-theatrical comedy based on the classic mystery by Sir Arthur Conan Doyle.

Featuring Gregory Wooddell as Sherlock Holmes with Lucas Hall as Doctor Watson. Stanley Bahorek, Michael Glenn and Jane Pfitsch will portray over 40 characters.

The creative team includes set designer Dan Ostling, costume designer Jess Goldstein, lighting designer Philip Rosenberg, sound designers Joshua Horvath and Ray Nardelli, dialect coach Gillian Lane-Plescia, fight director Thomas Schall, New York casting director David Caparelliotis, stage manager Alison Cote and assistant stage manager Kurt Hall.

The production conducted early rehearsals at McCarter Theatre Center in Princeton, NJ; began technical rehearsals in the Kreeger Theater on January 7 and began previews on the Arena stage in Washington, DC on January 16, 2015, open January 22, and close February 22, 2015. The production shifts to Princeton, NJ for a McCarter Theatre Center run starting previews on March 10, 2015, opening March 13, and closing March 29, 2015.


WHO'S WHERE




JAY LENO has captivated living rooms across the world for over 20 years with charisma, comedy and charm as host of late night television's top-rated, The Tonight Show with Jay Leno. Since passing the torch, he's been busy taking his new, hilarious act on the road for this exclusive tour. Saturday, January 24, at the McCallum Theatre in Palm Desert, CA.

JASON ROBERT BROWN AND SIERRA BOGGESS team up for a performance Monday, January 26, JRB's first official concert of his yearlong residency at SubCulture,in NYC and his guest will be Sierra Boggess who will be lending her mellifluous tones to some old and new JRB hits, with the full complement of The Caucasian Rhythm Kings behind her playing random chords spontaneously.

LAURA BENANTI the Tony Award-winning stage and screen star performs January 25 at Wolf Trap in Vienna, VA.

FLEETWOOD MAC performs Tuesday, January 20, 2015 at the Van Andel Arena in Grand Rapids, MI. On Tuesday they are on tage at Madison Square Garden in New York City. Friday finds them at the Boardwalk Hall in Atlantic City. Next Sunday, January 25, they'll be performing their hits at the Nassau Coliseum in Uniondale, NY.

SWEET HONEY IN THE ROCK perform today, Sunday, January 18, 2015 at Beth Shalom Rodfe Zedek in Chester, CT.

ITZHAK PERLMAN the violin legend who is beloved for his charm as well as his talent, performs Tuesday, Janaury 20 at the McCallum Theatre in Palm Desert, CA.Rohan De Silva is featured on the piano


FINAL OVATION


JEAN-CLAUDE BAKER the famed New York restaurateur who created the popular theatre district French restaurant/bar Chez Josephine in memory of Josephine Baker, was found dead on Thursday, January 15, 2015, at his home in East Hampton, N.Y. He was 71. The cause was suicide. His body was discovered in his car.

He had me the exotically beautiful dancer, who had cared for him as a teenager living in Paris, in 1958 at the Hotel Scribe in Paris, where she was living at the time and where he was a 14-year-old bellhop living on his own.

Years later Baker would be supporting her, serving as manager, companion and amanuensis. Born Jean-Claude Julien Leon Tronville, he took her last name as his own in the early 1970s.

In 1993 he would publish her biography.

Always flamboyant, while working in Paris at Le Pavillon Dauphine in 1960, he greeted the Soviet leader Nikita S. Khrushchev, who was emerging from a limousine, reportedly, by kissing him on the lips.

Mr. Baker is survived by his sisters, Marie-JosŤphe Lottier, Marie-Annick Rouzaud and Martine Viellard.















Next Column: January 25, 2015
Copyright: January 18, 2015 All Rights Reserved. Reviews, Interviews, Commentary, Photographs or Graphics from any Broadway To Vegas (TM) columns may not be published, broadcast, rewritten, utilized as leads, or used in any manner without permission, compensation and/or credit.
Link to Main Page
---
Laura Deni



For the snail mail address, please E-mail your request.
CLICK HERE FOR COMMENT SECTION