! >
Broadway To Vegas
  
 SHOW REVIEWS CELEBRITY INTERVIEWS GOSSIP NEWS

| | |
| --- | --- |
| | |
KIM NOVAK MAKES RARE PERSONAL APPEARANCE - -NOBODY DON'T LIKE YOGI CLOSING IS ACTOR'S FUND BENEFIT - - NATPE IN VEGAS - - DOES MICHAEL JACKSON NEED A UROLOGIST? - - WINDHAM HILL CHILL 2 CD - - GETTING STUNG WITH A STING TICKET - - CHINESE NEW YEAR; A WOOD/GREEN MONKEY - - SUNDANCE SHOWCASES MUSIC ACTS - - DONATE . . . Scroll Down


Copyright: January 18, 2004
By: Laura Deni

CLICK HERE FOR COMMENT SECTION
DOES MICHAEL JACKSON NEED A UROLOGIST?


Has Michael Jackson seen a urologist? If not - why not? This guy needs his personal plumbing checked. Or, he needs to knock off the bathroom jokes.

During his booking - a short process taking less than one hour - Jackson interrupted the process to use the restroom. Then, during Friday's arraignment - a half hour event with less than five minutes left in the proceedings - Jackson interrupted the court to request permission to use the bathroom. The judge granted the request and then remarked to Jackson's lawyers that in the future Mr. Jackson's intake of liquids should be curtailed, so that call of nature requests wouldn't be necessary.

Before disposing of his water bottle, get him to a doctor to determine why he can perform without running to the men's room every five minutes, while legal events cause him to urinate. At the rate he's demonstrated, during a full courtoom session, he'll be requesting trips to the loo six to eight times a day.


SUNDANCE BOOGIES TO A MUSIC BEAT
Actress Minnie Driver is a singer songwriter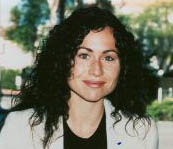 Sundance had become repetitious.

Black clad people talking on cell phones, attending parties, watching cutting edge movies crafted on minimum budgets. Internationally significant in the world of cinema, this launchpad festival will catapult some into superstardom.

So predictable.

What wasn't predicted is that the unspooling of celluloid would spin off into the hot spot for showcasing recording artists.

Rami Jaffee, keyboard player for The Wallflowers and co-owner, along with Pete Yorn and Marc Dauer, of Trampoline Records, is in Sundance for the first time for a showcase of his label's acts. He also admits he'd like to add film-scoring to his resume.

Pete Yorn and Liz Phair will play at Blender magazine's five-night Sundance party at Harry O's. Actress Minnie Driver, who wrote and performed a song on Trampoline Records Greatest Hits Vol. II, performed last night as well.

Hot spots for the music crowd include;



Tim Robbins performing under the name of Gob Roberts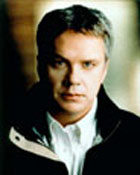 The Sundance Music Café. Festival credential holders can listen to sets by the likes of Joe Jackson, Shawn Colvin, Jason Mraz, the All-American Rejects, John Doe, John Hiatt and Sam Phillips. The evening shows will include tonight's performances by actor Tim Robbins - going by the moniker of "Gob Roberts".

Hedwig and the Angry Inch composer Stephen Trask and the Cardigans' Nina Persson take to the stage on Monday, countrified rockers Clem Snide on Tuesday and Shelby Lynne on Thursday.

Twelve Nashville singer/songwriters set up shop at Sundance Resort's Owl Bar. Among the artists are Darrell Scott, who wrote the Dixie Chicks' Long Time Gone; Hal Ketchum; Pat Alger, who penned hits for Garth Brooks; and Kim Richey, who has four albums of her own and composed Believe Me Baby (I Lied) for Trisha Yearwood.

The Kimball Art Center has become a showcase for BMI. Among the acts performing are Grammy-winner Shelby Lynne, Academy Award nominee - and Lynne's sister - Allison Moorer, composer Nathan Larson with Nina Persson of the Cardigans and Will Calhoun of Living Colour.

As for film viewing, Robert Redford will be on-hand tonight (Sunday) at Park City's Eccles Theatre, for the premiere of The Clearing, the first independent movie in which Redford has worked as an actor. The Sundance founder will then take to the stage with his movie co-stars and the director for the traditional Q-and-A sessions.


FROM BURNT OUT TO RISING, NATPE BECOMES THE CENTER OF THEIR STAR UNIVERSE
Chris Matthews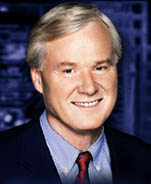 It's a convention of attitude, sucking up, being seen and a quest to catch lightening in a bottle. From over enflamed egos to those who flaunt attitude to hide their desperation. They have come to Las Vegas to seek fame and fortune. Not by winning in a casino but through a harder crap shoot - the world of television.

It's NATPE - the National Association of Television Program Executives. That rarified group kicks off it's annual convention today at the Venetian Hotel/Sands Expo.

Television is a game of hard ball. So, perhaps fittingly enough it is Hardball's Chris Matthews that was the opening speaker at today's breakfast meeting. Matthews, who has been live at the Iowa caucuses, did a quick turnaround to appear. He didn't disappoint, delivering a hilarious, intelligent and informative speech.

This is the place where the small tube wannabe's and has-beens can mingle with broadcasting deal makers. Many have bought into the self deceiving world of "networking." Keeping the myth alive are the people, ideas and shows that credit NATPE with giving them a leg up.

Seminars run the gamut from the history of television to a "pitch booth" where attendees can register to "pitch their ideas" to boob tube executives.

It's not all hope and hype.

The three-day event will be highlighted by a number of in-depth panel discussions featuring senior level executives addressing major issues facing the television industry today, including the current state of the economy and advertising market, domestic and international television production and distribution, brand integration into programming, cable television, career management and new technology's growing role in the development, production, distribution and viewing of content, including DVR, video-on-demand and high-definition television.

In addition, controversial television hosts, former government leaders and industry mavericks Jerry Springer and Governor Jesse Ventura, as well as Mark Cuban, owner of the Dallas Mavericks and president of HDNet, and Roger King, CEO of CBS Enterprises, will be featured on the Larry King moderated panel "Loose Cannons: They Say What They Mean and Mean What They Say," during which they will opine about current events, politics and the state of the media industry.



Jesse Ventura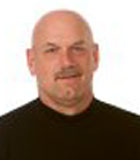 Intimate 'Chat Room ... ' Q&A Discussions take place with Ken Ziffren, Co-Founder & Partner, Ziffren, Brittenham, Branca, Fischer, Gilbert-Lurie & Stiffelman LLP; Greg Meidel, President of Programming, Paramount Domestic Television, hosted by Brian Lowry, Chief TV Critic for Variety. Other Q&A Chat Rooms will feature Brenda Hampton, creator & executive producer of 7th Heaven and supervising producer of Mad About You; Bert Van Munster of Amazing Race, Stuart Krasnow, executive producer of Average Joe: Hawaii, and television personality Robin Leach, who is excited that ABC has picked up at least four more episodes of his Life of Luxury specials.

Many shows are using the convention as an excuse to broadcast from Sin City. Fox television's popular national morning talk show, Good Day Live with host Jillian Barberie, is scheduled to be broadcast live from Mandalay Bay as part of the NATPE gathering.



Jerry Seinfeld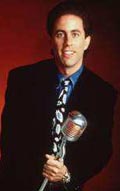 Bankable stars are also drum beating their new projects. Jerry Seinfeld promising a major announcement as well as taking in George Wallace's show at the Flamingo. Wallace is a long time Seinfeld buddy who served as best man in his wedding.

NATPE will celebrate the winners of its inaugural Brandon Tartikoff Legacy Awards presented at an invitation only awards reception on Monday, January 19 at the Venetian Hotel. Proceeds from ticket sales will go to the NATPE Educational foundation.

The awards, presented in association with Broadcasting & Cable, Multichannel News and Variety, named in honor of the pioneering television executive, will recognize excellence and leadership in the creation of television programming.

The NATPE Brandon Tartikoff Legacy Awards will be presented to Gail Berman, president, entertainment, FOX Broadcasting, Mark Burnett, Mark Burnett Productions, Marcy Carsey, Tom Werner and Caryn Mandabach, principals of Carsey-Werner-Mandabach and Ken Lowe, president & CEO E.W. Scripps Company.

NATPE will host a silent auction to benefit the NATPE Educational Foundation at the NATPE Hospitality Lounge, Booth # 1845, during the conference. The auction includes items from some popular television shows like That 70's Show and Seinfeld as well as tickets to some of the hottest live shows and events in Los Angeles and Las Vegas.


AIR JAMAICA JAZZ FESTIVAL SALUTES JOHNNY CASH


Kenny Rogers is among the headliners for the eighth Air Jamaica Jazz Festival which takes place January 22-24 at the Wyndham Rose Hall's Cinnamon Hill Ocean Course in Montego Bay.

Rogers takes to the stage on the festival's second day along with Jamaican jazz pianist Monty Alexander and soul great Bobby Womack. That evening will be dedicated to country legend, Johnny Cash, who died in Memphis, Tennessee in September.



Kenny Rogers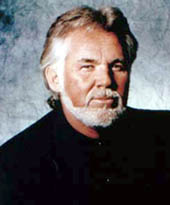 Cash is being honored for his love and contribution to the island. The Cinnamon Hill hotel golf course, where the festival will be staged, takes its name from one of Cash's Jamaican homes.

On opening night, the acts will be Rhythm And Blues sensation, India.Arie, jazz great Nancy Wilson and reggae singer Beres Hammond.

New wave jazz singer, Cassandra Wilson, R&B singer Omar Cunningham and soul singer Michael McDonald are the performers on closing night.

Local performs include; Gregory Isaacs, Dean Fraser and Friends, George Nooks, along with special appearances by Dwight Pinkney, Seretse Small, Maurice Gordon, Suzanne Couch and Lydia Bennett. The Air Jamaica Jazz Festival was first held in 1995.

OLIVIER AWARDS those distinguished British theatrical awards, disclosed nominations this past week. It's a full gamut - from Mourning Becomes Electra by Eugene O'Neill at the Lyttelton to Rat Pack — Live From Las Vegas by Paul Walden, Mitch Sebastian and Derek Nicol at the Strand.

Hosted by comedian and television personality Clive Anderson, the winners will be announced at the London Hilton on Park Lane on Feb 22. CLICK FOR THE LIST OF NOMINEES

SAG AWARDS Screen Actors Guild will honor its own at its 10th Annual Awards ceremonies on Sunday, February 22, at the Los Angeles Shrine Exposition Center. Awards are presented for outstanding performances in 2003 in five film and eight primetime television categories. Of the top industry accolades presented to performers, only the Screen Actors Guild Awards are selected purely by actors' peers. The ceremony will be televised on Turner Network Television. CLICK FOR THE LIST OF NOMINEES


THE MUSIC GOES ROUND AND ROUND


WINDHAM HILL CHILL 2 is a day spa for the mind. Listening to this brilliant compilation should restore the stressed-out mental framework, bent through everyday overload.

Windham Hill has a sterling reputation upheld by this two CD set, which is a continuation of its popular series of Ambient/Acoustic music, featuring classic label artists in seamless "Chill Mix" format.

The offering lives up to the promise of- "providing the perfect musical antidote for the stresses of modern." Compiled by producer Dawn Anderson the music is designed to take the listener on a tour of the labels eclectic musical history, evoking a sense of tranquility. The continuous "Chill Mix" means relaxing music without breaks between the tracks.

That does not mean the selection are low key, soft, or monotonous. What has been constructed is a perfect blending of styles, tempos, instruments and artists.



Jim Brickman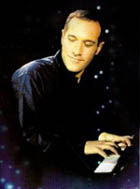 Disc One (Ambient) contains twelve-tracks, including those by eight veterans of the original Windham Hill Chill: Patrick O'Hearn, Yanni, The Paul Schwartz Project, Tangerine Dream, Schoenherz and Scott, Shadowfax, State of Grace, and Fred Simon.

The four new featured artists are Rubaja and Hermandez, Mitchel Forman, and Oystein Sevag, Lakki Patey, and a new Arista Associated Labels signing, Lili Haydn.

Disc Two (Acoustic) has 16 cuts, a total of 11 by artists also included on the first collection's Acoustic lineup: Michael Hedges, Nightnoise, Will Ackerman, George Winston, Steve Erquiaga, W.H. Dnuffy Walden, Liz Story, Alex De Grassi and Samite.

The five artists making their first Winham Hill Chill appearances on the second collection are Jim Brickman, Leo Kottke, Lisa Lynne, Scott Cossu with Eugene Friesen and Michael Manning.



Broadway To Vegas is supported through advertising and donations. Priority consideration is given to interview suggestions, news, press releases, etc from paid supporters. However, no paid supporters control, alter, edit, or in any way manipulate the content of this site. Your donation is appreciated. We accept PAYPAL. Thank you for your interest.


SPREADING THE WORD


GOODSPEED WANTS TO KNOW YOUR OPINION For several years, Goodspeed Musicals has studied and analyzed the feasibility of building a new theatre as part of its long-range plan to expand operations and ensure its future as America's home for musical theatre. Recently, the city of Middletown, Connecticut (about 12 miles north of the Goodspeed Opera House, East Haddam) has approached Goodspeed with an offer to consider that town for a new theatre. In order to fully realize the support of its invested patrons regarding a move to Middletown, Goodspeed had decided to poll its members, subscribers and the general public to find out if they would support a theatre in Middletown. As part of this exploration, Goodspeed Musicals invites the public to take part in its web survey. Interested participants must log onto www.goodspeed.org by January 28 to be counted in the research.

A CONVERSATION ABOUT GEORGE BALANCHINE the choreographer's neoclassical, technically dazzling ballets transformed the art of dance in the twentieth century. To honor the centenary of his birth, a panel of dancers, television producers, and others who collaborated with Balanchine during his thirty-five-year tenure as ballet master and principal choreographer of New York City Ballet - which he co-founded with Lincoln Kirstein in 1948 - will discuss working with the great choreographer, placing an emphasis on the role of television in his career.

In Person: Suzanne Farrell, Artistic Director, The Suzanne Farrell Ballet; Fmr. Principal Dancer, New York City Ballet. John Goberman, Exec. Producer, Live from Lincoln Center. Barbara Horgan, Chairman, The George Balanchine Foundation. Edward Villella, Founding Artistic Director/CEO, Miami City Ballet; Fmr. Principal Dancer, New York City Ballet.

Tuesday, January 20, at the Museum of Television & Radio in New York.

ELUSIVE LEGEND: AN IN-PERSON TRIBUTE TO KIM NOVAK

Kim Novak in Bell, Book and Candle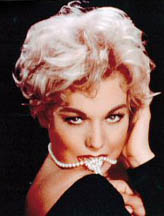 began Friday and continues through today at the Hollywood Heritage Museum with proceeds directly benefiting the American Cinematheque's ongoing preservation of the Egyptian Theatre.

In 1956 Kim Novak became the world's No. 1 box office star, a position she held for three solid years. She starred in such classics as Vertigo, Picnic, Bell Book & Candle, and Pal Joey. At the height of her Hollywood career she had the courage to walk away from fame and fortune in search of her own identity.

Novak, 70, lives on an Oregon ranch with her veterinarian husband. She last appeared on screen in 1991 in Mike Figgis' Liebestraum.

Not only an artist in the world of cinema, she excels in painting, writing, sculpture, and photography. Possessing a magic that has enabled her to endure the test of time, Novak's star has never faded and her work receives more acclaim with each passing year.

Recently, Novak was honored with the prestigious Golden Bear Award for her lifetime achievement at the Berlin International Film Festival. In 2003, she was presented with the Eastman (Kodak) Archives Award for her contribution to film - previous honorees include Greta Garbo, Audrey Hepburn, Jimmy Stewart, Martin Scorsese and Meryl Streep.

In a very rare public appearance, Novak was present to introduce and discuss her celebrated dual role in Alfred Hitchcock's masterpiece, Vertigo followed by a benefit reception honoring Ms. Novak at the Hollywood Heritage Museum.

Screenings of Novak films included; Picnic, the William Holden/Novak 1955 Columbia flick directed by Joshua Logan, which was adapted from William Inge's Pulitzer Prize-winning play. Vertigo, a 1958 Universal release which starred Novak and Jimmy Stewart, directed by Alfred Hitchcock. Kiss Me Stupid, the Novak/Dean Martin, 1964 MGM/UA film directed by Billy Wilder.

In addition, today a tribute to Long time Los Angeles philanthropist Lloys E. Rigler takes place. The 616-seat theatre at the Egyptian was named for him to recognize his major contribution to the renovation of the theatre.

In a continuing expression of his passion for cinema, Rigler provided funds to bring popular guests such as Farley Granger and Kim Novak to the Egyptian Theatre.

Rigler counted Bell, Book and Candle among his favorite films and tonight that 1958 Columbia movie, which starred Novak and Jimmy Stewart, directed by Richard Quine, will be shown on a double bill with the Frank Sinatra, Rita Hayworth, Novak movie Pal Joey.

THINKING AT THE EDGE lecture series kicks off Jan. 20 with a presentation by actress and producer Yolanda King, the daughter of Dr. Martin Luther King Jr. All of the lectures are free and open to the public. University of California at Santa Cruz.

GHOSTLIGHT FORUM when director Anne Bogart will discuss her upcoming San Jose Repertory production of Shakespeare's revamped A Midsummer Night's Dream. Moderated by Artistic Director Timothy Near. Ghostlight Forums are free, in-depth discussions that provide a behind-the-scenes look at Rep productions. Monday, January 12. Bogart's re-imagined new version of this classic will feature eight actors of the SITI Company who bring their visual imagination and kinetic physicality to this immortal tale of mismatched lovers, mischief making fairies and lovable buffoons.


SWEET CHARITY


ACTOR'S FUND BENEFIT PERFORMANCE The final performance of Nobody Don't Like Yogi starring Ben Gazzara will be held on Monday, January 19th at The Lamb's Theatre in Manhattan. The show is a celebration of the humor, loyalty, and wisdom of long-time New York Yankee general manager Yogi Berra. Known for both his wit and his ball-playing, Berra once claimed "I never said most of the things I said."


OTHER PEOPLE'S MONEY


THE RED PIANO that's the Elton John retail store, is opening soon at Caesars Palace in Las Vegas. So is Elton John, who opens Feb. 13 at the Colosseum at Caesars Palace for an engagement lasting through April 4.

MICHAEL JACKSON PAY TO PARK while pop singer Michael Jackson's Friday arraignment event - calling this a side show gives two-bit carney operators a bad name - couldn't be recorded, filmed or photographed inside the courtroom, due to a ruling handed down last Monday by Santa Barbara County Superior Court Judge Rodney Melville, press covering the over-the-top legal event were charged $250 per day to park in the parking lot.

Last week the County of Santa Barbara proposed to charge a parking fee for all media using the courthouse parking lot. The $250 per parking space per day media fee was for each one standard space or portion thereof. Application and payment had to be made in advance of use. Also, users of the parking lot were required to sign indemnification agreements. At Wednesday's meeting the Santa Barbara Board of Supervisors modified the request to permit small outlet press to park free of charge.

TABOO the Rosie O'Donnell backed musical with music and lyrics by Boy George will close Feb. 8 after 16 previews and 100 performances at the Plymouth Theatre. O'Donnell will have lost her entire $10 million investment.

"'Taboo' was by far the most fulfilling experience of my career," she said in a statement. "Many lessons were learned, and so it goes. For this experience I am profoundly grateful and have no regrets."

During her years as queen of the television talk shows, she was Broadway's strongest advocate and offered productions airtime and promotion not available since the old Ed Sullivan days.


YEAR OF THE WOOD MONKEY


Chinese New Year begins on January 22. It is not just the Year of the Money but the year of the Wood/Green Monkey, an event that occurs once every 60 years.

According to Fate, Destiny & You by Shelly Wu, "January 22, 2004 ushers in the Year of the Wood/Green Monkey "Jia Shen". A Year of Movement, discussion and the exchange of ideas. A year highlighting: Politicians, diplomats, ambassadors, writers, spokesmen, storytellers, orators, salesmen, and confidence games."

"A year of sidestepping problems and clever manipulations, backed by intelligence and guile. Short-lived, transitory projects and the open exchange of ideas filters our emotions through an agile and razor sharp intelligence. Using a great sense of humor (and sarcasm) Monkey years, hold out bright prospects of a fascinating future, rich in the unexpected."

"A year of "transformations." A year to give full rein to your imagination, but also be wary of over-optimism, allowing tolerance of the intolerable. Do not let your garden be over-run with weeds (destructive factions could bring trouble if allowed to propagate).

"Riots, revolutions and the overthrow of rulers, keep everyone on their toes!"

Monkey years spin everyone's concept of "normal." Bluffs, tricks, ruses and deceptions abound during Monkey years; Those who enjoy risk and novelty, thrive; Those who prefer predictability and convention, wince.

The peak point in a Wood Monkey year is the Springtime, a period of growth and prosperity. The Wood element represents the first 12 years of life, the time of rapid development, idealism and youthful innocence. Wood element years are prime to begin sizable enterprises, expansions and major cooperation's. Where there is recession, this Monkey year will tend to halt it in it's tracks. Business should shoot up under this years optimistic and cunning influence. The resourcefulness in solving complex dilemmas should be a pleasant surprise."

"Monkey years have also brought their share of natural disasters, as the high-strung Yang+ Monkey ushers in it's naughty mix of deception and environmental temper-tantrums." Remember hurricane Andrew and the Mount St. Helen's eruption? Monkey years.

Famous people born in the Year Of The Monkey: Sacha Distel, Omar Sherif, Jimmy Page, Roger Daltrey, George Lucas, Will Smith, Julius Caesar, Lord Byron, Elizabeth Taylor, de Vinci, Harry S. Truman, and Jennifer Anniston.

You are a Monkey if you were born in 1932, 1944, 1956, 1968, 1980, 1992. Or, if you are giving birth this year, that offspring will be a Wood/Green Monkey.

Broadway To Vegas wishes everyone the 5 traditional Chinese blessings of, Longevity, Wealth, Love of Virtue, Vital Health, and a Natural Ending.



THE HOLLOW CROWN a royal Shakespeare Company production starring Vanessa Redgrave, Ian Richardson and Donald Sinden.

Devised and Directed by John Barton, The Royal Shakespeare Company brings to Toronto its famous production of The Hollow Crown, a history of the kings and queens of England - but nothing like any schoolbook history you've ever read.

Told in story, song, speeches, letters, writings from chronicles, plays and in the monarchs' own words — and drawing on such diverse sources as the writings of Shakespeare and Jane Austen, to the letters and journals of the monarchs themselves — The Hollow Crown illuminates splendid institution of the monarchy, its rich history, its colorful pageantry, its noble traditions as well as the human face of British royalty from William the Conqueror to the young Queen Victoria - the majestic quarrels, lordly jealousies, regal squabbles, uncivil wars - and the merest hint of the rowdy secrets of royal bedchambers.

One of the most entertaining productions ever staged by the Royal Shakespeare Company. January 27 - February 29 at The Princess of Wales Theatre in Toronto, Ontario.

LEAVING IOWA a new comedy by Tim Clue & Spike Manton. As a writer sets out in search of the perfect spot to scatter his late father's ashes, he finds himself re-living all the summers he spent trapped in the back seat of a station wagon as a young boy. This charming and poignant new comedy is appropriate for audiences of all ages. Directed by Anthony Caselli. January 22 - March 13 at the Purple Rose Theater in Chelsea, Michigan.

TEXAS HOMOS by Jan Buttram. From the award-winning writer of The Parker Family Circus. In the hilarious aftermath of a police sting operation in a public restroom, three men face the music as the morning paper announces their arrests. A prominent doctor, a Methodist preacher and a young wannabe-superstar dispute the true details of their encounters as their lawyer prepares for Monday's arraignment. Jan 23-Feb 1 at the Abingdon Theatre Arts Complex in NYC.

DAME EDNA opens a six night stand on Tuesday at the Providence Performing Arts Center in Providence, Rhode Island.

NUNSENSE 20TH ANNIVERSARY TOUR brings the laughs to The Bushnell in Hartford, CT Monday, January 19-Sunday January 25.

SING ALONG WIZARD OF OZ in Minneapolis, MN at the Orpheum Theatre Jan. 16-18, then Jan. 20-25 at the Roxy in Atlanta, Georgia and Jan. 23-24 at the Mechanic Theater in Springfield, MO.

HEARTLAND a new book musical based loosely on Chekhov's Three Sisters, is the first show of the New Year for the Broadway Contemporary Series, presented by Dallas Summer Musicals. Heartland, with book and lyrics by Darrah Cloud and music by Kim D. Sherman, is produced by Producers Four, Madison Repertory Theatre and Dallas Summer Musicals, and directed by Susan H. Schulman.

Heartland explores the inner lives of three Midwestern sisters, who return to their childhood home in Iowa when they learn their mother is planning to sell the family farm. Playing the sisters are Florence Lacey as Kathleen, Jacquelyn Piro as Sara, and Caroline McMahon as Becca. Also featured in the musical are Jenn Colella, Tad Ingram, J. Robert Spencer, and Lisa Datz. Musical Director is Larry Yurman, and choreographer is Michael Lichtefeld.

Through January 25 at The Majestic Theatre in Dallas.

THE GOAT OR WHO IS SYLVIA? British première of Edward Albee's Tony award winning play. Opens January 22 - March 13 at the Almeida Theatre in London.

JESUS CHRIST SUPERTAR January 20-25 at the Jackie Gleason Theatre in Miami, Florida.


| | | |
| --- | --- | --- |
| | | |
WHO'S WHERE


SHIRLEY BASSEY singing aboard the 150,000-ton Cunard ship, Queen Mary II on its maiden journey from Southampton to Fort Lauderdale, Florida.

STING kicks off his tour at the James Knight Center in Miami with shows Friday and Saturday. Tickets originally went on sale at the box office for $44 to $88 one dollar of which going to charity. Tickets can now be located on line at $128.50 to $810.00 none of which goes to charity.

REGIS PHILBIN AND SUSAN LUCCI perform Friday, Jan 23 at the Events Center in the Pala Casino at Pala, CA.

RANDY NEWMAN on stage Friday, Jan. 23 at Royce Hall/UCLA. Los Angeles, CA.

AN EVENING WITH SARAH BRIGHTMAN Monday Jan. 18 at The Arena at Gwinnett Center in Duluth, Georgia. Wednesday finds her at the Wachovia Center in Philadelphia, PA and on Friday she can be enjoyed at Madison Square Garden in NYC.

PETE FOUNTAIN in the spotlight Tuesday and Wednesday, Jan. 20-21 at Casino Magic in Bay Saint Louis, MS.

JOHN McDANIEL brings his new cabaret act to the Crest Theatre in Delray Beach, Florida. on January 19.

MARSALIS MUSIC SHOWCASE hosted by: Branford Marsalis featuring performances by: Branford Marsalis, Miguel Zenon, Doug Wamble and Harry Connick, Jr. Thursday-Saturday, January 22-24 at Birdland in NYC.

PAUL ANKA next Sunday, January 18, stars at the Union County Arts Center in Rahway, New Jersey.

BETTE MIDLER performs Tuesday at the Fleet Center in Boston and on Friday at the MCI Center in Washington, D.C.

JOSH GROBAN on Thursday stars at the Morrison Center in Boise, Idaho. On Saturday he can be enjoyed at the Paramount Theatre in Seattle, Washington.

LARRY GATLIN on stage Saturday, January 24, at the Eisemann Center for the Arts in Richardson, Texas.

HILIARY DUFF entertains Saturday, January 24, at the Universal Amphitheatre in Universal City, CA.

CHRIS ROCK telling stories Thursday at the Copley Symphony Hall in San Diego. On Friday he's in the spotlight at the Murat Theatre in Indianapolis, Indiana and he closes out the week, Saturday, at the Fox Theatre in Detroit.

JERRY SEINFELD doing two shows January 24 at the Arlene Schnitzer Hall in Portland, Oregon.

WOODY ALLEN with the Eddy Davis New Orleans Jazz Band every Monday evening through June 28 at the Cafe Carlyle in NYC. $90 per person cover charge.

DEE DEE BRIDGEWATER performs today, Sunday, Jan. 18 at the One World Theatre in Austin, Texas. On Monday she is on stage at the University of Michigan at Ann Arbor.

STEVE TYRELL opens a five night engagement at the Mohegan Sun Casino in Uncasville, CT. on Wednesday, Jan. 21.

GEORGE WINSTON tickling the ivories Tuesday, Jan. 20 at the Riverside Theatre in Vero Beach, Florida. On Friday he is at the Broward Center in Fort Lauderdale, Florida.

PETER CINCOTTI on stage Friday at the Folly Theatre in Kansas City, Missouri. On Saturday he's center stage at the Walton Arts Center in Fayetteville, Arkansas.


FINAL OVATION


UTA HAGEN

Uta Hagen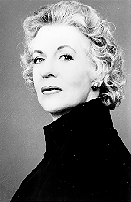 died Jan. 14 at her Manhattan home. She was 84.

Uta Hagen was born in Göttingen, Germany, on June 12, 1919. Her father named her after a 13th-century statue he saw in a Nuremburg cathedral. She made her professional debut in 1937 at the age of eighteen as Ophelia in an Eva Le Galliene Hamlet in Dennis, Massachusetts. In 1938 she made her Broadway debut as Nina in the Lunts production of The Sea Gull. She played in twenty-two Broadway productions, including the legendary Othello with Paul Robeson and Jose Ferrer.

Her last stage performance was in 2001 at the Geffen Playhouse in Los Angeles starring opposite David Hyde-Pierce in Six Dance Lessons in Six Weeks. Shortly before her 82nd birthday, during previews of the Los Angeles engagement, Hagen fell off the stage. (See Broadway To Vegas column of June 3, 2001) She was rushed to the UCLA emergency hospital by director Arthur Allan Seidelman, playwright Alfieri, theater manager Steve Eich, artistic director Randy Arney -- and Pierce. She was released with a bruised back and insisted upon going on with the show. Go on with the show she did - the run was extended four times and the intent was to open on Broadway with Hagen signed to a six month run. However, shortly after her birthday she suffered a stroke.

Hagen won her first Tony Award for creating the title role in Clifford Odets' The Country Girl; and carried home her second Tony for her portrayal of Martha in Albee's Who's Afraid of Virginia Woolf? In 1999, the actress was presented with a Special Lifetime Achievement Tony Award.

In 1981 she was inducted into the Theatre Hall of Fame, in 1983 into the Wisconsin Theatre Hall of Fame, and in July 1986, she received the Mayor's Liberty Medal in New York City. In 1987 she was given the John Houseman Award and the Campostella Award for distinguished service.

Hagen is survived by her daughter, Leticia Ferrer, a granddaughter; and a great-granddaughter. In her honor Broadway theaters dimmed their lights before last Thursday night's performances.
















Next Column: January 25, 2004
Copyright: January 18, 2004. All Rights Reserved. Reviews, Interviews, Commentary, Photographs or Graphics from any Broadway To Vegas (TM) columns may not be published, broadcast, rewritten, utilized as leads, or used in any manner without permission, compensation/credit.
Link to Main Page
---
Laura Deni


CLICK HERE FOR COMMENT SECTION