! >
Broadway To Vegas
  
  REVIEWS INTERVIEWS COMMENTARY NEWS

| | |
| --- | --- |
| | |
2016 BRITISH MIME FESTIVAL - - GRAMMY ANNOUNCES LIFETIME ACHIEVEMENT AWARDS - - MATT DAMON FILMS IN LAS VEGAS - - DUCHESS KATE TO GUEST EDIT THE UK HUFFINGTON POST - - THE CRIME MUSEUM UNCOVERED - - MGM RESORTS SAYS NO MORE FREE PARKING - - THEATER FOR THE NEW CITY BAKE SALE - - THE PORTLAND MUSEUM OF ART - - DONATE . . . Scroll Down






Copyright: January 17, 2016
By: Laura Deni
CLICK HERE FOR COMMENT SECTION


2016 BRITISH MIME FESTIVAL ATTRACTS WORLD WIDE SILENT CREATIONS


Speaking is so overrated. Communication comes in many forms. One of the oldest and most easily understood is mime.

The London International Mime Festival is now entering its 40th year of breaking boundaries, embracing the new.

Starting with distinguished Complicite original members, Jos Houben and Marcello Magni, in their new show, Marcel, (which garnered rave reviews) produced by the famous Théâtre Bouffes du Nord theatre in Paris, LIMF 2016 offers 29 days of epic, physical and visual theatre, films, workshops and discussions.

A few of the offerings:

Circus and contemporary dance collide with dizzying effect in Yoann Bourgeois' He Who Falls, and spectacular acrobatics meet opera in Circa's The Return.

From Australia, The Return at the Barbican Theatre is mounted through Sunday, January 31 with the support of the Australian High Commission in London.



The Return. photos © Chris Herzfeld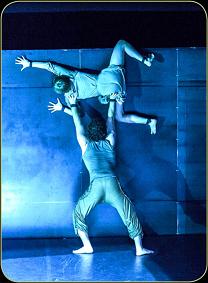 Created by Yaron Lifschitz with Quincy Grant and the Circa ensemble. Composers Claudio Monteverdi, Quincy Grant, John Barber, Jakub Jankowski and Cornel Wilczek.

Directed by Yaron Lifschitz. Musical supervision by Quincy Grant and Musical direction by Natalie Murray Beale. Technical direction and lighting by Jason Organ. Costumes by Libby McDonnell. Stage design by Jason Organ and Yaron Lifschitz.

A combination of the awe-inspiring power, riveting virtuosity and creative heart of Circa's acrobatics with the sublime soul of Monteverdi's operatic music.

From the Australian company that has transformed contemporary circus comes another genre-defying show, celebrating the expressive possibilities of the human body pushed to extremes.

This new work signals the return to the Barbican of a star ensemble whose past two productions – the sell-out How Like An Angel followed by the remarkable Opus – have enthralled London audiences. Akin to a physical poem, the staging sees six highly skilled artists precariously lift, hold, levitate and fall, their movements driven by the twin forces of desire and absence.

Other festival debutants include Belgium's Alexander Vantournhout, Stereoptik from France, and Britain's The Wrong Crowd presented Kite with its delightful tale about a handmade kite that comes to life.



Kite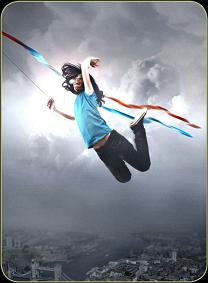 The Wrong Crowd in association with Soho Theatre has performances of Kite through Saturday, February 6. A lonely girl is taken to live in her grandma's airless flat where the windows are shut tight. Her memories of seagulls and sand dunes begin to fade in the silence. One night a handmade kite comes to life and heralds the start of a wild adventure and the chance to find what it seemed was lost forever.

Inspired by the world of indoor-kite flying and stories such as The Snowman and The Red Balloon, Kite is a play without words, with originally composed music, dance, puppetry and of course kites.

From acclaimed theatre company The Wrong Crowd, creators of inventive, playful and compelling new theatre this is a poignant love-song to the wind, freedom and the joy of play.



Wunderkammer. photos © Winfried Reinhardt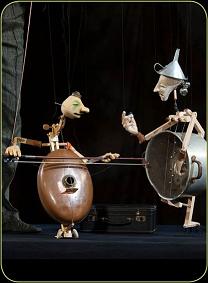 There's a mini-season of micro-theatre with Catalan artists at Tate Modern and Southbank Centre, and magical marionettism from Figurentheater Tübingen at the Barbican February 2-6. A post show discussion will take place February 3.

Titled Wunderkammer, the creative team includes: Puppetry by Alice Therese Gottschalk. Raphael Mürle and Frank Soehnle. Wunderkammer music by Tamar Halperin and Michael Wollny. Custom-written compositions by Bradley Kemp. Choreography by Lisa Thomas. Costumes by Evelyne Meersschaut. Lighting by Christian Glötzner.

Three puppeteers welcome you to a cabinet of curiosities where rare artefacts and familiar objects, the wonderful and the mundane, come together in near-perfect equilibrium.

One by one they mysteriously emerge: a pair of golden hands caresses human hair, long-limbed figures dance and sway, two miniature musicians comically duel it out, and an unfathomable creature floats in air and water.

Demonstrating the allure and magnetism of string marionettes, Frank Soehnle returns to the festival with a company of renowned German puppeteers who visibly orchestrate their strange cast with utmost grace, eliciting the subtlest expressions of movement. Referencing art, science and the natural world through their mystical creations, they all interact and elegantly play to the tempo of an atmospheric score. "Sweet, melancholic and sometimes tongue in cheek, Wunderkammer is a gem of puppet-theatre.

A workshop Things on Strings – a short introduction to the world of string puppets will be led by Frank Soehnle and Alice Therese Gottschalk at the Barbican on Saturday, February 10.



Aaneckxander. Photo by Bart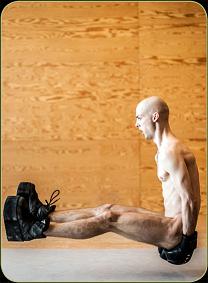 Aaneckxander by Belgiums Alexander Vantournhout & Bauke Lievens stages a UK premiere of "a tragic autobiography of the body," taking place at Jacksons Lane until January 24. An after show discussion occurs on Saturday, January 23.

Aneckxander unfolds in a minimal setting with one acrobatic body, a few carefully selected objects, and music by Arvo Pärt. Balancing on the fine line between tragedy and comedy, Alexander Vantournhout rewrites the autobiography of his own body, from subject to object to matter. It all started when someone told him that his neck was rather long. The result is a raw self-portrait in which the body both exposes itself to and tries to escape from the prying eyes of those looking at it.

The performance contains extensive nudity.

UK contemporary circus leader, Ockham's Razor, premieres its most ambitious creation yet; mask theatre fans get world class fare with Vamos and Familie Floez, while Jakop Ahlbom's large-scale horror movie hommage guarantees white knuckles and laughter at The Peacock.



The Peacock. Photos © Sanne Peper, Paulina Matusiak Eddy & Wenting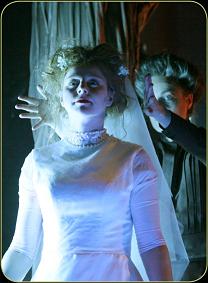 Conceived and Directed by Jakop AhlbomThe Peacock is staged Januaery 25-26 with an after-show discussion on January 25 at Sadler's Wells.

A deserted mansion - a young woman returns to the place of her bleak childhood. No longer able to suppress memories of her cruel parents and strange sister, she is forced to confront the past and some terrible truths!

With its eight-strong cast, "Jakop Ahlbom's imaginative homage to the horror movie genre is ingenuously gruesome, genuinely scary and frequently very funny. Referencing Gothic spine-chillers as well as more recent frighteners like The Shining, Rosemary's Baby and The Exorcist, Horror will have you shuddering at the edge of your seat. Don't miss his latest cinema-inspired new drama, a journey into fear and fun, with all the mystery, gore and logic-defying illusions you could wish for."



The Best Thing. photos © Graeme Braidwood | alienpen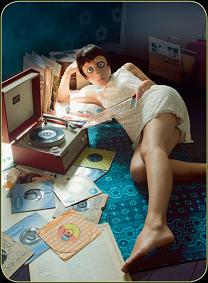 A world premiere of The Best Thing takes place at Jacksons Lane through January 31. A post show discussion is islated for Saturday, January 30.

"It's 1966. The record player is on, her hair's bobbed and eye-lashes curled: for seventeen year old Susan, life is an adventure waiting to begin. But what happens next turns everything upside down, and its repercussions will last for decades to come. Step into the wordless world of Vamos Theatre for this bitter-sweet story of mistaken morals and broken hearts, 45s and beehives, where sexual revolution proves a hard and rocky path to tread. Funny, heart-breaking and human, The Best Thing is a 'swinging sixties' story of unconditional love."

Led by artistic director, Rachael Savage, Vamos Theatre has become Britain's leading, full mask theatre company, touring nationally and overseas with inventive and entertaining productions based on real life stories.

Seventeen of the eighteen productions will be UK or London premieres; Jos Houben's The Art of Laughter returned, again, by popular demand.

The festival runs through February 6.






Broadway To Vegas is supported through advertising and donations. Priority consideration is given to interview suggestions, news, press releases, etc from paid supporters. However, no paid supporters control, alter, edit, or in any way manipulate the content of this site. Your donation is appreciated. We accept PAYPAL. Thank you for your interest.






ART AND ABOUT


THE CRIME MUSEUM UNCOVERED

Objects relating to the murder of Mrs Olive Durand-Deacon by John Haigh (the 'Acid Bath Murderer'), 1949. All images © Museum of London.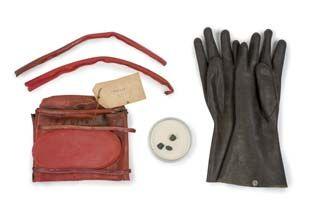 Counterfeiting and forgery implements. All objects courtesy of the Metropolitan Police's Crime Museum, New Scotland Yard. All images © Museum of London. Curated from the collections of the Metropolitan Police.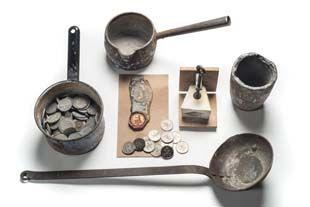 for the first time ever, never-before-seen objects from the Metropolitan Police's Crime Museum are on public display in this major exhibition at the Museum of London.

Since its establishment by serving officers in the mid-1870s the Crime Museum has previously only been open to police professionals and invited guests. Now, using original evidence from this extraordinary collection, the exhibit unlocks real-life case files to take visitors on an uneasy journey through some of the UK's most notorious crimes from Dr Crippen to the Krays, the Great Train Robbery to the Millennium Dome diamond heist.

Created with the support of the Metropolitan Police Service and the Mayor's Office for Policing And Crime (MOPAC), the exhibition considers the changing nature of crime and advances in detection over the last 140 years, as well as the challenges faced in policing the capital, such as terrorism, drugs and rioting.

Giving voice to the real people - victims, perpetrators and police officers - behind these objects we explore the impact of crime, personalizing what is so often depersonalized. "Confronting how, as a society, we respond when normality is shattered and lives are torn apart, we are also be forced to question our enduring fascination with this hidden collection and its stories."

The Crime Museum Uncovered is accompanied by a program of talks and events.

In the near future ancillary events include: Curating The Crime Museum Uncovered on Monday, January 18 and on March 14. Discover the ins and outs of curating the exhibition, Hear about the challenges of selecting the themes, criminal cases and objects from the original museum. What does it really mean to put these objects on display? You'll hear from exhibition curator Jackie Keily and the event is chaired by Nic Groombridge, a former Home Office civil servant and now an academic criminologist and member of the Executive Committee of the British Society of Criminology. Includes a unique visit to the exhibition after-hours, and away from the crowds, with the experts on hand to answer your questions.

Crime investigations: fact and fiction takes place Tuesday, February 2. What is it really like to be a detective today? How do our cultural perceptions measure up to real life? Join journalist and Crime + Investigation presenter, Dermot Murnaghan, as he chairs a panel of experts discussing real life cases featured in The Crime Museum Uncovered and the processes of modern investigation.

On exhibit until April 10, 2016 at the Museum of London, England.

HOORAY FOR POLITICS a new display that will juxtapose historic voting devices with contemporary candidate rally signs to encourage our visitors to reflect on the relationship between the nation's democratic traditions and the current swirl of election news, and draw visitors into conversations on the importance of civic engagement.

Opening January 21, 2016 at the National Museum of American History in Washington, DC.

THE PORTLAND MUSEUM OF ART (PMA)

Winslow Homer (United States, 1836-1910), An Open Window, 1872, oil on canvas, 17 7/8" x 13 7/8". Portland Museum of Art, Maine. Partial gift from an anonymous Maine family and partial museum purchase with funds from an anonymous foundation, 2015.21.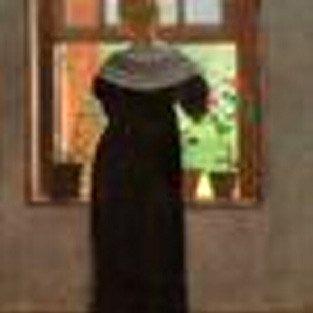 announced two new major acquisitions: An Open Window, an 1872 painting by Winslow Homer, and River Cove, a 1958 painting by Andrew Wyeth. Both paintings will be on view January 22, 2016 , when the PMA reopens after a brief closure as part of the multiyear project, Your Museum, Reimagined, which is focused on improving access to the museum's collection

An Open Window is one of a series of four paintings that Homer created in 1872 that features a solitary woman dressed in black, facing away from the viewer. The unknown woman is standing in a modest room, looking out onto a bright landscape likely inspired by Homer's summer travels that year to Ulster County, New York. The bold differentiation between the dimly lit interior in the foreground and the light-saturated landscape in the background reveals Homer's aesthetic experimentation at a crucial moment in his career, and his close observation of such European old masters as Johannes Vermeer.

In addition to the PMA's Winslow Homer Studio in Prouts Neck, Maine, the museum has exceptional strength in its holdings of Homer's work. An Open Window fills an important gap, as it is the first oil painting in the collection from this particular decade, and therefore bridges the PMA's collection of early Homer oil paintings, such as his 1863 Sharpshooter, with the artist's later paintings, such as his 1894 Weatherbeaten. The painting is a partial gift from an anonymous family with deep roots in Maine, and a partial purchase with funds from an anonymous foundation.

"An Open Window represents a moment in Homer's career after the Civil War, but before his time in England," explained Jessica May, the PMA's Chief Curator. "It's a transformative addition to the PMA's Homer collection, both in terms of period and subject matter, and will help the museum to demonstrate the ways in which Winslow Homer was very much an exceptional artist, one who was responsive to his own moment in American art history. It will also allow the PMA to draw parallels between Homer and his peers. One of the most exciting aspects of this acquisition is that the painting itself is virtually unknown to contemporary viewers, as it has not been on view to the public since 1938."

In addition, the PMA has acquired River Cove, a 1958 tempera painting by Andrew Wyeth that is regularly identified by art historians as among his most important and impressive artworks. Andrew Wyeth, the son of American painter N.C. Wyeth and the father of artist Jamie Wyeth, cited Winslow Homer as an influence, and used both watercolors and tempera to create what he called "Homeric" landscapes.





SWEET CHARITY


THEATER FOR THE NEW CITY bake sale benefit for a new handicapped lift takes place the evening of January 26 at the theater in New York City.

"The theater wants to replace its broken handicapped lift to facilitate access to the basement theater and bathrooms. So in order to raise the funds, it's having a bake sale. Everybody in the theater community is encouraged to bake something, then come to sell it. The event is free but you'll pay for cupcakes, pies, honeycakes, etc. Benefit goal is $30,000, so pay a sweet price for your snacks. Other contributions will be accepted."






SPREADING THE WORD


JESSICA FELLOWES: THE WORLD OF DOWNTON ABBEY As the world's foremost expert on the PBS television British period drama Downton Abbey, Jessica Fellowes, the niece of Lord Julian Fellowes creator and writer of Downton Abbey, she is a #1 best-selling author, journalist, and public speaker best known for her work as writer of the program's official companion books.

Her latest, A Year in the Life of Downton Abbey, features seasonal celebrations, traditions, and recipes as well as insights into the making of the show, from costumes to locations.

Fellowes' fascinating, behind-the-scenes lecture will focus not only on the characters, sets, and plot lines of Downton Abbey, but also on the socio-historical context of the popular program.

She'll speak on Saturday, January 23, at the Sunset Cultural Center in Carmel, CA.

Downton Abbey, an international hit series, has returned to Masterpiece on PBS for its sixth and final season.

DRUNK presented by LABAlive is an evening of Wine, Jewish Text Study, Art, Music, Theater and Imbibing at the 14th Street Y January 21, 2016.

Who was the world's first drunkard? Can wine serve us as a stairway to heaven? A night devoted to art, humor and some serious drinking.

Guests will study texts on the theme of intoxication from the Torah and Talmud with LABA teacher Ruby Namdar, while drinking and learning about wines selected to match those specific texts by a professional sommelier.

Throughout the night, LABA artist fellows will explore altered states, intoxication, grapes, tastes and the mysteries of fermentation. LABA artists fellows are Gal Beckerman, Gon Ben Ari, Lital Dotan, Lainie Fefferman, Joshua Max Feldman, Jessica Gross, Shanti Grumbine, Rebecca Margolick and Maxx Berkowitz, Kendell Pinkney, Hanan Elstein, Lior Zalmanson.

MATT DAMON in Las Vegas filming a new movie, the third segment of the Jason Bourne movie series which also stars Tommy Lee Jones. The production films through January 21.

KATE, THE DUCHESS OF CAMBRIDGE will guest edit the UK Edition of The Huffington Post, Kensington Palace announced.

Prince William's wife will invite a team from the publication to Kensington Palace in mid-February using her guest role edit position to highlight work being done by teachers, parents, researchers and mental health professionals.

"The Duchess of Cambridge has made the mental health of young children a key focus of her work in recent years. She is delighted that The Huffington Post will help put a spotlight on this important issue," Kensington Palace said in a statement.
,br> "The Duchess of Cambridge has made the mental health of young children a key focus of her work in recent years," a spokesman said. "The Duchess will be commissioning contributions from a number of leading figures in the mental health sector as well as from young people, parents, and teachers."

The 34-year-old mother of two has campaigned against the stigma surrounding childhood mental illness, and is a patron of several related charities.

Stephen Hull, editor-in-chief of The Huffington Post UK, said they were "thrilled" that the duchess was joining the team. "Dealing with mental health issues has been a major editorial focus for us and I'm very excited to be working together on such an important project."

ZARA PHILLIPS AND HUSBAND MIKE TINDALL she's Queen Elizabeth's eldest granddaughter, hurried home from Australia to celebrate their daughter Mia Grace's second birthday on Sunday, January 17. The couple had been down under so equestrian Zara could attend the Magic Millions Racing event - the first time she has returned to Aussie Land since having her first child. Zara, 34, is a patron for the Magic Millions carnival's Racing Women initiative. The brainchild of Magic Millions owner Katie Page-Harvey, the initiative is aimed at boosting the numbers of female jockeys, trainers and owners in Australia.

Former rugby player Tindall told the Sydney Morning Herald that: "Mia our daughter has inherited a love of horses, she has a Shetland pony and she enjoys it so I think her mum has passed that love on… me on the other hand, well I'm more of a football man."

GUARDIANSHIP UNDER FIRE a chilling investigative report on the abuse of adults in Clark County (Las Vegas) who are under guardianship is seriously important. The excellent 30-minute special was produced by and aired on Channel 13 in Las Vegas, an ABC affiliate. Lead investigator and host is Darcy Spears.





OTHER PEOPLE'S MONEY


NO MORE FREE PARKING MGM Resorts - the largest hotel operator in Las Vegas - announced that beginning in April motorists will be charged $10.00 to park overnight in the self parking areas of their hotels.

Those include: Mandalay Bay, Delano, Luxor, Excalibur, Monte Carlo, New York-New York, Vdara, Aria, Bellagio, The Mirage, MGM Grand and Circus Circus.

Rumors are that some parking areas by the shopping area of Circus Circus will remain free.



THE RECORDING ACADEMY announced its Special Merit Awards recipients. This year's Lifetime Achievement Award honorees are Ruth Brown, Celia Cruz, Earth, Wind & Fire, Herbie Hancock, Jefferson Airplane, Linda Ronstadt, and RUN DMC.

John Cage, Fred Foster, and Chris Strachwitz are Trustees Award honorees; and EMT and Dr. Harvey Fletcher are Technical Grammy Award recipients. A special ceremony and concert celebrating the honorees will be held in the spring of 2016.

THE AMERICAN THEATER CRITICS ASSOCIATION (ATCA) announced y that playwright Sharyn Rothstein has been awarded the 2015 Francesca Primus Prize for her play By the Water, which is set in Staten Island, New York, in 2012 in the aftermath of Hurricane Sandy.

Jointly sponsored by ATCA and the Francesca Ronnie Primus Foundation, the Primus Prize is given annually to an emerging woman playwright. Rothstein will receive the $10,000 award check immediately and be officially congratulated at an upcoming ATCA conference.

By the Water was commissioned as part of the Ars Nova/Manhattan Theatre Club Writer's Room, a two-year development program that encourages playwrights to take risks with their work. The play received readings and a full workshop prior to its premiere production at Manhattan Theatre Club's Stage II in November 2014. The play has also been published by Dramatists Play Service.

Rothstein is one of the inaugural writers selected for the Ars Nova Writer's Room as well as an alumnus of the Ensemble Studio Theatre's Youngblood collective and Primary Stages' Dorothy Strelsin New American Writers Group. She has also received an Ensemble Studio Theatre/Alfred P. Sloan Foundation commission for a full-length play. In addition to playwriting, Rothstein writes for the television legal drama Suits, now in its fifth season on USA Network.

"The Francesca Ronnie Primus Foundation was established to recognize and support emerging women artists who are making a difference in the theater community in which they work," observed Barry Primus, the foundation administrator. Founded in 1997 in memory of actress and critic Francesca Primus, the Primus Prize was originally administered by the Denver Center Theatre Company. ATCA began overseeing the award in 2004.

ATCA is the nationwide organization of theater critics and an affiliate of the International Association of Theatre Critics. In addition to the Primus Prize, it administers two other playwriting awards: the Harold and Mimi Steinberg/ATCA New Play Award and the M. Elizabeth Osborn Award. ATCA members also recommend a regional theater for the annual Tony Award and vote on induction into the Theatre Hall of Fame.



THE END OF LONGING written by and starring Matthew Perry.

Directed by Lindsay Posner.

Meet Jack, Stephanie, Joseph and Stevie: four lost souls, entering their forties and searching for meaning. After sharing one raucous night together in a downtown Los Angeles bar, their lives become irreversibly entwined in a rollercoaster journey that forces them to confront the darker sides of their relationships.

"A sharply written and hilarious dark comedy, The End of Longing, will make you realize that broken people don't need to stay broken."

Starringr Matthew Perry as Jack, Lloyd Owen as Joseph, Christina Cole as Stevie and Jennifer Mudge as Stephanie.

Anna Fleischle will provide the set, while lighting will be designed by Lucy Carter.

Opens at The Playhouse in London on February 2 which is while Perry won't make an in person appearance on the highly anticipated Friends reunion which tapes January 24, while the play is in rehearsal. Perry will participate in the reunion of his beloved '90s sitcom remotely, he revealed during an appearance on The Graham Norton Show. "The five of them are going to be on this special, and I'm going to introduce them from here, because I'm doing the play here, so I can't be there."

A GENTLEMAN;S GUIDE TO LOVE AND MURDER the totally entertaining Tony Award winning musical with book and lyrics by Robert L. Freedman and music and lyrics by Steven Lutvak.

Directed by Darko Tresnjak and choreography by Peggy Hickey.

Getting away with murder can be so much fun. This Tony-winning musical comedy tells the uproarious story of Monty Navarro, a distant heir to a family fortune who sets out to jump the line of succession by-- you guessed it--eliminating the eight pesky relatives - all played by one man - who stand in his way. All the while, Monty has to juggle his mistress (she's after more than just love), his fiancée (she's his cousin, but who's keeping track?), and the constant threat of landing behind bars.Of course, it will all be worth it if he can slay his way to his inheritance - and be done in time for tea.

Starring John Rapson in the role of the eight D'Ysquith heirs and Kevin Massey in the role of Monty Navarro. Casting also features Kristen Beth Williams as Sibella Hallward, Adrienne Eller as Phoebe D'Ysquith, and Mary VanArsdel as Miss Shingle. The Tour also includes Christopher Behmke, Sarah Ellis, Matt Leisy, Megan Loomis, Dani Marcus, Lesley McKinnell, Kristen Mengelkoch, David Scott Purdy, Chuck Ragsdale, and Ben Roseberry.

The design team includes Alexander Dodge (Scenic Design), Linda Cho (Costume Design), Philip S. Rosenberg (Lighting Design), Dan Moses Schreier (Sound Design), Aaron Rhyne (Projections Design), Charles LaPointe (Wig Design), and Brian Strumwasser (Make-Up Design). Orchestrations are by Jonathan Tunick and Vocal Arrangements are by Dianne Adams McDowell and Steven Lutvak. Paul Staroba serves as Music Supervisor, and Larry Goldberg serves as Music Director.

Performances on The Eisenhower Stage at The Kennedy Center in Washington, DC through January 30, 2016. The production then moves to the Des Moines, Iowa Civic Center for shows February 2-7.

THE GLASS MENAGERIE by Tennessee Williams.

Directed by Mark Ramont.

One of the greatest American plays of the 20th century, The Glass Menagerie explores the visceral bonds of family. Southern matriarch Amanda frets constantly over her two live-in adult children - the painfully shy Laura and Laura's restless poet brother, Tom. With great cajoling, Tom brings home a possible suitor for Laura, but reality soon casts a shadow on Amanda's dreams for both her children. This iconic, emotional and enduring family drama made Williams famous and has become a classic of the American.

January 22-February 21, 2016 at Ford's Theatre in Washington, DC.


WHO'S WHERE




SEE JANE SING! WITH JANE LYNCH side-splitting musical comedy with the Glee and Angel From Hell star, known for her magnificent timing and scene-stealing one-liners. The show also features Kate Flannery (Meredith from The Office), Tim Davis (the vocal arranger of Glee) and the Tony Guerrero Quintet. Saturday, January 23, at the Scottsdale Center for the Performing Arts in Scottsdale, AZ.

ELLIE GOULDING is on stage Thursday, January 21, 2016 at the Barclaycard Arena in Hamburg, Germany. On Friday she appears at the Max Schmeling-Halle in Berlin. Saturday finds her at the Torwar in Warsaw, Poland.

THE TENORS star at the Riverside Theatre in Milwaukee, WI on Friday, January 22. On Saturday they can be enjoyed at Clowes Memorial Hall in Indianapolis, IN.

JENNIFER NETTLES performs Wednesday, January 20, at the Beacon Theatre in New York City. On Friday she entertains at the Tower Theatre in Upper Darby, PA. Saturday's gig is at the House of Blues in Boston. Next Sunday, January 24, she's on stage at the American Music Theatre in Lancaster, PA.

CHICAGO entertains Monday, January 18, at the Star Arena in Kuala Lumpur, Malaysia. On Wednesday they'll be performing their hits at the Smart Araneta Coliseum in Manila, Philippines. Friday's show is at the International Convention Center in Taipei. Next Sunday, January 24, they are on stage at the Neal S. Blaisdell Arena in Honolulu.

JACK EVERLY AND HIS BROADWAY LEADING LADIES Christina Bianco, N'Kenge, Kristen Plumley and Mandy Gonzalez deliver a showstopping performance of songs from Chicago, Dreamgirls, Cabaret, West Side Story and more. Backed by the NAC Orchestra. January 21-23, 2015 at the National Arts Centre in Ottawa, Ontario, Canada.

IMAGINE DRAGONS entertain Monday, January 18 at the Tips Arena in Linz, Austria. On Tuesday they are in the spotlight at the Aegon Arena in Bratislava, Slovakia. Wednesday finds them at the Arena in Budapest, Hungary. On Friday they can be enjoyed at the Chizhovka Arena in Minsk, Belarus. Nex Sunday, January 24, their tour stops at the SCO Olympic Arena in Moscow.

TRACY MORGAN proving you can't keep a good man down is back on his feet making people laugh. He'll do just that in a two nighter opening Friday, January 22, at the Horseshoe in Council Bluffs, Iowa. Next Sunday, January 24, the laughs will be coming from Harrah's in Kansas City.


FINAL OVATION


DAVID BOWIE flamboyant rock star died January 10, 2016 after an 18-month battle with liver cancer. He died two days after his 69th birthday surrounded by his family and friends at his New York home.

The English singer, songwriter, multi-instrumentalist, record producer, arranger, painter, and actor enjoyed a career spanning almost 50 years during which time he release 45 albums, the last one Blackstar on his birthday.

In 1996 he was inducted into the Rock and Roll Hall of fame. In 1999, Bowie was made a Commander of the Ordre des Arts et des Lettres by the French government. Bowie was awarded the Grammy Lifetime Achievement Award on February 8, 2006

Neil Portnow President/CEO of The Recording Academy iaaued the following statement: "David Bowie was truly a Renaissance man and visionary artist with extraordinary talent as a singer, songwriter, performer, actor and producer, and was a musical hero to millions. A Grammy Award Winner and a Lifetime Achievement Award recipient, he is remembered and celebrated today for his audacious approach to pushing creative boundaries and ability to reinvent himself time and time again, changing the course of pop music in the process. David was a true original who influenced so many and his art will live on forever. We offer our sincere condolences to his family, friends, creative collaborators and to all of David's fans across the globe."

Bowie married Mary Angela Barnett (also known as Angie Bowie) in 1970 and divorced in 1980. They had a son together, Duncan, a film director.

In April 1992, David Bowie married Somali-American model Iman in a private ceremony in Lausanne. The wedding was later solemnized in Florence. They have one daughter, Alexandria "Lexi" Zahra Jones, born in August 2000.

ALAN RICKMAN an Emmy winning, Tony nominated English actor and director who became a household name due to his film performances as Hans Gruber in Die Hard and Severus Snape in the Harry Potter film series died surrounded by friends and family on January 14, 2016 in a London hospital from pancreatic cancer. He was 69.

His final film part, as the voice of the Blue Caterpillar in Alice Through the Looking Glass, will be released in May 2016.

Rickman trained at the Royal Academy of Dramatic Art in London, and was a member of the Royal Shakespeare Company, performing in modern and classical theatre productions.

He performed onstage in Noël Coward's romantic comedy Private Lives, which transferred to Broadway after its successful run in London at the Albery Theatre. His previous stage performance was in Antony and Cleopatra in 1998 as Mark Antony with Dame Helen Mirren as Cleopatra, in the Royal National Theatre's production at the Olivier Theatre in London. Rickman appeared in ,i>All The Trimmings, a Christmas 2000 special with Victoria Wood.

Rickman also directed The Winter Guest at London's Almeida Theatre in 1995 and the film version of the same play, released in 1997, starring Emma Thompson and her real-life mother Phyllida Law. With Katharine Viner he compiled the play My Name Is Rachel Corrie, and directed the premiere production at the Royal Court Theatre.

On November 21, 2011, Rickman opened in Seminar, a new play by Theresa Rebeck, at the John Golden Theatre on Broadway.

He was an active patron of the research foundation Saving Faces; and honorary president of the International Performers' Aid Trust, a charity that works to fight poverty amongst performing artists all over the world.

He is survived by the love of his life Rima Horton. In 1965, at the age of 19, Rickman met 18-year-old Rima Horton, who became his first girlfriend and would later be a Labour Party councilor on the Kensington and Chelsea London Borough Council (1986–2006) and an economics lecturer at the nearby Kingston University. They lived together from 1977 until his death. In 2015, and married in a private ceremony in New York City in 2012.

BRIAN BEDFORD a Tony Award winning English actor, considered one of the great stage actors of his generation, died January 13 in Santa Barbara, CA. He was 80.

He received seven Tony nominations, the second most for a male actor behind Jason Robards, who has eight.

Bedford trained at the Royal Academy of Dramatic Art in London, alongside such classmates as Peter O'Toole, Alan Bates and Albert Finney. Primarily a stage actor, he was known for his English-speaking interpretations of the French playwright Molière, including Tony Award nominated performances in Tartuffe, The Molière Comedies (a double bill of the short plays The School for Husbands and The Imaginary Cuckold) and The School for Wives, for which he received the Tony Award for Best Performance by a Leading Actor in a Play.

In 2009, Bedford starred as Lady Bracknell in The Importance of Being Earnest, marking 27 seasons of acting and/or directing, at the Stratford Shakespeare Festival in Canada.

He repeated the role in 2010 (in a double role as both actor and director) for the Roundabout Theatre in New York, which earned him a 2011 Tony Award nomination for Best Performance by a Leading Actor in a Play.

In 1997 he was inducted into the Theatre Hall of Fame.

He is survived b his husband Tim McDonald who had been his partner since 1986 and husband since 2013.

MYRA CARTER veteran stage actress died January 9, 2016 from complications of pneumonia. She was 86.

Myra Carter, the veteran stage actress whose career finally found the spotlight when she appeared as one of the three actresses in Edward Albee's Three Tall Women, died Jan. 9. She was 86. The cause was complications of pneumonia. She didn't receive stardom until her mid-60s when she was cast as the elder of three figures in Edward Albee's Three Tall Women.

Her first Broadway experience was as the understudy for Marion Seldes in 1955's The Chalk Garden.

Her Broadway credits include Major Barbara, Maybe Tuesday, Georgy, and Garden District - which includes the plays Suddenly Last Summer and Something Unspoken. Her Off-Broadway credits include King John, Abingdon Square, Helen, and The Secret Concubine.

Carter won a Joe A. Callaway Award for her performance in King John Carter is also known for her performances at Memphis' Front Street Theatre.

She is survived by her nieces Jan Brothers and Tracy Schneider; her great-nieces Aeriel Wilner, Amy Schneider, Abby Schneider and Alex Schneider; and her great-nephew Andre Brothers, all of Missouri.

BILLIE ALLEN an African-American actress and director who helped integrate Broadway, involved in original productions A Raisin in the Sun and Funnyhouse of a Negro, died December 29, 2015 at her home in Manhattan. She was 90.

Allen received a Lortel Award nomination for her direction of a 2006 production of Adrienne Kennedy's Funnyhouse. She had played the lead role of the disturbed young woman Sarah in the 1964 premiere of the drama. Also in 1964, on Broadway, she was a member of the cast of James Baldwin's play about racial intolerance, Blues for Mister Charlie, playing a small part while understudying the lead role portrayed by Diana Sands. Off-Broadway, directed The Brothers and Day Trips. As an actor, she was in Take a Giant Step, Black Monday, Trainer Dean Liepolt and Company, The Ofay Watcher and Every Night When the Sun Goes Down.

Early roles on Broadway, in Caribbean Carnival and Virgil Thompson's Four Saints in Three Acts, were dance oriented. Other Broadway credits included Critic's Choice and A Teaspoon Every Four Hours.

She had a recurring role as a WAC on the 1950s sitcom The Phil Silvers Show, considered an anomaly at a time since black actors did not typically take part in predominantly white programs.She also played Ada Chandler in the soap opera, The Edge of Night. In 1964

Allen was a founding member of the Women's Project and Productions and served as a founding member and co-president of the League of Professional Theatre Women. In 1973, Allen with Morgan Freeman, Garland Lee Thompson and Clayton Riley founded Harlem's Frank Silvera Writers' Workshop. She interviewed Rosetta LeNoire, Julia Miles and Ruby Dee for the theatre archives of the Library of the Performing Arts at Lincoln Center, and in 1999 and 2000, served as a voting member of the Tony Awards nominating board.

She was married to the composer and arranger Luther Henderson from 1981 to 2003. A previous marriage, to Duane H. Grant, Sr., ended in divorce. She is survived by two children from that marriage, Duane Grant, Jr., and Carolyn Grant.

RENE ANGELIL manager and husband of Celine Dion died in his Lake Las Vegas home from throat cancer on January 14, 2016 two days before his 74th birthday.

He began his career as a pop singer in the 1960s in Montréal. Angélil formed a pop rock group, Les Baronets, with childhood friends Pierre Labelle and Jean Beaulne. Les Baronets had some hits during the 1960s, mostly translations of English-language pop hits from the United Kingdom or the United States,

Switching to management he heard a demo tape of a 12 year-old Celine Dion and became her mentor and manager. He is considered responsible for her rise to stardom including her contact with Caesars Palace in Las Vegas.

Angélil was an avid poker player, having qualified for the 2005 World Series of Poker Tournament of Champions, and finishing in the money at the 2007 Mirage Poker Showdown event on the World Poker Tour.

He is survived by his wife Celine Dion and their three children, René-Charles, twins Nelson and Eddy and three grown children from two previous marriages, Patrick, Jean Pierre and Anne Marie and seven grandchildren.

In accordance with Angélil's final wishes, the funeral will be held at Notre-Dame Basilica in Montreal which is where he and Celine were married.. The public can pay their respects at Notre-Dame Basilica on Thursday, January 21. A religious service will take place on the afternoon of Friday, January. 22. Caesars Palace Colosseum in Las Vegas, will also be holding a Celebration of Life on February. 3.

Celine Dion's remaining week-end shows at Caesars Palace were cancelled. She is expected to return to the stage February 23 as scheduled.

The day after her husband's death it was also disclosed that Dion's older brother Daniel, 59, was suffering from throat, tongue and brain cancer and not expected to survive the week. He passed away on Saturday, January 16, 2016. Celine, 47, is the youngest of 14 children. Daniel was the seventh child. He leaves behind two adult daughters, two grandchildren, 13 sisters and brothers and an extended family of nieces and nephews.

















.

Next Column: January 24, 2016
Copyright: January 17, 2016 All Rights Reserved. Reviews, Interviews, Commentary, Photographs or Graphics from any Broadway To Vegas (TM) columns may not be published, broadcast, rewritten, utilized as leads, or used in any manner without permission, compensation and/or credit.
Link to Main Page
---
Laura Deni



For the snail mail address, please E-mail your request.
CLICK HERE FOR COMMENT SECTION