! >
Broadway To Vegas
  
 SHOW REVIEWS CELEBRITY INTERVIEWS GOSSIP NEWS

| | |
| --- | --- |
| | |
GUITAR PLAYING ARKANSAS GOVERNOR HAS A GIG - - NORMA & WANDA PREMIERE - - PHYLLIS NEWMAN & OLYMPIA DUKAKIS IN THE GREAT BRIDGE - - CHRISTOPHER KENNEDY LAWFORD TALKS - - ALLIANCE THEATRE GRADUATE PLAYWRITING COMPETITION - - HONORING ANNA MAY WONG - - EINSTEIN'S ANNUS MIRABILIS CELEBRATED - - STORMY WEATHER - - DONATE . . . Scroll Down


GUITAR PLAYING GOVERNOR JAMMING ON SELF ESTEEM
Governor Mike Huckabee of Arkansas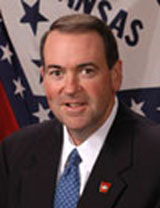 Guitar player Mike Huckabee has a gig. His band, Capitol Offense, will be playing at one of the Inaugural Balls - the Free Republic Inaugural Ball and Count the White House Silverware Party.

Mike Huckabee's day job is Governor of Arkansas.

Capitol Offense is the only band with a sitting governor as leader. They knock out a mix of classic rock, Motown, country and blues.

Huckabee became Governor of Arkansas in July 1996 when his predecessor resigned, becoming one of the youngest governors in the country at the time. Huckabee was elected to a full four-year term as governor in 1998 and was reelected in November 2002. Currently the vice chairman of the National Governors Association, he'll become NGA chairman in July 2005.

Previous to his election to public office, Governor Huckabee was President of KBSC-TV and President of Cambridge Communications in Texarkana, AR. He also picks a mean guitar.

Drummer Chris Pyle, who pays the rent as the governor's health and human services policy adviser, spoke with Broadway To Vegas about the unusual jam sessions.



Governor Mike Huckabee (left in red tie) and the Capitol Offense Band
"All of the band members are on the governor's staff or have a close association with the office," reported Pyle.

"Aaron Black, one of the singers, is the governor's budget policy advisor. Guitar player Rick Calhoun is an investment banker. Gordon Caffey is an accountant with Alltel. He plays lead guitar. Marynell Kalkbrenner plays keyboard. She used to be on our staff and now she works for the Department of Heritage. Terri Cox is one of our singers. She is a junior-high math teacher. Steve Pyle is our lead singer and he is a pastor of The Journey, a non denominational church," said the drummer about the band mate who is also his brother.

"A group of us on staff were just talking to the governor one day about music and we found out that a lot of us play instruments. So, we started just goofing off in the basement of the governor's mansion."

"I put my drums down there and we would go down there and just jam, play rock and roll. Once we decided that we should play for the staff at the staff Christmas party, so we did. People were surprised. The most common comment was; Why, you guys aren't that bad."

"That was generally the extent of the compliments that we received," admitted Pyle.



Gibson guitars proudly boast the Huckabee plays their brand. Here Huckabee admirss a "Capitol" guitar at Gibson's Custom Shop. Photo from Gibson
"We try to keep expectations low. That way we can surpass them."

"So, we started out playing just for staff parties and then word got around that we had a band. We started getting invitations from organizations that were having charity type events. The Watermelon Festival is a steady gig."

Capitol Offense also has performed at the Southern Governors' Association annual meeting, the National Conference of Lieutenant Governors annual meeting and the Council of State Governments annual meeting and at the legendary King Biscuit Blues Festival on the banks of the Mississippi River in Helena, Arkansas.

Their date at the Free Republic Inaugural Ball and Count the White House Silverware Party is a return booking. They also played for the 2001 Inaugural. Their set was so popular the organizing committee had re-booking them at the top of their to-do list.

"Then we started getting invitations from actual legitimate, large entertainment venues. It's just been getting bigger and bigger," said an astonished Pyle.

"We have opened up for Willie Nelson, The Charlie Daniels Band and Grand Funk Railroad. Those events were in Hot Springs. We also opened up for 38 Special and Dionne Warwick. Those gigs were in Pine Bluff."

None are Juilliard graduates.

"Marynell had studied music," related Pyle. "The rest of us are just guys that have loved music and dreamed of playing rock and roll. We are kind of living out those fantasies that we had when we were in high school."

They specialize covering hits from the '50s, '60s and '70s.

On Thursday they'll be jamming for the President of the United States performing at the Free Republic Inaugural Ball and Count the White House Silverware Party, a family-friendly inaugural ball to be held at the Washington Plaza Hotel. The event is limited to 1,000 with the tickets at $175-$250. Children under 13 get in for $30.

Black tie and evening gowns are preferred, however business attire and business casual are acceptable. Cowboy boots and dress jeans are also appropriate. Active duty, reservists and retired military are encouraged to wear their dress uniforms. Those staging the ball warn; "wearing shorts, thongs or vulgar t-shirts will not get you in the door."

"We're set to play for about three hours, so we've got a real long set list," Pyle related., "We'll play everything from Free Bird to Sweet Home Alabama, Dock of the Bay, Knock on Wood."

"We have a blast. We just do it for fun and we're always surprised when someone invites us back to play. It's neat. There aren't many bands out there that can say they have a governor as their guitar player. One of the biggest thrills we've had was playing for a party at the foot of the Brooklyn Bridge when the Republican Convention was in New York. We got to play for some governors and a lot of staff at a party in New York. That was a big thrill."

Has that Arkansas saxophone player, former president Bill Clinton ever sat in?

"No. The types of events we play at Clinton usually is not in attendance," answered Pyle alluding to Huckabee being a Republican. "However, if we were ever at the same place, at the same time, I'm sure we'd let him sit in. That would be fun. That would be a hoot."

As for the guitar strumming Huckabee, he is not only appreciated as a musicians but respected as an advocate of the Arts. He succeeded Virginia Governor Mark R. Warner as the 2004-06 Education Commission of the States' chairman. His Chairman's Initiative is: The Arts – A Lifetime of Learning.

In explaining why he selected that as his initiative he told the Arts Education Partnership:

"A focus on the arts is not just a theme for an initiative, but rather something I am genuinely driven by. What makes this issue particularly important right now to me is that I don't hear it talked about much in mainstream education circles. Instead, the arts often get subjugated to the role of the unnecessary, the extraneous, the extracurricular and the expendable. I'm trying to say here that I disagree with that role. The arts are essential. We cannot do without them. They are an integral part of a good, overall academic preparation for life."



Old State House in Little Rock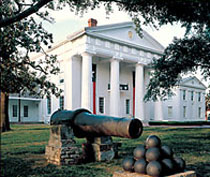 "Those who know me well realize the arts are a passion, not just a program, for me. In one of the exhibits at the Old State House in downtown Little Rock, you'll find a guitar. It's not impressive at first glance. This guitar was purchased for $99 in 1966 from the J.C. Penney catalog. That $99 covered the electric guitar, a plastic case and an amplifier. It was the first guitar for a boy who wanted to play so badly that his parents made an extraordinary sacrifice by scraping together what was a large sum for them and purchasing the guitar for the 11-year-old child. Like many children who grew up in the Beatles era, this child not only learned to play the guitar, he would play it until his fingers almost bled. That child was me."

"To put it simply, we need to focus on the arts in education because the arts teach kids how to learn. Ensuring that an adequate arts education is available in all schools will not only enhance student achievement, it also will give children access to activities that enrich their lives outside the classroom."

"It disturbs me when people speak of the arts as if they're extracurricular, extraneous and expendable. A quality arts education is an essential part of a well-rounded education. If we're not providing courses in music, theater, dance and the visual arts, then we're not doing enough."

"We must touch the talents of every child, no matter what those talents are. In too many schools, we've only been willing to develop the talents of children who run well, jump high and throw or shoot a ball."

"I enjoy athletics. Those who know me also will be quick to tell you I'm a sports fan. For most kids, though, sports won't propel them to the next level of success in life. Soon, they'll be spectators of, rather than participants in team sports."

"We must ensure we have plenty of room for academics, the arts and athletics in our schools. All three components are necessary as we prepare our children for life." "A musician understands that for every minute of performance, there are a hundred hours of practice. That is a great life lesson."

In April, 1998 Huckabee started Play It Again, Arkansas - modeled after a Memphis program - the first statewide initiative in the nation that seeks to put musical instruments in the hands of kids whose families can't afford them.

The premise of the program is simple: Arkansans are asked to donate their used instruments to schools, which can then provide them to students. The goal is to make sure that every kid who wants to play, can play.

"Research shows that a music education teaches students skills they can use in other academic disciplines. In Greenwood, Miss., a 1992 study showed a group of students who studied piano all scored at least 10 points higher on the Scholastic Aptitude Test in several areas. In the south Bronx, one school found students with four years of music and the arts scored 34 points higher on verbal SATs and 18 points better on math SATs than those who took music for less than one year. Little Rock's Colaianni Piano and Organ Co. found in a survey that 95 percent of 500 private piano students in Central Arkansas were A or B students," said Huckabee in his pitch to get people to donate musical instruments.

"But music is about more than just test scores. It teaches kids that they can learn and excel, and that practice really does make perfect. It allows them to be creative while teaching them how to work with other people," said Huckabee who credits music with helping him develop self esteem and overcome profound childhood shyness.

"Throughout American history, music has been one of the best paths from poverty to prosperity."

"Many of the kids we'll help through Play It Again have never had the advantages their classmates have had. Many started out behind in school and decided they weren't as smart as their peers."

"Putting a musical instrument in their hands will help them discover they have talents they never knew existed. It will show them that they are special and that they do matter. It will give them confidence that they can be as good as anyone else, and they'll apply that to other courses of study and other areas of life," he declared.

"Within every child is a little bit of Einstein, a little Picasso, a little Elvis. They are all scientists, artists and showmen. Giving them the chance to learn that about themselves is part of what education is all about. And that's what we're doing through Play It Again."


EINSTEIN HATED THE I.R.S. THEY DIDN'T LIKE HIM MUCH, EITHER
Albert Einstein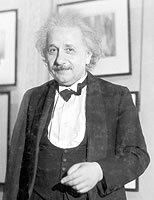 Genius Albert Einstein wasn't smart enough to get the best of the International Revenue Service. He had to hire a tax accountant to do the math.

In January 1938, a grateful Einstein presented his personal telescope to Leo Mattersdorf, his tax accountant and close friend, and president of the Amateur Astronomers Association.

In a letter from Princeton which describes the gift to Mattersdorf, Einstein thanks him for waging "on my behalf the war with the great dragon," in reference to his numerous tax battles with the federal government.



Telescope Einstein gave to his tax accountant for fighting the I.R.S.
You can see that telescope and other wonders associated with the scientist in Einstein, the most comprehensive presentation ever mounted on the life and theories of the greatest scientist of the twentieth century.

Making its only West Coast appearance at the Skirball, Einstein is organized by the American Museum of Natural History, New York; The Hebrew University of Jerusalem and the Skirball Cultural Center, Los Angeles.

This landmark exhibition explores the legacy of Albert Einstein (1879-1955) not only as a scientific genius who reconfigured our concepts of space and time, but also as a complex man engaged in the social and political issues of his era. It examines the phenomenon of his fame and his enduring status as a global icon whose likeness has become virtually synonymous with genius. The Skirball's presentation of Einstein coincides with the international centennial celebration, in 2005, of Einstein's annus mirabilis — his "miracle year" of 1905 — when, at the age of 26, he proved the existence and sizes of molecules, explained light as both particles and waves, and created the special theory of relativity, part of which links matter and energy in the revolutionary equation E=MC2.

The Einstein miracle year anniversary is not only inspiring exhibitions and discussions, but productions - including Einstein's Dreams adapted from the best-selling novel by Alan Lightman, which will have its American Premiere February 26 - March 20 at The Prince Music Theater in Philadelphia.

Visitors to the groundbreaking exhibition at the Skirball can examine Einstein's report card, inspect his FBI file, and enjoy his family photographs, love letters, and diary entries. Exhibition highlights include scientific manuscripts and original correspondence - including original handwritten pages from the 1912 manuscripts of the special theory of relativity and his 1939 letter to President Roosevelt about nuclear power - and a wealth of other documents from the Albert Einstein Archives at the Hebrew University of Jerusalem. Visitors can also delight in eye-opening interactive exhibits illuminating Einstein's most revolutionary theories.

The Labyrinth Project: Four Database Documentaries takes place Sunday, January 23. Artists and researchers from the Labyrinth Project, an award-winning art collective and research initiative on interactive narrative at USC's Annenberg Center for Communication, will present and discuss a series of experimental computer database documentaries, including Three Winters in the Sun: Einstein in California, an installation in the Einstein exhibition which explores the winters Einstein spent in Pasadena from 1931-1933. Director Marsha Kinder, Rosemary Comella, Kristy Kang, Andreas Kratky, and Scott Mahoy will be on hand to demonstrate the installations.

Relatively Speaking: A Visit With Albert Einstein takes place Sunday, March 20. The performance followed by lunch with Einstein.

Here's your chance for some face-time with Albert Einstein! Enjoy Marc Silver's portrayal of Einstein in the one-man play Relatively Speaking: A Visit With Albert Einstein by Ian Patrick Williams. After the morning performance, "Einstein" will join the audience at the dining table for lunch, and participants will have the unique opportunity to engage directly with the scientific genius, asking him questions about his life, loves, and scientific theories.

The North Coast Repertory Theatre is staging a world premier, special engagement of Einstein Comes Through by Marc Silver and David Ellenstein and directed by Ellenstein.

Hank is an actor who performs a one-man Albert Einstein show, but not on this day.

Hank isn't sure where he is, who he is, or even how long he's going to be around. It's up to his alter ego, Albert Einstein, to get him back on track and out of some serious trouble.

Einstein Comes Through is an offbeat, clever, and funny one-man play with a life-affirming message. Previews January 19 - 21 with performances through February 6 at the North Coast Repertory Theatre in San Diego, CA.

CLICK FOR PITHY EINSTEIN QUOTES



Broadway To Vegas is supported through advertising and donations. Priority consideration is given to interview suggestions, news, press releases, etc from paid supporters. However, no paid supporters control, alter, edit, or in any way manipulate the content of this site. Your donation is appreciated. We accept PAYPAL. Thank you for your interest.


WATER LOGGED


The West Coast is wringing itself out. Perhaps it's a water logged brain, but BTV discovered that over 800 songs have been written about rain with 50 of them having rain in the title. Many have associations with theatrical productions.

A Little Fall of Rain is from Les Miserables. Pennies From Heaven comes from the 1978 movie of the same name. Pennies From Heaven, about a traveling music sheet salesman, was also a British miniseries and in 1981 Steve Martin did a movie remake. Big Crosby turned the song into a chart topper. So did Frank Sinatra. Regis Philbin picked up the downbeat with his latest CD.

Raindrops Keeping Falling on My Head from Butch Cassidy and the Sundance Kid was named #23 on the AFI list top 100 movie songs.

Other wet ladened ditties making the AFI list include; #3 Singin' in the Rain from the MGM movie by the same name. Singin' in the Rain is the pinnacle of the MGM musical library while the movie is considered one of the best ever made.

#24 Ol' Man River from the 20th Century Fox film Show Boat, with a score by Jerome Kern. There has been both the 1936 original movie and remake plus several stage productions. Ol' Man River was performed by an amazing actor and singer, Paul Robeson.

#46 on the AFI list is Don't Rain On My Parade from the Columbia/Tri-Star flick Funny Girl. In that movie, this song by Jule Stein gave Barbara Streisand one of her biggest hits.

Stormy Weather, considered one of the best blues songs ever written, is the title song to the movie of the same name. 20th Century Fox and MGM produced and released this film with an all black cast starring Lena Horne. It's a very loosely termed biopic of the star Bill Williamson known as Bill "Bojangles" Robinson. The song was later used in the film Born To Dance.

Soon It's Gonna Rain, the haunting song by Harvey Schmidt and Tom Jones, from The Fantasticks.

You Have Got to Have a Rudder on the Ark, is from the Broadway musical Two By Two with music by Richard Rodgers and lyrics by Martin Charnin - the same lyricist who offered up the hopeful The Sun Will Come Out Tomorrow.


SWEET CHARITY


CELEBRATION OF THE 100th BIRTHDAY OF ANNA MAY WONG Hollywood's first Asian-America Star. There will be an Anna May Look-alike Contest and the judges include Tony Award-winning costume designer Willa Kim and legendary octogenarian nightclub star Jadin Wong, Chinese director/ choreographer, Lu Yu, and actor, Francis Jue, currently in the cast of Pacific Overtures.

The Monday, January 24th Benefit Dinner evening will begin with cocktails & hors d'oeuvres to piano music played by John Fitzgibbon followed by a full course dinner. The evening's program will be hosted by comedienne Esther Goodhart and will include presentation of the first Lilah Kan Red Socks Award in memory of actress/writer Lilah Kan who had a long history with Pan Asian Rep.

Pan Asian Repertory Theatre will celebrate Anna May Wong's 100th birthday to benefit the world premiere of China Doll, a re-imagining of the life of the actress, by Elizabeth Wong, directed by Tisa Chang, from April 2 - April 24 at the West End Theatre in Manhattan.

China Doll is the re-imagined life of Anna May Wong. Beginning in the 20's until her death in 1961, China Doll interweaves Anna May's relationships with legendary icons such as Marlene Dietrich, Douglas Fairbanks, Irving Thalberg and others to triumph in a casting system of limited access for Asian actors against a backdrop of her most popular films: Daughter of the Dragon, Shanghai Express, and Thief of Baghdad.

Anna May Wong was born Wong Liu Tsong on January 3, 1905 in Los Angeles, California. Her parents operated a laundry in L.A.'s Chinatown district. Anna May dreamt of breaking into films at a young age. Her talent, tenacity and courage to excel, despite the casting limitations of that era, allowed her to triumph as an international film star. It was her role as the Mongol slave girl in Douglas Fairbanks' 1924 film The Thief of Baghdad, which propelled her to fame in the exotic "dragon lady" roles. She was resourceful in learning foreign languages and performed extensively in Europe making a dozen films in London. Her most popular films include Shanghai Express (1932) with Marlene Dietrich, and the Fu Manchu series with Warner Oland. She starred on Broadway in On the Spot and on the London stage in A Circle of Chalk. Anna May died on February 2, 1961.

BROOKLYN starring Eden Espinosa, will be giving a Special Benefit Performance for The Actors' Fund on Sunday, January 23 at the Plymouth Theatre in NYC.


SPREADING THE WORD


LA CAGE AUX FOLLES

Gary Beach
Gary Beach, Daniel Davis, Jerry Zaks and Jerry Mitchell. Moderated by Roma Torre.

La romance and la spectacle returned to Broadway with a new production of Jerry Herman's La Cage Aux Folles. Planned guests include Tony-nominated cast members Gary Beach and Daniel Davis, Tony Award-winning director Jerry Zaks and Tony-nominated choreographer Jerry Mitchell in a discussion of this musical revival about the marriage of the son of two long-partnered gay men. . Sunday, January 23, at the 92nd Street Y in NYC.

THE GREAT BRIDGE musical performance. Featuring Tony Award winner Phyllis Newman, Academy Award winner Olympia Dukakis, Broadway star Scotty Bloch, and noted film, TV and stage actor Sam Coppola. Julie Garnyé plays the lead role of Emily Roebling.

Hear the story of Emily Roebling, the woman behind New York's greatest wonder, the Brooklyn Bridge. Immersed in a man's world, she navigated corrupt politicians, greedy financiers, scandal and tragedy to shepherd one of mankind's "standing works of art" to completion. Uniting a family at odds, a board in turmoil and two cities, Emily Roebling truly was The Great Bridge. A staged performance of a new musical by Mark Weiser.

Sunday, January 23 Makor/Steinhardt Center in NYC.

CHRISTOPHER KENNEDY LAWFORD the son of actor Peter and Patricia Kennedy Lawford brings an incredible message of survival, hope and finding one's identity in a sea of ego and depravity. Jan. 20 at the Crest Theatre in Delray Beach, Florida.

SAM'S SALON AT SAN DIEGO REP will take place Wednesday, January 19 in the Lyceum Lobby prior to the evening performance of The Flying Karamazov Brothers' Life: A Guide for the Perplexed. The guests for this Salon are Cheryl Lindley/Lopez and Gideon Rappaport. Cheryl is the Artistic Director of San Diego's beloved Fern Street Circus who also performs internationally as the clown Columbina. She will speak about the circus and commedia elements of the Karamazov's show. Gideon has a Ph.D. in English and American Literature from Brandeis University and teaches English and Humanities at The Bishop's School in La Jolla. He served as dramaturg for the REP's production of The Merchant of Venice and will do so again for the upcoming King Lear. Gideon will speak about the classical Jewish text by Maimonides upon which Life: A Guide for the Perplexed is based.



DAY OF THE KINGS by Daphne Greaves. The epic and the intimate collide in this soaring tale of romance and intrigue in 1800's Cuba, as seen through the eyes of a European expatriate.

Playwright Greaves, a recent graduate of New York's prestigious Juilliard School, is the first-ever winner of the national Alliance Theatre Graduate Playwriting Competition. which is a one-of-a-kind national competition that exposes young playwrights to the world of professional theatre through experiences working with a nationally recognized theatre The grand prize for the winner of the Graduate Playwriting Competition is a professional production of his/her work at the Alliance Theatre.

Greaves' Cuban drama was evaluated by a three-person judging panel that included playwrights August Wilson and Regina Taylor and dramaturg Morgan Jenness.

The GPC is open to students in approximately 20 graduate playwriting programs across the country. A three-person judging panel of distinguished theatre writers, directors and dramaturgs chooses the winner for 2005 - scheduled for mid-February - after which the winner is invited to Atlanta. Under the tutelage of the Alliance Theatre, the playwright is connected with key members of the city's theatre community.

Unlike other competitions that focus on the career of the winner and not necessarily on the other finalists, the GPC invites all finalists to Atlanta to attend readings of each of their plays with specially invited members of Atlanta's theatre community. The finalists are also invited to participate in a public discussion about the state of the theatre in general, hosted by the Alliance Theatre.

Both the finalists and the winner will attend a sponsored trip to New York, hosted by New Dramatists, a play development organization. This trip is designed to assist the writers as they build new relationships in the New York City theatre community.

Alliance Theatre Artistic Director Susan V. Booth conceptualized the Graduate Playwriting Competition. Booth - who will be directing Day of the Kings - feels that the Graduate Playwriting Competition has great artistic ramifications not only for Atlanta's theatre scene, but for the national landscape as well.

"Our hope is that by identifying the next generation of great American playwrights - and by bringing them and their work to the attention of the theatrical communities of Atlanta and New York City, we are not only celebrating our own commitment to the production of original work, but are also providing access and opportunities for our colleague theatres locally and nationally," Booth says.

January 21 - February 27 at the Alliance Theatre in Atlanta, GA.

MARK RUSSELL:COMEDY, MUSIC, BRIBERY & CONSPIRACY Republican. Democrat. Independent. All are fair game when it comes to the political satire of Mark Russell. Accompanied only by his piano and political wit, the lauded musical comedian will celebrate his 20-year relationship with Ford's Theatre with his newest show, just in time for the presidential inauguration. January 18 through January 23 at Ford's Theater in Washington, D.C.

AN EVENING WITH GOLDA MEIR starring Renee Taylor in this one-woman show. Golda Meir was the Russian-born, American-bred teacher and housewife who became the most powerful woman of her time as Israel's prime minister. Written by Taylor and directed by her husband, Joe Bologna, Golda Meir is a commemoration of Meir's spirit, humor, wisdom, heroism and chutzpah. Sunday, January 23, at the Charleston Heights Performing Arts Center in Las Vegas.

FANFARE: COMPOSERS FOR A NEW CENTURY a three-part series of concert musicals, highlighting works by Jeanine Tesori, Andrew Lippa and Michael John LaChiusa. January 19-February 27 at the Round House Theatre in Bethesda, MD.

THE CLEAN HOUSE by Sarah Ruhl, directed by Kate Whoriskey.

Matilde is a Brazilian cleaning woman who likes to tell jokes but hates to clean. She works for a woman doctor who doesn't have time to clean. The doctor has a sister who loves to clean. Seems like the perfect arrangement. Until the doctor's husband moves out. Now her home is tidy but her life is a mess — and Matilde has another house to clean!

Surprising relationships develop between the inhabitants, and Matilde's employers find love and laughter in unusual places.

The West Coast Premiere takes place January 21 - February 27 Segerstrom Stage South Coast Repertory in Costa Mesa, CA.

AFRICAN GOTHIC written by South African playwright Reza de Wet. Tamsin Rothschild is set to direct the dark comedy starring award-winning South African actress Christel Smith along with Damon Shalit, Steve Humphreys and Gathoni Maina.

Set on a desolate rural farm in South Africa, African Gothic follows the lives of an orphaned brother (Shalit) and sister (Smith) who have grown up without parental supervision. They have allowed their farm to fall to ruin by rejecting reality and creating an eerie fantasy world. An officious lawyer (Humphreys) visits the farm and threatens to destroy the existence they have created. The plot unfolds and gains momentum with an edgy dark humor, climaxing with a dramatic twist.

Previews begin January 20. Opens Saturday, January 22 at the Elephant Theatre in Hollywood,CA.

EXPECTATIONS starring Eartha Kitt. Doris and Edith are two long-time neighbors and friends, and total opposites. When they meet Karen, a newlywed and new mother, while waiting for the bus, the hopes, dreams and realities of these three very different women collide to deliver surprise after surprise, few of which are truly "expected." Hilarious insights into life, death, therapy - and grocery shopping.

In previews Jan. 18 - 20. Opening January 21 running through January 30 at the Rich Forum in Stamford, Conn.

IMITATIONS FOR SAXOPHONE

Illustration by Jody Hewgill.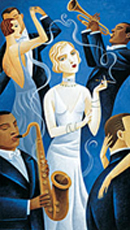 by Sophie Treadwell. Adapted by Michael Kinghorn. Directed by Anne Bogart.

Against the backdrop of the Jazz Age, Lily Laird is stuck in a loveless marriage. All the while signs of the coming sexual revolution become more and more apparent to her. As Intimations for Saxophone progresses, playwright Sophie Treadwell's heroine breaks free of her marriage and sets out to find herself on her own.

Intimations for Saxophone is being embraced by Arena Stages - finding a never-produced American play and nurturing it into a full production. By doing this, Arena is bringing its audiences an experience they have never had before.

Arena's former Senior Dramaturg Michael Kinghorn unearthed what he called "this gem of a play" during his tenure at Arena Stage and serves as Dramaturg to the production under the direction of the ground-breaking Anne Bogart of the SITI Company of New York City.

January 21 through February 27, 2005 in the Fichandler Theatre of Arena Stages in Washington, D.C.

ALONZO KING'S LINES BALLET will perform in a special New York City engagement at the Skirball Center for the Performing Arts at NYU, Jan 18-23.

The performances will include the New York City premiere of Before the Blues, the new work with music by legendary saxophonist and composer Pharoah Sanders.

Before the Blues is based in raw, archival field recordings from the Deep South from the decades following the U.S. Civil War. Using these rare sound sources, King and Sanders worked together, along with master lighting designer and scenographer Axel Morgenthaler, to create an experience that seamlessly fuses sound, movement, light, and other multimedia elements to capture the ingenuous intensity of that time in U.S. history.

Costumes by Colleen Quen. Dr. Bernice Johnson Reagon, MacArthur Fellow and Founder of Sweet Honey in the Rock, is serving as a musical advisor for the project.

NORMA & WANDA world premiere comedy by Jeff Daniels. Directed by Guy Sanville.

Norma & Wanda follows two very different sisters as they get themselves into an outrageous pickle with an old high school boyfriend, a chaotic church social and a secret family recipe for Christmas sausage.

The title roles will be played by PRTC Resident Artists Sandra Birch and Michelle Mountain, who will share the stage with Terry Heck, Grant Krause, Jim Porterfield, and Christ Korte in his PRTC debut.

Recommended for mature audiences.

January 20 - March 19 at the Purple Rose Theatre in Chelsea, Michigan.

BIG RIVER music and lyrics by Roger Miller. Book by William Hauptman. Adapted from the novel by Mark Twain. Directed and Choreographed by Jeff Calhoun. At the Ahmanson Theatre in Los Angeles to January 23.

FLIGHT a new play by Charlayne Woodard. Directed by Robert Egan.

The time is 1858. The place is a plantation in Georgia. A mother is suddenly sold, leaving behind her husband and their five-year-old son. Through an enchanting evening of storytelling, music and dance, the community comes together to heal and strengthen themselves.

Cheer Unanana who outwits the enormous one tusk elephant. Watch with wonder as Gabe remembers he can fly. These empowering stores celebrate the oral tradition as it passes from generation to generation.to you.

At the Kirk Douglas Theatre to February 13. Culver City, CA.

THE SCHOOL FOR SCANDAL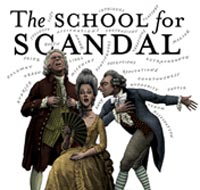 by Richard Brinsley Sheridan. Directed by Brian Bedford.

Sir Peter Teazle has taken himself a young wife and is trying to enjoy himself. This in itself is enough to start the scandalmongers talking, but when it is rumored that Sir Peter's wife may be involved in an indiscretion with a handsome young gentleman, the gossips are off and buzzing.

A swarm of pretenders, rogues and money-lenders - Lady Sneerwell, Mr. Snake, Mr. Crabtree, Sir Benjamin Backbite, Mrs. Candour, and the superficial Mr. Surface - contribute to the highly comic, highly stylized tapestry of deceit. Swirling around are sub-plots and counter-plots, intrigues and alliances, as family relationships and true loves are crossed, if not by the stars, at least by the wires of gossip.

Now through January 23 at the Mark Taper Forum in Los Angeles.


| | | |
| --- | --- | --- |
| | | |
WHO'S WHERE


TRIBUTE TO IRVING BERLIN conducted by Marvin Hamlisch. Featuring vocalists Debbie Gravitte and Doug Labreque. All-Star College Chorus conducted by Robert Page.

January 20-23 Heinz Hall in Pittsburgh.

ODETTA one of the most influential artists of the 20th century, this folk, blues, and gospel singer inspired Janis Joplin, Bob Dylan, Tracy Chapman, Joan Baez, and Pete Seeger. She performs Sunday, January 23, at The Barns at Wolf Trap in Vienna, Virginia.

STING is on a tour of Japan. He performs tonight, January 16, at the Sun Plaza in Hiroshima. On Tuesday he's on stage at the Kokusai Centre in Fukuoka. On Wednesday he's in the spotlight at Rainbow Hall in Nagoya. On Friday he opens a three night engagement at Budokan Hall in Tokyo.

BARBARA COOK & MARILYN HORNE Just Between Friends. Stars of Broadway and opera sing the showstoppers from the Great American Songbook. A magical night of Sondheim, Ellington, Hammerstein and Gershwin. Barbara Cook delighted audiences as the original Marian in The Music Man and is the recipient of Tony, Grammy and Drama Desk Awards. Marilyn Horne celebrated 26 years as a leading lady at the Met and 39 seasons at the San Francisco Opera. She has received numerous accolades including a Lifetime Achievement Grammy. Tuesday, January 18, in the Alexander W. Dreyfoos, Jr. Concert Hall at the Kravis Center in Florida.

WOODY ALLEN & THE EDDY DAVIS NEW ORLEANS JAZZ BAND Monday nights only at Cafe Carlyle, NYC. Jan. 17-June 26.

CHER AND THE VILLAGE PEOPLE perform today, January 16 at Centennial Garden in Bakersfield, CA. On Tuesday the performance is at the Glendale Arena in Glendale, Arizona. Wednesday the production s staged at the Tucson Convention Center in Tucson, Arizona. Friday finds the gang at the HP Pavilion at San Jose, CA and next Sunday they can be enjoyed at the Spokane Arena in Spokane, WA.

DEBBIE REYNOLDS in the spotlight Thursday, January 20, at the Four Rivers Center in Paducah, KY. On January 22 she can be enjoyed with the Hartford Symphony at the Bushnell Center in Hartford, CT.

PETER CINCOTTI center stage Tuesday, January 18 at the Cultural Center in Thomasville, GA.

JERRY SEINFELD on stage for a two night stand January 20-21 at the Providence Performing Arts Center in Providence, RI.

B.B. KING performing tonight, Sunday, January 16 at the DAR Constitution Hall in Washington, D.C. On Wednesday he's on stage at the American Music Theatre in Lancaster, PA. Thursday finds him at the Count Basie Theatre in Red Bank, N.J.

BIG BAD VOODOO DADDY jumping with the hot notes Saturday, January 22, at the University of Northern Iowa in Cedar Falls, Iowa.

LINCOLN CENTER JAZZ ORCHESTRA WITH WINTON MARSALIS performs January 18 at Kingsbury Hall in Salt Lake City, Utah.


FINAL OVATION


JOHNNY FARROW 92, songwriter and music executive, passed away in Las Vegas on December 30, 2004. A member of ASCAP, he composed over 200 songs including I Have But One Heart, recorded by many artists and sung by Al Martino in the film The Godfather.

Other words included; A New Shade of Blues, If You Were There, I'm Sorry I Answered The Phone, Vision of Bernadette and Tara, Tara, Tara.

Services were in Las Vegas on January 14, 2005.
















Next Column: January 23, 2005
Copyright: January 16, 2005. All Rights Reserved. Reviews, Interviews, Commentary, Photographs or Graphics from any Broadway To Vegas (TM) columns may not be published, broadcast, rewritten, utilized as leads, or used in any manner without permission, compensation and/or credit.
Link to Main Page
---
Laura Deni


CLICK HERE FOR COMMENT SECTION