! >
Broadway To Vegas
  SHOW REVIEWS     CELEBRITY	INTERVIEWS     GOSSIP     NEWS 
ELI WALLACH & ANNE JACKSON HONORED

The Second Annual Life in the Theatre Achievement Award, presented by the T. Schreiber Studio will be bestowed upon Eli Wallach and Anne Jackson. The gala benefit dinner and award ceremony hosted by Betty Buckley will take place at the Players Club in New York City on Jan. 24.



ELI WALLACH and ANNE JACKSON

Guests on board to salute the acting greats include; Jason Robards, Tony Randall, 1999 Tony winners Brian Dennehy and Elizabeth Franz, theatre duos Anne Mears & Jerry Stiller, Ossie Davis & Rudy Dee, Milo O'Shea & Kitty Sullivan, director Arthur Storch, playwright Murray Shisgal, librettist Joseph Stein and producer Roger Berlind. Oscar nominee, Golden Globe winner and T. Schreiber Studio alumnus, Edward Norton, chairs this year's Honorary Committee.



ELI WALLACH and ROBERT DE NIRO IN NIGHT AND THE CITY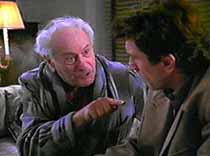 The extraordinary careers of Eli Wallach and Anne Jackson span more than fifty years in theatre, television and film. They met in rehearsal for the 1946 Off-Broadway production of Tennessee Williams' This Property is Condemned which was also Wallach's stage debut. What followed is one of the longest running love stories in theatre history - appearing together in eight Broadway shows, three Off-Broadway plays, three films - and a 51-year marriage.

Jackson's Broadway debut was in 1945 in Eva LaGalliene's production of The Cherry Orchard. She received three Tony nominations for Summer and Smoke, Oh Men, Oh Women and Middle of the Night, and an Obie Award for The Typist and the Tiger.

Wallach won a Tony Award for his performance in The Rose Tattoo. The 1991 recipients of the Helen Hays Award, the Wallachs are currently appearing in Ann Meara's Down the Garden Path at the George Street Playhouse.

Terry Schreiber founded the T. Schreiber Studio in 1969. In addition to classes the Studio produces an annual season of six full-scale productions, showcasing professional actors studying at the Studio and alumni, in their new theatre. To date. The Studio has produced more than 200 plays including one Broadway transfer.


PRESLEY: LARGER THAN LIFE

This is the third of a three part series on Elvis Presley, an entertainer who changed the course of music. In Las Vegas Presley became known as The King. He was set for a return engagement at the Las Vegas Hilton Hotel.

Elvis rehearsed five hours a day, losing ten pounds in the process. "He's really working on this one," said a stagehand. "He doesn't know if he can still cut it."

His comeback was the most important in pop music.

The audience was predominately white and middle-aged; the opening night celebrities in attendance included; Fats Domino, Phil Ochs, Pat Boone, movie critic Rex Reed and Henry Mancini. People took the occasion seriously.

Colonel Parker, wearing a white coat with ELVIS stenciled all over it, walked around the room shaking hands.

Presley's television special of the previous winter saw him in a leather jacket. For this month-long engagement it was a white jumpsuit slashed to the navel. Pearls coiled in bunches around his neck. Pearls girdled his tapered waist in a karate belt; ropes of pearls alternating with ropes of gold, the whole sash tied over one hip, with the ends brushing his left knee.

Or the midnight blue karate tunic and trousers. His hair was black and straight. Skinny as a knife and looking good. Male cheese cake if you ever saw it. Gone was the oily wavy hair, the pouting baby-round face. There were mileage lines on his face, creases in his cheeks.

Coming to the guitar break in I'm All Shook Up, Presley strummed the acoustic instrument with the carelessness of a practiced faker. The number ended abruptly with Presley snapping into profile and thrusting his guitar bayonet-wise at the chorus.

It was during his Army stint that Presley became interested in exercise, karate and remaining physical fit. He earned a black belt in karate while in the Army and could split a brick or a stacked pair of two-by fours with his right hand, which as a result of his practicing, became slightly deformed.

Every number ended with a classically struck profile - Elvis as the Discus Hurler, Elvis as Sagittarius, Elvis as the Dying Gaul

Women in the audience lunged towards the stage like salmon going up a falls.

Presley's In the Ghetto, was a No. 1 hit everywhere, except in the ghetto. His emotions in doing the song were so honest that it transformed the song, representing a white Southern boy's feeling for black music, with all it implied.

His once-lewd gyrations seemed placid. "Man, I was tame compared to what they do now," he said. "I didn't do anything but just wiggle."

Even the rock bible Rolling Stone praised him, though it deplored his "schlocky arrangements and the tasteless wrapping of Cool Whip" that frequently obscured him.

There was an opening night press conference. A woman asked the idol if he had trouble relating to an audience of mostly older people. He shook his head and smiled. "The old people have learned, you know. They can do it, too."

Another reporter asked why he dyed his hair. He replied: "Because it's gray."

In the casino the Colonel was dropping $500 a roll at the roulette wheel.



COLONEL PARKER autographed Hilton envelopes bearing the Elvis commemorative stamp. Parker's philosophy was "save and sell." He instructed trusted hotel employees to save any envelopes returned to the hotel so that they later could be sold.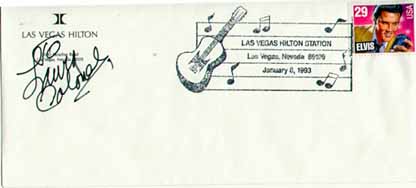 Although his cut was a minimum of $2 million a year, Parker was still clinging to his carny ways. When Elvis appeared at Dallas' cotton Bowl, there was Parker at the main gate, selling autographed Presley photos. "Don't ever get so big you won't sell pictures," he advised.

Parker also had a cottage industry going in the basement of the Hilton Hotel. The hotel had a printing department and Parker manufactured what he peddled as Italian originals. "He used the names of the men who worked in the print show, Rafael or Raoul or whatever.Those were the names of the guys in the print shop. Parker then put the "art" in European looking frames. If people were dumb enough to believe they were old and valuable, Parker was smart enough to take the money and run," said a former high ranking hotel executive.

Presley was also a commodity. Wrap him in yellow and orange sequins, bathe him in red and blue lights, back him with flutes and violins, his animal energies overwhelmed even crass Vegas versions of refinement. He was still chartreuse styrofoam dice dangling from the rearview mirror, a pack of Lucky Strikes rolled in his T-shirt, running a comb through his hair, asking, "Woncha wear my ring around your neck?"

Between songs a sideman would drape pastel scarves around the Presley neck. With his I'm-cool-about-being-late-for-study-hall saunter, he ambled to the front of the stage, dabbed his sweaty brow with a scarf, and awarded it to one of the groupies planted front and center.



Christmas post cards from Elvis always included Colonel Parker.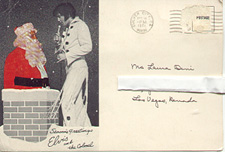 Another groupie offered up a photo of Elvis circa 1957, when he was svelte. He scrutinized it, bemused, and sighed, - almost to himself - "Godalmighty!"

Self-parody became his refuge from the boredom of songs sung too many times.

At one point with the lights dimmed, his back to the crowd, one almost captured the spark of the idol. He began a song and the crowd hushed. Then he turned around, his face hidden underneath a child's monkey mask. The aura was gone.

He feigned difficulty in getting the left side of his upper lip into his famous curl. He poked it up with a finger, muttering: "When I was 19 it worked just fine."

Then in August, 1972, Elvis and Priscilla suddenly separated and on January 8, 1793, Elvis filed for a California divorce, giving Priscilla custody of their daughter.

Though separated, Priscilla took Liza Marie to Las Vegas, where Presley was starring at the Hilton, so the little girl could spend her birthday with her father. According to hotel musicians that was the only occasion when Presley seemed in good spirits. Lisa, who always had her father's eyes, lost a baby tooth while in Vegas and Presley, playing the tooth fairy, left $5 under her pillow. Priscilla got angry, fearing that Presley was spoiling their daughter.

It was a divorce settlement of almost two million. Outside the Los Angeles Courthouse where they were divorced on October 11, 1973, Elvis kissed his ex-wife goodbye.



PRESLEY was nearsighted and owned more than 200 pairs of prescription sunglasses worth $60,000. His vision problems grew worse, including problems with glare.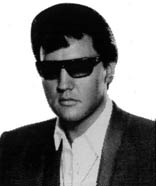 Elvis' eyesight problems intensified. He wore glasses to read music and the hot-bright stage lights bothered his sensitive eyes. He spent several weeks in a Tennessee hospital hoping to save his vision.

He began to miss shows, too sick to perform. The critics began tearing him apart and the Colonel kept promoting. The hotels were catering, not to Presley, but to the Colonel. Said one hotel executive, "Colonel Parker is Elvis Presley.

It was the Colonel, not Elvis, who was entitled to half of one publicity person's time. That time was paid for - not by the Colonel - but by the hotel.



THE DINING ROOM of Elvis Presley's Las Vegas Hilton Hotel suite. It was dubbed Graceland West.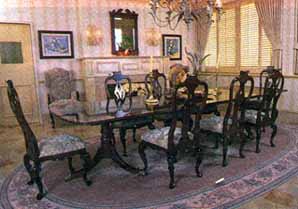 In Presley's suite was a dining table where the Colonel regularly hosted dinners for eight. The Epicurean delights were prepared according to the Colonel's demands; the hotel menu ignored. While Parker ate in style Presley would frequently sit on the living room floor, spitting cherry pits at the wastebasket. Elvis would also order up hamburgers - 40 at a time.

The reason for all the attention was that the Colonel was a heavy gambler. Frequent reports list his losses of "at least five figures nightly."

"Hell, yes, he loses," exclaimed a casino boss." Do you think for one minute we'd do all of this if he were winning? The minute he starts to win is when the hotel bosses stop playing up to him. We take Elvis because the Colonel wants us to."

Presley's hospital visits became more frequent. While appearing at the Hilton he spent his nights at Sunrise Hospital, leaving the hospital to perform the dinner show. His personal Las Vegas physician Dr. Sidney Boyers stood with him in his dressing room between shows. His Vegas engagement ended, Presley the renowned gift giver presented Dr. Boyer with a new, white Lincoln Continental.



ELVIS PRESLEY'S FATHER, VERNON, HIS EX-WIFE, PRISCILLA and BARRON HILTON were among those who attended the unveiling of the bronze Elvis statue at the Las Vegas Hilton Hotel.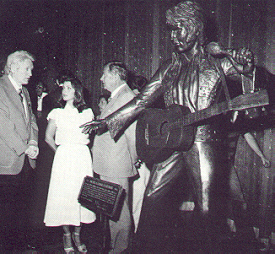 "Good evening, ladies and gentleman," a smiling Presley said during his return to the Nevada stage. "It's a pleasure to be back - from - a three-week engagement at the Baptist Hospital in Memphis."

There had been so many medical bulletins about Presley that critics started reviewing his diseases rather than commenting on his performance. It was during the previous Vegas performance that Presley canceled the remainder of a two-week gig after just three nights and checked into the Memphis hospital. A doctor explained that Presley was suffering from exhaustion and an enlarged colon. He was hospitalized three times in 1974, for what doctors said at the time was a twisted colon.

He got back on his feet for a whirlwind five-day March, 1976 concert tour, which sold out in every city without advertising. He headed towards the then Sahara-Tahoe Hotel at Lake Tahoe, Nevada. The hotel put tickets on sale March 10 at $20 per person, which included two drinks, but no food. All shows were sold out.

At the Sahara Tahoe there were strains on the seams of his spangled suit. Blubber hung over his ornate belt. The hips and legs, clad in skintight trousers, didn't perform his highly publicized gyrating karate movements. Then the legs began to shimmy. He had his act together.

Shrieks began emanating from the packed, red-velvet showroom. "We love you, Elvis," someone shouted. "You're still the king," yelled another.

In September, 1978 Elvis was enshrined with the unveiling of a bronze statue, which is now located inside the front entrance of the Hilton. He made the Hilton his Las Vegas home for more than seven years and in doing so permanently changed the Las Vegas entertainment scene.



Broadway To Vegas is supported through advertising and donations. Priority consideration is given to interview suggestions, news, press releases, etc from paid supporters. However, no paid supporters control, alter, edit, or in any way manipulate the content of this site. Your donation is appreciated. We accept PAYPAL. Thank you for your interest.



SELENA FOREVER the Broadway-bound musical about the life of the slain Tejano music superstar, who took Tejano music from backyard weddings to 60,000 seat stadium concerts, has cast Rebecca Valadez, 21, and Veronica Vasquez, 24, in the title role.

The San Antonio, Texas actresses will alternate in the demanding role that requires the Selena character to sing 14 or 15 songs per performance.

Cuban born Fernando Rivas, a Julliard graduate in composition penned the score. The $2 million musical has a cast of 35. Vasquez is a rhythm and blues singer while Valadez sang backup for the 1998 Janet Jackson tour.

Playing the part of Selena's sister will be a college theatre major, 19-year-old Lisa Ybarra. Also cast are Denise Stefanie Gonzales 11, who will portray Selena as a child.



FERNANDO RIVAS

The female fan club president who gunned down 23- year-old Selena Quintanilla-Perez is not a character in the musical which focuses on the positive sides of Selena's life. The production is going utilize many of Selena's original costumes, including the famous purple suit Selena wore at the Houston Rodeo.
The world premiere will take place at the San Antonio Municipal Auditorium, coinciding with the fifth anniversary of the singer's March 31 death. The six day engagement will encompass eight shows. The production produced by Jerry Frankel, Michel Peter Fitzgerald, Forbes Candlish and Thomas J. Quinn then begins a national tour in seven Texas cities before traveling to Chicago and Los Angeles.

CLINT HOLMES has Takin' It Uptown with his new production show which opened at Harrah's, Las Vegas. Almost stealing the show was Clint's 84-year-old mother, Audrey, a professional opera singer. Clint handed her the mike and the diva left no doubt that Clint can thank her for inheriting class act vocal cords.

A TALE OF THE ALLERGIST'S WIFE starring Linda Lavin, Tony Roberts and Michele Lee opens February 29 at the Manhattan Theater Club, NYC.

DAVID CASSIDY AND SHEENA EASTON star in At The Copa an original musical that follows the rise and fall of a nightclub performer played by Cassidy. Easton plays Ruby Bombay. This will be the real Sheena Easton, not her ex-husband. It seems that the Scottish lass, born Shirley Orr, first wed at age 18, in a union that last eight months. Her performing/song writing ex-husband then began working in drag - impersonating his ex-wife. Previews begin on Tuesday at the Rio Hotel, Las Vegas.

THE DRUMMERS OF WEST AFRICA will bring their world renowned performance of African traditional rhythms to Art Ham Hall, Las Vegas on Jan. 23. The company is composed of 35 drummers playing a variety of percussion instruments to achieve their own unique sound. Doudou N'Diaye Rose, the company's composer and conductor has achieved international stardom for his pioneering work. He has composed and collaborated with Peter Gabriel, Miles Davis, Dizzy Gillespie and the Rolling Stones.

SOME ENCHANTED EVENING

FRANK WHALEY and FRANCIE SWIFT in Crystal Skillman's Tooth one of the four plays that make up the evening entitled Thicker Than Water. Photo By: Carol Rosegg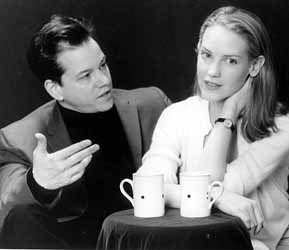 a musical, is at the Sioux City Community Theater, Sioux City, Iowa through Jan. 21.

THICKER THAN WATER an evening of four new one-act plays by members of Youngblood, begins performances Jan. 19 at the Ensemble Studio Theater, NYC.

Amy Fox's featuring Peter Rini, Sally Wheeler and Andersen Gabrych, is about an engaged couple and neighbor trapped on the roof of their apartment building.

Tooth is about a first date between a writer and a bank teller.

Heartbreak of the Last Handwriting is an online fairy tale about an internet romance.

Baby Blue features Anne Newhall, Amy Staats, Marc Romeo and Michael Ryan Segal, who converge on a lonely stretch of beach and discover the ties that bind are not easily unraveled.

Youngblood was established at the Ensemble Studio Theatre in the 1993-84 season. The group's multi-cultured membership has been drawn from New York's strongest theatre and writing programs, as well as open submissions.

The collective has generated more than 40 original plays. Last season the group presented John Belluso's full-length play Gretty Good Time.


WHO'S WHERE


CLAIRE BLOOM

CLAIRE BLOOM and CHARLIE CHAPLIN in Limelight.

that elegant, beautiful and talented English actress with the illustrious career, has hit the road.

Shouldn't come as a surprise that her Provo,Utah performance in Shakespeare's Women was a winner.

CLAIRE BLOOM declined Presley's sexual advances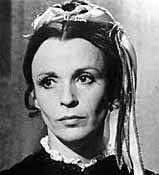 Charlie Chaplin directed her first screen success in Limelight, as the young ballet dancer Chaplin saved from suicide.

Born Claire Blume in London, at age 15 she worked with the Oxford Repertory Theater. In 1956 she held her own as Lady Anne opposite Laurence Olivier in Richard III. Although she admits to a list of lovers that include Richard Burton, Rod Steiger, Yul Brenner and Anthony Quinn, she turned down Elvis Presley.

In 1958 Presley was 23 and shooting King Creole next to the sound stage where Bloom - then 37 - was filming The Brothers Karamazov with Brenner.

Her nine-year marriage to Steiger was on the rocks and Bloom recalled that Presley was "direct" in his sexual advances. In her book Leaving A Doll's House Bloom wrote "there wasn't a great deal of subtlety about Elvis. He was direct. His magnetism was as considerable as his unmistakable aura of sexuality." Never-the-less Bloom turned him down recalling "Alas! A chance missed, but one I have lived well without."

JAZZ'S FIRST CENTURY - SWING a series of music lectures about music from 1900-1925 by Loreb Schoenberg. The Jan 18 lecture hones in on the music of Louis Armstrong, King of New Orleans. The Metropolitan Museum of Art, NYC.

RUSSIAN NATIONAL ORCHESTRA performs Jan. 21 and 23 at Lincoln Center, NYC. In attendance will be Sophia Loren. Her son, Carlo Ponti, Jr., has been a guest conductor. Sophia will be turning heads at the RNO's Supporters' Luncheon at the Russian Tea Room.

ITZHAK PERLMAN world renowned violinist performs at the Art Ham Hall, Las Vegas on Jan 22. Perlman, who at the age of 4 was stricken by polio, has chosen to focus on his abilities instead of disabilities. His determination, flawless technique and unmatched charm resulted in an overwhelmingly successful career. Perlman's diverse appeal is apparent in his wide array of performances, which range from Beethoven's Violin Concerto at the Hollywood Bowl, to singing Put Down the Ducky on Seasame Street. He's earned him 15 Grammy Awards, and President Regan awarded him the Medal of Liberty.

RANDI GRAFF, DEBBIE GRAVITTE, and LILIAS WHITE perform the songs of David Zippel who wrote City of Angels and Hercules among others. Joe's Pub NYC Mondays January 17, 24, and 31.

DIANE SCHUUR the jazz great who has been blind since birth, and conquered a drug problem over a decade ago, will be singing and tinkling the ivories Friday at Boulder Station, Las Vegas

ALISON KRAUSS and UNION STATION, JERRY DOUGLAS tonight, January 16, Alabama Theatre, Birmingham.

BRYAN ADAMS January 17, Centennial Concert Hall, Winnipeg, Canada.

JOHNNY WINTER January 17, First Avenue Theater, Minneapolis.

MELBA MOORE who starred on Broadway in Hair and Purlie and sang backup for Frank Sinatra, Johnny Mathis and Harry Belafonte, performed Saturday night at the Sooner Theatre, Norman, Okla. Her show featured hits from Broadway, Cole Porter tunes and showstoppers designed to showcase her four-octave range.

VICKI LEWIS AND NANA VISITOR on Tuesday step into the Chicago roles of Velma Kelly and Roxie Hart at Mandalay Bay, Las Vegas.

MAYNARD FERGUSON

MAYNARD FERGUSON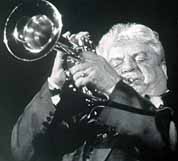 the jazz trumpet great, who is a member of the Canadian Music Hall of Fame performs in Las Vegas at the Riviera Hotel on January 25.

Born in Montreal, Ferguson was a permanent fixture of the Stan Kenton Orchestra. In the late 60s and early 70s he lived in England and led a band composed of British musicians.

While across the pond he completed a television special The Wonderful World of Maynard Ferguson.

Going where the work is, Ferguson returned to the United States in 1974 after his recorded version of MacArthur Park became a hit, causing his American concert schedule to triple.


THIS AND THAT

SWING! the musical at the St. James Theatre, NYC is dancing for the healthy heart. Featured performer Robert Royston, who with his partner Laureen Baldovi has won more U.C.W.D.C. Master's Division championships than any other couple, will teach a weekly Cardio Swing class, at Crunch Fitness, NYC, kicking off their 2000 Broadway Series. Cardio Swing makes it fun to get your heart in shape - taking participants on a journey back in time with Big Bang swing from the 1940s to the present, including music from the original cast album of Swing! A place in the class is being saved for David Letterman, who is going to learn he now must exercise on a regular basis.

J'ADORE the new perfume by Christine Dior was launched with a NYC party reportedly costing over $750,000. Guests including Rosie Perez and Billy Zane were showered with gold confetti.

THE KISSING SHOW The Smooch, The Peck, The Air Kiss, The Luscious Fusion of Souls: Over 80 photographs including Helmut Newton, Annie Liebowitz, Larry Silver, and Matthew Rolston. Stamper Photography Gallery, Kansas City, Mo. An opening night reception was held last Friday night. Viewing by appointment only.

SUNDANCE FILM FESTIVAL in Utah had some movie buffs waiting in line for more than 16 hours when tickets went on sale to Utah residents. The rest of the world can buy tickets beginning Monday, Jan 17.

MADONNA who was going to sing American Pie at a Super Bowl party in Atlanta, Ga. on Jan 20, backed out in less time than it would have taken her to sing the five minute version of Don McLean's classic.

BBC in Las Vegas filming a documentary on Buddy Greco who is celebrating his 50th anniversary as a Vegas performer.




Mention BROADWAY TO VEGAS for Special Consideration
Call (800) 942-9027









Next Column: January 23, 2000
Copyright: January 16, 2000. All Rights Reserved. Reviews, Interviews, Commentary, Photographs or Graphics from any Broadway To Vegas (TM) columns may not be published, broadcast, rewritten, utilized as leads, or used in any manner without permission, compensation and/or credit.
Link to Main Page
---

CLICK HERE FOR COMMENT SECTION