! >
Broadway To Vegas
  
  REVIEWS INTERVIEWS COMMENTARY NEWS



| | |
| --- | --- |
| | |




ALAN MENKEN TO JOIN ELITIST BROADWAY TUNESMITH CLUB - - BROADWAY CAST REUNITES FOR DIVIDING THE ESTATE - - JULIE TAYMOR'S THE MAGIC FLUTE - - CES PANEL CHARGES THAT TECH FIRMS IGNORE WOMEN - - SUPER PR AGENT/PRODUCER MARTY RICHARDS FETED ON BIRTHDAY - - ALI: THE GREATEST ART SHOW HONORS BOXING GREAT'S 70th BIRTHDAY - - PHANTOM OF THE OPERA: THE LAS VEGAS SPECTACULAR TO CLOSE - - WILLIAM AND KATE TRAVEL GIFTS RANGE FROM DIAMONDS TO MOSQUITO CATCHERS - - DONATE . . . Scroll Down



Copyright: January 15, 2012
By: Laura Deni

ALAN MENKEN TO JOIN ELITIST BROADWAY TUNESMITH CLUB


It's difficult to be in anything other than the dust left by Jerry Herman. Stephen Schwartz is catching up and Alan Menken is gaining speed.

Within three months composer Menken - who in 1983 received the BMI Career Achievement Award for his body of work for musical theater - will qualify for membership in a unique Broadway fraternity of composers who have had three musicals running simultaneously on Broadway.

The current four are: Jerry Herman - who stands alone as being both the composer and lyricist - Andrew Lloyd Webber, Richard Rodgers and Frank Wildhorn.

As has been predicted, with the early closing of On A Clear Day You Can See Forever and the rush to mount Leap of Faith, Menkin is becoming Broadway note man of the moment.

Sister Act The Musical for which Menkin penned the score, was nominated for five 2011 Tony Awards including Best Musical. The production opened April, 2011 at the Broadway Theatre in The Big Apple.

Upcoming musicals with the Menkin fingerprint are Leap of Faith, starring Raul Esparza, which will begin performances April 3 at the St. James Theatre and Newsies roll their presses beginning March 15 at the Nederlander Theatre.

The talented Jeremy Jordan will play rebellious newsboy leader Jack Kelly, the role he created at the Paper Mill Playhouse in New Jersey last year.

The Alan Menken score has lyrics by Jack Feldman with a book by Harvey Fierstein.

For Menken it will be the rarefied world of the triple mount.

With the phenomenal 1964 Hello Dolly! Jerry Herman won both the Tony Award, Variety's Best Composer and Best Lyricist Award, a Gold Record and a Grammy Award. In 1966 Mame won another Best Lyricist Award, Gold Record and Grammy. With Dear World in 1969 he had three musicals running simultaneously on Broadway.

March 23, 2006 was a big day for hot shot Stephen Schwartz.

That's the day the Broadway production of Wicked passed the 1,000 performance mark, making Schwartz one of four composers - the other three being Andrew Lloyd Webber, Jerry Herman and Richard Rodgers to have three shows last that long on Broadway - the other two were Pippin and The Magic Show.

A year later, Schwartz joined Jerry Herman as being one of only two composer/lyricists to have three shows run longer than 1,500 performances on Broadway.

In 1999, Frank Wildhorn became the first American composer in 22 years to have three shows running simultaneously on Broadway - tying the Jerry Herman record: Jekyll & Hyde (written with Leslie Bricusse), which received four Tony nominations; The Scarlet Pimpernel (written with Nan Knighton), which received three Tony nominations; and The Civil War (written with Jack Murphy and Gregory Boyd), which received two Tony nominations.

For Alan Menken, April 3 will be a day for him to remember.



Broadway To Vegas is supported through advertising and donations. Priority consideration is given to interview suggestions, news, press releases, etc from paid supporters. However, no paid supporters control, alter, edit, or in any way manipulate the content of this site. Your donation is appreciated. We accept PAYPAL. Thank you for your interest.



ART AND ABOUT


1960's RADIO IN COLOR The Lost Photographs of Cleveland Deejay Tommy Edwards. The Rock and Roll Hall of Fame Museum in Cleveland exhibit features more than 30 images of 1950s music, film and television stars, including Elvis Presley, Chuck Berry, Eddie Cochran and some surprises like Michael Landon and Henry Fonda - all in glorious Ektachrome color.

Songwriter, musician and music historian Christopher Kennedy discovered Edwards' photography collection during his research into the long-lost rock and roll film The Pied Piper of Cleveland, which is rumored to contain some of the earliest footage of Elvis Presley. Kennedy's discovery resulted in his 2011 book 1950s Radio in Color, which features more than 200 images from Edwards' collection.

As a prominent deejay at WERE in Cleveland, Edwards enjoyed unprecedented access to rock , pop and country music's biggest stars. Capturing artists as they visited WERE's studios to plug their latest record, or at the many high-school sock hops that he presented between 1955 and 1960, Edwards shot more than 1,700 slides.

Through his camera's eye, the stars became mere mortals and at the same time somehow even grander than before. The exhibit, in the Baker Gallery of the Rock & Roll Hall of Fame Museum's Main Exhibit Hall, opened last Thursday and will run through the summer.

ALI: THE GREATEST

Commemorative Poster designed by David P. Flores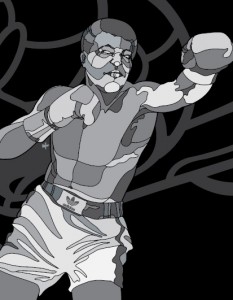 a fine art show to honor Muhammad Ali and celebrate his 70th birthday is on display at Evolve the Gallery in Oak Park, Sacramento, CA.

The exhibition is meant to "captures the essence and spirit of Ali's most memorable moments."

From 1960 to 1981, Ali won 56 of 61 matches, 37 by knockout. Not only is Muhammad Ali a former heavyweight boxing champion, he is a social activist, philanthropist, humanitarian and cultural American icon.

Over 20 prominent and prolific artists from across the country and Europe have contributed to this exhibition using a wide variety of mediums. All exhibited works are paintings with the exception of two photographs by Michael Brennan, famous for his images of Ali, including a 16-page spread in Sports Illustrated, titled Ali and His Educators, in September 1980.

Some of the featured artists include: Adrian Pickett, Alvin Burts, Alex Forster, Corey Pickett, Charly Palmer, Gerry GOS" Simpson, Frank Morrison, Joe Iurato, James Gayles, James Henninger, Kadir Nelson, Kevin OKeith, Kelvin Curry, Kinzie Davis, Lauren Gillette, Lisa Alonzo, Paul Goodnight, Tim Okamura, international illustrator, Charles Bibbs, London artist Michael Grattan, renowned Muhammad Ali photographer, Michael Brennan; and multi-faceted artist David P. Flores who designed the image for the commemorative poster.

A Preview Reception for Boxing Enthusiasts took place last Thursday and the opening night reception was last night. The exhibit will continue through January 28 then travel to Las Vegas, Los Angeles and New York before becoming a permanent display at the Muhammad Ali Center in Ali's hometown of Louisville, KY.

Although the three-time heavyweight champion doesn't reach that 70 milestone until Tuesday, the first of five birthday parties took place last night in Louisville.

Ali was surrounded by 350 guests who gathered at the Muhammad Ali Center. The party doubled as a $1,000 per person fundraiser for the center, a cultural and education complex that also features a museum focusing on Ali's long career as a boxer, social activist and humanitarian.

The four hour dinner celebration included entertainment and production by David Foster, 16-time Grammy Award-winning musician; a very special solo performance by John Mellencamp, Grammy Award-winning rock singer-songwriter, musician, Farm Aid Founder, painter, actor, and life-long resident of neighboring Southern Indiana; Australian singer-songwriter Michael Johns, from the seventh season of American Idol; and Pia Toscano, an American singer from the tenth season of American Idol.

Guests included trainer Angelo Dundee, NBC journalists Matt Lauer, Ann Curry and Bryant Gumbel, three-time heavyweight boxing champion Lennox Lewis, University of Louisville basketball coach Rick Pitino and University of Kentucky coach John Calipari.

Artists of many disciplines were in attendance including: Las Vegas magician Shimshi; Ali photographers Neil Leifer and Howard Bingham; screenwriter Greg Howard; and Academy Award-winning director Leon Gast.

Finally, Commonwealth of Kentucky Officials were in Louisville to honor The Champ at this hometown celebration: Governor Steve Beshear; Ltd. Governor Jerry Abramson; Congressman John Yarmuth; and Mayor Greg Fischer.

This momentous birthday event kicks off a week-long series of activities--Seven Days for Seven Decades--at the Muhammad Ali Center, that celebrate the incredible life and legacy of "The Champ", whose life has inspired millions of people around the world. Other birthday parties for Ali will take place over the next couple of months in Las Vegas, California and Arizona.

The Las Vegas birthday party will be part of the 16th annual Power of Love Gala at the MGM Grand Garden Arena on February 18.

The event, sponsored by Keep Memory Alive, will benefit the Cleveland Clinic Lou Ruvo Center for Brain Health in Las Vegas and the Muhammad Ali Center in Louisville.

Save The Date announcements were mailed out last November.

Lenny Kravitz, John Legend, Brad Garrett, Anthony Hopkins, "Sugar" Ray Leonard, Tommy Hearns and Leon Spinks will be among the celebrities appearing at the event.

The list of stars and athletes expected to appear at the gala also includes Cee Lo Green, Kelly Rowland, James Gandolfini, Sammy Hagar, Ken Norton, Roberto Duran and Angelo Dundee.

Tickets range from $1,500 to $7,500 for an individual seat, with the "Ringside Table" priced at $100,000.The latter includes two reserved seats for the celebrity guests.


CES IS A GOOD GIG FOR PERFORMERS BUT TECH FIRMS IGNORE WOMEN
Ryan Seacrest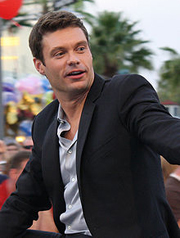 The Consumer Electronics Show, the largest trade show in the world - opened last Tuesday in Las Vegas and pressed the off switch on Friday.

As expected this is not the place where the blockbuster products of 2012 were introduced.

Many of the hottest new gadgets in recent years - including Apple's iPad and iPhone, Microsoft's Kinect and Amazon's Kindle Fire - were first announced at other events, pointed out Nick Wingfield in the NY Times. So, why did 3,100 exhibitors set up booths to be ogled by almost 140,000?

It's Vegas, baby.

Celebrities which have always made their presence at CES are needed more than ever to draw attention to products which, according to a panel discussion, cater to the teen-age boy in the adult male.

For Hollywood stars, sports legends, musical icons - and people who are famous for no other reason than being famous - being attached to any Vegas trade show is a good paying gig, plus a trip to Sin City.

Television and radio personality Ryan Seacrest joked around with Microsoft CEO Steve Ballmer during the Consumer Electronics Show's pre-show keynote address at The Venetian.

Grammy-nominated platinum pop megastar, Justin Bieber helped TOSY unveil their new innovative entertainment robot at the their booth.



Justin Bieber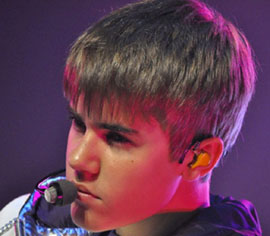 Monster, Inc. hosted their annual Retailer Awards and Concert, featuring music from the legendary Chicago, at the Paris Hotel.

In their news conference, Verdine White, a founding member of Earth Wind & Fire was in the star slot and then there was the Skype conference call with a convalescing Nick Cannon who has a Ncredible line of headphones which retails for $69. "I wish I could be there with you guys, but it's my first day out of the hospital," said Cannon who was hospitalized with what his wife, Mariah Carey, called "mild kidney failure".

The Cannon line is at the low end of the gaudy Monster line, which screams they intend to be the "cool" choice for headphones - provided customers have the money. Suggested retail price for the new lines range from $69.95 to $279.95.

Jillian Michaels, inspirational television personality and fitness guru, was hired to highlight the marriage of tech and fitness at the CES TechZone FitnessTech. In that role Michaels discussed the impact of digital innovation and her recent partnership with BodyMedia, an on-body monitor company.

Rapper 50 Cent signed autographs for his new audio company, SMS Audio, which promises to combine "technology, function and style to bring the highest caliber of sound, comfort and fashion to every product". He also discussed his new line of wireless headphones.

Dennis Rodman, NBA Hall of Fame player, represented Paltalk, a service that allows users to explore the online world of chat sites with community chat rooms and "cool webcam technology that lets you see and be seen."



Dennis Rodman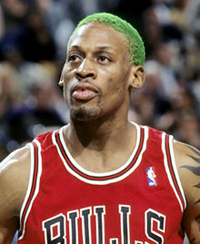 Miss America 2011, Teresa Scanlan, walked the CES show floor last Tuesday before crowning her successor last night - Miss Wisconsin Laura Kaeppeler as the new 2012 Miss America.

Haier America hosted NBA legends Robert Horry and John Salley, and celebrity chef Allison Fishman. Seven-time NBA Champion and current sports commentator Robert Horry made an appearance at Haier's booth. Horry is one of only two players to have won NBA championships with three different teams. John Salley, the first NBA player to win four championships with three different teams,was also in attendance Allison Fishman, cookbook author and creator of The Wooden Spoon cooking school, gave a cooking demo and make daily appearances at Haier's booth.

Star of the hit CBS drama NCIS: Los Angeles, LL Cool J introduced new technology from Boomdizzle. He was also contracted to show up at the Dolby Booth to demo a track he created using Boomdizzle, playing it back on a Dolby technology-enabled laptop to a full home-theater surround sound system.

Television actor Greg Grunberg, best known for his starring role on the NBC television series Heroes, and Emmy winner and Grammy nominated actor-singer Wayne Brady, known for his work as a regular on the American version of comedy television series Whose Line Is It Anyway?, joined OnStar for their Tweet House sessions, the official social media track for CES. He also attended OnStar's It Won't Stay in Vegas party last Wednesday at the Stirling Club.

Zeikos USA, Inc.'s trademark iHip introduced an all star lineup at CES, including Nicole "Snooki" Polizzi, best known for her role on the reality TV show Jersey Shore, promoting a bling heavy line of headphones, former NFL linebacker Carl Banks and urban music pioneer Jose "Hyde" Cotto.



Nicole Snooki Polizzi wearing one of the more dignified head sets at the CES show in Las Vegas. Photo: Getty Images.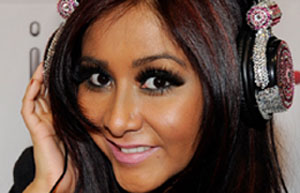 Gaudy. look-at-me headphones makes one wonder if the companies are attempting to become the American fascinator version of British women wearing hats.

Snooki also signed autographs and attended the 2012 collaboration celebration at the Gallery at Planet Hollywood Resort and Casino. Carl Banks, New York Giants legend and Superbowl champion, was also at the party and launched his new NFL line the following day.

Jose "Hyde" Cotto, along with Mas Flow, "El Verdadero Quimico," Luny Tunes and DJ Nelson performed last Tuesday and then signed autographs on Thursday.

Panasonic hosted Twentieth Century Fox Home Entertainment's second annual Directors' Panel. This year's panel discussion kicked off the 50th anniversary of MGM's James Bond.

Critically acclaimed directors John Glen (For Your Eyes Only, Octopussy, A View to a Kill, The Living Daylights, License to Kill), Martin Campbell (GoldenEye, Casino Royale) and Michael Apted (The World Is Not Enough) offered a look back at the legacy of the iconic character and have a candid discussion about how technology has changed their approach to filmmaking.

Additionally, former Bond girls Olga Kurylenko (Quantum of Solace) and Caterina Murino (Casino Royale) were on hand for a special presentation that included props from the legendary film franchise.

Jabbawockeez, the all-male, hip-hop dance crew best known for winning season one of MTV's America's Best Dance Crew and headliner at the Monte Carlo Resort and Casino, making them the first and only dance crew to headline their own show in Las Vegas, performed as the opening act for Qualcomm's keynote address, in the Venetian's Palazzo Ballroom.

Jordan Rudess, recording artist, composer, producer and performer, represented iConnectivity at CES, demonstrating software applications from Wizdom Music including their innovative Sample Wiz and Geo Synth applications, and connecting his iPad to his musical gear with iConnectMIDI, billed as "the ultimate MIDI interface."

A band comprised of top Australian musicians including drummer Andy Fisenden, bass, guitarist and vocalist Simon Fisenden and monster bass player Dane Alderton played at Audiofly's booth. World renowned graffiti artist The Yok was also at the booth throughout the show creating some of his artwork.

For those who managed to focus on something besides the star power, an important panel discussion was hosted by AdAge.

The topic was women, but not in the way most men think.

"Tech marketers traditionally focus on 25-to 40-year-old men, which is virtually everyone who comes to CES," said panelist James McQuivey, principal analyst at Forrester Research specializing in the digital home.

Attendees were told that they have missed the mark by concentrating on men and their toys rather than women who are interested in gadgets which will benefit them.

"Men's use of technology is much more predictable," stated McQuivey. "Women are much more sophisticated."

He charged that tech companies are sticking to male-oriented marketing.

An example presented was Verizon's Droid brand of Android smartphones. The launch campaign for the devices featured robots, space expeditions and uses a name licensed from Star Wars creator George Lucas.

"It's almost as if the Droid message is: Women, do not buy this product!" said Liz Schimel, exec VP-chief digital officer, Meredith National Media Group.

"Women aren't wowed by the gee-whiz of technology," said Ann Mack, charged with overseeing global trendspotting for JWT, known as the world's best-known marketing communications brand. Headquartered in New York, JWT has more than 200 offices in over 90 countries.

"Women are looking for technology that's simple and can help them manage their lives," emphasized Mack.


SWEET CHARITY


CLASS written by Charles Evered. Directed by Eric Barr.

Starring Larry Cedar & Christine Lakin in a benefit performance for The Actors Fund.

Class tells the story of Elliot, a veteran acting teacher in New York City who is visited in his studio by Sarah, a mysterious young actress. In the course of their work together, they learn more about themselves than acting - and in doing so change each others' lives forever. This production is a one-day staged reading - actors will be moving around the stage but will have scripts in hand; proceeds go to benefit The Actors Fund.

Wednesday, January 18, 2012 at the Falcon Theatre in Burbank, CA.


OFFICIALLY GIFTING THOSE WHO HAVE EVERYTHING
Prince William and Kate delight in wearing their cowboy hats, a gift from the Mayor of Calgary. Photo: Chris Jackson/Getty images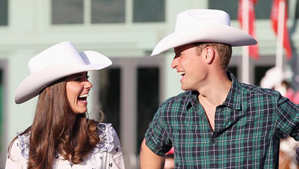 What to give the Duke and Duchess of Cambridge, that would be William and Kate, who raked in the gifts during their visit to Canada and the United States this past summer. The official list of what the royal couple carted back home has been released.

The goodies include the Canadian Minister of Health Leona Aglukkaq gifting the newlyweds with two mosquito traps.

Among the bounty William picked up in Canada were: a Flying Helmet gifted him from the 12 Wing Shearweater. Royal Canadian air Force, a Canadian Ranger Patrol knife from the Commanding Officer of 1 Canadian Rangers Patrol Group, a Tartan waistcoat and an address book from two unnamed individuals, two sports shirts from the Canadian minister of Defence, a pair of cufflinks from the premiere of the Northwest Territories, a ball point pen from the President and Executive Officer, Port of Montreal and a black jacket from the City of Calgary.

Kate received the most presents including a total of 20 hats. fascinators, necklace, Wooden heart box with charm bracelet, several wicker baskets, a knitted prayer shall and a hand painted scarf, a rag doll, several soft toys, a dog toy, shoes and a selection of dresses - all from individuals.

The Minister of Alberta Health and Wellness gave her a blue hat, while the Minister of Foreign Affairs John Baird came bearing three pairs of shoes. The then Premier of The Northwest Territories Floyd Roland offered a diamond-encrusted, polar bear-themed brooch and cuff links.



Canadian Minister of Health Leona Aglukkaq gifted the newlyweds with two mosquito traps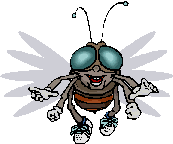 As a couple the royals said thank-you for: a lot of books, T-shirts, coins and pictures. The Governor General of Canada offered a quilt. The hockey teams at Somba K'e Civic Plaza presented them with three red hockey jerseys. An individual gave the couple Caribou antler snow goggles and a dragonfly brooch. Another individual is credited with presenting a pair of hand carved Sockeye Salmon.

The Major of the City of Calgary gifted two cowboy hats, The Mayor of the City of Stratford offered a book and tartan neckwear while members of the Dechinta Community presented the couple with beaded Moccasins, shoulder bag, wicker fishing basket, cork boxes, quilt and gloves.

The National Chief of the Assembly of First Nations gave a set of tuxedo buttons and cufflinks while the Premier of Quebec selected a Nunavik soapstone sculpture.

The Prime Minister of Canada officially presented a woolen blanket, framed photograph, souvenir edition Canadian magazine, two jackets, bottle of whiskey and a Canadian flag.

The staff at the Alberta Boot Company gave the obvious - two pairs of boots.

The Canadian Olympic Committee presented a selection of sports clothing, the Canadian Rangers offered a soapstone bear and two Canadian Rangers hooded jumpers. During their California visit American individuals gave earrings, a book and double DVD, pair of wine coasters and a bread board.

An iPad was the gift of choice from California Gov. Jerry Brown. The Sheriff-Coroner of Santa Barbara County offered four coasters while the Chairman and CEO of Sony Pictures selected a framed film still.

The future king and queen won't be re-gifting. The official announcement indicated that all gifts are registered and then either placed in storage or put on display in royal residences.


SHARON OSBOURNE TO HOST MUSIC PRESERVATION EVENT
Sharon Osbourne will host.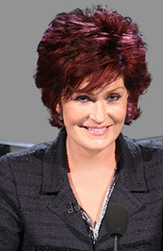 The Grammy Foundation will host One Night Only: A Celebration Of The Live Music Experience - the 14th Annual Grammy Foundation Music Preservation Project - featuring live musical performances and historical footage from preservation archives.

Television personality Sharon Osbourne will be the evening's host.

Performers include Grammy winners Robert Cray, Jonny Lang,and Mavis Staples; current Grammy nominees Dave Koz and Ledisi; and the Colburn Orchestra, A Fine Frenzy, Trombone Shorty, and Tyrese, as well as other artists.

The evening's musical director will be Darrell Brown, songwriter/producer, Recording Academy Trustee, and Grammy Foundation Board member.

One Night Only: A Celebration Of The Live Music Experience will explore the history and evolution of live concert performances and celebrate the various and invaluable contributions of those events, the key players behind them, and their influence on the American cultural landscape.

The event will take place at the Saban Theatre in Los Angeles on Thursday, February 9, 2012.

According to the Foundation: "Protecting our cultural legacy for future generations is a cornerstone of the Grammy Foundation mission. The Foundation recognizes and celebrates the innovation, perseverance and genius evidenced in the stories and music of the pioneers who have woven a rich and colorful cultural fabric."

The Project "highlights its year-round activities in support of that mission, from preservation grants to its Living Histories archive. The Project also draws the attention of a wider audience to those efforts, and to the imperiled condition of many of the most historically significant recordings. This concert and screening serves to reintroduce works from these major contributors to the public and educates them about the Grammy Foundation's role in preserving our rich cultural heritage."


CHARITIES BENEFIT AS GORGEOUS CLASSICAL PIANIST ATTRACTS POP AUDIENCE
Sexy Lola Astanova brings a hip audience. Photo by Nancy Ellison Polaris.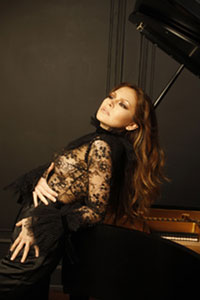 Unless you are Kate, Prince William's wife, it can be difficult for a performer to convinces labels to provide services.

In the case of piano genius Lola Astanova, who makes her Carnegie Hall debut on Thursday, high profile labels such as Diane von Furstenberg, Tom Ford, Christian Louboutin and Jimmy Choo beg her to let them adorn her body and feet.

For that Carnegie Hall event, which benefits the American Cancer Society and will be chaired by Donald J. Trump with special guest and host Julie Andrews, the piano player will be wearing Jewels By Tiffany.

On the occasion of their 100th book in 2007 she was part of the Neiman-Marcus holiday catalog which offered the well heeled a fantasy section including a $1.6 million concert featuring the Kirov Orchestra led by Valery Gergiev with Astanova playing classics such as the Nutcracker Suite. Regis Philbin was the host, and that famous Steinway concert grand piano of Vladimir Horowitz went along for the ride.

Lola who?

Lola Astanova, a 26-year-old born in Tashkent in the former U.S.S.R., matured from a piano playing child phenom, noted for her interpretations of compositions by Chopin, Liszt and Rachmaninoff, into the gorgeous classical pianist who is expanding the base of those who would consider sitting through a piano recital.



Donald Trump chairs the American Cancer Society event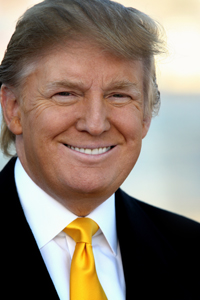 Attending such a high brow event conjures up visions of dowagers in evening gowns accompanied by men in tuxedos who then retreat from their women to enjoy a good cigar.

Astanova has broken through that ivory key ceiling by taking "a pop star approach to her career, posing in sexy clothing, tweeting, posting videos."

Couples leaving her concerts eat at trendy restaurants and go home to have sex.

On March 9, 2010 she performed at a benefit concert for Haiti earthquake victims.

David J. Reynolds writing in The Wall Street Journal observed: "Lola Astanova drew murmurs as she entered Steinway Hall wearing a midriff-baring top and low-rise jeans. The 28-year-old classical pianist greeted concertgoers with "Hi guys," then dove into a spectacular rendition of Rihanna's Please Don't Stop the Music.



Julie Andrews serves as host for the American Cancer Society event at Carnegie Hall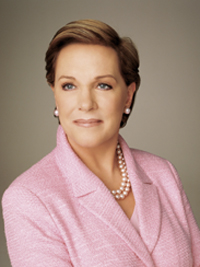 She is a classically trained pianist for today's audience.

Astanova started touring at the age of eight. She performed in Germany, France, Austria, Italy and Russia both solo programs and with orchestras.

In 1996, she was Laureate of the International Chopin Competition for Young Pianists in Moscow.

In 1998, she was featured in the UNESCO documentary Prodigies of the 20th Century.

In 2003, Astanova emigrated to the United States on a scholarship and in 2005, received her Master's Degree - summa cum laude - from Rice University.

In 2008 the pianist performed as part of The National September 11 Memorial & Museum Notes of Hope benefit hosted by Mayor Michael Bloomberg. The event also featured performances by comedian and actor Denis Leary and rocker John Mellencamp.

Now a U.S Citizen living in Manhattan, she has performed all over the United States, including Las Vegas, where she entertained last November as part of a fundraiser for the MD Anderson Cancer Center.

On Thursday the glam beauty will take to the stage at Carnegie Hall wearing something sexy and gorgeous - playing for those who also see beauty in music.


SPREADING THE WORD


SISTER ACT: SONGS AND TALK-BACK WITH THE CAST Members of the cast of Sister Act, the high-energy Broadway musical comedy, sing favorite songs and talk about what it's like to bring to life this inspiring story of sisterhood and friendship.

Director Jerry Zaks, Carolee Carmello who appears as Mother Superior and Patina Miller who is cast as Deloris Van Cartier, will take part.

The show, based on the hit film, features an uplifting new score by eight-time Academy Award winner Alan Menken, mixes the sounds of disco, soul, funk and R&B and is directed by four-time Tony winner Jerry Zaks. Moderated by Adam Feldman, staff theater and cabaret critic for Time Out New York and president of the New York Drama Critics' Circle.

Tuesday, January 24, 2012 at the 92Y Tribeca, NYC.

A CAST ALBUM OF ONCE a new musical will be recorded on Tuesday, January 17 in anticipation of a March 2012 release MasterworksBroadway has announced.

Based upon the Academy Award-winning film, Once "tells the story of an Irish musician (Guy) and a Czech immigrant (Girl) drawn together by their shared love of music. Over the course of one fateful week, their unexpected friendship and collaboration evolves into a powerful but complicated romance, heightened by the raw emotion of the songs they create together. Brought to the stage by an award-winning team of visionary artists and featuring an ensemble cast of gifted actor/musicians, is a musical celebration of life and love: thrilling in its originality, daring in its honesty... and unforgettable in every way."

Once features the Academy Award-winning music and lyrics of Glen Hansard and Markéta Irglová. Music supervision and orchestrations by Martin Lowe.

The cast features Steve Kazee as 'Guy' and Cristin Milioti as 'Girl.' Also in the company featured on the cast album are David Abeles, Will Connolly, Elizabeth Davis, David Patrick Kelly, Anne L. Nathan, Lucas Papaelias, Andy Taylor, Erikka Walsh, Paul Whitty, and J. Michael Zygo.

Once is currently running through Sunday, January 15, 2012 at New York Theatre Workshop and begins previews at Broadway's Bernard B. Jacobs Theatre on Tuesday, February 28, 2012 with opening night set for Sunday, March 18, 2012.

CHIP OFF THE MOON by Bill Quigley who is Playwright-In-Residence with the Bleecker Company. Directed by Peter Zinn.

Revered New York actress, Anne Meara, joins Donna de Matteo and Paul D'Amato in a public reading of the award-winning play.

Chip Off the Moon is a family drama with a ferocious comic underbelly, set in a working-class neighborhood in the Bronx in 1953. Lucy Marino works six days a week in a baking factory making Smiley Cookies. She and husband, Marty, share their modest apartment with Grace, Lucy's aging mother, who has no idea she's battling dementia.

Performance takes place at The Players Club, NYC.

GOODSPEED MUSICALS has announced that it will present The Great American Musical directed by Julie Andrews, which was inspired by the best-selling children's book written by Andrews and her daughter Emma Walton Hamilton. The developmental staging will be mounted November 8-December 2 at Goodspeed's home for new work, the Norma Terris Theatre, in Chester, CT.


HAPPY BIRTHDAY TO . . .


MARTY RICHARDS the prolific Broadway press agent and Tony Award winning producer, celebrates his 80th birthday on January 17th. The birthday boy will be feted at a party hosted by Michael Douglas and Catherine Zeta-Jones, she being the lady who starred in Richards' Oscar winning film Chicago.

Richards is also related by marriage to Douglas. Richard's deceased wife, Mary Lea Johnson, was the daughter of Ruth Dill and John Seward Johnson II, heir to the Johnson & Johnson fortune. Michael's mother Diana Love Dill and Ruth Dill were sisters.

The Richards' birthday party will benefit the Mary Lea Johnson Richards Research Institute, and takes place at the Rubin Museum of Art.

Richards began his career as a boy singer In 1941 as a 9-year-old he was enrolled in the Marie Moses School of Dance and Singing. His classmates were Donna Reed, Ann Blythe, and Rita Moreno. At age 12, he was cast as a newsboy in the Broadway show Mexican Hayride with June Havoc.

BETTY WHITE the ageless wonder, who turns 90 on January 17, will have her birthday celebrated in an NBC-TV special. The network brought together some of TV's biggest and funniest names to party the night away with the Hot In Cleveland star in a televised special.

Betty White's 90th Birthday: A Tribute to America's Golden Girl will air the day before her natal day on Monday, January 16. The special will feature comedy luminaries such as Carol Burnett, Mary Tyler Moore, Carl Reiner, Tina Fey, Ellen DeGeneres and Amy Poehler honoring White. Other guests include White's Hot In Cleveland co-stars, her former Mary Tyler Moore Show castmates, plus Joel McHale, Ray Romano, Jennifer Love Hewitt and Hugh Jackman.

DOLLY PARTON the singer-songwriter, author, multi-instrumentalist, actress, philanthropist and Kennedy Center Honoree, who wrote the score for the Broadway production of 9 To 5: The Musical, and currently stars in the movie Joyful Music, celebrates her birthday on January 19.


CURTAIN DOWN


ON A CLEAR DAY YOU CAN SEE FOREVER as anticipated, has issued a closing notice. The musical will shutter on January 29 after 29 previews and 57 regular performances at the St. James Theatre, NYC.

PHANTOM OF THE OPERA: THE LAS VEGAS SPECTACULAR has posted closing notices. The musical at the Venetian Hotel will shutter September 2, 2012.

The show opened in 2006 with Anthony Crivello and Brent Barrett alternating the title role for the first year. Crivello has remained in the part.



NECESSARY SACRIFICES by Richard Hellesen. Directed by Jennifer L. Nelson.

One common goal. Two uncommon men.

In his fourth commission for Ford's Theatre, playwright Richard Hellesen explores the two documented encounters between Frederick Douglass and Abraham Lincoln during a period of national crisis. During the summers of 1863 and 1864, Douglass challenges the president to envision a post-emancipation world. The men ponder not only a unified nation but a society that brings truth to the Declaration of Independence's assertion that "all men are created equal."

Featuring David Selby as Lincoln and David Emerson Toney as Frederick Douglass.

"This nation cannot excel half-equal and half-unequal. To accept that would be merely to remove our shackles from our legs, clean and polish them, and put them right back on. This work must be done, and done forever." -Frederick Douglass in Necessary Sacrifices.

"Lincoln and Douglass: two self-made men from humble beginnings who influenced a nation. Both envisioned a world of freedom and equality, but they did not always see eye to eye on how to achieve that vision. This play explores Lincoln and his legacy from Douglass's point of view." –Paul R. Tetreault, director, Ford's Theatre.

January 20-February 12, 2012 at Ford's Theatre in Washington, DC.

Post-Performance Discussions: January 24, January 31, February 7 and February 11. Following the 7:30 p.m. performance, Ford's Theatre will offer facilitated discussions about the themes and issues raised by the play. Post-performance discussions begin immediately after the performance. Individuals who did not attend the show but wish to attend the discussion will be invited into the theatre after the audience from the performance departs.

WHO LOVES YOU, BABY? written by Hunter Nelson. Directed by Taylor Negron.

Starring Tom Dimenna as the long-dead 70's Hollywood bald-headed, sex symbol tough guy Telly Savalas.

The no-nonsense Greek-American actor best known as TV's Lt. Theo Kojak once starred at the Sahara hotel in Las Vegas and even recorded a live album performance of his singing.

Described as: " beneath the surface of Who Loves You, Baby? Tom as Telly subversively grapples with darker aspects of the human condition: mortality, legacy, love, life, and death. The show serves as a touching and funny tribute to the life and songs of Savalas, while delivering an earnest message to today's hipsters not to sacrifice romance for cheap and easy thrills. And to powder their feet. Come witness this uproarious and fundamentally indescribable lounge act from the world beyond, and see for yourself why the world needs Telly now more than ever."

With Henry Kaiser as George Savalas. Piano accompaniment by Alex Leonard.

January 18 through April 2012 at The Huron Club at The SoHo Playhouse, NYC.

RUSSIAN TRANSPORT by Erika Sheffer. Directed by Scott Elliott.

The cast will feature Janeane Garofalo (Diana), Daniel Oreskes (Misha), Morgan Spector (Boris), Sarah Steele (Mira) and Raviv Ullman (Alex).

Set in the Russian-Jewish enclave of Sheepshead Bay, Brooklyn, Russian Transport is a tale of an immigrant couple, their two assimilated teenagers and the fierce and fiery upheaval they experience when sexy, mysterious Uncle Boris from the old country comes to stay with them for his shot at the American dream.

The creative team features sets by Derek McLane, lighting by Peter Kaczorowski, costumes by Ann Hould-Ward and sound by Bart Fasbender.

Presented by The New Group at The Acorn Theatre in New York City January 17-March 10, 2012.

THE MAGIC FLUTE composed in 1791 by Wolfgang Mozart, to a German libretto by Emanuel Schikaneder. Adapted by Julie Taymor who created two English speaking versions, a 2004 one staged by the New York Met and this, her 2006, 100-minute family-friendly opera.

Directed by Julie Taymor.

English Translation by J.D. McClatchy.

British conductor Jonathan Darlington, current music director of Vancouver Opera is in Sydney to conduct with Andrew Greene taking over from January 31. Puppets designed by Julie Taymor and Michael Curry.

The Magic Flute, Mozart's final opera, is filled with symbolism. It's a fairytale set in a mythical land between the sun and the moon. Three ladies in the service of the Queen of the Night save Prince Tamino from a serpent. When they leave to tell the queen, the birdcatcher Papageno appears. He boasts to Tamino that it was he who killed the creature. The ladies return to give Tamino a portrait of the queen's daughter, Pamina, who they say has been enslaved by the evil Sarastro and they padlock Papageno's mouth for lying. Tamino falls in love with Pamina's face in the portrait. The queen, appearing in a burst of thunder, is grieving over the loss of her daughter; she charges Tamino with Pamina's rescue. The ladies give a magic flute to Tamino and silver bells to Papageno to ensure their safety, appointing three spirits to guide them.

In this production almost every member of the cast is a graduate of the Moffatt Oxenbould Young Artist Program, Opera Australia's acclaimed talent development strategy. Principal vocalist, soprano Nicole Car (Pamina) is a current member of this program, and baritone Andrew Jones (Papageno) and Jane Parkin (First Lady) are recent graduates. Another young Australian talent, soprano Emma Pearson, will be returning Sydney especially for her appearance as the Queen of the Night, a coveted role which includes two dazzling coloratura showpieces. A particularly demanding aria is the Queen of the Night's "Der Holle Rache kocht in meinem Herzen" ("The vengeance of Hell boils in my heart"), which reaches a high F6, rare in opera. Pearson is currently a principal artist with the Hessisches Staatstheater in Weisbaden, Germany. Opera Australia favorite Kanen Breen is the frisky villainous jailer Monostatos, and computer-programmer turned-opera-singer David Parkin takes the role of Sarastro. His part includes a conspicuous F in a few locations.

Jane Parkin, Sian Pendry and Tania Ferris are the Three Ladies. Playing Tamino, is tenor Andrew Brunsdon. David Parkin is cast as Sarastro. The Speaker is Stephen Bennett.

Two additional sopranos sharing the demanding role of Queen of the Night; Suzanne Shakespeare, and Angela Brun.

Stealing the show are the colorful sets by George Tsypin, costumes by Taymor and those gigantic animal puppets including giant polar bears, an almost 30-foot-long serpent and a giant goose which turns, made of aluminum, silk and fiberglass that flies across the stage with the help of two puppeteers holding it from the ground.

The man responsible for building the puppets is Opera Australia's Head of Props, Mat Lawrence who through the organization was quoted as saying: "Balancing the need to recreate the puppets to Julie Taymor's very specific instructions with the demands of the Sydney Opera House, has been testing for the entire Props team. But it's great fun to put your heads together to make a show work."

"In this Flute, the props are beyond the norm. We had to ensure that artists would be able to interact with the puppets without getting injured; and we did so by making the puppets as light as possible."

Lighting design by Gary Marder based on the original by Donald Holder.

This production was reproduced by Opera Australia from the original production of The Magic Flute by The Metropolitan Opera, New York. Translation by J.D. McClatchy. Performed by arrangement with The Metropolitan Opera, Performed in English with English surtitles The Magic Flute will be playing at the Sydney Opera House to March 23, 2011, at the Arts Centre Melbourne from April 21 to May 12, and at QPAC in Brisbane from May 26 to June 8.

DIVIDING THE ESTATE

(from left) Hallie Foote as Mary Jo and Elizabeth Ashley as Stella Gordon in Horton Foote's Dividing the Estate. Photo by Jann Whaley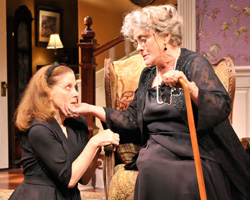 by Horton Foote. Director Michael Wilson, considered the foremost interpreter of Foote's work, reunites with members of Dividing the Estate's Broadway cast and creative team to remount this modern classic.

Horton Foote Jr. joins Hallie Foote to make this production of their father's final play a family affair.

Hallie Foote will appear as Mary Jo, for which she received a Tony Award nomination in the original Broadway production, and her brother, Horton Foote Jr., will return to the stage after an almost 20 year absence in the role of Lewis Gordon. Theater legend Elizabeth Ashley will appear as Stella Gordon, the domineering matriarch of a fading Southern dynasty, a role she originated on Broadway. Penny Fuller, a Tony Award nominee will reprise the role of Lucille that she also created for the Broadway production.

Dividing the Estate is Pulitzer Prize winner Horton Foote's knowing comedy about family, money and greed. Living in Texas in the late 1980s, octogenarian matriarch Stella rules a family that must confront its past as it prepares for an uncertain future when the family fortune begins to diminish. Stella's children debate whether or not they should divide the estate while their mother is still alive in order to ensure themselves financial independence.

The cast of Dividing the Estate also includes Devon Abner (Son), Pat Bowie (Mildred), James DeMarse (Bob), Nicole Lowrance (Sissie), Kelly McAndrew (Pauline), Jenny Dare Paulin (Emily), Keiana Richàrd (Cathleen), Roger Robinson (Doug) and Bree Welch (Irene Ratliff). The creative team: sets by Jeff Cowie, costumes by David C. Woolard, lighting by Rui Rita and original music and sound by John Gromada.

A co-production with Alley Theatre, Dividing the Estate will officially open Thursday, January 19 running through February 12, 2012 in the Old Globe Theatre, part of the Globe's Conrad Prebys Theatre Center, San Diego, CA.

Post show forums will take place Tuesdays, January 24 and 31 and Wednesday, February 8 when the audience can discuss the play with members of the cast following the performance.


WHO'S WHERE




PETER YARROW singing those folk songs Saturday, January 21, at the Tower Theatre in Bend, OR.

PAULA POUNDSTONE telling funny stories Saturday, January 20 at the Carolina Theatre in Durham, SC.

BUDDY GUY continues his show at Buddy Guy's Legends in Chicago through January 28, 2012.

CANADIAN BRASS make beautiful music Friday, January 20 at the Embassy Theatre in Fort Wayne, IN.

JERRY SEINFELD making people laugh Thursday, at the William B. Bell Auditorium in Augusta, GA. On Friday the laughs will be coming from the Ruby Diamond Auditorium in Tallahassee, FL.

GABRIEL IGLESIAS on stage Thursday, at the Arkley Center in Eureka, CA. On Friday the show is at the Civic Auditorium in Santa Cruz, CA. Saturday he's in the spotlight at the Paramount Theatre in Oakland, CA.

JUSTIN HINES performs January 20, 2012 at the River Run Centre in Guelph, Ontario, Canada.

GORDON LIGHTFOOT performs Monday, January 16, at the River Center in Baton Rouge, LA. On Tuesday the show is at the Julie Rogers Theatre in Beaumont, TX. Thursday finds him at the Peabody Auditorium in Daytona Beach, FL. On Friday he's on stage at Ruth Eckerd Hall in Clearwater, FL.

JACKSON GARRETT BAND with special guest Gary Bias, saxophonist for Earth, Wind and Fire, and Grammy-winner for composing the Anita Baker hit Sweet Love, along with The Jackson Garrett Band - Chris Gore (keys, vocals), Jeff Stover (bass), John Pagels (guitar), Dave Hitchings (drums), Diva Denise Carter (vocals), Stan Watkins (trumpet), Steve Alaniz (sax) and John Leys (trombone). Material from the Jackson Garrett Songbook will be performed, with compositions by Chris Gore and horn arrangements by Marty Steele, along with many covers of standards and pop songs, and Gary Bias's hit Sweet Love. Sunday, January 15 at Three Sixty North Lounge in Palm Springs, CA.


FINAL OVATION


MARY C. HENDERSON an internationally known scholar on the American theater, died January 3rd, 2012 at her home in Congers, NY after a long struggle with Parkinson's disease. She was 83 years old.

Dr. Henderson held a Ph.D. from New York University in Theater History, Dramatic Criticism and Literature. Mrs. Henderson had a long and distinguished career as a theater scholar and was a well-known member of the New York theater district community. She taught theater history and literature at New York University, Hunter College and Columbia University among other universities.

She authored seven books on the theater in New York, most recently Stars on Stage. Her Theater in America is considered the definitive work on the subject. Beyond her career as a writer and university professor, Mrs. Henderson was Curator of the Theater Collection at the Museum of the City of New York for a decade.

For many seasons, she was a member of the Tony Awards committee; in fact, she was the first woman to serve in that capacity. Mrs. Henderson was the recipient of several prestigious awards for her work, including a Guggenheim Fellowship and a National Endowment for the Humanities Fellowship.

She is survived by her sisters, Christine Wilson and Evelyn Zamula; sons, James, Douglas and Stuart; and four grandchildren.

DENISE DARCEL movie, stage, Las Vegas performer died December 23, 2011 at a Los Angeles hospital, from complications from an emergency surgery to repair a ruptured aneurysm. She was 87.

The French born beauty was working as a dime store cashier when she entered and won The Most Beautiful Girl in France beauty contest. She capitalized on this by developing her own nightclub act and touring around the Riviera with it - blazing a name for herself.

Denise came to the United States as the wife of American Army captain glider pilot James Helinger, Sr., whom she had met when she was a passenger in an L-5 Stinson light observation aircraft on VJ Day which had gone aloft to see the celebration from the air.

Their marriage soured quickly and she turned to the movies.

The most important films she was in are Battleground, Tarzan and the Slave Girl, Westward the Women, Young Man With Ideas, and Vera Cruz, in which she co-starred with Gary Cooper and Burt Lancaster.

Her film career fell completely away after she reportedly refused the sexual advances of both Columbia mogul Harry Cohn and producer playboy Howard Hughes.

Suspecting that she would soon be unable to find work in Hollywood she turned to the stage playing the sexy foil to comic stars Olsen and Johnson in Pardon My French Basically forced out of Hollywood, she made live appearances on stage, in dinner theaters and around the nightclub circuit, appearing in such plays and musicals as Oh, Captain! (1958), The Little Hut (1961) and Can-Can (1961).

She once was an opening act for singer/dancer Joel Grey, but discovered that, at 41, she could make more money by developing a quasi-stripping act.

When Las Vegas hotel operator Wilbur Clark was brought to Havana Cuba to open the Sans Souci , according to the Cuban Information Archives, Clark staged the outdoor entertainment but also installed an indoor Nevada Cocktail Lounge, which "provided its own vocal entertainment." The inaugural show revue produced by Ken Later starred Denise Darcel billed as "an eye-filling French mademoiselle with a repertoire of sizzling songs."

In 1975 she also co-starred with Pinky Lee in Las Vegas-Laff-In at the Meadowbrook Theatre-Restaurant in Rochester Hills, MI. When television's Texaco Star Theatre brought it's weekly show starring Milton Berle to Nellis Air Force Base in Las Vegas, Berle welcomed dancers The Step Brothers, French singer/actress Denise Darcel, Zsa Zsa Gabor, acrobatic act the Seven Ashtons, the Copa Girls from the Sands Hotel, and Ray Anthony and his Orchestra.

As she grew older it became even more difficult for her to find work and, to make ends meet, Darcel would return to Las Vegas to work as a casino dealer.

Married and divorced three times, she is survived by her two sons, Chris and Craig.








Next Column: January 22, 2012
Copyright: January 15, 2012. All Rights Reserved. Reviews, Interviews, Commentary, Photographs or Graphics from any Broadway To Vegas (TM) columns may not be published, broadcast, rewritten, utilized as leads, or used in any manner without permission, compensation and/or credit.
Link to Main Page
---
Laura Deni



For the snail mail address, please E-mail your request.
CLICK HERE FOR COMMENT SECTION