Broadway To Vegas
  
 SHOW REVIEWS CELEBRITY INTERVIEWS GOSSIP NEWS

| | |
| --- | --- |
| | |
BARBARA COOK TO PERFORM SOLO AT THE MET - -WANDA JACKSON REMEMBERS ELVIS PRESLEY - - GOODSPEED FESTIVAL OF NEW ARTISTS - - NATIONAL HUMANITIES MEDAL - - TWO PLAYS BY JEFF DANIELS HAVE PREMIERES - - CABARET WITH JOEL GREY - - TOM WOPAT IN CHICAGO - - SHELLY WINTERS DIES - - DONATE . . . Scroll Down


Copyright: January 15, 2006
By: Laura Deni

CLICK HERE FOR COMMENT SECTION
PRESLEY 'S FIRST LOVE
Wanda Jackson and Elvis Presley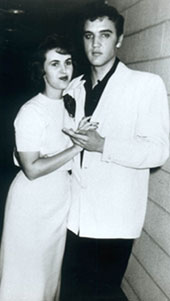 Between the matinee and evening show Elvis Presley asked her to "wear my ring." For over a year rockabilly legend Wanda Jackson went "steady" with Presley.

Jackson has recorded I Remember Elvis, a dynamic CD which will be released January 31. While her daughter kept vigil at the hospital bedside of Jackson's mother, Nellie, who at age 92 had suffered a burst appendix, Jackson - before returning to her mother's bedside - was kind enough to speak with Broadway To Vegas about her relationship with Presley and her musical career.

Jackson and Presley had been booked on the same bill. It was 1955.

Wanda was still in high school when, in 1954, country singer Hank Thompson heard her on an Oklahoma City radio show and asked her to record with his band, the Brazis Valley Boys. By the end of the decade, Jackson had become one of America's first major female country and rockabilly singers.

Presley spent his Saturday nights listening to the Grand Ol' Opry and was known as The Hillbilly Cat. Years later he'd be crowned The King of Rock 'n' Roll.

"I first worked with Elvis at Cape Girardeau, Mo. in July, 1955. I was impressed when I first met him, which was at a radio station when we did a promotional interview for our show. I'd never heard him sing. So, I had no idea of who I was working with. But, when he walked into the station I was impressed. First of all, he was this tall, dark haired, good lookin' guy."

"I had nevee heard any of his records," she said about the future mega-star who was then on Sun Records.

"Right from the start we really liked each other and we had a lot in common. He was very concerned with my career as he was his. I thought - how sweet."

"He did dress kind of different," continued Wanda. "He had a yellow sports coat. And, in 1955, men didn't wear yellow sports coats. His hair was longish, with the long side burns and duck tail. Elvis also had a pink Cadillac. Now, you have to remember that was before the days of Mary Kaye. I had never seen a pink car."

If Elvis was a stir on the fashion scene, so was Wanda. It is Jackson who put the glamour in country. She was the first to wear fringe dresses, high heels and long earrings.



Wanda Jackson. The first to put fringe on stage.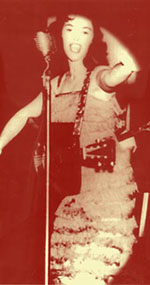 "My mother was always my seamstress. She made almost every stage outfit that I wore. I didn't like the country way of dressing. I didn't like full skirts and cowboy boots. So, all of my street things were always straight, tight skirts and sweaters. So, I said mother - Can you made me something in a straight skirt, and a low top? She found the fringe and then we decided on the rest of it. It was a joint effort. I'm short - 5'1" - and always been hippy, so I just didn't look good in country clothes." Referring to short people she remarked, "We have to be careful or the clothes overwhelm us."

The glam duds didn't overwhelm Jackson, but they did create a fit with management. When Wanda showed up wearing red lipstick, highheels and fringe, officials of the Grand Ol' Opry barred her from taking the stage until she covered her shoulders.

"Elvis didn't influence the way I dressed. I was dressing like that when I met Elvis."

What he did influence was her music.

"Elvis was always talking to me about trying to sing this new rock and roll - rockabilly. I don't think we even had a name for it, yet. I didn't think I could. I told him, I'm just a country singer. But, he insisted. He said - you can do this. I know you can. And, you need to."



Wanda Jackson and Elvis Presley. He was always encouraging her to try new musical styles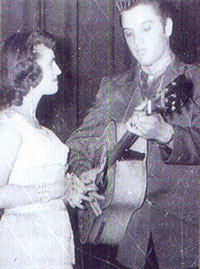 "We were working in Mumford. One afternoon he picked me up in his pink Cadillac and drove me to his house - the one on Autoban. We played records all afternoon. We sang. He was trying to give me the feel of the way he sang songs. I was impressed. He just really seemed to care about my career."

"He put a lot of time and effort in helping me to see that I could stretch myself and be a little bit more than I thought I could. He even made me promise to try singing rock. Now, I'm sure glad I did!"

"No, I never had any training," said Wanda, who does read music. "It was just my feel for a song. Hardly any country singers every had vocal training. None that I know of, although it wouldn't have hurt. It might have even helped."

"There was one very special day in my life. Elvis and I were working in Shreveport, LA We had a matinee and then an evening show. After the matinee we just had to kind of hang around there, but he asked me to step outside with him, which I did. We walked over to his car and he asked me if I'd be his girl. I said Yes."



The ring Elvis took off his finger and gave to Wanda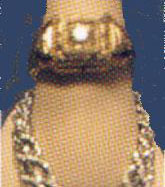 "He took a ring off of his hand and gave it to me and asked me to wear it around my neck. I did for over a year."

"Our dating really consisted of being on the road together," reminisced the charming performer. "We were on tour. When we weren't on tour we lived a long ways apart and couldn't see each other. But, he would call every day when we weren't together."

"Our dating after a show was to go somewhere and get a hamburger. Well, Scotty, Bill and daddy went along," she said referring to her father and Presley's guitarists Scotty Moore and Bill Black. Then Daddy would let Elvis bring me home where we'd have a little time together alone. Or, we'd drive around the town, but any time that pink Cadillac with the bass strapped on top was spotted - here comes the people. It got to be almost impossible to be alone," recalled Wanda voicing a complaint that would be echoed by the women who followed her into Elvis' life.

"My dad liked Elvis," related Wanda. "Dad and I were both very impressed with, of course, his voice. His stage work just knocked both of us out. We were as bad as the girls."

"I wasn't interested in marriage and I'm sure he wasn't, either," Wanda surmised. "I was 17. Elvis was 20. In October of 1955 I turned 18 and he was 20. In January of the next year he turned 21. I was fresh out of high school."

"It was so wonderful - knowing him in the very beginning, getting to see his popularity grow."

"We just drifting apart," Wanda softly remembered. "Our careers got in the way. After he went to Hollywood I didn't try real hard to stay in touch with him. I don't know why. I knew he was busy. I was too far away and we couldn't see each other. Sometimes I wish that I had been more diligent and tried to stay in contact with him. But, his life was changing so fast and I was concentrating on my career, traveling like I do now, 12 months a year."

"Needless to say, his ring is one of my most prized possessions."

Thanks to her mother.

"My mother, bless her heart, is responsible for that. She knew it was a previous keepsake. So she just tucked it away somewhere. She gave it back to me after I was married. I was thrilled - but I was also flabbergasted. I didn't know that she had kept it."

An only child born in Maud, a small city outside Oklahoma City, the underage singer was accompanied on the road by her father, Tom Jackson.

"He was able to quit his job as a barber and travel with me," said Wanda about her father. "He got to live his dream kind of vicariously through me. He was a performer. He had a little dance band in the 30's. He taught me the guitar. My love of music came from the Jackson side of the family. So, he was very important in my career."

Wanda called her mother "a workaholic, super woman."

"She told me that she'd rather have him on the road with me so that she didn't have to worry about me. And, I accepted that gladly, because I didn't much want to be out there strictly on my own. Dad kept me on a short leash, but that was okay, too."

In 1956, Jackson signed with Capitol Records, a relationship that lasted until the early '70s. Her recording career bounced back and forth between country and rockabilly; accomplished by putting one song in each style on either side of a single. Jackson cut the rockabilly hit Fujiyama Mama in 1958, which became a major success in Japan.

Her version of Let's Have a Party, which Elvis had recorded earlier, was a U.S. Top 40 pop hit for her in 1960, after which she began calling her band the Party Timers. A year later, she was back in the country Top Ten with Right or Wrong and In the Middle of a Heartache.

Twice nominated for a Grammy, she was a big attraction in Las Vegas from the mid-'50s into the '70s.

Wanda married IBM programmer Wendell Goodman in 1961, and instead of quitting the business - as many women singers had done at the time - Goodman gave up his job in order to manage his wife's career.

"By that time there was no more rockabilly type music being played," Wanda stated.



Re-Released in 1991 by Bear Family Records in West-Germany. Produced by Otto Demler and Nils Nobach. Re-Issue Produced by Richard Weize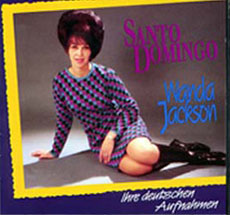 In 1965, she topped the German charts with Santa Domingo, sung in German. In 1966, she hit the U.S. Top 20 with The Box It Came In and Tears Will Be the Chaser for Your Wine. Her popularity continued through the end of the decade.

"I didn't talk about Elvis a whole lot right after I was married," Wanda admitted. My husband has a very good self image, ego and everything intact. But, I just let Elvis fade to the back as a part of my life."

In most instances when a partner knows there was somebody else before them, that former relationship is always in the back of their mind - a seed ready to sprout doubt. "Oh, yes," replied Wanda. "And from time to time it would come up and cause me a little trouble," Wanda confessed.

Emotional closure was reached when Wanda was able to introduce her husband to Elvis.

In 1964 my husband and I were in Las Vegas for just a weekend of fun. We checked into the Sahara Hotel and went out the first evening. We came back in a little bit early. When we got off the elevator there stood a security guard who wanted to see the our room. We said - What's the big deal? He said Well, Elvis and his entourage have the entire floor with the exception of the suite that you and your husband have. I said - When he comes in tell him that Wanda Jackson is here and would just love to say Hi. So, we went on to our room and it wasn't 20 minutes till the phone rang and someone was asking would it be alright if Elvis came to our room."

"In a few minutes there Elvis stood. I hadn't seen him in a long time. I was very glad to see him. And, he was glad to see me. And, I'm so glad that my husband got to meet him because he was impressed with our friendship and the fact that we just really liked each other. That was important that he knows that. Now my husband understand the importance that Elvis Presley had in my career and in my life. And he knows that while Elvis will always be in my heart, it is Wendell that I really love. That was the last time that I got to see Elvis. I still miss him and I always will."

Wanda's latest effort is a CD cleverly designed to look like an old fashioned 45 record, titled I Remember Elvis. This dynamite CD is a must for not only all of Jackson's fans but for any fan of Elvis Presley.

"I tried to stay very close to his arrangements," said Wanda about the CD which is also filled with Jackson's comments about Elvis. With her trademark growl she delivers throaty, full bodied, toe tappin' versions of Elvis hits; Heartbreak Hotel, Love Me Tender, Baby, Let's Play House, Good Rockin' Tonight, and I Forgot to Remember to Forget, to name only five of the 16 tracks - this collector's item has liner notes by Elvis Costello.

Musicians include; Danny B. Harvey playing guitar, Razor X on standup bass, Don Randi at the piano and Clem Burke on drums. Special guest appearance by John Would on Lap Steel with backup vocals by Lynda Kay Parker, Scott Ward and Danny B. Harvey.

"They say our voices mellow," added Jackson. "Elvis' changed through the years and what a great voice he had! exclaimed Wanda whose own alto can transcend raunchy to mellow.

For the past two decades Wanda has been a major European attraction.

"For 20 years I've been going to the Scandinavian countries, " she explained about the Swedish record company owner who pitched an offer for her to cut an album and do a tour.

"We came to an agreement and we had standing room only at all these concerts. I was the only name on the bill but they had other Swedish artists that helped draw people. I found an audience that I didn't even know existed. That was in '85. So between 1986 and 1995 90 percent of my work was Europe."

Being a hit in Europe "always kind of baffled me," confessed Wanda. "I have enjoyed it. I just spent a month in six countries right before Christmas. That was my fourth time over this year. I performed in Sweden, Austria, Germany, Netherlands, and Finland. I sing in English. All of the younger generation speak and understand English, which seems to be the international language for them."

"I'm fortunate now that I can get very good bands in different locations. In Germany there are about two bands that I can draw from. In Austria, the same way. In Sweden there are a lot of good musicians. There is one band that I've been working with in Sweden and Germany for almost 20 years. They know all the songs. Of course we rehearse, but basically they know all my stuff. That makes it a lot easier for me."



Released in 1997 on Amethyst Records. Gospel songs include Will the Circle be Unbroken, and Family Bible.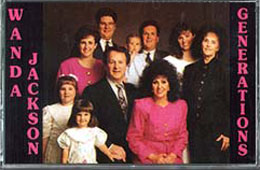 When she wasn't in Europe performing Wanda and Wendell were on the gospel circuit.

"My husband and I became born-again Christians in 1971 and for almost 20 years I concentrated on gospel because all of a sudden we had a ministry. My husband is a very good public speaker. He's wonderful at explaining things. He would have made a wonderful teacher. We would go into a town - just us - and either go to a church or a high school auditorium or an outdoor place and we'd carry the whole service. I'd sing and give my testimony and then Wendell would speak."

"I returned to the secular world of performing in 1985 when the Swedish company asked me to come there. That was the first rockabilly that I had done in several years. Yet when I got to the microphone and started singing it was as if I'd never quit."

"Then in '95 I recorded a couple of songs on Rosie Flores' new album," said Wanda referring to the singer whose music blends the best of surf, rock, country and blues with the traditional sounds of her Mexican-American heritage. "That opened a door for us to do a tour together," continued Wanda. "We wound up doing a five week cross country American tour from San Francisco to New York. I found all these fans of rockabilly that I had no idea were in America."

"There aren't many if the original rockabilly people left - Jerry Lee Lewis and myself," she mused. "I feel it's my job to try to make people to feel better," she said of the rockabilly feel good music. "My daddy always told me that if you have fun on stage your audience will, too. That's what I do - have fun with the audience."

In September, Jackson was honored as a recipient of the National Endowment for the Arts' National Heritage Fellowship. Wanda performs tonight, January 15, at the So Ho Club in Santa Barbara, CA. On Wednesday she'll have the Belly Up Tavern in San Diego rockin' and on January 21 she can be enjoyed at Bimbo's in San Francisco.



Broadway To Vegas is supported through advertising and donations. Priority consideration is given to interview suggestions, news, press releases, etc from paid supporters. However, no paid supporters control, alter, edit, or in any way manipulate the content of this site. Your donation is appreciated. We accept PAYPAL. Thank you for your interest.



2005 NATIONAL HUMANITIES MEDAL

Leslie Keno with President and Mrs. Bush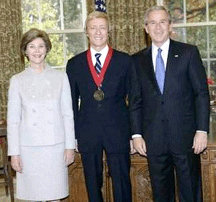 Leigh Keno pictured between President George W. Bush and Laura Bush.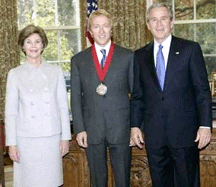 were recently awarded by President George W. Bush to eleven distinguished Americans and one scholarly research project for their contributions to the humanities.

At a White House ceremony, the President presented the National Humanities Medal to Walter Berns, Matthew Bogdanos, Eva Brann, John Lewis Gaddis, Richard Gilder, Mary Ann Glendon, Leigh Keno, Leslie Keno, Alan Charles Kors, Lewis Lehrman, Judith Martin, and the Papers of George Washington Project at the University of Virginia.

The National Humanities Medal, first awarded in 1989 as the Charles Frankel Prize, honors individuals and organizations whose work has deepened the nation's understanding of the humanities, broadened citizens' engagement with the humanities, or helped preserve and expand America's access to important humanities resources.


SPREADING THE WORD


GOODSPEED FESTIVAL OF NEW ARTISTS Goodspeed Musicals' Max Showalter Center for Education in the Musical Theater announces programs for the 2006 Goodspeed Musical Theatre Institute and launches the first annual Goodspeed Festival of New Artists. Programs are in collaboration with New York University: Tisch School of the Arts and The Hartt School at the University of Hartford in a festival open to the public.

The New Artists program offers new and emerging artists the rare opportunity to thoroughly work on their projects with the help of Goodspeed's renowned resources and artistic environment, while affording senior students from The Hartt School real-world experience in new musical development and performing new musicals. The Hartt School, founded in 1920 and one of three founding institutions of the University of Hartford (Conn.), is an internationally acclaimed conservatory with innovative programs in music, dance and theatre.

The New Artists program culminates with the first annual Goodspeed Festival of New Artists to be held at the Goodspeed Opera House on January 20 and 21. The Festival will showcase staged readings of the new musicals developed during the New Artists Program and is open to the general public.

"It will be another exciting winter on the Goodspeed campus with so many writers, composers, actors and theatre professionals working together to create musicals for current and future generations," said Michael P. Price, Executive Director of Goodspeed Musicals. "The Musical Theatre Institute is a rewarding experience for everyone involved and serves to keep Goodspeed Musicals at the forefront of our industry," he added. Productions from the three composing teams included in the Goodspeed Festival of New Artists include:

Once Upon a Time in Narcissia - Friday, January 20. A modern take on a Cinderella who doesn't get the Prince. Music by Youn-Young Park. Book and Lyrics by Susannah Pearse. Directed by J Ranelli. Music Direction by Bill Thomas. The authors of this new musical participated in Goodspeed's 2005 New Writers' Residency and presented one of their songs from Once Upon a Time in Narcissia during last year's cabaret.

Romancing the Throne - Saturday, January 21. A musical of secret identities, palace intrigue and a struggling actor who is cast in the role of a lifetime. By Randy Rogel and Kirby Ward. Directed by Kirby Ward. Music Direction by Sam Kriger. Randy Rogel appeared at the Goodspeed Opera House in Very Good Eddie (2003) and Kirby Ward performed at The Norma Terris Theatre in Dear World (2000).

I See London I See France (The Underwear Musical) - Saturday, January 21. Love and romance in the pressure-filled, ultra-hyped world of advertising. By Jeremy Desmon and David Guerrerio. Directed by Lawrence Thelen. Music Direction by Brian Cimmet. Jeremy Desmon and David Guerrerio both participated in the inaugural year of Goodspeed's New Writer's Residency (1999). Mr. Desmon's The Girl in the Frame most recently received a workshop production at Goodspeed's The Norma Terris Theatre during the 2005 season.

As part of its mission to foster emerging artists, Goodspeed's Showalter Center will also host 22 students from NYU's Graduate Musical Theatre Writing Program Feb. 13 – 18 for its New Writers' Residency. NYU's Graduate Musical Theatre Writing Program offers an intense curriculum of seminars, labs and rehearsals on writing for the musical theatre taught by professionals in the industry. Chaired by librettist Sarah Schlesinger (The Ballad of Little Jo, Swing Shift, Love Comics), the two-year program is the only one of its kind in the country to confer a Master of Fine Arts degree upon its graduates. This is the seventh year that Goodspeed and NYU have collaborated on this residency.

RIGOLETTO Jesús López Cobos and Stefano Vizioli. Jean Kellogg, moderator.

Long a favorite the world over, this taut drama is filled with some of the most memorable melodies ever written. See why it has captivated generations of operagoers. Conductor Jesús López Cobos and director Stefano Vizioli offer an illuminating discourse on this new Lyric production of a middle-period Verdian masterpiece. A feature of the Lyrics Opera of Chicago preview lecture series Tuesday, January 17, at the UBS Tower in Chicago.

SELECTED SHORTS readings of short fiction by noted actors, hosted by Isaiah Sheffer and taped for National Public Radio broadcast. January 18 at the Westport Country Playhouse in Westport, CT.


SWEET CHARITY


PALM BEACH FRIENDS OF MAGEN DAVID ADOM - MDA DOES CABARET WITH JOEL GREY honoring Sydell Miller; January 21 at The Breakers in Palm Beach, FA. Linda Frankel, Fraeda Kopman and Linda Silverberg, chairwomen; Ben Frankel, Bill Kopman and Dan Silverberg, chairmen; Patty Myura, honorary chairwoman.



APARTMENT 3A by Jeff Daniels in its New York premiere. The comedy got its start in 1996 at Daniels' Purple Rose Theatre Company in Chelsea, Michigan.

Valentina Fratti directs a cast headlined by Amy Landecker as Annie Wilson, and features Jonathan Cooke, J Austin Eyer, Arian Moyaed and Ed Vassallo.

Apartment 3A concerns Annie Wilson who is having a bad day. After she catches her boyfriend in an acrobatic act of infidelity, she then has a televised melt-down during her job running telethons on the local PBS station. With her world turned upside down, and her faith in mankind shaken, she moves into a shabby apartment. But beyond the peeling paint and the lousy view, Apartment 3A may be the most magical move Annie has ever made. The design team includes lights by Traci Klainer, sets by Lauren Helpern and costumes by David Newell.

Previews begin January 20 at the Arclight Theatre in New York City.

THE DIARY OF ANNE FRANK by Frances Goodrich and Albert Hackett, newly adapted by Wendy Kesselman. This version of the famous story includes new, previously censored material from Anne's diary to gain further insights into this remarkable young girl and her extraordinary account of the years she endured in hiding with family and friends in Nazi-occupied Amsterdam.

Wendy Kesselman's inspired adaptation tells this heart-wrenching story of a spirited, innocent and normal young girl on the brink of her life. A story with a poignancy and importance for all our lives now. January 19-29 at the Theater of Western Springs in Western Springs, IL.

TRYING a regional premiere by Joanna McClelland Glass.

Francis Biddle served as the U.S. Attorney General under Franklin Roosevelt, and later was a U.S. judge for the trial of war criminals at Nuremberg following World War II. Ms. Glass's poignant and moving play captures Biddle in the last year of his life as he struggles to complete his memoirs and assess his legacy.

Sarah Schorr, a young woman from the Canadian prairie province of Saskatchewan just hired by Biddle, takes on the daunting and difficult task of helping him find courage and dignity in the face of the inevitable deterioration of a once vibrant mind and body.

Legendary screen star and Ford's Theatre favorite James Whitmore will portray Judge Biddle in the regional premiere of this beautiful and hopeful play which is directed by Gus Kaikkonen.

January 20-February 19 at the Ford's Theatre in Washington, D.C.

DAMN YANKEES After the first season of the Washington Nationals baseball team, Molly Smith directs a revival of the musical about the Washington Senators fan who was willing to sell his soul to see his team beat the New York Yankees in the World Series. Matt Bogart will star. January 20 - March 5 at Arena Stage in Washington, D.C.

GUEST ARTIST a World Premiere play by Jeff Daniels about the arrogant use of power; a story about taking risks, playing it safe and the mixed blessing of getting exactly what you wish for.

In his most autobiographical work yet, Daniels weaves a funny and poignant story about a young man coming face to face with his hero and explores the tangled relationship between the dreams of youth and the wisdom of age.

Directed by Purple Rose Theatre Company's Artistic Director Guy Sanville, the cast will include Randall Godwin, Patrick Michael Kenney and Grant R. Krause.

January 19-March 18 at the Purple Rose Theatre in Chelsea, Michigan.

DIALECTICS OF THE HEART by Dale Griffiths Stamos. Starring three time Emmy nominated Sharon Lawrence and Nicholas Gonzalez. Also in the cast are Carlease Burke, Anne Marie Howard, Peter Husmann, and Joel Polis. Alison Vail Fuller directs.

Boundaries are crossed and limits tested in this play of intellectual ideas and forbidden romance.

Set within the academic world of philosophy, Dialectics introduces Professor Elizabeth Drewer, a university professor whose daily life is defined by the rational theories of Plato and Descartes. Enter Richard Amado, a newly arrived, much younger graduate student who embodies the romantic philosophies of Rosseau.

"We think of philosophy as a musty old discipline buried in books," explains Stamos. "I wanted to make it alive and stimulating, to show its relevance to every aspect of our lives today. How do we strike a daily balance in the struggle between heart and mind, emotion and reason? In the play, Richard not only upsets Elizabeth's sense of self, he stirs up the entire philosophy department with his ideas."

Dialectics of the Heart is presented by Venice Sky Productions; set design is by Dan Wheeler; lighting design is by Jeremy Pivnick; and casting is by Michael Donovan Casting.

This inaugural production takes place at the Edgemar Center for the Arts in Santa Monica, January 20 through February 26.

DIVA By Howard Michael Gould. Directed by David Lee. Starring Annie Potta

An explosively funny opening sets the stage for this behind-the-scenes look at television's most egomaniacal diva.

When the dust settles, we travel back in time to discover how hidden relationships and other surprises brought this sitcom star and her producer to the breaking point.

January 20 - February 19 at the Pasadena Playhouse in Pasadena, CA.

THE CHOPIN PLAYOFFS By Israel Horovitz. The final play in Israel Horovitz's Growing Up Jewish trilogy. This final installment has the young heroes of the first two plays, Irving Yanover and Stanley Rosen, finally meeting face to face. Both boys are 17 and getting ready to graduate high school, when the piano competition to end all piano competitions comes up! Who will win? Who will sway the affections of the beautiful Fern, whom both boys are trying to woo? Will the two families ever stop fighting?

Directed by Elayne & Brian LeTraunik.

Featuring: Ricky Bellows, Sean Dolan, Sean Ewert, Sandee Greene, Chris Kuefler, Becky Lang, Vladislav Nikolic and Melanie Stanton.

January 19-February 19 at the Chicago Jewish Theatre.

CHICAGO starring Tom Wopat as master attorney Billy Flynn. It's the a razzle dazzle tale of sin and celebrity. Chicago has received six Tony Awards, two Olivier Awards, a Grammy and thousands of standing ovations.

Wopat, of course is no longer "just a good ole boy," he's a Tony nominated actor for his role in Annie Get Your Gun. And he also starred in Glengarry Glen Ross on Broadway, as well as the Tony Award-winning revival of 42nd Street.

At the Orpheum Theatre in Memphis January 17-22.


| | | |
| --- | --- | --- |
| | | |
WHO'S WHERE


BARBARA COOK

Barbara Cook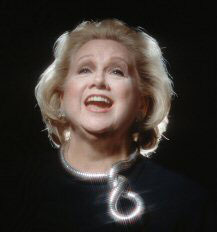 Ever since her Broadway debut in 1951, Barbara Cook has delighted audiences in New York City and around the world, garnering numerous awards including the Tony, Grammy, Drama Desk and New York Drama Critics Circle Awards.

She made her Broadway debut in Flahooley in 1951. Since then she had graced Broadway stages in Oklahoma!, Plain and Fancy, Candide, The Music Man and The King and I.

For the first time in its 123-year history, the Metropolitan Opera will present a female pop singer in a solo concert when Barbara takes to The Met stage in a unique concert.

She'll be joining the roster of extraordinary artists - including Frank Sinatra, Vladimir Horowitz and Yves Montand - who have performed at The Met. Her performance takes place Friday, January 20.

THE ROLLING STONES open a two nighter Wednesday January 18 at Madison Square Garden in New York City.

BOB NEWHART in a two night stand Friday and Saturday, January 20-21 at Benaroya Hall in Seattle, WA.

BILLY JOEL headlines the Fleet enter in Boston on Thursday, January 19.

PETER CINCOTTI entertains Friday, January 20 at the UCO Jazz Lab in Edmond, OK and then on Saturday the performance is at the University of Denver in Denver. Next Sunday he can be enjoyed at the Vilar Center for the Arts in Beaver Creek, CO.

ANNE HAMPTON CALLAWAY opens a two night on Saturday, January 21, at the Osher Marin JCC in San Rafael, CA.

LEON REDBONE entertains Saturday, January 21 at the Union County Arts Center in Rahway, NJ.

THE CHIEFTAINS perform Tuesday January 17 at the Strand Theatre in Shreveport, LA. On Wednesday the gang is at the Bass Performance Hall in Fort Worth. On Friday they'll be on stage at the Hippodrome Theatre in Waco. Saturday the show is at the Grand Opera House in Galveston and next Sunday they'll be getting the toes tapping at the Riverbend Center in Austin.

BUDAPEST FESTIVAL ORCHESTRA Iván Fischer, Music Director and Conductor and Richard Goode, Piano per form Friday, January 20 in the Issac Stern Auditorium of Carnegie Hall, NYC.


FINAL OVATION


SHELLY WINTERS winner of two Academy Awards died Saturday, January 14, at The Rehabilitation Centre of Beverly Hills. She had suffered a heart attack three months ago. Her age has been listed as both 83 and 85.

Born in St. Louis and raised in New York City, she was a high school dropout who earned money to attend the New Theater School at night by modeling in the garment industry during the day. She spent two summers doing sketches on the borscht circuit in the Catskills. In 1941 she landed a part in the national company of Meet the People.

She first appeared on Broadway in Rosalina under her given name of Shirley Schrift. Columbia Pictures honcho Harry Cohn offered her a screen test. That resulted in a movie contract and a new name - Shelley Winters.

She returned to Broadway as Ado Annie in Oklahoma!

Always perfecting her craft, she attended Charles Laughton's Shakespeare classes and worked at the Actors Studio, both as student and teacher. She starred on Broadway with Ben Gazzara and Anthony Franciosa in A Hatful of Rain and as the Marx Brothers' mother in Minnie's Boys.

Other Broadway credits include; The Night Before Christmas, Girls of Summer, The Night of the Iguana, Under the Weather, and The Effect of Gamma Rays on Man-in-the-Moon Marigolds. Winters also wrote short plays; a series of her one-acts was produced off-Broadway in 1970 under the title, One Night Stands of a Noisy Passenger.

She married and divorced three times. During the Detroit run of a musical revue, she married businessman Paul "Mack" Mayer on Jan. 1, 1942. He entered the Army Air Corps, and after the war, the pair divorced in 1948. Winters' second marriage was to Vittorio Gassman (1952-1954)which produced a daughter, Vittoria. Her third union was to Anthony Franciosa (1957-1960). She is survived by her companion of 19 years, Jerry DeFord; her daughter, Dr. Vittoria Gassman Neumann of Norwalk, Conn.; and two grandchildren.
















Next Column: January 22, 2006
Copyright: January 15, 2006. All Rights Reserved. Reviews, Interviews, Commentary, Photographs or Graphics from any Broadway To Vegas (TM) columns may not be published, broadcast, rewritten, utilized as leads, or used in any manner without permission, compensation/credit.
Link to Main Page
---
Laura Deni


CLICK HERE FOR COMMENT SECTION