! >
Broadway To Vegas
  
  REVIEWS INTERVIEWS COMMENTARY NEWS

| | |
| --- | --- |
| | |
CES SHOWS OFF ELEGANT TECH TOYS - - MICHELLE OBAMA'S SECOND INAUGURAL GOWN - - ADELE NAILS IT - - THE BROADWAY LEAGUE'S 16th ANNUAL DEMOGRAPHICS REPORT - - GREEN PORNO - - THE NIGHT THAT CHANGED AMERICA THE BEATLES - - THE NETHERLANDISH MINIATURE - - SAN JOSE JAZZ INSTRUMENT DRIVE - - DONATE . . . Scroll Down




Copyright: January 12, 2014
By: Laura Deni
CLICK HERE FOR COMMENT SECTION


CES SHOWS OFF ELEGANT HIGH TECH TOYS


Hey, big spender, iIt's that time of year again - when the Consumer Electronics Show (CES) unwraps it's tech goodies in Las Vegas.

All the stuff that nerds, tech geeks, yuppies, couch potatoes, teenagers, people who cook or like to eat - think they can't live without.

From diamond guitars to silver hard drives. And, they all come with price tags.

For those who are rolling in dough, consider purchasing a $490 silver-plated hard drive. Two-year limited warrenty included.

It only looks like a fancy crystal ball, although the 1TB amount of knowledge it can store might rival your favorite carnival sooth seer.

The LaCie Sphere is about the size of a softball. It was designed by Christofle, the centuries-old French firm respected for its fancy jewelry and silver cutlery. The 1TB hard drive inside is bus-powered. A little blue LED at the base indicated the drive's status.

"Since its founding in France in the 1830s, Christofle has symbolized luxury and elegance. The LaCie Sphère demonstrates Christofle's commitment to innovative design for every era. Its unique round shape requires silversmiths in Christofle's Normandy workshop to conduct a precise manual silver plating procedure. They stamp it with Christofle's hallmark signature and then polish for perfect brightness. This time-consuming process results in a bold silhouette and highly reflective surface. Gracing any desk or table, the LaCie Sphère never fails to turn heads and spark conversation."

"The LaCie Sphère is as practical as it is beautiful. It features high-speed USB 3.0, which makes file transfers and backups nearly three times faster than with USB 2.0. Its 1TB of storage also gives you enough space for years of backups or an extensive photo, video, and music library. The LaCie Sphère is even powered through the USB cable, so no power cord is ever necessary," continues the company's profile.

Within minutes of being introduced the website reported that it was sold out. Customers can sign up to be notified when a new supply is available.

If you're a foodie, there are 3D food printers which were displayed by the American company 3D. For those who consider chocolate a necessary food group, these machines make chocolate and sugar-based confections in 3D shapes with parts that move.

There are two versions. The larger one Chefjet Pro can create multicolored objects.

As with all tech wonders the starting price is high, moving downwards as the technology advances and competition gets underway. At the moment, the basic version will cost about $5,000 and the more advanced one double that price.

Both models can print using chocolate, or sugar infused with vanilla, mint, sour apple, cherry and watermelon flavors.

How about an oven with a 48 inch Oven with a 7-inch built in Adroid Tablet? Called the world first smart oven it's made by Dacor. the Android tablet can run apps and control all the functions of the oven via the touchscreen and the included Discovery iQ app.

There's also a Dacor Remote iQ Cooking Application so users can control the range via any smartphone or tablet from anywhere in the home or building.

Panasonic introduced a new hair dryer. Women who are tired of spending money on conditions to correct their dry, brittle hair thanks to blow drying won't mind paying $179 for this blow job. The machine actually adds moisture to hair as it dries. Panasonic says the process, which breaks blown ions down before infusing them with moisture, is better for hair because it can be dried without being dried out.

For those who can't remember that they should floss and brush, Paris-based Kolibree has developed the world's first app connected toothbrush which will record how often and how long you brush.

Speaking of nagging, a Russian made WiFi enabled doll is touted as replacing your mother.

Appropriately called "Mother" - with the catch phrase "Mother Knows Everything" - looks like a white plastic doll, whose figure resembles a Russian Nesting Doll, but the facial expressions are limited to blinking, which indicates that it's connected to WiFi.

It's the brainchild of Rafi Haladjian. On his Twitter account Halaadjian lists the following description of himself: "I wear glasses, I hate cucumbers, I am the Founder of Sen.se and I try to make objects and environments sensible, reactive, smart & connected. That's all I am."

Haladjian is a Lebanese-born French serial entrepreneur of Armenian origin. He is the founder of numerous technology and telecom companies. Among others, he is known as the co-creator of the wireless-connected rabbit Nabaztag one of the pioneering icons of the Internet of Things.

Mother is a device designed to monitor the objects, creatures and people in your home. Mother connects to a series of sensors, called cookies, which measure motion and temperature, and will alert you when it notices a change.

Examples the company provides include; if you attached a cookie to the door where your meds are kept, but one day forgot to open it when you were due, the device would nag you until you remembered - just like your own mother.

The company touts 14 different ways in which the cookies can be used to monitor your home. Another example is if you strapped a cookie to your door, Mother will send an alert and make a noise every time it's opened.

Mother's cookies can be used for up to a year before you have to replace them and you can connect up to 24 at one time. One Mother and four cookies retail for $222. Replacement cookies are priced at $99 for four.

Headsets and boards that help teen-agers practice their DJ skills are expected to be hot sellers. Just because even teen wants to become a high paid DJ rather than forming their own garage band doesn't mean that guitars are obsolete.

Gibson guitars can now tune themselves. The robot guitar was first introduced in 2007 as a limited-edition, typically a Les Paul.

Min-ETune, Gibson's revolutionary electronic self-tuning guitar feature, will now be a standard feature on all of Gibson's flagship 2014 Les Paul Standard models and 2014 SG Standard models.

Approximately 40 percent of all of Gibson USA guitar models will now come standard with the Min-ETune feature.

For those who like bling, Gibson also introduced their s 2014 Double Diamond series guitar, handcrafted with intricate designs featuring one carat weight of diamonds in each and hand-painted with art deco pin-striping and 24-carat gold plating and hardwire.

In celebration of 120 years of innovation, in addition to showcasing all of its newest products, Gibson Brands re-created Orville Gibson's workshop in the Gibson CES booth.

The museum-quality exhibit featured never been shown before priceless artifacts and historical instruments from Gibson's vault including an 1894 Orville Gibson 10-string guitar, 1902 big red harp guitar, 1890's butterfly guitar, 1946 Wurlitzer 1015 and the worlds first drum machine. Stop by the Gibson Brands tent (CP1/Central Plaza) celebrate 120 years of history, innovation and music magic.

Although the event received little publicity, ten Technology and Engineering Emmy Awards were presented on Thursday, January 9, 2014. This event marked the eighth consecutive year that the Technology and Engineering Emmy Awards have been presented during CES. The reception and presentation took place in The Bellagio Ballroom at The Bellagio Hotel.





Broadway To Vegas is supported through advertising and donations. Priority consideration is given to interview suggestions, news, press releases, etc from paid supporters. However, no paid supporters control, alter, edit, or in any way manipulate the content of this site. Your donation is appreciated. We accept PAYPAL. Thank you for your interest.





ART AND ABOUT


MICHELLE OBAMA'S SECOND INAUGURAL GOWN

President and Mrs. Obama dancing at the 2nd Inaugural Ball. Photo: National Museum of American History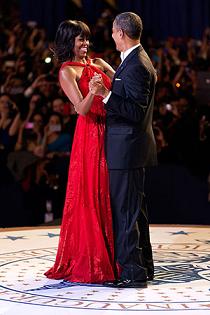 goes on display January 14, 2014 - January 19, 2015 at the National Museum of American History in Washington, DC.

This gown was worn to the January Inaugural balls in 2013.

The ruby-colored chiffon gown, designed by Jason Wu and on loan from the White House for one year, will replace Michelle Obama's first inaugural gown, a gift to the Smithsonian and on display since 2010.

This special rotation coincides with the centennial of the first ladies exhibition at the Smithsonian as well as the museum's own 50th anniversary.

The current exhibition explores the unofficial but important position of first lady and the ways that different women have shaped the role to make their own contributions to the presidential administrations and the nation.

It features more than two dozen gowns including gowns worn by:

Frances Cleveland
Lou Hoover
Jacqueline Kennedy
Laura Bush.

A section titled Changing Time, Changing First Ladies highlights the roles and contributions of Dolley Madison, Mary Lincoln, Edith Roosevelt, and Lady Bird Johnson and their contributions to their husband's administrations.

THE BOSTON UNIVERSITY OF FINE ARTS presents Susan Metrican: Wavy Panes an exhibition of her recent paintings and mixed-media works.

The artist's work seeks to bridge the gap between the surface of the eye and the surface of the object. Metrican uses the conventions of painting in which to create hybrid objects that are both painting and sculpture. She often incorporates three-dimensional elements or protrusions that extend and jut into space and theatrical framing devices, such as stylized curtains, to upend a straightforward experience of viewing.

On Exhibit January 16-March 7, 2014. A reception takes place on Friday, January 17, 2014.

THE NETHERLANDISH MINIATURE, 1260–1550

Leaf from a Breviary: The Martyrdom of Saint Denis (detail), about 1467–70. Simon Marmion (Flemish, 1425–1489). Illuminated manuscript: ink, tempera, and gold on vellum; 15.2 x 11.2 cm. The Cleveland Museum of Art, John L. Severance Fund. Photo: Cleveland Museum of Art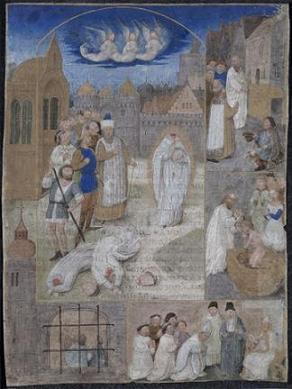 Illuminated manuscripts were produced across Europe throughout the Middle Ages. They preserve the major portion of medieval painting and all the arts of calligraphy, bookbinding, and publishing.

The Low Countries, the region occupied today by the Netherlands and Belgium, produced some of the most sumptuous and innovative miniatures, or pictures, to be found within illuminated books.

Netherlandish manuscript painting forms one of the great artistic traditions of the Middle Ages and was divided into two distinct artistic cultures - the north, with its centers of illumination at Utrecht, Delft, and the Hague, and the South Netherlands dominated by Flanders and its centers of Bruges, Ghent, and Antwerp.

The period occurred during the height of Burgundian influence in Europe, when the Low Countries became a political and economic centre noted for its crafts and luxury goods. In the workshop system, art works were produced on commissions from foreign princes or to merchants through market stalls. The majority of the works were destroyed during waves of iconoclasm in the 16th and 17th centuries and today only a few thousand examples survive.

The Netherlandish artists have been known by a variety of terms. Late Gothic is an early designation which emphasizes continuity with the art of the Middle Ages. In the early 1900s the artists were variously referred to in English as the "Bruges school" or the "Old Netherlandish school". "Flemish Primitives" is a traditional art-historical term borrowed from the French] that became popular after 1902 and remains in use today. In this context, "primitive" does not refer to a perceived lack of sophistication, but rather identifies the artists as originators of a new tradition in painting.

These miniatures from illuminated books represent the culture of private devotion and monasticism that dominated life in the medieval Netherlands. While the scale of the paintings may be small, their power and refinement is often truly monumental.

On display through Sunday, December 7, 2014 at the Cleveland Museum of Art in Cleveland, Ohio.


SWEET CHARITY


JOAN RIVERS the legendary comedian and The Celebrity Apprentice winner brings her live stand-up act to Times Square's Laurie Beechman Theatre. Rivers presents an evening of her newest and most outrageous riffs on The Celebrity Apprentice, Hollywood, pop culture, celebrities, reality TV and award show fashion. Net proceeds going to Rivers' favorite charities: God's Love We Deliver and Guide Dogs for the Blind. January 14-15, 2014.

SAN JOSE JAZZ INSTRUMENT DRIVE is seeking trumpets, trombones, flutes and clarinets. If you have an instrument lying around the house or know someone who does, consider donating it toward their Progressions initiative, which promotes music education in California's underprivileged communities.








SPREADING THE WORD


SINGER ADELE NAILED IT

Adele shows off her MBE award - and her nail. Photo: Getty Images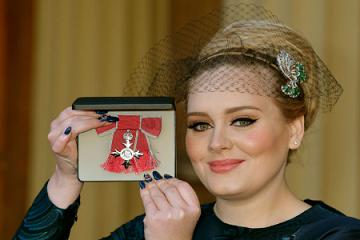 when she was presented the prestigious Member of the Order of the British Empire (MBE) award by Prince Charles at Buckingham Palace for her contribution and services to the music industry.

The Grammy winning British songstress appeared at the ceremony dressed in a midnight blue knee length dress. Her manicured nails were painted a matching shade of blue.

Adorning the nail of each ring finger was a tiny silver crown charm complete with a red jewel in the middle.

On Wednesday, January 8, it was announced the young lady has broken a record in the US by becoming the first artist to pass the three million mark in digital sales. Adele's 21 was first released in 2011. It earned the singer six Grammy Awards in 2012 including Album of the Year, equaling the record for most Grammy Awards won by a female artist in one night.

Adele is the first female in the history of the Billboard Hot 100 to have three singles in the top 10 at the same time as a lead artist, and the first female artist to have two albums in the top five of the Billboard 200 and two singles in the top five of the Billboard Hot 100 simultaneously. In 2011 and 2012, Billboard named Adele Artist of the Year 2012.



In honor of receiving a MBE Adele wore nail crown charms. Photo: Getty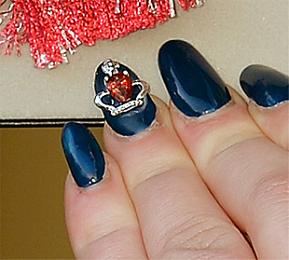 The talented last who also won a Best Original Song Oscar in 2013 for her James Bond theme-tune, Skyfall, is due to release a new album in 2014.

In June 2012, Adele announced that she and charity entrepreneur Simon Konecki were expecting a baby. Adele gave birth to the couple's son, Angelo, on October 19, 2012.

The child is the first for Adele and the second for Konecki, who also has a daughter with his ex-wife.

It was just this past October that Adele passed her driver's test. The test instructor reported that he had no idea who she was.

Now Adele wants to get an auto, so she can become the chauffeur for her year old son. Her British's driver's license is also good in America.

When on tour, Adele requires all backstage visitors to donate a minimum charitable contribution of $20 for the UK charity Sands which is an organization dedicated to "supporting anyone affected by the death of a baby and promoting research to reduce the loss of babies' lives.".

During the UK and European leg of her Adele Live tour, Adele collected $13,000 for the charity.

IN CELEBRATION OF HAROLD PINTER'S long friendship with the 92Y's Poetry Center, and the centenary of Swann's Way, 92Y presents a staged reading of the play Remembrance of Things Past, affording us "the pleasure of providing yet another angle of perception upon a work so elaborate and many-faceted it never fails to give back new light," wrote John Updike.

The production is being directed by Di Trevis - who worked closely with Pinter - and Ed Sylvanus Iskandar; and it will feature the actors Dan Amboyer, Kersti Bryan, Samantha Dakin, Helen Manfull, Andrew Fallaize, Annabel Capper, Peter Clements, Hall Hunsinger, Natalie Thomas, Lara Hillier, Richard Armitage, Natasha Andrews and Michael Villastrigo.

In 1972, Harold Pinter wrote a screenplay from Proust's seven-volume masterpiece Remembrance of Things Past. Decades later, Pinter and directing partner Di Trevis adapted Pinter's never-filmed script for the stage and the National Theatre in London. The piece has never been produced in the U.S. - until now.

Before the event, Di Trevis will be in conversation with The New York Times' Alastair Macaulay about Pinter and what he was like to work with.
Harold Pinter appeared at 92Y's Poetry Center five times between 1964 and 1996, to read his plays, stories and poems. The Poetry Center is currently celebrating its 75th Anniversary season.

Thursday, January 16, 2014 at the 92Y in New York City.

APOLLO THEATRE IN LONDON whose roof partially caved in last month has delayed its reopening and thus performances of The Curious Incident of the Dog in the Night-Time will be remounted at a neighboring venue, the larger Gielgud Theatre. Performances begin on June 24, sandwiched in between the current production Strangers on a Train that runs until February 22 and a revival of Noel Coward's Blithe Spirit starring Dame Angela Lansbury that runs from March 1 to June 7.

During the six month gap, the National said it would will offer free performances of the play for schools and young people in a "rehearsal room" format.

The Apollo won't be allowed to reopen until restoration work is completed and authorities have inspected and determine that the building is safe.

Existing ticket-holders will be offered a refund or a transferred booking.

FRAN LEBOWITZ IN CONVERSATION WITH MARTIN SCORSESE Celebrated author, humorist, and consummate Manhattanite Fran Lebowitz brings her bracing wit to Brooklyn for an evening of candid conversation, joined for part of the evening by friend and fellow New Yorker Martin Scorsese.

Sunday, January 19 at BAM in Brooklyn, NY.

DOWNTON ABBEY'S first episode of the fourth season was watched by 10.2 million people in the US on Sunday, January 5, a record for a series premiere on PBS.

Nielsen figures show ratings were 22% higher than the third season premiere.

JDT LAB: A FREE STAGED READING of Turing Test, a new play by Dominick DeGaetano.

Directed by Aimee Todoroff.

David McKenna has a baby on the way; he needs money. Unluckily, the former enfant terrible is only qualified to do one thing: teach poetry. He lands a position at a large research university, but only after agreeing to a strange request: to tutor a single student while under observation, as part of a top secret experiment. David, buffeted by events beyond his control and perception, becomes consumed by mysteries, at the center of which is Adam, the mysterious young man he was hired to teach the most unteachable of subjects.

Tuesday, January 21, 2014 at Guild Hall in East Hampton, New York.

THE BEN VEREEN AWARDS have been announced by Broadway/San Diego. Competing in The Ben Vereen Awards will result in two talented students from the Southwest region being crowned Best Actor and Best Actress. They will then go on to compete at The National High School Musical Theater Awards in New York in June 2014.

The National High School Musical Theater Awards (NHSMTA), also known as The Jimmy Awards, named for Chairman of the Nederlander Producing Company of America and Broadway/San Diego, James M. Nederlander, is a national celebration of outstanding student achievement in high school musical theater that recognizes individual artistry in vocal, dance and acting performance, and honors teachers and their schools' commitment to performing arts education.

The Jimmy Awards were the subject of a wonderful PBS 3-part documentary series called Broadway or Bust, which followed students on a journey from their hometown competitions to their debut on Broadway.

2014 MUSICAL READING SERIES presented by Theater Resources Unlimited (TRU) announces that three free readings will take place on Monday, January 13, Monday, January 20, and February 3, 2014 at the Engelman Recital Hall, Baruch Performing Arts Center, NYC.

Monday January 13th: Wild and Willful Women, book and lyrics by Bill Rogers, music by Daniel Doss.

Monday January 20th: Brindlebeast, book and lyrics by Anita Riggio, music by Sila Shaman. Directed by Emily Maltby.

Monday February 3rd: Popesical, a papal musical comedy with book, lyrics & music by Adam Overett. The director will be Denis Jones.

Each reading will be followed by a wine and cheese reception and Dollars and Sense panel discussion with prominent New York producers, general managers and artistic directors focusing on potential venues, marketing and budgeting of the works presented.

DAVID CASSIDY 63, who became a teenage heartthrob on The Partridge Family (1970-74) and later starred in the EFX show in Las Vegas, was arrested Friday night, January 10, 2013 on a DUI charge.

Cassidy had just exited the 405 freeway in Los Angeles when the CHP saw him make an illegal right turn onto a surface street. After Cassidy's rented Chevrolet Impala was stopped a police officer smelled alcohol and administered a field sobriety test - which he flunked, blowing a 19 - more than twice the legal limit.

Cassidy was arrested, taken to jail where he was booked for driving under the influence and released on $15,000 bond several hours later.

This isn't his first brush with drinking and driving - it's his third.

The former pop star was arrested on a DUI charge in Schodack, New York, last August after he failed to dim his car's headlights at a police checkpoint, according to the police report. He blew a .10 in the Breathalyzer device. The legal blood alcohol limit is .08 in New York. Cassidy, who lives in Fort Lauderdale, Florida, entered a no contest plea as a first-time offender in February 2011 to a DUI that followed a November 2010 arrest in Florida. He was sentenced to a year's probation and his driver's license was suspended for six months for that conviction. He also attended a DUI school, paid a $500 fine and served 50 hours of community service.

CAROL CHANNING will return to the stage for the first time in eight years, to celebrate the 50th anniversary of her hit musical Hello, Dolly!, when she is interviewed by Tony nominee Justin Vivian Bond at New York's Town Hall on January 20.

The evening will feature celebrity tributes and footage from Channing's career.

In another event related to honoring the 50th Anniversary of the famed Jerry Herman musical, Tony Award nominee Lee Roy Reams who played Cornelius Hackl in the 1977 tour and Broadway revival of Hello Dolly! and helmed the 1996 Broadway tour and Revival, will join members of the original cast for a Hello Dolly! 50th Anniversary celebration on January 18, 2014 at the New York Sheet Music Society.

Organized by Richard Skipper, the evening will mark the first time in 50 years that those cast members have been reunited.

Cast members recalling fond memories will include: Nicole Barth (Original cast), Paul Berne (dancer, Original Company), Carleton Carpenter and Johnny Beecher (Sheridan (Cornelius Hackl and Barnaby Tucker: Mary Martin International Company), Wayne Clark (first National Company with Carol Channing), David Hartman (Rudolph and Stage Manager: Original Company), Charles Karel (Original cast), Jan LaPrad (Original Company dancer), Joan "Buttons" Leonard (original company), and Ron Young (dancer original cast).

John Anthony Gilvey, author of Before the Parade Passes By: Gower Champion and the Glorious American Musical, will also be at the event.

Also paying homage to Jerry Herman is Peggy Herman with her cabaret show, Herman Sings Herman. She'll have two special performances January 18-19 at the Laurie Beechman Theater in New York City.

Peggy Herman will be joined by Jerry Lanning (Patrick, Mame 1966) and Tony Sheldon on Saturday Night January 18th. Lee Roy Reams is Peggy's guest on the evening of the 19th.

Hello Dolly! opened on January 16, 1964, at the St. James Theatre and closed on December 27, 1970, after 2,844 performances. For a time it was the longest running musical in Broadway history.

THE NIGHT THAT CHANGED AMERICA

The Beatles with Ed Sullivan. File photo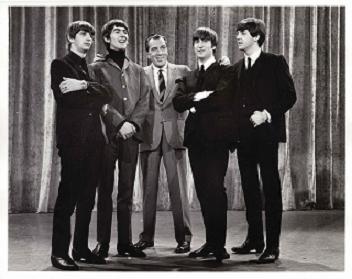 a Grammy Salute To The Beatles will commemorate the 50th anniversary of one of the most historic moments in music and television - the Beatles and their groundbreaking first appearance on The Ed Sullivan Show.

Featuring today's top artists covering songs performed by the Fab Four that momentous evening in 1964 and other Beatles classics through the years, the show also will include footage from that landmark Sunday night, as well as other archival material.

In addition, various presenters will help highlight and contextualize the musical, cultural and historical impact of the group and this legendary performance.

Performers will include: four-time Grammy winner Annie Lennox and Grammy winner Dave Stewart reuniting as Eurythmics for one night only; 14-time Grammy winner Alicia Keys and nine-time Grammy winner John Legend together in a special performance; three-time Grammy-winning group Maroon 5; and seven-time Grammy winner John Mayer with four-time Grammy winner Keith Urban.

The special will tape at the Los Angeles Convention Center on Monday, January 27, and be broadcast by CBS on Sunday, February 9, exactly 50 years to the day, date, and time of the original event.


THE BROADWAY LEAGUE'S 16th ANNUAL DEMOGRAPHICS REPORT


23% of Tickets to Broadway show are purchased by foreign tourists with last season attracting the largest numbers of theatregoers ages 18 - 24 and 41% of respondents said they bought their tickets online, are the conclusions of The Demographics of the Broadway Audience 2012-2013, which compares current theatergoing habits to previous seasons and aids in predicting trends for the future.

The analysis is based on extensive survey data gleaned from audience questionnaires distributed throughout the 2012-2013 Broadway season in New York City. It includes highlights on the demographics of the audience and their ticket purchasing habits. Each year brings fluctuations to the make-up of the audiences due to a variety of reasons such as content (availability of family fare), weather (Hurricane Sandy affected some local theatregoers), the economy, and changing competition for leisure activities. Therefore, this longitudinal analysis is important to track the trends and changes of the Broadway audiences over time.

"The 2012 – 2013 season attracted the largest number of admissions by visitors from other countries since this study has begun, with international tourists accounting for 23% of all admissions to Broadway shows in New York City," commented Charlotte St. Martin, Executive Director of The Broadway League. "We also saw a notable increase in the diversity of our audiences. In particular, we have seen a growth in the Hispanic audience to nearly 8% of our theatergoing audience. We will continue our efforts to diversify the audience with programs like Viva Broadway which was initiated two years ago. This season also attracted the largest number of theatergoers age 18-24, and we are hopeful that this trend will continue and these young adults will continue to attend theatre as they age and introduce the theatregoing tradition to their own families."

Of note, the newest study reveals that tourists accounted for 66% of all Broadway tickets, up from 63% in the 2011-2012 season. The number of attendances by domestic tourists has grown from 3.4 million in 1999 to 5 million in 2013.

International visitors comprised almost 23% of admissions, the highest percentage in recorded history. This translated to 2.6 million tickets, another record-breaker. The proportion of suburbanites was the lowest on record, at 17% or just under 2 million tickets.

In the 2012-2013 season, the average age of the Broadway attendee was 42.5 years old, slightly younger than the past few seasons. This season attracted the highest percentage of theatregoers age 18 – 24 (14% or 1.6 million admissions) in the history of this analysis. There were just over one million admissions by kids and teens in the 2012 – 2013 season.

In the 2012-2013 season, 78% of admissions were made by Caucasian theatregoers, the same as the previous year. Although the audience is still primarily Caucasian, there is an increase the diversity of audiences. In particular, there has been a growth in the Hispanic audience to 8% of the theatergoing audience, representing approximately 880,000 admissions. This is an increase from two years ago of 2%, or 170,000 theatregoers. The percentage of Hispanic theatregoers was nearly 8%, the second highest in the history of this analysis.

Forty-one percent of respondents said they purchased their tickets online. The use of the internet to purchase tickets has been on the rise for the past decade, with telephone sales declining accordingly. The percentage of visits to the box office has remained somewhat consistent over the past decade.

Reflecting a trend of the past few decades, 68% of the audiences were female. Playgoers also tended to be more frequent theatregoers than musical attendees. The typical play attendee saw seven shows in the past year; the musical attendee, three. The average Broadway theatergoer reported attending 4 shows in the previous 12 months. Word-of-mouth was the most influential factor in show selection.


OTHER PEOPLE'S MONEY


THE GLASS MENAGERIE the current Broadway revival starring Cherry Jones, Zachary Quinto and Celia Keenan-Bolger, has recouped its initial investment of $2.6 million. The drama began previews September 5, 2013 was originally scheduled to end January 5, 2014 has been extended through February 23 at the Booth Theatre.



GREEN PORNO Live on Stage. Conceived and performed by Isabella Rossellini.

Written by Isabella Rossellini and Jean-Claude Carrière.

Staged by Muriel Mayette.

Art-house luminary Isabella Rossellini reveals the surprisingly kinky and confounding mating rituals of insects and marine life in this one-woman show, adapted from the celebrated Sundance Channel series of the same name.

With day-glo costumes and paper puppets, Rossellini channels a host of reproductive oddities based on a text by the influential French screenwriter Jean-Claude Carrière.

Part nature documentary, part DIY cartoon, Green Porno is billed as "a cheeky, delightful zoology lesson brought vividly to life by Rossellini's singular flair for storytelling."

January 16-25, 2014 at BAM Fisher Fishman Space in Brooklyn, NY.

A WORD OR TWO written, arranged and starring Academy Award, Tony Award and Emmy Award winner Christopher Plummer.

Directed by Tony Award winner Des McAnuff.

According to Plummer's program notes: "The purpose of A Word or Two is simply to celebrate language which seems to be fast vanishing from our midst. It could be described as showing what impact the written word can have on impressionable youth and is very much a personal stroll through literature, a literature that has long stirred my imagination and that, for one reason or another, I cannot let go. The poetry and prose I have chosen to accompany my journey are both silly and sad, sacred and profane: ranging from A.A. Milne to the Bible, Shaw and Wilde to Coleridge and Marlowe, W.H. Auden and Nabokov to Rostand and MacLeish, Shakespeare and Byron to Nash and Leacock. It is intended not just to show the myriad of colors words can paint, but to illuminate along the way the several phases of my particular moon. If there must be a "theme," let it be my eternal gratitude to a family who, from the moment I formed my first sentence, made me aware of the joy and magic of language which, after all, is our heritage to hold on to for dear life while we can."

Set Designer: Robert Brill. Lighting Designer: Michael Walton. Composer: Michael Roth. Video Designer: Sean Nieuwenhuis. Sound Designer: Peter McBoyle. Costume Consultant: Paul Tazewell. Stage Manager: Julie Miles. Assistant Stage Manager: Melissa Rood.

A Center Theatre Group special event.

January 19 - February 9, 2014 at the Ahmanson Theatre in Los Angeles.

CHICAGO welcomes (for the third time) two-time Tony and Emmy Award winner Bebe Neuwith into the current production at the Ambassador Theatre in New York City.

Neuwirth won a 1997 Tony Award for her portrayal of jazz-age killer Velma Kelly in the hit revival of Chicago and returned ten years later as merry murderess Roxie Har. She now steps into the part of Matron "Mama" Morton for an eight-week limited engagement which begins January 14, 2014, and continues through March 9th.

WOLF HALL AND BRING UP THE BODIES the stage adaptations by Mike Poulton, of the Booker Prize winners by Hilary Mantel.

Directed by Jeremy Herrin.

Performed by the Royal Shakespeare Company. The 21-strong cast, some playing dual roles, is led by Ben Miles as central character Thomas Cromwell. He stars opposite Lucy Briers, as Katherine of Aragon, Nathaniel Parker as Henry VIII and Paul Jesson in the pivotal role of Cardinal Wolsey.

The cast also includes: Joey Batey, Nicholas Boulton, Leah Brotherhead, Olivia Darnley, Nicholas Day, Daniel Fraser, Benedict Hastings, Madeleine Hyland, Joshua James, Lydia Leonard, Pierro Niel Mee, Oscar Pearce, Matthew Pidgeon, John Ramm, Nicholas Shaw, Giles Taylor, Jay Taylor.

The award-winning novels follow Cromwell, Henry VIII's adviser, and his rise and fall in the Tudor court.

England in 1527. Henry VIII has been King for almost 20 years and is desperate for a male heir. Intent on divorce he demands that Cardinal Wolsey persuade the Pope to grant him an annulment. With every month that passes without progress the King's anger grows. Into this volatile court enters the commoner Thomas Cromwell.

A one-time mercenary, master-politician, lawyer and doting father, he sets out to grant the King his desire whilst methodically and ruthlessly pursuing his own reforming agenda.

Designer - Christopher Oram. Lighting - Paule Constable. Music - Stephen Warbeck. Sound - Nick Powell. Movement - Siân Williams.

Both plays together last more than six hours. The production is sold out, having received rave reviews.

The plays, which are running concurrently at the RSC's Swan Theatre at Stratford upon Avon, in London are performed side by side on most matinee days.

REDWOOD CURTAIN byLanford Wilson.

Directed by Stephanie Buck.

Geri is a young prodigy searching for her birth father. While visiting her aunt in northern California, Geri meets a homeless veteran, Lyman, who has chosen to hide behind the curtain of the Redwood Forest. Discovering startling similarities between Lyman and her natural father, she decides he is the key to her true heritage. From the Pulitzer Prize-winning author of Talley's Folly, Book of Days and Rain Dance comes a magical story of family and self-discovery. *Contains mild adult language.

Starring Rainbow Dickerson, Alex Leydenfrost and Michelle Mountain.

Set Designer Vince Mountain and technical director Gary Ciarkowski have created a "forest of redwood trees" using "poultry netting, glue, retired curtains, cocoa mulch, Styrofoam and more glue."

Properties Designer: Danna Segrest. Costume Designer: Christianne Myers. Lighting Designer: Noele Stollmack. Sound Designer: Tom Whalen. Stage Manager: Angie Kane Ferrante

January 16, 2014 - March 15, 2014 at The Purple Rose Theatre in Chelsea, Michigan.

THE FABULOUS PALM SPRINGS FOLLIES has welcomed the woman who's been called "the Stradivarious Voice' - Maureen McGovern - who has opened her encore engagement. She can be enjoyed through March 8, 2014 at The palm Springs Follies inPalm Springs, CA.

THE BOOK OF MORMON at the Eugene O'Neill Theatre in NYC has welcomed Ben Platt, Nic Rouleau and American Idol finalist Syesha Mercado into the musical as the new leads. They joined the Tony Award winning production January 7. The production isn't new to them. The trio opened the Chicago second national tour of The Book of Mormon in December 2012. Platt and Mercado, who play Elder Cunningham and Nabulungi, respectively, are making their Broadway debuts. Rouleau made his Broadway debut as Elder Price in 2012 and returns to the role.

JERSEY BOYS has welcomed Richard H. Blake, who has joined the cast in the role of Tommy DeVito The long-running Tony Award winning musical is at the August Wilson Theatre.


WHO'S WHERE


BILLY JOEL plays his hits Friday, January 17, at the Times Forum in Tampa, FL.

BRIAN STOKES MITCHELL with The Phoenix Symphony entertain Friday and Saturday, January 17-18 at the Scottsdale Center for the Performing Arts in Scottsdale, AZ.

GYPSY KINGS on stage Friday, January 17, at Ovation Hall in Atlantic City, NJ. Saturday gig is at the MGM Grand at Foxwoods in Mashantucket, CT. Next Sunday, January 19, they are on stage at the State Theatre in New Brunswick, NJ.

LADY ANTEBELLUM perform Saturday, January 18, at the Fargodome in Fargo, ND. Next Sunday, January 19, they are on stage at the Don Barnett Arena in Rapid city, SD.

THE EAGLES have three shows this week at the Forum in Ingelwood. Performances are Wednesday, January 15, followed by a shows on Friday and Saturday.

KEITH URBAN is in the spotlight Wednesday, January 15, at the Rogers Arena in Vancouver, BC. On Friday he's performing at the Scotiabank Saddledome in Calgary, AB. On Saturday the show is at Rexall Place in Edmonton, AB.

MICHAEL BUBLE performs today, Sunday, January 12, at the Konig-Pilsener Arena in Oberhausen, Germany. On Tuesday he'll be delighting the crowds at the SAP Arena in Mannheim, Germany. On Wednesday the show is at the Hallenstadion in Zurich. Thursday's stop is at the Olympiahalle in Munich. On Saturday the tour stops at the Sportspaleis Antwerpen in Merksem, Belgium. Next Sunday, he's in the spotlight at the Ziggo Dome in Amsterdam.

THE ROYAL PHILHARMONIC ORCHESTRA crossed the pond from London for an American tour. This week they stage performances Tuesday, January 14, at the Kentucky Center for the Performing Arts in Louisville. On Wednesday the orchestra can be enjoyed at the Center for the Performing Arts in Carmel, Indiana. On Thursday they are at the Kauffman Center for the Performing Arts in Kansas City. On Saturday the tour stops at California State University.


FINAL OVATION


AMIRI BARAKA poet and activist died Thursday, January 7, 2014 in Beth Israel Medical Center in Newark, New Jersey, after being hospitalized in the facility's intensive care unit the month prior to his death. The cause of death was not reported, but it is mentioned that Baraka had a long struggle with diabetes He was 79.

Baraka was initially associated with Beat generation poets such as Allen Ginsberg and Jack Kerouac. He published his first poetry collection in 1961. He later became an advocate of a militant black separatist movement. In 1964, he garnered global attention for his explosive play Dutchman. The play involved a white woman sexually taunting a black man on a subway - it ends with her stabbing him to death.

Baraka wrote prolifically, including poems, short stories, novels, essays, plays and jazz operas.

After the 1965 assassination of Malcolm X, Baraka played a principal role in the creation of the Black Arts Movement, as the head of a theatre and school in Harlem. Among his accolades were the Rockefeller Foundation Award for Drama and a poetry award from the National Endowment for the Arts. In 2002, as poet laureate of New Jersey, Baraka drew accusations of anti-Semitism over his poem Somebody Blew Up America, which referenced the September 11, 2001 attacks. Baraka refused then-New Jersey Governor Jim McGreevey's request for him to resign and, in response, a state law was passed eliminating the position of poet laureate. Latterly, he taught at Yale and George Washington University, and spent 20 years teaching at the State University of New York at Stoney Book and Buffalo.

In a statement following his death, Newark Mayor Luis Quintana hailed Baraka as a man who "used the power of the pen to advance the cause of civil rights".

"Amiri Baraka's poetry and prose transcended ethnic and racial barriers, inspiring and energising audiences of many generations," Quintana said.

His first marriage to writer Hettie Cohen, with whom he had founded the literary magazine Yugen, ended in divorce. He is survived by his second wife Amina - whom he married in 1966 - and several children: Kellie Jones, Lisa Jones, Dominque DiPrima, Maria Jones, Obalaji Baraka, Ras Baraka, Ahi Baraka, and Amiri Baraka. His daughter, Shani Baraka, was murdered in 2003.













Next Column: January 19, 2014
Copyright: January 12, 2014. All Rights Reserved. Reviews, Interviews, Commentary, Photographs or Graphics from any Broadway To Vegas (TM) columns may not be published, broadcast, rewritten, utilized as leads, or used in any manner without permission, compensation and/or credit.
Link to Main Page
---
Laura Deni



For the snail mail address, please E-mail your request.
CLICK HERE FOR COMMENT SECTION