! >
Broadway To Vegas
  SHOW REVIEWS CELEBRITY INTERVIEWS GOSSIP NEWS

| | |
| --- | --- |
| | |
SIGNIFICANT STICKY - - SAMUEL BECKETT SURPRISES - - PUPETRY OF THE PENIS UNZIPS - - TONY BENNETT/FRANK SINATRA, JR TEAM UP - - PLAYWRITES HORIZON HAS NEW DIGS - - NEVADA BALLET THEATRE HONORS CAROL CHANNING - - ARE LAS VEGAS HOTEL BATHROOMS SINFUL? - - MIA FARROW IN 2 PLAYS - - DONATE . . . Scroll Down


SANCTIMONIOUS AND STUPID
Bellagio Hotel in Las Vegas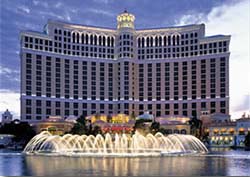 Las Vegas is Sodom and Gomorrah. If you have to use a rest room in Las Vegas you're going to hell. At least that seems to be the view of Utah's Nebo School District.

Beverly Burdett, a Springville High School history and Russian language teacher, wanted to stop in Las Vegas, so her supervised art and Russian language students could view two world-class art shows this weekend, while en route to the San Diego Museum of Art.

From the ruckus one would have thought she suggested they stop for a lap dance.

The school board decided to override the wishes of parents who signed permission slips for 50 students to see a once-in-a-lifetime exhibit of nearly 200 Faberge artworks at the Bellagio and an exhibit from the Guggenheim Museum of Art Through the Ages: Masterpieces of Painting from Titian to Picasso at the Venetian Hotel.



Guggenheim Museum at the Venetian Hotel in Sin City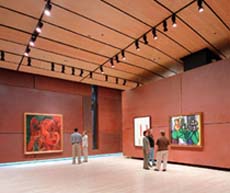 This is the first time many of the Russian works have been outside of Russia. Visitors to the Bellagio are given a rare, up-close view of the famous Easter eggs created for the czars of Russia in the late 1880s by Carl Faberge, goldsmith to the Russian royals. The works are only on display through January 26. Doesn't matter. The board denied the Springville High School Russian and art history students this opportunity because the exhibits are in Las Vegas hotel-casinos.

Board member Bonnie Palmer said the panel did not want to expose students to the Vegas "lifestyle," which Palmer didn't feel she needed to define.

The teacher was even prohibited from permitting any of the students from using a bathroom in Las Vegas. In scathing criticism of the board for their decision The Salt Lake Tribute succinctly opined; "Better a filthy public rest stop with no security along the highway than what the board seemed to presume would be an inherently sin-infused bathroom at a five-star hotel."

Donald and Patrice Bolen of Springville immediate came forward to point out a bit of hypocrisy, saying they have chaperoned Palmer's children on past trips to Circus Circus - with the Nebo leader's blessing.



Moscow Kremlin Egg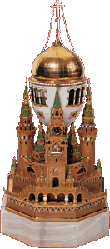 "I have chaperoned at least two of her children through Circus Circus, and Bonnie signed the permission slip for them to go. She approved the trip - including eating at the casino - both as a board member and as a parent," Donald Bolen said.

Added his wife, Patrice Bolen: "I walked with her children through [Reno's] Circus Circus gaming areas to get to the breakfast buffet on band trips to northern California."



Alexandrovsky Palace Egg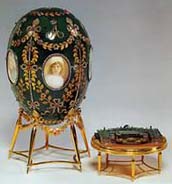 Palmer acknowledges she and husband Martin approved Circus Circus stopovers for their children on school trips, the most recent about six years ago. "But when we allowed our children to go, neither one of us had been to Circus Circus or spent any time on the Las Vegas Strip," she argued.

Palmer says her trip to the Strip a year ago, for a school board-related conference, caused her to determine that Las Vegas was sinful and therefore must be avoided.

We will concede that the dessert section of the Bellagio buffet is decadent - fulfilling the wildest calorie orgy fantasy.

Apparently the Nebo School Board can't cope with that, since they threatened teacher Burdett, telling her she will be guilty of insubordination if she allows students to eat or go to the bathroom on the Strip during the three-day trip to California.

"Some of our board members have labeled the city 'evil' and there is no changing their minds, it seems," said Burdett, who has been teaching for 22 years "They won't even give us a reason for why they think that way."

The group - 50 Russian language and art-history students and seven chaperones - left Friday morning - avoiding Las Vegas.

Just because the Nebo School Board issued a ruling that is hypocritical, narrow minded and ignorant doesn't mean other schools should jump to their moralizing.

There is no documentation to substantiate any claim that people are turned into pillars of salt upon leaving a hotel restroom.

School groups from around the West have gone to the exhibits to view the priceless paintings and rare artifacts, many of them on display in the United States for the first and, possibly, last time. Students visiting the museums use separate entrances from the casinos, are supervised by guides and go nowhere near slot machines or blackjack tables.

As for the restrooms at the Bellagio Hotel, Broadway To Vegas was so impressed by the facilities that we even wrote about them. See Broadway To Vegas column of October 5, 1998


SYDNEY FESTIVAL: STICKY TAPE TO SAMUAL BECKETT
Sydney Festival through January 26

They stood in gaping wonder as rolls of sticky tape were unwound.

The present, of sorts, is the Sydney Festival - Australia's largest annual cultural event, attracting an estimated 1.5 million people annually. The Festival presents the very best international and national performing and visual arts, occupying most of Sydney's theatres, galleries and concert halls, as well as specially created satellite venues throughout the city and surrounding areas.

This year's 21-day event, which opened last week, includes 57 international and local performances, involving 690 artists.



Sticky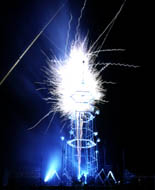 Improbable Theatre's spectacular four night free outdoor production Sticky involved the erection and then demolition of a luminous tower made of sticky tape, to the accompaniment of fireworks and music.

Improbable Theatre, known for their international hits including 70 Hill Lane, Lifegame and Spirit, invented the display. Two of the directors, Julian Crouch and Phelim McDermott, also created Shockheaded Peter that was staged both on the West End in New York City. Sticky was their first outdoor creation and won raves from both the media and the public.

The 50 minute show initially had audiences gasping, fearing they were being attacked by insets. Then they realized that the noise of insects flapping their wings was really the sound of hundreds of feet of sticky tape being unwound.

Performers wearing hard hats wrapped the sticky tape around scaffold poles. As the creation seemed to miraculously rise from the ground, thousands more feet of sticky tape continued to be wrapped around the poles as crane pulled the dome ever higher.

Hundreds of sparklers were lit, fireworks exploded to music illuminating the 100 foot tower which glowed red, orange and blue.

One hour after the labyrinthine castle was built, performers deliberately destroyed it in seconds - leaving shooting sparks and shriveling tape.



Mark Morris Dance Group Photo By Robbie Jack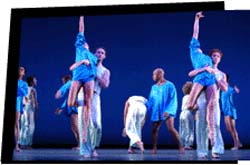 A highlight of the festival was touted as the rarely performed La Pasin Segn San Marcos, a Latin interpretation of Bach's musical canon that was performed in the Opera House Concert Hall. The 60-member Venezuelan choir managed to arrive on time despite missing air tickets and an oil strike. The three night sell out event was the epic orchestral collaboration between the Venezuelan choir Schola Cantorum de Caracas, the Sydney Symphony and Deep Purple rocker Jon Lord.

Other hot tickets were The Mark Morris Dance Group from New York, Chronicle of A Death Foretold by the National Theatre of Colombia, and Black Chicks Talking, Leah Purcell's play about five indigenous women.

The biggest surprise for festival organizers was "the reaction to the whole Samuel Beckett celebration," which festival director Brett Sheehy had admitted was undertaken with "a bit of a risk. I mean, he's not the easiest writer in the world and the audience know they're not going to get bells and whistles and come out humming the tune."

The Sydney Theatre Company production of Beckett's Endgame has been extended by a week and last Sunday's 50th anniversary production of the Irish playwright's Waiting For Godot, directed by Neil Armfield, was unveiled by Company B Belvoir.



Burt Lahr best remembered as the cowardly lion in The Wizard of Oz favored Waiting for Godot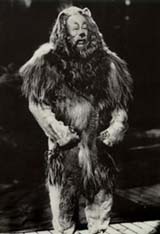 On January 3, 1956, Godot, which Beckett wrote in just four months, was presented at the Coconut Grove Playhouse in Miami in a production starring Bert Lahr, a burlesque comedian who also had the distinction of being named the best Shakespeare performer of the year by the American Shakespeare Theatre and Academy.

While Lahr will be always be remember for his role of the cowardly lion in The Wizard of Oz, his favorite role was in Waiting for Godot, a production billed as "The Laugh Sensation of Two Continents."

As Lahr said, trying out the play in Miami "was like trying it out in a truant school". He added, "It was the biggest flop in the history of the theatre. The play was controversial. Those that hated it, spit at it. But it has its cults and created a different type of audience for me."

The producer, Michael Myerberg, fired the director, Alan Schneider - who eventually became Beckett's favorite director - and replaced Tom Ewell (as Vladimir) with E. G. Marshall. Alvin Epstein played Lucky and Kurt Kasznar was Pozzo. Myerberg stubbornly took the play to Broadway, where it opened at the John Golden Theatre on April 19 to largely vapid reviews. In The New York Times, Brooks Atkinson called it "a mystery wrapped in an enigma". Trying to rescue the production, Myerberg took an advertisement asking for "7000 intellectuals" to see the play. As Beckett might have said, they did not come - and the play closed after 59 performances.



Samuel Beckett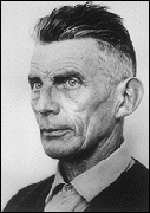 The Australian Beckett symposium - a four day talkfest - opened with more than 100 international scholars in town to discuss the Nobel Prize-winning playwright's impact on literature, performance and the visual arts.

Truly a "festival within a festival," while not everybody's glass of Guinness, added depth and credibility to the Festival.

Beckett, winner of the Nobel Prize for Literature in 1969, was one of the twentieth century's foremost writers and dramatists. His work as a whole, by turns bleak and blackly humorous, at once gives voice to suffering humanity, and calls on us to question the nature of things. Harold Pinter called Beckett "the most courageous, remorseless writer going."

Prominent Beckett scholars and actors taking part including nephew Edward Beckett, who controls the Irish Nobel winner's estate. Gossips wagged when an Australian newspaper asked Beckett his opinion of last Sunday's play opening and he replied: "Mixed," he said firmly with a small, displeased pout. A key dislike? "The music. I really didn't like it, but I'm not going to comment any more ... if I give one interview I'll have to give 15." The paper also reported that Beckett, appointed executor of his uncle's vast legacy in 2001, "sat stony-faced throughout the play's launch last Sunday before abruptly getting up and leaving as the rest of the audience applauded."

Last Monday, while not referring to the previous night's production, Beckett opened the mini-festival with a sharp commentary on the proper etiquette for staging his uncle's works. Before an audience of Beckett scholars and fans, he restated his key demand - that his uncle's works should be staged with "respect and integrity," and according to the explicit directions of the playwright.

This was vital because, too often, productions had been tainted by "manifestations of directors' egos".

All Beckett's plays should be followed to the letter with no "bells and whistles," in accordance with the contract that any prospective director must sign with the estate before getting permission to stage the works.

"It's up to all who love Beckett to oppose such travesties," said the executor. A Beckett production in London in 1994 was closed because it breached contractual obligations."

Famed South African novelist J.M. Coetzee; University of California-Davis professor emerita Ruby Cohn; and author Linda Ben-Zvi, who writes primarily on Beckett's women characters were keynote speakers.

Other keynote presenters included the French philosopher Luce Irigaray, the South African novelist and Booker Prize winner J. M. Coetzee and American performance theorists Herbert Blau and Peggy Phelan.

The Festival continues through January 26 in Sydney, Australia.

CLICK FOR THE LIST OF BECKETT SPEAKERS



Broadway To Vegas is supported through advertising and donations. Priority consideration is given to interview suggestions, news, press releases, etc from paid supporters. However, no paid supporters control, alter, edit, or in any way manipulate the content of this site. Your donation is appreciated. We accept PAYPAL. Thank you for your interest.



THE NEVADA BALLET THEATRE stages their annual Black & White Ball on January 18 at the Bellagio Hotel. The event, billed as the highlight of the social season, can hold its place against similar functions in San Francisco or New York. The coveted Woman of the Year is honored for her achievements on the stage and/or screen. This year's honoree is Carol Channing.

Previous recipients have included Debbie Reynolds, Phyllis McGuire and Chita Rivera.

THE GRAMMY NOMINEES There are 104 categories in all - up from 101 last year. Of particular interest to theatre fans are two categories:

Traditional Pop Vocal Album: Playin' With My Friends: Bennett Sings the Blues, Tony Bennett; Michael Feinstein with the Israel Philharmonic Orchestra, Michael Feinstein; Bernadette Peters Loves Rodgers & Hammerstein, Bernadette Peters; It Had to Be You ... The Great American Songbook, Rod Stewart; and Christmas Memories, Barbra Streisand.

Bennett also received a nomination in the Best Pop Collaboration With Vocals category for What A Wonderful World - Tony Bennett & k.d. lang; track from: A Wonderful World.

Musical Show Album: Elaine Stritch at Liberty, Guys and Dolls, Hairspray, Into the Woods, and Thoroughly Modern Millie.

Singers Simon and Garfunkel, Johnny Mathis and Etta James will receive lifetime achievement awards during the 45th Annual Grammy Awards Ceremony to be telecast on CBS on February 23, marking the first Grammy Awards in New York City since 1998, and the first-ever Sunday broadcast of the awards show.

For your delectation and scrutinization we have listed every single nomination in all 104 categories - which no doubt means that we really need to get a life. CLICK FOR LIST OF GRAMMY NOMINATIONS


SWEET CHARITY


BENEFIT FOR TOWER OF POWER BASS PLAYER ROCCO PRESTIA takes place Tuesday, January 14th, at B.B. King's Blues Club in New York City. The all-star jam features Mike Clark of the Headhunters, Ivan Neville of The Nevilles, Tony Carnier of Dylan, Will Lee and Paul Schaeffer of The David Letterman Show, Jeff Levine of Hall & Oates, Kevin Harris of Santana, Brent Carter, Don Harris and Lenny Pickett of Tower of Power, Jeff Colub of Rod Stewart, Hiram Bullock of Sting, Uptown Horns from the Stones, Ronny Drayton from Nona Hendryx, Jerry Jemmott of Marvin Gaye, Corneilus Bumpus of Doobies and Steely Dan, Tony Beard of Jeff Beck, Felicia Collins and Chris Palermo.

Prestia underwent a 6+ hour surgery on Tuesday, July 23, receiving a liver transplant at Cedars Sinai Hospital in Los Angeles, California. Just 83 days later, on July 23, Prestia took the stage at Humphrey's in San Diego, California - Friday night, September 27, 2002. He played the last three songs in the set with Tower of Power who also appeared at the Suncoast in Las Vegas for three shows on October 25-27. Rocco was able to make the trip from Los Angeles. Each night he sat in with the band and played a couple of songs in each set.


THE MUSIC GOES ROUND AND ROUND


MAN OF LA MANCHA RCA Victor's new Broadway Cast recording starring Tony Award winning baritone Brian Stokes Mitchell offers a commendable performance as Cervantes/Don Quixote. This is the role that sings the anthem for windmill tilling optimists - The Impossible Dream.

Seattle born Mitchell, offered an opportunity to sing with the Metropolitan Opera, opted instead to take his lush voice to Broadway.

Academy Award nominee - and many people didn't even know she could sing - soprano Mary Elizabeth Mastrantonio plays Aldonza. Her solo singing moments occur in What Does He Want of Me? and It's All the Same. Ernie Sabella is Sancho Panza and duets with Mitchell on I, Don Quixote. Mark Jacoby is the Padre and Don Mayo portrays the Innkeeper while Stephen Bogardus is Duke/Carrasco.

Man of La Mancha, which opened at the Martin Beck Theatre on December 5, 2002 was recorded by RCA Victor on Thursday, November 14th at New York's Right Track Recording. The cast album, produced by Jay David Saks, recording engineer Tom Lazarus, hit the stores January 7th.

This CD accurately preserves what is heard on stage in this revival directed by Jonathan Kent.

Every staging is going to feel the unique flavor that the stars bring into their rolls. Comparing revivals to the originals is always unfair, because if the original hadn't been a gigantic hit with memorable performances, it wouldn't be a candidate for a major revival.

The object of an original cast recording is to preserve, as best as possible, what the show sounds like on stage. Because of the advances in technology, it's now relatively easy to take product previously recorded, re-issue and have the recording sound not just better than the previous release, but possibly the actual production. There is nothing wrong with that. Both commendable and more enjoyable.

If an original cast recording is criticized the question becomes - is the criticism against the recording or against the stage performance? A cast recording is not an audition tape. The people already have the job. Reviewing a recording as though you were reviewing the stage production is misguided.

The original production with music by Mitch Leigh, lyrics by Joe Darion and a book by Dale Wasserman, premiered Monday, November 22, 1965 at the Anta Washington Square Theatre in New York running for 2329 performances, playing for nearly six years and winning five Tony awards including best musical.

Based on the 17th century writings of Miguel de Cervantes Saavedra, Man of La Mancha tells the story of Spanish knight Don Quixote of La Mancha who, along with his sidekick Sancho Panza, vows to "right the unrightable wrongs."

The original production starred the late Richard Kiley, who set the gold standard for playing Cervantes/Don Quixote. Also in the fabulous cast were Joan Diener, Ray Middleton, Gino Conforti, Robert Rounseville, Mimi Turque, Irving Jacobson, Eleanor Knapp, and Harry Theyard.

The original cast album, which we have owned since it first came out and still possess, did not include The Combat and The Knight of the Mirrors, the latter included in the revival album.

The excellent orchestra on this revival album has Robert Billig directing; associate conductor/guitar Cherie Rosen; on stage guitar is Robin Polseno; oboe Blair Tindall; flute Kathleen Nester; clarinet Lino Gomez; bassoon/assistant conductor Braden Toan; trumpets Wayne deMaine and John Dent; French Horns Patrick Milando, Eva Conti and Dan Culpepper; trombone Douglas Kirkland, bass trombone Douglas Purviance; bass Randall Landau; drums Steve Bartosik; timpani Michael Hinton; percussion Dave Yee. Music coordinator Michael Keller.

Cue mixer is Jason Stasium. Post production engineer Ken Hahn. Mixed by Jay David Saks and Jen Hahn. A 36-page booklet with complete lyrics and production photos is also included in this CD.


THE QUEEN'S GRENADIER GUARDS AND SCOTS HIGHLANDERS SALUTE AMERICA


The Band of the Grenadier Guards, direct from the services of the Queen of England, and the Scots Highlanders with royal pipes, regal drums, and ravishing dancers salute the United States in a cross country tour that makes it first stop in Philadelphia on Saturday, January 18.

The Grenadier Guards will feature the significant work of John Phillips Sousa, including a rendition of The Stars and Stripes Forever. The Scots Highlanders will send chills through the audience with precision marching, drumming, and highland dancing as the Grenadier Guards perform Scotland the Brave, Amazing Grace, and much more with French horns, clarinets, flutes, bassoons, saxophones, drums, and tambourines.

The Grenadier Guards and the Scots Highlanders Pipe and Drum Regiment are two of Great Britain's most-acclaimed military bands. The Band of the Grenadier Guards represents a historic regiment whose roots can be traced to 1656, the year of the birth of Handel and Bach, when the band consisted of 12 musicians playing hautbois, or oboes. Over the years it was expanded to include French horns, clarinets, flutes, bassoons, drums, tambourines and, by the mid-19th century, saxophones.

In addition to military music, members can provide various ensembles, including a marching band, orchestra, string quartet, dance band or big band. They perform for the Queen's Birthday and the Mounting of the Queen's Guard at Buckingham Palace and Windsor Castle.

The Pipes and Drums are the showpiece of the regiment, one of the world's foremost military bands. The regiment continues to recruit from the Highlands and islands of Scotland, and jealously guards its Highland history and connections. Members sport three tartans -- Mackenzie, Gordon and Cameron, each of which is worn by all ranks.

In addition to their music, players also are trained as medics in wartime, including nuclear or chemical warfare. They served in that role as recently as the Gulf War.

The Band is stationed at Wellington Barracks, near Buckingham Palace in central London. The Highlanders Regiment dates to 1778, when troops were raised in the Scottish Highlands to help fight revolutionaries in America and France. The modern regiment was created in 1994 with the merger of the Queen's Own Highlanders and the Gordon Highlanders.

The Pipes and Drums are the showpiece of the regiment, one of the world's foremost military bands. In addition to North America, they have performed in Europe, Africa, India, Australia and New Zealand. And they are star performers in British events such as the Edinburgh Military Tattoo at Edinburgh Castle.

The regiment continues to recruit from the Highlands and islands of Scotland, and jealously guards its Highland history and connections. Members sport three tartans -- Mackenzie, Gordon and Cameron, each of which is worn by all ranks. However, the musicians are first and foremost fully-trained combat soldiers. Over its two centuries of history, its members have won 42 Victoria Crosses and 185 major battle honors for their exploits in combat from Waterloo and Egypt to El Alamein and The Persian Gulf.

The Grenadier Guards will perform in 53 arenas in all corners of North America, from Maine to Florida and from Southern California to Vancouver, BC, and Seattle. The 77 military musicians will travel more than 10,000 miles in their grand tour of North America.

The tour begins Wednesday at the Bryce Jordan Center in University Park, PA. followed by stops Friday at the Hershey Center in Hershey, Penn. Saturday at the First Union Spectrum in Philadelphia, PA.; January 21 at Chrysler Hall in Norfork, Virginia; January 23 at the Stabler Arena in Bethlehem, PA.; January 26 at the Lehman Center for the Performing Arts in the Bronx, New York; January 28 at the Soverign Bank Arena in Trenton, New Jersey; January 30 at Proctors Theatre in Schenectady, New York; January 31 at the Cumberland County Civic Center in Portland, ME.

February 6 at the Van Andel Arena in Grand Rapids, Michigan; February 9 at the Detroit Opera House in Detroit, Michigan; February 11 at Whitney Hall in Louisville, KY.; February 12 at the Ohio Theatre in Columbus, Ohio; February 14 at the Allen County Memorial Coliseum in Fort Wayne, IN.; February 16 at the Stephens Auditorium in Ames, Iowa; February 17 at the Allstate Arena in Rosemont, IL.; February 21 at the Rose Garden in Portland, Oregon; followed by stops in Seattle, Washington; San Rafael, California; Escondido, CA; Thousand Oaks, CA.

Other stops include Phoenix, Arizona; Greenville, South Carolina; Atlanta, Georgia; and Clearwater, Florida.



PLAYWRIGHTS HORIZONS Tim Sanford, artistic director, has unveiled their new $27 million home by presenting "concert performances" of the beloved musicals Floyd Collins, Violet, and Falsettos, and the play Laughing Wild, all of which were originally produced by Playwrights, and which have taken their places as modern classics of the American Theater. Each performance will feature members of the original Playwrights Horizons casts including Faith Prince and Heather MacRae of Falsettos.

Falsettos: March of the Falsettos and Falsettoland. Music & Lyrics by William Finn. Book by William Finn & James Lapine. Featuring: Alison Fraser, Heather MacRae, Janet Metz, Faith Prince, Michael Rupert, and Chip Zien. Directed by Lonny Price. Performances began January 9 and end this evening, January 12 with a special benefit performance.

Violet with music by Jeanine Tesori. Book and Lyrics by Brian Crawley. Based on The Ugliest Pilgrim by Doris Betts, featuring Stephen Lee Anderson, Michael McElroy, Cass Morgan, Michael Park, Roz Ryan, and Lauren Ward. Directed by Susan H. Schulman. January 16 - 19.

Floyd Collins with a book by Tina Landau. Music and Lyrics by Adam Guettel. Additional Lyrics by Tina Landau. Featuring Stephen Lee Anderson, Matthew Bennett, Jason Danieley, Jesse Lenat, Theresa McCarthy, Martin Moran, and Cass Morgan. Directed by Tina Landau. January 23 - 26.

Laughing Wild By Christopher Durang, featuring Christopher Durang and E. Katherine Kerr. Directed by Ron Lagomarsino. January 30 - February 1.

Special benefit performances take place with Falsettos on Sunday, January 12th, Violet Thursday, January 16th, Floyd Collins Sunday, January 26th. Benefit performances include a reception hosted by the creative team and cast with $90. of the $150. price qualifying as a tax-deductible donation to Playwrights Horizons' Building for the Future Fund. Playwrights Horizons' new facilities represent a 40% increase in seating capacity. The five-story building features two theaters a 198-seat main stage and a more intimate space that converts from 96 to 128 seats.

THIS IS OUR YOUTH welcomes Freddie Prinze, Jr. to the cast, which includes Chris Klein and Heather Burns. The January 16 event will mark the actor's London stage debut. London's Garrick Theatre.

THE PUPPETRY OF THE PENIS unzips January 24-25 at the Fox Theatre in Redwood, California.

CLIFF: THE MUSICAL a musical journey through the career of Cliff Richard, who released his first pop single in August 1958 called Move It. Since then Richards' singles and albums have sold over 250 million records. Cliff: The Musical is the latest mounting of shows based upon the tunes of hit songwriters/performers. Richards does not appear on stage. Musical by Mike Read, Trevor Payne and Colin Rozee. Directed by Trevor Payne. Richards previously staged Heathcliff - a musical version of the nineteenth century Bronte novel Wuthering Heights which sold out the tour in advance. This musical bio show comes into the West Following a one month United Kingdom regional tour. The production will be staged at the Prince of Wales Theatre from March 12 to May 10. London.

FINAL ANGEL by Stephanie Lenore Kuehn, directed by Jim Dennen, starring Ora Jones and Jefferson Award winner John Sierros, is based upon the real-life experiences of Lynn Green, who was raped in The Chicago Bar Association building in 1994. All of Chicago was shocked that such a bold and brazen act of violence could take place downtown in mid-afternoon. A huge manhunt n resulted in the rapist's capture. Surprisingly, he was will to testify in court on Green's behalf. In addition, both Green and the rapist were interviewed as part of a 20/20 segment regarding women being raped in the workplace.



Persephone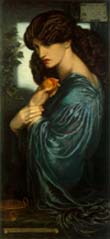 Andra Velis Simon, who represents the play, spoke with Broadway To Vegas about this production. "At the time of the attack, Lynn Green worked in the Chicago Bar Association building. Lynn was studying acting at the time, and worked on the executive floor of the Chicago Bar Association as an office assistant. The rapist was a homeless veteran. Lynn's (law) suit was against the building. The rapist should not have been able to enter the building; he testified regarding how he gained entry. Lynn won the suit. Lynn's belief is that he did have some remorse, which is why he was willing to testify for her and appear on 20/20 regarding a story on rape in the workplace. This is not a play about the attack, but the psychological journey that took place after the attack. As opposed to being a factual account of the incident, it is an emotional account of Lynn's healing process."

During the rape, Green had a conscious and transformative near-death experience. Years later, she discussed this experience with Kuehn, a playwright represented by Green's company, Fine Arts Enterprises, who turned the horrified experience into Final Angel, which is bridges the events with ancient mythology that occurs partly in the real present and partly in the subconscious as the victim confronts both the Angel of Death and the Goddess Persephone. Moving from terror to courage, she discovers that the mysteries of life's darkest moments can lead to the greatest transformation.

In Greek mythology, Persephone was the daughter of Demeter - Goddess of the harvest- and Zeus - father of the gods. Hades, God of the Underworld, abducted and raped Persephone, taking her to the underworld to keep as his bride. As Demeter mourned for her daughter, The Earth dried up and the harvests stopped growing. Zeus commanded Persephone's release, but Hades tricked her into eating seeds from a pomegranate- the food of death- ensuring that she must remain in the underworld. Zeus convinced Hades to compromise: Persephone would remain with Hades for part of each year. Thus, we have seasons of growth, maturation and harvest while Persephone walked the Earth and rejoices with her mother, and seasons of dormancy and winter while Persephone returns to Hades.

According to Jungian analyst Jennifer Parker Woolger, Persephone must "... fully honor her dual nature, one that mediates between both the light and the darkness, the living and the dead ..." For the modern-day woman, the Persephone archetype represents death and transformation.

Previews of Final Angel begin January 15 at the Theatre Building in Chicago.

FOOD FOR THOUGHT a unique theatrical experience that is housed at the National Arts Club in Gramercy Park. It's a weekly series that offers an alternating repertory of guest stars reading great one-act plays by award-winning writers, with which is served a light sandwich lunch, followed by a Q & A with the actors. When the Women Come Out to Dance a new mystery by Elmore Leonard with Linda Hart and Socorro Santiago. Monday January 13.

Sorry, Wrong Number by Lucille Fletcher with Barbara Eda-Young Thursday, January 13.

THE BEAUTY QUEEN OF LEENANE Limited Performances up close and personal in the Victor Jory Theatre, Louisville, Kentucky January 21 - February 2. Special event at the Irish Rover, where ticket holders can meet the director of The Beauty Queen of Leenane, William McNulty, on January 16 for a discussion about this fascinating play and Actors Theatre. Hors d'oeuvres, a cash bar and conversation about Irish literature and theatre.

FRAN'S BED a new play written and directed by three time Tony winner James Lapin, starring Mia Farrow, in staged readings which took place last night and will continue January 31, February 1, 7, 8 at the Long Wharf Theatre in New Haven, Conn. This complex family drama focuses on two grown daughters as they nurse their sick mother, played by Farrow, who began her career in an off-Broadway production of The Importance of Being Earnest. Farrow currently lives on a farm in Connecticut where her primary focus is her 14 children, the youngest seven of which live at home with her. However, January is a busy stage acting month for Farrow. See following segment on The Exonerated.

THE EXONERATED on a three city tour. Bob Balaban directs a rotating cast led by Brian Dennehy.

January 14-19 at Washington, DC's Warner Theater the production features Dennehy, Mia Farrow and Chad Lowe. January 21 - February 2 at Boston's Wilbur Theater and February 4-16 at Chicago's Shubert Theater The Exonerated stars Brian Dennehy and Marlo Thomas.

AIDA loosely based on Verdi's opera, by Elton John and Tim Rice, which garnered four Tony Awards and a Grammy Award. This highly-charged, timeless love story retains its tragic focus on Aida, a Nubian princess stolen from her country, Amneris, an Egyptian princess, and Radames, the soldier they both love.

Paulette Ivory as Aida and Jeremy Kushnier as Radames. Jeremy originated the role of Ren in Broadway's Footloose and has toured as Roger in Rent.

Joining the production on February 25 will be Micky Dolen. The former drummer of The Monkees will play Zoser when the tour begins performances at the Barbara B. Mann Performing Arts Center in Fort Meyers, Florida.

Aida January 14-19 at the Blumenthal Performing Arts Center, Charlotte, N.C.

MUSICALS IN MUFTI presented by the York Theatre, artistic director James Morgan and consulting managing director Louis Chiodo, announced its Winter, 2003 series of under-appreciated musicals presented in staged concert readings. The concerts will begin January 17 and continue for three weekends through February 2nd. Mufti means "in street clothes, without the usual trappings."

The Winter Mufti series will feature three rarely-performed Broadway musicals including the American premiere of Noel Coward's operetta Pacific 1860, which re-opened London's Drury Lane Theatre after WWII starring Mary Martin and Graham Payn. Pacific 1860 will be directed by Simon Jones, who will also appear in the cast. Musical direction by Jack Lee. Pacific 1860 will run January 31 to February 2.

The Grass Harp, with book and lyrics by Kenward Elmslie and music by Claibe Richardson, who passed away last week, is based on Truman Capote's novella. James Morgan directs with Jack Lee as Musical Director. Originally presented on Broadway the production premiered Tuesday, November 2, 1971 at the Martin Beck Theatre, starring Barbara Cook, Karen Morrow, Carol Brice and Max Showalter, The Grass Harp had its first revival anywhere at the York Theatre Company in 1979 in a production directed by Janet Hayes Walker. In 1994 the York kicked off its new Musicals in Mufti series with the popular musical which resulted in a newly-revised book and an added song by Richardson and Elmslie. This 2003 Mufti presentation will be the New York premiere of the revised version. Performances of The Gradd Harp are January 17-19.

A Family Affair with book by James & William Goldman, music by John Kander (pre-Ebb), and lyrics by James Goldman and John Kander, premiered on Broadway in 1962 with a cast including Eileen Heckart, Shelley Berman and Morris Carnovsky. It marked Hal Prince's directing debut and celebrates all the 'tsuris' leading up to a big fat Jewish wedding. Broadway casting guru Jay Binder will direct with John Mulcahy as Musical Director. A Family Affair plays January 24-26 at the York Theatre, NYC.


WHO'S WHERE


TONY BENNETT AND FRANK SINATRA, JR and Orchestra conducted by Terry Woodson in an evening of hit music to celebrate ten years of incredible performances at the Cerritos Center. Bennett will provide a fond, loving and totally swingin' evening of entertainment. The last time Frank Sinatra Jr was at Cerritos was opening night with Dad, the one and only Old Blue Eyes. This time Frank Jr perform Sinatra Sings Sinatra, with the 44-piece Sinatra Orchestra under the direction of Terry Woodson, playing the incomparable arrangements of Nelson Riddle, Don Costa and others. January 13 and 14. at the Cerritos Center for the Performing Arts, Cerritos, CA.

BLIND BOYS OF ALABAMA January 17 at the Madison Civic Center in Madison, Wisconsin.

MARK NADER the singer/pianist at the Firebird in Manhattan, performing his Tchaikowsky (and Other Russians), act begins with the 1941 Ira Gershwin/Kurt Weill song with the same name. That ditty incorporate the names of 48 largely obscure Russian composers. Tonight Nader guests on David Kenney's radio show, Everything Old Is New Again, heard on WBAI 99.5 FM and on the Internet at: http://www.2600.com/offthehook/hot2.ram Nadler who sings everything from Sondheim to Adam Guettel is at the FireBird through Jan. 25.

TONY DANZA brings his warm hearted and delightful show to the Orleans Hotel, Las Vegas January 17-19.

CHICAGO returns to the Stardust Hotel in Las Vegas January 15-18.

RAY ROMANO telling funny stories January 17-19 at the Mirage Hotel in Las Vegas.

MEGAN MULLALLY who starred opposite Matthew Broderick in the Broadway revival of How to Succeed in Business Without Really Trying, and also won an Emmy award, takes to the stage of the Alterknit Lounge of California's Knitting Factory on Jan. 17 and 18. Mullally will feature numbers from her new CD, Megan Mullally and Supreme Music Program: Big As a Berry, recently released on the Fynsworth Alley label. The Knitting Factory, Hollywood, California.

DAVID SANBORN AND JOE SAMPLE January 17-19 at the Paris Hotel, Las Vegas.

DOC SEVERINSEN AND THE UTAH SYMPHONY POPS January 17-18, Abravanel Hall, Salt Lake City, Utah.

VIENNA BOYS CHOIR on an American leg of their tour. The famed group was formed when emperor Maximilian I decreed in 1498 that there were to be six boys among his court musicians. That became the foundations for the Wiener Sangerknaben (Vienna Boys' Choir). Today, more than 500 years later, the Wiener Sangerknaben continue to sing Sunday services in the imperial chapel.

The Vienna Boys Choir now includes some 100 choristers between the ages of 10 and 14 who make up the four Vienna Boys' Choirs. The members rise each day at 6:45 a.m. and start school at 7:30 a.m. Their school day, which includes time for choir practice, homework and some recreation, ends 10 1/2 hours later, with lights out at 9:30 p.m. All choir members go to school and live in Augartenpalais, a Baroque palace in a Vienna park. Their school year is divided into three semesters; two are spent in Vienna, while the third is spent touring the world, giving concerts.

The Vienna Boys Choir performs January 17 at the Carolina Theatre in Greensboro, North Carolina and on January 18 at Symphony Hall in Atlanta, Georgia.


PIFFLE AND PROFUNDITIES


JOB HAZARD nobody ever said that glass eating was easy, but the chap known as Fiaso, star of the Fiasco Sideshow - called Sacramento, California's wildest street performer, has a gripe. Seems he recently spent $1,700 on dental work, because he was told that eating glass wears off the enamel on your teeth.













Next Column: January 19, 2003
Copyright: January 12, 2003. All Rights Reserved. Reviews, Interviews, Commentary, photographs or graphics from any Broadway To Vegas (TM) columns may not be published, broadcast, rewritten, utilized as leads, or used in any manner without permission, compensation and/or credit.
Link to Main Page
---
Laura Deni


CLICK HERE FOR COMMENT SECTION