! >
Broadway To Vegas
  
  REVIEWS INTERVIEWS COMMENTARY NEWS

| | |
| --- | --- |
| | |
JE SUIS CHARLI - -MEMORABILIA FROM HISTORIC CARIBOU RANCH AND RECORDING STUDIO TO BE AUCTIONED - - GIGI OPENS AT THE KENNEDY CENTER - - HELLO DOLLY! IN HONG KONG - - GUSTAV KLIMT'S ADAM AND EVE ON DISPLAY - - THE LARGEST ELVIS EXHIBITION EVER IN EUROPE - - ROCK IN THE PARK - - LONDON INTERNATIONAL MIME FESTIVAL 2015 - - DONATE . . . Scroll Down







Copyright: January 11, 2015
By: Laura Deni
CLICK HERE FOR COMMENT SECTION


MEMORABILIA FROM HISTORIC CARIBOU RANCH AND RECORDING STUDIO TO BE AUCTIONED
Caribou Ranch. Photo Leslie Hindman Auctioneers

On January 24, 2015 Leslie Hindman Auctioneers will conduct the sale of studio memorabilia and ranch furnishings from the storied Caribou Ranch.

Caribou Ranch was a recording studio built in the Rocky Mountains by Grammy award-winning musician and producer James William Guercio. During its tenure, the studio hosted over 178 musicians and produced 45 top ten albums, 18 Grammys and 20 number-one Billboard Hits.

Guercio has always been a statement making musician.

A post by William Taft High School, concerning a Terry Kath tribute, the man best known as the original guitarist, co-lead singer and founding member of the rock band Chicago, stated: "It was Guercio who pioneered the notion of group albums being sequentially numbered by Roman numerals, a strategy that he carried over into the motion picture business, and also made the live album a staple of the industry with the multi-platinum Chicago at Carnegie Hall with its many posters, programs and political extras, including a handout on how to vote in every state when the voting age was lowered from 21 to 18 before the 1972 election. In case there was any doubt as to how album buyers should vote, an anti-war track encouraged Richard Nixon to quit, more than a year before Watergate had even happened."

Guercio started in the music business with Dick Clark in 1962, touring and performing with Gene Pitney, Brian Hyland, Del Shannon, Chuck Berry and Bobby Darin. He was an original guitarist with Frank Zappa and The Mothers of Invention and produced, arranged and composed numerous hits for Chad & Jeremy and the Buckinghams. Guercio received a Grammy Award as the producer of Blood, Sweat & Tears, which won the 1970 Grammy Award for Album of the Year.

If that wasn't enough, Guercio turned a barn into a famed studio.

Guercio told the Rocky Mountain News in 2008 that he was growing frustrated by how the union rules were affecting how he was producing music in New York and L.A. and that he sought a refuge to foster the creative process.

While stranded at Denver's Stapleton Airport in 1969 with Texas entrepreneur Layton Humphrey, Guercio recalled a ranch previously owned by his uncle, according to the Rocky Mountain News article. That ranch, Guercio said, became part of a subdivision called the Caribou Ranch Country Club Estates.

Guercio would buy the property, more than 4,000 acres two years later, for $11.3 million.



Elton John Gus Dugeon and Bernie Taupin at the control board at Caribou. Photo Leslie Hindman Auctioneers.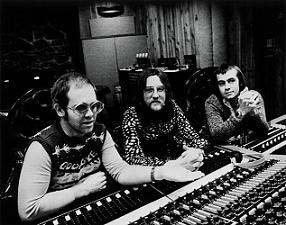 The studio in the Colorado Rockies became a legendary haven and icon of 1970s excess and narcissism that was frequented by a who's who of the industry and after which Elton John named his album Caribou, which he recorded there. Guercio would also direct and score the music for the cult classic film Electra Glide in Blue.

Caribou Ranch is being inducted into the Colorado Music Hall of Fame in 2015 along with Joe Walsh & Barnstorm and Dan Fogelberg.

Featuring over 400 lots, the auction and public exhibition will be held at the Denver Design Center and includes studio instruments, memorabilia and ranch furnishings.

Highlights include a Steinway & Sons grand piano, circa 1910, used while recording Don't Let the Sun Go Down on Me from Elton John's 1974 Caribou album. This album was recorded at and named after the studio where his next two albums would also be recorded. A Burton acoustic guitar left on the ranch during a period in the 1970s when Willie Nelson, John Denver, Johnny Cash and Waylon Jennings visited the studio is available. Another highlight is the Wm. Knabe & Co. baby grand piano, which was played by Elton John, Billy Joel, Michael Jackson, Frank Zappa and countless others. This is the primary piano on which Elton John wrote Rock of the Westies. It was pictured with Michael Jackson in a 2014 Rolling Stone special edition.

Included is a Hammond B3 organ with the sound of rare and unique Leslie cabinet speakers, used by nearly every artist who recorded at Caribou; a Gibson Thunderbird bass played by Terry Kath of Chicago; and the sleek black Bosendorfer grand piano heard on many of the jazz albums recorded by artists such as Chick Corea and Al Di Meola. From Mr. Guercio's private collection is a 1985 Black Chevrolet Corvette with personalized Caribou plates.

Rocky Mountain Way was the first hit recorded on the ranch, and soon after word got out that Guercio had created a state of the art recording studio away from big city distractions. As the first destination recording studio, music history was made by illustrious artists and groups such as Elton John, Stephen Stills, Billy Joel, Chicago, Earth, Wind & Fire, The Beach Boys, Michael Jackson, Johnny Cash, Rod Stewart, Frank Zappa, Jerry Lee Lewis, Stevie Nicks, Tom Petty, and U2.



A Michael Jackson worn winter coat. Photo: Leslie Hindman Auctioneers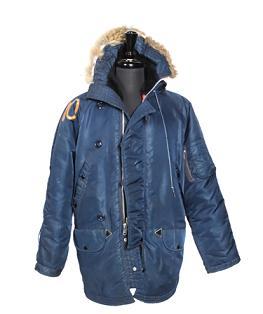 "Our life on Caribou Ranch was wonderful and memorable, but the ranch has new owners now, and we have moved on to our next Caribou adventure," said Jim Guercio. "We felt it was time to share with the fans some of the memories and stories that remain from that magical time."

A portion of the proceeds will go to The Colorado Music Hall of Fame, a 501(c) (3) non-profit organization (EIN 27-2529106) founded in 2011 to honor those individuals who have come to define the state's amazing and diverse musical legacy.

The barn which was turned into the music studio Caribou Ranch closed last July with the family stating they had purchased the vast property with plans to steward - not develop - the land.

Shortly before the studio shuttered the Denver Post printed that; the family intended to "focus on our ranch in Montana and Caribou's induction into Colorado's Music Hall of Fame later this year," according to Will Guercio, son of the famed music producer, who sold the property last June for $32.5 million after more than 40 years of ownership. The property had originally been listed at $40 million. Nondisclosure agreements describe the buyer only as Indian Peaks Holdings LLC - part of the Walton family, descendents of the founders of Walmart.

According to the listing by Mountain Marketing Associates, development rights on the 1,600 acres include the potential for 19 single-family dwellings ranging from 2,000 to 10,000 square feet; a 5,000-square-foot fishing lodge or clubhouse; a 12-stall horse barn; two 1,250-square-foot cabins; and a 3,372-square-foot caretaker's unit.

The property that became Caribou Ranch was homesteaded in the 1860s by Sam Conger, who later discovered Caribou Mine. At one point in time, the property served as the largest privately owned Arabian stud farm. Four motion pictures, including the 1966 remake of Stagecoach, were filmed on the ranch.

The items which aren't up for auction are being donated by the family to the

Frank Zappa in an Ouray Chair. Photo: Leslie Hindman Auctioneers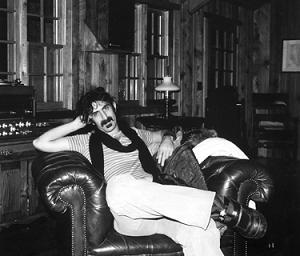 Colorado Music Hall of Fame. The objects are featured at the hall of fame's new home at the Trading Post at Red Rocks, which opened last summer.

"Caribou Ranch was such an incredible part of Colorado music history," said G. Brown, Colorado Music Hall of Fame director. "In the '70s, it was the first destination studio where acts sequestered themselves somewhere in the thought that it would spark creativity. It was a who's who of rock that recorded up there in the '70s and '80s. It is just an incredible legacy."

Guercio told the Denver Post "We have the pianos that Don't Let the Sun Go Down on Me and Bridge over Troubled Waters were recorded on. We rebuilt the studio around that piano."

Rebuilding was necessary after a space heater sparked a fire on March 2, 1985 that would extinguish Caribou Ranch's studio operations.

Among the hit singles recorded there were Elton John's version of the Beatles' Lucy in the Sky With Diamonds and Rick Derringer's Rock & Roll, Hoochie Koo.

Items up for bid are on exhibit beginning January 19 with the January 24th auction slated to begin at 3pm.

Leslie Hindman Auctioneers specialize in high profile auctions. The firm was founded in Chicago in 1982, sold to Sotheby's in 1997 and reopened in 2003.






Broadway To Vegas is supported through advertising and donations. Priority consideration is given to interview suggestions, news, press releases, etc from paid supporters. However, no paid supporters control, alter, edit, or in any way manipulate the content of this site. Your donation is appreciated. We accept PAYPAL. Thank you for your interest.




ART AND ABOUT


GUSTAV KLIMT'S ADAM AND EVE

Gustav Klimt, Adam and Eve (detail), 1917–18. Oil on canvas. Belvedere, Vienna. © Belvedere, Vienna.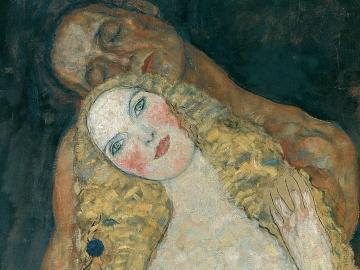 For the first time in its history, the Boston Museum of Fine Art will exhibit a painting by Gustav Klimt - among the most important artists of the early 20th century.

Adam and Eve (1917–18) will be on loan from the Belvedere Museum in Vienna as part of the MFA's Visiting Masterpiece series, giving visitors a taste of the artist's signature style, including his sensuous approach to the nude, his bold experiments with pattern, color, and finish, and his exploration of human consciousness and desire.

The work will be juxtaposed with the MFA's life-sized study of a nude couple, Two Nudes (Lovers) (1913), painted by Klimt's Viennese friend and colleague, Oskar Kokoschka.

No more than five years separate the two paintings, which share many features - ambitious scale, daring experiments with form and finish, and, above all, a fascination with sexuality. Each is, in its own way, a product of Freud's Vienna, but also of a singular artist with a singular vision.

January 17, 2015 – April 27, 2015 at the Museum of Fine Art in Boston.

THE 20th ANNIVERSARY LA ART SHOW the West Coast's most comprehensive art experience. Presented by The Palm Beach Show Group.

In 200,000 square feet of space, 120 galleries from 22 countries will showcase their wares.

January 14-18, 2015 at the Los Angeles Convention Center.





THE LARGEST ELVIS EXHIBITION EVER IN EUROPE
300 artifacts direct from the Presley family's Graceland Archives, some of which have never been exhibited outside of Graceland in Memphis are on display at the ElvisPresley Exhibit at the 02 in London. Photo: Graceland.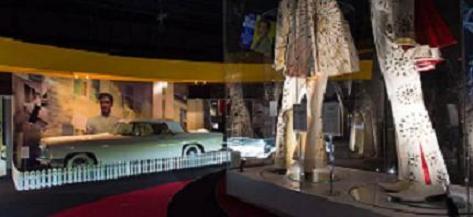 Britain is getting a personal insight into the life of Elvis Presley, the King of Rock 'n' Roll - who would have turned 80 last Thursday - through the largest Elvis retrospective ever mounted in Europe, Elvis at The O2. Opened at The O2, London on December 12, 2014, the nine month exhibition runs through August 31, 2015 and showcases over 300 artifacts direct from the Presley family's treasured Graceland Archives, some of which have never been exhibited outside of Graceland in Memphis.

The Elvis at The O2 exhibition chronicles the rise of the rock 'n' roll icon and how Elvis impacted popular culture around the world through his music, movies and personal style. From his humble beginnings to his meteoric rise to fame the exhibition explores the Elvis-mania that first swept America and then the world, ground-breaking recording sessions, record-breaking concert tours, his military service, Hollywood film career and influence on fashion. Visitors get "an intimate peek behind the gates of Graceland and come to know the man hailed as the King of Rock 'n' Roll; who strived to be the best possible father, son and friend," according to Graceland.

Priscilla Presley comments: "Elvis meant so much to me and our daughter Lisa, but we both know that our family truly shares him with the world. His legacy lives on today not only through his music, but by those who share in the love and admiration of what he contributed to the world of entertainment. While each and every item contains a lifetime of memories, we are more than happy to allow these treasured memories to leave Graceland, if only for a short time, so that his fans and the curious can learn about who he was as an artist, and understand what he was really like at home, by seeing the things that he surrounded himself with."

Graceland's Director of Archives, Angie Marchese, comments: "This is not a collection amassed from auctions; they are personal items from Graceland, where Elvis lived most of his life. The exhibition tells the story of a music revolution that began when Elvis first stepped into a recording studio in 1954 and the lasting impact of his incredible legacy. Elvis Presley is the greatest of all music icons and these artifacts are the symbols of the man and the music that changed popular culture forever. As John Lennon said, 'Before Elvis, there was nothing.'"

Over 300 artifacts presented in Elvis at The O2 include automobiles, personal items, historical documents, iconic stage costumes, guitars, gold and platinum records, photography in addition to dazzling audio and video presentations. Even the famous pool table Elvis played on with The Beatles is on display. Specific items leaving Memphis for the first of its kind London exhibition include:

"TCB" (Taking Care of Business) ring, 16 total karats with a centre solitaire of 11.5 karats
Red 1960 MG Roadster from the film Blue Hawaii
Elvis' personal wallet containing photos of a young Lisa Marie Presley
Elvis' personal keys to Graceland

Some artifacts will only be on display for a limited period of time during the nine month run, giving the exhibition narrative a fresh and exciting story worth seeing on multiple occasions. They include:

American Eagle jumpsuit from Elvis: Aloha From Hawaii
1955 "Pink Cadillac" Fleetwood used for touring and eventually given to his mother
Elvis' gold lame´ outfit worn on stage in 1957
Black leather suit from the 1968 Comeback Special

Angie adds: "These artifacts represent the most intimate picture ever seen in public of Elvis' journey from teen idol to movie star to rock icon. They are at the core of his work and his life and are the symbols of a social phenomenon that is recognized across the generations like no other."








LONDON INTERNATIONAL MIME FESTIVAL 2015


New circus, extreme dance, physical imagery, fairground commedia and exotic Japanese puppetry are just some of the exciting and essentially wordless media through which the Mime Festival's artists tell their stories at this year's International Mime Festival which began January 8 and continues through the 31st.

At LIMF 2015 ballet dancers collaborate with Sean Gandini's brilliant jugglers, and Basil Twist's sly foxes dance through a hundred hand painted Japanese 'dogugaeshi' theatre screens January 28-31 at the Barbican.

From Belgium, Peeping Tom makes its UK debut January 28-31 with a thriller set in a chilly landscape of wind and ice, while Circus Ronaldo's grandiose puppet opera brings high tragedy and raucous comedy in equal measure. Entrapped in a forest of light, the extraordinary Japanese dance Kaori Ito performs in London for the first time, in Olivier Award nominee Aurélien Bory's Plexus. A sold out Theatre Ad Infinitum is January 20-24.

Barely Methodical Troupe from the UK presents the London premiere of Bromanace at the Platform Theatre, University of Arts, London.

The free after-show discussions with the artists are popular. This year's discussion leaders include: Adrian Berry, Lyn Gardner, Jean-Charles Herrmann, Donald Hutera, Angus MacKechnie, Dick McCaw, Dorothy Max Prior, and Arthur Smith.

Performers include: Barely Methodical Troupe, Lonely Circus, Knights of the Invisible, Trygve Wakenshaw, Gandini Juggling, Thomas Monckton, Chris Lynam, Circus Ronaldo, Gecko, Mat Ricardo, Theatre Re, Theatre Ad Infinitum, Cie 111/Aurélien Bory/Kaori Ito, Oktobre, Joli Vyann, NoFit State Circus, Basil Twist, and Peeping Tom.

Venues are the Royal Opera House, Sadler's Wells, SOHO Theatre, Southbank Centre, Jackson Lane and the Platform.

LIMF 2015 promises fabulous contemporary visual theatre for everyone.


SPREADING THE WORD


THE WORLDS'S LONGEST GRAFFITI SCROLL RECORD belongs to Dubai and can be found at Jumeirah Beach in Dubai.

Guinness World Records has officially announced that Dubai broke the world record with its graffiti scroll measuring 7, 366ft (2,245.40 metres) in length. More than 150 graffiti artists or "writers" from around the world took part using at least 7,000 spray paint cans.

The move was made under the directive of Shaikh Hamdan Bin Mohammad Bin Rashid Al Maktoum, Crown Prince of Dubai and Chairman of Dubai Executive Council, as part of the celebration of the 43rd UAE National Day.

Graffiti artists had been asked to use their spray can art to depict the UAE's "rich and colorful journey to nationhood and beyond."

ROCK IN THE PARK the 2015 edition of the The Reuben H. Fleet Science Center's popular monthly live concert series features musical genres include rock, country, blues, folk and soul to ensure that the concert series has something for everybody.

The lineup:

Friday, January 16: Tim Flannery and the Lunatic Fringe
Friday, February 20: Venice
Friday, March 27: Earl Thomas
Friday, April 17: Berkley Hart Selis Twang
Friday, May 22: Steve Poltz

Plus special guest Michael Tiernan opens each show.

The Reuben H. Fleet Science Center is located in San Diego, CA.

CLAP YOUR HANDS with George Russell Jr. and Company in honor of Martin Luther King Jr. Day. Discover how music, including spirituals, gospel and folk-blues, played an important role in both the Underground Railroad and the Civil Rights Movement.

Monday, January 19, 2015 at the John F. Kennedy Presidential Library and Museum in Boston.

CURLING an Olympic sport - yes, really - is returning to Las Vegas next year. I have swept a kitchen floor, so I'm not sure if that qualifies me as a curling expert; but 400 expert sweepers enjoyed Sin City so much last year that they are bringing their brooms back to town in 2016 for the World Financial Group Continental Cup January 14-17, 2016. The event is sponsored by the Canadian Curling Association and USA Curling.


OTHER PEOPLE'S MONEY


THE LAST SHIP marking Sting's debut as a composer, will close on Broadway January 24, 2015.

The show cost cost $15 million to mount on Broadway and an additional $625,000 or more to run each week. Despite the best efforts of everyone associated with the production, ticket sales weren't there.

FILM PERMITS ISSUES in Clark County (Las Vegas), Nevada set a record in 2014 with 400 being issued.

THE BIGGEST CONTINGENT OF 2015 CONSUMER ELECTRONICS SHOW (CES) EXHIBITORS were from China with 900 Chinese companies touting their latest, must have techno breakthroughs.



GIGI a world premiere production of Lerner and Loewe's musical comedy. Book and lyrics by Alan Jay Lerner and music by Frederick Loewe. It is based on the novella Gigi by Colette and 1958 hit musical film of the same name. This re-imagined book is by Call the Midwife's Heidi Thomas.

Directed by Eric Schaeffer.

Starring Vanessa Hudgens as Gigi, this highly anticipated, limited premiere engagement also features Tony Award winner Victoria Clark as Mamita Alvarez, three-time Tony nominee Dee Hoty as Aunt Alicia, two-time Tony nominee Howard McGillin as Honore Lachaille, Corey Cott as Gaston Lachaille, and Steffanie Leigh as Liane d'Exelmans.

Set in the magical world of La Belle Epoque Paris--where fashion, glamour, and passion prevail--Lerner and Loewe's celebrated musical is a romantic comedy about one young woman's journey to find her true self... and her true love.

This Tony and Academy Award-winning musical features glorious songs such as Thank Heaven for Little Girls, I Remember It Well and The Night They Invented Champagne. Following its run at the Kennedy Center, Gigi returns to Broadway for the first time in 40 years.

January 16 - February 12, 2015 in the Eisenhower Theater at the The Kennedy Center in Washington, DC.

HELLO DOLLY! music and lyrics by Jerry Herman. Book by Michael Stewart.

Translator / Director Anthony Chan.

Cantonese Lyrics Rensen Chan.

Choreography by Mohamed Drissi.

Music Director Edgar Hung. Singing Supervisor/Conductor Owen Wong.

Starring Mimi Lo as Dolly with Pichead Amornsomboon, Cheung Ngar Lai, Jordan Cheng, Cheung Tsz Ki and Lau Shau Ching.

"Shrewd and practically-minded matchmaker Dolly's latest assignment is to find a wife for wealthy bachelor Horace. She believes money will lead the way to all successes, until fate brings the two together who discover an odd and wonderful magic known as true love! The musical's jolly characters and life-affirming story are set to sweep away all pessimistic thoughts that may cast a shadow on your mind.

"Hello, Dolly! features many beloved classics such as Hello, Dolly!, It takes a Woman and Put on Your Sunday Clothes that took the musical world by storm. The new Hong Kong production delivers a sumptuous feast of dazzling costumes and uplifting song-and-dance numbers, starring the multi-talented actress Mimi Lo as Dolly, and promises to get the whole town on its feet."

January 17-25, 2015 at the Hong Kong Cultural Centre Grand Theatre in Hong Kong.

TOSCA by Puccini. Director John Bell l has transplanted Tosca's story to 1943, when Mussolini's successors abandoned Rome to the invading German armies. Michael Scott-Mitchell's sets recreate the radiant, baroque interior of Sant'Andrea della Valle church and, in cruel contrast, the grim, fascist architecture of Scarpia's headquarters.

Conducted until February 6 by Andrea Battitoni. Nicholas Milton wields the baton February 7-March 6.

At last they are alone. The man hunt, the interrogation, the prayers, all forgotten as he leers at his conquest. Just sign the note of safe passage and she's his! Where's that pen? His upper lip sweats as he readies himself for Tosca's kiss. He doesn't see the knife glinting behind her back.

Tosca is performed by Amanda Echalaz and Jacqueline Mabardi until February 21. Riccardo Massi and Diego Torre are cast as Cavaradossi until February 6. Other prominent cast members include Claudio Squra, Shane Lowrencev, David Parkin, Graeme Macfarlane, Benjamin Rasheed, Adrian Tamburini and Tom Hamilton.

Acting Concertmaster Huy-Nguyen Bui. Acting Deputy Concertmaster Catalin Ungureanu.

Rehearsal Director RogerPress. Costume Designer Teresa Negroponte. Lighting Designer Nick Schlieper.

Performed in Italian with English surtitles.

Presented by Opera Australia, Tosca has performances at the Joan Sutherland Theatre, Sydney Opera House, January 13-17 March 17, 2015. Sydney, Australia.

MIKE DAISEY: GREAT MEN OF GENIUS four "bio-logues" about megalomania and desire constructed from the interleaved life stories of four insane geniuses: P.T. Barnum, Bertolt Brecht, Nikola Tesla, and L. Ron Hubbard.

Over four nights, Daisey explores the nature of genius and wrestles with the pride, insanity, and chauvinism that bind these men together. By shining a light on these pivotal characters, Daisey reveals how the heights and depths of their gifts have much to teach us about ourselves. Each evening is unique and can be viewed independently; yet, all four together form an epic oral accounting of triumph and folly told with Daisey's dark and hilarious intensity.

January 15th: P.T. Barnum; January 20th: Bertolt Brecht; January 27th: Nikola Tesla; February 5th: L. Ron Hubbard at Joe's Pub in New York City.

WIESENTHAL written by and starring Tom Dugan.

Directed by Jenny Sullivan.

"Filled with hope, humanity and humor, Wiesenthal is the riveting true story of Simon Wiesenthal, an ordinary man who did extraordinary things. Nicknamed the "Jewish James Bond," he devoted his life to bringing more than 1,100 Nazi war criminals to justice. Intelligent, funny, flawed and noble, Wiesenthal was a true universal hero. His unbelievable dedication and tenacity over decades is honored in this play, which gives equal weight to his wisdom and wit during his long, purposeful life."

"I am thrilled to make my New York debut with Wiesenthal, says Dugan. "My father was a WWII veteran who received The Bronze Battle Star and The Purple Heart. He liberated the Buchenwald Concentration Camp in 1945. Although I was raised Irish Catholic, I later married a Jewish woman, and now we are raising our two boys in the Jewish faith, so Simon Wiesenthal's message of tolerance has a deep resonance for me considering my father's place in Jewish history and my future in the Jewish community. Wiesenthal was a true and universal 20th Century hero as he not only fought for the rights of Jewish Holocaust victims, but Soviet, Polish, Gypsy, Jehovah's Witness and homosexual victims as well."

Comprising the design team for Wiesenthal is Tony Award winning scenic designer Beowulf Boritt, costume designer Alex Jaeger, lighting designer Joel E. Silver, and sound designer Shane Rettig.

Wiesenthal plays at the Acorn Theatre at Theatre Row in New York City.

THE BOOK OF MORMON has welcomed Olivier Award-winning actor Gavin Creel into the role of doorbell ringing Elder Price and Christopher John O'Neill who is making his Broadway debut as Elder Cunningham. The Tony Award-winning hit musical can be enjoyed at the Eugene O'Neill Theatre in New York City.

YOU CAN'T TAKE IT WITH YOU has welcomed Emmy nominated Anna Chlumsky and Emmy Award winner Richard Thomas into the cast. The revival of Moss Hart and George Kaufman's classic is at the Longacre Theatre, currently scheduled to play through February 22, 2015.

DA Hugh Leonard's Tony Award-winning memory play.

Directed by Charlotte Moore.

Set in Dublin in the 1960s, Charlie returns to his childhood home after his father's funeral only to find the stubborn patriarch's ghost unwilling to leave the house. As Charlie rummages through his father's belongings, he surrenders to his own memories, both hilarious and wrenching, as the complexity of his upbringing comes alive before our eyes.

Starring: Sean Gormley as Drumm, Kristin Griffith as Mrs. Prynne, John Keating as Oliver, Nicola Murphy as Mary Tate, "The Yellow Peril", Paul O'Brien as Da, Ciarán O'Reilly as Charlie, Adam Petherbridge as Young Charlie, and Fiana Toibin as Mother.

James Morgan Scenic Design. Linda Fisher Costume Design. Michael Gottlieb Lighting Design. Zach Williamson Sound Design. Steven Gabis Dialect Coach. Robert Charles-Vallance Hair & Wigs. Pamela Brusoski Production Stage Manager. Melanie Morgan Assistant Stage Manager.

January 14th- March 8th presented by Irish Rep at the DR2 Theatre in Union Square, NYC.


WHO'S WHERE




AUDRA McDONALD on stage January 17, 2015at the Kodak Hall of Fame Eastman Theatre in Rochester, NY.

KEVIN GRIFFIN of Better Than Ezra a rare solo show by the frontman of alt-rock band Better Than Ezra. January 15, 2015 at Wolf Trap in Vienna, VA.

MAVIS STAPLES the Rock and Roll Hall of Famer first known for her work with The Staple Singers will be performing a mix of classic and new material. Sunday, January 18, 2015 at Sunset Cultural Center in Carmel, CA.

FLEETWOOD MAC on stage Friday, January 16 at the Xcel Energy Center in Saint Paul, MN. On Saturday they perform at the Pinnacle Bank Arena in Lincoln, NE.

FLORIDA GEORGE LINE: ANYTHING GOES TOUR with Thomas Rhett and Frankie Ballard perform Thursday, January 15, at the Huntington Center in Toledo, OH. Friday's gig is at Wright State University Nutter Center in Dayton, OH. Saturday finds them at the John Paul Jones Arena in Charlottesville, VA.

DIANNE REEVES among the pre–eminent jazz vocalists in the world, recognized for her breathtaking virtuosity, improvisational prowess, and unique jazz and R&B stylings, performs with Peter Martin, Romero Lubambo, Reginald Veal and Terreon Gully on Saturday, January 17, 2015 at the Scottsdale Center for the Performing Arts in Scottsdale, Arizona.

VANESSA WILLIAMS with more than 25 million albums worldwide to her credit as well as earning Golden Globe, Grammy and Oscar nominations, is in the spotlight next Sunday, January 18, 2015, at the Scottsdale Center for the Performing Arts in Scottsdale, Arizona.

MORGAN JAMES who performed on Broadway in Motown: The Musical, Godspell, and The Addams Family brings her extraordinary voice to the Orpheum Theatre in Sioux Falls, SD for a show on January 16, 2015. Part of the Sioux Falls Jazz and Blues "Sweet 16 Season."


FINAL OVATION


CHARLIE HEBDO EMPLOYEES killed in an evil massacre in Paris included Stephane Charbonnier, 47, known as Charb, editor and chief cartoonist; Jean Cabut, 76, known as Cabu, reportedly the highest paid cartoonist in the world; Georges Wolinski, 80, an artist who had been drawing cartoons since the 1960s; Bernard Verlhac, known as Tignous, 58, a member of Cartoonists for Peace; Bernard Maris known as Uncle Bernard, 68, economist and writer; Philippe Honoré known as Honoré, 73, the artist who drew the last cartoon tweeted by the weekly publication; Michel Renaud a former journalist who was visiting the Charlie Hebdo offices; Mustapha Ourrad copy-editor; Elsa Cayat a columnist and analyst; Frederic Boisseau a building maintenance worker; Franck Brinsolaro, 49, a policeman appointed to head security for Charbo; Ahmed Merabet, 42, a police officer and member of the 11th arrondissement brigade.

Je Suis Charlie.

JOE GUERCIO Elvis Presley's long-time conductor and musical director, died from a brief illness in a Nashville hospice on January 4, 2015. He was 87.

Guercio enjoyed a prolific career, but is best known for his work with Elvis. He was musical director and conductor for Elvis' concert shows from the summer of 1970 to the summer of 1977 and Elvis' final performance.

Guercio was musical director for the International Hotel in Las Vegas when the work with Elvis began. Along with the obvious contributions he made to Elvis' shows, including many of the triumphs of Elvis' "concert era", it was Joe Guercio who created the now almost iconic six-note theme for Elvis' stage entrances and bows. It was also Guercio who suggested that Elvis' shows open with Theme from 2001 - A Space Odyssey (Also Sprach Zarathustra). The inspiration came when Guercio and his late first wife (Corinne, who died in 1986) saw the now-classic science fiction movie in a theater, for when the music began Mrs. Guercio whispered to her husband "You'd think Elvis was about to enter."

"I am so sorry to hear about the passing of Joe Guercio," said Presley's former wife, Priscilla Presley. "He was a close friend and associate who will be greatly missed by us all. I was fortunate to see him at Graceland a few months ago, and as only Joe could do, he had us all laughing with him at his stories. His musical talent was unsurpassed. Elvis loved working with him. We have all lost a great man and a true gentleman. My heart goes out to his beloved family."

"All of us at Graceland and Elvis Presley Enterprises are deeply saddened to learn of the passing of Joe Guercio," said CEO of Elvis Presley Enterprises, Jack Soden. "He was a dear friend and loved by all. Joe not only entertained millions as an incredibly talented musical director, but also entertained all that knew him with his wonderful sense of humor. The world has lost a great man, and we all have lost a special friend."

After graduating from high school in Buffalo, NY he joined the Navy, playing the saxopone in a Navy Band.

After completing military service, he got a job playing in the band of singer Billy Daniels, one of the first African-American singers to successfully cross over into the white mainstream entertainment world. Guercio later caught the attention of Patti Page's manager and was hired as her piano accompanist.

He had been a musical director for Julius LaRosa, Diana Ross, Jim Nabors, Florence Henderson, Diahann Carroll, Steve Lawrence and Eydie Gorme, among others. His arrangement of the medley Sweet Inspiration/Where You Lead was a 1972 hit for Barbra Streisand, and his arrangement of The Way We Were/Try to Remember was a 1975 hit for Gladys Knight. Guercio's work with Natalie Cole to reunite her on stage in duet with her late father, Nat King Cole, pre-dated her famous early 1990's duet recordings and videos with Mr. Cole. Guercio accompanied blues legend B.B. King to Rome to meet Pope John Paul II and perform in the Vatican's fifth Christmas concert.

With his second wife choreographer Penny France, they produced entertainment for Arizona Charlie's in Las Vegas, creating the Naughty Ladies Revue.

Twice a widower, he is survived by his son Jimmy, a drummer from Santa Monica, Calif.; and Sandy Gerace, his younger sister. A memorial service will be held in Nashville.

CONSTANCE FRANCESCA GABOR HILTON known as Francesca, the only daughter of actress Zsa Zsa Gabor and Hilton Hotel founder Conrad Hilton, died Monday, January 5, 2015, at Cedars-Sinai Medical Center in Los Angeles after an apparent heart attack and stroke. She was 67.

Hilton in recent years battled stepfather Frederik von Anhalt - her mother's ninth husband - over control of her mother's finances, with a judge at one point ordering von Anhalt to allow Hilton to visit her mother.

Gabor, now 97, requires around-the-clock care after health crises including a broken hip, a leg amputated because of gangrene, blood clots and other ailments.

Francesca was an actress, known for A Safe Place (1971), Forever Fabulous (1999) and Liz: The Elizabeth Taylor Story (1995). Francesca had performed as a comedian at the Comedy Store in Los Angeles and in Las Vegas at the Stratosphere Hotel. I attended the opening night show. Her mother sat directly in front of me. Francesca wasn't a gifted comedian, but her mother laughed and applauded her daughter's every joke, as if she was the funniest person to ever set foot on a stage.

Her 1993 marriage to Joseph Piche ended in a 2010 divorce.

ANDRAE CROUCH died Thursday, January 8, 2015. He had been hospitalized in Los Angeles since January 3 after suffering a heart attack. He was 72.

When Crouch was 11, his father was invited to speak for several weeks at a small church as a guest preacher. Crouch's father and the church's congregation encouraged the young boy to play during the services. At the piano, Crouch found the key in which the congregation was singing and started to play. After this, Crouch honed his piano-playing skills and, in time, wanted to write his own music. When he was 14 years old, he wrote his first Gospel song.

Crouch was a key figure in the Jesus Music movement of the 1960s and 1970s. As a result, helped bring about contemporary Christian music, and began to bridge the gap between black and white Christian music. Though sometimes criticized for diluting the Gospel message by using contemporary styles, his songs have become staples in churches all around the world and recorded by mainstream artists such as Elvis Presley and Paul Simon.

In 1986, Crouch composed the theme music for the Sherman Hemsley sitcom Amen. He was featured in the 1995 Warren Chaney docudrama, America, A Call to Greatness.

Neil Portnow President/CEO of The Recording Academy issued the following statement:

"Seven-time Grammy winner Andraé Crouch was a remarkable musician and legendary figure in gospel music. Often referred to as "The Father of Modern Gospel Music," he aided in the crossover success between gospel and mainstream music during his impressive career, which spanned more than five decades. From singing with his first group The Church of God in Christ Singers during the early 1960s, to founding the Disciples a few years later, to leading the choirs featured on hits like Madonna's Like a Prayer and Michael Jackson's Man In The Mirror, his passion for music was as infectious as it was influential. Andraé was fiercely devoted to evolving the sound of contemporary, urban gospel music and was always delighted to share it with audiences worldwide. In addition to being an accomplished vocalist, Andraé was also a uniquely gifted songwriter, arranger and record producer. We have lost a dynamic member of our creative community, and our deepest condolences go out to his family, friends, and all who have been lifted up by his remarkable work.

He is survived by his twin sister Sandra.















Next Column: January 18, 2015
Copyright: January 11, 2015 All Rights Reserved. Reviews, Interviews, Commentary, Photographs or Graphics from any Broadway To Vegas (TM) columns may not be published, broadcast, rewritten, utilized as leads, or used in any manner without permission, compensation and/or credit.
Link to Main Page
---
Laura Deni



For the snail mail address, please E-mail your request.
CLICK HERE FOR COMMENT SECTION