! >
Broadway To Vegas
  
 SHOW REVIEWS CELEBRITY INTERVIEWS GOSSIP NEWS

| | |
| --- | --- |
| | |
STATE ARTS COUNCILS GET CREATIVE AND HANG TOUGH - - QUINCY JONES WANTS A SECRETARY OF THE ARTS - - JOEL GREY ANSWERS QUESTIONS - - THEODORE BIKEL IN SHOLOM ALEICHEM: LAUGHTER THROUGH THE TEARS - - RICHARD DREYFUSS IN COMPLICIT - - LAUGHTER AND REFLECTION WITH CAROL BURNETT - - WORKS FROM THE DOROTHY AND HERBERT VOGEL COLLECTION - - HOW THEATER FAILED AMERICAN - - DONATE . . . Scroll Down


Copyright: January 11, 2009
By: Laura Deni

CLICK HERE FOR COMMENT SECTION
STATE ARTS COUNCILS CREATIVELY HANG TOUGH IN A DOWN ECONOMY


Across American state arts councils are being notified that their funding is taking a hit.

Not faint of heart, a marshaling of forces erupted and legislators, who though artsy types could only use the right side of their brain, are stunned to discover that creatives have a short learning curve in how to use their left orb.

Arts in American generate major economic impact. Budget cutters take note.

If the groups are ducking as guillotines lop off there appears to be optimism at the election of Obama.

Americans for the Arts Action Fund President and CEO Robert L. Lynch gave the following statement on the results of Election Day:

"The historic election of Sen. Barack Obama to be the 44th President of the United States will have tremendous impact on the nation's arts community, public schools, and creative workforce. His commitment to arts and arts education on the campaign trail is just a preview of what his administration can accomplish. President-elect Obama demonstrates the leadership and vision to advance the arts in America through investing in more arts education in public schools, increased funding for the National Endowment for the Arts, promoting cultural diplomacy, and supporting artists rights."

The Alliance of New York State Arts Organizations has a 33-year history as New York's primary service and advocacy organization, providing professional training for arts leaders, technical assistance for arts organizations and advocacy leadership to increase public funding and advance public policy in the arts. The Alliance informs and mobilizes the field on state and national issues affecting the arts and assists local arts agencies in building community support.

They are ticked off about the budget cuts and are mobilizing.

Supporters are encouraged to not only contact legislators by September 13 but take advantage of free seats on a bus going from New York City to Albany on January 13.

The last time the organization emailed legislators, citizens sent 14,300 emails to the Governor and legislators. "This time let's make it 20,000 emails. "Numbers matter. Everyone pays attention when enough people speak out," pleads Judith K. Weiner executive director of Alliance of NYS Arts Organizations, based in Mattituck, NY. The alliance also monitors, informs, and mobilizes the state on legislative and budgetary issues affecting the arts, and also helps develop public policy in the arts. To increase lobbying capacity, Ms. Weiner founded and is the executive director of ArtsAction for NY.

"The Governor proposes an additional $7 million cut to the current local assistance (grants) budget. This will eliminate almost all NYSCA funds that have not yet been awarded from the October and December cycles."

"As a result 573 organizations may not receive any funding.....including those who have general operating support pending."

"This is the second reduction in the current budget; there was almost a 10% reduction a couple of months ago."

"The first cut reduced the NYSCA budget from $48.5 million to $45.9 million. The Governor's second proposed cut will bring the NYSCA budget down to $38.9 million..... a total reduction of 20% from $48.5 million at the start of the current fiscal year. We need to send a powerful message to Albany before January 13 describing the impact of the Governor's proposed cut of $7 million to the NYSCA 08-09 budget."

"Legislators need to know there will be significant economic losses to the state and to our communities....and it may well include major job losses."

The Sunflower State - Kansas - isn't so sunny about their threatened budget cuts.

Chairman Anita L. Wolgast and Llewellyn Crain executive of the Topeka based Kansas Arts Commission are strongly encouraging people to join Kansas Citizens for the Arts, an advocacy organization which provides members information to share with legislators, telling them of the importance of the arts, even in these difficult times.

"Most Kansans have by now heard that our state is facing a financial crisis that is impacting all state agencies. Unfortunately, the Kansas Arts Commission is no exception. The KAC has been asked to significantly cut its current budget. Unless the State's financial health improves, we anticipate even larger budget cuts during the 2010 fiscal year. Please be assured that the staff and the Commissioners are doing everything we can to work with the Governor's office during this crisis time," Wolgast and Crain wrote to Kansas citizens.

Kansas Citizens for the Arts is a grassroots organization to provide statewide leadership in promoting the interests of the citizens of Kansas in advocacy, funding and education for the arts.

Arts Day at the Capitol is Wednesday, March 4, 2009. Legislators are going to get an earful.



Malcolm White .In October 2005, Malcolm was chosen as the Executive Director of the Mississippi Arts Commission. In addition to working tirelessly for the arts across the entire state, he has been dedicated to the cultural rebuilding of the Gulf Coast communities that were devastated by Hurricane Katrina, creating and composing new possibilities for artists and arts institutions along the coast.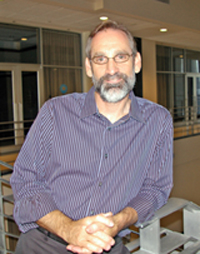 "The current budget cut (2%) had not affected our ability to operate or re-grant to the field," Malcolm White, Director Mississippi Arts Commission told Broadway To Vegas. "The is a possibility of another 5-6% cut in the near future that would begin to affect next year's grant pool. For now, we are business as usual with a watchful and conservative eye on the future."

"We announced the creation of a statewide arts endowment with a goal to raise $1M over the next three years. What timing, huh? While this is the very worst time to raise money, it is a great time to make a case for why we need an endowment or rainy day fund."

Fighting budget cuts with financial arguments is the strategy of preference. Supporting arts does mean spending money - but it's spend a little to make a lot.

Seattle Mayor Greg Nickels' 2009-2010 budget recognizes the importance of the arts to economic growth. Despite the tough economic climate, the mayor's proposed budget holds the line for the Office of Arts & Cultural Affairs' budget.

"Here's the good news," wrote department director Michael Killoren in his official announcement. "We will maintain our core programs and continue our current levels of investment in the city's arts and cultural organizations, individual artists, youth arts, neighborhood and community programs. The state is also entering into their second year of their groundbreaking Arts Education Partnership Initiative with Seattle Public Schools, with the district matching our $100,000 investment to provide access to a quality arts education for all students. And with more than 40 active public art projects, we will continue to enrich our city's public spaces."

Tennessee is a strong supporter of the arts with their motto "Welcome to a state where the arts add value to the lives of its citizens."

When the Tennessee Arts Commission was created in 1967, it was given a special mandate by the General Assembly to stimulate and encourage the presentation of performing, visual and literary arts throughout the state and to encourage public interest in the cultural heritage of Tennessee.



Hal Partlow, Director of Performing Arts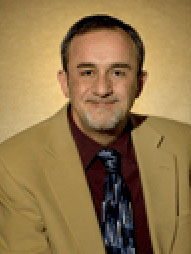 Hal Partlow is the Director of Performing Arts. The Performing Arts Program supports public performing arts projects and performing arts organizations within the disciplines of music, dance and theater. In addition, the Performing Arts Program helps support professional Tennessee artists through the Touring Arts and Individual Artist Fellowship grant categories. The program also provides guidance to Tennessee presenters by providing development opportunities to improve their organization's skills.

Each year the commission conducts competitive grants making activities open to non profit, chartered-in-Tennessee organizations presenting and producing arts events and activities. In general, all grants must be matched by the recipient 1:1 (one State dollar matched by one private-sector dollar).

To help off-set budget cuts, South Carolina is one of several states which profits from the sale of special license plates. South Carolina encourages motorists to purchase a South Carolina Arts Awareness License Plate - asking vehicle owners to "Step up to the plate for arts education! Show the world that you're "Driven by the Arts" for arts education."

The SC Arts Commission invited interested artists and designers to submit a design proposal for a new Arts Awareness license plate for South Carolina. A committee representing arts organizations and state agencies chose Manning artist Ned Chilton's design from nearly 40 entries. The slogan, "Driven by the Arts," was chosen from more than 200 entries and submitted by Eric Holowacz, currently residing in New Zealand, and Columbia resident Leigh Newman. All three individuals were recognized during the unveiling.

Proceeds from license plate sales benefit in-school artist residencies and other arts education programs in schools and communities across South Carolina. License plate sales also benefit the Arts in Basic Curriculum Project, which provides leadership to achieve quality, comprehensive arts education in dance, music, theatre, visual arts, and creative writing.

A study completed by the Division of Research, Moore School of Business, University of South Carolina echoes reports from other states: "The cultural industry entails a variety of direct impacts on the economy. For example, an artist may purchase supplies from a local business. These expenditures by the artist increase the output of the supplier, and hence of the economy. Similarly, visitors to the Spoleto USA festival in Charleston will inject spending into the local economy supporting, for example, activity at hotels and restaurants. These various direct impacts are simply the beginning, however. The total impact on the economy is greater than the initial direct impact. For this reason, these additional effects are often called the multiplier effects."

The Maryland State Arts Council describes itself as "Vibrant, Dazzling, Diverse, Engaging."

Maryland is a state of acute economic and cultural contrasts. World-class museums and performing arts centers coexist in a rich cultural landscape with traditional decoy carvers and master shipwrights of the eastern shore.

Given this diversity, Maryland needed a multi-dimensional economic development approach that could respond to varying local challenges and opportunities. In 2001 Maryland became the first state in the country to adopt Arts and Entertainment Districts as a statewide policy strategy for enhancing economic vitality. This program provides state incentives to help Maryland localities organize special zones that harness the power of their cultural resources. The district becomes a focal point that attracts businesses, stimulates cultural development and fosters civic pride. Administered by the Maryland State Arts Council, this initiative puts the arts at the heart of community revitalization.

Arts and Entertainment Districts also become tourism magnets.



WRAP IT UP COMFORT AND JO. The show features an exciting mix of regional painting, sculpture, photography, mosaic and mixed media. Art-related books, notecards, jewelry and other gift items are also be featured. The show continues through the end of January at The Main Street Gallery, a project of Cambridge Main Street, which opened in 2008 as a way to strengthen the arts and entertainment scene in Historic Downtown Cambridge Photography by Dave Harp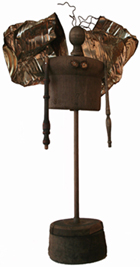 Referring to Cambridge's district, Elizabeth Affleck Carven, Deputy Director of the Maryland State Arts Council states, "They are on the verge of emerging into this wonderful, unique little downtown with interesting restaurants, retail, galleries and working artist studios. Rather than just driving past Cambridge on their way to the coastal resorts, travelers will start to see Cambridge as a serious destination."

Illustrator and arts activist Kyra Kristof Pincheira agrees. She says, "Many people are very surprised by our diversity of artistic offerings. We will hear, 'I expect to see this in New York, not here.' We are really building towards a critical mass that makes it well worth a day trip."

With plans for more district designations, Maryland is growing through the arts. Contemplating Cumberland's recent journey and future plans Andrew L. Vick, Executive Director of the Allegany Arts Council and Coordinator of the Cumberland Arts and Entertainment District reflects, "Even in challenging financial times, an investment in the arts pays major dividends."

The Oklahoma Arts Council attempts to "improve lives through the arts." The Council raises public awareness about the value of the arts to the economic, educational, and cultural life of Oklahoma. The arts produce jobs and attract out-of-state tourists and directly improve Oklahoma's economy.

The 37th annual Tulsa International Mayfest takes place May 14-17, 2009. Mayfest features three outdoor stages, where performers have the opportunity to receive exposure and recognition from over 350,000 attendees during the four- day festival.

The Colorado Council on the Arts conducted a 2008 study which concluded that: Colorado public high schools offering more arts education have higher scores on state tests in reading, writing and science – regardless of student ethnicity or socioeconomic status. They also have lower dropout rates.

A first-of-its-kind study of arts education in public schools by the Colorado Department of Education and the Colorado Council on the Arts showed that while most schools offer some formal arts education to a majority of students, an estimated 29,000 students attend public schools that do not offer any formal arts education.

At a time when employers are demanding a more creative work force, 53 percent of high school students are not taking any arts courses.

Work is under way to increase access to arts education in Colorado's public schools. A team led by Lt. Gov. Barbara O'Brien and Commissioner of Education Dwight Jones has begun a review of standards and assessments for arts education. The committee is also looking into professional development opportunities for educators who want to integrate arts into core subject areas.

The Economic Impact of Non-profit Arts Organizations on the State of Delaware concluded that the nonprofit arts are a $142.4 million industry in the state - one that supports 3,685 full-time jobs and generates $9.4 million in local and state government revenue. Delaware's nonprofit arts and cultural organizations, which spend $100.4 million annually, leverage a remarkable $42 million in additional arts audience spending - spending that pumps vital revenue into local restaurants, hotels, retail stores, parking garages and other businesses. By demonstrating that investing in the arts yield economic benefits Arts Economic Prosperity lays to rest a common misconception: that communities support the arts at the expense of local economic development. This report shows conclusively that in the State of Delaware the arts means business!"

In December The Wallace Foundation - an independent, national foundation dedicated to supporting and sharing effective ideas and practices that expand learning and enrichment opportunities for all people - published a new study, State Arts Policy: Trends and Future Prospects, by the Rand Corporation that confirms what anybody with even a room temperature IQ already knows: The effects of arts programs in schools trickle up to the adult society in terms of quality of life issues including the economy - in case you still think the arts are just a luxury.



Broadway To Vegas is supported through advertising and donations. Priority consideration is given to interview suggestions, news, press releases, etc from paid supporters. However, no paid supporters control, alter, edit, or in any way manipulate the content of this site. Your donation is appreciated. We accept PAYPAL. Thank you for your interest.


DISCUSSING HOW THEATER FAILED AMERICAN - OR VICE VERSA


How The Theater Failed America created and performed by Mike Daisey, directed by Jean-Michele Gregory has performances through January 18 at Woolly Mammoth Theatre in Washington, D.C.

Being able to say - I told you so - is not giving Daisey any pleasure.

"A year ago I started performing a show about the state of American theater," communicated Daisey. "In it I spoke about the dangers of corporatization, the devaluation of our work and workers, the loss of coherent vision, and the overleveraged state of many of the largest American theaters."

"More than a polemic, I wanted to tell a story about theater, failure, passion, and hope. It was a cautionary tale, but also an attempt to inspire: to call back to our roots for why some of us might have chosen to dedicate our lives to live performance, to embrace and honor that original fire that I believe we need now more than ever. "

"(Last) week I open that monologue in Washington DC in a changed landscape. Across the country theaters are closing, an echo of a national and international economic crisis. Sections of the show that used to talk about the possibility of a reckoning in the future are suddenly dated, overtaken by the future blowing in with sudden force to become an unmistakable reality."

Select performances are accompanied by roundtable discussions about the state of American theater, with theater professionals and artists from across the spectrum coming together to talk about the state of our art today."

The roundtable discussions following performances on January 12, and 16 will include local theatre administrators, artists, and funders. All roundtables will be moderated by Mike Daisey and are free. These are not post-show discussions, but rather open dialogues about particular issues. To attend any performance, a ticket is required; however, anyone may attend the rountable discussions for free.

Mon., January 12: The State of Our Union NOTE: This performance is sold out, but anyone may attend the roundtable afterward. Approximate start time of roundtable: 9:20pm). Jessica Dukes, actress & Woolly Mammoth Company Member.
Rick Foucheux, actor & Woolly Mammoth Company Member
Michael Kahn, Artistic Director – Shakespeare Theatre Company
Vincent Lancisi, Artistic Director – Everyman Theatre (Baltimore)
Blake Robison, Producing Artistic Director – Round House Theatre
Howard Shalwitz, Artistic Director – Woolly Mammoth Theatre Company
Maggie Boland, Managing Director – Signature Theatre

Fri., Jan. 16: American Theatre in 2034
(Approximate start time of roundtable: 9:50pm)
Gabriela Fernandez-Coffey, Actress
Peter Marks, Theatre Critic – Washington Post
Jenny McConnell Frederick, Co-Artistic Director – Rorschach Theatre
David Muse, Associate Artistic Director – Shakespeare Theatre Co.; Freelance Director
Shirley Serotsky, Director of Literary & Public Programs – Theater J; Freelance Director
Jeremy Skidmore, Producer – Source Festival; Freelance Director


ART AND ABOUT


COLLECTED THOUGHTS: WORKS FROM THE DOROTHY AND HERBERT VOGEL COLLECTION

Dorothy and Herbert Vogel look at a drawing by Richard Tuttle from their collection in the Print Study Room, National Gallery of Art, 1992. Photo by Lorene Emerson, National Gallery of Art, Washington, D.C., Gallery Archives.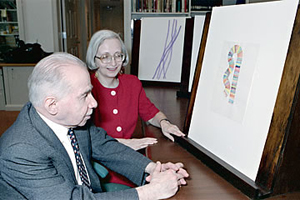 As part of The Dorothy and Herbert Vogel Collection: Fifty Works for Fifty States national gift program, the Indianapolis Museum of Art is the first to present 50 works from the Vogels' esteemed collection that have recently joined the Museum's permanent collection.

The Vogel Collection has been characterized as unique among collections of contemporary art, both for the character and breadth of the objects and for the individuals who created it. Herbert Vogel (b. 1922), spent most of his working life as an employee of the United States Postal Service, and Dorothy Vogel (b. 1935), was a reference librarian at the Brooklyn Public Library. Setting their collecting priorities above those of personal comfort, the couple used Dorothy's salary to cover the expenses of daily life and devoted Herbert's salary to the acquisition of contemporary art. With the exception of the collection formed by their friend, artist Sol LeWitt, no other known private collection of similar work in Europe or America rivals the range, complexity, and quality of the art the Vogels acquired.

As the first collectors to buy work by many artists who were then unknown to a wide audience, the Vogels offered encouragement at the start of the careers of several figures who went on to achieve considerable acclaim. Owing to these artists' continuing close relationship with the collectors, many works of art collected by the Vogels were gifts, marking special occasions—such as Dorothy and Herbert's birthdays and wedding anniversary—and often personally inscribed. In this sense the Vogels' collection is a keen reflection of their friendships with artists.

With the assistance of the National Gallery of Art, the National Endowment for the Arts, and the Institute of Museum and Library Services, the Vogels have launched a national gifts program entitled The Dorothy and Herbert Vogel Collection: Fifty Works for Fifty States. It is distributing 2,500 works from the Vogels' collection of contemporary art throughout the nation, with fifty works going to a selected art institution in each of the fifty states.

The best-known aspects of the Vogel Collection are minimal and conceptual art, but these donations also explore numerous directions of the post-minimalist period, including works of a figurative and expressionist nature. Primarily a collection of drawings, the 2,500 works the Vogels are donating also include paintings, sculptures, photographs, and prints by more than 170 contemporary artists, mainly working in the United States, including Will Barnet (b. 1911), Robert Barry (b. 1936), Lynda Benglis (b. 1941), Dan Graham (b. 1942), Sol LeWitt (1928–2007), Robert Mangold (b. 1937), Sylvia Plimack Mangold (b. 1938), Edda Renouf (b. 1943), Pat Steir (b. 1940), and Richard Tuttle (b. 1941).

Works from the collection have appeared in numerous exhibitions throughout the world, including two major exhibitions organized by the National Gallery that were selected solely from their collection. In 1994, From Minimal to Conceptual Art: Works from the Dorothy and Herbert Vogel Collection was on view at the National Gallery of Art. It was also seen in 1997 at the Archer M. Huntington Art Gallery in Austin, and the Portland Art Museum in Oregon. In 1998, the exhibition traveled abroad to the Tel Aviv Museum of Art, Israel, and the Wäinö Aaltonen Museum of Art, Turku, Finland. Following its 2002 presentation in Washington, Christo and Jeanne-Claude in the Vogel Collection was on view at the Museum of Contemporary Art, San Diego.

Artists' use of drawing as a primary medium has expanded during the years in which the Vogel Collection has been formed, and interest in drawings on the part of contemporary collectors has expanded as well. However, when the Vogels began collecting in the early 1960s, their focus on drawing was an unusual one, suggesting another aspect of their prescience. Many drawings in the collection represent an artist's initial form of an idea, and others act as plans to be followed by a collaborator in the making of a work of art. This emphasis on drawings adds to the unique and intimate nature of the Vogel Collection, making their gifts an important educational tool for museums. Another educational focus of the Vogels since 1980 has been their ongoing donation of artist-related records to the Archives of American Art, Washington, DC.

"We hope this will be a truly national program, and that it will make the work of the many artists we admire familiar to a wider audience. We also hope our gifts will enable museums throughout the country to represent a significant range of contemporary art," said Dorothy Vogel on behalf of the couple. Inspired by the Kress Foundation's placement of old master paintings throughout the United States in the middle of the last century, the Vogels hope that their project will, as a parallel effort, enhance knowledge of the art of our time.

The works joining the IMA's collection demonstrate the Vogels' knowledge, vision and commitment to new and challenging artwork.

Through April 12, 2009 McCormack Forefront Galleries, Indianapolis Museum of Art, Indianapolis, IN.



TWO WRITERS-IN-RESIDENCE SELECTED Prominent Wellington poet, fiction writer, editor and biographer, Vincent O'Sullivan, and Dunedin writer and poet, David Eggleton have been selected for residencies at the Michael King Writers' Centre in Devonport, Auckland, in early 2009.

Vincent O'Sullivan, who has published an extensive range of poetry, fiction and drama, as well as academic books, is working on a biography of artist Ralph Hotere. He will be at the centre between February and April.

David Eggleton is working on a collection of poems drawing on Polynesian myths and legends. He will be at the centre between April and June.

Both writers plan to use their time in Auckland to carry out research in the area, as well as to write. The residencies, which have an associated stipend of $8,000 each, are funded by the Michael King Writers' Centre and Creative New Zealand.

The Michael King Writers' Centre is New Zealand's full first writers' centre. It aims to support New Zealand writers and to promote New Zealand literature by securing funds for residencies, organizing literary events and programs for writers. It is based in the historic Signalman's House on Mt Victoria in Devonport.


PETITION FOR SECRETARY OF THE ARTS - THEY MEAN WELL
Quincy Jones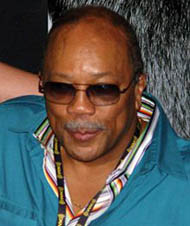 When Quincy Jones was interviewed by John Schaefer on WNYC last November, he voiced an opinion that President-Elect Barack Obama should appoint a Secretary of the Arts, saying that he would lobby for the creation of such a post when he next chats with the new president. Musician Jamie Austria picked up the mantle and wrote a petition which is being circulated on the internet. ( Petition )

Any petition should be short and to the point, but this one is just too brief - more of an endorsement of Jones, rather than a serious petition for a new cabinet position. This sincere attempt doesn't meet necessary guidelines - including making sure those who sign are registered voters - set forth the purpose, specific duties for a Secretary of the Arts, including funding sources. However, the intent is commendable and garnering press attention and recognizable signatures including; singers Marni Nixon and Joan Wile; saxophonists James Moody, Charles Lloyd, Phil Woods, and Branford Marsalis; composers Snuffy Walden, John Corigliano, and David Amram; conductor Marin Alsop, instrumentalist/composer/arranger Jimmy Heath; and drummer Jack DeJohnette.

While many other countries have had Ministers of Art or Culture for centuries, The United States has never created such a position.


SPREADING THE WORD


LAUGHTER AND REFLECTION WITH CAROL BURNETT On January 12, six-time Emmy Award winner Carol Burnett returns to Bass Hall in Fort Worth, TX for only the second time since her special appearance in Let the Angels Play, the Grand Opening Gala Performances of the Hall in May, 1998.

People are invited to come with questions and enjoy this evening of laughter and reflection with one of the country's most loved and respected performers. Carol Burnett was born in San Antonio, Texas in 1933, and was one of the most successful female comedians on American television, thanks largely to her variety show that ran on CBS from 1967 through 1978.

CHICAGO TALKBACK TUESDAYS the post-show discussion and Q&A series continues on Tuesday, January 20 with Tony Award winner and original Amos Hart - Joel Grey. Joel Grey made his Broadway debut in 1961 in Neil Simon's Come Blow Your Horn. Since then, his Broadway credits include Stop the World I Want to Get Off, Half a Sixpence, Cabaret (Tony Award), George M! (Tony nomination), Goodtime Charlie (Tony nomination), The Grand Tour (Tony nomination) and Wicked.

The January 20 Talkback Tuesdays offering with Grey will be moderated by Chicago's Tony Award-winning director, Walter Bobbie. Ambassador Theatre, NYC.

PHILLIP GLASS returns to North Adams to perform and discuss his work in film in an event titled Philip on Film. Glass' compositions for film are richly diverse - he has scored everything from Hollywood hits like The Hours and The Truman Show to Errol Morris' Oscar-winning documentary The Fog of War to the horror oeuvre of Clive Barker. His original scores for live performance to the Qatsi trilogy and to 1931's Dracula (a collaboration with Kronos Quartet) are modern masterpieces. Take an intimate personal journey with this masterful composer through his contributions to the big screen. This event is created exclusively for MASS MoCA

Glass, 71, has just finished a sonata, and before that a piece for two pianos, four hands. He's got a new violin concerto in the works plus a full ballet for the Netherlands Dance Theater, and he still performs on piano with the Philip Glass Ensemble.

In conversation with Boston Phoenix film critic Gerry Peary, Glass will show clips from a variety of films; the featured clips will be a jumping-off point for what will be a remarkable evening of conversation, interspersed with bits of performance, delving into Glass' approach and experiences with scoring for films.

Friday January 16 at Mass MoCA in North Adams Hunter Center. MASS MoCA, the largest center for contemporary visual and performing arts in the United States, is located off Marshall Street in North Adams on a 13-acre campus of renovated 19th-century factory buildings.


OTHER PEOPLE'S MONEY


IN THE HEIGHTS the 2008 Tony Award-winning Best Musical has recouped the show's $10 million investment after only 10 months and 337 performances. ( See Broadway To Vegas column of May 27, 2007 ) In The Heights opened on Broadway March 9, 2008, after a 2007 developmental production Off-Broadway. Performances continue at the Richard Rodgers Theatre on West 46th Street. In addition to winning four 2008 Tony Awards - Best Musical, Best Score, Best Choreography, Best Orchestrations - the original cast album picked up a 2008 Grammy Award nomination. In November 2008, Universal Pictures acquired the rights to produce a feature film based on In the Heights.

EMMY AND GOLDEN GLOBE WINNER TONY SHALHOUB last Thursday officiated at the ribbon cutting for a new $6 million Milwaukee-area entertainment studio complex - a result of the Film Wisconsin tax incentive legislation that took effect Jan. 1, 2008 - thanks to the growing film, television and video gaming presence in Wisconsin. Shalhoub, a Green Bay native, told attendees that, while he has thoroughly enjoyed spending the last eight years playing Adrian Monk, the obsessive-compulsive private investigator on Monk, this is his last season. Shalhoub also produces Monk and said he wants to produce more as well as continue in other acting roles.

He's on a three-month hiatus from Monk and will start filming his part in the independent film Feed the Fish next month in Wisconsin. About three weeks of principal photography is scheduled in Door County. The film is directed by Michael Matzdorff and produced by Alison Abrohams and Nick Langholff. This will be the first time Shalhoub has filmed a movie in his home state, which he visits several times a year to see family and take in a Packers game. The second half of the seventh season of Monk began airing last Friday on the USA Network, and Shalhoub will start shooting the last season in March.



COMPLICIT Artistic Director Kevin Spacey returns to the theatre's stage to direct the world premiere of Joe Sutton's new play, a thrilling look at our current political climate.

Starring Ben Kritzer, Richard Dreyfuss, Judith Brown, Elizabeth McGovern, Roger Cowan and David Suchet.

Pulitzer Prize winning journalist Ben Kritzer (Richard Dreyfuss) finds himself in front of a Grand Jury faced with his own choice.

As liberties are stripped away can you ever know what is being perpetrated in your name?

Set design by Rob Howell. Lighting design by Howard Harrison. Video Jon Driscoll. Sound by Simon Baker for Autograph. Casting by David Caparelliotis and Mele Nagler.

Opened January 7 at The Old Vic in London with performances through February 21.

FRESHWATER by Virginia Woolf. Directed by Anne Bogart.

Virginia Woolf wrote only one play in her lifetime: Freshwater. Initially composed in 1923 and revised in 1935, the play has never enjoyed a professional production in the United States. Now, in a landmark collaboration between the Women's Project and SITI Company the play is finally having its day. This delightful comedy creates a deliberately witty and charming universe peopled by a tribe of artists, friends, and lovers in a lighthearted mood. Set in a Victorian garden on a summer evening–-the perfect diversion for audiences during the winter of 2009.

Starring Akiko Aizawa (Mary Magdalene), Gian-Murray Gianino (Lt. John Craig), Ellen Lauren (Julia Margaret Cameron), Kelly Maurer (Ellen Terry), Tom Nelis (Charles Hay Cameron),Tom Nelis (Charles Hay Cameron), Stephen Duff Webber (Alfred Lord Tennyson).

James Schuette - Set and Costume Design; Brian H Scott - Lighting Design; Darron L West - Sound Design; Megan E. Carter - Dramaturg; Elizabeth Moreau - Stage Manager January 15-February 15, 2009 Julia Miles Theater, NYC.

CEREMONIES IN DARK OLD MEN

Charlie Robinson records in front of a live audience for L.A. Theatre Works. Photo by Annie Appel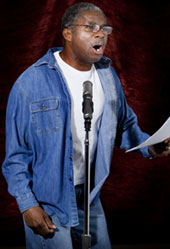 by Academy Award nominee Lonne Elder, III. Directed by Judyann Elder

Emmy Award winner Glynn Turman, Tony nominee Rocky Carroll and John Cothran, Jr. are set to head the cast when L.A. Theatre Works presents five performances taking place January 14-18 at the Skirball Cultural Center, where they will be recorded to air on LATW's nationally syndicated, weekly radio theater series, The Play's The Thing.

First produced by the Negro Ensemble Company in 1969, this classic masterpiece is the portrait of a Harlem family that dreams of a better life, but pursues it in tragic ways. Ceremonies in Dark Old Men opened the door for new generation of African American playwrights, including Joseph A. Walker, Leslie Lee, Steve Carter, Richard Wesley, Samm-Art Williams and August Wilson.

"Ceremonies illuminated the dilemma of a black family living in Harlem at the dawn of the sixties," says director Judyann Elder, the playwright's widow and formerly a resident actor with the Negro Ensemble Company who appeared in the 1969 seminal production. "In a place like Harlem, populated by marginalized people, it reflected the social, economic and political quagmire that institutionalized racism can spawn. Now, over 40 years since its conception, this American classic still resonates with clarion clarity. The United States has, with the election of Barack Obama as President, finally chosen content of character over color of skin. Nonetheless, the wretched vestiges of prejudice, impoverishment and self-victimization continue to cripple and corrupt inner-city communities all over America. And, indeed, the world."

She continues, "I was so pleased when Susan approached me about doing Ceremonies," she said referring to producer Susan Loewenberg. "By recording it for radio we will have the opportunity to produce and preserve a definitive and authentic audio interpretation of this great play."

Lonne Elder, III [1927-1996] was one of the leading African-American figures who aggressively informed the New York theater world with black social and political consciousness. An orphan who grew up during the Depression, Elder immersed himself in the Harlem literary scene, receiving encouragement from poets Robert Hayden and Langston Hughes, among others. Working as a stage actor, Elder appeared in the original Broadway production of Lorraine Hansberry's A Raisin in the Sun. Inspired by Hansberry and his friendship with dramatist Douglass Turner Ward, Elder set his sights on becoming a playwright.

The Negro Ensemble Company's Ceremonies in Dark Old Men won several drama awards and was nominated for the 1969 Pulitzer Prize in Drama. Elder moved to Los Angeles where he wrote the screenplay for Sounder, which garnered four nominations at the 1972 Academy Awards including Best Adapted Screenplay.

Performances of Ceremonies in Dark Old Men take place on January 14- 18 at The Skirball Cultural Center in Los Angeles.

SIX DEGREES OF SEPARATION by Pulitzer Prize winner John Guare.

The Kittredges' lives revolve around the high-stakes world of the New York art scene, where the appearance of success is everything. One evening as they are entertaining at their Upper East Side home, a young man claiming to be a college friend of their children shows up at their front door injured and asking for help. He is a charming young man who enchants the couple with a home-cooked gourmet meal and regales them with stories of his famous father. As their involvement with him takes unexpected twists and turns, they begin to question not only his identity but their own. A hit on Broadway that became an acclaimed motion picture with Will Smith, Stockard Channing, and Donald Sutherland, this intriguing play probes the allure of celebrity and the games we play to elevate our own significance.

Starring Tony-Award winner Karen Ziemba as Ouisa Kittredge, Thomas Jay Ryan as Flan Kittredge and Samuel Stricklen as the charming and engaging young con artist Paul; with Donald Sage Mackay, Keliher Walsh, Tony Torn, James Eckhouse, Joaquin Perez-Campbell, Catherine Gowl, Kevin Hoffmann, Sloan Grenz, Jordan McArthur, Andrew Dahl, Vivia Font, and Steven Marzolf.

Scenic Design Andromache Chalfant; Costume Design Emily Rebholz; Lighting Design Ben Stanton;Sound Design Paul Peterson; Voice & Dialect Coach Jan Gist; Stage Manager Diana Moser and Assistant Stage Manager Jennifer Leigh Wheeler.

Previews began Saturday, January 10 with performances through Sunday, February 15 at the Old Globe Theatre, Balboa Park, CA.

SHOLOM ALEICHEM: LAUGHTER THROUGH TEARS

Theodore Bikel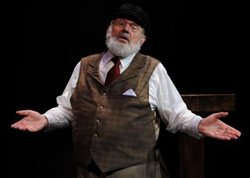 a world premiere solo vehicle written, sung and acted by Theodore Bikel. Directed by Derek Goldman.

The Academy Award winner has brought along two of his very best friends - Sholom Aleichem and Tevye, and two great musicians to help him spin his stories - his wife, the pianist Tamara Brooks, and accordionist Merima Kljuço.

Sholom Aleichem, Yiddish literature's most beloved author, a writer who singularly spoke for an entire people, becomes both subject and muse when the acclaimed stage and screen actor Theodore Bikel - who starred in more than 2,000 performances on Fiddler on the roof - taps into another creative genre to write this touching one person play, in which he also stars and sings.

Playing Sholom Aleichem and many of his colorful characters, Bikel magically melds lives and times long gone with matters that tug at our heartstrings today. Complemented by an enchanting trove of music from Eastern Europe, sung in both English and Yiddish, Bikel offers exceptional insight into the life of this fascinating storyteller who wanted to be remembered only with laughter. Often called the Jewish Mark Twain, Sholom Aleichem, also a humorist, wrote the Tevye the Milkman stories that inspired Fiddler on the Roof.

Costume design, Frank Labovitz; scenic artist, Luciana Stecconi; sound consultant, Matt Otto.

His 90-minute homage is on stage extended through Jan. 18 at Theater J, at the D.C. Jewish Community Center, in Washinton D. C. It than moves to the Parker Playhouse in Ft. Lauderdale for a January 21-February 1 mounting.

On June 15 there will be a celebration of Theodore Bikel's 85th birthday at Carnegie Hall, NYC.




WHO'S WHERE


EAGLES have a busy week. On Monday, January 12 they perform at Hampton Coliseum in Hampton, VA. Wednesday finds them at the Time Warner Cable Arena in Charlotte, NC. On Friday they are in the spotlight at the North Charleston Coliseum in North Charleston, SC. On Saturday the show is at Greensboro Coliseum in Greensboro, NC.

DAVE KOZ brings his special musical sound to the Blaisdell Center in Honolulu opening a two night gig on Friday, January 16.

JEFF DUNHAM performs Wednesday, January 14, at the Santa Ana Star Center in Rio Rancho, NM. On Thursday the show is at the Tucson Arena in Tucson, AZ. On Friday he is on stage at Cox Arena in San Diego. On Saturday he's in the spotlight at the Gibson Amphitheater in Universal City, CA.

BILL COSBY telling funny stories in a two show performance on January 16 at the Horseshoe Casino in Elizabeth, IN. On January he's on stage for another two show gig at Whiting Auditorium in Flint, MI on January 18.

CELINE DION on stage Tuesday, January 13, at the Sommet Center in Nashville. On Thursday she brings her show to the BJCC Arena in Birmingham, AL. On Saturday she's on stage at the Philips Arena in Atlanta.

ELTON JOHN center stage Saturday, January 17, at the Brazil Anhembi Convention Centre in Sao Paulo.

BRAD PAISLEY on tour with a stop Thursday, January 15, at the Desoto Civic Center in Southaven, MS. Friday finds him at the Alltel Arena in North Little rock. On Saturday he's on stage at the New Orleans Arena. Next Sunday, January 18, the performance is at the Pensacola Civic Center in Pensacola, FL.

BILLY JOEL winds up his gig at the Seminole Hardrock Live in Hollywood, FL with shows on Friday, January 16 and Sunday, January 18.

NEW KIDS ON THE BLOCK in the spotlight Friday, January 16, at the Manchester Evening News Arena in Manchester, England. On Saturday they are on stage at the NIA in Birmingham and next Sunday they bring their show to the S.E.C.C. in Glasgow, Scotland.

TINA TURNER opens a four night stand on Wednesday, January 14, at the Lanxess Arena in Cologne, Germany.

AC/DC headline the Scottrade Center in Saint Louis, MO on Tuesday, January 13. On Thursday they are at the Qwest Center in Omaha, NE. On Saturday they can be enjoyed at the Fargodome in Fargo, ND.

TONY BENNETT brings his talent to the Norton Center in Danville, KY on Friday, January 16.

WILLIE NELSON has a busy week. On Tuesday he's on stage at the Wells Fargo Center for the Arts in Santa Rosa, CA. Wednesday finds him at the Laxson Auditorium in Chico, CA. On Friday he opens five night stand at the Fillmore in San Francisco.

NATALIE COLE performs Friday, January 16 at the Spotlight Showroom in Coachella, CA.



Next Column: January 18, 2009
Copyright: January 11, 2009. All Rights Reserved. Reviews, Interviews, Commentary, Photographs or Graphics from any Broadway To Vegas (TM) columns may not be published, broadcast, rewritten, utilized as leads, or used in any manner without permission, compensation and/or credit.
Link to Main Page
---
Laura Deni



( COMMENTS )