! >
Broadway To Vegas
  
 SHOW REVIEWS CELEBRITY  INTERVIEWS GOSSIP NEWS

| | |
| --- | --- |
| | |
SUPERSTARS AND SPORTS FIGURES ATTEND CES CONVENTION - - ANN REINKING TO STAGE NEW WORK - - PETE ROSE TALKS - - CIRQUE DU SOLEIL TO TAKE OVER SIEGFRIED & ROY SHOWROOM - - KAREN BLACK'S AMAZING ONE WOMAN SHOW - - HOW TO INTERVIEW CELEBRITIES - - FIRED! - - MORENO, FISHER AND ULLMAN - - DONATE . . . Scroll Down


Copyright: January 11, 2004
By: Laura Deni

CLICK HERE FOR COMMENT SECTION
ACTRESS KAREN BLACK IN STRONG ONE WOMAN MUSICAL/DRAMATIC ACT
Karen Black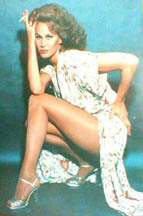 Who'd a thunk it?

Best known as a fierce character actress in films, Karen Black's one woman show A View of the Heart has received powerfully positive reviews - copy filled with compound superlative statements on both her acting and singing.

The critical adulation has been the type press agents dream about and few performers ever receive.

Backed by three musicians Black weaves a dozen songs and a handful of monologues through the full gamut hour-long performance.

Karen Black sings?

Indeed.

The granddaughter of the renowned Arthur Ziegler, first violinist for the Chicago Symphony Orchestra, Karen studied opera as a teen. Void of Italian, she memorized the lyrics phonetically - tried out for numerous Broadway musicals and was rejected - possibly because her teacher had her audition as a coloratura. As those who witnessed her perform recently in North Adams, Mass testified Black is versatile - from Bessie Smith's down home gritty Them Has-Been Blues, to the folk song Fare Thee Well in a voice compared to Judy Collins.

What Black has done is take dramatic vignettes augmented by her vocals. The stage is simple - a bed on one side and a table on the other - suggesting a bedroom and a gin joint. Her costumes could fit in a sack - a rumpled nightgown, a slinky red dress, a tube of lipstick or a wig. Bare essentials plus Black equals a performance with depth and meaning - bringing to life a pregnant teenager, a drug starved janitor, a grieving mother, the cheated on woman.

Kris Kristofferson's Me and Bobby McGee leads into an intense excerpt from William Faulkner's As I Lay Dying, which then segued into a manic, semi-operatic rendition of the Beatles' Eleanor Rigby.

Black may well be delivering what would be the gold standard example for acting students to witness and fans to adore.

If Black was originally rejected by Broadway finding success in Hollywood, the talented lady has put together a one woman show which should be taken seriously by The Big Apple.

Black's husband, Stephen Eckelberry, told Broadway To Vegas "Karen is planning on doing selected venues in Los Angeles and NYC. Who knows, maybe she should go to Vegas?"


MUSIC SUPERSTARS, SPORTS LEGENDS, CARS AND HUGE TV'S HEADLINED 2004 INTERNATIONAL CES CONVENTION
2004 CES Photo by Laura Deni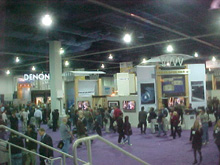 2004 CES. Photo by Laura Deni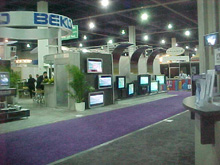 Top entertainment and sports celebrities competed against room size television screens and car audio systems to grab the attention of those attending the International CES show.

If it's new, high tech and hot it's been shown here. More than 2,300 exhibitors spread their wares throughout both the inside and outside of the Las Vegas Convention Center, the Las Vegas Hilton and the Alexis Park Resort - a trade show exhibit area than spans the length of 46 football fields. The four day convention packs it in today.

Have you placed your order for LG Electronics' new 76-inch high-definition plasma television for $30,000? Why not? The Seoul, Korea based firm plans to ship the large-size plasma sets in time for Christmas.

Another crowd pleaser - anything that can link multiple objects.

High-definition celebrities were also popular.



D2 Audio featured an Austin Powers look-alike. Photo by Laura Deni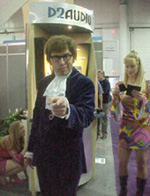 Sirius Satellite Radio had a full schedule of musical acts throughout the show including: 3 Doors Down, Buddy Guy, Buddy Jewell, Trace Adkins, LeAnn Rimes, Ricky Skaggs, Johnny Lang, Lynyrd Skynyrd, Ray Herndon with special guest Jessi Colter, The Bangles, Ziggy Marley and Joe Jackson.

In addition to the line-up provided by Sirius, a number of other celebrities attended including: Johnathan "Fatality" Wendel - Three time world champion gamer from the Cyberathlete Professional League. Wendel competed in the CyberX Games at the Stardust Hotel and also appeared at the Auravision's booth.

Jean Francois - The extreme artist showed up at Kodak's booth as well as performing on the International CES stage.



Automotive audio systems captured a lot of attention. Photo by Laura Deni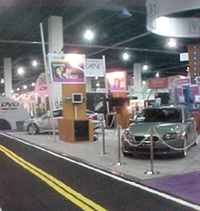 Grammy award winner Elliot Scheiner helped design the audio system in Acura's new TL. Scheiner was on hand to give demonstrations of the system at Acura's booth.

Steve Garvey, the retired professional baseball player for the LA Dodgers and SD Padres l demonstrated XaviX Baseball at the XaviX/SSD booth. Josh Hancock, The Shifting Gears TV show celebrity appeared at the Johnson Controls booth. The NHRA Drag Racer Ara Arslanian willingly signed autographs at the StreetGlow booth.

Playboy and Spike TV Personalities held a photo session at VOOM booth.

MAXIM Magazine Calendar Super Model conducted poster/calendar signing at the Z-Line Designs booth.



Cars plain and fancy were on display Photo by Laura Deni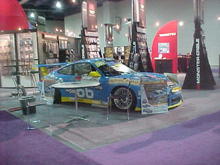 Epson hosted a private concert by Huey Lewis and the News at The Joint at the Hard Rock Hotel to introduce what it calls two new categories of home-entertainment products.

The HDTV Sports Bar returned with the latest in high-definition digital televisions and products and legends from the boxing world. Jake "The Raging Bull" LaMotta, Iran "The Blade" Barkley and Carmen Basilio were be on-hand January 10 greeting fans and signing autographs.

The Consumer Electronics Association (CEA) is the preeminent trade association promoting growth in the consumer technology industry through technology policy, events, research, promotion and the fostering of business and strategic relationships.



Thousands of displays attempted to catch the buyer's ear. Photo by Laura Deni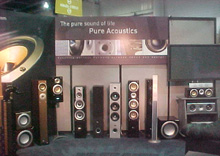 CEA represents more than 1,300 corporate members involved in the design, development, manufacturing, distribution and integration of audio, video, mobile electronics, wireless and landline communications, information technology, home networking, multimedia and accessory products, as well as related services that are sold through consumer channels.

The Consumer Electronics Association estimates that Americans this year will spend a record $101 billion on consumer electronics products, up 5 percent from last year.


TONY AWARD WINNER ANN REINKIND TO STAGE NEW WORK
Melissa Thodos. Photo by John Reilly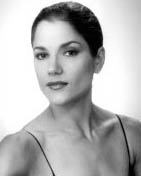 Tony Award winning choreographer Ann Reinking will set a new work on Melissa Thodos & Dancers, to be premiered at the company's annual Winter Concert on March 11th to 14th at the Harold Washington Library Theater in Chicago, according to a company press release.

Reinking's piece will share the bill with two other new works: Elements, by Thodos herself, which is a collaboration with Chicago's Remy Bumppo Theatre Company and Chicago artist Christine Mekhitarian, and First Love, Second Sight, by ensemble member Paul Christiano, the young choreographer who received the Dance Chicago 2003 Choreography Award.

Reinking starred in numerous musicals choreographed by Bob Fosse including, Sweet Charity, All That Jazz, Pippin, and Dancin'.

She performed and choreographed the revival of Chicago! for which she won the 1997 Tony Award.



Photo by: Jennifer Girard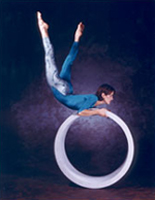 Reinking and Thodos began their association in 2001 when Thodos was invited to teach in Reinking's Broadway Theatre Project in Tampa, Fla., a program that links professionals with young performers.

Founded in 1993 by Melissa Thodos, the company combines a classical and modern dance base with gymnastics to create style of dance that is fast-paced, athletic and entertaining. Many Company works use innovative props such as balls hoops, poles, chairs, tri-parallel bars, and pool cues, adding a creative dimension to its unique style.

The education and enlightenment of future performers and audience members is a critical part of the mission of the Company. Members of the Company ensemble hold BAs and MFAs in dance and teach at the elementary, high school, and university levels.



Photo By: Erica Dulfour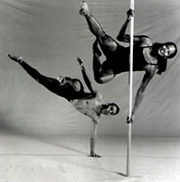 The Company conducts a variety of lecture/demonstrations, master classes, and workshops in Chicago and around the world. It has created two touring shows specifically designed for elementary and junior high students entitled, Dance: Ideas in Motion and Science of Motion, Art of Dance.

In 2002, Melissa Thodos & Dancers was honored to be the only American dance company invited to tour the Republic of Turkey. In addition to performing in the 19th International Ankara Music and Dance Festival, it was the first American dance company ever invited to perform in the Istanbul Dance Festival, where it received five curtain calls from the sold out audience.

The company's next appearance is Jan. 17 at Barrington High School in Barrington, Ill.



Broadway To Vegas is supported through advertising and donations. Priority consideration is given to interview suggestions, news, press releases, etc from paid supporters. However, no paid supporters control, alter, edit, or in any way manipulate the content of this site. Your donation is appreciated. We accept PAYPAL. Thank you for your interest.


SPREADING THE WORD


RITA MORENO one of the few actors that have won a Grammy, Emmy, Tony and the coveted Oscar. She'll be speaking at the Crest Theatre, Delray Beach, Florida on January 15.

CARRIE FISHER IN CONVERSATION WITH TRACEY ULLMAN Writers Bloc, in association with the Skirball Cultural Center, presents Carrie Fisher, author of Postcards From the Edge as well as her new novel, The Best Awful. Monday, January 12. Skirball Cultural Center in Los Angeles.

COVERING CELEBRITIES from Arnold Schwarzenegger to Michael Jackson. The USC Annenberg School and the Poynter Institute are presenting a discussion Tuesday, Jan. 13 on, "journalism ethics, standards, and editorial decision-making" in the coverage of celebrities. Scheduled participants include Ed Asner, actor; John Carroll, editor, Los Angeles Times; Phil Bronstein, editor, San Francisco Chronicle; Chris Anderson, publisher, Orange County Register; Paula Madison, vice president and general manager, NBC4 LA; Robert Scheer, columnist, Los Angeles Times and clinical professor, USC Annenberg; John Dean, former Nixon administration White House Counsel; and Leo Braudy, USC University Professor. USC Davidson Conference Center in Los Angeles.


SWEET CHARITY


MIRACLE LEAGUE BENEFIT Pete Rose, who is making headlines for admitting that he did bet on baseball - an admission that coincided with the release of his latest book last Thursday - will be the keynote speaker at the second annual Miracle League benefit dinner to be held at the Visalia Convention Center in Visalis, CA on Friday, January 16.

Rose makes no secret that he would like to be included in the Baseball Hall of Fame. In the world of Major League Baseball, Rose holds the record for most records held: The most hits, most games played, most at bats, most singles, most total bases by a switch hitter, most seasons with 200 hits or more, most consecutive seasons with 100 or more hits, most seasons with 600 or more at bats, most seasons with 150 or more games played and most seasons with 100 or more games played.

Erin Brockovich, who has fought many high-profile legal battles dealing with environmental contamination and resulting health issues, will also speak at the event.

Rose and Brockovich will be joined by former Major League infielder and outfielder Rex "Wonder Dog" Hudler.

Miracle League is a totally handicap-accessible baseball field in Visalia, CA - the first of its kind west of the Mississippi. Several sports fantasy experiences will be up for grabs during a live auction to be held at the event: Dinner with Pete Rose at the Pete Rose Ballpark Café in Boynton Beach, Florida. Following dinner, enjoy a World Champion Florida Marlins 2004 home game in nearby Miami.

Fly from the Bay Area to Los Angeles on the Stanford Men's Basketball Team's jet for games against USC and UCLA in February 2004.

The NASCAR Experience: Follow Robbie Gordon as he races in the Indianapolis 500 and NASCAR's Coca Cola 600 in Charlotte, North Carolina on the same day.

Dinner with Buzz Aldrin, the second man to set foot on the moon.

All access pass to the UAW-GM Quality 500 at Charlotte International Speedway in October 2004. Package includes a Go-Kart race against Robbie Gordon.

A golf foursome with Stanford head football coach Buddy Teevens.



WAR MUSIC War Music By Bryan Davidson Directed by Jessica Kubzansky.

Based upon dramatic events in the lives of composers Frank Bridge, Anton Webern, and Olivier Messiaen, this emotionally-charged new play weaves a dreamy, theatrical tapestry of war and music.

California playwright Bryan Davidson constructs War Music into three musically-driven playlets, each linked by warfare, madness, redemption, and, ultimately, the resilient spirit of the human condition.

War Music was named one of the top ten notable plays of 2002 by the Los Angeles Times. Geffen Playhouse, Los Angeles. January 13th - February 22.

DRALION by Cirque du Soleil - the brainchild of former fire eater Guy Laliberté, is staging it's European premiere. Next project for Laliberté is opening his biggest show ever in the old Siegfried & Roy Showroom at the MGM-Mirage in Las Vegas. The multimillion-dollar show will be directed by Robert Lepage. The super secret storyline seems to revolve around a coming of age story about two twins. It's metamorphosis and confrontation mixed with the promise of integrating new media in a concept never before seen on stage.

As for Dralion - that production is the fusion of ancient Chinese circus tradition and the avant-garde approach of Cirque du Soleil. The show's name is drawn from its two main symbols-the dragon, representing the East, and the lion, representing the West. Dralion opened in London at the Royal Albert Hall on January 9 with performances through February 13. The show then moves on to Amsterdam for a February 27 through May 9 engagement followed by stops in Vienna and Antwerp.

MY WAY - A MUSICAL TRIBUTE TO FRANK SINATRA Book by David Grapes and Todd Olson. A family friendly musical that captures the wit and charm of Ol' Blue Eyes, with 56 of his songs, a dash of humor, a pinch of tap dancing and a touch of elegance.

Sinatra's quotations and advice on love, happiness and style sparkle throughout the production.

Four outstanding singers and a jazzy combo will "Fly You To the Moon" with songs like Strangers in the Night, That Old Black Magic, Love and Marriage and of course, New York, New York. This production is a classy reminder of those tunes that remain Sinatra's greatest legacy.

Jan 16-Feb 8 at the Omaha Community Playhouse, which is the largest community theatre in the nation.

BLUE RIDGE JAMBOREE takes place every third Saturday, hosted by David Browning, the Mayberry Deputy Saturday. Andy Griffith Playhouse in Mount Airy, North Carolina.

THE PRODUCERS a most anticipated arrival opens Jan. 14 at the Merriam Theater, Philadelphia.

THE LONG CHRISTMAS RIDE HOME by Pulitzer Prize-winning author Paula Vogel, directed by Oskar Eustis. The cast includes; Chelsea Altman, Angela Brazil,Timothy Crowe, Julio Monge, Anne Scurria and Stephen Thorne.

Pastand present collide on a snowy Christmas Eve for a troubled family of five as their car spins out of control of an icy road following a Christmas dinner gone awry. The drama features Bunraku-inspired puppets designed by Basil Twist.

Sets by Loy Arcenas, William T. Lane costumes, Pat Collins lighting and Darron West sound.

Listed as For Mature Audiences. Jan. 14-Feb. 15. at the Long Wharf Theatre in New Haven, CT. Co-Produced with Trinity Repertory Company where the work had its world premiere at The Vineyard in NYC.

HONEYMOON SUITE by Richard Bean. Honeymoon Suite was awarded the 2003 Pearson New Play of the Year Award.

If Romeo and Juliet had lived, would their marriage have survived? How long? Ten years? Twenty? Fifty? How would the union have coped with poverty, corruption, his ignorance, her aspiration, an ungrateful daughter, no sons, infidelity with an attractive bloke on a night class, God knows how many miscarriages and even murder?

A honeymoon suite in Bridlington. Eddie and Irene begin married life with great excitement, but the future may have other ideas...

Directed by Paul Miller, the cast includes; John Alderton, Sara Beharrell, Liam Garrigan, Caroline O'Neill, Jeremy Swift, and Marjorie Yates.

Design: Hayden Griffin, Lighting: Andy Phillips, Music: Terry Davies, Casting: Simone Reynolds.

The Royal Court Theatre in London presents the English Touring Theatre's production through February 7.

FIRED Rejection has never been this funny. Creator Annabelle Gurwitch - TV's Dinner & A Movie and Second Stage's Uncommon Women and Others - is still haunted from being fired by her comedy idol, Woody Allen, during rehearsals for Writer's Block. After writing and performing a piece about the experience, many others were inspired to tell their tales.

On Monday, Jan. 12 you'll have just that opportunity.

Second Stage Theatre Presents Monday Night Live - Fired! with Annabelle Gurwitch. Plus; Craig Bierko (Sex and the City), John Fleck (HBO's Carnivale), Judy Gold (HBO's At The Multiplex), Eric Gilliland(Executive Producer of TV's Roseanne), Ron Orbach (The Producers), Tonya Pinkins (Caroline, or Change), Eric Simonson (Paul Simon's The Capeman), Fisher Stevens (Friends, Naked Angels), Matt Walsh (Upright Citizens Brigade),Elizabeth Warner and surprise guests!

January 12 at Second Stage Theatre in NYC.


| | | |
| --- | --- | --- |
| | | |
WHO'S WHERE


PETER CINCOTTI entertaining Monday, January 12 at the Blue Note in NYC.

MICHAEL FEINSTEIN performing Saturday at the Grand Opera House in Wilmington, DE.

LARRY GATLIN opens a four night stand Thursday at the Bass Performance Hall in Fort Worth, Texas.

PRESERVATION JAZZ HALL BAND spends the week performing in Germany. Tonight they are on stage at Congress Centrum in Hamburg. On Tuesday the show is at the Musik & Kongress Hall in Lubeck. Friday finds the gays at the Philharmonie in Munich and on Saturday they are center stage at the Alte Oper in Frankfurt.

HILIARY DUFF performing tonight at the Riverside Centroplex in Baton Rouge, LA. On Monday she's in the spotlight at the Century Tel Center in Bossier City, LA. On Tuesday the show is at the Next Stage at Grand Prairie in Grand Prairie, Texas.

BETTE MIDLER delighting crowds Monday at the Air Canada Centre in Toronto. On Thursday she brings her talents to the Wachovia Center in Philadelphia. Saturday finds her opening a two nighter at Madison Square Garden in New York City.

TONY DANZA on stage in Las Vegas at the Orleans Hotel Friday, January 16-Sunday January 18.

PAUL ANKA opens a three night engagement Friday at the Borgata Hotel in Atlantic City.

BUSTER POINDEXTER AND SANDRA BERNHARD IN CONCERT as part of the Miami Art Deco Week-End Festival. Poindexter and his 10 piece band, currently touring to support his new album Buster's Spanish Rocket Ship. Jan. 17 at the Jackie Gleason Theatre in Miami, Florida.

JOHNNY MATHIS Friday is on stage at the Route 55 Casino in Albuquerque, New Mexico. Next Sunday he's in the spotlight at the Dodge Theatre in Phoenix.

CHRIS ROCK performs tonight at the Queen Elizabeth Theatre in Vancouver. On Wednesday he's at the Paramount Theatre in Oakland, California. Thursday the show is at the Dodge Theatre in Phoenix, and on Friday he can be found at the Majestic Theatre in San Antonio. He closes out the week, Saturday, at the Next Stage at Grand Prairie in Grand Prairie, Texas.

DAVE MATTHEWS AND FRIENDS on January 14 at the Cox Arena in San Diego. On January 15 the show is at the Staples Center in Los Angeles and on January 16 the group is at the Oakland Arena in Oakland.

JERRY SEINFELD telling jokes Friday and Saturday at the Wang Center in Boston.

SMOKEY ROBINSON singing his hits Thursday, January 15, at Soaring Eagle Casino in Mount Pleasant, MI. On Friday he's at the Star Plaza Theatre in Merrillville, Indiana.

JON ANDERSON Yes vocalist, takes his first U.S. solo tour since 1982. The Work in Progress Tour rolls into Carefree Theatre in Miami on Jan. 18.

BILL COSBY getting laughs tonight at the Ruth Echerd Hall in Clearwater, Florida. On Friday, Cos will be telling stories at the Paramount Theatre in Cedar Rapids, Iowa. Saturday, January 17 finds him on stage at the Hamilton Place Theatre in Hamilton, ON.

YO YO MA entertaining Tuesday, January 12, at the Raymond F. Kravis Center in West Palm Beach, Florida.

ROBERT GOULET: A MAN AND HIS MUSIC The Las Vegas resident is the recipient of a Tony, an Emmy and several Grammy Awards. His vast career includes 75 albums and appearances in 100 television shows, 25 plays and 15 movies. Jan. 16-18 in Waltham, Mass.

VICKI PHILLIPS performing at the Where Eagles Dare Theatre Festival in Manhattan on Saturday, January 17th, Sunday, January 25th and Sunday, February 1st. Accompanied on the piano by her musical director, Gerry Dieffenbach. The show is directed and scripted by Bob Ost.
















Next Column: January 18, 2004
Copyright: January 11, 2004. All Rights Reserved. Reviews, Interviews, Commentary, Photographs or Graphics from any Broadway To Vegas (TM) columns may not be published, broadcast, rewritten, utilized as leads, or used in any manner without permission, compensation/credit.
Link to Main Page
---
Laura Deni


CLICK HERE FOR COMMENT SECTION