! >
Broadway To Vegas
  
 SHOW REVIEWS CELEBRITY INTERVIEWS GOSSIP NEWS

| | |
| --- | --- |
| | |
ADULT ENTERTAINMENT AND THE CONSUMER ELECTRONICS SHOW - - FIFTH ANNUAL GOODSPEED FESTIVAL OF NEW ARTISTS - - OBAMA THE MUSICAL OPENS IN GERMANY - - SONG WRITING TEAM OF SENATORS ORRIN HATCH AND AL FRANKEN - - ECHOES OF ELVIS PRESLEY EXHIBITS - - WARRIORS ON THE PLAINS - - THE PEE-WEE HERMAN SHOW OPENS AS STAGE PRODUCTION - - THE HORTON FOOTE PRIZE - - DONATE . . . Scroll Down


CHOCOLATE, CHEWING GUM AND SEX
Sasha Grey delivered the keynote address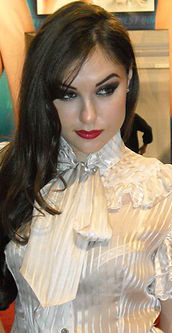 Things that are recession proof - chocolate, chewing gum and sex.

Celebrating the last is the annual convention of the Adult Entertainment Expo which is being held - where else - in Sin City.

It's the largest adult entertainment expo in North America with over 30,000 fans of sex toys and what you do with them, attending the four day event at the Sands Expo Center.

Opening last Thursday and continuing through today, the expo features fan-interactive exhibits such as a seven-foot mechanical phallic symbol that replicates the mechanical bull. Adam & Eve Pictures star, Bree Olson, cut the ribbon in front of Exhibit Hall A to launch the 2010 event.

Sasha Grey, the breakthrough star of director Steven Soderbergh's The Girlfriend Experience, presented the keynote address.

Grey has made a strong impact on the adult industry, winning four AVN awards, including Female Performer of the Year award. She was also featured as part of the art work for The Smashing Pumpkins' album Zeitgeist and included in Rolling Stone magazine's Hot List.

Veteran actress Tera Patrick was on hand to autograph her new memoir.

More than 350 entrepreneurs of the carnal arts displayed their wares in an attempt to keep a grip on the more than $13 billion a year adult entertainment business. Although the industry has gone high tech, it is not without competition, thanks to viewers increasingly streaming content for free online. DVD sales are down to half of what they were just two years ago, according to Paul Fishbein, founder and chairman of Adult Video News, which is the sponsor of AEE.

Products once sold behind closed doors, such as lubricating gels, are now being touted in commercials on network television. Consumers can find them in grocery stores which has reduced the need for mail order.

Women are no longer just taking it lying down. Think executive positions.



Amy Ried formed Redemption Productions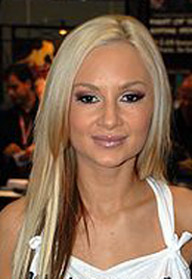 Following in the footsteps of their male counterparts who started owning their own lines, Eva Angelina and Teagan Presley started a company called Skin Works; Jenna Haze created Generation X and Amy Ried formed her own company, Redemption Productions. While women have been producing and directing for several years, now women area also owning their own talent.

Panel discussion included topics about adult-film law and women in management.

For those in the industry the AVN Awards, known as the "Oscars of porn," were a convention highlight. The awards ceremony honored the best actors, actresses, producers, films, videos and the latest category - Best Sex Parody - with a red carpet event and a star-studded show packed with live music, sexy entertainment and appearances by popular stars. That took place at the Pearl Concert Theater inside the Palms Resort with adult film superstars Kayden Kross and Kirsten Price serving as hostesses.

Those attending the Adult Entertainment Expo have a few things in common with the 100,000 attending the Consumer Electronics Show (CES). Voyeurism, for instance.

The hot buzz item at CES is a device to help you spy on your neighbors. Binoculars are the era of Rear Window. Today you need your own personal drone.



AR.Drone - You're own personal eye-in-the-sky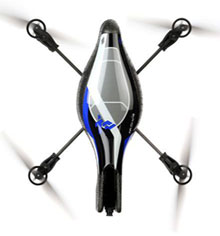 The four-propeller AR.Drone made by the French company Parrot, features two cameras, which permits you to see what the Drone sees via a Wi-Fi connection, while the other camera controls the device's speed and altitude. All of this is powered by the AR.Drone's on-board Linux-based computer.

Besides being able to free fly, Parrot has also included an augmented reality game for the AR.Drone. The AR.Drone will self-hover while you blast away augmented reality enemies on your iPhone, or if you have two drones, you can battle each other. The AR.Drone will launch on March 5, 2010 for a yet-to-be announced price.

While sex experts at the AEE were discussing and touting products that are larger and last longer, the computer geeks attending CES were discussing and touting products which are made smaller and disposable.

LG television which is currently only 23 millimeters thick is soooo yesterday. The new version is downsized to a thickness of 7 millimeters.

Korean company LG Electronics said it will introduce its first 3-D-capable flat-panel TVs for the U.S. market in May. Those models will be 47-inch and 55-inch flat-panel TVs with 3-D capabilities. LG plans a 3-D Blu-ray disc player sometime later.



Woman watching an LG 3D TV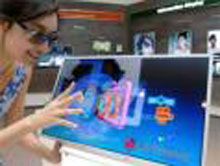 Tim Alessi, director of product development at LG Electronics USA, said 3-D models will likely cost $200 to $300 more than comparable flat-panel sets without 3-D capabilities, which already run more than $1,000.

Expect to pay another $200 or so for the required 3-D glasses you'll need to wear and another $300 or so for a new 3-D Blu-ray player.

Other major TV manufacturers are hot to follow the industry push to get 3-D into the home while consumers are still excited by the 3-D movies Avatar, Up and Monsters Vs. Aliens.

Sony and Panasonic say they will release home 3-D television systems this year. Mitsubishi Digital Electronics America, which has been selling 3-D TVs since 2007, showed off its new 82-inch 3-D set on Tuesday during a CES media event. Nick Norton, Mitsubishi's senior manager of brand marketing, said the company features 3-D rear projection TV's in 60-inch, 65-inch, 73-inch and 82-inch models.

ESPN declared it will have a 3-D channel for broadcasting live sports events in time for the FIFA World Cup soccer match on June 11. The channel will not operate 24 hours a day but does intent to televise at least 85 live events in its first year. Discovery Communications Inc., which owns Discovery, TLC and other cable channels, announced partnerships with Imax and Sony to launch its own full-time 3-D network in 2011.

While 3-D TV will be the new kid on the block, the trend is not guaranteed to hook the mainstream. First to be enticed to buy will be deep pocket sports fanatics.

In addition to a new TV, the viewer is required to wear special glasses. That means a person in their own home must suddenly act like a movie patron - sitting down and focusing only on the television screen.

Unlike the moviegoer who throws the glasses away upon leaving the movie, the TV glasses need to be carefully and safely stored for future use.

All 3-D technology relies on the idea that if separate images are presented to the left and right eyes, the human brain will combine them and create the illusion of a third dimension. Certain people with vision problems are not able to wear the glasses. Others complain that the glasses give them headaches. 3-D broadcasts also use up bandwidth. The transition, which experts predict will eventually revolutionize the television industry, will have a steep learning curve and will not be what everyone wants for Christmas.

Other popular items at CES included E-readers, netbooks, new applications for iPhones, the Tivit, which sends broadcast television signals to the Blackberry or iPhone, state-of-the-art kitchens, washers, dryers and cars.

It's no longer your father's Ford - rather that bucket of bolts is being turned into your own personal mobile Starbucks and Internet cafe. Around 400 of the CES exhibitors make in-car technology.

Ford announced upgrades to Sync, its voice-activated entertainment and safety system, such as the ability to plug in a 3G USB modem and turn that car into a Wi-Fi hotspot. In addition to vehicles which talk, drivers can make hands-free phone calls, send and receive E-mails and control their stereo. GM, meanwhile, has already taken the wraps off a smartphone app that will allow drivers of its forthcoming electric car, the Volt, to unlock the vehicle or even start charging its batteries online.

Speaking of batteries, one company is showing off a model which has enough juice to power a car for 300 miles on one charge - at about $2.00 a charge.



Lady Gaga is Polaroid's new "creative director."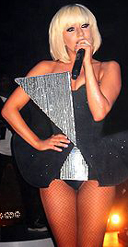 The Sanyo Synergetic Hybrid Bicycle, nicknamed the "eneloop bike," allows riders to generate power while coasting or braking. It has received a CES Innovations 2010 Design and Engineering Award in the Eco-Design and Sustainable Technology category. The 26-inch bike has a motor and electrical system, too, and it adjusts to provide assisted power in difficult terrain.

Lady Gaga attended CES, pitching the Polaroid brand. She was introduced as Polaroid's new creative director. Dressed as if attending Ascot, she drew laughs when she told the crowd her parents were delighted that she finally has "a real job."

Elvis who would have celebrated his 75th birthday during AEE and CES - were he still alive - had his presence in the room. Elvis Presley Enterprises and Resolute Games released their free Elvis Mobile app. iPhone and iPod Touch. Users can download it from the iTunes App store. With the app, users will be connected to newly released pictures and videos, podcasts and images from the Graceland Livecam.

A commemorative iPhone application - the Pocket Elvis - was introduced as a way to honor Presley on his birthday with ringtones and 150 assorted phrases voiced by British vocal impersonator Mitch Benn. "The voice of Elvis is so recognizable to people across the world its always a pleasure to perform as him," Benn said. "With Pocket Elvis, you can take a bit of Elvis everywhere you go."

CES, the largest trade show in the world, runs through today, January 10, at the Las Vegas Convention Center, Las Vegas Hilton and The Venetian.



Broadway To Vegas is supported through advertising and donations. Priority consideration is given to interview suggestions, news, press releases, etc from paid supporters. However, no paid supporters control, alter, edit, or in any way manipulate the content of this site. Your donation is appreciated. We accept PAYPAL. Thank you for your interest.


ART AND ABOUT


WARRIORS ON THE PLAINS: 200 YEARS OF NATIVE NORTH AMERICAN HONOR AND RITUAL

Image: Returning the Gaze. Assiniboine dancer Kevin Hawaye with face paint. © Jeff Thomas.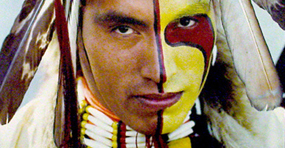 A rare opportunity to explore the fascinating world of Native North American warfare and ritual. The exhibition focuses on the material culture of Native North American Indians of the Plains between 1800 and the present, and the importance of the objects in a social and ceremonial context.

Men of these tribes were expected to join a 'warrior society' - a social, political and ritual group that engaged in warfare and organized ceremonial life.

The societies played a prominent role in battles, offering members the opportunity to gain honors through individual acts of bravery such stealing horses, capturing women, and taking scalps during war raids. These societies, however, had a rich ritual life that was marked by a strong sense of spirituality. In their ceremonies society members made use of objects such as pipes, rattles and headdresses, as these were significant to their shared ideas of ritual and honor.

The exhibition explores the world of the Plains Indians through exceptional examples of feather headdresses, shields, moccasins, painted hides, scalps, pipes, tomahawks, and traditional and contemporary costumes.

Although many of these items may seem initially familiar from popular culture, the exhibition uncovers the deeper ritual significance of these iconic objects.

A selection of photographs shows past and present contexts of the objects used in these societies. The legacy of the warrior societies is also examined, revealing how crucial they are in the maintenance of tribal identity among Plains Indians today.

January 7-April 5 at the British Museum in London.

ONE LIFE: ECHOES OF ELVIS celebrating the 75th anniversary of Elvis Presley's birth, is a one room exhibit which opened Friday, January 8, 2010 at the Smithsonian Institution in Washington, DC and a traveling exhibit in Los Angeles.

Early in Elvis's career, Andy Warhol illuminated the role he played in the new and youth-powered popular American culture; later, Ralph Wolfe Cowan, Red Grooms, and others created mythical, spiritual, and earthly images of the man whose legacy includes multiple superlative moments in music, entertainment, life, and afterlife. To this day, both the historical Elvis Presley and the fantasy-based vision of Elvis are the subject of poetry, literature, music, film, and the visual arts.

On display through August, the exhibit, features portraits, images from Graceland, Elvis merchandise and a reminder that Elvis' manager col. tom Parker put his face on just about anything that could be marketed. The commercial images include an Elvis-imprinted lunch box, nutcracker, action figure and snow globe.

Original artwork from a 1992 Elvis stamp design competition is on view, along with the 1993 stamp with Presley's likeness that became the most popular U.S. postal stamp of all time, with a printing of 500 million.

A gold bust of Elvis as Julius Caesar by sculptor Robert Arneson anchors another wall. A museum docent recently discovered a surprise in the sculpture that had been in storage at the Smithsonian's Hirshhorn Museum: A small heart was carved in the back.

An interesting discovery was a scrapbook discovered in an abandoned Chicago warehouse with newspaper headlines and pictures carefully cut out and pasted in a thick book shortly after Presley's death at age 42 in 1977. Museum official suspect it was lovingly created by an ardent fan who passed away.

Presley sat for only one portrait painter. A painting by Ralph Wolfe Cowan, usually on display in the gallery's entertainment section, is the exhibit's central image. It was completed from sketches Cowan made in 1969 while creating another portrait that hangs at Graceland.



Elvis cupcake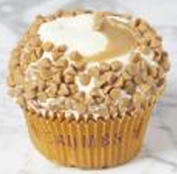 It's difficult to mention Elvis without thinking food - the man loved to eat. Some of his favorite foods were bananas and peanut butter.

Crumbs Bake Shop in NYC has created an Elvis cupcake, which is their cupcake of the month. It is described as "vanilla cake filled and frosted with banana cream cheese frosting, topped with a swirl of real creamy peanut butter and edged with peanut butter chips."

Along with cupcakes, the traditional laying of flowers at his Hollywood star, the Grammy Museum opened the Smithsonian's traveling exhibit, Elvis at 21: Photographs by Alfred Wertheimer. featuring pictures of the king in 1956 when he was 21.

The collection of photos by Alfred Wertheimer is part of a Smithsonian traveling exhibition. Wertheimer was hired by RCA Victor to take promotional shots of the newly signed artist. After the gig, he decided to tag along with Elvis some more, resulting in a collection showing the artist before he was king.

The exhibit will run through March 28, 2010. Then the show will tour the country through 2013 with stops this year in Boca Raton, Fla., and Winchester, Va. It will be open in Washington on Oct. 30.





THE NEXT FAMOUS SONG WRITING DUO - SENATORS ORRIN HATCH AND AL FRANKEN
Sen. Al Franken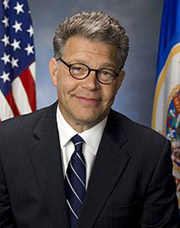 Sen. Orrin Hatch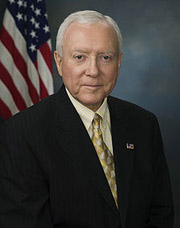 Music can make for unusual bedfellows. Consider the case of Senator Orrin Hatch (R-Utah) and Sen. Al Franken (D-Minn).

It's no secret that Hatch is a songwriter - a respected one. Franken is a comedian - a funny one. Both are currently doing time in the U.S. Senate.

Franken in an appearance before the ECM Editorial Board in Coon Rapids, MN divulged that he participated in an impromptu song writing session with Hatch.

Apparently Franken began talking about song writing after the ECM Board asked whether his career as a humorist had helped or hurt him in the Senate.

Franken explained that he was aware that Hatch was a lyricist. During his first week in the Senate, Franken asked Hatch if he could hear some of his songs. "I didn't expect, much," admitted Franken.

"And the first one was just a beautiful song sung by an old blues guy - Orrin doesn't sing," Franken told the ECM Board. "And it was like a demo. Done very simply. But it was a song about Teddy (Sen. Edward Kennedy)," said Franken. The song was so moving that it brought Franken to tears.

According to the comedian turned senator, Hatch had written the song prior to Kennedy's death from cancer, and had used a metaphor about sailing away into the horizon.

Hatch, who was a close friend of Kennedy's in what was an unusual political odd couple, delivered a eulogy for Kennedy during a memorial service after the veteran senator died in August.

Then Franken listened to another Hatch work, a song in which a woman sings to her husband who's serving in Afghanistan.

Franken, a veteran of numerous U.S.O. tours, explained he was a "sucker" for such lyrics.

The song's chorus was "Come home," Franken said. "And I just started to cry," he said.

Hatch then played a country song he'd written, which was kind of funny, Franken told the group.

He had written a county song, said Franken, a duet called We Stayed Together for the Kids and had done a demo in Nashville.

But the song needed a bridge - the part of the song that doesn't repeat itself - and lacked one. "So I gave it to Orrin. And I said, 'Would you write a bridge with me,'" said Franken.

So, not long ago, the two set to work. "And we were just laughing so hard," said Franken of the collaboration. "And his (Hatch's) staff was going, 'What is going on there,'" said Franken.


FIFTH ANNUAL GOODSPEED FESTIVAL OF NEW ARTISTS


Every musical got its start somewhere. This week Goodspeed in East Haddam, CT stages its Fifth Annual Goodspeed Festival of New Artists January 15-17. The three day event features staged readings of brand new works in this creative gathering of authors, actors, artists, and musical theatre lovers.

Hello Out There Book & Lyrics by Eric Price. Music by Frank Terry.

"It's the summer of 1995, a dozen years before the current financial crisis and the scandal of Bernie Madoff. Three Internet-savvy teens earn tens of thousands of dollars in the stock market using an ingenious method that may or may not be illegal. When an immigrant taxi driver loses his life savings because of the teenagers' game, he alerts the S.E.C. What was initially a high-flying summer of getting rich turns upside down as the S.E.C. chases the teens across the Internet, through the New Jersey suburbs, and all the way to Wall Street."

Friday, Jan. 15, Goodspeed Opera House.

ReWrite Book, Music & Lyrics by Joe Iconis.

"This triple feature of wild musicals connects in surprising and dangerous ways. Nelson Rocks! is a pop/rock show about a young dude who needs to fix his life before the class bell rings. Miss Marzipan is a dizzy musical about a high-stakes dinner party. A little bit of blood is spilt, but it's nothing that some kitchen towels can't clean up. The Process deals with a writer on deadline to finish his musical at the Dunkin' Donuts. As his characters begin to populate the coffee shop, our friendly counter lady serves as a guide through this passionate look into one man's writing process."

Saturday, Jan. 16 Goodspeed Opera House.

Lincoln In Love Book & Lyrics by Peter Kellogg. Music by David Friedman.

"It's a crucial moment in young Abe Lincoln's life - the fledgling lawyer has served his first term in the Illinois state legislature and he's mourning the death of his fiancée, Ann Rutledge. Enter socialite Mary Todd, arrived in Springfield to visit her sister and find a husband suitable to her cultivated taste and ambition. While at first she finds Lincoln coarse and uncivilized, Mary sees his great potential after his first major trial. Their on-again, off-again relationship is just one of the challenges and events that shaped the young Lincoln into the leader he would become."

Sunday, Jan. 17, at the Goodspeed Opera House.

New this year is an increase from one to two festival seminar sessions. The Noel Coward Foundation Symposium is Creating Next To Normal with Tom Kitt who received the Tony Award for Best Original Score, Best Orchestrations.

Goodspeed Festival of New Artists is a Partnership in Training with The Hartt School of the University of Hartford.


SWEET CHARITY


BEAUTIFUL GIRLS!

Donna McKechnie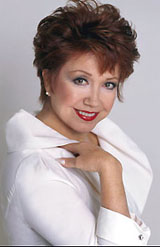 Songs For Women by Stephen Sondheim.

Manhattan School of Music will be paying homage to Stephen Sondheim on Monday, January 18 in the School's John C. Borden Auditorium, with a special musical tribute created by Lonny Price, Beautiful Girls.

The evening will showcase a compilation of Sondheim songs that explore a women's journey through life reflected by his music. Represented will be musical numbers from this Oscar winning and seven-time Tony Award composer/lyricist's body of work that includes such shows as West Side Story; Gypsy; A Little Night Music; Sunday in the Park with George; Into the Woods; A Funny Thing Happened on the Way to the Forum; Company; Follies and Sweeney Todd.

Lonny Price, who will be the show's director, will be joined by his frequent collaborator, Paul Gemignani, who will be conducting the Manhattan School of Music Chamber Sinfonia and four of Broadway's leading ladies - Zoe Caldwell, Jenn Colella, Marin Mazzie and Donna McKechnie.

Choreography by Josh Rhodes.

Tony winner Angela Lansbury, currently on Broadway in Sondheim's A Little Night Music, will be on hand following the concert, appearing at a reception in the Peter Jay Sharp President's Residence adjacent to the School. Lansbury, joined by the evening's stars, will discuss her musical theatre career and her work with Sondheim.

A One-Night Broadway Revue to Benefit Musical Theater at MSM.

Monday, January 18; John C. Borden Auditorium, NYC.




SPREADING THE WORD


HENRY WINKLER

(L-R) Barney Cox, Ben Hunter, actor Henry Winkler, Ryan King, the Prime Minister's wife Sarah Brown, Liberty Cox, Nicky Cox, Isaac Lyons, Betany Cox, Evie Lyons and Daisy Cox pose at the launch of The First News My Way!, at 10 Downing Street on January 6, 2010, in London, England. The campaign which will run in First News, the children's weekly newspaper, and will be fronted by Henry Winkler. Photo by WPA Pool/Getty Images Europe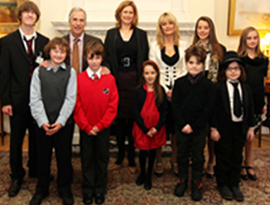 and the Prime Minister of England's wife Sarah Brown hosted the launch for a new campaign that aims to improve attitudes towards children with learning differences.

Around one in five school-aged children need additional help in school of some form, and the First News My Way! campaign hopes to raise awareness for children with special educational needs.

The campaign which will run in First News, a children's weekly newspaper, will be fronted by Henry Winkler.

Sarah Brown was joined at the Downing Street reception by Children's Secretary Ed Balls, children with learning difficulties and the campaign's ambassador, author and actor Henry Winkler who was not identified as having dyslexia until the age of thirty.

Sarah Brown said:

"Gordon and I have always been passionate that every single child should have the chance to reach their true potential, so it's really important that we breakdown any barriers that some children may face when learning."

"Listening to children, supporting them and creating the right environment for them to do well is at the heart of this campaign and I'm very pleased to host the launch event for an initiative that will really touch people's lives and make a difference."

L.A. THEATRE WORKS RECORDS Clifford Odets' 1935 masterpiece, Awake and Sing!, with Mark Ruffalo, Ben Gazzara, Jonathan Hadary, Peter Kybart (all of whom were in the 2006 Tony Award-winning Broadway revival) and Jane Kaczmarek. Bartlett Sher, Tony Award-winner for his direction of that production, directs five performances at the Skirball Cultural Center, Los Angeles January 13 through 17.

All performances will be recorded for broadcast on L.A. Theatre Works' nationally syndicated radio theater series.

Considered to be Odets' best work, Awake and Sing! compassionately portrays the struggles of a Jewish immigrant family crowded together in a cramped Bronx tenement and laid low by the Great Depression Tragedy, hope and politics are all interwoven to create a powerful work as illuminating and engaging today as it was when first performed in the 1930s.

THE HORTON FOOTE PRIZE a new award named after the legendary writer, which will be presented to an American playwright who has written an original work of exceptional quality, will be inaugurated this coming Fall, 2010. The award, which will carry a cash prize of $30,000 and which will be awarded on a bi-annual basis, will be funded by the Austin, Texas-based Greg and Mari Marchbanks Family Foundation. Mari Marchbanks is the Founder of The Horton Foote Prize and will serve as its Executive Director. Shortly before his death last March at the age of 92, Mr. Foote gave his blessing to this eponymous award.

Sixty five resident theaters throughout the country will be invited to submit a play to the competition for consideration. In order to be eligible for The Horton Foote Prize, a playwright will have to be the author of a minimum of three original full-length plays that have been fully produced by professional theatres.

A short list of finalists will be selected after a process of multiple readings of each work by reading and selection committees comprised of nationally represented theater professionals. The winner of the Prize will be chosen from this short list by the four Artistic Directors of the theaters with whom Mr. Foote enjoyed a productive and satisfying working relationship later in his career -- Andre Bishop (Lincoln Center Theater), James Houghton (Signature Theatre Company), Andrew Leynse (Primary Stages) and Michael Wilson (Hartford Stage Company).

THE TIMES features book and lyrics by Kleban Award winner Joe Keenan (Frasier; Desperate Housewives) and music by Brad Ross (Little by Little). Presented as part of the York's New2NY series, which stages new musical works in concert style with "book-in-hand" and minimal props and costumes, the concert reading takes place from January 15 through January 17, 2010.

Composer Brad Ross is the music director. Philip Wm. McKinley directs a cast which includes Jordan Leeds, Julia Murney, Heather Ayers, Sarah Jane Everman, Mary Gordon Murray, Bill Nolte, Robb Sapp and Jim Stanek.

The Times is a bittersweet comedy charting the course of a marriage through good times, bad times and The New York Times. Liz, an actress, and Ted, a writer, begin their New York love story in 1973 and see their relationship evolve over the course of 17 years through the eyes of their friends and rest of the world - with the help of a familiar newspaper that brings the stories of their lives together.

Presented by The York Theatre Company at Saint Peter's, NYC.





WARREN BEATTY - BUSY, BUSY, BUSY
Warren Beatty
A new biography about the love life of Warren Beatty, who has been happily married to Annette Bening since 1992, claims that he has been to bed with 12,775 women.

Titled Star: How Warren Beatty Seduced America, author Peter Biskind states that the figure doesn't include "daytime quickies, drive-bys, casual gropings, stolen kisses and so on".

The book claims that Beatty, 72, lost his virginity at the age of 20, but averaged a different woman a day for the next 35 years.

The figure also does not take into account multiple women in a single day.

It also means that if Beatty knew the exact figure - 12,775 - he was keeping score.


OTHER PEOPLE'S MONEY


TAREQ AND MICHAELE SALAHI that infamous Virginia couple who crashed a White House party to fete Indian Prime Minister Manmohan Singh last November 24, are stretching their 15-minutes of fame - all for a price. They are being paid $5,000 and given a comp room at Caesars Palace to host a party at Pure nightclub located inside Caesars Palace Las Vegas.

Pure Management Group which represents Pure issued a press release calling Tareq and Michaele Salahi "President Obama's most unexpected guests" in declaring that pair will walking the red carpet and host the January 16 event.

Their next "walk" after Vegas may be more official. A federal grand jury has convened to investigate whether fraudulent statements were made to government officials regarding how the Salahis gained entrance into that White House state dinner. The House Homeland Security Committee has also voted to subpoena the couple to force them to answer questions about the security breach. The Salahis have said they would invoke their Fifth Amendment rights not to answer questions if forced to appear before the panel.

THE 200 BEST AND WORST JOBS in the U.S. in 2009 based on five criteria - environment, income, employment outlook, physical demands and stress - according to a newly released study from job site CareerCast.com. has employment in the arts/communications worlds ranking from #13 Technical Writer to #189 Photojournalist. Starting salaries ranged from $16,000 for a Disc Jockey and Photojournalist to $47,000 for Public Relations Executive.

Those on the list from the world of creative arts included:

#13 Technical Writer:
#31 Motion Picture Editor
#44 Broadcast Technician
#51 Museum Curator
#61 Musical Instrument Repairer
#65 Publications Editor
#73 Set Designer
#74 Book Author
#79 Public Relations Executive
#95 Newscaster
#104 Fine Art Artist
#109 Piano Tuner
$126 Photographer
#139 Fashion Designer
#163 Actor
#174 Disc Jockey
#181 Choreographer
#184 Newspaper reporter
#189 Photojournalist

THE PHANTOM OF THE OPERA has broken the house record at The Majestic Theatre in NYC to have its best weekly gross in the production's nearly 22 year history. For the week ending January 3, 2010, the production grossed $1,374,874.96 for 8 performances. This surpasses the show's previous record of $1,371,452.50 for the week ending January 1, 2006 - which, notably, was a 9-performance week.

NICHOLAS CAGE is still trying to sell a home in Las Vegas. The 14,300-square-foot mansion in the Spanish Hills section of Sin City was listed for sale in August 2008 at an asking price of $9.95 million. Purchased for investment and resale purposes, the property is now listed at $4.95 million.



RICH LITTLE the 71-year-old Canadian born impressionist who calls Las Vegas home, will now do the same for America. On Friday, January 8, Little raised his hand in a naturalization ceremony in U.S. District Court and became an American citizen.

CASSANDRA WILSON the jazz vocalist who was raised in Jackson, MS was honored by her hometown last Thursday. The two-time Grammy Award-winner was present, along with 200 students, friends, family and musicians when a Mississippi Blues Trail Marker was unveiled in her honor at The Brinkely Middle School, located on the street where she lived as a child. She attended 10th grade at the school.

Wilson chose the site for the marker. On picking Brinkley, Wilson said, "It's really about the neighborhood, Shady Oak. There are wonderful people who live here. So many wonderful experiences I've had, as a musician, I've had growing up in this neighborhood."

"The Blues is really the beginning of all popular music and Jazz," Wilson said. "Without Blues, you can't have Jazz." Wilson's is the 100th Mississippi Blues Marker to be dedicated and the 8th in the city of Jackson. It will be placed permanently outside Brinkely Middle School.

"It's a great honor," said Wilson. "I'm deeply moved by it."

The Mississippi Blues Commission's purpose is to foster an appreciation of the Blues and the culture that created it. The Mississippi Blues Commission was organized in October 2003 by gubernatorial decree and was legally re-constituted in 2004 by the State Legislature. Senate Bill 2082 officially established the Mississippi Blues Commission and declared that the Commission will develop a plan to promote authentic Mississippi Blues music and Blues culture for purposes of economic development.

JUBILEE! the Donn Arden production at Bally's hotel in Las Vegas, celebrates its 17,000th (17,000!!) performance on Saturday, January 16, 2010 during the 7:30 p.m. show.

Jubilee! is not only a classic Las Vegas production - in fact, it's the last authentic showgirl revue in the city.

The curtain opens on a stunning $3 million opening number; the show's cast proceeds through seven acts performed on larger-than-life sets and in over 1,000 different costumes by Bob Mackie and Pete Menefee.

The show reaches a thunderous coda with the famous Red Feather Fan number, which combines awe-inspiring $7,000 costumes and a medley of Cole Porter's most cherished songs.

Jubilee! features nearly 100 performers, including 50 stunning topless Jubilee! dancers,

CHICAGO the acclaimed revival of John Kander, Fred Ebb and Bob Fosse's Tony Award-winning musical will reach yet another major milestone on Tuesday, January 12, when it becomes the sixth-longest running production in Broadway history, surpassing Beauty and the Beast with a total of 5,462 performances.

As of that date, the top ten longest-running Broadway productions will be as follows (* indicates the production is still running):

1. * The Phantom of the Opera (9,133)
2. Cats (7,485)
3. Les Miserables (6,680)
4. A Chorus Line (6,137)
5. Oh! Calcutta (5,959)
6. *Chicago (5,462)
7. Beauty and the Beast (5,461)
8. Rent (5,124)
9. * The Lion King (5,078)
10. Miss Saigon (4,097)


TENNESSEE WILLIAMS' FLOPS GET SECOND CHANCE


Not everything a successful playwright pens is a winner. Even Tennessee Williams had his critics. Two of his lesser appreciate works - termed ahead of their time - Orpheus Descending and Clothes for a Summer Hotel are hoping the time is now right. One is getting another chance in Los Angeles and the other in The Big Apple.

Tennessee Williams' modern version of the myth of Orpheus and Eurydice which he eventually tagged Orpheus Descending is set in the American South of repressed desires. Guitar-playing drifter Val Xavier arrives in a small town looking for work and the opportunity to renounce his wild ways, where he meets Lady Torrance, a woman with a tragic past who longs for rebirth. Known as one of Williams' darker and more complex plays, Orpheus Descending explores the power of passion, art, and imagination to redeem life and return it to meaning.

The play utilizes Williams' signature selection of secondary characters to the greatest degree, such as outsider/social outcast Carol Cutrere and the various small town gossips who comment on the action, making up a Greek Chorus.

Orpheus Descending was a play that Williams labored over for more than seventeen years. The earliest version, called Battle of Angels, opened as Williams' first Broadway production in 1940 when he was just 29. It was almost universally condemned by critics. Williams refused to give up, rewriting it five times and finally reshaping it as a modern version of the Greek legend.

"Why have I stuck so stubbornly to this play?" Williams wrote. "Well nothing is more precious to anybody than the emotional record of his youth, and you will find the trail of my sleeve-worn heart in this completed play that I now call Orpheus Descending. About 75% of it is new writing, but what is more important, I believe that I have finally managed to say in it what I wanted to say, and I feel that it now has in it a sort of emotional bridge between my early years and my present state of existence as a playwright."

Orpheus Descending opened on Broadway in 1957 with Maureen Stapleton and Cliff Robertson. In 1959, Williams and Meade Roberts turned the script into the film The Fugitive Kind, starring Marlon Brando, Anna Magnani, Joanne Woodward and Maureen Stapleton.

Clothes for a Summer Hotel. Williams' highly theatrical and evocative "ghost play", imagines an ethereal final meeting between the restless ghosts of literary great F. Scott Fitzgerald and his wife Zelda. Set on a windy hilltop at the gates of the Asheville, NC asylum where Zelda was institutionalized before her death by fire in 1948, a desperate Scott pleads for reconciliation while Zelda blames him for her failed writing career and ensuing madness.

Taking extraordinary liberties with time and place, Clothes fuses the past, present and future as Zelda and Scott re-visit the Jazz Age of their youth on the French Riviera and the ghosts of characters, including Ernest Hemingway, who helped shape their existence.

Williams had a life-long fascination with the Fitzgeralds. The tortures they faced as creative artists in a modern society paralleled his own. He identified directly with Scott's early success and later disfavor and empathized with Zelda's need to create and thwarted ambitions. He also had a special understanding and sympathy for Zelda's madness, having witnessed his own sister's struggles with schizophrenia.

Clothes for a Summer Hotel, which opened at the Court Theatre on March 26, 1980 with Geraldine Page in the role of Zelda, was Williams' last Broadway production. Other than a production mounted by the York Theater Company in 1995, the play has not been staged in New York City since. Despite the fact that many critics originally failed to appreciate Williams' post-modern dreamscape, several recognized the potential of this "quintessentially American romance" - as described by Our Town's Jeremy Gerard - acknowledging, as The New York Times' Clive Barnes did, that Clothes was a play "whose time has not yet come."

Backers are hoping the time has come for both of these plays.

Orpheus Descending descends January 15 through February 21 at Theatre/Theater in Los Angeles in a mounting helmed by Lou Pepe. Gale Harold (Queer as Folk), Denise Crosby (Star Trek TNG), and cover girl-turned-actress Claudia Mason (Vogue, Elle, W, Cosmopolitan) head the cast which includes Robert E. Beckwith, Curtis C., Francesca Casale, John Gleeson Connolly, Kelly Ebsary, Andy Forrest, Sheila Shaw and Geoffrey Wade.

Set Design is by David Mauer; Production Stage Manager is Jericha Griffin.

Being mounted by the White Horse Theater in NYC is Clothes for a Summer Hotel, directed by White Horse Producing Artistic Director Cyndy A. Marion. Performances of this limited 3-week engagement will take place February 5 to 21, at the Hudson Guild Theatre.

The cast includes Tom Cleary, Peter J. Crosby, Mary Goggin, Chris Johnson, Julie Kelderman, Sarah Levine, Ambien Mitchell, Kyle Lamar Mitchell, Lisa Riegel, Montgomery Sutton, Rod Sweitzer and Kristen Vaughan.

The design and production team consists of Obie-Winner John C. Scheffler (Set Design), Randall Parsons (Additional Set Design/Execution), Debra Leigh Siegel (Lighting Design), Adam Coffia (Costume Design), David Schulder (Sound Design), Joe Gianono (Incidental Music), Mike Chin, (Fight Choreography), Liz Vacco (Dance Choreography) Vittoria Natale and Guillermo Elkouss (Tango Choreography) and Elliot Lanes (Stage Manager).

There will be a post-show moderated discussion following the February 14 performance with renowned Tennessee Williams scholar Dr. Annette J. Saddik and Nancy Milford, author of Zelda. Saddik is an Associate Professor in the English Department at New York City College of Technology (CUNY), a teacher in the Ph.D. Program in Theatre at the CUNY Graduate Center and the author of Contemporary American Drama and The Politics of Reputation: The Critical Reception of Tennessee Williams' Later Plays. Milford's Zelda was a finalist for the Pulitzer Prize and the National Book Award, and spent twenty-nine weeks on The New York Times best-seller list.



HOPE-THE OBAMA MUSICAL STORY

Jimmie Wilson portrays Barack Obama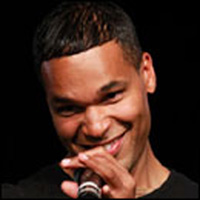 by Randall Hutchins who is both author and composer. Directed by Roberto Emmanuele.

This new musical play opened to previews this week in Offenbach, Germany.

Described as: "Seen through the eyes of the inhabitants in an apartment-sharing community, we experience the American society which is distressed by the prevailing economical-political chaos, lost in social helplessness – disoriented. People of different origin and political parties find themselves united in the hope for a new beginning. Hence, the battle for the election of the 44th president of the US finds its way into their everyday lives and starts affecting the people in an unprecedented way, letting them share the hope for a better future, despite all the differences."

Starring Detroit native Jimmie Wilson as Barack Obama; Houston born Della Miles, who had the lead in the Michael Jackson produced musical Sisterella, appears as Michelle Obama.

Dynelle Rhodes as Shirley Wickerson and New Yorker Vanda Guzman as Bee Wickerson, sisters who are carried away by the movement of Obama. Love Newkirk as Elaine Johnson; Tracy Plester is Hillary Clinton and Sara Palin; David Hanselmann appears as John McCain.

Boysie White as Reverend Wright; Milwaukee born Timothy Riley as Ricardo; Dunja Koppenhöfer as Mrs. Schultz, a German-American socialite widow who is a longtime Republican supporter.

Harriett Lewis, who has opened concerts for Luther Vandross, Mariah Carey, Michael Jackson, Ray Charles, Eric Clapton, Lisa Stansfield, Crash Test Dummies and Michael Bolton appears as Michelle Obama's mother, Harriet. ELLIOTT plays the role of Mama Johnson; Kevin Iszard as Marvin Johnson an Afro-American father, husband and a committed "non-voter".

Lerato Sebele is Ruby, who is committed to Barack Obama. Mario Borazio as Mr. Brunetti, a humorous Italian-American restaurant owner. Patrick Gräser as the narrator, who tells the story of Barack Obama and the community. RoBeat as Street-Beat Boxer and Danny Fresh as Rapper.

Dancers; Inez Paolini, Nadine Kraft, Leonard Mardis, Leon Prince, PrinCe and Errol Barrows.

The Musician / Percussion-Crew; Leandro Saint Hill, Chris Gross, Karoline Körbel, Ricardo Espinosa, Fallou Sy and Carlos Serrano del Rio.

The Broadway-style political biopic is sung in English.

HOPE-The Obama Musical Story officially opens in Frankfurt, Germany on January 17. Germans are notorious musical-theater lovers, and President Obama enjoys approval ratings in Germany that far outpace his U.S. numbers. The official announcement states: "The HOPE production team and its performers do not take up any political stance. We do not express a political opinion in our own name. The presentation of the public opinions and feelings in the musical follows the general interpretation of the current events like they prevail in the media and the society."

"As performers of multinational origin, we generally champion the idea of a democratic, global society living together in the context of world peace."

THE PEE-WEE HERMAN SHOW a new stage production starring Paul Reubens as his famous character Pee-wee Herman, was set to be mounted last November. However, the demand for tickets was so overwhelming that the production had to move to a bigger venue and push back the opening to February.

The character of Pee-wee Herman first originated during a 1978 improvisation exercise with The Groundlings, where Reubens came up with the idea of a man who wanted to be a comic, but was so inept at telling jokes that it was obvious to the audience that he would never make it.

The production debuted at The Groundlings Theatre in 1981, then moved to the Roxy Theatre on Sunset Strip for five sold out months. Taped as part of HBO's On Location series, the show catapulted Pee-wee into the national consciousness. It lead to Pee-wee's many appearances on Late Night With David Letterman, followed by a 22-city tour that included Carnegie Hall. In 1985, Warner Brothers brought Pee-wee to the big screen with Pee-wee's Big Adventure, Tim Burton's feature film debut. Co-written by Reubens, it featured Danny Elfman's first original film score.

The CBS television series Pee-wee's Playhouse, premiered in 1986. During its five seasons, the show garnered 22 Emmy Awards. Pee-wee's second film, Big Top Pee-wee was released in 1988. While The Pee-wee Herman Show, and Pee-wee's Playhouse were an homage to an earlier generation's television classics - Howdy Doody; The Mickey Mouse Club; Captain Kangaroo; Kukla, Fran, and Ollie and The Shari Lewis Show - Pee-wee himself became one of the most original and beloved stars in all of television history and late-century American culture.

In July 1991, while visiting relatives, Reubens was arrested in Sarasota, Florida for masturbating publicly in an adult theater while watching a triple bill of Catalina Five-O: Tiger Shark, Nurse Nancy and Turn up the Heat.

This was not Reubens' first arrest in the county; in 1971 he was arrested for loitering and prowling near an adult theater, though charges were later dropped. His second arrest was in 1983 when Reubens was placed on two years' probation for possession of marijuana, although adjudication was withheld.

CBS stopped airing Playhouse and Disney-MGM Studios suspended from its studio tour a video that showed Pee-wee explaining how voice-over tracks were made and Toys-R-Us removed Pee-wee toys from its stores.

Despite the negative publicity, many artists who knew Reubens jumped to his defense and complained about the way Reubens had been treated by the press.

Times passed. When Cartoon Network aired the series in 2006, 1.5 million viewers watched every night; the next year TV Guide named the Playhouse among the top 10 cult classics of all time. In 2007, Nike created a version of the Nike SB sneaker loosely inspired by Pee-wee.

The ultimate nerd is back with his trademark red tie and too tight grey suit. The production opens January 12 at Club Nokia in Los Angeles. Reubens says he'd like to stage the show in Las Vegas.

PRESENT LAUGHTER written by Noël Coward and directed by Nicholas Martin.

Starring Victor Garber, with Harriet Harris, Brooks Ashmanskas, Lisa Banes, Nancy E. Carroll, Alice Duffy, Holley Fain, Pamela Jane Gray, James Joseph O'Neil, Richard Poe and Marc Vietor.

In Noël Coward's classic comedy, matinee idol Garry Essendine (Garber) sits at the center of his own universe. While Garry struggles to plan his upcoming trip to Africa, his elegant London flat is invaded by a love struck ingenue, an adulterous producer and a married seductress, not to mention Garry's estranged wife and a crazed young playwright. Just before Garry escapes, the full extent of his misdemeanors is discovered and all hell breaks loose.

The design team includes Alexander Dodge (Sets), Jane Greenwood (Costumes), Rui Rita (Lights) and Drew Levy (Sound).

Presented by the Roundabout Theatre Co, Present Laughter is currently in previews with the official opening set for January 21 with performances through March 21, 2010 at the American Airlines Theatre in NYC.

LIL'S 90th a World Premiere, late-life love story by Darci Picoult. Directed by Jo Bonney.

As Lillian nears a milestone birthday, she and her family put the finishing touches on the much-anticipated party at which she'll make her singing debut. There's a speech to be written, a band to rehearse and, of course, an outfit to choose. But then Lil's husband Charlie's secret gets out - the birthday surprise that he hoped would make her day may instead tear their lives apart.

Starring Nick Blaemire as Tommy; David Margulies as Charlie; Kristine Nielsen as Stephanie; Lois Smith as Lil; and Lucy Walters as Deirdre.

Performances through February 7, 2010 at the Long Wharf Theatre in New Haven, CT.

In conjunction with the staging of this show, the Long Wharf will be hosting several events including a fun performance which takes place on Sunday, January 17. The Long Wharf is calling all musicians, actors, singers, dancers, comedians who are 70 plus to apply to participate in the cabaret type show which will be take place on the Mainstage. It's free. Each performer will have 3 minutes on stage. All performers are encouraged to invite their family and friends to attend.

LITTLE HOUSE ON THE PRAIRIE

Melissa Gilbert as Ma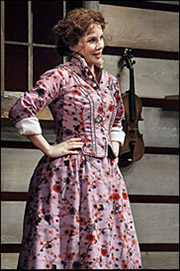 a musical based on the Laura Ingalls Wilder series of classic American books features a book by Tony Award winner Rachel Sheinkin. Music by Academy Award winner Rachel Portman and lyrics by Donna DiNovelli. Kevin Stites is the music supervisor, and Michele Lynch is the choreographer. Directed by Francesca Zambello.

Starring Melissa Gilbert - who grew up on television as Laura in the NBC television series Little House on the Prairie - assumes the role of Ma with Steve Blanchard as Pa and Kara Lindsay as Laura.

The design team includes set designer Adrianne Lobel, lighting designer Mark McCullough and costume designer Tony winner Jess Goldstein.

Current on tour through June with performances January 12-17 in Omaha at the Orpheum Theatre. The production then opens January 26-February 28 in Toronto at The Canon.

GREASE Directed and choreographed by two-time Tony Award-winner Kathleen Marshall. Book, music and lyrics by Jim Jacobs and Warren Casey. Additional songs from the movie are by Barry Gibb, John Farrar, Louis St. Louis and Scott Simon.

Take a trip to a simpler time of poodle skirts, drive-ins, and T-birds. "Bad boy" Danny and "the girl next door" Sandy fall in love all over again to the tune of; Summer Nights, Greased Lightnin' and We Go Together as well as additional songs from the hit movie: Grease, Hopelessly Devoted to You and You're the One That I Want.

Starring Ace Young as Danny, Lauren Ashley Zakrin as Sandy, Laura D'Andre as Rizzo, Allison Fischer as Patty Simcox and Jesse JP Johnson as Doody and Jamison Scott as Eugene. Scott originated the role of Eugene in the new Broadway production of Grease and appeared in the Las Vegas companies of Hairspray and Saturday Night Fever. American Idol Season 5 winner Taylor Hicks continues to star as Teen Angel. The tour also stars Will Blum as Roger, Bridie Carroll as Jan, Kate Morgan Chadwick as Frenchy, Kelly Felthous as Marty, Dominic Fortuna as Vince Fontaine, Roxie Lucas as Miss Lynch, David Ruffin as Kenickie, and Nick Verina as Sonny.

The ensemble features Joseph Corella, Preston Ellis, Erin Henry, Ruby Lewis, Dayla Perkins, Mark Raumaker, Mike Russo, Matthew William Schmidt, Christina Sivrich and Elizabeth Stacey.

Scenic design by Tony Award winner Derek McLane; costume design by two-time Tony Award winner Martin Pakledinaz; lighting design by Tony Award winner Kenneth Posner and sound design by Brian Ronan.

Grease, opens in St. Louis at the Fabulous Fox Theatre for 16 performances, January 12-24, 2010.

IL TROVATORE By Giuseppe Verdi. General Director Speight Jenkins. Chorusmaster Beth Kirchoff. Conductor Yves Abel. Stage Director Jose Maria Condemi.

Swift action, intense pathos, and more hit songs than any opera but Carmen combine to make this hot-blooded story of love, hate, revenge, and death a grand warhorse of sound and spectacle. A gypsy mother's love clashes with a dark secret from her past in this suspenseful romantic drama. The entire final act is considered an opera highlight. Swordplay, poison, late night abductions, and a gypsy curse add to the overall intrigue. The score boasts a very high quota of recognizable music: rousing choruses, lilting gypsy tunes, and familiar crowd-pleasing hits that had audiences shouting "Viva Verdi!" after its premiere.

Starring Antonello Palombi, Arnold Rawls, Lisa Daltirus, Mary Elizabeth Williams, Gordon Hawkins, Todd Thomas, Malgorzata Walewska, Mary Phillips, Arthur Woodley, Vira Slywotzky and Leodigario del Posario.

Set Designer: Allen Moyer. Sets: Minnesota Opera Costume Designer: John Conklin. Costumes by Seattle Opera. Lighting Designer: Thomas Hase. English Captions: Jonathan Dean. In Italian with English Captions. Opens January 16 at Seattle Opera.

NIGHT a World Premiere play created over three Arctic winters in Iceland and Nunavut, this work by Toronto's Human Cargo is a collective creation, written and directed by Christopher Morris and created by Mike Bernier, Gillian Gallow, Michelle Monteith, Abbie Ootova, Michelle Ramsay, Lyon Smith and Linnea Swan.

Featuring Mike Bernier, Michelle Monteith, Abbie Ootova and Linnea Swan.

Night explores the effects of Winter Darkness from Canada's North. The lives of a Toronto anthropologist and 16-year old Inuk girl intersect powerfully during 24 hours of darkness in Pond Inlet, Nunavut.

Daniella is a scientist from the big city; Piuyuq is an Inuit girl with big dreams. As the two cross paths, their lives are changed forever.

Night was developed over the course of three four-week creation workshops held over a period of three years starting in 2007. Rehearsals during these creation workshops took place in the Arctic darkness of Pond Inlet, Nunavut and Akureyri, Iceland.

Set/Costume Design by Gillian Gallow, Lighting Design by Michelle Ramsay, Sound Design by Lyon Smith. Stage Manager Melissa Rood. Apprentice Stage Manager Elizabeth McDermott. Production Manager/Technical Director Doug Morum.

Night marks the first time a production from Nunavut will appear on the NAC stage, after which it will tour to the community of Inuvik (Jan 19, 2010), the Northern Arts and Cultural Centre in Yellowknife (Jan 22-23, 2010), and the Yukon Arts Centre in Whitehorse (Jan 27-28, 2010).

Human Cargo is a multi-disciplinary theatre company based in Toronto that uses the creation of new works as a means to expose and discuss social and political issues. Night runs until January 16 in the National Arts Centre Studio, Ottawa, Canada.

On January 13 and 14 there will be an after performance informal question and answer session with the actors or members of the production team.

A Human Cargo (Toronto)/National Arts Centre co-production in association with Nunavut, Northern Arts and Culture Centre, Yellowknife and Yukon Arts Centre, Whitehorse. Made possible with support from the Government of Nunavut's Department of Culture, Language, Elders and Youth, the National Arts Centre, First Air, Akureyri Playhouse (Iceland), the Canadian Embassy of Iceland, Canada Council and Ontario Arts Council.





WHO'S WHERE


BAROCCO CON COCOA VIVALDI-BACH-CHARPENIER featuring Ruth Lenz, Reno Philharmonic Concertmaster and Andrew Sords performing on a 1912 Augustine Talisse Violin. Saturday January 16 in the Sinatra Celebrity Showroom at the Cal Neva Resort, Cal Neva, NV.

DI WU praised in The Wall Street Journal as "a most mature and sensitive pianist," Chinese-born Di made her New York Alice Tully Hall Recital debut as winner of Juilliard's William Petschek Piano Debut Recital Award. In September she made he Philadelphia Orchestra debut at a gala benefit concert under Charles Dutoit. The new Chinese Embassy in Washington, DC was designed by I.M. Pei and this will be the first concert at the embassy. January 16, Chinese Embassy in Washington, DC.

DANIEL HOPE the celebrated British violinist, will perform the very first classical concert in the Elgar Room, the Royal Albert Hall's brand new performance space, on January 18. The concert, A Ba-ROCK Explosion, will be 'all-standing' as part of the Elgar Room's mission to present music and the performing arts in new and exciting ways. Royal Albert Hall in London.

KATHY GRIFFIN telling funny stories in a two nighter Tuesday and Wednesday at the McCallum Theatre in Palm Desert, CA. On Saturday she'll be getting laughs at the Dodge Theatre in Phoenix, AZ.

BIG BAD VOODOO DADDY gets the beat going Thursday, January 14 at the Bankhead Theater in Livermore, CA. On Friday they are on stage at the Performing Arts Center in Lancaster, CA. Saturday finds them at the Heritage Theatre in Campbell, CA.

LILY TOMLIN opens at two night stand at the Lyric Theatre in Stuart, FL on Monday, January 11. On Saturday the Tony Award winning comedienne stars at the Tennessee Williams Fine Arts Center in Key West, FL.

WEDNESDAY NIGHT AT THE IGUANA with hosts Dana Lorge and Richard Skipper. Featuring Barry Levitt on keyboard & Saadi Zain on bass. Wednesday's guests include: Steve Carey as Phyllis Diller, Jon Burr & Lynn Stein, Jack Cosgrove, Barbara Gurskey, Janice Hall and Bobbie Horowitz. January 13 at the Iguana VIP Lounge in NYC.

JOHN PIZZARELLI opens a 7-night engagement at the Colony House in Palm Beach, FL on Tuesday, January 12.

F. MURRAY ABRAHAM in Elusive Things: A Song Cycle backed by two violins, a viola and a cello. Weill Recital Hall in NYC on January 15.

GEORGE WINSTON on stage Saturday, January 16, at the Dance Palace in Point Reyes, CA.

PRESERVATION HALL JAZZ BAND AND THE BLIND BOYS OF ALABAMA have a three night stand beginning Thursday, January 14, at the Schermerhorn Symphony Center in Nashville, TN.






FINAL OVATION


BEN BRADLEY

Ben Bradley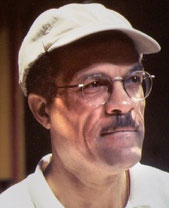 the popular theater director of the Fountain Theatre in Los Angeles was found stabbed to death.

At 5:50 p.m. Saturday, January 2, the body of Bradley, 59, was discovered by a stage manager who went to check on him because he had not attended rehearsals the previous day. The stage manager called police, said Officer April Harding of the Los Angeles Police Department.

Initially police investigated the crime as being linked to a robbery.

Bradley suffered multiple stab wounds to his body, and was pronounced dead at the scene, Harding said.

"It's definitely a homicide," said LAPD Detective John Skaggs. "There's complete evidence that somebody else caused his demise, so it is a homicide investigation."

Police said his apartment had been ransacked.

On Tuesday the LAPD arrested 25-year-old suspect, Jose Fructuose, of Los Angeles. The Los Angeles District Attorney's office Thursday filed one charge of murder against Fructuoso, whom police claim confessed to killing his lover, theater director Bennett Bradley. Fructuoso is being held on $1 million bail.

A graduate of Carroll College where he majored in theatre, Bradley won many awards for his direction of productions at the Fountain over the past 16 years. His roles at the Fountain, an Off-Broadway-style theatre in L.A., include audience development, producer and director.

At the time of his death Bradley was in rehearsals for the West Coast-premier of The Ballad of Emmett Till. Bradley had been working closely with the playwright Athol Fugard to develop a brand new, completely reworked version of the script that premiered last year at Chicago's Goodman Theatre. Part history, part mystery and part ghost story, Bayeza's jazz/gospel/folk integration of past, present, fact and legend turns the story of the 1955 murder of 14-year old Emmett Till, whose shocking death helped spark the infant civil rights movement, into a soaring work of music, poetic language and riveting theatricality.

The show will go on as a tribute to Bradley, with previews January 30-February 5, towards the official opening on February 6. Performances run through March 6 at The Fountain Theatre in East Hollywood.

Next Column: January 17, 2010
Copyright: January 10, 2010. All Rights Reserved. Reviews, Interviews, Commentary, Photographs or Graphics from any Broadway To Vegas (TM) columns may not be published, broadcast, rewritten, utilized as leads, or used in any manner without permission, compensation and/or credit.
Link to Main Page
---
Laura Deni



U.S. Postal Address: Post Office Box 60831, Las Vegas, NV 89160
CLICK HERE FOR COMMENT SECTION