! >
Broadway To Vegas
  
  REVIEWS INTERVIEWS COMMENTARY NEWS

| | |
| --- | --- |
| | |
INSPIRING SINGER JUSTIN HINES KNOWS HOW TO ENTERTAIN - - 2012 NEW YEAR CELEBRITY WISHES INCLUDE DIVORCE - - WOODY GUTHRIE COLLECTION TO GO ON DISPLAY - - PRINCESS CHARLENE TO OPEN GRACE KELLY STYLE ICON EXHIBIT - - PORGY AND BESS BEGINS BROADWAY PREVIEWS - - 2012 OLYMPICS PREDICTED TO HARM WEST END PRODUCTIONS - - WAR HORSE TO HAVE ROYAL LONDON CHARITY PREMIERE - - MAUREEN McGOVERN HAS 3 MONTH STAR SLOT IN FABULOUS PALM SPRINGS FOLLIES - - DONATE . . . Scroll Down



JUSTIN HINES - AN INSPIRING SINGER WHO KNOWS HOW TO ENTERTAIN
Justin Hines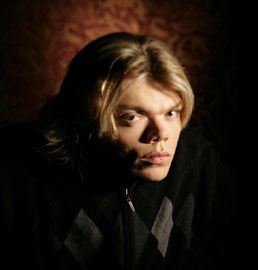 An attention getting situation can take you only so far.

Horrific burns sustained in the lines of military service may have been a factor in Dancing With The Stars asking J.R. Martinez to participate, but to take home that Mirrored Ball he had to prove that he could dance.

Singer Justin Hines was born with a rare genetic joint condition called Larsen Syndrome. Unable to walk, he's been confined to a wheelchair his entire life. That's okay, because long ago he decided that walking was overrated.

In an interview with the CBS Sunday Morning show, his mother Carol Hines told reporter Tracy Smith that Justin spent most of the first five years of his life in the hospital. Carol recalled a time when Justin asked her what it was like to walk.

He was "about five or six. And he just turned to me and he said, 'Mom, I wonder what it's like to walk?' And I just went, ooh, my heart just kind of - and I thought, okay, think quick. So I put one of his feet on each of my feet."

At which point Justin interrupted to tell Smith: "My legs weren't perfectly straight so I was kind of unstable, but she took a couple steps with me and seemed like a lot of work, really overrated, I thought."

He admits his condition has created hurdles, but primarily he sees the good it has brought him and the inspiration he can provide others.

Often people talk about wearing their hearts on their sleeve - but for Justin - it's his soul. In his music and as a person, Justin connects on an emotional level.

His single "Say What You Will" begins with the line "And if I were to die today, my life would be more than ok…"

Justin agreed to answer some questions for Broadway To Vegas.

He married his lovely bride, Savanna, on May 31, 2008 in British Columbia. A reception in Toronto took place in July with singer Peter Bloom serenading the couple. Bloom called the couple, "a storybook romance."



Justin and Savanna. Photo: Orange Lounge Recordings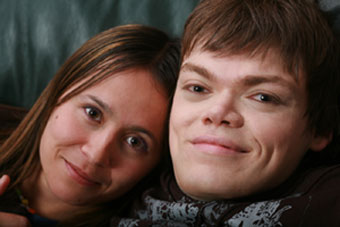 Before becoming his wife, Savanna was a fan. After Justin released his debut CD Sides Savanna send him a fan letter via e-mail. She didn't know it at the time but hitting that 'send' button would change her life. Justin actually read the e-mail and responded. The two hit it off, and started talking on the phone every night. Eventually Savanna packed up her van and drove across the country to meet Justin in person.

After spending a couple of weeks in Ontario, Savanna got a job and decided to stay - only to then receive devastating news that her mother had been diagnosed with brain cancer. Savanna, an only child, rushed back to BC to be with her mother and family. After a few weeks of being apart, Justin then went out to meet Savanna's family in BC, where he proposed. They accelerated the wedding preparations so that Savanna's mother could attend.

Savanna travels everywhere with him as both wife and road manager.

Touring presents issues for all performers. Do you have any special requirement that need to be included in contracts?

"I like places with the least amount of stairs," he laughed displaying a wicked sense of humor, which is a beneficial survival trait for those in a crises situation or living with a chronic condition. "I don't have any special requirements. As long as the venue is accessible and I can get a warm cup of tea, everything is great!"

Are there certain things you like on tour?

"Usually I bring some board games on tour, to keep myself occupied. I also bring my wife," he answered which caused Savanna to laugh.

A question about how he stays healthy - perhaps a special diet or physical fitness routine resulted in that sense of humor again coming to the forefront.

"A couple hours on the treadmill or doing chairobics," he quipped. "Actually I probably shouldn't joke about chairobics, there might actually be something like that. I don't really have a diet or physical fitness routine. I might eat too many potatoes now that I think about it. Love potatoes. I also love a big, home-cooked breakfast in the morning and depending on my health, I may drink more soup or tea, but that's about it."

When Justin isn't writing or performing, the two are a home loving couple.

"My wife Savanna and I love board games, so we play some to relax when we aren't on the road or working. We have lots of pets! Dogs, rabbits, birds - so we play with them as much as we can."

Your songs are romantic. Would your wife say you are romantic or do you have to be reminded that her birthday or your wedding anniversary is approaching?

"Savanna could probably answer this much better, but I think I'm more of an everyday sweet than an 'occasion' guy," he answered. "Lots of small doses of sweet rather than few big doses. I try to say I love you as much as I can within a day and for her last birthday, I had this big scavenger hunt for her. So I think I'm kind of romantic."

When he was fourteen he won a contest to sing at a Toronto Raptors basket game in front of 17,000. That event cured Justin of ever suffering from stage fright.

Justin released his first album, Sides, in 2007. But it was his second album with the song and video, Say What You Will, that really took off. It became an overnight hit in Canada, and then went to number one in South Africa, where they made it their own - launching the "JustInspired" campaign using his music. The initiative resulted in the makeover of 20 schools in 11 days, educating over 22,000 students.

A performer with a kind heart, there are numerous disasters in the world that he could embrace. The victims of the recent Joplin, Missouri storm are grateful that Justin reached out to them.

"The disaster struck right as Tell Me I'm Wrong became the first single off the record," he explained referring to the first single from his U.S. CD debut. "When we heard about what was happening in Joplin, it was so relatable to the song. We saw people coming together in the toughest of situations, communities becoming stronger...all because of something terrible, so we thought why not show the world how communities come together in the toughest of times?"

"So we had our crew out there and with Joplin's help, made a video we could all be proud of. A big thanks to the Red Cross for all of their hard work, not only with Joplin's relief but right across the globe. They are out there in every country, helping to bring relief to devastated communities right away."

Born and raised in Newmarket, Ontario, Canada, in relationship to its population, Canada has given the world more than its share of musical performers who were born or raised in the Maple Leaf country. A sample of the singers and groups include: Bryan Adams, Paul Anka, Barenaked Ladies, Justin Bieber, Michael Buble, Canadian Brass, Canadian Tenors, David Clayton-Thomas, Leonard Cohen, Robert Allen Curtola, Celine Dion, David Foster, Nelly Furtado, Robert Goulet, Diana Krall, Carmen and Guy Lombardo, K.D. Lang, Avril Lavigne, Gordon Lightfoot, Sarah McLachlan, Ryan Malcolm, Joni Mitchell, Anne Murray, Alanis Morissette, Nickelback, Oscar Peterson, Robbie Robertson, Rush, Buffy Sainte-Marie, Paul Shaffer, The Guess Who, Shania Twin, and Neil Young.

What makes Canada such a musically prolific springboard?

"I am so proud to be Canadian," responded Justin. "We do live in a country rich in arts and entertainment. I can't speak on behalf of other countries when it comes to attitude or government programs, but Canada does have various programs which help build careers for performers and I am so lucky to have been a beneficiary of many programs which have helped me along my journey."



Justin Hines performing with The Canadian Tenors. Photo: Orange Lounge Recordings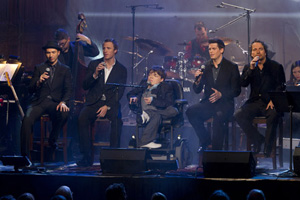 Recently Justin toured with the marvelous group The Canadian Tenors, which resulted in some funny off stage moments.

"Well, I won't say who it was," laughed Justin,"but one night, right before our show, one of the guys came up to me and said 'break a leg!' which of course, is hilarious considering my situation. So there I am laughing hysterically and as he is walking away the other guys were kind of shaking their heads, and I guess he finally realized what he said, so he ran back and just started apologizing nonstop. He was so embarrassed, but it was no big deal. I love finding humour in things like that. Really funny. The Canadian Tenors are amazing guys, I can't say enough great things about them. So honoured to have been able to perform with them."

While Justin's family, friends and fans see him, not that chair, the one place where that chair takes center stage is at the airport. Patdowns can be intrusive. What's it like for you at an airport?

"Generally, they are pretty respectful," he answered. "Usually, once they are done they apologize. Maybe they feel like they are doing something wrong? Not sure. But yes, they are usually respectful of my space. I've never had any terrible airport experiences in relation to security. Just like anyone else, I need to go through security, I need to get there early and make sure they take care of my chair."

In 2008 Justin went on a tour in China as part of the International Performing Arts For All (IPAFA) Marriage Of Excellence Concert Series sponsored by Samsung Electronics.

Some of the artists joining Justin included Sheila E., Kat Dyson, Rhonda Smith, Dee Dee Bridgewater and Taylor Dane.

Any problem when you performed in China - a country that doesn't even provide handicapped parking spaces and people in wheel chairs are basically hidden from society.

"China was fantastic," he told Broadway To Vegas. "They were completely prepared and were so unbelievably accommodating. We were transported everywhere and never had any problems with inaccessibility. I had two interpreters in China actually. The trip was really great."

The three stadium tour kicked off in Wuhan on also included a live taping in Beijing for CCTV and International broadcast.

When he arrived for the beginning of the Marriage of Excellence tour he blogged that "the Beijing airport is stunning and the staff were extremely prompt and friendly."

They stayed at the Novotel Beijing Sanyuan which is impressive or as Justin put it - "holy cow is this place ever cool. Very modern with a very unique design. Once again, the staff are super awesome and friendly, not to mention the food is pretty stellar as well. They seem to really cater to North American visitors which is a bonus for us."

They had an opportunity to visit Shenzhen with Justin commenting: "We heard that Shenzhen is one of the business capitals of China and wow, what a place to behold. It kind of reminded of me of what a modern day Gotham City would be like from the Batman comics. The high-rises are complete with colour galore and crazy big TV screens everywhere. At one point, we drove past an industrial part of town with hundreds of multi-coloured cranes and glorious mountains providing the backdrop. T'was quite a sight. Unfortunately, we were quite busy with rehearsals and shows that we didn't have a chance to sightsee like we did in Beijing," Justin blogged.



Justin Hines in the recording studio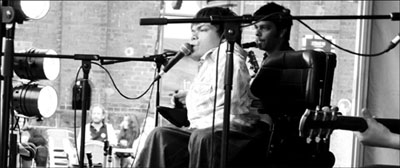 "The concerts were taped inside the Impression Theatre at the Splendid China Folk Culture Villages. This is a huge theme park which basically combines all of China's subcultures into one place. The theatre itself was quite amazing complete with a waterfall in the middle of the stage. Some of the performances were mixed with local Chinese performing arts. For instance, during one of my songs there were these two wonderful dancers doing a really cool choreographed routine behind me. It was a really special thing to be a part of. Oh, and did I mention a bunch of peacocks ended up backstage? I love randomness . . . "

"The show itself went well despite very long rain delays in the taping. It was quite an adventure squeezing in tunes between heavy downpours and crazy thunder and lightning.

"Luckily there were such a wonderful group of people to keep each other company. I felt humbled to have had the chance to hang out and chat with legends in the business such as Oliver Jones, Dee Dee Bridgewater and Sheila E. Speaking of Sheila E., her and her ridiculously amazing band COED joined me for the songs I performed during the tour! I must have sounded like a dork after saying so many times how honoured I was to be sharing the stage with them.



Justin Hines rehearsing with Sheila E and COED. Photo: Justin Hines My Space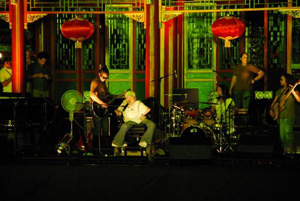 "So one coolest things we've found here in China is how well the people improvise. Most folks over here have never really seen the likes of my wheelchair despite it being such a technology based part of the world.

"Despite that however, we have managed to get around pretty well. Sometimes it takes quite a few people to come up with a solution but so far they've made it happen which has made our trip both adventurous at times but always fun and interesting!

"It's quite funny to watch people's fascination with my situation. They don't seem shy to stare, look puzzled or even give a huge smile and a thumbs up! I'm sort of a tourist attraction myself - people's awareness of the disabled is certainly growing and it seems that certain parts of China are learning to adapt quite well. Overall, this trip so far has changed some of my own personal views on a lot of things which is why I love traveling so much. I always come home a little bit changed."

Justin was recently featured on a PBS special Days To Recall: An Evening With Justin Hines featuring a full orchestral accompaniment, with performing original songs and familiar tunes from the folk music era. His powerful vocals and vibrant stage presence with upbeat, empowering tracks such as Courage (Come Out To Play), and heartbreaking ballads such as Momentarily, was a PBS Pledge Drive winner.

"2011 was a great year, I have been so blessed to be able to do what I've done and I'm so excited for 2012," Justin commented. "We have dates in California lined up for February which I am very excited for, as well as a new single release from the last album. I'm sure there will be a lot more touring over the next 12 months!"

One of his New Year's wishes is to meet Carole King and James Taylor. As a child he listened to their music.

"I haven't yet (met them), but it's a dream to, that's for sure. I grew up listening to their music and was/am such a fan."

A lot of people feel that way about Justin.

"I know my physical situation is a bit of an attention grabber, but as an artist and performer, it is my job to hold the audience's attention, and let the music speak for itself."

Fans can enjoy him doing just that February 7, 2012 at the Club Nokia in Los Angeles followed by a meet and greet, and another performance on February 8, 2012 at The Tower Theatre for the Performing Arts in Fresno, CA.



Broadway To Vegas is supported through advertising and donations. Priority consideration is given to interview suggestions, news, press releases, etc from paid supporters. However, no paid supporters control, alter, edit, or in any way manipulate the content of this site. Your donation is appreciated. We accept PAYPAL. Thank you for your interest.



ART AND ABOUT


FOLK SINGER WOODY GUTHRIE

Woody Guthrie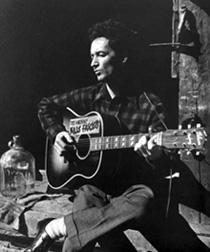 writings, recordings and artwork are to go on display after they were bought by the Tulsa based George Kaiser Family Foundation who stated it planned to open a four-building arts hub in Oklahoma next year to house the collection.

The archive includes a handwritten copy of the late singer's anthem, This Land is Your Land.

"It is a privilege for GKFF to help bring the Woody Guthrie Archive home to Oklahoma," said Ken Levit, GKFF executive director. "The Guthrie family has inspired us through its brilliant and creative stewardship of these remarkable materials. We plan to make the Woody Guthrie Archive available to scholars, artists and the public so the story of this extraordinary Oklahoman can be told for generations to come. We look forward to working with others to create a permanent home for the collection in the Brady District and expect the Woody Guthrie Center to open in late 2012, with the archives arriving in early 2013."

"Woody Guthrie is the greatest American folk singer/songwriter of all time," said Bob Blackburn, executive director of the Oklahoma Historical Society (OHS). "His art is deeply connected to Oklahoma's people and its history. It reflects the Oklahoma experience, from mobility and immigration to diversity and the longing for a sense of community. Whether it was the Indian forced onto a reservation, a farmer looking for new land or an oilman driven to find one more gusher, Woody gave voice to their hopes and dreams." In addition to original musical recordings, the archive includes nearly 3,000 song lyrics, many rare books by and about Guthrie, more than 700 pieces of artwork, letters and postcards, as well as manuscripts and personal journals.

Also included are more than 500 photographs, handwritten songbooks, Guthrie's annotated record collection and personal papers detailing family matters, his World War II military service and musical career. Additional archived items include a research paper detailing Guthrie's mental and physical deterioration from Huntington's disease, a hereditary neurodegenerative condition that caused his death at age 55 in 1967.

The archive had been housed in the home of the songwriter's daughter.

George Kaiser Family Foundation is a charitable organization dedicated to breaking the cycle of poverty through investments in early childhood education, community health, social services and civic enhancement. Based in Tulsa, Oklahoma, GKFF works primarily on initiatives developed in collaboration with Tulsa-based direct service organizations.

GRACE KELLY: STYLE ICON EXHIBIT

Grace Kelly with Frank Sinatra and Celeste Holm in the film High Society.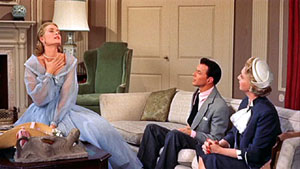 will be opened by the late actresses' daughter-in-law Princess Charlene of Monaco.

Charlene married Kelly's son Prince Albert II in July, which made headlines for all the wrong reasons - she was reportedly detained at Nice airport trying to flee on the eve of her wedding; the couple stayed in different hotels miles apart on their honeymoon; and one of those pesky paternity tests required the groom to cut short whatever you want to call their after wedding trip and return home to Monaco.

What dropped to the back burner was that their wedding was a magnificent, stylish affair. Princess Charlene is a fashion delight and perfect to open Grace Kelly: Style Icon at the Bendigo Art Gallery on March 10.

The show, featuring fashion, photography and jewelry, celebrates the Philadelphia society girl Grace Kelly both as Hollywood actress and style icon and as Princess of Monaco, the tiny republic on the Mediterranean coast.

Charlene's husband Prince Albert II, Monaco's reigning monarch, will not be there for the opening, as the release stresses that he has been invited by French President Nicolas Sarkozy to attend an ''unmissable'' environmental conference in France.

However, the couple did open this traveling exhibit two months ago when it arrived in Toronto, Canada.

"The extraordinary exhibition is of great importance to the royal family and Princess Charlene's attendance at the opening is testament to this,'' said Andrew Cannon, the Melbourne-based honorary consul of Monaco, who has been working for several years to bring this touring exhibition to Australia.

This won't be Charlene's first visit to Australia. Before her marriage she represented South Africa in swimming at the Sydney Olympics in 2000.

While rumors of marital discord have died down, and lately the couple has looked far happier and more comfortable with each other, the Sydney Morning Herald quipped: "Organisers of the Bendigo exhibition hope that a member of the Kelly family will also attend the opening. Members of the Monaco royal family, meanwhile, simply hope that Princess Charlene will come home."


ANDREW LLOYD WEBBER HAS DIRE PREDICTION
London West End's Palace Theatre, owned by Really Useful Theatres, was home to the hit Priscilla Queen of the Desert. On February 4 the musical Sing In The Rain starring Adam Cooper, Daniel Crossley & Scarlett Strallen transfers there after a sell out run at the Chichester Festival Theatre.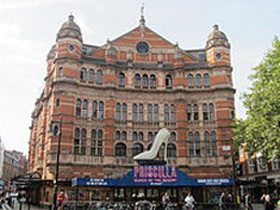 The 2012 Olympics to be held in London is a status symbol for the city - but a disaster for the West End, according to those who should know.

The Olympics will cause "a bloodbath of a summer" for London theatres in 2012, Sir Andrew Lloyd Webber has warned, echoing predictions made more than a year ago.

The European Tour Operators Association (ETOA) held a seminar on the subject in October 2010 and concluded that "planners have been warned that the Olympics can deter as many tourists as it attracts to host cities."

On November 5, 2011 the professional trade organization release survey figures. "London is set to suffer a 95 percent leisure tourism slump during the 2012 Olympic Games," their survey concluded. The European Tour Operators Association disclosed that the impact was already being felt as "a major slump in leisure tourism bookings is underway."

At the end of October, ETOA "canvassed 38 operators, who move more than two million people annually to London."

"This looks extremely severe in July and August, where operators are currently seeing a 60 percent shortfall in bookings, becoming acute during the period of the Olympics where bookings are running at 95 percent below where they would normally be."

"Nobody's going to go to the theatre at all," Andrew Lloyd Webber told Radio 4's Today program, predicting that "most of the theatres in London will shut".

"It's going to be very tough," he said, confessing that future bookings were "about 10%" of their normal level.

The producer told the listening audience that three major musicals "are not going to play over the Olympics" - but he declined to name them.

Sir Andrew knows whereof he speaks.

His Really Useful Group owns seven London theatres which are currently hosting shows including War Horse, Matilda and The Wizard of Oz.

He did indicate that "big, big, big hits" like his own The Phantom of the Opera would soldier on during the Olympics period.

However, he admitted on the air that some of his other theatres "will have to" close because of a drop-off in the "ordinary West End tourist audience".

Others in the theatrical community have also voiced similar fears.

It's not the end of the act for London theatre.

Just as soon as those Olympic torches get blown out the 63-year-old composer promised numerous new musicals would open in the West End.


SWEET CHARITY


WAR HORSE the incredible Tony Award winning production turned into a movie by Steven Spielberg will have its UK premiere on January 8 at the Odeon Leicester Square in London as a benefit for The Foundation of Prince William and Prince Harry. Prince William and Kate will be there. They'll greet the director, as well as members of the cast before the show begins.

Directed by Steven Spielberg, War Horse stars Emily Watson, David Thewlis, Peter Mullan, Niels Arestrup, Tom Hiddleston, Jeremy Irvine, Benedict Cumberbatch and Toby Kebbell.

The screenplay was written by Lee Hall and Richard Curtis and is based on the book by Michael Morpurgo and the international hit stage play by Nick Stafford, originally produced by the National Theatre of Great Britain and directed by Tom Morris and Marianne Elliot.

Six hundred serving and ex-serving military personnel and their families have been invited to the Premiere, alongside beneficiaries of military charities, which the Foundation of Prince William and Prince Harry helps to support. The servicemen and women have been invited from The Duke of Cambridge's regiments, including RAF Search and Rescue, Household Cavalry, Irish Guards, Royal Air Force Coningsby, Scotland Royal Naval Command and Submarines Royal Naval Command.


A NEW YEAR'S WISH TO GET DIVORCED ....


SINEAD O'CONNOR DIVORCES 4th HUSBAND AFTER LIVING WITH HIM FOR 7 DAYS

Sinead O'Connor and Barry Herridge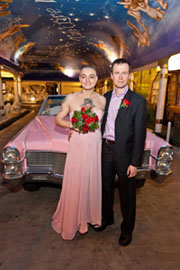 Why is anybody surprised?

Sinead O'Connor announced on her website last Monday that after 7 days of wedded bliss and 16 days of legality, she was ending her marriage to Barry Herridge whom she met on line and three months later exchanged vows in a pink Cadillic at the drive up window of The Little White Wedding Chapel in Las Vegas.

O'Connor revealed that she and Herridge actually lived together as husband and wife for just seven days before ending their relationship on Christmas Eve, 16 days after their Las Vegas union.

Part of a lengthy letter she posted to her followers, the Irish singer wrote:

'From the moment myself and my husband got together not long ago, there was intense pressure placed upon him by certain people in his life, not to be involved with me. These were people who had never met me but had formed opinions of me based on what they read about 'Sinead 'O'Connor' in the media etc."

"Entitled as they are to their opinions about me many perhaps well deserved, there was no righteousness on anyone's part to put my husband through what he was put through as a result of his desire to be with me and to marry me and as a result of his actually marrying me.

"Within 3 hours of the ceremony being over the marriage was kyboshed by the behaviour of certain people in my husband's life. And also by a bit of a wild ride I took us on looking for a bit of a smoke of weed for me wedding night as I don't drink. My husband was enormously wounded and very badly effected by that experience and also by the attitude of those close to him toward our marriage.

'He is a wonderful man. I love him very much. I'm sorry I'm not a more regular woman. I truly believe though it is painful to admit, we made a mistake rushing into getting married, for altruistic reasons, and weren't aware or prepared for the consequences on my husband's life and the lives of those close to him. He has been terribly unhappy and I have therefore ended the marriage. I think he is too nice to do so. And too nice to trap.'

'I am a 21st century full woman and proud of living it. I am in a very good and happy and strong place in life so I am doing fine. The marriage was 16 days. We lived together for 7 days only. Until Xmas eve. And we haven't been awful to each other.

She ended her divorce announcement with 'rock n roll'.

No word as to whether 'marijuana' will be listed as the official divorce cause or if the unusual couple will site the more normal 'irreconcilable differences'.

KATY PETTY AND RUSSELL BRANT also decided to end their short marriage - although not as short as the above mentioned duo.

Reportedly Perry requested that Brant file the divorce papers, so that her evangelical Christian parents, who don't believe in divorce, wouldn't be upset.

On October 23, 2010 Katy and Russell were married in India. The small, private ceremony was attended by family and friends. A Christian minister termed a family friend from the bride's side of the family performed what was called "a Christian ceremony."


OTHER PEOPLE'S MONEY


FLORIDA STUDIO THEATRE located in Sarasota, Florida announced they closed year 2011 with an unprecedented 11,000 subscriptions to its Mainstage season and became the largest subscribed regional theatre in the southeast.

Its total base of Mainstage, Winter, Summer and Cabaret subscribers will now exceed 25,000 and places the theatre alongside some of the country's top subscriber-based regional theatres in America. The achievement milestones are even more impressive for two important factors: the other top theatres are located in major US cities with populations many times larger than Sarasota and have much larger annual operating budgets.

The Center Theatre Group in Los Angeles, The Roundabout Theatre Company in New York, The Goodman Theatre in Chicago and the Guthrie in Minneapolis are the only theatres that have a subscription larger than FST according to TCG, Theatre Communications Groups survey of professional American Theatres.

Other theatres reporting to TCG and in the top subscriber-based category include: Milwaukee Rep, Steppenwolf in Chicago, The Chicago Shakespeare Company, The Repertory Theatre of St. Louis, The Paper Mill Playhouse in New Jersey and the Manhattan Theatre Club.

A comprehensive tally of subscriptions, single tickets, and education programs, Florida Studio Theatre sees more than 160,000 people each year through its six diverse programs.


SPREADING THE WORD


A HAMMER, A BELL, AND A SONG TO SING: THE MUSIC OF PETE SEEGER The World Premiere Workshop Production written and directed by Todd Salovey on the San Diego Rep Lyceum Stage, January 7-20, 2012.

ON STAGE WITH RUSSIAN TRANSPORT FEATURING JANEANE GAROFALO AND ERIKA SHEFFER Join 92YTribeca for a special conversation about The New Group's production of Russian Transport, as playwright Erika Sheffer and actress Janeane Garofalo discuss the play's backstory and its journey to the stage.

Russian Transport is a suspenseful family drama set in the Russian Jewish community of Sheepshead Bay, Brooklyn. Diana and Misha, an immigrant couple, run a struggling car service while trying to carve out the American Dream for their teenagers, Alex and Mira. When Diana's sexy and mysterious brother Boris arrives to stay with them, family loyalty is tested. For Alex and Mira, Uncle Boris is an exciting addition to their home, but soon Alex is pulled into his Uncle's dangerous world. Laced with humor and intrigue, Russian Transport captures the complex layers of one very particular immigrant experience.

Wednesday, January 11, at 92Y Tribeca, NYC.

GODSPELL offering a special New Year's Eve toast on stage last night at the Circle in the Square Theatre, NYC.

DONNA HANOVER the former Mrs. Rudolph Giuliani, who spent several years as the first lady of New York City, and thus experienced times when her favorite occupation wasn't that of 'reporter.'

Now, in a role reversal situation, she makes her Broadway debut playing a presidential campaign reporter in the revival of Gore Vidal's The Best Man. Hanover will portray one of the journalists covering the national party convention where two candidates - to be played by Tony Award winner John Larroquette and Emmy Award winner Eric McCormack - are maneuvering for the nomination. The mind boggling A-list cast also includes Tony winner Jefferson Mays, Dakin Matthews, James Earl Jones, Angels Lansbury, Candice Bergen and Michael McKean.

The Best Man is scheduled to begin preview performances on March 6, 2012, and open on April 1 at the Gerald Schoenfeld Theater in NYC.

PETALS ON THE WINGS OF FORGOTTEN YESTERDAYS' SHADOW ANGELS IN THE ATTIC An evening of readings and performance dedicated to the immensely popular and controversial gothic novels of V.C. Andrews.

V.C. Andrews created a series of gothic novels secretly adored by pre-teens and teenagers everywhere. The evening is billed as: "Little did our parents know of the sex, incest, and dark violence lurking behind such titles as Heaven, Dawn, and of course, Flowers in the Attic. With rags-to-riches stories of stunning, intelligent girls tortured by the adult world, her novels whispered perversely to us, and only now are we prepared to talk about why. In hilarious detail."

Petals on the Wings of Forgotten Yesterday's Shadow Angels in the Attic will feature analysis, memoirs, deconstructions and dramatizations of the disturbingly alluring world of V.C. Andrews from some of the smartest, funniest female voices writing and performing today. PLUS: The evening will also feature an exclusive interview with V.C. Andrews ghostwriter Andrew Neiderman who is also the author and screenwriter of The Devil's Advocate, in our attempt to uncover what these books mean, and why so many of us were addicted to them."

Featured readings and performances by:

Andrew Neiderman, ghost writer of the V.C. Andrews novels, interviewed by Adam Sternbergh, Culture Editor of the New York Times Magazine. Emily Nussbaum, television critic for the New Yorker. Rachel Shukert, author of Have You No Shame? and the bestselling memoir Everything Is Going To Be Great. Edith Zimmerman, editor of The Hairpin. and Julia May Jonas, proprietor of the theater company Nellie Tinder, with actor Jenny Seastone Stern.

Tuesday January 10th, 2012 at Galapagos Art Space in Brooklyn, NY.

THE PINTER FORTNIGHTLY series presents a special event as a part of the Pinter Festival 2012 Partnership. This special installment features a showing of Harry Burton's film, Working With Pinter.

Burton will present the film in person. A full Pinter Festival will come to ACT in summer 2012.

January 9 at ACT in Seattle.


CURTAIN DOWN


THE LION KING uttered it's last roar at Mandalay Bay in Las Vegas on December 30, 2011.

The Last Vegas mounting was the longest run of the show in any American city, even breaking the record 27-month Los Angeles engagement, which concluded in 2003.

BONNIE AND CLYDE THE MUSICAL closed December 30, 2011 following a month-long run at the Gerald Schoenfeld Theatre in NYC. Previews had begun on November 4.

PRIVATE LIVES the revival which co-stared Kim Cattrall and Paul Gross, played its final performance at Broadway's Music Box Theatre December 31. The limited engagement was originally scheduled to run through February 5, but shuttered early.

in a previous statement producer Paul Elliott said, "Despite fantastic reviews, ticket sales have been slower than we had hoped for and it would be irresponsible to continue running into the notoriously difficult January period."

When it closes the Noel Coward comedy will have played 12 previews and 53 regular performances.



PORGY AND BESS

Audra McDonald and Norm Lewis in Porgy and Bess. Photo from the A.R.T. Production by Michael J. Lutch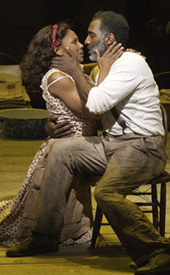 a new interpretation of the the 1935 folk opera by George and Ira Gershwin and DuBose Heyward.

Reimagined by director Diane Paulus, musician Dierdre Murray and playwright Suzan-Lori Parks.

Starring Broadway veteran Norm Lewis as Porgy and four-time Tony winner Audra McDonald, who plays Porgy's drug-addled beloved Bess and two-time Tony nominee David Alan Grier as Sporting Life.

The classic story by DuBose and Dorothy Heyward is set in Charleston's fabled Catfish Row, where the beautiful Bess struggles to break free from her scandalous past, and the only one who can rescue her is the crippled but courageous Porgy.

Threatened by her formidable former lover Crown, and the seductive enticements of the colorful troublemaker Sporting Life, Porgy and Bess' relationship evolves into a deep romance that triumphs as one of theater's most exhilarating love stories.

The creative team also includes choreographer Ronald K. Brown, set designer Riccardo Hernandez, costume designer ESosa, lighting designer Christopher Akerlind and sound designer Acme Sound Partners.

In previews at the Richard Rodgers Theatre on Broadway.

THE FABULOUS PALM SPRINGS FOLLIES welcomes Maureen McGovern to the star slot - making her long-awaited debut January 5 through March, 2012.

Her 40-year career has encompassed recording, songwriting, concerts, radio, television, film and Broadway. The woman who's been called "The Stradivarius Voice" made her Broadway debut in The Pirates of Penzance. She later starred in Nine with Raul Julia and in 3 Penny Opera with Sting, and has appeared in many musicals and dramas throughout the country. In 2005, McGovern returned to Broadway, originating her Drama Desk-nominated role of Marmee in Little Women, The Musical. She continued in that role with the National Touring Company.

Follies audiences now have their first-ever opportunity to hear one of the truly great voices of our generation, in-person onstage at the historic Plaza Theatre in Palm Springs, CA.

DEDALUS LOUNGE by Irish playwright Gary Duggan. US premiere directed by Chris Henry.

Starring Anthony Rapp, Dee Roscioli and James Kautz. Original musical by Anthony Rapp and Daniel A. Weiss.

In Dedalus Lounge, Danny (Rapp), Delphine (Roscioli) and Daragh (Kautz) are trying to survive in Dublin's fair city. Their usual haunt is the Dedalus Lounge - best bar in the city. Danny's trying to get a Queen tribute band off the ground. Delphine's struggling with a high profile affair and the fact that her granny's dying and Daragh, well, he can be seen in all places dark and dangerous.

A jet-black Christmas tale of desperation, casual sex, bereavement, shoplifting, bisexuality, rampant disloyalty, copious drinking and Freddie Mercury impersonations.

Dedalus Lounge will begin performances January 8 and will open on January 12 and will initially run through January 30, 2012 at the Interart Theatre Annex in NYC.

FELA! Tony Award nominated for Best Musical, co-written by Jim Lewis and Bill T. Jones.

A star-studded, talented team has brought the hit bio musical FELA! to the Ahmanson Theatre. Directed and choreographed by Tony Award winner Bill T. Jones.

FELA! brings a high-energy mix of dance, theatre and music to tell the true-life story of the legendary Nigerian musician Fela Kuti.

Anikulapo Kuti (October 15, 1938 - August 2, 1997), or simply Fela, was a multi-instrumentalist musician and composer, pioneer of Afrobeat music which is a complex fusion of jazz, funk, Ghanaian/Nigerian High-life, psychedelic rock, and traditional West African chants and rhythms. Afrobeat also borrows heavily from the native "tinker pan" African-style percussion that Kuti acquired while studying in Ghana with Hugh Masakela.

The musical FELA! explores his controversial life as an artist, political activist and revolutionary musician.

Performances at the Ahmanson in Los Anges through January 22, 2012.

FRUIT FLY

Leslie Jordan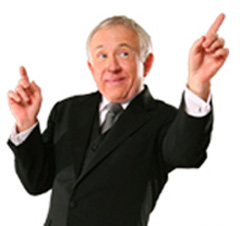 Written and Performed by Emmy Award winner Leslie Jordan.

Directed by David Galligan.

Do gay men become their mothers? That is the question asked in Fruit Fly. Jordan travels back in time using show-and-tell to take the audience on the ride of his lifetime.

Childhood recollections combine with perilous teenage shenanigans.

From the day a teenage Leslie sits down with his poor, clueless mother to inform her that he has decided to forego college to become a female impersonator, all the way to a Gay Alaskan Cruise on which a 53-year-old Jordan witnesses his aging mother's astounding metamorphosis - and whose only real concern about a gay cruise to Alaska is that she doesn't want to go ice fishing.

Scenic and prop design is by Michael O'Hara. The Lighting Design is by Matthew Brian Denman. The production team is being led by the Artistic Director, John Michael Beck, and Executive Director, Michael C. Kricfalusi.

World Premiere will preview on Thursday, January 5 open on Friday, January 6 and will perform through Sunday, February 18 at the Celebration Theatre in Hollywood, CA.


WHO'S WHERE




A DUO OF DUOS featuring Branford Marsalis in collaboration with Joey Calderazzo and Harry Connick, Jr. for duo sets with pianists Calderazzo and Connick, Jr. These are non-vocal and Harry will be playing the piano and not singing. An inspired and intimate evening of saxophone/piano duo performances on Monday, January 9, 2012 in The Allen Room, Frederick P. Rose Hall, Home of Jazz at Lincoln Center, New York City.

AN EVENING WITH THE STARS OF DOO WOP a night of Doo Wop and rock n roll starring some of the greatest acts from that era. Jay Siegel's Tokens, Charlie Thomas' Drifters, Shirley Alston Reeves - The Original Lead Singer Of The Shirelles, Jimmy Gallagher & the Passions & Jimmy Stephens - The Original Lead Singer Of The Safaris. Saturday, January 7, 2012 at the Parker Playhouse in Fort Lauderdale, FL.

CELINE DION has returned to Caesars Palace in Las Vegas. The current gig runs January 3-22.

SIR JAMES GALWAY on the flute with Lady Jeanne Galway who also knows how to purse her lips around a flute and harpist Claire Jones perform the New Years Day concert, January 1, 2012 at Luzern KKL in Switzerland.

CELTIC WOMAN perform next Sunday, January 8, at the SunYat-Sen Memorial Hall in Guangzhou, China.

TOAD THE WET SPROCKET has shows Thursday, January 5 at Toad's Place in New Haven, CT, the following night at the State Theatre in New Brunswick, NJ and on Saturday at City Winery in NYC.


FINAL OVATION


HENRY KULLIGIAN former Modesto, CA City Council member, arts advocate and husband of Carol Channing died December 26 at Eisenhower Medical Center in Rancho Mirage, CA, due to internal bleeding caused by an aneurysm. He passed away one day shy of his 92nd birthday. Channing, the Tony Award-winning star of Hello, Dolly! and Gentlemen Prefer Blondes was by her husband's bedside.

B. Harlan Boll, head of publicity for the Los Altos-based Channing-Kullijian Foundation, said that Kullijian was at the couple's Rancho Mirage home because Carol Channing was doing a Christmas show in the area December 21.

Kullijian collapsed the next day and was taken to Eisenhower Medical Center, where he was treated for an aneurysm. Boll said he was treated for the same condition two years ago. Kullijian spent Christmas at home with his family, but Monday was rushed back to the hospital, where he died.

Kullijian, a successful real estate developer, became known as the husband of Channing. But he served for eight years on the Modesto City Council, began C.L.E.A.N. (Citizens Leading Effective Action Now) to fight against pornography and spent the past decade working with Channing to raise funds to keep the arts in public schools.

The late-life romance of Channing and Mr. Kullijian, who had a junior-high school romance reunited after more than half a century, is featured in the coming documentary film Larger Than Life by director Dori Berinstein. A January 20, 2012, release is expected.

In the decades between that first romance and 2003 when they were married, Kullijian would marry Gerry Amos in 1942, and they would have two children. He served in World War II as an artillery officer and would be recalled to duty for the Korean War, serving in Europe, earning three battle stars including China, Burma and India.

After the death of his first wife in 2002, he would be reunited with Channing. Two years after Kullijian and Channing were married, they formed the non-profit Dr. Carol Channing and Harry Kullijian Foundation for the Arts to support arts education in schools.

He said he is the organizer and Channing is the draw, "using her talent, the sweat of her brow to help children" while he talked to people behind the scenes. "We have a saying: We're not trying to save the arts, we're trying to use the arts to save our children."

Among other things, The Channing/Kullijian Foundation established scholarships, produced a critically acclaimed PSA and inspired a resolution authored by Rep. Jackie Speier, which passed the House and the Senate in December 2010.

Kullijian is survived by two children, John Kullijian, of Richmond, TX, and Leslee "Missie" Fennell of Los Altos, CA; five grandchildren, Casey (Gary) Hill, Kelly (Chris) Confair and Tiffany (Sheldon) Epperly; and Jonathan and Thomas Fennell as well as five great-grandchildren.

KAYE STEVENS a singer and actress known for her appearances with the Rat Pack died December 28, 2011 at Villages Hospital north of Orlando following a battle with breast cancer and blood clots. She was 79.

Stevens performed with Frank Sinatra, Dean Martin and Sammy Davis Jr.

Stevens's big break in show business came at the Riviera Hotel in Las Vegas, when she was playing the lounge and the hotel's headliner, Debbie Reynolds, became ill and Stevens filled in for the night. She also had her own Las Vegas lounge act at Caesars Palace and performed at the New York's Waldorf Astoria and the Plaza Hotel's Persian Room in New York City.

In the 1970s she was a regular panelist on TV game shows and from 1974-79 had a recurring role as Jeri Clayton on the daytime drama Days of Our Lives.

She married bandleader and trumpet player Tommy Amato, and the couple performed throughout the eastern part of the country. They had no children and divorced. Amato, 86, died June 29, 2011 in Reno, Nevada. He is survived by a wife, 1 daughter, 3 granddaughters and 2 great-granddaughters.

Stevens went on a USO tour with Bob Hope in 1965. She traveled to Vietnam with Hope and a group of fellow entertainers in the hopes of boosting the morale of thousands of American soldiers. She was quoted as saying "I came back in 1965 and my life was in shambles because of what I saw."

She later became an alcoholic and her marriage to Amato ended in divorce. It wasn't until 1985 that she finally made a call to N-E-W-H-O-P-E, a telephone counseling service. That call changed her life for the better and she found a new faith and started her own ministry in Margate, Florida. During the past two decades, Stevens only Christian and patriotic music. City officials credited her with putting Margate on the map and named a park in her honor.

The Brewer Christian College and Graduate Schools (Florida) awarded Stevens with a Doctor of Humane Letters for her humanitarian efforts as well as her role in supporting the US soldiers in Vietnam with Bob Hope's USO tour.

She leaves no survivors.

ROSE PICKERING an actress who performed with the Milwaukee Rep for over 35 seasons died Thursday, December 29, 2011. The cause of death was cancer. She was 64.

She was the longest serving actress in the Rep's resident company.

In recent years, she also became involved in training dogs for pet therapy through the organization Pets Helping People. She also was active in rescuing dogs, driving around the state to take the animals to new homes.

She is survived by her actor husband Jim Pickering who last year took a sabbatical from the Rep to care for his wife. The couple met when they were acting students at Penn State. They did not have children.








Next Column: January 8, 2012
Copyright: January 1, 2012. All Rights Reserved. Reviews, Interviews, Commentary, Photographs or Graphics from any Broadway To Vegas (TM) columns may not be published, broadcast, rewritten, utilized as leads, or used in any manner without permission, compensation and/or credit.
Link to Main Page
---
Laura Deni



For the snail mail address, please E-mail your request.
CLICK HERE FOR COMMENT SECTION