Broadway To Vegas
  
 SHOW REVIEWS CELEBRITY INTERVIEWS GOSSIP NEWS

| | |
| --- | --- |
| | |
JUDITH IVEY IN THE SUBJECT WAS ROSES - - INTERACTING WITH SINATRA- - FIDDLER ON THE ROOF CLOSES - - AUTHOR DEBBIE MACOMBER PLOTS IN LAS VEGAS - - LA THEATRE WORKS HAS TOP GIRLS - - ORANGE COAST REP STAGES WORLD PREMIERE OF TONY AWARD WINNING AUTHOR - - ALADDIN AT THE OLD VIC - - HECUBA - - DONATE . . . Scroll Down


Copyright: January 1, 2006
By: Laura Deni

CLICK HERE FOR COMMENT SECTION
INTERACTING WITH SINATRA
Bob and Colleen Bonniol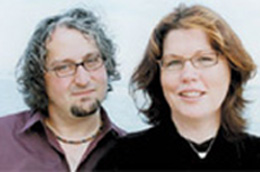 Las Vegas is about to experience a "very glamorous and the ultimate Hollywood experience. It's not a Steve Wynn project," said Bob Bonnoli co-owner with his wife, Colleen, of MODE Studios, a design group headquartered in Seattle. Bonniol has been working with the Taiwanese company Opto Tech "who are an enormous manufacture of LED's. We're working with them to devise a screen of unprecedented size for a Vegas project. I think we're looking at a 2008 opening."

While Bonniol refused to divulge the name of the project a Broadway To Vegas educated guess is the $3 billion Las Ramblas resort owned by actor George Clooney and Rande Gerber (model Cindy Crawford's husband) who teamed with The Related Group of NY & Miami and Las Vegas based Centra Properties.



George Clooney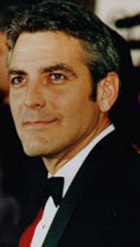 Referring to Las Rambles, a luxury condominium, resort and casino complex on 25 acres with 11 towers offering spas, fine dining, nightclubs and lounges, upscale shopping, an outdoor pedestrian promenade lined with European cafés, patisseries, shops and restaurants, Clooney has stated; "I want it to be like old Vegas and old Hollywood. It's going to be a classy joint."

Before the Vegas opening Bonniol and his crew have a couple of other projects to complete. One is Sinatra At The London Palladium which begins previews February 17, and the other job order is the 2008 Olympics in Beijing.

Today, January 1, Bonniol arrives in London for the Sinatra production. Then he'll head to China. He spoke with Broadway To Vegas about the interesting projects.

"These are two of the most challenging projects that we have ever done," admitted Bonniol referring to Sinatra and China. MODE Studios has a stellar track record and an unusual success story.

"Colleen and I both met at Trinity Rep in the 80's when Adrian Hall was still artistic director," recalled Bonniol referring to the theater founded in 1964, with Hall as artistic director through 1989 - winning the 1981 Tony award for Outstanding Regional Theater.

"Colleen was the head electrician and I was some kid off the street. I worked as an electrician. We both moved on. Her into feature films and I moved to New York and ended up doing touring and building out of being a technician and becoming a designer - always with this fascination with how media could be a part of the equation. Colleen ended up settling in Seattle and I made my way to Seattle via Starlight Express in Las Vegas where I was the lighting director and Beauty and the Beast on tour as Alan Henderson's assistant, supervising all of the automated lighting. Then I quit working for Disney and Colleen and I started designing full time."



Starlight Express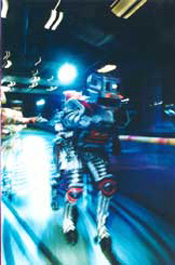 In the course of their careers the two have worked with recording artists including U2, Bruce Springsteen, String Cheese Incident, Barry Manilow, Stone Temple Pilots, and Laurie Andersen. They have pushed limits and won awards in their frequent forays with the musicals of Andrew Lloyd Webber, designing lighting and Projection for Evita, Lighting and Projection for The Music Of Andrew Lloyd Webber in Concert, and providing Lighting Direction for the Las Vegas production of Starlight Express. They have designed Lighting and Projection on National Tours including Godspell, Footloose, and Victor/Victoria and world tours with the inimitable Dame Edna and her nemesis Barry Humphries. They also designed projection for the opera War and Peace at the Spoleto Festival in Italy.

They were tapped to do the projection design for Wagner's epic opera Parsifal, in a world premiere of the Seattle Opera's new home, Marion Oliver McCaw Hall. That was somewhat of a challenge for them in that they needed to work with Production Designer Bob Israel to create compelling imagery on a fifty by eighty foot scenic backdrop. The hitch? They had seventeen feet of distance for throw in rear projection. In an unprecedented use of dual axis screen blending, they used eight projectors to create one unified image behind the set. With powerful media and as yet un-attempted use of technology, Parsifal went on to win The Bonniols the distinction of Projection Designers of the Year for 2003.

Another trophy they collected was the 2002 Triangle Award for Lighting Design for The Music of Andrew Lloyd Webber in Concert.

Another of their projects was the Summerfest 2004 tour with Nickelback, Three Doors Down, Puddle of Mudd, and Thornley. In that effort they created super-hot graphic content for use on massive LED screens backing the concert stage, and had that content triggered and served utilizing DMX based lighting consoles.

They will need every credential they have to effortlessly pull off their current projects.



Frank Sinatra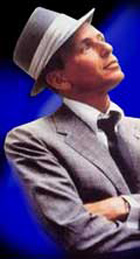 Frank Sinatra, Ol' Blue Eyes himself - seemingly alive thanks to his video facsimile - returns to the venue of his 1950 European debut the London Palladium, in this multi-media extravaganza of a show, which marries technologically enhanced rare footage of the legendary star with a 24-piece live orchestra and a company of singers and dancers.

"Sinatra already has a well documented tendency to be a difficult show to do judging by Radio City," said Bonnoli referring to an earlier version of the production which tried out at the Radio City Music Hall in New York in 2003. For the international launch of this new version, the producers have brought together a brand new creative team, directed by award-winning David Leveaux.

Considered one of Britain's most respected directors, Leveaux's work encompasses everything from Broadway productions of iconic American musicals including Fiddler on the Roof and Nine to comedies such as Tom Stoppard's The Real Thing, starring Stephen Dillane and Jennifer Ehle at the Donmar, Albery and on Broadway where it won three Tony Awards including Best Revival, and the Greek tragedy – Electra, starring Zoe Wanamaker with production at the Donmar and on Broadway.

"The idea of manifesting Sinatra purely being media is a daring thing to try," continued Bonniol. "Beyond that it is a very complex show in terms of screens and automation, but David Leveau has a really amazing vision for it and it going to be very successful, although it is a taxing amount of work."

"With Sinatra there is an approach to the design of the show that goes hand in hand with a sort of world journey. David is mapping the show which brings us from a world that is very black and white and monochromatic, through single tone chromatic. Then when we get into the second act we will be exploring a Frank that is fully colored. So, there is a definite color journey."

"Many of the choices that we're making in terms of that media and within the context of that journey we're looking at Frank's resources - what Frank's designs have reflected in the past in terms of concert appearances or film appearances where Frank had a great deal of control over how things looked and felt," he continued. "We look for those clues and we're applying them."

The show has the support of the Sinatra family, who have given the producers full access to archive material and home movies from their vaults. A significant amount of the material was filmed on 35 mm film by Frank himself capturing the first eight episodes of the TV program he was shooting for ABC television in 1957-58,when he was in his early forties, at the peak of his career. Those original 35mm films, which are work prints, have been through an intensive cleaning and editing process, producing images of extraordinary sharpness and clarity backed by a top quality 35mm sound track of Frank's voice in his prime. This is the first time the Sinatra family have allowed some of this material to be seen and this will be the first ever live stage production to use it to create the Sinatra experience.

The Sinatra image will be projected onto multiple, moving screens and surfaces and magnified by up to 20 feet and be incorporated into the large live on-stage spectacular. The show will allow the audience to experience Sinatra in his formative years; through the rest of the 20th century and include his personal narrative throughout the decades.

According to a press release on the London show; "video design is conceived by Mode Studios of Seattle, who have developed entirely new technologies for this show. Their work will allow performers live on the Palladium stage to seem to appear together with Sinatra on the screens used to project the film, and to produce Busby Berkeley type effects from the company of show dancers, and even to show Frank appearing as part of the action within the sumptuous live show taking place on the Palladium stage.

The success of the video design is crucial to the success of the show. Are you going to fall on the sword if this doesn't work in London?

Bonnoli responded with a hearty laugh and then said, "I don't know. There are so many different levels at which a show like Sinatra could fail - it would depend entirely upon what merit it failed to accomplish. Because of the prominence of our element of the design we are straight in the bull's eye, I suppose, to be the victim. I am very optimistic. I have to tell you it is very hard to go wrong with this material as long as you let it speak simply."



Souvenir Brochure for the 1975 London Palladium concert featuring Count Basie, Sarah Vaughan and Frank Sinatra. Comedian Pat Henry opened the show.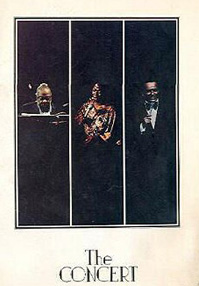 "I think that Frank made his reputation and his success as a singer indelible in the mind set of people. We just take this material that we get from the estate, which is lovely and of amazing quality, and we treat it with the respect and really a simplicity - we let it speak for itself so then I think it is hard to go wrong."

Sinatra's first ever UK performances were at the London Palladium, where he played from July 10 to July 23, 1950 and he returned to play there in November 1975. Other visits to the Capital include concerts at the Royal Festival Hall in 1970 and 1978 and at the Royal Albert Hall in 1975 and 1977 and April 1989, when he was joined on stage by Sammy Davis Junior and Liza Minnelli. His last appearance in the UK was at the Royal Albert Hall from May 26-31 1992.

It seems to be a given that the engagement will be SRO. Also a hot ticket item - the 2008 Olympics in Beijing, China.

"What is most interesting about Beijing is, again, a screen of an unprecedented size. And, it is a different sort of scale than people are used to dealing with. One of the things that we are really trying to do with that screen is to break down that fourth wall, especially as it relates to people and the experience they have with big screens," he said referring to what amounts to an interactive screen never before experienced.

"It's all well and good to sit in a stadium and look at a big screen behind a concert," he said referring to what has become common place. "Through interactive programming that we work into it, the screen is going to absolutely respond to atmospheric input. People, groups of people, people moving through the space, the weather - all kinds of input like that and have that altering what the screen does, in addition to an amalgamation of cinematic, theatrical, artistic talent that will produce unique and amazing pieces for that installation as it ramps up into the Olympic period."

"The Chinese have been fantastic to work with, because I think they really recognize that they are trying to enter a cultural and economic sphere. They are really interested in advancing the state of art there. I think they suffered terribly during their Cultural Revolution, but they have moved beyond that. Now, there is really an awakening in China. I have never seen people so interested in manifesting art, esthetic and design at such huge levels," he emphasized. "The macro scale of wanting their cities to be beautiful to look at and for buildings to have amazing personalities right on down to the new freedoms that are being enjoyed by the Chinese artists - that goes for theatrical and otherwise."

"We're very sensitive of colors in Chinese culture that are representative of good luck or bad luck, or have some special cultural or social significance. I think we'd be remiss as designers if we didn't take that cultural contest into hand."



War and Peace at the Spoleto Festival
In either China or London he reported that "we haven't had any labor issues. I suppose it's early to say for Sinatra because I need to see what it's like over there. I think that whatever culture you visit, there are the ways of working that go with that culture. When Colleen and I were in Italy doing War and Peace at the Spoleto festival, certainly, the Italian crews have their own method of working, which you just have to surrender to. And, it is kind of the same with the Chinese and I'm guessing it will be the same with the English."

"We're not going to get back to China until Sinatra opens, but we have a project manager there, a very talented guy, Jordan Janesco."

It's the Vegas project that resulted in the Olympic contract.

"We got China because a relationship began between us and Opto Tech working with them to devise a way to do a screen for Vegas. They came to understand how we had a special grip on really big manifestations of media. They introduced us to the client in Beijing. The client in Beijing is an amalgamation of big, real estate development groups, Chinese television and the government of course, which is involved in anything at that level. They had already had discussions with several other people. But we went in with a plan - where the screen is not just an inert object that entertains, but the whole location becomes an immersive location - a place where the patrons are interacting with the media and the media interacts with the patrons - where media, lighting, sound and environment are all tied into one experience."

It's one thing to have an Olympic project, but that takes on new importance when what might be a one use item can generate additional revenue.

"The strength of any type of installation like this is in terms of how effective is it for able to link with big brands. It's just an unusual piece of media real estate," he emphasized.

"I think we woke them up to that. We got them really excited by that. It just sort of took off from there."

The Chinese are both thrilled and proud that they are hosting the Olympics.

"Most definitely," he agreed and added, "for them it is an adjustment to be having an event like this. To free themselves up enough culturally and politically to allow it to happen. They are doing a really great job. They are absolutely puffed. And, they should be. There is so much positive change over there right now. I think so much of it is because of this infusion. They really love Americans. I cannot tell you how hospitable they are. They just love us. The second we are there we are taken care of."

With on going projects in London, Las Vegas and Beijing are you feeling just a bit submerged in fragmented creativity?

"Absolutely. It's way beyond bi-coastal."


SPREAD THE WORD


DEBORAH VOIGHT A conversation with America's pre-eminent dramatic soprano. Interviewed by Anthony Tommasini. Part of The New York Times Art and Leisure Week-end series. The event takes place January 6 in New York City.

HARRY CONNICK, JR the charismatic New Orleans singer-pianist-actor talks about his music, his films and his upcoming role on Broadway in The Pajama Game. moderated by Patricia Cohen. Part of The New York Times Arts & Leisure Weekend series. At Proshansky Auditorium - CUNY Graduate Center, Saturday, January 7, New York City.

HANK AZARIA, MICHAEL CERVERIS, MICHAEL C. HALL Leading Men: Multitalented performers from stage, screen and TV's Simpsons, Huff, and Six Feet Under light up the New York theater scene this season, in Monty Python's Spamalot, Sweeney Todd and Mr. Marmalade. Part of The New York Times Art and Leisure Week-end series. Interviewed by Jesse McKinley. January 8.

KATHLEEN MARSHALL, DONNA McKECHNIE AND BEBE NEUWIRTH A Dancer's Life: These award-winning talents all started in Broadway chorus lines: they've gone on to choreograph and direct, star in TV and on film, and tour with their own nightclub acts. Interviewed by Anna Kisselgoff. Part of The New York Times Art and Leisure Weekend series. January 8.

SUSIE ESSMAN IN CONVERSATION WITH JOY BEHAR Susie Essman has played the venomous Susie Greene for all four seasons of the critically acclaimed HBO comedy series Curb Your Enthusiasm. A veteran standup comic, she has had her own HBO special, hosted the American Comedy Awards and performed on Comedy Central's The Friar's Roast of Jerry Stiller, on Politically Incorrect and on Late Night with Conan O'Brien. Joy Behar, one of today's leading comic talents, is co-host of ABC's Emmy Award-winning The View. January 8 at Kaufmann Concert Hall in NYC.



Broadway To Vegas is supported through advertising and donations. Priority consideration is given to interview suggestions, news, press releases, etc from paid supporters. However, no paid supporters control, alter, edit, or in any way manipulate the content of this site. Your donation is appreciated. We accept PAYPAL. Thank you for your interest.


SIN CITY LITERARY INSPIRATION


Debbie Macomber,the best selling romance author with sixty million copies of her books in print sneaks off to Las Vegas twice a year to plot.

On December 26 this major force in women's fiction, her husband, Wayne, and her writing friends, Jodi Thomas and Linda Rohrbough, were at the Bellagio for a plotting session.

Before getting down the plot lines they went to dinner, gambled and made a personal appearance at Two Crazy Ladies yarn shop where Debbie, who is an avid knitter, was impressed by a shawl created by owner Merle Wilson. So impressed that Debbie told the crowd she would offer the pattern in her new book for the Cedar Cove series - which will center around a flower shop. Frequently, Debbie's books contain either a recipe or a knitting pattern.


CURTAIN DOWN


FIDDLER ON THE ROOF the revival at the Minskoff Theater, in NYC will close on January 8 after 817 performances.

SOUVENIR by Stephen Temperley, starring Judy Kaye and Donald Corren, will end its run at the Lyceum Theatre on January 8, having played 10 previews and 70 performances.



THE SUBJECT WAS ROSES by Frank D. Gilroy. Directed by Leonard Foglia. Starring Bill Pullman and two-time Tony winner Judith Ivey.

After serving in World War II, Timmy Cleary returns home to find his parents are strangers - to him and each other. When Timmy insists his father take credit for the roses he bought his mother, long-hidden resentments rise to the surface, as this attempted act of kindness instead becomes the epicenter of domestic warfare. When the deception is uncovered, the tenuous ties still holding them together begin to unravel and each person's doubts - about marriage, family values, and Timmy's achievements oversea - threaten to sever any hope for reunion.

Praised at its Broadway opening in 1964 by the New York Herald-Tribune as "the most interesting new American play on Broadway this season," The Subject Was Roses went on to win the Pulitzer Prize for Drama and two 1965 Tony Awards including Best Play, and was made into a 1968 Oscar-winning film. Directed by Leonard Foglia, this new production intimately explores a family in crisis while echoing the experiences of a contemporary society at war.

Starring Bill Pullman and two-time Tony winner Judith Ivey will portray Timmy Cleary's mother Nettie. Jan 7 - 29 at the Eisenhower Theater at the Kennedy Center in Washington, D.C.

BIGGER THAN ALL OF US celebrates the power of live performance from the perspectives of both performers and audience. Sharing meaningful moments on stages as varied as backyard swing sets, forest floors, city streets, and ornate theaters, an ensemble of 12 reveals diverse stories inspired by more than 80 Vermonters about risks taken, communities created, and perceptions altered through the performing arts. Artfully assembled by Robin Fawcett and Joan Robinson, with an original soundscape by Jeff Campoli, and performed by a cast of area artists, the stories are painful and triumphant, poignant and funny, capturing the unique exchange between audience and performer. January 5-7 at the Flynn Center for the Performing Arts in Burlington, Vermont.

TOP GIRLS written by Caryl Churchill. Directed by John Rubinstein, the production stars Amy Brenneman, June Angela, Megan Austin Oberle and Joanna Going.

It's the middle of the high-flying, go-getting 80's in Maggie Thatcher's England and Marlene finally has something to celebrate – she's just been made managing director of Top Girls Employment Agency. But with no friends to speak of, and a past she'd just as soon forget, the guests at Marlene's party are a collection of famous women from history. Soon, Marlene discovers that life above the glass ceiling is not all it's cracked up to be. A bold, searing comedy from an Olivier Award-winning playwright whom critics have called "one of the best writers today."

Presented by Los Angeles Theatre Works January 11-15.

All performances of LATW's The Play's The Thing! are recorded live for later broadcast on Satellite and Public Radio worldwide.Performed at The Skirball Cultural Center in Los Angeles.

ALADDIN a new version by Bille Brown. Original score by Gareth Valentine. Additional song I Believe in Love has music by Elton John and lyrics by Lee Hall.

Ian McKellen has returned to The Old Vic as Widow Twankey, the ultimate pantomime dame. He's joined by Roger Allam as Abbanazar and Frances Barber as Dim Sum. Sean Mathias directs this classic show for all the family.

The entire cast includes; Marina Abdeen, Madelena Alberto, Roger Allam, Gary Amers, Frances Barber, Alistair David, Steve Fortune, Kate Gillespie, Paul Grunert, Emma Harris, Victoria Hinde, Tee Jaye, Neil McDermott, Ian McKellen, Stuart Neal, Zak Nemorin, Daniel Redmond, Leah Sheldrick, Andrew Spillett, Matthew Wolfenden.

Design by John Napier. Choreographer Wayne McGregor. Musical Supervisor Gareth Valentine. Costumes by Mark Bouman. Lighting by David Hersey. Sound by Fergus O'Hare. Orchestrations by Chris Walker. Musical Director is Kevin Amos.

At The Old Vic in London through January 22.

THE FURTHER ADVENTURES OF HEDDA GABLER by Jeff Whitty who received a 2004 Tony Award for writing the book to the Broadway musical Avenue Q, which is currently running on Broadway and at the Wynn Hotel in Las Vegas and will open in London in June 2006, produced by Cameron Mackintosh.

Directed by Bill Rauch. The Further Adventures of Hedda Gabler creative team joining Rauch includes Christopher Acebo (sets), Shigeru Yaji (costumes), Geoff Korf (lights), Paul James Prendergast (composer/sound design), Art Manke (choreographer), Megan Monaghan (dramaturg) and Randall K. Lum (stage manager).

The production stars Dan Butler, Dan Butler, Preston Maybank, Christopher Liam Moore, Kate A. Mulligan, Susannah Schulman, Kimberly Scott and Bahni Turpin.

The problem with Hedda is she keeps shooting herself, and Tesman has to bring Mammy out of Gone With the Wind to clean up.

In this boisterous and irreverent comedy, Hedda lives on in The Neighborhood of Tragic Women, an alternative hell where fictional characters are forced to endure until at last they are forgotten. Who can blame her for getting tired of playing the same role over and over for more than a century. Finally, Hedda escapes, but will she ever really die? A world premiere January 8 - 29 on the Julianne Argyros Stage of South Coast Rep in Cosa Mesa, CA.

NEW YORK GILBERT AND SULLIVAN PLAYERS Merriment abounds as America's preeminent professional Gilbert & Sullivan company embarks on its fifth season at City Center with acclaimed productions of H.M.S. Pinafore and The Mikado performed in repertory.

On Thursday, January 12 – for One Night Only - NYGASP presents Quintessential G&S, featuring the brilliant 45-minute farce, Trial by Jury, and NYGASP a la Carte, a special revue of fully-staged Gilbert & Sullivan highlights. New York City Center.

HECUBA

Photo by Igor Dashevskiy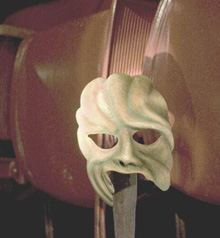 by Euripides who penned the piece between 430 and 415 B.C., which further strengthens the argument that the ancient Greeks understood everything, and ever since we have busied ourselves with rewrites!

The Queen of Troy is first a grieving mother, then a cruel avenger, finally a beast.

Her fortitude in defeat is contrasted with the machinations of the victorious Greeks, and it is the Eastern monarchy, not the Western democracy, that draws our admiration and pity.

This translation is by Janet Lembke and Kenneth J. Reckford. Directed by Shepard Sobel, the Pearl's founder and artistic director.

The production stars Joanne Camp.

Jan 5- Feb 12 at the Pearl Theatre Company in NYC.


| | | |
| --- | --- | --- |
| | | |
WHO'S WHERE


BILLY JOEL singing his hits Saturday, January 7 at the BankAtlantic Center in Sunrise, Florida.

LOU CHRISTIE on stage Thursday, January 5, at the San Manuel Indian Bingo and Casino in Highland, CA.

CHRIS BOTTI had his first professional gig was with Frank Sinatra. Dropping out of college Botti played two weeks of shows at the Universal Amphitheater. The first song played was Fly Me To The Moon and Botti had a solo. At the sound check, which Sinatra attended, his response was: "Nice solo, kid." You can check Botti out for yourself. He performs Friday, January 6, at the Carolina Theatre in Durham, NC. On Saturday he's in the spotlight at the Bergen Performing Arts Center in Englewood, NY. Next Sunday finds him at the Ohio Theatre in Columbus, OH.

LARRY GATLIN AND THE GATLIN BROTHERS open a three night engagement Tuesday, January 3 at the Robinson Center Hall in Little Rock. On Friday they are in the spotlight at the Valle de Oro RV Resort in Mesa, AZ. On Saturday they'll be pleasing their fans at the McCallum Theatre in Palm Desert, CA.

BILL CHARLAP entertains Friday, January 6 at the Detroit Orchestra Hall.

LOS ANGELES PHILHARMONIC with Zubin Mehta, conductor and Lisa Batiashvili on violin. Prokofiev: Violin Concerto No. 1 in D major, Op. 19. The second half of the program is Bruckner Symphony No. 8 in C minor Thursday, January 5 - Sunday, January 8. Los Angeles.

MOSCOW CHAMBER ORCHESTRA one of the world's great chamber orchestras, was created in 1956 by renowned conductor and violist Rudolph Barshai. It has been an inspiration to important Russian composers such as Dmitri Shostakovich, who entrusted the first performance of his 14th Symphony to the Orchestra. Constantine Orbelian is the first American to be named music director of a Russian orchestra. In 2000, Orbelian was also named Permanent Guest Conductor of the Moscow Philharmonic, putting him in a unique leadership position with not only Moscow's outstanding chamber orchestra but also its most illustrious symphony orchestra. Performance Sunday, January 8 at the Mount Baker Theatre in Bellingham, WA.

JAY LENO telling funny stories January 6-7 at the Mirage Hotel in Las Vegas.

HARRY CONNICK,SR on stage January 6-7 at Boulder Station in Las Vegas.
















Next Column: January 8, 2006
Copyright: January 1, 2006. All Rights Reserved. Reviews, Interviews, Commentary, Photographs or Graphics from any Broadway To Vegas (TM) columns may not be published, broadcast, rewritten, utilized as leads, or used in any manner without permission, compensation/credit.
Link to Main Page
---
Laura Deni


CLICK HERE FOR COMMENT SECTION