! >
Broadway To Vegas
  
  REVIEWS INTERVIEWS COMMENTARY NEWS

| | |
| --- | --- |
| | |
50 YEARS LATER BEATLEMANIA STILL SWEEPS ACROSS AMERICA - - THE NEGRO ENSEMBLE COMPANY - - THE NEIGHBORS - - THE SIGN IN SIDNEY BRUSTEIN'S WINDOW - - THE WORLD WAR I MUSEUM TEAMS WITH KANSAS CITY ACTORS THEATRE - - ELAINE STRITCH TALKS - - FROM BROADWAY WITH LOVE A BENEFIT FOR SANDY HOOK CD & DVD - - DIANA: A CELEBRATION - - DONATE . . . Scroll Down




Copyright: February 9, 2014
By: Laura Deni
CLICK HERE FOR COMMENT SECTION


50 YEARS LATER BEATLEMANIA STILL SWEEPS ACROSS AMERICA
The Beatles on The Ed Sullivan Show. Photo: The Grammy Museum/Library for the Performing Arts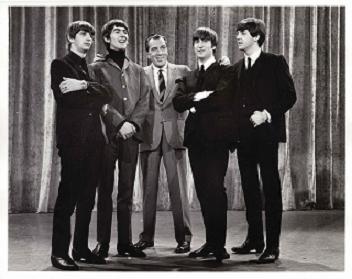 Still going strong at 50, the Beatles are the subject of a yearlong celebration, acknowledging that a half century ago the Fab Five from Liverpool - John Lennon, Paul McCartney, George Harrison, and Ringo Starr - conquered American music.

No matter whether you are on the East or West Coast, there is an exhibit for you.

The New York Public Library, in partnership with the Grammy Museum, is hosting an exhibition Ladies and Gentlemen…The Beatles!, running through May 10 at the New York Public Library for the Performing Arts at Lincoln Center.

The exhibition features over 400 items from souvenir and private collections, including "correspondence, instruments, posters" and other band artifacts from the mid-1960s, according to the library. There are also rare behind-the-scenes photos taken by Beatles tour manager Bob Bonis.

The exhibit pays tribute to the teen-age hysteria featuring a model of "a typical Beatles-obsessed teenager's bedroom filled with posters and ephemera," according to the library.

The display covers the period from early 1964 through mid-1966 - the years Beatlemania ran rampant in America. During this time the band affected nearly every aspect of pop culture, including fashion, art, advertising, media, and, of course, music. On display are many Beatles-related pop culture artifacts from the period, as well as correspondence, instruments, posters, photographs, interviews, interactive displays, and an oral history booth in which visitors can leave their own impressions of The Beatles.



Ringo playing his drums. Photo: Grammy Museum/Library for the Performing Arts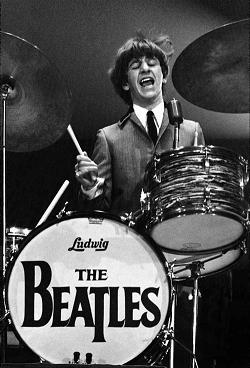 In Los Angeles, the Grammy Museum, in cooperation with Ringo Starr, is showcasing the major new exhibition, Ringo: Peace & Love - a one-of-a-kind, limited-run exhibit which offers visitors an unprecedented in-depth look at all aspects of Starr's musical and creative life - as a musician, artist, actor, and as the man the world knows and loves simply as 'Ringo.' It also aims to propel Starr's universal message of peace and love.

Ringo: Peace & Love is both the first major exhibit ever dedicated to a drummer and the first to explore the extraordinary career of the 7-time Grammy Award winner. The scope of exhibit spans Ringo's early life growing up in Liverpool, from Raving Texans turned Rory Storm, from The Beatles, to becoming a solo artist and then to the All Starrs with whom he is on tour now - this unique collection brings together diverse artifacts, rare and never before seen photographs, documents, personal letters and footage.

Ringo: Peace & Love includes:

The drum kit Ringo played on Let It Be, Abbey Road, and The White Album
The drum kit he played on The Ed Sullivan Show
Ringo's Sgt Pepper Suit
The red jacket worn during the filming of The Beatles' rooftop concert
Personal letters, photographs and documents from the Starkey family and Ringo's days with The Beatles

It's also an interactive exhibit, where visitors can take a drum lesson with Ringo.

Ringo: Peace & Love is on display until April 27, 2014 in The Grammy Museum's Special Exhibits Gallery in Los Angeles.

In Las Vegas, the Cirque show The Beatles LOVE at the Mirage Hotel is one of the best shows in town. ( See Broadway To Vegas column of June 18, 2006 )





Broadway To Vegas is supported through advertising and donations. Priority consideration is given to interview suggestions, news, press releases, etc from paid supporters. However, no paid supporters control, alter, edit, or in any way manipulate the content of this site. Your donation is appreciated. We accept PAYPAL. Thank you for your interest.





ART AND ABOUT


DIANA: A CELEBRATION

The Style gallery showcases Diana's style with designer suites and dresses. Copyright © 2011 by Arts & Exhibitions International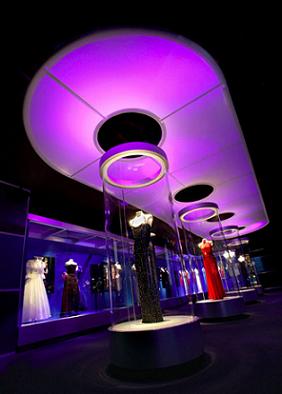 More than 15 years after her death, Princess Diana's memory still stirs interest and emotion. The award-winning exhibition Diana, A Celebration, which chronicles the life of the late Diana, Princess of Wales, will open at Cincinnati Museum Center on February 14, 2014.

This will be the final showing for the renowned exhibition, which has been touring the world since 2003, before the items, in accordance with her will, are removed from the control of her family's Althrop Estate and placed in the possession of her sons, Princes William and Harry, when Harry turns 30 in September. Her boys may then do whatever they wish with the items.

The exhibition presents the life and humanitarian work of Princess Diana through nine galleries containing 150 objects -ranging from her royal wedding gown and 28 of her designer dresses to family heirlooms, personal mementos, paintings and rare home movies and photos. The exhibition is on loan from the Althorp Estate, the Spencer family's 500-year-old ancestral home.

A few of the many dazzling items that will be on display include:

More than 25 dresses, suits and evening gowns worn by the Princess during her public life, accompanied by photos and designer details from the event at which the outfits were worn

Diana's magnificent Royal Wedding gown

Two diamond tiaras and other priceless family jewels

The original text of the Earl Spencer's moving tribute to his sister at the funeral in Westminster Abbey

The score and lyrics of the Elton John/Bernie Taupin composition, adapted from Candle in the Wind

Original heritage family paintings

Diana, A Celebration is produced by Arts and Exhibitions International, in association with the Althorp Estate.

February 14 - August 17, 2014 at the Cincinnati Museum Center in Cincinnati, Ohio.

PAWL ALTHAMER: THE NEIGHBORS

Pawe Althamer, Venetians, 2013. Exhibition view: Venice Biennale, 2013. Photo: Jens Ziehe, Berlin. Courtesy the artist, Foksal Gallery Foundation, Warsaw, and neugerriemschneider, Berlin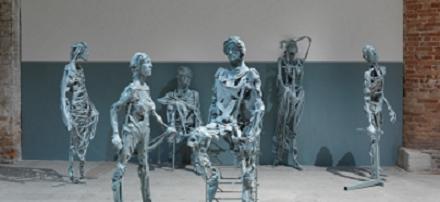 is the first US museum exhibition of Althamer. Since the early 1990s, Althamer (b. 1967 Warsaw, Poland) has established a unique artistic practice featuring an expanded approach to sculptural representation and consistently experimental models of social collaboration.

Althamer is predominantly known for the figurative sculptures he creates of himself, his family, and various other individuals within his community. Beyond simple portraiture, these sculptures, in addition to the other activities he is involved in, highlight the complex social, political, and psychological networks in which he lives and operates.

The exhibition will include a new presentation of the artist's work, Draftsmen's Congress, originally presented at the 7th Berlin Biennial (2012). Over the course of the exhibition, the blank white space of the New Museum's Fourth Floor gallery will be transformed through the gradual accumulation of drawings and paintings by Museum visitors and a wide array of invited community organizations. Althamer will also activate the exhibition through a sculptural workshop in which the artist and his collaborators will produce new works during the course of the show.

For his New York exhibition, Althamer has arranged for street musicians to play in front of the New Museum building on the Bowery over the course of the show with the music being broadcast throughout the Third Floor gallery.

The exhibition will also feature a number of Althamer's iconic sculptures and performative videos realized alone or in cooperation with a number of community groups that he has worked with over the past two decades. It will include his most recent body of work, the Venetians, a haunting group of sculptures created for the 55th Venice Biennale. These works will be presented alongside Althamer's series of videos, So-Called Waves and Other Phenomena of the Mind (2003–04).

Produced in collaboration with artist Artur Mijewski, these works capture Althamer as he ingests various drugs on a journey to explore the depths of his own mind. Across these varied projects, the exhibition will comprise a portrait of the artist as instigator, organizer, teacher, scientist, and visionary.

The exhibition is curated by Massimiliano Gioni, Associate Director and Director of Exhibitions, and Gary Carrion-Murayari, Curator.

February 12-April 20, 2014 at the New Museum in New York City.


SWEET CHARITY


THE NEGRO ENSEMBLE COMPANY opens the 47th season of inspirational, innovative and exciting stage productions with a special Valentine's Day concert starring Tony Award winner Lillias White in two performances of A Woman On Love on Friday, February 14, 2014 at he Langston Hughes Auditorium at the Schomburg Center for Research in Black Culture, New York City.

There will be a VIP Reception immediately following the second concert.

Ms. White, a long-time supporter of The Negro Ensemble Company, Inc., says, "I am pleased and proud to contribute my time and energy to benefit The Negro Ensemble Company. The NEC is an integral part of our community and has produced performing artist who have become world renowned. It is imperative that we all, especially those of us who have benefited from involvement with the NEC stand up and make sure that the work of this organization continues. Our community needs quality theatre. And it's up to all of us who can to continue this legacy."

The Negro Ensemble Company, Inc. (NEC) with Charles Weldon, Artistic Director and Karen Brown serving as Executive Director, provides African-American, African and Caribbean professional artists with an opportunity to learn, to work, to grow and to be nurtured in the performing arts. They present theatre performances by and about black people to a culturally diverse audience that is often underserved.

(NOTE) On February 12, this event was cancelled "due to the inclement weather forecast and severe snow warnings."

MIAMI CITY 2014 BALLET GALA celebrating the Company Premiere of West Side Story Suite will pay tribute to this Jerome Robbins classic as MCB's own Sharks and Jets rumble, fall in love, dance, and sing to Leonard Bernstein's vibrant score with its Latin rhythms, and Stephen Sondheim's incomparable lyrics.

The evening begins with cocktails, the performance followed by dinner and dancing.

The 2014 Gala Chairs are Margaret & Mike Eidson and Gala Co-Chair is Michael Wohl. Miami City Ballet salutes the individuals that make each season possible through their annual support in the amount of $100,000 or more. Presenting Underwriter of West Side Story Suite is The Codina Family. Gala Honorees are R. Kirk Landon & Pam Garrison and Juan Js. & Ophelia Roca.

The Miami City Ball Gala provides critical funding to support MCB performances, education and outreach initiatives. Those attending will be supporting dance and dance education while enjoying a night of spectacular entertainment.

Friday, February 14 at the Adrienne Arsht Center for the Performing Arts in Miami, FL.


STARSTUDDED SANDY HOOK CHARITY CD AND DVD RELEASED


Disasters bring out the best and the semi-worst in people. Sometimes singers whose CDs don't sell well, latch onto the agony of others to release a "tribute" CD, whereby an unidentified "portion of the sales" go to a charity. Their motive may be genuinely sincere. Or, it can be a self serving promotional ploy.

Then there is this splendid effort - From Broadway With Love: A Benefit Concert For Sandy Hook. On so many levels, this is the real deal.

On January 28, 2013, nearly 500 performers came together in a concert of healing for the Sandy Hook/Newton community which was almost wiped out by tragedy.

That magnificent offering was preserved and now can be enjoyed - all for the benefit of the citizens who lost so much.

Broadway Records will donate 100% of its profits from the CD, DVD, and Blu-ray to support the Newtown-Sandy Hook community via the Newtown Sandy-Hook Community Foundation. Additionally, "in keeping with the nature of this project, all publicity efforts are also being donated." That is Beth Krakower, CineMedia Productions who, in addition to many clients, ably and efficiently promotes Broadway Records.

Some charity events, though worthwhile, are difficult to support. You have to physically attend, or at least send a big check. Sometimes you have to get the guy to wear a tux, hire a babysitter and then find a place to park the car. And - gasp - sometimes those events aren't even all that enjoyable.

There is no excuse for anyone not being able to participate in the Broadway Records charity recording of the sensational From Broadway With Love: A Benefit Concert for Sandy Hook event.

It comes in three flavors - DVD, Blu-Ray and a two-CD set.

You don't have to leave your home or wear a formal attire or some theme party get-up. More importantly - the concert is totally enjoyable. Simply fabulous A rare gathering of composers, musicians and more than 100 stars of Broadway coming together with over 300 students from several Newtown dance groups, the Sandy Hook Elementary School 3rd and 4th grades (2012/2013 school year) and the Newtown High School Chamber Choir (2012/2013 school year).

The concert, which took place on January 28, 2013, at the Palace Theater in Waterbury, Connecticut, was recorded and was released in its entirety on DVD and as a two-CD set on Tuesday, February 4th. The Blu-ray edition of the concert will be released on February 18th. Both the DVD and Blu-ray contain 9 special features on the making of the concert and behind the scenes footage. The deluxe CD release includes 68 pages of photos from the concert and essays from the creative team.

A magnificent sounding, totally entertaining Seasons of Love performed by Robin de Jesus and Ashley Blanchet opens the never a dull moment or a weak spot concert, which features 26 selections. Mary Testa almost stops the show with When You're Good To Mama. Ditto with members of the Broadway cast of Million Dollar Quartet featuring Lee Rocker on Bass, setting the place on fire with Blue Suede Shoes/I Hear You Knockin'/Brown Eyed Handsome Man; Nikki Blonsky, Brooke Tansley, Micky Dolenz, Capathia Jenkins, with Marc Shainman at the piano revved up the place with You Can't Stop The Beat.

Linda Eder's beautiful voice singing If I Had My Way with Frank Wildhorn at the piano. Christine Ebersole getting spunky with On The Atchison, Topeka and The Santa Fe, and there is the upbeat, inspiring Defying Gravity performed by Julia Murney with Stephen Schwartz tickeling the ivories.

Micky Dolenz sings his hit I'm a Believer; Janet Metz and Richard Kind provide Funny/The Duck Joke, and the versatile Kind solos with I Wan'na Be Like You. Michael Cerveris offers Finishing The Hat and, backed by the Newtown High School Chamber Choir and the From Broadway With Love Chorus, sings Sunday.

Seasame Street cast members deliver Just One Person, assisted by the From Broadway with Love Chorus, which perform in many of the numbers.

Finding Wonderland is performed by Capathia Jenkins; Sing sung by Paul Scott Goodman; Good Morning Baltimore knocked to the back of the house by Nikki Blonsky with Marc Shaiman at the piano. Phillip Boykin with Jeffrey Saver at the piano offering Ol' Man River, Stephen Schwartz performing Beautiful City and Brian Stokes Mitchell singing The Impossible Dream will send chills down your spine.

For those enjoying this on the DVD the 72 Newtown Dancers and the Dance Etc group know their moves. Shanna Hevverly and K.C. Fredericks are featured dancers on Still, sung by Brett Boles.

In one form or another - CD, DVD, or both - you gotta have this!

The concert features renowned Broadway performers including 3-time Tony Award nominee Brian Stokes Mitchell, Linda Eder, 6-time Tony Award nominee Stephen Schwartz, Micky Dolenz, Tony Award winner Marc Shaiman, Tony award winner Michael Cerveris Tony award nominee Frank Wildhorn, Nikki Blonsky, Alan Muraoka, Tony Award winner Robin de Jesus, Ashley Blanchet, Capathia Jenkins, Tony Award winner Christine Ebersole, Paul Scott Goodman, Tony Award nominee Philip Boykin, Richard Kind, Brett Boles, Mary Testa, Julia Murney, Janet Metz along with Muppets and cast members from Sesame Street as well as members from various casts of Million Dollar Quartet: Lance Guest, Erik Hayden, Randy Redd, Dan Mills, Victoria Matlock, featuring Lee Rocker of the Stray Cats and members of the Broadway and touring casts of Sister Act.

Brett Boles, author of the musical Foreverman, and Broadway producer Van Dean, both from the Newtown area, are the original conceivers of the benefit concert.

Emmy Award-winng Michael Kostel and Tony Award-winner Van Dean/The Broadway Consortium are executive producers of the DVD and Blu-Ray. Emmy winner Bon Conover directed the filmed version of the concert and the special features. Jeffrey McLaughlin, of Chelsea Post, edited the 108 minute concert video; Firelight Media Group, LLC provided the post production DVD and Blu-Ray authoring; and Michael Croiter, of Yellow Sound Label, mixed the concert and produced the CD.

The benefit concert was directed by Michael Unger. Jeffrey Saver served as music director and conducted a 40 piece orchestra consisting of many top Broadway musicians. Librettist David Thompson helped the creative team shape the evening. Cindi Rush Casting acted as Casting Consultant. Tom Bussey served as Technical Supervisor, Tom McPhillips and Mike Rhoads as Scenic Designers, David Agress as Lighting Designer, Kristin Fiebig as Costume Designer, John Petrafesa as Sound Designer and David Bengali as Projection Designer. Zoya Kachadurian served as Production Stage Manager. Additional orchestrations and musical preparation by Kim Scharnberg.

For those enjoying the DVD, also give thanks to All Mobile Video and Kooster McAllister/Record Plant Remote.

Once again, all proceed will be donated to the Sandy Hook community recovery efforts.








SPREADING THE WORD


THE WORLD WAR I MUSEUM IN KANSAS CITY MISSOURI has three special events planned this month. On February 15 a Love Letters program where letters written by World War I soldiers will be read and examined.

On President's Day, February 24, a free Spencer Cave Black History Lecture series event, in conjunction with Park University, will feature Dr. Chad Williams of Brandeis University who will discuss African-American soldiers in the World War I era.

Capitalizing on a successful collaboration to bring outstanding theatre to Kansas City, Kansas City Actors Theatre and UMKC Theatre will join together again with the Museum to present Journey's End by R. C. Sherriff.

The 2007 Tony Award Winner for Best Revival of a Play, will be directed by Mark Robbins.

Set in the trenches at Saint-Quentin (northern France) in 1918 towards the end of WWI, Journey's End takes you right into the dugout of a British Army infantry company. An uncompromising, clear-eyed play about war – and not war as it echoes on the home front or in chambers of government, but war as a daily phenomenon for those who fight it." (Ben Brantley, New York Times). Filled with finely-drawn characters, Journey's End brings a starkly human perspective in a WWI tale that is not to be missed. The production takes place February 14 through March 2 with evening and matinee performances in the J. Nichols Auditorium at the National WWI Museum.

The National World War I Museum holds the most diverse collection of World War I objects and documents in the world and is the second-oldest public museum dedicated to preserving the history and personal experiences of the war.

SYMPOSIUM: 50 YEARS OF BEATLEMANIA IN AMERICA On February 11, 1964, just days after their electrifying debut on The Ed Sullivan Show, four mop-topped young Brits played their first concert in America to an overflow crowd of screaming local teens at the Washington Coliseum.

Fifty years later, the musical and cultural impact of the Beatles' arrival in America still reverberates. On the anniversary of this milestone, join Bob Santelli, executive director of the Grammy Museum in Los Angeles, in conversation with Mark Lewisohn, author of The Complete Beatles Recording Sessions: The Official Story of the Abbey Road Years 1962–1970, as they discuss the legacy of the Fab Four in America.

Smithsonian curators have selected rarely seen objects from the Washington Coliseum concert, including photos, ticket stubs, and Beatles memorabilia for display during the event. After the program, Lewisohn signs copies of the latest edition of his book.

Tuesday, February 11, 2014 Warner Bros. Theater, National Museum of American History in Washington, DC.

SQUARE PEG ROUND HOLE A Tectonic Theater Project Workshop Presentation. Co-written by Anushka Paris-Carter and Andy Paris who also directs.

On a global scale, our understanding of autism will acutely impact the raising of a generation. Using personal narratives and scientific data, employing technologies and pushing the bounds of theatrical form, all within a historical context, this new work illuminates what it means to live outside the bounds of 'normal.'

Square Peg Round Hole seeks to move audiences toward an informed national dialogue about autism in all communities.

February 14 and 15, 2014 at the Tectonic Theater Project in NYC. An 'Artist to Audience Dialogue facilitated by Moisés Kaufman immediately following the presentation.

ELAINE STRITCH DISCUSSES NEW FILM AND CAREER AT 92Y in New York City on Monday, February 17, 2014.

Stage and screen legend Elaine Stritch who moved back to Michigan a year ago returns to New York for a rare public talk at 92nd Street Y. Stritch will discuss her extraordinary life and career with director Chiemi Karasawa, whose new film Elaine Stritch: Shoot Me, features the uncompromising Tony and Emmy Award-winner.

The event includes clips from the new film, which features Stritch on and off stage via archival footage and intimate cinema vérité, candid reflections that are punctuated with photographs from Stritch's personal collection, and words from friends, including Alec Baldwin, Hal Prince, George C. Wolfe, Nathan Lane, Cherry Jones, Tina Fey, James Gandolfini and John Turturro.

SUNDANCE INSTITUTE AND MIAMI FILMMAKER'S COLLECTION present New Frontier Public Forum - Innovating Story at the Convergence of Art & Technology.

Since 2007, the Sundance Institute's New Frontier program has fostered exciting independent artists pushing the boundaries of story and experimenting with the language, forms and tools that will become standards for future storytellers. This latest event will have experts in conversation with New Frontier artists and advisors about their innovative work and the evolution of fiction, non-fiction, and visual storytelling.

Panelists include Scott Snibbe (Bjork's Biophila & Philip Glass Rework), Jonathan Harris (Cowbird & We Feel Fine), Jigar Mehta (18 Days in Egypt) and Susan Bonds (CEO, 42 Entertainment) Moderated by Kamal Sinclair (Senior Manager, New Frontier Story Lab) Saturday, February 15, 2014 New World Center Miami Beach, FL

THE VILLAGE VOICE ANNOUNCES THE 59TH ANNUAL OBIE AWARDS CEREMONY will be presented Monday, May 19, at Webster Hall in New York City.

Michael Feingold will serve as Obie Chairman. The Voice's present drama critic, Alexis Soloski, will again serve as secretary to the committee. Guest judges joining Feingold and Soloski on the Obie committee are:

Kirsten Childs, is a musical-theater writer whose show The Bubbly Black Girl Sheds Her Chameleon Skin won her, in addition to the Obie, the Kleban, Larson, Richard Rodgers, Audelco, and Gilman/Gonzalez-Falla awards - Nicky Paraiso is Director of Programming for The Club at La MaMa, and Curator for the annual La MaMa Moves! Dance Festival - Tony and Obie Award-winning actress Tonya Pinkins - Michael Sommers who currently covers the New York theater scene for New Jersey Newsroom - Rick Sordelet is the most prolific fight director in the U.S., with 60 Broadway productions and 54 first-class productions on five continents to his credit.



MICHAEL STRAHAN the totally adorable, bright, charismatic co-host of Live With Kelly and Michael who got elected into something called the Football Hall of Fame.

A retired American football defensive end who spent his entire 15-year career playing for the New York Giants of the National Football League, Strahan's final game was the Giants' Super Bowl XLII victory over the undefeated New England Patriots. He's considered one of the to pass rushers in league history.

Also making the Hall of Fame were Derrick Brooks, Ray Guy, Claude Humphrey, Walter Jones, Andre Reed and Aeneas Williams. In August they'll be enshrined in Canton, Ohio.



THE SIGN IN SIDNEY BRUSTEIN'S WINDOW by Lorraine Hansberry.

Directed by Juliette Carrillo.

It's 1964, and Sidney Brustein is in his element: a Jewish intellectual in the heart of Greenwich Village, a hotbed of artists, activists and social upheaval. But nothing has brought him happiness - not his bohemian friends, his wife Iris, his failed folkie nightclub, or even his own lofty ideals. Then, when a turbulent political campaign sparks him into action and Iris begins yearning for a different life, he's forced to decide what's really worth fighting for.

this 50th-anniversary production of a classic explores the rocky landscape of love, choices and consequences with poignancy and biting humor.

"The script for this production has been painstakingly knit from several scripts that were previously published," according to OSF. "The estate has given its permission for use of the new script and is delighted with the development. Director Carrillo and dramaturg Lue Morgan Douthit studied the differences and discussed the dramaturgical advantages of the various choices - very much like the literary research required for Shakespeare plays. The study illuminated the differences in stage practice among the original production in 1964, the 1987 revival at Arena Stage, and OSF's current production."

The cast features Ron Menzel as Sidney Brustein, Armando McClain as Alton Scales, Sofia Jean Gomez as Iris Parodus Brustein, Danforth Comins as Wally O'Hara, Peter Frechette as Max (2/15-3/15) and Jack Willis as Max (3/16-7/3), Erica Sullivan as Mavis Parodus Bryson, Benjamin Pelteson as David Ragin and Vivia Font as Gloria Parodus.

Scenic design is by Mikiko Suzuki MacAdams; costumes are by Christal Weatherly; lighting by James F. Ingalls; music and sound by David Molina; dramaturg is Lue Morgan Douthit; Rebecca Clark Carey is voice & text director; U. Jonathan Toppo is fight director, and D. Christian Bolender is stage manager.

February 15 – July 3 at the Oregon Shakespeare Festival in Ashland, Oregon.

WHEN I COME TO DIE written by Nathan Louis Jackson, Kansas City Rep's nre playwright-in-residence.

Directed by Kyle Hatley.

Damon Robinson, a death-row inmate, struggles to find faith and understanding about why his life has been spared after he survives a lethal injection. Befriending the prison's chaplain he sets about using his unexpected time on earth in search of answers.

Billed as "a stunning, thought-provoking story about the power one action can have over a life and the unique precipice from which meaning and redemption can be attained."

February 14-March 16 at Kansas City Rep in Kansas City, MO.

AFTER MIDNIGHT welcomes Grammy winner K. D. Lang to the sensation musical playing at the Brooks Atkinson Theatre on Broadway.

Lang will be in the star slot February 11-March 9, 2014.

THE HAPPIEST SONG PLAYS LAST the final play in Pulitzer Prize winner Quiara Alegria Hudes' Elliot trilogy.

Directed by Tony winner Ruben Santiago-Hudson.

Cousins Elliot and Yaz, having long searched for their place in the community, discover the joy in coming home again and the comfort of family, both by blood and by love. While Elliot gets a lucky break in the film business, Yaz takes on the role of familial and neighborhood matriarch, nourishing those who pass through her door.

Beating to the sounds of traditional Puerto Rican folk music led by the Grammy-nominated Nelson González, The Happiest Song Plays Last invites patrons to spend a year with Elliot and Yaz on their journey to peace and purpose in an ever-changing world.

Featuring Tony nominees Anthony Chisholm, Elizabeth Rodriguez , Dariush Kashani, Annapurna Sriram, Tony Plana) and Armando Riesco.

The production features scenic design by Mike Carnahan, costume design by Karen Perry, lighting design by Rui Rita and sound design by Leon Rothenberg.

Performances begin February 11 at Second Stage's Tony Kister Theatre in NYC.

MY NAME IS ASHER LEV the Los Angeles premiere of Aaron Posner's award-winning adaptation of the novel by Chaim Potok.

Directed by Stephen Sachs.

Set in Brooklyn's Hasidic Jewish Community, the powerful story of a young painter's struggle to become an artist at any cost - against the will of his parents, community and tradition. Exploring questions of art, family, religion and loyalty, this extraordinary adaptation is a compelling look at the cost of individuality.

The winner of the 2012-13 Outer Critics Circle Award for Outstanding New Off-Broadway Play and the John Gassner Memorial Playwriting Award.

Starring Jason Karasev, Anna Khaja and Joel Polis.

Bwginning previews February 15 with the official opening taking place February 22 at The Fountain Theatre in Los Angeles. Performances through April 19, 2014.

MALPRACTICE MAKES PERFECT Book, Music, & Lyrics by Sheldon Harnick, based on the Moliere's classic comedy of manners, The Doctor in Spite of Himself.

Directed by David Glenn Armstrong. Music Director - Amanda Morton.

Featuring David Ayers, Christina Bianco, Cady Huffman, Robin de Jesús, Megan Lawrence, Brad Oscar, Robb Sapp, Conrad John Schuck and Nick Wyman.

A musical comedy whose classic plot devices lead to hilarious ends, Harnick's adaptation tells the story of a woodcutter manipulated by his spiteful wife to impersonate a brilliant doctor. Called to an emergency case - a lovely young woman who feigns sickness to avoid her impending marriage - the "doctor" prescribes a perfect remedy for an uproarious situation. Mix in a cast of eccentrics, and the comic antics build to the climactic resolution.

Part of the Musical in Mufti staged concert performances. February 14-16, 2014 at the York Theatre in New York City.


WHO'S WHERE


PETER NERO celebrate Valentine's Day with Grammy Award-winning pianist Peter Nero in a one-of-a-kind concert. Nero, founding conductor of the Philly Pops, along with bassist Michael Barnett, perform a unique program of classical favorites, Broadway standards, and more. This year marks the 50th anniversary of the birth of Peter Nero's recording career, which has produced 67 recordings. February 14, at the State Theatre in New Brunswick, NJ.

MILEY CYRUS offering Valentine Day gyrations at the Rogers Arena in Vancouver, BC on Friday, February 14. Next Sunday, February 16, she'll be sticking her tongue out at the Tacoma Dome in Tacoma, WA.

BILLY JOEL takes to the stage Saturday, February 15, at the Palace of Auburn Hills in Auburn Hills, MI.

GYPSY KINGS perform at Huxleys Neue Welt in Berlin, Germany on Saturday, February 15. Next Sunday, February 16 they'll be entertaining at Musikhuset in Aarhus, Denmark.

DEPECHE MODE are in the spotlight Monday, February 10, at the 02 Arena in Prague, Czech Republic. On Wednesday the perform at the Messehalle in Dresden, Germany. Saturday's performance is at the Hallenstadion in Zurich, Switzerland.

DOLLY PARTONis down under this week with a two night stand February 11-12 at the Rod Laver Arena in Melbourne, Australia. On Thursday the show is at the Adelaide Entertainment Centre in Hindmarsh, Australia. On Saturday she'll be displaying her talents at the Hope Estate Winery in Pokolbin and next Sunday, February 16, she'll entertain at the Regional Entertainment and Conference Centre in Tamworth, Australia.

BRUNO MARS in a two night stand February 15-16 at the Cosmopolitan Resort in Las Vegas.

LADY ANTEBELLUM in the spotlight Thursday, February 13, at the Chaifetz Arena in St. Louis. On Valentine's Day they'll be sweetly singing at the Intrust Bank Arena in Wichita, KS. On Saturday the show is at the Sprint Center in Kansas City, MO.

THE EAGLES have a two nighter at the MGM Grand in Las Vegas beginning Saturday, February 15.

MICHAEL BOLTON on stage Monday, February 10, at the Theatre Capitole in Quebec City. On Wednesday he's on stage at the Place des Arts in Montreal. On Friday he opens a two night stand at the Fallsview Casino in Niagara Falls, ON.

ANNE-SOPHIE MUTTER the famed violinist backed by the National Symphony Orchestra conducted by Cristian Macelaru in his NSO debut, plays Dvorák on Friday and Saturday, February 14-15 and a D.C. premiere on February 13 of a D.C. premiere written specifically for Mutter. The Thursday performance will be followed by a free discussion with the artists and NSO Director of Artistic Planning Nigel Boon. Kennedy Center in Washington, D.C.


FINAL OVATION


PHILIP SERMOUR HOFFMAN the Oscar winning and Tony nominated actor died Sunday, February 2, 2014 in New York City of a heroin overdose. He had battled drug addiction for years. He was 46.

Charlotte St. Martin, Executive Director of the Broadway League issued the following statement:

"Philip Seymour Hoffman, a three-time Tony Award nominee, was a true artist who loved the theatre. His prolific body of work encompassed various mediums including theatre, film, and television, and we'll always be grateful for his boundless and profound talent that he shared with us on the Broadway stage. Our thoughts go out to his family, friends, and fans."

Philip Seymour Hoffman was one of the most admired performers of his generation, widely acclaimed for his work. His performances in three Broadway plays led to three Tony Award nominations, most recently for portraying the symbolic traveling salesman Willy Loman in the 2012 revival of Arthur Miller's Death of a Salesman. He was also nominated for best Leading Actor in Sam Shepard's True West in 2000 and was nominated for Best Featured Actor in Eugene O'Neill's Long Day's Journey into Night in 2003.

Hoffman appeared in more than 50 films, appearing in both big-budget Hollywood films and critically praised independent films. He won the Academy Award for Best Actor in 2005 for the biographical film Capote. He gained recognition for his supporting work in a series of notable films and received another three Academy Award nominations for Best Supporting Actor in Charlie Wilson's War (2007), Doubt (2008) and The Master (2012).

In addition to being an extraordinary actor with tremendous range, he was a former Artistic Director of the off-Broadway LAByrinth Theater Company where he directed and performed in numerous stage productions.

He is survived by costume designer Mimi O'Donnell whom he had a relationship with for the last fifteen years of his life and is the mother of his three children, a son Cooper and two daughters, Tallulah and Willa.

The Broadway community mourned the loss of the celebrated stage, screen and television actor and theatre director by dimming the lights in his memory on Wednesday night, February 5th.













Next Column: February 16, 2014
Copyright: February 9, 2014. All Rights Reserved. Reviews, Interviews, Commentary, Photographs or Graphics from any Broadway To Vegas (TM) columns may not be published, broadcast, rewritten, utilized as leads, or used in any manner without permission, compensation and/or credit.
Link to Main Page
---
Laura Deni



For the snail mail address, please E-mail your request.
CLICK HERE FOR COMMENT SECTION