! >
Broadway To Vegas
  SHOW REVIEWS CELEBRITY INTERVIEWS GOSSIP NEWS

| | |
| --- | --- |
| | |
CHAMPAGNE GLASS BATHTUBS - - THEMED WEDDINGS - - NAUGHTY ROMANTIC GET-AWAYS - - MABEL MERCER CABARET CONVENTION - - BILLY CRYSTAL HONORED - - MAC CELEBRATES THE GRAMMYS - - DELIGHTFUL DODY GOODMAN - - J LO DENIES CARMEN ELECTRA ADMITS - - DONATE . . . Scroll Down


WHIPPED CREAM AND CHAMPAGNE BATHTUBS


Valentine's Day is the biggest day for weddings in Las Vegas. With a divorce rate topping fifty-percent, many couples are risking ruining a perfectly good holiday by promising to - cleave only unto.

Meg Ryan, who has recently been in Las Vegas, researching her role as boxing manager, Jackie Kallen, for the upcoming movie, Against The Ropes, was married on Valentine's Day 1991 to Dennis Quaid. That marriage was KO'd.

Jennifer Lopez is denying rumors that she intends to legally make actor Ben Affleck her future ex-husband on Valentine's Day.

Carmen Electra and her fiance, ex-Chili Pepper and Jane's Addiction guitar ace Dave Navarro, are planning an engagement party in Los Angeles on Valentine's Day. Don't expect an invitation. The event is for close friends and family.

Many couples are opting to take the marriage ceremony and turn it into a good party theme.

Getting married by "Elvis" is extremely popular.

Jeff Daniels and his wife spent their 14th anniversary renewing their marriage vows in Las Vegas. Officiating was an Elvis impersonator who told them this was serious to him, so they should stop giggling. Then he stopped in the middle of the vows - so he could sing Love Me, Tender.



Darren Lee officiates as Elvis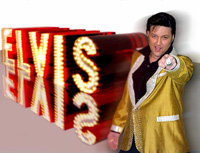 In Sin City you can take your pick of Elvis weddings.

Cupid's Wedding Chapel features a Renew Your Vows With the King ceremony for $379. Officiating is Darren Lee, winner of the 1997 Best Elvis contest at Graceland in Memphis. Among other things the package includes; "Elvis" performing the ceremony, entertaining with three songs and posing for photographs.

The Viva Las Vegas Wedding Chapel is internationally famous for their themed weddings. One of the most popular is their Elvis/Blue Hawaii Wedding Package. The chapel is decorated in honor of The King. Then Elvis, which is Ron DeCar, who has starred at the Tropicana Hotel, performs the wedding ceremony and sings Presley's most memorable tunes. Thank you very much.

The $700 wedding package includes; memorabilia, Hawaiian sets and props, one Elvis impersonator Minister, two Hula Dancers or Showgirls or Priscilla impersonator, theatrical lighting and fog.



Daryl Wagner as Liberace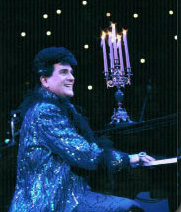 A glitzy Liberace Wedding Package is available for $800. Liberace impersonator, Daryl Wagner, serenades the couple with his selections for the bride's entrance down the aisle and performs the wedding ceremony. The couple lights the unity candle on his famous candelabra. "Liberace" will sing during the lighting of the candle and play the recessional.

There are shotgun wedding and then there are shotgun weddings.

The Sopranos is big. And, after all, Valentine's Day is the anniversary of that famous Chicago massacre.

For a mere $650 you can step back into the 40's with the Mafioso theme wedding. Let the Godfather/Minister open the door to wedded bliss, accompanied by two bodyguards, of course, and a Waiter/Soloist singing softly in Italiano.

This theme wedding package includes the usage of the Gangster wedding chapel, all decor including red check cloth covered tables, candles, theatrical lighting and fog.

Additional characters for each themed wedding are available at $150 each. Impersonators, for example, Marilyn Monroe, Cher or Donna Summers, pending availability are $250.



Bridal couple enjoying gondola ride at the Venetian Hotel Photo By: Laura Deni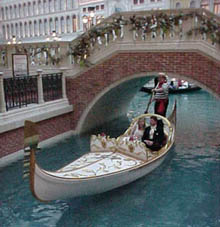 The Venetian Hotel in Las Vegas offers lovers the opportunity to get married in a gondola. The romantic Viaggio de Gondola wedding takes place in an authentic Italian gondola large enough for the bride, groom, witness and minister. Features of the gondola wedding ceremony include a singing gondolier, bridal bouquet, photos and a groom's boutonniere. The cost: $650.

Or, you can have your wedding on the Rialto Bridge in St. Mark's Square, with all of the finery, followed by a gondola ride accompanied by a singing gondolier. That is $1,650. All of the wedding packages have an additional $300 fee on weekends and holidays.



Disney World Cinderella Wedding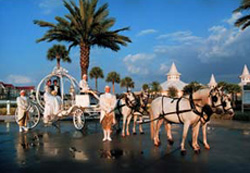 Want something a little more storybook? There is always a Cinderella wedding. The Disney World people know how to create fantasy. If you have the money, they have the coach. Your Disney Wedding Certificate will even be signed by Mickey & Minnie Mouse.

Cinderella's Coach is $2,500 which includes four Dappler gray horses and three costumed footmen. If you just want the pictures but don't want the ride, then Cinderella's Coach for Photos Only, costs $1,000. No horses or footmen.

You can really get into the spirit of the day with some romantic add-ons; 1 Disney Character, $675; 2 Characters, $1,020; 3 Characters, $1,385; Major Domo (in full regalia), from $600; English Butler, from $600; Herald Trumpeter (for fanfare), from $600; Trumpet Duo, from $950; and Confetti Cannons, from $500.



Ritz-Carlton in Las Vegas has a $95,000 wedding package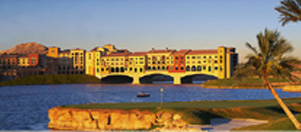 If you'd rather have classy than cute and you have $95,000 per couple - tax and charges excluded - consider the Valentine's Day packaged offered by the Ritz-Carlton Hotel in Las Vegas. The nine-story resort is set on the shores of the Mediterranean-style MonteLago Village in Lake Las Vegas, about 17 miles from the famed Strip.

Come up with the money and they'll provide:

Three nights in the 2,400-square-foot Presidential Suite. A welcome extravaganza of chocolate, champagne, cigars and caviar for two. Breakfast in bed every morning. Unlimited use of Spa Vita di Lago. Services of a personal butler throughout the weekend. Two days of unlimited golf at The Falls Golf Club. Oh, yes - his and hers Bvlgari watches and a brand-new Mercedes SLK convertible. Any groom who intends to spend his honeymoon smoking cigars and playing golf ought to be expected to cough up a watch and a car.

Only two of these packages are available so - don't dawdle.

For the absolute ultimate in a romantic experience, it's a honeymoon in one of the Caesars Pocono Resorts. It's been a tradition for generations - thanks to that heart shaped pool and champagne glass tub.

The world's first, heart-shaped tub, was created by the resorts' founder and president/CEO Morris B. Wilkins (retired).

The minute Life printed a picture of that heart shaped tub in 1971, lovebirds began flocking to Pennsylvania - transforming Cove Haven, and subsequently Paradise Stream, Pocono Palace, and Brookdale, into the world's most famous destinations for honeymooners - earning the reputation as The Honeymoon Capital of the World.

While, the heart-shaped tub endures as a signature amenity in many of the suites at Caesars Pocono Resorts nearly 40 years later, the most unique and popular attraction is the 7-foot-tall Champagne Glass Whirlpool Bath for Two, which was also created by Wilkins.

There are 176 suites at Caesars Pocono Resorts that feature the 7-ft-tall Champagne Glass which holds 125 gallons of water. Prefer the real thing? Okay, but it would cost more than $50,000 dollars to fill the whirlpool with Dom Perignon Champagne. You'll save on soap, though, because only one capful of bubble bath is needed for a whirlpool for two.

The resort reports that the most commonly asked question is: How do you get in the whirlpool?

You don't shinny up the stem.

"Absolutely not," laughed Caesars Pocono Resorts executive Cheryl Trecsoke when Broadway To Vegas asked about their facilities. "There are stairways to the left or right of the column, depending upon which room it is in - whether it's a left hand room or a right hand room. To the one side of the 7- foot-champagne glass is a set of stairs. It goes up to the next level of the accommodation, because these suites are four levels. Walk up the stairs and there is a living room area. Walk up a couple more steps and there is a glass enclosed pool area. That is one area. Walk up a couple more steps and there is the level where there is the sauna and bathroom. Then the entrance to the 7-foot-champagne glass is in that fourth level."

In other words, it is exactly like stepping into a sunken bathtub.

Hotel officials report they see many couples only twice - at check in and at check out.

Considerations for lovebirds surpass a simple do not disturb sign.

"We have what we call the Champagne Honeymoon Experience," continued Trecsoke. "We have personalized honeymooner concierges. They are solely dedicated to serving and catering to the honeymooners. They walk them through a special check in process, because they have gone through a very overwhelming time period in their life recently, with all of the wedding plans and all of the travel plans. So, when they arrive at their properties they need some help. They need some assistance to be reassured that they are going to have a hassle free, worry free type of stay. They can relax and not have to worry about anything."

That includes annoying maids suddenly barging into a room yelling "room check!"

"First of all, that isn't even our style at all!" she exclaimed. "We have a totally different type of service plan in place."

It can be romantic. Is can also be reflection and renewal. Marriage have been both begun and saved.

"People have been proposed to in the 7-foot-champagne glass, as well as the heart shaped swimming pool," related Trecsoke "You have honeymooners. You have romantic getaways. I had a couple walk up to me and say - I have to tell you, this saved our marriage. We decided that this was going to be our getaway and, if we couldn't work it our during this getaway, we were going to end our marriage. They said this was the best destination that they could have chosen to try and get their marriage back on track."

"There are people who renew their vows on a regular basis and come here. We have couples who come here five years after they have been married. They say they never really had a honeymoon. They didn't have the time or the money to take a honeymoon. They finally decided on their fifth anniversary that it was time to really have a honeymoon. And, they feel it is just like getting married all over again."

Don't expect to find a 7-foot-champagne glass tub at Caesars in Las Vegas or Atlantic City.

"First of all, this is a world exclusive to the four Caesars Pocono's resorts," she elaborated. "And, we are no longer a part of Caesars Palace. About three or four years ago Starwoods purchased Sheraton-ITT, which owned Caesars World," said Trecsoke referring to Caesars being bought by ITT Sheraton Corporation in July of 1995. In 1997 the Starwood Hotel and Resorts acquired control of ITT and therefore Caesars. "Starwoods then turned around and sold the gaming properties to Hilton. So, we were retained by Starwoods. We are with the company that owns W, Westin, St Regis, Sheraton."

"People come here specifically for these suites," she emphasized. "That is the predominate driver for them to come here. People have never seen anything like it anywhere in the world."

If you'd like something at the other end of the country, consider the Nisqually Valley, four miles from the main entrance to Mt. Rainier, which has many hidden secrets for lovers.

Promoters promise; "In addition to your extremely private place, the cabin or B&B will be filled with long stem roses, candles throughout, sparkling apple cider w/glasses, beautiful and colorful rose pedals on the bed, godiva chocolatier placed on the pillow. A beautifully decorated can of whip cream (naughty, naughty) - optional - all to enhance your romantic night or nights."

You can purchase whipped cream cans in flavors of pina colada, strawberry, chocolate and wild cherry for the ultimate of what is billed as "the love sundae."

Then there is that old stand by Reddi Whip whose motto is "let the fun out."

Reddi-whip whipped cream was introduced in 1948 created by Bunny Lapin, who also tried his aerosol concept on other products. His dream was to dispense ketchup and mustard from an aerosol can, but his dream fizzled when his experiment with cinnamon margarine and pancake batter failed.


DODY GOODMAN PROVES SHE ISN'T DEAD
Dody Goodman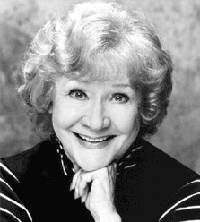 The report that listed Dody Goodman as deceased was premature. The comedienne that Jack Paar fired because she was too funny is not only still kicking, but performs February 18, as part of Carol's Cabaret Cavalcade starring Richard Skipper as Carol Channing, at The Triad. The sharp-as-a-tack redhead lives in New York City and spoke with Broadway To Vegas about her incredible career and active life.

She remembered her days with Paar. She had come to his attention while he was the host of The Tonight Show. He was enchanted by her ditzy persona and spontaneous malaprops and invited her to become a semi-regular. Her popularity grew and her comments started upstaging Paar, whose ego wasn't amused.

Commenting on another guest one evening, Paar quipped "Give them enough rope."

"And they'll skip!" ad-libbed Goodman brightly. Paar summarily dropped her in 1958.

Goodman holds no hard feelings.



Jack Paar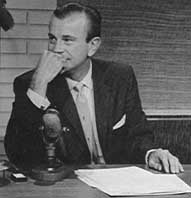 "I think about him often," Goodman told Broadway To Vegas. "He gave me a very big chance. I'll always be grateful to him. I wanted to write to him and ask him how he is. I heard that he hadn't been well. So, I wanted to at least touch base with him and tell him that I wish him the best."

The Columbus, Ohio born and raised performer first gained success as a dancer. She began dance lessons at the age of eight, headed for New York City after graduation from North High School, and was soon dancing on pointe for the ballet companies of the Radio City Music Hall and the Metropolitan Opera. From there she was dancing in such Broadway hit musicals as High Button Shoes, Call Me Madam, Miss Liberty, and Wonderful Town.

"I always wanted to be a ballerina," said Goodman. "As a child I read a lot about ballerinas and it always seemed like such a glamorous life. I cut out all the pictures of ballerinas that I could find So, I really wanted to go to dancing school."

She discovered that the glamour can be smoke and mirrors.

"It's a lot of hard work. And, you wonder if it really ever pays off. But, you have a lot of satisfying jobs."

It was George Abbot and Imogene Coco who recognized the star potential in Goodman and pushed her into the spotlight.

"My first speaking part was a comedy part in Wonderful Town with Rosalind Russell. George Abbot gave me that part. I had worked with him in shows before as a dancer and he gave me a part of Violet. I had two scenes. Then in the summer I was with Imogene Coca in Texas. She was doing the Rosalind Russell part. That is how I met her. She used to have so many parties after the show and they were such fun. She suggested that I should go into comedy. So, I went into revues," she said referring to Julius Monk's Four Below and Shoestring Revue of 1957.

The lady with the quick with and sharp mind didn't know the strength of her own abilities.

"I really didn't know that I had a flare for comedy," Goodman insisted. "I did know that I always liked to hear people laugh. But, I didn't know that I could make them laugh until I did."

Influenced by Lucille Ball, Gracie Allen, and Spring Byington, Dody developed her own unique comedic style.



Dody Goodman as Martha Shumway on MaryHartman, Mary Hartman!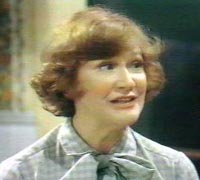 As Mary Hartman's addled mother, on the satiric soap opera for two years - the character who yelled "Mary Hartman! Mary Hartman! - the voice of Dody Goodman resonated as one of the most unusual and distinctive sounds in show business. Of course, Goodman isn't really aware of that, since it's the only voice she has ever had.

"It's normal to me," related Goodman. "Occasionally, I will hear myself on the telephone answering machine when it doesn't shut off fast enough. I think I sound like an old farm lady."

Her ability to sound like a variety of ages and characters makes her a natural for voice over work.

It's a shame that somebody printed she was dead. That obit slowed down the job offers.

"I've been trying to correct that misconception," quipped Goodman.

"I did Alvin and Chipmunks. I did Miss Miller, the chipette's baby sitter. The son of the man who started Alvin and the Chipmunks and his wife liked my voice and they hired me as Miss Miller."

"I went to Spain for some voice over work and then a report came out that I was dead."

What may have caused people to assume Goodman was in the here-after was that by-pass operation.

"I had a by-pass in August, 2001, so I was sort of out of it for almost a year," she admitted. "Suddenly I got very breathless, so the doctor took an X-ray and said there was something there, in one of the heart chambers, and said I would need an operation. I know so many people who have had a by-pass You're not anybody unless you've had a by-pass. It's become a status symbol. I was in my elevator and I was walking with a cane. A man said to me, Oh did you sprain your ankle? I said - No, I had a by-pass. He goes - Oh, my best friend had a by-pass..."

Goodman not only successfully survived the status operation, she is part of the in crowd that has a gym and a trainer.

"I exercise a lot. I have a trainer. I go to place called Body Strength. I do the Pilate's floor class. But the only thing is - the exercises you do to make you strong - you have to be strong to do them! So, it is sort of a Catch 22. But, just getting down on the floor and back up again is a lot of exercise!"

"I'd like to do more voice over work. People say I should do more of that," continued Goodman.



Richard Skipper and Dody Goodman will perform together February 18th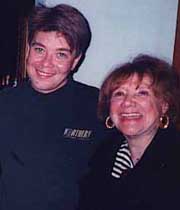 As part of the February 18th Carol's Cabaret Calvacade, Goodman is part of a lineup that includes; Francesca Blumenthal, Shelly Cullin, Michael Mc Quary, Sigrid Sunstedt, Charles Wallritch and Richard Skipper as Carol Channing. Goodman will be singing three songs.

She also hopes there is a part with her name on it in another version of Nunsense.

"I did Nunsense and then I did Nuncracker at Christmas with Jeff Trachta from The Bold and the Beautiful and Mary Ann from Gilligan's Island. We did that in Detroit.



Dody Goodman in Nuncrackers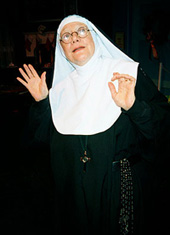 "They have written a third version of Nunsense. It's Meshuggah-Nuns. Somebody has given the nuns a cruise to the Holy Land. On the cruise ship they are doing Fiddler on the Roof. The cast gets sick - all but Tevye. So, the nuns have to put on Fiddler on the Roof. Danny Goggin, the man who wrote it, wants to meet with me, so I hope he has some offer. I just listened to the album again last night."

The multi-faceted performer has also been on the other side of the footlights, writing plays.

She penned, produced and starred in a one-hour documentary film entitled Women, Women, Women!, which takes a comedic look at women's struggles for emancipation; and she wrote a book version of the film, which sold out of two small printings.

She also authored Mourning in a Funny Hat, the story of a widow's struggle to develop an independent lifestyle, which starred Shirley Booth in a stock company tour. Goodman would like to see the play revived.

"Well, the thing is, I had a reading of it a couple of years ago. It was really for backers, but nothing seemed to happen."



Shirley Booth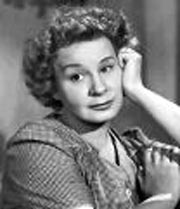 Actually, something did happen - September 11th.

Goodman is hoping that interest will be rekindled.

"It has to have a star that would push it. I don't think it would have ever been done if it hadn't been for Shirley Booth, who was looking for a play," Goodman recalled. "Shirley told this young man that he could produce a play for her if he ever found a play that she liked. And, she liked my play."

"It had a tour of about nine weeks in summer stock. Of course, there are very few summer stock places any more. Paul Newman's wife, Joanne Woodward, has a place in Westport. She would be good in it."

"Mourning in a Funny Hat was about my mother," continued Goodman. "My parents were very modern people. They loved shows. We had a theater in town called the Hartman Theatre. You could get read cheap seats in the balcony. My mother would drag us up there to see plays. I also had a high school teacher that, if anything was very important - Shakespeare - she would take the class. So, it was really very nice going to school in Columbus, Ohio."

"I know the very first time I went to Las Vegas was because my mother wanted to see Elvis. My mother was crazy about Elvis. She really enjoyed the show. She had so looked forward to it, because she had seen him a couple of times on television. A couple of friends drove us there."

"I've been to Las Vegas a couple of times," added Goodman, who delights that she actually hit a jackpot.

"I won!" she exclaimed. "I was playing the quarter machines. I won a $300 jackpot. Of course, you start putting it right back in. There was a man next to me. He said - Are you going to put that right back in? I said - Well, I guess I am. He said - Why don't you go to bed and keep your money. So, I did."

Goodman, who was born in 1915, has lived through numerous military conflicts and remembered her role in World War II.

"There was a shortage of nurses at New York's Bellevue Hospital. My roommate was also a dancer and later went overseas with the Red Cross. The Red Cross was searching for nurses aides. They gave you a course in it. You would learn how to wash the patients, make them comfortable, change their bedding and that sort of thing," she explained.

"Then you helped out at Bellevue. So we did that. We worked on the men's ward. I remember there was a girl who was a stripper. Her name was Margie Hart," said Goodman referring to famed New York City burlesque stripper Margaret "Margie" Hart Ferraro, who was born September 28, 1913 in Edgerton, Missouri and passed away January 19, 2002 in Los Angeles.

"When the patients heard that Margie Hart was there, their mood really improved. They all wanted Margie to wash their face and - ah - feet."

"I have had an interesting career," Goodman reflected. "I am able to go through all of the ages. But, I am alive and I'd like to work."



Broadway To Vegas is supported through advertising and donations. Priority consideration is given to interview suggestions, news, press releases, etc from paid supporters. However, no paid supporters control, alter, edit, or in any way manipulate the content of this site. Your donation is appreciated. We accept PAYPAL. Thank you for your interest.


MABEL MERCER CHICAGO CABARET CONVENTION: WITH A SONG IN THEIR HEARTS
Julie Wilson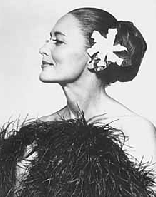 The Second Cabaret Convention opens in Chicago on Valentine's day with two cabaret sweethearts, Andrea Marcovicci and Julie Wilson.

With A Song In Our Hearts serves as the theme for a black tie opening gala at The Empire Room. Fourteen preeminent vocalists will musically celebrate the holiday for all those who are in love, all those who were once in love, and all those who hope someday to be in love.

The four evenings and five completely different programs will feature some of the best cabaret has to offer.



Andrea Marcovicci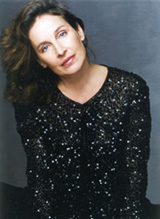 Marcovicci will, at the same time, make her only Chicago performance of the season by bringing to The Park West her new and acclaimed one-woman presentation, So In Love: The Love Songs of Cole Porter, with Shelly Markham as musical director.

On February 15th, 16th, and 17th The Park West will also play host to three additional, completely different cabaret concerts, each featuring at least a dozen exemplary performers. All of them are specialists in the delicate art form of cabaret, bringing to vibrant life the melodies and lyrics that comprise the greatest and best-loved songs of American popular music.

Among those appearing at either The Empire Room or The Park West during the Chicago convention are; legendary jazz artist Barbara Carroll; Rita Gardner, the original "Girl" in off-Broadway's extraordinary The Fantasticks, BJ Crosby the show-stopping Broadway star of Smokey Joe's Cafe and most recently Harlem Song at The Apollo Theatre; Chicago legend Audrey Morris; San Francisco native Denise Perrier; and Avery Sommers fresh from the record-breaking tour of The Best Little Whorehouse in Texas with Ann-Margret.



Mabel Mercer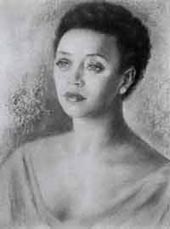 "We're the only music festival of this kind in the world," explained director Donald F. Smith from the New York offices of The Mabel Mercer Foundation - an organization named for the remarkable woman whose musical memory is sustained by the ongoing kind of performance and repertoire to which she dedicated her life.

This is not a merely a cabaret get-together to mutually admire each other. Rather, it's a serious attempt to infuse life into the cabaret business. And that means opening doors for cabaret artists.

Rick Meadows, executive assistant to Smith, also serves as the stage manager for the conventions, spoke with Broadway to Vegas about the event generating interest in cabaret performers. "It seems to have happen for a couple of the artists last year in Chicago. They couldn't get seen by any of the major newspapers when they did their act at Davenports. Then after they appeared at last year's convention they got major press coverage, so that helped."

"There is a young lady that has a company called Cabaret Connections. They have every CD known to man that is put out by these people, which you cannot find in Tower Records or any of the big, major record stores. If your not Andre Marcovecci or Wilson they don't have you music. At the end of the concerts there is a big table with these CD's. People walk out after hearing these people. They enjoyed the music and they buy bags full of these CD's. That is a big help. 90 percent of cabaret stars have CD's," he said referring to a product which is usually self funded.

Staging a cabaret convention involves months of planning and negotiations.

"Chicago has been just delightful both years," he stressed. "It's easier for us this year, because we have already done it. But, as far as last year was concerned, Chicago was heavenly."

More than fifty topflight singers and musicians - both local and international names of supper club and night club entertainment will perform. The entertainers include; Lisa Asher, Judy Barnett, Anna Bergman, Alexandra Billings, Dina Joy Byrd, Chris Calloway, Barbara Carroll, Eric Comstock, Mary Foster Conklin, Brian De Lorenzo, Pamela Sue Fox, Rita Gardner, Francine Griffith, Jeff Harnar, Justin Hayford, Cory Jamison, Lynn Loosier, Shelley Mac Arthur, Sylvia McNair, Anika Noni Rose, Craig Rubano, David Staller, KT Sullivan, Joyce Breach, Jennifer Chada, Mark Coffin, BJ Crosby, Joan Curto, Natalie Douglas, Colleen McHugh, Nan Mason, Audrey Morris, Beckie Menzie, Tom Michael, Patty Morabito, Sidney Myer, Phillip Officer, Karen Oberlin, Georga Osborne, Denise Perrier, Johnny Rodgers, Julie Reyburn, Jeanne Scherkenbach, Spider Saloff, Daryl Sherman, Avery Sommers, Lucia Spina, Kat Taylor, Lumiri Tubo, Paula West and Bobbi Wilsyn.

"We get them (the performers) to Chicago and set them up for the two nights. The night before they sing and the night they sing," explained the New York City based executive.

That means working with different venues.

"They venues all pretty self sufficient," continued Meadows. "It is made easy by the venues." Neither the organization nor the performs come in with trucks of equipment. "No, there is none of that, but we rent the pianos," he continued. "We demand good pianos and they are tuned every day."

"We are going to Palm Springs three weeks later," he continued. "The Cabaret Convention there is March 7-9 at the Annenburg Theatre in the Palm Springs Desert Museum. There will be some of the same talents and some different talents from Palm Springs as well as some different talent from New York"


SWEET CHARITY


PAUL ANKA headlines the Cal Poly Pomona's Founders Celebration 2003: A Notable Night this evening, Sunday February 9.

He will perform at the university's educational support fund- raiser at the Pacific Palms Resort in Industry. Proceeds benefit student scholarships and academic enhancement at Cal Poly.

Television personality Stephanie Edwards will serve as mistress of ceremonies for the event, which will honor those involved with supporting the university's educational mission.

Pacific Palms Resort in Industry, California.

SING FOR A CURSE: A VALENTINE CABARET SALUTE TO RICHARD RODGERS benefits The Amyotrophic Lateral Sclerosis Association Greater New York Chapter, otherwise known as ALS-NY.

The honorees are Good Housekeeping's Ellen Levine and BBDO's Andy Knipe, with a salute to the late Richard Rodgers. Alec Baldwin, Kitty Hart, New School Universities' Bob Kerrey and Sen. Charles Schumer, Marylou Berk, Teresa Hargrave and Faith Lewis are the chairs.

Those taking part include Rebecca Budig, Jeff Correia, Catherine Crosby, Holly Cruikshank, John Dossett, Sandy Duncan, Eric Fennell, Marvin Hamlisch, Sheldon Harnick, Tripp Hornick, Cady Huffman, Peter Jason, Nicholas King, Kathleen Landis, Jose Llana, Andrea Marcovicci, James Naughton, Robert Newman, Marni Nixon, Charles Osgood, Michele Pawk, Dennis Parlato, Dana Reeve, Tony Roberts, Lea Salonga, Tamara Tuni, Phoebe Wadon, Kim Zimmer and the cast of Off-Broadway's Forbidden Broadway. February 10 at The Richard Rodgers Theatre, NYC.

BILLY CRYSTAL HONORED by The American Museum of the Moving Image. Jeffrey Bewkes, Robert De Niro, Michael Ruchs, Jane Rosenthal and Robin Williams co-chair the black tie gala. Kevin Spacey, Jack Palance and a host of Williams fans are expected February 12 at the Waldorf-Astoria.

The American Museum of the Moving Image is dedicated to educating the public about the art, history, technique, and technology of film, television, and digital media, and to examining their impact on culture and society.

It achieves these goals by maintaining the nation's largest permanent collection of moving image artifacts, and by offering the public exhibitions, film screenings, lectures, seminars, and other education programs.

KEVIN SPACEY appointed artistic director of London's Old Vic Theater. The Oscar winner is first American to head the historic 185-year-old theater, once home to Laurence Olivier's National Theater Company. Elton John, chairman of the Trust, which purchased the theater in 1998, announced the appointment. Spacey, 43, has been a member of the board and consultant for the Old Vic Theater Trust since 2000.


SPREADING THE WORD


THE DARK SIDE OF COMEDY Writing for the Theatre is a free panel discussion that takes place Monday, February 10 at the Manhattan Theatre Club Stage I at City Center

Join David Lindsay-Abaire author of Kimberly Akimbo, Christopher Durang who penned Beyond Therapy, David Ives writer of Polish Joke, Wendy Wasserstein of The Heidi Chronicles, and other contemporary playwrights get together for a funny, thought-provoking and entertaining chat about the elusive nature and many faces of modern American comedy.

KIRK CAMERON who was Mike Seaver on Growing Pains, and starred in the Left Behind movies has a new career. He teaches people how to become evangelists. He has teamed up with New Zealand minister Ray Comfort to form Living Waters, which trains Christian people who want to evangelize. Last night (Saturday) they conducted a seminar in Minneapolis. This week they will be attending the religious broadcasters convention in Nashville.



HOUSE OF FLOWERS with music by Harold Arlen, lyrics by Harold Arlen and Truman Capote with a book by Truman Capote. is spotlighted as the 10th anniversary season opener for City Center Encores! Great American Musicals in Concert. This wonderfully lush 1954 musical is set in the French West Indies, marked the Broadway debut of Diahann Carroll.

City Center Encores! Director-in-Residence, Kathleen Marshall, will direct and choreograph.

Set on a tropical Caribbean isle somewhere in the French West Indies during Mardi Gras weekend, the musical is a story of a trade war between two brothels. The music included the songs Two Ladies in De Shade of De Banana Tree and A Sleepin' Bee. In addition to Carroll the original cast included Pearl Bailey, Alvin Ailey, Carmen De Lavallade, Geoffrey Holder, Arthur Mitchell, and Ray Walston. Oliver Messel won the 1955 Tony award for his scenic design of this show.

February 13 February 16.

WEDDING BAND Set in 1918, a young African-American woman's affair with a white man creates tension within her neighborhood. Previews began February 6. Officially opens February 16 with performances through March 30. Steppenwolf Theatre Company, Chicago.

TONY & TINA'S WEDDING Originally produced in New York City by Joe and Dan Corcoran, Tony n' Tina's Wedding is the longest running comedy ever -- 15 years and counting -- playing to sell-out crowds across the USA, and abroad. Brides and grooms with Valentine's Day wedding licenses will be admitted free to see Tony 'n' Tina's Wedding at the Rio Hotel in Las Vegas. In New York the production celebrated the start of its 16th year, February 6. That makes the production Off-Broadway's longest-running comedy and the second longest-running show in Off-Broadway history.

TARTUFFE being thoroughly enjoyed by Kelsey Grammer. If it's hypocrisy, greed and seduction you're looking for, look no further than Moliere's most famous farce. The production stars Henry Goodmann, Smith-Cameron and Brian Bedford directed by Joe Dowling at the American Airlines Theatre, NYC.

ALMA AND MRS. WOOLF by award winning French-Canadian playwright Anne Legault, translated by Daniel Libman with direction by Jim Pelegano will conclude the 15th season of the Blue Heron Theatre. A musical prodigy from Western Canada, Alma Rattenbury (1897-1935) led and intriguing life of celebrity and scandal. Accused of murdering her third husband, a jury in a sensational trial acquitted her. She nonetheless found herself publicly reviled and friendless. In Alma and Mrs. Woolf, Alma finds himself, shortly after her trial, imprisoned in a library reading room with none other than the distinguished British feminist essayist, critic and novelist Virginia Woolf. Joan Grant and Nicole Orth-Pallavicini will portray Virginia Woolf and Alma Rattenbury respectively. The production opens March 7 at the Blue Heron Theatre in NYC.

KIMBERLY AKIMBO by David Lindsay-Abaire. Starring h Marylouise Burke, John Gallagher Jr., Saturday Night Live veteran Ana Gasteyer, Jodie Markell, Jake Weber. Directed by David Petrarca. Presented by the Manhattan Theatre Club, New York City. Lynne Meadow, Artistic Director and Barry Grove, Executive Producer.

David Lindsay-Abaire won the 2001 L.A. Drama Critics Circle Award for Best Playwright for Kimberly Akimbo at South Coast Repertory, which commissioned and originally produced the play. His newest work reunites the playwright with Fuddy Meers' director David Petrarca and one of its stars, Drama Desk Award winner Marylouise Burke.

Set in the wilds of suburban New Jersey, Kimberly Akimbo is a hilarious and heartrending play about a teenager with a rare condition, progeria, which causes her body to age at an accelerated rate. While she is a typical New Jersey high-schooler, her outward appearance is that of an old lady..

When she and her family flee Secaucus under dubious circumstances, Kimberly is forced to reevaluate her life while contending with a hypochondriac mother, a rarely sober father, a scam-artist aunt, her own mortality and, most terrifying of all, the possibility of first love.

The production features Marylouise Burke (Kimberly), John Gallagher, Jr. (Jeff), Ana Gasteyer (Debra), Jodie Markell (Pattie), and Jake Weber (Buddy).

The design team includes Robert Brill (set design), Martin Pakledinaz (costume design), Brian MACDevitt (lighting design), Bruce Ellman (sound design), and Jason Robert Brown (original music).


MAC SALUTES THE GRAMMYS


The Grammy Awards returning to New York is being celebrated with a series of performances highlighting Grammy-winning music of the past half century. Co-sponsored by MAC (Manhattan Association of Clubs and Cabarets) and NARAS (National Academy of Recording Arts and Science, who present the annual awards show), the series will feature different performances in various clubs and venues throughout New York during the week of February 8 15.

THE DUPLEX CABARET THEATRE will present a program with an emphasis on Grammy-winning Broadway cast albums. Featured will be tunes from such celebrated Broadway musicals as Hair, Les Miserables, Funny Girl, Godspell, Into the Woods, Aida, Passion, Dreamgirls, Ain't Misbehavin', Guys and Dolls, Chicago and more.

The cast of the Duplex program includes a cross section of New York's most respected and recognizable cabaret performers, including: Lisa Asher, Bobby Belfry, Kristy Cates, Brandon Cutrell, Barbara Fasano, David Gurland, Maria Gentile, Leslie Kritzer, Robin Lyon, Craig Rubano, Marcus Simeone, and Walker Vreeland. Monday, February 10 at The Duplex Cabaret.

WEST BANK CAFE 7-time MAC award recipient Jamie deRoy & friends sing Grammy hits of the past 40 years. Featured performers include special guest 1990 Grammy Award-winner Julie Gold, The Accidentals, The Rio Clemente Trio, Eric Michael Gillett, Rick Jensen, Jenifer Kruskamp, Heather Mac Rae, Teri Lynn Paul, Chuck Sweeney, and Melanie Vaughan. Directed by Barry Kleinbort and music directed by Lanny Meyers. February 15th at the West Bank Cafe's Laurie Beechman Theater, NYC.


WHO'S WHERE


A VALENTINE'S DATE WITH KRISTIN CHENOWETH all 4-feet-11-inches, 93-pounds of her, performs as part of the Kennedy Center's National Symphony Orchestra's Pops series. Marvin Hamlisch conducts. February 13-15. Washington, D.C.

In March, Chenoweth begins rehearsals for a new Broadway musical Wicked, a novel take on The Wizard of Oz, seen from the witches' point of view. Chenoweth stars as Glinda the Good.

CAROL'S CABARET CAVALCADE starring Richard Skipper as Carol Channing with Michael Lavine on piano. Carol's 42nd birthday bash for Richard featuring Glen Charlow, Joan Crowe, Gerta Grunen, Sue Matsuki, Georga Osborne, & Vickie Phillips. Richard Skipper is 21 - again. "Yes," he laughed. "I'm going to be 42, so that does make me 21 again," he answered when Broadway To Vegas kidded him about getting older. An Aquarius, he blows out the candles during the run of Carol's Cabaret Cavalcade, in which Skipper as Carol Channing hosts a different group of talents. Displaying a have-fun-with-it attitude, Skipper is doing just that.

"It's a running gag throughout the show. The performers come on and ask about Richard Skipper," he explained about the set up that then leads the singers into an age related number. "I've asked each of the performs to do a song having to do with age. So, it going to be a running gag. Gerta Grunen and I do Almost Young from Mrs. Santa Claus. And then one of the songs that she does is I'm Young and Healthy. Glen Sharlow and I are doing Hey, Look Me Over. So, we have this running gag throughout the evening.

Performers February 11 include; Glen Charlow, Joan Crowe, Gerta, Grunen, Sue Matsuki, George Osborne and Vickie Phillips.The Triad Theatre, NYC.

REGIS PHILBIN on stage at the EXF Theatre at the MGM-Grand Hotel, Las Vegas February 15-16.

TONY DANZA performing Valentine's weekend - Friday and Saturday at the Belterra Casino in Vevay, Indiana.

PAT BOONE that April Love guy, opens Wednesday at the Mohegan Sun Casino in Uncasville, Conn, singing about those Love Letters in the Sand, in an engagement running through Sunday.

BILL COSBY is the Valentine offering at the Paramount Arts Center in Aurora, Illinois. On Saturday he's telling stories at the Emens Auditorium in Muncie, Indiana.

GEORGE WINSTON performing Monday at the Empire Theatre in San Antonio, Texas. On Wednesday he's on stage at the Wortham Theater Center in Houston and he'll be singing for lovers Friday, February 14 at the Centroplex Theatre in Baton Rouge, Louisiana.

DIANE SCHURR opens a six night engagement Tuesday at the Dimitriou's Jazz Alley in Seattle, Washington.

SWEET HONEY IN THE ROCK on stage Valentine's Day in Savannah, Georgia at the Baptist Church. On Saturday they perform at Spellman College in Atlanta, Georgia and next Sunday are in the spotlight at the Davis Theatre in Montgomery, Alabama.

MICHAEL FEINSTEIN singing songs romantic and otherwise next Sunday at the Lobero Theatre in Santa Barbara, California.

WILLIE NELSON opens Valentine's Day at Harrah's Tahoe at Lake Tahoe. He'll be singing You Were Always On My Mind through Sunday.

CREEDENCE CLEARWATER REVISITED is the Valentine offering of the Santa Ana Casino in Bernalillo, New Mexico. Friday, February 14.

LYLE LOVETT on stage Thursday at the Luther Burbank Center in Santa Rosa, California.

BETTY BUCKLEY February 14 at the Bottom Line in New York City.

LIZ CALLAWAY February 14-15 in Stephen Schwartz and Friends at the Edison Theatre at Washington University in St. Louis, Missouri.

BARBARA COOK February 14-16 at the Byham Theater in Pittsburgh, PA.

LINDA EDER February 14 at the Proctor's Theatre in Albany, New York.

MAUREEN McGOVERN February 14-16 at the Marcus Center with the Milwaukee Symphony Orchestra, Milwaukee, Wisconsin.

GLADYS KNIGHT and The Commodores on stage Friday, February 14 at the Universal Amphitheatre Located in Universal City, California.

ALICE RIPLEY AND ROBERT EVAN in an evening of Broadway Romance. A mix of theatre tunes backed by the Alabama Symphony Orchestra. February 14 at the Shades Mountain Baptist Church in Vestavia Hills, Alabama.

JOHN McDANIEL makes his solo New York cabaret debut at Joe's Pub. He'll perform February 15 and 16.

CASSANDRA WILSON with Brandon Ross on guitar, Jeff Haynes percussion, Calvin Jones bass and Gregoire Maret harmonica. Celebrate Valentine's Day with the bluesy, down-home artist Time Magazine named "America's Best Singer." February 13 - February 16 The Jazz Standard in New York City.

VIENNA BOYS CHOIR February 10 at the Van Wezel Performing Arts Center in Sarasota, Florida. On February 11 the show is in the Ruth Eckerd Hall in Clearwater, Florida. On the 13th they can be enjoyed at St. Patrick's Church in Fayetteville, North Carolina. The Valentine's Day show is in Danville, Virginia at George Washington High School.

THE JUILLIARD STIRNG QUARTET performs works by Mozart, Schiller and Beethoven at 8 p.m., Alice Tully Hall, on February 11.


PIFFLE AND PROFUNDITIES


THE RIVIERA HOTEL'S WEDDING CHIP On February 14, for the 2nd year, the Riviera will issue its Wedding Chip - and a few days later - its Divorce Chip.

According to the hotel's publicity director John Neeland; "If it goes anything like last year, the chips will be gone at the end of the day and they'll be trading on eBay the following weekend."
















Next Column: February 16, 2003
Copyright: February 9, 2003. All Rights Reserved. Reviews, Interviews, Commentary, Photographs or Graphics from any Broadway To Vegas (TM) columns may not be published, broadcast, rewritten, utilized as leads, or used in any manner without permission, compensation and/or credit.
Link to Main Page
---
Laura Deni


CLICK HERE FOR COMMENT SECTION