! >
Broadway To Vegas
  
 SHOW REVIEWS CELEBRITY INTERVIEWS GOSSIP NEWS

| | |
| --- | --- |
| | |
MAYOR MOSCONE'S DIRECTOR SON JONATHAN MOSCONE SKIPS MOVIE WRITES OWN PLAY - -FIRST COMPLETE RECORDING RODGERS & HAMMERSTEIN'S ALLEGRO - - GETTING MARRIED AT MADAME TUSSAUD - - MUSICAL MINSKY'S OPENS AT THE AHMANSON IN LOS ANGELES - - KATHARINE HEPBURN THEATRE HAS FULL SUPPORT OF HER ESTATE - - PROMINENT LAS VEGAS ATTORNEY ON MADOFF RIP-OFF LIST - - PRESIDENT AND MRS. OBAMA HAVE DATE NIGHT AT KENNEDY CENTER - - JAMES WHITMORE DIES - - DONATE . . . Scroll Down


Copyright: February 8, 2009
By: Laura Deni

CLICK HERE FOR COMMENT SECTION
KATHARINE HEPBURN THEATRE ON TRACK DESPITE A NEGATIVE REVIEWED ECONOMY
The building which will become the Katharine Hepburn Cultural Arts Center was declared a historical landmark on September 9, 2007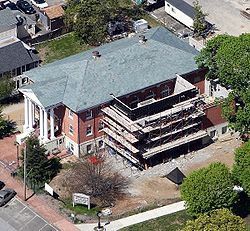 Attention Kate-o-philes - despite an economy that has theaters posting closing notices, The Katharine Hepburn Cultural Arts Center is on track for opening in Old Saybrook, Connecticut.

It is the only theatre named for Katharine Hepburn, the 4-time Academy Award winning actress.

The building, in which the venue will be housed, is circa 1910 and is on the National Register of Historic Places. The theatre has the full backing of the Hepburn Estate and the actress's family. Cynthia McFadden of ABC News, an executor of the Hepburn Estate, is an honorary capital campaign committee member. Hepburn's brother-in-law, Ellsworth Grant, is currently instrumental in helping the Board of Trustees honor the iconic actress with his knowledge of Hepburn and her family. Grant is an author and former Mayor of West Hartford, Connecticut.

A Tennessee native, Chuck Still was appointed the first executive director of the Katharine Hepburn Cultural Arts Center and Theater, by a unanimously vote from the 10-member board, after a nationwide search led by Albert Hall & Associates of Hartford. He was selected from a pool of more than 40 candidates from across the country.



The venue is a 12,753-square-foot space, with 24-foot-high ceilings. 12-foot-tall Palladian windows line the walls.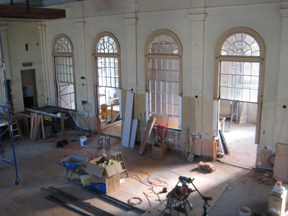 Prior to this appointment Sill served 10 years as executive director of the Riverside Theater in Vero Beach, Fla., where he led the campaign to raise $23 million and converted the tiny arts center into one of Florida's premier performance theaters. Before that he was managing director of the Merrimack Repertory Theater in Lowell, Mass., and served as head of the Berkshire Theater Festival in Stockbridge, Mass.

Sills provided Broadway To Vegas with a construction update.

"At present, the Town of Old Saybrook is anticipating receiving a Certificate of Occupancy by the beginning of May. After that, the Board of Trustees will take occupancy of the building and finish transforming it into a theatre, add lighting equipment, sound equipment, risers and seating. We are hoping for performances sometime in the summer," reported Sill a graduate of Davidson College in North Carolina.

It all started in September 2005, when Old Saybrook residents approved spending $2.6 million to renovate the building - known as the Old Town Hall, where Ethel Barrymore once performed - into a theater. Then two rounds of bids for the job came in higher than expected and the project was postponed. In March 2007, voters approved a $2.98 million bond. The rest of the money would come from grants and donations.

Over 100 people attended the groundbreaking ceremony which took place during those sorely missed economic good times.

Since then both the economy and the construction crews have faced setbacks, including unexpected renovation structural problems that had to be fixed. When workers dug in under the theater, they found out a good portion of it didn't have proper support, so a foundation had to be built.

Last December construction workers hoisted white columns onto the terrace above the future entrance.

"Fundraising for these items continues," added Still. "To date, we've raised some $1.466 million of the $1.7 million we need to raise. We still have a ways to go but remain confident we will make it."

When opened the theater will be able to accommodate 268 people on its upper level for live theatrical performances, children's theater, films, musical concerts, and lectures. Its lower level will feature memorabilia of the legendary Fenwick actress and history of the 1911 building which once housed town offices.

In addition to live performing arts, the theater will show movies, a plus for the town since Old Saybrook doesn't have a movie theater.

Artists, musicians, writers, actors and comedians from throughout New England and the New York area have already contacted Still about performing at the theater. Still has also had discussions with area symphony orchestras, the Metropolitan Opera in New York and authors in New Hampshire about a possible lecture series.

"We are planning a grand opening gala in October of 09," promised Sill.

Old Saybrook officials predict that the year-round theater will be "a major economic generator" encouraging visitors to patronize shops and restaurants.


FROM PAINTINGS IN A COURTROOM TO THE MOVIE MILK: HEADLINES AND PRODUCTIONS INTERTWINE


When headlines and productions meet, something interesting usually happens.

In the cast of A Picasso being mounted at San Jose Repertory Theatre the parallel universes involve the subject matter - a painting - and the director.

Director Jonathan Moscone is the son of the legendary San Francisco Mayor George Moscone who was assassinated along with Harvey Milk. That event is the subject of Milk, the flick directed by Gus Van Sant, stars Sean Penn as the groundbreaking gay politician Harvey Milk and Emmy-nominated actor Victor Garber as George Moscone.

The film received 8 Academy Award nominations including Best Picture.

Director Moscone, who has a master's degree in directing from Yale University, is in his ninth season as artistic director of the California Shakespeare Theater in Orinda. He's told the press that he has no plans to see the movie, explaining that seeing his father's assassination recreated on film is still too much for him.

On November 27, 1978 Dan White (played in the movie by Josh Brolin), a former cop, firefighter, and city supervisor, shot and killed George Moscone and then-Supervisor Harvey Milk in their City Hall offices. Jonathan did visit the movie set during filming at SF City Hall and met with Garber, presenting the actor with one of his father's ties - one of the few personal items of his father that Jonathan owns.

The artistic director, who was 11 years old when his dad became mayor and was 14 when he died, is collaborating with Tony Taccone, artistic director of Berkeley Rep, to write a play about his relationship with his father as part of the Oregon Shakespeare Festival's American Revolutions, a cycle of 37 plays about historical American figures.

In the meantime, he is currently helming A Picasso - with a plotline also making headlines.

Penned by Jeffrey Hatcher, the production stars James Carpenter as Pablo Picasso and Carrie Paff as Miss Fischer.

It's Paris, a city renowned for its artistic freedom. But it's 1941 and the German occupation has established a paranoid culture at its most oppressive.



(l to r) Miss Fischer (Carrie Paff) lights Pablo Picasso's (James Carpenter) cigarette in San Jose Repertory Theatre's production of A Picasso. Photo credit: Pat Kirk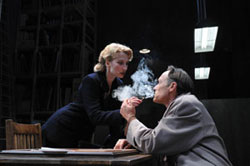 Pablo Picasso has been brought to a storage vault to authenticate three paintings that have recently been "acquired" by the Germans.

The beautiful, mysterious and art obsessed Miss Fischer, an adjunct to the Ministry of Culture in Berlin, has the arduous and compelling task of interrogating the man who painted Guernica. When the true purpose of Miss Fischer's mission is revealed, an intense and passionate game of cat-and-mouse ensues.

This provocative and witty play, by one of America's most widely produced playwrights, sizzles under the scrutiny of art, politics, sex and censorship, as the artistic genius is forced to justify his creativity.

Real life headlines were made this past week because of the claim by Jewish scholar Julius Schoeps that his great-uncle had been forced to sell Le Moulin de la Galette and Boy Leading a Horse in Nazi Germany. The trial was set to start in Manhattan last Monday.



Le Moulin de la Galette by Renoir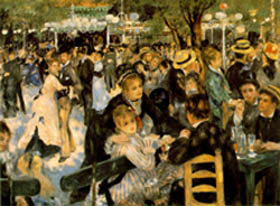 In what almost amounts to a court house steps settlement, lawyers for the Museum of Modern Art, the Guggenheim and Schoeps told the court the dispute had been settled. Judge US District Judge Jed Rakoff had declared that the family of Paul von Mendelssohn-Bartholdy, who died in 1935, had produced enough evidence that the paintings had been sold under Nazi duress for the case to go to trial. Gregory Joseph, a lawyer for the museums, promised: "There will be complete peace between the museums and the Mendelssohn-Bartholdy and other heirs. The paintings will remain in the museums."

He added that the settlement's "dollar amount" would remain confidential. Judge Rakoff strongly urged both sides to release terms of the settlement. He opined that the heirs invoked "the weight of history on their behalf," and it would be "extraordinarily unfortunate that the public would be left without knowing what the truth is."

He gave both sides 30 days to explain why the settlement should remain confidential. The two paintings, which both date from the early 1900s, were sold to the Jewish art dealer Justin Thannhauser in 1934 or 1935. Thannhauser fled Germany for Switzerland where he remained for much of the war.

He sold Boy Leading a Horse to former MoMA chairman William Paley in 1936, who gave it to MoMA in 1964. He kept Le Moulin de la Galette until 1963, when he gave it to the Guggenheim museum. The museums had denied that the paintings were obtained under duress.

The play A Picasso has performances through February 11 at San Jose Repertory Theatre, San Jose, CA.


THE MUSIC GOES ROUND AND ROUND


ALLEGRO is a musical which didn't quite succeed, having opened to mixed reviews in 1947 and playing only 315 performances. However, Richard Rodgers pleaded: "Of all the musicals I ever worked on that didn't quite succeed, Allegro is the one I think most worthy of a second chance."

And so, in an ambitious effect, the first complete recording of Rodgers & Hammerstein's Allegro has been released by Sony Masterworks Broadway. Music by Richard Rodgers. Lyrics by Oscar Hammerstein II.

The all star studio cast includes: Laura Benanti, Norbert Leo Butzm Liz Callaway, Nathan Gunn, Judy Kuhn, Audra McDonald, Marni Nixon and Patricia Wilson. Those names alone are enough to make people jump to by this 2- set CD.

If the included 80-page booklet were a bit larger that the size needed to fit inside a CD cover, the picture perfect glossy would sell on its own merit as a coffeetable book.

A musical effort which should be both enjoyed as well as studied - wonderful photographs accompany a history of Allegro; comments Stephen Sondheim made before the first performance of the Encores! Allegro presentation in March 1954 plus an article by Ted Chapin. There is even a 12-page section featuring photographic moments from the recording session captured by noted Broadway snapper Carol Rosegg. The book contains the complete text of this recording. While all major music cues are included, the libretto has been abridged.

Produced by David Lai, Bruce Pomahac and Ted Chapin, the cast of stars from the worlds of Broadway and opera was assembled for this unprecedented studio recording. Featured on the CD are Patrick Wilson as Joe Taylor, Jr.; Nathan Gunn and Audra McDonald as Joe's parents; Marni Nixon as Joe's Grandma; Judy Kuhn as Beulah; Liz Callaway as Emily; Laura Benanti as Jennie; and Norbert Leo Butz as Joe's best friendm Charlie.

An excellent explanation of the original musical is provided with the CD. "Allegro tells the story of an earnest country doctor, Joseph Taylor, Jr. and follows his life from cradle to adulthood. His journey - both literal and moral - spans from small town to big city, and back again. The score is unconventional; fragments of song move in and out of the action like passing thoughts; melodies flit by in one scene only to take hold and blossom in the next. Major songs are given to minor characters, while the central character has comparatively little solo work. A chorus provides spoken commentary and sings aloud inner thoughts. Original director/choreographer Agnes deMille's extended ballet sequences are reflected in intriguing orchestral pieces."

Larry Blank conducts the 50-piece Istropolis Philharmonic Orchestra, featuring the original orchestrations by Robert Russell Bennett and dance arrangements by Trudie Rittmann. Bruce Pomahac is the musical director and Ben Whiteley is the choral director - with choral arrangements by Crane Calder.

Recorded and mixed by Isaiah Abolin Edited and mastered by David Lai The Istropolis Philharmonic Orchestra recording coordinator was Donald Oliver. Concertmasters; Viktor Simcisko and Stefan Filas.

A singing chorus is used throughout the show to interpret the mental and emotional reactions of the principal characters, very much like a Greek chorus. There is commentary and songs by characters, that have died during the show.

Disc 1
l. Overture featuring the Istropolis Philharmonic
2. Opening (Joseph Taylor, Jr) Nathan Gunn: Audra McDonald
3: I know It Can Happen - Marni Nixon
4: Pudge Legs - Chorus
5: Dialogue - One Foot, Other Foot - Marni Nixon; Audra McDonald
6: One Foot, Other Foot - Chorus
7: Children's Dance - Children's Chorus
8: Grandmother's Death - Marni Nixon; Nathan Gunn and Audra McDonald
9: Winters Go By - Marni Nixon
10: Dialogue - Poor Joe by Laura Benanti
11: Poor Joe - Laura Benanti
12: Diploma - Chorus
13: A Fellow Needs A Girl - Nathan Gunn; Audra McDonald and Patrick Wilson
14: Freshman Get Together - Patrick Wilson
15: Dream Sequence - Istropolis Philharmonic Orchestra
16: Pas de Deux - Istropolis Philharmonic Orchestra
17: End of college Dance - Patrick Wilson
18: Wildcats - Chorus
19: Jennie Reads Letter - Laura Benanti
20: Scene of Professors - Laura Benanti; Norbert Leo Butz and Patrick Wilson
21: So Far- Judy Kuhn
22: You Are Never Away - Patrick Wilson
23: You Are Never Away (Encore) - Patrick Wilson
24: Dialogue - Poor Joe (Reprise) Patrick Wilson
25: Poor Joe (Reprise) Chorus
26: Marjorie's Death - Istropolis Philharmonic Orchestra
27: What A Lovely Day For A Wedding
28: It May Be a Good Idea - Norbert Leo Butz
29: Finale Act I - Marni Nixon, Audra McDonald, Laura Benanti, Patrick Wilson, Schuyler Chapin, Galen Guengerich, Ashley Brown, Norbert Leo Butz, Danny Burstein

Disc 2
1. Entracte- Istropolis Philharmonic Orchestra
2 Opening Act II Istropolis Philharmonic Orchestra
3 Money Isn't Everything Laura Benanti; Ashley Brown, Cathy Morath; Maureen Brenna, Judy Blazer
4 Dance (Money Isn't Everything) Istropolis Philharmonic Orchestra
5: Dialogue - Poor Joe (Second Reprise) Laura Benanti' Patrick Wilson
6: Poor Joe - Chorus
7: You Are Never Away (Reprise) Laura Benanti and Patrick Wilson
8: A Fellow Needs A Girl (Reprise) Patrick Wilson, Nathan Gunn, Audra McDonald
9: Yatata - Chorus; Norbert Leo Butz, Georgia Osborne, Patrick Wilson
10: The Gentleman Is A Dope - Liz Callaway
11: Dialogue - Allegro - Patrick Wilson and Norbert Leo Butz
12: Allegro - Norbert Leo Butz, Patrick Wilson, Liz Callaway
13: Allegro Ballet - Istropolis Philharmonic Orchestra
14: come Home - Audra McDonald; Nathan Gunn
15: Finale Ultimo - Harvey Evans, Patrick Wilson, Marni Nixon, Norbert Leo Butz, Liz Callaway, Stephen Sondheim and Chorus



Broadway To Vegas is supported through advertising and donations. Priority consideration is given to interview suggestions, news, press releases, etc from paid supporters. However, no paid supporters control, alter, edit, or in any way manipulate the content of this site. Your donation is appreciated. We accept PAYPAL. Thank you for your interest.


ART AND ABOUT


VALENTINE TO TIMES SQUARE This Valentine's Day, millions of New Yorkers and tourists looking for love in the big city need look no further than the Crossroads of the World, as the Times Square Alliance unveils Valentine to Times Square a new temporary sculpture at the foot of the sleek red glass steps on the newly-redesigned Father Duggy Square. The sculpture will be on display from February 13th to February 22nd.

Just in time for Valentine's Day, the Alliance commissioned Gage.Clemenceau Architects to create a new work of art for Times Square that celebrates the uniqueness of its home. The sculpture employs cutting-edge design and fabrication technology, making it the perfect symbol of romance for the scintillating high-tech environment of Times Square. While the design of the heart is the work of Gage/ Clemenceau Architects, the production involved one hot-rod car design company, several robotic metal-cutting robots, an Ivy League University, a concert lighting expert , a graphic designer, a copywriter, a sculptor, and over 350 square feet of a material typically used for kitchen countertops.

"Times Square has always been a place where tradition and technology meet," said Times Square Alliance President Tim Tompkins. "Gage / Clemenceau Architects unite this contradiction with a creative use of cutting edge technology reflective of today's Times Square."

"With all that's going on in the world, we were overjoyed by the prospect of creating something where we can spread a little love," said designer Mark Foster Gage. "Valentine to Times Square speaks to our love of Times Square and New York City - frenetic, ever-changing, colorful and always fascinating."

To be part of the lights of Times Square, the designers utilized a reflective surface and changing LED lighting. Computer driven lasers cut the metal sheathing into a delicate latticework pattern. Inside, shelves of horizontal luminescent acrylic pulse in reds, pinks and purples.

"By using the latest in new materials and tools from a variety of companies such as DuPont's translucent Corian, 3D software from Autodesk including AutoCAD and Maya, and new robotic fabrication technologies used by companies such as Evans & Paul and Milgo Bufkin, the heart itself is a carefully calibrated mix of material and lighting effects," said designer Marc Clemenceau Bailly.

LOVE AND MARRIAGE IN RENAISSANCE FLORENCE: THE COURTAULD WEDDING CHESTS on view at The Courtauld Gallery, Somerset House, London, from February 12 to May 17, 2009, is the first exhibition in the United Kingdom devoted to these important objects. Historically, they have been underestimated by art historians because they straddle the modern division between the fine and decorative arts. However, they offer a unique insight into the values of Renaissance Florence and how family life was lived in its palaces.

In 1471 Lorenzo di Matteo Morelli, a Florentine patrician aged about 30, married Vaggia di Tanai Nerli, the daughter of another wealthy Florentine. The following year he commissioned a pair of splendid wedding chests to commemorate this event. Now part of The Courtauld Gallery, Lorenzo Morelli's chests are amongst the most important surviving examples of Renaissance furniture and they offer rich insights into art and life in Florence at the height of the city's glory.

Marriage – or the lack of it – was one of the key defining events for most Renaissance Italians. However, a Renaissance marriage had little in common with its modern equivalent. A marriage in fifteenth century Florence was not primarily about love, or even religion. Instead it was a legal contract agreed between the families of the couple, a dynastic alliance informed by wealth, power and prestige. If conjugal love developed between a husband and his wife, that was a bonus, but it was not essential.

Marriage involved huge expenditure both by the groom and by the bride's family. A patrician husband would buy clothes, jewels and textiles for his new wife and would often refurnish his suite of rooms in the family palace. Among the most significant items commissioned at the time of marriage were pairs of richly decorated chests. These large painted and gilded chests, now generally called cassoni, were used to store precious items such as clothes. They were also among the most magnificent and costly items of furniture found in Florentine palaces.

At the heart of this exhibition are the celebrated Morelli-Nerli chests; the only pair of Renaissance Florentine marriage chests to survive with their accompanying painted backboards (spalliere) and to be fully documented. Vaggia Nerli brought with her a sizeable dowry of 2,000 florins, but her husband was responsible for redecorating his rooms to welcome his wife to her new home on the Borgo Santa Croce.

Lorenzo recorded these considerable costs in a surviving document entitled 'My expenses when I took my wife home'. He had the existing bed and lettuccio (daybed) in his camera (chamber) gilded, and commissioned further carved decoration for the lettuccio as well as new curtains for the bed. Almost two-thirds of Lorenzo's substantial decoration expenses (61 large florins) were for the pair of painted cassoni, ordered in 1472, now in The Courtauld Gallery. From the documents, we know that the chests and spalliera panels were constructed by the woodworker Zanobi di Domenico. They were adorned with gilded and painted decoration by the painting partnership of Biagio di Antonio and Jacopo del Sellaio.

Like his contemporaries, Lorenzo placed his cassoni in his chamber. They probably dominated this relatively small but significant space at the centre of the household's activities. Here, the husband and wife would – hopefully – conceive the next generation of their family. Here, too, important guests might be entertained or family discussions held. The cassoni provided the backdrop to the life of the family and their painted decorations were chosen with suitable care, providing both entertainment and instruction.

In an age of limited literacy, these finely painted and beguiling panels were visual storybooks with the power to transport their viewers into a new world, which imaginatively combined past and present. The tales they depicted were drawn from a large pool of familiar stories – the literature and history of ancient Greece and Rome, the Old Testament, and the poetry of Boccaccio and Petrarch.

The exhibition will reflect the extensive subject matter used in cassone painting. This included stories intended to divert and give pleasure to the husband and wife, such as Lo Scheggia's The Meeting of Solomon and the Queen of Sheba (Private Collection). However, they often contained a strong moral message. For example, the pair of paintings by Giovanni Toscani (National Gallery of Scotland and Private Collection) – reunited in the exhibition for the first time in over 150 years – represent a story from Boccaccio's Decameron. For having accused Ginevra falsely of adultery, Ambrogiuolo was punished by being stung to death by bees. The stories chosen for other chests emphasized ideal virtues such as bravery, constancy, obedience and prudence; models which members of a patrician family might strive to emulate.

Paintings for cassoni were also designed to remind Florentines that they were true Renaissance men and women – the Christian inheritors of the virtues of Republican Rome. Lorenzo Morelli chose to decorate his chests with exemplary scenes from Roman history. The main panel of the Nerli cassone, bearing his wife's coat of arms, shows the punishment of the treacherous schoolmaster of the town of Falieri who offered his pupils as hostages to the Romans. Vaggia Nerli was encouraged not to follow his example, but rather to care for her charges – her husband's children – with devotion.

The final section of the exhibition considers the subsequent history of cassoni. Lorenzo Morelli passed his chests to his son, and they remained in the family's possession for over two hundred years as valued memorials of an important marriage. Like many chests they were purchased in the nineteenth century by collectors eager to own objects made during the Golden Age of Lorenzo de' Medici. At this point they were altered so that they conformed to nineteenth-century ideals of the Renaissance. As a result, cassoni are not merely significant Renaissance objects but important material documents of how fashion and taste, and successive generations' interpretations of Renaissance Italy, have changed over the years.




GETTING MARRIED AT MADAME TUSSAUDS - ONLY IN LAS VEGAS
Madam Tussauds' version of Angelina and Brad "witnessing" a wedding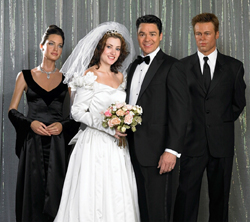 Getting married by an Elvis impersonator has become common place in Sin City. Madame Tussauds decided to ramp it up by offering couples the opportunity to exchange vows among the stars at Madame Tussauds but only at the Las Vegas location. Lovebirds can now be married in the attraction's Chapel of the Dreams, in a setting unlike any other chapel available on the Las Vegas Strip - or anywhere else.

The house of wax promises that "whether it's your first wedding, your 50th anniversary, a commitment ceremony or a vow renewal, with traditional attire, casual dress, or a themed costume, we can create an exciting wedding experience that will give you memories for a lifetime."

While many couples fight over whether to include great Aunt Maude or that drunk cousin Mortimer, on the invite list, at the Las Vegas Madame Tussauds the choices for pretend friends are more red carpet - over 100 lifelike wax figures of Hollywood stars, sports heroes, legendary musicians and world figures that fill the attraction which is located inside the Venetian Hotel
SPREADING THE WORD


BUCKY AND JOHN PIZZARELLI in a one-on-one conversations with music curator and scholar Bob Santelli, Executive Director of The Grammy Museum Bucky Pizzarelli has been playing professional jazz music for over sixty years. His extraordinary skill as a rhythm guitar player places him in the company of great musicians like Freddie Greene and Barry Galbraith. And he has brought forward the great chord solo tradition begun by George Van Eps and Dick McDonough. For many years, Bucky Pizzarelli and guitarist George Van Eps were considered the only guitarists to play the seven-string electric guitar exclusively. John Pizzarelli has followed in the footsteps of his father, by playing the guitar since he was six years old. He started playing alongside his father at age 20, and has since gone on to have a prolific career as a jazz guitarist, vocalist and bandleader. Internationally known for classic standards, late-night ballads, and the cool jazz flavor he brings to his performances and recordings, he also hosts the nationally syndicated radio program Radio Deluxe with John Pizzarelli. Wednesday, Feb. 11, 2009 at The New York Public Library for the Performing Arts at Lincoln Center, NYC.

ON STAGE WITH AUGUST: OSAGE COUNTY FEATURING ESTELLE PARSONS a behind-the-scenes look at the Tony and Pulitzer Prize winning play August: Osage County, with the legendary Estelle Parsons and other members of the cast and creative team in this one-of-a-kind discussion.

Written by Tracy Letts, August Osage County is the tale of a father who disappears, a mother caught in the grip of addiction, a marriage unraveling and a family approaching total meltdown. The candid look at an American family in crisis has been electrifying Broadway audiences with its thrilling story, captivating performances and scathingly intelligent humor. Thursday, February 12, 92Y Tribeca Mainstage, NYC.


SWEET CHARITY


ASPEN MUSIC FESTIVAL AND SCHOOL BENEFIT features Music and Dinner with Joshua Bell On Friday, February 13, violin superstar Joshua Bell will join David Zinman, Music Director Alan Fletcher, President and CEO of the Aspen Music Festival to the annual Winter Benefit, an Evening of Music and Musings. Attendees are promised "a brief performance and Q & A session with Bell, followed by dinner, all in a magnificent private home," of which Aspen has many.


OTHER PEOPLE'S MONEY


MADOFF LISTS INCLUDES NEVADANS

Lyle Berman in the 2005 World Series of Poker. He won at poker, but lost money with Madoff. In 1990 Berman was a co-founder of Grand Casinos Inc., a company that sought to create gambling establishments outside of Las Vegas and Atlantic City. Grand Casinos' Native American casino holdings were spun off into a new company, Lakes Entertainment Inc., and Berman was named CEO. As of 2008 Berman has won over $2,400,000 in live poker tournaments. He was inducted into the Poker Hall of Fame in 2002.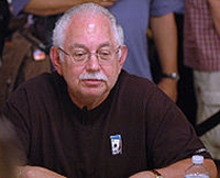 The list of Bernie Madoff clients - thousands of ripped off investors - are now a matter of public record. The names were released on Thursday and they come from all corners of the globe - from Monte Carlo to an address literally located on Main Street in Davenport, Iowa. Having read the entire 162-page list of big-money names in small type, (I gotta get a life) there are celebrities including actor John Malkovich, baseball legend Sandy Koufax and the estate of the late country singer John Denver, Kevin Bacon and his wife Kyra Sedgwick, director Steven Spielberg and CNN talk show host Larry King. There are also several names of Nevada residents, including one which provokes a jaw dropping reaction - legal powerhouse Sam Lionel, a founder of the law firm, Lionel, Sawyer & Collins. He serves as President of the Firm. Lionel is one of the most respected and well-known trial attorneys in Nevada. He has a brilliant mind and common sense - his depth of experience and long record of success at trial continues to serve the Firm's prestigious clients. He is a Fellow of the American College of Trial Lawyers and is listed in Best Lawyers in America for business litigation and for corporate law. His client list includes a who's who of anyone who has needed a legal eagle, including Kirk Kerkorian. Lionel was one of the mouth pieces representing Sheldon Adelson's Las Vegas Sands Corp in September, 2007 when Lionel and co-counsel Rusty Hardin fought to keep sealed pretrial depositions and other business information that they said could put the billionaire's Macau gaming license in jeopardy. Adelson was the first American to open a gaming facility in China, recouping his entire $265 million investment in the Sands Macau one year after it opened in 2004.



Prince Charles was allegedly approached to invest with Madoff by Prince Michael of Yugoslavia at a Polo tournament in 2002 which was also attended by Prince William and Prince Harry. Prince Michael, a distant cousin of Crown Prince Alexander of Yugoslavia, was an investment executive of Access International Advisors, which was a Madoff feeder fund. The Prince of Wales declined.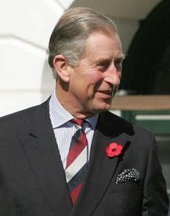 On the released Madoff list, Lionel's involvement is listed as The Lionel Trust Sam Lionel by Sam S. Lionel Trustee, with the law firm address. Another on the list accustomed to making headlines is Lyle Berman who co-founded Grand Casinos which owned the Stratosphere from 1994-1998. Other Nevadans on the list include one from Reno, another from Incline Village, one from Henderson listed with two accounts with two different addresses and 8 from Las Vegas - two with two listings and another with three entries.

Not being suckered into the Madoff web was Prince Charles. According to The Telegraph the heir to the throne was allegedly approached by Prince Michael of Yugoslavia at a Polo tournament in 2002 which was also attended by Prince William and Prince Harry.

Prince Michael, a distant cousin of Crown Prince Alexander of Yugoslavia, was an investment executive of Access International Advisors, which was a Madoff feeder fund. The newspaper claims that Prince Michael who along with Philippe Junot, the first husband of Princess Caroline of Monaco, used to seek investors on the stamping grounds of the rich from the ski slopes of Switzerland to Monte Carlo and the Mediterranean.

But Prince Charles declined to become involved with the fund which was run by Thierry Magon de La Villehuchet, 65, who was found dead in his New York office in December after potentially losing billions.

Among British investors named as "customers" of the alleged fraudster are Lady Rothschild, former wife of Sir Evelyn de Rothschild and a Conservative Party treasurer until 2006, and Lord Jacobs, former owner of BSM and a Tate Gallery donor.

The alleged attempt to involve the Prince of Wales was disclosed in the testimony by the whistle-blower Harry Markopolos in documents prepared for the U S Securities and Exchange Commission. Markopolos told US legislators how he repeatedly tried to inform the Securities and Exchange Commission of Madoff's actions, but was largely ignored.

Madoff admits he lost more than $50 billion belonging to investors.



MINKSY'S Score by three-time Tony Award-winning composer Charles Strouse and Tony-nominated lyricist Susan Birkenhead. The libretto is by Tony Award winner Bob Martin. Original book by Evan Hunter who died in 2005. Directing and choreographing by Tony nominee Casey Nicholaw.

A racy musical comedy set in a time when entertainment was about bawdy comedians and dazzling chorines. It's a world reigned over by the king of burlesque, Billy Minsky - until the day he falls in love and the cops come banging on his door! From the creators of The Drowsy Chaperone and the composer of Annie.

The sassy, sexy, smart, delightfully ditsy musical takes place in the summer of 1930, in and around the National Winter Garden Theatre, Minsky's is billed as a big, racy, romantic musical comedy set in Depression Era New York City. The king of burlesque himself, Billy Minsky (Christopher Fitzgerald), reigns over the rollicking backstage world of Minsky's, where profit margins are as skimpy as the costumes. Billy knows that to keep the customers coming you have to give them legs, laughs and spectacle that pushes the limits, but even he's not prepared for the day he falls in love and the cops come banging on his door. This original musical brings back a golden era of theatre when audiences came to the theatre to laugh at the jokes, ogle the dancers and escape reality for a little while.

Colorful, skimpy costumes, extravagant production numbers, toe-tapping tunes - big laughs. Minsky helped Depression-era audiences shake their blues away and this Minksy's can do the same for today's economy.

Tony-nominated Christopher Fitzgerald plays the title role of Billy Minsky, in this backstage musical about putting on a vaudeville-style burlesque show. When he falls in love with Mary Sumner (Katharine Leonard), a woman as determined as her law-enforcement father to eradicating burlesque, Minksy's entire empire is thrown into jeopardy.



George Wendt and Katharine Leonard photo by Craig Schwartz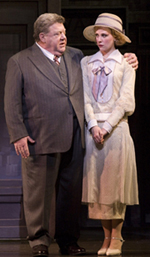 Rachel Dratch photo by Craig Schwartz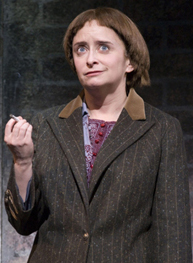 Tony award winner Beth Leavel, co-stars as choreographer Maisie, a role Martin wrote for her.

George Wendt is City Councilman Randolf Sumner who, in attempting to shut down the burlesque show, goes undercover in drag.

Minsky's was first raided for nudity in 1917, which in turn boosted ticket sales. It was that fruit bowl - a 1937 human produce raid - that shut down Minsky's, and by association burlesque, for good. The ending of this musical may be what inspired the girls-romancing-fruit commercial which was pulled from the Super Bowl.

A real life Minsky raid involved a number where a performer removed bananas from her body. The scene was a spoof on a oft produced scene by Ziegfeld in which women shook flower petals off their body. That was considered art by the police. When Minsky substituted bananas the fuzz call the scene obscene.

Scenic design by Tony nominated Anna Louizos. Costumes by Tony Award winning costume designer Gregg Barnes. Lighting design by Tony nominee Ken Billington who has 83 Broadway and 70 off-Broadway shows to his credit. Sound design by Acme Sound Partners. Hair design by Josh Marquette. Casting by Telsey + Company. Technical supervision by Peter Fulbright. Production stage manager Karen Moore. Orchestrations by Tony award winner Doug Besterman. Arrangements by Glen Kelly. Musical direction and vocal arrangements by Phil Reno. The production also stars; Rachel Dratch who plays a drab young woman named Beulah whose father buys her way into Minsky's show, Kevin Cahoon as Buster, Tony nominee John Cariani as Jason Shimpkin, Gerry Vichi as Scratch and Paul Vogt as Boris.



Jennifer Bowles, Jennifer Frankel, Sabra Lewis and Ariel Reid. Photo by Craig Schwartz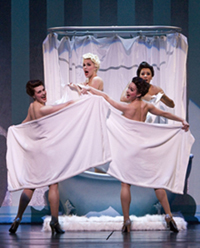 With; Megan Nicole Arnoldy, Nathan Balser, Roxane Barlow, Jennifer Bowles, Kirsten Bracken, Jennifer Frankel, Linda Griffin, Blake Hammond, Philip Hoffman, Stacey Todd Holt, Marc Kessler, Sabra Lewis, Matt Loehr, Ariel Reid, Jeffrey Schecter, Angie Schworer, Sarrah Strimel, Charlie Sutton, Jennifer Werner and Patrick Wetzel.

The Ahmanson is where Bob Martin, the Canadian comic turned Tony-award winning creative genius, premiered The Drowsy Chaperone. That's the musical he co-wrote and starred as Man in Chair, the show's narrator. He called the Ahmanson his lucky theater. With Minsky's he has again caught lightening in a bottle. Seen in previews, this razzle-dazzle production is at the Ahmanson Theatre in Los Angeles through March 1 before taking Broadway by storm.

On Monday, February 9, Charles Strouse will be at Borders in Los Angeles to discusses his incredible body of work, his memoir Put On a Happy Face and the world premiere of Minksy's.

ALVIN AILEY DANCE THEATER performing at the John F. Kennedy Center for the Performing Arts in Washington, DC was the choice for the first "Friday date night" of Barack and Michelle Obama since he was sworn in at the 44th President of the United States. The performance was sold out but that wasn't a problem for the first couple and their friends, since all five theatres in the Kennedy Center have a Presidential box and no one else sits there except the President or his guests. In an interview before his inauguration, the president said he and his wife liked having Friday date nights.

The Alvin Ailey show at the Center's Opera House, (the second-largest theater in the Center, with 2,300 seats) is a celebration of the dance company's 50th anniversary. For its annual Kennedy Center engagement - part of Modern Masters, the Center's celebration of American modern dance - the company presents a week of five mixed programs featuring two new works as well as Ailey favorites. Revelations, Alvin Ailey's signature masterpiece, ends each program.

THE DOG IN THE MANGER by Lope de Vega. Translated and adapted by David Johnston. Directed by Jonathan Munby.

A master of Spain's Golden Age, Lope de Vega explores love, fidelity and class with wry humor in The Dog in the Manger. The haughty countess Diana rejects her many aristocratic suitors only to fall in love with her handsome young secretary, Teodoro. To pursue this forbidden love, Diana must sabotage her suitors, deceive her friends and concoct ever-more elaborate schemes. De Vega balances high tragedy and low comedy, examining the savage whims of the human heart. Jonathan Munby makes his STC debut directing the East Coast premiere of David Johnston's translation of this rarely performed classic. Munby, a frequent director with the Royal Shakespeare Company, has been praised for his "high-octane" productions (The Sunday Times).

The cast includes; Wesley Broulik, Leo Erickson, Michael Hayden, Michelle Hurd, James Ricks, John Livingstone Rolle, David Sabin, Joel David Santner, Miriam Silverman and David Turner.

The creative team includes; Set Design by Alexander Dodge. Linda Cho is the costume designer. Matthew Richards serves as lighting designer. Sound Design by Richard Martinez. Daniel Pelzig is the Choreographer. Ellen O'Brien is the Vocal Coach. Alan Paul serves as Assistant Director. M.William Shiner is Stage Manager and Colleen Martin is Assistant Stage Manager.

February 10, 2009-March 29, 2009. The Lansburgh Theatre, Washington DC.

TIME STANDS STILL a world premiere of a Geffen commissioned play, written by Pulitzer Prize winner Donald Margulies and directed by Tony Award winner Daniel Sullivan.

Featuring Anna Gunn, David Harbour, Alicia Silverstone and Robin Thomas.

She photographs the faces of crumbling nations. He makes their stories national news. Together, chaos was easy. Who know coming home would be so hard? Delve into this powerful story to learn how the slightest shift in perspective can change an entire picture. Time Stands Still focuses around a longtime couple and journalistic team who return to New York from an extended stint in the war-torn Middle East. Sarah, a headstrong visionary, must negotiate re-entry into a domestic realm she no longer recognizes.

Complicating Sarah and James' re-adjustment to domestic life is the appearance of Sarah's one-time mentor and editor Richard, played by Robin Thomas and his new, much younger, and very hot girlfriend, Mandy, played by Golden Globe nominee Alicia Silverstone.

The creative team includes scenic designer John Lee Beatty, costume designer Rita Ryack, lighting designer Peter Kaczorowski, sound designer Jon Gottlieb, production stage manager James T. McDermott and assistant stage manager Jill Gold. This production is the recipient of an Edgerton Foundation New American Plays Award. Performances through March 15 at the Geffen Playhouse, Los Angeles.

THE GREAT TENNESSEE MONKEY TRIAL

Edward Asner as William Jennings Bryan. Photo credit: Annie Appel.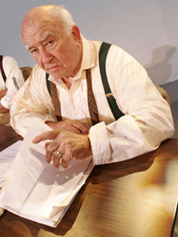 Jerry Hardin as Judge Raulston. Photo credit: Annie Appel.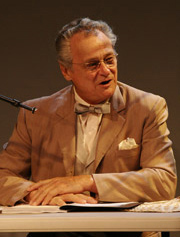 A Radio Play from L.A. Theatre Works Starring Ed Asner as William Jennings Bryan and Jerry Hardin as Kudge John T. Raulston.

Appalachian State University continues its celebration of the 200th anniversary of Charles Darwin's birth and a thought-provoking exploration into the history of the theory of evolution with LA Theatre Works' staged radio produced by Peter Goodchild, based on the original transcripts of the 1925 trial of John Scopes in Dayton, Tennessee, and recounts the nationally riveting court case that championed the right to teach evolution in public schools.

LA Theatre Works is a live in-performance radio theatre series in Los Angeles, featuring leading actors in ten state-of-the-art audio productions a year. Through its weekly broadcasts, LA Theatre Works makes theatre easily accessible to audiences nationwide, with their award-winning, critically-acclaimed radio theatre series, The Play's The Thing. The company's national touring program has expanded the company's mission to provide access to significant works of theatre by audiences nationwide, employing a slightly expanded, staged version of their radio plays that includes costumes and minimal sets. Featuring first-rate casts and live sound effects, these touring productions have delighted and challenged audiences in over 125 small towns and major cities across the nation, providing audiences with an intimate, spontaneous experience rarely felt in traditional theatrical settings.

The radio play features unlikely heroes Clarence Darrow, William Jennings Bryan, H.L. Mencken and John Scopes, who set the stage for an ongoing national debate over the separation of Church and State in a democratic society. Although this conflict of social and intellectual values played out in a rural Tennessee courthouse nearly 80 years ago, the issues at the core of this thought-provoking performance remain unresolved even today.

Wednesday, February 11, 2009 at Farthing Auditorium - Appalachian State University Boone, North Carolina.

THE TRIAL OF THE CATONSVILLE NINE Written by Jesuit priest, teacher, poet and activist Daniel Berrigan. Directed by Jon Kellam.

On May 17th, 1968, two Catholic priests, and seven Catholic activists including a nurse, a nun, an artist and four others all walked into the selective service office Local Board 33, located in the Knights of Columbus building in Catonsville, Maryland, grabbed hundreds of 1-A draft files and burned them with homemade napalm in protest against U.S. involvement in Vietnam.

The publicity and news coverage from the ensuing trial was instrumental in galvanizing the American anti-war movement.

Daniel Berrigan's free-verse dramatization based on the actual records of the trial in which he and eight other defendants were convicted.

"Is there a difference between breaking the law and committing a crime?" asks director Jon Kellam. "Civil disobedience is an inherently American and truly patriotic act."

"The Catonsville Nine were sentenced to a collective 18-20 years in prison for a crime that caused a little more than $100 in damage," Kellam continues. "We claim to be a world leader of moral ideals and human rights, but in what ways have we allowed economic and corporate interests to overshadow that responsibility? These are some of the compelling questions that this play inspires."

The current, fully-staged Actors' Gang production stars Andrew E. Wheeler as Daniel Berrigan; Scott Harris as Philip Berrigan; Chris Schultz as Thomas Lewis; Cameron Dye as David Darst; Corey G. Lovett as George Mische; Patti Tippo as Marjorie Melville; Robert Shampain as Thomas Melville; Paige Lindsey White as Mary Moylan; Ethan Kogan as John Hogan; and Adele Robbins as the Judge.

Set design is by Sibyl Wickersheimer; lighting design is by Jacqueline Reid; costume design is by Susan Dalian; and sound design is by David Robbins.

Influenced by Dorothy Day and the pacifist Catholic Worker Movement, as well as by his experience with the worker-priest movement in France, playwright Berrigan became an early voice of opposition to the war in Vietnam. He was a sponsor of the National Catholic Peace Fellowship and co-founder of Clergy and Laymen Concerned about Vietnam. In 1968 he traveled with Dr. Howard Zinn to North Vietnam to escort home three American prisoners of war. Seeing the effects of bombing and napalm on the Vietnamese people further motivated his antiwar activity, including his participation in the Catonsville Nine event. After Catonsville, Berrigan spent several months underground and after his capture, 18 months in prison. Berrigan has continued peace activism as a member of the Plowshares movement and has been arrested frequently for his protest actions. He lives today in Manhattan where he continues to teach, write and work for peace. The Trial of the Catonsville Nine opens on Saturday, February 14 with performances continuing through March 21 at The Actors' Gang in Culver City, CA.

ENGLAND PEOPLE VERY NICE a new play by Richard Bean. Directed by Nicholas Hytner.

A riotous journey through four waves of immigration from the 17th century to today. As the French Huguenots, the Irish, the Jews and the Bangladeshis in turn enter the chaotic world of Bethnal Green, each new influx provokes a surge of violent protest over housing, jobs, religion and culture. And the emerging pattern shows that white flight and anxiety over integration is anything but new.

"Fucking Frogs! My grandfather didn't die in the English Civil War so's half the population of France could come over here and live off the soup! "

Written with scurrilous bravura, Richard Bean's great sweep of a comedy follows a pair of star-crossed lovers amid cutters' mobs, Papists, Jewish anarchists and radical Islamists across four tempestuous centuries.

"Irish and Jewish, that's the worst mix. You end up with a family of pissed up burglars run by a clever accountant."

Starring: Philip Arditti, Jamie Beamish, Paul Chequer, Olivia Colman, Rudi Dharmalingam, Sacha Dhawan, Hasina Haque, Tony Jayawardena, Trevor Laid, Elliot Levey, Siobhan McSweeney, Neet Mohan, Aaron Neil, Sophia Nomvete, Daniel Poyser, Claire Prempeh, Fred Ridgeway, Avin Shah, Sophie Stanton, Michelle Terry, David Verrey and Harvey Virdi.

Production credits: Designer: Mark Thompson. Director of Animation: Pete Bishop. Lighting Designer: Neil Austin. Composer: Grant Olding. Choreographer: Scarlett Mackmin. Fight Director : Terry King. Sound Designer: John Leonard.

Opens February 11 at Royal National Theatre, London.

UNLEASHED! THE SECRET LIVES OF WHITE HOUSE PETS a world premiere Kennedy Center co-production with the White House Historical Association. Written by Allyson Currin. Directed by Nick Olcott.

Young Alastair's father has just been elected President, so she and Tipp her jittery Chihuahua are moving into the White House. When their new celebrity status begins to overwhelm them, wise old usher Max takes them on a hilarious journey back in time to meet other First Kids and their pets! Pretty soon, they're rubbing elbows with a couple of Texas hounds, a grandmotherly spaniel, and more White House mutts. But some unexpected personalities pop up too, including a voracious Cajun alligator, some country-bumpkin goats, a stuffy mocking bird, a well-mannered bovine, and even a garter snake! Gathering advice from them all, Alastair learns the power of friendship, courage, and responsibility in this third installment from the Kennedy Center's co-commissions with the White House Historical Association.

Jan 30 - Feb 22, 2009 Kennedy Center for the Performing Arts, Washington, DC.

FEVER THE MUSIC OF MISS PEGGY LEE stars Lezlie Anders, the legendary singer/musician Buddy Greco and The Benny Goodman Tribute Band in a stage musical featuring the songs made famous by Miss Peggy Lee during a career spanning more than 60 years. Anders and Greco developed this show while living in Las Vegas. The sultry Anders is a perfect fit for the iconic Peggy Lee. The Annenberg Theater, February 14 and 15, 2009. Palm Springs, CA.




WHO'S WHERE


PATTI AUSTIN brings a fresh twist to Gershwin with an adventurous big band rendering of his songs, celebrating the essential Gershwin-jazz connection. Winner of a 2008 Grammy for Avant Gershwin, Austin will be accompanied by the Big Phat Band. Friday, February 13, 2009, Walt Disney Concert Hall, Los Angeles.

ANITA BAKER will be making hearts flutter with her singing in a two night gig, February 13-14, at Radio City Music Hall in NYC.

ST LOUIS SYMPHONY presented Broadway Valentine on February 15, 2009. Ain't love grand? Especially as it's expressed in this concert of fantastic Broadway show tunes by George Gershwin and Leonard Bernstein. Orli Shaham plays Gershwin's scintillating piano concerto, with her husband David Robertson conducting.

CHRISTINE EBERSOLE had added eight shows to her current engagement which has been extended through February 14 at Cafe Carlyle in NYC.

MOTLEY CRUE on stage Tuesday, February 10, at the Qwest Center in Omaha. On Wednesday the show is at the iwireless Center in Moline, IL. Friday finds them at the Van Andel Arena in Grand Rapids, Michigan and in Saturday they'll be in the spotlight at the Alliant Energy Center Memorial Coliseum in Madison, WI.

JOHN LEGEND headlines the Apollo Theater in NYC on Monday, February 9. On Friday he's at the Fantasy Springs Resort in Indio, CA.

ASHFORD & SIMPSON They wrote songs for countless R&B legends, from Ray Charles to Diana Ross. They put the fire in Marvin Gaye and Tammi Terrell's classic duets, Ain't No Mountain High Enough and You're All I Need to Get By. The songwriting team of Nickolas Ashford and Valerie Simpson is a partnership of love that's produced some of the greatest romantic works of the '60s and '70s, and this special Valentine's Day concert will make your heart skip a beat. Saturday, February 14, South Orange Performing Arts Center in South Orange, NJ.

JAY LENO telling funny stories February 13-14 at the Mirage Hotel in Las Vegas.

BILLY JOEL singing his hits Valentine's Day evening at the MGM Grand in Las Vegas.

CHRIS ISAAK center stage February 13-15 at The Orleans in Las Vegas.




FINAL OVATION


JAMES WHITMORE the Tony and Emmy award wining actor died Friday, February 6, 2009 of lung cancer. He was 87.

Born in 1921 in White Plains, N.Y., he graduated from Yale where he was a member of Skull and Bones. After serving with the Marines in the South Pacific, he studied at the American Theater Wing under the G.I. Bill, living on $20 a week and rooming with another hopeful actor, Jack Warden.

After a season in summer stock in New Hampshire, Whitmore returned to New York where he made his Broadway debut as Sergeant Harold Evans in Command Decision. He was awarded a Tony for outstanding performance by a newcomer.

Whitmore's first major movie was Battleground and Whitmore was nominated for the Academy Award for Best Supporting Actor.

The monologues of Harry Truman, Will Rogers and Teddy Roosevelt brought Whitmore his greatest success. In 2000, he appeared in Will Rogers, U.S.A. at Ford's Theater in Washington, D.C., his eighth engagement in the show at Ford's over a 30-year period. His long-running Give 'em Hell, Harry, tracing the life of the 33rd president, was released as a movie in 1975. Whitmore received his second Oscar nomination, this time for best actor.

The versatile actor also appeared Off Broadway. At the Manhattan Theater Club in 1983, he co-starred with his second wife, Audra Lindley, in Elba, a play by Vaughn McBride about an elderly couple who escape from the nursing home their children have confined them to.

Although Whitmore Lindley divorced in 1979, they continued to perform Off Broadway. In 1990, they co-starred in a double bill at the John Housman Theater consisting of William Gibson's Handy Dandy - he as a conservative judge, she as a liberal nun - and Tom Cole's About Time, in which they played characters identified only as Old Man and Old Woman.

His recurring guest role in The Practice, garnered him an Emmy in 2000. Whitmore's final TV appearance came in a 2007 episode of CSI.

He is survived by his third wife, Noreen, as well as three sons and eight grandchildren.

Next Column: February 15, 2009
Copyright: February 8, 2009. All Rights Reserved. Reviews, Interviews, Commentary, Photographs or Graphics from any Broadway To Vegas (TM) columns may not be published, broadcast, rewritten, utilized as leads, or used in any manner without permission, compensation and/or credit.
Link to Main Page
---
Laura Deni


COMMENTS