! >
Broadway To Vegas
 
  SHOW REVIEWS CELEBRITY INTERVIEWS GOSSIP NEWS

| | |
| --- | --- |
| | |
ELTON JOHN OPENS NEW SHOW IN VEGAS - - CHIPPENDALE GAMBLING CHIPS - - DIANA RIGG ON STAGE - - CLUTTER - - LYRICS & LYRICISTS REMEMEBER HARRY WARREN - - ANYTHING GOES CD IT'S THE TOP - - BLACK CATS AND RED ROSES - - A SINGING STEFANIE POWERS - - DONATE . . . Scroll Down


Copyright: February 8, 2004
By: Laura Deni

CLICK HERE FOR COMMENT SECTION
CLUTTER CLEARS UP MESS


Are you one of those people who never throws anything away? Is clutter your way of life? You may end up as its victim.



File photo of where the Collyer brothers lived. Photographer unknown.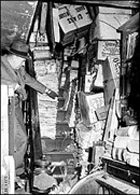 Clutter, the latest play about those infamous Collyer brothers, was penned by scribe Mark Saltzman. The production opened Saturday at the Colony Theatre in Burbank, California.

Whatever happened in that Fifth Street Avenue mansion? This true story is the engrossing murder mystery of the reclusive Collyer brothers who weren't just rich - they were filthy rich. One's dead. One's missing. And all of New York is shocked at what police find inside these wealthy brothers' home - junk - crammed everywhere! What turned these old-money aristocrats into hoarding shut-ins? Who killed the brother? Where's the other? And what does their creepy obsession reveal about their lives - and souls?

A document search resulted in the following information.

On March 21, 1947, the 122nd Street police station in New York City received a call from a man claiming that there was a dead body at 2078 Fifth Street Avenue.

The police knew the house, a decaying three-story brownstone in a now run-down part of Harlem, and its inhabitants, Langley and Homer Collyer, two eccentric recluses.

The day after the call, patrolman William Barker broke into the second-floor bedroom. He discovered a room filled from floor to ceiling with objects of every shape, size and kind. It took him several hours to cross the few feet to where the dead body of Homer lay, shrouded in an ancient bathrobe.

The autopsy revealed that Homer had not eaten for several days and had died of a heart attack. There was no sign of Langley, and the authorities immediately launched a search which would stretch into two states.

It took three weeks to sift through the estimated 136 tons of junk with which the house was filled. The bizarre collection of objects included 14 grand pianos, two organs, and a clavichord; human medical specimens preserved in a glass jars; the chassis of a Model-T Ford; a library of thousands of medical and engineering books; an armory of weapons; the top of a carriage; 6 U.S. flags and one Union Jack; a primitive X-Ray machine; and 34 bank deposit books with the balance totaling $3,007.18.

Gradually the story unfolded.

Homer Lusk Collyer and Langley Collyer were born in 1881 and 1885 respectively. Their father, Dr. Herman L. Collyer, was a wealthy and well known Manhattan gynecologist. Susie Gage Frost Collyer, the mom, was of breeding. A well educated woman who had an interest in the classics and noted for her musical abilities. The family mansion with mahogany paneling and fine antiques was located in the then-fashionable area of Harlem.

Homer and Langley were well educated. Homer earned an engineering degree and Langley received a degree from Columbia University and became an admiralty lawyer.

But around 1909 Herman and Susie separated and the grown boys continued to live with their mother. When Herman died in 1923 all his medical and personal possessions, collected over the years, were sent back to Fifth Street Avenue and crammed into his wife's house.

Both Homer and Langley were always slightly odd but became increasingly eccentric when left to fend for themselves after their mother's death in 1929. Langley enjoyed tinkering with inventions, such as one for vacuuming the insides of pianos, and attempting to make the Model-T engine run via electricity.

In the 1930's Homer became blind, crippled with rheumatism, and progressively paralyzed. Langley devoted the rest of his life to caring for him.

Wary of doctors, but possessing his father's extensive medical library, Langley developed odd "cures" for his brother's illness, such as a diet of 100 oranges a week, black bread, and peanut butter.

Windows in the house were boarded up. The gas, electricity, and water cut off. One small oil stove served all their cooking and heating needs. Langley collected water from a standpipe in a park four blocks away. Langley also built booby traps, elaborate systems of trip wires and ropes that would bring tons of rubbish crashing down on anybody who dared to enter.

In 1942, the Collyer brothers made the newspapers. They had defaulted on the home mortgage payments. The Bowery Savings Bank began eviction procedures and a work crew arrived to clean up. Langley Collyer started screaming at the workers who called the police. The cops ended up smashing down the front door, only to encounter a wall of junk piled up to keep people out. At that point Langley wrote out a check for $6,700 and paid off the mortgage in full.

Langley retreated back into the honeycomb network of tunnels he had carved out in the mountains of junk, which permitted him only enough space to find his way to where Homer sat.

Nobody heard or saw them again until Friday, March 21, 1947 when a man named Charles Smith called police headquarters at 10 A. M. claiming thaat there was a dead man in that house.

A patrolman was dispatched to the scene, but he couldn't get into the 12-room brownstone. An emergency squad of seven men was summoned.

The police broke down the door. The entrance was blocked by a wall of old newspapers, folding beds, one half of sewing machine, folding chairs, boxes, part of a win press, and assorted junk. Unable to get inside the police decided to attempt entry through the second floor window.

The brothers had piled even more stuff behind that window opening. The police started to throw the junk down to the street below.

Finally a patrolman was able to step inside. Using a portable light, he shoved aside more rubbish and found the deceased Homer Collyer sitting on the floor with his head between his knees. The tiny old man's long and matted gray hair reached down to his shoulders. He was wearing an old, ragged blue-and-white bathrobe.

Dr. Arthur C. Allen, the Assistant Medical Examiner confirmed that it was the body of Homer Langley and that he had been dead about ten hours.

The following Monday the police began their search of the house for the missing brother.

As many as 600 people had gathered outside the mansion to watch the spectacle of police throwing object after object onto the sidewalk. The world's newspapers reported every detail.

On the fourth day of the search police found an assortment of guns and ammunition.

On the following Monday police removed more junk including over 3,000 books and a a horse's jawbone.

By Monday, April 7th, 103 tons of clutter had been removed from the house.

Then on April 8, Artie Matthews, one of the workmen commissioned to clear the place, raised a pile of newspapers, tin boxes and other debris near a spot where Homer had been found.

His stood horrified. First he saw a foot, then the remains of a body covered by a suitcase, three metal bread boxes, and – bundles of newspapers. The body had been gnawed by rats, but there was no doubt that it was Langley Collyer. Langley had died some time before his brother, suffocated under the garbage that had cascaded down upon him when, he had sprung one of his own burglar traps.

Homer's death was then understood. Blind and paralyzed, and totally dependent on Langley, he had died of a heart attack triggered by starvation and shock.

It took the city of New York three weeks to gut the mansion's contents.

The brothers' estate was valued at $91,000 in real estate and $20,000 in personal property. What was salvageable from the 136 tons of junk that had been collected were 150 saleable items which gaveled down at only $1800 at auction. Their once beautiful mansion was condemned as a health and fire hazard, torn down, and is now a parking lot.

Clutter, in its world premiere, is being directed by Rick Sparks. There will be two Talk-Back performances, with the cast, director and playwright on Friday, February 13 and Thursday, February 26 immediately following the performance.



Matthew Pavelka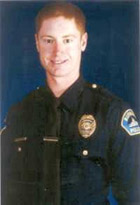 In light of the fact that the play features police officers as lead characters, everyone associated with Clutter feels a close kinship to Police Officer Matthew Pavelka, the Burbank police officer who was killed on November 15, 2003, becoming the first Burbank Police Officer to be killed in the line of duty. The Colony Theatre Company felt the loss, along with the entire city, and the need to do something.

The Colony is dedicating the production of Clutter to the memory of Officer Pavelka. Additionally, after every performance, donations will be collected from each of the audiences, with 100% of the monies going to the memorial and trust fund that has been set up for Officer Pavelka and for Officer Greg Campbell, who was injured in the shooting and remains hospitalized.

Clutter runs through March 7 at The Colony Theatre in Burbank.


THE MUSIC GOES ROUND AND ROUND


ANYTHING GOES the original 1956 soundtrack from the Paramount Pictures has been released on CD by Decca Broadway.

This classic production explains the world of showbusiness in the opening number You Gotta Give Them Hoke. "You gotta give the ticket buying people hoke. They don't want Falstaff, they want corn." They premise may sound corny but the execution is gourmet.

Dynamic and delightful - as the song says Your The Top. This CD is.

Anything Goes is one of the most popular musicals of all time, featuring music and lyrics by the one and only Cole Porter as well as several additional songs written specifically for the film by the legendary songwriting team of Sammy Cahn and Jimmy Van Heusen.

The classic film stars three of Hollywood all time greats; Bing Crosby, Donald O'Connor and Mitzi Gaynor plus the wonderful talents of Jeanmarie and Phil Harris.

The soundtrack includes celebrated standards such as I Get a Kick out of You, It's Delovely and of course, the title track Anything Goes. Collectors will also enjoy three rare bonus tracks from the 1936 version of the film, which also starred Crosby: Sailor Beware, My Heart and I and Moonburn, all written by the renowned composers Hoagy Carmichael and Frederick Hollander.

Whether it's the haunting minor key All Through the Night crooned by Crosby, the rousing title tune done to a turn by Gaynor, I Get a Kick Out of You purred by Jeanmarie, or any of the other "delovely" ditties, this CD is an exquisite example of why the golden age of movie musicals were grand and glorious.

This effervescent recording bubbles over with swinging, delightful music and zesty, witty lyrics.

Don't own it? You should.

The Paramount Picture opened in March, 1956. The original recording was released in June of that year. This CD mastering was done by Mark Omann. Executive Producer Chris Roberts. CD booklet liner notes by Will Friedwald.



Broadway To Vegas is supported through advertising and donations. Priority consideration is given to interview suggestions, news, press releases, etc from paid supporters. However, no paid supporters control, alter, edit, or in any way manipulate the content of this site. Your donation is appreciated. We accept PAYPAL. Thank you for your interest.


OTHER PEOPLE'S MONEY


GAMBLING DEBT LAW REPEALED A 294-year old English law is being repealed to enforce the recovery of gambling debts. The change will make gambling debts like any other consumer debt by repealing legislation dating back to 1710.

Under the proposals, pubs will be allowed two "fruit machines" each with more available under license. Pubs and clubs that run bingo games worth £1,000 a week or more will have to obtain a license from the Gambling Commission.

The Gambling Commission will also be able to freeze and investigate suspicious bets. If unfair practices are found the bet could be declared void. A revised offence of cheating is also included.

CHIPPENDALE GAMBLING CHIPS The Rio Hotel in Las Vegas has introduced a series of Chippendales gaming chips. The first of six $5 chips with images of the show's sexy hunks was issued Friday, with new ones released every Friday through March 12.

MICHAEL DOUGLAS has donated $1 million to his alma mater, the University of California, Santa Barbara, for its new Center for Film, Television and New Media. The lobby will be named in honor of the producer and Oscar-winning actor.


CURTAIN DOWN


GYPSY starring Bernadette Peters as Mama Rose set to close Feb 29 with the caveat "unless ticket sales improve."

NEVER GONNA DANCE starring Noah Racey, Nancy Lemenage and Karen Ziemba, with choreography by Jerry Mitchell will close after the Feb. 15 matinée. The musical, based on the Fred Astaire and Ginger Rogers movie Swing Time and with music by Jerome Kern, will have played 44 previews and 84 regular performances at the Broadhurst Theatre.

RETREAT FROM MOSCOW the drama by William Nicholson starring John Lithgow and Eileen Atkins, will close at the Booth Theatre on February. 29. It will have played 24 previews and 147 performances.



SUDDENLY LAST SUMMER Sebastian died suddenly last summer. His mother clings to him in death as she clung to him in life. In the sultry heat of New Orleans she plans her revenge on the girl she believes stole Sebastian from her. Tennessee Williams is theatre's poet of impossible love and this, one of his finest plays, is given a new production in London's Lyceum Theatre by Associate Director, Michael Grandage.

Suddenly Last Summer presents a rare opportunity to see Diana Rigg and Victoria Hamilton on stage.

Director Michael Grandage. Designer Christopher Oram. Lighting Designer Howard Harrison. Composer Adam Cork

February 12-28 Lyceum Theatre in London.

STEFANIE POWERS surprising some attending the Las Vegas based Nevada Ballet Theatre gala honoring Celine Dion by singing Ten Cents a Dance. The actress, known to millions for her years co-starring in Hart To Hart, has an extensive musical stage background. Powers will soon be singing Shall We Dance? when she returns to the stage during 2005 starring as Anna in The King and I, a role she also played in the London revival.

BLUE/ORANGE by Joe Penhall. Directed by Steven Woolf. Questions of ethnicity, poverty, racism and power unfold as two psychiatrists consider the release of an enigmatic patient from a London mental hospital. What begins as a debate over one man becomes a full-scale battle of minds and wills, an intense struggle between protecting society and preserving an individual's rights. Winner of the Olivier and Evening Standard Awards for Best Play. February 11- March 12 at The Repertory Theatre of St. Louis.

THE TIME OF YOUR LIFE by William Saroyan. A 24 member ensemble cast is directed by Tina Landau. Step through the door, grab a stool at the bar, and join the ragtag regulars of Nick's waterfront saloon in San Francisco. Joe, a kind, but enigmatic patron, prods and cajoles a revolving menagerie of misfits to "seek goodness everywhere, and when it is found, bring it out of its hiding place and let it be free and unashamed." Stories of characters' forgotten dreams and unlived lives overlap and meld to create a sweetly elegiac panorama of the final days of the Great Depression. Chicago's award-winning Steppenwolf Theatre Company shares the stage with actors from Seattle and San Francisco to make William Saroyan's Pulitzer Prize-winning drama tingle with new life. Seattle Rep's Bagley Wright Theatre February 12 - March 6.

WINTERTIME by Charles L. Mee starring Marsha Mason and Michael Cerveris has begun previews at Second Stage Theatre in NYC. Official opening is February 23 for a run through March 21. Wintertime is the story of a man who is about to propose at a secluded snowbound house when he finds that his mother and her lover already occupy the cabin - then the father then shows up with his boyfriend.

David Schweizer directs a cast that also features Tina Benko, Brienin Bryant, Marylouise Burke, T. Scott Cunningham, Christopher Denham, Carmen de Lavallade, Nicholas Hormann and Danny Mastrogiorgio.

Scenic design by Andrew Lieberman. David Zinn costume. Kevin Adams lighting and Eric Shim sound. Second Stage Theatre in New York City.

NUNSENSE THE 20TH ANNIVERSARY TOUR starring Darlene Love, Monday through Sunday February 15 at the Wilbur Theatre in Boston.

NORA Thomas Ostermeier's acclaimed new look at Ibsen's A Doll's House. Barbican in London, from February 11.

BEAUTIFUL CHILD by Nicky Silver opened it's world premiere last Friday at the Vineyard in NYC. The production stars Penny Fuller, George Grizzard, Alexandra Gersten-Vassilaros, Kaitlin Hopkins and Steven Pasquale.

DAME EDNA brings the outrageous show to the Palace Theatre in Columbus, Ohio Tuesday through Sunday.

THE GRADUATE Cult novel. Landmark Hollywood film. Theatrical sensation. Following sold-out engagements in both London and New York, Broadway's The Graduate opens at the Barbara B. Mann Performing Arts Hall beginning on February 11th for a limited engagement. In this production Lorraine Bracco reclaims her role as the sexy, sultry Mrs. Robinson. Ms. Bracco made her Broadway debut in The Graduate last year, and now she's back for a limited number of performances.

Bracco has graced the stage in only one other production, a special reading of David Rabe's Goose and Tom Tom, performed in 1986 at the Lincoln Center opposite Sean Penn, Madonna, and Harvey Keitel. Ms. Bracco is best known today for her role of psychiatrist Dr. Jennifer Melfi on HBO's hit series The Sopranos, which has earned her multiple Emmy, Golden Globe, and Screen Actors Guild Award nominations for Best Actress in a TV Drama. She was also nominated for Academy and Golden Globe Awards for her performance in Martin Scorsese's Goodfellas.

Production design for The Graduate is by Rob Howell (sets and costumes), Hugh Vanstone (lighting) and Christopher Cronin (sound). The Graduate features songs by Paul Simon, performed by Simon and Garfunkel, and original music composed and arranged by Barrington Pheloung. The album is now available from Sony Music Entertainment Inc.

The Graduate has performances Feb. 10-15 at the Barbara B. Mann Hall in Fort Myers, Florida.

CAUGHT IN THE NET a farce written by Ray Cooney will have it's West Coast premiere staged by the International City Theatre in Long Beach, CA. Cooney will come to both direct and appear in the production, slated for a Feb. 10-March 7 run. The production officially opens on Feb. 13.

The life of John Smith, the beleaguered taxi driver with two lives and two wives is laid bare once again in Cooney's sequel to the smash hit Run for your Wife. In the first play, the lies pile up and the complexity of the situation slips out of Smith's grasp, with increasingly frantic efforts required for his deception. The sequel now finds him struggling to keep the secret from his two teenage children by each of the wives and much chaos ensues in his attempts to keep them apart.

Caught in the Net premiered at the Vaudeville Theatre in London's West End in 2001.


| | | |
| --- | --- | --- |
| | | |
WHO'S WHERE


HARRY WARREN: THERE WILL NEVER BE ANOTHER YOU Mary Cleere Haran, artistic director & vocals. Don Rebic, music director. Mary Cleere Haran and her guests explore the melodies and lyrical collaborations of the great Harry Warren. Though successful on Broadway 42nd Street, Warren's claim to fame lies chiefly in his contribution to the motion picture musical, including the standards You'll Never Know and Chattanooga Choo-Choo.

Part of the Lyrics & Lyricists program presented by the 92nd St Y. Feb. 14-16 at the Kaufman Concert Hall in NYC.

DIANE SCHUUR opens a 6 night engagement Tuesday, Feb. 10 at Dimitriou's Jazz Alley in Seattle, Washington.

SYLVIA McNAIR the double Grammy award winning singing through February 14th at the Oak Room in the Algonquin Hotel NYC.

JARS OF CLAY in the spotlight Monday at the Florida State Fair in Tampa, Florida.

PRESERVATION HALL JAZZ BAND on stage this evening at Yavapai College in Prescott, Arizona. On Tuesday the joint will be jumpin' at Centennial Hall in Tucson, Arizona.

LARRY GATLIN entertaining Valentine's evening at the 4 Bears Casino in New Town, North Dakota.

MICHAEL FEINSTEIN performing love songs Friday and Saturday at Symphony Hall in Atlanta, GA.

PAUL ANKA sings romantic songs Friday through Sunday at the Mohegan Sun Casino in Uncasville, CT.

MICHAEL BUBLE in a Valentine-week-end two nighter, Friday and Saturday at the Borgato Hotel and Casino in Atlantic City.

ROD STEWART who is in the Guinness Book of World Records for the biggest concert ever, appearing in front of 4.2 million fans in Rio de Janeiro on New Year's Eve, won't have that many this week - but guy is playing to packed houses. He's on stage Tuesday at the Philips Arena in Atlanta, Georgia. On Wednesday the romantic rocker is at the BiLoCenter in Greenville, South Carolina. On Valentine's night he's in the spotlight at the Bell Centre in Montreal. During his free moments he's in the studio recording songs for the third edition in his American Songbook series, due out later this year.

SMOKEY ROBINSON opens a three-night stand Friday at Resorts International in Atlantic City.

BETTE MIDLER takes to the stage Tuesday at the Oakland Arena in Oakland. On Thursday she can be enjoyed at the Glendale Arena in Glendale, Arizona. She'll spend Valentine's Day in Las Vegas performing at the MGM Grand Garden Arena.

STING opens a two nighter Tuesday at the Pantages Theatre in Los Angeles. On Friday he's in the spotlight at the Copley Symphony Hall in San Diego. Valentine's Day he'll bring romance to the stage of the Dodge Theatre in Phoenix, Arizona.

JOSH GROBAN performs tonight at the Milwaukee Theater in Milwaukee, Wisconsin. Tomorrow he can be enjoyed at the Orpheum Theatre in Minneapolis. On Wednesday the singer is on stage at the Midland Theatre in Kansas City. Thursday finds him at the Rosemont Theatre in Rosemont, Illinois and on Valentine's Day he'll be singing romantic songs at the Fox Theatre in Detroit.

ELTON JOHN opens his David LaChappelle produced Red Piano concerts in The Colosseum at Caesars Palace on February 12. That gig runs through February with a encore March 23 to April 3.

CABARET COMES TO PARK AVENUE takes place Valentine's Day at the Central Presbyterian Church on Park Avenue in Manhattan. This special Valentine's Day performance features comedian Paul Mercurio, the love songs of Linda Field and a special appearance by Richard Skipper as Carol Channing. Suggested donation: $25 per person or $40 per couple. Includes food, wine and other beverages.

KATE SHINDLE Me and My Shadow - Songs I've Heard in Pageants! And, she's heard plenty of them since she was Miss America 1998. Her cabaret act features the music of some of Broadway's favorite composers and Jazz standards while sharing personal stories about growing up to be more than just a beauty queen. Kate has been seen as Sally Bowles in Cabaret on Broadway and also appeared as Lucy in the Broadway production of Jekyll & Hyde. Ars Nova Theater in NYC Sunday, February 8.


BLACK CATS AND ROSES


This week gives us Friday the 13th followed by Valentine's Day.

What does it mean if a black cat crosses your path as you are carrying the roses you just purchase to give on Valentine's Day? Try to stay strong.

There are more than 2,000 varieties of roses. More than 350,000 orders for cut flowers were placed last year and more flowers are sold on Valentine's Day than any other day of the year. Flowers do not necessarily mean good luck - however if you fail to remember your love on Valentine's Day, the problems that can occur makes Friday the 13th seem like a walk in the park.

Whether you believe black cats to be good or bad luck could depend on where it is in the world that you live, and even within different countries, there exists differing beliefs, and superstitions concerning black felines. If you live in the United States, or most European countries, then black cats passing in front of you will likely make you believe that no matter how dismal things are now, things are going to get worse.

Crossing the path of a black cat, as opposed to it crossing yours, is generally thought of as inviting the very worst of luck. If however you live in the United Kingdom, or in Japan, black cats crossing your path will probably make you think good fortune is on its way.

King Charles the first of England owned a black cat. He believed this cat to be lucky and was so afraid of losing it he had it guarded day and night. Coincidentally the cat died the very day before Oliver Cromwell's parliamentary troops came and arrested.

Live in Germany and you will probably believe that black cats crossing your path from right to left, is a bad omen. But from left to right, and the cat is granting favorable times for you.

In most parts of the world it is thought that a black cat walking towards you is a certainty of good luck coming your way - which is what Broadway To Vegas wishes for our readers.
















Next Column: February 15, 2004
Copyright: February 8, 2004. All Rights Reserved. Reviews, Interviews, Commentary, Photographs or Graphics from any Broadway To Vegas (TM) columns may not be published, broadcast, rewritten, utilized as leads, or used in any manner without permission, compensation and/or credit.
Link to Main Page
---
Laura Deni


CLICK HERE FOR COMMENT SECTION