! >
Broadway To Vegas
  SHOW REVIEWS     CELEBRITY INTERVIEWS     GOSSIP     NEWS 
| | |
| --- | --- |
| | |
Copyright: February 8, 1999
By: Laura Deni
CLICK HERE FOR COMMENT SECTION

SUCCESS SHUTS UP NAYSAYERS


Siegfried & Roy: Rising Above Other Illusionists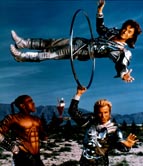 Thirty years ago critics told Siegfried and Roy that a magic act would never make it in Las Vegas.

Last Monday Siegfried and Roy celebrated their 4,000th show and beginning of their 10th year at the Mirage Resort.

Class from the getgo.

First, the waiter refused a tip telling me - "Ma'am, that's been taken care of."

The evening ended with a fabulous reception with the best of gourmet creations. Wedged in between was the stupendous Siegfried and Roy performance, which never fell below the zenith of perfection.

The act hasn't been an act in ages, but rather a mammoth production.

The first thirty minutes is a magnificent melding of Andrew Lloyd Webber, Disney's Fantasia, Star Trek and your imagination as Siegfried and Roy battle evil spirits. They levitate, walk on lasers and ultimately win the battle over that dragon - which is the most magnificent mechanical fire breathing dragon on any stage.

There is The Disappearing Tiger, The Reappearing and Floating Tiger, Three-In-One Levitation, Sawing and Disappearing Lady, The Mystery of the Crystal Chamber.

Virtually 45 percent of the show is different from when it opened at the Mirage a decade ago.

Debuting last Monday were two new illusions, including A Disappearing and Reappearing Elephant. You can be sitting dead center, close up and can't figure out how they do any of it. Even if you did know the inner secrets, they are so remarkable you'd still be mesmerized by the wonder of it all.



Cutting Up On Stage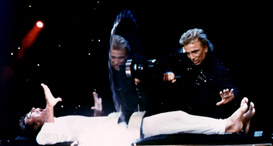 As German teenagers Siegfried and Roy met when they worked respectively as a dishwasher and bellboy on a cruise ship.

When his prestidigitation caught the eye of the captain Siegfried was promoted to entertainer and named himself Delmar The Magician.

One night he needed an assistant and asked Roy to help. It was the first time they had ever spoken. Afterwards, over a beer, Siegfried asked Roy what he thought of the act.

Roy called the illusions "predictable," and suggested that they use his pet cheetah. At first Siegfried was outraged, since nobody had ever before criticized his performance. Then he thought about what Roy had said and - the team was formed.

Even though Siegfried was originally afraid of the animals, they both realized that working with Roy's live cheetah was their passport to success. Roy toiled as Siegfried's unbilled assistant and animal trainer. "I thought of Siegfried as an idol," said Roy.

Siegfried got over his fear of wild animals and Roy got over his fear of asking for credit. Siegfried & Roy materialized.

After achieving fame in Europe they came to America and headed to the bright lights of the Las Vegas Strip - where they were told to "forget it."

They finally got a small contract at the Tropicana Hotel as a "specialty act" in the American edition of the famed Follies Bergere in the late 60s. They progressed to featured act status at the old MGM Grand's (now Bally's hotel-not to be confused with the current MGM-Grand Hotel) in Hallelujah Hollywood. Word got around that they were good.

Bernie Yuman, short on money but long on aggressive personality, was offered five hundred dollars if he could arrange a meeting between Siegfried and Roy and Frank "Lefty" Rosenthal, who was CEO of a hotel chain that included the Stardust. His Vegas heyday antics were depicted in the movie Casino. Rosenthal saw potential in Siegfried & Roy and wanted to beef up the Stardust's Lido de Paris show which features the world famous Girls of Madame Bluebell.

Rosenthal knew that money talks and simply offered to double their MGM salary.

No dummies Siegfried and Roy asked for star billing, an elaborate dressing room and appropriate accommodations for their lions, tigers and panthers.

Madame Bluebell and her girls were opposed to Siegfried and Roy taking the spotlight away from their headgear and tail feathers. Rosenthal convinced Madame Bluebell that the addition of the illusionists would only benefit her beauties. The negotiations became a done deal.

Lefty knew a photo op when he saw one. To commemorate the contract signing he presented Siegfried and Roy with a silver Rolls Royce Corniche at the entrance to the Stardust.

The Stardust gig established some Vegas firsts; they received equal star billing with the title of the show on the Strip marquee and in all advertising, they were the first act to perform a complete 35-minute show within a show; the first act to be given both a run of the show contract plus a special contractual clause calling for a full month off every six months, and they became the highest paid specialty act in Vegas history.

Bernie Yuman, who is a graduate of the University of Miami's School of Business, became Siegfried and Roy's personal manager and never looked back.

Siegfried and Roy publicly credit Yuman as "the force responsible for the strategy that has propelled Siegfried & Roy to top-ranking international stars.... he is recognized for his determination and perseverance in negotiations on their behalf."



Chico, a rare "lepjag" (leopard-jaguar) nuzzled Roy while Siegfried look on, at the Frontier Hotel in 1982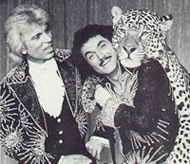 They ankled the Stardust for the Frontier Hotel and Beyond Belief where they spent six-and-a-half years. Every few minutes one or the other pulled off a trick that would have been any other magician's grand finale. Customers and critics started to pay attention to this duo. So did Steve Wynn, who decided he wanted them for his property.

Wynn signed them to a five-year, $57.5 million deal. Michael Jackson wrote a song for their show.

When they moved to the Mirage ten years ago the first thing that disappeared was $60.80 from the customer's pockets. It was the then unheard of price for a single ticket "better-than-Broadway prices" complained out of town critics. The show which reportedly cost $20 million to produce, and had a cast of 70. The opening was delayed more than a month amid rumors that it would never open.

Taking their cue from Broadway Siegfried & Roy were determined to elevate magic to a new art form. "Why is it that Broadway always has the prestige and a Vegas show doesn't," lamented Roy. "We want to be a part of making a big change in the entertainment scene in Las Vegas."

"You get what you pay for. You cannot have something good for "cheap." We may be illusionists, but we're not unrealistic. In order to produce a show that brings in presidents, kings, and queens and fills a showroom night after night - sold out days in advance - you have to deliver quality, not just tinsel-town," he continued.

Today their show has a cast and crew of 150. In ten years prices all over Vegas have spiked upward. While the ticket price is now $89.35 that is not the top show price in town - although the show might be considered the best on the Strip.

The illusionists continue to draw from Broadway. Siegfried & Roy has developed a team of the best the Great White Way has to offer; John Napier is co-creator, co-director and designer. He's designed some of Broadway's biggest theatrical successes; Cats, Starlight Express, Les Miserables, and Miss Saigon.

John Caird, writer and co-director, received Tony Awards for his co-direction of The Life and Adventures of Nicholas Nickelby and Les Miserables. He was an Associate Director of the Royal Shakespeare Company for seven years and is co-author of Children of the Sun, a new musical.

William Ivey Long, in charge of costume design, won a Tony Award for Nine. Andrew Bridges, responsible for the inspired lighting design, has been represented on Broadway by Aspects of Love and The Phantom of the Opera, for which he won a Tony Award.



Lynette Chappell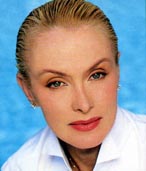 They and their staffs are an integral part of the success of Siegfried & Roy. If it's all smoke and mirrors the effects are rapturous and mesmerizing.

In almost twenty-five years Siegfried & Roy have never played to a verifiable empty seat. Liberace once sat applauding them so vigorously that a large diamond flew out of a ring Queen Elizabeth had given him. When the stone couldn't be found, Liberace shrugged and said, "It was worth it."

Siegfried, the square-jawed blond half who masterminds the magic and illusions, has a younger sister, Delores, a Franciscan nun who lives in a German convent and cares for orphans. There is also an older brother, Marinus. When Siegfried did magic tricks in the family's backyard in Rosenheim, a small village in the Bavarian mountains, it was Delores who was his assistant. At the age of eight she informed her brother that when she grew up she intended to become a nun, so he needed to look for another assistant. Enter Lynette Chappell. A native of Mombassa, Kenya, she trained as a classical dancer at the Royal Ballet School of London before discovering her vocation as the most alluring of sorcerers' apprentices.



Prosperity named Mascot of the U.S. Senate poses with Siegfried & Roy and U.S. Senator Harry Reid (D-Nevada) and his wife Landra.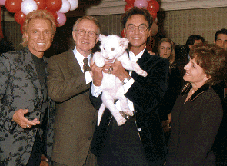 Siegfried and Roy, who speak in German to each other, are noted almost as much for their preservation of endangered white tigers and lions, as they are for their showmanship.

The animals are their signature as entertainers. Their devotion to saving them from extinction is their legacy to humanity. "If there is anything we want to be remembered for it is leaving behind a living legacy of the white tigers for our children to enjoy," explained Roy.

"It is our goal to return the white tigers to the wild where they may once again bring grace and grandeur to the four corners of the earth."

The Siegfried and Roy show at the Mirage is mystery, adventure and wonder. Even if you think you've seen the show, that could be just an illusion. Go see it again.




LAST CHANGE TO ENTER OUR DRAWING


There is still time to enter our free drawing for the Columbia Telecommunications Crusader Piano Telephone. Just E-mail us your name and complete mailing address. The drawing takes place next Sunday. Winner will be announced in next week's column. Features of the Crusader Piano Phone include: When you dial, music plays ("Do, Re, Mi...") - can be used as a piano - electronic tone ringer with on/off switch - mute key for private conversation - hearing aid compatible. Listing No: Y-31414-Q. Complies with UL 1459. See end of column for more details.


WATCH YOUR BACK
Photo By: Dave Cross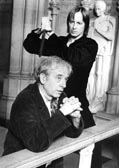 The Frog & Peach Theatre Company continues it's presentation of William Shakespeare's Hamlet.

Pictured (top to bottom): Ted Zurkowski as Hamlet and Austin Pendleton as Claudius.

This presentation is a continuation of the fourth season of presenting free Shakespeare at The Theatre at the West-Park Church.

Hamlet is directed by Lynnea Benson.

Performances through February 21.


CHRISTMAS TWICE A NIGHT

While most people associate the world famous Radio City Music Hall Rockettes with the fabulous New York City Christmas spectacular, some of the long legged kickers have been doing just that in Las Vegas at the Flamingo Hilton Hotel. From glamorous costumes to the show stopping Parade of the Wooden Soldiers routine, the Las Vegas version brings another aspect of the Big Apple to the Las Vegas Strip.

The group of long legged high kickers was founded in 1926 in St. Louis by Russell Markert, who dubbed them the Sixteen Missouri Rockets. At the end of a nationwide tour "Roxy" Rothafel saw them perform in New York. He immediately hired them for his new Roxy Theater, doubled the size of the troupe and rechristened them the "Roxyettes."

When John D. Rockefeller, Jr. hired Roxy to helm the new Radio City Music Hall, the contract specified that the precision dancers were part of the deal. The line was expanded in 1933 and renamed The Rockettes.

From the moment the group was first formed to this very day one goal remains at the forefront - absolute precision. Everything has to uniform - height, weight, costumes and steps. The illusion of uniform height is maintained by putting the tallest dancers - 5'9" - in the center and gradually decreasing the height of the row until the shortest - 5' 5" - are at the ends.

For the past 67 years, the Rockettes have been a part of the entertainment tradition of New York City. They have also become a part of the Las Vegas entertainment scene.


OTHER PEOPLE'S MONEY


MICHAEL NESMITH

Michael Nesmith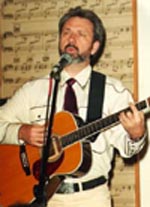 of Monkee fame, awarded nearly $7 million by a federal jury who declared that PBS stole the video rights to his programs.The former Monkee inherited great wealth when his mother, Bette Claire Graham, died.

She had invented Liquid Paper, which she sold to Gillette in 1979 for $47.5 million.

A year later Nesmith inherited that fortune and he started Elephant Parts, an innovative video which won the first video Grammy Award.

Trial testimony established that PBS executives, while discussing with Nesmith how to help his company, were plotting what became known as the "Columbus Day massacre," massive terminations of Nesmith's contracts with the producers of programs in the video library.

The jury awarded $14.6 million to Nesmith's Pacific Arts company for the value of the loss of the library, plus $29.3 in punitive damages.

Nesmith was personally awarded $1 million, plus an additional $2 million in punitive damages.

GARTH DRABINSKY

GARTH DRABINSKY
No Longer Smiling
Photo By: Laura Deni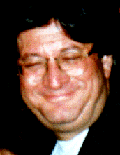 is officially a fugitive.

Assistant U.S. Attorney Marcia Cohen has sought a warrant for the arrest of Drabinsky and his former partner, Myron Gottlieb, after the two failed to appear at their arraignment on fraud and conspiracy charges.

Cohen also stated she will seek extradition of the two former Livent executives, who are reportedly holed up in Toronto.

Drabinsky and Gottlieb maintain they cannot get a fair trial in the United States and say the case belongs in Canada. Both Drabinsky and Gottlieb have been indicted on 16 counts, which carry penalties of up to 10 years in prison and a $1 million fine.

They have been charged with costing U.S. investors $100 million through accounting irregularities and fraud.

ABOUT TIME Columbia Pictures has agreed to share movie profits with writers, in addition to paying their usual salaries. Other studios are expected to fall in line.

STARWOOD HOTELS owners of Caesars Palace and the Desert Inn Hotels in Las Vegas have put a for sale sign up trying to dump the 11 Caesars properties for $3 billion. The Desert Inn has been on the market seemingly since the day Starwood Hotels purchased the place.



Broadway To Vegas is supported through advertising and donations. Priority consideration is given to interview suggestions, news, press releases, etc from paid supporters. However, no paid supporters control, alter, edit, or in any way manipulate the content of this site. Your donation is appreciated. We accept PAYPAL. Thank you for your interest.



THE BEAGLE HAS LANDED The 1967 off Broadway hit has been re-written and You're A Good Man, Charlie Brown has landed at the Ambassador Theater.

Anthony Rapp, who starred in Rent plays Charlie Brown, the role created by Gary Burghoff in the 1967 off Broadway production.

Tony award winner B.D. Wong is Linus with Ilana Levine starring as Lucy.

Stanley Wayne Mathis, who was a hyena in The Lion King is Schroeder, Roger Bart is Snoopy, and Kristin Chenoweth plays Sally.

Michael Mayer directs.

ELFMAN AND FERRER that would be Jenna Elfman of Dharma & Greg fame and Miguel Ferrer of Late Night who is also related to Rosemary Clooney and George, star in Visions and Lovers at the Skyline Theatre in Los Angeles. To the surprise of no one, the show which officially opened yesterday, Sunday Feb. 7, has been sold out since the production began previews. Some of those hot ticket sales are attributed to one scene in which Elfman appears in bra and panties.

LES MISERABLES opens tomorrow, February 9, at the Fox Theatre in St. Louis. Musical runs through February 14.

CHICAGO opens tomorrow at the North Carolina Blumenthal Performing Arts Center with performances through February 14.

FLATROCK PLAYHOUSE N.C. considered one of the better regional theaters has announced their new season. Our Trudy Knight-Peek reports that Last Night of Ballyhoo kicks off the season May 26 followed by Wrong For Each Other, Sugar Babies, The King & I, Sinners, Honky Tonk Angels, Look Homeward, Angel, with Grease as the closer October 6-24.

ELIZABETH ASHLEY gearing up to start rehearsals February 16 for If Memory Serves which opens March 23 in Austin, Texas.

UMA THURMAN is making her professional stage debut in The Misanthrope at Classic Stage Company, NYC. Currently in previews, the official opening is February 14. Set in London this is an updated version of the Moliere comedy. Thurman plays the American starlet with the room temperature I.Q. Roger Rees also stars. Barry Edelstein directs

AL PACINO returns to Broadway for a five week engagement in the Eugene O'Neill play Hughie. The actor will also be his own director. Pacino made his Broadway debut in Does A Tiger Wear A Necktie? and last starred on Broadway in Salome.

THE KITCHEN OF HEAVEN written by Larry Harris and directed by Michael LaPolla begins performances February 19 at the Emerging Artists Theatre Company NYC. In The Kitchen of Heaven, a New York Jewish couple must come to terms with the consequences of having disowned their gay son. Unlike most stories of estranged families, this work focuses not on the rebellious child, but on the stoic parents.

BABES IN ARMS the wonderful Richard Rodgers and Lorenz Hart musical opens the sixth annual City Center Encores season Thursday, February 11.

Babes In Arms opened at the Shubert Theatre on April 14, 1937 and ran for 289 performances.

The show, about a group of spirited teenagers staging a revue to keep from being sent to a work farm, boasted the debut of Alfred Drake - who went on to the original role of Curly in Oklahoma! - and Fred Graham in Kiss Me Kate.

The delightful Babes In Arms became a movie two years later starring Judy Garland and Mickey Rooney.

The Rogers & Hart score includes the songs Where Or When, My Funny Valentine, Johnny One Note, and The Lady Is A Tramp.

This production stars Australian singing star David Campbell and Donna McKechnie, Priscilla Lopez, Don Correia and Thommie Walsh.


WHO'S WHERE


EARTHA KITT that sultry, sensational singer continues to delight crowds at the Cafe Carlyle NYC through March 13. Don't miss.

BOBBY SHORT makes one of his rare appearances outside of NYC opening at Hollywood's Catalina Bar & Grill on February 16. Another don't miss evening.

RAGTIME continues at the Colonial Theater, Boston, through March 28.

LANCE BURTON who is headquartered at the Monte Carlo Hotel, Las Vegas appears on the Howie Mandel talk show Tuesday, February 9. Lance will perform his upside down straightjacket escape, originally made famous by Houdini. Lance also makes Howie appear out of thin air. Burton inaugurates his world premiere at the Cerritos Center for the Performing Arts, about a 30 minute drive from Los Angeles, with shows February 26-28. The venue has also firmed up Wyonna for a March 5 one nighter.On March 11 John Davidson takes the stage in Bully An Adventure with Teddy Roosevelt. Davidson portrays America's most bombastic, politically incorrect leader in a one-man performance covering one of the wildest political landscapes in recent history. The venue has also signed Wynton Marsalis and The Lincoln Center Jazz Orchestra for a March 19 performance.


THIS AND THAT


CHRISTIAN SLATER star of Broadway's Side Man is in real life rehearsals for fatherhood. The baby is due this spring. Happy mom-to-be is Slater's long time love, TV executive Ryan Haddon.

TOMMY TUNE star of the EFX show at the MGM Grand, Las Vegas has no understudy and so there was no show when the lanky showman missed several performances. The hotel wouldn't comment on why the absences, but the super-talented Tune is reportedly back on board.

ROZ KELLY former Happy Days star will be arraigned today, Mon, February 8, in Van Nuys Superior Court on charges she went on a shooting rampage, shooting up an Acura and a Mercury Topaz - automobiles belonging to two of her neighbors. She then fired into one of their homes after being awakened in the middle of the night by a wailing car alarm. Kelly played Pinky Tuscadero, Fonzie's biker girlfriend in the 1973-84 television series.

MUSEUM OF FINE ARTS HOUSTON presents through February 14 Rhapsodies in Black: Art of the Harlem Renaissance. Works are by visual and performing artists, writers and musicians of New York City's Harlem in the 1920s and 30's. Featured artists include; Aaron Douglas, the first black painter to deliberately incorporate African imagery; Josephine Baker, the entertainer who took Paris by storm; and photographer James Van DerZee, who documented Harlem life for more than 50 years.

FRANZ XAVER OHNESORG has been appointed Carnegie Hall Executive and Artistic Director, it was announced by Carnegie Hall President Isaac Stern and Chariman Sanford I. Weill. Ohnesorg is currently Director of the Cologne Philharmonic Hall. He will officially assume the Carnegie post in September. He succeeds Judith Aerron, who passed away on December 18, 1998 after a tenure at Carnegie Hall of close to 13 years.

DONALD O'CONNOR As of this writing the legendary entertainer is in critical condition in the intensive care at Desert Regional Medical Center, Palm Springs, suffering from pneumonia. When stricken, the 73 year old performer was the featured player in the Fabulous Pal Springs Follies at the Historic Plaza Theatre Our thoughts are with him and his family.


ENTER OUR DRAWING




Remember to enter our free Valentine drawing for the piano telephone. When you dial, music plays "Do, Re, Mi..." Can be used as a piano. Hearing aid compatible. Just E-mail us your name and post office mailing address. One entry per person per week. See Jan. 11th column for complete rules and regulations.

Next Column: February 15, 1999
Copyright: February 8, 1999. All Rights Reserved. Reviews, Interviews, Commentary, Photographs or any Graphics from any Broadway To Vegas (TM) columns may not be published, broadcast, rewritten, utilized as leads, or used in any manner without permission, compensation and/or credit.
Link to Main Page
---
Laura Deni




For the snail mail address, please E-mail your request.
CLICK HERE FOR COMMENT SECTION