! >
Broadway To Vegas
  
  REVIEWS  INTERVIEWS COMMENTARY  NEWS

| | |
| --- | --- |
| | |
JANE FONDA AND STEPHEN HAWKING - - ANDREW LLOYD WEBBER GIVES ROYAL FAMILY A SNEAK PEEK AT WIZARD OF OZ - - SNAPPED: ALL WALKS BEYOND THE CATWALK HONORS MODELS OF ALL AGES - - SHAKESPEARE'S GLOBE CELEBRATES LONDON 2012 OLYMPIC GAMES - - GRAMMY WEEK 2011 - - LYRICS AS LITERATURE - - 15th ANNUAL KIDS' NIGHT ON BROADWAY FAN FESTIVAL - - PULP FASHION - - DONATE . . . Scroll Down



THEORETICAL PHYSICIST STEPHEN HAWKING, A SURVIVOR OF ALLEDGED SPOUSAL ABUSE - FINALLY MEETS HIS FIRST LOVE - JANE FONDA
Jane Fonda received flowers and responded with a kiss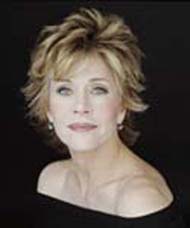 Valentine's Day is next week and this romantic encounter is one of the sweetest.

She got flowers and he got a kiss.

Stephen W. Hawking the theoretical physicist who pioneered a new approach to the deepest problem of modern science - explaining the origin and evolution of the universe - is also known for his struggles against amyotrophic lateral sclerosis, the wasting condition also known as Lou Gehrig's disease.

Hawking was already needing a cane when in 1965 he recited his marriage vows in a formal ceremony to language student Jane Wilde. That union produced three children, Robert, Lucy, and Timothy but ended in divorce in 1991. He was confined to a wheel chair when he married Elaine Mason in 1995. With London newspapers blazing mind jarring headlines that Hawking had been a victim of serious spousal abuse - allegations denied by him but supported by his children - he announced their divorce in October 2006.

He may have been married to two others but Hawking never forgot the beauty he calls "my heart throb" - Jane Fonda - whom he saw in Barberella.

In addition to having the good taste of adoring Fonda, he is also known for indulging his taste for good food and fine wine.

In fact Hawking was recently in Las Vegas where he dined out. That resulted in Vegas restaurants clamoring to get into the headlines by disclosing that the master scientist had broken bread at their eateries.

From the clamor to be associated with him you would have thought he was Brad Pitt or George Clooney, not the guy who has to dumb down scientific explainations so that the experts can comprehend.

After getting his fill in Las Vegas the fellow who took over Isaac Newton's old job at Cambridge University, ventured to Los Angeles where he received the same rock star response when he attended a performance of 33 Variations at the Ahmanson. That's the production in which Fonda reprises her Broadway role of playing a woman who suffers from ALS, the same disease which afflicts Hawking.

Cold hearted clods might speculate Hawking attended the play because of that connection. Broadway To Vegas takes a more romantic approach. He wanted to attend the show because Fonda has been in his mind since Barberella.

To be part of Hawking's mind set is unlike any other.

"The great physicist, Stephen Hawking, came to the play last night. He has had ALS for 50 years!! That is 25 years longer than the next longest living case of the disease," posted Fonda. "No one seems to know exactly why Stephan has managed this. One of his colleagues who was there with him said, "I think it is because Stephen is the most stubborn man in the world!"

In her long, charming article about the event, accompanied by several photographs, she disclosed that the cast had known since the previous Friday that he would attend the Tuesday performance, which caused everyone to develop a case of the jitters. When the big evening arrived cast and crew clogged the hallway, waiting their turn to greet the genius.

When Hawking presented Fonda with a gorgeous bouquet of flowers he told her that "you were my heart throb." Fonda responded by asking him what he meant by "were" and kissed his forehead. That was captured in a sweet, romantic photo that we hope both Fonda and Hawking frame. Fonda's description of the backstage meeting is endearing and informative. ( See Jane Fonda )



Broadway To Vegas is supported through advertising and donations. Priority consideration is given to interview suggestions, news, press releases, etc from paid supporters. However, no paid supporters control, alter, edit, or in any way manipulate the content of this site. Your donation is appreciated. We accept PAYPAL. Thank you for your interest.



ART AND ABOUT


SNAPPED

80-year-old model Daphne Self wears dress by Vivienne Westwood Red Label, shoes by Vivienne Westwood for Melissa, and tights by Wolford. Photo by: Rankin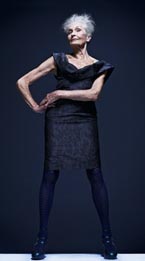 an exhibition at the National Portrait Gallery in London of 80 photographs from fashion photographer Rankin, who captured a series of models aged from 18 to 80, which explore how beauty is "not restricted by race, shape, age or size".

The photographs of models wearing creations by British designers including Dame Vivien Westwood, Stella McCartney, Hussein Chalayan, Giles Deacon and Alice Temperley, will hang beside the paintings of notable women from history which inspired them.

The photographs, and the events are part of the campaign by the organization All Walks Beyond the Catwalk, which was formed by former BBC Clothes Show presenter Caryn Franklin, fashion consultant Debra Bourne and model Erin O'Connor to broaden the outlook of the fashion industry beyond the catwalk tradition of stick thin models.

In a join statement, they said: "This is a chance for visitors to hear and experience a different voice from the heart of the fashion industry and, like the multitude of silhouettes and garments our industry both designs and promotes, beauty is also individual. It's not restricted by race, shape, age or size."



Naomi Shimada wears dress by Hussein Chalayan and Shapewear slip by Marks & Spencer. Photo: Rankin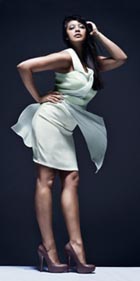 Rankin's many subjects have included Britney Spears, Kate Moss, Kylie Minogue, Spice Girls, Madonna, David Bowie, Bjork, Juliette Binoche, Lily Allen, Kevin Spacey, The Rolling Stones, Vivienne Westwood, Cate Blanchett, Damien Hirst, Queen Elizabeth II, Tony Blair and M.I.A.

The special evening will also include an all female DJ line-up - so patrons can enjoy a drink at the Late Shift bar in the main hall and listen to the uber trendy Loren Platt (Work It Girl), model Naomi Shimada and others.

In the Regency galleries attendees can get creative with special drawing masterclasses by London College of Fashion tutors with live models. Encounter a series of bespoke soundscapes - including Vivienne Westwood speaking about fashion's current hot topics and behind-the-scene conversations installed across the Gallery. Take part in a debate, chaired by Caryn Franklin, asking the question: Has Fashion Imagery become the lens by which we evaluate identity? Plus, up and coming contemporary artist, Josephine Chime, presents a series of specially commissioned interactive artworks.

A panel discussion will include model Erin O'Connor, Lorraine Candy editor of Elle, and the equalities minister, Lynne Featherstone.

A very special Late Shift Extra event at the National Portrait Gallery in London on Friday February 11. The exhibition is free and open to the public.

PULP FASHION

Eleanor of Toledo (and detail), 2006, inspired by a ca. 1545 portrait of Eleanor and her son Giovanni de' Medici by Agnolo Bronzino in the collection of the Galleria degli Uffizi, Florence. Photo: René Stoeltie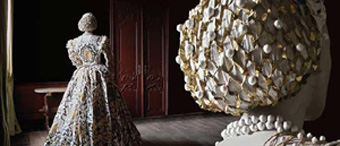 The Art of Isabelle de Borchgrave. Belgian artist Isabelle de Borchgrave is a painter by training, but textile and costume are her muses.

Working in collaboration with leading costume historians and young fashion designers, de Borchgrave crafts a world of splendor from the simplest rag paper.

Painting and manipulating the paper, she forms trompe l'oeil masterpieces of elaborate dresses inspired by rich depictions in early European painting or by iconic costumes in museum collections around the world.

The Legion of Honor is the first American museum to dedicate an entire exhibition to the work of Isabelle de Borchgrave, although her creations have been widely displayed in Europe.

Pulp Fashion draws on several themes and presents quintessential examples in the history of costume - from Renaissance finery of the Medici family and gowns worn by Elizabeth I and Marie-Antoinette to the creations of the grand couturiers Frederick Worth, Paul Poiret, Christian Dior, and Coco Chanel.

Special attention is given to the creations and studio of Mariano Fortuny, the eccentric early-20th-century artist who is both a major source of inspiration to de Borchgrave and a kindred spirit.

Opened February 5, 2011 at the Legion of Honor in San Francisco and is on display through June 5, 2011.


GRAMMY WEEK HONORS T BONE BURNETT AND BARBRA STREISAND
Barbra Streisand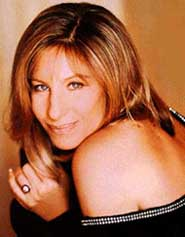 Iconic artist and philanthropist Barbra Streisand will be honored as the 2011 MusiCares Person of the Year at a special event Friday, February 11 at the Los Angeles Convention Center, celebrating her exceptional artistic achievements as well as her philanthropic work. Proceeds from the annual Person of the Year tribute provide essential support for MusiCares, which ensures that music people have a place to turn in times of financial, medical and personal need.

Performances by multi-Grammy-winning artists Tony Bennett, Seal, Donna Summer, BeBe Winans, and Stevie Wonder; multi-Grammy-winning artists and current Grammy nominees Jeff Beck and Herbie Hancock; two-time-Grammy-winning artist and current Grammy nominee LeAnn Rimes; two-time Grammy winner Diana Krall; Grammy-winner and current Grammy nominee Barry Manilow; artist and member of the Grammy-nominated Promises, Promises cast album Kristin Chenoweth; artists and members of the Grammy-nominated Glee cast Lea Michele, Matthew Morrison and Darren Criss; and artist Nikki Yanofsky will also salute Streisand.

The multi-talented Streisand, a multi-Grammy-winning artist and current Grammy nominee, will close the evening with her own special performance.

Red carpet attendees will include President/CEO of MusiCares and The Recording Academy Neil Portnow, and MusiCares Foundation Board Chair Paul Caine and Board Chair Emeritus John Branca. Tribute co-chairs are Marilyn and Alan Bergman, Marty Erlichman, Jay Landers, Ron Meyer, and L. Lee Phillips. Jay Landers and Phil Ramone are the evening's musical directors. Past MusiCares Person of the Year honorees include: Tony Bennett, Bono, Natalie Cole, Phil Collins, David Crosby, Neil Diamond, Gloria Estefan, Aretha Franklin, Don Henley, Billy Joel, Elton John, Quincy Jones, Luciano Pavarotti, Bonnie Raitt, Paul Simon, Sting, James Taylor, Brian Wilson, Stevie Wonder, and Neil Young.



T Bone Burnett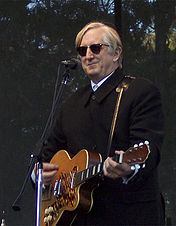 The 2011 MusiCares Person of the Year gala will begin with a cocktail reception and silent auction which will be followed by a gala dinner, and the star-studded tribute concert. The MusiCares Person of the Year tribute is one of the most prestigious events held during Grammy Week.

T Bone Burnett will be honored by the Producers & Engineers Wing of The Recording Academy during its 10th Anniversary with a Grammy Week event titled Shaken Rattled & Rolled.

The legendary producer will be honored for his commitment to excellence and ongoing support for the art and craft of recorded music. Grammy-winning artists Elton John and Leon Russell will serve as honorary event co-chairs at the event to be held on Wednesday, February 9, at The Village Recording Studios in Los Angeles.

"When the Producers & Engineers Wing was established, an essential voice was created for music makers: the voice of those 'behind the glass' that work so diligently to ensure that the quality and integrity of recorded music is captured and preserved," said Neil Portnow, President/CEO of The Recording Academy. "As we celebrate this milestone anniversary, it is only fitting that we pay tribute to one of our industry's finest, T Bone Burnett, whose visionary talent and masterful skills have greatly impacted the landscape of audio production."

The 10-time Grammy winner and current three-time nominee Burnett has a body of work that spans 40 years. It includes producer credits for artists such as Elvis Costello, Jakob Dylan, Elton John & Leon Russell, Robert Plant & Alison Krauss, k.d. lang, John Mellencamp, Willie Nelson, Ralph Stanley, Cassandra Wilson, and countless other great artists. Burnett has also produced the soundtracks for many film projects including Across The Universe; Cold Mountain; Crazy Heart; O Brother, Where Art Thou?; The Big Lebowski; and Walk The Line.

Grammy Week culminates with the 53rd Annual Grammy Awards on Sunday, February 13, 2011, at the Staples Center in Los Angeles. The telecast will be broadcast live on the CBS Television Network


FORD'S THEATRE CELEBRATES LINCOLN'S BIRTHDAY
Abraham Lincoln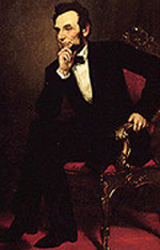 The famed theater in Washington, DC where President Abraham Lincoln made his farewell appearance is celebrating his Februay 11th birthday with special February programming.

There are free performances of Papa Day and Tales of the Lincoln, which are appropriatefor all family members.

In Papa Day by Jennifer L. Nelson, dressmaker and Lincoln family friend Elizabeth Keckly shares a series of gentle and humorous stories about life in the Lincoln White House. Come to know Abraham Lincoln as a playful and loving parent who enjoyed spending time with his young sons and their pets. Danielle A. Drakes reprises the role for this special program.

People around the world have been captivated by Abraham Lincoln and the stories that spring from his life. In Tales of the Lincoln with Jon Spelman, discover how the teenaged Abe won a "talking contest" against a grown man, how he used "t-mail" to communicate with generals during the Civil War, and how his vivid dreams often predicted the future. Celebrated storyteller Jon Spelman explores the varied tales of Abraham Lincoln the man, leader and legend in his one-man show.

Historian Nora Titone will read excerpts from and lead a discussion about her book My Thoughts Be Bloody at Ford's Theatre on Monday, February 7. A fascinating look at the intense sibling rivalry between Edwin and John Wilkes Booth, My Thoughts Be Bloody explores how conflicting political viewpoints, strained family relationships and divergent career paths were integral to shaping John Wilkes Booth's character, and the anger that led to the infamous American tragedy at Ford's Theatre. The free 60-minute program includes a question-and-answer session led by Titone. A book-signing will follow in the Ford's Theatre Lobby.

And on Friday February 11, Washington-area young people will present a selection of Lincoln's greatest speeches as part of the Target Oratory Festival on the Ford's Theatre stage.

Additionally, Abraham Lincoln's woolen overcoat, worn to Ford's Theatre the night of his assassination, will return to its display in the Ford's Theatre Atlantic Lobby on February 9.


SWEET CHARITY


OPERA FOR FLOOD RELIEF In the aftermath of the floods that racked Queensland and Victoria, Australia last month, many Opera Australia artists expressed a desire to reach out to the victims. The result was Opera for Flood Relief, which takes place this evening, Sunday, February 6 at the Sydney Opera House in Sydney, Australia.

Among artists appearing is Antony Walker, who conducts The Barber of Seville at the Sydney Opera House this month and who makes his Met debut this April.

The evening will feature highlights from Carmen, The Barber of Seville and Lakmé with all proceeds going to the Premier's Disaster Relief Appeal in Queensland and the Red Cross Victorian Floods Appeal.

Hosted by ABC Classic FM's Damien Beaumont the concert will feature an array of international artists currently in Sydney for Opera Australia's summer season such as Rinat Shaham and Giorgio Caoduro, as well as Opera Australia favorites, the Opera Australia Chorus and the Australian Opera and Ballet Orchestra conducted by Andrew Greene and guest conductors Guillaume Tourniaire and Antony Walker.


THE STORK REPORT . .


CHRISTINA APPLEGATE gave birth to a girl named Sadie Grace on January 27, 2011.

Applegate is engaged to musician Martyn LeNoble, and this is her first child.

CRAIG FERGUSON AND WIFE MEGAN are parents of a baby boy named Liam James. The little tike can learn the tricks of wrapping his father around his little finger from his 9-year old half brother Milo Hamish, from his father's previous marriage.


HAPPY BIRTHDAY TO . . . .


ROBERT KLEIN is the birthday boy on February 8. The star of numerous television specials, some of the actor's Broadway appearances include: 20,000 Frozen Grenadiers; The Apple Tree; Morning, Noon and Night; New Faces of 1968; They're Playing Our Song; Night of 100 Stars; The Exonerated and The Sisters Rosensweig for which he received an Outer Critics Circle Award as Best Actor.

JUDITH LIGHT who delivers a sensational portrayal of Mrs. Lombardi in the production Lombardi at the Circle in the Square Theatre celebrates her natal day on February 9.

RICHARD SKIPPER blows out the candles and opens his presents on February 11. Richard Skipper as 'Carol Channing' In Concert has an open ended run at St. Luke's Theatre, NYC.

ALAN CUMMING the stage, television and film actor, writer, director, producer and author celebrated his birthday on January 27. Last Sunday Cumming was in London to sing some of Lance Horne's songs in the concert to celebrate the release of his album First Things Last, at the Garrick Theatre. That was followed on February 1 by the versatile performer shooting "a little scene for PBS' The Electric Company" and then asking his fans to "Please chant that JFK does not stay closed much longer and I can get out of this hotel room at Heathrow."


GET WELL SOON TO . . . .


RICCARDO MUTI 69, the classical musical director of the Chicago Symphony Orchestra fainted during rehearsal last Thursday afternoon at Symphony Center, was rushed to Northwestern Memorial Hospital where he will undergo surgery on Monday, February 7, to repair fractures to his face and skull which occurred when he collapsed and hit the podium.

Muti was little more than two hours into the rehearsal when he collapsed. Last October Muti was force to cancel the majority of his appearances with the orchestra two weeks into what was to have been a month-long residency. As for last week's performance - the show went on. Leonard Slatkin, conductor of the Detroit Symphony, which is on strike, was already on a train headed for Chicago to be a panelist for Muti's new International CSO Sir Georg Solti International Conductors Competition and Apprenticeship. He was called and asked to step in. Since Slatkin happened to know Shostakovich's Fifth Symphony by heart he changed plans, arrived at Symphony Hall, conducted the program without a rehearsal. Slatkin will also conduct Tuesday's program and then head to Los Angeles to conduct the LA Philharmonic. (see Who's Where section.)

It is not known how long Muti will remain in the hospital. Doctors are trying to determine what caused the fainting spell.


SPREADING THE WORD


LYRICS AS LITERATURE Songwriter Paul Simon and Pulitzer Prize-winner for Poetry, Paul Muldoon, talk about how the art of writing lyrics is a form of literature with writer Bill Flanagan.

Reservations limited to two per person. Tickets will be issued at the reservation table. No admittance without a ticket. No saving seats. Once the main hall is full, seating will be in an overflow theater. Friday, February 11, at the John F. Kennedy Presidential Library and Museum in Boston.

SHIRLEY MacLAINE the Academy Award winning actress, dancer and author promises a frank and provocative evening. MacLaine will combine a montage of memorable film moments with private revelations about her extraordinary life, career and spiritual journey. Tuesday, February 8 at the Kravis Center in West Palm Beach, FL.

FORBIDDEN BROADWAY: BEHIND THE MYLAR CURTAIN Gerard Alessandrini, American playwright, parodist, actor, and theater director best known for creating the award-winning off-Broadway musical theater parody revue Forbidden Broadway, will discuss his new book, Forbidden Broadway: Behind the Mylar Curtain. Monday, February 7, at the New York Public Library for the Performing Arts, Dorothy and Lewis B. Cullman Center, Bruno Walter Auditorium, NYC.

ADDY'S WORLD where visitors can explore life during the Civil War with a new self-guided museum tour, Addy's World.

Addy Walker, an American Girl, is a nine-year old born into slavery who escapes to freedom with her mother during the Civil War. Visitors will experience what life was like for Addy and other young African American girls during the Civil War as they follow the guide to discover objects and stories throughout the museum.

Yesterday, February 5, during the Smithsonian's Black History Month family festival, there was a special questionnaire visitors completed and one lucky winner took home an Addy doll.

The guide will be available at the museum through the summer as part of the museum's commemoration of the 150th anniversary of the Civil War.

National Museum of American History in Washington, DC.

L.A. THEATRE WORKS records Becky Shaw directed by Bart DeLorenzo. Starring four-time Academy Award nominee Marsha Mason, Matt Letscher, Emily Bergl whho is reprising her Off Broadway role, Josh Stamberg and Missy Yager in the Pulitzer Prize finalist and Off-Broadway hit comedy by Obie Award-winner Gina Gionfriddo.

When Suzanna decides to set her best friend Max up on a blind date with her husband's mysterious co-worker, Becky Shaw, she sets into motion a series of cataclysmic events forever changing all of their lives. All performances will be recorded to air on L.A. Theatre Works' syndicated radio theater series. February 9-13 at the Skirball Cultural Center in Los Angeles.

LET ME DOWN EASY Ann Deavere Smith's solo show was recorded last Friday and Saturday for airing as part of the Great Performances series on PBS. Crews captured her performances in Arena Stage's Kreeger Theater at the Mead Center for American Theater in Washington, DC. In the show Smith ruminates on the health care system and end of life, performing sections of interviews with 20 people as diverse as a bull rider, her aunt, and the late Texas Governor Ann Richards. The stage version has been directed by Leonard Foglia. Directing for television was Matthew Diamond.

Let Me Down Easy, which ends its DC run February 13th, will then leave on a national tour to The Wexner Center for the Arts; Philadelphia Theatre Company; a collaborative presentation of San Diego REPertory Theatre, La Jolla Playhouse, and the Vantage Theatre; and Berkeley Repertory Theatre.


SHAKESPEARE'S GLOBE CELEBRATES LONDON 2012 OLYMPIC AND PARALYMPIC GAMES


Shakespeare's Globe has announced its plans to celebrate the London 2012 Olympic and Paralympic Games with an unprecedented multi-lingual Shakespeare project.

For the first time ever in a single theatre season, all the plays of Shakespeare will be presented, each in a different language, each by a different company from around the world.

Over the course of six weeks, beginning on Shakespeare's birthday, April 23, 2012, the Globe will host a kaleidoscope of 38 international theatre companies, from some of the most respected to some of the newest, to present every one of Shakespeare's 38 plays in a different language.

Artistic Director, Dominic Dromgoole explains: "It has long been recognized that Shakespeare, as well as a great playwright, has become an international language, and has proved one of the most life-affirming and barrier transcending ways that people can speak to one another. His plays have been translated into every major living language and there is a long tradition of Shakespeare performances around the world in people's own vernacular.

"As Shakespeare's theatrical London home, we want to celebrate this international affection by welcoming Shakespeare enthusiasts – producers, performers and audiences – to experience his work in their own languages and dialects within this iconic theatre. During the course of these six weeks, the Globe will create an international Shakespeare community in the heart of London, as a prelude to the internationalism which will fill the capital later in the year with the Olympics". Within the season, Shakespeare's Globe will stage one production, with the remaining 37 plays presented by theatre companies from around the world. Likely partnerships include:

- In Lithuanian, a production from one of the world's greatest Shakespearean directors, Eimuntas Nekrošius;
- In Urdu, Pakistani TV star Nadia Jamil as Katherine in Taming of the Shrew;
- In Greek, a visit from the National Theatre of Greece with one of Shakespeare's Mediterranean masterpieces;
- In Aboriginal languages for the first time, a co-production of King Lear from the Malthouse Theatre and Bell Shakespeare Company;
- In Maori, a new production of Troilus and Cressida starring Rawiri Paratene;
- In Shona, The Two Gentlemen of Verona presented by Zimbabwean actors Denton Chikura and Tonderai Munyevu;
- In Turkish, a production from the immensely popular Istanbul theatre Oyun Atolyesi;
- In Spanish, the Madrid-based company Rakata, who specialize in work from the Spanish Golden Age, with a production of Henry VIII;
- In Mandarin, a history play from the National Theatre of China;
- In Portuguese, the return of the celebrated Grupo Galpão from Brazil;
- In Italian, Rome's Cometa Off Theatre with a new production of Julius Caesar;
- In British Sign Language, a ground breaking production of Love's Labour's Lost from Deafinitely Theatre;
- In Cantonese, visionary Hong Kong director Tang Shu Wing's Titus Andronicus;
- In Arabic, a musical version of The Tempest from Sabab Theatre, based on the Persian Gulf's sea shanty tradition.

Since Sir Peter Daubeny's 'World Theatre Season' at the Aldwych Theatre in 1964, multilingual Shakespeare has become a popular feature of London's theatrical landscape. The Globe has previously welcomed the Zulu Macbeth and staged the London premières of Grupo Galpão's Brazilian Romeo and Juliet and Mansai Nomura's Japanese Kyogen of Errors.

Shakespeare's Globe project forms part of the London 2012 Cultural Olympiad and celebrates international cultural collaboration. Shakespeare's Globe will also be celebrating its 15th birthday in 2012.

This program is funded by the National Lottery through the Olympic Lottery Distributor.


OTHER PEOPLE'S MONEY


THE FURIOUS THEATRE COMPANY AND THE PASADENA PLAYHOUSE in Pasadena, CA have mutually agreed to the end of Furious' residency in the Carrie Hamilton Theatre.

According to the official release:

"The residency began in 2004, 18 months after Furious Theatre had to leave their first home at Armory Northwest. Playhouse Artistic Director Sheldon Epps and then-Executive Director Lyla White approached the young company to occupy what was called The Balcony Theatre. Furious Theatre Company jumped at the chance for a new home and a profile-raising partnership with the renowned and historic Pasadena Playhouse.

"Although the original agreement between the two companies ended in 2008, the organizations agreed to continue to enjoy the partnership that had expanded to include Furious participation in other Playhouse programs such as New Generations, which introduced at-risk youth to theatre free of charge, and the Hothouse new play development reading series.

"After the closure of Pasadena Playhouse in early 2010, Furious Theatre Company was able to help keep the doors of the Carrie Hamilton Theatre open by paying the March rent. They then produced the Los Angeles premieres of Men of Tortuga by Jason Wells and boom by Peter Sinn Nachtrieb. The company was looking forward to once again renewing the residency agreement after the Playhouse re-opened in late summer of last year, but after months of discussion, the organizations were not able to come to an agreement that suited both of their needs."


15th ANNUAL KIDS' NIGHT ON BROADWAY FAN FESTIVAL
Fan Festival kicks off The Broadway League's annual Kids' Night on Broadway! today, February 6th.

Kids experience the magic of live theatre and participate in special activities hosted by casts and crews of participating Broadway shows at a pre-theatre party at the new Bowlmor Lanes Times Square.

Broadway kids bowl for free and enjoy unique theatre activities and fun along the way, including:

· Chicago Broadway Dance Studio
· "Pin the guitar on Elvis"
· Billy Elliott "Jump for Billy" photo op
· Rainmania fan poses photo op
· La Cage Aux Folles Broadway karaoke
· The Lion King mask coloring
· Mary Poppins kite coloring
· The Addams Family ping-pong eyeball toss
· Mamma Mia! ring toss
· Lombardi Super Bowl Sunday Football Toss
· Bowling with Broadway cast members, and Broadway Kids Care, a group of actors who have been or are currently on Broadway and do service for the community

Kids ages 6 to 18 can attend a Broadway show for free February 6 - 10 when accompanied by a full-paying adult. Shows include The Addams Family, American Idiot, Billy Elliot, the Musical, Chicago, Driving Miss Daisy, Good People, Jersey Boys, La Cage Aux Folles, The Lion King, Lombardi, Mamma Mia!, Mary Poppins, Memphis, Million Dollar Quartet, RAIN: A Tribute to The Beatles, SPIDER-MAN: Turn Off the Dark, The Phantom of the Opera, and Wicked.

Ticket includes pre-theatre parties, restaurant and parking discounts, Special Edition Kids' Playbill provided by Theatre Development Fund, educational programs, and Broadway fun and events.



PHANTOM: THE LAS VEGAS SPECTACULAR at the Venetian Resort in Las Vegas celebrated its 2,000th performance on February 1. Phantom currently features Anthony Crivello in the title role, along with Kristi Holden as Christine Daaé, Andrew Ragone as Raoul, Joan Sobel as Carlotta, Tina Walsh as Madame Giry, Brianne Kelly Morgan as Meg Giry, John Leslie Wolfe as Monsieur Andre, and Lawson Skala as Monsieur Firmin.






THE WIZARD OF OZ-THE MUSICAL written by L. Frank Baum. Lyrics by E.Y. Harburg. Music by Harold Arlen. Additional music by Andrew Lloyd Webber. Directed by Jeremy Sams.

The production begins previews on February 7th 2011 at the London Palladium, but Prince Charles and Camilla, the Duchess of Cornwall enjoyed a sneak preview during a gala for The Prince's Foundation for Children and the Arts last week.

Winner of BBC's Over The Rainbow show, Danielle Hope, plays Dorothy and sang Somewhere Over The Rainbow. Also present was Rowan Atkinson, who has previously appeared in Oliver!. He read Roald Dahl's critique of Goldilocks and the Three Bears.

"It was just magical to perform tonight, it was like the preview of the preview. I am really excited about the start of the show," gushed Hope.

In addition to Hope the production features Sophie Evans as Dorothy (alternate for Tuesday evenings and when Danielle Hope is on holiday), Michael Crawford as The Wizard, Edward Baker-Duly as Tin Man, David Ganly as Lion, Paul Keating as Scarecrow, Hannah Waddingham as the Wicked Witch of the West and Emily Tierney as Glinda.

Developed from the ever popular MGM screenplay this new production contains all the much-loved songs from the Oscar winning movie score, all the favorite characters and iconic moments, plus a few surprises along the way.

FATHERLAND a world premiere by award-winning Australian playwright Tom Holloway.

Directed by Caroline Steinbeis.

The two hander stars Jonathan McGuinness and Angela Terence.

Mark and Angela are father and daughter grappling with a painful past and delicate future. What starts as an innocent evening of ice cream and DVDs derails quickly into much more dangerous territory in this heart-stopping new play about a father who loved too deeply."

Set designed by Max Jones; lighting by Johanna Town.

Opens February 10 at the Gate Theatre in London.

THE QUANTUM EYE starring Sam Eaton is the longest running one-man Off-Broadway magic show in New York. The Quantum Eye has moved to Theatre 80 St. Marks. Currently in previews the production starts regular Saturday performances on February 12, 2011.

Theatre 80 St. Marks is an historic venue, which started its life as a "speakeasy" during prohibition before becoming the Off-Broadway theatre it is today. Such stars as Dom DeLuise and Myrna Loy have left their marks in the sidewalk outside of the theater and Frank Sinatra worked as a singing waiter there early in his career.

BORN YESTERDAY the Broadway revival of the Garson Kanin masterpiece will be directed by Doug Hughes and star Emmy nominee Jim Beluschi and Nina Arlands.

The hit comedy first opened on Broadway in 1946 and ran for 1,642 performances. The revival begins previews at the Cort Theatre on March 31 with the official opening slated for April 24, 2011.

MOLLY SWEENEY By Brian Friel. Directed by Charlotte Moore. Starring Jonathan Hogan as Mr. Rice Geraldine Hughes as Molly Sweeney and Ciaran O'Reilly as Frank Sweeney.

A riveting contemporary drama about the terrible consequences of a medical miracle.

Molly has sat in happy, capable, independent darkness since she was ten months old. When her husband, a restless, unemployed enthusiast makes her blindness his latest cause, he consults a once famous star surgeon who, despite being half drowned in Irish whiskey agrees to attempt to restore Molly's sight.

When the bandages come off, remarkable revelations ensue. The privacy of blindness is assaulted. Can one "learn to see"? Or will the shock of realization overwhelm a beautiful woman who has never seen her face! Friel's fascinating journey plunges deeply into the secrets and hearts of three extraordinary characters who lower the veil and allow us into their very private lives.

Artistic Team: Set Design by James Morgan. Costume Design by Linda Fisher. Lighting Design by Richard Pilbrow and Michael Gottlieb. Sound Design by Zachary Williamson. Stage Manager is Pamela Brusoski. Rebecca C. Monroe is the Assistant Stage Manage.

Performances through March 13, 2011 at the Irish Rep in New York City.

ARSENIC AND OLD LACE by Joseph Kesselring. Directed by Scott Schwartz.

Starring Betty Buckley and Tovah Feldshuh.

It's murder most funny as the homicidal Brewster sisters of Brooklyn take to relieving the loneliness of old men by inviting them in for a nice glass of homemade elderberry wine. It just happens to be laced with a few additives: arsenic, strychnine, and "just a pinch" of cyanide. Award-winning Broadway legends Betty Buckley and Tovah Feldshuh join forces in this fresh, new take of this black comic farce, one of the most popular plays in the history of American theater.

The cast also includes: Diane and Hal Brierley Resident Acting Company members Abbey Siegworth, Lee Trull and J. Brent Aford, James Crawford, Jason Douglas, Nehal Joshi, Steve Powell, Diana Sheehan, Paul Taylor and SMU Meadows School of the Arts students Chris McCreary and Sean O'Connor.

Scenic Design by Anna Louizos. Costume design by William Ivy Long. Lighting by Jeff Croiter. Sound by Curtis Craig. Composer/Lyricist is Michael Holland. Wig Design by Paul Huntley. The production manager is Jeff Giddord. Meilssa Daroff serves as production stage manager and Korey Kent is the assistant stage manager.

Performances through March 13 at the Dallas Theater Center.


WHO'S WHERE


BERNADETTE PETERS the vivacious personality and big voice of the Tony Award winning actress and singer lights up the stage February 11-12, 2011 at the McCallum Theatre in Pall Springs, CA.

KURT WEILL UNCOVERED: IN CABARET a chronology of Kurt Weill's vocal selections by Ian Greenlaw (baritone, La Scala, Metropolitan Opera, Lyric Opera of Chicago) and Marcy Richardson (soprano, Princeton Festival, Central City Opera, Carmel Bach Festival) who join operamission and Neke Carson to collaborate with a specially selected company of guest vocal performers, assembled by conductor Jennifer Peterson, director of operamission, who will be pianist and curator of two varied evenings of Weill's popular songs, art songs, opera arias, Lieder, and chansons in the form of a 'cabaret chronology.' Friday, February 11 and Friday, February 18 at the Gershwin Hotel in NYC.

JULE STYNE: THE MELODIES and MEMORIES SERIES Conceived and Directed by Barry Levitt, Former Artistic Director of the 92nd St.Y's Lyrics & Lyricists series A renowned composer for Broadway, films, television, and radio, Jule Styne has penned the music for some of America's best-loved and most enduring songs. One of the most prolific songwriter/composers in American theater, Styne specialized in creating songs especially suited for particular Broadway divas like Carol Channing, Ethel Merman and Barbara Streisand. Working closely with Frank Loesser and Sammy Cahn through the 1930s, 1940s, and 1950s, he also penned many movie songs. Songs include: Just In Time, Diamonds Are a Girl's Best Friend, Don't Rain On My Parade, Time After Time, I've Heard That Song Before, and People. February 9-13 at the Aventura Arts & Cultural Center. in Aventura, FL.

WOODY ALLEN & THE EDDY DAVIS NEW ORLEANS JAZZ BAND perform every Monday except March 21 & 28 at Cafe Carlyle in NYC.

JON BON JOVI performs Wednesday, February 9, at the Bryce Jordan Center in University Park, PA. on Friday he opens a two nighter at the Energy Center in Pittsburgh.

ENGELBERT HUMPERDINCK brings his romantic song stylings to the Orleans Showroom in Las Vegas, February 11-13.

PAULO SZOT WITH BOB ALBANESE, MUSICAL DIRECTOR entertaining at Cafe Carlyle in New York City through February 12.

REBECCA LUKER AND HOWARD McGILLIN performs their Let' s Fall in Love cabaret act. According to Luker and McGillin "We'll be singing some of the classic hits of Broadway and the American Songbook. They range from Harold Arlen's Let's Fall in Love to Rodgers and Hammerstein's Some Enchanted Evening, with duets and solos from some of Broadway's greatest songwriters, including Cole Porter, Stephen Sondheim, Andrew Lloyd-Webber and some of the new and emerging writers of today." Just in time for Valentine's Day on Saturday, February 12, at the intimate 776-seat Edgerton Center for the Performing Arts at Sacred Heart University in Fairfield, CT.

LOS ANGELES PHILHARMONIC conducted by Leonard Slatkin. Jazz at Lincoln Center Orchestra with Wyntin Marsalis. Shostakovich: Suite for Jazz Orchestra (No. 1). Gershwin: An American in Paris and Marsalis: performing Swing Symphony which is the West Coast premiere, and a LAPA commission. February 12-13 Los Angeles.




FINAL OVATION


MILTON BABBITT credited with being Stephen Sondheim's mentor and particularly noted for his serial and electronic music died January 29, 2011 in Princeton, NJ, where he lived. He was 94.

In 1948, Babbitt joined Princeton University's music faculty and in 1973, became a member of the faculty at the Juilliard School in New York. In addition to Sondheim, among his more notable former students are music theorists David Lewin and John Rahn, composers Donald Martino and Paul Lansky.

He became famous for his electronic music, when he was hired by RCA as consultant composer to work with their RCA Mark II Synthesizer at the Columbia-Princeton Electronic Music Center (known since 1996 as the Columbia University Computer Music Center), and in 1961 produced his Composition for Synthesizer. Babbitt was less interested in producing new timbres than in the rhythmic precision he could achieve using the Mark II synthesizer, a degree of precision previously unobtainable in live performances, according to his 2001 biography by Barkin & Brody.

In 1982, the Pulitzer Prize board awarded a "special citation to Milton Babbitt for his life's work as a distinguished and seminal American composer"

Mr. Babbitt is survived by a daughter, Betty Anne Duggan, and two grandchildren, Julie and Adam.

JOHN BARRY film composer who won Oscars and 4 Grammy Awards died January 30, 2011. He was 77.

Barry scored eleven of the 14 James Bond films. He also wrote scores for with scores for, among others, The Lion in Winter, Midnight Cowboy, Born Free and Somewhere in time.

Barry also wrote the scores to a number of stage musicals, including Passion Flower Hotel (lyrics by Trevor Peacock), the successful West End show Billy (lyrics by Don Black) and two major Broadway flops, The Little Prince and the Aviator and Lolita, My Love, the latter with Alan Jay Lerner as lyricist.

Barry was inducted into the Songwriters Hall of Fame in 1998.

Barry was married four times. His first three marriages, to Barbara Pickard (1959-63); Jane Birkin (1965-68); and Jane Sidey (1969-71), all ended in divorce. He married his fourth wife Laurie in 1976, who he remained with until his death. The couple had a son, Jonpatrick, and three daughters: Susie, Sian and Kate.

MICHAEL TOLAN stage and screen actor died January 31, 2011 of heart disease and renal failure. He was 85.

He made his Broadway debut in George Axelrod's Will Success Spoil Rock Hunter? in 1955, and appeared in five more Broadway plays through 1961 including Romanoff and Juliet, and A Majority of One. In 1963, he co-founded the off-Broadway American Place Theatre with Wynn Handman and Sidney Lanier.

His two marriages ended in divorce. In addition to his partner Donna Peck, he is survived by a brother, Gerald Tuchow, of Detroit; a daughter, Alexandra, of Watertown, Mass., from his first marriage, to the actress Rosemary Forsyth; and two daughters, Jenny and Emilie, both of New York, from his marriage to Carol Hume.






Next Column: February 13, 2011
Copyright: February 6, 2011. All Rights Reserved. Reviews, Interviews, Commentary, Photographs or Graphics from any Broadway To Vegas (TM) columns may not be published, broadcast, rewritten, utilized as leads, or used in any manner without permission, compensation and/or credit.
Link to Main Page
---
Laura Deni



For the snail mail address, please E-mail your request.
CLICK HERE FOR COMMENT SECTION