! >
Broadway To Vegas
  
 SHOW REVIEWS CELEBRITY INTERVIEWS GOSSIP NEWS

| | |
| --- | --- |
| | |
CONAN O'BRIEN NEEDS LISTENING LESSONS - -BILLY CRYSTAL STAGES ACTORS FUND PERFORMANCE - - OPEN YOUR HEART AUCTION - - TONY RANDALL'S NATIONAL ACTORS THEATRE PLANS ONE MORE STAGING - - DONALD TRUMP VISIONS THE APPRENTICE AS BROADWAY MUSICAL - - ROSEMARY PRINZ STARS AS KIMBERLY AKIMBO - - OSSIE DAVIS DIES WHILE MAKING FILM - - CIRQUE SHOWS DOMINATE LAS VEGAS - - DONATE . . . Scroll Down


TONY RANDALL'S NATIONAL ACTORS THEATRE LONG TERM FUTURE IN DOUBT
Tony Randall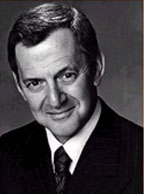 The National Actors Theatre, founded by the late Tony Randall, can exist for one more year based on the Randall name. After that, it will need to stand on its own merit. That will be determined by support from sponsors and the ticket buying public, those connected with the theatre told Broadway To Vegas.

The company has plans to present one more staging. Whether that will take place at Pace University or another location is still being determined.

Randall spent the last two decades of his life consumed with the establishment of a national American Repertory Theater. In 1991, bankrolled by a million dollars of his own money, his dream became a reality with the opening of the National Actors Theater.

In 2002 Randall moved the National Actors Theatre to Pace University's Michael Schimmer Center for the Arts where it currently operated under a LORT B (League of Resident Theatres) contract with Actors' Equity Association. Pace provided the theatre company with a rent-free home. In return, NAT offered select Pace students internships in acting, production and administration.

Randall's theater company was developed with the intent to primarily present Broadway revivals of classic plays at affordable prices. Randall served as executive producer and intended for the theater to survive his passing through provisions of a trust.

The website for Tony Randall's National Actors Theatre at Pace University hasn't been updated in over a year. That site promotes an upcoming production of As You Like It. That production opened November 23, 2003. The special events section touts A Broadway Frolic 2004 which took place April 19, 2004 at the Plaza Hotel in Manhattan.


CONAN O'BRIEN NEEDS LISTENING LESSONS
Alan Alda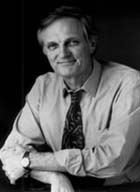 On Tuesday, January 25, three days before his 69th birthday, Alan Alda received an early birthday present - his first Academy Award nomination. Five days after his 69th birthday Alda guested on The Conan O'Brien Show - admittedly to talk about receiving an Academy Award nomination for Best Supporting Actor for his role in Martin Scorsese's The Aviator.

Alda deserved a more gracious host.

In his long and illustrious career Alda has been nominated for the Emmy Award 29 times - 21 of those were for M*A*S*H. He won five Emmy Awards for that series, becoming the first person ever to win for acting, writing, and directing. Alda received two Tony Award nominations, won seven People's Choice Awards, six Golden Globe awards, and three Director's Guild of America awards.

O'Brien could learn a lot from Alda.

While O'Brien's television image frequently resembles a socially challenged dork, trying too hard to be accepted at a frat house beer bust, usually isn't rude to his guests. The Alda spot was strong on nervous energy and short on manners.



Alan Alda as Senator Owen Brewster in Miramax Films' The Aviator. Photo: MIRAMAX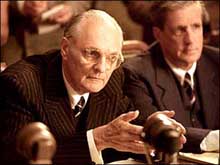 O'Brien interrupted and stomped on Alda describing what happened when the Oscar nominations were announced. The last we heard Alda's wife was screaming. Alda was in the middle of the next sentence when O'Brien had to put in his two cent's worth - proving that you don't get much for a penny.

Considered the wonder kid of NBC, O'Brien has been anointed to take over The Tonight Show when Leno retires in five years. O'Brien's may have confused a guaranteed future with permission to be self absorbed. Whether the viewer prefers one personality over another - what all successful talk show hosts have in common is the ability to listen.

In the past O'Brien has displayed that quality.

Unfortunately, that thoughtful restraint was not in action when Alda sat in the chair next to the desk. Conan was like a wound up spring toy that demanded to be the center of attention. O'Brien constantly interrupted and stepped on Alda telling a story - in many cases not even permitting Alda to finish a sentence.

The red-headed host wouldn't shut up. At one point the two men were talking over each other to the extent that it resembled a childish screaming match where neither could be understood.

The intelligent and ever gracious Alda threw one intellectual zinger at motormouth O'Brien saying in effect - why don't you talk now. Not taking the hint that he should be quiet and actually permit the guest to answer a question, O'Brien answered "It's all about me."

No, it isn't.



Broadway To Vegas is supported through advertising and donations. Priority consideration is given to interview suggestions, news, press releases, etc from paid supporters. However, no paid supporters control, alter, edit, or in any way manipulate the content of this site. Your donation is appreciated. We accept PAYPAL. Thank you for your interest.


SPREADING THE WORD


SHYLOCK: VILLAIN, VICTIM, OR SOMETHING MORE? Portrayed on screen by Al Pacino in the new film version of The Merchant of Venice, Shylock finds himself at the center of attention once again. But what does the character of Shylock really mean? Get behind the scenes of Shakespeare's star Jewish victim and villain with Academy Award-winner F. Murray Abraham, Gareth Armstrong the writer/star of the new play Shylock, and scholar James Shapiro, author of Shakespeare and the Jews, participate in a discussion moderated by New York Times culture writer Anita Gates.

Tuesday, February 8, part of Theater Talk @ the Makor series in NYC.

CORRECTION Dr. Jennifer Darling plans an over-the-top wedding and honeymoon extravaganza. Then The New York Times reveals that the bride is a fraud - her education and professional credentials are total lies! Based on a true story, playwrights Ronnie Cohen and Jane Beale present the premiere staged reading of an urbane, witty comedy and commentary on love, work and deception.

Part of the Makor Series. Sunday, February 13, at Steinhardt Building in NYC.

A NEW AMERICA: THE 1940s AND THE ARTS hosted renowned television host Dick Cavett who leads an evening of conversations - with artists Kitty Carlisle Hart, Debbie Reynolds and Carol Channing - on the emergence of America's artistic identity in the 1940s. Part of the A New America: The 1940s and the Arts series. Wednesday, February 9, in the Eisenhower Theater of the Kennedy Center in Washington, D.C.


SWEET CHARITY


17TH ANNUAL OPEN YOUR HEART AUCTION This year's auction will feature exclusive photographs by celebrities of The Look of Love, and a vast array of items, including fine art and photography, couture, home furnishings, and travel and entertainment packages. Todd Oldham is spearheading the photography project, sponsored by Hewlett Packard, which will include 40 photographic images, by such talents as Susan Sarandon, Tim Robbins, Missy Elliott, Chloe Sevigny, and Amy Sedaris showcasing their meaning of love. Broadway star Billy Porter and global recording artist Ari Gold will perform.

Bailey House pioneered the creation of permanent housing and support services for homeless men, women and children living with HIV/AIDS. Thursday, February 10 at the Puck Building in NYC.

700 SUNDAYS starring Billy Crystal will stage a special benefit performance for The Actors' Fund. February 13 at the Broadhurst Theatre in New York City. Benefit tickets at $500 include a post- cast party. Regular tickets are $76 - $101.


OTHER PEOPLE'S MONEY


DONALD TRUMP telling Conan O'Brien that The Apprentice may become a Broadway musical. Trump said that Mark Burnett, producer of The Apprentice, is talking to four Broadway producers about turning the TV hit into a Great White Way tuner.

WEST END THEATRE IN LONDON despite some challenging circumstances over the last 12 months, had box office figures that revealed 2004 was the West End's most successful year since records began in the 1980s, according to figures compiled by the Society of London Theater and released Monday, January 31. Figures were compiled directly from independently audited box office returns for the Society of London Theatre and relate to ticket sales in the 52 larger Central London theatres, encompassing the commercial West End and the major subsidized theatres. The total, $644.5 million, was 6 percent higher than in 2003. Attendance of 11,938,999, up 3 percent from that of 2003, was just a fraction below the record, just over 12 million in 2002.

Commenting on the results, Richard Pulford, Chief Executive of the Society of London Theatre, said: "This is an excellent set of figures underlining the West End's position as the vibrant entertainment hub of London, and as a cornerstone of the UK economy. The figures confound speculative press stories about declining audiences that appeared during the year. With a 3% rise in audiences and a 6% rise in income, they also indicate that ticket prices on average rose by no more than inflation."

Insiders anticipate a profitable box office for this year. Eagerly anticipated opening include Billy Elliot – The Musical, Acorn Antiques - The Musical and Guys And Dolls.


MOTHER NATURE AS A CRITIC


COLOR ME DARK went dark last Friday when performances were canceled at New Haven's Bushnell Theatre due to inclement weather.



NATIONAL ANTHEMS by Dennis McIntyre. Directed by David Grindley and starring Kevin Spacey.

A dark comic set in 1980's Detroit, National Anthems chronicles the class clash between Arthur and Leslie Reed, an affluent, social climbing couple played by Mary Stuart Masterson and Steven Weber - whose house is decorated with swanky imported furniture, designer clothes, a brand new BMW and an ornate Japanese garden in the backyard. Things are fine in their world until they grudgingly invite neighbor Ben Cook - an inner city fire fighter - into their home. The action is played out in real time heightening the escalating tensions.

Spacey's role of Ben, the neighbor, is a reprisal of his 1988 performance at the Long Wharf Theatre in New Haven.

Officially opens February 8 in London at the Old Vic, where Spacey is the artistic director. Performances through April 23.

KIMBERLY AKIMBO starring one of our favorites - see Broadway To Vegas column of February 23, 3003

74-year-old Rosemary Prinz, as the 16-year-old stricken teenager, Kimberly in a production at Hartford's TheaterWorks. The David Lindsay-Abaire play is directed by Rob Ruggiero.

John Lasiter's lighting. Sound by J Hagenbuckle. Sets by Michael Schweikardt. Featuring Jeb Brown as Buddy.Colleen Quinlan portraying Aunt Debra. Antoinette LaVecchia in the role of Pattie. Dan McCabe appears as Jeff.

At TheaterWorkd through March 6 in Hartford, Conn.

THE CONSTANT WIFE by W. Somerset Maugham.

A brilliant social comedy of marital maneuvers in the tradition of Oscar Wilde, The Constant Wife is a glittering portrait of upper-class London society in the 1920's, where the main preoccupation is with illicit love and strategic games played in the battle of the sexes.

The charming Constance Middleton, upon learning that her eminent surgeon husband is having an affair with her best friend, makes a surprising decision that overturns all our expectations about marriage and fidelity.

In the end, just who remains "constant" is wonderfully ambiguous and the ultimate theatrical flourish. Crossing all barriers of times, The Constant Wife is as wickedly observant of hypocritical attitudes today as when it first shocked audiences in the 1920s. It is the funniest and most intriguing of Maugham's many plays.

February 8 - March 6 at the Coconut Grove Playhouse in Coconut Grove, Florida.

A TREE GROWS IN BROOKLYN music by Arthur Schwartz. Lyrics by Dorothy Fields. Book by George Abbott & Betty Smith. Revised Book By Eleanor Renfield.

The story of the Nolan clan, a Brooklyn working-class family at the turn of the century. They are Johnny, who finds relief in a bottle; his wife Katie; their daughter Francie, who idolizes her father; and Cissy, Johnny' sister-in-law, who has a string of affairs.

February 10-13 as part of the New York City Center Encores! Series. The 2004-2005 Season is provided by Newman's Own, a premium food company headquartered in Westport, CT. Paul Newman donates all after-tax profits from the sale of Newman's Own products to educational and charitable causes. Since 1982, he has donated more than $125 million to over 2,000 charities.

MASSAGE IN PROGRESS by Westchester, NY playwright Jeannie Zusy.

A woman turns up for her regular massage appointment only to embark on an unexpected flight of fantasy with her masseur. This play breaks all the boundaries of rules.

The writer of last season's If Only featured at the Jacob Burns. Ms. Zusy was chosen as one of the country's top women playwrights, and has been published by Smith and Krause. Her work has been seen at the Cherry Lane Alternative, Playwrights Horizons, and Ensemble Studio Theatre. Directed by Richard Caliban.

February 11 at the Hudson Stage Company at Briarcliff, NY.

THE RETREAT FROM MOSCOW by William Nicholson. Directed by Steven Woolf.

The February 22, 8:00 p.m. performance will be presented with Live Audio Description for the blind. A free, half-hour Post-Performance Discussion with the cast and staff will follow the matinee performances on February 16 and March 2, and the evening performances on February 17 and February 24. February 9–March 11 at The Repertory Theatre of St. Louis.

RAG AND BONE by Noah Haidle, the Lila Acheson Wallace playwright-in-residence at Juilliard. Directed by Tina Landau.

Two brothers mourning the death of their mother struggle to make ends meet with the family Ladder Store. While unwitting Jeff builds a ladder to Heaven, George uses the store as a front for the Black Market sale of human hearts - harvested from unsuspecting innocents and transplanted into the highest bidder; and he's just returned with a very special heart that will make him rich beyond his wildest imaginings.

Through March 6 at the Long Warf Theatre in New Haven, Conn.

THE CLUB OF HEARTS starring Sally Struthers, who spent eight years and won two Emmys playing Gloria Bunker Stivic on All in the Family, the television series that redefined the American sit-com.

The Club of Hearts is a poignantly funny, life-affirming comedy about playing the hand that life deals. Lucille, Ida and Doris are widows and best friends.

Every month they get together to visit the graves of their late husbands, whom they update on all the juicy gossip among their senior citizen social circle. When a romance develops between Ida and Sam, the local butcher, a chain of events is set in motion that threatens to destroy the special sisterhood.

February 9 - April 10 at The New Theatre Restaurant in Overland Park, Kansas.

TRUMBO: RED, WHITE AND BLACKLISTED By Christopher Trumbo. Directed by Peter Askin.

Tony winner Brian Dennehy stars as legendary screenwriter Dalton Trumbo who in 1947, at the top of his career, stood up to the House Un-American Activities Committee and was thrown into prison as one of the infamous Hollywood Ten. Though vilified, exiled, and "broke as a bankrupt's bastard," Trumbo refused to be silenced. Through his brilliant and funny letters to friends, former friend, and family emerges the story of a family's survival and one stubborn artist's quest to break the blacklist.

February 8-27 at the Virginia Wimberly Theatre in the Theatre Pavilion at the BCA in Boston.

KA is Cirque du Soleil's fourth permanent attraction on the Las Vegas Strip - others being O (Bellagio), Mystere (Treasure Island) and Zumanity (New York-New York). A fifth production celebrating The Beatles is expected to open in spring 2006 at The Mirage. KA officially opened Thursday at the MGM-Grand in a production admitted to cost $165 million and rumored to have exceeded the $200 million mark. All Cirque shows are to be enjoyed rather than explained. However, there are certain nuisances. Zumanity sexually pushes the envelope. Mystere focuses on the performers. O add the water element.

Created by Robert Lepage, KA, which means fire in Japanese and represents spiritual duality in Egyptian mythology, breaks new ground on several fronts. It's the first with a story line- about a perilous journey involving twins who are separated from each other and their family. An awesome, jaw dropping over the top spectacular, compared to other Cirque production, KA is the most dependant upon technology. Those leaving the theatre speak first of the scenery and hydraulics, then the costumes and make-up. Last mentioned - the talent. On the awe meter the performers are almost an afterthought, although all possess the incredible athletic and performance ability demanded in a Cirque show. Their moves are brought to perfection by Eric Heppell, the KA artistic coordinator and choreographer Jacques Heim.

Nobody will miss a note of composer and musical arranger Rene Dupere's score since all 1,951 seats are equipped with two speakers built into the headrest to engulf the audience with a new meaning to surround sound - the sound system weighs 43,868 pounds and has 524,150 watts of amplifier power.

Nor it is your ordinary, longer than a football field stage. It isn't so much a stage as it is a work of technological, moveable platform art - 120 feet across and 150 feet high designed by Mark Fisher.

Under the direction of props designer Patricia Ruel, more than 1,000 props are used including the boat.You'll know it when you see it. It weighs in at 1,800 pounds.

70 artisans worked more than 35,000 hours to construct the Marie-Chantale Vaillancourt costumes, each of which are custom made for the performer. Puppet designer Curry, whose work includes the stage production of The Lion King, brings to life starfish, turtle, crabs and an 80-foot snake. Adding the proper mix of smoke and mirrors is lighting designer Luc Lafortune. Nobody can ever see a Cirque show without being astounded by the incredible makeup - credit going to makeup designer Nathalie Gagne. In a creative masterpiece that fuses martial arts, acrobatics, pyrotechnics and digital technology. KA includes 75 performers, 158 technicians and eight musicians. More than 50 million people have attended a Cirque show, including seven million last year. Twenty years from now new kid on the block KA should still be enjoying a profitable run in Sin City.

Tickets to KA are $99, $125 and $150.

SWEET CHARITY starring Christina Applegate.

Meet Charity Hope Valentine. She's a true original, an eternal optimist and the unluckiest romantic in New York City.

Applegate stars in a dazzling new Broadway-bound production of this smash hit musical.

Directed by Tony award winner Walter Bobbie has a hilarious book by none other than Neil Simon. And the classic score by Cy Coleman and Dorothy Fields features such hits as Hey Big Spender and If My Friends Could See Me Now.

February 8-20 at the Orpheum Theatre in Minneapolis.

MUSIC THEATRE MARATHON is the presentation of 24 original 10 minute musicals that have been created in only 10 days from start to finish by a talented group writers and composers. Presented over three nights running Monday-Wednesday, February 7-23 at the HERE Arts Center in NYC.

Produced by Raw Impressions whose mission is to inspire artists to be prolific with excellence. A nonprofit organization, Raw Impressions creates opportunities for artists to take risks and work with new collaborators. Through a supported speedy development process free from commercial pressures, the new work is presented in front of an audience, allowing artists to be artists.

THE GOAT OR WHO IS SYLVIA by three-time Pulitzer Prize-winner Edward Albee.

Martin has it all. He's a world-class architect with a loving wife and a comfortable relationship with his gay teenage son. He's just landed a lucrative contract and is about to receive and international prize. But when Martin confides to his best friend that he is also in love with a goat named Sylvia, his marital bliss takes a sharp turn, threatening his family and his career. A wickedly funny play, and winner of the 2002 Tony Award for Best Play.

Considered Albee's most provocative play since Who's Afraid of Virginia Woolf?, The Goat won four major awards for best new play of the year (Tony, New York Drama Critics Circle, Drama Desk, and Outer Critics Circle). Albee's extensive work includes Three Tall Women, presented at the Taper in 1996. Currently in performance through March 20 at the Music Center in Los Angeles.

THE WOMAN IN WHITE adapted from the Wilkie Collins novel by Charlotte Jones. David Zippel provided lyrics to Andrew Lloyd Webber's music, and Trevor Nunn directs, underwent a major cast change when West End favorite Michael Ball stepped into the shoes of Count Fosco when Michael Crawford was felled by what was called "an acute influenza virus." While Crawford was hoping to make a speedy return, he was advised by his physicians to not return to the stage until he was fully recovered. That means Ball will be in the part for at least six weeks. The Woman In White is a tale of love, betrayal and greed. Walter Hartright is haunted by an encounter with a woman dressed in white, desperate to reveal a secret. In his new drawing student Laura Fairlie, he sees the image of the desperate woman. When the two fall in love, their feelings are ripped asunder by Laura's engagement to Sir Percival Glyde, whose friend Count Fosco seems more than a little unnerving.

The production, which has just been nominated for five Olivier Awards including Best New Musical, is currently booking until September 3 at the Palace Theatre in London.

MISS SAIGON the Vietnam-era musical with music by Claude-Michel Schönberg, lyrics by Alain Boublil and Richard Maltby, Jr and the book by Boublil and Schönberg, plays eight performances Tuesday, February 8 through February 13 at the Bushnell Center for Performing Arts in Hartford, Conn.

FLOYD COLLINS

Floyd Collins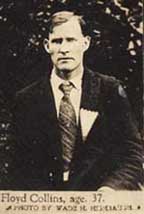 Music and Lyrics by Adam Guettel. This is a groundbreaking musical by Guettel, the grandson of Richard Rodgers, who has been hailed as one of the most exciting young composers of our time.

Book by Tina Landau. Additional Lyrics by Tina Landau. Musical Direction by Johanna Kent. Choreography by Cate Caplin. Directed by Richard Israel.

Floyd Collins is based on the true story of a young Appalachian man seeking his fame and fortune in the caves and hollows of Kentucky in 1925. Trapped in a cave one hundred and fifty feet below the surface, this quintessential American dreamer is forced to look at the overriding power of faith and the belief in what cannot be seen -- while above ground, the rescue effort explodes into America's first full-blown media circus. Hysteria descends on the mouth of the cave as reporters from across the country manipulate the nation into a frenzy of anticipation, despair and hope.
The cast features Andrea Covell, Denny Downs, Alex Kaufman, David Kaufman, Jerry Kernion, Larry Lederman, David Nadeau, Dana Reynolds, Bryce Ryness, Chris Spencer, Stef Tovar, and Brian Weir.

The production will feature an award-winning design team including Evan Bartoletti (Set Design), Lisa D. Katz (Lighting Design) and Alayna Marie Miller (Costume Design). Sound design for this production will be by David Kelting. Suzanne Doss will serve as assistant director.

Floyd Collins ran at Playwrights Horizon's main stage from February 9-March 24th, 1996 and was awarded the Lucille Lortel Award for Best Off-Broadway Musical April 8, 1996. The cast album was released in March of 1997.

The West Coast premiere in a limited engagement opens on Friday, February 11 through April 3 at the West Coast Ensemble Theatre in Hollywood.


FOOD FOR THOUGHT


Over 14,500 tons of chips and 4,000 tons of popcorn are eaten on Super Bowl Sunday.

Antacid sales at convenience stores increase 20 percent the next day.


| | | |
| --- | --- | --- |
| | | |
WHO'S WHERE


BRIAN STOKES MITCHELL the Tony award winner, delivering a performance that is the best cabaret has to offer. An ideal way to spend Valentine's Day. Feinstein's at the Regency, NYC through February 19.

PAULA WEST February 8 – March 20 with Special Valentine's Day Weekend Performances. She is joined in an unmistakably cohesive combination with legendary Jazz pianists Eric Reed, Bruce Barth, Bill Charlap, with Jazz sidemen bassist Ray Drummond, and drummers Joe Farnsworth, and Rodney Green. With: Eric Reed and Joe Farnsworth – Feb. 8 to Feb. 20 Bruce Barth – Feb. 23 to Feb. 27. Rodney Green Bill Charlap – Mar. 2 to Mar. 6. Eric Reed Trio – Mar. 9 to Mar. 20. The Plush Room in San Francisco.

JIM BRICKMAN performing February 11 at the Star Plaza Theatre in Merrilliville, IN.

BOBBY VINTON center stage at the Events & Convention Center at the Grand Casino in Hinckley, MN on Friday, February 11.

PETER CINCOTTI in a two night stand Friday, February 11 and Saturday February 12 at Kleinhans Music Hall in Buffalo, NY.

LINDA EDER in her Broadway and Beyond show. Backed by the Chicagoland Pops Orchestra. February 12 Rosemont Theatre, Chicago.

K .D. LANG center stage Monday, February 7 at the Michael Fowler Centre in Wellington, NZ. Tuesday finds the singer at the ASB Theatre in Auckland, NZ. That is followed by a two night stand Thursday and Friday at the Regent Theatre in Melbourne, Australia.

DIANNE REEVES on stage Friday, February 11 at the Nazareth College of Rochester in Rochester, NY. On Saturday she performs at the State Theatre in Ithaca, NY.

DEBBIE REYNOLDS appears with the Roanoke Symphony Orchestra February 11 in Roanoke, VA.

SHIRLEY JONES in concert February 13 at the Auburn United Methodist Church in Auburn, Alabama.

GEORGE BENSON AND DAVID SANBORN and Slow Train Soul perform February 11 at Radio City Music Hall in NYC.

FAITH PRINCE AND TOM WOPAT Over The Rainbow A Concert Celebrating a Century of Harold Arlen Sunday, February 13, State Theatre in New Brunswich, N.J.

ELVIS COSTELLO performs tonight, February 6, at the Roma Parco Della Musica in Rome, Italy. On February 9 the performance takes place at Brighton Dome in Brighton, UK. The following night he can be enjoyed at the Hammersmith Apollo in London. On February 12 he's on stage at Colston Hall in Bristol,UK.


FINAL OVATION


OSSIE DAVIS

Ossie Davis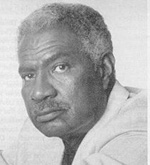 Tony nominated actor and human rights activist was found dead by his grandson last Friday, February 4, in his Miami hotel room at the Shore Club. Davis had arrived in Florida last Monday to begin work on a movie Retirement. The day before a local Miami television camera crew had captured Davis on the movie set looking fit and happy, rehearsing a scene.

His wife of 57-years, actress Ruby Dee, had arrived in New Zealand on Thursday to work on a film. She immediately returned home. David and Dee had shared billing in 11 stage productions and five movies during long parallel careers. In 2004 as a pair they received the Kennedy Center Honor.

See Broadway To Vegas columns of April 29, 2001 and February 3, 2002

In 1961 Davis wrote and directed Purlie Victorious a play about the civil rights movement in south Georgia. He was nominated for a 1958 Tony Award for his featured performance in Jamaica and a 1970 Tony Award for his lead performance in the musical Purlie, which was based on his acclaimed Purlie Victorious.

Davis would write, act, direct and produce for the theater and Hollywood. Born on December 18, 1917 in Cogdell, Georgia he began his acting career in 1939 with the Rose McClendon Players in Harlem. He served in World War II as a surgical technician in an Army hospital in Liberia.

After discharge he made his mark in New York with his 1946 Broadway debut in Jeb, a play about a returning soldier. His co-star was Ruby Dee. It marked a co-star billing that would transfer off stage.



Ruby Dee holding a picture of her husband, Ossie Davis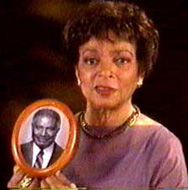 In December 1948, on a day off from rehearsals from another play, The Smile of the World, Davis and Dee took a bus to New Jersey and married. Along with film, stage and television, their careers extended to a radio show, The Ossie Davis and Ruby Dee Story Hour, that ran on 65 stations for four years in the mid-1970s.

Davis received Emmy Awards nominations for his work in television's Teacher, Teacher, King and Miss Evers' Boys and a Golden Globe nomination for his featured performance in the 1969 film The Scalphunters. Both Davis and Dee wrote for the screen and stage, and Davis directed several films, most notably Cotton Comes to Harlem (1970) and Countdown at Kusini (1976), in which he also appeared with Dee.

Walter Matthau and Ossie Davis in the film version of I'm Not Rappaport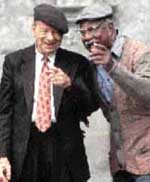 Other films in which Davis appeared include The Cardinal (1963), The Hill (1965), Grumpy Old Men (1993), The Client (1994) and I'm Not Rappaport (1996), a reprise of his a 1986-87 stage role. On television, he appeared in The Emperor Jones (1955), Freedom Road (1979), Miss Evers' Boys (1997) and Twelve Angry Men (1997). He was a cast member on The Defenders from 1963-65, and Evening Shade from 1990-94, among other shows.

Actors' Equity Association issued a statement on the loss of Davis. "Actors' Equity Association mourns the passing of Ossie Davis, one of our most distinguished members and an icon in the American theater. He was a great humanist and an outspoken activist for human rights and for the arts. He made significant contributions to the cultural life of our nation and helped to pave the road for the next generation of African-American actors, writers and directors. Mr. Davis, and his wife Ruby Dee, are American treasures and his death is a great loss to us all."

Last Friday night Broadway theaters dimmed their lights in his honor.

In addition to his wife he is survived by his son, Guy, of the Bronx; daughters, Nora Day of Montclair, N.J., and Hasna Muhammad of Brewster, N.Y.; a brother, William, of San Antonio; and seven grandchildren.
















Next Column: February 13, 2005
Copyright: February 6, 2005. All Rights Reserved. Reviews, Interviews, Commentary, Photographs or Graphics from any Broadway To Vegas (TM) columns may not be published, broadcast, rewritten, utilized as leads, or used in any manner without permission, compensation and/or credit.
Link to Main Page
---
Laura Deni


CLICK HERE FOR COMMENT SECTION