! >
Broadway To Vegas
  SHOW REVIEWS     CELEBRITY INTERVIEWS     GOSSIP     NEWS 
NO CHER WITHOUT KEELY
KEELY SMITH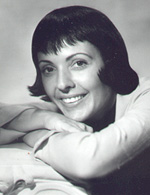 If it hadn't been for Louis Prima and Keely Smith there never would have been a Sonny and Cher. Last Saturday AMC aired Louis Prima: The Wildest which covered the discovery of Prima of the lady who would become Keely Smith and her transformation into a superstar.
Often referred to as "The Mona Lisa of Song," the Indian-Irish lass whose devotion to her younger brother was a touching part of the movie, has had a lifetime devotion to good music.

Louis and Keely married in 1953 and for the next eight years reigned as one of the all time great entertainment teams. "Still, the fame never sank in," said Keely. "I never dreamed we were that big, even though I saw the filled concert halls and clubs week after week. Many years later I appreciated everything even more."


LOUIS PRIMA and KEELY SMITH starring in the Sahara Hotel, Las Vegas lounge in 1956.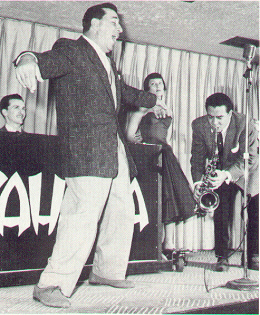 During the lounge heydays of the 50's and 60's Louis Prima and Keely Smith were the strongest package on the Las Vegas Strip. His wildness coupled with her deadpan barbs and that marvelous singing voice catapulted them into icons.

Something to be copied.

Rumors surfaced that Sonny Bono, as half of Sonny and Cher, virtually stole the act.

"Well, I don't know if they stole it, but they copied it - yeah," answered Keely, "but it wasn't that simple. We had a young man working with us, who today is still with Cher. And, he is my dearest male friend in the world. And, he told Sonny and Cher what to do and how to do it. Yes, they did copy us, because he told me that. Yeah, that's true."



SONNY and CHER took their cue from LOUIS and KEELY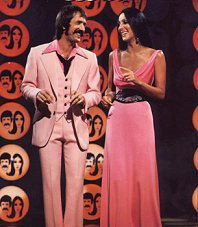 As to whether that was a violation of what is now called intellectual property law Kelly responded, "No, not really. Actually, they look at it as a form of flattery. And, you know what it did, too, because at the time sonny and Cher came out, Louie and I had broken up - people really didn't know who we were. They knew who Sonny and Cher were. When I say people I mean young people. I would go places and I'd have a 16 or 17 year old come up and ask me for an autograph. It would amaze me."

"I mean, not places where I sang, but places where I would be. For instance, the Indianapolis 500 race. I was in the back and a young girl came up and asked me for an autograph. I asked her how in the world do you know who I am? I said - I'm thrilled that you do, but how do you know? She said - When Sonny and Cher came along my mother and father went back and dug out all of the Louie and Keely albums. I'm sure there are a lot of families who are doing that."

"You know," added the amazed Smith, "it was true. A lot of kids knew who I was because of Sonny and Cher."

The lady who looks decades younger that her years neither drinks nor smokes. "I never did smoke. When Louie and I broke up I started drinking a little bit, but I can't handle it. I'm not a good drinker. I also don't like the taste of it, so I stopped."

What the five-foot-three-inch bundle of talent hasn't stopped doing is recording and performing. Her voice has lost none of its artistic, romantic, almost flawless voice. If you see Keely Smith on a marquee - buy a ticket. You won't be disappointed.


BREWING UP SOME WITCHES

It's art imitating life for Lucie Arnaz who is going to star in the musical stage production of Witches of Eastwick, based on the movie which starred Cher and Jack Nicholson.


LUCIE ARNAZ will cast spells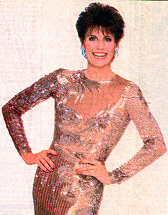 In that picture three modern-day witches, to brighten up their lives, innocently plot and conjure over a heady brew of weak Martinis and peanut butter brownies. What arrives in "Daryl Van Horne," played by Nicholson, in whom their fantasies are made flesh.

Lucie admits that her role in this new musical is art imitating like. The talented daughter of Lucille Ball, confessed that people would be shocked if they knew how close this theatrical role was to her own past. Years ago Lucie gave permission for a New York based "psychic consultant" to list her name in ads as a "client."

The musical stage version of Witches of Eastwick, begins previews beginning June 24 officially opening July 18 at the Theatre Royal Drury Lane in London, welcoming Ian McShane back to the West End after a 30-year absence. He'll be making his musical debut as Van Horne.



IAN McSHANE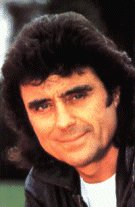 McShane who gave many an unforgettable performance in numerous forgettable motion pictures, gained worldwide fame as the star of Lovejoy. He won the Van Horne part after an year long world wide search with rumors circulating that Michael Crawford was in the lead.

"The part requires a very experienced comic actor with spellbinding sexy charm and, having a large number of songs to sing, the panache of a Broadway musical star," announced the producer Cameron Mackintosh. "That we have found all these qualities in Ian McShane, who has always sung but has never been tempted to do a musical before, is a wonderful stroke of fate and I owe it to Lionel Bart for once tipping me off that Ian sang."

Also casting their spells in this musical are Oliver Award winning actresses Maria Friedman as Sukie and Joanne Riding as Jane. Arnaz, who will be making her London stage debut plays Alexandra.

The Witches of Eastwick is by John Dempsey and Dana P. Rowe and is based on the novel by John Updike and the Warner Bros. Motion Picture. Orchestrations are by William David Brohn, musical supervision by David Caddick, sound design by Andrew Bruce and lighting design by Howard Harrison. The show will be designed by Bob Crowley, with choreography by Bob Avian and Stephen Mear, and Eric Schaeffer directs the Macintosh production.


SIEGFRIED AND ROY; A NEW KNEE AND A NEW AWARD
SIEGFRIED AND ROY being congratulated by their producer KENNETH FELD Photo By; Laura Deni
Completing a decade of performances at the Mirage Hotel, Las Vegas, Siegfried & Roy have become the most lucrative production in the history of live performance.

At a reception following their February 1st performance hotel mogul Steve Wynn didn't mince words when he lauded the accomplishments of his stellar attraction. "When we were getting ready to build the Mirage, Siegfried and Roy was the safest entertainment show we could pick because they were already Las Vegas' all-time greatest attendance attraction.

"By orders of magnitude, nobody has ever drawn the kind of attendance that they have. In terms of numbers of people who have witnessed their performance, no one has come close - Elvis Presley, Frank Sinatra, Dean Martin and Jerry Lewis, Steve Lawrence and Eydie Gorme and Wayne Newton all put together don't approach Siegfried and Roy.



STEVE WYNN trumpeting Siegfried and Roy as having better house counts than Elvis. Photo By: Laura Deni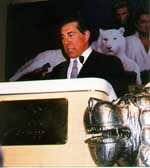 Not all exotic creatures are of the four legged variety. Two beauties passed out stuffed white tigers to those attending the ceremony. Photo By: Laura Deni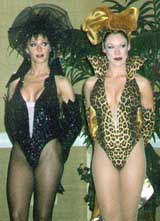 "When Elvis Presley worked in Las Vegas two months a year, he had empty seats," added Wynn. "Siegfried and Roy have years of full capacity attendance on a regular basis. Anyone who thinks they can do what Siegfried & Roy have achieved will simply discover that it's impossible.

"When Siegfried & Roy first arrived in Las Vegas, they were told that magic doesn't work in this town," continued the hotel mogul. "Not a single marquee had the word magic or a magician's name. Today, due to Siegfried & Roy, it's difficult to find one that doesn't."

Wynn emphasized that in completing a decade of performing at The Mirage, Siegfried & Roy have become the most popular and lucrative production in the history of live performance, stressing that "sold-out nightly audiences have skyrocketed Siegfried and Roy box office to the billion-dollar mark.

Both Siegfried & Roy as well as Wynn lauded John Napier who is co-creator, co-director and designer of the Mirage production. Napier designed many of the biggest theatrical successes of the last decade including Cats, Starlight Express, Les Miserables and Miss Saigon.



LYNETTE CHAPPELL watches the presentation Photo By; Laura Deni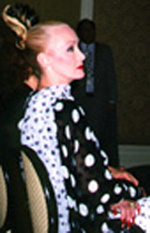 His other credits include Time, Equus, The Life and Adventures of Nicholas Nickelby and numerous productions for the Royal Shakespeare Company. He has created award-winning designs for ballet and opera, and was the art director for Captain EO, the 3-D film starring Michael Jackson and the film Hook for Steven Spielberg.

Also singled out was the Lynette Chappell, who has been Siegfried and Roy's alluring sorcerers apprentice for more than 25 years.

Wynn also surprised Roy by announcing that the magician would have to undergo a knee replacement within the next two years - due to injuries suffered during the performance. Roy had been keeping his medical condition a secret. (NOTE: In actuality, the surgery and recovery had already taken place).

During the reception the illusionists were named Magicians of the Century by their fellow magicians - member of the International Magicians Society (I.M.S.)

Awarding them the prestigious Millennium Merlin Award, was IMS Chairman Tony Hassini. In magic, the Merlin statuette is the equivalent of the Oscar, Emmy or Tony.



Broadway To Vegas is supported through advertising and donations. Priority consideration is given to interview suggestions, news, press releases, etc from paid supporters. However, no paid supporters control, alter, edit, or in any way manipulate the content of this site. Your donation is appreciated. We accept PAYPAL. Thank you for your interest.


COMEDY FEST SPAWNS STRANGE BEDFELLOWS

Internet CEO's and TV Network executives will cuddle up and talk to each other during the U.S. Comedy Arts Festival, Feb. 9-13 in Aspen, Co.



SMOTHERS BROTHERS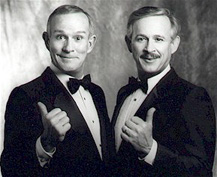 For the first time a platform discussion will take place about the future of communications. Lending their thoughts will be ABC's Stu Bloomberg, Fox's Peter Chernin, CBS's Leslie Mooves and Warner Brothers' Jamie Kellner, Internet executives Jim Banister of Warner's On Line, Margaret Heffernan of iCast and Leo Hindery of Global Center round out the panel.

It's not all serious at the comedy fest. A special feature will include a tribute to Jerry Lewis and a celebration of the Smothers Brothers, famed for more than 30 years for their humorous biting social commentary.

Robin Williams will receive the AFI Star Award for his work in films and TV. Writer, director and producer Barry Levinson (Rain Man, Good Morning, Vietnam, Diner, Analyze This,) will be honored with the festival's Filmmaker Award.


HANDEL MAKES A JOYFUL NOISE
HANDEL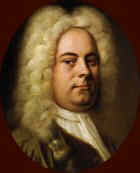 In 1741, Georg Friedreich Handel's career was at its lowest point. The son of a barber-surgeon was suffering from a chronic illness - bouts of anxiety and depression and possibly strokes, some have theorized that he suffered central nervous system lead poisoning associated with his imbibing of cheap port! His operas were failing, his debts mounting, his royal champion, Queen Caroline, was dead. Then a remarkable manuscript arrived at his door.

Messiah marked an important turning point in Handel's composing career.

Joyful Noise, a new two act play with music, which begins previews Saturday at the Lamb's Players Theatre, New York, presents the passion, the politics and the true story of the conspiracy that nearly prevented the first London production of Handel's Messiah.

To mount the production, Handel had to overcome a sex scandal involving his chosen soprano, the loss of King George II's patronage, and strong opposition.Although Handel had suffered a stroke at 52, his Messiah was debuted when he was 57. While Messiah was enthusiastically received following its in aid of charities premiere in Dublin in 1741-42, in England there were problems. There was opposition by influential Bishops who were appalled at a sacred work being performed in a secular theatre by "lewd" actors and singers.

Performed on a simple set by an elaborately costumed cast, Joyful Noise includes snippets of Handel's music and the famed Hallelujah Chorus.



Joyful Noise marks Lamb's Players Theatre's New York debut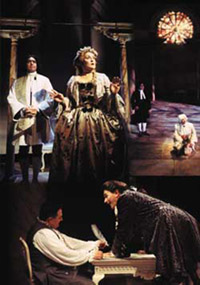 Joyful Noise is directed by Robert Smyth and features Tom Stephenson as Handel. Mary Miller, Deborah Gilmour Smith, Susannah Cibber and Kitty Clive are featured.

Written by Tom Slover, the cast includes David Cochran Heath, Paul Eggington, Doren Elias and Linda Bush. The design team includes David Thayer (Set and Lighting), Jeanne Reith (Costume Design) and Greg Campbell (Sound Design.)

Joyful Noise marks Lamb's Players Theatre's New York debut. Since its beginning in 1971, Lamb's Players has become one of Southern California's leading performing arts companies.

The San Diego based non-profit theatre has produced over 200 productions, 28 San Diego premiers and 31 world premieres. It is the region's third largest theatre company with 8,000 season subscribers and remains Southern California's only year-round repertory company.

Joyful Noise was discovered in 1998 at the Lamb's Players Writer's Week - an annual script development program now in its 5th year.

Joyful Noise at the Lamb's Theatre, New York officially opens February 17 for a six-week engagement.


OTHER PEOPLE'S MONEY


GEORGE HAMILTON

GEORGE HAMILTON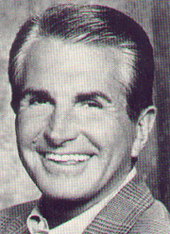 had his Hamilton Cigar Bar at New York-New York Resort in Las Vegas snuffed out. The 25 employees were given no notice that the ash trays were dumped for the last time on Monday.

The totally charming and terminally tan actor was frequently seen in the cigar bar.

However, his attention priorities shifted when he began dating author Danielle Steele at about the same time a former girlfriend announced she was pregnant with his child. She has recently given birth.

Now gossips wag that the Hamilton/Steele romance may also be headed for the ash can. At one point insiders had Steele and Hamilton planning to wed in Las Vegas with Hamiltons hosting the wedding reception - something that frequently happened until New York-New York divorced itself from the wedding chapel business.


NIGHTHAWKS

NIGHTHAWKS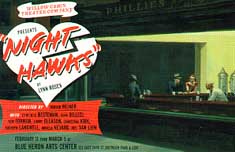 which opens Monday, February 14 at the Blue Heron Arts Center is staging an opening night benefit for The Willow Cabin Theatre Company.

Written by Lynn Rosen and directed by Miriam Weiner, the production stars; Cynthia Besteman, John Billeci, Ken Forman, Larry Gleason, Christina Kirk, Kathryn Langwell, Angella Nevard, and Joel Van Liew.

Performances continue through March 5 at the Blue Heron Arts Center, NYC.

NATHAN LANE AND CHRISTINE BARANSKI in a revival of The Man Who Came To Dinner. Jerry Saks will direct the production at the Selwyn Theater, new home for the Roundabout.

A MOON FOR THE MISBEGOTEN written by Eugene O'Neill continues at the Goodman Theater, Chicago through February 14 and then opens on Broadway March 18 at the Kerr Theatre. The production stars the magnificent Cherry Jones, portraying the ruined Josie Hogan, with Roy Dotrice cast as her scheming father. Gabriel Byrne plays James Tyron, Jr., the alcoholic cynic haunted by his mother's death. This marks Byrne's American stage debut.

SONG & DANCE is Andrew Lloyd Webber's musical about coming of age in an urban setting. Song & Dance follows a young Latin American woman's journey of misadventure as she takes on New York. Set to a pulsating Latin beat, the first act focuses on song, while the second one focuses on dance. Two high-profile leads are the highlight of the performance. Splitting the role of Marta are pop star Lisette and ballerina Myrna Kamara. Lissette, a top-10 Latin-American artist whose newest CD is "Amor de Luna, plays Marta in the "song" half of the evening; Kamara, formerly with the Miami City Ballet and New York City Ballet, dances Marta in the second half. February 8 - March 12. Coconut Grove Playhouse, Miami, Fl.

ALVIN ALLEY AMERICAN DANCE THEATER Broward Center-Performing Arts, Fort Lauderdale, Florida February 10-13.

NEIL PATRICK HARRIS has joined the cast of Sweeney Todd a concert version presented by the New York Philharmonic.


WHO'S WHERE

SHIRLEY BASSEY

SHIRLEY BASSEY
after an absence of more than a decade returned to Las Vegas and brought the star studded audience to their collective feet. So many times - in fact - that it was a wonder she could perform at all. Jumping to their feet and clapping were Siegfried and Roy, Lynette Chappell, Carl Ichan, Rich Little, Vera and Robert Goulet and Phylis McGuire, among other.

Shirley may have set a standing ovation record for the MGM-Grand. That wouldn't come as a shock, since the song sylist routinely places her mark. She set the still unequaled record for live performances in London's Royal Festival Hall, SRO for nine consecutive nights and in 1995 she sold out Carnegie Hall for 12 consecutive nights.

The elegant lady - youngest of seven children - who worked in a sausage factory as a teenager - knows the benefits of a live orchestra and utilized 30 of the best to her advantage. With an age-defying beauty and a voice nothing beneath sensational, she appears to pick and choose her venues carefully. If Vegas gets lucky, she'll opt to return. She's at the MGM-Las Vegas through February 9. If you can get a ticket, it may be worth the effort to fly in.

MICHAEL FEINSTEIN returns to Carnegie Hall, February 10 for his second in a series of three Weill Recital Hall concerts. The third one takes place April 6.

ALAN KING the "Master of Humor" performs his stand up act February 9. Coral Springs City Centre, Coral Springs, Florida.

KANDER & EBB in the Lyrics & Lyricists Program. The 92nd St Y, NYC February 12,13,14. Tickets $40.

AUDRA MC DONALD guests with Seth Rudetsky in the celebrity interview section at Don't Tell Mama, NYC on February 10.

LUIS MIGUEL February 12, Orpheum Theatre, Minneapolis.

ROBERT GOULET opens at Feinstein's in the Regency Hotel, NYC on February 28.

BETTY BUCKLEY Tuesday at the Art Ham Hall, Las Vegas. Expect her to remain in Las Vegas to see Wayne Newton's show at the Stardust.

REBA MC ENTIRE takes the stage Feb. 15 at the Tennessee Performing Arts Center, Nashville. Her show The Singer's Diary permits the audience to follow her life from 1974 to the present.

K C AND THE SUNSHINE BAND closes February 6 at the Desert Inn, Las Vegas, performing February 11-12 at Caesars Tahoe, Nevada. KC is really Henry Cacey. When forming the popular group he took used the initials that sounded like his last name, without really identifying himself. Reason? He was afraid that if he became famous and he went into a store to purchase something - if his real name was used as the band name - he'd be charged more.

BLEEDING HEARTS forget the chocolates and flowers this coming Valentine's Day week and give your loved one a gift that really hurts: the truth. Standout stand-up performances by Kathy Griffin, Laura Kightlinger, Julia Sweeney, and Judy Toll. Skirball Center, L.A. February 11.


THIS AND THAT

JEKYLL & HYDE BLOOD DRIVE took place last Friday in Salt Lake City. In a clever alliance, The Red Cross teamed up with the touring company of Jekyll & Hyde: The Musical to suck some blood. Jekyll & Hyde at Salt Lake's Capitol Theatre closes tonight. The Red Cross' need for blood is ongoing.

LAWMAKERS AND MENTAL HEALTH which could be an oxymoron. Regardless, in Albany, New York legislators will supply the ingredients and prepare their favorite recipes - billed as Lawmakers Who Cook - sponsored by the Foundation for Mental Health, Inc. The event takes place tomorrow, Feb. 7. No word as to whether ambulances will be standing by.

STIFLE, STIFLE, STIFLE last Tuesday some bore yawned so "hippopotamus-like" during Dinner With Friends that it was all Matthew Arkin and Lisa Emery could do not to break character. However, she was shaken by the oaf and none of the cast was pleased - so displeased in fact that they refused to take their curtain calls. Blockheads who leave cell phones on, talk, unwrap anything or don't have public manners should stay at home in the privacy of their own rudeness and rent a movie.


Mention BROADWAY TO VEGAS for Special Consideration
Call (800) 942-9027









Next Column: February 12, 2000
Copyright: February 6, 2000. All Rights Reserved. Reviews, Interviews, Commentary, Photographs or Graphics from any Broadway To Vegas (TM) columns may not be published, broadcast, rewritten, utilized as leads, or used in any manner without permission, compensation and/or credit.
Link to Main Page
---
Laura Deni


CLICK HERE FOR COMMENT SECTION