! >
Broadway To Vegas
  
  REVIEWS INTERVIEWS COMMENTARY NEWS

| | |
| --- | --- |
| | |
A THURBER CARNIVAL CD REVIEW - - SHIRLEY MACLAINE JOINS DOWNTON ABBEY - - ANDREW LLOYD WEBBER TAKES TO THE HIGH SEAS - - ADELE TO MAKE STAGE RETURN ON GRAMMY SHOW - - LONDON THEATRES SET RECORD - - THE STYLE THAT RULED THE EMPIRES - - THE KING'S SPEECH ON STAGE - - RED INSPIRES ART AND CONVERSATION - - DONATE . . . Scroll Down


Copyright: February 5, 2012
By: Laura Deni
CLICK HERE FOR COMMENT SECTION

CHARLES DICKENS CELEBRATED AT 200


Charles Dickens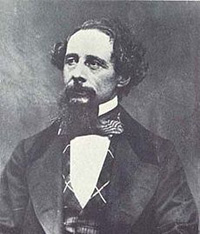 Charles Dickens whose A Christmas Carol changed the way we celebrate the holiday, is being remembered on what would have been his 200th birthday - Tuesday, February 7, 2012.

Spanning over 50 countries, the British Council is engaging audiences with Charles Dickens through a program of film, exhibitions, readings, theatre and educational events which are taking place throughout the Dickens' 200th birthday year.

A wreathlaying ceremony to commemorate the bicentenary of the birth will take place at his graveside in Poets' Corner, Westminster Abbey on Tuesday.

The ceremony will include readings from the Dickens' novels and his other writings by actor and director Ralph Fiennes, author Claire Tomalin who penned the latest biography, a 527-page tome Charles Dickens: A Life, and two of Dickens's descendants.

Fiennes and Helen Bonham Carter co-star in the latest film version of Great Expectations to be released later this year. Fiennes also intends to direct The Invisible Woman, based on Tomalin's 1991 book about Dickens' affair with actress Nelly Ternan who was 18 when she met the unhappily married 45-year-old author.



Ralph Fiennes will read from Dickens' novels.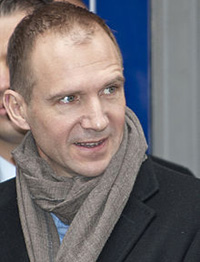 The Dean of Westminster, the Very Reverend Dr John Hall, said: "Dickens' humanity and compassion made an extraordinary impact on Victorian England through his writings, which remain immensely popular. This bicentenary should help renew our commitment to improving the lot of the disadvantaged of our own day."

One of the most respected interpreters of Dickens work, Simon Callow, is on tour reading excerpts from his new biography Charles Dickens And The Great Theatre Of The World.

"When you find a writer that you love it's like finding a best friend. Dickens never ceases to delight me. There's something in him which chimes with me: the energy; the scope; the generosity; the endless inventiveness of it. There is in Dickens the spirit of the medieval carnival that just deeply turns me on. That sense of the world as one big body and a celebration and embrace of all its grotesqueness, the ugliness, the smell, the sweat" said Callow in a statement.

Charles Dickens & The Great Theatre of the World has been reviewed as "an entertaining biography which reveals an original genius, and offers a compelling insight into a life driven by performance."



Simon Callow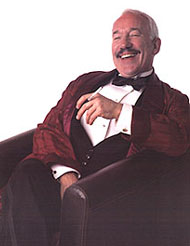 Simon Callow played Dickens in his hugely successful one-man show The Mystery of Charles Dickens by Peter Ackroyd, as well as on television several times including An Audience with Charles Dickens (BBC, 1996) and in The Unquiet Dead, a 2005 episode of the BBC series Doctor Who. In 2008, he appeared at the Edinburgh Festival performing two short plays by Dickens, Dr Marigold and Mr Chops, which successfully toured last year.

On February 5 Callow appears at the Gulbenkian, University of Kent, Canterbury. On Tuesday he'll be at New Theatre Royal, Portsmouth, which is Dickens' birthplace. Thursday finds him at the Town Hall in Loughborough. On February 15 the show is at The Brewhouse Theatre & Arts Centre, Taunton (UK).

The largest retrospective ever staged of film & TV works based on or inspired by Charles Dickens, Dickens on Screen, is now showing at London's BFI Southbank, and will soon embarking on a world tour.

Dickens's hometown has organized a year-long program of activities to mark the bicentenary of its most famous son.

After a two-month closure for refurbishment, the Charles Dickens Museum - based at Dickens's only surviving London home - is now open to enthusiasts from around the world.



Manuscript for A Christmas Carol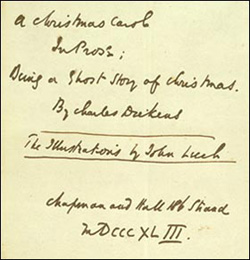 The Museum of London is staging the first major exhibition on Dickens in the UK for over 40 years. Dickens and London explores the intimate relation between Charles Dickens and the English capital and is on display until June 2012.

After Shakespeare, no other writer matches Dickens in terms of global cultural influence.

August 2012 will see his birth city play host to the International Dickens Fellowship's Annual Conference, which comes shortly after the University of Portsmouth's conference, The Other Dickens. As part of the Fellowship's event they will unveil a statue of Charles Dickens they have commissioned from leading sculptor Martin Jennings, which will sit in Guildhall Square.

Up until then the only life-size statue of Dickens is located in America - in Philadelphia.

Other highlights of Portsmouth's Dickens 2012 celebrations include: Charles Dickens City Read, a shared reading of Oliver Twist in partnership with Vintage Classics, culminating in a sing-a-long Oliver! screening on the Big Screen in April 2012; A Hundred Seas Rising by Suki Chan, a partnership with University of Portsmouth and Aspex Gallery, that references Dickens' novel A Tale of Two Cities; and the annual Portsmouth Festivities (June 2012), Portsmouth BookFest (October 2012) and the Historic Dockyard's Victorian Festival of Christmas, all of which will feature Charles Dickens and his work.



BAFTA-winning actress Miriam Margolyes O.B.E. will take Dickens' Women on tour. Photo: ABC Australia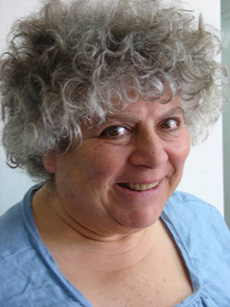 BAFTA-winning actress Miriam Margolyes will take Dickens' Women, a one-woman stage show, to Australia and New Zealand. Mrs Micawber from David Copperfield, Miss Havisham in Great Expectations or the grotesque Mrs Gramp in Martin Chuzzlewit are just some of the characters Margolyes brings to life on the show, which is on tour in Australia and New Zealand through May 26 followed by a UK tour.

Today, February 5, the celebrated George C. Scott film of A Christmas Carol, which was shot in Shrewsbury in 1984, with the cast and crew staying at the Lion, will be the centerpiece showing in a day long event.

On Dickens' birthday, Ardingly College Prep School in Horsham proudly presents the world premiere of Dickens' Testament, at The Capitol Theatre. Based on a letter Dickens wrote to his children, stories from the Bible come to life in music and dance. The production is written by James Verner (original producer of London production of Hair and other West End shows) and new composer Adam Langston.

On both sides of the Atlantic, Dickens, who loved to perform, remains a literary force of nature. He's been called "to writers and filmmakers what Abraham Lincoln is to historians: an endless source of fascination and inspiration."

Dickens at 200, an exhibit at the Morgan Library & Museum in New York, notes that no other writer - not William Shakespeare, not Jane Austen - has inspired more movie, TV and stage adaptations.

More than 320 movies - dramas, musicals and cartoons - have been inspired by Dickens' novels.

PBS' Sunday night Masterpiece Classic series will air new British productions of The Old Curiosity Shop on February 26, Great Expectations on April 1 and 8 and The Mystery of Edwin Drood on April 15.



Broadway To Vegas is supported through advertising and donations. Priority consideration is given to interview suggestions, news, press releases, etc from paid supporters. However, no paid supporters control, alter, edit, or in any way manipulate the content of this site. Your donation is appreciated. We accept PAYPAL. Thank you for your interest.




ART AND ABOUT


THE STYLE THAT RULED THE EMPIRES: RUSSIA, NAPOLEON AND 1812 Russia's triumph over the French army in the Patriotic War of 1812, which dealt an arresting blow to Napoleon and his pursuit of European conquest, ignited a collective Russian pride and production of decorative arts celebrating the occasion that persist today.

The Style that Ruled the Empires: Russia, Napoleon, and 1812 brings together paintings, porcelain, glassware, metalware, attire, and Napoleonic armor and militaria to commemorate the bicentennial of this dramatic event.

Exquisite Russian and French decorative art objects from Hillwood's renowned collection, as well as items on loan, will also explore how the Empire style, fashionable across Europe in the 19th century, was adopted by Russian artisans, signaling the continued enchantment with French art and culture.

Celebrate the February 14th Opening Night of The Style That Ruled the Empires - Russian, Napoleon and 1812 with a memorable Valentine's Day event. Enjoy vodka tasting, Russian and French cocktail and dessert buffet, and a bouquet of roses. Creative cocktail attire suggested.

Event Chairs: Susan Bollendorf, Reshma McGowan, Maggie Sheedy Committee: Charo Abrams, Ania Anderson, Annie Boutin-King, Rosemary Bowes, Kyra Cheremeteff, Curt Decker Sally Francis, Dawn Saul.

Proceeds support Hillwood's exhibitions and programs. Founded by American collector and heiress to the Post cereal empire Marjorie Merriweather Post, Hillwood Estate, Museum & Gardens in Washington, DC is one of the premier art collector's museums in the United States. The museum features the most comprehensive collection of Russian imperial art outside of Russia and a world-renowned collection of eighteenth-century French decorative art and furnishings.

The collection includes Fabergé eggs, Russian porcelain, Russian Orthodox icons, Beauvais tapestries, and Sèvres porcelain. Encircled by woodlands, the twenty-five acre estate provides visitors a tranquil oasis of luscious formal gardens.


THE MUSIC GOES ROUND AND ROUND


A THURBER CARNIVAL 1960 original Broadway Cast has been released on CD by Masterworks Broadway.

A Thurber Carnival opened at the ANTA Theatre in New York City on February 26, 1960, and ran for 223 performances, winning a 1960 Tony Awards Special Award.

The original cast recording, with music by Don Elliott, includes sketches from the satirical revue which brought James Thurber's famous New Yorker cartoons and short stories to life.

It's a selection of Thurber essays presented as either stand alone monologues or delivered with appropriate background music. Those who know Thurber will delight in his witty observations and those new to the Thurber genius will become captivated by the commentary.

Featuring Tony Award winner Peggy Cass, Paul Ford, John McGiver, Alice Ghostley, Peter Turgeon, Wynne Miller, Margo Lungreen and Charles Braswell. The nine member cast played roles generically designated as First Man, First Woman, etc., Each of these roles included portrayals of numerous characters within the revue's 16 sketches.

Music and dialogue are of equal importance in A Thurber Carnival. The overture is a jazz set at its best.

Essays are delivered between musical numbers. The Night The Bell Fell is a 10 minute monologue without music delivered by Tom Ewell. The sound is spot on, as though Ewell was sitting next to you - every word easily understood.

Ewell is prominent on this CD. His solo recitation Memorial To a Dog, is tender. The Last Flower, one of Thurber's more serious essays, is an anti-war story which is as relevant now as it was fifty-two ago during the Viet Nam era. Ewell's poignant and powerful delivery is showstopping.

Word Dance (Part I) shows how language is a dance of thought . . . or not.

"I don't understand how an explosion could increase the population."
"Where did you get those big brown eyes and that tiny mind?"
"Well, you may call it sleepwalking, but I say she's promiscuous."
"If I called the wrong number, why did you answer the phone?"
"What do they mean when they say they're behind the 8-ball? It's something they do to each other on Wall Street."

This enjoyable CD captures observations on life.

Casuals of the Keys features John McGiver and Paul Ford as a visitor and an old beachcomber musing about their experiences - such as recalling a professional billiard player who ended up a "goldfish grabber" - a cocktail party game where guests would try to grab a fish out of its bowl. The fish would flip and dart away from the hands of danger. Or, if caught, squirm to get away, diving back into their bowl. The billiard player became obsessed and started keeping a fishbowl next to the billiard table during tournament play. People objected and so he took the fishbowl home and stopped grabbing at the fish - who soon die. It's speculated that the goldfish died because they no longer had a purpose and lost the will to live.

The observations about congress are spot on current although they were recorded decades ago - as in the musing that "it's becoming harder and harder to tell the difference between government and television."

The Unicorn in the Garden, considered one of Thurber's best-known stories, is followed by The Little Girl and the Wolf.

You don't need to be a fan of any particular type of music to enjoy A Thurber Carnival. The dialogue is supported by the jazz music of the Don Elliott Quartet - bass player Jack Six, guitarist Jimmy Raney, drummer Ronnie Bedford and jazz trumpeter, vibraphonist and Mellophone player Elliott. Known as the Human Instrument, Elliott is a stand-out on this recording, be it the soft backing for Memorial to a Dog or the musical punctuation marks to the lines delivered in Word Dance Part I.

File and Forget is one of the funniest comedy dialogues ever written and Thurber gets the credit. The bit concerns dictating a complaint letter (in this case about receiving books never ordered), and how that letter and the follow up correspondence can be misinterpreted. James Thurber played himself in 88 Broadway performances, dictating letters in this sketch.

The final track Word Dance Part II shows that many expressions used today originated with Thurber such as; "How can I be overdrawn when I have all these checks left?"

A Thurber Carnival is available through all major digital service providers and as disc-on-demand, with the original cover art and liner notes, via ArkivMusic.com and Amazon.com

COMPLETE TRACK LIST:

1 . Opening 2:30 Don Elliott Quartet
2 . Word Dance (Part I) 4:56 Peggy Cass, Paul Ford, John McGiver, Alice Ghostley, Peter Turgeon, Wynne Miller, Margo Lungreen, Charles Braswell
3 . The Night The Bed Fell 10:00 Tom Ewell
4 . The Unicorn in the Garden 2:58 Narrator: Peter Turgeon Man: Paul Ford She: Alice Ghostley Psychiatrist: John McGiver Policeman: Charles Braswell
5 . The Little Girl and the Wolf 1:37 Narrator: Peggy Cass Wolf: Paul Ford Little Girl: Wynne Miller
6 . Memorial to a Dog 5:02 Tom Ewell
7 . Casuals of the Keys 8:10 Visitor: John McGiver Darrel Darke: Paul Ford
8 . The Last Flower 3:16 Tom Ewell
9 . File and Forget 13:29 James Thurber: Tom Ewell Miss Bagley: Margo Lungreen Miss Alma Wineage: Peggy Cass Miss Wynne: Wynne Miller Jeannette Gaines: Alice Ghostley Clint Jordan: Paul Ford H.F. Cluffman: John McGiver
10 . Word Dance (Part II) 3:06 Tom Ewell, Peggy Cass, Paul Ford, John McGiver, Alice Ghostley, Peter Turgeon, Wynne Miller, Margo Lungreen, Charles Braswell, Don Elliott Quartet


SWEET CHARITY


THE SOUTHERN CALIFORNIA MOTION PICTURE COUNCIL (SCMPC) presents their 76th annual St. Valentines Ball with Oscar winning actress, Margaret O'Brien, as the evening's hostess on Monday night, February 13, at The Waterfall Ballroom at the Sportsman's Lodge in Studio City, CA.

The highlight of the gala will be the presentation of the 2012 Golden Halo Award to actress, singer and humanitarian, Barbara Van Orden.

She began her singing career in the Catskill Mountains at Grossinger's where she opened for many of the greats - Milton Berle, Don Rickles and Red Buttons to name a few. She performed at all of the Playboy Clubs working with talents such as Buddy Hackett, Morey Amsterdam and Soupy Sales.

A move to the West Coast took place and in between television and film roles, Van Orden opened for Vegas headliners. While in Vegas opening for Shecky Greene, Frank Sinatra came to the show. Afterwards, she was thrilled when he asked her if she would open for him in the Persian Room at the Plaza Hotel in New York.

With a head for business Van Orden continually invested in various real estate partnerships. She combined her business and performing backgrounds to start a personal management firm in Century City. She sold her management company to devote her energies to film producing and packaging.

On August 12, 1982, Van Orden's life would forever change. While crossing a street in Beverly Hills she was hit by a car driven by an epileptic. Van Orden received 12 breaks in her right leg, five breaks in the left, internal bleeding, crushed back, broken ribs, a fractured disc in her neck and a three inch gash in her skull. After years of therapy and 18 surgeries later, life was still being lived from a hospital room and she had to learn to walk - and perform - all over again.

Van Orden was able to appear as part of Jim Caruso's Cast Party at The Magic Castle, Hollywood on December 14, 2010. The response was so inspiring that she wrote and produced a cabaret theatre show, which she first staged at Sterling's Upstairs at Vitello's and in November, 2011 at Catalina's in Los Angeles.


ANDREW LLOYD WEBBER TAKES TO THE HIGH SEAS


Now and Forever - The Music of Andrew Lloyd Webber will be launched by Royal Theatrical Production which has teamed with Oceania Cruises for the floating show.

The first production will be on the upper premium line's 1,250 passenger Riviera which will debut in May 2012. Oceania Cruises calls it's entertainment "country club casual," but it's looking a lot like Broadway.

Now and Forever will feature 10 singers and dancers delivering tunes from Webber classics such as Cats, The Phantom of the Opera, and its sequel Love Never Dies, Joseph and the Amazing Technicolor Dreamcoat, and Jesus Christ Superstar.

The cruise ship will feature three additional production shows: Up in Flames, showcasing the music of Elton John and Billy Joel; The Dawning of Aquarius, a 60s revue; and Rock On, a love story with a rock-and-roll vibe.

Royal Theater Productions, aka Jean Ann Ryan Productions, is billed as: "a full service entertainment company specializing in Las Vegas Entertainment, "Cirque" and Award Winning Broadway Shows. We are the World's most respected and highest rated Cruise Ship Entertainment production company. We are also known for our expertise in Theater Design/Renovation and Construction Supervision including the Designing and Installation of Theatrical Sound and Lighting."

Casting calls were held January 17-18 in London and January 26-27 in New York City. Singers were requested to "prepare two selections that show legit and musical theater sound. Andrew Lloyd Webber selections preferred."

As for the floating city, Oceania Cruises' new Riviera will feature suites over 2,000 square feet and the largest veranda staterooms at sea. Top suites exude a residential esthetic with furnishings from Ralph Lauren Home and designs by Dakota Jackson of New York and S.B. Long Interiors of Greenwich, CT.

The ship will also feature a Lalique-designed grand lobby, 10 dining venues and numerous bars and lounges. Facilities will include a full-service Canyon Ranch SpaClub and innovative Bon Appétit Culinary Center.

Following her May 16 maiden voyage, Riviera will spend the summer and fall cruising the Mediterranean and then cross the Atlantic to operate a series of winter Panama Canal and Caribbean cruises.


THE PLAY RED INSPIRES ART AND CONVERSATION


Red, about the life of artist Mark Rothko and winner of the 2010 Tony award for Best Play, is currently being mounted in several locations and has inspired both art exhibitions and conversations.

Today, Sunday, February 5, Arena Stage in Washington, DC holds a panel discussion, Artistic and Psychoanalytic Approaches to Understanding Character and Conflict, in conjunction with their mounting of Red.

How do actors grapple with the inner life and conflicts of the people they portray? How do the characters affect the audience? Actor Edward Gero and psychoanalyst Jill Scharff discuss character and conflict.

On February 12 the topic is The Act of Creation. What fuels the act of creation? Actor Edward Gero and Phillips Collection Curator at Large Klaus Ottmann delve into how Mark Rothko's life influenced his work and how Rothko's life and work influenced Gero's performance in Red.

In 1985 and 1986, the National Gallery of Art in Washington, DC received the largest gift of works from the Mark Rothko Foundation, including several paintings deriving from the Seagram Mural project, a series of paintings Rothko created through the commission he received for New York's Four Seasons restaurant. This special installation of three of these works is timed to coincide with Arena Stage's Red, which dramatizes Rothko's struggle with the commission.

In June 1958, Mark Rothko accepted a commission to decorate a dining room in the Four Seasons restaurant of the Seagram Building on Park Avenue in Manhattan, a new modernist skyscraper by Philip Johnson and Mies van der Rohe.

Departing from his wonted format of floating rectangles in glowing colors, Rothko produced wine-dark paintings with ambiguous portal shapes evoking what he called a "closed space."

From the fall of 1958 into 1959 he was completely absorbed, making more than thirty even though the room only offered places for seven. At the same time, he became increasingly doubtful that a luxury restaurant with its wealthy patrons was the appropriate venue for his art.

He withdrew, canceling what would have been his first painted environment - a "place," as he ambitiously said, rather than just a group of paintings. He did, however, complete commissions for a room at Harvard University and a chapel in Houston before his death in 1970.

Organized by the National Gallery of Art, the exhibition is on display through August 15, 2012 at the National Gallery of Art, Washington, DC.

The Maltz Theatre in Jupiter, Florida is painting the town red. Inspired by their upcoming production of Red, through February 19 the artwork of local artists is being featured in 13 locations around Lake Park, Jupiter, North Palm Beach, Singer Island, Palm Beach Gardens and Tequesta, FL.

Red will be staged February 12-26 at The Maltz Jupiter Theatre in Jupiter, FL.


GRAMMY WEEK BEGINS: ADELE TO MAKE STAGE RETURN ON THE 54TH ANNUAL GRAMMY AWARDS
Adele. Photo by Christopher Macsurak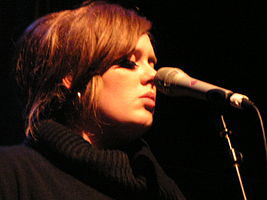 Current six-time Grammy nominee and two-time Grammy winner Adele will make her much anticipated return to the live stage on the 54th Annual Grammy Awards - hosted by two-time Grammy winner LL Cool J - which takes place on Sunday, February 12, at the Staples Center in Los Angeles.

This will be her first time performing live in nearly five months since being forced to cancel a sold-out U.S. tour to undergo surgery on her vocal cords. Also performing are twenty-time Grammy winner Bruce Springsteen and The E Street Band.

Other performers include Jason Aldean and Kelly Clarkson; Recording Academy Lifetime Achievement Award recipient and five-time Grammy winner Glen Campbell, currently out on the road for his Goodbye Tour, performs with The Band Perry and Blake Shelton; Coldplay and Rihanna; Foo Fighters; Bruno Mars; Paul McCartney; Nicki Minaj; and Taylor Swift.



Bruce Springsteen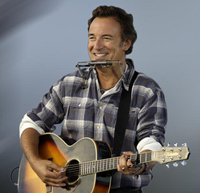 Actor/recording artist Jack Black, six-time Grammy winner and current three-time nominee Fergie, three-time Grammy winner and current nominee Amir "?uestlove" Thompson, nine-time Grammy winner Ringo Starr, Current Grammy nominee Katy Perry, country artist Dierks Bentley, rapper/actor and current four-time nominee Drake, Grammy winner Miranda Lambert, and Emmy and Academy Award winner Gwyneth Paltrow will appear as presenters.

The Lifetime Achievement Award, honoring lifelong artistic contributions to the recording medium will be presented to Allman Brothers Band, Glen Campbell, Antonio Carlos Jobim, George Jones, the Memphis Horns, Diana Ross and Gil Scott-Heron; the Trustees Award, which recognizes outstanding contributions to the industry in areas other than performance, to Dave Bartholomew, Steve Jobs and Rudy Van Gelder; and the Technical Grammy Award, honoring an individual's and/or corporation's outstanding contributions of technical significance to the recording field, to Celemony and Roger Nichols.

In other related Grammy news:

Ontario-based Tara Keith has been named winner of the Emerging Talent Competition which launched Nov. 2, 2011, and was designed to provide an unsigned musician the chance to perform at an official Grammy Week event.

Keith will perform as a headline act at the 3rd Annual Social Media Rock Stars Summit reception on Friday, Feb. 10.

Hitlab - a global social network connecting the world through hit music - announced the inclusion of competition runner-up Cameron Ernst of Dallas, who will also perform at the Social Media Rock Stars Summit.

For the fourth consecutive year, Clive Davis and The Recording Academy will present the annual Pre-Grammy Gala on Saturday, February 11, 2012, at The Beverly Hilton in Beverly Hills, Calif.



Sir Richard Branson will receive the 2012 Grammy Salute to Industry Icon award. Photo by: Richard Burdett.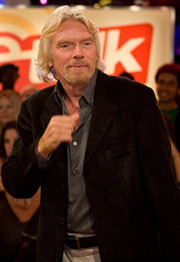 As part of the evening's celebration, the 2012 Grammy Salute To Industry Icons will honor Virgin Group Founder Sir Richard Branson.

The Recording Academy will present Branson with the President's Merit Award in recognition of his significant contributions to the music industry and the impact his efforts have had on music and the business of music.

Past recipients of the Grammy Salute To Industry Icons President's Merit Award include Herb Alpert and Jerry Moss, Clive Davis, Ahmet Ertegun, David Geffen, Berry Gordy, Doug Morris, and Mo Ostin.

Sir Richard Branson is the founder of Virgin Group. Born in England, Branson entered the music industry when he opened a record shop in London called Virgin Records and Tapes, and thus the Virgin brand was born.

Soon after, he founded Virgin Records with Nik Powell.

The label garnered unprecedented acclaim with its first release: multi-instrumentalist Mike Oldfield's progressive rock album Tubular Bells.

Other artists signed to the label over the next 20 years would include Culture Club, Devo, Genesis, Janet Jackson, Lenny Kravitz, Roy Orbison, the Rolling Stones, Sex Pistols, the Smashing Pumpkins, and many more.

In 1992, Branson sold Virgin Records to EMI Music, but later re-entered the music industry with V2 Records in 1996, which he later sold to Universal Music Group in 2007.

The televised Grammy show is directed by Louis J. Horvitz. David Wild and Ken Ehrlich are the writers.


SHIRLEY MACLAINE TO JOIN CAST OF DOWNTON ABBEY


In bygone eras, rich Americas heiresses crossed the pond to seek out titled husbands who were heavy on lineage but short on cash.

The remarkable and mesmerizing British series Downton Abbey has brought that to life. The celebrated series has now added American Shirley MacLaine to the cast.

The Oscar-winning actress, who will be honored with a lifetime achievement award by the American Film Institute (AFI) at a gala tribute in Los Angeles on June 7, will begin filming Downton Abbey next month with the rest of the cast.

MacLaine - whose character is named Martha Levinson - joins the third series as the mother of Lady Grantham, Elizabeth McGovern's character, the American-born wife of Hugh Bonneville's Earl of Grantham.

MacLaine will also provide a foil for Dame Maggie Smith, whose antagonizing Dowager Countess has consistently sniped some of the best lines.

"It is so exciting to have an actress of Shirley MacLaine's stature joining our brilliant Downton Abbey cast," said Laura Mackie, ITV's director of drama. "It is a tribute to the show's success on both sides of the Atlantic."

"Julian [Fellowes] has written another brilliant character in Martha Levinson, who will be a wonderful combatant for Maggie Smith's Dowager Countess," said Gareth Neame of Downton producer Carnival Films.

MacLaine who has appeared as a Las Vegas headliner, has starred in more than 50 movies during her career and won an Oscar in 1984 for Terms of Endearment.

Downton Abbey recently won the National TV Award for best drama and a Golden Globe for best mini-series.


SPREADING THE WORD


LYRICS & LYRICISTS It's an election year, so what could be timelier than a musical exploration of American songs? Lyrics & Lyricists presents Songs of America: From Stephen Foster to Bob Dylan and Beyond. Guest artistic director Tony award winner Ted Sperling surveys the full spectrum of songs about America - from buoyant to bellicose - and giving new meaning to the term "traditional American song."

Songs that are likely to land in the show include Hard Times Come Again No More, Brother Can You Spare a Dime, California Here I Come, Rhode Island is Famous for You, and The Times They Are A-Changin'.

Joining Sperling are vocalists Lawrence Clayton, Jamie Leonhart, Kecia Lewis-Evans, David Lutken and Clarke Thorell.

Jeffrey Klitz - Music Director/Piano. Andrew Palermo - Assistant Director/Choreographer.

February 11-13, 2012 at the 92nd Street Y in New York City.

IN ANY ACCENT, IT'S MAMMA MIA! the musical based on the hits of Abba has been resounding hit since it opened in Mandarin in Shanghai last July, where it enjoyed nightly standing ovations.

In December, 2011 the production took on a Shaanxi dialect when it transferred to the city of Xi'an, home to the Terra Cotta Warriors, and live citizens who stood in the aisles applauding and dancing.

Mamma Mia! was staged as part of The 10th Shaanxi Xi'an International Music Festival which kicked off on December 5, and will last 100 days.

Since its debut in Shanghai in July 2011, the Chinese version of Mamma Mia! has attracted over 100,000 people to watch productions in the cities of Shanghai, Beijing and Guangzhou.

MICHAEL MUSTO who always has something brilliant, funny and pity to impart in his Village Voice column, almost tops himself penning Why I Hate Theater! Appalling! column of February 1, 2012. A priceless read.

LORENZACCIO by Alfred de Musset. Translated and Adapted by John Strand.

Part of Redbull Theatre's Revolution Readings, the event featured David Barlow, Chris Bresky, Celeste Ciulla, Daniel Davis, Philip Goodwin, Melissa House, Jennifer Ikeda, Aaron Krohn, Carman Lacivita, Cynthia Mace, Everett Quinton, Ben Rappaport, Matthew Rauch and Rasha Zamamiri.

Known as the French Hamlet, a sensational tale of politics, murder, and betrayal set in Renaissance Italy. Directed by Joseph Hardy. A post-play Bull Session takes place with John Strand. Monday, February 6, 2012 at the Red Bull Theatre in NYC.

On February 11-12 Redbull Theatre's Revolution Readings presents The Aeneid inspired by Virgil. Olivier Kemeid's new play transports Aeneas's search for home to the modern world of refugees.

Featuring Craig Baldwin, Michelle Beck, Trezana Beverley, Maha Chehlaoui, Matt Dellapina, Ramsey Faragallah, Bhavesh Patel, Heather Raffo, with designs by Andromache Chalfant, music by Duncan Sheik, directed by Kay Matschullat.

THE PASADENA PLAYHOUSE and the Chairman of the Board of Directors have announced that Stephen Eich will conclude his tenure as Executive Director on or around February 29, 2012, and will continue in a consulting capacity through June 30, 2012.

A national search for a new Executive Director for The Pasadena Playhouse will begin shortly.

KEN DAVENPORT a Broadway and Off-Broadway producer of such shows as Godspell, Will Ferrell's You're Welcome America, Speed The Plow, Blithe Spirit, Altar Boyz, Awesome 80s Prom, etc. is in Japan to see Altar Boyz. Referring to how theater in Japan attracts a young audience, he posted: "There is literally one guy in the audience and 399 girls."

THE DRAMA BOOK SHOP will host a reading and Q&A with playwright Paula Vogel on Wednesday, February 8. This free event will take place at the Drama Book Shop's downstairs theatre in Manhattan. Seating is limited and will be given on a first-come basis.

Paula Vogel's Pulitzer Prize-winning play, How I Learned To Drive, is currently in a limited run at Second Stage through March 11. The production is directed by Kate Whoriskey and stars two-time Tony Award-winner Norbert Leo Butz and Emmy Award nominee Elizabeth Reaser.

How I Learned To Drive explores the complex relationship between Li'l Bit (Elizabeth Reaser) and her Uncle Peck (Norbert Leo Butz), as a series of driving lessons progresses from innocence to something much darker. Told with surprising wit, Paula Vogel's acclaimed play is returning to New York City for the first time since its world premiere 15 years ago.


OTHER PEOPLE'S MONEY


LONDON THEATRES SET RECORD The Society of London Theatre (Solt), which tracks box office revenue announced that 2011 ticket sales were up 3.1 per cent over 2010. Mark Rubinstein, president of Solt, said. "It's wonderful, theatre is in vogue," then added: "People are being brought in by great plays. Theatre provides experiences you can't have in other ways."

Musical revenues rose 1 per cent. The top grossing tuners were The Royal Shakespeare Company's Matilda, whose music and words were written by Tim Minchin, which has played to sell-out audiences since arriving in the West End from Stratford. Mamma Mia! posted record sales for the Prince of Wales Theatre, while The Lion King had its highest sales in the West End in 2011.

As strong as the musicals were, the driving force behind the box office were the plays.

Among the highlights, Frankenstein at the National Theatre was a total sell-out, while Jerusalem, Jez Butterworth's play starring Mark Rylance, which started at the Royal Court and transferred to the West End and Broadway, returned to the West End with theatregoers queuing overnight for tickets in the final week of its run in London. The Ladykillers took the highest figure ever in a single week at the Gielgud. The Royal Court played to 90 per cent capacity. Other shows, including opera, dance and performance pieces, saw revenues rise 1 per cent.

Anna Nicole, The Royal Opera house put on "a celebrity story of our times" about Anna Nicole Smith, which sold out before its opening night. Swan Lake The English National Ballet's production sold out 96 per cent of its available seats over seven performances and took £500,000.

Total sales would have been even higher if it were not for an "unusually high number of dark weeks", according to Rubinstein. This was responsible for attendances falling 1.7 per cent year-on-year to 13.9 million.

New plays forced theatres to close while the new staging was set up, with dark weeks rising from 85 in 2010 to 146. New productions included The Wizard of Oz and Ghost The Musical.

Despite fears raised by Andrew Lloyd Weber, that the Olympics will have a negative effect on Theatreland, Rubinstein predicted a strong year in 2012.

NO MORE STRIPPERS, LIQUOR OR GAMBLING for people on welfare.

By a vote of 395-27, late on February 1, 2012 lawmakers passed a bill requiring states to block welfare debit cards from being used at casinos, strip clubs and liquor stores.

Sponsors of bill, H.R. 3567 stated the aim is to close what was referred to as a "strip club loophole" in the Temporary Assistance for Needy Families program.

The bill's sponsor, Rep. Charles Boustany, (R-LA), said that the measure was in response to reports that people had used welfare funds inappropriately.

Several investigations established that welfare recipients were gambling, drinking and frequenting strip clubs to the tune of millions of dollars of taxpayer money.

CLYBOURNE PARK Bruce Norris' Pulitzer Prize-winning drama has a new buyer, so to speak. When lead producer Scott Rudin pulled out of the production deal Jordan Roth, president of Jujamcyn Theaters, stepped up to claim the property and took down the abandoned sign.

His February 3 statement read: "It is a true privilege for all of us at Jujamcyn to bring such a fiercely provocative and wildly funny work to Broadway audiences. Clybourne Park is on. We'll see you there!"

Clybourne Park which will be making its Broadway debut, had been announced for an April 12 opening at the Walter Kerr Theatre.

THE SUSAN G. KOMEN FOR THE CURE in a smart move, has reversed a stupid decision and now reports that it will continue existing breast cancer screening grants to Planned Parenthood and permit organization to apply for future grants.

However, the Komen tap dancing explanation release does little to sway the belief that at least some people associated with the Komen For The Cure have a hidden political agenda.


END OF AN ERA AS THE OAK ROOM IS CANCELLED
Harry Connick, Jr.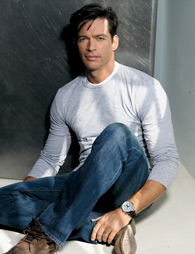 The Oak Room at the Algonquin Hotel in New York City has been permanently shuttered and will not re-open as any type of entertainment venue, but rather as a rest lounge for Marriott Reward Elite guests.

The Algonquin is undergoing major renovation and is set to reopen this coming May.

I've always enjoyed the Oak Room where I've been entertained by numerous performers. However, I once had a dreadful experience while staying at the Times Square Marriott Marquis Hotel and haven't stayed there since.

The fabled supper club The Oak Room is where I first saw Sally Ann Howes, Jeff Harnar, Harry Connick, Jr., Diana Krall, Michael Feinstein and Andrea Marcovicci.

There was a certain charm to the place with its dark paneled walls, white tablecloths, and a gleaming piano, but Hotel General Manager Gary Budge is quoted as saying cabaret "audiences are declining."

The Oak Room, a New York landmark as the site of the legendary Algonquin Round Table, became a nightclub for the first time in 1939. It was silenced during World War II, and didn't have live music again regularly until 1980. Now, it's silenced for good.



SAMANTHA BARKS 21, a relative newcomer, who appears as Nancy in Oliver! at the Palace Theatre in Manchester, England was startled when Cameron Mackintosh jumped on stage January 31. Banks was then bowled over when the impresario informed in that he and director Tom Hooper had cast her as Eponine in the film version of Les Miserables. The movie, due to be released in December, will also star Hugh Jackman, Russell Crowe, Anne Hathaway and Amanda Seyfried.

On stage, Mackintosh told the crowd that he had searched theatres in Hollywood and on New York's Broadway and London's West End to find the right actress.

THE GRAMMY FOUNDATION'S 14th ANNUAL ENTERTAINMENT LAW INITIATIVE Luncheon & Scholarship Presentation takes place February 10 at the Beverly Hills Hotel.

The event will feature John Branca, a partner in the law firm of Ziffren Brittenham LLP and former Board Chair of the Grammy Foundation's sister charitable foundation, MusiCares, as the recipient of the 2012 Service Award. The honor is awarded to an attorney who has demonstrated a commitment to advancing and supporting the music community through service. Daniel Ek,co-founder and CEO of Spotify, will deliver the keynote address at this year's luncheon.

Other program participants include: Susan Genco, ELI Executive Chair; Ken Abdo, ELI Executive Committee Program Chair and top music industry attorney (Lommen, Abdo, Cole, King & Stageberg, P.A.); and Neil Portnow, President/CEO of The Recording Academy and the Grammy Foundation.

At the luncheon, a cash scholarship of $5,000 will be awarded to the author of the winning paper, and $1,500 will be awarded to each of four runners-up.

Winner
J. Hardy Ehlers – Harvard Law School
Too Cool to be Sued? Hype Machine's Legal Issues and What Content Owners' Tolerance of Them Means for the Music Business and Copyright Law

Runners Up
Sarah Abelson– University of Colorado, Boulder Law School
An Emerging Secondary Market for Digital Music: The Legality of ReDigi and the Extent of the First Sale Doctrine

Jonathan D. Evans – Southwestern Law School
Solving the Sampling Riddle: How The Integrated Clearinghouse Would Benefit the Industry by Promoting Creativity and Creating New Markets While Maintaining Profits for Source Material Owners

Ryanne E. Perio – Columbia Law School
Policing the Android Market:Why the Expanding DMCA May Harbor Google from Liability for Illegal File-Sharing Apps Available on Android

Trevor Roe – Southwestern Law School
Defendant's Attorneys Fees: Copyright Infringement Cases Impose New Duties on Litigators to Evaluate Their Cases and Inform Their Clients Before Filing

Established in 1998 to recognize and further the connection between the legal profession and the recording community, the ELI program seeks to address legal issues confronting the music industry.

RAINBOW HONOR WALK a tribute to historic LGBT figures in San Francisco's Castro district has selected the first 20 names for The Rainbow Honor Walk. A contest is currently running through May 2, 2012 to solicit design proposals from around the world. Four finalists will be selected, judged by a jury comprised of curators from San Francisco's leading cultural institutions plus LGBT community leaders and a member of the San Francisco Arts Commission's Civic Design Committee. The four finalists will be presented to the Rainbow Honor Walk board that will select the winner. The designer of the winning submission will receive an honorarium of $1000.

"This is a project of worldwide significance, and deserves a world class design," said Rainbow Honor Walk Co-Founder and Chair David Perry. "The design of the plaques for the Rainbow Honor Walk needs to be beautiful, memorable, durable and unique." The Rainbow Honor Walk received the unanimous support of the San Francisco Board of Supervisors. Eventually, the Walk will stretch from the Harvey Milk Civil Rights Academy to Castro Street up to Market Street and continue to the LGBT Center at Octavia Boulevard.

"The Rainbow Honor Walk will not only be an inspiring educational tool for future generations, but an important, ongoing and permanent part of San Francisco's cultural landscape," said Tom DeCaigny, Director of Cultural Affairs for the San Francisco Arts Commission. "We are honored and pleased to support this project, and look forward to assisting in any way we can."

After the design is selected by the Rainbow Honor Walk board, it will then be presented for approval by the San Francisco Arts Commission in accordance with San Francisco's Charter which requires all structures placed on public property to be approved by the Arts Commission.

The first 20 names selected for inclusion on the Rainbow Honor Walk:

Jane Addams (1860-1935), Social worker, first American woman to win the Nobel Peace Prize, 1931.
James Baldwin (1924-87), American novelist, playwright, essayist, poet, civil rights activist.
George Choy (1960-93): Activist for Asian & Pacific Islander youth and people with AIDS.
Federico Garcia Lorca (1898-1936), Spanish poet, playwright, political activist.
Allen Ginsberg (1926-97), American poet. San Francisco Beat poet/ Free speech activist.
Keith Haring (1958-90), American artist and AIDS activist.
Harry Hay (1912-2002), English born writer, gay rights activist. Founder of The Mattachine Society, 1950.
Sylvester James (1947-88), American disco star, soul singer, San Francisco performer.
Christine Jorgensen (1926-89), Pre-eminent American transgender pioneer and advocate.
Frida Kahlo (1907-54), Mexican artist whose work has been celebrated as emblematic of national and indigenous tradition.
Del Martin (1921-2008), American feminist, gay rights activist. Founder Daughters of Bilitis.
Yukio Mishima nee Kimitake Hiraoka (1925-70), Japanese playwright, poet, actor, film director.
Bayard Rustin (1912-87), American civil rights leader.
Randy Shilts (1951-94), San Francisco journalist, biographer.
Gertrude Stein (1874-1946), American novelist, essayist, playwright.
Alan Turing (1912-54), British scientist who broke the Nazi's Enigma Code and father of the modern computer, cryptanalyst, logician, mathematician.
Tom Waddell (1937-87), American athlete, physician, founder of the Gay Games.
Oscar Wilde (1854-1900), Irish playwright, poet, novelist, essayist.
Tennessee Williams (1911-83), American dramatist, poet, novelist.
Virginia Woolf (1882-1941), English novelist, essayist, publisher.



THE KING'S SPEECH

Charles Edwards (center) with Jonathan Hyde and Emma Fielding in The King's Speech. Photo: Yvonne Arnaud Theatre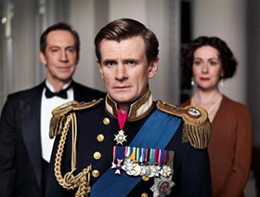 World Premiere of David Seidler's original play which inspired the Oscar winning film. Directed by former RSC artistic director Adrian Noble.

Charles Edwards stars as Bertie, Australian-born Jonathan Hyde as speech therapist Lionel Logue, and Emma Fielding as Queen Elizabeth.

Joss Ackland plays King George V and Ian McNeice is Winston Churchill.

When King Edward VIII abdicates for the love of Wallis Simpson, his terrified brother Bertie is thrust into the spotlight and crowned King George VI of England. In a time of national crisis a debilitating speech impediment leaves Bertie incapable of speaking for his country on the brink of World War II.

In a room at 146 Harley Street his wife Elizabeth, the future Queen Mother, has arranged for him to meet the maverick Australian speech therapist Lionel Logue. Breaking all royal protocol, the King and his oddball therapist embark together on an unconventional journey to correct the King's stammer and help him deliver the radio address that will inspire his country in battle.

There are some differences between the stage and movie versions. In the stage version, a deeper relationship between Lionel and his wife Myrtle exist. There is also more political and humorous tones.

Sedler has called the sage version "a richer canvas," than the award winning film presentation.

The King's Speech plays at the Yvonne Arnaud Theatre until February 11. It will then tour to Nottingham, Bath, Brighton, Richmond and Newcastle.

Guildford's Yvonne Arnaud Theatre opened its doors in 1965 as a proud memorial to the much loved French actress who had made her home in Effingham Common, and "whose warmth, humour and talent gave her an unrivalled position on the English stage for nearly fifty years."

The first Artistic Director was Laurier Lister who delighted audiences from his opening production with Ingrid Bergman and Michael Redgrave in A Month In The Country.

GALILEO by Bertolt Brecht.

Directed by Classic Stage Company's Artistic Director Brian Kulick who is also on the faculty of Columbia University School of the Arts.

Starring Academy Award winner F. Murray Abraham.

Abraham is joined by Jon DeVries, Robert Dorfman, Aaron Himelstein, Andy Phelan, Amanda Quaid, Steve Rattazzi, Steven Skybell and Nick Westrate.

Considered by many to be one of Brecht's masterpieces. "'In the year sixteen hundred and nine, science's light began to shine; Galileo Galilei set out to prove, the sun is still, the earth is on the move.' So begins Bertolt Brecht's masterful depiction of how the simplest of truths can topple the most powerful of regimes. Galileo explores the question of a scientist's social and ethical responsibility, as the brilliant scientist Galileo must choose between his life and his life's work when confronted with the Inquisition."

The creative team includes scenic designer Adrianne Lobel, lighting designer Justin Townsend and costume designer Oana Botez-Ban with original music and sound design by Christian Frederickson and Ryan Rumery.

In previews at the Classic Stage Company, NYC with the official opening slated for February 23.

RUTHERFORD & SON by Githa Sowerby. Directed by Richard Corley.

The Mint first produced Rutherford & Son in 2001. Performances began on September 7, 2001 - and in spite of marvelous reviews, the play could not possibly get the attention it deserved at that tumultuous time.

"The tenth anniversary of 9/11 brought back many memories for me, one of which was of this great play, which was scheduled to open on September 12th, 2001. We had a great production and a successful run, but the entire experience was, of course, overshadowed by the events of the time. A new production will give us a chance to celebrate the 100th anniversary of this remarkable play and to share it with the many theatergoers who have discovered the Mint in the last ten years," said Artistic Director Jonathan Bank.

Richard Corley returns to direct a cast that features 2001 cast members Robert Hogan as Rutherford, Dale Soules and David Van Pelt, as well as Eli James, Allison Mclemore, James Patrick Nelson, Sandra Shipley, and Sara Surrey.

Rutherford & Son, set in the industrial north of England, tells the story of a father determined to do whatever it takes to ensure the success and succession of the family glassworks, started by his own father, but now in danger of shattering. John Rutherford rules home and business with an iron fist, a tyrant who inspires fear in his workers and hatred in his grown children. Now rebellion is brewing. His eldest son, working in secret has discovered a process that could save the firm, cutting costs by one third - but he refuses to share it with his father unless he "gets his price."

Set design by Vicki R. Davis, costume design by Charlotte Palmer-Lane, lighting design by Nicole Pearce, and sound design by Ellen Mandel and Jane Shaw.

Rutherford & Son was scheduled for only four performances when it opened at London's Royal Court Theatre on January 31, 1912. Critical response was so enthusiastic it quickly transferred to the West End. "One of the very best, strongest, deftest, and altogether most masterly family dramas that we have had for a long time from any one, however famous," wrote one London critic. The New York premiere in 1912 equally impressed American critics: "A play that carries conviction in every line—that leaves no doubt that it was written out of a fullness of knowledge of the life and people with which it deals," wrote The New York Times.

When Rutherford & Son premiered critics were astounded that a play of such depth and exquisite stagecraft could be penned by a first-time playwright. The London Times predicted a future "full of promise" for this preternaturally talented writer - known at this point only as "K.G. Sowerby." What did "K.G." stand for? No one knew for sure until the author - Katherine Githa Sowerby - came forward. That a woman had written such a brilliant, brutal drama made headlines on both sides of the Atlantic.

The Times of London referred to Githa as a "girl-dramatist" and observed: "She is the last person in the world one would expect to find as the author of so grim, powerful and closely-thought out drama of business. Instead of looking as if she wrote this play, she is a young, pretty, fair-haired girl, refined of speech and dainty in dress, who seems far better suited to a drawing room than to the dramatist's work room."

The press painted her as an English rose who'd stumbled into playwriting - and Githa, a private person who dreaded interviews, did little to correct them. Her diffident answers only added to the misconception. Indeed, Githa was neither as naïve, nor as young, as the press assumed. Githa kept her history private - and it nearly went with her to her grave. Shortly before her death in 1970, Githa burned her personal papers. By that time, both her and her work had been forgotten.

None of her plays after Rutherford & Son had achieved acclaim; even Rutherford disappeared from the repertory. When the National Theatre revived Rutherford & Son in 1994, inspiring new interest in Githa, her biography remained a mystery. With the publication of Looking for Githa by Patricia Riley two years ago concrete details of Githa's life and family history finally emerged.

Currently in previews at The Mint in New York City. Opening night February 27 continuing through April 1st.

A STONE CARVER by William Mastrosimone. Directed by Rhiannon Ragland.

A Stone Carver tells the story of a retired stonemason who clings to the past, and his son who refuses to look back. When Agostino, a seventh-generation stone carver is evicted from his home to make space for a highway he barricades himself in his house, determined to outlast the bulldozers. In a last-ditch effort to save his father from jail, Raff, Agostino's only son, arrives at the house with his new fiancée. A battle of wills ensues, putting their already-rocky relationship to the test. Can Raff convince his father to move forward before it's too late?

Starring Matthew David, Guy Sanville and Charlyn Swarthout.

Set Designer: Daniel C. Walker - Properties Designer: Dana Segrest - Costume Designer: Shelby Newport - Lighting Designer: Dana White - Sound Designer: Quintessa Gallinat - Stage Manager: Stephanie Buck & Gregory Butka - Fight Choreographer: Nate Mitchell.

Performances through March 10, 2012 at the Purple Rose Theatre in Chelsea MI.

DISSONANCE by Damian Lanigan. Directed by Crispin Whittell.

Starring Daniel Gerroll, Skip Pipo, Elizabeth Schmidt, Peter Larney and Jeffrey Cannata.

Taking its name from Mozart's 'Dissonance' Quartet, this witty, buoyant and ultimately moving play follows the Bradley Quartet as they arrive in New York for a concert honoring their ten years together. Tension builds as their jealousies and frustrations rise to the surface. The fragile harmony between James (Daniel Gerroll), Paul (Skip Pipo), Beth (Elizabeth Schmidt), and Hal (Peter Larney) is disrupted when Beth, the cellist, agrees to give music lessons to Jonny (Jeffrey Cannata), one of America's biggest rock stars. Musical and personal conflicts intertwine and implode, throwing the futures of the four musicians into doubt. Egos, loyalty and love are all put to the test in this witty, buoyant, and ultimately moving play of music and musicians.

The West Coast Premiere is in previews and officially opens February 10 followed by performances through March 4, 2012 at the Falcon Theatre in Burbank, CA.

BLOOD KNOT written by Athol Fugard who also directs.

The cast features Colman Domingo as Zach and Scott Shepherd as Morris.

Between patchwork walls in a one-room shack, two biracial South African brothers grapple with crippling poverty and lonely isolation. Morris, the punctilious force that keeps their room tidy, is light-skinned enough to pass for white, but dark-skinned Zach feels imprisoned by his job at a whites-only park. When they find themselves on some dangerous new ground, the brothers must come face to face with the blood knot between them. Athol Fugard's revolutionary breakthrough play is "a searing indictment of apartheid and one of his most celebrated works."

Set Design: Christopher H. Barreca. Costume Design: Susan Hilferty. Lighting Design: Stephen Strawbridge. Sound Design: Brett Jarvis. Dialect Coach: Barbara Rubin. Props: Sarah Bird. Production Stage Manager: Pamela Salling. Assistant Stage Manager: Maggie Swing.

Presented by the Signature Theatre Company, Blood Knot is in previews and officially opens on February 16 at the Alice Griffin Jewel Box Theatre at the Pershing Square Signature Center, NYC.

RADIO GOLF by August Wilson . Directed by Lou Bellamy.

A successful and idealistic entrepreneur aspires to become a city's first black mayor. But while looking ahead to his and the city's future, he is forced to reckon with the price of progress. The final chapter in August Wilson's unprecedented 10-play cycle chronicling African-American life in the 20th century.

Starring Abdul Salaam El Razzac: (Joseph Barlow), Austene Van: (Mame Wilks), David Alan Anderson: (Roosevelt Hicks), James Craven: (Harmond Wilks), Terry Bellamy: (Sterling Johnson).

Don Darnutzer: (Lighting Designer), Karen Perry: (Costume Designer), Shannon Habenicht: (Stage Manager), Vicki Smith: (Scenic Designer).

February 10 - March 4 at the Allen Theatre of the Cleveland Playhouse in Cleveland, Ohio.

THE WHITE SNAKE a world premiere adapted and directed by Tony Award winner Mary Zimmerman who is developing and writing the script during the rehearsal process. Based on the classic Chinese fable.

In a beloved Chinese legend, a snake spirit disguised as a beautiful woman falls in love with a young scholar. White Snake keeps her true identity secret from him, but a disapproving monk persists in unmasking her. With the help of Green Snake, White Snake summons all her magic powers to defeat the spirits and monsters threatening her life and her great love. With live music and beautiful visual metaphors, Tony Award-winning director Mary Zimmerman invites your imagination to her staging of this fantastical transcendent romance.

Starring Amy Kim Waschke as White Snake, Christopher Livingston as Hsu Hsien, Tanya McBride as Green Snake, Jack Willis as Fa Hai.

The Ensemble includes Cristofer Jean, Lisa Tejero, Emily Sophia Knapp, Gina Daniels, Ako, Richard Howard and Vin Kridakum.

Scenic Designer: Daniel Ostling - Costume Designer: Mara Blumenfeld - Lighting Designer: T. J. Gerckens - Music/Sound: Andre Pluess - Dramaturg: Lue Morgan Douthit - Voice and Text Director: Rebecca Clark Carey.

February 18-July 8 in the Angus Bowmer Theatre at the Oregon Shakespeare Festival in Ashland, OR.


WHO'S WHERE


WHAT THE WORLD NEEDS NOW - THE MUSIC OF BURT BACHARACH A Valentine's Day special celebration of the greatest Bacharach songs including Close to You, What's New, Pussycat?, Alfie and Raindrops Keep Falling On My Head. The Royal Philharmonic Orchestra conducted by Richard Balcombe. Graham Bickley, Mary Carewe, Sarah Lark and Cat Simmons Vocalists. Tuesday, February 14 at Cadogan Hall in London.

RAUL ESPARZA IN CONCERT Four-time Tony Award nominee, in an encore performance of his acclaimed Lincoln Center concert, Esparza will share an eclectic celebration of music from his Cuban roots to the pop, rock and theater hits that led him to become one of Broadway's most celebrated stars. February 11 at the Adrienne Arsht Center in Miami.

BRUCE HORNSBY performs Tuesday, February 7, at the Strand-Capitol Performing Arts Center in York, PA. On Wednesday the show is at the Grand Opera House in Wilmington, DE. Friday the tour stops at Adelphi University in Garden City, NJ. On Saturday he can be enjoyed at the Keswick Theatre in Glenside, PA.

CRYSTAL GAYLE singing her hits February 8 at the Lancaster Performing Arts Center in Lancaster, CA.

RONNIE MILSAP on stage Wednesday, February 8, at the Manatee Convention Center in Palmetto, FL. On Thursday the show is at the Seminole Casino in Coconut Creek, FL. Friday finds him at the Secrest Auditorium in Zanesville, OH. On Saturday he stars at the Watseka Theatre in Watseka, IL.

CHRIS BOTTI blowing his own horn Thursday, February 9, at the Wright Auditorium in Greenville, NC. on Friday he opens a two night stand at Symphony Hall in Atlanta. Next Sunday finds him at the Grand Opera House in Galveston, TX.

TOMMY EMMANUEL two-time Grammy nominated Australian virtuoso guitarist performs in concert at the historic Balboa Theatre in San Diego on Valentine's Day, Tuesday, February 14, 2012. His current PBS Special celebrating the release of Emmanuel's 2-disc album Little By Little on Favored Nations Entertainment was recorded live at the Balboa Theatre last February 15; and is being shown on over half the PBS stations across the country.




FINAL OVATION


DON CORNELIUS creator of the '70s TV dance show Soul Train, died February 1, 2012 from a self-inflected gunshot wound to the head. He was 75.

As writer, producer, and host of Soul Train, Cornelius was instrumental in offering wider exposure to black musicians like James Brown, Aretha Franklin and Michael Jackson, as well as creating opportunities for talented dancers that would presage subsequent television dance programs.

Cornelius most recently appeared at the 2009 BET Awards to present The O'Jays with the 2009 BET Lifetime Achievement Award.

Neil Portnow, President/CEO, The Recording Academy issued the following statement: "Recording Academy Trustees Award recipient Don Cornelius created a cultural phenomenon with Soul Train, providing a platform for recording artists to showcase their talents to a wider, more diverse audience. He made an indelible impact on American television, one that will continue to be appreciated for generations to come. His beautiful, deep voice and measured pace always sounded warm and familiar to the millions who admired and followed his broadcasts. The music industry has lost a true visionary and trailblazer, and our deepest sympathies extend to his family, friends, and all who welcomed him in their homes for so many years."

MIKE KELLEY influential artist died February 1, 2012 at his home in South Pasadena, CA of an apparent suicide. He was 57.

A friend told investigators he had been depressed following a recent breakup, the New York Times reported.

Kelley specialized in large-scale pieces, often incorporating sculpture, video, or performance, and his work tended toward what the art world terms "abjection" - a preoccupation with visceral, shocking, gross-out imagery.

He's been featured extensively in gallery shows, and will be included in the upcoming Whitney Biennial.

Kelley is survived by his older brother George Kelley, who lives near Houston.

BEN GAZZARA theater and movie actor died Friday, February 3, 2012 in New York from pancreatic cancer. He was 81.

The respected actor studied under Lee Strasburg at the Actors Studio. His first significant stage role was as a two-faced bully named Jocko in End as a Man, about life in a Southern military academy. Developed at the Actors Studio, it opened on Broadway in 1953. Two years later he played the part of Brick in the original 1955 Broadway production of Cat on a Hot Tin Roof. In 1956, he played drug addict Johnny Pope in the Broadway play A Hatful of Rain for which he was nominated for a Tony Award.

His next Broadway appearance in The Night Circus, closed in less than a week in 1958, and he did not return to Broadway until a revival of Eugene O'Neill's Strange Interlude in 1963. His other Broadway work included a 1976 production of Who's Afraid of Virginia Woolf? opposite Colleen Dewhurst, which earned him another Tony nomination, as did his dual roles in a 1975 double bill of O'Neill's Hughie and David Scott Milton's Duet.

Gazzara also acted in Off Broadway and regional productions, among them Nobody Don't Like Yogi, a one-man show about Yogi Berra, which Gazzara began performing in 2003 and took all over the country for two years.

His last Broadway appearance was in the 2006 revival of Awake and Sing!.

He was equally successful on television. His starring role on Run for Your Life seen on NBC from 1965 to 1968, earned him two Emmy nominations. He was nominated again for his role in the 1985 television movie An Early Frost, and won a supporting-actor Emmy for his work in the 2002 HBO film Hysterical Blindness.

In 1999 he was diagnosed with throat cancer. He also suffered from severe depression.

His first marriage to radio actress Louise Erickson, ended in divorce. His second marriage to actress Janice Rule produced daughter Elizabeth. That marriage, too, ended in divorce. His third marriage was to German model, the former Elke Stuckmann, who survives him. He is also survived by his Elizabeth and another daughter, Danja, his wife's child from a previous relationship, whom Mr. Gazzara adopted. A brother, Anthony, also survives.








Next Column: February 12, 2012
Copyright: February 5, 2012. All Rights Reserved. Reviews, Interviews, Commentary, Photographs or Graphics from any Broadway To Vegas (TM) columns may not be published, broadcast, rewritten, utilized as leads, or used in any manner without permission, compensation and/or credit.
Link to Main Page
---
Laura Deni



For the snail mail address, please E-mail your request.
CLICK HERE FOR COMMENT SECTION