Broadway To Vegas
  
 SHOW REVIEWS CELEBRITY INTERVIEWS GOSSIP NEWS

| | |
| --- | --- |
| | |
THE LORD OF THE RINGS IN TORONTO - -2005 THEATER HALL OF FAME - - READ OUT - - BEN FRANKLIN UNPLUGGED - - NEW VOICES FOR WOMEN IN THE THEATRE - -LAS VEGAS ALZHEIMER'S INSTITUTE GALA HONORS MARIA SHRIVER - - SPIRIT OF NEW ORLEANS BLACK HISTORY GALA - - FANNY HILL THE MUSICAL - - DONATE . . . Scroll Down


Copyright: February 5, 2006
By: Laura Deni

CLICK HERE FOR COMMENT SECTION
LORD OF THE RINGS MORE THAN A PRODUCTION


It's the biggest and most ambitious theatrical production ever staged - for more reasons than one.

The Lord of the Rings, headed by James Loye as Frodo and Brent Carver as Gandalf the magician, is viewed as the musical mounted to save a city.

Toronto - the third-largest theatre center in the English-speaking world - is still reeling from a 2003 outbreak of severe acute respiratory syndrome a malady which put the city's tourism industry into critical condition.

That condition became contagious. Toronto-based productions of the multiple Tony Award-winning shows Hairspray and The Producers shuttered earlier than expected because of weak ticket sales.

While it was first anticipated that The Lord of the Rings would be a London mounting, when no theatre big enough to hold the production was available in 2006 the production was moved to Canada.

For all that ails Toronto the cure all potion is touted as The Lord of the Rings.

What you see are not hallucinations.



Tony Award winner Brent Carver stars as Gandalf the role played by Sir Ian McKellen in the movie trilogy.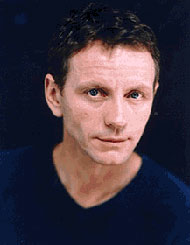 There is the 45-foot diameter tree trunk with twisting roots which revolves and the lifts transporting the audience to Middle-Earth.

Monstrous spiders stretching over the 40-foot stage and black riders on giant horse-like creatures.

Haunting, ancient Middle Earth ballads created from a unique blend of musical traditions.

Acrobatic feats that required months of physical training.

Investors also see dollar signs.

Usually productions go begging for the green stuff. This one boasts 12 thousand - one of the biggest being the city of Toronto itself which has ponied up some $2.5 million of the show's $27 (Canadian) million budget. Officials had no qualms in entering the unique public-private partnership - a relationship which some might consider risky. The government justifies the investment by citing the production's global appeal.

Other Toronto entities jumped on board.

Tourism Toronto, a private convention and tourism group primarily financed by the city's hoteliers, contributed $2.5 million to help market the show to an international market.

Many Toronto hotels are offering The Lord of the Rings packages - and most of the best seats in the 2,000-seat Princess of Wales Theater have been reserved for those packages. Single tickets run $94-$125 on weekends.

Air Canada signed on with more than $1 million worth of airline tickets to help the creative team commute back and forth to Toronto. Canadian Actors' Equity lengthened its standard contract to allow the producers a better chance to recoup their investment.

Other significant investors in the show include Canadian producer Saul Zaentz, who holds the stage and film rights to the Tolkien trilogy, and Ed and David Mirvish, a father and son team that owns the Princess of Wales Theater where The Lord of the Rings is performed.

The Lord of the Rings is the first major stage adaptation of JRR Tolkien's famous trilogy, with an unprecedented budget of $27 million. The three-act production with material from all three books The Fellowship of the Ring, The Two Towers and the Return of the King, is being directed by Briton Matthew Warchus, who rose to international prominence with the production Art, and features a cast of 50 and complex hydraulically operated sets. The music is the creation of Bollywood film composer A.R. Rahman, in conjunction with the Finnish folk music group, Varttina.



James Loye stars as Frodo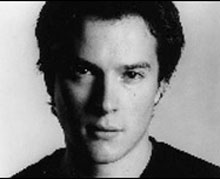 Director Warchus promises the production will be "a hybrid of text, physical theatre, music and spectacle never previously seen on this scale!"

Combining classical drama, physical theatre, music and spectacle, the production cannot be described in conventional terms. For instance, although the production will be filled with music and, like Tolkienís books, have numerous songs, it is unlike any traditional musical.

"Our respect for Tolkienís book means that every step of this adaptation to the stage has been rigorously thought through to avoid all possibility of trivializing the material," says director Matthew Warchus.

"We have not attempted to pull the novel towards the standard conventions of Musical Theatre, but rather to expand those conventions so that they will accommodate Tolkienís material. As a result, we will be presenting a hybrid of Text, Physical Theatre, Music and Spectacle never previously seen on this scale. "

"Following in the tradition of many great quest stories told on the world's stages over the millennia, I believe Tolkien's story of the One Ring will blossom and flourish in its adaptation. Great theatre has a boundless capacity to thrill, delight, touch and amaze an audience and this piece, with its extraordinary flights of imagination and powerful emotional core, will, I think, thrive on the stage. "



Princess of Wales Theatre in Toronto - transformed into Middle-Earth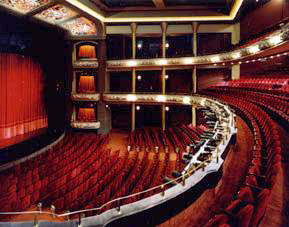 "To read the novel is to experience the events of Middle-Earth in the mind's eye; to watch the films is to view Middle-earth as though through a giant window. Only in the theatre are we actually plunged into the events as they happen. The environment surrounds us. We participate. We are in Middle-earth." Having auditioned 4000 actors over four months across Canada, followed by in-depth recall auditions with 350, the creative team - led by Warchus and Producer Kevin Wallace - gave the nod to a multi-talented cast of 55 hailing from across Canada and from the United Kingdom.

In the role of the great wizard Gandalf, is one of Canada's greatest performers, the internationally acclaimed Brent Carver. Mr. Carver won a Tony Award as Best Actor for Kiss of the Spider Woman on Broadway and has performed on major stages across North America in both classic and new plays.

"It is a great privilege and honor to have Brent Carver leading our outstanding company of performers," Matthew Warchus said. "As one of the greatest actors of his generation anywhere in the world, he has demonstrated dazzling versatility and prowess on stage and screen, in every genre from musicals to classic plays. A long-time prince of Canadian theatre, he is aptly suited to be the inspiring leader and father figure to this dynamic young company. He is a unique talent. He will refresh the role entirely. And he exemplifies the guiding principal of this production: to bring the most exciting creative talents to this epic masterpiece and generate a thrilling new work of art."

In the role of Frodo Baggins, the Ring-bearer, is the exciting young British actor, James Loye. Playing the role of Frodo's 'shadow' - the tormented and pitifully corrupted hobbit, Gollum is Michael Therriault. Evan Buliung plays Aragorn, the king-in-waiting. In the role of the wizard Saruman, the leader of the White Council corrupted by his lust for the Ring, is Richard McMillan. Peter Howe plays Sam, Frodo's faithful friend. Canadian Dylan Roberts is Merry and Irishman Owen Sharpe is Pippin. Gabriel Burrafato is Legolas. Dion Johnstone is Boromir. In the role of Arwen, daughter of Elrond, is Carly Street. Victor A. Young plays Elrond, Kerry Dorey is Théoden and Kristin Galer plays Rosie.

The ensemble consists of: Greg Armstrong-Morris, Joel Benson, Alexandra Bonnet, Brent Buchanan, Matt Cassidy, Mike Cota, Susan Dunstan, Joe Eigo, Josh Epstein, Omar Forrest, Matthew Gagnon, Nicholas Gede-Lange, Don Gough, Graeme Guthrie, Colin Heath, Peter Huck, Chilina Kennedy, Kristal Kiran Garib, Bryce Kulak, Monique Lund, Shannon Lynch, Ayrin Mackie, Colin Maier, Patrick McManus, Tyler Murree, Philip Nero, Danny Pathan, Sean C. Robertson, Louise St. Cyr, Vincent Tong, Peter Van Gestel, Fraser Walters, Sanders Whiting and Shawn Wright.

Set and Costume Design by Rob Howell. Sound Design by Simon Baker Moving Image Design by The Gray Circle. Illusions Direction by Paul Kieve. Tolkien Creative Consultation by Laurie Battle. Musical Supervision by Christopher Nightingale. Orchestrations by Christopher Nightingale, A.R. Rahman and Vartinna. Choreographed by Peter Darling.

In rehearsal since October, previews were delayed by 48-hours. "After four years of planning we are so close to delivering, to its first audience, a show we will all be extremely proud of," producer Kevin Wallace said in a statement. "We had every expectation of putting this together in 17 weeks of rehearsal, including five full weeks of on-stage rehearsals. However, the process is going to take an additional 48 hours."

The first preview took place last night, Saturday, February 4. The gala opening performance will be on March 23.



THEATER HALL OF FAME

Dorothy Loudon in Annie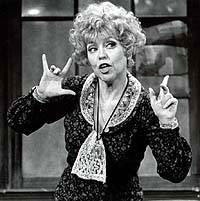 staged a formal ceremony to admit the class of 2005. Hosted by Liz Smith, who was introduced by Marian Seldes, the January 30 event took place at Broadway's Gershwin Theatre, where the names of Hall members adorn the wall in gold.

The 2005 distinguished inductees include; Jack O'Brien inducted actor John Lithgow, 60, who made his Broadway debut and won his first Tony in 1973 in The Changing Room. He also won a Tony for Sweet Smell of Success and was nominated four more times, including his current performance as the suave con man in Dirty Rotten Scoundrels.

Dorothy Loudon, who died last year at 71, was inducted by her long-time friend and agent, Lionel Larner. Loudon appeared in No Where to Go But Up in 1962 and made her name with her Tony-winning Miss Hannigan in Annie and as a vivid Mrs. Lovett in Sweeney Todd.

Sada Thompson, 76, made her 1959 Broadway debut in Juno and won a Tony in Twigs, then won Obies for The Effect of Gamma Rays on Man-in-the-Moon Marigolds and Tartuffe.



William Ivey Long inducted into the Hall of Fame by Susan Stroman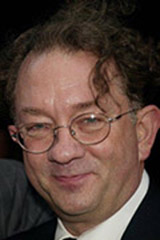 William Ivey Long four time Tony Award winning costume designer. With more than 50 Broadway shows to his credit, he took home the Tonys for Nine, The Producers, Crazy for You Hairspray.

Set designer Ben Edwards, who died at 83 in 1999, was inducted by his widow, Jane Greenwood, herself inducted into the Hall in 2003. Edwards had a string of 13 Tony nominations, finally winning a special Tony for lifetime achievement in 1998. Along the way he logged some 80 Broadway shows. He was married to costume designer Jane Edwards, herself inducted into the Hall in 2003.

Marian Seldes inducted Graciela Danielle, 65, who was born in Argentina, started out as a performer and then assistant to Michael Bennett and Bob Fosse before choreographing 15 Broadway shows and eventually graduating into directing; she has more than 10 Tony nominations. This year she is represented by Chita Rivera: The Dancer's Life. Her husband is Hall of Fame lighting designer and CMU grad Jules Fisher.

English director Peter Hall, 75, founded London's Arts Theatre and the Royal Shakespeare Company, then followed Laurence Olivier as the head of the National Theatre. Along the way he directed the first English productions of Beckett and Pinter. During this celebration he was honored for his achievements in America, including Tonys for The Homecoming and Amadeus, seven more Tony nominations, and the recent epic production of Tantalus in Denver and New York.

Director and filmmaker Arthur Penn indicted his friend playwright William Gibson, 91, who wrote Two for the Seesaw, The Miracle Worker, Golda's Balcony and the musical Golden Boy, along with such seminal chronicles as A Mass for the Dead and The Seesaw Log. He is also a founder of the influential Berkshire Theatre Festival

The Founders Award for service to the American theater was presented by four-time Tony winner Zoe Caldwell to Donald Seawell, 93, founder and chairman of the Denver Center for Performing Arts. Previously, he was theatrical lawyer to the Lunts, Noel Coward, Lindsay and Crouse, and Tallulah Bankhead. And as a Broadway producer he was responsible for such shows as The Visit, A Thurber Carnival and Sail Away and brought the RSC to the United States for the first time in 1962.



Broadway To Vegas is supported through advertising and donations. Priority consideration is given to interview suggestions, news, press releases, etc from paid supporters. However, no paid supporters control, alter, edit, or in any way manipulate the content of this site. Your donation is appreciated. We accept PAYPAL. Thank you for your interest.


SWEET CHARITY


THE DRAMA LEAGUE'S 21st ANNUAL BENEFIT GALA - SO IN LOVE: A NIGHT OF ROMANCE AT THE RAINBOW ROOM takes place Monday, February 13th.

The black tie event features Harry Connick, Jr. and Kelli O'Hara, the stars of the new production of The Pajama Game, plus Rachel York, Julia Murney, Mary Testa, Marian Seldes, Richard Easton and Katie Clarke. They join Liz Callaway, Joanna Gleason, Tina Fabrique, Liz McCartney and Roz Ryan for this one-night-only event under the direction of Joe Calarco with choreography by Karma Camp. Tony Award winner Hugh Jackman will serve as the event's honorary chairman.

Guests will begin with a cocktail reception where they can mingle with the stars while taking in the awe-inspiring views of Manhattan. Guests will then be ushered into the main dining room for an elegant seated dinner and the performance. Tickets range in price from $500 to $2,500 .

All proceeds of the Benefit Gala support the Drama League's mission support and strengthen theatre in America by broadening and stimulating the audience for theatre and by developing emerging talents for careers in the theatre.

THE SPIRIT OF NEW ORLEANS STAMFORD CENTER FOR THE ARTS BLACK HISTORY GALA Written by Sheila Baptista. Directed by Lynne Colatrella. The evening gets underway with a VIP Reception which includes refreshments and a silent auction. The highlight of the VIP Reception will be the presentation of the Entrepreneur Pioneer Award to local entrepreneurs that include, Toni Simpson, Frank Cummings, Cleveland Perry, DDS, Andre Jean Lewis, Oscar Guilford, Rosco Davis, Dr. Allen, MD, Edmund Davis, Kenneth Childs, DDS and Benjamin Whitaker. AACS will be honoring these individuals for their service to the community of 25 years or more.

Proceeds from the VIP Reception tickets will be presented to one of the three historical black colleges: Xavier, Southern or Dillard of New Orleans - for the rebuilding efforts in the wake of the devastating hurricane.

Musical guests for The Spirit of New Orleans include "AJ," the husband and wife international recording artists based in New York City, who will perform jazz and other styles of African American music, including music best known from New Orleans. Also performing will be Connecticut's very own Jazz/Violinist, Kersten Stevens. whose new CD is entitled Walks of Faith. The AACS will present its Community Service Award, recognizing people who have demonstrated a level of commitment to the African American story, and their contribution to the American way of life. This year's recipients are Ms. Sheryl Battles, Vice President of Corporate Communications for Pitney Bowes Inc. and Disc Jockey and Radio Personality, Bob Slade of New York's WRKS, 98.7 Kiss FM.

The show will be co-hosted by Vice President of Corporate Affairs for the Urban League, Ms. Lynne Law, and there will be a Special appearance and performance by Reverend Gregory Robeson Smith, nephew of the legendary Paul Robeson.

The show's finale will be a Mardi Gras Parade where all audience members are encouraged to participate. The evening will culminate with an onstage After-Party featuring dancing and refreshments. Audience is Encouraged to Dress in Mardi Gras Attire and Masks! Saturday, February 11, at SCA's Rich Forum. Stamford, CT.

KRAVIS CENTER FOR THE PERFORMING ARTS annual gala. This black tie event features a post-performance in the Kravis Center's Cohen Pavilion on February 7.

Elaine Gimelstob and Mary Schott, chairwoman; Helen Persson , honorary chairwoman.

READ OUT which benefits New York's Bellevue Hospital's child care facility features some impressive names reading from children's books. Page turners include Julianne Moore, Sandra Bernhard, Billy Crudup, Marcia Gay Harden, Paul Rudd, Samuel L. Jackson and John C. Reilly. Feb. 6 at the Great Hall of Cooper Union.

POWER OF LOVE - AN EVENING TO REMEMBER SO OTHERS WILL NEVER FORGET presented by The Lou Ruvo Alzheimer's Institute Honoring California's First Lady Maria Shriver and architect Frank Gehry, takes place February 11 at the MGM Convention Center in Las Vegas.

Patrons will savor delights from Wolfgang Puck, Emeril Lagasse and Nobu Matsuhisa. An auction billed as featuring: Automobiles, Trains, Ships & planes. All proceeds will go to the Lou Ruvo Alzheimer's Institute benefiting Alzheimer's, Parkinson's and Huntington's Diseases.


SPREADING THE WORD


NEW VOICES FOR WOMEN IN THE THEATRE is a free panel discussion about expanded opportunities for women in the theatre featuring some of the today's leading women playwrights, directors and critics. The panel includes director Wendy Goldberg (The Clean House), theatre critic Misha Berson (Seattle Times), playwright Regina Taylor (Crowns), playwright Michele Lowe (Good on Paper) and playwright Theresa Rebeck (Bad Dates). Moderated by Rocky Mountain News theatre critic Lisa Bornstein. February 11, The Stage Theatre at The Denver Center for the Performing Arts. Denver, Colorado.

THE MAN IN THE IRON MASK a reading of this new musical directed by Brian Swasey with Ron Bohmer, Marla Schaffel, and Richard Roland. At Lambs Theatre on Monday, February 13.

GREEN GABLES musical adaptation of the classic novel Anne of Green Gables. Book, Music and Lyrics by Janet Yates Vogt and Mark Friedman. Part of the York Theatre Development Reading Series. An encore performance reflecting its newest book and songs by composers/writers Janet Yates Vogt and Mark Friedman. Tuesday, February 7 at the York Theatre in NYC.

DAVID KENNEY'S EVERYTHING OLD IS NEW AGAIN has an in-studio interview with Ute Lemper prior to her February 7-25 engagement of Blue Angels and Demons at the Cafe Carlyle in NYC. Everything Old is New Again can be heard every Sunday 9-11 PM (ET) over WBAI 99.5 FM and on the Internet.



FANNY HILL with book, lyrics and music by Ed Dixon, based on John Cleland's 18th century novel. Directed by James Brennan. Nancy Anderson will play the title role. Others in the cast include; Patti Allison, David Cromwell, Michael J. Farina, Gina Farrall, Adam Monley, Emily Skinner, Christianne Tisdale and Tony Yazbeck.

Fanny Hill is the story of a beautiful young girl who travels to London to make her fortune and ends up making a great deal more. . . the army, the navy, and most of Parliament. Fanny becomes the foremost practitioner of the world's oldest profession, proves that crime really can pay, and gives new meaning to the expression, 'making it!' Considered the first 'erotic' novel, the witty tale was written in 1749 while Cleland was in debtor's prison in London, and it has also gone on to become a byword for the battle of censorship of erotica. After the book was first published, The Church of England asked the British Secretary of State to stop the progress of the book, 'an open insult upon Religion and good manners,' and as a result, Cleland was arrested. Nonetheless, copies of the book were sold underground and the book eventually made its way to the United States where, in 1821, it was banned for obscenity. In 1963, G. B. Putnam published the book, and it was once again banned for obscenity. The publisher challenged the ban in court, and in a landmark decision in 1966, the United States Supreme Court ruled in Memoirs v. Massachusetts that the banned novel did not meet the standard for obscenity. The novel is still banned in Australia.

Stan Tucker is Music Director. Michael Bottari and Ronald Case are in charge of Costume & Set Design. Nick DeGregorio handles the orchestrations.

Performances at the York Theatre in NYC.

FOUR HEARTS AND A CLUB Spunky and Mavis Dearborne were once the hit duo of the country charts until that fateful night in Dallas when their relationship fell off the stage, along with their country music careers! Five years and one divorce later, they want to make their comeback.

But what will it take to bring back the spark that once again ignites their singing careers and catapults them into stardom?

Will Peaches, Spunky's new girlfriend, keep them from success? Will Larry, Mavis' new beau and their manager, help them find fame? Sparks fly and romance ignites in this comedy. Featured songs include: Why Do I Feel So Good When I've Been So Bad? She's Even Better Than She Looks, Three's My Limit, Working Woman Blues, and Just the Two of Us.

February 9 to April 22 at the Barter Theater, the State Theater of Virginia, located in Abingdon, Virginia.

KISMET Book by Charles Lederer and Luther Davis. Founded on a play by Edward Knoblock. Music and Lyrics by Robert Wright & George Forrest from themes of A. Borodin.

Starring Brian Stokes Mitchell and Marin Mazzie.

Thursday, February 9 to Sunday, February 12. NYC.

New York City Center Encores! Great American Musicals in Concert. Jack Viertel Paul Gemignani Artistic Director. Musical Director.

LOVE AND POLITICS: A TRIBUTE TO THE LIVING THEATRE which is the oldest experimental theatre group still operating in the U.S. It's productions have won a dozen Obie Awards. Love and Politics features the New York premiere of a new work entitled Refugee Blues with text by W.H. Auden, as well as scenes from repertory works including Utopia, The Zero Method and Capital Changes - all by the group's co-director Hanon Reznikov; as well as Bertolt Brecht's The Antigone of Sophokles, translated by co-director/co-founder Judith Malina.

Founded in 1947 by Judith Malina and Julian Beck, the Living Theatre is a controversial and groundbreaking troupe that melds dramatic performance with political activism, drawing inspiration from sources as disparate as Kabbalah, Antonin Artaud and LSD trips. After Beck's death in 1985, long-time member Reznikov joined Malina as co-director.

Over the years the Living Theatre's New York venues have been closed by various authorities, and while the group continues to operate a permanent space in a 17th-century Italian palazzo for their European productions (Centro Living Europa in Rocchetta Ligure, near Genoa), and performs on the streets of New York and in venues like Theater for the New City and La Mama, it has been without a U.S. space since 1993. Malina recently sold her home of over 20 years to finance a permanent space and after a mid-town location fell through, she and Reznikov once again find themselves searching and hoping. Sun Feb 12 Makor, NYC.

THE STORY by Tracey Scott Wilson. Directed by David Charles Goyette.

Inspired by a real incident at the Washington Post in which a black reporter presented as real a fictitious set of inner city characters. The Post story won a Pulitzer Prize before it was discovered that the whole thing was a lie. Wilson examines what happens to make an ambitious person cross the line between honesty and deceit.

Presented by the African Continuun Theatre at the Atlas Performing Arts Center in Washington, D.C. Performances through February 20.

BEN FRANKLIN: UNPLUGGED

Josh Kornbluth as America's favorite founding father in Ben Franklin: Unplugged. Photo by Mark Leialoha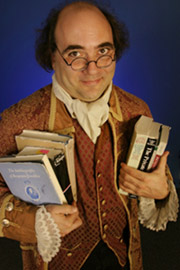 Written by and Starring Josh Kornbluth. Directed by David Dower.

Josh wakes up one angst-filled, middle-aged morning, looks in the mirror, and finds he has somehow become the spittin' image of Benjamin Franklin. He begins to uncover the mystery of Franklin's unresolved relationship with his son William, a Royalist during the Revolutionary War, and what starts as a jaunty stroll through history becomes Josh's personal and poignant quest to reconcile with his own father.

Part comic autobiography, part history lecture and part mystery yarn.

The design team includes; Composer/Sound Design is by Joshua Raoul Brody. The Set Design is by Annie Smart. The Lighting Design is by Jim Cave. The Costume Design is by Laura Hazlett with shirts by Sara L. Sato.

Previews begin Thursday, February 9 with an opening set for Saturday, February 11 at the Rubicon Theatre in Ventura, CA.


| | | |
| --- | --- | --- |
| | | |
WHO'S WHERE


THE LIGHT IN THE PIAZZA is dark Monday, February 6. So on that night the cast members of the musical will light up the stage at Joe's Pub appearing in a one night-only cabaret performance titled The Lights of the Piazza. Members of the cast will star in the show which will feature performances of new works, old favorites, Italian arias and a few surprises. At Joe's Pub in NYC.

UTE LEMPER will return to the Cafe Carlyle in New York City from Feb. 7 to 25 with her new show Blue Angels and Demons, featuring Berlin cabaret songs, Kurt Weill and George Gershwin.

THE ROLLING STONES rockin' February 11 at the Coliseo De Puerto Rico in San Juan Puerto Rico.

GEORGE JONES intends to show up for shows Friday, February 10, in Cerritos, CA at the Cerritos Center and on Saturday at Texas Station Casino in Las Vegas.

BILLY JOEL in a return stand at Madison Square Garden in NYC on Thursday, February 9 and Saturday, February 11.

COLDPLAY headlining Arrowhead Pond in Anaheim, CA on Monday, February 6.

BROOKS AND DUNN perform Saturday, February 11, in Verona, NY at the Turning Stone Casino. Next Sunday they are center stage in Uncasville, CT at the Mohegan Sun Casino.

PETER CINCOTTI on stage Saturday, April 8, at the Diana Wortham Theatre in Asheville, NC.

MICHAEL BUBLE has a five night engagement in Las Vegas at the Hilton Hotel over Valentine's week-end performing Friday, February 10, through Monday, February 14.

ANNE HAMPTON CALLAWAY on stage Sunday, February 12 at Peconic Landing in Greenport, NY.

LILY TOMLIN on stage Friday, February 10 at the Heymann Performing Arts Center in Lafayette, LA. Next Sunday, February 12, she'll be getting laughs at the Paramount Theatre in Austin, Texas.

MICHAEL FEINSTEIN has a busy week. He's on stage Tuesday, February 7, in West Palm Beach, FL at the Raymond F. Kravis Center. On Wednesday he's in the spotlight in Naples, FL at the Philharmonic Center. Thursday finds him playing, singing and telling funny stories at the Tennessee Williams Fine Arts Center in Key West, FL. On Friday he's in Melbourne, FL at the Maxwell C. King Center. Saturday the show is in Purchase, NY at the Performing Arts Center.

LARRY GATLIN AND THE GATLIN BROTHERS opens a six night gig on Tuesday, February 7 at the Weidner Center in Green Bay, WI.

BOB NEWHART brings his droll sense of humor to The Lakeland Center in Lakeland, Florida for a two night stand Wednesday and Thursday. On Saturday he performs at the Ocean Reef Cultural Center in Key Largo, Florida and next Sunday he'll be getting laughs at the Barbara B. Mann Hall in Fort Myers, Florida.

LOU CHRISTIE entertaining Saturday, February 11 at the Brooklyn Performing Arts Center in Brooklyn, NY.

B.B. KING the ageless performer on stage Thursday, February 8 at the Sheldon Concert Hall in St. Louis, Mo. On Friday he'll be pickin' Lucille at the Rialto Square Theatre in Joliet, IL. Saturday finds him at the Civic Center of Great Des Moines, Iowa. Next Sunday he's in the spotlight at the University of Illinois in Springfield.

OAK RIDGE BOYS entertain Saturday, February 11 at Leelanau Sands Casino in Suttons Bay, MI.

PRESERVATION HALL JAZZ BAND getting the beat going Friday, February 10, at the Paramount Theatre in St. Cloud, MN. ON Saturday they are center stage at the Duluth Entertainment Convention Center Auditorium in Duluth, MN.

BILL CHARLAP on stage Thursday, February 9, at the Tribeca Performing Arts Center in NYC.


FINAL OVATION


WENDY WASSERSTEIN 55, died Monday, January 30, at Memorial Sloan-Kettering Cancer Center in Manhattan. The cause of death was complications of lymphoma.

The Brooklyn born prolific playwright had a significant influence on depictions of American women. Her most famous works were The Sisters Rosensweig, An American Daughter and The Heidi Chronicles, for which she received a Tony and a Pulitzer Prize. That play opened on Broadway in 1989 after receiving critical acclaim Off Broadway. It ran for 622 performances and marked the first time a woman had won the Tony Award for writing without using a collaborator. The later player opened on Broadway in 1993, ran for 556 performances and was nominated for a Tony Award for best play.

Other of the scribe's plays include Isn't It Romantic, Uncommon Women and Others, Old Money and the recent Third.

She is survived by her daughter Lucy Jane who was born in 1999. Other survivors include her mother, Lola Wasserstein; a brother Bruce, the chairman of the investment banking Lazard and the owner of New York magazine; another brother, Abner, and her sister Georgette Levis of Vermont.

On Tuesday, January 31 the lights on Broadway were dimmed in her honor. Funeral services were private. A memorial service at Lincoln Center Theater will be announced at a later date.
















Next Column: February 12, 2006
Copyright: February 5, 2006. All Rights Reserved. Reviews, Interviews, Commentary, Photographs or Graphics from any Broadway To Vegas (TM) columns may not be published, broadcast, rewritten, utilized as leads, or used in any manner without permission, compensation and/or credit.
Link to Main Page
---
Laura Deni


CLICK HERE FOR COMMENT SECTION