! >
Broadway To Vegas
  
 SHOW REVIEWS CELEBRITY INTERVIEWS GOSSIP NEWS

| | |
| --- | --- |
| | |
THE ACTORS' GANG STAGES 1984 IN HONG KONG - - THE TRIUMPH OF EROS: ART AND SEDUCTION - - CLINT EASTWOOD RECEIVES JACK VALENTI HUMANITARIAN AWARD - - THE ETERNAL ROMEO AND JULIET - - SHELTON HARNICK AND OTHER PEOPLE'S LYRICS - -A PICASSO - - BRUNDIBAR - - MERYL STREEP ADMITS SHE LOVED PRINCE CHARLES - - DONATE . . . Scroll Down


THE ACTORS' GANG - ON THE ROAD AGAIN - TO HONG KONG


In 1981 a group of renegade actors came together to form The Actors' Gang, which is now considered one of Los Angeles' most enduring and awarded theatre ensembles - having produced 68 plays and winning over 100 awards.

The Gang - as they are affectionately called - has a mission to create bold, original works for the stage and daring reinterpretations of the classics. It also appears their goal is to conquer the world.

Managing director Greg Reiner spoke with Broadway To Vegas about this unique ensemble, which has recently returned from Australia and is about to head to Hong Kong with a production of 1984, as part of the Hong Kong Arts Festival February 28-March 4.

"Part of the Actors Gang mission in the last couple of years is to gain an international audience. Originally, we just did national touring. 1984 was part of a national tour and before that Exonerated and a show called Embedded we toured nationally - all over the country as well as New York. In the case of Embedded, that also went to London. Basically, we are building on what we have been doing on a national level," he explained.

"The first time we took '84 out of the country was in May of last year. We went to Athens. In Greece a lot of people speak English, but there were surtitles. The audience reactions were all coming in the right place so you knew that the surtitles were well done.



The Ilissia-Denissi Theatre when The Actors Gang performed 1984.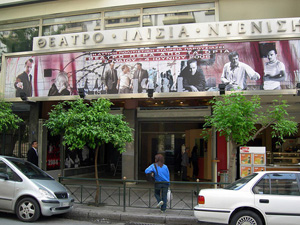 "We invited people from all over the world to see us when we were in Athens. One of the people who came was So Awok Kwan, the director of the Hong Kong Arts Festival. He decided it would be an appropriate show to bring to their festival."

This just isn't any old play, but the tour de force of Orwell's famous and prophetic novel about political oppression adapted by Michael Gene Sullivan.

Imagine a society in which mass conformity and oppressive surveillance are the norm, where every act, word, gesture and thought are censored; falling in love is a crime; and where perpetual war is waged against unseen foreign enemies. Ruled over by the enigmatic Big Brother, the language is 'newspeak' and 'doublethink' - Ignorance is Strength, Freedom is Slavery and War is Peace. In Orwell's account of a totalitarian tomorrow, one man, Winston Smith, seeks to rebel. He is betrayed, arrested and imprisoned. As the play begins, he faces interrogation by the Thought Police.

"The Hong Kong Arts Festival is like the Edinburgh Festival," continued Reiner who stressed, "The censorship is - none! "Remember we are in Hong Kong, which is different from mainland China. It is a separate administrative region. I don't know that we would be able to do this in Beijing. But, in Hong Kong there is no censorship."

"Now, they are going to have surtitles. So, what they say and what the translation is - I don't know," he laughed. "The festival is doing the translation. I actually have a friend who lives in Hong Kong who speaks Cantonese. He is going to take a look for me, to make sure it is an accurate translation."



Brian T. Finney, Brent Hinkley, and V.J. Foster in 1984. Photo by Jean-Louis Darville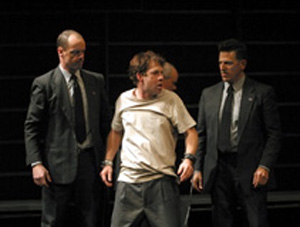 "There is nudity, but it is very brief," he quickly stated. "As for censorship, in the case of this play there was no conversation about censorship. So, hopefully, people who are from the mainland of China will be able to travel to see this kind of work uncensored and will broaden their horizons about a way of thinking."

"As when we do the work here, we hope to open lines and engage people in conversations. We will be doing post play discussions which are going to be great. I'm going to be moderating them. I asked the translator if there would be a language problem and he said - no. Particularly in Hong Kong, which was a British Colony. I'm told most people there do speak English. But, there will be the surtitles as well."

"It is our production," emphasized Reiner. "It is the exact same thing you would have seen here at the Actors' Gang in Culver City except in a 2,000 seat theatre as opposed to a 100 seat theatre."

"We are taking the costumes and props over in suitcases. They are building the sets there. We sent them the drafting of the plans and they are building it there. Our lighting, sound and set designers are all traveling with us, so they can supervise and make sure it is the quality that they would have gotten here."

While it is Tim Robbins' direction that is maintained the theatre founder "is not traveling to Hong Kong," said Reiner who explained, "The show is not really being directed at this point. It exists and the staging is there. We will have a rehearsal with him in L.A. before we leave."

"Out on the road the stage manager and I supervise it to make sure it maintains its integrity. These actors are so good. They know the show and they have been doing it for a year."

They have also been all over the place.

"We just got back from performing in Australia in October. We were part of the Melbourne International Festival."

Outside of accumulating massive amounts of frequent flyer miles, is The Gang getting what they want out of these long flight sojourns?



Brian T. Finney, Brent Hinkley and Kaili Hollister in 1984. Photo by Jean-Louis Darville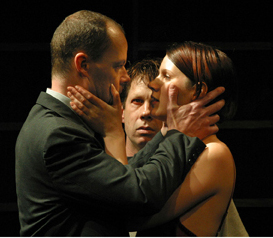 "Absolutely, we are getting what we want out of this - and more!" he exclaimed. "A lot of these international festivals have traditions of being very Europe centered. You know most of the program is going to come from Europe. So, to be an American company in an international festival - is an exciting experience."

"Absolutely, we are respected," he answered and then added, "especially in Athens. First of all, they love Americans. Whether or not they agree with what our policies are - there is still a great warmth towards us. They especially appreciate hearing different points of view - rather than what they only might hear on TV."

"They appreciate knowing that there are different voices. No matter what anybody thinks, we still have freedom of speech in this country. That brings to the theatre great dialogue and discussion."

While Robbins has a reputation of being vocal about his political and philosophical leanings, Reiner bristles at calling The Actors' Gang liberal.

"I don't think I'd put it in those terms," he cautioned. "What we do is put questions out on the table to provide a place for community dialogue - on either side."

"A play like The Exonerated is not anti-anything - except the issue of putting innocent people to death. Even a play like Embedded, which questions our policy and what we were doing in certain wars - even that wasn't anti any particular person."

"What we are doing is what theatre is supposed to do - and has been doing since the time of the Greeks - creating a place for civic dialogue. That is our point of view. We aren't telling anybody what to think. We are just putting issues out on the table for people to discuss. Whether they agree with the actors, the individual actors in a show - or even Tim. That's why the post theatre discussions are so great with everything that we do. You get all of the different points of view and people feel very passionately about them. Our best post play discussions are with people who have an opposing point of view."

"The discussion becomes as good as what you just saw on stage," he added.

"This play was originally written in many ways as a play against totalitarianism and socialism as it became in Russia. So having it in China, my God! On the other thing, as Tim says in his notes - what was the point of fighting our enemy if we were just going to become them. I just think it is very exciting that a company in Los Angeles is able to get this kind of work out to an international stage."

"I was in China a couple of years ago and I definitely felt they loved Americans. They loved President Clinton when he went to China, the tour guides were raving about Clinton."



Founder Tim Robbins. Shies away from the term political theatre.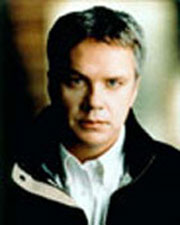 "All of the work we do at The Actors Gang seems to have some kind of value that goes beyond just entertainment value. But, it is very important to Tim that everything does have entertainment value. That is why he always shies away from the term political theatre. We are still about entertaining people first."

Reiner has been with The Gang since 2001 coming from having served as managing director of the Shakespeare Festival/LA. "That is another amazing community based group which does work with inner city kids and Shakespeare," he injected. "But I loved the work of The Gang before I worked here and I got the job by interviewing for the position."

Reiner has enjoyed every minute of his position - and he's proud of The Gang's new truck.

"When we tour nationally we actually have a truck that we own. We travel around the country with our sets. We'll go in and set up in one day with lights and sets and perform."

"The touring we are doing is really unique. I don't think people are aware of this and it is really important."

"The worst part is coming home because we have had such a great experience. Also, the best part is coming home because you get to share that experience."

The Actors' Gang is no longer a rag-tag little bunch, but a well honed triple threat cast.

"We have two casts. Hong Kong is happening at the same time when we have dates on the road. So, we have two casts and then there is a third cast of understudies. It is a matter of taking the kind of work we do and getting to an audience beyond our local audience in Culver City."



The cast of 1984. Photo by Jean-Louis Darville.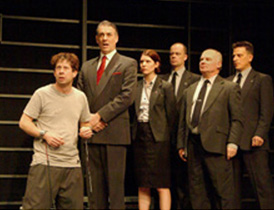 The production is currently on tour of 30 American cities.

There is also a unique fund-raiser surrounding the Hong Kong excursion. You can become one of the traveling gang. A special Meet-the-Actors Theater Package includes round trip airfare from LAX on Cathay Pacific Airlines, four nights at a 4-star hotel near the Festival, breakfast daily, an opening night ticket, invitation to the post show reception, and afternoon tea with the cast at the Peninsula Hotel. Departs Monday, February 26 and returns Saturday March 3.

"I hope people take advantage of the travel package. What is great is that the people will really get to spend time with the cast," stressed Reiner.

The Hong Kong Arts Festival is a charitable, non-profit organization. It is a major international arts festival as well as the premier arts event in Hong Kong. Featuring overseas and local artists of renown in an eclectic array of music, theatre, dance, popular entertainment, film and exhibition programs, the Festival offers a three-to-four-week-long cultural feast annually from February to March.


ART AND ABOUT


ART: THE TRIUMPH OF EROS: ART AND SEDUCTION IN 18TH CENTURY FRANCE

Pierre Subleyras (1699-1749), A scene of an artist painting a seal of chastity on his wife, from a tale by Jean de La Fontaine, 1732, oil on canvas, 30.5 x 24.5 cm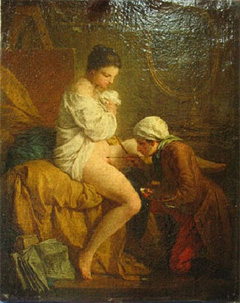 from the Hermitage gallery in St Petersburg comes one of the largest collections of eighteenth century French art. Granted, France in the 18th Century is predominantly thought of as the Age of Reason. Perhaps not. This exhibition is not called porn. Somerset House prefers the moniker - erotic art. Given the sexual shenanigans of Louis XV and the Marquis de Sade, perhaps the sheer wealth of this collection shouldn't really come as that much of a surprise.

A fascinating collection, charting the fashions of the age and showing us that however modern and enlightened we may think ourselves a Frenchman was doing in first. And if that isn't enough to have you hopping a flight to London, then be aware that the collection contains etchings that were considered so risque they've never before been exhibited.

This exhibition brings together a wide range of material from the Hermitage's rich collections, including paintings, drawings, furniture and a recently discovered group of prints depicting scenes from the education of Eros to explore the theme of art and seduction in 18th century French culture.

The period setting of the Hermitage Rooms is the ideal backdrop for masterpieces of Rococo French painting by Boucher, Watteau, Natoire, Lancret, sculpture by Falconet, and a sumptuous array of French decorative arts.

The impetus for this exhibition, and at its core, is a recently discovered collection of rare French erotic engravings collected in the 19th century probably in secret by Tsar Nicolas I. The fascinating collection has never been seen outside St Petersburg, and London is the privileged location for its first international display.



Etienne-Maurice Falconet (1716-91), Menacing Cupid, 1750s, marble, 85 cm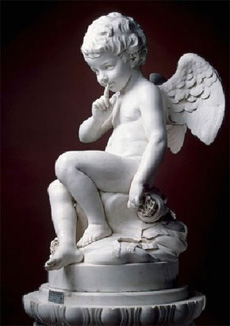 The French 18th century is familiar to us as the Age of Reason but it was also an age of passion, desire and seduction. The many aspects of erotic desire were explored by artists and devoured by connoisseurs, private collectors and the French public alike. The exhibition begins by examining the extraordinary resurgence of interest in the ancient Roman and Greek god of erotic passion Cupid, or Eros, in 18th century French visual culture. It shows how his image was depicted in different media, from virtuoso paintings by Boucher on the theme of Cupid as an allegory of the arts, to a playful inkstand by the Sèvres porcelain factory, depicting Cupid mischievously drumming on the inkwells.

A highlight of the exhibition is the loan of one of the Hermitage's most beloved treasures, the marble sculpture Menacing Cupid, by Etienne-Maurice Falconet. This iconic work, produced by the artist for Madame de Pompadour, and copied for a Russian clientele (in this case Count Stroganoff), quickly became the most famous modern visual representation of Cupid in the 18th century.

Other sections in the exhibition explore Cupid's ever-present influence upon different representations of love and seduction. These range from groups of works which deal with the popular subject of young women contemplating love and desire alone in their boudoirs, to images of erotic encounter, transgression and consummation. They include not only idealized visions of love's triumph, such as Boucher's famous Pastoral Scene, but also representations of frustrated and thwarted love, brilliantly depicted in Watteau's late masterpiece, Capricious Girl. In many of the engravings images of love and seduction are laced with moralizing meanings about the dangers of unbridled passion, giving a certain license to images that pushed the limits of decorum and taste.



Nicolas Lancret (1690-1743), The Swing, 1730s, oil on canvas, 99 x 132 cm. Susan Stroman turned the photo into a dance scene for her 2002 award winning Broadway musical Contact.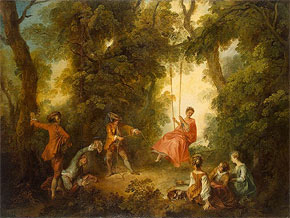 However, the exhibition also probes the ways in which the erotic in 18th century French art could easily slip over into the pornographic, the decent into the indecent. Works of art by Lancret, Nattier and Fragonard, have been chosen to explore the nature of disorderly passion, voyeurism and sexual license, pushing at the boundaries of what was, and perhaps still is, deemed aesthetically acceptable.

Among the erotic engravings on display are examples of rare, privately collected, so-called '1st state' prints showing figures before the inclusion of their drapery which were added later for the official published print editions.

The rapid expansion of popular print culture in the 18th century saw increasingly explicit erotic scenes more widely circulated, such as Fragonard's playful fantasy Les Jets d'Eau. The exhibition also includes two small private cabinet paintings by Subleyras showing scenes from tales by La Fontaine, which were made for Duc d'Enghien in 1732. Due to their risqué subject matter, they have never been publicly displayed in the Hermitage, let alone outside of it, and are exhibited for the very first time in London.

The Triumph of Eros will throw fresh light on how French 18th century artists expressed the complex nature of erotic desire in its varied manifestations. By bringing together artworks of different media and status, from works for private consumption to major public statements, the exhibition offers a wide visual spectrum of approaches to the erotic in French art and culture. In doing so it seeks to demonstrate that Eros' 'triumph' is not simply the power of love to conquer all but rather his ever-present and often disruptive influence on human affairs in the age of rationalism and enlightenment A Valentine Special 2 for 1 offer will be available at the Hermitage Rooms February 14-18 to visitors of this exhibit. In addition they will be entitled to a free glass of champagne with lunch at the Admiralty Restaurant, on production of their entrance ticket.

Exhibit on display through April 8.



CLINT EASTWOOD the actor and Academy Award-winning director will receive the Motion Picture Association of America's inaugural Jack Valenti Humanitarian Award on Tuesday during a ceremony in Washington, D.C.

The award, which will be presented annually to an individual in the motion picture industry whose work has reached out positively and respectfully to all countries, creeds and cultures, will be presented at a private dinner capping off a daylong, first-of-its-kind industry symposium, The Business of Show Business.

"The MPAA is thrilled to recognize as its inaugural recipient Mr. Clint Eastwood, who for decades has exemplified the decency and goodness of spirit in his moviemaking," said Dan Glickman, MPAA chairman and chief executive officer.

"His two acclaimed movies about World War II's infamous battle at Iwo Jima present a remarkable work of looking at both sides of a moment in history and providing a commentary on its impact in the lives of those who experienced it. These films exemplify the true power of movies to tell human stories and inspire national conversation."

A recipient of the Jack Valenti Humanitarian Award must be an individual working in the motion picture industry who exemplifies the spirit of caring and commitment to others embodied in the award's namesake. Recipients will possess an unwavering dedication and respect for the dignity of others.

"To me, this award rises above the ordinary," said Valenti, who is 85. "My only response is wrapped in humility and a pride wherein any words of mine are insufficient to illuminate what I feel - though it is kind of nice to have an award named after me while I'm still alive. That's cheerfully optimistic."



Broadway To Vegas is supported through advertising and donations. Priority consideration is given to interview suggestions, news, press releases, etc from paid supporters. However, no paid supporters control, alter, edit, or in any way manipulate the content of this site. Your donation is appreciated. We accept PAYPAL. Thank you for your interest.


SPREADING THE WORD


BRUNDIBAR Written during the 1930s by the Jewish Czech composer Hans Krása, Brundibár was originally performed by the children at Terezín concentration camp. The children's opera is credited with giving them hope.

The piece is a beautiful fable possessing the simple message that good overcomes evil.

Following these Lyrikids presentations, Ela Weissberger, one of the survivors of Terezín, will speak to the audience about what it was like to be imprisoned as a ten-year-old.

Lyric Opera Education Department offers two presentations on February 10 at the Rockhurst University's Mabee Theatre in Kansas City.

SHELDON HARNICK: COLLECTOR'S ITEMS - OTHER PEOPLE'S LYRICS Last season, Lyrics & Lyricists audiences raved after Broadway icon Sheldon Harnick presented an evening of songs he most admires. This season, Harnick—the lyricist behind such hits as Fiddler on the Roof — returns with artistic director and pianist Rob Fisher for an insightful look at the writers who inspired Harnick to be a lyricist, including Ira Gershwin, Lorenz Hart and Yip Harburg.

Stage direction by Gary Griffin, with Harnick as host and Rob Fisher serving as artistic director.

Saturday, February 10 at Kaufmann Concert Hall - 92nd St. Y in NYC.


SWEET CHARITY


LOVE LETTERS by A.R. Gurney, starring real life husband and wife Jean Smart and Richard Gilliland.

Ted Weiant will direct the performances.

The events includes dinner, show and After Glow in a week-end staging which will benefit the Visalia Fox Theater restoration fund.

Located in Visalia, CA, the historic Fox Theatre is the landmark of Downtown Visalia. A restored atmospheric movie theater with a unique East Indian motif, it is operated by Friends of the Fox, a non-profit grass roots organization, as a performing arts and event venue.

Saturday, February 10 and Sunday, February 11 at the Fox Theatre in Visalia, CA.

THE ETERNAL ROMEO AND JULIET a play written by University of North Texas theatre professor Andrew Harris will debut in London on February 7th at the remains of the historic Rose Theatre.

Frontline Management, an English actors' cooperative, will present portions of Harris' play as part of a benefit for the Rose Theatre Trust. The theatre, London's oldest playhouse, gained recent fame in 1998 when depicted in the film Shakespeare in Love. Harris set his play in a courtroom in heaven where Shakespeare, Spanish writer Lope de Vega and Italian poet Luigi Da Porto argue about the originality of their Romeo and Juliet compositions, each written within a few years of each other.

"When I conceived this play, I never dreamed it would be produced at the theatre that was at its height when Shakespeare's Romeo and Juliet was first produced, nor did I think that I would be the only living playwright to have his work seen there in 400 years," Harris said. UNT student Hector Amaya of Houston translated portions of Lope de Vega's play, Castelvines y Monteses, which were incorporated into Harris's adaptation. Amaya will accompany Harris to London to see the translation acted on the stage.

"Lord (Laurence) Olivier, Sir Ian McKellen, Dame Judi Dench, Ralph Fiennes and Susannah York have lent their support to The Rose whose archaeological remains were discovered in 1989, when a new office building was being excavated on Bankside, London's original theatre district," said Katherine Gregor, Frontline's agent.

Two-thirds of the foundations of the theatre have been excavated and protected. The Rose Theatre Trust is raising money to excavate the rest and turn it into a permanent display for educational and historical purposes.

The February 7th performance will also include scenes from plays by Francis Beaumont, John Fletcher, Christopher Marlowe, Thomas Middleton and John Webster, as well as early music by the group Passamezzo.



1:23 by Carson Kreitzer. a powerful world-premiere drama about parents who kill their children. How do people become capable of things they never thought possible? What would bring a mother to kill her own child?

A collage inspired by several true cases that combines remarkable flights of fancy with actual testimony from police transcripts, 1:23 is an examination of the shades of gray within the darkest side of human behavior.

Mark Wing-Davey directs a cast which includes; Robert Elliott, Eva Kaminsky, Deborah Knox, Rege Lewis, Shirley Roeca and Josh Shirley.

Douglas Stein and Peter Ksander are Set Designers. Kaye Voyce is the Costume Designer. David Weiner serves as Lighting Designer. Marc Gwinn is the Sound Designer. Ruppert Bohle is the Video Designer. Jenifer Morrow serves as Production Stage Manager.

Feb. 3 – Mar. 4 at the Cincinnati Playhouse in Cincinnati, OH.

SHOWTIME AT THE APOLLO ON TOUR It's amateur night in New Brunswick, Harlem style. The show incorporates many of the features that TV fans nationwide have come to know and love. It also includes the world-class Apollo house band, "Ray Chew and the Crew," an Apollo comedian host who keeps the show moving with lots of laughter, and the formidable Executioner to do the infamous audience's bidding!

Saturday, February 10 at the State Theatre in New Brunswick, NJ.

BOOKENDS By M.J. Feely.

Directed by Tom Markus. Starring Warren Kelley, Ellen Tobie and Greg Wood.

Jake and Matt were the best of friends. They knew how to work together. They could complete each other's sentences. There were like bookends. Together, they became one of the most successful director/playwright teams in the American theater. In October of 1951, all of that changed. Jackson "Jake" Kale was interrogated by the House Committee on Un-American Activities. Lives, careers and friendships were destroyed. Jake and Matt took different paths. Thirteen years later, Matt, his wife Nora and Jake are reunited and given an opportunity to begin a new chapter. Can they heal old wounds and reclaim lost innocence? Or are the memories of a better life all that we have left?

Set/Costume Design: Linda Sarver. Lighting Design: Shelley Hicklin. Sound Design: Chris Colucci.

This World Premiere American drama is part of the first Philadelphia New Play Festival.

February 6-25 at the Walnut Street Theatre in Philadelphia.

PLUNDER by Ben Travers. Directed by Heather Davies.

One of the great 'Aldwych,' this farce is considered one of the most influential plays of the 20th century.

Mrs. Hewlett is an unpopular woman, and suave, international thief Freddy Malone is keen to relieve the nouveau riche lady of her jewelry. In an unexpected twist, his old school chum, D'Arcy Tuck, also wants to swindle Mrs. Hewlett of her wealth, compelling Freddy to enlist his bungling friend as an accomplice in the crafty thievery.

Complications and outrageous shenanigans pile on each other with dangerous and comical consequences. Will Scotland Yard get their man, or will the audacious burglar and his inept chum actually get away with it?

Set design by Colin Falconer. James Whiteside is lighting designer.

Written in 1928 and originally performed at the Aldwych.

Opened January 31 at the Watermill Theatre in London with performances to March 3.

IN THE BAR OF A TOKYO HOTEL a neglected and wildly experimental play by Tennessee Williams has been revived by the White Horse Theater Company. The play is directed by Co-Artistic Director Cyndy A. Marion.

Written in 1968, during an experimental phase in Williams' career, In the Bar of a Tokyo Hotel depicts the tragic demise of a famous American painter and his desperate wife. Set in a Tokyo hotel bar, the piece juxtaposes a deeply personal American experience against the cultural backdrop of an exotic and distinctly foreign Japan. Known for poetically realistic portraits of lost American souls in such plays as The Glass Menagerie and the Pulitzer-prize winning A Streetcar Named Desire, the playwright's In the Bar of a Tokyo Hotel shocked audiences with its innovative use of language, stark minimalism, brashness of character and multi-layered symbolism.

Seemingly a play before its time, In the Bar of a Tokyo Hotel has been rarely produced since its premiere production at The Eastside Playhouse in NYC in 1969. According to critic Allean Hale, In the Bar of a Tokyo Hotel was "the courageous experiment of a writer who was not afraid to take risks.No doubt some day, somewhere, some producer will meet its challenge."

The show opened February 2 in Manhattan's The Abingdon Theatre Arts Complex. Performances to February 18.

THE JADED ASSASSIN billed as The World's First Original Action Play. From Timothy Haskell, the Creator of Nightmare New York's Most Horrifying Haunted House' comes a whole new type of thriller.

In a mythical world, in brutal times,
a curse has plagued the land ever since the chosen ones infuriated the gods.
It is up to one non-pureblood to end the curse
and end the misery that has wrought her land.
Even if that means killing everyone in her path to do it.

Conceived and directed by Timothy Haskell. Written by Michael Voyer. With over 60 minutes of fight/ action choreography by Rod Kinter.

February 8-March 4 at the Ohio Theatre in New York City.

BABY Book by Sybille Pearson. Music by David Shire. Lyrics by Richard Maltby, Jr. Directed by Kevin Chamberlin.

Starring Tony Award-winner Faith Prince as Arlene in the second Reprise! Broadway's Best Marvelous Musical Monday production of its 10th anniversary season.

Baby, which received 7 Tony Award nominations, tells the story of three couples at different stages of their lives as they deal with the painful, rewarding and agonizingly funny consequences of having a child.

Baby will perform one night only, Monday, February 5 at the Freud Playhouse at UCLA. Los Angeles.

HOWARD KATZ by Patrick Marber. Directed by Doug Hughes and starring Max Baker, Alvin Epstein, Elizabeth Franz, Edward Hajj, Jessica Hecht, Patrick Henney, Alfred Molina, Euan Morton and Charlotte Parry.

Two-time Tony Award nominee Alfred Molina stars in the American premiere of this dark comedy directed by Tony Award winner Doug Hughes. Once a powerful, hard-hearted showbiz agent, Howard Katz has lost everything: his career, his family-even his self-respect. Oscar nominee Patrick Marber deftly traces the story of the mighty Katz through flashbacks, painting a vivid picture of a man in crisis. But it's in the midst of this freefall Katz learns that only by looking back at what he's lost can he find the faith to move forward.

The Howard Katz design team includes Scott Pask (sets), Catherine Zuber (costumes), Christopher Akerlind (lights) and David Van Tieghem (original music & sound design).

This American premiere, presented by the Roundabout Theatre Company, opened February 2 with performances through May 6 at the Laura Pels Theatre in New York City.

A PICASSO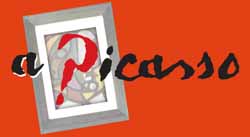 Written by Jeffrey Hatcher. Directed by Gilbert Cates.

West Coast premiere.

Starring Peter Michael Goetz and Roma Downey.

A two-character psychological drama, set in 1941 during the German occupation of Paris pits the cubist artist, played by Peter Michael Goetz, against Miss Fischer, a beautiful young art critic-turned-Gestapo interrogator, played by Roma Downey.

What would it be like to sit at a table with Pablo Picasso for a verbal joust about art, sex and politics? With A Picasso, playwright Jeffrey Hatcher gives you a seat to experience the wit of the artist, the power of the persona, and his unflinching passion for his work. What is art? Who silences art? Can art survive fascism?

Set in 1941, during the German occupation of Paris, Picasso is secreted to a dusty underground vault where he encounters a beautiful young Gestapo art critic-turned interrogator. The sexy inquisitor's job is to get Picasso to authenticate three of his paintings amidst the vault full of artwork confiscated by the Nazis.

It's Picasso under pressure. Who will win this cat-and-mouse game? Meet the Picasso you never knew.

February 4 – March 25 at the Geffen Playhouse in Westwood, CA.



WHO'S WHERE


THE NEW YORK POPS GERSHWIN SONGS AND A RHAPSODY Stuart Malina, Conductor and Pianist. Maureen McGovern, Guest Artist performing Gershwin's Rhapsody in Blue, American in Paris, and classics from the Gershwin songbook. Friday, February 9 at Carnegie Hall in New York City.

JAMES INGRAM performs February 10 at Green Valley Ranch in Las Vegas

BIG BAD VOODOO DADDY performs Friday, February 9, at the Pechanga Resort in Temecula, CA.

CHRIS BOTTI on stage Friday, February 9, at the Cerritos Center in Cerritos, CA.

STEVE TYRELL entertains Saturday, February 10, at the McCallum Theatre in Palm Desert, CA.

THE KINGSTON TRIO in the spotlight Saturday, February 10, at the Community Theatre in Mount Dora, FL.

ERIC CLAPTON has a busy week in Australia. On Tuesday he opens a two nighter at the Brisbane Entertainment Centre. On Friday the show moves to the Entertainment Centre in Adelaide. Next Sunday, February, 11, finds him at the Members Equity Stadium in Perth.

RAMSEY LEWIS AND JOHNNY MATHIS makes music Friday, February 20, at Arlene Schnitzer Hall in Portland, OR.

NEVADA CHAMBER SYMPHONY'S FOR THE LOVE OF MUSIC: A SPECIAL CHILDREN'S CONCERT will feature Jason Andrews performing magic in front of the Las Vegas Chamber Symphony while they are playing. This special concert of Ear-Openers presented by the Principals and Music Director of the orchestra. The performance will introduce children and adults to the fascinating world of classical music. Highlights include musical illustrations, entertaining anecdotes and interactive participation. February 11 at the Clark County Library in Las Vegas.

RICHARD GOODE the pianist who recently completed an extended residency at Carnegie Hall and has received prestigious honors including the Avery Fisher Prize. Sunday, February 11, at The Music Center at Strathmore in North Bethesda, MD.

GARRISON KEILLOR an evening with this best-selling author, humorist, and host of A Prairie Home Companion on National Public Radio. Prior to the performance Keillor will appear at a pre-show private reception for members of the State Theatre President's Council. Thursday, February 8, at the State Theatre in New Brunswick, New Jersey.

SMITHSONIAN CHAMBER MUSIC SOCIETY:AXELROD STRING QUARTET with a pre-concert lecture one hour before each concert. Saturday, Feb. 10, and Sunday, Feb. 11 in the Grand Salon, Renwick Gallery of the Smithsonian American Art Museum, Washington, D.C.




PIFFLE AND PROFUNDITIES


MERYL STREEP

Meryl Streep only has eyes for Prince Charles - her first love. Former Vice-President Al Gore is in the middle.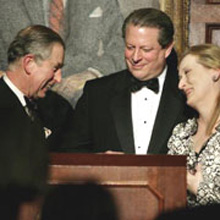 Camilla, the Duchess of Cornwall aka the wife of Prince Charles eyes Meryl Streep, who admitted she dreamed of wedded bliss with Camilla's husband.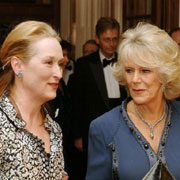 admitting that she once wanted to marry Prince Charles when she was a young girl.

"Now, with my reading glasses on, I get to show my appreciation in a different way," she said at the start of her speech when she joined former Vice-President Al Gore last week in presenting Prince Charles with the 10th Global Environmental Citizen Award from Harvard Medical School's Center for Health and the Global Environment.

Previous winners have included actor Harrison Ford and conservationist Jane Goodall.

In addition to Streep's affection, The Prince took back to England a bottle of Grade A maple syrup, one jar of honey and one of apple chutney - presents from the Center's Director Eric Chivian.

"I wanted to give His Royal Highness something more personal, something I had grown myself," Chivian told guests.

Next Column: February 11, 2007
Copyright: February 4, 2007. All Rights Reserved. Reviews, Interviews, Commentary, Photographs or Graphics from any Broadway To Vegas (TM) columns may not be published, broadcast, rewritten, utilized as leads, or used in any manner without permission, compensation and/or credit.
Link to Main Page
---
Laura Deni


CLICK HERE FOR COMMENT SECTION