! >
Broadway To Vegas
  SHOW REVIEWS     CELEBRITY INTERVIEWS     GOSSIP     NEWS 
| | |
| --- | --- |
| | |
Copyright: February 4, 2001
By: Laura Deni
( COMMENT SECTION )

A DIPLOMATIC PLAYWRIGHT
It wasn't your customary theater crowd. On any given night, in a small off-Broadway playhouse, sitting next to the ordinary patrons were Ambassadors and diplomats intently watching The Fox, written by one of their own.


Playwright Carne Ross (second from left) pictured with the cast of The Fox (left to right) Martin Millier, Simona Morecroft and Mason Phillips. PHOTO: By Aubrey Reuben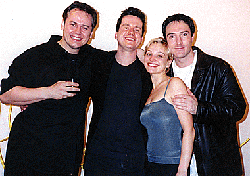 The production came with a unique pedigree. The author, Carne Ross, is First Secretary to the United Kingdom delegation of the United Nations, and this was his play writing debut. His opening night crowd included the British Ambassador Sir Jeremy Greenstock and his wife and 25 guests, as well as representatives from several other UN Missions - all of whom were delighted to see another side of this career diplomat.

"The Israelis were there - somebody from Honduras, Venezuela. A lot of U.S. colleagues came, a big contingent from the Dutch mission. Oh, the Egyptians were there. It's been wonderful," exclaimed the author, who has dumbfounded his colleagues and annoyed his critics by sneaking off on his free time to not just write a play, but write one that was well received.

Our interview began early - before his work day at the United Nations, and was immediately interrupted by an important meeting and resumed about an hour later.

" I work very long hours in this job. It's rare when I leave the office before seven, eight, nine o'clock at night. I've been here until five in the morning or worked all weekend."

Ross is the man who authored United Nations Bill 1284 - complicated international law, which is now the platform for the international community approach to Iraq.



A mother and child in an internally displaced person's camp in Suleimaniyah UN PHOTO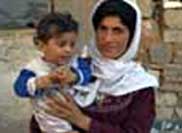 He is modest in accessing his diplomatic accomplishments.

"In the sense that anybody wrote it, it was me. It lived in my computer for the many drafts that it went through. And, I was kind of the lead diplomat on it, along with my ambassador. No one person can claim that they wrote it." When pressed he finally said, "Yes, I was in charge of drafting it."

The bill - the longest resolution even passed by the U.N. passed by 11 votes, with 4 abstaining - France, China, Malaysia and the Russian Federation.

At the same time he was authoring this extremely important and controversial document he was writing The Fox.

The French now claim to support the bill, while criticizing Ross, snapping that he should have spent as much time writing the 1284 draft as he did on his play.

The controversy and kudos are all in a day's work for Ross who bifurcates his diplomatic career from his play writing.



Queen Elizabeth II's certificate calls him the dearly and most beloved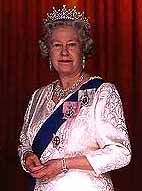 "I'm at the U.K. Mission to the United Nations. I represent the British Government at the United Nations. I'm employed by the United Nations. My entire appointment as a UK diplomat is technically by appointment from the Queen," he explained.

"I serve at the pleasure of the Queen. I'm appointed by the Queen, that means I serve the British state. In the U.S. system my job would have been a political appointment We don't have political appointments - or at least very, very few."

"I have this rather wonderful certificate that she signed calling me the dearly and most beloved Carne William Ross. It is a rather an archaic tradition that we have, that you get this beautiful certificate with your commission."

It's better that her saying - Off with his head.

"Yes, it is," he laughed "It's rather antique, but rather nice."

The London born fraternal twin was raised in a family where intellect and service to mankind were the norm. "My mother was a school teacher and my father serves on boards of various charities, such as housing charities supporting non governmental development in South Africa. My sister is a journalist for the Financial Times and my brother is a doctor who runs a pediatric intensive care unit in South Hampton England. He does a great job," said Ross about his little brother. "I'm the oldest by half an hour."

Yes, his mother went through a lot.

"And that was just the birth," he quipped. "We were quite a handful. I think we were quite boisterous. We know each other incredibly well, obviously. He's different from me in very fundamental ways. He's more spontaneous, I suppose, than I am."

Nobody was particularly surprised when he became a diplomat. Everyone was astonished when he became a playwright.

"I always read the newspapers as long as I can remember. My father got The London Times and later The Independent and I would read all of it - every day - as long as I can remember. I don't know why I did that. But I was interested. From really a very early age I wanted to become a diplomat. It's very hard to get into our foreign service."

"I went to day school in South London. You finish high school at the age of 18. You can leave earlier and most people leave at 16. Then I took a year off and went to Zimbabwe."



Prince William sharing a joke with ten-year-old Marcela Hernadez-Rios, while helping to teach English in the village of Tortel, southern Chile, as part of the work of Raleigh International.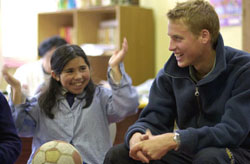 "There was a team that sent a group of young people around the world before they went to university to give them experiences in the developing world: India, Africa, Latin Africa Asia."

A parallel to Prince William going to Chili?

"Similar to that. He went for a few weeks but I went for eight months to Zimbawe and taught English literature and history at a rural school. I was a very cynical, young 18 year old. The people were wonderfully responsive and a it's a wonderful country The people are delightful. It was an inspiring experience."

To earn the funds necessary to participate in the project Ross "worked for a horse racing newspaper delivering newspapers in London for three months and saved up money that way. I was paid by the government of Zimbawe when I worked as a teacher, but it is a very small wage. You have to raise funds separately from that. I went to Rotary clubs and, if I remember rightly, I received a hundred pounds from a Rotary club in my neighborhood but that it was it. I had to raise the money myself."

"Then I went to university in Exeter which is in Southwest England. I studied economics and politics. At the end of university I applied to get into the foreign office and - I didn't get in."

"There are two separate streams - the far stream and the main stream entry into the foreign office. The number of applications into the foreign office are more than there are places. I think 5,000 applicants for 20 places."

Undaunted, Ross kept applying. "I did manage to get in - much to my surprise - and started work in 1989 - the year of the end of the cold war, if that can be dated."

"First I worked on the western European desk and on the Gulf War when that broke out - based in London. Then I was sent to Norway for three months to stand in for somebody who had gotten ill. I was studying Norwegian politics, which is quite an archaic science. Then I went to Germany for three years where I studied German foreign policy and reported on that back to London. I spent most of my time in the Germany foreign ministry talking to German diplomats about what they were doing around the world."

"That is really where the inspiration for the play began."

At this point Ross was in front of the footlights. "I'd done a lot of drama, and acted in various places. I wrote the Christmas pantomime when I was in Norway, although I suppose that doesn't count as serious writing. I acted a lot when I was in Germany. There was a big, England language drama group that put on very big productions - thousands of people would come to them. But, I wasn't writing."

"The group was actually called The British Embassy Players. But, most of them weren't from the Embassy. They were just local civilians in the neighborhood. It was all very innocent. We did Shakespeare. Nothing controversial. A friend and I thought about doing Kiss of the Spider Woman but we never got it off the ground. We didn't have time."



SIR ROBIN COOK

"After Germany I went back to London in 95 and worked on the middle east process for a year or two and I became a speech writer to the foreign secretary Malcolm Rifkin. He was under the last conservative government and then for Sir Robin Cook who was in the new labor government, which is a curiosity of the British - I serve which every government is in power."

After being stationed at the United Nations his interest in serious writing began to flourish."One week I went down to Charleston, South Carolina," continued Ross. "I stayed at The Battery Carriage House. They don't know about this. They saw me, this strange Englishman poking around down there, sitting in the gardens writing notes. They never knew what I was doing."



The Battery Carriage House in Charleston, South Carolina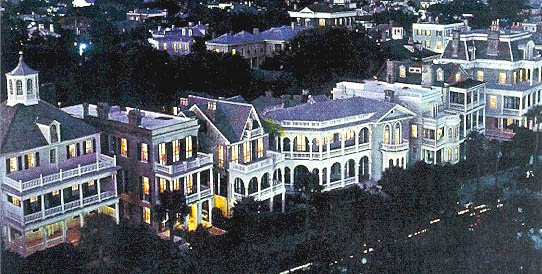 "I didn't have to keep this secret from the diplomatic corps, but I did. It was my private thing - to relieve tension. The more pressure I felt from work the more I had to write. It was odd. I don't understand all of these people who say - I can only write when I'm feeling relaxed . I squeeze my writing into little breaks, the weekend, late at night and on my holidays. I found work, actually, sort of a stimulus for my writing."

"I started going to a class at the NYU night school and met a teacher there, Mick Casale. He invited me and various others to join him in what he calls his Play Writing Lab at a school called the Schreiber Studio," related Ross, referring to one of the foremost acting schools and professional theatre labs in New York City.



ANTHONY CRIVELLO a graduate of Schreiber Studio, starred in Kiss of the Spider Woman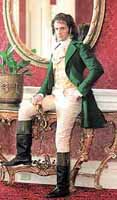 The Fox is about a UN peace keeper. It follows a young peace-keeping British soldier returning from a barbaric ethnic war overseas and finding he has become disillusioned with society.

"Particularly my work in Germany inspired a lot of what's in the play - the philosophy of it," explained the author.

For all of his diplomatic credentials Ross was an unknown, unpublished, struggling wanna-be author. How did he get his play mounted, when so many fail?

"Well that was the difficult thing," he admitted. "I was lucky in a way. I just started talking to friends who knew people in New York. I met a guy called Troy Hallar who had produced off Broadway work. He read the play and liked it and passed it to another friend of his who didn't like it. He said - I think it needs to be improved. I know somebody who might be able to help you do that. What this guy often did was to pass on developing plays to Royston Cottenger because, among other things, Royston is professor of theater at Hofstra University," related Ross commenting on the professor who, in 1998, was awarded his Doctorate in Fine Arts from the Yale School of Drama.

"Royston didn't think it needed developing. He just though it needed putting on. It was a great vote of confidence. Really, the crucial break in the story for me, because he said - I want to do it. He and I met last summer and he basically said - I want to direct your play. I like it and I think we need to see it up. We talked to various theaters and studied the various options and eventually set up the production that took place."

"This production never would have come off without the commitment of the director and the actors to do it. None of them got paid. They all believed in the work and did it for nothing. - and did a very, very good production.

"I've been very lucky and I must say it's because of America that this has happened. I don't think I could have done this in London. In New York there is a huge community of people who are out there, willing to put the effort in to make a project work. And, also that thing about America where people say - Oh, you're writing a play. That's great! Go for it. Whereas in Britain I'm not sure people would say that. There is just a tremendous openness here to somebody doing something new."

As for his diplomatic colleagues - "They've been great about it, actually. Many people were astonished. They had no idea that I was doing this. Every night there were some of my colleagues and fellow diplomatics at the show. It's been fabulous! What I would like is for this play to keep going a bit. We would like it to be produced somewhere else."

For a guy who writes plays he doesn't see lot of them. He hasn't seen a movie or a play in six months.

"My girlfriend thinks I'm married to my writing and my UN work."

Girlfriend? How does that work? Many corporations have rules that regulate dating between employees. We wondered what happens if a diplomat falls in love with somebody who is of a different citizenship? Are there any rules about that?

"Most of the world is okay," he answered. "There are one or two nationalities that are a bit problematic - where you have to get special clearance if you want to marry them," he laughed. "Fortunately, my girlfriend, who is also a diplomat, doesn't fall into that category."

It's a wonder he has any social life at all. He hasn't quit his day job "and, if you're doing a play, too, then that becomes even more difficult," he conceded. As for the future? "Right now I'm trying to get some sleep. I'm exhausted."



Broadway To Vegas is supported through advertising and donations. Priority consideration is given to interview suggestions, news, press releases, etc from paid supporters. However, no paid supporters control, alter, edit, or in any way manipulate the content of this site. Your donation is appreciated. We accept PAYPAL. Thank you for your interest.


SWEET CHARITY

V-DAY 2001 ENDING VIOLENCE AGAINST WOMEN Over 70 amazing women will perform in a gala benefit of Eve Ensler's The Vagina Monologues on Saturday, February 10 at Madison Square Garden.

The event, which "demands an end to violence against women," will feature stars from TV, film and theatre, and some of those names include Oprah Winfrey, Marlo Thomas, Calista Flockhart, Nell Carter, Kathleen Chalfant, Amy Irving, Julie Halston, Mary Alice, Andrea Martin, Steve Martin, Edie Falco, LisaGay Hamilton, Julie Kavner, Mary McCormack, Sharon Gless, Glenn Close, Rosie Perez, Kathy Najimy, Marsha Mason, Lisa Leguillou, Mary Testa, Cynthia Nixon, Lily Tomlin, Swoosie Kurtz, Marisa Tomei, Carol Kane, Phoebe Snow, Tonya Pinkins, Rue McClanahan. Queen Latifah will close the show singing her Grammy-winning song U.N.I.T.Y Call (212) 307-7171 for tickets

BROADWAY BEARS IV A grand auction of 42 one-of-a-kind autographed, theatrically costumed bears benefiting Broadway Cares/Equity Fights AIDS takes place Feb. 11 at the Hudson Theatre, NYC.



DU BARRY WAS A LADY Bear.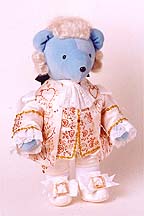 The gussied bears up for bid include: 1. MAME - signed by Angela Lansbury 2. KISS ME KATE - signed by Marrin Mazzie 3. DuBARRY WAS A LADY 4. THE LIFE - signed by Lillias White 5. STAR AND GARTER Bear 6. THE WILD PARTY - signed by Eartha Kitt 7. CABARET - signed by Natasha Richardson 8. ZIEGFELD'S RIO RITA - signed by Kitty Carlisle Hart 9. PETER PAN - signed by J.K. Simmons 10. INTO THE WOODS - signed by Bernadette Peters and Stephen Sondheim



CATS Bear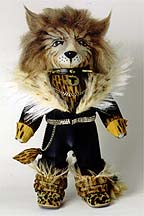 11. SEARCH FOR SIGNS OF INTELLIGENT LIFE - signed by Lily Tomlin 12. THE BEST LITTLE WHOREHOUSE IN TEXAS - signed by Carlin Glynn 13. SOUTH PACIFIC - signed by Glenn Close 14. RENT - signed by Jesse L. Martin 15. THE SCARLET PIMPERNEL - signed by Christine Andreas and Douglas Sills 16. LETTICE AND LOVAGE Bear 17. BYE BYE BIRDIE - signed by Chita Rivera 18. LES MISERABLES - signed by Nick Wyman 19. OKLAHOMA! - signed by Celeste Holm 20. THE LION IN WINTER - signed by Rosemary Harris 21. CAN-CAN - signed by Nicole Fosse 22. OLIVER! - signed by Davy Jones and Alice Playten 23. THE TEMPEST - signed by Patrick Stewart 24. YOU'RE A GOOD MAN CHARLIE BROWN - signed by Kristin Chenoweth 25. THE KING AND I Bear 26. EVITA - signed by Mandy Patinkin 27. MARCEL MARCEAU - signed by Marcel Marceau 28. HELLO, DOLLY! - signed by Carol Channing and Jerry Herman 29. ALICE IN WONDERLAND Bear



GREASE Bear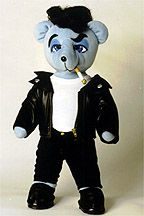 30. COMPANY - signed by Elaine Stritch, Hal Prince and Stephen Sondheim 31. AIDA - signed by Sherie René Scott, Adam Pascal and Heather Headley 32. THE PAJAMA GAME - signed by Janis Paige and John Raitt 33. THE MYSTERY OF EDWIN DROOD - signed by Cleo Laine 34. MISS SAIGON - signed by Jonathan Pryce and Lea Salonga 35. THE WIZ Bear 36. DANCIN' - signed by Ann Reinking 37. THE MIRACLE WORKER - signed by Anne Bancroft 38. LA CAGE AUX FOLLES - signed by Harvey Fierstein 39. GREASE - signed by Barry Bostwick and John Travolta 40. THE LION KING - signed by Samuel E. Wright 41. CATS - signed by Terrence Mann and 42. PHANTOM OF THE OPERA - signed by Michael Crawford and Hal Prince.

For those who cannot make it to the auction, but nonetheless want to take part in all the excitement, live telephone bidding will also be available; as are pre-registered fixed bids, by calling 212.840.0770, extension 228.

Richard Simmons hosts the event.



JUDGMENT AT NUREMBERG will be presented by the National Actors Theatre - Tony Randall Founder & Artistic Director - in association with Earle I. Mack.

An impressive cast of 21 is led by Maximilian Schell, who made his U.S. screen debut in 1958 and won the Best Actor Oscar in 1961 for his role as the defense attorney in Judgment at Nuremberg. Co-starring is George Grizzard, with Michael Hayden, Robert Foxworth, Marthe Keller, and Joseph Wiseman.

The Abby Mann play will be directed by John Tillinger.

This marks The National Actors Theatre's 16th and perhaps most important production

Set in 1948 in Nuremberg, Germany, the seat of anti-Semitism in the Third Reich, Judgment at Nuremberg is based on the second trials of the Nazi war criminals - the judges - who carried out the political agenda of the Nazi party. These trials had far-reaching effects as they rejected the argument that orders from superiors relieve people from responsibility for war crimes. Judgment at Nuremberg is as timely and relevant today as it was when Mr. Mann wrote it in 1957.

Performances begin February 15th; with the official opening on, March 26th at the Longacre Theatre.

More than 2,000 NYC public high school students will attend special matinee performances at no cost to them or their schools under NAT's Matinee Program. The program, enhanced by extensive preparatory, in-class workshops conducted by NAT's teaching-artists, transforms students who have never attended theatre into informed and interested theatre-goers. Since its inception, over 29,000 NYC public high school students have participated. This year the program will be supported by a generous donation by Mr. Earle I. Mack.

A CONNECTICUT YANKEE an Encores! Production of the Rodgers and Hart musical will feature Henry Gibson as King Arthur. Opening Thursday for a limited run through February 11. City center, NY.

A CLASS ACT with Lonny Price, Randy Graff, Jeff Blumenkrantz, Donna Bullock, Patrick Quinn and Sara Ramirez will step into the Broadway staging of A Class Act, playing the songwriting pals of late composer-lyricist Ed Kleban, who is the focus of the biographical musical. Nancy Kathryn Anderson, Randy Graff, David Hibbard and Lonny Price, who all appeared in the Off-Broadway world premiere of the show in fall 2000, are returning to its Broadway transfer. Price plays Kleban, the songwriter best known as lyricist for A Chorus Line. The show tells of the story of cranky, difficult but charming Kleban and his wish to be known as both a composer and lyricist, and how that dream is cut short when he dies of cancer. The score is made up of tunes he willed to his friends, including the work's co-librettist, Linda Kline. Price directs and co-wrote the book. Marguerite Derricks is choreographer. Performances begin Feb. 14 at the Ambassador Theatre, with an opening slated for March 12. Marty Bell, Chase Mishkin and Arielle Tepper are the producers.

THE VAGINA MONOLOGUES continues at Theatre On The Square in San Francisco. Starring in the production February 6 - February 18 are Vicki Lawrence and Rita Moreno

WHO'S AFRAID OF VIRGINIA WOOLF? by Edward Albee, starring Patrick Stewart as George and Tony Award winner Mercedes Ruehl, as Martha, Bill McCallum as Nick and Carrie Preston in the role of Honey, begins performances February 23 at the Guthrie Theater in Minneapolis/St.Paul. The engagement runs through April 1.

FIDDLER ON THE ROOF starring Theodore Bikel opens February 6 at the Golden Gate Theatre, San Francisco. Performances through March 4.

LEAVING QUEENS from Women's Project & Productions, the workplace for women in American theatre, continues its 2000-2001 Season with the New York Premiere of Leaving Queens, a new musical drama about Irish roots and new beginnings; with book & lyrics by Kate Moira Ryan and music by Kim D. Sherman; directed by Allison Narver. Commissioned and developed by WPP; produced in collaboration with Portland Stage Company, supported in part by grants from the National Endowment for the Arts and AT&T Foundation, performances begin February 25th thru March 18 at Women's Project Theatre, NYC.



Women's Project 2000 Honorees (L to R) Joan Didion, Lauren Bacall & Ruby Dee with emcee, Marlo Thomas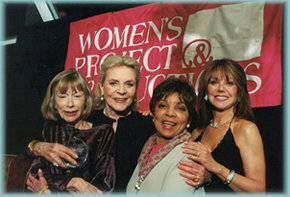 Celebrating its 23rd anniversary season Women's Project & Productions is the nation's preeminent non-profit Off-Broadway theatre company dedicated to producing and developing new plays by women. Founded in 1978 by Julia Miles, WPP has produced over 100 plays by women playwrights and sponsored almost 400 readings and workshops, featuring a veritable Who's Who of women in American theatre - playwrights Anna Deavere Smith, Maria Irene Fornes, Emily Mann, Pearl Cleage; actors Mary McDonnell, Frances Sternhagen, Jayne Atkinson, Deirdre O'Connell, Lizbeth Mackay, Daphne Rubin-Vega; and directors Lisa Peterson and Liz Diamond, among others. Playwrights produced by the Project have garnered Obie and Oppy Awards, the prestigious AT&T On Stage Award and numerous grants and fellowships. WPP Developmental Program - free to participating artists - include the Playwright's Lab and Directors Forum, for young to mid-career female playwrights and directors.

Each year the based arts education program Ten Centuries of Women Playwrights serves over 1,900 at risk students in 20 New York City public intermediate and high schools. In addition the Women's Project publishes anthologies of the plays produced, and hosts conferences and panels on women in theatre.

" Leaving Queens centers around photographer Megan Grant, a 2nd generation Irish American, must piece together her family's hidden past in order to build a future for herself and her son. A story spanning three generations of Irish immigrants in NYC: one generation's hard knocks enable later generations to reach their dreams.

Kate Moira Ryan - book and lyricist, Kim D. Sherman music who also composed with Darrah McCloud O Pioneers! which was originally commissioned by WPP and seen on PBS' American Playhouse. Director Allison Narver has served as Resident Director for Julie Taymor's The Lion King, and as Artistic Director at the Annex Theatre in Seattle (1989-95). The cast includes: Alexander Bonnin, Sean Dooley, Jim Jacobsen, Paul Niebanck, Cynthia Sophiea, Barbara Terrill and Alice Vienneau. Paul Ascenzo is Music Director; the designers are: Sets Anita Stewart, Costumes Louisa Thompson, and Jennifer Tipton lights.


WHO'S WHERE

STEVE MARTIN celebrating the publication of his latest book Shopgirl: A Novella will be interviewed at the San Francisco Herbst Theatre by San Francisco Chronicle book editor David Kipen, in an evening of on stage conversation with the actor and writer. February 9.

DREW BARRYMORE AND ANTHONY HOPKINS will be roasted at Harvard University on February 8 and 15, respectively, when they receive Hasty Puddings Theatricals irreverent woman and man of the year awards.

KATHLEEN BATTLE Sagerstrom Hall, Orange County Performing Arts Center February 11.

ISSAC STERN is in residence at USC's Thornton School of Music February 6-9. The event will feature master classes for students as well as one open to the public. The conclusion will have Stern performing with the Thornton Symphony at USC's Bovard Auditorium. It is Stern's only scheduled Los Angeles appearance this year.

PAULA POUNDSTONE Sunset Station, Las Vegas on February 9.

TAYOR DAYNE Sunset Station, Las Vegas. February 10.

VIC DAMONE West Palm Beach, Florida Raymond F. Kravis Center February 10.

TRIBUTE TO FRANK SINATRA presented by the Alabama Symphony Orchestra as part of their ASO Super Pops Series Tribute. Birmingham Jefferson Civic Center in Birmingham, AL on February 10.

WILLIE NELSON AND FAMILY Alabama Theatre in Birmingham, AL on February 13.

JACK JONES Chandler Center in Chandler, AZ on February 17.


THIS AND THAT


DATE FESTIVAL AND OSTRICH RACES The National Date Festival takes place February 16-25 in Indio, CA eighty years after it began as a celebration of the Arabian heritage of the Coachella Valley's date harvest.




There are camel and ostrich races as well as Alligator wrestling. Daily concerts free with admission. And don't forget the nightly Arabian Nights Pageant.

The festival draws about 250,000 people each year during its 10-day run. The Coachella Valley produces 95 percent of all the commercial dates grown in the United States.




Mention BROADWAY TO VEGAS for Special Consideration
Call (800) 942-9027









Next Column: February 11, 2001
Copyright: February 4, 2001. All Rights Reserved. Reviews, Interviews, Commentary, Photographs or Graphics from any Broadway To Vegas (TM) columns may not be published, broadcast, rewritten, utilized as leads, or used in any manner without permission, compensation and/or credit.
Link to Main Page
---
Laura Deni



U.S. Postal Address: Post Office Box 60538, Las Vegas, NV 89160
( COMMENT SECTION )