! >
Broadway To Vegas
  
  REVIEWS INTERVIEWS COMMENTARY NEWS

| | |
| --- | --- |
| | |
THEATER TWITTER SEATS - -STRIKE A POSE: 50 YEARS OF FOOTBALL AND FASHION - - 2013 MUSICARES PERSON OF THE YEAR - - PATTI LuPONE LIVE AT 54 BELOW CD REVIEW - - LIAM NEESON HONORED - - BETTY BUCKLEY IN DEAR WORLD - - JONATHAN BECKER: 30 YEARS AT VANITY FAIR - - EXPANSION FOR JFK CENTER FOR THE PERFORMING ARTS - - DONATE . . . Scroll Down




Copyright: February 3, 2013
By: Laura Deni
CLICK HERE FOR COMMENT SECTION


TO TWEET OR NOT TO TWEET THAT IS THE QUESTION AS MORE THEATERS OFFER TWITTER SEATS


A place for people with attention deficient disorder? A place for those whose egos need stroking and geeks who want to feel they belong? A project for people who are desperate to appear 'connected', even to a virtual friend?

The tweet section of live theaters.

There once was a time when the theatrical community was run by directors, writers and artists who protected that 4th Wall lockout.

Until now.

How does the script armed creative theater co-exist with the great masses who attack with high tech? Are those gadget fanatics the 'enemy'? If their combined talent doesn't equal what you have in your little finger, yet their digits want to inject themselves into your performance, is that appropriate?

You're being tweeted about by somebody who feels important because they have received a free ticket in exchange for their tweets.

Legitimate critics, who are going to have some knowledge of how the theater works, take notes during performances. Then they bring those scribbles home to thoughtfully analyze and construct into a review which can stand the test of time.

Twitterites can react on impulse and post in haste. Many times common sense is deleted from the process. The purpose seems to be the first to get something posted. Or, to tweet something so outrageous that it gets re-tweeted.

Do twitter seat people rank one step below a seat filler? At least a seat filler is expected to pay attention to the performance and applaud at the appropriate times.

Or, are they really paid-through-barter shills?

If the object of a tweet section is to generate buzz about a show, then hasn't the publicity ploy missed their mark? Instead of garnering publicity for the productions, the press generated has been on the tweet process.

Those who oppose tweeting during a performance are more of a time-and-place-for-everything mindset, rather than anti any internet connect. Even Patti LuPone, one of the most outspoken critics of noise and movement by theater patrons, is an active Twitter person.

Last year a week long German tweet study, published in Psychological Science, involved 205 people aged between 18 and 85. It was conducted by Chicago University's Booth Business School, helmed by lead author Wilhelm Hofmann who studies social and personality psychology, with a special emphasis on self-regulation. The study concluded that the urge to tweet may be harder to resist than the urge to drink or smoke. Tweet seats enable the addictive needs of extreme tweeters.

Many are posting tweets about shows which have already won Tony Awards and are on regional tours in venues which are supported by a subscription base.

In the far off land of yesterday, twiddling your thumbs was considered rude. Now Tweetland is being encourage to keep those thumbs busy during live stage performances.

Although a national AP feed ran a week ago about the 3,100-seat, world class venue Rhode Island Providence Performing Arts Center offering tweet seats, the tweeter-with-a-theater-ticket age sprang up several years ago.

The quid pro quo - free favorable publicity in exchange for free tickets.

It's a controlled, carefully monitored, small number of tweet seats, which are promoted to imply that the staid theater is really high-tech, cutting edge.

The theaters appear cool, hip, with venues hoping for tweets that amount to: "OMG! U Gotta C this."

In 2009, the Lyric Opera in Kansas City reserved 100 tweet seats for its final performance of Gilbert and Sullivan's HMS Pinafore. In those selected seats audience members could use their phones to look at tweeted content sent by the theater's artistic director about the production, the scenery and whatever was happening on stage. Audience members were also encouraged to tweet questions to the director in real time.

Over a year ago the Carolina Ballet in Raleigh, N.C., and the Dayton Opera in Ohio, were among the first two organizations to lead the movement permitting audience members to actually opine by tweeting.

The Lowell Memorial Auditorium, The Lyric Stage Company of Boston, Worcester's Hanover Theatre for the Performing Arts and Cambridge's Central Square Theater, either offer Twitter-friendly seating or are considering that option, according to The Boston Globe.

A year ago Rick Dildine, the executive director for Shakespeare Festival St. Louis - an outdoor theater festival that began using tweet seats three years ago - told USA Today that tweet seats have "become a national trend."

"Coast to coast, theaters are experimenting with how to use 'tweet seats' effectively," he was quoted as saying. "The arts are evolving right now, they are participatory. Social media is a tool we rely on, and we have been unafraid to experiment with it."

The National Symphony Orchestra was one of the earliest orchestras to deliver real-time program notes via Twitter during its performance of Beethoven's Sixth conducted by Emil de Cou at Virginia's Wolf Trap Center for the Performing Arts in July 2009.

The Indianapolis Symphony has also experimented with tweeting sections, adding social media to traditional modes, such as pre-concert lectures and program notes.

Tweeting from the final dress rehearsal, back stage, or while attending a VIP party can spike interest in the production and even ticket buying support.

However, those with tweet finger power need to be tightly controlled. Is the time invested in the screening and monitoring worth the results? You can't have a tweet person in a VIP pre or post show event blab to their friends, virtual or otherwise, about who got dip on their dress, looked like they could use a new bra, or let's guess which executive is going bald. Nor can the tweet seat crowd, who posted proper tweets during the event, be permitted to have a next day follow-up post where they carp about who chewed with their mouth open.

Tweeting while watching the performance has the potential of being counter productive for those whose world is spun by Twitter. Don't buy a ticket. Stay home and just read the tweets.

Playwright Jason Grote told the Washington Post that he "is uncomfortable with plans of the Woolly Mammoth Theatre Company in Washington, D.C., to allow three twitter followers to tweet from dress rehearsals of his new play, 'Civilization (all you can eat.)"

On the flip side, producer Ken Davenport is a strong proponent of Twitter. His Broadway revival of Godspell, which played in New York's Circle in the Square Theatre, became the first Broadway production in New York City to encourage mobile device usage during shows.

Davenport's team selected 15 Twitter followers and gave them free tweet seats, with the condition that they live tweet the show, non-stop, with a special hash tag. That publicity gimmick continued throughout the run.



Ken Davenport
Davenport even hosted a TEDxBroadway event, which spotlighted new trends in arts administration and management. "Tweet seats have been talked about (and ironically tweeted about) ever since theaters, symphonies and all sorts of arts organizations all around the world have started to experiment with ways to harness the energy of this powerful medium during their performances," Davenport said.

In other words, free publicity.

What is the buying power persuasiveness in 140 characters?

Will the day come when producers tout that, had it not been for those in the twitter seats generating ticket sales, the production would have shuttered?

Don't expect The Book of Mormon to have a Twitter section. If the show is SRO, the producers don't need to pad the place.

Does Twitter also bring in a younger audience with money to spend, who would refuse to attend a performance unless they were permitted to tweet?

Tweeting - "costumes R 4getit," won't stop those who want to see the show from buying tickets. In fact, that crowd isn't even reading your tweets. To send out to the world "star is awwwwwwwwwwwsome" won't boost ticket sales, either.

NY Times critic Ben Brantley isn't going to lose sleep fearful that some tweeter is going to usurp his position.

Corner a tweeter after the show and ask them about plot intricacies or acting nuances and see what kind of an in-depth answer you receive.

WestCoast Entertainment, which presents the Best of Broadway in Spokane, invited Design Spike, Inc to be a part of their tweet seat program for the run of Mary Poppins at the 2700-seat Spokane INB Performing Arts Center. Design Spike, Inc also had tweet seats for In The Heights.

Twenty individuals from Design Spike received free tickets and reported, "Design Spike representatives were encouraged to tweet/post…before the performance, at intermission, and following the performance. No electronic devices are permitted for use during the performance."

The free seaters were ask to tweet their opinions about the show and were not pressured into posting only positive messages.

A tweeter called Queen Narcissa posted: "Suffice it to say, had WestCoast not asked me to join the legion of tweeters for the night, I would not have run out to buy a ticket. That would have been a BIG mistake. A really BIG mistake. While I may not be all, "hey, I drank the koolaid and think Mary Poppins is all that and a bag of shiznit", I really liked the production. Hands down."

For some, tweeting in the theatre can be like going to the Super Bowl and missing a crucial play because you were too busy discussing the previous quarter with the person sitting next to you.

For those who claim they don't have to look at the keypad while they type, asserting they are keeping their eyes on the stage and do know what is going on, a big skepticism expression crosses the face.

"To tweet or not to tweet is a question that many performing arts organizations have wrestled with [for] the past few years," Chris Pinelo of the Cincinnati Symphony Orchestra (CSO) told USA Today. He said the CSO hopes tweet seats will attract a different audience. "For a lot of new audience members, this is a way to further advance their concert going experience."

Irene Friedman, 60, a subscriber to the CSO for 30 years, told The Cincinnati Enquirer she had some concerns after sitting near the tweet seats.

"Their texting thumbs were moving faster than the violinist's fingers," she said. "They would occasionally nudge each other and read what the other person had up on his or her screen. They didn't even look up to applaud at the end of each selection. The fact that they were watching their handheld devices, they missed out on what was happening on the stage."

The Palm Beach Opera actively solicits live bloggers for its final dress rehearsals.

The ad reads:

"We are looking for people who are active on social media to attend the final dress rehearsal of an opera and tweet throughout the whole thing. We want your authentic opinions, thoughts, or maybe even play-by-plays of the action happening on the stage. Basically, you'll get tickets to come and see the opera on us in exchange for your social media posts."

"We offer a limited number of tweet seats for our final dress rehearsals each season."



Vivica Genaux will be making her Palm Beach Opera debut as Angelina in La Cenerentola. Photo: Palm Beach Opera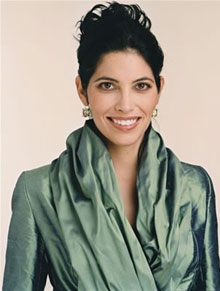 Next up on the free ticket to tweet program is La Cenerentola on Wednesday, February 13, 2013 followed by Salome on Wednesday, March 13, 2013.

Ceci Dadisman, herself a tweeter, is director of marketing for the Palm Beach Opera and vets each of the potential tweeters. The goal isn't so much to sell tickets as to broaden awareness of the opera and reach a younger generation of potential customers.

Dadisman assess each applicant to make sure he or she is really active in the social networks. "We didn't want people who were creating content, not just using Twitter to check in on Foursquare," she told NPR.

Does any tweeter really think they are going continue to receive free tickets should they post a bad review?

Elisa Hale, PR director for Goodspeed Musicals, the company that runs the Goodspeed Opera House and the Norma Terris Theater, also feels that the goal of tweet seats is to generate more immediate word-of-mouth about productions.

Goodspeed received more than word-of-mouth.

Legal action.

A company called Inselberg Interactive claims it owns the patent to tweet seats and directed Chicago-based Global IP Law Group to pursue a case against Goodspeed Musicals in East Haddam, Connecticut to license their patented platform or desist from hosting "tweet seats" nights.

Eric Iselberg does hold numerous patents, each devoted to a "method and apparatus for interactive audience participation at a live spectator event." The law firm specifically asserted to Goodspeed that U.S. Patent 6,975,878 covers the provision of "interactive audience participation at live spectator events."

In their cover letter to Goodspeed, the Global IP Law Group asserted that several stadiums and arenas, including the Target Center, Xcel Energy Center and the Hubert Humphrey Metrodome have in fact licensed the technology from Inselberg.

In addition to holding patents, Iselberg dabbles in clothing.

He was one of six men indicted last October on fraud charges in connection with a bogus game-used jersey operation.

Gary Shapiro, the acting United States Attorney for Northern District of Illinois, announced that Bradley Wells of St. Petersburg, Florida acknowledged in a plea agreement that he altered replica jerseys by adding patches and other identifiable marks to make them look like professional athletes had worn them in games. Four others previously plead guilty. Prosecutor Michael Love said the sixth defendant, Eric Inselberg of New Jersey, is awaiting trial, although a trial date had not yet been set. Inselberg was involved in the business operations of Taylor Huff, Inc. and Pasadena Trading Corp, from late 2001 through late 2009.

Inselberg was linked to a University of North Carolina warm-up jersey sold at a 2007 Mastro Auction for $11,000. Mastro executives claimed the jersey had once belong to Michael Jordan.

The NY Daily News first reported that authenticators and collectors said the jersey was an obvious fake in the weeks leading up to the auction, which was conducted at the National Sports Collectors Convention in Cleveland.

Inselberg is charged with two counts of mail fraud.

Not sure how many tweets there were about that.





Broadway To Vegas is supported through advertising and donations. Priority consideration is given to interview suggestions, news, press releases, etc from paid supporters. However, no paid supporters control, alter, edit, or in any way manipulate the content of this site. Your donation is appreciated. We accept PAYPAL. Thank you for your interest.



ART AND ABOUT


CHINESE GIRL

Seventeen-year-old Monika Sing-Lee was the inspiration for the painting. Photo: Bonhams.
Vladimir Tretchikoff's 1952 original painting, believed to be the world's most reproduced print, is to go on sale in London as part of Bonhams' South African art sale on March 20.

Vladimir Tretchikoff, who died in 2006, grew up in Russia and Shanghai, eventually settled in South Africa in 1946 and painted the Chinese Girl in Cape Town in 1952.

His model was Monika Sing-Lee, then 17, whom he spotted working at her uncle's launderette in Sea Point, Cape Town.

Boris Gorelik, author of the forthcoming new book Incredible Tretchikoff (due out in 2013), was the first researcher to trace Sing-Lee in 2010.

However, the painting is touted as being beyond a portrait, becoming something more iconic.

Giles Peppiatt, Director of South African Art at Bonhams, comments: "The iridescent hues of Chinese Girl reflect Tretchikoff's experimentation with the possibilities of his color palette: the green-blue patina-like effect of the sitter's face is uncanny, heightening the red of her lips and framed by her lustrous dark hair. The deftly- handled golden hues and decorative detail of her tunic emerge from the lines of charcoal on brown canvas, a combination of media familiar from works like Basotho Girl and Zulu Maiden. Notably, the combination of lustrous golden silk and the blue-sheen of the model's skin combine to produce an otherworldly glow: a luminescence that is the leitmotif of Tretchikoff's best works."

Tretchikoff's value has risen exponentially in the art market, due to both the re- evaluation of his legacy in exhibitions such as Tretchikoff: The People's Painter, at IZIKO South African National Gallery (2011), and his appearance on the world stage at auction at Bonhams. A new world record was recently achieved at Bonhams with the semi-nude portrait painting, Portrait of Lenka (Red Jacket), featuring Tretchikoff's lover and muse, which sold for $531,640. Just over 100 Tretchikoff works have appeared at auction, a twenty-year trajectory which charts a remarkable resurgence in the artist's popularity.

The portrait of a young Chinese girl According to Tretchikoff's biographer Boris Gorelik, the image - also known as the Green Lady - because of the distinctive green-hued skin and ruby lips, went on to become "one of the most important pop culture icons in Britain and the Commonwealth in the 1950s".

The painting was brought directly from the artist by a woman in Chicago when Tretchikoff was touring the US in the 1950s. It has remained in the same family for the past 60 years. It is being sold by the original buyer's granddaughter

The work will be exhibited in New York and Johannesburg prior to its sale. The painting is expected to be gaveled down at $472,919 to $788,198.

The New York showing will take place at Bonhams on February 9-12. The painting will be on exhibit at the Everard Read Gallery in Johannesburg, South Africa February 23, 25 and 26.

GEORGIA O'KEEFFE IN NEW MEXICO

Georgia O'Keeffe, Blue-Headed Indian Doll, 1935. Watercolor and graphite; 21 x 12-1/8 in. Georgia O'Keeffe Museum; Gift of The Burnett Foundation (1997.06.009). © Georgia O'Keeffe Museum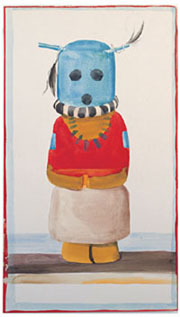 Architecture, Katsinam, and the Land. The exhibition brings to light a relatively unknown aspect of Georgia O'Keeffe's art and thinking - her deep respect for the diverse and distinctive cultures of northern New Mexico.

The exhibition features 53 O'Keeffe works including 15 rarely seen pictures of different Hopi katsina tihu, along with examples of these types of figures.

Chronicling her artwork created in New Mexico, the exhibition explores O'Keeffe's paintings of New Mexico's Hispanic and Native American architecture, cultural objects, and her New Mexico landscapes.

Georgia O'Keeffe (1887–1986) began spending part of the year living and working in New Mexico in 1929, a pattern she rarely altered until 1949. She then made northern New Mexico her permanent home three years after the death of her husband, Alfred Stieglitz (1864–1946), the celebrated photographer and one of America's first advocates of modern art.

In addition to the astonishingly beautiful New Mexico landscapes O'Keeffe painted, she was also inspired to paint some of the area's churches, crosses and folk art as well as Native American subjects, such as architecture and katsinam tithu, commonly referred to as kachina or katsina dolls.

Katsinam, plural for katsina, primarily refers to the supernatural beings that are believed to visit Hopi villagers during half of the year. Katsinam have the power to bring rain, exercise control over the weather, help in many of the everyday activities of the villagers, punish offenders of ceremonial or social laws, and, in general, to function as messengers between the spiritual domain and mortals.

The DAM exhibition will showcase American Indian artworks, such as katsinam tithu figurines, to provide viewers with an up-close look at the various cultural artifacts that O'Keeffe was exposed to during her time in New Mexico. While the New Mexico landscape remained a prominent part of O'Keeffe's life and art, very little has been known or written about her involvement with Native American and Hispanic art and culture. However, almost immediately upon her arrival in New Mexico, she responded to the area's cultural richness. Between 1931 and 1945, for example, O'Keeffe created numerous drawings, watercolors, and paintings of katsinam tithu. Because she retained and seldom exhibited most of these paintings, they remain generally unknown to the public. The exhibition was organized by the Georgia O'Keeffe Museum.

February 10, 2013 – April 28, 2013 at the Denver Art Museum in Denver, Colorado.

STRIKE A POSE: 50 YEARS OF FOOTBALL AND FASHION

Skinheads of London 1960's-70's. A look which became associated with violence at football games. Photo: Mirrorpix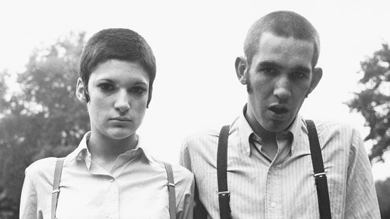 inspired by the book The Fashion of Football, From Best to Beckham, From Mod to Label Slave by Paolo Hewitt and Mark Baxter.

From terrace style and cultural movements to designer brands and high street ranges, meet the men and women who have taken football from Kop to catwalk.

1960s Britain saw a revolution in style, youth culture, and football.

With the maximum wage abolished, young footballers with disposable income were suddenly style leaders off the pitch – accessible heroes for a generation discovering a voice on the terraces and in the high street.

George Best and Bobby and Tina Moore may have paved the way for today's Balotellis and Beckhams, but it's the mods, skinheads and casuals on the terraces who have hit the high street and the headlines.

This exhibition charts the journey football and fashion have taken together over the last half century. Features iconic on-and-off pitch outfits with era-defining adverts and photography from half a century of style and football revolution.

Opened February 1, 2013 and is on display through August 27, 2013 at the National Football Museum in Manchester, England.


SWEET CHARITY


2013 MUSICARES PERSON OF THE YEAR TRIBUTE IN HONOR OF BRUCE SPRINGSTEEN will feature performances by Alabama Shakes, Jackson Browne, Kenny Chesney, Ben Harper, Emmylou Harris, Faith Hill, Jim James, Elton John, Juanes, John Legend, Natalie Maines, Tim McGraw, Tom Morello, Mumford & Sons, Patti Smith, Mavis Staples, Sting, Eddie Vedder, and Neil Young. Jon Stewart will be the evening's host.

Attendees will include Neil Portnow, President/CEO of MusiCares and The Recording Academy; Scott Pascucci, MusiCares Foundation Board Chair; and Paul Caine, MusiCares Board Chair Emeritus.

In addition, a host of celebrities, along with prominent music industry and entertainment executives, are scheduled to attend. Rob Mathes will be the evening's musical director. Past MusiCares Person of the Year honorees include, Tony Bennett, Bono, Natalie Cole, Phil Collins, David Crosby, Neil Diamond, Gloria Estefan, Aretha Franklin, Don Henley, Billy Joel, Elton John, Quincy Jones, Paul McCartney, Luciano Pavarotti, Bonnie Raitt, Paul Simon, Sting, Barbra Streisand, James Taylor, Brian Wilson, Stevie Wonder, and Neil Young.

The 2013 MusiCares Person of the Year gala will begin with a red carpet arrival, a cocktail reception and silent auction, which will be followed by a gala dinner, and a star-studded tribute concert.

Proceeds from the annual Person of the Year tribute - now in its 23rd year - provide essential support for MusiCares, which ensures that music people have a place to turn in times of financial, medical, and personal need.

Friday, February 8, 2013 at the Los Angeles Convention Center.


THE MUSIC GOES ROUND AND ROUND


PATTI LuPONE FAR AWAY PLACES recorded live at 54 Below, released by Broadway Records.

Patti LuPone is on the wish list of any producer who desires to make money. She's bankable. With a built in fan base that approaches cult, her voice is pure gold.

This force to be reckoned was chosen to open 54 Below. She's dramatic, upbeat in this commanding performance, conceived and directed by her longtime collaborator, Scott Wittman. From the first lush and dramatic notes of the piano, the roar from the crowd which brings on LuPone singing Gypsy In My Soul, you know that this is the cabaret equivalent of preaching to the choir. This is LuPone's audience. No need to cut her any slack. Her dynamic voice and sassy personality are the 'rare form', possessed by few singers. It's the pure, dynamite vocal styling that has defined the performer. Gypsy In My Soul is vibrant with pianist Joseph Thalken giving his fingers a workout.

The opening selection is a signal that the show is a musical travel map. After a brief 'thank you,' LuPone delivers on an enthusiastic arrangement of Night Life.

"Good evening, ladies and gentleman, I'm Patti LuPone," is greeted by cheers as LuPone introduces the five piece band and touches a bit on the history of the cabaret's legendary location.

"Then Times Square was dangerous and filthy. I had to step over bodies to get to the stage door.... Most of all I miss the $1.29 steak, baked potato and garlic bread you could get at Tad's Steak House." That observation brings her to Bilbao Song, with some new lyrics lamenting the demise of that prostitute ridden, dangerous old Times Square era.

She changes tempo with a lilting and wistful rendition of Far Away Places.

The majority of the sections have dramatic arrangements which showcase the mezzo-soprano's three-octave range.

She almost scats in Cole Porter's Come to the Supermarket in Old Peking. The crowd roars and the applause is vociferous.

A jabber section titled "I have Sicilian blood is funny, leading into I Wanna Be Around, which is bouncy, as compared to Tony Bennett's soulful rendition, or the anguished take by Liza Minnelli.

Ah, The Sea is Blue permits Patti to show off her lower vocal register, followed by I Cover the Waterfront. Kurt Weill's Pirate Jenny from The Threepenny Opera, and Stephen Sondheim's By The Sea from Sweeney Todd also receive effective deliveries.

"I do all kinds of accents, just like Meryl," is the intro for Bill Burnett's I Regret Everything.

Edith Piaf's Hymn To Love is a beautiful, sensitive ballad which frames the chanteuse's bell clear voice, which is belted to the back of the room.

Travelin' Light also spotlights the musicians in solo segments, permitting Patti to re-introduce them.

Her patter called Give My Regards To Broadway has the performer discussing some of her Great White Way experiences. That leads into the Bee Gees' boisterous Night's On Broadway. Her gig ends with September Song from Knickerbocker Holiday. If you put Patti LuPone in a room with the worst possible acoustics and a faulty sound system, she'd manage to still sound fabulous. Place her in 54 Below, with acoustic and sound perfection and the resulting CD is a listening treat.

Patti LuPone Far Away Places recorded live at 54 Below, released by Broadway Records is LuPone at her best

Written by Jeffrey Richman. Music direction and all music arrangements by Joseph Thalken.

The Band: Piano and vocals Joseph Thalken. Accordion/Keyboards: Antony Geralis. Guitar/Banjo -Larry Saltzman. Violin/Saxophone - Andy Stein. Drums/Percussion - Paul Pizzuti.

Mixing Engineer - Adam Long. Mixed and Edited by Robert Sher and Adam Long, St. Louis, MO. Mastered by Brad Sarno at Blue Jade Mastering St. Louis, MO. For 54 Below: FOH Mix and Recording Engineer - Kris Umezawa.


SPREADING THE WORD


JULIAN SANDS IN A CELEBRATION OF HAROLD PINTER in conjunction with the Steppenwolf Theatre production of Harold Pinter's The Birthday Party, the popular British actor Julian Sands is coming to Steppenwolf to perform his one-man show A Celebration of Harold Pinter on Sunday, February 10. Directed by: ensemble member John Malkovih.

With personal anecdotes and reflections drawn from their work together, Sands combines Harold Pinter's poems and prose to create a fresh and intimate insight into the Nobel laureate's literary legacy.

Sands, best known for the films A Room With a View and The Killing Fields, was a longtime friend of the playwright. A few years before his death, Pinter requested that Sands fill in for him at a poetry reading when he was too ill to go on. The experience ultimately inspired this production, which debuted in 2011 at the Edinburgh Fringe Festival in homage to Pinter, who died in 2008.

Sunday, February 10 at the Steppenwolf Theatre in Chicago.

BEHIND THE MUSIC-AL: JUST ADD MUSIC with Duncan Sheik and Larry O'Keefe.

In this installment of this behind-the-scenes series, learn how songwriters determine the best way to add music to an existing property. When the book already exists, how do you make it sing? How does writing music for an already known story differ from writing music for other types of stories?

Larry O'Keefe moderates an exciting evening of song and conversation with Duncan Sheik and Ewalt and Walker as they go behind the scenes of Musical Theater writing to explore what happens when you just add music.

Monday, February 11 at the 92Y in New York City.

JUSTN TIMBERLAKE the six-time Grammy winner will perform on the 55th Annual Grammy Awards telecast, Sunday, February 10, from the Staples Center in Los Angeles.

This marks the first time in four years that Timberlake will grace the Grammy stage, and will be his debut TV performance on the eve of his first studio album in seven years.

Others performers include current nominees Dierks Bentley and Miranda Lambert, The Black Keys, FUN., the Lumineers, Mumford & Sons, Rihanna, Taylor Swift, Carrie Underwood, Jack White, as well as Elton John and current nominee Ed Sheeran performing live together for the first time.

Two-time Grammy winner LL COOL J returns as host.

JONATHAN BECKER: 30 YEARS AT VANITY FAIR Join Vanity Fair's legendary Editor in Chief, Graydon Carter and iconic society photographer Jonathan Becker for an evening of personal conversation in celebration of Jonathan Becker: 30 Years at Vanity Fair.

For the first-time ever, Carter and Becker go beyond the pages of Vanity Fair and share their behind-the-scenes conversations that led to capturing of the world's most scintillating characters and personalities from the worlds of art, literature, politics, pop-culture and society.

From Becker's mentorships with Brassai and Slim Aarons to leading the revival of Vanity Fair, listen as old-time collaborators and friends discuss the daring assignments, the landmark headlines, the 30-years of unforgettable moments from one of photography's intriguing and celebrated legends.

Conceived and organized by Arezoo Moseni and in its third year, Design and Style is a series of events featuring discussions and presentations by leading professionals in the various design fields.

Wednesday, February 6, 2013, at the Stephen A. Schwarzman Building, Margaret Liebman Berger Forum, New York Public Library, NYC.

THE SMITHSONIAN'S NATIONAL MUSEUM OF AMERICAN HISTORY is reaching out to farmers, ranchers and American agri-business to build a collection that reflects modern agricultural practices. Curators are seeking stories, photographs and ephemera to record and preserve the innovations and experiences of farming and ranching.


OTHER PEOPLE'S MONEY


THE JOHN F. KENNEDY CENTER FOR THE PERFORMING ARTS

David Rubenstein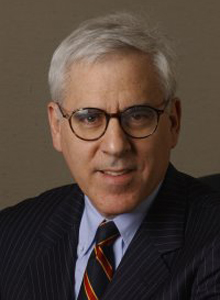 will undergo an expansion - it's first since opening.

The expansion is made possible thanks to Kennedy Center chairman David M. Rubenstein's donation of $50 million toward the design and construction of the new building to be constructed south of the existing facility.

The project is expected to cost approximately $100 million. The Center has begun a fundraising campaign of $125 million: $50 million more for the expansion project and an additional $25 million for major programming initiatives in the years ahead.

Rubenstein's generous pledge is among the largest ever given to a federally-connected nonprofit organization.

The design and construction costs for the expansion project will be paid for entirely with private funds.

The expansion will include rehearsal space, dedicated classroom space and multipurpose rooms for the Center's arts education and arts management education programs.

Public access spaces will include gardens, an outdoor video wall upon which simulcast performances and other multimedia events may be projected, and an outdoor performance space on the river.

The expansion will be designed by Steven Holl and senior partner Chris McVoy of Steven Holl Architects.

TERRA FOUNDATION FOR AMERICAN ART

Our Banner in the Sky, 1861 by Frederic Church (1826-1900). Oil paint over photomechanically produced lithograph on paper, laid down on cardboard, 19 x 29 cm. Our Banner in the Sky is considered a patriotic and artistic response to the Confederate attack on Fort Sumter in April 1861. An affordable print of this image was made in June 1861, and many viewers purchased their own copy and even wrote poems about it, dedicated to the artist. Chicago, Terra Foundation for American Art, Daniel J. Terra Collection, 1992.27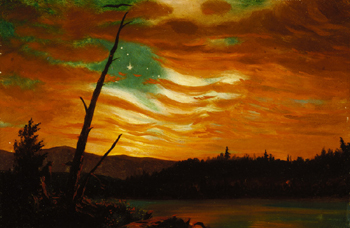 based in Chicago, celebrates its 35th anniversary by announcing a $550,000 allocation for United Kingdom Exhibitions in 2013.

Established in 1978, the organization is dedicated to fostering the exploration, understanding, and enjoyment of the visual arts of the United States.

With financial resources of more than $250 million, an exceptional collection of American art from the colonial era to 1945, and an expansive grant program, it is one of the leading foundations focused on American art, and devotes approximately $12 million annually in support of American art exhibitions, projects, and research worldwide.

The Terra Foundation for American Art continues its long-standing involvement in the United Kingdom by dedicating $550,000 in support of four major exhibitions that will run concurrently in London in early 2013.

Since 2006, the Foundation has committed approximately $3.3 million to American art exhibitions, academic programs, and professorships throughout the UK. "These exhibitions not only represent a welcome convergence of interest in the visual arts of the United States in London but also the ongoing partnerships we have forged with some of the United Kingdom's most respected institutions to present American art to international audiences," explained Elizabeth Glassman, President and Chief Executive Officer of the Terra Foundation.

The four exhibitions are:

Through American Eyes: Frederic Church and the Landscape Oil Sketch (The National Gallery, February 6 to April 28), which explores the artist's remarkably fresh and spontaneous oil sketches, the second in a series of three focused exhibitions.

Lichtenstein: A Retrospective (Tate Modern, February 21 to May 27), which brings together the largest group of the artist's works ever assembled – more than 160 drawings, paintings, and sculptures.

George Catlin: American Indian Portraits (National Portrait Gallery, March 7 to June 23), the first major exhibition of Catlin's portraits to be held in Europe since the 1840s.

George Bellows (1882-1925): Modern American Life (Royal Academy of Arts, March 16 to June 9), which presents the first comprehensive exhibition of the artist's work in the UK.

The Terra Foundation has also funded conferences and symposia at University College London, University of Nottingham, and University of York, as well as supported a survey of American Art in British public collections as part of the National Inventory Research Project at the University of Glasgow.



LIAM NEESON

Liam Neeson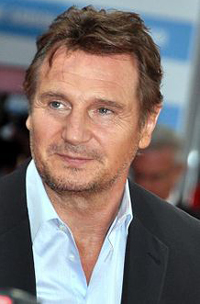 has been awarded the Freedom of the Borough from Ballymena Borough Council at a ceremony in Ballymena, Ireland.

The Freedom of the Borough is the highest accolade the council can award a citizen.

Prior to Neeson, only three people have been awarded the freedom of Ballymena: Ian Paisley, former rugby player Syd Millar and former mayor Sandy Spence.


Neeson's mother Kitty Neeson also watched her son receive the honor.

Others present were Northern Ireland Executive ministers Edwin Poots, Alex Attwood and Caral Ni Chuilin.

Hundreds of people lined the streets outside and cheered as the star posted for pictures.

Last November the council received unanimous bi-partisan support to offer Liam Neeson the Freedom of the Borough. At that time Ballymena Mayor PJ McAvoy stated, "I am absolutely delighted that my colleagues have unanimously agreed to offer what is a very significant honour to Liam Neeson. This is the highest accolade that a Council can bestow on one of its citizens."

Speaking ahead of last week's ceremony, councillor McAvoy said: "This is a significant civic occasion but we have been at pains to keep the formalities to a minimum, in keeping with Liam's relaxed style and recognizing that this is, above all, a gathering of friends.

"It will also be a real Ballymena-style celebration, with some of our fantastic local talent providing the music; Ballymena students providing their own cinematic tribute to Liam's life and work and local produce providing guests with a literal 'taste of the region'.

"Liam will find himself very much at home when he steps onto the stage to speak to his Ballymena audience, for he started his acting career by treading those very boards as a young member of the Slemish Players."

Councillor McAvoy said that in the past Freemen of the Borough "earned tax benefits and could drive their sheep unimpeded through the town".

"I'm afraid Liam won't reap those rewards, but he will certainly gain an insight into the esteem in which he is held in Ballymena," he added.

Ahead of the ceremony, Liam Neeson said he was honored and delighted to accept the award from Ballymena Borough Council. Neeson, who became an American citizen in 2009, said: "Enormous strides have been made in my native Northern Ireland in the past decade, demonstrated by political, social and economic changes that came about through a combination of courage, generosity and persistence."

THE GRAMMY FOUNDATION'S 15TH ANNUAL ENTERTAINMENT LAW INITIATIVE WINNER and runners up been announced. They are:

Winner:

Tyrone Scott, Case Western Reserve University. Paper Titled: Saving the Modern Record. Duty Between Labels And Artists.

Runners-Up:

Nicholas Krebs, Loyola Law School Covering Losses: Sound Exchange's Role In The Next Generation Of Artists.

Alex Krueger-Wyman, University of Virginia Mashing Up The Copyright Act: How To Mitigate The School of Law Deadweight Loss Created By The Audio Mashup.

Katie O'Shea, University of Georgia School of Law Rebranding Digital Music Theft And The Graduated Response Model In The United States

Titilayo Tinubu, UC Berkeley School of Law Fan Finance: Alternatives To Securities Restrictions On Social Media-Based Fundraising.

At the Grammy Foundation's 15th Annual Entertainment Law Initiative Luncheon & Scholarship Presentation on February 8 at the Beverly Hills Hotel, a cash scholarship of $5,000 will be awarded to the author of the winning paper, and $1,500 will be awarded to each of the four runners-up.

The event will also feature a keynote discussion with Tom Brokaw, special correspondent, NBC News; and Ron Conway, special advisor to SV Angel. The event will be moderated by Andie Simon, interactive content consultant.

Chuck Ortner, a partner in the litigation department at Proskauer Rose LLP and National Legal Counsel to The Recording Academy, will be the recipient of the 2013 Service Award. The honor is awarded to an attorney who has demonstrated a commitment to advancing and supporting the music community through service.

Other program participants include: Susan Genco, ELI executive chair; Ken Abdo, ELI executive committee program chair and top music industry attorney (Lommen, Abdo, Cole, King & Stageberg, P.A.); and Neil Portnow, President/CEO of The Recording Academy and the Grammy Foundation.


GET WELL SOON TO . . . .


VALERIE HARPER who has been forced to drop out of the national tour of Looped. The four-time Emmy Award winner was hospitalized during rehearsals. Harper was flown back to Los Angeles with her husband Tony Cacciotti where she is receiving continuing treatment and medical care for lung cancer, a condition she wrote about in her memoir, I, Rhoda, a reference to her hit television series.



DEAR WORLD features book by Jerome Lawrence and Robert E. Lee, with music and lyrics by Jerry Herman. The story is based on Jedan Giraudoux's play The Madwoman of Chaillot. Directed and choreographed by Gillian Lynne.

Starring Tony Award winner Betty Buckley as the Madwoman of Chaillot, the Countess Aurelia. The production also stars Paul Nicholas as Sewerman.

Joining Buckley and Nicholas in the cast are Katy Treharne, Stuart Matthew Price, Peter Land, Robert Meadmore, Jack Rebaldi, Ayman Safia, Anthony Barclay, Brett Brown, Paul Hawkyard, Annabel Leventon, Rebecca Lock, Joanna Loxton and Craig Nicholls.

The production weaves a tale of good versus evil. Set in the Countess's Parisian home in 1945, the story sees her and a motley crew of acquaintances band together to stop rapacious business men destroying both her home and all of Paris when oil is discovered under the streets of the city.

Dear World had its premiere on Broadway in 1969, starring Angela Lansbury. This is its first production outside the United States.

February 4-March 30, 2013 at Charing Cross Theatre in London.

A CHORUS LINE the nine-time Tony Award winning musical by Michael Bennett and composer, Marvin Hamlisch.

Directed by Bob Avian who was Michael Bennett's long-term collaborator and his co-choreographer on the original production.

The full cast has been announced for the new production of A Chorus Line that begins performances at the London Palladium Feb. 5 prior to an official opening Feb. 19. Starring Victoria Hamilton-Barritt as Diana, and John Partridge as Zach, Scarlett Stralle as Cassie and Leigh Zimmerman as Sheila. With Lucy Adcock (Judy), Georgie Ashford (Trisha), Ed Currie (Bobby), Frances Dee (Kristine), Segun Fawole (Butch), Harry Francis (Mark), Simon Hardwick (Al), Rebecca Herszenhon (Val), James T Lane (Richie), Marc Leslie (Roy), Vicki Lee Taylor (Maggie), Daisy Maywood (Bebe), Alice Jane Murray (Lois), Alastair Postlethwaite (Larry), Andy Rees (Greg), Adam Salter (Mike), Alexzandra Sarmiento (Connie), Michael Steedon (Tom), Gary Watson (Don) and Gary Wood (Paul). Further casting includes Rebecca Giocopazzi, Genevieve Nicole and Ashley Nottingham.

A Chorus Line begins performances at the London Palladium February 5 prior to an official opening February 19, 2013.

TOP HAT the delightful West end musical welcomes Broadway's Kristen Beth William and the West End's Alex Gaumond, Clive Hayward and Gavin Lee to the production in principal roles. They will begin performances February 5 at the Aldwych Theatre.

Vivien Parry and Stephen Boswell continue in their previous roles as Madge Hardwick and the valet Bates, respectively.

Gavin Lee takes over the role of Jerry Travers from Tom Chambers. Last November Charlotte Gooch took over the role of Dale Tremont from Summer Strallen.

Kristen Beth Williams, who will play Dale Tremont, joins Top Hat directly from the Broadway production of Nice Work If You Can Get It and previously Anything Goes.

Hayward, who will play Horace Hardwick, has most recently been seen at the Trafalgar Studios as Bernard Woolley in Yes Prime Minister. Gaumond, who will play Alberto Beddini, was last seen in the West End playing Galileo in We Will Rock You and Emmett Forrest in Legally Blonde the Musical.

Ensemble and swing members are Michelle Andrews, Caroline Bateson, Jeremy Batt, Charlie Bull, Alan Burkitt, Matthew Cheney, Louise Davidson, Russell-Leighton Dixon, Matt Gillett, Jonny Godbold, Ian Goss, Fenton Gray, Alyn Hawke, Lauren Jade, Paul Kemble, Jenny Legg, Martin McCarthy, Grace McKee, Debbie Paul, Holly Rostron, Callum Train, Lois Urwin, Graham Vick, Alexandra Waite-Roberts and Aron Wild.

FOODACTS a new play conceived and directed by Barbara Bosch.

A culinary stage adventure which explores our primal connections to food and its power to unite. Through an entertaining encounter with established novels, colorful poetry, historic essays, personal letters and other literary works by Langston Hughes, Proust, Homer, and Dickens, among others, Foodacts serves up the joys of food and eating.

It goes beyond the mere palate, revealing how human beings relate to and obsess over food from as far back as the Bible to today.

In this era of myriad reality television shows devoted to virtuosic food preparation, and vast amounts of newsprint concerned with the latest cooking innovations and restaurant reviews, the production promises that "now is the time for Foodacts.

Featuring Robert Allan, Judith Barcroft, Gwen Eyster, Peter Husovsky, Jaclyn Mitgang, Mark Ringer, and Antonio Edwards Suarez.

February 6-24, 2013 at The Lion Theatre – Theatre Row in New York City.

DONNYBROOK! THE MUSIC OF THE QUIET MAN music and lyrics by Johnny Burke, book by Robert E. McEnroe.

Directed by Charlotte Moore. Musical direction by John Bell. Choreography by Barry McNabb.

Starring James Barbour, Samuel Cohen, Patrick Cummings, Terry Donnelly, Kathy Fitzgerald, Ted Koch, Barbara Marineau, Mary Mallen, Kern McFadden, Kevin McGuire, Jenny Powers and David Sitler.

February 7th - March 31st John Ford's Oscar winning,The Quiet Man, is one of the best loved and most popular films of all time. Its musical adaptation, Donnybrook!, begins with the haunting love theme, Richard Farrelly's The Isle of Innisfree and marches jauntily through the misty hills of the west of Ireland with a cast of characters headed by the indomitable Mary Kate Danaher, and her counterpart, American prizefighter Sean Enright who, against his strong wishes, has not yet fought his last battle.

Woven so beautifully in the landscape of this classic Irish tale, are the raucous traditional Irish classics intertwined with Johnny Burke's startling original, beautiful melodies sung by a cast of award-winning Broadway artists.

The Quiet Man in all its noisy glory, is alive and well on stage February 7th - March 31st of The Irish Repertory Theatre in New York City.

CIRQUE DU SOLEIL which recently announced that they would be closing some Cirque shows and reducing the size of their work force, isn't all doom and gloom.

The company's road presentation Dralion is opening February 6 at the Dubai World Trade Centre in Dubai, UAE.

In New York, Cirque du Soleil's touring show Totem opens March 14 at the the blue-and-yellow big top at Citi Field in Queens, home of the New York Mets, and has already been extended with 12 additional performances added through April 21.


WHO'S WHERE




ELAINE PAIGE has a busy week with a show on Tuesday, February 5, at Konsert & Kongress in Uppsala, Sweden. On Thursday she has another gig at a Konset & Kongress, only this one is in Linkoping, Sweden. On Saturday she's on stage at the MCH Outdoor Arena in Herning, Denmark. Next Sunday, February 10 she performs at the Kongress & Kulturcenter in Aalborg, Denmark.

ITZHAK PERLMAN center stage Thursday , February 7, at Jones Hall in Houston, TX. On Saturday the show is at the McCallum Theatre in Palm Desert, CA.

BON JOVI performs Saturday February 9, 2013 at the Mohegan Sun Arena in Uncasville, CT. Next Sunday, February 10, he'll be rocking the house at the Verizon Center in Washington, DC.

KEVIN DOZIER the 2011 MAC and Bistro Award winning singer performs Monday, February 11 at The Metropolitan Room, NYC. Joining Kevin on stage at The Metropolitan Room will be Musical Director/pianist Alex Rybeck with John Redsecker on drums, Jered Egan on Bass, and Sean Harkness on Guitars.

MARILYN MAYE performs February 5-9 at The Colony Hotel in Palm Beach, Florida.


FINAL OVATION


PATTY ANDREWS the last surviving member of the famed Andrews Sisters died January 30, 2013 at her home in California. She was 94.

Maxene, the middle Andrews sister, died in 1995 and LaVerne, the eldest, in 1967.

Patty was the lead singer of the group which, from 1938 to 1951, earned 19 gold records, had dozens of top 10 singles and record sales of nearly 100 million.

They appeared as themselves in more than a dozen movies.

The Andrew Sisters made their Las Vegas debut in 1947, starring at the Flamingo Hotel. The trio also appeared at the Sahara and Riviera hotels. Legal disputes resulted in Patty doing solo Las Vegas turns between 1953-56, until the trio reunited.

In 1974 the two surviving Andrews sisters, Patty and Maxene, starred on Broadway in the nostalgic World War II musical Over Here. It ran for a year.

Patty Andrews' first marriage, to agent Martin Melcher, ended in divorce in 1950 after he left her for Doris Day. She married Walter Weschler, the group's conductor and arranger, in 1951. They remained married until his death in 2010. She had no immediate survivors.

ED KOCH who served as the Mayor of New York City from 1978 to 1989, died February 1, 2013 in New York City. He was 88.

The three-term mayor and former congressman also appeared as the judge on the TV show The People's Court for two years.

He was noted for asking "How'm I doing?" to people he passed on the street. Years ago I once passed him three days in a row, at about the same time, at the same location. The first day I didn't recognize him. I answered "With what?" when he asked "How'm I doing?". The second day my answer was, "Wonderful." He grinned and said, "You've figured out who I am." On the third day, rather that the usual "How'm I doing?" he asked, "Am I still wonderful?"

An avid movie goer, after leaving office Koch reviewed movies and restaurants, for newspapers, radio and television He also hosted his own movie review video show on the web called The Mayor at the Movies. In 2004, together with his sister Pat Koch Thaler, Koch wrote a children's book. Eddie, Harold's Little Brother; the book told the story of Koch's own childhood, when he tried unsuccessfully to emulate his older brother Harold's baseball talents, before realizing that he should instead focus on what he was already good at, which was telling stories and speaking in public.

In addition to reviewing movies, the Mayor appeared in more than 60 Hollywood films and television shows as himself, including Sex and the City, Spin City, Saturday Night Live and The Muppets Take Manhattan. A documentary about Koch's life, Koch, is slated for theatrical release this month.

Mayor Michael Bloomberg has ordered the flags to fly at half-staff.

BARNEY BUSH former White House First Dog during the George W. Bush presidency has died, according to an announcement released February 1, 2013. The cause of death was lymphatic cancer. The black Scottie was 12.

Barney gained an enormous television following after he was outfitted with a tiny video camera on his collar, and provided a dog-level holiday tour of the White House in 2002 while paddling from room to room, sometimes attacking the trees. The video was such a hit that subsequent Barney tours became an annual event.

Barney even had his own page on the White House website.

Former President Bush issued the following statement: "Barney was by my side during our eight years in the White House. He never discussed politics and was always a faithful friend. Laura and I will miss our pal."

A burial is planned at the former president's ranch in Central Texas.







Next Column: February 10, 2013
Copyright: February 3, 2013. All Rights Reserved. Reviews, Interviews, Commentary, Photographs or Graphics from any Broadway To Vegas (TM) columns may not be published, broadcast, rewritten, utilized as leads, or used in any manner without permission, compensation and/or credit.
Link to Main Page
---
Laura Deni



For the snail mail address, please E-mail your request.
CLICK HERE FOR COMMENT SECTION