! >
Broadway To Vegas
  
 SHOW REVIEWS CELEBRITY INTERVIEWS GOSSIP NEWS

| | |
| --- | --- |
| | |
LEADING LADIES DONATE MEMORABILIA - - THE PRINCE'S FOUNDATION FOR CHILDREN AND THE ARTS - - GO CHINA! CHINA NOW! - - JEFF GOLDBLUM IN BRITISH STAGE DEBUT - - MELTDOWN: BRITNEY SPEARS SHOW STAGED IN LONDON - - THE ART OF OSWELDO GUAYASAMIN - - NEW YORK BUBBLE SHOW EXPANDS INTO LAS VEGAS - - EDWARD ALBEE BIRTHDAY CELEBRATIONS BEGIN - - DONATE . . . Scroll Down


Copyright: February 3, 2008
By: Laura Deni

CLICK HERE FOR COMMENT SECTION
LEADING LADIES FROM STAGE AND SCREEN DONATE CAREER MEMORABILIA


At a special ceremony January 29, in the historic El Portal Theater in North Hollywood, nine legendary leading ladies of American motion pictures, television and Broadway productions donated objects from their award-winning careers to the National Museum of American History at the Smithsonian in Washington, D.C. The objects will be preserved in the museum's permanent entertainment collections.

Highlights include Carol Channing's diamond dress from the Broadway production Lorelei. This is the same priceless dress that was stolen last September from Channing's luggage at the Hollywood Renaissance Hotel. Police were called to the hotel on Thursday, September 12, 2007, after the actress reported the garment she was planning to donate to the Smithsonian museum complex in New York after one final photo shoot had disappeared. Channing, 86, wore the dress over 700 times as Lorelei Lee.

Reportedly the dress was returned by a homeless man, who walked into the hotel's lobby on Saturday, September 15, 2007, and handed over a bag containing the dress to a security guard, explaining he found the garment in a nearby park and instinctively knew it was Channing's after reading about her stolen gown.

Now the Smithsonian has it safely locked up.

Other stars donating coveted items included;

Tippi Hedren's script from the movie The Birds; Florence Henderson's People's Choice Award; Angela Lansbury's costume from Broadway hit Mame; June Lockhart's 1947 Tony Award; Julie Newmar's original Catwoman suit from the TV show Batman; and a bequest of Esther William's scrapbooks from her days as an MGM star. The ceremony also commemorated the recent donations from Phyllis Diller and Rose Marie.

"These ladies are a testament to the enduring value of the American dream," said museum director Brent D. Glass. "Anyone from any background can become a legend through hard work and perseverance. These objects reflect the importance of the performing arts in our culture, and we are honored to preserve them for future generations," he added.

The National Museum of American History's entertainment collections hold some of the Smithsonian's most beloved artifacts. The ruby slippers worn by Judy Garland in the Wizard of Oz reside here, along with the Muppet character Kermit the Frog, and props from popular television series such as M*A*S*H and All in the Family. But as in many of the Museum's collections, the best-known objects are a small part of the story.

The collection also encompasses many other artifacts of 19th- and 20th-century commercial theater, film, radio, and TV—some 50,000 sound recordings dating back to 1903; posters, publicity stills, and programs from films and performances; puppets; numerous items from World's Fairs from 1851 to 1992. The collection includes contain a variety of dazzling artifacts that present the history of American life through the brightly-colored perspectives of theater, film, radio, television, puppetry, circuses, carnivals and popular music.


DVD TECHNICIAN NEEDED
An actress, not a technician. Cate Blanchette as Elizabeth I in Elizabeth: The Golden Age.
In published articles circling the world it is being reported that when Cate Blanchett met Prince Philip at a Buckingham Palace reception for members of the film industry, he didn't recognize her as a famous movie star who won an Academy Award for her portrayal of Katharine Hepburn in the 2004 film, The Aviator and is nominated for a best actress Oscar this year for her role as Queen Elizabeth I in Elizabeth: The Golden Age. On January 31 the Richard Attenborough Film Awards, formerly known as the UK Regional Critics' Film Awards, named Blanchette Best Actress for her role in Elizabeth: The Golden Age.

Blanchett beat competition from Oscar nominees Marion Cotillard and Julie Christie and Atonement's Keira Knightley.

When informed that Cate worked in films, Prince Philip then asked her for help to fix his broken DVD, explaining - 'There's a cord sticking out of the back of the machine," he said. "Might you tell me where it goes?'"

Cate reportedly responded by telling the 86-year-old that she was an actress, not a technician. Our question: why didn't she answer by saying that while she didn't know how to fit it, she'd be happy to find somebody who could help him?


ART AND ABOUT


NOBEL PEACE LAUREATE RIGOBERTA MANCHU

Rigoberta Menchú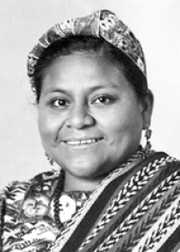 a Mayan Indian from Guatemala, internationally recognized for her work for social justice and cultural reconciliation for indigenous people, will speak at Vanderbilt University in Nashville about Healing Communities Torn by Racism and Violence as the inaugural address for the exhibition and national tour of Of Rage and Redemption: The Art of Osweldo Guayasamin, a landmark career retrospective exhibition of the late Ecuadorian artist, one of the most highly recognized Latin artists of the 20th century. Celebrated for his politically charged paintings and drawings, the exhibition will be on display at the Vanderbilt Fine Arts Gallery and Sarratt Gallery from Feb. 7 until March 20.

Menchú was featured in a portrait painted by the artist in 1996, just three years prior to his death.

The lecture, which will be presented in Spanish and translated into English by an interpreter, is free and open to the public.

Menchú was the recipient of the Nobel Peace Prize in 1992, is a United Nations Goodwill Ambassador and ran for president of Guatemala in September of 2007, the first indigenous candidate in the country's history. Her 1983 autobiography, I, Rigoberta Menchú, chronicles the oppression suffered by the indigenous people of her country at the hands of elite landowners and a right-wing military regime. Her book drew international attention to the atrocities of the Guatemalan army, became a staple on many college campuses and propelled Menchú to the Nobel Prize in 1992.

In 1998, I, Rigoberta Menchú, came under attack by anthropologist David Stoll in The New York Times as a fabrication, a controversy that continues to this day. Menchú has since acknowledged that some of the accusations are true, but stated that she intended her book to represent not just her life, but the collective experience of her people.

Born of Mayan heritage and raised in the northern highlights of Guatemala, Menchú helped organize workers, led demonstrations against the military government, and worked tirelessly for the rights and education of peasants in her native country. She was forced into exile in the early 1980s but emerged as a figure of international renown, thanks in part to her 1983 testament, I, Rigoberta Menchú.



Oswaldo Guayasamín (1919-1999), Madre y niño (Mother and Child), lithograph/serigraph, 27-9/16 x 39-3/8 inches, Courtesy the Fundación Guayasamín, Quito, Ecuador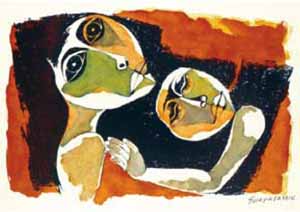 Like Menchú, Guayasamín was a passionate advocate for the rights of indigenous peoples in Latin America. He also spoke out against oppression in myriad forms - one particularly powerful piece from 1976-77 expresses his anguish at the suffering of the Chilean people following the overthrow of President Salvador Allende in 1973.

A major undertaking for Vanderbilt University Fine Arts Gallery curator Joseph Mella, who worked in conjunction with the school's Center for Latin American and Iberian Studies, Of Rage and Redemption will embark on a national tour after the exhibit closes its Nashville run in March. Stops include: Art Museum of the Americas, Organization of American States, in cooperation with Georgetown University, Washington, DC (April 3-May 29, 2008). Museo Alameda, San Antonio, Texas (June 19-August 14, 2008). University Galleries, Florida Atlantic University, Boca Raton, Florida (September 19-November 1, 2008). Samek Art Gallery, Bucknell University, Lewisburg, Pennsylvania (January 23-March 27, 2009). Museum of Latin American Art, Long Beach, California (April 12-August 16, 2009)

Menchú's appearance is part of a series of special events titled A Place for the Humanities in celebration of Vanderbilt University's Robert Penn Warren Center for the Humanities 20th anniversary. The center promotes interdisciplinary research and study in the humanities, social sciences and natural sciences. Because cooperative study in higher education is crucial to the modern university and the society it influences, the center is designed to intensify and increase interdisciplinary discussion of academic, social, and cultural issues.


THE PRINCE'S FOUNDATION FOR CHILDREN AND THE ARTS: THEATER, MUSIC, AN INVITATION TO DANCE
Camilla the Duchess of Cornwall greeted by performers.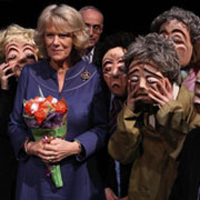 Jeweled ballerina pin worn by Camilla
Wearing a jeweled ballerina pin on her shoulder, Camilla the Duchess of Cornwall and her husband Prince Charles attended a performance by fifty children at the Unicorn Theatre, Southwark as part of the National Finale for Children & the Arts' TheatreQuest on January 28.

On stage were students from all 13 schools involved in TheatreQuest. The performance included sections of the play specially commissioned for TheatreQuest 2007, a fashion show of costumes and a short film.

The youngsters performed excerpts from Jamila Gavin's play A Singer from the Desert Came, a story set in the future where Earth has been destroyed by mankind's way of life. This new piece of writing was specially commissioned by The Prince's Foundation for Children & the Arts for TheatreQuest.

The 59-year-old prince later spoke to the children and explained why he thought TheatreQuest was important.

He said: "You can see I do have my uses, to allow you to get away from your lessons! But hopefully this little play will remind us of the importance of not making a complete mess of our planet."

"It seemed to me it was so important for as many children as possible to have experience of our cultural and artistic heritage. The arts are a magical world which help us to be defined as genuinely human and above all, civilized."



Jamila Gavin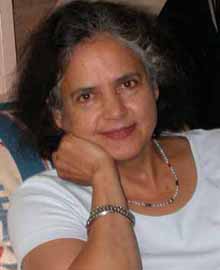 TheatreQuest has given 1,300 children around the UK who would otherwise not have the opportunity, the chance to engage with their local theatre and study a brand new piece of writing. TheatreQuest began in September 2007 and since then the children involved in the project have seen a performance at their local theatre, had the chance to get to know the people behind the scenes and worked on set design and costume making, working with recycled materials, as well as developing their own productions of the play.

TheaterQuest is one arm of The Prince's Foundation for Children and the Arts. Other departments are MusicQuest and Invitation to Dance. The Foundation firmly believes that -

Engaging with the arts enriches young peoples lives, nurtures creativity and improves self esteem and skills. Through our work children learn that cultural venues are welcoming, accessible and exciting places to visit. Other areas which arts access can impact upon include:

Unlocking talent- Raising aspirations- Improving confidence- Developing intellectual, social and emotional skills- Developing physical skills- Changing behavior and attitudes to learning.

The Prince's Foundation for Children and the Arts hopes to give children the confidence and inspiration to kindle a life-long love of the arts.

An Invitation to Dance was a project jointly developed by The Prince's Foundation for Children and the Arts, HIT Entertainment and English National Ballet.

The project aimed to encourage young children to get involved in, and develop an appreciation for dance. Children attended two professional performances by English National Ballet, enjoyed back stage tours, met English National Ballet staff and were visited at school by the performers.

The dancers talked to them about the importance of nutrition and health and gave them some practical guidance to encourage them to take up dance themselves. Over 100 children from three different schools were involved in the project which was figure-headed by Angelina Ballerina, the popular children's book and cartoon character.

As well as broadening knowledge and increasing cultural awareness, An Invitation to Dance challenged children's perception of dance. Teachers also noted a particular improvement in pupils' speaking and listening skills as a result of the shared experience of attending shows and workshops.

One teacher said: "I was worried about the boys participating; one in particular didn't want to go… Normally he's quite disruptive, but I think he's been converted'.

Thousands of children across the UK experienced the power of live orchestral music at the end of January as MusicQuest, wholly funded by Classic FM Music Makers, culminated in a series of celebratory finale workshops and concerts.

Working with Yamaha Music UK, Classic FM, the Philharmonia Orchestra and Naxos, MusicQuest is a three-year project that seeks to introduce a new generation to the power of live classical music. Between January 23 and February 1 members of the Philharmonia Orchestra met and performed to 5,000 pupils at five venues across the UK; The Orchard Theatre in Dartford, Warwick Arts Centre, Blackpool Ice Arena, Venue Cymru North Wales and Perth Concert Hall.

Children involved in the project met musicians from the Philharmonia Orchestra in a 'hands on' workshop before the concert. Each workshop gave pupils a chance to try an instrument and learn different percussion rhythms with a professional musician – who they saw perform onstage.

The finale concerts marked the end of the five month project which began in October 2007. MusicQuest has enabled 5000 children, aged between 7-11 years old, who have had limited access to performances, instruments and music lessons, to gain greater experience and understanding of classical and orchestral music.

MusicQuest aims to dispel the myth that classical music is elitist and does little to engage young people, and promote it as exciting and accessible to children of all ages and backgrounds. The project encourages children to listen and play classical music for pleasure and endorse the value of classical music in the day to day practice of teachers.

The Prince of Wales, founder and President of Arts & Kids said: "There is no reason why classical music shouldn't be part of everyone's life. The tradition, the stories and the emotional power of classical music are available and accessible to everyone. This is the idea behind my MusicQuest, my Foundation's three-year project to give thousands of children a chance to discover why and how classical music is important both in itself and for its ability to change how we think, feel and act."



Broadway To Vegas is supported through advertising and donations. Priority consideration is given to interview suggestions, news, press releases, etc from paid supporters. However, no paid supporters control, alter, edit, or in any way manipulate the content of this site. Your donation is appreciated. We accept PAYPAL. Thank you for your interest.


EDWARD ALBEE TURNS 80


Edward Albee, American's foremost living playwright, a member of the Dramatists Guild Council, has received three Pulitzer Prizes for drama - A Delicate Balance in 1967, Seascape in 1975 and Three Tall Women in 1994. He also received a special Tony Award for Lifetime Achievement in 2005, as well as the Kennedy Center Honors and the National Medal of Arts in 1996.

Theaters across the United States are celebrating Albee's 80th birthday on March 12 by producing a number of his greatest works.

The Big Apple celebrates this milestone with a number of productions collectively titled The Albee Season. The work spans 50 years, from Mr. Albee's first play, The Zoo Story, written in 1958 - now part of Peter and Jerry - to the new works Me, Myself and I and Occupant, which will have their premieres next year. The American Dream and The Sandbox, are running March 4 to April 12 at the Cherry Lane Theater which is where the plays had their debuts in 1961 and 1962; and Occupant, a portrait of the sculptor Louise Nevelson, May 6 to June 29 at the Signature Theater Company.

On February 4 The Vineyard Theatre in New York City toasts the birthday boy with star-studded 80th birthday celebration, co-hosted by Tyne Daly and Bill Irwin and featuring many acclaimed artists from The Vineyard and Albee family.

The message from The Vineyard states: "In 1993, Mr. Albee honored the Vineyard Theatre by allowing us to produce his play Three Tall Women. Now it's our turn to honor him with an evening to celebrate his 80th birthday and his remarkable 50-year career as one of the world's leading dramatists and true iconoclasts. Please join The Vineyard and Mr. Albee's longtime producer Elizabeth Ireland McCann as we toast this genuine living legend.


SPREADING THE WORD


THE BROWNING VERSION INTRODUCED BY VANESSA REDGRAVE as part of the Michael Redgrave Centenary, his daughter will be present to introduce the screening of The Browning Version.

Sir Michael Redgrave is magnificent as Andrew Crocker-Harris, a middle-aged Classics master at a boys' boarding school, who on the last day of term must confront his failures as a man, husband and teacher, and his dramatic reaction to a pupil's farewell gift.

Also starring Jean Kent as his wife and Nigel Patrick as her lover, and adapted by Terence Rattigan from his own play. February 7 at Cinema 1 The Barbican in London.

SEATTLE UNIVERSITY LECTURE SERIES Exploring the Relationship Between the Musical and Theatrical Passions in Opera on February 5 will discuss Tosca's Rome: A Tour of the Churches, Palaces, and Monuments of Papal Rome. Puccini's Popular Tosca returns to Seattle with a staging by the Seattle Opera which opens February 23. The lecture series takes place at Wyckoff Auditorium at Seattle U.

AN EVENING WITH GERALIDNE BROOKS Celebrated for her meticulous research and adept language, Pulitzer Prize-winner Geraldine Brooks brings life to historical themes. Brooks will be reading from and discussing her new bestselling novel, People of the Book, which tells the story of a rare, lavishly illuminated Hebrew manuscript and the people who save it from destruction over the centuries. Wednesday, February 4, Crest Theatre in Sacramento, CA.


GO CHINA! CHINA NOW! WELCOMING THE YEAR OF THE RAT


The Chinese New Year is the most important and the longest of all Chinese festivals, traditionally lasting for two weeks.

Towns and villages are decorated with colored lanterns, floral displays, and brightly colored banners emblazoned with new year greetings.

Families thoroughly clean their houses, pay off debt, and add a new coat of red paint to doors and windowpanes. They decorate their homes with flowers and light fireworks at midnight to attract the attention of benevolent gods and to frighten away evil spirits.

On the evening before the new year, families gather for a feast of various dishes of seafood and dumplings, many signifying good luck and prosperity.

On the first day of the new year, people put on new clothes and take gifts of special rice flour cakes and fruits to friends and relatives. Many adults follow an ancient custom of giving small red packets of money (hung-pao or lay shee) to children, unmarried adults, and employees or servants. Spectacular festivities such as dragon and lion dances take place.

The celebrations end with the lantern festival.

The significance of China hosting the Olympics is not lost upon Great Britain which takes over that duty in 2012.

Britain is the biggest recipient of direct Chinese investment in Europe, with London accounting for nearly a third of the total, and China's importance as a source of investment is expected to increase.

Raise those red lanterns.

China Now, the biggest celebration of Chinese culture that London has ever seen, is billed a UK-wide celebration of a vibrant, dynamic and fast-evolving nation – a captivating showcase of the very best of modern China. Beginning with Chinese New Year this week, it will culminate on Sunday April 6, when London will play host to the Olympic flame as part of the Beijing torch relay. This is also the final day of the British Museum's blockbuster Terracotta Warriors exhibition.

Mayor Ken Livingstone, who helped organize the festival, said: "2008 will provide a unique context in which to celebrate Chinese arts, heritage and culture - and the strengthening ties between London and China as Beijing prepares to stage the Olympic and Paralympic Games in August before handing over to London as host city for the 2012 Games."

"I welcome China Now as a valuable and exciting idea to help bring our countries closer together and further develop and strengthen our relationship." stated Gordon Brown, British Prime Minister.

"China Now will strengthen the understanding and friendship between China and the UK. We together to make the festival a success," concurred Wen Jiabao, Premier of the People's Republic of China.

There will be performances-from Beijing dance and opera companies, a season of Chinese films, Chinese opera workshops and Chinese tea tasting. Experts will give tutorials in the ancient Chinese board game mah-jong and Kew Gardens will hold tours of its collection of Chinese plants and herbs. The Underground will display poems by Bei Dao and Yang Lian, who rebelled against the restrictions of the Cultural Revolution, and fortune cookies filled with facts about modern China will be handed out to commuters.



Monkey: Journey To The West. Promotional artwork. Image by Jamie Hewlett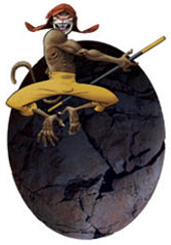 The British Museum in London has a month of activities welcoming in the Chinese New Year. This week the critically acclaimed opera Monkey: Journey To The West will have a one time performance on Thursday, February 7.

Monkey: Journey to the West is a stage adaptation of the 16th Century Chinese novel Journey to the West, by Wu Cheng;en. It was conceived and created by the Chinese actor and director Chen Shi-zheng, together with the British musician Damon Alban and British artist Jamie Hewlett - the co-creators of the virtual band Gorillaz. However, the original idea came from Jean-Luc Choplin, head of the Chatelet Theatre in Paris.

The production received its world premiere as the opening show of the inaugural Manchester International Festival, on June 28, 2007 at the Palace Theatre. It was subsequently staged at the in Paris with a further run slated at the Berlin Staatsoper in July 2008. These three venues are joint sponsors of the production.

Billed as a "circus opera", Albarn composed the musical score while Hewlett designed the visual concept, set and costumes. The adaptation for stage has been written by Shi-zheng, who also directs the production. Dramaturgy is by David Greenspan. The show features Chinese singers and 70 Chinese acrobats and martial artists. The orchestra put together for the production includes members of the UK Chinese Music Ensemble led by Cheng Yu, Demon Strings and Sense of Sound.

Others activities at the British Museum include attendees following a trail of Chinese zodiac animal lanterns designed by artist Jamie Hewlett, inspired by Museum objects from many cultures. There will also be traditional and contemporary Chinese arts and crafts workshops,music and talks in English, Mandarin and Cantonese.

Curating Chage: Urbanism, the arts and cultural change in China will be discussed in a forum chaired by Paul Goodwin, Research Associate on Urbanism at Goldsmiths, in discussion with Richard Wentworth, Sally Lai and Lucie Charkin.

Patrons can immerse themselves in an evening of Chinese culture at the British Museum. Relax in the Great Court with a Chinese tea or beer and listen to live music. Enjoy traditional Chinese dances or try one yourself in a dance workshop. Learn how to play Chinese games or watch the film Monkey wreaks havoc in the heavenly palace.

The evening also features talks and presentations on modern China by contemporary British artists, including Veronica Needa with Playback Theatre, Anna Boggon discussing Talking Mirror, Lost and Found in Translation, Suki Chan describing The Story of Rice, Melanie Jackson showing Made in China and D-Fuse presenting Latitude.



Anna May Wong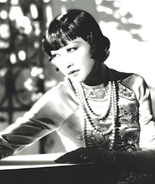 The National Portrait Gallery is set to start its Chinese New Year Program. On Thursday 7th February, the Gallery's popular lunchtime talk slot will be dedicated to Beijing, as author and Chinese specialist Jonathan Clements gives an overview of the city, its history and culture. This free event is the first of a series planned to take place over the Chinese New Year weekend.

The sound of silky strings and bamboo flutes from The Silk and Bamboo Quartet bring you into the Chinese Spring festival and is followed by a special screening to mark the European premiere of Anna May Wong: Frosted Yellow Willows – Her Life, Times and Legend. This amazing story is one of a pioneering Chinese-American woman who endured many hardships to climb from her humble beginnings in a Chinese Laundry to her status as international film star, co-starring with Marlene Dietrich.

Netherlands is part of the Go China! effort.

In 2008, the year of the Olympic Games in China, the Drents Museum and the Groninger Museum are completely devoted to this developing world power.

The project entitled Go China! Assen – Groningen, with five spectacular exhibitions of archaeology, avant-garde art and Chinese present-day art, displays the versatile and rich culture of China.

The Drents Museum and the Groninger Museum are working in close co-operation to prepare the exhibitions, the promotion, the marketing, the recruitment of sponsors, and the educational aspects. The many extra activities that are being organized by both museums, as well as the many events that will be held in both Assen and Groningen, will ensure that the North Netherlands will be completely immersed in Chinese culture in 2008.

Go China! Assen – Groningen began February 2 and ends on November 11 2008.



Terracotta knight from Qin Dynasty: 221-206 BC, Collection from the Museum in Xi'an, China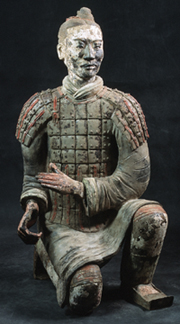 On Saturday ancient terracotta warriors from China make a first ever entrance into the Netherlands.

Fourteen life-sized terracotta figures, including 10 warriors, three servants and one horse, form part of the show The Terracotta Army of Xi'an: The Treasures of the First Emperors of China, which opens in the Drents Museum.

They will be accompanied by over 200 other magnificent objects, made of gold, jade and bronze, from the Qin Dynasty (221-206 BC) and the Western Han Dynasty (202 BC-9 AD), Ellen ter Hofstede, communication officer of the Drents Museum, said in a statement.

Among them are two life-sized bronze birds from the Qin Dynasty, and 96 miniature terracotta statues from the mausoleums of emperors and noblemen of the Western Han Dynasty.

The exhibition, which runs through Aug. 31, is a joint effort of the Drents Museum, and the Shaanxi Cultural Heritage Promotion Center in Xi'an, China, Hofstede said.

The exhibition will give visitors an insight into the extraordinary lengths craftsmen went to in order to delight the emperors, in both life and death, she stated.

The show has generated great media interest in the Netherlands and is expected to draw 150,000 to 200,000 visitors, an unusually large crowd for the museum.

Dutch Foreign Minister Maxime Verhagen will attend the opening ceremony on Saturday night, when the Shaanxi Song and Dance Troupe will also perform.

In Groningen in the north of Assen, the whole of the Groninger Museum will be transformed into a "Small Chinese Empire."

The exhibitions of archaeological bronze objects from China's Shanghai Museum, present-day Chinese art, including work by Ai Weiwei, and Chinese Realists and Avant-garde art from the 1980s and the 1990s, opened Feb. 2 and is on display to Nov. 23.

Many extra activities will also be organized by both museums, including music nights, open classes of Tai Chi, and a program for school kids. These events will "ensure that the northern Netherlands is completely immersed in Chinese culture.

Sydney, Australia proudly boasts major events celebrating the Year of the Rat. The festival runs the gamut from serious business summits to the parade of the giant Chinese New Year Lanterns. The Chinese New Year Festival's premier sporting event, Deagon Boat Races, returns to Darling Harbour for the Year of the Rat.

This traditional Chinese sport, infused with ritual and meaning, has now become a fast growing sport both in Australia and internationally. Boats filled with up to 22 paddlers row to the beat of the drum as more than 100 teams battle for the honors.



Betty Hsu Miss Chinatown 2007 will crown her successor on Saturday, February at the Palace of Fine Arts in San Francisco. The court for Miss Chinatown 2007 included: Kwan Hing Wong, Flushing, NY Miss Chinese Chamber of Commerce; Louisa Liu, from Sunnyvale, CA Miss San Francisco Chinatown; Amy Ng, Seattle, WA 2nd Princess; Heide Sun Woan, from Los Angeles, CA 3rd Princess; Sonja Pui Ling Tam, from Honolulu, HI 4th Princess; Winsy Dong, from Ridgewood, NY Miss Talent.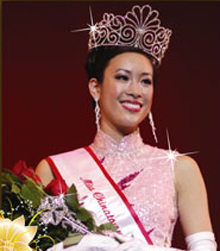 Across the pond in San Francisco, Southwest Airlines stages a parade that is touted as one of the top 10-parades in the world by the IFEA. They don't step off until February 23, but when they do they'll bring along 100 units.

A San Francisco tradition since just after the Gold Rush, the parade continues to delight and entertain the many hundreds of thousands of people that come to watch it on the street or tune in to watch it on local television.

Nowhere in the world will you see a lunar new year parade with more gorgeous floats, elaborate costumes, ferocious lions, exploding firecrackers, and of course the newly crowned Miss Chinatown U.S.A. and her court.

A crowd favorite is the spectacular 201 foot Golden Dragon (Gum Lung). It takes a team of over 100 men and women from the martial arts group, White Crane to carry this dragon throughout the streets of San Francisco.

The Louisville, KY chapter of the Organization of Chinese Americans stages an eight day cultural showcase. Highlights include 24 children from the Guangzhou Children's Palace, which is the largest extra-curricular education center in Southern China with over 35,000 students located in the Guangdong Providence.

Co-sponsored by the University of Louisville School of Music and College of Arts and Sciences, the performance takes place on Sunday, February 10 at the Margaret Comstock Concert Hall at the U of L.



Na-Ni Chen Dance Company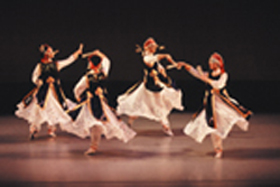 Nai-Ni Chen Dance Company presents two shows on Saturday, February 9 and two performances on Sunday, February 10, in the Victoria Theater of the New Jersey Performing Arts Center.

This colorful celebration of the Chinese New Year includes both traditional and contemporary music and dance, all choreographed by New Jersey's own Nai-Ni Chen.

In New York City Chinatown Chinese New Year Parade: Lion and Dragon Performance steps off on Sunday, February 10, while the Flushing, NY Parade winds down the street on Saturday, February 9.

In celebration of the new lunar year, on Thursday, February 7, The Empire State Building in The Big Apple, will be lit in the traditional Chinese good luck colors of red and gold.


OTHER PEOPLE'S MONEY


JERSEY BOYS will be playing Melbourne, Australia resulting in the city of Sydney calling the decision an "embarrassing" defeat to have the musical open in their city.

Melbourne is the capital of Victoria and so the announcement this past week-end was made by Victorian Innovation Minister, Gavin Jennings who said Melbourne was "fast becoming the Broadway of the southern hemisphere".

The booking follows the decision by the promoters of The Phantom Of The Opera to premiere their production in Melbourne.



MELTDOWN: BRITNEY SPEARS STAGED Music by Richard Thomas, who worked on Jerry Springer - The Opera. Choreography by Hubert Essakow.

The Rambert Dance Company, one of Britain's leading modern dance companies has set to music and dance the public problems of 26-year-old Britney Spears. The interpretation is called Meltdown and is described as a show which "takes in her hounding by paparazzi photographers and when she shaved off her hair in a tattoo parlor."

Choreographer Essakow told the BBC, "I thought this was a really modern day tragedy, this reversal of fortune. I saw somebody who had such great hope and was adored by millions of people then goes down the wrong route. I thought it would make an interesting story and try to translate this into dance."

At approximately the same time he was promoting his production Spears was being taken to the hospital by ambulance in Los Angeles for the second time this month due to fears over her own safety, being held on a 72-hour non-voluntary psychiatric hold.

In the production a dancer in a pink crop top, black PVC hotpants and a pink Stetson is harassed by photographers in menacing black costumes. She is eventually carried off by dancers dressed as doctors in white coats.

The show was performed Friday as part of the Rambert's new season of choreography at London's Southbank Centre.

SPEED-THE-PLOW a satire on the movie business by David Mamet. Directed by Matthew Warchus.

Starring Kevin Spacey opposite Jeff Goldblum who is making his British stage debut. Goldblum plays Bobby Gould, newly elevated to head of production at a movie studio. Spacey is cast as Charlie Fox, a lowly producer who brings a blockbuster script with a star attached to his old friend - Bobby Gould.

Mamet's witty, caustic play – filled with his trademark rapid-fire dialogue – satirizes the deal-making that goes on behind-the-scenes in the movie business. Hollywood producers Bobby Gould (Jeff Goldblum) and Charlie Fox (Kevin Spacey) engage in a verbal boxing match centered around the eternal debate of art versus money. Should Gould go for another bad blockbuster that will make his fortune or put himself on the line for an adaptation of a spiritual, apocalyptic novel offered to him by his beautiful secretary, Karen (Laura Michelle Kelly)? In this tale of greed, seduction and power, everything he believes in will be put to the test.

Set Design by Rob Howell. Lighting Design by Paul Pyant.

Speed-the-Plow began previews in London at Old Vic on February 1 and officially opens on February 12.

THE DREAM OF THE RED CHAMBER, THE DANCE is being performed by the award-winning Beijing Friendship Dance Company in celebration of the Chinese New Year which begins on February 7th. Directed and choreographed by the award-winning Zhao Ming, this international inaugural event has been scored by the Academy Award winning composer, Su Cong.

The piece's bewitching lighting design is by China's foremost team, Zhao Zhongcheng and Weng Chunpu. The radiantly vibrant and breathtakingly gossamer costumes are by Song Li. Principal dancers Zhang Jin and Shan Chong are some of China's finest.

The Dream of the Red Chamber follows the tragic story of love and marriage among the three main characters: Baoyu, Daiyu and Baochai, who are the honored scions of a great noble family. Besides the love tragedy, the novel reflects the era's social reality and societal changes as it follows the descent of a typical feudal family.

Consider one of China's greatest literary works, The Dream of the Red Bed, is respected as an important historical and archival treasure in the research of China's ancient official title system, philosophy, culture and social customs.

This celebrated production will be in America for two evenings only where it will underscore the belief that culture presents the best of who we are as nations. February 8th and February 9th at the Rose Theater at Lincoln Center, NYC.

MAME Music and Lyrics by Jerry Herman. Book by Jerome Lawrence and Robert E. Lee. Based on the novel by Patrick Dennis and the play Auntie Mame by Jerome Lawrence and Robert E. Lee.

February 9 - March 2 at the Fifth Avenue Theatre in Seattle, WA.

DEAD MAN'S CELL PHONE Manhattan premiere of the comedy by Sarah Ruhl.

Directed by Obie Award winner Anne Bogart who is the artistic director of SITI Company.

Tony Award-winner Mary-Louise Parker, and Tony nominee Kathleen Chalfant star.

Gordon is dead, but his cell phone lives on. When Jean (Mary-Louise Parker), an empathetic museum worker, answers his ringing phone beside her in a café, she is soon playing unwitting comforter and confessor to the man's grieving friends and family. Before she knows it, Jean is ensnarled in the underbelly of the dead man's bizarre life. Dead Man's Cell Phone is the odyssey of a woman forced to confront her assumptions about morality, redemption and the need to connect in a technology-obsessed world.

Scenic and costume designs by G.W. Mercier. Lighting design by Brian Scott,. Sound by Darron L. West. Production stage manager will be Elizabeth Moreau.

Dead Man's Cell Phone which had its world premiere at Woolly Mammoth Theatre Company in Washington, DC begins previews February 8, with the official opening slated for March 4 at Playwrights Horizons' Mainstage Theater in NYC. Performances continue though March 23.

A production at Steppenwolf in Chicago will be directed by Jessica Thebus and feature ensemble member Molly Regan with Sarah Charipar, Marilyn Dodds Frank, Mary Beth Fisher, Coburn Goss, Marc Grapey and Polly Noonan. That production opens on March 27.

HUNTING AND GATHERING by Brooke Berman. Directed by Leigh Silverman. Starring Michael Chernus, Mamie Gummer, Keira Naughton and Jeremy Shamos in this world-premiere.

This world premiere play follows four interconnected New Yorkers through their thwarted attempts to find their place – without compromise. Jesse has his first date since his divorce, his ex-lover Ruth is living a fantasy, his brother Astor is the "man with the van," and Bess has a plan to come out on top. Ms. Berman's contemporary play begs the question: Do you have to be a predator to survive?

The design team includes David Korins (sets), Miranda Hoffman (costumes), Ben Stanton (lights) and Robert Kaplowitz (sound). Melonie Rademaker serves as music consultant for the new play which incorporates original music by some of New York's up-and coming rock bands.

Presented by Primary Stages, officially opens at the 59E59 Theaters on February 3, running through March 1.

DIRTY ROTTEN SCOUNDRELS with a book by Jeffrey Lane. David Yazbek is composer/lyricist. Directed by Philip Wm. McKinley. Choreographed by Vince Pesce. Musical Director is Ted Sperling.

Set on the glorious, glamorous Riviera, Dirty Rotten Scoundrel is a deliciously delightful comedy that follows two con artists as they take on the lifestyles of the rich and shameless - and end up with a lot more than they bargain for.

Starring Jamie Jackson as Lawrence Jameson, Doug Thompson as Freddy Benson, Jenny Gulley as Christine Colgate, Suzanne Sole as Muriel Eubanks and Jeff Essex as Andre Thibault.

Scenic Design by David Rockwell. Costumes by Gregg Barnes. Lighting design by Philip Watson. Sound design by Philip Watson.

Opened January 31 with performances through February 10 at the Broward Center for the Arts in Ft. Lauderdale, FL.

GLORY ROAD! The Story of Harriet Tubman and the underground railroad. "It is important to make every effort to interest children in history at an early age so we don't 'lose' them by making history boring." Professor James McPherson, Princeton University, Winner of Pulitzer Prize for Battle Cry of Freedom.

In this interactive production five students and Mr. History play multiple parts in depicting the story of a runaway slave and his child who are led north by Harriet Tubman. They are chased by a slave-catcher in a series of exciting vignettes, and the child is separated from the father and Tubman. These two finally reach the safety of Quakers in Chester, PA, who disguise the slave father as a grieving widow in a funeral procession to get him safely onboard a ship bound for Canada. At the last minute, the slave-catcher shows up at the funeral with an affidavit for the slaves' arrest, but the unexpected return of the lost child, combined with the outrage of the local populace, drives the slave-catcher away, and the slaves go free.

Songs include; Glory Road!; Go Down, Moses and Star. Presented by Quill Entertainment whose purpose is to teach America's Heritage through Story and song.

Two shows daily February 5 and February 14 at Playhouse on the Green in Stamford, CT.

THE PHANTOM OF THE OPERA the national touring company, has opened a month long stand at the 2,500 seat Orpheum Theatre in Omaha, NE. The production last played Omaha in 2000. A week ago marked its 20th anniversary on Broadway, where it won seven Tonys. In this mounting which plays the Orpheum through February 24 Jason Mills stars as The Phantom and Sarah Jean Ford is Christine. Rebecca Judd is Madame Giry and Greg Mills is Raoul.

GAZILLION BUBBLE SHOW which began performances at New World Stages in New York City with the intent of a very limited run, celebrated it's first anniversary of February l and expanded with a new show Mega Bubble Show staged afternoons at the Steve Wyrick Theatre at Planet Hollywood Hotel in Las Vegas - opening on February 8.

The multi-Guinness Book World Record holder Fan Yang stages the Vegas show while his wife Ana Yang, also a Guinness Book World record holder, will continue to bubble up audiences in New York at New World Stages with the Gazillion Bubble Show.

To celebrate the 500th performance of The Big Apple venture, Fan and Ana Yang will attempt to do break yet another Guinness Book World Record on Sunday, February 17.

BY THE WATERS OF BABYLON

by Pulitzer Prize-winning playwright Robert Schenkkan. Directed by Richard Seyd.

Catherine is a lonely and reclusive widow. Arturo is a Cuban émigré - a gardener who has come to rescue her neglected yard. The hot Texas day turns hotter as these two exiles share a drink and a dance, and tell each other stories to keep the shadows away.

Starring Suzanne Bouchard and Armando Duráan.

Scenic Design by Michael Ganio. Costumes by Frances Kenny. Lighting Designer is York Kennedy. Sound Design by Christopher Walker. Choreographed by Olivier Wevers. Projections Designer and Dialect Coach is Peter Bjordahl.

This production, which contains nudity, officially opened on January 31 and runs through March 2 at Seattle Repertory Theatre in Seattle, WA.

Stage Voices with Robert Schenkkan takes place on Tuesday, February 5, in the Rotunda Lobby at Seattle Rep. Post-Play Discussions take place on Sunday, February 17, Thursday, February 21 and Sunday, February 24.


| | | |
| --- | --- | --- |
| | | |
WHO'S WHERE


THE FLYING KARAMOZOV BROTHERS They don't fly. They're not brothers. They're not even Russian!. Life: A Guide for the Perplexed, is the Flying Karamazovs' newest and perhaps most ambitious show ever. A spectacle of hilarity and silliness that is bound to tickle your eyes as well as your sides.

There are silly dances, world class juggling and most importantly... Lots of fun audience participation. A great might for the whole family! Life: A Guide to the Perplexed. Friday, February 8 at the Palace Theatre in Stamford, CT.

JONATHAN MANN the newest Helen von Ammon Fund artist, will perform on February 5th at Old St. Mary's Cathedral in San Francisco as part of their Noontime Concerts series. Mann is currently the Assistant Professor of Piano at the University of Idaho's Lionel Hampton School of Music.

For 10 years Noontime Concerts, a non-profit group, took place at St. Patrick's Church, which according to published reports - "got the boot" at St. Patrick's, as Executive Director James Rittell puts it, when the Rev. Ed Dura decided classical music doesn't belong in his church.

This performance is the first in their new venue, Old St. Mary's Cathedral.

MONTEREY JAZZ FESTIVAL'S 50th ANNIVERSARY TOUR In this performance, the Monterey Jazz festival maintains a strong tradition of bringing together veterans with younger artists, including James Moody, Terence Blanchard, Benny Green, Derrick Hodge, Kendrick Scott, and special guest vocalist Nnenna Freelon. Thursday, February 7, Farthing Auditorium - Appalachian State University in Boone, North Carolina.

REBA McENTIRE AND KELLY CLARKSON entertain Thursday, February 7, at the Family Arena in Saint Charles, MO. Friday the show is at the Conseco Fieldhouse in Indianapolis, IN and on Saturday they perform at the Rockford Metro Centre in Rockford, IL.

ALANIS MORISSETTE stars at the Xcel Energy Center in Saint Paul, MN on Monday, February 4. On Tuesday the show is at the Bradley Center in Milwaukee, WI. Thursday she is in the spotlight at the Quicken Loans Arena in Cleveland. On Friday she appears at the Patriot Center in Fairfax, VA.

BARRY MANILOW entertains Friday, February 8, at Nationwide Arena in Columbus, OH. On Saturday the show is at the Verizon Center in Washington, D.C.

THE SPICE GIRLS wrap up a two nighter Monday, February 4, at the Air Canada Centre in Toronto, ON. On Wednesday they begin another two night gig at the Nassau Veterans Memorial Coliseum in Uniondale, NY. On Sunday they open up a two night stand at the Prudential Center in Newark, NJ.

CHITA RIVERA a recipient of the prestigious Kennedy Center honor, Chita has won two Tony Awards as Best Leading Actress in a Musical and has received six additional Tony Award nominations, She performs Friday February 8 to Sunday February 10 at Feinstein's at the Shaw in London.

BURT BACHARACH is down under - performing February 6-9 at Hamer Hall in Melbourne, Australia.

KLEA BLACKHURST AND BILLY STRITCH join forces for a salute to the songs and style of treasured American songwriter Hoagy Carmichael. Two shows on Saturday, February 9, The Chase Room, New Jersey Performing Arts Center in Brunswick, NJ.

BETTY BUCKLEY performs at Feinstein's in NYC February 5 – 24. Her show will feature selections from her CD's Quintessence, and Betty Buckley 1967, released last year. Her late shows Friday and Saturdays at will be a special program of theater music from her acclaimed career and beyond.




PIFFLE AND PROFUNDITIES


RATS TO YOU attention New York rat patrol. Call Russia.

Russian pet shops are reporting a shortage of domestic rats, as shoppers snap them up ahead of the Chinese New Year - the Year of the Rat which begins February 7. The Itar-Tass news agency has reported there are long queues in pet shops formed by people wanting the creatures. The pests are going to be popular for a year.

Those that sell them claim that; "Rats are soft, charming and clean and do not need a great deal of care."

Actually they are easy to please, sleeping through noise, living anywhere and eating everything although favorites are documented as peanut butter, pizza, tofu, coffee with cream, coke, moo shu pork, steak, chicken, sweets, beer and wine.

They're sexy little devils, maturing in 8 to 12 weeks and capable of producing a litter of five to seven babies every couple of months.

However, there are some who don't view having a rat around as good luck.

Appalled that rats had the temerity to wander across the porch of Gracie Mansion in his presence, then Mayor Rudolph W. Giuliani announced the formation of a city task force to determine how to reduce the city's rat population.

While the NYC Health Department indicates that they "don't do rat tail counts," the prevailing opinion is that the number is - too many.

With many of our jobs being outsourced, why not export rats to those countries who really want them? Rats are a growth industry and thanks to the Chinese Lunar Calendar Year of the Rat, this is the year to cash in.

Next Column: February 10, 2008
Copyright: February 3, 2008. All Rights Reserved. Reviews, Interviews, Commentary, Photographs or Graphics from any Broadway To Vegas (TM) columns may not be published, broadcast, rewritten, utilized as leads, or used in any manner without permission, compensation and/or credit.
Link to Main Page
---
Laura Deni


CLICK HERE FOR COMMENT SECTION