! >
Broadway To Vegas
 
  SHOW REVIEWS CELEBRITY INTERVIEWS GOSSIP NEWS

| | |
| --- | --- |
| | |
THE DELIGHTFUL SLY FOX - - MARVIN HAMLISCH NEEDS A ROOM - - A FIDDLER WITHOUT FEELING - - JOHNNY CARSON'S MONEY - - WE WILL ROCK YOU TO ROCK VEGAS - - NOTHING LIKE A DAME BENEFIT - - JERRY HALL SETS RECORD - - ITZHAK PERLMAN TO TEACH - - DONATE . . . Scroll Down


Copyright: February 29, 2004
By: Laura Deni

CLICK HERE FOR COMMENT SECTION
FIDDLER - EMOTIONALLY SHALLOW, RICH WITH MUSIC


Fiddler on the Roof is a classic, first produced on Broadway in 1964 starring Zero Mostel. The production, rich in emotion, delivered 3,242 performances.

The problem with most revivals is that the original creators are deceased. Fortunately, that is not the case with Shelton Harnick and Jerry Block. When it was first announced that Fiddler would return to Broadway as a revival it was assumed the creators knew what they were doing. They even re-teamed to write a new song - although they needed have bothered.

To paraphrase a Fiddler line, Dear God, they already have a small fortune, so why in the world did they attempt to re-cut the diamond?

They should have paid addition to the battle cry they created and then repeated throughout the show - tradition - and left well enough alone.

If they are bored, couldn't have just created something new?

The message in Fiddle is as universal today as it was when first penned. And, since Alan Greenspan spoke, If I Were a Rich Man has become the national anthem for the babyboomer generation.

With a Wednesday opening of Passion of the Christ heavy handed with violence, following by the Thursday opening, at the Minskoff Theatre, of the bleached out Fiddler - the week became one of artistically convoluted intent - some of which is being questioned.

In this revival, it's as thought some extremely talented and experienced actors have been told - whatever else they do on stage - keep feeling out of the reading.

Removing the pathos from Fiddler denies the audience the opportunity to feel empathy for the people who struggled through that era.

To explain the dumbing down as an attempt to turn Fiddler into a creation that is appreciated and understood by the white bread and mayonnaise set is absurd. Those were the folks who made Fiddler a hit in the first place.

Sunrise Sunset, with the altering of exactly four words, became a staple at late 1960s-1970s Protestant weddings - a tradition continued when their children married in the 90s.

Nor was Fiddler ever a creation that was mandated to be played not only by Jewish actors but - in some roles - by Jewish actors who are old, fat and perhaps not beautiful.

Fiddler played Las Vegas with gorgeous blonde Susan Anton cast as one of Tevye's daughters. Eddie Mekka, known as The Big Ragu on Laverne and Shirley, has done very well the past few years playing Tevye, including an upcoming June 23 through July 4 production at the Bucks County Playhouse, which is the State Theatre of Pennsylvania.

Harnick has been quoted as saying that they were creating something new rather than "just dusting off a museum piece." Perhaps Mr. Harnick should be reminded that items which are in museums are considered rare, priceless and worthy of viewing.

Wonderful creations can certainly be remade - please see Larry Gelbart's Sly Fox.

It's difficult to get inside the head of the current Fiddler creators because the end product falls into the - what were they thinking category.

Fiddler on the Roof is a creation to be enjoyed by the entire family. If this Broadway revival had tickets at half the price it would be a fair value. It's not that it's bad. It's just not what you expect from Broadway.

If you have never purchased the original Broadway cast album - buy it. The incredible movie is available. Own it. The strongest card in the hand of the current Broadway revival is the advanced ticket sale. The glorious musical numbers will live on forever - the mounting of this production will not.


MR. HAMLISCH, YOUR ROOM IS READY


You've got two choices - either have Marvin Hamlisch's room ready or give him his money back.

Composer/musician Hamlisch has a delightful on stage act - well honed and well received. Typically, nothing changes. Then he performed in Las Vegas last Sunday afternoon at Hall Ham, located on the University of Nevada, Las Vegas campus.

Hamlisch was peeved and he told the audience why.

Arriving in the town that never sleeps, Hamlisch was not well rested. The performer attempted to check in to a well respected hotel boasting all suites. Then the Oscar winner experienced what many have endured - standing in the check in line so long you worry that it will be time to head back to the airport before you ever get to your room. Finally, making his way to the head of the line, he was informed that his suite wasn't ready. Come back later.

Hamlisch took his irritated, tired body to Ham Hall where he called the hotel and demanded a refund. He was informed that nobody was available on a Sunday to handle that request. He should call back. We don't know if he ever received his refund, but his audience got an earful.



Broadway To Vegas is supported through advertising and donations. Priority consideration is given to interview suggestions, news, press releases, etc from paid supporters. However, no paid supporters control, alter, edit, or in any way manipulate the content of this site. Your donation is appreciated. We accept PAYPAL. Thank you for your interest.


ART AND ABOUT


BIG APPLE FEST if you missed your chance a few years ago to purchase a cow during New York City's Cow Parade - you might want to consider a fancy apple.

Local and international artists will decorate hundreds of oversized 4x4' apple sculptures to be placed in various locations throughout The Big Apple.

Hundreds of "Big Apple" sculptures, decorated by local and international artists, will grow in New York City this summer as part of the Big Apple Fest, a public art initiative to promote the city and benefit charities, announced NYC & Company President and CEO Cristyne L. Nicholas.

The Big Apple Fest, running from August 15 to October 15, will put a special glow on the Big Apple as a lot of apple polishing takes place during the Republican National Convention.

The oversized apples, cast at Just Plastics in northern Manhattan, are four feet tall and four feet in diameter. They are cast from acrylic, allowing artists to create three-dimensional works inside or decorate the exterior.

Artists submitted designs for the Big Apples by March. Those will be reviewed by an artistic committee and presented to sponsors for consideration. Some sponsors are directly commissioning designs from particular artists.

Businesses and organizations pay $8,500 to sponsor an apple which is later sold at auction or $12,500 to sponsor and keep the apple. Larger sponsorship opportunities are also available.

After the conclusion of the exhibit, Sotheby's will hold both a live auction of the Big Apples. A substantial portion of the proceeds will benefit the Police Athletic League, City Harvest and the NYC & Company Foundation.

"With Big Apple Fest, what we really want to do is showcase all of the creative talent of the New York City art community," Jonathan Clay, the Managing Director of Big Apple Fest, said at a press conference. "We think that it will heighten awareness of all the great things that are going on in the city this summer and fall."

"The Cow Parade was such a big success, and we hope that this too will bring people to New York City just to see the apples," said NYC & Co. President Cristyne Nicholas. "Anything we can do to encourage people to come to New York City and to rebuild our $21 billion industry of tourism I think is helpful."

DIRTY OLD COIN CHANGES HISTORY AND MAKES MAN WEALTHY About a year ago a guy named Brian Malin, who likes to hunt for stuff with a metal detector, was on his farmland 10 miles from Oxford, England when he heard sounds indicating metal was underfoot. He hoped for something with a little value.

What he found were 5,000 coins corroded together in an earthenware pot. One was a grubby looking coin with the face of some old guy. Turns out the dude was Roman emperor Domitianus, confirming that the guy did exist and was not a Victorian fantasy. The bronze coin, estimated to be valued in the five figure range, has been put on public at the British Museum where the pedestrian crowd can eyeball it until March 14.



Domitianus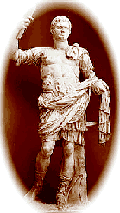 For hundreds of years arguments have centered over whether Domitianus even existed. Evidence of him gracing this place are so obscure that the only evidence that he became emperor have been two small coins: one found in Loire, France around 1900. The other is this coin.

Since nothing like it was known, and the context of the find was uncertain, the first coin was dismissed as a fake. It was only recently rediscovered in a local British museum.

Curator Richard Abdy described the coin as "sensational", a find which meant history would have to be rewritten. "Only the archaeological evidence of this coin shows that he was indeed emperor and provides us with a face to go with history's forgotten ruler."

"It is a type of coin we know as a 'radiant' because there are rays radiating from his head. It is a two denarii piece which at that time, when they were coining money as fast as they could, would have been worth a couple of hours' work," Abdy said. According to the museum, Domitianus is now believed to have been a rebel emperor from the Gaul region, who may have seized power in 271 AD in the short lived "Gallic empire". He declared himself emperor and ruled Britain for only a few days in 271AD before being punished for treason.

Abdy said there were only two brief references to Domitianus in historical sources. Both refer to him as a high ranking army officer, and to his being punished for treason by the emperor Aurelian - but neither records that he became emperor.

Abdy urges coin collectors to look at third century Roman coins of bearded military types, in the hope that more Domitianus coins are out there, wrongly identified. If you find one, you'll hit the jackpot.

SUSAN SMITH BLACKBURN PRIZE has been awarded to Sarah Ruhl who received $10,000 for penning the best play in English by a woman. The winning play, The Clean House was chosen by a panel of judges including actress Blair Brown, who presented the award to the thirty-year-old playwright. The Clean House centers around Mathilda, a live-in maid from Brazil who would rather be a professional comedian than clean house for Lane and Charles, a middle-aged couple of busy doctors. Besides . Ruhl, formerly of Chicago and now of Santa Monica, Calif., 11 finalists will receive Blackburn awards of $500 each. The prizes reflect the values and interests of Susan Smith Blackburn, an actress and writer who spent the last 15 years of her life in London, where she died in 1977 at 42.

THE DAVE MATTHEWS BAND will receive the special Chairman's Award at the N.A.A.C.P. Image Awards on March 6 in Los Angeles. reported. The racially mixed band — the drummer, Carter Beauford; the bassist, Stefan Lessard, and the saxophonist, Leroi Moore, are black, and the violinist, Boyd Tinsley, and Mr. Matthews, the vocalist and guitarist, are white — was cited for its devotion to social and environmental causes and its "dignified representation of people of color." Julian Bond, chairman of the N.A.A.C.P. board, said, "To see and hear them is to recognize great talent; to learn of their good deeds is to recognize they are good souls," he said in a statement.

JERRY HALL set a new world record by appearing in six West End musicals in one night - earning herself a place in the Guinness World Records while promoting London as a great place to visit.

Moving on foot and by rickshaw, in just under three and a half hours, the supermodel turned actress graced the stages in Phantom of the Opera, Les Miserables, Fame, Blood Brothers, Anything Goes and Chitty Chitty Bang Bang.

All were non-speaking roles and one lasted just 30 seconds.

In total she spent 33 minutes on stage and performed in front of 9,214 theatregoers.

On each occasion she entered the stage with no fanfare. Most of the audience hadn't a clue they were watching Mick Jagger's ex-wife.

Her race through theatreland began at Phantom as Madame Andre, an auction bidder. Dressed in long black cloak, which concealed her costume for her next part in Les Miserables, she was on stage for five minutes. In Les Mis she played a lady of the night dressed in hat and bustier. She grabbed a sailor, kissed him, threw him to the ground and then dragged another off in a cameo which lasted just seconds.

She then took a taxi bike to the Aldwych Theatre in the Strand for a 30-second role as a visiting schoolteacher in Fame.

Back on the rickshaw she changed costumes for a part in the musical Blood Brothers. She played a Liverpudlian housewife, dressed in green blouse and headscarf, watching the cast sing Bright New Day from the upper floor of a house. That lasted less than two minutes and she was off to the next venue - the Theatre Royal in Drury Lane.

There she managed to look like her runway self - hair in an elegant chignon and wearing a fur stole over a black and white cocktail dress - for her part as a passenger on board a 1930s cruise liner in Anything Goes. She sang and danced on the upbeat number Blow Gabriel Blow.

She then blew on over to the London Palladium to participate in the finale of Chitty Chitty Bang Bang. Her dash about tour of the West End was part of One Amazing Week, an extravaganza of "firsts" in the worlds of music, theatre, art, fashion and sport - all promoting London as a tourist destination.


SPREADING THE WORD


ITZHAK PERLMAN is slated to teach at a teen residency camp. The famed violinist will be one of six faculty members at a winter residency program Dec. 19-Jan. 2 at the Florida West Coast Symphony.

BETTY BUCKLEY AND RITA MORENO are the in-studio guests joining David Kenney in his Everything Old Is New Again radio show on March 7th. Everything Old Is New Again airs on the internet and every Sunday 9-11 PM (ET-USA) over WBAI 99.5 FM.

ACTORS THEATRE OF LOUISVILLE OPEN HOUSE see Actors Theatre as you've never seen it before! Tour backstage, receive a gift, enjoy demonstrations and discover more about what makes Actors Theatre a leader in American theatre.

Free and open to the public. In conjunction with downtown's First Friday Gallery Hop. March 5 in Louisville, KY.


SWEET CHARITY


NOTHING LIKE A DAME 2004 Monday, March 1st at the St. James Theatre in NYC. Presented by Broadway Cares, with proceeds benefiting The Actors' Fund's Phyllis Newman Women's Health Initiative. This year's installment of the annual event will star: Laura Benanti, Kathy Brier, Kate Burton, Zoe Caldwell, Kathleen Chalfant, Victoria Clark, Kate Clinton, Stephanie D'Abruzzo, Christine Ebersole, Melissa Errico, Tovah Feldshuh, Lauren Flanigan, Sutton Foster, Deidre Goodwin, Amanda Green, Julie Halston, Joan Hamburg, Ann Harada, Heather Headley, Dee Hoty, Nancy Lemenager, Idina Menzel, Audra McDonald, Kate Monster, Bebe Neuwirth, Phyllis Newman, Cynthia Nixon, Chita Rivera, Carole Shelley, Anna Vissi and Karen Ziemba. Featuring: The Ladies of Movin Out, The Dynamites of Hairspray, The Urchins of Little Shop of Horrors, The Radio of Caroline, or Change with special guest Liz Smith. Tickets are $1000 to $50.

GYPSY March 7 and 14 in New York City, the Gypsy company will be giving two special benefit performances for The Actors' Fund. Actors' Fund. VIP's who purchase orchestra and front mezzanine tickets at regular prices thru The Fund for one or both of these shows will have the opportunity to participate in an insider discussion with members of the cast and creative team immediately following each performance.

AUTOBAHN an evening of five new one-act plays written and directed by Neil LaBute will feature Brian Dennehy, Christopher Meloni, Amanda Peet, Paul Rudd and Susan Sarandon. This benefit for the MCC Theater, producers of the Pulitzer Prize-winning Wit, takes place March 8 at the Little Shubert Theater, NYC.


OTHER PEOPLE'S MONEY


JOHNNY CARSON'S MONEY is making the tour of his childhood haunts. An undisclosed amount of money has been received by Red Oak, Iowa to help build an eight-county arts center. The money has been earmarked to pay for a rehearsal room in the 23,000-square-foot center that the Performing Arts & Education Association of Southwest Iowa intends to groundbreak this fall.

A 250-seat auditorium and a dance studio will be major features of the center, which Executive Director Sally Foss said will anchor her group's mission of offering more performances and arts classes in the area.

Carson's gift "gives validation to the project from the outside," Foss said. "He feels strongly about growing up here and having the arts available."

The former talk show host has been quietly dispersing money to six Iowa and Nebraska towns associated with his youth.

Carson, 78, moved to Red Oak as a toddler and briefly attended kindergarten there. His family moved to Avoca, Iowa, when his father, Homer "Kit" Carson, received one of his many transfers as a manager for the Iowa-Nebraska Light and Power Co.

Other arts/entertainment donations include; Helping to pay for a community center in Logan, Iowa, where his grandfather Christopher "Kit" Carson was mayor in the 1940s; funding a skate park in Corning, Iowa, where he was born in 1925; an indoor recreation center in Clarinda, Iowa, his family's home after Corning and before Red Oak; a library project in Avoca, where the family lived before moving in 1933 to Norfolk, Nebraska. Carson has donated nearly $5 million to various projects in Norfolk, where he graduated from high school in 1943. He has made numerous gifts to the University of Nebraska at Lincoln where he graduated from college. Those endowments include the Johnny Carson Theater at the Lied Center for Performing Arts.



SLY FOX

Richard Dreyfuss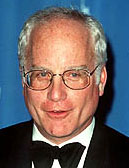 has become the latest hit from Larry Gelbart - a guy who knows how to stage a revival of his own comedy. This delightfully entertaining production stars Richard Dreyfuss as conniving miser, Foxwell J. Sly. Eric Stoltz is the servant and Elizabeth Berkley plays a virgin bride.

The ensemble production, with a cast of 17, is directed by Arthur Penn, who helmed the original 1976 Broadway production which starred George C. Scott.

In a reimagination of Ben Jonson's Volpone, set in San Francisco during the Gold Rush, this funny romp is a play in two acts has performances at the Shubert Theatre in Boston through March 7 then transfers to Broadway with previews beginning March 12.

Set design by George Jenkins and Jesse Poleshuck, costumes by Albert Wolsky and lighting design by Phil Monat.

Worth the flight to Boston just to see this show with a blue-ribbon cast that includes Rene Auberjonois, Bob Dishy, Peter Scolari, Bronson Pinchot, Rachel York, and 91-year-old Professor Irwin Corey. Don't miss out on seeing Sly Fox when it opens in New York.

WE WILL ROCK YOU the musical by Queen will rock Las Vegas when it opens in September at Paris Las Vegas.

"Queen's music is timeless. We think this show is going to really rock Las Vegas," Robert De Niro said in a news release. De Niro is a principal of Tribeca Theatrical Productions, which is producing the show.

We Will Rock You will be not only a perfect fit for Vegas but firmly establish a new era for Vegas entertainment - a new wave first seen with the productions of Blue Man Group and Mamma Mia! and thrust into mega watt status with Elton John. The rockin' atmosphere may make most of the magicians disappear but the true magic of Vegas is just being materialized through a new 21st century vision.

BAY STREET THEATRE announces 2004 Target Mainstage Season featuring Alan Alda, Charles Busch, Zoe Caldwell, Tony Roberts and Ahrens/Flaherty. The season opens May 25 with Tony Award-winner Zoe Caldwell directing a cast headed by Alan Alda in Charles L. Mee's new romantic comedy Limonade Tous les Jours. The production will play through June 6. Next up in June, veteran stage and screen star Tony Roberts will appear in Tom Stoppard's nautical farce Rough Crossing. Daniel Gerroll returns to Bay Street to direct this comedy of mid-atlantic misadventures. Crossing marks Robert's return to Bay Street after crooning to sold-out audiences last August in Bay Street's The Boyfriend, helmed by Julie Andrews.

The incomparable Charles Busch will star in Bay Street's third offering of the summer, the modern-day classic Auntie Mame. The playwright and performer best known for his peerless comic impersonations of the opposite sex will play the insatiable Mame Dennis, who lives life as a banquet. Richard Sabellico directs this non-musical original by Jerome Lawrence and Robert E. Lee, based on the novel by Patrick Dennis, in a co-production between Bay Street and the Ogunquit Playhouse. Auntie Mame runs at Bay Street from July 13-August 1.

Esteemed director/choreographer Marcia Milgrom Dodge will return to Bay Street to close out the Summer season with the Caribbean musical treat Once on this Island, featuring book and lyrics by Lynn Ahrens and music by Stephen Flaherty. This mythical, magical island fable was the recipient of eight Tony Award nominations and will play at Bay Street from August 10 through September 5 in Sag Harbor, Long Island.

HUMANA FESTIVAL OF NEW AMERICAN PLAYS kicks off Sunday, February 29. Eleven groundbreaking premieres in six exciting weeks.

The internationally acclaimed theatrical treasure hunt in Louisville, Kentucky is a rare chance to see inspiring, insightful and innovative comedies and dramas - before they reach the rest of the world. Get in on the ground floor of what Time magazine hails "The center of the theater world."

DAME EDNA brings all the outrageousness to the Aronoff Center in Cincinnati, Ohio for an engagement March 2-14.


| | | |
| --- | --- | --- |
| | | |
WHO'S WHERE


ROD STEWART brings his From Maggie May to the Great American Songbook tour to Boston on February 29 and then to Washington, D.C. for a March 4th show.

RUFUS WAINWRIGHT performs tonight, Sunday, February 29, at 4th & B in San Diego. On Monday he is on stage at the House of Blues in Anaheim, CA. Thursday finds him at Royce Hall UCLA in Los Angeles and on Friday he begins a two night stand at The Fillmore in San Francisco.

STING opens a four night stand at the Beacon Theatre in New York City on Tuesday.

PAULA POUNDSTONE closes out a four night engagement this evening at The Stardome in Hoover, Alabama. On Saturday she'll be telling funny stories at Sunset Station Hotel Casino in Las Vegas.

JOHNNY MATHIS singing Thursday at Mystic Lake Casino in Prior Lake, Minn.

THE SMOTHERS BROTHERS trying to figure how if mother had a favorite March 2-7 at the Riverside Hotel in Laughlin, Nevada.

JEFF FOXWORTHY brings his funny redneck humor to the Braden Auditorium in Normal, Illinois on Friday. On Saturday he's in the spotlight at the Palace Theatre in Louisville, KY.

GEORGE WINSTON on stage Wednesday at the Pioneer Theatre in Reno, Nevada.

REBA McENTIRE appearing with Rodeo Houston next Sunday, March 7, at Reliant Stadium at Reliant Park in Houston, Texas.

WILLIE NELSON "The Red-Headed Stranger" brings his legendary voice and music to The Mann Hall on Wednesday, March 3. Fort Myers, Florida.

BETTE MIDLER all over the stage Tuesday, March 2 at the Office Depot Center in Sunrise, Florida.

JARS OF CLAY performing Saturday, March 6, at the Civic Center Arena in Peoria, Illinois.
















Next Column: March 7, 2004
Copyright: February 29, 2004. All Rights Reserved. Reviews, Interviews, Commentary, Photographs or Graphics from any Broadway To Vegas (TM) columns may not be published, broadcast, rewritten, utilized as leads, or used in any manner without permission, compensation and/or credit.
Link to Main Page
---
Laura Deni


CLICK HERE FOR COMMENT SECTION