! >
Broadway To Vegas
  SHOW REVIEWS     CELEBRITY INTERVIEWS     GOSSIP     NEWS 
ELVIS PRESLEY RESTING IN PERPETUAL REVENUE

Just when you were beginning to believe that Elvis' death caused his body to leave the building, we find that the King of Rock and Roll has another haunt - the Elvis A-Rama-Museum in - Las Vegas.

Graceland may have his buried remains and the house where he lived, but Las Vegas has the goods.

Located in a small, humble looking shopping nook, where a bar is the anchor store, the Museum houses over $3 million worth of Elvis do-dads.



CARS AND BOATS are on display including the 1955 Cadillac limo in which Elvis toured the Southwest. Photo By: Laura Deni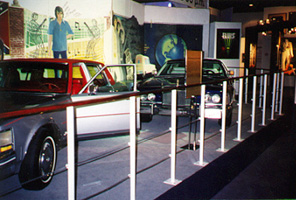 What could be assumed as an attempt to turn a dollar on Elvis' dead body, is actually an interesting exhibit, which has the blessing of the Presley Estate.

Owners Chris Davidson and Bill Watson acquired their Elvis relics through auctions.The displays are well put together and afford those who make a pilgrimage and plunk down the dough the opportunity to get a close up view of Elvis trappings circa 1950's -70's.



There are costumes galore that Elvis used during the movie star days. Photo By: Laura Deni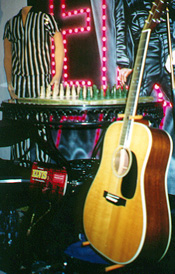 There is also the obligatory gift shop which sells official Presley memorabilia.

Some of the original Elvis artifacts also have price tags.

Presley made his Las Vegas debut in 1956, at The New Frontier Hotel, where he was less than a success. He returned to Las Vegas in 1969 and turned the town into his own personal shrine, reigning supreme for a decade.

He married Priscilla Beaulieu in Las Vegas and the Hilton Hotel, where he starred for seven years, displays a bronze statue likeness of Presley in his pre-porky days.



Karate was important to Presley and the museum pays homage that interest. Photo By: Laura Deni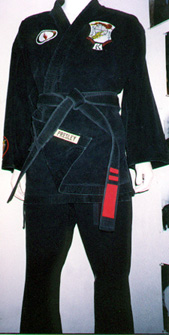 While an Elvis Museum in Las Vegas is a natural, success won't be overnight. A lack of parking space is a major hindrance. The Elvis-A-Rama is obviously counting on bus tours.

Elvis impersonators are also on hand. Sonny Boline gets all shook up during afternoon performances and Tim Welch portrays Elvis during an evening show that has a lot of effort and thought behind the production.

The Museum's showroom, which seats approximately 100, has been upgraded with blackout drapes and newly installed technical equipment; fogger, spotlight, strobe and colored lights that add to the overall performance.



KUNG FU ELVIS. Photo By: Laura Deni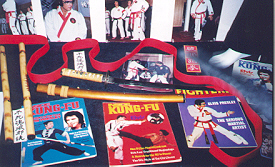 Titled American Trilogy, Welch portrays Elvis during his young and lean years. Welch has a hard working, fast paced, interestingly conceived and executed act that includes four costume changes. He offers an enjoyable musical memory of Elvis from his discovery, Army stint, movie star era in which Presley starred in over 30 movies, to his triumphant Vegas era.



Elvis actually wore this. Photo By: Laura Deni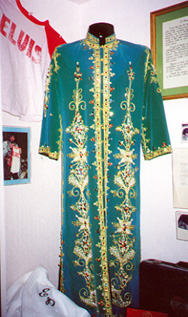 Pianos to Plaques. Photo By: Laura Deni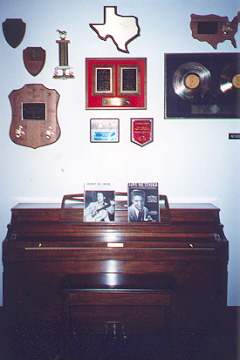 While Welch is making costume changes Presley music plays and a voice over offers Elvis background, explaining the career transition they are about to witness.

The dialogue is interesting and informative. It is also in English. That could be a detriment for the plethora of visitors who are Elvis fans, but don't understand English.

The Museum is a bit pricey. $9.95 in the afternoon which includes a 15 minute Elvis impersonation show. During the evening the price jumps to $24.95 which includes the museum tour, the hour plus long American Trilogy Show and a drink. The Liberace Museum in Las Vegas is only $6.95 for adults and proceeds from that go to the Liberace Foundation which provides scholarships. However, the Elvis-A-Rama museum is interesting and with the hordes of Elvis worshipers the project has a shot at succeeding.

While we are waxing of Elvis, devotees take note that in St. Louis praise be to funeral director Dan Heamon. He has buried a time capsule in a cemetery that contains - among other items - a black velvet painting of Elvis. We personally have thought all of those Elvis on velvet paintings should have been buried long ago.


ARE YOU STUPID, MISS?

When the 1962 hit movie The Music Man was still riding the zenith the mother of composer Meredith Willson lived in Las Vegas. If his name was misspelled - with one l instead of ll, Mrs. Willson would call identifying herself and then inquiring;

"Are you stupid, Miss?"

She would then enter into a speech - as only a proud mother could - about the accomplishments of her son.

Mrs. Willson would again be proud - and from seeing the numerous examples of the press who don't realize Willson isn't a misprint - Meredith's mother would be burning up the phone lines.

Beating the Tony Award nomination's deadline, The Music Man marches onto Broadway with previews beginning April 5 at the Neil Simon Theater.



SHIRLEY JONES starred in the 1962 movie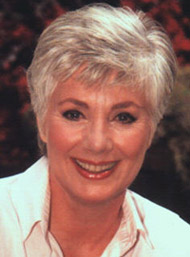 The hit movie starred Robert Preston, Shirley Jones, Buddy Hackett and Ron Howard.

As a composer of both respected symphonic works and widely popular songs, Meredith Willson has earned a place in the annals of 20th century music, but his enduring fame rests on a series of Broadway hits, most notably The Music Man.

It's story of a rascally salesman of musical instruments and band uniforms, prevailing on small town people to outfit boys bands on a promise of teaching members of play, has become part of the fabric of American folklore.

This Broadway production will be directed and choreographed by Susan Stroman and starring Craig Bierko as Harold Hill and Rebecca Luker as Marian the Librarian.

This production will mark Bierko's Broadway debut. He is best known as the star of the movie The Long Kiss Goodnight.

Max Casella will play Marcellus Washburm, Harold Hill's sidekick. Paul Benedict is cast as Mayor Shinn of River city, Iowa and Ruth Williamson will play his wife, Eulalie McKechnie Shinn.



MEREDITH WILLSON'S boyhood home in Mason, Iowa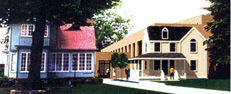 The creative team is comprised of Thomas Lynch sets, William Ivey Long costumes, Peter Kaczorowski lighting, sound design by Jonathan Deans ( See Broadway To Vegas column of June 21, 1999 ) and musical director David Chase.



THE FOOTBRIDGE immortalized in The Music Man is part of the Music Man Square project.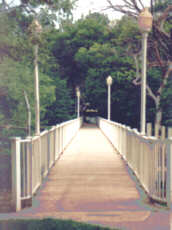 Mason City, Iowa, home to Willson as a child, is developing The Music Man Square, located near the boyhood home at 314 South Pennsylvania Avenue. This combined facility will accommodate the Meredith Willson Museum, a Music and Performing Arts Learning Center, and a 500-seat theater with the Music City Theater as its primary tenets.

Plans call for Music Man Square to be completed by 2002, the year that Willson would celebrate his 100th birthday.

The town hosts an annual Band Festival, which Shirley Jones attended. Jones is also an avid supporter of this historian project.

"This will be like a dream world for all of us who love The Music Man and that's just about everyone! A portion of the square will have a complete recreation of River City. It will include the Candy Kitchen, The Library, Gymnasium, Jacey Squires' Livery Stable and of course the Billiard Parlor complete with a billiard table and that troublesome pool table!" Jones exclaimed.


NAME ABOVE TITLE; ELTON ESCHEWS GLITZ

Elton John is not your typical Broadway composer. His Aida which is in previews at The Palace Theater, NYC, is still a work in progress. The show officially opens March 23, and Elton John's name is above the title. For the most part Aida is not the same show that was criticized in Chicago.



ELTON JOHN complaining about too much glitz in the business

The name Elton John alone sells tickets. That bankable element may be the show's strong suit. Is the piano man holed up slapping out rewrites as fast as his mind can create? No. He spent the week before the New York opening performing to a sell out crowd at the Lawlor Center in Reno, Nevada, went to the Fairmont Hotel in San Francisco to perform the four songs he penned for the upcoming animated comedy The Road to El Dorado which stars Kenneth Branagh and Kevin Kline, and then entertained and picked up his award at the Grammy Show.

Backstage after the Grammy Awards telecast the chameleon performer was crabbing about too much glitz in videos and saying that's why he had never before performed at an awards show. By the way he was spouting off - that Grammy show may be his last.

With Elton's temporary lapse into the gaudy behind him, his attention is now on the serious theatre. Aida backers are betting that John's name alone can mean succeeding on Broadway.



Broadway To Vegas is supported through advertising and donations. Priority consideration is given to interview suggestions, news, press releases, etc from paid supporters. However, no paid supporters control, alter, edit, or in any way manipulate the content of this site. Your donation is appreciated. We accept PAYPAL. Thank you for your interest.


LUSTING AFTER BOB DYLAN

Sally Kirkland writes Bob Dylan poems and then listens to his music to hear him answer her. She's not nuts - she's in love.

The object of her affection does a one nighter March 12 at the Bakersfield Centennial Garden, CA.


BOB DYLAN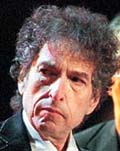 Good possibility that Sally Kirkland might be in the audience. She's still mooning over the guy she hasn't dated in over a year. The actress who plays Professor Sherman on Felicity and Barbara Parker on Wasteland. She just completed starring in The Powder Room Suite at Court Theatre in West Hollywood. She admits that she's been in love with Dylan since she was in her 20's, and plays his music before her performances.



SALLY KIRKLAND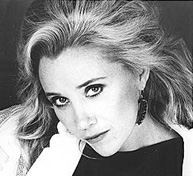 Called the Helen Hayes of off-Broadway and the Isadora Duncan of pseudo-thespianism, Kirkland appeared naked on Broadway in You Can't Carry A Gun On The Naked Body, and in the 60s was arrested for a role with La Mama. Recently, Sally made headlines when she had her breast implants removed. She conquered a drug problem and became an ordained minister in the Church of The Movement of Spiritual Inner Awareness.

Rock god Dylan has had a knotty personal life that he had always attempted to keep under wraps. In this his 59th year this living legend is still full of change and his performance can be memorable.

CABARET IS A BUSINESS

In this the second of a two-part interview Lorna Dallas, who opens at the FireBird in NYC on March 1, discusses returning to American, cabaret venues, performances and selling CDs.



LORNA DALLAS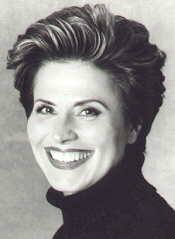 "Cabaret is entertainment and it's also whether it's an intimate cabaret or a commercial cabaret. There are various definitions. The act you do has to be tailored to the room and the clientele. That's why there are various forms of cabaret.

"The cabaret scene in New York has changed a lot. The smaller clubs have shows at all hours, which is good, because it encourages talent who need a space to develop it. In some of the small places, cabarets go on at three o'clock in the afternoon.

"Some young people find cabaret as a way of expressing their inner torment - almost like a cathartic experience. That's why they are on at three o'clock in the afternoon.



LORNA AND ACTRESS HELEN MIRREN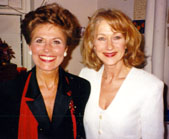 "Then for your tasteful cabarets, it's at select hours in the evening. There are more and more smaller rooms. It's a pity that some of the beautiful rooms, like Rainbow and Stars, have closed. I've got to get in to see Feinstein's, I understand it is quite beautiful," she said referring to Michael Feinstein's new cabaret room inside the Regency Hotel.

"I would say you need five variations of your act. There are certain acts that would not do well in large rooms. They are more intimate, where people are hanging on the words. They want to know the background facts - historical things about the song.

"Then there are rooms where you go straight for the jugular - you don't stop. Some places like the Algonquin and the Firebird in New York are more tempered room. It's intimate.

Selling record is tough. For the cabaret performer turning a profit is not an easy goal because the performer can be locked into a niche market with limited name recognition. Artists such as Betty Buckley, Michael Feinstein and opera diva turned cabaret performed Marilyn Horne are helping turn cabaret into a growth industry.



LORNA AND MARILYN HORNE who has retired from opera to pursue a cabaret career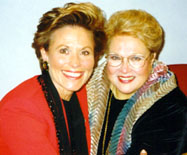 Most cabaret stars have CD's. Just because the product is produced doesn't mean it will sell. The product must be good and positive reviews can be the cash register turnkey.

Lorna's The Girl I Knew won kudos. "I am delighted to say that it was named CD of the year on both sides of the pond," she reported. Released in 1998 the CD was named one of the Top 10 CD Picks of the Year by InTheatre magazine and The London Evening Standard and the BBC Music Magazine gave her rave reviews.

As is the custom with cabaret acts, Lorna produced the CD herself. What the favorable reviews accomplished were muscle to obtain a record distributor - something that is crucial.

"With getting the rave reviews on it that I did - that helped tremendously. That's what worked. That's how I got a distribution deal."



Lorna Dallas with composers Betty Comden and Adolph Green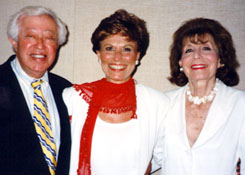 As has become the norm Lorna's CD is sold at the venues where she performs.

In 1998 Lorna made her Carnegie Hall debut with Skitch Henderson and the N.Y. Pops. "I do concerts with Skitch and the orchestra. And, yes, the CD's are sold there.

Lorna has only praise for Henderson. "Skitch is such a pussycat. I adore him. He plays the most marvelous piano. We do a totally different program. We do good quality, musical theater songs - the golden decade of musical theater. We also have a great banter on stage." Once when Henderson forgot where he had put his baton Lorna picked it up and the two engaged in a dueling match. "We laugh and have a good time."

Along the way Lorna engaged in her own love story. This past Valentine's Day she celebrated her wedding anniversary to Garry Brown - still as much in love as when they recited their vows 18 years ago in the sunken living room of her sister's Jacksonville, Florida home.

Brown, a former trumpet player in John Dankworth's band, turned successful booking agent, booked all acts for the Cunard Shipping Line, including the QEII.



LORNA AND HUSBAND GARRY BROWN
A widower for eight years with two small children, Brown had seen Lorna perform and pursuit began. Although Lorna didn't do cruise line shows, Brown hounded Lorna's agent until they agreed upon a five day section of a world cruise. "I said I could take that. I wanted to speak to him because I'd never done the QEII and I wanted to know the passenger profile, to make sure the act was correct." After speaking with Brown on the phone Lorna thought - "Oh, what an old fuddy duddy."

They arranged to meet at his office, which was a separate section of his home. "When he opened the door my heart skipped a heat,"confessed Lorna. "But, right behind me, coming home from boarding school was his daughter. So I thought he's a married man - do not think twice about him!"

"We chatted and I thought - He's not such an old fuddy duddy after all."

By accident or design Lorna found herself seated next to him on the plane to Athens, and when they arrived in Istanbul he escorted her on the QEII. "In the dining room, I find I'm at a table for two with him and I'm being wooed and pursued. But, of course, in the flight out of Istanbul, I find out that is he is a widower and he finds out that I am not married to an American doctor as he had thought. And the ball game changed."

They have now returned to America and "bitten the bullet and bought an apartment. We're particularly fond of this building. Right now, I'm overlooking Central Park, the museum and the Hayden Planetarium. At night, it glows. It's like a fairyland. I can see the lake in Central Park. It's a joy. Of course, we had no furniture - nothing. So, we had to start from scratch. We've had great fun. I am very excited about being back. It's great to be home."

SWEET CHARITY

KIM BASINGER'S UNDERWEAR

KIM BASINGER - panties and bra up for sale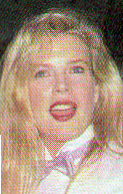 went up for grabs last Thursday at Spiedini's Restaurant in Las Vegas. The beautiful actress and her husband Alec Baldwin attended a benefit for PAWS, the Performing Animal Welfare Society, which cares for neglected animals.

Basinger's lacy white underwear and matching bra fetched $5,500. A manual typewriter used on the movie set of L.A. Confidential gaveled down at $7,500. Having dinner with Kim and Alec in New York and then joining them for a Knicks game brought in $25,000.

ANDREA McARDLE taking part in comedian/musician/writer Seth Rudetsky's Broadway Chatterbox series of song and discussion March 2 at Don't Tell Mama, NYC.

The $10 cover charge benefits Broadway Cares/Equity Fights Aids. (BC/EFA).


OTHER PEOPLE'S MONEY

THE WORLD OF COCA COLA has put a cap on the fizz. The 28,000 square foot inter active Las Vegas Strip attraction is closing down March 5, as part of the corporation's downsizing efforts.



JAZZ PIANO AT THE Y Bucky Pizzarelli, Dick Hyman, Derek Smith, Peter Appleyard, Sir Roland Hanna, Bill Crow, John Bunch, and Ron Traxler. March 4th, at The 92nd Street Y, NYC. Tickets are $30.

THE TORCH BEARERS The 1922 backstage comedy by George Kelly stars one fabulous cast: Claire Beckman, Judith Blazer, Ralph Cole, Jr., Joan Copeland, David Garrison, Albert Macklin, Susan Mansur, Don Mayo, Paul Mullins, Peter Picard and Tony winners Faith Prince and Marian Seldes. Directed by Dylan Baker. Set Design by Michael Vaughn Sims; costumes by Jonahan Bixby and Gregory A. Gale. Lighting Design-Mark Stanley: Sound Design - Robert Murphy. You only have through March 4 to see it. Greenwich House Theater, NYC.

ELEANOR: HER SECRET JOURNEY the one woman show written by Rhoda Lerman, starring Emmy winner Jean Stapleton, has been extended through March 12 at the Marines Theatre, San Francisco.

BLUE MAN GROUP has opened at the Luxor Hotel, Las Vegas. Tickets go for $55-$65.

NOTRE DAME DE PARIS is hunkering down at the Paris Hotel, Las Vegas. The production has been scaled back, performances reduced and officials proclaiming that they are in it for the long haul.

ANNIE singing about that hard knock life at Arnold Hall, at the Air Force Academy March 10-11 and then March 13-14 at the Morrison Center, Boise, Idaho.

RUSSIAN SEASONS DANCE COMPANY under the direction of Nicolai Androsov performing A Celebration of Word Dance, at the Brooklyn Center for the Performing Arts at Brooklyn College March 4.

EXHIBIT #9 by Tracey Wilson, directed by Lenora Pace and presented by The West End Theatre, NYC is a satirical look at stereotypes.


Pictured (left to right) H. Howard Heard, Magaly Colimon, Christopher Kirk Allen, LaDonna Mabry and Regge Allan Bruce, in Tracey Wilson's Exhibit #9 Photo By: Carol Rosegg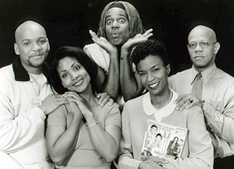 Exhibit #9 takes a ride through the sideshow that has become the over-achieving James family. Under the scrutiny of Senate Confirmation hearings for oldest son Baby Eddie, the cracks in this "perfect black family" begin to show.
Author Wilson received the Van Lier Fellowship from New York Theatre Workshop and director Lenora Page was an artist in residence with the New York Theatre workshop at Vassar and Dartmouth Colleges.

The cast includes Jeanine T. Abraham, Keith Adkins, Christopher Kirk Allen, Sarah Brockus, Regge Allan Bruce, Magaly Colimon, Jeff Croteau, Patricia R. Floyd, Howard Heart, Jamie Heinlein, Mike Hodge, Tracey A. Leigh, LaDonna Mabry, Karim Sekou, Michael Thibeault and L. Trey Wilson. Sets by Sebastien Grouard, costumes by Melissa Anne Blizzard, and lighting by Brendan Gray. Performances through March 18.

On March 16th there will be a post show discussion entitled The Effects of Stereotypes on Contemporary Black America," featuring the Honorable C. Virginia Fields, Manhattan Borough President.


WHO'S WHERE

ROBERT GOULET who calls Las Vegas home has canceled out of his February 28-March 11 engagement at Feinstein's at the Regency in NYC. Lucie Arnaz and Steve March Torme will continue.Torme is the son of the late Mel Torme. His aunt is Las Vegas Commissioner Myrna Williams. This is the young Torme's New York City cabaret debut.

MIKHAIL BARYSHINIKOV at the King Center, Broward, FL. Tickets are now on sale for the engagement which features Baryshinikov's White Oak Dance Project, pirouettes on stage May 23-24. Tickets are $35-50.

PAULA COLE The Roxy in Atlanta, GA. on March 4.

AUDRA MC DONALD kicks off her first concert tour at Palace Theatre, Columbus OH. March 4. The following night she's at the University of Michigan in Ann Arbor.

GEORGE JONES who just won his second-ever Grammy award for Country Male Vocal will hopefully show up for his performances March 3-4 at the Silver Legacy Resort, Reno, NV.

HOOTIE AND THE BLOWFISH at Caesars Tahoe, NV. Resort March 3-4

LORNA LUFT Star Plaza, Chicago. March 3.

DAVID SANDBORN The Center for the Performing Arts, Chicago.

BRITNEY SPEARS LFO, Bossos/Birmingham-Jefferson Convention Center, Birmingham, AL. March 9. Tickets $27.50-37.50 Same show, different city means whatever the traffic will bear. Tickets have gone on sale for her Aug. 4 performance at the MGM Grand in Las Vegas. $35 to $75.

AN EVENING WITH WILLIE NELSON AND FAMILY takes place Monday in Kingsbury Hall, Salt Lake City in celebration of the University of Utah's Sesquicentennial. The 73 year old performer then heads to Vegas for performances March 3-5 at the Orleans Hotel

FIONA APPLE Palace Theatre, Albany, NY. March 2. Tickets $25.- $35.

CARNEGIE HALL JAZZ BAND Sunday, Lied Center for the performing Arts, Lincoln, NE .


THIS AND THAT
ANNIE GET YOUR GUN won the Grammy Award for Best Musical Show Album. Produced by John McDaniel and Stephen Ferrera, the new Broadway cast recording of Annie Get Your Gun starring Bernadette Peters and Tom Wopat is on Angel Records. Speaking of Wopat. He's recording an album of standards - also for Angel Records - with Russ Titelman producing.

HEADS UP Crowning Glories: Two Centuries of Tiaras is a celebration of those headache giving-balance-challenging-back in vogue headgear.This marvelous collection of 75 includes Eugenie of France, a constellation of diamonds and pearls. Others are significant in the role of women who married up - as did hundreds of American heiresses who snagged foreign aristocrats at the turn of the last century. One "family fender" on display was worn by Adele Grant, Countess of Essex. One of Princess Grace's tiaras is also on display, as well as the famous Londonderry tiara: freighted with more than 1,100 diamonds, it reportedly slid off a marchioness's head into a toilet at Westminster Abbey in 1902, where it remained stuck until a handyman came to the rescue. March 1 through June 25. The Torf Gallery, Museum of Fine Art, Boston.



Mention BROADWAY TO VEGAS for Special Consideration
Call (800) 942-9027









Next Column: March 5, 2000
Copyright: February 27, 2000. All Rights Reserved. Reviews, Interviews, Commentary, Photographs or Graphics from any Broadway To Vegas (TM) columns may not be published, broadcast, rewritten, utilized as leads, or used in any manner without permission, compensation and/or credit.
Link to Main Page
---
Laura Deni


CLICK HERE FOR COMMENT SECTION