! >
Broadway To Vegas
  
  REVIEWS INTERVIEWS COMMENTARY NEWS

| | |
| --- | --- |
| | |
METROPOLITAN OPERA TAKES GAMBLE ON SIN CITY OPERA - - SIMON ANNAND: THE HALF - - SHOW UP IN PAJAMAS AND RECEIVE A FREE GIFT - - OSCAR GOODIE BAG CONTENTS RIVAL INTEREST IN OSCAR CONTENDERS - - ARMED FORCES RADIO TELEVISION CELEBRATES 70 YEARS - - NATIONAL THEATRE OF GREECE HIRES AMERICAN ROBERT WILSON TO UPDATE CLASSIC - - PRINCES WILLIAM AND HARRY WANT AMERICAN ENTERTAINMENT - - TYRA BANKS EARNS HARVARD DEGREE - - DONATE . . . Scroll Down


OSCAR GOODIE BAG CONTENTS RIVAL INTEREST IN OSCAR CONTENDERS
Angelina Jolie, who never seems to look anything except beautiful, spent Friday going through a rehearsal for the Oscar telecast. Photo by Gage Skidmore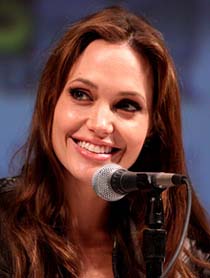 Who wore what to the ceremony always tops the list of Oscar memories.

Ask a viewer who won the Oscar for special effects and people will answer with a blank stare. Ask about who wore what and common viewers still recall that out of place ostrich/swan neck tutu worn by one hopeful. Or, how Oscar winner Angelina Jolie looked glamorous even with blood around her neck, but looks even better with Brad Pitt on her arm. Although there were two stand-ins for her, the beautiful Jolie spent Friday rehearsing for this year's Oscar telecast.

For non winning celebrities attending award events, what matters most - the gift rooms where those who can afford to buy it, get to take it for free - sort of.

Celebrities who accept the stuff must pay tax on the swag. It's considered earned income - the same as the prizes people win on game shows. That decision was a hard and heavy 2006 crackdown by US authorities. Considering the value of the merchandise, Uncle Sam wanting his share should have been expected.

Win or lose, all nominees receive goodies worth $75,000. Hollywood insiders don't get that kind of a brass ring, but VIPs are invited to visit one of the numerous, secret gift suites located in various locations.

Those invited to grab at will don't hesitate.

Pitching and begging to get those goodies donated is a high stress job, with spies constantly on the look-out for items whose companies will be "invited" to ante up.

The celebrity room gift grab replaced the more sedate goodie bag in which the contents were pre-selected and placed in the bags. Many recipients had no use for the items which wound up being given to friends and employees.

What began as a nice extra has turned into a multi-million dollar industry.

There are several companies devoted to creating elaborate goodie bags and gift rooms. Public relations agencies who rep charity or award events have employees whose job is to contact and convince companies that they should donate.

Bait dangled in front of potential gift suppliers include the opportunity to meet the celebrities and the possibility that one of them will be photographed with your product. A celebrity endorsement is catching lightening in a bottle. Celebrities later returning as paying customers has happened.

Another carrot in front of potential gift givers is the suggestion that a celebrity will tweet about your product. No statistics on the gift giving companies who actually check to see how many followers a potential gift grabber has and of that number, how many translate into new customers.

The Academy Awards ceremony will be the culmination - or let down - of the big swag week. The gimme, gimme, gimme crowd has been digging in like the old time Macy's basement sale ladies.



Uggie, the 9-year-old Jack Russell terrier, who co-stars opposite Jean Dujardin in The Artist, had a gift grab scheduling conflict.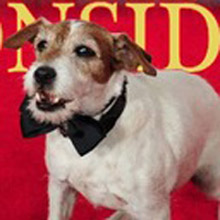 There has only been one celebrity refusal - and that was because of a scheduling conflict.

Soooo Hollywood was the event conflict that resulted in Uggie, the Jack Russell terrier with an attitude from the Oscar nominated film The Artist, who turned down an invitation to Debbie Durkin's annual Eco-Oscars Music, Celebrity and Pet Style Lounge gift grab held at the Pickford Mansion in Hancock Park, where parts of The Artist were shot.

Had he been available to tail wag it over, he would have had his picture taken in the Red Carpet Pets area, designed a dog bowl for charity, munched on some doggie treats and pawed away with a luxurious Minky Couture blanket.

Seems Uggie was too busy taping Oscar predictions for the late-night talker Jimmy Kimmel Live! and had to decline.

Assorted charity events have also teamed with the Academy Awards event. Last night at the Avalon Theatre in Hollywood, Larry King was honored for his work in saving lives with The Larry King Cardiac Foundation. Attendees were requested to don "Red Tie / Red Dress - cocktail."

Guard A Heart, a non-profit foundation dedicated to raising awareness about heart disease prevention, also honored Dr. Louis Ignarro, co-recipient of the 1998 Nobel Prize in Physiology or Medicine for demonstrating the signaling properties of nitric oxide to improve cardiovascular health and prevent heart disease. His ground-breaking work - the basis for his 2005 best-selling book, NO More Heart Disease - established Dr. Ignarro as perhaps the world's leading authority on the nutritional approach to cardiac wellness.

VIP ticket holders got to go to the gift suites, where a lot of the swag items were enough to make you need a cardiologist.

Candy and desserts are a big favorite.



Oscar nominee Melissa McCarthy invited to everything.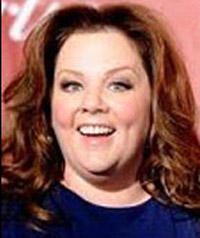 One of the more healthier options was Canadian Jasmine Marjanovic's cranberry condiments, known as Cranberries Naturally. She gave out jars of Cranberry Jalapeno Jelly and Cranberry Mustard at the Avalon Hollywood Hotel.

At the GBK Pre-Oscar Celebrity Gift Lounge at the W Hollywood Hotel, Oscar attendees received the California Caviar Company's customized caviar collection, a choice of four different caviars in a caviar cooler with blini and crème fraiche. Watch company Paccioni at GBK's lounge invited stars to design their own watch, valued at $6,000.

GBK anchor their efforts to charitable causes and this year the charities include: The Worldteam Foundation - Rick and Sue Clark started the Worldteam Foundation in 2006 to combat human trafficking, starting with Thailand and the United States; HollyRod Foundation - The HollyRod foundation is dedicated to providing compassionate cave to those living with autism and Parkinson's disease; Drawing for Hope - "Pushing the limits of art, compassion, and healing." Drawing Hope International uses visual art to join sexual assault survivors from every state in the US and 150 other countries into a healing community which supports survivors to connect with their own strength, see their beauty and embrace their freedom and lastly; The Sugar Ray Leonard Foundation - The mission is to raise funds for research and awareness towards a cure for Juvenile diabetes.

GBK's 2012 Academy Awards Lounge R.S.V.P.'s include nominees, presenters and guests such as Melissa McCarthy, Wendi McLendon-Covey, William Fichtner, Angela Bassett and Penelope Ann Miller.

Those stars might select Sweet Shoppe Candles which offered a 16oz Anise Biscotti Jar Candle, the aroma of sweet baked goodness or luxury cake pops with metallic jewel finishes tucked into exclusive one of a kind totes from Tickle Belly Desserts.

Making its debut as a celebrity gift this year is the coconut-based Pinoy VuQo Vodka from the Philippines. If too much of that is taste tested before the show begins, the participants could get off-script - which if you recall the usual dullness of the show - might not be a bad thing.

Stars like Ken Davitian of Borat and The Artist was reported to be "excited to try the Filipino drink."

"We're probably the most popular booth here," quipped Giselle Arroyo of VuQo. "They're surprised at how smooth it is. They love the hint of coconut taste."

Shawna Erback Studios, based in Canada, created the collection A Celebration of Film, which Shawna, who is also a concept artist for the DreamWorks Animation Fine Art studio, presented at the WOW! Creations VIP Gift Suite in Beverly Hills, on February 23, 2012.

A Celebration of Film includes four releases. Each piece recreates a story, such as Alice in Wonderland, from Shawna's point of view featuring her unique style. At the gifting suite, guests were invited to choose their favorite print as their gift.

While many companies donate swag worth thousands of dollars - from all expense paid trips, electronics, to a new mattress, spa treatments and eye surgery, many companies asked to donate - decline.

According to the South Delta Leader, the firm handling the Oscar's public relations contacts vendors asking for donations including Ladner resident and jewelry maker Amy Henwood. She received a "a last-minute invitation to be part of this year's pre-Oscar gift room."

According to the article, the pr firm "needed one more designer to round out this year's goodie bag group. They had seen and liked Henwood's sterling silver and gold products - much of it inspired by Ladner's natural surroundings like small twigs plucked from the Millennium Trail - on her website."

The request was for 200 pieces.

"I was freaking out," Henwood told the paper, adding it would have required a pretty hefty investment on short notice of around $5,000 for products and to fly down and stay in L.A. for the show.

Henwood, 29, who graduated from the Jewelry Art and Design School at Vancouver Community College last May, had to decline, but hopes she'll be able to participate next year. She'd love to mingle with the Celebs and introduce them to her jewelry line.

Not all of the products are over the top expensive.

Also offered up for celebrity fingers to grab; thinkThin nutrition bars with a special golden ticket for a year's supply of thinkThin protein bars.

Mama Earth Rocks Publishing participated in the 2012 Academy Awards Celebrity Gift Suite on February 24-25. Gift bags included both e-book copies and printed copies of the Sweet Potato Mama Cookbook – The Savory Gluten Free Side of The World's Most Nutritious Food The Sweet Potato, Pink the Star – A Motivational Children's Book , Angels for Everyday Living – How to Communicate with Angels, Karma Buster - Heal Yourself and Create the Life You Were Meant to Live and samples of EcoChef Love's Sweet Potato Granola Bars.

Eco Nuts, an environmentally friendly cleaning product company accepted an invitation to "promote its award winning wares at the Boom Boom Room, which the number one gifting suite at the Academy Awards. The Boom Boom Room promotes only top quality products to celebrity A-list parents for their babies and toddlers," according to the company.

"Jayneoni Moore, a celebrity guru, and host of the Boom Boom Room, handpicked Eco Nuts for this Oscar gifting suite due to the company's hands on service, ecologically friendly products and popularity with celebrities and the Hollywood elite."

Among Eco Nuts' product line favorites are its certified organic and award winning branded soap nuts and its highly concentrated liquid laundry soap made from soapberry extract. Eco Nuts has also gained favoritism among environmentally considerate for its pioneer use of alternatives to regular plastic packaging. "We're a green company they can feel good about using," said Scott Shields, company president and an actor who has appeared in the Pirates of the Caribbean movies.

Celebrities who have brought home Eco Nuts include Evan Handler, Jeremy Sisto, Jillian Michaels, Gilles Marini, and Brooke Anderson.

These parents and other Eco Nuts fans are also thrilled at the idea of a detergent that does not leave any chemical residues so it is safe even if their children chew on their clothes, and also will not aggravate their sensitive skin. "We're one of the top growing baby and cloth diaper detergents on the market today," said Mona Weiss, an actress and co-owner of Eco Nuts, "We are excited about how well Eco Nuts have been embraced by both regular moms and celebrities alike."



Tom Hanks and wife Rita Wilson at the BAFTA Awards. Hanks quipped that the Oscars is the largest event where people willingly put on shoes that hurt. He might be interested in the free foot cream.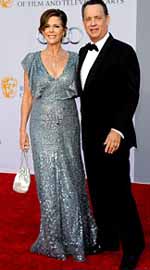 According to the company's release: "In the past, some of the celebrity moms that have visited and love the Boom Boom Room offerings include Halle Barry, Heidi Klum, Nancy Odell, Tori Spelling, Denise Richards, Melissa Joan Hart, Holly Robinson Peete, Brooke Burke, Danica McKellar and Jessica Alba."

Tom Hanks quipped that the Oscars is the largest event where people willingly put on shoes that hurt.

His sore tootsies may find relief in Topical BioMedics' line of Topricin pain relief products which was selected by Secret Room Events of Santa Monica, CA for the 2012 Red Carpet Celebrity Style Lounge Event which was held February 22 at the L'Ermitage Hotel in Beverly Hills. This exclusive event is a place where nominees, celebrities, press and media got "red carpet ready."

Translated: free stuff.

Topical BioMedics provided Topricin Pain Relief and Healing Cream, Topricin Foot Therapy Cream, and Topricin Junior for the style lounge goodie bags. Other gifts in the room included designer jewelry, cosmetics, apparel and accessories.

Lou Paradise, Topical BioMedics' president and chief of research says, "We are honored to have been selected to be among the wonderful gifts at this glamorous red carpet event. Our west coast team is looking forward to meeting and greeting the Academy Award nominees and presenters."

All Topricin products are formulated with approved medicines as found in the HPUS (Homeopathic Pharmacopoeia of the United States) and are in compliance with FDA rules for homeopathic over-the-counter medicines. The products contain: no parabens, petroleum or harsh chemicals, are odorless, greaseless and non-irritating, and produce no known side effects, "making them ideal and safe for the entire family."





Broadway To Vegas is supported through advertising and donations. Priority consideration is given to interview suggestions, news, press releases, etc from paid supporters. However, no paid supporters control, alter, edit, or in any way manipulate the content of this site. Your donation is appreciated. We accept PAYPAL. Thank you for your interest.


ART AND ABOUT


SIMON ANNAND: THE HALF "Whatever theatre actors do during the day, each evening they go on stage to give a performance as "somebody else".

"The dressing room is a physical space that allows for concentration and privacy so the psychological negotiation between the actor and this fictional character can take place.

"When 'The Half' is called over the loudspeaker backstage, it is the start of a 35 minute countdown to facing the audience and there is no escape," according to Simon Annand.

It is rare to see actors at this point in their work.

Over 25-years Simon Anannd has been given unprecedented access to photograph this in-between world that the audience never sees.

Generation Gallery is staging a major exhibition from his celebrated book The Half, as well as a series of new and unseen images of some of the world's most illustrious stage actors.

Annand has shot everything from Chekhov to Panto. Portraying each actor as a worker, his subtle, engaging and intimate portraits allow the viewer to see the physical and mental preparation that is required as the actor prepares for the performance.

"Simon Annand is one of the most amazing photographers I have had the pleasure of working with in the theatre…He is an individualist with an eye for the unusual. The results speak for themselves." Judi Dench

Annand's "eloquent photographic style reveals the private time of some of the worlds best loved entertainers including Anthony Hopkins, Cate Blanchett, Daniel Day Lewis, Judi Dench, John Gielgud, Vanessa Redgrave, Jim Broadbent, Jeremy Irons, Glenda Jackson, Jude Law, Charlotte Rampling, Michael Gambon, Maggie Smith, Martin Sheen, Felicity Kendal, Kevin Spacey and Ralph Fiennes."

"In an intelligent response to his surroundings Annand shows the conflicting emotions of anticipation, humor, happiness, fear and nerves once The Half has been announced over the tannoy and the countdown to curtain up begins. In a direct contrast to candid celebrity images in the media which are often predatory, these portraits are both vulnerable and emotional; each subject demonstrates a clear sense of purpose and their duty to put on a good show."

Amanda Holden in Shrek The Musical, Kelly Brook in Calendar Girls and Danielle Hope as Dorothy. Simon Annand's subjects revel in the success of musical theatre and his photographs have captured this thriving industry as never before. Mark Rylance, playing Johnny "Rooster" Byron in Jerusalem at the Apollo Theatre, is photographed with his chest puffed out in his dressing room, which is plastered with pictures of roosters. Benedict Cumberbatch is deep in thought 15 minutes before the curtain goes up on Frankenstein at the National Theatre. Dominic West looks at his hands hoping they are dirty enough for his Donmar debut playing Segismundo in Life Is a Dream.

Two features of the theatre landscape remain constant throughout Annand's established career; the theatre productions themselves and the dressing rooms that act as his studio. Annand has seen these four walls become the ephemeral space each actor will call home. A collection of Annard's still-life dressing room photographs will also accompany the portraits within the exhibition. During 30 years in the theatre Annand has worked with the leading companies including: The National Theatre, The Royal Shakespeare Company, The Royal Court, The Old Vic Glyndebourne Opera, Royal Court, Moscow Arts Theatre, and the Comedie Francaise.

Open to the public through August 4, 2012 at Idea Generationa Gallery in London.

STORIES THE CITY TELL ITSELF: THE VIDEO ART AND PHOTOGRAPHY OF NEIL GOLDBERG

Grid of stills from 19 Rainstorms, 1998-2003 19 Channel Video Installation Courtesy of Neil Goldberg/Museum of the City of new York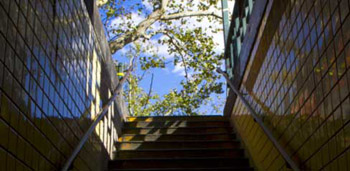 is the first-ever exhibition of contemporary video art at the Museum of the City of New York.

The exhibition presents nine video artworks and three photographic projects that capture the unexpected power and resonance of everyday moments in New York City.

Goldberg stitches together images of people emerging from subway stations in Surfacing (2010-2011) and choosing what to eat in Salad Bar (2006), while Ten Minutes with X02180-A (2006) focuses on a single lilac bush in the Brooklyn Botanical Garden and the way passers-by interact with it.

Photographic projects include Missing the Train (2002-2006), which captures a common disappointment in images that evoke oil paintings, Truck Drivers Elbows (2005), photographed while the artist was stopped at red lights on his bicycle, and Subway Trapezoids (2012), which celebrates the trapezoidal piece of sky framed at the top of the subway steps.

Goldberg's videos and photographs direct the viewer's attention to activities that are usually experienced only fleetingly. Taken together, they produce a sweeping, dynamic, and generous portrait of the city and its people.

March 2 through May 28 at the Museum of the City of New York.



METROPOLITAN OPERA TAKES GAMBLE ON SIN CITY OPERA
Tony Award winner Michael Mayer moves Rigoletto from Italy to Las Vegas
The venerable New York Metropolitan Opera is placing a heavy bet they'll win by moving Verdi's Rigoletto, which he set in 16th century Italy, to 1960's Sin City.

Vegas during the mob run era and Rat Pack heyday.

Peter Gelb, general manage of the Metropolitan Opera explained the gamble this way:

"I'm not a fan of arbitrary updates, but with its theme of misogyny, there's a logic to it."

In charge of rolling the dice is Tony Award winner Michael Mayer who helmed Spring Awakening, for The Great White Way and Smash for the small screen. This is not only his Vegas vision but one in which he'll be making his Met debut, which is slated to debut January 28, 2013.

Conducted by Michele Mariotti, Mayer's approach "transports the story from 16th-century Italy to Las Vegas in 1960, with a cast led by Zeljko Lucic in the title role, Diana Damrau as his daughter, Gilda, Piotr Beczala as the Duke of Mantua, Stefan Kocan as the assassin Sparafucile, and Oksana Volkova in her Met debut as Sparafucile's seductive sister, Maddalena.

"I've tried to imagine a recent world that captures the decadence of the Duke's palace, where the participants are in pursuit of power, money, and beauty," Mayer says.

"Las Vegas in the '60s is such a world, where a kind of prankster energy could go bad - it's the epitome of the kinds of events that happen in Rigoletto."

A second cast, conducted by Marco Armiliato, is led by Vittorio Grigolo, who made a heralded Met debut in September 2010 as Rodolfo in La Bohème, as the Duke of Mantua. George Gagnidze sings Rigoletto, Lisette Oropesa sings Gilda, Nancy Fabiola Herrera voices Maddalena, and Enrico Giuseppe Iori makes his Met debut as Sparafucile.

No word as to whether set designer Christine Jones will transform the stage to resemble the old Sands Hotel, which was the stomping ground for Frank Sinatra and his cronies, Dean Martin and Sammy Davis, Jr. Costume designer Susan Hilferty will have to recreate the Rat Pack days when women dressed up at night and guys wore tuxedos.

Others visualizing the Las Vegas look are lighting designer Kevin Adams and choreographer Steven Hoggett.


SWEET CHARITY


GIRLS NIGHT OUT is an interesting concept for a fundraiser to benefit The Bay Street Theatre in Sag Harbor, NY.

On March 1 the gals can "enjoy a night of style complete with a fashion show by Eileen Fisher, Gretchen Scott Designs, Lilly Pulitzer and Adornments. Plus, hot looks for men from Flying Point Surf Shop complete with local male models!

"Pampering from Xavier Salon includes a limited number of mini-manicures, shoulder massages and hair consultation. For added beauty, White's Pharmacy will provide make-up consulting with their latest hot products.

"While sipping your "cosmo" (or drink of your choice), Sen, Phao and Muse will provide "lite bites!" For the sweet tooth in you the Water Mill Cupcake will be there with their tempting treats.

"If you need more relaxation, The Juicy Nam will be providing a demonstration for healthy living and weight loss. Plus, celebrity Psychic Christiana McMahon will be giving free readings! PLUS, fun raffles, including a gift-certificate from Paddle Diva, will be held throughout the evening"

$25 at the door with all proceeds going to help support The Bay Street Theatre.


THE NATIONAL THEATRE OF GREECE HIRES AMERICAN ROBERT WILSON TO UPDATE CLASSIC
Robert Wilson © Lesley Leslie-Spinks. The Design Museum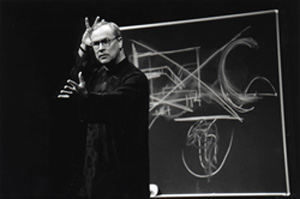 The National Theatre of Greece has commissioned the American playwright Robert Wilson to create a "unique production" of the Greek classic Odyssey, to be presented at the Main Stage of the National Theatre.

Born in Texas, American Robert Wilson is a noted avant-garde stage director and playwright who has been called "[America]'s — or even the world's — foremost vanguard 'theater artist'".

Wilson is known for pushing the boundaries of theatre. His works are noted for their austere style, very slow movement, and often extreme scale in space or in time. He's famous for The Civil Wars and his collaborations with Philip Glass on Einstein on the Beach, and with numerous other artists, including Heiner Muller, William S. Burroughs, Allen Ginsberg, Lou Reed, Tom Waits, David Byrne, Laurie Anderson, Gavin Bryars, Rufus Wainwright and Marina Abramovic.

The Greece Theatre promises that Wilson will "deal with the narration of the Homeric epos illustrating it with an unparalleled way."

Wilson has updated the classic into the "here and now."

Technical rehearsals with an ensemble of Greek actors takes place November 2-3 in Athens "in the presence of Robert Wilson and all his collaborators." The opening night will be October 26, 2012. Odyssey is slated to run in Athens until March 2013 and afterwards "will be available for touring abroad."

In addition to his work for the stage, Wilson creates sculpture, drawings, and furniture designs. He won the Golden Lion at the 1993 Venice Biennale for a sculptural installation. In 1996, Wilson was the recipient of The Dorothy and Lillian Gish Prize. He was the subject of a 2006 documentary by Katharina Otto-Bernstein, Absolute Wilson. In 2010 he was named the recipient of the Jerome Robbins Prize. The $100,000 prize from the Jerome Robbins Foundation, as well as a bronze statue, was awarded at a ceremony in December, 2010.

In March, 2010 Wilson was in residence in the University of Iowa Department of Theatre Arts conducting a workshop for a new play, Light Leaves, written by UI Theatre Arts faculty member Dare Club. The workshop involved students from the Department's MFA program and was funded by the University of Iowa Arts and Humanities Initiative.

Wilson's interpretation of Bertolt Brecht and Kurt Weill's Threepenny Opera was staged at the Brooklyn Academy of Music in October 2011.

He is currently working on a new stage musical with composer and long-time collaborator tom Waits and playwright Martin McDonagh.

Wilson studied Business Administration at the University of Texas from 1959 to 1962. He moved to Brooklyn in 1963, receiving a BFA in architecture from the Pratt Institute in 1965. He also attended lectures by Sibyl Moholy-Nagy (widow of László Moholy-Nagy), studied painting with George McNeil, and studied architecture with Paolo Soleri in Arizona. When he isn't creating for the stage, he putters in his garden.

The National Theatre in Greece was founded in 1930 by the Minister of Education, George Papandreou. For many years it operated as a public entity. In 1994, the National Theatre became a non-profit organization known in English as the Greek National Theatre. Its purpose is, through theatre, to promote culture and preserve Greek cultural identity. The Greek National Theatre is run by its seven-member board and Artistic Director. The board consists of a president, vice-president and five governors, who are appointed by the Minister of Culture.


SIR ANDREW LLOYD WEBBER AND GARY BARLOW TEAM UP FOR QUEEN ELIZABETH
Sir Andrew Lloyd Webber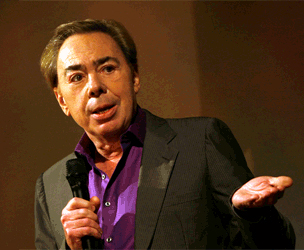 Andrew Lloyd Webber and Gary Barlow are penning a new song in honor of Queen Elizabeth's 60th anniversary Diamond Jubilee, which was first announced on London Radio 2's Chris Evans show and first reported in print by London paper The Telegraph.

To craft the number Barlow will embark on an epic journey around the Commonwealth to discover what the Queen means to ordinary people. The star's trip will feature in an hour-long documentary to be screened by BBC One.

The announcement stated that Barlow and Webber will incorporate different musical traditions into the song which will feature artists and contributors from the UK and Commonwealth. They could include international names and unknowns from remote villages.

Barlow's journey will see him travel to the Caribbean, Africa, the Pacific Islands and Australasia. He said: "This is probably the biggest challenge I've ever taken on musically. I'm so excited and thrilled to be a part of it."

And Lloyd Webber - who is launching an ITV talent hunt for a star for his production Jesus Chris Superstar - said: "It is a huge honor to be involved in this historic occasion and I am looking forward very much to working with Gary."

This is the latest facet of Barlow's complex involvement with the Diamond Jubilee.



Gary Barlow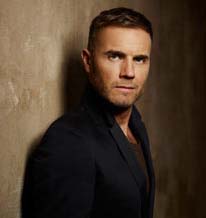 At the beginning of May 2010, it was announced that Her Majesty Queen Elizabeth II had asked Gary Barlow to organize her 85th birthday and her Diamond Jubilee celebrations in 2012.

This was confirmed on February 2012 with Barlow being named as the lead organizer and producer of a concert that will take place outside of Buckingham Palace and featuring globally recognized superstar artists.

Barlow said: "The Diamond Jubilee concert will celebrate the 60 years of The Queen's reign with an amazing lineup of world-class artists coming together to play at one of the biggest and most exciting live music shows in recent years."

In addition to Webber and Barlow crafting a musical tribute which emphasizes the feelings of her subjects, the Belfast Telegram reported that Prince William wants "a host of American music stars to perform" and requested that Barlow "travel to the US," a request Barlow confirmed to the British newspaper The Mirror.

"I've got to go to America because some of the requests I have are from the princes, so they're acts I've got to follow up on."

Reportedly both William and Harry are fans of Kanye West and P. Diddy who thrilled the royal brothers with their performances at the Concert for Diana in 2007.


ANDREW LLOYD WEBBER FOUNDATION UNHEARD VOICES TO FOCUS ON CHINA AND SOUTH EAST ASIA


The Andrew Lloyd Webber Foundation announce that they will donate $237,000 over two years to help fund the Royal Court Theatre's Studio program - a two-prong program. The Studio Program aims to seek out, nurture and support emerging playwrights, and develop plays from minority communities who are underrepresented in the theatre, enabling them to develop innovative, original and exciting new plays.

The Unheard Voices project, aimed at developing playwriting groups and workshops to support and engage new writers and increase the diversity and representation of stories on our stage, bringing new experiences to our audiences. In 2012, Unheard Voices will focus on writers from China and South East Asia. It was stressed that the Unheard Voices project, "is an important priority for the Andrew Lloyd Webber Foundation."

Playwrights who began their careers at the Studio include Bola Agbaje, Alia Bano, Rachel De-lahay, Lucy Prebble, DC Moore, Anya Reiss, Polly Stenham, Simon Stephens, Laura Wade and Michael Wynne.

Madeleine Lloyd Webber, Trustee for the Foundation, stated: "The work the Royal Court undertakes with young writers, many of whom are from minority communities, is of great value. Without the Royal Court's support in finding new writers, many of the most impacting and internationally recognized plays would not exist. I'm therefore incredibly pleased that we are providing funding to help sustain the Royal Court's Studio which makes a significant contribution to new writers."

Artistic Director of the Royal Court, Dominic Cooke added: "The Studio is absolutely integral to the Royal Court and the work that has come out of it in recent years has been extraordinary. Writing can be a solitary profession, so the value of the Studio groups in which writers, their characters and their ideas, can grow is hugely important. I'm delighted that the Andrew Lloyd Webber Foundation shares our commitment and their generous investment in the program will help a whole new generation of writers flourish."


ARMED FORCES RADIO TELEVISION CELEBRATES 70 YEARS


The Armed/American Forces Radio and Television Service (AFRTS) is celebrating 70 years of service to American service people around the world. Wolfman Jack, Gene Price, John Doremus, Jim Ameche, Pat Sajak, Charlie Tuna, Jim Gough and Al Lohman are just a few who served as radio/TV hosts for G.I.'s during those 70 years.

On March 1, 1942 Command Performance premiered from New York and starred Eddie Cantor. Other stars on the first program were Danny Kaye and Dinah Shore. The show reflected the wishes of American Soldiers, hence, a performance "on command." By the end of the year responsibility for the show was given to AFRS from the Radio Division of the Bureau of Public Relations.

On Mary 29 of that year The War Department established the Armed Forces Radio Service (AFRS) in Hollywood, California and commissioned prominent radio advertising executive Tom Lewis as its first commander.

By August the first AFRS-originated program Mail Call was produced by True Boardman and written by Jerome Lawrence and Robert E. Lee. Following World War II, Lawrence and Lee wrote, produced and directed scripts for radio shows, including The Frank Sinatra Show and The Railroad Hour. In 1955, when the advent of television reduced the amount of radio-show programming, they produced their first stage production, Inherit the Wind.

A television service was first introduced in 1954 with a "pilot" station at Limestone AFB, Maine. In 1954, the television mission of AFRS was officially recognized and AFRS (Armed Forces Radio Service) became AFRTS (Armed Forces Radio and Television Service).


SPREADING THE WORD


SHOW UP IN PAJAMAS AND RECEIVE A FREE GIFT is the clever promotion being used by the Cabrillo Music Theatre in presenting their all-new production of the fairy tale musical, Once Upon a Mattress.

With music by Mary Rodgers, lyrics by Marshall Barer, and a book by Jay Thompson, Dean Fuller, and Marshall Barer, Once Upon a Mattress tells the story of Winnifred, the girl who might be a princess, and who swims the moat in order to marry Prince Dauntless the Drab.

With Choreography by Cheryl Baxter and musical direction by Daniel Thomas, the production stars Bets Malone as Princess Winnifred, Scott Reardon as Prince Dauntless, Tracy Lore as Queen Aggravain, and Danny Gurwin as the Minstrel.

Kavli Theatre premiere in Thousand Oaks, CA opens on Friday, April 20, 2012. In keeping with the theme of the show, any audience member showing up in pajamas will receive a free gift.

CEE LO GREEN the 5 time Grammy winner and hip hop star, who is reported as "devoted to the Liberace and Elton John school of showmanship" has signed a long term residency performance contract with Planet Hollywood in Las Vegas.

Reported to have earned $20m last year, the fact that he would begin a long term Vegas residency was first reported December 25, 2011 by The New York Times. They printed: "Cee Lo will follow Celine Dion and Prince to Las Vegas with "Loberace," a theatrical show to be presented at Planet Hollywood." Last week the official announcement took place. The engagement will begin in the fall.

SMILE: A ROCK MUSICAL a staged reading of a new musical performed with a live rock band Thursday, March 8 followed by a reception at The Players Club, NYC.

Smile: A Rock Musical is a coming of age story about a new generation of southerners dealing with the methamphetamine epidemic, the War in Iraq, and other new challenges in the rural South. Nationally acclaimed songwriter JT Harding created the score which includes his country hits Smile by Uncle Kracker, Somewhere With You by Kenny Chesney, as well as his pop hits Party Like A Rock Star and Love in America by JTX.

Book is by Peter Zinn who wrote the critically acclaimed extended run, off-Broadway production, Rumspringa. Musical direction is by Ricardo Rust. Musical arrangements are by Tim Hanson, Jeanne E. Travis, and Ricardo Rust. The cast includes Michael Castillejos, Katy Frame, Joe Forbrich, Ian Campbell Dunn, Lowell Byers, Ricardo Rust, Aisha Renee, and Matthew Riordan.

Seating is limited. Tickets are free with advanced reservations only.

TRANSFORMED BY ART authors Andre Dubus III (Townie), Marianne Leone (Knowing Jessie), and Richard Russo (Empire Falls, Nobody's Fool), recount how writing changed their lives. March 4, 2012 at the JFK Presidential Library and Museum in Boston.

SIX DEGREES OF MUSICAL SEPARATION as with so many tunes - listening to one can spark thoughts of another. Any time I hear Memphis Lives In Me, from Memphis, the 2010 Tony Award winning musical, I Still Call Australia Home starts running through my mind. That show stopping tune, written by Peter Allen in 1980, is from The Boy From Oz, the 2004 Tony Award winning musical which starred Hugh Jackman.


OTHER PEOPLE'S MONEY


RED BREAKS BOX OFFICE RECORD John Logan's Tony Award-winning drama Red, starring Edward Gero and Patrick Andrews, is the highest-grossing non-musical in Arena Stage's 61-year history. Red continues through March 11 at Arena Stage in Washington, DC.






TYRA BANKS for graduating from Harvard's Executive Education Program. The model and talk show host received her diploma from Harvard University's Executive Education Owner/President Manager Program on February 17. Banks appeared at the ceremony wearing a smart, black dress - although the diploma is the type of accessory that compliments any ensemble.

Those enrolled in the intensive and difficult program attended one three-week session, at a fee of $33,000 a session.

Although Banks didn't earn a master's or doctoral degree from Harvard, she is entitled to Harvard alumnus status, according to the university's website. The Owner/President Manager Program is designed for "CEOs, COOs, presidents, and managing directors of companies with annual sales of at least $5 million."

The next program, a six-week session, takes place April 2–May 24, 2012 on the Harvard Business School Campus and costs $66,000. The program fee covers tuition, books, case materials, accommodations, and most meals.

FREUD'S LAST SESSION celebrated its 600th New York performance at New World Stages in New York City on Monday, February 20, 2012.

Additional productions of Mark St. Germain's hit play are set to open into 2013 in major markets across the nation and around the world, including London, Madrid, Tokyo, Rio de Janeiro, Los Angeles, Mexico City, Seattle, Indianapolis, and Pittsburgh.



THE LADY FROM DUBUQUE

Actors Laila Robins (Jo) & Jane Alexander (Elizabeth) at firsr rehearsal. Photo by Gregory Costanzo.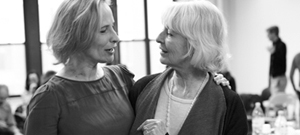 a seldom seen revival of the 1980 play by Edward Albee.

Directed by David Esbjornson.

The cast features Tony Award winner Jane Alexander, Catherine Curtin, Michael Hayden, Peter Francis James, Tricia Paoluccio, Laila Robins, Thomas Jay Ryan, and C.J. Wilson.

At a late night party, Sam and Jo entertain their friends with a round of Twenty Questions and another round of drinks. When an unexpected guest and her mysterious companion arrive, the question "Who are you?" gains a whole new and desperate meaning.

The design team includes John Arnone (scenic design), Elizabeth Hope Clancy (costume design), David Lander (lighting design), John Gromada (sound design) and Rick Sordelet (fight direction). The production stage manager is David H. Lurie and the stage manager is Andrew C. Gottlieb.

Presented by Signature Theatre Company, in previews, with the official opening set for March 5, at The End Stage Theatre at the Pershing Square Signature Center, NYC.

THE YEATS GAME written by John J. Ronan. Kathy Richter directs a cast of four including Toby Wherry, Susan Stout, Jennifer Silverstein and Lucius Wall.

The Yeats Game is billed as "a farce about middle-age choices and their ridiculous consequences. At a funeral, as two frisky couples contemplate a friend's fatal, love-nest heart attack, they flash back to their own recent snowed-in weekend at a mountain cabin. There, a board game designed for age-hating Boomers leads to tangled romance as the old friends explore love, lust, marriage and mischief. Just as guilt prompts confession, and all things point to reform, maturity and reluctant virtue, the play's close tells us that virtue is a weak motivator, immaturity has its advantages - and that the corpse is perhaps not so dead."

"A comical, brainy look at the pre-geezer years, The Yeats Game was inspired by the poet's famous line: 'Only two topics can be of the least interest to a serious and studious mood - sex and the dead.'"

Sound Designer:Timothy Dahl; Production Stage Manager: Keri Taylor; Assistant Stage Manager: Kristin Dwyer.

Performances will be held at The Producers' Club, NYC Wednesday, February 29 to Sunday, March 25, 2012.

THE SUMMER HOUSE a comedy thriller devised by Will Adamsdale, Neil Haigh, Matthew Steer and John Wright.

Directed by John Wright.

Three not-so-alpha-males are AWOL in Iceland. Then the Vikings arrive. Mountains, myths and middle class angst, in a new play about friendship and modern masculinity. And the weather.

Design by Michael Vale. Lighting by Ian Scott. Music & Sound by Chris Branch.

February 28-March 24, 2012 at The Gate in London.

THE LEISURE SOCIETY a comedy by Francois Archambault.

Directed by Harry Burton.

Starring international model Agyness Deyn who is making her acting and stage debut. Alongside Deyn, the show will also star Ed Stoppard and Melanie Gray.

The play centers on a self-obsessed 'yuppie' couple who find their lives spiraling out of control when they invite a fast-living friend and his promiscuous young lover (played by Deyn) for dinner.

"Dinner nosedives spectacularly into a drunken swamp of debauchery. Ever secretly slapped your best friend's infant? Or actually had that threesome you've always longed for? Ever wondered what would happen if you gave your pain-in-the-ass conscience the night off? In an age where getting everything can mean having nothing."

Performances begin February 28 at Trafalgar Studios 2 in London.

HIGH by Matthew Lombardo.

Starring two-time Golden Globe winner, Academy Award and Tony Kathleen Turner.

When Sister Jamison Connolly (Turner) agrees to sponsor a 19-year-old drug user in an effort to help him combat his addiction, her own faith is ultimately tested. High explores the universal themes of truth, forgiveness, redemption and human fallibility.

The production This performance contains adult content and full male nudity.

February 29 - March 4, 2012 at the Parker Playhouse in Fort Lauderdale, FL.

AMAZING GRACE Music and Lyrics by Christopher Smith. Book by Arthur Giron & Christopher Smith. Choreographed by Benoit-Swan Pouffer.

Directed by Gabriel Barre.

A mounting of this epic new musical about the man who penned the song Amazing Grace has been announced by Goodspeed Musicals.

Storms. Slavery. Romance. Redemption.

Patrons are advised to; "Prepare to be swept away by this epic musical saga about John Newton, a rebellious slave trader, and the woman who never lost faith in him. While fighting the raging seas and his own despair, Newton's life is suddenly transformed - igniting a quest to end the scourge of slavery. Based on a true story of the man who penned the world's most recognizable song, it's a powerful musical you will never forget."

May 17-June 10, 2012 at The Norma Terris Theatre in Chester, MA.

THE PARIS LETTER by Jon Robin Baitz, the creator and producer of hit TV series Brothers and Sisters and the award-winning The Substance of Fire.

Directed by Stephen Colyer.

The Paris Letter starts with a bang, literally. A complex and lethal affair with a young male associate forces successful businessman, Sandy Sonnenberg to confront a lifetime of half-buried desires. Sandy's life is thrown into turmoil by the affair that threatens to destroy everything he has fought to build. From New York in the sixties to present day Paris, The Paris Letter traces attitudes to sexuality in a thrilling tale of trust, friendship and betrayal. A riveting play about honesty and identity, and the effects they have on love and ultimately oneself. Contains nudity.

Starring Caleb Alloway, Peter Cousens, Susie Lindeman, Nicholas Papademetriou and Damian Sommerlad.

Production Designer: Michael Hankin. Lighting Designer: Verity Hampton. Sound Designer: Nate Edmondson.

Produced in New York City in June 2005 by Roundabout Theatre Company Todd Haimes, Artistic Director.

Performances through March 25, 2012 at the Darlinghurst Theatre Company in Potts Point, Australia.

ALL NEW PEOPLE by Zach Braff who also stars in this, his London debut. Directed by Peter DuBois who is the Artistic Director of the Huntington Theater Company. The production also stars Eve Myles, Susannah Fielding and Paul Hilton.

Previously seen at Off-Broadway's Second Stage Theatre, the play is set in the dead of winter, where at his wealthy friends' luxury Long Beach Island apartment, Charlie (Braff) has hit rock bottom on his 35th birthday. Away from the rest of the world, this perfect escape is interrupted by a motley parade of misfits who show up and change his plans. A hired beauty (Felding), a fireman (Hilton), and an eccentric British real estate agent (Myles) desperately trying to stay in the country all suddenly find themselves tangled together in a beach house where the mood is anything but sunny, while Charlie just wishes they'd leave and let him get on with it.

All New People officially opens in London on February 28 at the Duke of York's Theatre for a run through April 28.

JANE AUSTEN UNSCRIPTED Presented by Impro Theatre. Directed by Dan O'Connor and Paul Rogan.

An Improvised Play in the Style of Jane Austen.

The cast of Impro Theatre writes and performs a never before seen, all new Jane Austen story right before your eyes. They have no idea what the story will be or who they will play. The whole show is based on an audience suggestion, and every show is totally unique and different.

The cast is a rotating ensemble including Impro Theatre company members Dan O'Connor, Paul Rogan, Kari Coleman, Lisa Fredrickson, Stephen Kearin, Brian Lohmann, Nick Massouh, Jo McGinley.

March 2-April 1, 2012 at The Carrie Hamilton Thratre at the Pasadena Playhouse in Pasadena, CA.

THE SEAGULL

Jules Willcox and Adrian LaTourelle in The Seagull. Photo by: Geoffrey Wade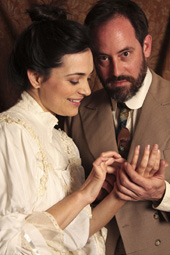 written by Anton Chekhov. Translated by Paul Schmidt.

Directed by Andrew J. Traister.

Antaeus, L.A.'s classical theater ensemble, presents a fully double-cast production of Chekhov's tragicomedy about life, love and the reckless pursuit of happiness.

Set on a country estate by a lake in 19th century Russia, this idyllic locale belies the turbulent passions of its inhabitants.

The famous actress, Irina Arkádina, returns home with her lover to find a household overflowing with creativity, fantasies of fame, jealousy and unrequited love.

Featuring Brian Abraham, John Achorn, Gigi Bermingham, Bill Brochtrup, Avery Clyde, Joe Delafield, Dawn Didawick, Bo Foxworth, Gregory Itzin, Antonio Jaramillo, Janice Kent, Adrian LaTourelle, Micheal McShane, Armin Shimerman, Kurtwood Smith, Bonnie Snyder, Joanna Strapp, James Sutorius, Reba Waters, Patrick Wenk-Wolff, Laura Wernette, Abby Wilde, and Jules Willcox.

In previews with the official opening on March 1 with performances through April 15.

The Antaeus Company @ The Deaf West Theatre in North Hollywood, CA.


WHO'S WHERE


LEON RUSSELL a 2011 Inductee into both the Rock and Roll Hall of Fame and the Songwriters Hall of Fame performs March 3 at the La Mirada Theatre for the Performing Arts in La Mirada, CA.

SHA NA NA brings their 40th Anniversary Show to La Mirada Theatre for the Performing Arts in La Mirada, CA on March 4.

WYONNA on stage Thursday, March 1, at the American Music Theatre in Lancaster, PA. On Friday she can be enjoyed at Kent State University Tuscarawas in New Philadelphia, OH.

WYNTON MARSALIS has a busy week. On Monday the show is at the Ferguson Center for the Arts in Newport News, VA. Tuesday fins him at Memorial Hall in Chapel Hill, NC. Thursday's performance is at the Trustees Theater in Savannah, GA. On Friday he's on stage at the Alys Stephens Center for the Performing Arts in Birmingham, AL. On Saturday the tour stops at the Symphony Hall in Atlanta and next Sunday, March 4, he's in the spotlight at the Florida Theatre in Jacksonville, FL.

JANE'S ADDICTION performs Monday, February 27, at Massey Hall in Toronto. On Wednesday the show is at the Auditorium in Rochester, NY. Friday the tour stops at the Palace Theatre in Albany, NY and on Saturday the show is at the State Theatre in Portland, ME.

LILY TOMLN brings her talents to the SFCC Theatre for the Performing Arts in Avon Park, FL on Wednesday, February 29. On Thursday she can be enjoyed at the Van Wezel Performing Arts Hall in Sarasota, FL. On Saturday she opens a two nighter at the Lyric Theatre in Stuart, FL.

MARVIN HAMLISCH in the spotlight on Tuesday, February 28, at the McCallum Theatre in Palm Desert, CA. On Friday he'll be performing his hits at the Napa Valley Opera House in Napa, CA.




FINAL OVATION


MIKE MELVOIN distinguished studio musician, jazz pianist and composer died February 22, 2012 at Providence St. Joseph Medical Center in Burbank,. He was 74. The cause of death was cancer.

He was the first active musician to serve as national president of the Recording Academy.

A first-call pianist and keyboardist since the early 1960s graduated from Dartmouth College in 1959 with a bachelor's degree in English, he moved to New York, focusing on a career as a professional musician. He relocated to Los Angeles in 1961. A sampling of his television scores included: The David Cassidy Story, Early Edition, Macgyver, Lou Grant, Baretta, Maclain's Law, The Last Survivors and Pete & Tillie.

He also did the original music for Microsoft Windows 2000 introduction.

Neil Portnow President/CEO of The Recording Academy issued the following statement:

"Mike Melvoin was a talented pianist, composer and performer who worked with hundreds of artists during his 50-year-plus career. He was a Grammy-nominated musician who collaborated with artists such as the Beach Boys, Quincy Jones, Bette Midler, and Barbra Streisand, among others. His musical talents extended into film and TV, including the scores of several movies and television specials. He was an active member of The Recording Academy and served as Chairman/President from 1983–1985, and was instrumental in the creation and growth of the MusiCares Foundation. The Academy is grateful for his contributions, his passion, and his unwavering belief in its missions. We have lost a dear friend, and our thoughts and condolences go out to his family and fans. "

In 2006 he was awarded the Musician's Musician award from the Friends Of Jazz at UCLA. Melvoin received the Lifetime Achievement Award from the LA Jazz Society in 2010.

Melvoin, who was separated from his wife, Sandra, is survived by twin daughters Wendy and Susannah, both singer-songwriters; four grandchildren; a brother; and Melvoin's companion, actress Theresa Russell. He was preceded in death by his son, Jonathan, a member of the group Smashing Pumpkins, who died in 1996 of a fatal heroin overdose.

THEODORE MANN Tony Award winning producer and director who was a co-founder of Circle in the Square Theatre in New York City, died February 23, 2012. He was 87 years old.

Mann received the 1957 Tony Award, for Best Play for Long Day's Journey Into Night and a 1976 Special Tony Award acknowledging twenty-five continuous years of quality productions at Circle in the Square. He has been nominated for 12 additional Tony Awards and 7 Drama Desk Awards.

He received the 1999 Tao House Award from the Eugene O'Neill Foundation for his distinguished career in theatre and for his dedication to the works of O'Neill. In November 2007 Applause Books published Mann's Memoir, Journeys In The Night: Creating a New American Theatre with Circle In The Square, which tells the story of his partnership with Jose Quintero and the rise of the Circle in the Square Theatre from Off-Broadway to Broadway.

He was co-founder of Circle in the Square Theatre with Jose Quintero in 1951. Their revival in 1952 of Tennessee Williams' Summer and Smoke with Geraldine Page is recognized to be the "birth of Off Broadway."

Mann produced and/or directed more than 250 productions. In addition to his Broadway and off-Broadway credits, he has directed The Turn of the Screw for the New York City Opera, La Boheme for the Julliard School, and The Night of the Iguana for Moscow's Maly Theater.

In 1953 he married Patricia Brooks, a leading lyric coloratura at New York City Opera who passed away in 1993. They had two sons Andrew and Jonathan. He is also survived by five grandchildren.

The marquees of Broadway theatres in New York were dimmed in his memory on, February 24th, at exactly 8:00 p.m. for one minute.

Charlotte St. Martin, Executive Director of The Broadway League, said, "Theodore Mann has been a major driving force behind Circle in the Square Theatre since its inception. His contributions to Broadway and off-Broadway are immeasurable both in the productions he created, and the talent that he nurtured. He will be missed by many in our community, and our hearts go out to his friends, family, and students."








Next Column: March 4, 2012
Copyright: February 26, 2012. All Rights Reserved. Reviews, Interviews, Commentary, Photographs or Graphics from any Broadway To Vegas (TM) columns may not be published, broadcast, rewritten, utilized as leads, or used in any manner without permission, compensation and/or credit.
Link to Main Page
---
Laura Deni



For the snail mail address, please E-mail your request.
CLICK HERE FOR COMMENT SECTION