! >
Broadway To Vegas
  
 SHOW REVIEWS CELEBRITY INTERVIEWS GOSSIP NEWS

| | |
| --- | --- |
| | |
PAJAMA GAME A VICTORY FOR HARRY CONNICK, JR - - SEARCHING FOR SHAKESPEARE - - NOTHIN' LIKE A DAME BENEFIT - - BARBARA COOK AND ELAINE STRITCH AT LINCOLN CENTER - - THE PUNDIT WHODUNIT - - WORLD PREMIERE OF DEFIANCE - - COME AGAIN: THE WORLD OF PETER COOK AND DUDLEY MOORE - - ERIC CLAPTON ON TOUR - - DONATE . . . Scroll Down


Copyright: February 26, 2006
By: Laura Deni

CLICK HERE FOR COMMENT SECTION
PAJAMA GAME IS A DON'T MISS PAJAMA PARTY


Last year Harry Connick, Jr., was King of Orpheus Mardi Gras parade. This year Connick is the King of Broadway.

Step aside and make way for him to pick up the plethora of awards that are sure to be bestowed upon him for his role as Sid Sorokin in The Pajama Game.

The Pajama Game, which was seen in previews and officially opened last Thursday at the American Airlines Theatre in Manhattan, is a hit in this or any Broadway season.

With a book by George Abbott and Richard Bissell; music and lyrics by Richard Adler and Jerry Ross, based on the novel 71/2 Cents by Bissell; book revisions for this production by Peter Ackerman. Directed and choreographed by Kathleen Marshall.

A long time fan of Connick, he's the jazz crooner of many moods who went from a successful recording and live performance star to acting, then stretching his composer skills by putting words and music together for Thou Shall Not. While the music did garner him a Tony nomination, the production was really a victim of 9/11.

Starring in Pajama Game is a well deserved victory for the composer/performer.

Appearing opposite Connick is a lady Broadway To Vegas thoroughly enjoyed in Light in the Piazza, Kelli O'Hara. She is excellent as Babe Williams, the labor union grievance committee head. Full of musical numbers and sub-plots, Connick's character (Sid Sorokin) is the new manager of Cedar Rapids, Iowa's Sleep-Tite pajama factory. He has the bad timing to fall in love with Babe Williams during tense union negotiations and a strike. Babe warns Sid that the union-management turmoil will cause problems for them, too. When Sid is forced to fire Babe during a work slowdown, their problems seem insurmountable. Sid has to juggle his job, his heart, and his conscience to find a solution that will satisfy everyone.

In addition to Connick and O'Hara, other stand out performances include Megan Lawrence's as Gladys the flirtatious girlfriend of efficiency expert Hines (Michael McKean) and Roz Ryan's as Sid's cynical secretary.

The musical number are standards - Steam Heat, Hernando's Hideaway, I'm Not At All In Love, but Connick gives his own unique spin to Hey There and A New Town Is a Blue Town.

The original 1954 production was directed by George Abbott and Jerome Robbins. George Abbott co-directed the film version with Stanley Donen. Pioneer choreographer Bob Fosse designed the dance numbers. An original cast recording of the 1954 Broadway show exists as does the film on DVD. Several actors from the Broadway cast reprised their stage roles for the film, including baritone John Raitt (yes, his daughter is blues singer Bonnie Raitt) and Carol Haney. Doris Day replaced Janis Paige, the show's female lead, onscreen and took headline status over Raitt.

That places those doing a revival in the unique posture of seeing the ghost of the gold standard in every scene.

To try to best what Fosse created would be fool hardy. Marshall doesn't have the poor judgment to attempt to one-up Fosse. Those over 50 ( which is a good chunk of the theatre ticket buying crowd) may well have a mind-set on how they remember the film and expect the same sizzling moves. Marshall doesn't attempt to carbon copy. If you want the original - buy and enjoy the film. If you want a splendidly, delightful time at the theater where you'll be totally entertained, plus witness the launch of a Broadway star - Connick - get your tickets and enjoy Pajama Game.

Martin Pakledinaz's costumes are deliciously colorful and Derek McLane's sets are a joyous delight.

This joyful show also features the talented cast of; Peter Benson (Prez), Joyce Chittick (Mae), Michael McCormick (Ganzenlicker/Pop), Richard Poe (Mr. Hasler), and Bridget Berger, Stephen Berger, Kate Chapman, Paula Legget Chase, Jennifer Cody, David Eggers, Michael Halling, Bianca Marroquin, Vince Pesce, Devin Richards, Jeffrey Schecter and Debra Walton (Factory Workers).

This wonderful show is too combustible not to warm your heart. Enjoy it at the American Airline's Theatre in NYC.


KATRINA CAN'T BLOW MARDI GRAS AWAY!


Parades, king cakes, beads, masks, stars, floats and visitors have returned to the streets of New Orleans as the city welcomes visitors back after enduring the wrath of Hurricane Katrina.

This is a party hardy city and the official Mardi Gras message from C. Ray Nagin Mayor of New Orleans made no reference to Katrina.

Although we are currently in the middle of Mardi Gras, the festivities are a bit different than in years past. Parades have been packed into an 11-day schedule which ends February 28 and all uptown New Orleans parade krewes (clubs) are marching along the same route down St. Charles Avenue.

The annual Mardi Gras celebration began in earnest with five parades back-to-back starting at noon on Saturday, February 18, with the Krewe of Pontchartrain. Hollywood stars hit the town again this year, with Jim Belushi and Dan Aykroyd serving as co-Grand Marshals of Endymion. Batman Michael Keaton heads the Krewe of Bacchus - although that step off was postponed from Saturday to today - because of rain.

Not letting weather of any kind get them down are Fats Domino and Harry Anderson.

Anderson, the TV sitcom star, comedian and magician, has lived in The Crescent City for several years and used to perform every week at the New Orleans nightclub he owns. He saw Katrina give the hook to that weekly engagement. Harry Anderson's club is called Oswald Speakeasy on Decatur Street. Anderson hopes to completely re-open in April, although he is mixing martinis during Mardi Gras. Domino had to be rescued by boat from his roof.

In a first, 20 members of the famed Zulu tribe of warriors traveled from Africa to lead the Krewe of Zulu procession on Mardi Gras Day, Tuesday, February 28. The famed Krewe of Rex follows the Zulu tribe parades including Elks Orleans, Crescent City, Arugs, Elks Jefferson, Jefferson, Grela and Choctaw.

Music and New Orleans are synonymous and yesterday jazz great Gatemouth Brown got the grand send-off he deserved. A Jazz Funeral for the R&B legend who passed away last year took place in Jackson Square in front of St. Louis Cathedral.

In additional to parades and music cakes, beads and insider lingo are also an essential part of Mardi Gras.

King cakes, those delicious sugared pastries with the tiny plastic baby hidden inside, have become a near universal - and delicious - symbol of Mardi Gras. Tradition dictates that whoever finds the baby is crowned king (or queen) for the day and bakes - or buys – another cake for the next party tomorrow.

The king cake tradition came to New Orleans with French settlers around 1870, continuing a custom dating back to twelfth century France. Similar cakes were used then to celebrate the coming of the three wise men at an event called the feast of Epiphany, Twelfth Night, or King's Day. The modern king cake, with the braided shapes and colors, symbolizes the unity of faiths and the three kings, hence the name - King Cake. On early Christian calendars, Jan. 6 was the day the gift-bearing magi visited the baby Jesus, thus this date is the traditional start of the king cake season.

Each king cake is decorated in the traditional Mardi Gras colors: purple represents justice, green represents faith and gold represents power. The hunt for the plastic baby is a reminder of the search of the three kings for the baby Jesus. Tradition holds that the person who finds the baby in their slice of cake will be blessed with good luck for the coming year. In other cultures, the king cake might contain a coin, bean, pecan or pea.

The traditional king cake is made from twisted strands of cinnamon dough, topped with icing, and sprinkled with purple, green, and gold colored sugar. Today, many additional varieties of king cake are also available, with fillings such as cream cheese, strawberry, apple, and lemon. New Orleans bakeries report selling nearly 5,000 king cakes each day during the Carnival season, and cakes are shipped to destinations worldwide. Some sources put the number of king cakes consumed in New Orleans during the Mardi Gras season at more than 750,000!

( For a traditional New Orleans King Cake Recipe click here ) ( For a list of Mardi Gras lingo click here )


ART AND ABOUT


SEARCHING FOR SHAKESPEARE

William Shakespeare attributed to John Taylor, c.1610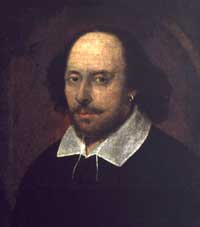 In 1856 the first portrait presented to the newly-founded National Portrait Gallery was a compelling painting considered to be of William Shakespeare, known as the "Chandos" portrait.

At this date Shakespeare's appearance had been a matter of national interest for around two centuries. Yet the identity of this picture is still considered unproven and today we have no certain lifetime portrait of England's most famous poet and playwright.

On the occasion of the National Portrait Gallery's 150th anniversary in 2006, an exhibition on the biography and portraiture will be staged at the Gallery.

Alongside the Chandos portrait, five other contender portraits purporting to represent Shakespeare will be displayed together for the first time.



David Garrick; William Shakespeare by J. Miller Date: late 18th century. National Portrait Gallery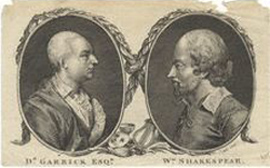 The exhibition will present the results of new technical analysis and research on several of these pictures casting new light on the search for Shakespeare's authentic appearance.

Shakespeare's life can only be partially reconstructed, but this exhibition will also attempt to search for the Shakespeare his contemporaries knew by looking closely at his own circle.

The exhibition will bring together original documents relating to Shakespeare's life and portraits of his contemporaries including actors, patrons and other playwrights, in order to place the poet not in our historical imagination, but within his own time.

March 2 - May 29 at the Wolfson Gallery in London.



Broadway To Vegas is supported through advertising and donations. Priority consideration is given to interview suggestions, news, press releases, etc from paid supporters. However, no paid supporters control, alter, edit, or in any way manipulate the content of this site. Your donation is appreciated. We accept PAYPAL. Thank you for your interest.


SPREADING THE WORD


WHO OWNS ART? For decades, artifacts have been taken from their country of origin and sold to the highest bidder. But now governments are demanding their return. What is the ethical responsibility of museums and collectors? Join Kwame Anthony Appiah, James Cuno and Philippe de Montebello in a discussion about this complex and intriguing issue. With N.Y.Times chief art critic Michael Kimmelman. Monday, March 6, at The New School Tishman Auditorium in New York City.

FIRED! TRAGICALLY COMEDIC TALES Anne Meara, Andy Borowitz, Judy Gold, Brian Unger and others with Annabelle Gurwitch.

What do many of the most talented writers and performers have in common? They've all been fired! Contributors to Fired! Tales of the Canned, Canceled, Downsized, and Dismissed, edited by actress and writer Annabelle Gurwitch (fired by her idol, Woody Allen), tell their hilarious-but-true stories of suffering at the hands of woeful managerial misjudgment.

Presented by the 92nd Street Y. Thursday, March 2, at the Steinhardt Building in NYC.

FOUND IN TRANSLATION: FROM PAGE TO STAGE TO SONG This Tuesday-night lecture series examines the ways in which the operas of the 2005/06 season have been "translated" to and from other media. Education Director Perry Lorenzo and invited guest speakers explore what gets lost or changed and what gets found when stories move from page to stage to song. Tuesday's lecture focuses on the works of author Henry James and composer Benjamin Britten.

Wyckoff Auditorium, Seattle University in Seattle, Washington on Tuesday, February 28. Admission: Free.

AN EVENING WITH LESLEY GORE AND ANTHONY DeCURTIS A full-fledged star by age 16, Lesley Gore's smash hits served as anthems for young Americans. Lesley Gore offers both talk and song in an evening moderated by Anthony DeCurtis a contributing editor at Rolling Stone and the author of In Other Words: Artists Talk About Life and Work. He won a Grammy Award in the Best Album Notes category and he teaches writing at the University of Pennsylvania.

Tuesday, February 28, at the 92nd Street Y in NYC.


SWEET CHARITY


NOTHIN' LIKE A DAME a one-night gathering featuring the first ladies of Broadway and a few special guests -- will be held at the Imperial Theatre on March 6. Net proceeds from this one night only event benefit Broadway Cares/Equity Fights AIDS and are earmarked to support the Phyllis Newman Women's Health Initiative of the Actors' Fund of America.

"Nothing Like a Dame" is the title lyric of a song from the legendary 1949 Rodgers & Hammerstein musical South Pacific.

The Women's Health Initiative addresses health issues that impact women in the entertainment industry and provides them with health-related services. Inspired by actor/director Phyllis Newman, a breast cancer survivor, The Women's Health Initiative was launched in 1996 with the leadership of Broadway Cares. The Initiative provides comprehensive case management services, caring for women with a wide array of health-related concerns, including breast, ovarian, and other cancers; domestic violence; anorexia and bulimia; HIV and AIDS; menopause; substance abuse; Lupus; depression; mental health issues; chronic fatigue syndrome; and osteoporosis.

BARBARA COOK AND ELAINE STRITCH IN ALPHABETICAL ORDER Broadway legends Barbara Cook and Elaine Stritch join forces in this one-night-only performance to benefit Lincoln Center Theater. Directed by Jack O'Brien. Benefit Tickets which include the show and dinner afterward start at $1,250.00.

Vivian Beaumont Theatre of Lincoln Center.

PRINCE CHARLES AND CAMILLA, THE DUCHESS OF CORNWELL will attend a Royal Gala performance of Wagner's opera The Flying Dutchman at the Wales Millennium Centre, Bute Place, Cardiff, Wales. March 1

Prince Charles is a Patron of the Welsh National Operalsh National Opera.

This early Wagnerian masterpiece signaled the composer's fascination with combining epic myths and dramatic music. Melodies of unforgettable emotional power combine with spectacular choruses to provide one of the most thrilling evenings in the theatre. The character of the Dutchman is one of Wagner's most haunting creations.

Bryn Terfel performs the title role, his first complete opera with WNO since The Rake's Progress in 1996.

The Dutchman is condemned to sail the seas forever with a ghostly crew in a tormented and agonized purgatory. His only hope of liberation is the unconditional love of a woman. He is allowed to go ashore once every seven years to try and find the woman whose love will save him. He meets a local ship captain, Daland, who has an eligible daughter - so he offers Daland treasure in exchange for permission to court her. Senta, the daughter, is already intrigued with the legend of the Dutchman, even before meeting him and is determined to save him from purgatory. Co-production with Zürich Operahaus Conducted by Carlo Rizzi. Directed by David Poutney Designer: Robert Innes Hopkins, Jurgen Hoffman (Lighting), Jane and Louise Wilson (Video artists).

Sung in German with English and Welsh surtitles.

THE PUNDIT WHODUNIT The Case of the Political Puzzle. The 14th Annual Arena Stage Benefit for Community Engagement featuring a one-night only performance of an original crime-solving comedy.

Written and Directed by Harry M. Bagdasian.

Featuring an all-star cast including:
Senator Daniel Inouye
Senator Jack Reed
Senator Pat Roberts
Senator Ted Stevens
Representative Howard Coble
Representative Jesse Jackson, Jr.
Representative Mark Steven Kirk
Representative Jim Kolbe
Delegate Eleanor Holmes Norton
Representative Steven R. Rothman
Representative John M. Spratt, Jr.
Representative John Tanner
Fred Barnes, Mort Kondracke, Chris Matthews, Kathleen Matthews, Sheila Johnson Newman, William T. Newman, Jr., Kojo Nnamdi, George Stephanopoulos, Nina Totenberg, Gene Weingarten and Alexandra Wentworth.

The evening also features the presentation of the American Voice Award to Senator Daniel Inouye and the American Artist Award to the late August Wilson. With a Special Tribute to The Honorable Mayor Anthony Williams.

Proceeds from the Benefit support the education activities of Arena Stage, which educate, excite and enrich the lives of more than 20,000 youth annually. With the art onstage as a central focus, Arena Stage's programs nurture a new generation of theater-goers, help youth discover and develop their creative talents, and build valuable skills.

Monday, March 6. Performance in the Kreeger Theater. Pre-Performance Dinner at The Mandarin Oriental, Washington, D.C.



FOREVER PLAID

bass player, Ken Seiffert; the Cast of Forever Plaid: Kevin McMahon, J. Greg Davis, Mark Perkins, Douglas Frank, Dale Sandish; and musical director, David Kancsar.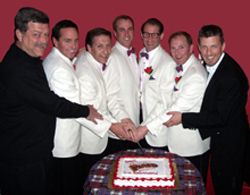 The Heavenly Musical Hit recently celebrated its one year anniversary at the Gold Coast Hotel & Casino in Las Vegas.

The show debuted in the Gold Coast Showroom on Jan. 15, 2005. In addition to a year of packed houses at the Gold Coast, the Las Vegas production had a successful six-year run at the Flamingo Las Vegas from 1995 to 2001.

The long-running off-Broadway revue has given over 4,000 performances in Las Vegas. They are the first production of Forever Plaid to reach this many performances.

Forever Plaid was written directed and choreographed by Stuart Ross and has vocal arrangements and musical direction by James Raitt. Scenery by Neil Peter Jampolis, lighting by Jane Reisman, sound by Christopher K. Bond, with costumes by Debra Stein.

The show opened in New York on May 20, 1990, receiving unanimous rave reviews (38 out of 38!) and ran for over four years. Since then it has gone on to spectacular worldwide successes in Baltimore, Chicago, Cleveland, Detroit, Kansas City, Lake Tahoe, Las Vegas, London, San Diego, Tampa, Tokyo, Toronto, Vancouver, Johannesburg and Hamburg.

MAMMA MIA! has begun it's fourth year at Mandalay Bay in Las Vegas. Mamma Mia! premiered at Mandalay Bay Resort and Casino on February 13, 2003. The permanent production remains the longest running and most successful full scale Broadway musical ever to play the Las Vegas Strip. Mamma Mia! has broken all box office records at the Mandalay Bay Theatre The production hit its 1,000th performance last summer.



JACQUES BREL IS ALIVE AND WELL AND LIVING IN PARIS a revival with music & lyrics by Jacques Brel and book by Eric Blau & Mort Shuman, begins previews on March 5 for an official March 27 opening at the Zipper Theater in New York City.

The original show opened in 1968 at The Village Gate in Greenwich Village and ran for more than four years.

Often referred to as the Bob Dylan of France, Jacques Brel wrote songs about people actively questioning their own values as well as the rising tide of conservatism around them. The show is a blend of ballads, tangos, boleros, rock and classics. Each piece tells a story, examining themes of love, war, adventure, broken dreams, people from all classes, being young, growing old and death, but always remembering life has much humor in it.

Gordon Greenberg directs a cast that features Robert Cuccioli, Gay Marshall, Natascia Diaz and Rodney Hicks.

The production has set design by Rob Bissinger, choreography by Mark Dendy, lighting by Jeff Croiter and sound by Peter Fitzgerald.

Running through to the 9 July 9th.

EINSTEIN'S DREAMS A World Premiere with book by Albert Innaurato. Based on a book by Alan Lightman.

Luminous, poetic and deeply human, this new adaptation of Alan Lightman's best-selling novel imagines young Albert Einstein's dreams just before he wrote his special Theory of Relativity. The Prince brings to the stage an evocative fable which explores the essence of time, the adventure of creativity, the glory of possibility and the intoxication of love.

March 4 – 26 at the Prince Music Theatre in Philadelphia.

THE CUT by Mark Ravenhill who puts a dark secret at the center of his new play. The hero of The Cut, in which Ian McKellen will be directed by Michael Grandage, is a devoted family man, conscience-stricken by not having told the truth about what he does for a living.

Performances at the Donmar in London through April 1.

COME AGAIN - THE WORLD OF PETER COOK AND DUDLEY MOORE written by Chris Bartlett and Nick Awde and directed by Owen Lewis, portrays the relationship between these two beloved comics.

Kevin Bishop stars as the chirpy cockney Dudley Moore and Tom Goodman-Hill portrays the languid, acid-tongued Peter Cook. They are joined by Alexander Kirk as chat show host Tony Ferguson, and award-winning comedy double act Colin and Fergus (Colin Hoult and Fergus Craig) who play Jonathan Miller and Alan Bennett.

"Don't get me wrong, I'm very pleased that Dudley is having all this success, having the thoroughly good time he deserves. He's worked for it. Perhaps if I'd been born with a club foot and a height deficiency, I might have been as desperate as Dudley to become a star." Peter Cook in Pete and Dud: – Come Again.

They were Pete & Dud, the Lennon & McCartney of British comedy, as indivisible as fish & chips or gin & tonic, keeping huge audiences glued to their TVs in the 60s and 70s.

The play begins in 1982 after Moor's Oscar nomination for Arthur in which he starred with Liza Minnelli and John Gielgud. Moore talks to prime time chat-show host Tony Ferguson about the ups and downs of his career - from junior partner in a comedy duo to become one of Hollywood's best loved stars. As the story enfolds through flashbacks and sketches, the tale of the volatile comedy team is told, beginning at the beginning with Beyond The Fringe. We discover the intricacies of their relationship, and see why it worked and what eventually brought about its demise.

Pete was the well-bred genius who revolutionized satire but whose ambition, by his own admission, abruptly vanished soon after achieving fame. Dud was the diminutive musical virtuoso, who rose above his unassuming Dagenham upbringing to woo and then win the heart of Hollywood. On stage and off, it was a partnership defined by love and hate, which has inspired many works of biographical fact and fiction.

The play was financed by some of the biggest names in British comedy - and if Stephen Fry, Ricky Gervais and Jimmy Carr (to name a few) - who auctioned off personal memorabilia in order to send it to the Edinburgh Festival where it garnered rave reviews Now it's back in London at The Venue. Thursday, March 2 through June 3.

THE MOST HAPPY FELLA Based on Sidney Howard's They Knew What They Wanted. Book, Music, and Lyrics by Frank Loesser. Directed by Philip Wm. McKinley. Starring Tony Award nominee Paul Sorvino.

In addition to Sorvino the cast includes: Bill Ryall, Leah Hocking, Lisa Vroman, T. Doyle Leverett, Karen Murphy, John Scherer, Matt Bailey, Paul Castree, Ryan Silverman, Ivan Hernandez, Matthew Surapine, Bruce Winant, Andrew Drost and Eddie Korbich.

With his immortal Guys and Dolls, Loesser took the Broadway musical to glorious new heights. Then he raised the bar with his most lovable, most daring work of all: The Most Happy Fella, celebrating its 50th anniversary this season.

Fella encompasses the full spectrum of American musical theater, from heart-melting love songs to pop hits, operatic solos to razzle-dazzle showstoppers. But Fella is more than a musical theater masterpiece—it is a true American opera.

An aging vineyard owner named Tony courts a pretty young waitress, Rosabella, through the mail and wins her over with a marriage proposal with a picture enclosed. Afraid of rejection, though, he has sent a picture of his handsome foreman. Rosabella discovers the ruse, but true love brings about a most happy ending.

Sung in English with English supertitles.

Conducted by George Manahan. Choreographer is Peggy Hickey. Set Design by Michael Anania. Costume Designer is Ann Hould Ward. Lighting Design by Robert Wierzel. Sound Design by Abe Jacob. Chorus Master is Gary Thor Wedow. Supertitles by Celeste Montemarano.

New York City Opera production opens March 4 with performances through March 25.

ANIMAL FARM with brief Introductory Remarks by James Earl Jones.

George Orwell's anti-Communist novel, chronicling a revolution staged by the animals, is a thought-provoking parable about the uses and abuses of power.

This inventive stage adaptation, based on the landmark musical created by England's Royal National Theatre, makes inventive use of masks, puppetry, and music to bring a modern-day classic to life for a new generation.

Sunday, March 5, at the State Theater in New Brunswick, N.J.

HAROUN AND THE SEA OF STORIES Salman Rushdie's story of a son in search of his father's stories, adapted by Tim Supple and David Tushingham. Directed and choreographed by Kelly Parsley.

Set in a city so ruinously sad that it has forgotten its name, this is the magical tale of a master storyteller who loses his ability to tell stories once he discovers his wife has left him for another man. That is until his son sets out on a glorious adventure to find the fabled Sea of Stories, where many of his father's outlandish tales turn out not only to be true but alive.

Presented by Theater Alliance March 2 - April 2 at the H Street Playhouse in Washington, D.C.

SAVAGES

Brett Holland, Julie Danao-Salkin and James Matthew Ryan. Photo by Carol Rosegg.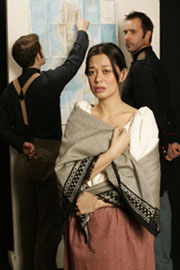 by Anne Nelson. Directed by Chris Jorie.

A play about war and its consequences, for both victors and victims - Savages explores the narrow distance between the two. It is set in the midst of the Philippine-American Conflict in 1902, a war that was a defining moment for the Philippines but has been almost forgotten in the United States. The play explores the situation through the eyes of four characters: the general currying favor with Washington; the Marine major on trial for war crimes; the green young recruit; and the Filipina, who is their closest human contact to an alien environment.

Savages is neither a pro-war nor an anti-war play—rather, it seeks to reflect the experience of counter-insurgency warfare through shifting perspectives of different conflicts, both familiar and unfamiliar. Savages is steeped in history, but leavened with humor and exoticism. Author Anne Nelson won the Livingston Award for international reporting on the Philippines in 1989.

The four member cast are: Julie Danao-Salkin, Brett Holland, Jim Howard and James Matthew Ryan.

Set design by Lauren Helpern; costume design by Rebecca Bernstein; lighting design by Betsy Adams; and sound design by Jill BC DuBoff.

Presented by Back House Productions, the resident theatre company of the Arthur Seelen Theatre, March 8-April 1 in Manhattan.

THE RABBIT HOLE a new play by David Lindsay-Abaire starring Cynthia Dixon, Tyne Daly, John Gallagher Jr, Mary Catherine Garrison, and John Slattery.

Tony Award winner Daniel Sullivan directs.

A bittersweet drama about transcending life's tragedies. Following a life-shattering accident, a young husband and wife search for comfort and peace.

The Corbetts have everything a family could want, until the day their world is turned upside down. In the aftermath of a life-shattering accident, a young husband and wife find themselves drifting perilously apart. Rabbit Hole charts their bittersweet search for comfort in the darkest of places, and for a path that will lead them back up into the light of day.

Set design by John Lee Beatty. Costume design by Jennifer von Mayrhauser. Lighting design by Christopher Akerlind. Sound design and original music by John Gromada.

A world premiere at the Biltmore Theater on NYC.

HONOUR starring Diana Rigg and Martin Jarvis.

in this revival of Joanna Murray-Smith's play.

Directed by David Grindley.

Diana Rigg plays Honor, the wife of George (Martin Jarvis), for whom she gave up a promising literary career. The arrival of a young, ambitious TV journalist Claudia (played by Natascha McElhone) to interview George ignites a crisis that precipitates both unforeseen consequences and equally surprising resolutions, affecting both the couple and their grown-up daughter (Georgina Rich) Sophie. Honour received its UK premiere in 2003 at the National's Cottesloe theatre, where it sold out.

Performances at Wyndhams Theatre in London. Closes May 6.br>
AIDA Regional Premiere takes place at the Dutch Apple Dinner Theatre in Lancaster, PA.

Disney's musical Aida with Tony awarding-winning music by Elton John and Tim Rice has performances through March 25.

Set in ancient Egypt, Disney's Aida tells of the forbidden love triangle between the rebellious African slave princess named Aida, the Pharaoh's daughter, and the dashing Egyptian soldier who they both love.

DEFIANCE

clockwise from top left: Chris Bauer, Stephen Lang, Chris Chalk, Trevor Long, Margaret Colin, Jeremy Strong. (photo by Joan Marcus.)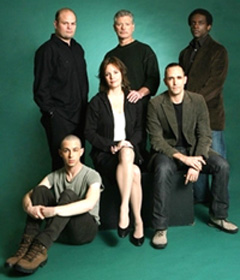 by John Patrick Shanley, the author of the Pulitzer Prize winning play, Doubt, now running on Broadway. and directed by Tony award winner Doug Hughes.

With Chris Bauer, Chris Chalk, Margaret Colin, Stephen Lang, Trevor Long and Jeremy Strong.

Defiance is set on a United States Marine Corps base in North Carolina in 1971. Two officers, one black and one white, are on a collision course over race, women and the high cost of doing the right thing.

This new work is about power, love and responsibility – who has it, who wants it and who deserves it.

Set design by John Lee Beatty. Costume design by Catherine Zuber. Lighting Design by Pat Collins. Original music and sound design by David Van Tieghem. Dialect Coach is Charlotte Fleck. James "Fitz" Fitzsimmons is the production stage manager. Stage manager is Thea Bradshaw Gillies.

World Premiere at New York City Center Stage I in NYC.


| | | |
| --- | --- | --- |
| | | |
WHO'S WHERE


ERIC CLAPTON hits the road again launching a world tour beginning in Europe on May 5 and traveling to 13 European countries with an already sold out 7-night run at London's Royal Albert Hall. The 2006 tour band will consist of: Eric Clapton, Guitar, as well as Doyle Bramhall II and Derek Trucks also on Guitar, Chris Stainton and Tim Carmon on Keyboards, Willie Weeks on Bass, Steve Jordan on Drums, The Kick Horns: Simon Clarke, Roddy Lorimer, and Tim Sanders on Brass, and backing vocals by Michelle John and Sharon White. The tour kicks off Friday, May 5, in Paris at the Le Cannet La Palestre.

ROLLING STONES roll into Las Vegas for a performance at the MGM Grand on March 4.

AN EVENING OF MUSIC AND COMEDY STARRING DEBBIE REYONLDS March 2 - March 5 at the Drury Lane Theatre in Oakbook Terrace, IL.

BILLY JOEL in the spotlight Monday, February 27, at Madison Square Garden in NYC.

COLDPLAY headline The Ford Center in Oklahoma City on Monday, February 27. Thursday they are on stage at the MCI Center in Washington, D.C. On Saturday they star at the TD Waterhouse Center in Orlando, FL. Next Sunday the show is at the Ford Amphitheatre in Tampa.

GEORGE JONES performs Monday, February 27, at the Arlington Theatre in Santa Barbara, CA. Thursday he's centerstage at the Arts Center in Mesa, AZ. On Saturday he'll be delighting his fans at the Abraham Chavez Theatre in El Paso, Texas.

EMMYLOU HARRIS performs Friday, March 3 at the Midland Theatre in Newhawk, Ohio. On Saturday she is on stage at Clark State College in Springfield, OH. Next Sunday finds her at Wharton Center in East Lansing, Michigan.

PAUL ANKA performs Friday, March 3 at Robinson Rancheria Casino in Nice, CA.

MICHAEL BUBLE opens his American tour Wednesday, March 1, at the Mohegan Sun Casino in Uncasville, CT. On Friday the show is at the DAR Constitution Hall in Washington, D.C. Saturday he's in the spotlight at Radio City Music Hall in New York City. Next Sunday, March 5 he stars at the Borgato Hotel in Atlantic City.

MICHAEL McDONALD stars at Resorts Casino in Atlantic City on Mar. 3-4.

BILL CHARLAP opens a five night engagement Tuesday, February 28 at the University of California at Davis.

LEON REDBONE on stage Wednesday, March 1 at the Tennessee Williams Fine Arts Center in Key West, Florida. On Friday the show is at the Carefree Theatre in West Palm Beach and on Saturday the performance is at the Tampa Theatre in Tampa, Florida.

THE CHIEFTANS in the spotlight Friday, March 3 at Symphony Center in Chicago. On Saturday they'll get the beat going at Proctor & Gamble Hall in Cincinnati.

ANN HAMPTON CALLAWAY center stage Saturday, March 4 at the Quick Center for the Arts in Fairfield, CT.

PRESERVATION HALL JAZZ BAND has a two night stand beginning Saturday at Sun Day On The Mile in Coral Gables, FL.

STEVE LAWRENCE & EYDIE GORME brings their wonderful voices and clever banter to Star of the Desert Arena in Primm, Nevada on March 4.

LILY TOMLIN brings her talents to the Philharmonic Center for the Arts in Naples, Florida on Wednesday, March 1. Then she heads to two other Florida cities. On Friday she's on stage at the BankAtlantic Center in Sunrise and next Sunday, March 5, she's at the Van Wezel Performing Arts Hall in Sarasota.

CHRIS BOTTI on stage tonight, Sunday, February 26, at the Palace Theatre in Waterbury, CT. On Thursday he'll be blowing his horn at the Princess Theatre in Decatur, Alabama. Friday finds him at the Touhill Performing Arts Center in Saint Louis, MO. Then he heads to a Saturday gig at the Juanita K. Hammons Hall in Springfield, MO. Next Sunday, March 5, he's in the spotlight at the Jesse Auditorium in Columbia, MO.

GEORGE JONES sings his hits tonight Sunday, February 26, at the Jackson Rancheria Casino in Jackson, CA. On Monday he's on stage at the Arlington Theatre in Santa Barbara, CA. Thursday finds him at the Arts Center in Mesa, AZ. On Saturday he's front and center at the Abraham Chavez Theatre in El Paso, Texas.

THE OAK RIDGE BOYS brings their talents to the Sycuan Resort in El Cajon, CA on Thursday, March 2. On Friday they'll be singing their hits in Las Vegas at the Texas Station Casino. Saturday they are on stage at Spotlight 29 Casino in Indio, CA and next Sunday, March 5, the performance takes place at the Chuckchansi Casino in Coarsegold, CA.

JERUSALEM SYMPHONY ORCHESTRA Leon Botstein, conductor. The premier orchestra of Israel's capital city remains dedicated to presenting masterpieces from the baroque to the contemporary. Program: Martinu, Memorial to Lidice; Copland, Appalachian Spring Suite; Shostakovich, Symphony No. 5 in D Minor (Op. 47)

GUILTY PLEASURES: BROADWAY ROCKS OUT A hit at the New York Musical Theater Festival, this concert features performers from Spamalot, Rent, Mamma Mia! and other hit shows singing rock classics by Zappa, Van Halen and many others. Broadway artists seen in a whole new light. Monday, February 27 at the Steinhardt Building in NYC.

Tuesday, February 28, at the State Theatre in New Brunswick, New Jersey.


PIFFLE AND PROFUNDITIES


OSCAR TRIVIA The most number of people thanked by an Oscar winner is 27, by Olivia de Havilland when she won Best Actress for the film To Each His Own in 1947.

The Academy Awards for outstanding film achievements of 2005 will be presented on Sunday, March 5, at the Kodak Theatre in Hollywood.
















Next Column: March 5, 2006
Copyright: February 26,2006. All Rights Reserved. Reviews, Interviews, Commentary, Photographs or Graphics from any Broadway To Vegas (TM) columns may not be published, broadcast, rewritten, utilized as leads, or used in any manner without permission, compensation and/or credit.
Link to Main Page
---
Laura Deni


CLICK HERE FOR COMMENT SECTION