! >
Broadway To Vegas
  SHOW REVIEWS     CELEBRITY INTERVIEWS     GOSSIP     NEWS 
| | |
| --- | --- |
| | |
Copyright: February 25, 2001
By: Laura Deni
SHOWEST SHOWS OFF
( COMMENT SECTION )

The Official Convention of the National Association of Theater Owners, ShoWest 2001, will be staged March 5 to 8 at Bally's and Paris Hotels in Las Vegas.


SANDRA BULLOCK Female Star of the Year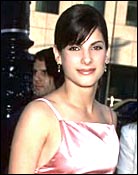 It's a big time schmooze for stars who need to be cordial to the theater owners who run their films. For industry insiders it's an opportunity to listen to speeches, attend seminars, trade shows, screenings, and get the latest inside hype on trends - from popcorn to projectors.

A highlight of the convention is the presenting of the prestigious SHOWEST Awards. They include

Female Star of the Year - Sandra Bullock. For the second time in five years, the beauty will be honored as Female Star of the Year it was announced by Robert Sunshine, Chairman of Sunshine Group Worldwide (SGW), which operates the event.

Bullock lit up the screen last year as an FBI agent turned beauty contestant in the movie, Miss Congeniality, which she also produced. She will be feted at the annual Gala Award Banquet March 8, sponsored by the Coca-Cola Company.

Bullock will be seen next in an untitled crime thriller by Barbet Schroeder for Castle Rock Entertainment and Warner Bros. She has also signed on to star in Alison Starting to Happen, for Warner Bros.

In 1998 Bullock launched Fortis Films, through which she produced and starred in the romantic comedy Hope Floats, with Gena Rowlands and Harry Connick, Jr. She again took on dual roles when she executive produced and starred opposite Nicole Kidman in Practical Magic, and produced and starred in Gun Shy with Liam Neeson. In addition, Bullock debuted as a writer/director/actor at the 1997 Sundance Film Festival with her short film Making Sandwiches, co-starring Matthew McConaughey.

Sandra Annette Bullock was born on July 26, 1965 in Washington, D.C. to Helga a German opera singer and John, American voice coach. She was joined by sister, Gesine, at age three. Sandra spent the first twelve years of her life living between Salzburg, Austria during opera season and Arlington, Virginia, as her mother's work required her presence in both cities. At age eight, Sandra performed on stage for the first time, assuming the role of a gypsy child in a play with her mother. Helga claims that by the sixth grade, Sandra had already set her mind on acting. She acquired the scar on her forehead above her right eye after tumbling into a creek at age eleven.

We're glad that the fall didn't knock any common sense into her - she still wanted to act.

The 2000 ShoWest Female Star of the Year was Annette Bening. Among the previous winners of the award are Demi Moore, Michelle Pfeiffer and Whoopi Goldberg.



RUSSELL CROWE left Meg Ryan for a herd of cows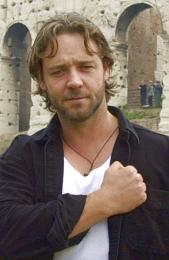 Male Star of the Year - Russell Crowe will be honored for his role in DreamWorks' Gladiator.

It's been an interesting year for Crowe, who last starred opposite Meg Ryan in Warner Bros. Proof of Life. Spin masters have interesting ways of justifying almost anything. To explain a weak box office, the blame was placed on the real life romance between Crowe and Ryan. The explanation being that the reel thing couldn't compete with their off screen antics.

Now Crowe has left Ryan for his cows in Australia - the Oscar-nominated actor told the Melbourne tabloid The Herald Sun, that he split with Ryan six months after they became an item because he wanted to spend more time on his ranch with his bovines.

Last year Crowe received a Best Actor Academy Award-nomination for his compelling portrayal of tobacco company whistle blower Dr. Jeffrey Wigand in Michael Mann's true-life drama The Insider.

New Zealand born Crowe made his American film debut in Sam Raimi's The Quick and the Dead opposite Sharon Stone, Gene Hackman and Leonardo DiCaprio.

The 2000 ShoWest Male Star of the Year was Jim Carrey. Among the previous winners of the award are John Travolta, Tom Hanks, Robin Williams and Mel Gibson.



CHRIS ROCK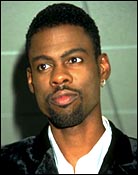 Comedy Star of the Year - Chris Rock is fresh off the smash opening of his latest film Down to Earth, which he also co-wrote and executive produced.

Rock is next set to begin production on Walt Disney Pictures' Black Sheep opposite Anthony Hopkins. The film will be directed by Joel Schumacher and produced by Jerry Bruckheimer. He will also star later this year in Osmosis Jones for Warner Bros. as well as in the MTV/Paramount Pictures release Pootie Tang.

The eldest of seven children from a working class family in the Bedford-Stuyvesant section of Brooklyn, Rock credits his father, who died in 1988 from complications brought on by a ruptured ulcer, for his success. "My dad really prepared me for the real world. No one has to treat you nice. My father taught me you have to work for everything you have and you have to learn to listen to people. And at times you're going to listen to people who you know you are smarter than, but that's what you are going to have to do to get to the next level."

His son not only made it to the next level, but to the top of the ladder with three Emmys and two Grammy Awards. He made his feature film debut in Beverly Hills Cop II with Eddie Murphy.

The summer of 1998 saw Rock co-star in a pair of $100-million-plus-grossing films: Lethal Weapon 4 and Dr. Doolittle.

He serves as executive producer of the hit UPN sitcom The Hughleys and also recently developed The Hilltop Journal, a new humor magazine based at Washington, DC's Howard University.

The 2000 ShoWest Comedy Star of the Year was Drew Barrymore. Previous winners of the award include Adam Sandler, Jim Carrey and Billy Crystal.



NICHOLAS CAGE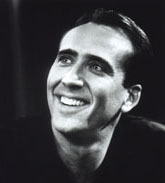 Distinguished Decade of Achievement in Film to - Nicholas Cage who recently starred in Universal/Beacon's hit The Family Man.

Nicholas Cage was born Nicholas Coppola on January 7, 1964 in Long Beach, California. His parents are Joy Vogelsang, a dancer-choreographer, and Augusta Coppola, a comparative literature professor. It must have just driven his parents to distraction, but Nicholas hated school, dropped out and ended up getting his GED. Then Nicholas changed his name from Coppola to Cage after his favorite comic book hero Luke Cage. As the nephew of Francis Ford Coppola he didn't want to be accused of trying to use his name to get ahead. By any name Nicholas Cage has done just fine.

The first ever Distinguished Decade of Achievement in Film Award will recognize Cage's extraordinary body of work over the last ten years. That ranges from his Oscar-winning role in Leaving Las Vegas and intimate character study in Martin Scorsese's Bringing Out the Dead to several blockbusters which exceeded $100 million at the box office, including The Rock, Con Air, Face/Off and Gone in 60 Seconds.

In addition, Cage's production company, Saturn Films, recently produced the critically acclaimed Shadow of the Vampire, featuring an Oscar-nominated performance by William Dafoe.



HEATH LEDGER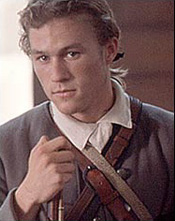 Male Star of Tomorrow -Heath Ledger who stars in Columbia Pictures' upcoming action-adventure A Knights Tale, is best known for his starring role opposite Mel Gibson in The Patriot.

Australian born Ledger, currently shooting the period drama Four Feathers opposite Kate Hudson and Wes Bentley, first made waves in the U.S. for his role in Fox Television's Roar opposite Keri Russell. As a result of the series, Ledger landed a starring role opposite Julia Stiles in 10 Things I Hate About You, a modern retelling of Shakespeare's Taming of the Shrew.

Ledger began acting at the age of 16 in Sydney, Australia. He appeared in such Australian television series as Clowning Around, Bush Patrol, Ship Shore and Home and Away. During this time he also acted in two highly reputable Australian theatre companies, the Globe Shakespeare Company and Midnight Youth Acting Company.

Among the previous recipients of the ShoWest Male Star of Tomorrow are: Michael Clark Duncan, Giovanni Ribisi, Matt Damon, Howie Long, and Greg Kinnear.



HALEY JOEL OSMENT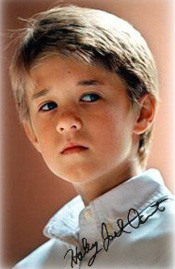 Supporting Actor of the Year - Haley Joel Osment most awaited role is in Steven Spielberg's film of the late Stanley Kubrick's surreal post-apocalyptic sci-fi drama A.I. - which stands for artificial intelligence - due out this summer in which he co-stars with his Jude Law.

Soon to be a thirteen-year-old, Osment is best known for his starring role in the thriller The Sixth Sense, for which he received numerous film critics awards plus nominations for the Academy, Golden Globe and Screen Actors Guild awards. Osmet is no stranger to Las Vegas having been a part in Mimi Leder's Pay it Forward opposite Helen Hunt and Kevin Spacey, which was filmed in Las Vegas.

Among the previous recipients of the ShoWest Supporting Actor of the Year Award are: Ving Rhames, William H. Macy, Burt Reynolds, and Cuba Gooding, Jr.

Director of the Year - Wolfgang Petersen films In the Line of Fire, Outbreak, Air Force One, and The Perfect Storm have earned combined box office receipts of over one billion dollars worldwide, recently signed a first look directing deal with Warner Bros.

His most recent effort The Perfect Storm, starring George Clooney and Mark Wahlberg and based on a true story, opened on the July 4th weekend 2000 to the most successful three-day opening in Warner Bros. Pictures history. It was the third highest box office gross for any July 4th weekend opening ever. The Perfect Storm has grossed $326 million worldwide to date.

Among the previous recipients of the ShoWest Director of the Year award are: Anthony Minghella, John Madden, Barry Levinson, Joel Schumacher, and Mel Gibson.



JUDI DENCH hates to be called Judith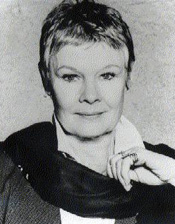 Supporting Actress of the Year - Judi Dench The Academy Award-winner can currently be seen on screen in Lasse Hallstrom's critically acclaimed Chocolat, which also stars Johnny Depp and Juliette Binoche.

As one of the world's leading and most versatile actresses, Dench received an Academy Award for Best Supporting Actress for her role as Queen Elizabeth in John Madden's Shakespeare In Love. Dench's other film credits include the role of M in the recent James Bond Films, The World Is Not Enough, Tomorrow Never Dies and Golden Eye, as well as Franco Zefferelli's Tea With Mussolini and Kenneth Branagh's Hamlet.

An accomplished stage actress, her career spans more than 40 years. Most recently she appeared on Broadway and at the National Theatre in Richard Eyre's production of Amy's View, for which she won the Tony Award for Best Actress and the Outer Critics Circle Award. Dench has also appeared in numerous television projects including The Last of the Blond Bombshells with Olympia Dukakis and Sir Ian Holm. In 1988 Dench was made a Dame of the British Empire.

Among the previous recipients of the ShoWest Supporting Actress of the Year are: Angelina Jolie, Catherine Zeta-Jones, Joan Allen, and Elizabeth Hurley.

Screenwriter of the Year - William Broyles, Jr. A decorated Marine Veteran, Broyles received an Academy Award nomination and Writer's Guild Award nomination for Apollo 13, which he co-wrote with Al Reinert. Broyles also wrote the screenplay for director Tim Burton's reinvention of Planet of the Apes, which Twentieth Century Fox will release on July 27. He also co-wrote Fox's 1999 box-office hit Entrapment, and contributed to the studio's upcoming thriller Unfaithful, which begins production in March, starring Richard Gere and Diane Lane, and directed by Adrian Lyne.

Among the previous recipients of the Screenwriter of the Year award are: Alan Ball, Ron Bass, Peter & Bobby Farrelly, Robert Towne, and John Singleton Hood.

Producers of the Year - Richard D. Zanuck & David Brown together have produced such celebrated films as The Sting, The Verdict, Jaws and Cocoon, and have separately produced Twentieth Century Fox's summer release Plant of The Apes (Zanuck) and Miramax's recent box office hit Chocolat (Brown).

"This is the first time ShoWest will honor two producers," said Sunshine. "What makes this especially unique is that both Zanuck and Brown have produced some great films as partners as well as each having his own separate, incredible producing career."

Zanuck is currently producing director Tim Burton's re-imagination of Planet of the Apes, starring Mark Wahlberg, Tim Roth and Helena Bonham Carter. Zanuck had greenlighted the original film as the young president in charge of production at Twentieth Century Fox in 1967.

Zanuck's most recent films include director William Friedkin's Rules of Engagement, and Deep Impact (with Brown), the latter grossing $350 million worldwide.

The 84-year-old Brown, who despite his lifetime of achievements has yet to be honored with an Academy Award for best picture. Along with Kit Golden and Leslie Holleran, Brown produced Chocolat, helmed by Academy Award-nominated director Lasse Hallstrom and based on the novel by Joanne Harris. So, there is still hope that Brown may eventually get his statue.

Currently, Brown is producing the forthcoming Along Came a Spider, the prequel to the Ashley Judd starrer Kiss the Girls, which is directed by Lee Tamahori and stars Morgan Freeman.

He is also preparing a Broadway musical based on the classic film, The Sweet Smell of Success.

Among the previous recipients of the ShoWest Producer of the Year award are: Armyan Berstein, Jerry Bruckheimer, Walter Parkes, Arnon Milchan, and James G. Robinson.



SHANNON ELIZABETH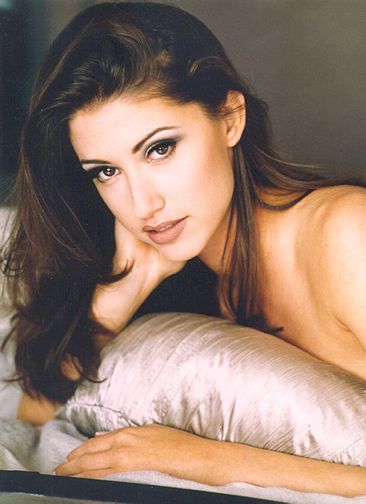 Female Star of Tomorrow - Shannon Elizabeth is best known for her starring roles in Scary Movie and American Pie, in which she sent a jolt through the entertainment community with her performance as the sexy Czech exchange student.

Elizabeth will next be seen in Revolution Studios' comedy Tomcats opposite Jerry O'Connell set for a March 30th release by Columbia Pictures. She recently completed production on Joel Silver and Robert Zemeckis's remake of William Castle's 1960 thriller 13 Ghost's, an updated and special effects laden version also starring Academy Award-winner F. Murray Abraham, and Tony Sahlhoub.

Currently Elizabeth is completing production on Kevin Smith's Jay and Silent Bob Strike Back, opposite Jason Lee, Chris Rock, and Smith.

One of Hollywood's fastest rising stars, Elizabeth signed a non-exclusive, three picture deal with Miramax Pictures within weeks of her studio feature debut. Shannon kicked off the first picture under this deal with the comedy, Scary Movie.

Among the previous recipients of the ShoWest Female Star of Tomorrow are: Hilary Swank, Heather Graham, Minnie Driver, Claire Danes, and Cameron Diaz.

Achievement in Motion Picture Advertising -Joel Wayne Executive Vice President, Creative Advertising, Warner Bros. Pictures. This is ShoWest's first-ever Achievement in Motion Picture Advertising Award.

Wayne joined Warner Bros. in 1979 as Vice President of Creative Advertising. Prior to joining the Studio, he served as Executive Vice President and Creative Director for Grey Advertising in New York.

Celebrating its 27th year, ShoWest is the world's largest motion picture industry convention. Each year, ShoWest attracts delegates from more than 45 countries in North and South America, Europe, Asia and Australia. ShoWest is managed by Sunshine Group Worldwide, operators of ShowEast, Cinema Expo and CineAsia.


BROADWAY THE LOVE SONGS

If you weren't at City Center in New York City last October 16, we hope you had a good excuse. It was one of those evenings that make New York City so special.The program My Favorite Broadway: The Love Songs and the producers knew that Julie Andrews had agreed to sing a few lines in the My Fair Lady section.

That remarkable evening has been captured on a CD My Favorite Broadway The Love Songs which will hit the stores tomorrow, Feb. 27. It features Julie Andrews, Michael Crawford, Linda Eder, Peter Gallagher, Robert Goulet, Heather Headley, Nathan Lane, Rebecca Luker, Barry Manilow, Marin Mazzie, Bebe Neuwirth, Adan Pascal, Ron Raines, Chita Rivera and Tom Wopat.

The one-night only event recreated many of Broadway's most magical moments past and present; Robert Goulet reprised his Lancelot in If Ever I Would Leave You from Camelot and Michael Crawford performed his haunting Music of the Night, from The Phantom of the Opera.

The evening's emotional highlight came when host Dame Julie Andrews thrilled and surprised the capacity crowd by joining Crawford for a few bars of The Rain In Spain from My Fair Lady. This was the first time Julie had sung on stage since sustaining damage to her vocal chords during throat surgery in 1997.

This event was the second of what producers hope with become an annual event. The first was My Favorite Broadway: The Leading Ladies. Conceived and produced by Jeff Rowland, Allen Newman and Tony Adams, musical director Paul Gemignani began by structuring the evening loosely as a concert, but what they accomplished was an event that had the cohesion of a show. They used artists ranging from the very experienced and recognizable to the up and coming performers who have the skills and talent to hold their own, shinning as the new stars of tomorrow. The stars were matched to the material and magic happened.



ROBERT GOULET AND RICHARD BURTON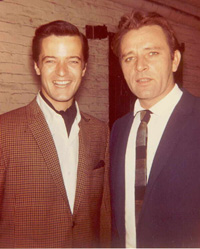 Julie Andrews was set as the headliner and the producers wanted to feature her in two major sections, one in each act. So, they created a Camelot section in act one which used her co-star Las Vegas resident Robert Goulet, who flew to New York for the event.

Camelot opened at the Majestic Theatre on December 3, 1960 and closed January 5, 1963 after a run of 873 performances. Richard Burton made his musical debut as King Arthur and Robert Goulet made his New York debut as Lancelot. Julie Andrews, a personal friend of T.H. White's played the role of Guenevere.

The My Fair Lady sequence became the finale. When Andrews sang those few notes theatre history was made. The house was brought to its feet and the thunderous applause stopped the show for a record setting span of minutes.

It can be difficult to capture atmosphere in a recording. It can also be difficult to replicate the quality of the performance. Not so with this compact disc. It's the type of recording that you can put on, hit repeat and just play all day. In fact, like visiting an old friend, the more you listen - the better it gets.

After an introduction by Andrews, Tom Wopat, who is currently on a national tour of Annie Get Your Gun, offers Lullaby of Broadway bringing on Nathan Lane for his delightful rendition of Sue Me. Heather Headley sang He Touched Me from Drat The Cat and Ron Raines performed Gigi.

Marin Mazzie's selection was When Did I Fall In Love from Fiorello, leading into the Camelot section which reunited stars Julie Andrews and Goulet who sang If Even I Would Leave You.

Linda Eder's love song medley included Come Rain or Come Shine, I Don't Know How To Love Him, and What Kind of Fool Am I? Backed by The Broadway Inspirational Voices, Adan Pascal performed Seasons of Love from Rent.

Michael Crawford, who went from starring in Phantom of the Opera to serving time starring in EFX in Las Vegas, received wild applause for Music of the Night.

Barry Manilow, who is on tour with his Copa Cabana Show, offered Every Single Day from Harmony.



REBECCA LUKER currently starring in Music Man. Photo By:Joan Marcus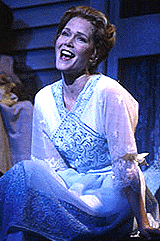 Love Song Medley II was presented by Rebecca Luker. Sometimes A Day Goes By from Woman of the Year was offered by Peter Gallagher.

And, a song with a similar sounding title - Not A day Goes By - from Merrily We Roll Alone was performed by Marin Mazzie.

Bebe Neuwirth, who has returned to the Broadway cast of Chicago, knocked em dead with I'm a Brass Band from Sweet Charity. Chita Rivera who is currently starring in Verecia at the George Street Playhouse, performed How Lucky Can You Get from Funny Lady.



JULIE ANDREWS AND MICHAEL CRAWFORD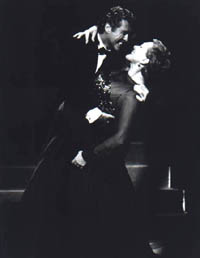 The final sequence began with Michael Crawford singing a My Fair Lady medley bringing out Julie Andrews for The Rain In Spain duet with him. When the audience finally decided to sit down, a reprise of Lullaby of Broadway ended the evening and is the final cut on the record.

Credit must be paid to The American Theater Orchestra with musical director Paul Gemignani. The production was directed for the stage by Gracela Daniele. The CD was recorded by John Harris and Mitch Maketansky, mixed and masters by James Nichols.

In addition to the live audio recording, the production was taped for PBS' Great Performances series and will be telecast during the March pledge drive. Also available on DVD and VHS as of March 13, a portion of the proceeds from the CD, VHS and DVD sales will benefit Broadway Cares/Equity Fights AIDS.

My Favorite Broadway The Love Songs - Buy, Listen, Enjoy.


APPLAUSE, APPLAUSE

BISTRO AWARDS presented by Back Stage has announced the winners of the 26th Annual Bistro Awards for outstanding achievement in cabaret. The awards will be held March 5 at the Supper Club in New York City. The event kicks off Cabaret Month in New York City, as designed in previous years by the Mayor's Office. It's a month long celebration of this unique art form, featuring special performances, panel discussions, and other events.

Twenty-six artists will be recognized for their distinguished work in 2000. Receiving the Bob Harrington Lifetime Achievement Award are jazz legends Dame Cleo Laine and John Dankworth.



DAME CLEO LAINE

Polly Bergen, 70, who greeted fans at her successful cabaret comeback at Feinstein's at the Regency last October with - "I know, you thought I was dead" - is receiving the award for Outstanding Major Engagement, and Jim Caruso and Jason Graae are the award recipients for Outstanding Musical Comedy. This year's Outstanding Vocalists are Scott Coulter, Jack Donahue, and Audrey Lavine. Outstanding Cabaret Debut nods got to Kane Alexander and Julie Reyburn.

The Bistro Award for Outstanding Songwriter goes to Francesca Blumenthal, Christine Lavin is named Outstanding Singer/Songwriter, and singer David Gurland receives the award in the Special Material category for writing Bistro Baby.

Honors go to the musical revue This Life - The Songs of Portia Nelson, directed John Znidarsic, with musical direction and arrangements by Paul Katz. Bobby Peasco is named Outstanding Performer in a Revue for his work in Indigo Rat.

Purpose of Love - A Tim Di Pasque Songbook, produced and directed by Michael Levesque and staring Tim Di Pasque, wins a Special Cabaret Event Bistro, and Marc Salem's Mind Games and All That Jazz is cited in the category of Unique Entertainment.



MICHAEL FEINSTEIN

Michael Feinstein is the award recipient for his recording Romance on Film, Romance on Broadway, Cory Kahaney is named Outstanding Comedy Performer, and Ron Poole garners a Bistro for his variety show, Poole Party! Other recipients noted for outstanding achievement include Mark Hartman for Musical Direction, and Michael Barbieri for Technical Direction.

This year there are two Special Awards: Songwriter Ervin Drake is being honored for his life-long contribution to the cabaret community, and Joe's Pub Songbook Series gets a Special Bistro for perpetuating the ever-expanding Great American Songbook.


SWEET CHARITY

VARIETY -THE CHILDREN'S CHARITY RADIOTHON finds Mary Stout, who is currently receiving raves for her role as the bossy housekeeper Mrs. Fairfax in the Broadway musical Jane Eyre, co-hosting with Cousin Brucie and food critic Arthur Schwartz on WOR Radio beginning at 12 noon Feb. 27.



Broadway To Vegas is supported through advertising and donations. Priority consideration is given to interview suggestions, news, press releases, etc from paid supporters. However, no paid supporters control, alter, edit, or in any way manipulate the content of this site. Your donation is appreciated. We accept PAYPAL. Thank you for your interest.



SHOWBOAT

A Scene from SHOWBOAT Photo By: Carol Rosegg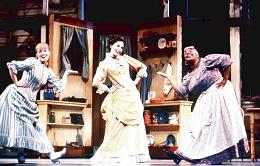 may have down sized, but it keeps right on paddlin' along. When Garth Drabinsky's beleaguered, Toronto-based Livent Inc., sent his spectacular production of Show Boat out on the road, it took a convoy of 26 trucks to haul the scenery and costumes and anywhere from three days to 1 1/2 weeks to set it up in each theater on the tour. Then Livent went bankrupt and Drabinsky faced a slew of financial misconduct charges. Baltimore-based NETworks, founded by Kenneth Gentry, bought Livent's Show Boat costumes and re-engineered the entire tour - using only 5 trucks. It may be streamlined through more efficient packing and construction, but none of the steam is missing. Show Boat docks in Salt Lake City to bring Jerome Kern and Oscar Hammerstein II's landmark musical to the Kingsbury Hall stage for a February 27-March 2 run.

THE OCCUPATION OF HEATHER ROSE A young nurse's naive view of the world crashes down around her in the New York premiere of Canadian Wendy Lill's one-woman, dark comedy.

Actress Susan Haefner, featured in the Broadway production of State Fair, plays the idealistic Nurse Heather Rose who travels to northern Canada to help the poverty-stricken Indians of the fictional Snake Lake Reserve. "She goes out to save the world," said Haefner, "and finds it difficult to even save herself."

"It's a humorous and sometimes poignant look at community and our need to connect with one another emotionally, physically and culturally," said director Steven Bray.

The Occupation of Heather Rose, first performed in 1987, was nominated for the Governor General's Literary Award for Drama and is one of many plays by Lill dealing with Canada's culture and history. She became a part of political history in 1997 when she was elected a Member of Parliament for Dartmouth, Nova Scotia where she continues to serve today.

Presented by Living Room Arts and Shiny Shoes, The Occupation of Heather Rose plays March 6, 13, 20, 27 and Sunday, March 18 and 25 at 7 p.m. at Rose's Turn, NYC.

MAMMA MIA! is a hit in America as it was in London. The production which officially opened in Los Angeles on February 22 - composed entirely of popular ABBA songs - is doing turn away business in Los Angeles. Slated to run through April 22, don't be surprised if there is an extension. The production opens in Chicago at the Cadillac Place May 18 and that gig has already been extended from June 24 through July.7

ANNIE GET YOUR GUN has had new life brought into it through Reba McEntire. It's not often that a replacement takes a part created by another and turns it into their own vehicle, but that is what Reba has done. Reba has given notice that she has more dimensions that a diamond and talent that is just as prized. Be nice to yourself. Go see Annie Get Your Gun starring Reba McEntire.

CABARET February 27-March 4 in Greenville, SC at the Peace Center.

BOBBI BOLAND It is 1967 in Crestview, Florida, a town where Bobbi Boland has reigned supreme for the 20 years since she was crowned Miss Florida on that rainy night in 1947. Her crown sits encased in a sealed glass cabinet. A shrine proudly displayed in her "sunken living room." Her life is as meticulously groomed as the immovably perfect wig on her head. Bobbi doesn't walk. She floats. She doesn't turn. She pivots. She is poised, proud and perfectly sure she will never "sag." She married Roger, her high-school-football-hero-boyfriend, regularly reads Gone With The Wind, opened up a charm school - and that was that. Until 20-year-old-free-loving Kim arrived in town. Bobbi Boland is a play about just how far a queen will go to protect her realm. It takes courage to be a beautiful woman. It's the female equivalent of going to war.

A new comedy by Nancy Hasty, directed by Evan Bergman, produced by Laine Valentino featuring Holiday Segal, Gregg Henry, Byron Loyd, David Little, Tanya Clarke and Rose McGuire as Bobbi Boland. Scenery By John Farrell, Costumes By Jill Kliber, Lighting By Steve Rust and Sound By Cynthia Tuohy. Opening March 1 at The Arclight Theatre, NYC.

RICHARD II presented by Frog & Peach Theatre Co. continuing its sixth season of presenting Shakespeare on the Upper West Side at The Theatre at the West-Park Church, NYC.

Richard II will star Broadway, film and television star Austin Pendleton as the enigmatic monarch Richard II and Frog & Peach Artistic Director Ted Zurkowski as his treasonous cousin Henry Bolingbroke. The production will be directed by the company's co-founder Lynnea Benson and will begin performances on Thursday March 8 and will officially open on Sunday, March 11. Richard II historically depicts events in the last two years of the monarch's life. The play is a portrait of a weak king who makes bad decisions, falls prey to intriguing courtiers, and who is temperamentally unfit to rule. However, in the course of the play, he gains insight and dies with dignity.

The cast includes: Martin Carey, Rhonda Cole, Joe Corey, Letty Ferrer, Matthew Freeman, Peter Hess Friedland, Charlotte Hampden, Roland Johnson, William Laney, Austin Pendleton, Stewart Walker and Ted Zurkowski. Ian Marshall will serve as Fight Director.


WHO'S WHERE

ANDREA MARCOVICCI made her Las Vegas debut last Sunday and was wonderful. With accompanist and arranger Glenn Mehrbach, the cabaret artist delivered a performance worthy of seeing again. From her song selections to her antidotes about Broadway songs, Marcovicci entertained and captivated. As to why the artist has never before appeared in Las Vegas, she told the crowd at the University of Nevada, Las Vegas Art Ham Hall "I've never played Vegas before. I never had enough sequins." If you missed her Vegas stop catch up with her March 24 in Los Angeles when she performs at Royce Hall.

PATTI LaBELLE plays the Hard Rock Hotel, Las Vegas on March 9.

SARAH BRIGHTMAN March 3 in Fresno, CA at the Selland Arena. The following night she performs in Las Vegas at the Aladdin Theatre. On March 5 she's on stage in San Francisco at the Bill Graham Auditorium.

JOHNNY MATHIS at the Westbury Music Fair, Westbury, NY March 2-3.

TONY BENNETT in Clearwater, FL at the Ruth Eckerd Hall on March 2-3.

BETTY BUCKLEY March 3 at the Zoellner Arts Center at Lehigh University in Bethlehem, PA.

CLEO LAINE AND JOHN DANKWORTH WITH THE ELLINGTON BAND March 2-3 - Storrs, CT.

DEE DEE BRIDGEWATER Cleveland, OH at the Reinberger Chamber Hall on March 3.

KLEA BLACKHURST pays tribute to the late, great Ethel Merman in her new cabaret act, Everything the Traffic Will Allow: The Songs and Sass of Ethel Merman. The act features songs that Ethel Merman introduced on Broadway. March 5, 12, 19, 26 and 31 at Danny's Skylight Room, NYC.

JULIUS LA ROSA stars in the Palm Springs Follies, through April 1. Palm Springs, CA.

GARY LEWIS AND THE PLAYBOYS received high marks for their engagement at the Bluffs Run Casino in Iowa last week. In 1965 Gary himself was Cash Box magazine's Male Vocalist of the Year, winning the honor over other nominees Elvis Presley and Frank Sinatra. He was the first and only artist during the 1960's to have his first seven releases - remember This Diamond Ring - reach Billboard magazine's Top 10 on the Hot 100 chart. Gary, along with the Playboys, who consist of Rich Spina, Billy Sullivan, Paul Sidoti and Michael Hadak, continue to tour. As for the Bluffs Run gig, the casino calls it Legends Night. There is an open lounge and the venue added an additional 100 padded, folding chairs. It was reported that the place was packed and customers who couldn't get seats stayed at their slot machines, but stopped making noise to listen to the performance. Employees said that Lewis was extremely gracious, signed autographs and was "A really nice guy." The son of Jerry Lewis, in the past he's had some personal problems. We're glad his career is doing well.

DAVID BRENNER at Brooklyn Center for the Performing Arts March 3.

B.B. KING in Thousand Oaks, CA at the Kavli Theatre at Civic Arts Plaza on March 4.

RITA RUDNER March 1 at Trinity University in San Antonio, Texas. On March 2 the funny lady can be laughed at in Ashland, KY at the Paramount Arts Center. The next night she's in Boca Raton, FL for a private event, so if you haven't been invited to that one, don't show up.


THIS AND THAT

HEARTS OF DARKNESS: A FILKMAKER'S APOCALYPSE is a screening of the 1991 film documenting the magic and madness of the making of Francis Ford Coppola's monumental Apocalypse Now and panel discussion moderated by New York Times critic Stephen Holden. Panelists include: Writers and directors Fax Bahr and George Hickenlooper; documentary footage director Eleanor Coppola and producer George Zaloom. Directors Guild of America Theatre, NYC March 4.

OCEANS' 11 the remake of the classic 1960 film about ex-con Danny Ocean, who recruits 10 old friends to help him with a Las Vegas casino heist, starred Frank Sinatra, Sammy Davis, Jr., Dean Martin, and Peter Lawford. The new version stars George Clooney, Julia Roberts, Brad Pitt, Matt Damon, Andy Garcia, Don Cheadle and Elliott Gould. Its been filming - not in Las Vegas but in Atlantic City, New Jersey - the state that grows two-thirds of the world's eggplant.

The gambling pit at Trump Plaza Hotel & Casino became a movie set depicting a Las Vegas casino.

The big-budget remake coughed up $75-a-day in extra pay, which won't pay for too many tickets, now that New York is jumping movie tickets to $10.

The Atlantic City shoot caused residents to lose any appearance of dignity. Kept at bay behind black ropes with security guards roaming nearby, fans waited to catch a glimpse of heartthrob Clooney.

Wearing a beige houndstooth blazer and maroon dress shirt, open at the collar, Clooney, who plays Danny Ocean, sat at a table talking to dealer Frank played by comedian Bernie Mac, while director. Steven Soderbergh called the shots.

Clooney was the only star in Atlantic City turning the locals' 15 minutes of fame into a two day location shoot at Trump Plaza, Caesars Atlantic City Hotel Casino and the White House Sub Shop, located a couple of blocks down Mississippi Avenue. Hyper ventilating waitresses and customers were all abuzz about Wednesday's filming there. Since it was closed for the shoot, the filmmakers are compensating the sub shop for the lost business. The shop typically sells 6,000 subs a day, at about $5 per sub.




Mention BROADWAY TO VEGAS for Special Consideration
Call (800) 942-9027









Next Column: February March 5, 2001
Copyright: February 25, 2001. All Rights Reserved. Reviews, Interviews, Commentary, Photographs or Graphics from any Broadway To Vegas (TM) columns may not be published, broadcast, rewritten, utilized as leads, or used in any manner without permission, compensation and/or credit.
Link to Main Page
---
Laura Deni



U.S. Postal Address: Post Office Box 60538, Las Vegas, NV 89160
( COMMENT SECTION )