! >
Broadway To Vegas
  
 SHOW REVIEWS CELEBRITY INTERVIEWS GOSSIP NEWS

| | |
| --- | --- |
| | |
ELECTED OFFICIAL MIXES COMEDY AND POLITICS - -BOTANIC GARDEN DIRECTED BY OLYMPIA DUKAKIS - - NEW YORK PHILHARMONIC CONCERT BROADCAST FROM NORTH KOREA - - MELISSA MANCHESTER ON TOUR AND STAGE - - SON OF OSSIE DAVIS AND RUBY DEE PLAYS ON - - VIGIL AT WESTPORT COUNTRY PLAYHOUSE - - SEATTLE UNIVERSITY LECTURE SERIES - - SARASOTA OPERA OPENING NIGHT GALA - - DONATE . . . Scroll Down


Copyright: February 24, 2008
By: Laura Deni

CLICK HERE FOR COMMENT SECTION
MELISSA MANCHESTER ON ADVENTURE ROAD
Melissa Manchester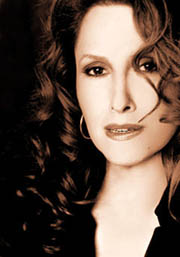 Melissa Manchester can see the floor!

The unassuming, intelligent, personable and talented lady celebrated her birthday February 15 and performed last night with her friend Amanda McBroom at the Hersbt Theater in San Francisco. Melissa spoke with Broadway to Vegas about her life and career and why being able to see the floor is important.

"I spent my birthday unpacking a million boxes in our new house," she declared.

Melissa has a lot to unpack. Things like gold records, a Grammy award, theatrical and concert playbills. The house holding the boxes is located in Oxnard, CA.

"By the ocean. This is has always been a dream of ours. It's our dream rental. We're empty nesters now," she said referring to her children Nathan and Hannah who are both in college. "So now we are looking at boats and a glassy ocean. It's very, very lovely."

Married almost 26 years to musician Kevin DeRemer who serves as her business manager, the entire family is so out of step with the times. None of them know how to do the perp walk. How did they manage to avoid having the number of a 24-hour bail bondsman on their speed dial?

"The only thing I know is that we have worked very hard at keeping communication open and trying to laugh as much as possible. Making our house sort of emotionally safe for everybody," she reasoned.



Jill Connor Browne in her garb as Top Yam - Sweet Potato Queen

In between concert gigs Melissa returns to "my love of the theater." She begins work with Tony Award winner Rupert Holms on The Sweet Potato Queen, based on the collection of books by Jill Connor Browne.

In 1982 Browne entered herself, along with four of her friends, in the Jackson, Mississippi St. Paddy's Day Parade as the Sweet Potato Queen. They threw sweet potatoes to the curious who lined the streets. Soon fans came from across the country to grovel at the Queens' feet. And so the phenomenon blossomed into a full-blown frenzy - including a Wannabe division where women who want to be Queens, try and pass outrageous tests to become one. Each year they are featured in the annual St. Paddy's Day Parade in downtown Jackson. Their one of a kind outfits come with enhanced chests and backsides and wouldn't be complete without their big red-haired wigs.

Today the Jackson based Sweet Potato Queens is a women's organization with chapters throughout the United States. In 1999, Browne penned the bestseller The Sweet Potato Queen's Book of Love. That sold over 250,000 copies and had to go to press fourteen times. Her latest volume The Sweet Potato Queens' Guide to Raising Children for Fun and Profit was published Jan 1, 2008. The Sweet Potato Queens' concept involves a belief in a sisterhood that promotes self esteem and positive thinking, appealing to mostly middle-aged middle-class women.



Tony Award winner Rupert Holmes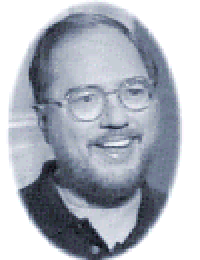 "I had read about her and then I got to known her," explained Melissa. "I just felt more than anything that she has a real voice. I brought the project to Rupert and he figured out a way to convey those stories and bring them to the stage, which is no easy fete."

Another project on the front burner is Blue which Melissa is writing with Sharon Vaughn and Michael Slade. "It is based on an original idea I had. It's a musical for families. We have an outline. Now we have to actually write it!" she exclaimed.

Both projects are family friendly.
"There is hunger for family entertainment in the theater. Look at Wicked and that incredible audience response. It didn't get thrilling reviews when it first opened but it has such an enormous fan base now. I think that wherever there is a way to be affirmative, so that folks can being their kids and grandma and not have to wince at all during the evening. Where they can enjoy something, be entertained - that's what I gravitate towards."

"In terms of the next re-invention of myself - writing for theater."

Manchester is no stranger to the stage.

"I had done the national tour of Song and Dance. I took over for Bernadette Peters." The demanding singing/acting role of English hat designer Emma dominates the first half. "It was extremely hard," admitted Melissa who quickly added, "but it was very rewarding. I realized that I had strength that I didn't even know that I had."

During that run Melissa's son was nine months old. She traveled with her husband and her parents. By the end of the run she was again pregnant.

"Then I did Andrew Lloyd Webber's Music of the Night for three months That was great. I realized that, as the kids were growing up, I just couldn't be doing eight shows a week. I just couldn't be an effective parent - worrying about making and packing a lunch for kids at six in the morning - and do the eight shows."

She starred in the musical stage production of Hats! in Chicago and also wrote and performed in I Sent a Letter to My Love a five-character musical based on the Bernice Rubin novel of the same name about a brother and sister who live in Maine during the 1950s. The sister takes care of her brother because he has polio. Melissa performed the leading role in a National Public Radio broadcast premiere in 1998.

Melissa returned to the stage in March of 1999, playing the Beggar Woman, when she co-starred with Kelsey Grammer and Christine Baranski in Stephen Sondheim's musical Sweeney Todd at The Ahmanson Theater in Los Angeles. "That was really thrilling," she said. "To me, that's the masterpiece. I was honored to be able to sing some songs that had been cut from the original performance."

"I have lots of concerts coming up, which is wonderful. Now that I am an empty nester, I can do it," said the lady whose hits include; Don't Cry Out Loud, The Promise, Midnight Blue and You Should Hear How She Talks About You. She has received rave reviews, complimented for a smokier, sexier vocal quality.



A more soulful, sexy Melissa Manchester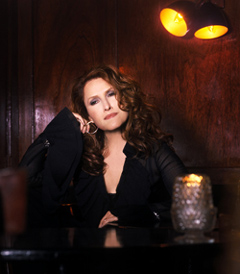 "I sang much higher," Melissa admitted of her chart topping, Vegas performing days. "That was part of the choice of the producers I was working with. It was also the style of the times. After having left the industry for about 10 years it was a conscious choice to sing in the deeper part of my register, which to me is my more authentic voice."

"The record industry is unrecognizable," commented Melissa about today's version of what she experienced 30 years ago. "It's functioning in a whole new way. It's literally the reinvention of the wheel because there are so many new ways to get music out. You have to work four times as hard to make sure it lands where you were hoping it would land. There are very few record companies. Most everything is independently produced That means you're frequently paying for it yourself instead the bank of the record company, which makes it a little more complicated. Yet, it gives you much more artistic freedom."

"What I have started to do is something I learned from my country colleagues - which they've been doing forever. After the show you come out into the lobby and you sign your albums, shake hands and get to know your fan base. That's really a good thing. It's reaching out and touching on a human level. It's amazing to hear the stories that people tell you."



Melissa Manchester and Bette Midler. Midler is currently starring at Caesars Palace in Las Vegas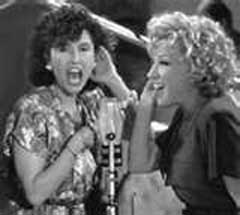 "I think the thing I am most grateful for is that my career has lasted so long and has had many chapters," reflected Melissa whose father was a bassoonist for the Metropolitan Opera Orchestra.When she was 14 she spent the summer doing theatre, working through the NYC Department of Parks. The group would go into ghettos and work with the block associations, using people's apartments as dressing rooms and encouraging kids to be part of the productions. During college she took a songwriting course taught by Paul Simon, eventually performing as a solo singer-pianist in Greenwich Village and on Manhattan's Upper West Side and performing as a backup singer for Bette Midler when she first played New York's Carnegie Hall. Six months later, Manchester had a recording contract and began performing for sold-out audiences. When Melissa played Caesars Palace in Las Vegas, Billy Crystal was her opening act. He beefed up his stint by including bird calls.

Manchester's creativity leans towards the bi-polar - writing songs for a CD and songs for the stage.

"It's different, yes, because in theater you are writing in a world of purpose. That is, each character had to find their musical motif. Each song is pushing the story forward. Many times you musicialize scenes, getting rid of dialogue where word finds its way into lyric."

"With making an album, you frequently don't know what is on your mind when you approach making an album, so you hook on to what you are thinking about, what the world is going through, what your life is going through. When the album's done, you look back and think - Oh that's what I was up to! Whereas in theater, you sort of have a road map of where your destination is located."

"So, it is apples and orange. But, the thing about theater is you're writing on a very large canvas, whereas when you're working on album, even though it ends up being a body of work, the songs themselves are small worlds. They are not really consciously connected to each other."



Stephan Oberhoff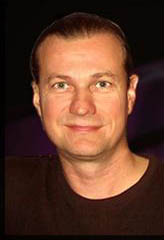 Her latest CD When I Look Down That Road is her 16th. It features Manchester on vocals and piano; Tom Brechtlein and Cassio Duarte on drums; Doug Norwine playing the clarinet; Tollka Ollestad singing background vocals and playing the harmonica; acoustic guitar work by Peter Hume; Percussionist Bara M'Boup; Kevin DeRemer on drums and percussion; Ritchie Kotzen on electric guitar and background vocal; Keb' Mo' playing slide guitar and dobro and Stephan Oberhoff on acoustic & electric guitars, piano, Hammond B-3 organ, synthesizer and percussion.

On March 15 Melissa can be enjoyed at the Casino Avalon Ballroom at Niagara Fallsview Casino Resort in Niagara Falls, Canada.

"I look forward to performing and meeting folks afterwards. I look forward to having more adventures."


VERMONT REPRESENTATIVE MIXES POLITICS AND LAUGHTER
Jason Lorber with Senator Patrick Leahy. "Jason understands how to translate his passion for social justice into meaningful legislation." - Senator Patrick Leahy.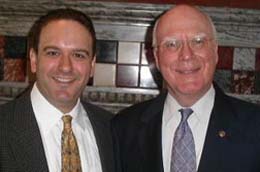 Lately it seems the only way a comedian can get a booking on a talk show is to be running for president.

Most of the candidates have been schooled on how to deliver a punch line and wait for the laugh. Many are also getting guffaws on their positions.

Legitimately melding comedy and elected office is Vermont State Representative Jason Lorber who earns his living as a comedian. When he's not making people laugh at a comedy gig, producing comedy shows and running improv workshops, he's helping to make laws.

Lorber spoke with Broadway To Vegas about his usual dual lifestyle.

Born in Philadelphia, at the age of six months his parents moved to California and Jason went along for the ride. He discovered early in life that he wanted to become an actor. "Before that I wanted to be a bus driver, but that only lasted a couple of weeks."



Nathaniel Lew holds a Ph.D. in Musicology from UC Berkeley. His research focused on twentieth-century British music. He has taught at UC Berkeley, UC Berkeley Extension, and San Francisco Arts and Humanities Seminars. In his current position at Saint Michael's College in Colchester, Vermont, he teaches music history and music theory. As director of the College's choral program, he has commissioned a series of choral compositions, including a major new work by Terry Riley.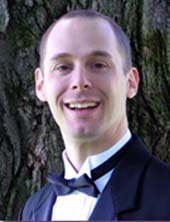 About six years ago Jason's partner, Nathaniel G. Lew, was hired as Assistant Professor of Fine Arts at Saint Michael's College in Colchester, Vermont, where he teaches music history and music theory.

The couple relocated and almost immediately Jason got involved in politics. He is currently serving his fourth year as a state representative for Burlington. A partial list of his endorsements include; Sierra Club (Vermont Chapter), AFL-CIO (Vermont Chapter), Vermont Alliance of Conservation Voters, Vermont National Education Association, Vermont State Employees Association and Planned Parenthood.

"I'm very happy to get their support," said the comedian in a very serious tone.

"My career outside of being a legislator is being an actor and comedian. There aren't any clubs dedicated to stand-up comedy so I end up self producing a lot of shows. There are restaurants and other venues. Sometimes it's a one man show and other times I bring on other folks. In addition to stand- up I also act in plays and TV commercials. I'm busy."

Stoic Vermont. Home of granite and maple syrup. Anybody with a sense of humor?

"My audience likes funny. My stuff is pretty tame," he said referring to the X-rated style of stand-up. "I talk about my life - everything is fair game from politics to family to being a gay Dad, to my mother. She always complains - Oh, God, are you talking about me again?" he laughed.

If you've got her in the act, she's going to want a percentage of the ticket. "You're telling me!" he exclaimed.

Lorber is a California raised Gay Dad, elected to office in the state which gave birth to those fun loving presidents Calvin Coolidge and Chester A. Arthur.

Vermont has a history of being rather maverick and remains the only state that President Bush has not visited.

"I've made jokes about the current election. Yup, I'm a Democrat."

"One of the wonderful things about Vermont is that we have a citizen legislature, so everyone has their other job. They are farmers, teachers, and comedians - although I am the first. When I got elected I told people I am the first comedian elected to the State House. They said, No, you're just the first professional comedian."

"There are a lot of issues that caused me to want to get elected," he began and then went for the joke. "The real reason I ran was - I wanted to spend less time with my family. What I found is that the legislature is like your family. There are 150 people in Vermont's House of Representatives. They are really wonderful, nice people - who if you are not watching - will stab you in the back," he paused and then added, "But, to me that is what family is all about."

Rim shot.

"Vermont works really well," he continued. "One of the reason's why is because we don't have a lot of money involved in politics. To run for office you can do so with $5,000. I used to live in California and there you needs hundreds of thousands of dollars."

"You don't campaign here with money. Usually, if people are spending more than $10,000 they are doing something wrong."

"In Vermont whoever knocks on the most doors - wins. I made it a point to knock on every door in my district. That's thousands and thousands of doors. I'm in Burlington. It's the Queen city of Vermont. One of the most livable cities and a great place to visit. It's gorgeous!"

"Politics is about changing society and trying to make the world a better place. And performing makes me feel so alive. I love the creative aspect of it," he said.

"There are a lot of issues," he reiterated. "I believe in universal health care. All folks deserve to have health care. That's an important issue."

Almost immediately after taking office he was instrumental is increasing the minimum wage.

"Yeah, that was something I did the first couple of months in office. When I raised it , we raised it to $7.25 per hour. We included a COLA - the cost of living increase - for inflation. That would automatically kick in so we don't have to have the battle every year."

He is also widely known for his work on prison reform.



Lorber and Rep. John Patrick Tracy. "After just two years in the House, Jason earned the admiration of his peers for his leadership on Corrections. That sort of recognition isn't easy to come by, but it was well deserved." - Rep. John Patrick Tracy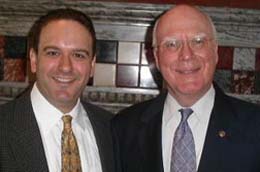 "The problems that we have in Vermont also mirrors what is happening in the rest of the country," declared Lorber.

"The United States incarcerates more people per capita than any other country in the world - to the extent that we incarcerate more people in raw numbers than Russian, than China, than any other country," he repeated. "And, we are continuing to set new records almost every year."

"In our zeal to get touch on crime we've forgotten to focus on what I believe we should be doing - to get smart about safety."

"We have limited resources. We need to find strategies and programs that will make society safer, and also reducing the number of people incarcerated and save us money all at the same time. That is something that I have been working on."

"What we did was to form a by-partisan group of folks across all three dimensions of government - judicial, executive and legislative branches. We are all meeting together because we agree that this is a devastating problem that we can't just spend out way out of. We can't just keep building prisons. We need to do something different."

He's a strong proponent of the theory that if citizens don't fund the schools they will end up funding prisons.

"Funding education would help tremendously - especially early childhood education. People coming into prisons - something like 90 percent of them under the age of 20 - lack a high school education. So, of course, there is a connection."

"For every dollar we spent on corrections, which is what we call prisons and jails here, we used to spend $2.00 on colleges and universities. Now, today, for ever dollar Vermont spends on corrections, colleges and universities get eighty cents. "

"That is a dramatic shift in our priorities. Which is more important -investing in the future or investing in locking people up?"

"When you think about the over all goal, which I think we should focus on, is - let's get smart about safety. How do we increase safety? Locking people up is a bad strategy. It doesn't work. More than half the people who are released from prison are back in prisons within three years. So, we need to end this repeat customer and attack the problem. One of the problems we found in Vermont, and I'm sure its true in other parts of the country, is that one of the root problems is drug and alcohol addiction. Well, locking someone up in prison isn't solving their drug or alcohol problem. In fact, a lot of people will tell you that it is easier to get drugs in prison than it is to get cigarettes."

"If you lock the wrong people up in prison you can increase their criminality. That's what studies have shown. They network with the other people."

"Now, we need prisons We need to lock up the repeat and violent offenders," he stressed dispelling any implication that he is soft on crime.

"But, for a lot of people, we may find less costly alternatives than incarcerations. There are a lot of proposals that have come from this three branch group that I am a part of. One of the proposals - invest in more drug and alcohol treatment programs. Rather than locking someone up behind bars, if they are nonviolent and meet certain criteria - either have a portion or all of their sentence focus on drug and alcohol treatment. If they can be successful in that program, not only will it cut down on crime and cut down on incarceration rates, but it will also save us money."

"A work program is also involved. If they can't stay employed then they are going to end up back in the slammer."

When Lorber isn't making laws or making people laugh, he's home being Daddy to son Max Lorber-Lew.

Lorber and Lew adopted Max at birth.



Max Lorber-Lew who was born May, 2006 at Fletcher-Allen Medical Facility was adopted at birth by Lorber and Lew. Lorber calls him "my favorite constituent." Max is pictured with his Daddy and Papa.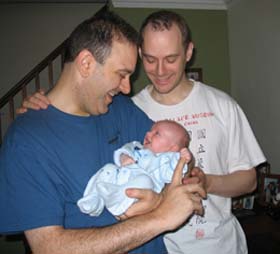 In Baker vs. Vermont (1999), the Vermont Supreme Court ruled that, under the Constitution of Vermont, the state must either allow same-sex marriage or provide a separate but equal status for them. The state legislature chose the second option by creating the institution of civil union; the bill was passed by the legislature and signed into law by Governor Howard Dean.

"No problem with a gay couple adoption - not in Vermont. It's wonderful," Lorber verified. "We went through an adoption agency and there was an open adoption. We've met the birth mother, so it has been a wonderful experience. We brought him home from the hospital."

That includes cutting the umbilical cord which brings out the comedian side of Lorber.

"Yes, I cut the umbilical cord. I do some of my best gigs in the delivery room. It's to help the women with their labor."

The comic proudly exercises his bragging rights as a new parent.

"Actually, he is the cutest boy in North America. When he was born that was a contest that I started. I'm very proud that he won."

"He's in a day care, which we consider school. What is wonderful at this daycare is that the teachers will stay with the class until kindergarten. That is really wonderful."

Lorber is admittedly one happy man who, from all appearances has everything he ever wanted - except maybe a gig in Las Vegas.

"I'm happy where I am now. I don't anticipate leaving Vermont at all. Although, I would come to Vegas and do a show there."



Broadway To Vegas is supported through advertising and donations. Priority consideration is given to interview suggestions, news, press releases, etc from paid supporters. However, no paid supporters control, alter, edit, or in any way manipulate the content of this site. Your donation is appreciated. We accept PAYPAL. Thank you for your interest.


SPREADING THE WORD


SEATTLE UNIVERSITY LECTURE SERIES Exploring the Relationship Between the Musical and Theatrical Passions in Opera on February 26 will discuss Gianni Schicchi and Dante: Exploring the Hell, Purgatory, and Heaven of Puccini's Il trittico. The lecture series takes place at Wyckoff Auditorium at Seattle U.


SWEET CHARITY


SARASOTA OPERA OPENING NIGHT GALA After being closed for renovation for nearly a year, the doors will swing open for the Grand Re-Opening of the Sarasota Opera House. Attendees will be the first to see the newly renovated theater in all its glory. During the intermissions complimentary hors d'oeuvres will be served in the expanded lobbies and patron lounges. Above all, after a year of silence, the wonderful music of Verdi's Rigoletto will fill the auditorium and the hearts of opera-lovers.

This new production is an opera in three acts with two intermissions. Performed in Italian with English projected titles.

The story of the hunchback jester Rigoletto as he tries to shield his daughter from the evils of the world turns to tragedy when she falls in love with the licentious Duke of Mantua. Rigoletto inaugurated Sarasota Opera's Verdi Cycle in 1989 and has been the opera most requested by the Sarasota audience. Conducted by Victor DeRenzi. Stage Director is Stephanie Sundine. Scenic Design by David Gordon. Costume Designs by Howard Tsci Kaplan. Lighting Design by Ken Yunker. Roger L. Bingaman serves as Chorus Master.

The cast features: Erica Strauss, Rafael Davila, Michael Corvino, Jonathan Carle, Jeffrey Tucker and Blythe Gaissert.

Marking this new era at Sarasota Opera House, the celebration will continue with the Grand Re-Opening Gala dinner following the Opening Night performance. Guests will partake in a special four-course dinner under an elegant tent, with dancing, and other special highlights to cap off the evening.

Saturday, March 1 at the Sarasota Opera House in Sarasota, FL.

AN EVENING OF MUSICAL COMEDY AND ENTERTAINMENT featuring stars from All My Children, One Live to Live, General Hospital and The View in a benefit for Broadway Cares/Equity Fights AIDS on March 2 at Town Hall in NYC.


OTHER PEOPLE'S MONEY


NEW CREATIVE APPRENTICESHIPS British Prime Minister .Gordon Brown has called on Britain to become "the Hollywood" of creative industries as the Government announces five thousand new apprenticeships in film, fashion, music and design.

Speaking to Blur drummer Dave Rowntree in Downing Street, the PM said that a wide range of creative businesses, including the BBC, ITV, the Royal Shakespeare Company and many others, had signed up to provide 5,000 new apprenticeships by 2013. The move would consolidate Britain's position as a "world leader" in the field, he said.

The PM said:

"The creative industries - fashion to film, advertising, music - are one of the great exports for Britain to the rest of the world and one of the biggest employers of people for the future. "We want Britain to be the new Hollywood of some of the new creative industries of the future in the way that Hollywood was the centre of the film industry in the past."

Brown also announced a World Creative Business Conference that will bring world leaders in the creative and financial sectors to the UK every year just as economic and business leaders gather at the Davos World Economic Forum.

The new apprenticeship strategy, Creative Britain: New Talents for the New Economy, makes 26 key commitments for Government and industry across every stage of the creative process. Launched by the Department for Culture, Media and Sport, it aims to give more young people the opportunity to develop creative talents through five hours of learning per week at school.

The creative industries sector contributes £60 billion (almost $120 billion) a year to the British economy and employs almost 2 million people.

THE 92nd STREET Y has named Deborah Grace Winer, journalist, playwright and author of several books on the topic of American song, Series Artistic Director of the Y's long-running American Songbook series Lyrics & Lyricists. The series will continue to feature five shows developed by five different guest artistic directors each season. In her role as artistic director of the series, Winer will select the individual directors of each show in collaboration with Hanna Arie-Gaifman, director of the 92nd Street Y Tisch Center for the Arts, which produces Lyrics & Lyricists.

Winer will work collaboratively with each show's artistic director, shaping the series as a whole and continuing to create shows in the L&L tradition of providing information and entertainment with a particular focus on lyrics. Winer steps into the role currently held by Kristin Lancino, who has decided to step down at the end of the 2008 season in order to pursue her new professional responsibilities as Vice President of G. Schirmer, Inc.


CURTAIN DOWN


THE COLOR PURPLE play its final performance today Sunday, February 24, after playing 30 preview performances and 910 regular performances at the Broadway Theatre.

The production currently stars Chaka Khan as Sofia, BeBe Winans as Harpo, LaKisha Jones as the Church Soloist at all evening performances and Sofia at all matinee performances, Montego Glover as Nettie, Elisabeth Withers-Mendes as Shug Avery, Alton Fitzgerald White as Mister, Krisha Marcano as Squeak and Las Vegan Zonya Love as Celie.

The production recouped its entire $11 million investment in its first year on Broadway, having grossed over $103,000,000.



A MARVELOUS PARTY Words and music by Noël Coward. Devised by David Ira Goldstein, Carl Danielsen, Mark Anders, Patricia Wilcox, & Anna Lauris. Musical Arrangements by Carl Danielsen. Directed by David Ira Goldstein.

You're invited to join the party! Pull up a chair and be prepared to tap your toes and snap your fingers and swing along to the masterful tunes of Noël Coward, one of the most brilliant and versatile talents of the 20th century.

A dazzling evening of ravishing melodies and sparkling dance in this award winning revue blended with Coward's razor-edged British wit.

Drawn from Coward's songs, plays and journals, this lively show entertains and delights with its snappy lyrics, contagious music, witty puns and remarks.

Spencer Theatre at Kansas City Rep. February 29 - March 23.

TOSCA Puccini's passionate tale of love and betrayal returns to the Royal Albert Hall with the magnificent production that thrilled audiences and critics alike when it was first performed in February 1999.

This spectacular staging, directed by David Freeman with majestic designs by David Roger will be sung in English using the highly acclaimed translation by Amanda Holden. A distinguished cast of soloists accompanied by the Royal Philharmonic Orchestra will be conducted by Peter Robinson.

Set in the period of the Napoleonic wars, Tosca is based on true events which unfolded in Rome during a period of great turmoil. Puccini put his heart and soul into this story of political intrigue and doomed love. The three principal characters, Tosca, a famous singer, Cavaradossi, an artist and her lover, and Baron Scarpia, head of the secret police who is one of the most evil of operatic villains, are all finely drawn in Puccini's sublime score.

E Lucevan le stelle, Recondita Armonia and Vissi d'arte and among Puccini's finest and the second act which comes to a terrifying climax as Scarpia attempts to seduce Tosca with an offer of safe-conduct for Cavaradossi, is arguably Puccini's greatest dramatic construction. The ravishing music underlines the fast flowing plot, darting as it does from utter joy to deepest despair in mere seconds. Tosca's ghastly realization that she has been tricked and her leap to her death from the ramparts of the Castel Saint Angelo bring the opera to its dramatic finale.

February 28 - March 9 at Royal Albert Hall in London.

THIS IS HOW IT GOES by Neil La Bute. Directed by Toby Schmitz.

Cody and Belinda are high school sweethearts who married for better or (mostly) worse. They were a dream interracial couple, he was the sports hero, she the cheerleader - but 12 years and 2 kids later and their marriage is in trouble. When an old classmate returns to town, he sees Belinda at the mall and a flirtation begins; pulling them into a triangle of love, racism and distrust. Compelled by their desires, LaBute's characters manipulate their values to suit their needs. With time and probability twisted, all is not what it seems in this thrilling tale of intrigue and betrayal.

Featuring Patrick Brammall, Wayne McDaniel and Rebecca Rocheford Davies.

Producer Fishy Productions. Design Brigid Dighton. Lighting Design Allan Hirons. Sound Design Jeremy Silver. Graphic Design Sensory Creative. Stage Management Nadia Karim.

Thursday February 28 - Saturday, March 22 at the Darling Hurst Theatre in Sydney, Australia.

VIGIL Written by Morris Panych. Directed by Stephen DiMenna.

A black comedy by one of Canada's greatest award-winning playwrights. Childhood was anything but normal for Kemp. His list of early age traumas include: A Rumanian dwarf tutor, force-fed accordion lessons and a fear of the dark until age 18. Not wanting to revisit a moment of it, Kemp successfully avoided all family contact for 30 years. That is, until the day he was guilted into taking care of his dying aunt.

Now Kemp impatiently waits for the death of his bedridden aunt, attempting to fill in the time with recollections of his peculiar childhood along with playful musings on mortality. But his expectation of her death within days soon turns to weeks, then months, and eventually begins to feel like an eternity.

Morris Panych has received numerous playwriting awards including two Governor General Awards - the most prestigious literary award in Canada. To give you an idea of the playwright's wonderfully dark humor, in a program note for the West End production, Panych dedicates the play "to all who have died and all who've not yet got around to it."

February 26 - March 15 at the Westport Country Playhouse in Westport, CT.

BOTANIC GARDEN by Todd Logan. Directed by Academy Award winner Olympia Dukakis.

Kate (Carmen Roman) faces the daunting and often humorous prospect of her first date since the death of her husband, Jake (James Leaming). Memories of her husband and their marriage force Kate to take a stark look at her present, and the choices she must make as she embarks upon the next chapter of her life.

The world premiere is currently on stage through March 9 at Victory Gardens Greenhouse Theater in Chicago, IL. The Victory Gardens Theater is an American Center for New Plays and the recipient of the Regional Theater Tony Award.

WISHFUL DRINKING

Carrie Fisher on stage in Wishful Drinking. Photo by: Kevin Berne.
written and performed by Carrie Fisher. Directed by Tony Taccone in association with Jonathan Reinis Productions.

An uproarious and sobering look at her Hollywood hangover. Fisher tells a true and intoxicating story with the strong, wry wit that she poured into bestsellers like Postcards from the Edge.

Born to celebrity parents Eddie Fisher and Debbie Reynolds - who united to attend the Tuesday, February 19, performance - at age 12 she made her stage debut singing Paul Simon's Bridge Over Troubled Waters in her mother's Las Vegas nightclub show and was picked to play a princess in the original Star Wars when only 19 years old.

Aside from a demanding career and her role as a single mother, Carrie also spends her free time battling addiction, weathering the wild ride of manic depression and lounging around various mental institutions. It's an incredible tale - from having Elizabeth Taylor as a stepmother, to marrying and divorcing Paul Simon, from having the father of her daughter, Hollywood agent Bryan Lourd, leave her for a man, to ultimately waking up one morning and finding Republican campaign consultant R. Gregory Stevens dead beside in her bed following a pre-Oscars party.

The Roda Theatre at Berkeley Rep through March 30. Berkeley, CA.


| | | |
| --- | --- | --- |
| | | |
WHO'S WHERE


THE NEW YORK PHILHARMONIC ORCHESTRA performs in concert in Pyongyang, North Korea on Tuesday. In an unheard of event, the North Korean government has agreed to a live national broadcast. Las week an official from the North Korean Mission to the United Nations in New York sent the confirmation by E-mail to Zarin Mehta, the orchestra's president.

CELINE DION continues her world tour with a show Wednesday, February 27 at the EPRU Rugby Stadium in Port Elizabeth, South Africa. On Friday the performances moves to the Coca-Coca Dome in Johannesburg.

GUY DAVIS one of the foremost musicians of the modern-era, and son of Ossie Davis and Ruby Dee, come watch Guy creates soulful blues music Friday, February 29, Olney Theatre Center in Olney, MD. And come back on Saturday, March 1 for Guy's Family performance. He creates toe-tapping, knee-slapping, musically good-times. Come listen as he makes his harmonica bark like a dog, grunt like a pig, and rattle like a train. Perfect for ages 8 and up.

TOBY KEITH opens a two night gig Thursday, February 28, at the Mohegan Sun in Uncasville, CT.

ALANIS MORISSETTE performs Monday, February 25 at the Spring Center in Kansas City. On Tuesday she appears at the Qwest Center in Omaha. Thursday finds her at the Toyota Center in Houston. On Friday she stars at the Nokia Theatre in Grand Prairie, TX. Next Sunday the show is at the Ford Center in Oklahoma City.

CELTIC WOMAN are center stage Tuesday, February 26 at Greensboro Coliseum in Greensboro, NC. Wednesday finds the group at Sommet Center in Nashville. Thursday the show is at FedEx Forum in Memphis. Friday they perform at the Knoxville Auditorium in Knoxville, TN. Next Sunday, March 2 the show is at the Johnny Mercer Theatre in Savannah, GA.

BILLY JOEL on stage Tuesday, February 26, at the Arco Arena in Sacramento, CA. On Thursday the show is at the Pepsi Center in Denver.

THE SPICE GIRLS in a two night stand beginning Monday, February 25 at Air Canada Centre in Toronto, ON.

KENNY "BABYFACE" EDMONDS performs Monday, March 3, at the Ryman Auditorium in Nashville.

VAN MORRISON on stage Leap Year day, Friday February 29, at the Palladium in Cologne, Germany. On Saturday he entertains at the Jahrhunderthalle in Frankfurt.

EILEEN IVERS & IMMIGRANT SOUL Ivers' virtuosity gained international recognition with her mesmerizing musical performance in Riverdance and her acclaim as a founding member of Cherish the Ladies, an all-woman folk group. She appears with her band, Immigrant Soul, and dancers Niall O'Leary and Caitlin McNeill from the Niall O'Leary School of Irish Dance. Her bandmates include; Tommy Mc Donnell, lead vocals, blues harmonica, percussion. Buddy Connolly, accordion, whistles, keyboard. Greg Anderson, acoustic guitar, background vocals. Leo Traversa, electric bass, background vocals. One night only Saturday, March 1, The Center for the Arts at the College of Staten Island, New York.

MANDY PATINKIN the Broadway and television star performs a concert accompanied by pianist Paul Ford. March 1 at the Strathmore in Washington, D.C.

MICHAEL BUBLE has a busy week. Today he's on stage at the Jacksonville Veterans Memorial Arena in Jacksonville, FL. On Tuesday he performs at the New Orleans Arena in New Orleans, LA. Wednesday finds him at the Frank Erwin Center in Austin, TX. On Friday the show is at the Century Tel Center in Bossier City, LA. Saturday he can be enjoyed at the Toyota Center in Houston. Next Sunday he'll be pleasing the crowds at the Nokia Theatre in Grand Prairie, TX.

BON JOVI finishes out a split date three night engagement at the United Center in Chicago on Tuesday, February 26. On Thursday the show is at the Verizon Center in Washington, DC.

SIR JAMES GALWAY a supreme interpreter of the classical flute repertoire and a consummate entertainer whose appeal crosses musical boundaries. On stage with Lady Jeanne Galway on flute. Monday, February 25 Kennedy Center Concert Hall in Washington, DC.




PIFFLE AND PROFUNDITIES


JABBER JABBER The longest acceptance speech ever given at an Academy Awards ceremony was given by Greer Garson, when she accepted her award for Best Actress in 1942's Mrs. Miniver. It's uncertain exactly how long she spoke - most sources agree it was somewhere between 5 1/2 and 7 minutes.

Next Column: March 2, 2008
Copyright: February 24, 2008. All Rights Reserved. Reviews, Interviews, Commentary, Photographs or Graphics from any Broadway To Vegas (TM) columns may not be published, broadcast, rewritten, utilized as leads, or used in any manner without permission, compensation and/or credit.
Link to Main Page
---
Laura Deni


CLICK HERE FOR COMMENT SECTION