! >
Broadway To Vegas
  SHOW REVIEWS     CELEBRITY INTERVIEWS     GOSSIP     NEWS 
| | |
| --- | --- |
| | |
Copyright: February 24, 2002
By: Laura Deni
( COMMENT SECTION )

LOU GOSSETT RETURNS TO BROADWAY AFTER AN ABSENCE OF 38 YEARS
Lou Gossett has returned to the Broadway stage as sleazy lawyer Billy Flynn in the musical comedy Chicago at the Shubert Theater, NYC.

Gossett replaced George Hamilton who left the role early.

It's been 34 years since the Oscar-winner has been on Broadway. The last time was in 1968 in the production Carry Me Back to Morningside Heights, by Robert Alan Arthur. Presented at the New Locust Theatre in New York City, it was helmed by a guy making his directorial debut - Sidney Poitier. In addition to Gossett the cast included Diane Ladd, and David Steinberg.


Louis Gossett, Jr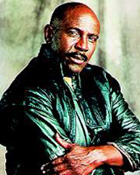 Gossett grew up in Brooklyn in a close knit family that encompassed the entire neighborhood.

Everybody looked out for each other. It wasn't unusual to find him sitting at a friend's dinner table or in a neighbor's bathtub have the playground dirt scrubbed off of him.

And, he stresses, every kid - whether Italian, black, Jew, Irish, Puerto Rican or Russian - could be disciplined at any time by any adult on the street.

"I am a direct result of the positiveness of a multi-ethnic neighborhood. Unfortunately, those communities are gone. And in order for our country to survive, we have to get that back."



Sandy Koufax

He was president of his senior class in high school and captain of the basketball team. One of his fellow sports chums in the Brooklyn youth league was Sandy Koufax, the future Dodgers star. Gossett remembers Koufax being able to throw a ball at 91 mph when he was 17 years old.

During one summer vacation Gossett got a job at Howard Johnson's but the heavy lifting the job required resulted in a hernia. He was forced to sit out 10 games.

Depressed, his school marks dropped. One of his role models had been his English teacher, Gustave Blum, who suggested he try out for the class play You Can't Take It With You. Gossett did and then returned to playing basketball- forgetting all about acting.

Blum didn't and informed Gossett that Broadway producers were looking for "someone young and black" for a Broadway play. Blum encouraged Gossett to try out and meet the playwright.

On a lark Gossett attended the open Broadway audition.



Lou Gossett, Jr and Jane White in Take A Giant Step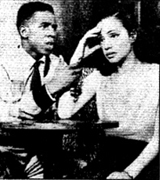 Lou beat the odds competing against hundreds of young hopefuls and got hired.

"I started out on Broadway in 1953 in Take A Giant Step. "It was my first lead, my first play. I was still in high school."

His debut wasn't without some hurdles - such as his speech. Gossett had a thick Brooklyn accent. The producers had to postpone production while an attempt was made to turn Gossett into an actor that could be understood. The 17-year-old was paid $300 a week to be daily tutored at the art of losing that Brooklyn accent.

The newly minted 6 foot-4 inch actor won the Donaldson Award as best newcomer in the theater. He also received a scholarship to New York University. He continued to do television and theater but he was torn between drama and basketball.

"I got an offer to try out for the New York Knicks in 1959. I went to rookie camp in the Catskills and made most of the cuts. There were a lot of hungry young players trying to get into the pros. The closer you get, the harder it gets. Then I said - You know what? I'm not hungry enough. I already had a job in Raisin In The Sun."



Lou Gossett, Ruby Dee and Sidney Poitier in A Raisin in the Sun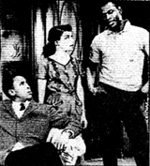 Gossett starred opposite Sidney Poitier in Lorraine Hanaberry's play on Broadway and reprised his role in the 1961 movie.

In 1964 Gossett was awarded a grant to begin a theater group that would take trouble bound kids off the lower East Side streets and put them onto the stage.

The first group consisted of 85 youngsters, who sewed costumes, built sets and studied acting with Gossett, Paul Sorvino, and James Earl Jones.

The program was a success. After 10 weeks only one youth had left the group.

One of the potential troublemakers transformed into actor was Gylan Kain whose son, Khalil Kain, starred in the off Broadway production of Zooman and the Sign.

Gossett set out to conquer the film and television world and did - earning both Oscar and Emmy awards

In 1977 Gossett rocked the viewing audience in the mini-series Roots. His portrayal of Fiddler, powerfully altered the emotional intelligence of viewers, and garnered him an Emmy Award.



Gossett in An Officer and A Gentleman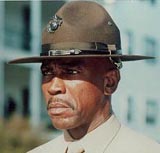 His dynamic portrayal of the task-master and character-building gunnery sergeant, Emil Foley, in the 1982 film An Officer and A Gentleman, co-starring Richard Gere and Debra Winger, resulted in his taking home the Best Supporting Actor Oscar, thus becoming the third black actor in history to be recognized by the Academy of Motion Picture Arts and Sciences.

Like many who capture the coveted Oscar, the assumption is that the statue means tall cotton - job offers pouring in. Wrong. Coming to terms with holding the highest acting award while having no job is a difficult balancing act.

Gossett headed into depression that included alcohol and drugs.

"I went on a personal search and I grabbed at everything I could to help me. The big mistake was thinking that I would find the answers outside of myself."

"I bought a Rolls Royce. I hung out with pretty women. I bought nice homes, went to the right church and studied with all of the right gurus. But those were all outside things and this was an inside job."



Gossett as Sadat
It took over a decade for Gossett to conquer depression and his personal demons.

Today when Gossett speaks before groups he emphasizes; "Happiness is not a Cadillac, a pocket full of money, gold chains around your neck or having a great looking man or woman on your arm. It's inside."

Strangers have fond memories of Gossett.

Several years ago Gina Quinton was a college student from Oklahoma visiting New York City with her mother, Wilma Mankiller, chief of the Cherokee Nation in Oklahoma.

They had come to New York to present an award at the seventh annual Gloria Awards given by Ms Foundation for women and named for Gloria Steinem.

Mrs. Quinton had left a bank on West 57th Street and stopped to watch a three card monte game. The man running it told her he had to see her money before she could play.

According to Quinton who relayed her experience to several attending the Gloria Awards; "A woman standing next to me said It's O.K., trust him. Being from Oklahoma, I trust everyone. So, I pulled the wallet out and opened it. The man snatched $800 and took off."

He was pursued by an electrical contracted named Bob Shaw, who caught the man.

Before Quinton had learned the thief had been apprehended, she stood horrified, upset and crying when a black limousine pulled up and a man got out.

According to Quinton, "He asked, Honey, what's wrong?' and when I said I'd been robbed, he pulled three $50 bills from his pocket and gave them to me. I said I couldn't accept it, and I didn't realize who he was. He said, "Please take it. Not all New Yorkers are bad.'

"He gave me a big hug and lectured me and my mother on how to carry our pocketbooks in New York."

The Good Samaritan was Lou Gossett.

Now audiences can enjoy a new dimension in this versatile performer - as the corrupt lawyer who sings and dances his way around the law.

Nine distinguished American tap dancers were honored last night for their contributions to the creation, development, preservation and promotion of tap dance.

The honorary doctorates were presented by Oklahoma City University's President Tom J. McDaniel at a special banquet.

Those receiving the honorary doctorates of performing arts in American dance were;



Leonard Reed

Leonard Reed represents Vaudeville, having been a performer and producer - including producing the shows for boxer Joe Lewis - in addition to the Apollo and Cotton Club.

He is probably the best living authority on the Vaudeville circuits, theatre and nightclub shows from the past.



Fayard Nicholas

Fayard Nicholas, of the Nicholas Brothers, leaves a collection of dance movies that still hold up as the best tap dancing of the century.

He is a Tony Award winner for Black and Blue.

Henry LeTang is the choreographer of the movies Tap and Cotton Club.

Broadway shows for which he has choreographed include Sophisticated Ladies, Black and Blue, Eubie and others.

He is a Tony Award Winner for Black and Blue and considered one of the best Broadway tap choreographers.



Cholly Atkins

Jeni LeGon

Cholly Atkins, partner of Honi Coles, of the team Coles and Atkins, developed the art of vocal choreography and established Motown choreography.

He also won a Tony for his work in Black and Blue.

A resident of Las Vegas, Atkins has written Class Act, a new book on his life.

Jeni LeGon is the first female black tap dancer to have been given a contract with a major Hollywood studio.

She has made several films and danced with Bill Bojangles Robinson. She continues to teach and is the subject of a documentary filmed in Canada. She had a performance and film career in Europe in addition to her United States career.



Prince Spencer

Bunny Briggs

Prince Spencer was a member of the Four Step Brothers for 29 years.

The Four Step Brothers pioneered many tap innovations including "the challenge." They made movies and spent years dancing with the Duke Ellington band at the Cotton Club.

Bunny Briggs, the highly respected tap dancer, is the creator of the "paddle and roll" style of tap.

He appeared as a soloist in Black and Blue as well as many other shows, clubs and circuits.



Buster Brown

Buster Brown, a member of the Copasetics, is keeping tap alive each Sunday evening at a New York night club, Swing 46, where he hosts the show, providing dancers the opportunity to perform.



Jimmy Slyde

Jimmy Slyde continues a performing career and is known as a musical tap dancer. He enjoyed a career in Europe and toured with major big bands.

The sold-out event was presented in conjunction with the Robert L. Reed Tap Heritage Institute. Reed is artist- in-residence in rhythm tap at OCU. The event culminated in a high-spirited "tap jam," in which the honorees and others demonstrated and shared steps

"We are delighted that our trustees have voted to bestow such an honor to this distinguished group of dance artists," said John Bedford, dean of OCU's School of American Dance and Arts Management

Bedford and Jo Rowan, chairman of the dance department, established the first American university degree program that features an emphasis on tap and jazz dance.

Tribute performers included Ulrike Dinger, Robert L. Reed, Michela Lerman, Margaret Morrison and Tony Waag, Avi Miller and Offer Ben, Nicole Hockenberry and others. Gregory Hines sent a congratulatory speech and a video message from Ben Vereen was shown.



Broadway To Vegas is supported through advertising and donations. Priority consideration is given to interview suggestions, news, press releases, etc from paid supporters. However, no paid supporters control, alter, edit, or in any way manipulate the content of this site. Your donation is appreciated. We accept PAYPAL. Thank you for your interest.


SWEET CHARITY


THE SAN FRANCISCO GAY MEN'S CHORUS GIVING BACK CONCERT

Carol Channing and Richard Skipper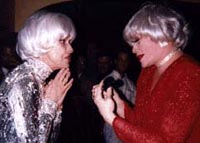 on Feb. 25 titled "Gay Men's Chorus Says Hello, Carol...and Carol!" will featured Carol Channing and Channing impersonator Richard Skipper, sharing the stage together for the first time.

Skipper is a two time MAC (MANHATTAN ASSOCIATION OF CABARET) Award nominee & winner of the MAC and Backstage Bistro Award for Outstanding Achievement in Impersonation.

"To be honest, it's remarkable that Carol Channing is performing again so quickly after she took a fall during a tribute to composer Jerry Herman in November," stated Skipper referring to the composer who wrote the songs for a little bit of Broadway business called Hello, Dolly!, which remains Channing's best-known role.

The event will be Channing's first performance since the accident, which caused a broken thumb, arm and ribs and a chipped shoulder.

Sharing the bill at the Palace of Fine Arts with Channing and Skipper will be Wilson Cruz, the Barbary Coast Cloggers, Allyson Larkin, Sharon McNight, and the cast of the New Conservatory Theatre's Carole King revue, Tapestry.

The concert will be a tribute to youth, said chorus Executive Director Scott Mandell, and will benefit a variety of organizations, including the Larkin Street Youth Services, Lavender Youth Recreation and Information Center, the Gay, Lesbian and Straight Education Network and the chorus itself.

Tickets topped out at $100. with those patrons admitted to a preconcert reception and priority seating. All ticket holders will be invited to a post-concert reception with the cast.

ACTORS FUND On February 26th Nonesuch Records will release the double CD live recording of The Actors' Fund benefit of Dreamgirls - The 20th Anniversary Concert. Recorded on September 24, 2001 at The Ford Center for the Performing Arts in NYC, this is the first full-recording of Dreamgirls and features an all-star cast including; Heather Headley, Audra McDonald, Lillias White, Darius de Haas, Norm Lewis, Billy Porter, Tamara Tunie James Stovall, Alice Ripley, Emily Skinner.



SWEET SMELL OF SUCCESS the new musical revival by Marvin Hamlisch-Craig Carnelia-John Guare, began previews last night at the Martin Beck Theatre.

The musical is based on the novella by Ernest Lehman and the 1957 film of the same name, with screenplay by Lehman and Clifford Odets. Lehman is also listed as one of the producers of this production

After lukewarm to negative reviews in Chicago the production has undergone major revisions.

Directed by Nicholas Hytner the production stars John Lithgow as J.J. Hunsecker, a high-powered Manhattan newspaper columnist. The slimy, toadying press agent, Sidney Falco, is played by Brian d'Arcy

Kelli O'Hara is J.J.'s sister, Susan, Jack Noseworthy is musician Dallas, and Stacey Logan has the role of cigarette girl Rita O'Rourke.

The cast includes; Timothy J. Alex, Mark Arvin, David Brummel, Jamie Chandler Torns, Kate Coffman-Lloyd, Bernard Dotson, Allen Fitzpatrick, Jennie Ford, Lisa Gajda, Eric Michael Gillett, Laura Griffith, Joanna Glushak, Michelle Kittrell, Jill Nicklaus, Steven Ochoa, Michael Paternostro, Eric Sciotto, Elena L. Shaddow, Drew Taylor and Frank Vlastnik.

Designers are Bob Crowley (set and costumes), Natasha Katz (lighting) and Tony Meola (sound). Orchestrations are by William David Brohn. Musical direction is by Jeffrey Huard. Christopher Wheeldon choreographs.

THE LAST FIVE YEARS is Jason Robert Brown's ode to his martial breakup. The production is slated to open March 3 at the Minetta Lane Theater. The personal emotional diary set to music was to have been presented by Lincoln Center. The ex Mrs. Brown cast her own review by contacting her lawyers who brought the curtain down with the word "lawsuit." Re-written with promises of sensitivity, the production stars Norbert Leo Butz and Sherie Rene Scott.

QED by Peter Parnell, directed by Gordon Davidson stars Alan Alda as physicist Richard Feynman.

He's a Nobel laureate with a larger than life personality and a career that included developing the atom bomb and explaining the puzzle of the space shuttle Challenger's explosion.

Kellie Overbey plays Feynman's student.

Inspired by the writings of Feynman and Ralph Leighton's Tova or Bust! this production has a set by Ralph Funicello, costumes by Marianna Elliott, lighting by D Martyn Bookwalter and sound by Jon Gottlieb.

The two-character play opened last fall for a limited run and received rave reviews. QED has resumed performances playing only Sunday and Mondays through May 13.

I'M NOT RAPPAPORT by Herb Gardner starring Judd Hirsch and Ben Vereen at the Paper Mill Playhouse, Milburn, New Jersey through March 24. The production then moves to Broadway with previews of the revival beginning April 13 at the Booth Theatre.

Daniel Sullivan directs a cast that, in addition to Hirsch and Vereen includes; Anthony Arkin, Mimi Lieber, Steven Boyer, Jeb Brown, and Tanya Clarke.

Tony Walton sets and lighting by Pat Collins. Sound designers are Duncan Robert Edwards and David F. Shapiro. Theresa Snider-Stein is costume designer. Produced by Lewis Allen and Elliott Martin.

OKLAHOMA the eagerly anticipated Trevor Nunn revival of the Rodgers and Hammerstein classic, began previews last night at the Gershwin Theatre.

Patrick Wilson and Andrea Martin star as Curly and Aunt Eller. Recreating the roles they played in the London production are Josefina Gabrielle as Laurey, and Schuler Hensley as Jud.

Other pivot roles are: Jessica Boevers, as Ado Annie Carnes; Justin Bohon, as Will Parker; Aasif Mandvi, as "Persian" peddler Ali Hakim; Michael McCarty, as Andrew Carnes; Ronn Carroll, as Ike Skidmore.

When Oklahoma! was slated to open at the Royal National Theatre in 1998 people speculated that the British cast couldn't make the American show fly because audiences wouldn't accept British accents on such a well known and beloved American production - there is a certain humor to a stereotypical stiff upper lip Brit singing The Farmer and the Cowman Should Be Friends.

As rave reviews multiplied the dissenters disappeared.

Susan Stroman's choreography has totally redesigned the Agnes DeMille ground breaking act one ballet sequence. Oklahoma! officially opens on March 21.

AN INTIMATE EVENING WITH FRANK WILDHORN AND FRIENDS first offering from The Dark Night Series, features Mrs. Frank Wildhorn - that would be Linda Eder, Christiane Noll, Douglas Sills, Rob Evan and Michael Lanning. Composer Wildhorn noted for Jekyll & Hyde and The Scarlet Pimpernel will play the piano while divulging stories about his composing experiences. Feb. 25 and March 4 at Upstairs in New York City.

THE PRESIDENTS written and starring Rich Little is a five person production that presents Little as nine different presidents.

He presented this last summer in New York and in April in Las Vegas the production will be again staged. This time PBS will tape the show for a special which will air in the fall.

This is a full make up and costume production, with Little having approximately two minutes for each costume change. That rush job once caused Little to grab the wrong nose returning to the stage as President Ford wearing Nixon's nose.

Rich Little performs March 1-3 at the Suncoast Hotel in Las Vegas.


WHO'S WHERE

PETER CINCOTTI

Peter Cincotti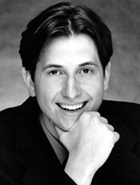 18-year-old Columbia college freshman, who has been knocking around the cabaret scene for a couple of years, is making his Oak Room debut at the Algonquin Hotel, NYC.

The young Pop-Jazz Pianist-Singer started playing piano at the age of three, won at the Montreux 2000 Jazz Festival, enjoyed a highly successful, seven-week run singing and playing classic Frank Sinatra standards in the Off-Broadway hit Our Sinatra. He has performed in jazz and cabaret clubs, including The Knickerbocker, Baldoria, The Red Blazer and Joe's Pub.

Peter Cincotti is at the Algonquin through March 7.

NEIL DIAMOND performs February 25 in Pittsburgh, PA. On February 26 the artist in on stage at State College, PA and on February 28 he can be found entertaining in Buffalo, NY.

ROBIN WILLIAMS will be making the crowds laugh Feb 26 and 27 at the Chicago Theatre. It's Williams' first tour in 15 years. On the tour schedule is an April 27th date at the MGM-Grand in Las Vegas.

BOBBY SHORT is on the road for a concert at the McCallum Theatre in Palm Desert February 23-24 and the Lobero in Santa Barbara February 26. He returns to the Carlyle in NYC on May 7.

MARY J. BLIGE performs February 28 in Oakland, California at the Paramount Theatre. On Friday she can be found in San Diego at the Copley Symphony Hall and on Saturday she is in Las Vegas at the Aladdin Theatre.

ALICIA KEYS in a two nighter Thursday and Friday in Los Angeles at the Wiltem Theatre.

TONY BENNETT center stage Saturday in Biloxi, Mississippi at the Beau Rivage.

KRISTIN CHENOWETH performs March 2 at Oklahoma City University in Oklahoma City. The Tony Award winner will be getting her taxes in the mail early since on April 15 rehearsals begin for the television remake of The Music Man. She stars as Marion the librarian.

THE CHIEFTANS have a busy week. On Tuesday they are in Kansas City, MO at the Midland Theatre. On Thursday they can be found in Columbia, MO at the Jesse Auditorium. Thursday the group is on stage in Louisville, Kentucky at the Palace Theatre. They close out the week Saturday in Danville, KY at the Norton Center.

ANNE MURRAY sings tonight in Hagerstown, MD at the Maryland Theatre. On Wednesday the songbird is in Erie, PA at the Warner Theatre. Thursday finds her in Baltimore, MD at the Meyerhoff Symphony Hall. If it's Friday it must be Chester, West Virginia where Anne is in the spotlight at the Mountaineer Race Track & Resort. She closes out her week Saturday in Merrillville, IN at the Star Plaza Theatre.

BARRY MANILOW performs tonight in Reading, PA at the Sovereign Center. On Thursday he opens a two nighter in Minneapolis, Minnesota at the Orpheum. On Saturday Barry begins a two nighter in Milwaukee, WI at the Riverside Theatre.


PIFFLE AND PROFUNDITIES

WHAT IS THE STORAGE CHARGE? When John Glenn returned from the moon he attended a banquet that gifted the space lover with a chocolate cake in the shape of a rocket. Unable to store the perishable Glenn and his wife handed the cake to Paula Zahn. She put it in her freezer. It's still there.













Next Column: March 3, 2002
Copyright: February 24, 2002. All Rights Reserved. Reviews, Interviews, Commentary, Photographs or Graphics from any Broadway To Vegas (TM) columns may not be published, broadcast, rewritten, utilized as leads, or used in any manner without permission, compensation and/or credit.
Link to Main Page
---
Laura Deni



U.S. Postal Address: Post Office Box 60538, Las Vegas, NV 89160
( COMMENT SECTION )