! >
Broadway To Vegas
  
  REVIEWS INTERVIEWS COMMENTARY NEWS

| | |
| --- | --- |
| | |
SAMSON AND DELILAH 2014 CONCEPT CD - - PRINCE WILLIAM SAYS HE SHOULD CALL HELEN MIRREN GRANNY - - INGE FESTIVAL TO HONOR ARTHUR LEE KOPIT - - THE TRUTH IS A HIT - - KIDS' NIGHT ON BROADWAY - - THE ENCHANTED ISLAND - - THE SCHOOL OF AMERICAN BALLET'S 2014 WINTER BALL - - THE 29th ANNUAL BISTRO AWARDS GALA - - DONATE . . . Scroll Down




Copyright: February 23, 2014
By: Laura Deni
CLICK HERE FOR COMMENT SECTION


QUEEN ELIZABETH, DUCHESS KATE AND PRINCE WILLIAM CELEBRATE THE ARTS - GUESS WHERE THE QUEEN KEEPS HER BAFTA
The Duchess of Cambridge meets Dame Helen Mirren and Sir David Attenborough at the RADA reception. During the event Kate is reported to have told Dame Helen, "My husband called you granny last night." Photo: Clarence House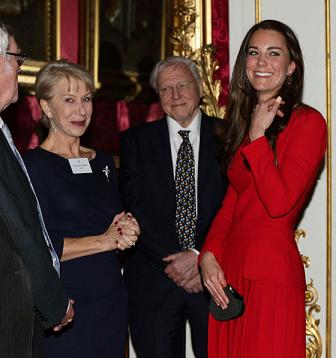 It's been a busy week for Dame Helen Mirren. Prince William presented her with the BAFTA Fellowship Award during a ceremony February 16 at the Royal Opera House. During the ceremony Prince Williams, who is President and Patron of BAFTA, presented Mirren with the honor and commented that she was "an extremely talent British actress I should probably call Grann."

Then the following evening Mirren took her well shod foot to Buckingham Palace to socialize with the woman she has portrayed several times - Queen Elizabeth - and her daughter-in-law, Kate.

The Queen and The Duchess of Cambridge welcomed famous faces and young actors in training during a reception at Buckingham Palace to celebrate the dramatic arts.

The evening began with performances from RADA students, alumni and associated artists in the Ballroom. Her Majesty and Her Royal Highness saw a musical performance from Oh! What a Lovely War! to mark the centenary of the beginning of World War One, before viewing a scene from Pygmalion, and monologues from The Dresser and The Tempest performed by Sir Tom Courtenay and Dame Helen Mirren.

The Queen, The Duchess of Cambridge and Prince Michael of Kent moved through the State Rooms meeting guests including playwrights, teachers, producers and directors. Well-known faces included actors Uma Thurman, Roger Moore, and Helena Bonham Carter, Benedict Cumbervatch, David Tennant director Steve McQueen and Hollywood producer Harvey Weinstein.

Film-maker Lord Puttnam, playwrights and screen writers Sir Tom Stoppard, Alan Bennett, Michael Frayn and Sir Ronald Harwood were also among those invited.

The guest list also included John Hurt, Alan Rickman, Michael Sheen, director Mike Leigh, Jane Horrocks, Dame Angela Lansbury, Sir Michael Gambon, and comedians Harry Hill and Lenny Henry.

When Lenny Henry was introduced to the Queen, he joked to other guests: "This is Helen Mirren - she's brilliant".

Queen Elizabeth was presented with an honorary BAFTA award in 2013 for her role in supporting the British film industry. While talking with director Steve McQueen and Dame Angela Lansbury, the Queen divulged, "I couldn't help looking at mine, my Bafta, which I keep above the television".

Kate was photographed meeting Helen Mirren, and is said to have joked with her: "My husband called you granny last night."

Actor Alan Rickman spoke about the importance of celebrating the arts, saying, "The more high profile the arts remain in this country the better. You always have to fight for the arts in this country, and when you see Helen able to just hold the place with a piece of Shakespeare that sounds like it was written yesterday - it's brilliant."

Generally considered a good indicator of whom will take home the Oscars next Sunday, the BAFTA Winners are:

BEST FILM
WINNER: 12 Years a Slave, Anthony Katagas, Brad Pitt, Dede Gardner, Jeremy Kleiner, Steve McQueen

OUTSTANDING BRITISH FILM
WINNER: Gravity, Alfonso Cuarón, David Heyman, Jonás Cuarón

OUTSTANDING DEBUT BY A BRITISH WRITER, DIRECTOR OR PRODUCER
WINNER: Kieran Evans (Director/Writer) for Kelly + Victor

FILM NOT IN THE ENGLISH LANGUAGE
WINNER: The Great Beauty, Paolo Sorrentino, Nicola Giuliano, Francesca Cima Metro Manila Sean Ellis, Mathilde Charpentier Wadjda Haifaa Al-Mansour, Gerhard Meixner, Roman Paul

DOCUMENTARY
WINNER: The Act of Killing, Joshua Oppenheimer

ANIMATED FILM
WINNER: Frozen, Chris Buck and Jennifer Lee directors

DIRECTOR
WINNER: Alfonso Cuarón for Gravity

ORIGINAL SCREENPLAY
WINNER: Eric Warren Singer, David O. Russell for American Hustle

ADAPTED SCREENPLAY
WINNER: Steve Coogan for Jeff Pope, Philomena

LEADING ACTOR
WINNER: Chiwetel Ejiofor for 12 Years a Slave



Dame Helen Mirren and Prince William post for pictures after William presented a BAFTA to the women who has portrayed his grandmother.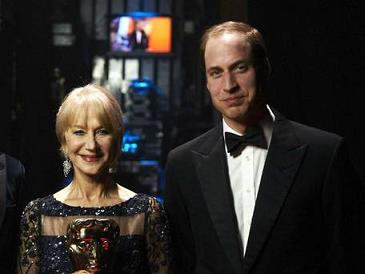 LEADING ACTRESS
WINNER: Cate Blanchett for Blue Jasmine.

SUPPORTING ACTOR
WINNER: Barkhad Abdi for Captain Phillips

SUPPORTING ACTRESS
WINNER: Jennifer Lawrence for American Hustle

ORIGINAL MUSIC
WINNER: Steven Price for Gravity

CINEMATOGRAPHY
WINNER: Emmanuel Lubezki for Gravity

EDITING
WINNER: Mike Hill, Dan Hanley for Rush

PRODUCTION DESIGN
WINNER: Catherine Martin, Beverley Dunn for The Great Gatsby.

COSTUME DESIGN
WINNER: Catherine Martin for The Great Gatsby

MAKE UP & HAIR
WINNER: Evelyne Noraz, Lori Mccoy-Bell for American Hustle

SOUND
WINNER: Glenn Freemantle, Skip Lievsay, Christopher Benstead, Niv Adiri, Chris Munro for Gravity.

SPECIAL VISUAL EFFECTS
WINNER: Tim Webber, Chris Lawrence, David Shirk, Neil Corbould, Nikki Penny for Gravity

BRITISH SHORT ANIMATION
WINNER: Sleeping With The Fishes, James Walker, Sarah Woolner, Yousif Al-Khalifa

BRITISH SHORT FILM
WINNER: Room 8, James W. Griffiths, Sophie Venner

THE EE RISING STAR AWARD (voted for by the public)
Will Poulter.





Broadway To Vegas is supported through advertising and donations. Priority consideration is given to interview suggestions, news, press releases, etc from paid supporters. However, no paid supporters control, alter, edit, or in any way manipulate the content of this site. Your donation is appreciated. We accept PAYPAL. Thank you for your interest.





ART AND ABOUT


GEORGE DANIELL: PICTURING MONHEGAN ISLAND

George Daniell (United States, 1911-2002), Untitled, 1936, gelatin silver print, 13 7/8 x 11 15/16 inches. Gift of George Daniell and the Aucocisco Gallery, 2001.6.27. Photo: Portland Museum of Art.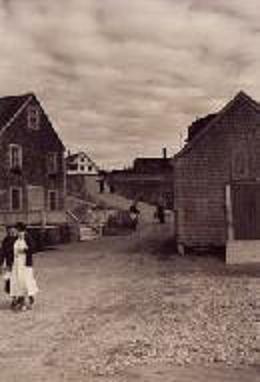 for the first time in more than a decade, the Portland Museum of Art will showcase an intimate selection of approximately 20 photographs and drawings that George Daniell (United States, 1911–2002) created on Monhegan Island during the summer of 1936.

In search of adventure and escape from a sweltering August in New York City, Daniell sojourned to Maine, where he spent the month fervently documenting the island that captured his heart and imagination.

The featured works, culled from the PMA's permanent collection, show the young artist honing his eye for composition and tonal value while depicting Monhegan's distinctive topography and character.

Shingled houses, hardworking fishermen, and rugged terrain—these were the subjects that Daniell explored in both crayon drawings and black-and-white photographs.

In his sketchbook, Daniell experimented with the play of line and shadow and a modernist distortion of perspective and simplification of forms. Depicting many of the same scenes in his photographs, he pursued a more straightforward, documentary approach.

A Yonkers, New York native, George Daniell studied liberal arts at Yale University. Upon graduation in 1934, he worked as a freelance photographer.

After his Monhegan sojourn, he established a reputation as a keen photographer of authentic, human moments within everyday life. He traveled the world capturing candid moments in a wide range of settings, including Hollywood film sets, metropolitan streets, army bases, and seaside villages.

The artist exhibited widely and contributed his images to Time and Life magazines. Though he is best known for his photographs, Daniell was also an avid painter throughout his career. In 1960, returning to the state that had been so meaningful to him at the outset of his career, Daniell moved permanently to Trenton, Maine, where he continued working until his death in 2002.

George Daniell: Picturing Monhegan Island will be on view March 1 through August 3, 2014. at the Portland Museum of Art in Portland, Maine.

THE TRUTH IS A HIT Motown founder Berry Gordy is quoted as saying "The truth is a hit." And in truth, Detroit's Motown Records became the voice of an entire generation.

This exhibition traces the story of Motown Records and the Gordy family within the larger narrative of the African-American journey, revealing how the company transcended its origins as an entertainment vehicle to become the voice of an entire generation. The Motown exhibition seeks to explore Gordy's notion of the truth by tracing black music from its African roots through slavery, Jim Crow, the Great Migration, urban America, the Civil Rights and anti-war movements, up to the present day.

Now through Saturday, July 26, 2014 at the Schomburg Center for Research in Black Culture, New York Public Library, NYC.


SWEET CHARITY


THE SCHOOL OF AMERICAN BALLET'S 2014 WINTER BALL Celebrating SAB's 80th Anniversary takes place at the David H. Koch Theater in New York City on Monday, March 3, 2014.

Cocktails and dinner will be followed by The Encore dessert and dancing.

Attire is black tie.

This year's event will be a Starry Night celebrating SAB's 80 years of dedication to the field of ballet, as attendees toast the School's good fortune at this momentous anniversary. Ron Wendt Design will create another unforgettable atmosphere for the event.

The Encore is the Winter Ball after-party. Following dinner, 200 of the city's most sophisticated philanthropic young professionals join the Winter Ball for dancing and dessert.

The event is led by Chairmen Diana DiMenna, Julia Koch, and Serena Lese; and Young Patron Chairmen Noreen Ahmad, Amanda Brotman and Chelsea Zalopany.

This glamorous annual dinner dance is attended by 500 patrons, including the School's board members and alumni as well as leaders from the New York corporate and social communities.

A highlight of the evening includes a one-time-only performance by the advanced students of The School of American Ballet choreographed by Silas Farley, selected for the second consecutive year by Peter Martins, Artistic Director and Chairman of Faculty for the School of American Ballet.

The proceeds from this event enable SAB to distribute $1.8 million annually in student scholarships and support the School's renowned faculty and state-of-the-art facilities at Lincoln Center.

The School of American Ballet, the official training academy of the New York City Ballet, was established in 1934 by legendary choreographer George Balanchine and philanthropist Lincoln Kirstein as the first and most essential step in their quest to create an American classical ballet company.

SIR ELTON JOHN AND DAVID FURNISH will host the Elton John AIDS Foundation's 22nd annual Academy Awards Viewing Party on Sunday, March 2, 2014, at West Hollywood Park in Los Angeles.

The event will feature a sumptuous dinner designed by Chef Gordon Ramsay, a live telecast of the 86th Academy Awards, followed by a live auction, a performance by British singer-songwriter Ed Sheeran, and dance tunes spun by DJ Johnny Dynell.


THE MUSIC GOES ROUND AND ROUND


SAMSON AND DELILAH 2014 CONCEPT CD by Ron Yatter, has been released on Broadway Records.

Starring American Idol alumni and real life husband and wife Ace Young and Diana DeGarmo who are also currently toplining the national tour of Joseph and the Amazing Technicolor Dreamcoat, which begins March 4 at the Cleveland Playhouse.

Samson and Delilah is a concept album, a crucial piece of promotion that those looking to obtain backers for a musical theatrical project offer to those who have deep pocket money to invest.

A well put together concept album isn't cheap to produce. Samson and Delilah is a professionally produced CD with an accompanying well laid out booklet.

Most of the music and lyrics were composed by William Morris talent agent turned wanna be composer Yatter, with an occasional assist from Vassilis Varvaresos who is also one of the arrangers.

The music is contemporary soft rock - sort of like elevator music in that it neither annoys nor impresses.

Samson and Delilah is a flip twist on the famed Biblical story. That should infuriate the masses of all faiths who are familiar with one of the most powerful and popular Biblical stories of all time.

Claiming to be a fan of the story, according to the CD's liner notes, Yatter felt that the original Good Book version showed the "potential of being a great epic, tragic love story. After attending a performance of the opera by Saint-Saeus at the Metropolitan Opera, I observed that, even with the two love songs that Delilah sings to entice and seduce Samson, true love did not exist."

Yatter set to work to pen his own version. Among the changes: "When she betrays him and delivers him to the Philistines it would not be for monetary gain, but would be out of misguided jealousy and then, recognizing her tragic mistake, they would reconcile and she would be by his side when he pulls down the Philistine temple."

He dumbed down the Old Testament version, took out all the gritty lust, revenge and betrayal, leaving a pablum account which is neither catchy nor powerful.

It's not horrible - just not particularly good. The best part of the CD are the voices of Young and DeGarmo, especially the spectacular singing ability of DeGarmo.

To rewrite a best loved Biblical story is to risk not only the wrath of God, but vicious critics who can sling arrows to annihilate equal to any Philistine. Semi-insulting the Metropolitan Opera's production of Camille Saint-Saens' epic opera isn't a smart move, either. There is nothing wrong with Saint-Saens' grand opera in three acts and four scenes with a French libretto by Ferdinard Lemaire. It was first performed in Weimart the Grossherzogliches (Grand Ducal) Theater (now the Stattskapelle Weimar) on December 2, 1877 in a German translation.

Based on the Biblical tale found in Chapter 16 of the Book of Judges, the second act love scene in Delilah's tent is one of the set pieces that define French opera. Two of Delilah's arias are particularly well known: Printemps qui commence and Mom coeur s'ouvre a ta voix ("My heart opens itself to your voice", also known as "Softly awakes my heart"), the latter of which is one of the most popular recital pieces in the mezzo-soprano/contralto repertoire.

By 1906, Samson et Dalila had been internationally producted more than 200 times. The opera has become a part of the standard opera performance repertory at most major opera houses, with the role of Delilah being considered to be one of the great opera roles for the mezzo-soprano.

One reason Biblical inspired productions such as Andrew Lloyd Webber and Tim Rice's Jesus Christ Superstar (which did start out as a concept recording), their Joseph and the Amazing Technicolor Dreamcoat, Stephen Schwartz' Godspell, and the Saint-Saens' operatic version of Samson and Delilah work is that none of the composers changed the story line. All of the above mentioned brilliant composers are also skilled at creating layered musical textures and composing scores which range from communicating fragility to violence and chaos.

When you crib from the Old Testament you are addressing a broad audience who all know and love the story of Samson and Delilah. This concept recording totally rewrites the script. Bad omen.

Yatter's Samson and Delilah may have some interesting moments, but - in addition to fasting and prayer - this musical needs such an enormous amount of re-writing and strengthening that it's doubtful the effort would be worth the result. Many of the tunes sound like one long song. This score (and script) should have been work shopped several times before time and money was spent on a concept album.

Yatter claims to have a musical background in a bio which states he enjoys "playing the sax, trumpet and piano." He says he's been working on this musical for 30 years. Perseverance is a commendable trait and nobody sets out to write a mediocre musical. However, if Yatter has been playing around with this for 30 years, perhaps that is a hint that his time would be better served cultivating a different hobby.

Again, Yatter ought to seriously reconsider the wisdom of rewriting the Old Testament. If Yatter is fixated on a story about a double agent women betraying her man, regretting it, and the two getting back together - write an original story about Sam and Lila, put it to music and make it contemporary. Don't change the Bible. People might notice. The book is known to generate respectable sales.

Yatter's recent outing with this concept album at 54 Below had a papered audience. Yatter shouldn't listen to the comments from his devoted family and friends They love him. They aren't objective. He's coming across as desperate. Desperation tends to be a fast route to failure. Like blood to one of the Biblical lions, critics can smell desperation.

There are also numerous frayed ends about much of this, including his not knowing how to get a contact number for Young and DeGarmo who were in Hair on Broadway, both appeared on American Idol and now star in national tour of Joseph and the Amazing Technicolor Dreamcoat. Yet, it seems that Yatter, a former Vice President of the William Morris Agency, who according to his bio "represented talent and packaged entertainment productions. Over the course of his career, his clients included Diana Ross, Yoko Ono, Michael Crawford, Ben Vereen, Cybill Shepherd and theater visionary director Tom O'Horgan," and now helms his own agency, didn't know how to reach Young and DeGarmo.

In an LA Times article about Amy Fisher, titled Their Money for Your Life, written by Barbara DeNatale and published July 25, 1993 Yatter plays a key role. "KLM Films, the first in the controversial practice of helping notorious defendants negotiate bail in exchange for TV rights, is based in New York. That's the company that, through agent Ron Yatter, found an underwriter for Amy Fisher's $2-million bail in exchange for the exclusive rights to her story. Subsequently, KLM co-produced Amy Fisher: My Story for NBC."

Fisher became known as "the Long Island Lolita" by the media in 1992, when, at the age of 17, she shot and severely wounded Mary Jo Buttafuoco, the wife of her lover Joey Buttafuoco.

Yatter has powerful contacts everywhere, yet he didn't know how to locate Young and DeGarmo.

He went on the internet, located the mother of one of the stars, who relayed the message that Yatter wanted them for this project.

Interesting is that after Young and DeGarmo heard the score they turned him down, feeling the music he had composed "wasn't our vibe," and "very traditional, not how we sound." Yatter promised them he'd re-work the songs into more of a rock vibe, according to the Hollywood Reporter.

This AARP eligible man's bio says he feels he has a "cosmic connection" with Young and DeGarmo. Those who utilize the head-in-the-clouds or sand approach eventually discover that the self deceptive business mode doesn't translate into success.

According to that trade paper's interview with Young and DeGarmo; "Yatter traveled to Los Angeles to meet Young and DeGarmo in person and after one day of rehearsal," took them into a studio to record his songs.

The stars of the concept album shouldn't have been permitted to provide detailed answers about the CD. The time for the disclosure that he contacted one of their mothers through the internet and that the stars initially turned him down, should be told as an anecdote only if Yatter has a Tony in one hand, an original cast album Grammy in the other and is guesting on The Tonight Show. After Jimmy Fallon congratulates him, then is the time to say - "Would you like to hear how the stars didn't like the score?"

As an agent he knows better than to let a star disclose anything that could be used against the show. Critics will write that the stars thought his music was boring and so do they. It's a no win situation. If the stars now say they think the music is the best they've ever heard, they would sound ridiculous and possibly harm their own future. They need to talk about being on tour with Joseph, and refer questions about the concept album to others. After all, it is nothing more than that - a concept album - meaning nothing may ever come of it. That's the ending for most concept albums.

Arrangements by: Elizabeth Hope, Vassilis Varvaresos, Roger Pierson, Ayhan Sahin, and Amy Baer.

Recorded and mixed by Joel Moss. Recorded at Ocean Way Audio, Los Angeles. Mixed at Woods End Recording Studio of Saratoga Springs, NY.

Mastered by Ryan Smith of Sterling Sound, New York City.

Background vocalists:

Alexander Chipkin, Samuel Kastner, Jack Mallory, Katharine Martucci and Daniel Plummer.

Steve Deutch - electric bass and instrument enhancement. Charlie Bell of Woods End, special engineering support.


INGE FESTIVAL TO HONOR ARTHUR LEE KOPIT
Arthur Lee Kopit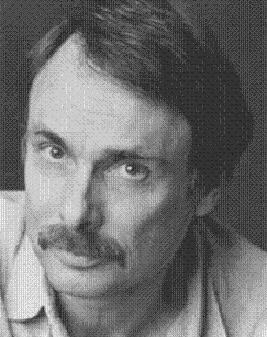 The 33rd Annual William Inge Theatre Festival, the Official Theatre Festival of the State of Kansas, celebrates comedy, drama and music in four whirlwind days, which will honor one of America's most respected playwrights Arthur Lee Kopit.

He is a two-time Pulitzer Prize finalist for Indians and Wings and a three-time Tony Award nominee: Best Play, Indians, 1970; Best Play, Wings, 1979; and Best Book of a Musical, for Nine, 1982. He won a Drama Desk Award in 1962 for his play Oh Dad, Poor Dad, Mamma's Hung You in the Closet and I'm Feelin' So Sad and was nominated for another Drama Desk Award in 1979 for his play Wings.

The Inge celebration takes place March 26 - 29 in Independence, Kansas, at Independence Community College. As always, the Festival will be filled with theatre luminaries, professional artists and scholars from across the country.

Raised in New York, Kopit attended Harvard University. His first plays were staged while still an undergraduate at Harvard University. Later, Kopit taught at Wesleyan University, Yale University and the City College of New York. In 2005, Kopit donated his papers to the Fales Library at NYU.

The Inge Festival kick-off is a staged reading of Because He Can, which may be Kopit's most timely and topical play. It's set in a dangerous new world, and tells of Joseph and Joanne Elliot, a high-powered New York City couple who awake one day to discover that their private lives are no longer private, thanks to a teenage computer hacker with a warped sense of fun.

Because He Can, directed by Jane Unger, founder and former Artistic Director of Profile Theatre in Portland, OR plays Wednesday, March 26, at the William Inge Theatre.

Thursday March 27th features the exciting presentation of the annual Otis Guernsey New Voices Award, named for the respected theater scholar and editor Otis Guernsey. This year's winner is Mat Smart. A concert reading of his newest work The Great Barrier directed by Ron OJ Parson, a Resident Artist at the Court Theatre in Chicago. The Great Barrier plays . Thursday, March 27th, at the Performing Arts Center, Independence High School.

The Inge Festival turns to the Independence Civic Center Friday, March 28th, as professional guest artists entertain with music at the Gala Dinner. This musical theater songfest features a full-service gourmet dinner and a chance for citizens to share a meal with our special guest performers and out-of-town visitors.

The Inge Festival concludes Saturday, March 29th, with 33rd Annual Festival Tribute – Arthur Kopit: What is the meaning of this? This multi-media presentation featuring live performances, video, and guest performers in honor of the author's career. Award winning documentarian Mike Wood is creator/writer/director, with live scenes and staging director, Karen Carpenter.

The days will be filled with informative seminars. Thursday-Saturday, March 27 - 29, Inge Festival patrons have the rare opportunity to learn from working professionals during public workshops and panels. The guest artists address the full range of performing arts, including production, performances, and current trends.

The Inge Festival is named for the late William Inge, an Independence native who won the Pulitzer Prize for Drama for Picnic and Oscar for Best Screenplay for Splendor in the Grass.








SPREADING THE WORD


GENE KELLY: THE LEGACY An Evening With Patricia Ward Kelly. Gene Kelly was a joyous performer. A legendary dancer, director and choreographer, he brought astonishing grace, athleticism and masculinity to the big screen. He continues to delight and captivate us, yet we know little about him. During a unique evening, Patricia Ward Kelly - his widow, biographer and the person who knew him best - presents an intimate portrait of this dynamic and innovative artist who created some of the most memorable and iconic scenes in film history.

Patricia Kelly's presentation combines rare and familiar film clips, previously unreleased audio recordings, personal memorabilia, and insights culled from her hours of interviews and conversations with her husband.

Gene Kelly: The Legacy, currently on tour in the U.S. and abroad. March 1-2, 2014 at the Pasadena Playhouse in Pasadena, CA.

KIDS' NIGHT ON BROADWAY the annual event sponsored by The Broadway League begins Monday, February 24, 2014 and continues to Sunday, March 2, 2014. Kids' Night on Broadway is an audience development program created by The Broadway League to make theatre accessible, encourage theatre as a form of family entertainment, and build larger audiences for the future.

Kids ages 6 to 18 can see Broadway shows for free when accompanied by a full-paying adult. A Kids' Night On Broadway ticket includes restaurant discounts, parking discounts, educational programs, and special events.

Participating Broadway Shows include:

Beautiful - The Carole King Musical, The Bridges of Madison County, Bronx Bombers, Chicago, A Gentleman's Guide to Love and Murder, Jersey Boys, Kinky Boots, The Lion King, Mamma Mia!, Matilda the Musical, Motown the Musical, Newsies, A Night with Janis Joplin, Once, The Phantom of the Opera, Pippin, Rock of Ages, Rodgers + Hammerstein's Cinderella, and Wicked.

Off-Broadway: Avenue Q, iLuminate, Murder for Two, and Stomp.

NATIONAL ANTHEM DAY Monday, March 3; will be celebrated at the National Museum of American History in Washington, DC when the United States Postal Service will unveil the Star-Spangled Banner Forever Stamp in a first-day-of-issue dedication ceremony in the museum's Flag Hall.

The museum is home to the Star-Spangled Banner, the flag that inspired Francis Scott Key to pen the lyrics that became the national anthem. Following the ceremony, the flag stamps will be on sale and stamp cancellations will be available.

DOWNTON ABBEY has announced that Season 5 will have some new cast members. Richard E. Grant is joining the cast as Simon Bricker, who visits Downton Abbey as a guest of the Granthams. Anna Chancellor joins in a guest role, playing Lady Anstruther, and Rade Sherbedgia plays a Russian refugee.

Returning guest cast member Dame Harriet Walter will reprise her role as Lady Shackleton, along with Peter Egan, returning as Lord Flintshire.

The new season will feature returning stars Maggie Smith, Hugh Bonneville, Michelle Dockery, Elizabeth McGovern, Jim Carter, Penelope Wilton, Phyllis Logan, Samantha Bond, Laura Carmichael, Lily James, Allen Leech, Brendan Coyle, Joanne Froggatt, Lesley Nicol, Sophie McShera, Rob James-Collier, Ed Speleers, Kevin Doyle, Raquel Cassidy, David Robb, Tom Cullen, Julian Ovenden, Daisy Lewis, Douglas Reith, Jeremy Swift and Andrew Scarborough.

WEST SIDE STORY the first movie to win an Oscar for two directors - Jerome Robbins and Robert Wise - was released in 1961. When I saw the movie then I thought the cast looked so old and grown-up. Having just watched a re-run on television I was shocked at how young they looked. Time changes everything.


OTHER PEOPLE'S MONEY


ERIC SCHMIDT the billionaire executive chairman of Google, has paid $22 million for the 1930s French chateau estate, located on Los Angeles' Westside, which Veronique Peck purchased for $14.135 million shortly after her Oscar winning husband Gregory Peck died in 2003, at the age of 87.

Veronique had filled the 9,182 square foot house with her husband's memorabilia.

The house features the original marble-walled foyer, vaulted ceilings, formal dining and living rooms, an office, a bar, four fireplaces, seven bedrooms and nine bathrooms.

According to Realtor.com Rick Hilton, Jeffrey Hyland and Rayni Romito of Hilton & Hyland, exclusive affiliate of Christie's International Real Estate, as well as Jade Mills of Coldwell Banker were the listing agents. Ron de Salvo, also with Coldwell Banker, represented Schmidt.



THE 29th ANNUAL BISTRO AWARDS GALA which recognizes outstanding achievement in New York cabaret, jazz, and comedy, will take place on Tuesday, March 4, at the Gotham Comedy Club in New York City.

Producer Sherry Eaker will host the annual event. She heads the Bistro Committee and is the former longtime Editor-in-Chief of Back Stage and the producer of the event since its inception.

The evening will be emceed by multi-MAC & Bistro award winning singer Jeff Harnar and will be directed by Shellen Lubin.

The Tony Award-winning actor-singer-dancer Ben Vereen will be honored with the Bob0 Harrington Lifetime Achievement Award.

Veteran performer Anita Gillette is being honored for her Major Engagement at the Metropolitan Room.

An award will be presented to Duplex staff members Thomas Honeck, general manager, and Lisa Moss, assistant manager, who, as a creative team, "go beyond their formal job duties to devise innovative shows and nurture new performing and songwriting talent." WBGO, the Newark-based public radio station, is being cited for its dedication to the popularization of jazz and related musical genres.

The evening will feature performances from most of this year's Bistro-winning artists. The winners are:

Ben Vereen / Bob Harrington Lifetime Achievement Award
Anita Gillette / Major Engagement / Metropolitan Room
Nathan Chang / Ira Eaker Special Achievement Award
William Blake / Vocalist / Birdland, Joe's Pub
Sharon Clark / Vocalist / Metropolitan Room
Robert Creighton / Entertainer / 54 Below
Eric Yves Garcia / Singer-Instrumentalist / Chez Josephine, Laurie Beechman Theatre
Thomas Honeck and Lisa Moss / Special Award, Innovative and nurturing creative team / The Duplex
Jillian Laurain / Vocalist / Metropolitan Room
Tanya Moberly / Theme Show / I Love New York Songwriters Vickie Phillips / Song Interpretation / Don't Tell Mama
Billie Roe / Tribute Show / 1978 NYC Underground / Metropolitan Room, The Duplex
Elaine St. George / Vocalist / Don't Tell Mama
Bria Skonberg / Jazz Artist / Cafe Carlyle, Iridium, Dizzy's Club Coca Cola
Amy Wolk / Musical Comedy Performer / The Duplex
Karen Wyman / Acclaimed Return to Cabaret / Metropolitan Room
WBGO Special Award, Outstanding Programming

There is a pre-show Champagne reception.


CURTAIN DOWN


SPORTS FANS seem to like their games played on a field rather than on a stage. Following Lombardi which closed after receiving one Tony nomination, the basketball themed Bird/Johnson which dribbled off stage a month after opening in 2012, now the play about the Yankees, Bronx Bombers has struck out, closing March 2, 2014 less than a month after opening February 6, 2014 at the Circle in the Square Theater in NYC. When it closes, it will have played 31 previews and 29 regular performances.

All three shows were written by Eric Simonson and produced by Fran Kimser and Tony Ponturo.

Bronx Bombers stars Emmy nominee Peter Scolari as a harried Yogi Berra receiving visits from Yankee greats of the past and future and Scolari's read life wife Tracy Shayne as Yogi's wife Carmen Berra.



THE ENCHANTED ISLAND inspired by the 18th-century tradition of the pastiche, The Enchanted Island is an extraordinary new work featuring music by some of the Baroque era's greatest including Handel, Purcell, and Vivaldi, and is set to a new English libretto that was inspired by Shakespeare's The Tempest and A Midsummer Night's Dream.

Devised and Written by: Jeremy Sams.

This Baroque fantasy returns to the Met after its well-received world premiere in 2011 to 2012. The starry cast is led by Susan Graham as Sycorax, with David Daniels, Danielle de Niese, and the great Plácido Domingo reprising their roles as Prospero, Ariel, and Neptune.

Production: Phelim McDermott - Assoc. Director/Set Designer: Julian Crouch - Costume Designer: Kevin Pollard - Lighting Designer: Brian MacDevitt - Choreographer: Graciela Daniele - Animation/Projections: 59.

Sung in English with Met Titles in English, German and Spanish.

February 26, 2014 - March 20, 2014 at the Metropolitan Opera, New York City.

BIG & TALL with Bruce Vilanch and Judy Gold.

Fill up on a bellyful of laughs with a Big & Tall order of fun as multi-Emmy Award-winner Bruce Vilanch teams up with Off-Broadway queen Judy Gold for a sidesplitting evening of comedy.

One of the most sought after joke smiths in the entertainment industry and Oscar writer for hosts Billy Crystal, Alec Baldwin, Steve Martin and many others, Bruce Vilanch joins Emmy Award-winner Judy Gold, best known for her two, one-woman hit shows, four comedy specials and regular televisions appearances for a double dose of pure funny.

Recommended for mature audiences.

Friday, February 28, 2014 at the Parker Playhouse in Fort Lauderdale, FL.

LEVELING UP by Deborah Zoe Laufer. Directed by Hallie Gordon.

Featuring Carolyn Braver, Jerry MacKinnon, Clancy McCartney and JJ Phillips.

Three twenty-something roommates are glued to their video games. They are masters of the virtual worlds behind the computer screens in their Las Vegas basement. When one of them uses his gaming skills to land a job with the National Security Agency launching actual drones and missiles, online battles begin to have real consequences.

Leveling Up is billed as "a fresh, contemporary look at how we navigate the blurry line between worlds both virtual and real and what it means to grow up."

Leveling Up is presented as part of Steppenwolf for Young Adults' 2013/14 season which asks: When the game turns deadly, how will you play?

February 26 – March 15, 2014 In the Downstairs Theatre of the Steppenwolf in Chicago.

KUNG FU by David Henry Hwang.

Directed by Leigh Silverman.

Described as: "An exhilarating portrait of international icon Bruce Lee's journey from troubled Hong Kong youth to martial arts legend, Kung Fu blends dance, Chinese opera, martial arts and drama into a bold new theatrical form.

This World Premiere production follows Lee in America as he struggles to prove himself as a fighter, a husband, a father, and a man.

The cast includes Emmanuel Brown, Clifton Duncan, Bradley Fong, Cole Horibe, Francis Jue, Peter Kim, Ari Loeb, Reed Luplau, Kristen Faith Oei, Jon Rua, Phoebe Strole and Christopher Vo.

Choreography by Sonya Tayeh.

The creative team includes David Zinn (Scenic Design), Anita Yavich (Costume Design), Ben Stanton (Lighting Design), Darron L West (Sound Design), Darrel Maloney (Projection Design), Du Yun (Original Music), Emmanuel Brown (Fight Direction), Jamie Guan (Chinese Opera Movement Specialist), Deborah Hecht (Vocal and Dialect Coach), and Joanna C. Lee and Ken Smith (Cultural Consultants). David H. Lurie is the Production Stage Manager. Casting by Telsey + Company, Karyn Casl, CSA.

Presented by Signature Theatre Company on The Irene Diamond Stage at The Pershing Square Signature Center in New York City. Officially opens on February 24 with performances through March 30, 2014.

BOOK ENDS a comedy written by Roger Hall.

Directed by Lara Macgregor.

Featuring: Dougal Stevenson, Peter Hayden, Geoffrey Heath, Richard Huber, Phil Grieve, Barry de Lore and Julie Edwards.

Every Tuesday morning, members of the all-male Cabin Fever Club meet for coffee at The Sour Dough Café. All gold-card holders, they are literary types: one former editor, one freelance writer, an actor, a novelist, a playwright and a formerly famous poet.

They are cantankerous, opinionated, envious, erudite, insecure and often amusing. What binds them together is their mutual love of books. But how long are books going to last?

Each scene takes place a year apart. But over those four years, technology is changing their lives in a way that none of them could foresee back in 2010.

The world premiere of this New Zealand comedy is at the Fortune Theatre in Dunedin, New Zealand through March 8, 2014.

Audio Describe Performance takes place Sunday, February 23 with a a special afternoon performance for sight-impaired and blind patrons. A Touch Tour of the set, props and Q & A with the actors will preceed the show.

THE CONSUL Seattle Opera's first-ever production of the 1950 Pulitzer Prize-winning music drama with music and libretto by Gian-Carlo Menotti, his first opera.

Conducted by Carlo Montanaro. Peter Kazaras stage directs.

Suspenseful, magical, and haunting and emotional sweep of this mid-century classic. A devoted wife and mother clashes with the bureaucracy of a nameless police state while trying to obtain an exit visa for her family. The suspenseful narrative surprises with several magical touches and is buoyed by a melodic score in which love, hope, and redemption all play their part.

Featuring singers Lucille Beer, Stephen LaBrie, Colin Ramsey, Margaret Gawrysiak, Sarah Larsen, Joseph Lattanzi, Alex Mansoori, Deborah Nansteel, Dana Pundt, Michael Todd Simpson, Vira Slywotzky, and Marcy Stonikas. The actors are Geoffrey Alm, Rosetta Greek and David S. Hogan.

Set Design by David P. Gordon. Costume Design by Melanie Taylor Burgess. Lighting Designer is Duane Schuler. Choreography by Mark Hairn. Sets and Costumes Arizona Opera. Diction Coach Lynn Baker.

The Orchestra composed of members of the Seattle Symphony Orchestra include:

Violin I: Alex Velinzon Concertmaster, John Weller Assistant Concertmaster, Simon James, Jennifer Bai, Blayne Barnes, Cecelia Poellein Buss, Ayako Gamo, Leonid Keylin, Clark Story and Jeannie Wells Yablonsky Violin II: Gennady Filimonov Principal, Artur Girsky, Assistant Principal, Natasha Bazhanov, Linda Cole, Kelly Farris, Xiao-po Fei, Artur Girsky, Kimberly Houglum and Mae Lin. Viola: Susan Gulkis Assadi, Principal, Sayaka Kokubo, Assistant Principal, Penelope Crane, Wesley Dyring, Shari Link and Laura Renz. Cello: Eric Han, Principal, Walter Gray, Assistant Principal, Roberta Downey, Vivian Gu, Hélène Ferret-Kaufman and Chuck Jacot. Double Bass: Jordan Anderson, Principal, Jonathan Burnstein, Travis Gore, and Matt McGrath.

Flute/Piccolo: Zartouhi Dombourian-Eby, Principal. Oboe: Ben Hausmann, Principal. English Horn: Selina Greso. Clarinet: Craig Rine. Bassoon: Seth Krimsky, Principal. French Horn: Mark Robbins, Principal, Jonathan Karschney. Trumpet: David Gordon, Principal Toby Penk. Trombone: Ko-ichiro Yamamoto, Principal.

Timpani: Ron Johnson, Principal. Percussion: Michael Werner, Principal. Harp: Valerie Gordon, Principal. Keyboard: David McDade.

The Consul opened last night February 22 and runs through March 7, 2014 at Seattle Opera in Seattle, Washington.


WHO'S WHERE


THE EAGLES in the spotlight Monday, February 24, at the Philips Arena in Atlanta. On Wednesday they can be enjoyed at the Veterans Memorial Arena in Jacksonville, FL. Friday finds them at the PNC Arena in Raleigh, NC. On Saturday they headline the Verizon Center in Washington, DC.

MILEY CYRUS brings her tour to the Oracle Arena in Oakland, CA on Monday, February 24. On Tuesday the show is at the SAP Center in San Jose. Thursday finds her at the US Airways Center in Phoenix. On Saturday she stars at the MGM Grand Garden Arena in Las Vegas.

DEPECHE MODE bring their talents to the Atlas Arena in Lodz, Poland for a show on Monday, February 24. Wednesday's performance is at the International Exhibition Center in Kiev, Ukraine. On Friday they are in the spotlight at the Arena in Minsk, Belarus. Next Sunday, March 2, they star at the Arena in Riga, Latvia.

LADY ANTEBELLUM take to the stage on Wednesday, February 26, at the Allstate Arena in Rosemont, IL. On Friday they are in the spotlight at the Air Canada Centre in Toronto. Saturday's gig is at the Budweiser Gardens in London, ON.

KEITH URBAN is Down Under appearing at Clipsal 500 After Race Concerts next Sunday, March 2, at the Victoria Park Race course in Adelaide, Australia.

DOLLY PARTON winds up her tour of Australia this week with a show on Monday, February 24, at the Convention Centre in Cairns. Tuesday's gig is at the Adelaide Entertainment Centre in Hindmarsh and on Thursday she can be enjoyed at the Arena in Perth, Australia.

BRUNO MARS has gone down under for a show Friday, February 28, at the Arena in Perth, Australia. Next Sunday, March 2, the show is at the Adelaide Entertainment Centre in Hindmarsh, Australia.

MICHAEL BOLTON performs Wednesday, February 26, at the Grand Opera House in Wilmington, DE. Next Sunday, he'll be playing his hits at the Music Center at Strathmore in North Bethesda, MD.

IL DIVO with guest star Tony and Olivier Award winner Lea Salonga open a two nighter Wednesday February 28 at Budokan Hall in Tokyo. On Friday they're on stage at the Aichi-ken Gymnasium in Nagova, Japan. The international quartet features tenor Urs Buhler of Switzerland, baritone Carlos Marin of Spain, pop artist Sebastien Izambard of France and tenor David Miller from the United States.




FINAL OVATION


SIMON DIAZ one of Venezuela's most beloved singers and composers died February 19, 2014. He was 85.

Díaz recorded over 70 albums and CD's and also performed in theater, motion pictures and television. In the 1960s he became a comedian in Venezuela. He had the leading role in three plays, and in films like El Reportero and Isla de sal; has produced and hosted 12 different TV shows, all of them devised to promote Venezuelan music.

Gabriel Abaroa Jr. President/CEO of The Latin Recording Academy issued the following statement: "Latin Recording Academy Trustees Award recipient Simón Díaz - affectionately known as "Tio Simón" - was not only Venezuela's folk music ambassador but a highly respected composer and singer whose talent encompassed roles in film, television, and theater. Renowned for his poetic and lyrical compositions, as well as his work in the tango and bolero genres, he is especially remembered for his countless songs in the llanera music style of Venezuela and his unforgettable anthem "Caballo Viejo" - known by some as "Bamboleo." His work will continue to live on and inspire future musicians, and he will forever be a part of the cultural fabric of his cherished country. Our thoughts are with his family, friends, colleagues and those touched by his music. "

JOY TODD actress and casting director for Sidney Lumet films died February 18, 2014 of natural causes.

Todd grew up as Joy Lodge in Philadelphia where she began as an actress and standup comedienne. She had small parts in shows including Act I, Hello, Dolly, and Naked City.

She appeared in Las Vegas, as part of a show called That Certain Girl, at the Thunderbird Hotel. In 1967 Jerry Schafer, who was the entertainment director of the Thunderbird Hotel, wrote an original musical comedy and 33 original songs for That Certain Girl starring Walter Slezak, Dennis O'Keefe, Virginia Mayo, Gunilla Hutton and Bobby Rydell. That Certain Girl was the first original Broadway style musical comedy to ever premier in Las Vegas.

After appearing in night clubs on the Canadian border she began her career as a casting director for Broadway and film producer Marty Richards who used her to cast extras for films being shot in New York. She then assisted Ralph Serpe, exec producer for Dino De Laurentiis on Mandingo, in Louisiana.

Her first major extra casting job was on the film Network, which began a long professional relationship with director Sidney Lumet, who elevated Todd to casting principles. Her credits on Lumet films included Just Tell Me What You Want, Prince of the City, The Verdict, Garbo Talks, Q&A, A Stranger Among Us and Power.

Other films Todd cast while based in New York included Moscow on the Hudson, Rambo III, Maria's Lovers, Once Upon a Time in America, Street Smart, Someone to Watch Over Me, Lock Up and Gettysburg, working with directors including Sergio Leone, Ridley Scott and Paul Mazursky.

She moved her office to California in 1993 and thereafter cast Demolition Man, The Next Karate Kid, Gods and Generals and Redline. She had recently worked on the films Pizza With Bullets and Guns Guitars and a Badge, both due to be released this year.

She graduated from Philadelphia's Germantown High School at 17, married at 19 and had three children, followed by a divorce.















Next Column: March 2, 2014
Copyright: February 23, 2014. All Rights Reserved. Reviews, Interviews, Commentary, Photographs or Graphics from any Broadway To Vegas (TM) columns may not be published, broadcast, rewritten, utilized as leads, or used in any manner without permission, compensation and/or credit.
Link to Main Page
---
Laura Deni



For the snail mail address, please E-mail your request.
CLICK HERE FOR COMMENT SECTION