! >
Broadway To Vegas
  
  REVIEWS INTERVIEWS COMMENTARY NEWS

| | |
| --- | --- |
| | |
OSCAR WINNERS WITH BROADWAY CONNECTIONS - -WESTMINSTER SPRINGBOARD TO BROADWAY - - TOM CRUISE JUMPS THROUGH LAW OFFICE WINDOW - - FISH IN THE DARK IN PREVIEWS - - THEA PORTER 70s BOHEMIAN CHIC - - ROUNDABOUT THEATRE COMPANY'S 2015 SPRING GALA - - EVERYTHING IS DESIGN: THE WORK OF PAUL RAND - - WINTER FEST 2015 - - DONATE . . . Scroll Down




Copyright: February 22, 2015
By: Laura Deni
CLICK HERE FOR COMMENT SECTION


OSCAR WINNERS WITH BROADWAY CONNECTIONS


This Academy Awards are presented tonight, Sunday, February 22. 2015. Transferring from the stage to the big screen and vice-versa isn't always a smooth transition. Some stars lost out in reprising their Broadway role on film. Movie stars, though not necessary Oscar winners, have been pushed out onto the Broadway stage for the purpose of selling tickets. Others made a seamless transition.

Julie Andrews, who became a major star when she starring in My Fair Lady on Broadway, was replaced in the movie version by Audrey Hepburn. Both women went head to head in the Oscar best actress category - Audrey for My Fair Lady and Julie for Mary Poppins. Andrews took home the Oscar, in what some felt was a personal vindication for her. There was also a period when Andrews starred at Caesars Palace in Las Vegas.

Decades after starring opposite Andrews in My Fair Lady, Richard Burton would take to the Broadway stage with his ex-wife Elizabeth Taylor in limited run in a revival of Private Lives. The warring couple caused so many problems that they were fired.

I was in the audience when Celeste Holm ran on stage barefoot to break up an actual fight between her I Hate Hamlet co-stars.

Maggie Smith who adds the sass in Downton Abbey, was a sensation as Lettice Douffet in Lettice & Lovage. I only saw one performance. I could have easily seen many more.

Former shoe salesman Kevin Spacey, who became as versatile and stylish as the foot wear he used to sell, made his motion picture debut as a subway thief in the 1986 movie Heartburn. His first professional stage appearance was as a spear carrier in a New York Shakespeare Festival performance of Henry VI, part 1.



Meryl Streep at the 2014 SAG awards.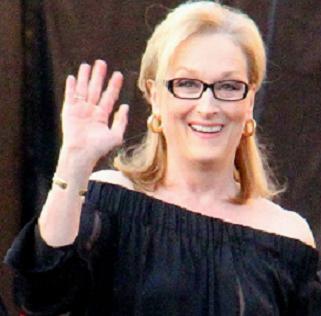 2015 Oscar presenters include Broadway/movie hyphenates Nicole Kidman, Shirley MacLaine and Meryl Streep.

A three-time Academy Award winner, Streep made her New York stage debut in 1975 where she was cast by Joseph Papp in Trewlawny of the Wells opposite Mandy Patinkin and John Lithgow at the Public Theater.

After seeing Taxi Driver she began auditioning for film roles. Her audition for the leading role in Dino De Laurentiss' King Kong didn't go well. De Laurentiis even told his son that Streep wa "ugly." Streep's first feature film role was in 1977 opposite Jane Fonda in Julie, in which she played a small but pivotal role during a flashback scene. Most of her scenes for the film ended up being cut, but the brief time on screen horrified the actress, who said, "I had a bad wig and they took the words from the scene I shot with Jane and put them in my mouth in a different scene. I thought, I've made a terrible mistake, no more movies. I hate this business," according to Karina Longworth's book Meryl Streep: Anatomy of an Actor by Phaidon Press. Fortunately, Streep changed her mind about acting in the movies.

Liza Minnelli and Barbra Streisand would add Las Vegas megastar to their credits while Whoopi Goldberg and Rita Moreno, also with credits as Vegas headliners, have achieved EGOT status.

Joey Grey and Robin Williams also starred in Vegas, while Julia Roberts filmed part of Oceans 11 in Sin City.

Some who carried home an Oscar and gained fame on Broadway didn't make their Broadway debut in starring roles. Ernest Borgnine had his Broadway debut in the role of a nurse in the play Harvey. Joanne Woodward was an understudy in the original Broadway production of Picnic.

A few of the famous names who boast an Oscar win and a Broadway credit, including some who also have bragging rights to a Tony, include:

F. Murray Abraham, Anne Bancroft, Kathy Bates, Ingrid Bergman, Shirley Booth, Marlon Brando, Yul Brynner, Ellen Burstyn, Broderick Crawford, Bette Davis, Robert De Niro, Richard Dreyfuss, Jose Ferrer, Sally Field, Jane Fonda, Lynn Fontanne, Judy Garland, Cuba Gooding Jr, Alec Guinness, Tom Hanks, Rex Harrison, Helen Hayes, Katharine Hepburn, Dustin Hoffman, Philip Seymour Hoffman, Holly Hunter, Jeremy Irons, Glenda Jackson, Ben Kingsley, Jessica Lange, Charles Laughton, Jack Lemmon, Daniel Day-Lewis, Shirley MacLaine, Frances McDormand, Bette Midler, Helen Mirren, Patricia Neal, Paul Newman, David Niven, Al Pacino, Sydney Poitier, Natalie Portman, Vanessa Redgrave, Cliff Robertson, Geoffrey Rush, Susan Saradon, George C. Scott, Jessica Tandy, Denzel Washington, and Shelley Winters.






Broadway To Vegas is supported through advertising and donations. Priority consideration is given to interview suggestions, news, press releases, etc from paid supporters. However, no paid supporters control, alter, edit, or in any way manipulate the content of this site. Your donation is appreciated. We accept PAYPAL. Thank you for your interest.




ART AND ABOUT


EVERYTHING IS DESIGN: THE WORK OF PAUL RAND features more than 150 advertisements, posters, corporate brochures, and books by this master of American design.

Art school students know him for his modernist aesthetic, ad execs for his corporate communications.

Not everybody knows his name, but most know his work.

It was Rand who most creatively brought European avant-garde art movements such as Cubism and Constructivism to graphic design in the United States. His philosophy, as expressed in his work and writings, including the recently republished 1947 Thoughts on Design, argued that visual language should integrate form and function.

Born in Brooklyn in humble circumstances, Rand (1914-1996) launched his career in the 1930s with magazine cover design and, starting in the early 1940s, he worked as an art director on Madison Avenue, where he helped revolutionize the advertising profession.

He later served as design consultant to leading corporations like IBM, ABC, UPS, and Steve Jobs's NeXT, for whom he conceived comprehensive visual communications systems, ranging from packaging to building signage, all grounded in recognizable logos, many of which are still in use today.

Rand's influence was extended by students he taught at Yale University. His visually stimulating, yet problem-solving, approach to graphic design attracted devoted admirers during his own lifetime and he remains influential today.

The visionary graphics master revolutionized advertising and rebranded the look of corporate America with his mantra, "Everything is design. Everything!"

Opening February 25 - July 19, 2015 at the Museum of the City of New York.

THEA PORTER 70s BOHEMIAN CHIC

Thea Porter exhibit is on display through May 3, 2015. Photo: Fashion and Textile Museum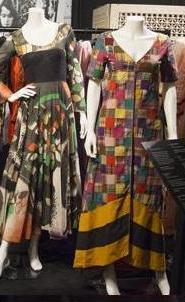 the first-ever exhibition on the fashion and interior design of Thea Porter (1927–2000) who pioneered bohemian chic in the 1960s and 1970s can be enjoyed through May 3, 2015 at the Fashion and Textile Museum in London.

Her shop in Greek street, Soho opened in 1966 and instantly drew a rock and film star crowd of clients from the Beatles and Pink Floyd to Elizabeth Taylor, Faye Dunaway and Barbara Streisand.

This retrospective covers Porter's life and career from her early years in Jerusalem and Damascus, Beirut in the 1950s, Soho in the 1960s, and New York, Los Angeles and Paris in the 1970s.

Featuring outfits worn by some of the world's best-dressed women, the exhibition explores the influence of Middle Eastern and North African textiles and culture on 20th century fashion and interior design.

Highlights include Porter's seven signature looks: the Abaya & Kaftan; the Gipsy dress; the Faye dress; the Brocade-panel dress; the Wrap-over dress; the Chazara jacket; and the Sirwal skirt, as well as important fashion photography from the pages of Vogue, Harper's Bazaar and Women's Wear Daily.

The exhibition is organized by the Fashion and Textile Museum and Newham College. It is curated by Dennis Nothdruft, Curator of the Fashion and Textile Museum, with guest curator Laura McLaws Helms and exhibition adviser is Venetia Porte.

TOLEDO MUSEUM OF ART

To be returned: Astronomical Compendium or Astrolabium (Astrolabe) Origin: Germany, Augsburg, Christoph Schissler the Elder (1530-1608) Medium: Gilt bronze and enamel, 1567. Photo: Toledo Museum of Art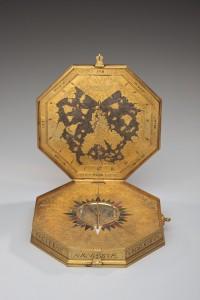 has announced that it will return a lavishly-designed, 16th-century scientific instrument.

The 450-year-old astrological compendium or astrolabe was a multifunctional device used to tell time and make astronomical calculations less than 50 years after Ferdinand Magellan's expedition circumnavigated the globe by sea for the first time. The astrolabe was manufactured in Germany and part of the Gotha Museum's collection until it went missing in the period after World War II.

The Toledo Museum of Art purchased the device in 1954 for $6,500. Museum authorities received a letter from the director of the Gotha Museum in 2013 requesting its return.

The Gotha Museum had extensive documentation, including photographs, which convinced TMA officials that the Toledo astrolabe was the same one missing since 1945.

In appreciation of the Toledo Museum of Art's cooperation on this matter, Gotha Museum officials have offered objects to Toledo as part of a cultural exchange. The exact terms of that exchange have not been finalized at this time.

There will be no public transfer ceremony as the arrangements have been handled privately between the two museums.





SWEET CHARITY


THERE IS NOTHING LIKE A DAME

Dame Helen Mirren at the Moet British Independent Film Awards, December 2014. Photo by See Li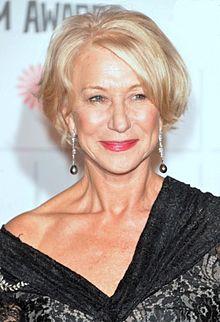 is the title of the Roundabout Theatre Company's Annual 2015 Spring Gala, which takes place March 2 in the Grand Ballroom of the Waldorf Astoria in New York City.

The evening will celebrate Oscar, Emmy and Golden Globe winner Helen Mirren, who will be presented with The Jason Robards Award for Excellence in Theatre.

The honor is named after the late Jason Robards for his longstanding relationship with Roundabout and memorable body of stage work. It is given to those who have made "an indelible impact on both Roundabout and the theatre world."

The gala will begin with a seated dinner and a live auction, followed by a tribute to Mirren, directed by six-time Tony nominee Scott Ellis.

The tribute will feature appearances by Jennifer Garner and Alessandro Nivola and performances by Laura Benanti, Kristin Chenoweth, Alan Cumming, Santino Fontana, Victor Garber, Donna Murphy, Kelli O'Hara, Alessandro Nivola, Laura Osnes and Betsy Wolfe.

Gala chairs include Tom and Kitty Patterson Kempner and Johannes (Johs) Worsoe, Mitsubishi UFJ Financial Group. Vice chairs are The Alec Baldwin Foundation, Bank of America, Bloomberg Philanthropies, Bill Borrelle and John Hearn, Michael T. Cohen, Colliers International NY LLC, Sylvia Golden, Kiendl and John Gordon, Jeanne and Tom Hagerty, Stephanie and Ron Kramer, Lisa and Gregg Rechler, Janet and Marvin Rosen, Diane and Tom Tuft. The auction chair is Sylvia Golden, and the auction committee consists of Wendy Barker and Monica Hopkins. Sydney Beers is executive producer. The gala creative team will feature Paul Gemignani (musical director), Derek McLane (scenic design), Don Holder (lighting design) and Brian Ronan (sound design). Clothing will be provided by Carmen Marc Valvo.

All proceeds from this event will benefit Roundabout Theatre Company's Musical Theatre Fund and Education programs, which serve over 15,000 students and teachers in schools throughout all five boroughs.

CABARET TRIVIA NIGHT FUND RAISER takes place to celebrate the 10th anniversary of the Melbourne Cabaret Festival.

Glee Club - Melbourne's famous sing-a-long choir - presents a trivia night where some of the questions are sung and all of the questions are fun! Hosted by star of music theatre and cabaret, Chelsea Plumley, it promises to be a night of mirth and song with a little bit of dagginess thrown in for good measure.

The night doubles as a fundraiser for the not-for-profit Melbourne Cabaret Festival. There will be plenty of exciting prizes.

Saturday, February 28, Melba Spiegeltent at Circus Oz in Melbourne, Australia.


WESTMINSTER SPRINGBOARD TO BROADWAY
Miss P getting a kiss from a Kinky Boots cast member. The show posted that they had "welcomed a new diva to the cast." Photo: Kinky Boots blog.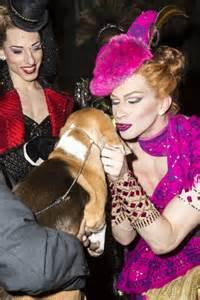 For decades people have used their children, their connections, beauty contests, bribery and barter to get on Broadway. Missing the obvious. A pattern has developed that a surefire road to the Big White Way is winning Westminister.

Get your dog on!

On February 13, 2013 Banana Joe went from Westminster to Broadway appearing in the Roundabout Theatre Company's The Mystery of Edwin Drood. The Best in Show winner at the Westminster Kennel Club dog show, put his paws into the role of Macaco.

Halfway through the second act, Stephanie J. Block, who performed the title role, waltzed onstage holding Banana Joe in her arms.

Reportedly the audience went bananas with cheers and applause while photographers in the aisles, perhaps mistaking the Affenpinscher for a Kardashian, were eager to get the money shot.

Sky, the five-year-old wire fox terrier and winner of the 2014 Westminster Dog Show, made her Broadway debut in Kinky Boots. Again the audience went wild when she made her entrance with dog handler Gabriel Rangel. Having the ego of a Broadway star, and laping up the approval of her fans, Sky also stuck around for photo ops with the cast. She also enjoyed a steak lunch at Sardi's. Talk about going Broadway!.

Also getting a tail wagging paw-on in Kinky Boots was this year's winner, four-year-old Miss P (short for Peyton) the Beagle, who also dined at Sardi's wolfing down streak on a silver platter.

Human participation also takes place at the Westminster Dog show at Madison Square Garden. During the February 11-12, 2013 trials, the national anthem was sung by famed Irish Tenor Ronan Tynan who did the honors the first night and the Harlem Gospel Choir performing on closing night. Last year cast members from the Tony Award winning Jersey Boys, performed the number. This year the children from the cast of Broadway's Tony Award winning hit Matilda the Musical. sang the anthem


SPREADING THE WORD


PRINCE CHARLES AND DUCHESS CAMILLA

Prince Charles and Duchess Camilla attend the Royal Film Performance 2015. Photo: Clarence House.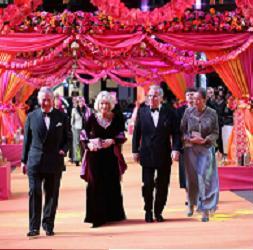 attended the Royal Film Performance of The Second Best Exotic Marigold Hotel, greeting Dame Judi Dench and Dame Maggie Smith with kisses on both cheeks. The royal couple met the film's stars at the Odeon cinema in London's Leicester Square.

The street outside the famous venue was decked in drapes and flower garlands of yellow and pink, and an orange carpet replaced the traditional red hue in reflection of the film's Indian setting.

Other cast members at the event included Ronald Pickup, Diana Hardcastle, Shazad Latif, Lillete Dubey and Tina Desai, along with Director John Madden and Producer Graham Broadbent.

The sequel film builds on their burgeoning relationships and examines the complexities of finding love and self-discovery later in life.

On Friday it was announced that The Prince of Wales and his wife will make a four day visit to the United States March 17-20, 2015. Their Royal Highnesses will mark major anniversaries in American history as they visit the nation's capital, Washington DC, March 17-19. On Friday March 20, they will travel to Louisville, Kentucky.

2015 marks the 150th anniversary of the end of the American Civil War and the death of President Abraham Lincoln. In Washington DC, The Prince and The Duchess will visit the Armed Forces Retirement Home, which is set in the same grounds as the Lincoln Cottage, where it is believed Abraham Lincoln wrote the last draft of the Emancipation Proclamation. Named 'The Soldier's Home' when it was established in 1851, the Armed Forces Retirement Home is America's oldest veterans' retirement home. During their visit, Charles and Camilla will meet veterans from the Army, Navy, Air Force, Marines and Coastguard.

They will also visit Mount Vernon, which was the home of George Washington, who presided over the convention that drafted the US Constitution. To further highlight the historical links between the UK and the US, The Prince of Wales will mark the 800th anniversary of Magna Carta during a visit to the National Archives where he will view the Charters of Freedom and the 1297 version of the Magna Carta, which is embodied in the American Bill of Rights and the Constitution.

A subject important to the Duchess of Cornwall is the prevention of sexual assault. In Washington, she will attend a meeting of the District of Columbia's Sexual Assault Response Team (S.A.R.T.) at the Department of Forensic Sciences in Washington D.C. S.A.R.T. is a coalition of 12 public and private community agencies working together to serve victims of sexual assault and to engage in educational activities to prevent sexual assault.

LEONARD BERNSTEIN AND JEROME ROBBINS: ON THE TOWN AND FANCY FREE Behind the Music with Louis Rosen.

With John Rando's breathtaking new production of On the Town garnering raves, take a moment to delve into the music, the dance and the context of this great musical comedy. The hugely successful 1944 premieres of the musical comedy On the Town and the ballet Fancy Free marked the sudden, unexpected arrival of two major new talents on the New York theatrical scene, Leonard Bernstein and Jerome Robbins, and the beginning of their extraordinary 30-year collaboration. Thursday, February 26 at the 92Y in New York City.

WINTER FEST 2015 the annual happening of San Jose Jazz takes place February 27 - March 8, when a mix of young artists pushing the envelope of jazz and R&B, as well as legends who embody fundamental straight-ahead chops join in a two-week celebration featuring concerts, multiple dance parties, master classes and more.

Curated in conjunction with local boutique production house Universal Grammar, highlights include Taylor McFerrin, Kris Bowers, Dianne Schuur, Kendrick Scott Oracle, Marc Cary Focus Trio, Mads Tolling Quartet with Tierney Sutton, Otis Brown III, and Les Yeux Noirs.

Winter Fest 2015 takes place in various venues in San Jose, CA.

CELEBRATING THE GENIUS OF ORSON WELLES: MAN FOR ALL MEDIA for over half a century, Orson Welles had a major impact on all aspects of the entertainment world: Theatre, Radio, Film and Television. He was called "Boy Genius", as director of the Mercury Theatre, and a Radio Actor and Director, during the 1930's.

From the notoriety of War of the Worlds, to his film directorial debut with Citizen Kane, Orson Welles was a force in the arts. Film historian Philip Harwood presents this centennial appreciation of Orson Welles, through rare recordings, film, documentary and television footage. Those attending will learn that there were different sides to Orson Welles.

Tuesday, March 3, at the 92Y in New York City.

PRINCE WILLIAM'S trip to Shanghai, China will include his attending the premiere of Paddington the movie in China and, as President of BAFTA, present a special mask to the Shanghai Film Museum as well as recently-discovered film of old Shanghai restored by the British Film Institute.

The Duke of Cambridge will visit Japan from February 26 to March 1 and China from March 1 to March 4.

TOM CRUISE has been shooting stunt scenes at the law firm of One Crown Office Row in London. It's a firm which is "a barristers' chambers built on a tradition of excellence in civil and public law. . . (with) leading civil set of 69 members including 23 silks," the latter word meaning Senior Counsels.

Enter Tom Cruise and director Christopher McQuarrie and those legal eagles had a melt down, scampering about, using their phone to snap pictures of the star as he went about the business of blocking and filming a stunt scene for Mission Impossible 5.

Staffers posted that Cruise was "warm," "friendly," "greeted everyone," and that everyone called him 'Tom'.

The legal office stunt scene involved Cruise crashing through two windows.

Cruise and his director Christopher McQuarrie also shot at the Tower of London.


OTHER PEOPLE'S MONEY


THE RIVERA HOTEL IN LAS VEGAS

Liberace (center) doing the ribbon cutting honors at the opening of the Riviera Hotel.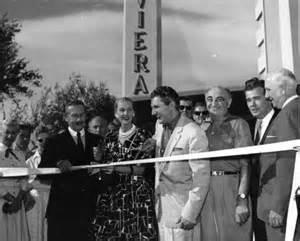 has been purchased for $182.5 million by the Las Vegas Convention and Visitors Bureau.

The 60-year-old hotel will close on May 4, 2015, and then be demolished to create an expansion of convention facilities.

Once a major player on the Strip, Liberace was the featured headliner at the resort's opening. The Riv paid him the unheard of sum of $50,000 per week.

In November 1956 Liberace and Elvis Presley did a role switch while appearing on stage at the Riviera. Presley put on the ritz by donning Liberace's gold lame dinner jacket while playing the piano and Liberace responded by putting on Presley's zoot suit and strumming a guitar.

A few of the many other notables who headlined at the Riv include: Frank Sinatra, Elvis Presley, Joan Rivers, Shirley MacLaine, Sammy Davis, Jr., Carol Channing, Mitzi Gaynor, Debbie Reynolds, Bernadette Peters, David Frost, Luciano Pavarotti, Liza Minnelli, Vic Damone, Englebert Humperdinck, Bob Newhart, Larry Gatlin, The Oak Ridge Boys, Steve Martin, and Barry Manilow.

UNESCO'S Intergovernmental Committee for Protection and Promotion of the Diversity of Cultural Expressions has awarded a total of $618,418 from the International Fund for Cultural Diversity (IFCD) to the following seven projects:

Empowering African youth to harness the potential of the music sector, International Music Council (joint proposal Cameroon, Congo, Côte d'Ivoire, Democratic Republic of the Congo, Kenya, Malawi, Mozambique, United Republic of Tanzania)

Building a sustainable performing arts industry in Cambodia, Phare Ponleu Selpak (Cambodia)

Strengthening local and regional institutional capacities to develop cultural industries policies in Serbia, Creative Economy Group (Serbia)

Emerging Youth: Strengthening sub-regional cooperation and promoting young talents in the African music sector, Réseau culturel et artistique pour la formation et la Francophonie – RECAF (Chad)

Developing an efficient policy for the promotion of cultural industries in Morocco, Association Racines (Morocco)

Promoting young people's participation in the book and music industries in Mexico, Germinalia A.C (Mexico)

Fostering an active participation of vulnerable groups in the creative sector in Uruguay, National Directorate of Culture, Ministry of Education and Culture (Uruguay)

Since 2010, the IFCD has awarded US$5.3 million to 78 projects in 48 developing countries, covering a wide range of areas, from the development of cultural policies, to capacity-building of cultural entrepreneurs, to the creation of new cultural industry business models.



FISH IN THE DARKa comedy about a death in the family, stars Larry David, in his Broadway debut as star and author.

Directed by Anna D. Shapiro.

In addition to David, the production also features Rita Wilson, Jayne Houdyshell, Rosie Perez, Ben Shenkman, Lewis J. Stadlen, Jake Cannavale, Marylouise Burke, Jerry Adler, Jenn Lyon, Jonny Orsini, Molly Ranson, Maria Elena Ramirez, Rachel Resheff, Joel Rooks, Jeff Still, Kenneth Tigar, and Richard Topol.

Scenic design by Todd Rosenthal, costume design by Ann Roth, lighting design by Brian MacDevitt, and sound design by Rob Milburn & Michael Bodeen.

Currently in previews at the Cort Theatre in New York City.

SNOW ORCHID a new version of Joe Pintauro's creation.

Directed by Valentina Fratti.

The cast will be headed by Tony Award nominee Robert Cuccioli and Angelina Fiordellisi.

It's 1964 Brooklyn. "Rocco Lazarra (Cuccioli) is returning home to face his family, a year after having suffered a nervous breakdown. His fiery wife, Filumena (Fiordellisi), hasn't left their house since before his departure, and longs for her native Sicily. Their two sons - Sebbie, a car mechanic, and Blaise, a college dropout - urge her to get out of the house, but with no success. Sebbie longs to escape his complicated relationship with his mother, who knows he is gay but denies it, while his younger brother Blaise tries to earn the motherly love Filumena has never shown him. And now, with Rocco's long-anticipated return, the family fears his temperament and instability will once again throw their lives into chaos."

Scenic design by Patrick Rizzotti, costume design by Brooke Cohen, lighting design by Travis McHale, sound design and original music by Quentin Chiappetta and hair and wig design by Rob Green and J. Jared Janas.

Begins February 3, 2015, at Off-Broadway's Lion Theatre on Theatre Row in New York City. Performances continue through February 28, 2015.

THE PIANIST OF WILLESDEN LANE based on the book The Children of Willesden Lane by Mona Golabek & Lee Cohen.

Adapted and directed by Hershey Felder.

Starring Mona Golabek.

At age 14, pianist Lisa Jura was separated from everything and everyone she knew and loved. In The Pianist of Willesden Lane, Jura's daughter, renowned pianist Mona Golabek, brings her mother's true tale of survival and triumph to the stage. Featuring live performances of classics by Chopin, Beethoven, and Debussy, Pianist is called "a deeply moving story infused with hope and the life-affirming power of music."

February 27 - March 22, in the Allen Theatre of the Cleveland Playhouse in Cleveland, Ohio.

JOSEPHINE AND I written and performed by Cush Jumbo.

Directed by Tony nominee Phyllida Lloyd.

Following a critically acclaimed run at London's Bush Theatre, Olivier nominated actress and writer Cush Jumbo brings her "tour de force" (Times) one-woman show to The Public.

Featuring swinging jazz and ragtime rhythms, this theatrical event interweaves a modern day story of an ambitious young woman with the fascinating life of the peerless, fearless Josephine Baker.

Performances begin February 27 at The Public Theater in NYC.

CHAPTER TWO by Neil Simon.

Directed by David Ellenstein & Christopher Williams.

Featuring: David Ellenstein, Louis Lotorto, Jackie Ritz & Mahri Sandoval.

Back by popular demand, Chapter Two is the first play ever produced by North Coast Rep. Based on events in Simon's life, this charming comedy revolves around the recently widowed George and his neighbor, the recently divorced Jennie. Neither of these bruised souls is eager to reconnect with the opposite sex. Their journey of meeting, dating and forming a relationship is laced with Neil Simon's golden touch. Romantic, rueful, touching and funny, this play has always been delightfully entertaining.

February 25 - March 22, 2015 at North Coast Rep in Solana Beach, CA.


WHO'S WHERE




CRAIG FERGUSON brings his Hot & Grumpy Tour: Walking the Earth tour to the Flynn Center for the Performing Arts in Burlington, VT on Thursday, February 26.

NEIL DIAMOND begins a split two night stand Friday, February 27 at the PPL Center in Allentown, PA. The second night performance takes place next Sunday, March 1.

SIR ANDRAS SCHIFF recently awarded a knighthood by Her Majesty Queen Elizabeth II, the Grammy Award-winning pianist makes his Scottsdale debut performing The Last Sonatas, a selection of masterpieces by Haydn, Beethoven, Mozart and Schubert. Thursday, February 26, at the Scottsdale Center for the Performing Arts in Scottsdale, Arizona.

THE HERMES QUARTET Omer Bouchez, Elise Liu, violins Yung-Hsin Lou Chang, viola and Anthony Kondo, cello perform at the French Embassy in Washington DC on Thursday, February 26, as part of the Embassy Series. Because of security reasons patrons will not be allowed to park cars on the premises. "T the concert of the memory of those brutally murdered."

RASCAL FLATTS brings the first country residency to the Hard Rock Hotel in Las Vegas when they open their nine performance engagement February 25, 2015 with performances also on the 27 and 28 and March 4, 6, 7, 11, 13 and 14.

THE EAGLES continue performing at the Rod Laver Arena in Melbourne, Australia with shows Tuesday, February 24 and Thursday, February 26. Saturday's performance is at Hanging Rock in Woodend, Australia.

TAYLOR SWIFT performs Wednesday, February 25, at the 02 in London.

USHER entertains Monday, February 23, at the Hartwall Arena in Helsinki, Finland. On Saturday the show is at the 02 World in Hamburg, Germany.

DOOBIE BROTHERS those four-time Grammy winners performs Wednesday, February 25, at the Pompano Beach Amphitheater in Pompano Beach, FL.


FINAL OVATION


LESLEY GORE the pop singer was 16 when her record of It's My Party (and I'll Cry if I Want To) hit the charts, died at Presbyterian Hospital in New York City on Monday, February 16, 2015 from cancer. She was 68.

A graduate of Sarah Lawrence college, some of Gore's other hits included Judy's Turn to Cry, That's the Way Boys Are, She's a Fool, Maybe I Know, and the feminist anthem You Don't Own Me.

During her career, Gore occasionally performed in Las Vegas. Last March she joined another hit teen singer, Little Peggy March, as part of the Legendary Ladies of Rock 'n Roll tour which appeared in Las Vegas at the Suncoast Hotel.

She received an Oscar nomination, along with her brother, for co-writing the song Out Here On my Own for the movie Fame. She appeared on Broadway in Smokey Joe's Cafe. She is survived by her partner Lois Sasson, her brother Michael and her mother, Ronnie.

PHILIP LEVINE who served as poet laureate from 2011 to 2012, died February 14, 2015 at his home in Fresno, CA. The cause of death was pancreatic cancer. He was 87.

Levine received a Pulitzer Prize in 1995 for his collection The Simple Truth and won two National Book Awards - in 1980 for Ashes: Poems New & Old and 1991 for What Work Is.

At his death, he was an emeritus professor of English at California State University, Fresno, where he had taught from 1958 to 1992.

LOUIS JOURDAN stage and film actor died at his home in Beverly Hills, CA February 14, 2015. He was 93.

Jourdan made his Broadway début in the lead role in the Billy Rose stage adaptation of Andre Gide's novel, The Immoralist.. He returned to the Great White Way for a short run in 1955.

He may be best remembered as the romantic lead alongside Leslie Caron and Maurice Chevalier in the 1958 film Gigi

His numerous film credits include Theee Coins in a Fountain, The Swan, the latter which starred Grace Kelly and Sir Alec Guinness, and The Bride is Much Too Beautiful (1956) with Brigitte Bardot. Jourdan also co-starred with Frank Sinatra and Shirley MacLaine in the 1960 movie musical Can-Can.

Jourdan sang in the Alan Jay Lerner/Barton Lane stage musical, On a Clear Day You Can See Forever during its 1965 out-of-town tryout at the Colonial Theatre in Boston. He was replaced as leading man by John Cullum before the show reached Broadway.

On March 11, 1946, Jourdan married Berthe Frédérique (nicknamed "Quique"). They remained married until her death in 2014. The couple had a son, Louis Henry Jourdan (born October 6, 1951) and died of a drug overdose on May 12. 1981 and was buried at Westwood Village Memorial Park Cemetery, Los Angeles, California.

















Next Column: March 1, 2015
Copyright: February 22, 2015 All Rights Reserved. Reviews, Interviews, Commentary, Photographs or Graphics from any Broadway To Vegas (TM) columns may not be published, broadcast, rewritten, utilized as leads, or used in any manner without permission, compensation and/or credit.
Link to Main Page
---
Laura Deni



For the snail mail address, please E-mail your request.
CLICK HERE FOR COMMENT SECTION