! >
Broadway To Vegas
  
 SHOW REVIEWS CELEBRITY INTERVIEWS GOSSIP NEWS

| | |
| --- | --- |
| | |
BANK ON ELTON JOHN - - ROSIE O'DONNELL AND A PSYCHOANALYST - - FIDLER INVITATION IS A KEEPSAKE - - DORIS TROY DIES - - A DRAMA ABOUT HATTIE McDANIEL - - MOVIN' OUT TRAVELS ON - - CHRISTOPHER PLUMMER AND BRENT CARVER IN KING LEAR - - THE PAGANS - - DONATE . . . Scroll Down


Copyright: February 22, 2004
By: Laura Deni

CLICK HERE FOR COMMENT SECTION
FIDDLER INVITATION BECOMES KEEPSAKE


The invitation to attend the February 26th opening night performance of the David Leveaux's new version of the classic musical Fiddler on the Roof has turned into something of a keepsake.

Boldface wording states the musical stars Alfred Molina, Randy Graff and Barbara Barrie.

The invite jumped to keepsake quality when Barrie, who was playing Yente the Matchmaker, got fired from the show. Barrie is a talented, respect veteran performer who also happens to be the sister-in-law of the show's lyricist, Sheldon Harnick. What is best for the show trumps relationships and Barrie was a little too up town for the role.

She was replaced by Tony nomiated Nancy Opel, who joined the production February 17, affording her only four days to hone the act which includes Topsy-Turvy, a new number - the first song Harnick and composer Jerry Bock have written together in over three decades.

Fiddler on the Roof opens Thursday, February 26, at the Minskoff Theatre in New York City.

Expect Barrie to be the first to wish Nancy a long and happy run.


PLAY ABOUT HATTIE McDANIEL TO DEBUT
Hattie McDaniel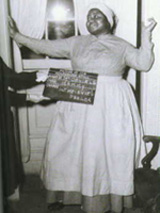 Hattie, a drama by William Blinn, will have its world premiere June 4 – July 10 at the Long Beach Playhouse. Billed as a play with music, Hattie examines the life of Hattie McDaniel, America's first Black Oscar winner, during that time when she fought for the role of "Mammy" in Gone With The Wind and the subsequent turmoil this event brought into her life.

Hattie was born on June 10, 1895 in Wichita, Kansas, the daughter of a Baptist minister and a spiritual singer. At the age of 15 she won a medal in dramatic art, but later started her career as a band vocalist. She worked as a singer with Professor George Morrison's Orchestra in 1915, touring the country. She became the first African American to sing on network radio in the United States. In 1931, she went to Hollywood to seek a film career and began as an extra before capturing larger roles. When work was not available, she hired herself out as a domestic, a cook, or a washerwoman.

In 1951 entered the world of television with her character Beulah. She starred in three episodes in what was television's first sitcom to feature an African American in the title role before becoming ill and was replaced. Her career was stopped by cancer. Hattie McDaniel died on October 2, 1952. She was the first African American to be buried in Los Angeles' Rosedale Cemetery.

Esteemed playwright Blinn has worked as a writer and producer in the TV industry with multiple Emmy, Golden Globe and Writers Guild Awards for such productions as Brian's Song, Roots, and Fame.



Broadway To Vegas is supported through advertising and donations. Priority consideration is given to interview suggestions, news, press releases, etc from paid supporters. However, no paid supporters control, alter, edit, or in any way manipulate the content of this site. Your donation is appreciated. We accept PAYPAL. Thank you for your interest.


SPREADING THE WORD


ROSIE O'DONNELL WITH PSYCHOANALYST DR. GAIL SALTZ

Rosie O'Donnell

in what ought to be a standing room only event.

How can we understand what inspires people to immerse themselves creatively in performance? What gives them the drive, the perseverance and the passion to make a show happen and what is the material that moves them?

Join Rosie O'Donnell, actress, comedian, talk show host and producer of the Broadway show Taboo, as she talks with psychoanalyst and Today show contributor Dr. Gail Saltz about what gives her inspiration and motivation. Wednesday Match 3 at the 92nd Street Y in NYC.

THE RED AND THE BLACKLIST with Norma Barzman. In her recently released memoir, The Red and the Blacklist: An Intimate Memoir of an Hollywood Expatriate, writer Norma Barzman recounts her life as a Hollywood insider and how personal politics clashed with the McCarthy era witch-hunt, resulting in her being driven into a 30-year exile in France. Presented in association with Town Hall, Los Angeles, and the exhibition Arnold Mesches: FBI Files.

The event takes place Thursday, February 26, at the Skirball Center in Los Angeles. A book signing will follow the program.


SWEET CHARITY


AN AFTERNOON OF ENTERTAINMENT TO BENEFIT GOLDEN RAINBOW starring the Las Vegas cast of Mamma Mia! will feature Broadway show tunes. Sunday, February 29 in Pharaoh's Theatre at the Luxor Hotel.

The show will be directed by Mamma Mia! cast members Rick Pessagno and Tim Tucker. Golden Rainbow's goal is to become the premiere HIV/AIDS care organization in Southern Nevada.

AN EVENING OF MUSIC FROM GUYS AND DOLLS benefits the Iris Cantor Women's Health Center at New York-Presbyterian Hospital. The tuneful evening takes place Monday at the Sheraton New York. Tony Bennett, Whoopi Goldberg, Vanessa Williams, Delta Burke, Marisa Tomei, Jesse L. Martin, Susan Lucci, Dick Latessa, Melissa Errico, Tony Roberts, the NYPD's tenor Daniel Rodriguez, and the Chancel Choir of the Abyssinian Baptist Church will be hitting all the right notes in a production directed by Lisa Shriver. Tickets start at $1,000.


OTHER PEOPLE'S MONEY


BANK ON ELTON JOHN the best thing that has happened to Las Vegas since Elvis Presley left the building and the Rat Pack packed it in. Having seen the show three (3) times since he opened a week ago - a situation that can happen when you live in Sin City and a lot of people you know come to visit. The acid test - when you've already seen the show, not only know what is coming next, but have the entire production practically memorized - are you still going to be entertained? In John's Red Piano performance at Caesars Palace the answer is - yes.

All of his performances through February 22 were sold out, prompting Caesars executives to immediately add 16 more shows to the 25 already scheduled for 2004, bringing the total to 41.

The original contract was for 75 shows spread out over approximately three years would have the production grossing $61 million. The 16 new shows means an additional gross of almost $13 million - or more than $810,000 per show.



KING LEAR by William Shakespeare.

One of Shakespeare's towering achievements, King Lear is a work of exceptional mastery, a stark tale that is both intimate and vast. An old and vain king unwisely divides his kingdom between his two fawning older daughters and banishes his third daughter, who truly loves him but speaks more modestly. Thus begins Shakespeare's heart-rending play - a work that questions the concept of a harmonious and just universe. The king and his followers, ennobled by suffering, pay dearly for their lapses in judgment.

Madness and murder are the consequences of insights and mercy that arrive too late, making King Lear a sweeping tragedy of vanity, evil and anguish.

Directed by Sir Jonathan Miller, this production will feature Christopher Plummer in the title role - in his Vivian Beaumont Theater debut.



Christopher Plummer as King Lear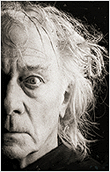 Joining Plummer will be Brent Carver in the role of Edgar.

The cast of King Lear includes members of the Canadian company and most of the ensemble will be American actors. King Lear is designed by Clare Mitchell (costumes) and Robert Thomson (lighting), Scott Anderson (sound) with scenic supervision by Ralph Funicello. Music for the production has been composed by Berthold Carrière.

Cast: James Blendick, Domini Blythe, Christine Bootle, William Cain, Benedict Campbell, Brent Carver, Geraint Wyn Davies, Ian Deakin, Jay Edwards, David Furr, Douglas Harmsen, Claire Jullien, Leo Leyden, Matt Loney, Barry MacGregor, Quentin Mare, Christopher McHale, Paul O'Brien, Guy Paul, Lucy Peacock, Christopher Plummer, Andy Prosky, Christopher Randolph, Stephen Russell, Brian Sgambati, Eric Sheffer Stevens, Baylen Thomas, Brian Tree and Susan Wilder.

Lincoln Center Theater in NYC to April 18.

THE STENDHAL SYNDROME by Terrence McNally are two short plays- Full Frontal Nudity, and Prelude & Liebestod - named after the erotic madness that can supposedly be induced in us by works of art.

Stendhal's syndrome (sten.DAWLZ sin.drum, -drohm) n. Dizziness, panic, paranoia, or madness caused by viewing certain artistic or historical artifacts or by trying to see too many such artifacts in too short a time.

Example Citation: In 1817, a young Frenchman named Marie-Henri Beyle — better known to us as the French novelist Stendhal — visited Florence and soon found himself overwhelmed by the city's intensely rich legacy of art and history. When he visited Santa Croce (the cathedral where the likes of Machiavelli, Michelangelo, and Galileo are buried) and saw Giotto's famous ceiling frescoes for the first time, he was overcome with emotion.

160 years later, in the late 1970s, Dr. Graziella Magherini, at the time the chief of psychiatry at Florence's Santa Maria Nuova Hospital, noticed that many of the tourists who visited Florence were overcome with anything from temporary panic attacks to bouts of outright madness that lasted several days. She remembered that Stendhal had suffered similar symptoms, so she named the condition Stendhal's syndrome.

Isabella Rossellini and Richard Thomas star in this world premiere of Terrence McNally's The Stendhal Syndrome, which is directed by Leonard Foglia. The cast also includes Michael Countryman, Jennifer Mudge and Yul Vázquez.

Full Frontal Nudity is about three American tourists who are urged by an Italian guide to bask in the beauty of Michelangelo's "David" - and Prelude & Liebestod - finds a celebrated conductor watching his life unravel right before his eyes as he leads the opening and ending pieces of Wagner's Tristan und Isolde.

The design team for Stendhal includes Michael McGarty (set), David C. Woolard (costumes), Russell H. Champa (lighting), Elaine J. McCarthy (projections) and David Van Tieghem (sound) — who also provides original music. The Stendhal Syndrome at Primary Stages through March 27.

MOVIN' OUT moves on down the road as the Tony Award winning show begins a national tour. Five-time Grammy winner Billy Joel and legendary director/choreographer Twyla Tharp joined forces to create the spectacular new musical. Movin' Out brings 26 Billy Joel classics to electrifying new life as it tells the story of five life-long friends over two turbulent decades. It all adds up to one unforgettable Broadway musical. February 24-29 at Mortensen Hall Bushnell in Hartford, CT.

BUG by Tracy Letts. Directed by Dexter Bullard, the cast includes: Amanda Plummer, Michael Shannon, Amy Landecker, Reed Birney.

A hallucinatory tale of pests and paranoia, Bug is a dark comedy exploring themes of isolation and delusion. Agnes played by Plummer, a scrappy, drug-addled woman is laying low in an Oklahoma City motel to avoid her ex-husband who is on early release from prison. His arrival spells trouble when he discovers that Agnes has forged a new relationship with an enigmatic younger man named Peter.. In this psycho-thriller, residents of this spooky motel are visited by mysterious strangers, haunted by events from their pasts, and attacked by bugs.

Bug premiered at the Gate Theatre London in 1996 and was produced in the playwright's theatrical hometown of Chicago by A Red Orchid Theatre.

Currently in previews at the Barrow Street Theatre in Manhattan, Bug willl officially open February 29.

THE PAGANS by Ann Noble. New York premiere directed by Stephen Hollis. The eldest son's return to County Clare, Ireland, with his sleek American wife throws the Riordan family into turmoil. Resentments and rivalries surface.

Winner of Chicago's Jefferson Award for New Work, Ann Noble tackles faith, loyalty and trust with a strong sense of humor-introducing us to eight colorful, headstrong personalities. February 27 to April 4 at the Abingdon Theatre Arts Complex in NYC.


| | | |
| --- | --- | --- |
| | | |
WHO'S WHERE


CHRISTINE EBERSOLE who won the Tony Award for her performance in 42nd Street, has brought her cabaret act "In Your Dreams," to Feinstein's at the Regency in Manhattan. She is accompanied by the pianist Billy Stritch. They can be enjoyed through March 6.

ANA BERGMAN stars in her cabaret act Across A Crowded Room at the elegant Stanhope Park Hyatt New York on February 27 and 28 and March 5, 6, 12, and 13. Directed by Sara Louise Lazarus with musical direction by Alex Rybeck. Bergman will share the stage with musical director Rybeck on weekends in March, and with accompanist/composer Joseph Thalken on weekends in February.

JAMIE deROY AND FRIENDS VARIETY SHOW takes place the last Tuesday of every month, February through May at Billions in Manhattan beginning February 24. Grammy Award-Winning Cabaret Legend Sylvia McNair Is Special Guest Star in February 24th Show.

Barry Kleinbort is director of Jamie deRoy & friends. Lanny Meyers is musical director.

GEORGE WINSTON performs at the State Theatre in Modesto, CA on February 26.

STEVE & EYDIE who star at the Silver Legacy Casino in Reno on March 5-6 return to the Las Vegas Strip with an engagement at the Stardust Hotel April 29-May 1.

ENRIQUE IGLESIAS has a busy week. Today he's on stage at the Luther Burbank Center in Santa Rosa, CA. On Monday the show is at the McCallum Theatre in Palm Desert, CA. Tuesday finds the singer at the Paramount Theatre in Oakland, CA. Thursday the action moves to the Pantages Theatre in Los Angeles. On Saturday he's in the spotlight at The Joint in the Hard Rock Hotel in Las Vegas.

RUFUS WAINWRIGHT is keeping a full schedule. Tonight the show is at The Pageant in Saint Louis, MO. Monday he's center stage at Liberty Hall in Lawrence, Kansas. Wednesday the performances takes place at 43 Bleu in Colorado Springs, CO. Then he comes to Las Vegas for a show Friday at The Joint in the Hard Rock Hotel. He closes out the week, Saturday at the Ventura Theatre in Ventura, CA.

TONY BENNETT delighting crowd on Thursday at the Redding Convention Centre in Redding, CA. On Saturday the ageless crooner stars at Trump 29 Casino in Indio, CA.

MICHAEL McDERMOTT in the spotlight Saturday at the Wheaton Theatre in Wheaton, ILL.

AN EVENING WITH RICHARD SKIPPER AS CAROL CHANNING with Rich Siegel on piano. Richard returns to his hometown to appear at his local Theatre company for the first time in 25 years. A Benefit for the Theatre and a tribute to Richard Skipper. After the show, he will be giving a discussion on his life and career since leaving Conway in 1979. The Theatre of the Republic Conway, SC February 28.

JOHN PIZZARELLI takes to the National Arts Centre stage in Ottawa, Ontario on Tuesday for a five night stand.

JARS OF CLAY starring at the Philips Arena in Atlanta, GA on Saturday, February 28.

DEBBIE REYNOLDS opens a five night engagement at the Mohegan Sun Casino in Uncasville, Conn. on Wednesday.


FINAL OVATION


DORIS TROY 67, passed away in Las Vegas on Monday, February 16th. Her voice was silenced by emphysema.

She was born Doris Higgensen in the Bronx, New York, in 1937, the daughter of a minister who had left his native Barbados to settle in the United States.

The talent who would become Doris Troy was the writer and originator of the classic Just One Look, the 'voice' on Pink Floyd's Dark Side Of The Moon, and one of the prominent voices on The Rolling Stones' You Can't Always Get What You Want and Dusty Springfield's In The Middle Of Nowhere. She was the only female soul singer signed to The Beatles' Apple Records label in the late '60s.

On a British tour in 1965, her band included piano player Reginald Dwight - who became Sir Elton John.

A musical based on Troy's fascinating life, Mama, I Want to Sing opened In March 1983, at the Heckscher Theater in Harlem. Written by her younger sister Vy Higginsenan, an on air personality for WBLS in New York, and Ken Wydro, who is Higginsen's husband, the show told the story of a young woman named Doris Winter who sings in a gospel choir and becomes an international pop star.

The next year Time magazine crowned it one of New York's 10 best stage offerings.

The musical became the longest running off-Broadway gospel musical in the history of American theatre. When it transferred to London, Chaka Khan and Deniece Williams both appeared in the show. In 1984, Doris Troy joined the cast and played her own mother, Geraldine, from early 1984 until 1998, toured with it throughout the country and took it to London and Japan.

The production was staged last month in Jacksonville, Florida and begins a 20th-anniversary run at the Williams C. M. E. Church on Adam Clayton Powell Boulevard in Harlem.

In addition to her sister Vy, of Manhattan, Ms. Troy is survived by another sister, Joyce Davis, of Fort Lee, N.J.

Visitation is Monday, February 23, 2004, wake from 4–7 p.m; funeral: 7:00 pm at the Williams Institutional CME Church, 2225 Adam Clayton Powell Boulevard, New York City. The e family respectfully requests that in lieu of flowers, donations be sent to: The Doris Troy Scholarship Fund c/o Mama Foundation for the Arts, 149 W. 126th St., New York City, NY 10027.
















Next Column: February 29, 2004
Copyright: February 22, 2003. All Rights Reserved. Reviews, Interviews, Commentary, Photographs or Graphics from any Broadway To Vegas (TM) columns may not be published, broadcast, rewritten, utilized as leads, or used in any manner without permission, compensation and/or credit.
Link to Main Page
---
Laura Deni


CLICK HERE FOR COMMENT SECTION