! >
Broadway To Vegas
  SHOW REVIEWS     CELEBRITY INTERVIEWS     GOSSIP     NEWS 
| | |
| --- | --- |
| | |
Copyright: February 22, 1999
By: Laura Deni
CLICK HERE FOR COMMENT SECTION

LAWSUIT DENIES BATHROOM SEX

Did Sharon Stone have sex with a another women in a public hotel bathroom? Naked Instinct: The Unauthorized Biography of Sharon Stone says it happened. A lawsuit filed this past week calls the proported event a vicious lie.


SHARON STONE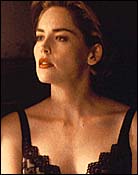 Events began unfolding in 1994 when Janice K. Payne, a nurse, was working on the Las Vegas based movie Casino. Medical personnel are required on all productions. They are the first to arrive and last to leave. Medics are as close to the actors as the set permits. In case of a problem the medical crew needs to be immediately available. It is not unusual for stars to become acquainted with the people who may be summoned to save their lives.

The lawsuit, filed last Tuesday, admits that Stone and Payne became friendly, leading to a potential business relationship, which was the sale by Payne to Stone of a movie concept.

In the book Naked Instinct: The Unauthorized Biography of Sharon Stone author Frank Sanello quotes a Las Vegas woman called "Mrs. Rothenberg" claiming she witnessed much of a sexual incident, which allegedly took place in a restroom of the Beverly Hills Hotel.

The legal action, filed by attorney Robert Graham, explains that Payne and Stone met in that rest room to discuss a television movie concept about Payne's experiences as a rescue helicopter nurse. According to the court papers, Payne and Stone entered the ladies room because Stone was overwhelmed by autograph seekers.

Payne charges author Sanello with exhibiting "a reckless disregard for the truth" in portraying the restroom meeting as a sexual encounter.

In the book's introduction "Mrs. Rothenberg" states on Dec. 4, 1995 she witnessed most of the sexual act, which she describes as "date rape." "I think she (Stone) was making a pass at her in the stall. She certainly was making a pass at her outside the stall. It just got more serious."

The lawsuit asserts that "Mrs. Rothenberg" is a pseudonym for a Las Vegas woman who had been at Payne's dinner table.

In seeking unspecified damages Payne's lawsuit contends that those excerpts, from the unauthorized Stone biography, have interfered with Payne's pending business deal.

The lawsuit also states that the book's assertions that there was consensual sex in a public place or that Payne was the victim of "lesbian date rape" are untrue.


NICOLE KIDMAN: INTRAVENOUS ICE CREAM
NICOLE KIDMAN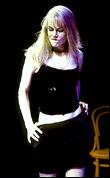 Last week two respected daily New York City newspapers had - on the same day - conflicting stories regarding Nicole Kidman. One report had the star of The Blue Room so seriously ill and dehydrated with the flu, that the star was being transported to and from the theatre hooked to an IV. The other newspaper's account indicated that Nicole, her children, and her husband - that would be Rosie O'Donnell's boyfriend, Tom Cruise - were in an ice cream parlor enjoying a few scoops.

The first report had more drama and we hope was a huge exaggeration.The item must have been planted by someone who has great veins or, never had an IV inserted. That can be a very painful event, not something anyone would willingly have done twice a day. Can't imagine any doctor permitting a star to be on stage if they were that ill - and isn't the flu contagious? Should anyone who comes down with the nasty bug after seeing The Blue Room contact the show's medical provider?

We're hoping the ice cream story is true.

Then again, maybe she's addicted to the cold stuff and the flu was a cover - so she could mainline French vanilla through the IV tubes.

We're going to look into appropriate 12-step ice cream programs for her.

Before her cholesterol level exceeds her husband's body weight, let's get this poor girl some help. Turn her on to snow cones.

In the meantime, you can turn on to her in The Blue Room at the Cort Theatre. Show closes March 7.


SHOW IS EVERY PRODUCER'S DREAM
Ashton Springer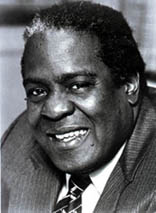 Ashton Springer is a producer with a hit on his hands. Unanimous rave reviews - an almost impossible occurrence coupled with SRO box office. He's euphoric - almost in shock. Rollin On The T.O.B.A. a musical tribute to Black entertainers who, in the 1920's, toured the vaudeville circuit, known as the T.O.B.A.- Theatre Owners' Booking Association. See Broadway To Vegas column of February 1.

"Well, I just produced it," he modestly told me. When I told him that he was taking a big chance on producing a show about the struggles of black vaudevillians, he paused and agreed, "Well, that's true." Springer isn't a novice to the stage. He was Managing Director of Broadway's Helen Hays Theatre from 1979-1985 and produced the Pulitzer Prize winning No Place to Be Somebody, and the Tony Award winning nominees Bubbling Brown Sugar, Eubie, and A Lesson from Aloes. Still, taking the critics by storm does give even a veteran a euphoric high. "It's what you dream about as a producer - you say, Boy, I'd love to get a show that gets real raves. Then it happens and you're kind of in shock."

Along with the exhilaration comes some down to earth problems; a bigger theater, cast changes and taking the show on the road.

The day I spoke to him he was about to go theater shopping. "We're talking about moving to a larger theater. I'm looking at 500 seaters. I'm going to see the Kit Kat Club, where they had Cabaret. I'm going over to talk to those folks about the possibility of moving it into that venue."

Venues exist worldwide and successful touring shows put money into a lot of coffers.

Rolling on the T.O.B.A. is a natural touring production.

"Oh, definitely, this is a touring show," he exclaimed. "Hopefully, we'll have companies around the world, because it could work in almost any city. It's a cross over show in every respect. Young people love it. Old people love it. Blacks, whites love it. It just crosses all of the lines that you can possibly cross in this business," declared Springer.

Not only do the customers love the show, venue operators can afford it. "It's not an expensive show to produce," emphasized Springer. "As a matter of fact, the very nature of the show calls for it to be a very simple show, where they basically wear one suit of clothes throughout the whole show. They just change hats and jackets to re-create different characters."

If your venue doesn't want a convoy of semi-trucks pulling up with scenery and sound, listen up. A lot of trailers? "No way!" answered Springer. "This show could travel in possibly one 20 foot truck. The whole thing. This show could be done on a bare stage. We did it on a bare stage," he admitted. "Once, just to test it out. And, it works! It's the material that does it."

"What this show requires are great performers," continued the producer. "The two guys must be singers, dancers and actors of top caliber. The female singer doesn't have to dance, but she has to really be able to sing the blues. Those performers are out there, no question about it. But, they can't be just half good. They must be top quality."

"Originally when I got this project there were just two male characters doing it. I didn't feel that in a New York market - in any market - that would work," he admitted."The fact is when you think of vaudeville, you think of blues singers - Ma Rainey, Bessie Smith - and to exclude women from the picture, I felt just wouldn't have been fair."



SANDRA REAVES-PHILLIPS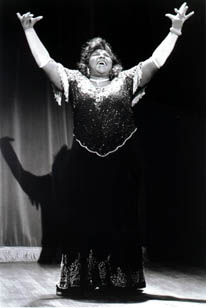 "Plus, commercially, I felt that this piece would be more viable with a blues singer in there. So, I suggested to the writers that they add that element."

As the man with the clout, others associated with the production listened. The show was re-written. "They added a blues singer, and it then made it something that would pass the muster here in New York," Springer explained.

Belting those blues is Sandra Reaves-Phillips. She may be remembered for her riveting portrayal of Mama Younger in the Tony Award winning musical Raisin. Sandra has come a long way to stardom, from a flat-bed truck of migrant workers. Born in Mullins, South Carolina, she labored long hours in the field with her grandmother, sang in church and entered local talent contests. "I've known Sandra for about 20 years," continued Springer. She had one child and at one point just sort of packed up and said - I'm going to New York. It's that simple. It worked for her. She's paid a lot of dues.

Rollin On The T.O.B.A. is more than entertaining. "In all honesty this piece is unique. Yes, the performers are all great. Yet, the piece recreates a lot of that old vaudeville material that makes you stop and think about how black performers were used to profit white managers," he added.

Our conversation turned to Las Vegas and the history of Black performers - names like Sammy Davis, Jr., Ella Fitzgerald, The Mills Brothers, who were courted to perform in major casinos, but not permitted to stay in the hotels or enter through the front door.

"Just the things that you were talking about," continued the producer. "The show does that very subtly. It doesn't jam it down your throat - just very subtly tells you what these people had to go through."

"So, when you see it in that context, it became something I hoped - you never know - but you kind of hope - that people can look at it and enjoy it, and still walk away and say - Oh, Wow! I just learned something. That was the intriguing part of the piece to me."

Rolling On The T.O.B.A. is currently at the 47th Street Theatre NYC.


HEDWIG'S ITCH SCRATCHES UP MOVIE & CD


The John Cameron Mitchell off-Broadway hit Hedwig And The Angry Itch is now a CD on Atlantic Records, featuring the wonderful songs of Stephen Trask, leader of rock group Cheater.

The delightfully campy show, which won the Outer Critics Circle Best Off-Broadway Musical award, is about an East German transsexual singer living in a Kansas trailer park.

Mitchell also authored the show.

He has a lengthy theater and television track record - Six Degrees of Separation,The Secret Garden, Peter Pan, Sarcophagus, to Head of the Class, The Equalizer, and MacGyver.

The 35 year old author/actor is working on the movie version of Hedwig for New Line Cinema.


PERSONALITY CLASH DELAYS SHOW OPENING
MATTHEW BRODERICK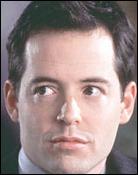 Night Must Fall which stars Matthew Broderick in a revival of Emlyn Williams' 1936 mystery-thriller, about a psychopathic killer, no longer stars Pamela J. Gray, who has been replaced by J. Smith-Cameron. The cast change has delayed the show's opening from yesterday (Sun. Feb 21) to March 8.

This isn't the first time an actor has been replaced after a show began previews, but in this case the reported firing was because of "creative differences" between Broderick and Gray, who just "didn't click with the chemistry." This would have been Gray's Broadway debut.

Smith-Cameron is a Broadway veteran earning raves two years ago for her portrayal of magazine editor Alexa Vere de Vere in the off-Broadway smash As Bees in Honey Drown.

Smith-Cameron steps into the role of Olivia, the niece who suspects something is amiss. The rich older woman that Broderick's character plans to kill is played by English actress Judy Parfitt. Previews continue at the National Actors Theater, Lyceum.


DADDY'S GIRL GETS HER WAY
LORINDA LISITZA
Photo By: GEORGE CHINSEE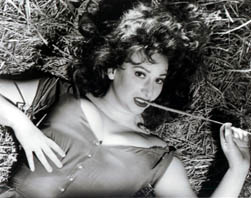 Daddy's Girl a musical comedy at The Duplex Theatre NYC has been extended through April 30.

The musical comedy with 10 original songs, is a journey about a glamorous star who cherishes her humble beginnings - her life as the daughter of a poetess/stripper; her flight from the priggish small-town of Big Sandy, Nebraska to search for her father. From her Upper East Side Manhattan penthouse, the coiffured and gowned Ethel Mae Pepnik recalls her quest for fame and her father.

Lorinda Lisitza plays Ethel Mae and a cast of characters, including Davy, an aging English queen, Damien, Ethel's cross-dressing call-boy lover; and Ethel's devious Broadway producer father, Leser Pepnik.

Playwright and director John Astor-Kaye is a Harvard grad whose comedy with music Down Under Darling premiered in New York last season.

His full length comedy Canary was nominated for a 1997 Guinness Award in the United Kingdom.

He has been an artist-in-residence at the Edward Albee Foundation and the Edna St. Vincent Millay Colony.



SWEET CHARITY


LANCE BURTON who stars at the Monte Carlo Hotel, Las Vegas recently co-sponsored a new 12-seat Sunshine Coach for the New Vista Ranch, along with the Variety Club of Southern Nevada Tent #39. The New Vista Ranch is for young adults who are mentally or physically challenged and desire to live independently. The magician also made a cash donation to The Variety Club of the United States' newest project The Bash, and was honored afterwards when the grand total raised came in at $2.2 million. All funds raised went to aid children in need on the East Coast.

WAYNE NEWTON who has been starring in Las Vegas since he was a teen-ager, took to the Caesars Palace stage yesterday, Feb. 21, to host the 24th Annual Concert of Love. The event has raised close to $3 million for Opportunity Village, Nevada's largest nonprofit agency that serves people with disabilities.

DIANE VON FURSTENBERG in Las Vegas last Thursday to receive an award from the Anti-Defamation League. Furstenberg's mother was a concentration camp survivor.The designer and author also signed copies of her book Diane: A Signature Life at the event, which was an invitation only luncheon at the Bellagio Hotel.



Broadway To Vegas is supported through advertising and donations. Priority consideration is given to interview suggestions, news, press releases, etc from paid supporters. However, no paid supporters control, alter, edit, or in any way manipulate the content of this site. Your donation is appreciated. We accept PAYPAL. Thank you for your interest.



BRIGHT LIGHTS, BIG CITY a musical adaptation of Rudyard Kipling's tale about a spoiled rich brat, who learns value lessons from a Portuguese fisherman, stars Treat Williams opened at the Manhattan Theater Club.

THE HOTHOUSE a revival of Harold Pinter's comedy about bureaucrats in government stars; Kate Blumberg, Larry Bryggman of As The World Turns, and Jordan Lange. Atlantic Theater Company. Opens Feb. 25.

PHYLICIA RASHAD stars as Harlem Renaissance writer Zora Neale Hurston in the new play by Thulani Davis based on a 1952 Florida murder trial. Performances begin at the Public Theater NYC on Tuesday, Feb. 23.

URBAN STAGES continues its 15th anniversary season with the New York premiere of MACS, - A Macaroni Requiem - by David Simpatico, with performances beginning Mar. 10 at the Blue Heron Arts Center, NYC. A close-knit Italian-American family attempts to reconcile the past over a hectic Sunday macaroni dinner. The play was well received at the Williamstown Theatre Festival. The eight member cast under the direction of Mark Roberts includes; David Brummel, Charlotte Colavin, Mary Fogarty, Antoinette LaVecchia, Scott Lucy, Mark Romeo, Roger Serbagi and Gary Wolf.

ACTING UP IN ARKANSAS at the Starr Theatre (yes, really) in Fayetteville. Lily Tomlin's The Search for Signs of Intelligent Life by Jane Wagner, is presented by Ozark Stageworks. Performances March 5-7 and 11-13.

GRIS GRIS a comedy/drama by Daniel DuPlantis - winner of the Sarett Playwriting Competition - has it's world premiere at the Black Box Theatre, Las Vegas, with performances through Feb. 28. Play tracts the life of Marie Laveau, the Voodoo Queen of New Orleans. Production stars: Michael Thrower as Phillipe, Sheilagu Polk as Marie Laveau and Sonya Evans as Laveau's daughter.


THIS AND THAT


VALPARISO a play by Don DeLillo about the collapse of privacy and the power of the mass media to shape our consciousness, continues through March 17 at American Repertory Theatre, Cambridge, Mass.

SWOOSIE KURTZ a hit in The Mineola Twins at the Roundabout's Laura Pels Theater. Written by Paula Vogel. Don't miss.

MARY TYLER MOORE speaks Wednesday, February 24 at the Temple Buell Theatre, Denver, on the comedy and drama of her own life. A private reception follows.

BROOKE SHIELDS whose marriage to Las Vegan Andre Agassi is in the gossip mill as being troubled, signed on as one of the presenters of the Screen Actors Guild (SAG) Awards March 7, broadcast on TNT. The beautiful Brooke joins Forest Whitaker, Laura San Giacomo and Wendie Malick.

BLOOD BROTHERS will have its Southwest premiere at Theatre Lab Houston. Casting is underway.

GOODSPEED PLAYHOUSE in East Haddam, Conn. in production for the world premiere of Glimmerglass, a new musical based on the James Fenimore Cooper novel Leatherstocking Tales. Book by Jonathan Bolt, Music by Douglas J. Cohen with lyrics penned by Ted Drachman. Show dates are October 8-December 19.

PERSERVERANCE THEATRE in Juneau, Alaska. brought in a new Artistic Director, Peter DuBois, who has spent his first year staging an interesting season. Next in the spotlight is Goblin Market which DuBois calls "a delicious adult musical which children will also love." Adapted from the critically acclaimed poem by Christina Rossetti first published in 1862, Goblin Market is the story of two beautiful sisters and their life-changing encounter with the alluring goblin men, who try to seduce them with luscious and dangerous fruits. Doesn't sound like a whole lot has changed since 1862. Anyway, DuBois admits that he "had planned on re-working a more recognizable Broadway success, (but) I listened to Goblin Market this past summer and was bowled over by its artistry. I'm thrilled to turn Juneau on to this mysterious and life-affirming musical in which the demons of the adult world confront the innocence of childhood." Adaptation by Polly Pen and Peggy Harmon music by Pen, lyrics by Harmon.

PARADE PASSES BY closing February 28 at a reported loss of $5.5 million. Tis sad. I thought the Hal Prince directed show, at Lincoln Center, should be seen by every American history class.

Next Column: March 1, 1999
Copyright: February 22, 1999. All Rights Reserved. Reviews, Interviews, Commentary, Photographs or Graphics from any Broadway To Vegas (TM) columns may not be published, broadcast, rewritten, utilized as leads, or used in any manner without permission, compensation and/or credit
Link to Main Page
---
Laura Deni





For the snail mail address, please E-mail your request.
CLICK HERE FOR COMMENT SECTION