! >
Broadway To Vegas
  
 SHOW REVIEWS CELEBRITY INTERVIEWS GOSSIP NEWS

| | |
| --- | --- |
| | |
OPRAH WINFREY AS BILLY CRYSTAL'S WARM UP ACT - - HUMANA FESTIVAL - - ON THE MARCH TO THE SEA BY GORE VIDAL - - PATTY DUKE BACK ON STAGE - - SALON AT THE TAPER - - LYRICS AND LYRICISTS PROGRAM SALUTES SHELDON HARNICK - - EINSTEIN'S DREAMS - - VEGAS RENTAL CAR TAX INCREASE TO BENEFIT PERFORMING ARTS CENTER - - DONATE . . . Scroll Down


HEART HEALED PATTY DUKE PICKS VALENTINE'S WEEK FOR STAGE RETURN
Patty Duke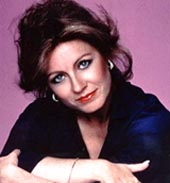 Last November Oscar winner Patty Duke underwent a single heart bypass operation at the North Idaho Heart Center. She attributed smoking to causing her heart condition.

She picked Valentine's week to return to the stage, starring in Love Letters at the Theatre of Western Springs, outside of Chicago. The production was billed as a 76th Anniversary Season Benefit with performances February 10-13.

It also permitted Duke to test drive her newly reconditioned heart.

Artistic Director Jack Phillips, who spend 12 years as executive director of the Spokane Civic Theater, spoke with Broadway To Vegas about the event.

"It went very well," he declared. "One of the reasons she wanted to do it was to check on her own physical stamina. We did only five performances, but we did two a day a couple of times. From that experience she is feeling very energized. She did not get tired in the least."

"She is going to be going on tour for six months," he said referring to the one-woman show, Golda's Balcony, written by William Gibson - author of The Miracle Worker. In it, Duke will play Israel's fourth Prime Minister, Golda Meir. The official tour will begin in November in Ft. Lauderdale, Florida.

During the run of Love Letters patrons who donated enjoyed chocolate and champagne during intermission. A Special VIP reception, with Patty Duke, followed each performance.

"We have very generous vendors in this area that donated a great deal of the champagne and the chocolate," he related. "We had a strolling violinist that wandered through the audience at intermission playing love songs. It was just really a wonderful evening."

"How gracious and wonderful she was," exclaimed Phillips about Duke's participation in the after show VIP receptions. "She was gracious and took a lot of time with everyone. So, not only did she do the full performance, but them afterwards spent and hour or so standing on her feet and talking to everyone."

"One of the reason we wanted to kick off the 76th season - well, we are half way through it - but it still was part of what we are trying to do, which is make people realize that this is the oldest, continually operating theatre in Chicago. We have 411 seats and there is a black box of 125."

"This is a wonderful theatre. A very strong active group. A very sophisticated theater audience, which is also wonderful. Chicago is such a strong, long time theater town that our audiences here, and the people involved in the theatre, have sophisticated theatrical tastes and it is wonderful to work for them."

Located about 10 miles from the center of Chicago, Phillips reports that their audience base "is probably within 100 miles radius of Chicago. They come from all over, primarily from the western suburbs of Chicago, and as far away as Indiana We actually had people fly in for this from Florida," a nod to Duke's upcoming Florida staging of Golda.


OPRAH AS THE WARM UP ACT
Billy Crystal in 700 Sundays. Photo by: Joan Marcus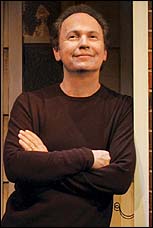 Celebrities attend Broadway productions all the time. After all, celebrities are people - entitled to enjoy a Broadway show.

What makes Oprah Winfrey attending the February 12th performance of Billy Crystal's 700 Sundays unusual is that Oprah unwittingly became the warm up act.

A Tony voter seated across the aisle from the talk show queen reported to Broadway To Vegas how the presence of Winfrey turned into one of the most interesting audience events he has ever witnessed.

"It was the most amazing experience," said our source. "When different parts of the audience began to discover that she was there-as word of her presence in the theater spread-slowly but surely the entire house at the Broadhurst began standing and looking for her and then everyone was talking about her. People were hanging over the balcony looking at her," he related.

"She remained seated. But, at one point she waved to them as if to acknowledge their presence. It was a good thing, because the audience was building up into a thing of really wanting her to acknowledge that she knew, they knew, she was there."

"They were across the aisle in the same row I was in," he explained. "Right as the show started, Jerry Seinfeld and his wife came down the aisle and sat next to her. Oprah was three seats in. Jerry Seinfeld sat on the aisle. Then his wife sat next to him. Then Oprah and next to Oprah was Gayle King," he said referring to Oprah's longtime best friend and business associate.

"People were turning around and talking to them and they were very pleasant."



Gayle King and Oprah Winfrey. Oprah steals the show but Gayle King doesn't steal gift bags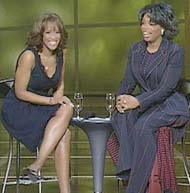 Oprah was accompanied by a bodyguard and our insider continued, "the body guard didn't stay during the show. He came back down during intermission and stood in the aisle. I heard someone say it must be secret service because he had a thing in his ear. I thought - Oprah doesn't have secret service protection! But, I actually heard a man call it the secret service. That's funny, but I guess that's just how important people think she is - that she would have secret service protecting her."

"At intermission I thought for sure that somebody would take and secrete them to some private office in the theater - to keep them away from everybody - but they didn't. All four of them stayed in their seats talking to each other. The bodyguard came and stood in the aisle."

The showgoer thought people pretending to be able to see Oprah was almost too curious for words.

"At intermission it was really weird because the audience did the same thing - stood and stared in her direction. I went to the back of the theatre. Before I went downstairs to the men's room, I looked at all of these people staring in that direction. Oprah was not standing up. She was sitting down in her seat. But, these people in the back were staring in her direction as if they could see her. They might have been hoping she would stand up. The expressions on their faces, as I looked at them, appeared as if they were seeing her. Most of them couldn't even see her at all! But, they were standing there looking like they could! That was really weird!

"I don't know if Billy knew they were there. Some performers don't want to know if a star is in the audience. But, I do know that they definitely went back to see him after the show, because somebody came and took them. They came across the aisle and walked in the row in front of me which had already emptied. They walked right past us. As they did, they nodded - like hello and we said hello back. I was staring at her like everybody else," admitted veteran Broadwayite. "Earlier she had smiled at me and I smiled back."

"As they were going back stage somebody came after Gayle King with a gift bag and said - 'Oh, Miss King this was by your seat, is this yours? And, she said, no,'" declared the insider, establishing that King doesn't swipe gift bags that aren't hers.

"I've been in theaters on opening nights and a lot of celebrities have been present and I've never seen an audience react the way they did for Oprah - and this was before Jerry even arrived. It's a testament to how big her celebrity is," he declared.

"The really interesting thing was with all these people standing and looking at her from near and from upstairs in the mezzanine - when she finally waved to acknowledge all of them - it gave them a kind of release and they began applauding - literally seconds before the house lights dimmed and the show started. The people back stage had to have heard the applause and Billy must have wondered what's that? - because there wasn't suppose to be a warm up person. Oprah was the warm up person for Billy Crystal!"

Our source reported that all of the Winfrey-Seinfeld party appeared to thoroughly enjoy Crystal's 700 Sundays - a show which is seriously rumored to be a cinch for a Tony Award.


HUMANA FESTIVAL
Poster Artist Chip Kidd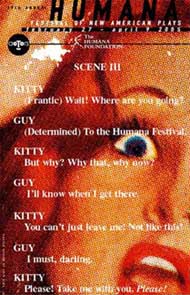 Living up to its billing of "Louisville Sees Today What the World Sees Tomorrow" the Humana festival raises the curtain on 6 Full-Length Plays, 4 Ten-Minute Plays, and a sold out A Satiric Anthology for six exciting weeks February 27-April 9.

Three Humana Festival plays have won the Pulitzer Prize: D. L. Coburn's The Gin Game, Beth Henley's Crimes of the Heart and Donald Margulies' Dinner With Friends. Jane Martin's Keely and Du was a finalist.

Eight Humana Festival plays have been adapted for film and television and two for radio.

Approximately 3,000 scripts are received annually for consideration in the New Play Program. Nearly 75,000 scripts have been submitted since 1976.

For descriptions of those making it to the stage this year click here.


SPREAD THE WORD


ON THE MARCH TO THE SEA BY GORE VIDAL

Gore Vidal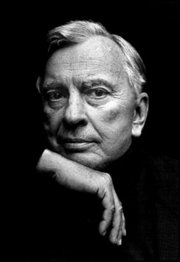 will have its world premiere as a staged theatrical concert reading by Theater Previews at Duke, the professional producing arm of the Theater Studies Department at Duke University.

Vidal will be active in both the production process and in related academic activities on campus.

Warner Shook will direct the distinguished cast which includes; Charles Durning, Michael Learned, Chris Noth, Isabel Keating, Harris Yulin, Richard Easton, Corey Brill, David Turner and John Feltch.

On the March to the Sea is a play whose universal themes of betrayal, honor and integrity in time of war resonate now more than ever," says Zannie Giraud Voss, producing director at Duke. One of our nation's most respected authors delivers a ripping new tale set during one of America's darkest hours. At the height of the Civil War, Hinks, a Southern opportunist, christens his palatial new home and sends his sons off to war. But when the Union soldiers commandeer his estate, Hinks must choose between duty to his friends and the Confederacy or protecting his legacy.

Theater Previews at Duke's mission is to serve as a breeding ground for professional, innovative and high quality new plays and musicals, and to offer audiences the opportunity to engage in productions in a variety of stages of development. The presence of the playwright is an essential part of the program. Theater Previews provides the personnel, space, time and support required to bring his or her vision to fruition in the course of producing work that makes a contribution to the field on a national scale. "We seek to serve playwrights by nurturing their works, which in turn serves the American theater by contributing to our generation's body of expression and legacy and provides audiences with engaging, stimulating and high caliber art," says Voss.

This concert reading takes place Feb. 22 - March 6, at Reynolds Theater on the Duke campus in Durham, N.C. On the March to the Sea received a developmental reading this past fall at Hartford Stage Company.

CELEBRATION OF SHELDON HARNICK part of the 92nd Street Y's Lyrics and Lyricists series. Sheldon Harnick will narrate the story of his own life and work, and even sing a song or two.

The event features musical director and conductor Rob Fisher with Nancy Anderson, James Clow, Rebecca Luker and Larry Yurman on piano.

After working as a professional violinist in and around Chicago, Harnick (b. 1924) moved to New York in 1950 to pursue a career in the musical theater. Harnick's first song for a Broadway show was The Boston Beguine for New Faces of 1952. His collaboration with composer Jerry Bock produced the Broadway classics Fiddler on the Roof which won the 1964 Tony Award, She Loves Me winner of a 1963 Grammy Award and Fiorello which garnered the 1959 Pulitzer Prize and Tony Award.

Harnick has also provided the librettos for many opera productions, among them Cyrano with Jack Beeson in 1994 and Coyote Tales with Henry Mollicone in 1998.

February 26-28 at the 92nd Street Y in NYC.

THE WORKROOM SYMPOSIUM Survival and Renewal: An Intimate Dialogue with WWII survivors takes place at the Manhattan Theatre Source on Wednesday, February 23.

This 90 minute symposium will discuss personal stories of survival and renewal during WWII. An intimate panel of survivors was compiled with advice assistance from the NY Tolerance Center, The Generation After & Holocaust Survivors Association, The Hidden Child Foundation, Anti-Defamation League, The Museum of Jewish Heritage and the United States Holocaust Memorial Museum. This event was curated by The Unbound Theatre Co-Artistic Director Emily Gunyou and will be moderated by actor Charles E. Gerber.

COURTING MAE WEST

Mae West starring at the Las Vegas Sahara Hotel in 1954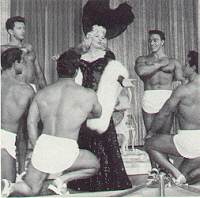 by Linda Ann Loschiavo was presented at the CUNY Graduate Center in NYC on February 9 as a staged reading, directed by Thomas Morrissey. Allison Tilsen starred in the title role.

The play covers the arrest, jailing, and legal aftermath surrounding Mae West's historic obscenity case. On February 9, 1927, Mae West was dragged out of a Broadway theatre, arrested for obscenity, brought to the West Side Court, and jailed there. She was charged and spent ten days at the Women's Workhouse on Welfare Island.

The event was preceded by an introductory discussion on censorship and Broadway during the 1926-1929 period, with Loschiavo serving as moderator

Loschiavo told Broadway To Vegas she was delighted with the turnout. "The theatre at CUNY has 396 seats. A month earlier, from January 3rd - 30th, an art installation called Courting Mae West was on view at The N.Y. Public Library."

The sixteen colorful panels, drawn from archival photographs taken during 1927-28, were the work of Long Island artist Michael Di Motta, whose sketches appear monthly in Instinct Magazine. He collaborated with the playwright using the storyboards that Loschiavo prepared for the educational narrative.

Loschiavo stressed that she has no intention of ever attempting to also star in the project. "The author, a native New Yorker, is a petite brunette with a most modest bra size," quipped the playwright.



Broadway To Vegas is supported through advertising and donations. Priority consideration is given to interview suggestions, news, press releases, etc from paid supporters. However, no paid supporters control, alter, edit, or in any way manipulate the content of this site. Your donation is appreciated. We accept PAYPAL. Thank you for your interest.


SWEET CHARITY


REMEMBERING SUSAN ARMOUR WITH CAROL CHANNING & COMPANY This will be a 90 minute variety show hosted by Richard Skipper as Carol Channing. It will feature Jerry Scott who will also serve as Musical Director, Janine Ullyette, Andy Praskai, & Shawn Ryan. The cost is $25.00 which is donated directly to The New York Presbyterian Hospital Pulmonary Education Fund in honor of Susan Armour, plus a 2 drink minimum. February 22 at Don't Tell Mama in NYC.

Recently Skipper celebrated his birthday and told Broadway To Vegas about answering the phone that day. Carol Channing's husband, Harry Kullijian, was on the line telling Richard to hang on - that somebody wanted to speak with him. Carol Channing came to the phone and proceeded to sing Happy Birthday.


EVERYONE ENJOY THE SHOW


By the end of the week the Gershwin Theatre, home to Wicked, will become the first theater in the world to offer special-needs audiences a hand-held captioning system for the deaf (I-Caption), audio description for the blind, and a description and translation system (ShowTrans) in Japanese, Portuguese, French and Spanish at every performance.

While each of these services are in use at other venues, Wicked - which just won the Grammy for Best Musical Show Album - will be the first show where all three of them are available to any theatregoer who requests them. Both I-Caption and ShowTrans are already in place at the Gershwin, with the Audio Description for the Blind information expected to be fully operational this week. The new programs were developed by Richard Fitzgerald of Sound Associates and were funded in part by the National Institute For Special Need Audiences (NISNA).


OTHER PEOPLE'S MONEY


ROCCO LANDESMAN president of the third-largest theater chain, Jujamcyn Theaters, on Wednesday become the owner. He purchased the properties from the estate of James H. Binger, the Minnesotan who was chairman of the company and who died in November. Reportedly Landesman paid less than $30 million for the five theaters - the St. James, Al Hirschfeld, Virginia, Eugene O'Neill and Walter Kerr. In a separate purchase Landesman also acquired the air rights to the five theaters, which are designated landmarks.

RENTAL CAR TAX INCREASE will help build a Las Vegas Performing Arts Center. The Clark County Commission approved a two percent tax by a 7-0 vote. Estimated income to be generated by the new tax between $4-5 million annually The first three million of the additional revenue has been allocated for a Culinary Union Training Academy. Money above the $3 million level is earmarked to pay off bonds which are expected to be issued by the Las Vegas Performing Arts Center, which is to be build on a portion of 61 acres located in downtown Las Vegas. Groundbreaking is expected in 2006.



DESSA ROSE Music By Stephen Flaherty. Book & Lyrics by Lynn Ahrens. Direction and Choreography by Graciela Daniele. Orchestrations by William David Brohn & Christopher Jahnke.

Dessa Rose is based on the acclaimed novel of the same name by Sherley Anne Williams. Set in 1847, the show tells the story of a pregnant runaway slave and the woman who shelters her. It's a powerful tale of courage, brutality, redemption and friendship as they embark of an unexpected and dangerous journey through the pre-Civic War South. Previews began at Lincoln Center's Mitzi Newhouse on February 17, and opening night is set for March 21.

Also, on Wednesday, March 9th Lynn, Stephen and Graciela Daniele will discuss the show in LCT's platform series.

The production stars; LaChanze, Rachel York, Norm Lewis and Michael Hayden.

The cast also includes: Rebecca Eichenberger, James Stovall, Eric Jordan Young, William Parry, Soara-Joye Ross, Kecia Lewis, Tina Fabrique, and David Hess.

EINSTEIN'S DREAMS adapted from the best-selling novel by Alan Lightman.

Switzerland, 1905. A young patent clerk, Albert Einstein, wonders and dreams about the mysterious nature of time. What if time is circular, with people endlessly repeating their lives? What if time could be frozen? What if you could experience time while riding on a beam of light? Einstein's Dreams is about a rumpled and awkward 26-year-old man, his wife, and his friends living as bohemians and puzzling about the universe. It is about creativity and passion, and about giant leaps of imagination that would change the world. Luminous and poetic, set to powerfully rhythmic, tuneful music, and deeply human, this new production imagines the inside of Einstein's mind just before he wrote his Special Theory of Relativity, now in its centennial celebration.

An American Premiere February 26 - March 20 at The Prince Music Theater in Philadelphia.

THE DRAWER BOY By Michael Healey. Starring John Mahoney. Directed by Anna D. Shapiro.

Tony Award-winning actor John Mahoney, most recently known for his role on TV's Frasier, stars in this poignant play. Full of rich and savvy humor, this heartwarming story is about the simple pleasures of friendship, storytelling, and remembrance. A young, aspiring actor lands at the doorstep of two farmers—boyhood friends and WWII veterans.

What begins as an amusing portrayal of rural and urban culture-clash slowly peels away layers of forgotten love and tragedy.

February 23 - April 3 at the Paper Mill Playhouse

JANE EYRE one of the greatest love stories of all time is transformed into this major new Broadway musical. True to its 19th century origins and the original novel by Charlotte Bronte, Jane Eyre is a lavish Victorian banquet of emotions; passion, faith, forgiveness, and – most of all – the eternal healing power of an all-consuming love. Nominated for 5 Tony Awards, including Best Musical, this sweeping love story is breath-taking in its scope and beauty. Filled with soaring melodies, the score embodies a romantic lyricism uncommon in the modern Broadway musical. February 25-March 20 at The Hennepin Stages Main Floor in Minneapolis.

PORGY AND BESS George Gershwin's popular American, boundary-breaking musical drama returns to the Strand stage - based on the DuBose Heyward novel about a crippled beggar, his love, life and death, hope and despair.

The heartwarming, jazz and blues influenced score includes Gershwin songs like Summertime, I Got Plenty o' Nuttin' and It Ain't Necessarily So.

Wednesday, February 23, at the Strand Capitol Performing Arts Center in York, PA.


| | | |
| --- | --- | --- |
| | | |
WHO'S WHERE


CHER will open the Australian leg of her international tour at Melbourne's Rod Laver Arena on February 26 before performing dates in Adelaide, Sydney, Brisbane and Newcastle. The Village People open the show. The international tour - entitled The Farewell Tour (Never Can Say Goodbye) - initially scheduled only 49 shows when it began in June 2002, but is now in its fourth year and has been seen by almost three million fans in 290 shows around the world. Cher has said the Australian shows would be the last on her tour.

JAZZ AT LINCOLN CENTER PRESENTS THE MUSIC OF DEXTER GORDON February 24 at Virginia Tech University in Blacksburg, VA. On February 25 the performance will be at the Quick Center for the Arts in Fairfield, CT.

K. D. LANG on stage tonight, February 20, at the Entertainment Centre in Adelaide, Australia. A two nighter begins Tuesday at the Sydney Opera House in Sydney. Friday finds Lang participating at the Tokyo International Forum in Tokyo, Japan.

CHITA RIVERA February 22nd – March 12th at Feinstein's at the Regency in Manhattan.

TRIBUTE TO ELLA AND LOUIS conducted by Daniel Meyer. Patti Austin vocalist. Byron Stripling trumpet and vocals. Heinz Hall in Pittsburgh February 24-27.

SALON AT THE TAPER XIII Hosted by Michael Feinstein. An evening of live entertainment and a celebration of song. Monday, February 28 at the Mark Taper Forum in Los Angeles.

TORME SINGS TORME the magic of the late Mel Tormé returns for one glorious evening starring none other than his son, Steve Tormé. An unforgettable tribute, Tormé Sings Tormé boasts an all-star ten-piece band and arrangements by Mel Tormé and Marty Paich. This multimedia presentation featuring never-before-seen family photos and video of Mel and Steve performing together is a must-see evening sure to bring back memories and put a song in your heart. Friday, February 25 at the State Theatre in New Brunswick, N.J. The singer's aunt in long time Las Vegan Myra Williams, a Clark County Commissioner.

THE VON TRAPP CHILDREN IN CONCERT with the Edison Symphony Orchestra with Special Guest Pianist Kevin Jang. Presented by the Edison Arts Society Sunday, February 27, State Theatre in New Brunswick, NJ.
















Next Column: February 27, 2005
Copyright: February 20, 2005. All Rights Reserved. Reviews, Interviews, Commentary, Photographs or Graphics from any Broadway To Vegas (TM) columns may not be published, broadcast, rewritten, utilized as leads, or used in any manner without permission, compensation and/or credit.
Link to Main Page
---
Laura Deni


CLICK HERE FOR COMMENT SECTION