! >
Broadway To Vegas
  SHOW REVIEWS     CELEBRITY INTERVIEWS     GOSSIP     NEWS 
PIG, ASS OR BORE?
Jerry Lewis' mouth was working - his brain wasn't. Photo by Laura Deni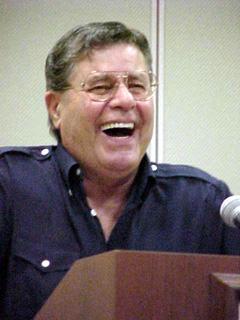 Jay Leno neatly summed it up when he said "He put the ass in Aspen." Leno was referring to comments Jerry Lewis made about women comedians during a question and answer session at the U.S. Comedy Arts Festival in Aspen, Colorado last weekend.

Jerry Lewis who has spent years as his own worst enemy, again put his foot in his mouth.

In the widely reported event, Lewis said, "I don't like any female comedians."

A startled Martin Short, who was moderating the event, mentioned Lucille Ball hinting, "You must have loved her."

No," replied Lewis, "a woman doing comedy doesn't offend me, but sets me back a bit. I, as a viewer, have trouble with it. I think of her as a producing machine that brings babies in the world."

With that Lewis hightailed it out of town. Days later an underling lamely attempted to pass the comment off as "kidding."

Nobody was laughing.

On Tuesday's Rosie O'Donnell Show the talk show host, who started out as a stand up comedian, discussed Jerry's remarks when she interviewed Rob Lowe. "He's about a hundred-and-one. He's getting up there. The poor guy," quipped Rosie. "Do you suppose he was drunk? I hope he had had three shots of Tequila."



Lucille Ball was never a vulgar comedian.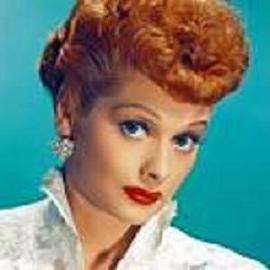 "I think it was the altitude," responded Lowe referring to the mountain height, which can cause lightheadedness. "I felt sorry for him."

Rosie closed her show with one of her delicious musical parodies chiding Lewis while incorporating names of some outstanding female comedians.

Or, as one person said who E-mailed this site - "He's a pig."

What Lewis is - is troubled.



Martha Raye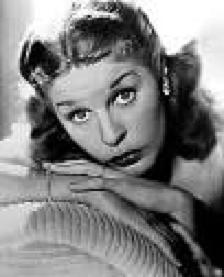 It wasn't until last Thursday, after some financial contributors to Jerry Lewis' Muscular Dystrophy Association telethon threatened to pull their donations, did Lewis offer an apology ... of sorts. Lewis' idea of an apology is to blame everybody but himself.

"I love Whoopi Goldberg. I adore Elayne Boosler, I think Diane Ford is brilliant, and how could I forget the marvelous Phyllis Diller, the incredible Beatrice Lillie, the unpredictable Martha Raye and wonder woman Carol Burnett."

Then Lewis went on.

"But when women, doing comedy, do routines written for them by drill sergeants, I take objection. Their filth makes me and many ashamed to be in our business, and to me women doing anything, especially comedy, are looked upon by me as one of God's greatest miracles ... they can make a baby."



Judy Canova was a versatile comedian who was actually trained for opera.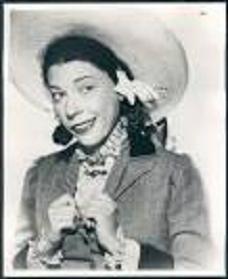 Lewis also blamed the press for "trashing someone to make a deadline."

Lewis comes from a generation where women were suppose to be wives and mothers. A woman was measured by whom she married and was expected to be a stay at home wife and mother. A man whose wife worked was considered a poor provider.

Lewis' own upbringing was one of parental neglect. It's been said that his combativeness laced with gentleness can be traced to his youth.

He was an only child, shuttled between grandparents and aunts. He knew the pain of never being loved by parents because they were always "on the road." He lost his virginity at age 11 to a stripper introduced to him by his father.



Carol Burnett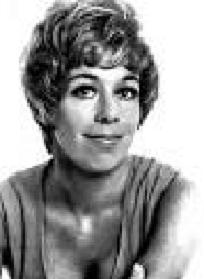 "I got tired of my aunts, but I loved my Grandma Sarah," Jerry has frequently said.

Jerry's first wife, Patti, gave up her career as a singer with Jimmy Dorsey's band to be a stay at home wife and mother to their six sons.

During their marriage he constantly cheated.

In his ex-wife's book I Laffed Till I Cried: Thirty Six Years of Marriage to Jerry Lewis by Patti Lewis with Sarah Ann Coleman, the ex-Mrs. Lewis reported that: "Frequently during our marriage, Jerry was very jealous of any other man's attention towards me. He even accused me of having an affair with Dean Martin. I did not."



Rita Rudner is currently starring at the Las Vegas Hilton through March 11, 2000.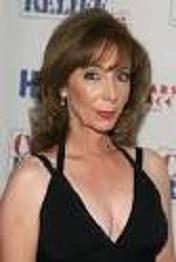 Jerry's former secretary, Rita Stout, told the press that; "to Jerry Lewis, there were only two kinds of women. Women like Patti, his wife of 36 years, were ladies. Then there were the others."

While Jerry may not have respected a lot of women, and apparently has a qualified appreciation for female comedians, he had no problems bedding his female co-stars.

His reported affair with Stella Stevens, his co-star in The Nutty Professor, lasted two years.



Totie Fields paved the way for female stand-up comedians in Las Vegas.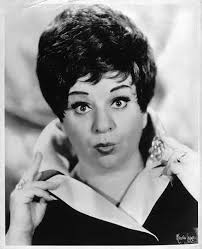 The performer has admitted that many times the Idiot Kid Lewis plays so well in pictures and "the real person have fused." Jerry never sounded more idiotic than when he made his anti female comedian statements.

Although Lewis and his former partner, the late Dean Martin, didn't speak for years, Lewis now speaks in reverent tones about him. Over the years Lewis has not been all that charitable about fellow male comedians, either.

While many of his remarks may have valid points his approach can be off putting because he attacks specific people.

Lewis has been called the patron saint of physical comedy. From one rubber faced comedian to another Lewis had some harsh criticism for Jim Carrey. Lewis has never engaged in bathroom humor and suggested that Carey would be better off taking the high road.

Jim Carry said Lewis, "is the best visual comic to come down the pike in years. If I were Carrey's manager I would have said Jesus Christ, didn't somebody read this? All those toilet jokes? What is this? If Carrey would like a shortcut to career suicide, get dirty, get sleazy. His longevity will be cut by 20 years."



Gracie Allen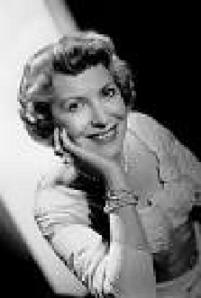 In speaking of his own popularity around the world Lewis credited his expertise at physical comedy.

In 1987 Lewis said; "That type of comedy transcends any language barrier that might exist between me and an audience. The visual comedy itself becomes its own language. I know of only a few performers who can go all over the world. George Burns, Johnny Carson and Rodney Dangerfield are all great comedians, but they can't go to those countries where I go. What would they do?" questioned Lewis about three superstars who had never expressed any interest in a world tour.

Lewis has been in the business since he was a kid. He's not some amateur who has never been interviewed.

In participating in the U.S. Comedy Arts Festival and agreeing to the question and answer session, Lewis should have been able to anticipate most of the questions. He should have known a name like Lucille Ball might have been mentioned.

If he had personal problems with her - which apparently he did - he should have been professional and intelligent enough to tactfully credit Ball for her contributions to comedy without offering backstabbing asides.



Comedian Paula Poundstone is a devoted foster mom to several children. She does her stand up act February 26, 2000 at Sunset Station in Las Vegas.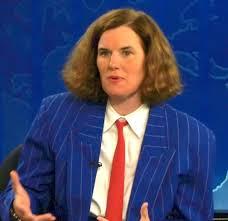 For anybody who sets himself out - as Jerry Lewis does - of being so important and revered by so many, Lewis should have developed the aplomb necessary to handle an interview.

He has spent so many decades dependant upon press agents covering up his misdeeds that Lewis never mastered the wherewithal of learning either verbal diplomacy or the art of keeping one's mouth shut.

Revered in France and often ridiculed in America, Jerry's screwball persona has a life that's taken both personal and professional pratfalls.

When it comes to the remarks Lewis made about female comedians Jerry Lewis fell flat on his face. His apology comes off as insincere and he is sounding like an off stage fool.

However, the individuals who benefit from monies raised through the Muscular Dystrophy telethon are not. To threaten to pull contributions because of Lewis punishes the wrong parties.

Fortunately, the telethon isn't until September. By then the public will have more important things to think about that stewing over Lewis' opinion of anything.


RON SILVER STARS AS BILL GRAHAM

Tony Award winning actor Ron silver returns to the Los Angeles stage in the world premiere event Bill Graham Presents by Robert Greenfield about the life of rock impresario and humanitarian Bill Graham.



Ron Silver
Bill Graham Presents recounts the epic story of Bill's incredible life - from his childhood escape from Nazi Germany to his triumphant success in building an American music empire.

Silver performed Bill Graham Presents ... A One Man Show a year ago at the U.S. Comedy Arts Festival in Aspen where it was one of the festival highlights. The showcase piece which was developed at the Berkshire Theater Festival in the summer of 1997, documents a day in the life of legendary late rock promoter.

The show gave anecdotes from Graham's professional experiences with legendary rock acts such as the Rolling Stones, Jefferson Airplane and Eric Clapton and touched on all aspects of his personal life. It concluded with Graham's ill-fated decision to board a helicopter for Sacramento, California in heavy fog and rainy weather.



BILL GRAHAM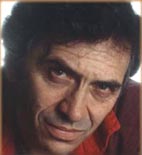 At that time Silver received several project offers including HBO broadcasting the show, producer Gordon Davidson talking with him about taking the show to the Ahmanson in Los Angeles and then transferring the show to Broadway this year.

Nothing every goes according to plan or within the time frame anticipated. A hitch in those plans was Silver signing on for a stint in the TV series Veronica's Closet. Silver who holds a master's degree in Chinese History from St. John's University and the College of Chinese Culture in Taiwan considered a career in intelligence. He took acting lessons while working on his masters degree and instead of becoming a spy, turned into a highly respected actor noted for his intense and electrifying stage and film performances.

In this production Bill Graham Presents tells how as a young man from the Bronx he waited on tables in the Catskills and became a decorated soldier in the Korean War. Graham finally found his calling in the world of rock promoting. Driven by demons from his childhood, Bill used his fame and power to raise millions through Live Aid and Amnesty International for the world's victims of injustice.

The Bill Graham Civic Auditorium in San Francisco, named after the roll n' roll impresario, was recently renovated. The auditorium contains 4,177 seats, a thrust stage, and semicircular seating, with some seats no more than ten feet from the singers, 882 cushioned seats in the orchestra and 192 box seats.

Bill Graham Presents starring Ron Silver is produced by Canon Theatrical/Susan Dietz & Joan Stein and Lou Viola. Ethan Silverman directs the one-man play with music. Preview performances begin at The Canon Theater, Los Angeles on April 20.


FESTIVALS OF MOONDANCE AND THEATER

Moondance Jam 2000 the annual Walker, Minnesota event has announced its entertainment lineup for the July 12-15 festival.

Signed on the dotted line are the Doobie Brothers, Styx, George Thorogood, Paul Rodgers, Creedence Clearwater Revisited and Eric Burdon and the New Animals.

Early bird ticket prices stay in effect until Feb. 29 with $60 getting you a four-day pass. On March 1 the price goes up to $80.

In New York The Trilogy Theatre and OOBR - the off-off-broadway-review- will kick off a new theatre festival August 10-September 3. The Trilogy Theatre was founded five years ago by Norman Siopis. OOBR sponsors the OOBR Awards, honoring Off-Off-Broadway, held every June.

They're not calling themselves a "fringe" but a lot of the same principles apply. Each show will perform seven times during the first two weeks of the festival, with the last week consisting of evening presentations of festival hits.

Submissions should be at least half an hour long. The Festival reserves the right to combine short pieces to make up a program. There is a $15 non refundable application fee. The application deadline is March 31. All Festival participants receive one-third of the gross box-office receipts from their shows.
SHAKE UP YOUR SHAKESPEARE

It's The Donkey Show and Bomb-itty of Errors presented by Daryl Roth, Jordan Roth and The Front Row at Camp Broadway - Shakespeare Student Festival - March 7, New York City.

This special FREE seminar is aimed at high school and college students who want to explore the brilliance of Shakespeare's works and the exciting task of translating and reconceiving them as modern day adaptations, while still keeping the author's original, universal themes intact.

Serving as the foundation for this year's seminar are the casts and creators of two of off-Broadway's hit shows: The Donkey Show - which transforms the fantasy of A Midsummer Night's Dream into the ultimate 70s disco experience currently shaking its groove thang at El Flamingo nightclub and Bomb-itty of Errors - a hip hop version of Shakespeare's classic mistaken identity farce, Comedy of Errors.

This new take was adapted, rhymed, flowed and rapped by the cast and was originally performed at NYU's Experimental Theatre Wing where it was written as the cast's senior project.

Producer Daryl Roth, who has produced three Pulitzer Prize winning plays including Wit, immediately optioned the show. Directed by Andy Goldberg the production stars Joran Allen-Dutton, Jason Catalano, Gregory J. Quiyum, Jeffrey Qaiyum, and Erick Weiner.

The Bomb-itty of Error's traces the chaotic family history of a set of male quadruplets who are put up for adoption by their financially strapped hip-hop parents whose meager inner-city income cannot feed and clothe four hungry boys on a "rapper's" lowly wages.

After the boys' father is arrested for small time drug dealing, their mother, a beautiful, young thing, falls apart, splits the boys up between two foster homes and disappeared.The play is now busting it out at 45 Bleeker Street, which is part of The Cultural Project/Salon - a producing organization and theatre modeled after the salons of the late 19th/early 20th centuries where artists came together to exchange ideas and view new works.

In addition to seminars exploring Shakespeare's works translated via these two shows, the creative aspects of these adaptations will also be discussed.



Kevin Spacey currently in Las Vegas filming a movie, is an avid theatre promoter. Photo By: Laura Deni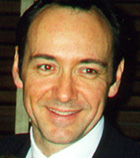 The Front Row at Camp Broadway began last season with The Iceman Cometh made $20 tickets available to college students. The program resulted in over 8,700 college and university students from more than 130 school having the opportunity to experience theatre at an affordable price. In addition to the ticket discounts, The Front Row at Camp Broadway produced a total of eight seminars with Tony Award winner Kevin Spacey - currently front runner to snatch an Oscar - and his fellow cast members.

Putting a modern spin on the old reliable isn't confined to Shakespeare or New York City.

In Los Angeles, Rigoletto that Guiseppe Verdi opera which was a rewrite of the 1851 Victor Hugo classic, has gone haute couture and Hollywood.

In this version you've got the Duke of Mantua transformed into a studio mogul. The hunchbacked court jester is a smirking talent agent. Sparafucile the assassin is a stuntman and Guida, Rigoletto's daughter, remains the same - the gal who is seduced and then ruined.

Giogio Armani provided the duds with L. A. Eyewear laying on the Daddy-0 eyeshades. Peggy Hickey created the VH-1 type choreography and John Stoddart is responsible for the oh so Beverly Hills sets. Bruce Beresford directs Frank Lopardo, Roberto Aronica, Haijing Fu, Eric Owens and Inva Mula. The production opens March 1 at the Dorothy Chandler Pavilion.


ROYALLY ENTERTAINING

A favorite singer of the British Royal Family, Lorna Dallas, has crossed the pond to entertain for a month at the FireBird Cafe in New York City.



Lorna Dallas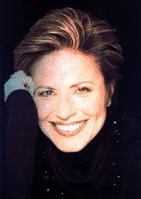 "I've performed really for all of the royal family - Di, Charles, the Queen," responded Lorna. As to whether the royals request certain numbers or leave it up to the artist, "depends upon the occasion."

"Princess Margaret likes more showbizzy things. She likes broader types of songs and the bawdy. She has a good laugh. That's her nature. Yes, she does impersonations. At the shows there is usually a dinner and I've been at her table. She is hysterical! She has a great sense of humor.

It has been reported that within the privacy of her own castle quarters Queen Elizabeth has been known to literally help roll up the rugs so that the family could put on some music and dance. In public the rules dictate her behavior. "With the Queen there is a decorum that follows. Because of that, it is a little bit more restrained. She enjoys being Queen, as well she should. She's been brilliant.



Princess Margaret with Placido Domingo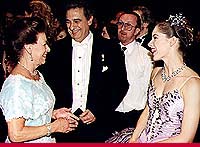 "The Queen Mum is enchanting. When I did the Royal Variety Performance, there were only four Americans on the bill - Howard Keel, Ethel Merman, Jack Jones and myself. The Queen Mum loves Novello, and I was asked to sing My Dearest Dear, the Queen Mum's favorite song," explained Lorna about Ivor Novello (1893-1951) the Welsh actor, composer and playwright who was considered Britains greatest genius of the musical stage.

Lorna's latest CD Lorna Dallas The Girl I Knew features the music of Novello and Jerome Kern.

"I think the Queen Mum likes My Dearest Dear because it had been sung at a time when her husband was alive and the thoughts it expresses are particularly endearing to her.

"I went to Belfast to sing for a performance of their Army Benevolent Fund and Princess Anne was there."



THe Queen Mum - her favorite song is My Dearest Dear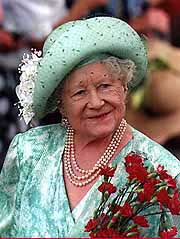 Referring to reports that Princess Anne, the Princess Royal, is the hardest working member of the Royal Family Lorna exclaimed, "Oh God, she works so hard! She has very little free time of her own. She used to be involved with riding, and she obviously doesn't even have time for that anymore. She is incredibly zealous in her charity work!.



Princess Anne is dedicated, hardworking and thoughtful.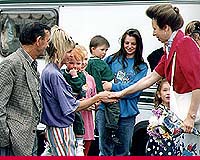 "She's quite funny as well," continued Dallas. "I did one of the Army Benevolent Fund Concerts in Birmingham and someone had told her beforehand that I can't eat before a show. That night the show was somewhat long. Of course, afterwards there is the protocol of meeting them. There was a buffet laid out, but no one could go near it because we had to be presented to her and the others before hand.

"She came straight up to me and said: - Now, I know you don't eat before the show, so lets get this over with. She chatted with me and then she said - 'Come with me, the others can wait.' She took me straight to the buffet, saying - 'I want to make sure you eat. I don't want you to faint.' She practically waited of me, filling up my plate for me, serving me. Then she went back and started greeting others.



Ivor Novello standing in front of a portrait of himself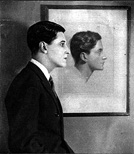 "At various times I've seen her since then. She's looked at me and said: - Hmm, now have you eaten? She remembers these things. She's just lovely.

"The Duchess of Kent is another one that is great. She'll turn to you and say - Call me Catherine. She's very down to earth. She's a pretty darn savvy lady. She's had a lot of health problems, but she's great. When she lost the last baby she was going to have, it sort of triggered off a lot of things. She's a terrific lady. I like her very much."

As for Prince Charles, Lorna reported, "He is more outgoing than people give him credit for. I like him very much."

How this Carrie Mills, Indiana born American became the toast of London is not your run of the mill singer success story.



Lorna and Cleo Laine

After graduating with honors from Indiana University School of Music, Lorna headed for The Big Apple where she successfully auditioned for The Metropolitan Opera National Company, making her debut as Susannah in Marriage of Figaro.

The role of Magnolia in Showboat at the Adelphi Theatre in London with Cleo Laine led to a love affair with Great Britain and a lifelong friendship with Laine and her husband, John Dankworth, who perform March 18-20 in Florida.

Showboat ran for two years and three months, at that time, the longest running show in the world. Lorna also starred in West End shows and had her own BBC series, backed by a 72 piece orchestra.

"No, you couldn't do anything like that in America," she acknowledged. "The BBC has contract musicians, that's the only way around it. It has been whittled down a lot, but there are still contract musicians - the BBC Orchestra. But, it used to be the BBC Radio Orchestra, the BBC Concert Orchestra, the BBC Symphony, the BBC Band and the BBC Midland Orchestra. All of those were contract musicians through the BBC. Economic changes forced that to be cut back to only one orchestra."

The soprano admits that not every singer is going to be so embraced on foreign soil. "I have been very fortunate. I do enjoy working there very much. It felt like home, but it was not that easy at times. Obviously, the work restrictions were extremely tight. They have eased them a hell of a lot over the last few years. I've been a campaigner for that because I think it is terrible wrong to restrict the flow of artists back and forth. I think a lot can be learned from both sides in an exchange.

NEXT WEEK: LORNA DALLAS DISCUSSES VARIOUS TYPES OF CABARET ACTS, VENUES AND HOW A CABARET ARTIST CAN SELL RECORDS



Broadway To Vegas is supported through advertising and donations. Priority consideration is given to interview suggestions, news, press releases, etc from paid supporters. However, no paid supporters control, alter, edit, or in any way manipulate the content of this site. Your donation is appreciated. We accept PAYPAL. Thank you for your interest.


SWEET CHARITY

Cows on Parade, the famous Chicago event that features moo critters created and then sold for charity is auctioning off Toreador's Song, the Lyric Opera's beautiful cowloratura.
This masterpiece has been grazing peacefully in the Rice Grand Foyer of the Civic Opera Light House throughout the opera season. Robert Perdziola, the renowned set and costume designer and director was asked to clothe the cow. Perdziola's works have been seen in Washington's Shakespeare Theater, American Ballet Theater and Miami City Ballet and well as numerous Chicago productions. He also directed the films Interview with a Vampire, The Age of Innocence and Meet Joe Black. He spent about $6,000 giving this cow a dramatic glam job intricately painting it as a traditional toreador, complete with a rose on its cheek. The cow was contributed by Perdiola and Lyric Opera of Chicago. Opening bid is suggested at $15,000. Fax bids to Lyric Opera of Chicago, Wine Auction 2000 (312) 332-0304.


APPLAUSE, APPLAUSE


STEVE MARTIN will be honored at the annual American Museum of the Moving Image Gala March 3 at the Waldorf-Astoria, NYC.

Lorne Michael serves as chairman of the event.

Expected to be on the dais saluting the multi-talented Martin are Mike Nichols, Martin Mull, Sarah Jessica Parker and Christine Baranski.



LES BALLETS TROCKADERO DE MONTE CARLO This all male comedic ballet troupe spoofs modern dance and ballet. Featured "men in tutus" - all classically trained dancers as well as practitioners of "high camp" - cast includes Mikhail Mypansarov and Raisa Legupski. February 26-28 at the Jackie Gleason Theater, Miami Beach, Fl.

THE WASHINGTON BALLET under the direction of Septime Webre, at The Joyce Theater, NYC Feb. 22-27. There will be a post performance discussion on February 23, as part of the theater's Humanities Series.

JEKYLL & HYDE that evocative tale of romance and the never ending battle between good and evil, Jekyll & Hyde brings new life to Robert Louis Stevenson's classic. Currently in its third smash year on Broadway with book and lyrics by Academy Award winning lyricist Leslie Bricusse, and a score by Grammy Award-nominated composer Frank Wildhorn. February 22-27 at the Civic Auditorium, Portland, Oregon.

BUCK CREEK PLAYERS will kick off their 2000-2001 season with Lizzie Borden, The Musical with the community theater world premiere of the musical about the famed ax murderer. ( See Broadway To Vegas column of January 25, 1999 ) Book and lyrics by Christopher McGovern and Amy Powers with music by McGovern. The production premiered in October 1998 at American Stage Company in Teaneck, N.J. with Alison Frazer in the title role. The original cast album was released in December, 1998. McGovern is the resident composer and lyricist for Stages of Imagination in Philadelphia. Lizzie Borden: The Musical will open September 22.The production will be directed by D Scott Robinson, who has a reputation as a "a Lizzie Borden fanatic."

THE CRUCIBLE by Arthur Miller is the explosive drama about the Salem witch trials of 1692 when children's lies led to nineteen executions. This gripping historical play is also a timely parable of contemporary society where reputations and lives can be destroyed by mere rumor. February 22-27 Pearce Auditorium, Gainesville, Georgia.

HOTEL SUITE composed of scenes from three Neil Simon plays begins performances May 19 at the Gramercy Arts Theater, presented by The Roundabout Theater Company. John Tillinger directs.

NOEL COWARD SUITE IN TWO KEYS opens April 10 at the Lucille Lortel Theatre, NYC. The production has a heavyweight cast: Judith Ivey, Hayley Mills, and Paxton Whitehead.

IRISH STRAWBERRIES by George Bamford will have its world premiere - presented by The Colleagues Theatre Company - at Theatre Three, NYC Feb 25-March 12. The Colleagues Theatre Company was formed in 1995 by Producing director Catherine Wolf to commission and produce plays that celebrate the mature life experience. Irish Strawberries is set on Mother's Day, 1968, when Julia awaits the arrival of her son Jake, his wife Annie and their new baby. Family relationships are shaken and lives changed forever as secret memories are revealed. Directed by Thomas S. Waites, the drama features Meg Mylers who appeared in the original Broadway cast of Enter Laughing, as Julia. Bamford who has acted on Broadway in Arsenic and Old Lace, Sweet Bird of Youth, and Precious Sons plays Stu, the Father with Tom Biglin as Jake and Annie McGovern as his wife, Annie.

SMOKEY JOE'S CAFE The Songs of Leiber and Stoller, starring Gladys Knight takes center stage when the touring company begins an eight day run Feb. 22 at the Wang Theatre, Boston. The show had been slated for a March 14-19 engagement. Gladys will bring the production into Vegas for an April 17-19 stay at Caesars Palace.

BUDDY: THE BUDDY HOLLY STORY Feb 22-March 5, Hilton Hotel, Las Vegas.


WHO'S WHERE

CSNY2K that would be Crosby, Stills, Nash & Young February 26 at the Target Center, Minneapolis. As to all of the headlines surrounding the disclosure that he was the sperm donor for the two children being raised by Melissa Etheridge and Julie Cypher, David Crosby says: "The idea is to get it all done and over with now and get all the hoopla past, so when the kids get to be bigger and go to school and stuff, it's all ancient history."

DOUGLAS SILLS the original leading man in The Scarlet Pimpernel does a limited engagement with the national touring company. He's Percy/The Scarlet Pimpernel beginning February 20 at the Shubert Performing Arts Center in New Haven, CT production. That run ends March 4. Sills stays with the show for only for only 17 weeks.

MAYNARD FERGUSON AND HIS BIG BOP NOUVEAU BAND Tuesday at the Palm Bay High School Auditorium, Melbourne, FL.

BILLY STRITCH in Songs From The Last Century with David Finck on Bass. Arci's Place, NYC. February 22 through March 11.

JULIE WILSON at the Algonquin, NYC through March 4.

ROBERT KLEIN brings his sense of humor to the Gotham Comedy Club, NYC. The comedy legend is there every Wednesday.

JAMES GALWAY performs at the Morrison Center in Boise, Idaho on February 29.

ANNE-SOPHIE MUTTER exquisitely playing the violin, backed by Lambert Orkis on piano. Davis Symphony Hall, San Francisco. February 26.

KAREN MASON who was named one of the top cabaret acts of 1999 has been guest starring on the soap As The World Turns playing social worker Frances Ellison. On February 28 the three-time Bistro Award winner will be performing at The Bistro Awards.

CHARO the gal that made cuchi cuchi a household expression, wiggles her way through a concert February 26 at the Sundome, Phoenix, Ariz. Charo, who always insists that raisins be placed in her dressing room, brings her unique style to Las Vegas March 9-11 at Harrah's Hotel.


THIS AND THAT

LIZA MINNELLI'S latest release Minnelli on Minnelli a live recording of Liza's tribute to her father recorded last Dec. 27-28 at the Palace Theatre, NYC, is out on Angel Records Feb. 29. The set is co-produced by Billy Stritch and Phil Ramone. Directed by Fred Ebb, with musical arrangements by Marvin Hamlisch. Rex Reed did the liner notes.

SPEAKING OF REX REED The film critic who just got busted for shoplifting Mel Torme and Peggy Lee CD's blamed his problem with a memory lapse which he called a "senior moment." He did remember to catch Lucie Arnaz's show at Feinstein's. She introduced him and then told the crowd that everybody takes things from time and time. Meanwhile Miss Lee was so moved that Reed was such a fan that he's risk jail for her music, that she is sending him a complete set of her waxings. Mr. Torme would probably have done the same, but he's deceased.

ANDREW LLOYD WEBBER held a super secret by invitation only run through of his new musical - a rock opera called The Beautiful Game about the loves, lives and games won and lost of a soccer team. Those in attendance were told to keep their lips zipped. The off the record whispers indicate that Webber has another hit. The production opens in London the end of this year with the usual intent in mind - that the show moves to New York next year.

CATS which has lapped up the milk at the Winter Garden Theatre in NYC seemingly forever -that's 18 years - is looking for a new litter box. The scoop out takes place June 25, after 7,397 meows.

RICH LITTLE in Las Vegas performing at the Riviera Hotel, has written a Broadway play called The Presidents. The shows begins with Kennedy and advances through Clinton with Little "doing seven presidents in two-and-a-half hours." The impressionist intends to take the show on the road for a year before transferring it to Washington, D.C. with the final destination on Broadway. Before then, Little makes a stop in Palm Springs this coming week-end to entertain at President and Mrs. Ford's benefit for the Betty Ford Center.



Mention BROADWAY TO VEGAS for Special Consideration
Call (800) 942-9027









Next Column: February 26, 2000
Copyright: February 19, 2000. All Rights Reserved. Reviews, Interviews, Commentary, Photographs or Graphics from any Broadway To Vegas (TM) columns may not be published, broadcast, rewritten, utilized as leads, or used in any manner without permission, compensation and/or credit.
Link to Main Page
---
Laura Deni


CLICK HERE FOR COMMENT SECTION