! >
Broadway To Vegas
  
  REVIEWS INTERVIEWS COMMENTARY NEWS

| | |
| --- | --- |
| | |
THE ROUND BARN THEATRE: A MODERN THEATRE IN AN AMISH WORLD - - THE BEATLES 1964 WASHINGTON DC CONCERT - - BRONX BOMBERS OPENS ON BROADWAY - - BACK TO THE FUTURE TO THE STAGE - - BIRACIAL CHEERIOS AD STILL CAUSING CONTROVERSY - - ANOTHER AWARD FOR DAME HELEN MIRREN - - A GREENER BROADWAY - - TEXTILES: PICASSO TO WARHOL - - DONATE . . . Scroll Down




Copyright: February 2, 2014
By: Laura Deni
CLICK HERE FOR COMMENT SECTION


A MODERN THEATRE IN AN AMISH WORLD
The Round Barn at Amish Acres. Photo: Amish Acres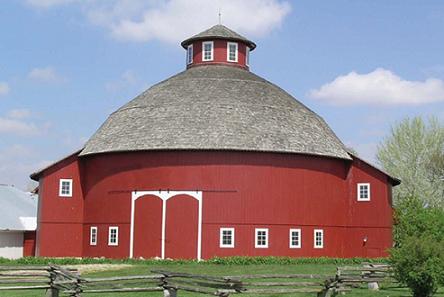 Amish, those people who shun both those who reject their ways, as well as modern conveniences, have become the new kid on the block.

Last week PBS began a series on Amish life. There are also television "reality" shows about the Amish such as; Breaking Amish, Amish in the City, Vanilla Ice Goes Amish, Amish Out of Order and The Amish Mafia.

Not that the Amish watch television. They don't for a variety of reasons - including not having electricity. Trying to run a television on a hand crank generator is more trouble than churning butter.

Right in the middle of Amish territory is The Round Barn Theatre at Amish Acres. It's northern Indiana's only professional repertory musical theatre company and they specialize in Broadway's Golden Age of Musical Theatre.

Actors audition from across the country, live on Amish Acres farm and perform eight shows per week. Other events on Amish Acres include horse and buggy rides and a wine tasting loft. There are also themed dinners built around Broadway musicals, and weddings are popular with couples jumping the broom on stage in The Round Barn Theatre and in the Old Barn Restaurant.

Annual events include: an Easter egg hunt on April 20, 2014 which will have kids of all ages trying to find 1,000 eggs hidden in the courtyard. The 52nd Annual Amish Acres Arts & Crafts Festival, taking place July 31 - August 3, 2014, will showcase the works of over 300 artists and craftsmen.

The theatrical venue was the brainchild of Artistic Director Jeremy Littlejohn. The theatre is created from a 1911 round barn that was dismantled and resurrected at the historic farmstead in Nappanee, Indiana.

With a seating capacity of 400, over 100 Broadway musicals have been produced over the last 16 years. The Round Barn Theatre boasts its own scene shop and rehearsal space. It employs a full time technical staff including artistic director, stage manager, sound and wardrobe designers.

On several Friday nights, preceding each musical in the Round Barn Theatre, savvy patrons are savoring the theme buffets that Amish Acres concocts that reflect the life and times of the musical. Each musical boasts its own menu, conceived by Richard Pletcher and created by chef Ruth Miller. Show references and double entendres, no matter how obscure or ridiculous, are served.

For instance, Little Shop of Horros which will be mounted April 9 - May 25 will have Theme Dinners on April 11 and May 2nd. The vast menu includes: Suddenly Seymore's Fingers, Horrible Honey Glazed Ham Steaks, Mean Green Bean Cassorole Home, and Audrey's Bloody Velvet Cake.



Amish Acres themed dinner for the musical Seussical. Photo: Amish Acres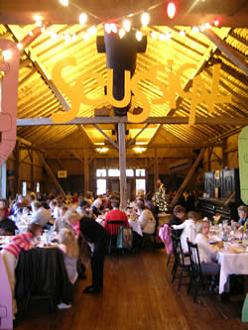 The Round Barn Theatre has become the national home of the 1955 Broadway hit Plain and Fancy, which has a book by Joseph Stein and Will Glickman, music by Albert Hague and lyrics by Arnold B. Horwitt.

A New Yorker and his sophisticated girlfriend drive down to Bird-in-Hand, Pennsylvania, to sell a piece of property. Here they interact with the Amish community, whose convoluted English speech, clothes and habits have remained the same for centuries. Plain and Fancy was the first Broadway show for both composer Hague and author Stein who each went on to win Tony awards for Redhead and Fiddler On The Roof, respectively.

The April through October 2014 proscenium mounting on the Joseph Stein Stage, is a gentle but spirited musical comedy which brought the first national attention to the quaint customs, stern morals and picturesque dress of the Amish. Over 3,000 shows have been performed, and over 300,000 patrons have marveled at Amish Acres nationally recruited cast, English Strand theatre lighting, full-scale, authentic sets and costumes over the last decade.

The upcoming run marks the 28th consecutive year that The Round Barn Theatre has produced Plain and Fancy, making it one of the longest running shows anywhere.

Littlejohn is about to conduct auditions for the upcoming season. Auditions in Memphis take place at Playhouse on the Square this coming Friday through next Monday, February 10th. The Midwest Theatre auditions are slated for February 21-23 at Webster University in St. Louis, Missouri. On March 1-2 the local auditions will be staged at The Round Barn Theatre.

Littlejohn will direct four; Little Shop of Horrors, Plain and Fancy, Footloose the musical and Joseph and the Amazing Technicolor Dreamcoat. Amber Burgess will direct and choreograph Little Women the Broadway Musical, while Charles Burr will helm The Diary of Anne Frank.

Littlejohn answered some questions for Broadway To Vegas about co-existing a modern theatre with an alternative lifestyle.

First, it helps to understand the territory and not confuse the Amish with Quakers - a common occurrence.

Quakers are found all over the world. The Amish live only in the United States and Canada. There are easy ways to distinguish them.

Amish and Quakers are in many ways social polar opposites. The person driving the cool car with political bumper stickers may well be a Quaker. The person driving the horse and buggy is Amish.

Amish is not so much a religion as a way of life. The same is true for the Mennonites.

The Quakers are a long standing religious tradition, which has more to do with faith. Society of Friends is the same thing as Quaker. They believe in direct contact with the divine, and being personally inspired by an inner light. They don't have prohibitions on modern technology.

Quakers are divided into three groups: Liberal, Pastoral, and Conservative Quakers. Liberal Friends acknowledge and embrace a wide diversity of spiritual experience, identity, and belief, including but not limited to Christianity. There are many liberal Friends who do not consider themselves Christians. Some assert no religious identity other than Quaker; others might identify also as Buddhist, Jewish, or pagan, to name a few.

All Quakers emphasize peace and social justice, supporting equal rights for all.

The Amish have rules banning electricity, birth control, pants for women, movies, cars and higher education. The Quakers assert they have no "rules" but almost all of them are liberals. The Quakers are pro education, having founded many Quaker high schools and colleges, including the famous Sidwell Friends School located in Bethesda, Maryland.

In the middle of all this religion, faith and lifestyle is The Round Barn Theatre, which needs to co-exist with everyone of any lifestyle while selling tickets to their productions and events.

Broadway To Vegas wanted to know if the actors are required to adhere to certain modes of behavior when staying in or visiting an Amish community? Are they permitted to smoke? What about swearing? Is there a dress code? What about public displays of affection?

"Every artist we hire receives a contractual agreement from the company. While we can't dictate what they do or how they behave when not at work, we certainly remind them that when they are on the property and working, they represent one of the "faces" of the company and their attitude and behavior should reflect that," Littlejohn answered. "Like any job, they are held to a certain standard of behavior when they are at work."

What is the Round Barn Theatre's relationship with the Amish? Has there ever been an issue with a production?



Church Basement Ladies. Photo: Amish Acres.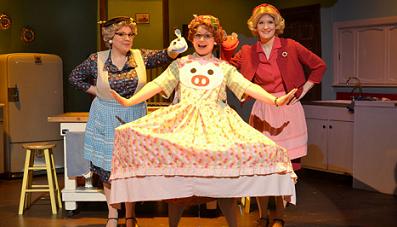 "Our main goal is to educate and inform the general public about what it means to be Amish," Littlejohn explained. "Our presence does tend to prevent tourists from going directly to these families front doors and snapping pictures or bothering them, when their faith dictates them wanting to be left alone. We do have Amish families that come to see our performances and enjoy them very much. If there have ever been issues from them, I haven't heard them. We do occasionally get complaints about our content from the Conservative Christian crowd, and since the Amish faith is based on Christianity, I would imagine they probably would have the same complaints."

Do any of the teens who are on their vacation period ever appear in any of your productions or help backstage, or on the grounds?

"This has never happened here, although we have had several Amish carpenters assist in the building of our sets over the years, as well as several Amish seamstress' building costumes. Performing is virtually unheard of in the Amish populous around this area."

One of your productions Plain and Fancy is one of the longest running in America - much like the longevity of Smoke on the Mountain. What do you think makes Plain and Fancy so popular? Are there any other long running productions that you know about?

"Popularity isn't necessarily the reason for Plain and Fancy's longevity," he replied. "It has become an essential part of the entire Amish Acres Package, so that is the main reason why we run it year in and year out. Cumberland County Playhouse runs Smoke on the Mountain every year as you described, presumably because it is popular with its audience and sells a lot of tickets. P&F is simply a part of what we do here to complete our tourism package. The Fantasticks was the longest running show ever, and of course Mousetrap in London before that. Regionally, I would say it is pretty common to repeat shows. The Church Basement Ladies franchise is an excellent example of this," he said referring to the musical comedy, with a book by Jim Stowell and Jessica Zuehlke, and music and lyrics by Drew Jansen. The musical was inspired by the humorous book Growing Up Lutheran, by Janet Letnes Martin and Suzann Nelson.

Does the proliferation of Amish themed shows on television fuel interest in Amish Acres? Perhaps bringing in more tourists? Can you cope with more tourists?

Littlejohn laughed. "There is quite a "boom" of Amish reality television happening at the moment. So far, I wouldn't say that it has affected our business one way or the other. We can always cope with more tourists."





Broadway To Vegas is supported through advertising and donations. Priority consideration is given to interview suggestions, news, press releases, etc from paid supporters. However, no paid supporters control, alter, edit, or in any way manipulate the content of this site. Your donation is appreciated. We accept PAYPAL. Thank you for your interest.





ART AND ABOUT


TEXTILES: PICASSO TO WARHOL This exhibition traces the history of 20th century art in textiles.

Highlights include work by Georges Braque, Alexander Calder, Marc Chagall, Salvador Dalí, Sonia Delaunay, Raoul Dufy, Barbara Hepworth, Fernand Léger, Henri Matisse, Joan Miró, Henry Moore, Pablo Picasso, Ben Nicholson and Andy Warhol.

The exhibition features examples of key European and American art movements: Fauvism, Cubism, Constructivism, Abstraction, Surrealism and Pop Art; as well as the work of leading fashion designers and manufacturers.

Artist Textiles shows how ordinary people were once able to engage with modern art in a personal and intimate way through their clothing and home furnishings.

With over 200 rare pieces, many of which have not been on public display before.

On display through May 17, 2014 at the Fashion and Textile Museum in London.


SWEET CHARITY


THE BEATLES 1964 WASHINGTON DC CONCERT will be celebrated with a tribute concert precisely 50 years to the day - February 11. 2014

The American capital was the setting for the first official Beatles concert in the USA when the band played a 40-minute set at what was then called the Washington Coliseum and is now known as the Uline Arena.

In this celebration concert, there will be performances by Beatles impersonators and an exhibition of images from the original show, shot by photographer Mike Mitchell, who was in 18-year-old freelancer.

Other events will include a raffle to give away one of the arena's original seats.

Proceeds from the event benefit the advocacy and education programs of the D.C. Preservation League.

SONNNETS AND CHOCOLATES a night of delicious desserts, outstanding performances, live auction to raise money for Endstation's 2014 summer season.

Now in its 5th year, Sonnets and Chocolates is an Endstation tradition. A unique date night or simply an opportunity to gather with friends, this event allows patrons to support Endstation while having a lovely evening.

After some time to sip local wine or Devil's Backbone brew, nibble on chocolate and mingle, guests will be invited to join the evening's live auction. The auction will feature some fantastic items, including performances by some of our fabulous actors. At the end of the evening, Endstation will auction off a vacation package to St. Thomas in the Virgin Islands including a 7-day, 6-night stay in a private condo and $500 toward travel.

Saturday, February 8 at the Academy of Fine Arts Warehouse Theatre in Lynchburg, VA.

HAVANA NIGHTS GALA OF GIVING to benefit the Plymouth Philharmonic and the special needs funds of the Old Colony and South Shore Elder Services, takes place Saturday, February 8, 2014 at Indian Pond Country Club, Kingston, MA.

The evening will include the Dancing with the Angels dance competition, a silent auction, the Java Jive band, a special guest performance by Amanda Carr, dinner, and cash bar.

The amateur dance competition, a fun highlight of the evening, will include a judges table. The judges are Steven Karidoyanes, the Phil's conductor and music director, Amanda Carr, jazz singer and entertainer, and Lynda Chuckran, director of community relations for Welch Healthcare & Retirement Group. The dance teams entered in this year's competition include friends and associates from the Phil, Visiting Angels, South Shore Elder Services, Old Colony Elder Services, The Village at Duxbury, Newfield House, and the Plymouth Council on Aging. Master of Ceremonies for the evening is Matt Muratore, chairman of the Plymouth Board of Selectman.

Now in its 98th season, the Plymouth Philharmonic Orchestra is one of the region's premiere cultural institutions. Dedicated to artistic excellence and community programs, the orchestra offers world class performances, innovative music outreach programs and strong community partnerships.

The Special Needs Emergency Funds, established by Old Colony Elder Services & South Shore Elder Services, help frail elders in 34 communities on the South Shore who cannot afford basic necessities of life, such as food, fuel, medicine, clothing and shelter. All monies raised for the fund go directly to the purchase of goods and services.

Visiting Angels is a private practice home care agency that provides personal, respite and companion care services to seniors who want to continue to live in their homes with a greater quality of life.

NEW WORLD SYMPHONY'S 26TH ANNUAL GALA will he hosted by New World Symphony's illustrious Artistic Director Michael Tilson Thomas. The 26th Annual Gala, featuring a breathtaking multimedia concert, world-class dining and late night entertainment.

The gala event, being held in the Frank Gehry-designed New World Center, will celebrate NWS's extraordinary achievements in technology and innovation and directly supports New World Symphony's core programs, professional development of outstanding young musicians, the acclaimed WallCast series and more.

February 8 at the New World Center in Miami Beach, FL.


BIRACIAL CHEERIOS AD STILL CAUSING CONTROVERSY
Whitney Avalon, who plays the mother, has been on The Big Bang Theory and in 50 commercials.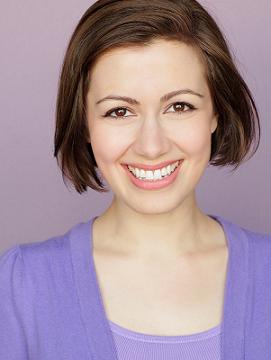 Cheerios, that heart healthy cereal, has caused heartburn for those commenting about an ad concept featuring a family: husband, wife and daughter.

Many hone in on the fact that the couple is interracial.

The original ad, which first aired last May, featured a married couple who are parents to a daughter, was a follow up ad to one featuring a white, older but active senior citizen couple, in which the woman kisses the man's forehead, but admonishes him that, in addition to eating Cheerios, he still needs to go to the gym.

That ad is excellent and sweet. There is nothing disconcerting about the presentation. Attention remains on the ad product intent - selling Cheerios - while conveying a strong sense of family love.

The Cheerios ad with the blue collar, interracial family was for many uncomfortable - not because the family is interracial, but because the ad isn't fluid and actually reinforces negative stereotypes.

Actress Whitney Avalon plays the role of the mom. Six-year-old Grace Colbert is totally darling with amazing hair. Almost too amazing. Viewer focus is taken away from the product and shifts to looking at her hair. Then the commercial moves to her father, played by Charles Malik Whitfield, who happens to be Black, and is sleeping like a bum on the family sofa.

That reinforces a negative stereotype that Black men are lazy. There is no indication that this man is successful, stressed out or overworked.

The darling child dumps a bowl of Cheerios on him, supposedly to help him have a healthy heart and leaves a mess - presumably for her mother to clean up.

If the script had been written to show the man arriving home exhausted after a hard day at work - or even mowing the lawn, washing the car, or fixing something - followed by the little girl giving him a bowl of Cheerios, then that would have been an awww moment.

Now, Cheerios - which tastes good, is good for you and is affordable - has brought back the same family for a new Super Bowl ad.

The Super Bowl Cheerios ad should be more palatable to viewers, because they have already been introduced to the family. Viewers don't like shock when it comes to their personal beliefs or lifestyle. Better to use a television series, where various couplings or issues can be introduced, permitting the viewers to gradually learn to like, and then accept the situation.

Throwing a racial, religious or sexual curve ball in a 30-second commercial takes attention away from the product, both distracting and annoying the viewer, who doesn't want to suddenly realize they have to confront their values.

While the shock factor is gone, that doesn't mean the Super Bowl Cheerios ad is any better.

The new 30-second commercial has the father telling Gracie that she will soon have a sibling.

"Pretty soon, you're going to have a baby brother," the father says, adding a fourth Cheerio to the three that represent the family.

Although old enough to be of help with a new baby, instead of focusing on the baby, the father permits an unhappy Gracie to manipulate the situation for her own benefit.

"And, a puppy," Gracie says. "It's a deal," the dad responds, to the surprise of the mother.

Manipulation is something children are born knowing how to accomplish; they don't need to be encouraged in that direction.

And, how about that inconsiderate doofus of a husband? What caring husband would bring a puppy into their home without consulting his pregnant wife?

How many pregnant women would look forward to housebreaking and training a teething puppy while caring for a new baby? Created by the respected ad agency of Saatchi & Saatchi, was this ad written by a man? Or, penned by a woman who has never had a child, or has others to care for her kids and pets?

At least this time the father is sitting up at the breakfast table. Whitfield, by the way, is not a bum or an inconsiderate doofus. He's an actor playing a part.








A GREENER BROADWAY


The Broadway Green Alliance (BGA) - an industry-wide initiative focused on enhancing Broadway's environmental profile by adopting preferable practices and promoting awareness in the creation and presentation of Broadway shows - is celebrating its fifth year by launching the new BGA Greener Lighting Guide, designed to help compare greener stage lighting instruments, was launched on January 27th, 2014.

Broadway Green Achievements to date include:

Broadway theatres have replaced all their marquee and outside lighting with energy-efficient bulbs (over 10,000 bulbs), saving approximately 700 tons of carbon emissions per year; switched to more environmentally preferable cleaning products and appliances; and established recycling, water filtration and energy efficiency programs.

Broadway shows now have a BGA liaison, or Green Captain, at nearly all shows, bringing greener practices backstage. Green Captains come from all aspects of productions, and sometimes even the star of the show participates in this important role. Bryan Cranston, Alan Cumming, Hugh Dancy, Montego Glover, Harriet Harris and Carol Kane have all served as BGA Green Captains.

Running shows are saving money through reduced waste. Many shows now use rechargeable batteries in microphones and flashlights, keeping thousands of toxic disposable batteries from the waste stream every month. Wicked went from using 38 batteries every performance to using only 96 rechargeable batteries in a year. Many shows also print their own cast-change stuffers - on recycled paper - saving reams of paper as well as money.

Events and initiatives held by the BGA are now part of the fabric of Broadway, including semi-annual electronic-waste and textile recycling events in Times Square and a free binder exchange (operated in partnership with Actors' Equity Association) where anyone can pick-up or drop-off binders for use in readings and rehearsals. This keeps binders out of the waste stream and encourages re-use. Over the last five years, the BGA has collected over 15 tons (31,000 pounds) of e-waste, and nearly 10,000 pounds of textiles.

Outreach programs have brought the BGA to theatres throughout the United States, at colleges, off-Broadway and regional and touring venues.


SPREADING THE WORD


LUIS ALFARO the Oregon Shakespeare Festival's (OSF) Andrew W. Mellon Foundation Playwright-in-Residence, will pen a three-play cycle about a Latino family in the United States under a co-commission by OSF and Magic Theatre in San Francisco.

Mr. Alfaro's trilogy, currently titled This Golden State, will be developed in collaboration with both OSF and Magic Theatre. With ongoing support from the Andrew W. Mellon Foundation and a commissioning grant from the Wallace Alexander Gerbode Foundation, Magic Theatre has committed to producing the entire cycle of plays.

According to Mr. Alfaro, each part of This Golden State will examine a different "great American theme" - religion, politics, and identity - through the experiences of an extended Latino family with deep multi-generational roots in the Western United States.

DIANE KEATON is an actress, screenwriter, producer and director perhaps best known for playing Kay Adams-Corleone in The Godfather, as well as several films directed by Woody Allen.

Over the course of her career, Keaton has won an Academy Award, two Golden Globe Awards and a BAFTA Award.

Keaton studied acting at the Neighborhood Playhouse in New York City. Keaton wrote her memoir in November 2011, Then Again.

She'll speak on Thursday, February 6, 2014 at the Wortham Center in Houston, Texas.

THE JUBILEE PRODUCTION SHOW at the MGM Grand in Las Vegas, ended its 33-year run on January 31, 2104. The production show will undergo modern updates and reopen in March.

BACK TO THE FUTURE the celebrated 1985 movie starring Michael J. Fox will be turned into a stage musical which will debut in London's West End in 2015 - promoted as a fitting 30th Anniversary salute to the movie about Marty McFly (Fox) who travels back to 1955 at a crucial point in his parents' high school relationship.

Oscar winner Robert Zemeckis, who co-wrote and directed the film, will reteam with co-writer Bob Gale and Jamie Lloyd to pen the book for the stage adaptation. Lloyd will also direct. Composer and six-time Grammy winner Glen Ballard will co-author the music and lyrics with composer Alan Silvestri. The score will include music from the movie, as well as new songs penned for the stage version.

Set and costume designs will be by Soutra Gilmour, illusions by Paul Kieve, lighting design by Jon Clark, and musical supervision by Alan Williams. Andrew Willis will be skateboard consultant.


OTHER PEOPLE'S MONEY


CHARLIE AND THE CHOCOLATE FACTORY currently running at the Theatre Royal in London has set the West End record for the highest weekly gross sales, with takings of $1,789,130 during the week commencing December 30, 2013, breaking it's own previous record of $1,759,891 that it had established during the week commencing October 28, 2013.

The production which opened June 25, 2013 has also announced an extention through May 30, 2015.

Directed by Sam Mendes, the musical stars Douglas Hodge as Willy Wonka, with Nigel Planer as Grandpa Joe, Clive Carter as Mr. Salt, Jasna Ivir as Mrs Gloop, Paul J. Medford as Mr. Beauregarde, Iris Roberts as Mrs. Teavee, Billy Boyle as Grandpa George, Alex Clatworthy as Mrs. Bucket, Roni Page as Grandma Josephine, Myra Sands as Grandma Georgina and Jack Shalloo as Mr. Bucket. It has music by Marc Shaiman, lyrics by Scott Wittman and Marc Shaiman, a book by David Greig, set and costume designs by Mark Thompson and choreography by Peter Darling.


HANG IN THERE . . . .


RANDY GENER 46, a popular, award winning Filipino-American editor, writer and artist who was savegly beaten on the night of January 17, 2014 at West 57th Street and Seventh Avenue, as he approached his home in the Hell's Kitchen neighborhood of NYC, after attending the opening of Machinal on Broadway, the after party and then stopping to buy a magazine.

Gener was hit in the face with such force that the blows caved in the side of his head. The suspect then fled the scene by quickly jumping into a grey four door Nissan. Gener was left unconscious in the middle of the street, in a pool of blood.

Last Tuesday police arrested Leighton Jennings, 24, at a residence in Queens, NY. He was charged with second-degree assault.

The victim is gay. His wallet, phone and gold necklace were not taken which prompted the police to investigate if the attack was a gay hate crime, part of the 'knockout game' or something else. They found no evidence of a bias attack and that the beating may have stemmed from an argument on the street regarding Jennnings' girlfriend.

Gener remains in stable condition in Intensive Care at St. Luke's Hospital in New York, having undergone surgery to his shattered skull. His husband, Stephen Nisbet, remains at his bedside.

Gener's motor skills are returning, he's able to speak somewhat, but has no memory of what happened, or is fully aware of where he is, or possessing total recall of people close to him. He will begin the long painful road to recovery which includes time in a rehabilitation facility and a second major surgery.

Friends and family have held two prayer vigils.



2014 GRAMMY WINNERS all talented professions. Categories of particular interest to Broadway To Vegas readers include:

BEST MUSIC FILM: Paul McCartney, Love Kisses
BEST SONG WRITTEN FOR VISUAL MEDIA: Adele, Skyfall
BEST COMPILATION SOUNDTRACK FOR VISUAL MEDIA: Sound City: Real to Reel
BEST MUSICAL THEATER ALBUM: Cyndi Lauper, Kinky Boots
BEST BOXED OR SPECIAL LIMITED EDITION PACKAGE: Paul McCartney, Wings Over America
BEST TRADITIONAL POP VOCAL ALBUM: Michael Buble, To Be Loved
BEST POP INSTRUMENTAL ALBUM: Herb Alpert, Steppin' Out

DAME HELEN MIRREN will be awarded the British Academy Fellowship - the highest accolade the Academy can bestow.

The award will be presented to her at next month's Bafta Film Awards on February 16, at the Royal Opera House in London.

Previous winners of the prize have included Charlie Chaplin, Alfred Hitchcock, Steven Spielberg and Stanley Kubrick. Last year the award went to Sir Alan Parker.



BRONX BOMBERS a new American play written and directed by Eric Simonson.

Starring Peter Scolari as Yogi Berra, the cast also features Francois Battiste (Reggie Jackson), Chris Henry Coffey (Joe DiMaggio), Bill Dawes (Mickey Mantle), Christopher Jackson (Derek Jeter), Keith Nobbs (Billy Martin), Tracy Shayne (Carmen Berra), John Wernke (Lou Gehrig) and C.J. Wilson (Babe Ruth).

Ruth. Berra. Mantle. DiMaggio. Gehrig. Jeter. The New York Yankees have never had a shortage of star players… or controversy. Bronx Bombers is a new American play from the team behind Broadway's Lombardi that follows beloved icon Yogi Berra and his wife Carmen through a century of the team's trials and triumphs, bringing generations of Yankee greats together on one stage.

As it celebrates and explores the timeless legacy of baseball's most iconic team, Bronx Bombers takes a look at how and why the Yankees have remained so great.

Reportedly the Yankees' general partner Jennifer Steinbrenner and Chief Operating Officer Lonn Trost were provided he opportunity to read the script and did not veto any scenes.

Producer Tony Ponturo was able to obtain an "endorsement of authenticity" from the league and the Yankees. It's similar to his deal for the Lombardi production. MLB allowed use of the team logo and historically accurate uniforms onstage, and provides or permits marketing about the performances. The league also outfitted the theater's lobby with rare team memorabilia and vintage photographs.

Bronx Bombers opens officially on Thursday, February 6, 2014 at Circle in the Square Theatre in New York City.

THE WINTER'S TALE by William Shakespeare.

The Old Globe's Artistic Director Barry Edelstein makes his Old Globe directorial debut with the show, the first indoor Shakespeare production at the Globe in over a decade.

Musical score written expressly for the production by acclaimed classical composer Michael Torke.

Acclaimed stage and screen actor Billy Campbell returns to star as Leontes The production also features Erin Elizabeth Adams (Dorcas), Jordi Bertran (Mamillius), Meaghan Boeing (Emilia), Lindsay Brill (Mopsa), Angel Desai (Paulina), Jamal Douglas (Mariner), Kushtrim Hoxha (Cleomenes), Paul Kandel (Autolycus, Archidamus), Maya Kazan (Perdita), A.Z. Kelsey (Florizel), Mark Nelson (Antigonus, Old Shepherd), Natacha Roi (Hermione), Robbie Simpson (Dion), Brendan Spieth (Clown), Paul Michael Valley (Polixenes), Cornell Womack (Camillo), Patrick Zeller (Jailer), and Nadia Guevara and Albert Park (Ensemble).

The creative team includes Taylor Peckham (Music Director), Wilson Chin (Scenic Design), Judith Dolan (Costume Design), Russell H. Champa (Lighting Design), Fitz Patton (Sound Design), Michael Torke (Original Music), Bryan Byrnes (Fight Director), Jan Gist (Voice and Dialect Coach), Caparelliotis Casting (Casting), and Anjee Nero (Stage Manager).

The Winter's Tale will run February 8 – March 16, 2014 on the Donald and Darlene Shiley Stage in the Old Globe Theatre, part of the Globe's Conrad Prebys Theatre Center, San Diego, CA.

An Insight Seminar will take place on Monday, February 10. Insights Seminars are informal presentations of ideas and insights to enhance the theatergoing experience. The seminars feature a panel selected from the artistic company of each production and take place in the theater where the production is performed.

RODGERS & HAMMERSTEIN'S CINDERELLA welcomes Fran Drescher as Cinderella's evil stepmom. This marks Drescher's Broadway debut. She joins the musical on February 4 for a 10-week run which ends April 13, 2014.

TRANSPORT a new musical with a book by Thomas Keneally. Music & lyrics by Larry Kirwan.

Directed & designed by Tony Walton.

Choreography by Barry McNabb. Music Direction by John Bell.

Starring: Mark Coffin, Patrick Cummings, Terry Donnelly, Sean Gormley, Jessica Grové, Pearl Rhein, Emily Skeggs and Edward Watts.

Sprung from the pen of world-renowned Schindler's List author Thomas Keneally, Transport derives from the true story recalled by the grandmother of his wife, Judy, who journeyed in chains from Cork, Ireland to Sydney, Australia in 1846.

Transport tells the story of the impoverished Irish women and young girls (the so- called "undesirables") who were deported on The Whisper, a prison ship, to the Australian penal colonies. Transport's characters include members of the ship's crew, an exiled Irish priest, and four of the unfortunate female prisoners.

With an authentic score by Black 47's Larry Kirwan that features traditional Irish music mixed with a contemporary Folk-Rock & Broadway resonance, Transport "transcends time, place and character with a hauntingly moving immediacy intertwined with the indomitable Irish spirit and a shared and abiding humanity."

The World Premiere Production takes place February 7-April 6, 2014 at The Irish Rep in New York City.

CRUMBS FROM THE TABLE OF JOY by Pulitzer Prize winner Lynn Nottage.

Directed by Delicia Turner Sonnenberg who worked with Nottage as production stage manager on its world premiere production at NYC's Second Stage in 1995.

It's 1950 and Ernestine Crump has just lost her mother. Her father turns to religion for solace, uprooting the family to be closer to the "Mission" in Brooklyn. Struggling to find her way as a young African American woman, Ernestine's life is upended when her communist aunt moves in preaching feminism and her father comes home with a new white wife.

The cast includes Deja Fields, Cashae Monya, Vimel Sephus , Jada Temple , and Jennifer Eve Thorn.

The creative team includes Jennifer Berry (Choreographer), Tim Nottage (Scenic Designer), Ross Glanc (Lights), Jennifer Brawn-Gittings (Costume Designer), Melanie Chen (Sound) and Angelica Ynfante (Prop Designer); with Mark Butterfuss (Assistant Director), Jessamyn Foster (Stage Manager) and Malloree Philhower (Production Assistant).

Playing through March 2. at MOXIE Theatre in San Diego, CA.

1984 Robert Icke and Duncan Macmillan's critically acclaimed adaptation of George Orwell's dystopian masterpiece. Icke has recently joined new Artistic Director, Rupert Goold, at the Almeida Theatre where he will be Associate Director.

Icke and Macmillan also direct this production.

George Orwell's 1984, published in 1949, is one of the most influential novels in recent history, with its chilling depiction of perpetual war, pervasive government surveillance and incessant public mind-control

Its ideas have become our ideas, and Orwell's fiction is often said to be our reality.

Filtering the spirit and the ambition of the novel through the lens of contemporary culture, this radical new staging explores surveillance culture, identity and how thinking you can fly might actually be the first step to flying.

1984 had its world premiere at Nottingham Playhouse in September, 2013 and has enjoyed a hugely successful UK tour, which will culminate at West Yorkshire Playhouse on 16th November. The entire cast will remain with the production for the Almeida run: Mark Arends, Tim Dutton, Stephen Fewell, Christopher Patrick Nolan, Matthew Spencer, Gavin Spokes, Mandi Symonds and Hara Yannas.

Designed by Chloe Lamford, with lighting by Natasha Chivers, sound by Tom Gibbons and video designed by Tim Reid.

Originally produced by Headlong and Nottingham Playhouse, 1984 will conclude an extraordinary trilogy of co-productions between the Almeida and Headlong that began with Chimerica, which opened at the Almeida in May 2013 of this year and recently played a sell-out run in the West End. The companies are currently co-producing American Psycho, directed by Rupert Goold.

February 8 March 29 with Press Night on February 13 at the Almeida Theatre in London.

A MIDSUMMER NIGHT'S DREAM by William Shakespeare.

Directed by Tom Morris.

For the first time since the triumph of War Horse, Bristol Old Vic's Artistic Director Tom Morris and Handspring Puppet Company reunite to realise one of Shakespeare's most popular and fantastical plays. A shape-shifting Puck is conjured from a selection of workman's tools. An eight-foot-tall Titania presides over a troupe of malevolent fairies. And a giant, controlling Oberon manipulates his fairy queen and meddles in the confusion of the squabbling lovers.

Endlessly creative, the cast conjure a living forest from the barest of means, creating a magical world where a wide variety of puppets are brought to life. Bottom's transformation, which the company states "we couldn't even begin to describe, is worth the price of admission alone."

A riotous display of irreverent comedy in which anything can come to life and be transformed.

Presented by the Barbican. A Bristol Old Vic production in association with Handspring Puppet Company. Co-commissioned by Spoleto Festival USA.

February 6-15 at the Bristol Old Vic in London.


WHO'S WHERE


THE HIT MEN the brainchild of Lee Shapiro (Frankie Valli & The Four Seasons, Barry Manilow, Bob Gaudio, Paul Schaffer), The Hit Men also features Gerry Polci (Frankie Valli & The Four Seasons, Barry Manilow), Jimmy Ryan (The Critters, Carly Simon, Cat Stevens, Jim Croce, Elton John and Kiki Dee), Larry Gates (Desmond Child, Phoebe Snow, Carole King, Janis Ian, Rick Derringer) and Russ Velazquez (Sting, Carole King, The Ramones, LL Cool J, Luther Vandross, Korn, Paula Abdul, Chicago) who perform the songs they helped make into hits, as well as share great back-stories and anecdotes from their days in recording studios and on the concert circuit with Frankie, Tommy, Carly, Jim, Cat and Elton. Three shows total take place Friday, February 7 and Saturday February 8, at the The Downtown Cabaret in Bridgeport, Connecticut.

MUSIC MONDAYS presented by the New York Theatre Ballet. The Monday, February 10 installment of will showcase Nuevo Tango, an evening of contemporary tango music. The performance will feature the tango-inspired works of Michael Kosch, Andre Previn, Allen Shawn, Ron Wasserman, and more. New York Theatre Ballet's Music Director Michael Scales will accompany on piano with guest violinist Pauline Kim Harris. Monday, February 10, 2014 at The Dance Gallery, NYC.

JASON ANDREWS a World Champion Magician will perform live magic - using sleight of hand, animals and comedy - while the Nevada Chamber Symphony performs their annual family concert at the Clark County Library in Las Vegas on Sunday February 9, 2014.

THE MINNESOTA ORCHESTRA will perform its first concert since ending of the 15-month lockout of its musicians on February 7 in Orchestra Hal. Stanislaw Skrowaczewski will conduct. He served as its music director from 1960-79 and in celebration of the hall's $50 million renovation, will begin the concert with the first music that was played in the hall when it opened in 1974: Skrowaczewski's orchestration of Bach's Toccata and Fugue in D minor. The program, which will be repeated February 8, will include Strauss's Don Juan and Beethoven's Eroica symphony.

SARAH BRIGHTMAN in concert February 6-8 at the Dubai World Trade Center in Dubai, UAE.

BILLY JOEL is at Madison Square Garden in NYC on Monday, February 3. Next Sunday, February 9, he can be enjoyed at the PNC Arena in Raleigh, NC.

DEPECHE MODE on stage Tuesday, February 4, at the SAP Arena in Mannheim, Germany. Thursday their tour stops at the Slovnaft Arena in Bratislava, Slovakia. On Saturday they are at the Wiener Stadthalle in Vienna, Austria.

LADY ANTEBELLUM on stage Friday, February 7, at the Target Center in Minneapolis. Next Sunday, February 9, the performance is at the Van Andek Arena in Grand Rapids, MI.

PAUL SIMON AND STING offer a powerful bill Saturday, February 8, at the Toyota Center in Houston. Next Sunday, February 9, they entertain at the American Airlines Center in Dallas.

MICHAEL BUBLE performs Monday, February 24, at the Spektrum Arena in Oslo, Norway. Wednesday's show is at the Forum Copenhagen in Frederiksberg, Denmark. On Saturday, March 1, he opens a five night stand at the Phones 4U Arena in Manchester, UK.

DOLLY PARTON has a two night stand at the Vector Arena in Auckland, New Zealand on February 7-8.




FINAL OVATION


PETE SEEGER folk singer, legend, and activist died in a New York hospital on January 27, 2014. He was 94.

He wrote or co-wrote If I Had a Hammer, Turn, Turn, Turn, Where Have All the Flowers Gone and Kisses Sweeter Than Wine.

He had a string of hit records during the early 1950s as a member of the Weavers, which were blacklisted during the McCarthy Era. In the 1960s, he re-emerged on the public scene as a prominent singer of protest music in support of international disarmament, Civil rights, counterculture and environmental causes.

He last performed September 21, 2013, at Farm Aid at the Saratoga Performing Arts Center in Saratoga Springs New York. Joined by Willie Nelson, Neil Young, John Mellencamp, and Dave Matthews, he sang This Land is Your Land and included a verse he said he had written specifically for the Farm Aid concert.

His numerous awards included: being inducted into the Rock and Roll Hall of Fame in 1996. In 1994 he received the Kennedy Center Honor. a Grammy Lifetime Achievement Award in 1993 and the National Medal of Arts from the National Endowment for the Arts in 1994.

Seeger was a 2014 Grammy Awards nominee in the Best Spoken Word category, which was won by Stephen Colbert.

Neil Portnow President/CEO of The Recording Academy issued the following statement:

"Three-time Grammy winner and Recording Academy Lifetime Achievement Award recipient Pete Seeger was a living history of America's music and conscience. A singer, songwriter, and social activist, he played a major role in the revival of folk music in the late 1950s. His iconic songs — such as We Shall Overcome, Turn, Turn, Turn, Where Have All The Flowers Gone, If I Had A Hammer, and This Land Is Your Land — became the soundtrack of '60s protest movement, helping to build a sense of community and capturing the heart and soul of our nation. For eight decades, he actively confronted injustice in the United States, and used the transformative power of his songs to inspire action. Our music community and our country have lost a national treasure, and we will continue to honor his memory every time we sing one of his many anthemic songs. Our deepest sympathies go out to his family, his friends, and all of the musicians who pay tribute to and continue his legacy every day."

Pete Seeger and Toshi-Aline Ota were married July 20, 1943. The couple remained married until Toshi's death in July 2013 at age 91. Their first child, named for his father, was born in 1944 and died at six months, while Pete was deployed overseas. Pete never saw him. They went on to have three more children: Daniel (an accomplished photographer and filmmaker), Mika (a potter and muralist), and Tinya (a potter), as well as grandchildren Tao (a musician), Cassie (an artist), Kitama Cahill-Jackson (a filmmaker), Moraya (a graduate student married to the NFL player Chris DeGeare, Penny, and Isabelle. Tao is a folk musician in his own right, who sings and plays guitar, banjo, and harmonica with the Mammals. Kitama Jackson is a documentary filmmaker who was associate producer of the PBS documentary Pete Seeger: The power of Song.

MAXIMILIAN SCHELL the Oscar winning actor for his portrayal of defense attorney in Judgment at Nuremberg died February 1, 2014 in a hospital in the Austrian city of Innsbruck following a "sudden illness". He was 83.

Schell was born in Vienna, Austria, the son of Swiss playwright Hermann Ferdinand Schell and Austrian stage actress Noe von Nordberg.

Schell was surrounded by acting in his early youth:

"I grew up in a theatre atmosphere and took it for granted. I remember the theatre, as a child, the way most people remember their mother's cooking. Acting was all around me, and so was poetry. I made my debut in the theatre at the age of three, in Vienna," he is quoted in The Player: A Profile of an Art.

As an adult, he made his stage debut in 1953.

In 2006 he appeared in the stage play of Arthur Miller's Resurrection Blues, directed by Robert Altman, which played in London at the Old Vic.

Schell also served as a writer, producer and director for a variety of films, including the documentary, Marlene, (1984), with the unwilling participation of Marlene Dietrich. It was nominated for an Oscar, received the New York Film Critics Award and the German Film Award.

In 2002, he produced his most intimate film,My Sister Maria, a documentary about his sister, noted actress Maria Schell. In the film, he chronicles her life, career and eventual diminished capacity due to illness. The film, made three years before her death, shows her mental and physical frailty, leading to her withdrawing from the world. In 2002, upon the completion of the film, they both received Bambi Awards, and were honored for their lifetime achievements and in recognition of the film.

Schell also produced and directed a number of live operas, including Lohengrin for the Los Angeles Opera. He worked on the film project, Beethoven's Fidelio, with Placido Domingo and Kent Nagamo.













Next Column: February 9, 2014
Copyright: February 2, 2014. All Rights Reserved. Reviews, Interviews, Commentary, Photographs or Graphics from any Broadway To Vegas (TM) columns may not be published, broadcast, rewritten, utilized as leads, or used in any manner without permission, compensation and/or credit.
Link to Main Page
---
Laura Deni



For the snail mail address, please E-mail your request.
CLICK HERE FOR COMMENT SECTION