Broadway To Vegas
  
 SHOW REVIEWS CELEBRITY INTERVIEWS GOSSIP NEWS

| | |
| --- | --- |
| | |
SENSATIONAL MICHAEL BUBLÉ - - DAVID MAMET FESTIVAL - - ENGLISH NATIONAL OPERA'S SIR JOHN IN LOVE - - PAJAMA GAME TO OPEN - - THE DRAMATISTS GUILD FUND DONATES TO INGE - - WILLIAM S. PALEY FESTIVAL - - JOURNEY'S END AT ALLEY - - THE BRIT AWARDS HAND OUT CASHMERE HOT WATER BOTTLE COVERS - - DONATE . . . Scroll Down


Copyright: February 19, 2006
By: Laura Deni

CLICK HERE FOR COMMENT SECTION
MICHAEL BUBLÉ IN SENSATIONAL VEGAS DEBUT
Michael Bublé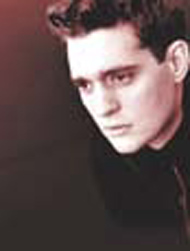 Broadway To Vegas had the thrill of watching the glow of a future mega star perform - Michael Bublé (pronounced boo-blay).

Ellen DeGeneres once described Michael Bublé as Sinatra crossed with James Dean.

The Vancouver vocalist's auspicious Las Vegas debut took place over Valentine's Day week-end in the 1, 700 seat showroom of the Hilton Hotel.

The performances not only sold out at tickets ranging from $75.50 to $110, but 100 standing room only tickets per performance were snapped up at $75.50 - the same price as the cheapest seat.

The audience was a wide cross section - all well groomed in garb ranging from expensive jeans to expensive dinner suits.

At 9:10 Michael Bublé singing Feeling Good descended down a stairway onto a stage bathed in gorgeous lighting.

An aura filled the room, which was almost magically transformed into the era when Vegas showrooms were filled with martini and champagne sipping tuxedo-clad men and formally gowned women.

A natural Sinatra sound alike from Old Blue Eyes' early crooner days, Bublé is charismatic. It was a self assured, but not cocky rendition of Sway With Me followed by a Sinatra stable - introducing various musicians.

"Welcome to Las Vegas, in this my third out of four shows." He told the crowd that he'd spent the previous night in his room where he had rented the Johnny Cash bio pic Rock The Line. "How cool was he?," was Bublé's rhetorical question about The Man in Black. "He didn't ever talk to the audience," quipped the natural mimic who then picked up a guitar and did his Cash impersonation of Ring of Fire.

"To those who came but don't want to be here, I thank you. I hope this brings some romance," said Bublé to the men alluding that they may have been there to please their lady. He then offered Otis Regging's Try A Little Tenderness, showcasing the sweetest horn section to appear in decades on a Vegas stage. Randy Napoleon on guitar. Awesome trumpet players Bryan Lipps, Jumaane Smith and Justin Ray. Nick Vagenas and Josh Brown establishing how a trombone should sound. Mark Small on alto sax while Frank Basile commands the baritone sax.

Bublé effectively delivered the Peggy Lee hit Fever. A short runway bit permitted Bublé to show off his Hugo Boss suit.

Back to the music with Come Fly With Me featuring Craig Polasko on bass.

Bublé introduced his producer David Foster who was in the audience. Bublé's career was at a dead-end. He was living with his then love Debbie Timuss (who appeared in Forever Swing at the Aladdin Hotel in Las Vegas). She was footing their bills and he was about to give up trying. The breakthrough came in the fall of 2000 when he sang Kurt Weill's Mack the Knife at the wedding of Brian Mulroney's daughter Caroline. Mulroney, the former prime minister of Canada, not only introduced Bublé to Foster, a multi-Grammy awarding producer and a Warner Brothers record executive, but put his arm around Foster and encouraged him to sign the wedding singer. The squeeze play worked.

Bublé was immediately inked To Foster's '143' record label.

Another Canadian, Paul Anka, who wrote May Way for Sinatra and knows how to perform on stage, was brought in to help guide the struggling Bublé who had won first prize in a Canadian Youth Talent Search at the age of 17 and then pursued a musical career without great success.

For parents who carp that if their kid had the backing of a former prime minister, David Foster and Paul Anka, their precious darling would be famous, too, all we can say is - Buble has real talent. If Anka or Foster hadn't been the wind under Bublé's wings other high flying honchos would have come bearing gifts of contracts.

In addition to singing, Bublé's heartthrob style knows how to work the stage. When he sings I'm Singing My Song For You, the body language of the women in that showroom transmit they were fantasizing he was performing just for them.

His stage gestures are reminiscent of both Sinatra and Presley. The lighting and dramatics have an Anka feel. The impish personality is his.



His image was plasterd on collector casino chips in denominations of $5 or $25, each issue limited to 500. Following his Vegas performance he was a guest co-star on the hit TV series Dancing With The Stars in which the camera gave him as much play as the dancers who were being judged.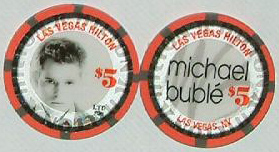 With some of the shrewdest promotions to ever surround a singer, he delivered the verse before delving into I've Got a Crush on You from his CD, tied into a Valentine promotion for Hallmark cards.

After delivering For Once In My Life the tenor suddenly announced - "I think jazz sucks." With a gleam in his eye he added, "I just do it to meet girls. (pause) I want to be a pop star." Thus said, Bublé segued into an Elvis Presley imitation singing Viva Las Vegas, earning him his first standing ovation of the evening. It should be no shocker that Bublé nailed the impression, since he spent two years touring across America appearing as Elvis in a Red Rock Diner production.

Red Rock Diner is a critically acclaimed musical revue which takes a nostalgic look back at a day in the life of legendary DJ Red Robinson during the heyday of Rock and Roll.

A review of Bublé's performance at the Arts Club Theatre, Granville Island by Wayne MacEachern stated "Elvis look-alike Michael Buble, Biker/Greaser/Heartthrob Curtis Blayne, and blonde bombshell Lalainia Lindjberg were innovative, exciting, highly energetic, and above all, extremely talented in their roles."

The audience clapped along to I've Got You Under My Skin, which was followed by an upbeat arrangement of Charlie Chaplin's Smile. Selections that showed off drummer Robert Perkins. Sassy arrangement for The More I See You. An introduction for musical partner and piano player Alan Chang with whom he co-wrote Home, led into the number.

May be surrounded by
a million people I
still feel all alone
Just wanna go home,
oh I miss you, you know
Let me go home

Home was written for Debbie Timuss, an award winning choreographer, singer and actress with whom Bublé has had a near decade long off-again-on-again relationship. He penned Home during one of their break-ups. They reunited, became formally engaged Christmastime 2004 and called off the engagement November, 2005.

Bublé has an eye for the ladies and groupies are everywhere. The majority of the audience was familiar with Buble's program. Upon hearing the first bars of You Can Dance the men got up and headed towards the front to dance in the aisle. Save the Last Dance For Me was also a cue for the audience to storm the stage.

Like his mentor Paul Anka, Bublé goes out into the audience shaking hands and encouraging photos. The show ends with a standing ovation leading into a planned encore.

Bublé has a fetching enthusiasm - a knack for making some of the greatest songs of all time entirely his own. He's billed as a jazz singer, which facilitates him singing up-beat. Like a fine wine, with age and seasoning, his phrasing and breathing will mature to better permit tug at your heartstring ballads.

If he doesn't fall victim to his own success, 45-years from now he'll be selling SRO tickets to the great grandchildren of today's fans.

That he may stumble on his own stardom is a real possibility given his off stage quotes and reputation with women. There can be a fine line between star and jerk. Bublé is surrounded by excellent handlers. He needs to remember that Sinatra didn't spent his entire career with Number One hits and on the A-list of bankable performers. James Dean's lifestyle resulted in an early death. Bublé's personality - charming, mischievous, sexy vulnerability - is a magnet for women. Whether he falls off the jagged precipice of stardom or maintains his white hot popularity will have more to do with his personal life than talent. While Sinatra aptly said that the only thing he owes the public is a good performance, the public has a funny way of deciding what they think is important. Off stage Bublé needs to watch his mouth.

His American tour kicks off Wednesday, March 1 at the Mogegan Sun Casino in Uncasville, CT. His first week on tour has a show March 3 at the DAR Constitution Hall in Washington, D.C. and a Saturday, March 4 performance at Radio City Music Hall in New York City. The tour ends March 15 at the Fox Theatre in Detroit, Michigan. If possible, don't miss a chance to see him.

The son of Lewis Bublé, a salmon fisherman, Michael was born September 9, 1975 in Burnady, British Columbia. Michael has two younger sisters, Brandee and Crystal. He started singing as a young boy at Christmas, driving his parents and anyone else within hearing distant to distraction by singing White Christmas. His non-stop rendition lasted through July. When he was about 14, the repertoire was expanded to New York,New York which he sang with a karaoke set he got for Christmas.

As a commercial fisherman his father was required to be away from home every summer. Michael spent most of his time with his grandparents, Mitch and Yolanda Santaga. He was musically influenced by his Italian born grandfather, a plumber, who had an extensive collection of jazz records.

"My grandfather was really my best friend growing up. He was the one who opened me up to a whole world of music that seemed to have been passed over by my generation. Although I like rock & roll and modern music, the first time my granddad played me the Mills Brothers, something magical happened. The lyrics were so romantic, so real... the way a song should be for me. It was like seeing my future flash before me. I wanted to be a singer and I knew that this was the music that I wanted to sing."

Bublé started singing Stardust and Melancholy Baby. As he got a little older he'd accompany his father, a Bruce Springsteen fan, on the 20-meter seine boats watching the porpoises and listening to tapes made for him by his grandfather of Ella Fitzgerald and Louis Armstrong singing duets for hours on end.

He entered a contest for young talents, won, and then was stripped of his award because he was underage. Michael's grandfather approached some musicians and offered them a deal. Free plumbing if they would permit Michael to sing with them.

To thank his grandfather for "teaching me to appreciate good music" Michael took his grandfather on his 2001 Italian tour, invited the gent on stage each performance to stay "hello" in Italian. A meeting with Tony Bennett, whom Bublé calls one of his idols, was termed by Bublé as "very significant for me."

By the way, Buble's mentor, Paul Anka, also puts on a dynamite show. Anka performs this evening at the Niagara Fallsview Casino in Niagara Fall, Ontario and can be enjoyed March 3 at the Robinson Rancheria Casino in Nice, CA.



Broadway To Vegas is supported through advertising and donations. Priority consideration is given to interview suggestions, news, press releases, etc from paid supporters. However, no paid supporters control, alter, edit, or in any way manipulate the content of this site. Your donation is appreciated. We accept PAYPAL. Thank you for your interest.


OTHER PEOPLE'S MONEY


THE DRAMATISTS GUILD FUND, NEW YORK CITY has contributed $2,500 to the William Inge Center for the Arts at Independence Community College, Independence, Kansas, in support of play development readings of Inge House Playwrights-in-Residence.

Inge House Playwrights-in-Residence are accomplished professionals who live in the historic William Inge boyhood home in Independence. The late William Inge is the Pulitzer Prize and Oscar winning writer who is a native of Independence.

The playwrights draw on the inspiration of his home to work on new plays, which receive rehearsed developmental readings as part of their nine-week residency.

The Dramatists Guild Fund was created in 1962 by the Dramatists Guild of America, the association of America's foremost playwrights and stage lyricists and composers. The Fund makes grants to selected not-for-profit producing organizations that present new work as well as provide financial aid to professional dramatists experiencing personal hardships such as health-related problems.

AVENUE Q the Tony award winning show that we enjoyed by off-Broadway and again after it transferred to the Golden on Broadway, will prematurely end its run at the Wynn Hotel in Las Vegas, closing on May 28. Slow tickets sales are blamed..

Steve Wynn has dropped the exclusivity deal as part of ending the Vegas run and Avenue Q producers are seeking to give the puppets a life on the road.


SPREADING THE WORD


DAVID MAMET FESTIVAL

David Mamet. Photo by Brigitte Lacombe.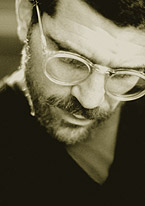 The Goodman Theatre in Chicago celebrates the work of one of America's greatest playwrights when it presents the David Mamet Festival on both its Albert and Owen stages. The centerpiece of the festival is a major revival of A Life in the Theatre, staged by Goodman Artistic Director Robert Falls. Romance, Mamet's most recent play, will appear in the Owen Theatre, presented in repertory with three evenings of Mamet's one-act plays.

The festival will also include performances of Mamet's family-oriented play The Revenge of the Space Pandas or Binky Rudich and the Two-Speed Clock, presented on Saturday mornings during the festival in the Owen Theatre.

Goodman Theatre's David Mamet Festival showcases the astonishing body of work of one of America's - and Chicago's - greatest playwrights -- from the corrosively profane to the gently lyrical, from early classics such as 1972's The Duck Variations to his most recent hit farce, Romance (2005). A Pulitzer Prize-winning playwright, as well as a renowned filmmaker and theater director, Mamet has a long and fruitful collaboration with the Goodman that includes more than one dozen works, beginning in 1975 with the world premiere of American Buffalo.

The Goodman is also staging The David Mamet Write-Alike Contest. 'Mametspeak,' 'Mametian,' yes, David Mamet is such a unique playwright, he's inspired his own vocabulary words. Now, as part of the David Mamet Festival, the Goodman invites would be authors to walk a mile in this great Chicagoan's shoes by writing a Mamet play.

Open to all Chicagoland writers, entries will be judged by members of Goodman's artistic staff, and the winning scripts will receive assorted prizes including a public staged reading during the run of the Mamet Festival.

Submission Deadline: Friday, March 3. The David Mamet Festival begins March 4.

THE WILLIAM S. PALEY TELEVISION FESTIVAL starts on February 28th in New York City with an evening celebrating the ABC hit show Grey's Anatomy and ends on March 15th with Showtime's hit, Weeds.

During the Paley Festival, the audience views an episode or highlights of the show and has the opportunity to ask questions to the panel of cast members and creative teams.

Proceeds benefit The Museum of Television & Radio, a nonprofit organization founded by William S. Paley in 1975 to collect, preserve, and interpret television and radio.



SIR JOHN IN LOVE a new English National Opera production of Vaughan Williams's vibrant, masterpiece. This raucous comedy features a large ensemble cast with all the eccentric characters and loveable rogues from Shakespeare's The Merry Wives of Windsor. - a veritable evening of fun and frolics.

The vivacious characters are brought to life by an exemplary British cast, led by the irrepressible Andrew Shore in the title role supported by Sally Burgess, Stuart Kale, Marie McLaughlin, Alastair Miles, Jean Rigby and Robert Tear. This new production is conducted by Oleg Caetani and directed by Ian Judge

The cast includes; Andrew Shore, Russell Smythe, Marie McLaughlin, Sarah Fox, Robert Tear, Sally Burgess, Andrew Kennedy, Stuart Kale, Christopher Gillett, Iain Paterson, Nicholas Folwell, Graeme Danby, Mark Richardson, Richard Coxon, Paul Napier-Burrows and Peter Kerr.

Directed by Ian Judge and Conducted by Oleg Caetani, The design team includes; Set Designer: John Gunter. Costume Designer: Tim Goodchild. Lighting Designer:Nigel Levings. Choreographer: Claire Glaskin

An evening of world-class British song and music, Shakespearean characters, and rollicking, toe tapping tunes. Eight performances only begin March 2 at the Coliseum in London.

TIGER LADY crime drama by Layce Gardner of Tahlequah, Oklahoma is based on the notorious true story of Winnie Ruth Judd and the grisly double-murder she committed in the 1930s. "Tiger Lady!" "Blond Butcher!" screamed the national headlines. The action flows over the years from 1915 to 1931, as her intriguing tale unfolds.Performances running through March 11th at the Carpenter Square Theatre in Oklahoma City, Oklahoma.

YELLOWMAN by Dael Orlandersmith.

Alma, a dark-skinned black woman, and Eugene, a light-skinned black man, find their long-time friendship turning to love in this finalist for the 2002 Pulitzer Prize. The difference in their complexions and the insurmountable obstacles raised make Yellowman not only a poignant love story but also an edgy, provocative look at prejudice, social status, stereotypes and their effects on us all.

The cast features Tamela Aldridge and Spencer Scott Barros. The show is directed by former Playhouse Artistic Director Harold Scott.

The show runs through March 12 in the Thompson Shelterhouse Theatre at the Cincinnati Playhouse in the Park in Cincinnati, Ohio.

THE PAJAMA GAME starring Harry Connick, Jr,. Kelli O'Hara & Michael McKean.

Book by George Abbott & Richard Bissell. Music and Lyrics by Richard Adler & Jerry Ross. Based on the novel 7 1/2 Cents by Richard Bissell. Book revisions for this production by Peter Ackerman. Directed and Choreographed by Kathleen Marshall.

Connick, Jr. is set to make his theatrical debut as Sid Sorokin in The Pajama Game. With a score featuring standards like Hey There, Steam Heat and Hernando's Hideaway, the story is set in the Sleep-Tite Pajama Factory during a strenuous labor negotiation. At the musical's center is the simmering attraction between a handsome new manager and a lovely union representative. But their budding romance is threatened by the impending strike.

Also featured in the cast are Peter Benson as Prez, Joyce Chittick as Mae, Megan Lawrence as Gladys, Michael McCormick as Pop/Ganzenlicher, Richard Poe as Hasler, and Roz Ryan as Mabel.

The cast also includes Bridget Berger, Stephen Berger, Kate Chapman, Paula Leggett Chase, Jennifer Cody, David Eggers, Michael Halling, Bianca Marroquin, Michael O'Donnell, Vince Pesce, Devin Richards, Jeffrey Schecter, Amber Stone and Debra Walton.

Officially opens February 23 at the American Airlines Theatre in New York City.

DAME EDNA the incomparable international housewife, megastar and guru, storms back to Washington in her newly-minted extravaganza - an all-new theatrical infrastructure. She will glow from the stage in a series of never-before-seen gowns. Dame Edna will sing, dance, give psychic readings to astonished audience members, offer marriage counseling, and perhaps even heal…

The evening will include Dame Edna's version of a reality show. As she herself asserts, "I don't do shows, I make history. In a spooky way, I am theater in the making. My shows are not shows at all, they are events." Joining Dame Edna onstage will be The Gorgeous Ednaettes, scrumptious girl dancers in stunning costumes that the men folk will really appreciate if they can ever take their eyes off the Dame, as well as The Equally Gorgeous TestEdnarones, a dishy duo of boy dancers."

Dame Edna: The Royal Tour, her last Broadway production, received a Special Tony Award for a Live Theatrical Event. February 21 through March 5, at The National Theatre in Washington, D.C.

JOURNEY'S END by R. C. Sherriff. Set during the last great German offensive of the war and concerns a group of British soldiers, showing the effects battle has on them-physically, mentally and spiritually-and celebrates the resilience of the human heart even during the most extreme of circumstances.

When Journey's End was first staged in 1929 it was called "the play that swept the world" and created a sensation that remains unmatched. Certainly no play of its time had the same impact, and its power remains undiminished today.

Alley Artistic Director Gregory Boyd directed a new production of Journey's End for Joanne Woodward's Westport (Connecticut) Playhouse this past August, and has been interested in scheduling an Alley production for some time.

Journey's End will fill the time slot previously scheduled for Garson Kanin's comedy Born Yesterday featuring film and stage actress Marisa Tomei. Tomei, whose film schedule presented scheduling conflicts, is in discussions with the Alley about a collaboration in an upcoming season.

Alley Theatre Resident Company Actor James Black will recreate his role of Lieutenant Osborne from Boyd's Westport Playhouse production.

The success of Journey's End (1929), R.C. Sherriff's first play, allowed him to become a full-time writer. He also wrote screenplays for a number of classic films including The Invisible Man (1933), Goodbye Mr. Chips (1933), The Four Feathers (1937) Lady Hamilton (1941), Odd Man Out (1945), and The Dam Busters (1955). He also published an autobiography, No Leading Lady (1968). Sheriff passed away in 1975.

Journey's End will begin previews on the Alley's Hubbard Stage Friday, February 24, with opening night scheduled for Wednesday, March 1, and running through Sunday, March 19. Houston, Texas.

THE BOY FRIEND Book, Music and Lyrics by Sandy Wilson. Choreographed by John DeLuca.

Directed by Julie Andrews, its original Broadway star, The Boy Friend is a jazzy, romantic spoof of 1920s musical comedy.

Amidst happy flappers and perfect young ladies, romance blooms on the French Riviera as an English heiress suddenly falls for the delivery boy and professes her love at the Grand Ball.

A family favorite, this joyful comedy sparkles and will leave you floating on air with Won't You Charleston with Me?, It's Never Too Late to Fall in Love and more.

Plays the Buell Theatre in Denver February 21-March 5.


| | | |
| --- | --- | --- |
| | | |
WHO'S WHERE


KRISTIN CHENOWETH performs Sunday, February 26, at the Walt Disney Concert Hall in Los Angeles.

Donald Smith, artistic director. James Followell, Musical Director, piano. Jeff Harnar, Valerie Lemon, Craig Rubano, KT Sullivan & Lumiri Tubo, Vocals.

For decades, the inimitable English-born cabaret singer Mabel Mercer (1900-1984) enthralled audiences in Europe and the United States; she also influenced singers from Frank Sinatra to Lena Horne. Donald Smith, executive director of the Mabel Mercer Foundation, and a long time friend and associate of Mercer, presents some of the songs that made her a legend. Her legacy is particularly well-suited to Lyrics & Lyricists since she was known for considering lyrics first as she prepared her repertoire, and her performances offered unique insights into the interplay of words and music.

Donald Smith has been actively involved with the world of cabaret for over forty years. For more than two decades, he worked closely with Mabel Mercer; he has also worked with cabaret legends Andrea Marcovicci, Michael Feinstein, and Steve Ross, among many others. Smith revived cabaret at The Oak Room of New York's legendary Algonquin Hotel, and through The Mabel Mercer Foundation, he has presented the annual, week-long Cabaret Convention at New York's Town Hall for 15 years.

February 25-27 at the 92nd Street Y in NYC.

COLDPLAY perform this evening, Sunday, February 19, at the Pepsi Center in Denver. On Monday they take to the Qwest Center in Omaha. Wednesday finds them at the Palace of Auburn Hills in Auburn Hills, MI. On Thursday they are on stage at Freedom Hall in Louisville, KY> On Saturday they are in the spotlight at the Toyota Center in Houston. Next Sunday they entertain their fans at the American Airlines Center in Dallas.

BILLY JOEL center stage Saturday, February 25 at Madison Square Garden in NYC.

BROOKS AND DUNN top line the Reno Events Center in Reno, Nevada on Thursday, February 23. On Friday they appear in Santa Ynez, CA at the Chumash Casino and on Saturday the performance is in Primm, NV at the Star Of The Desert Arena. Next Sunday they are in Tucson, AZ for a show at the Anselmo Valencia Amphitheatre.

GEORGE JONES headlines the Tuesday, February 21, show at the Redding Convention Center in Redding CA. On Thursday he stars at the Luther Burbank Center in Santa Rosa, CA. Saturday the show moves to the Paramount Theatre in Oakland. Next Sunday he can be enjoyed at the Jackson Rancheria Casino in Jackson, CA.

CLINT BLACK on stage February 25 at the South Coast in Las Vegas.

JOY BEHAR in a rare Vegas appearance, will be telling funny stories February 23 at the Flamingo.


PIFFLE AND PROFUNDITIES


A CASHMERE HOT WATER BOTTLE COVER was one of the items in the goodie bag doled out at The Brit Awards, the annual United Kingdom pop music awards founded by the British Music Industry. The awards, which took place February 15 and were televised the next night, weren't all freebees and accolades. All proceeds go to charity: The BRIT School for Performing Arts and Technology and Nordoff Robbins Music Therapy. Over 7,000 young people have been given free education and the opportunity to enter the school since its opening in 1991 and more than 10,000 children and adults have been helped by the phenomenal music therapy work carried out by Nordoff-Robbins.














Next Column: February 26, 2006
Copyright: February 19, 2006. All Rights Reserved. Reviews, Interviews, Commentary, Photographs or Graphics from any Broadway To Vegas (TM) columns may not be published, broadcast, rewritten, utilized as leads, or used in any manner without permission, compensation and/or credit.
Link to Main Page
---
Laura Deni


CLICK HERE FOR COMMENT SECTION