! >
Broadway To Vegas
  SHOW REVIEWS     CELEBRITY INTERVIEWS     GOSSIP     NEWS 
| | |
| --- | --- |
| | |
Copyright: February 19, 2001
By: Laura Deni
( COMMENT SECTION )

DAMONE RETIRES, TORME' DEBUTS
His career spanned over five decades. Fans wish he would have gone on forever. But last week crooner Vic Damone - the guy Sinatra said had the best pipes in the business - performed his final engagement at the Kravis Center in West Palm Beach, Florida.


VIC DAMONE

He retired with class and style performing before his wife, four children, grandkids and a packed house of friends and fans.

Along the way Damone - born Vito Farinola - acquired a string of hit records, and spent decades as a Vegas mainstay.

Millions of fans worshipped him and Damone enjoyed the perks of celebrity.

He once paid a Las Vegas showgirl to run naked through the men's steamroom. Damone and his buddies were in the steambath when the well endowed lady arrived on schedule and began her trot. While the guys grabbed for towels Dean Martin calmly eyed the situation - watching the lady's every move. Martin simply nodded his head approvingly saying "Lovely ... lovely."

Vic, the guy critics dubbed "a 1940s Sinatra with a touch of Torme'," suffered a stroke last June, which interrupted a scheduled final concert tour. Deciding to focus his attention on his wife, designer Rena Rowan-Damone, whom Vic credits with saving his life during the stroke, his four children and grandchildren, the handsome singer fought back tears as he took his final onstage bow to an audience that jumped to their feet applauding his performance and career.

It's a career that spans popular standards written by Cole Porter, George Gershwin, and Sammy Cahn.

He credits his mother with musically empowering him. He frequently told audience the story of his mother, who spotted his talent when he was a child, scrimping to get $1 a week for his singing lessons and subway fare from Brooklyn.

After winning a place on Arthur Godfrey Talent Scouts, in 1947, he started singing regularly on the radio and at nightclubs, and signed with Mercury Records. I Have But One Heart gave him his first hit but his first big success was Again from the 1948 film Road House. Another million-seller was You're Breaking My Heart, based on the turn-of-the-century ballad by Leoncavallo, composer of the opera I Pagliacci. Damone was a sought after television guest.



At the lower left - in type really too small to read- the guests are listed: Ronald Reagan and Vic Damone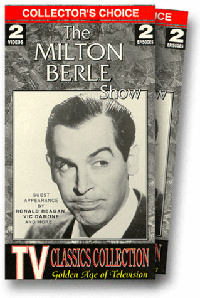 Signed to a film contract by MGM, like many singers of the time, Damone had an undistinguished screen career beginning with Rich Young and Pretty and ending with Spree. In between was Kismet a miserable experience for Damone, since director Vincente Minnelli used Damone as the scapegoat for anything that went wrong with the production.

By the early fifties Vic was a successful recording star. But it was his recording of On the Street Where You Live from Lerner's and Loewe's Broadway show My Fair Lady, which put Damone into super-star status. His version of An Affair to Remember, one of the last songs written by Harry Warren, is unequaled by anybody.

It was fitting that Damone used that song to close his two hour performance at the Kravis Center, which featured a 60-piece orchestra, led by veteran pops conductor Richard Hayman.

Kravis Chairman Alex Dreyfoos took to the stage and delivered a post-performance speech to the audience. "Vic Damone is the kind of performer who comes along once in lifetime," he said. "Fortunately, he came along in our lifetime."

As Damone was bidding farewell Steve March Torme', son of the late Mel Torme' was making his major debut - ironically also at the Kravis Center with the Palm Beach Pops, where his father had performed seven years ago. It was Steve's first concert with a large orchestra.



STEVE MARCH TORME'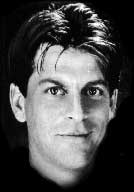 March Torme' was only 4 years old when his father and mother, Candy, divorced. He grew up in Scarsdale, N.Y. Mel lived in Los Angeles and Mel's sister, Myrna Williams, is a long time Las Vegas resident and elected political official.

When Steve was 5, his mother married actor Hal March, the well-known stage and screen personality who hosted the $64,000.00 Question show on NBC.

He started putting bands together at the age of twelve - only they were rock bands. He was a fan of the Beatles, Todd Rundgren and Hall & Oates

But what he really was - was a jock. He wanted to be a major-league baseball player and was consumed with playing baseball, a game he was taught by Hal March. He was good and was part of the U.S. national team in Israel for the Maccabee Games. He also played tennis so well that he teaches the game.

Teaching tennis was his day job until recently, when he began stringing together tour dates.



MEL TORME'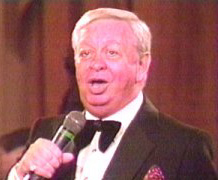 He started out small - on the Border's Book Store tour in southern California performing with his musical director, Steve Rawlins on piano. Then he branched out to places like the Cinigrill.

Tall and handsome, he has also dabbled a bit in Hollywood. He played a bit role as "Stevie" on Lucille Ball's 1960s show, Here's Lucy, and counts her son, Desi Arnaz, Jr., who lives in Boulder City, NV as one of his closest friends. A year ago Steve opened the show for Lucie Arnaz, when she starred at Feinstein's at the Regency in New York City.

Steve also played a reporter in the Lindbergh kidnapping TV movie, Crime of the Century, and for two years sang on The New $100,000 Name That Tune game show on ABC.

Five years ago he changed his name from Steve March to Steve March Torme'. While becoming his father's son has opened doors, it's Steve who has to prove he can perform.

The name change wasn't meant as a slap to Hal March, the man who gave him his last name and raised him as his own son. Steve is emphatic that Hal was his father - "It was Hal March that raised me."

Although he didn't really live with or know Torme', the two became closer during the last 15 years of the singer's life. They even recorded a duet, Straighten Up and Fly Right, on March Torme's first CD. Just before he died Torme' heard the first album and "really liked it." Steve's second CD, The Night I Fell for You, was recently released.

The young March Torme' took part in a tribute to Mel, last Sept. 6th at the Hollywood Bowl. He performed songs associated with Mel's career, backed by Donny Osborne, Mike Renzi, John Leitham and Ken Peplowski - musicians Mel worked with during the past 20 plus years. Also performing at the show were Cleo Laine, Jon Dankworth, and Maureen McGovern.The evening was hosted by Mel's longtime friend, Harry Anderson.

March Torme's debut with the Pops for five performances was entitled A Salute to Mel Torme'. Using some of his father's orchestral arrangements, his program includes favorites associated with the older Torme', such as The Christmas Song. He also performed a six-song set of original music with his trio: pianist Steve Rawlins, Los Angeles bassist Paul Moran, and Oregon-based drummer Donny Osborne, who was his father's drummer for 23 years.



Broadway To Vegas is supported through advertising and donations. Priority consideration is given to interview suggestions, news, press releases, etc from paid supporters. However, no paid supporters control, alter, edit, or in any way manipulate the content of this site. Your donation is appreciated. We accept PAYPAL. Thank you for your interest.


FAT TUESDAY, ELVIS AND MARDI GRAS

It's that time of year when women bear their breasts in public just so some strange man in a mask will toss cheap plastic beads at her.
Fat Tuesday - Mardi Gras. New Orleans is in a party hardy mood.

And, don't forget your Elvis wig because this year the Elvis krewe is bigger and better.

Mardi Gras always falls on the Tuesday that is 46 days before Easter, always the day before Ash Wednesday - which is the start of Lent.

Carnival refers to the season of revelry before Mardi Gras. It begins officially on Jan. 6, which is known as Twelfth Night or Kings' Day, so named because it falls 12 days after Christmas on the day the Wise Men are said to have reached Bethlehem.

Carnival celebrations fall into two categories: public and private. The private celebrations are balls, held by clubs called krewes. Some krewes let anyone join, while others are exclusive and made up mostly of FONOF (fine old New Orleans families).

Most krewes are named for figures in Greek mythology, like Bacchus for the god of wine or Orpheus for the god of music - no coincidence the latter was co-founded by Harry Connick Jr.

The first New Orleans Masquerade, was held in 1857 by Comus at the Gaiety Theatre (later called the Varieties Theatre) which is now home to a parking garage. The first Rex balls, from 1873 to 1906, were held in Exposition Hall, later called the Washington Artillery. From 1907 to 1929, Rex held its ball at The Athenaeum, where legendary tenor Enrico Caruso made his only New Orleans appearance in June 1920.

Actually Rex, which means King, was named for the Russian Grand Duke Alexis Romanoff who decided to come to the Mardi Gras in 1872, and a civic-minded group formed a krewe they call Rex. Soon, Rex became king of Carnival, and an international symbol of the holiday.

Anywhere there is royalty, there is something to spoof and the krewe Zulu takes it to an art form. They've been doing it since 1906 and finally in 1916 Zulu became officially incorporated. The first king ruled with a banana stalk scepter and a lard can crown. Rex arrived at the city via steamboat, Zulu via oyster lugger. In 1949 Louis Armstrong rode the boat as king of Zulu.



Louis Armstrong was King of Zulu with a banana stalk scepter and a lard can crown
DANNY KAYE was the first celebrity Bacchus King
In 1969 the upstart new Krewe of Bacchus changed the way Carnival conducted itself by naming a Hollywood celebrity - Danny Kaye - its king and launching its parade with the biggest floats ever to hit the streets. It proved instantly popular, and was copied by other new krewes.

There are nine parades on Mardi Gras, most notably Rex. Always a prominent New Orleans businessman - is considered the king of Mardi Gras. Every parade has a theme, usually borrowed from mythology, history or Hollywood. Most parades have mock royalty, kings and queens and dukes and duchesses, either drawn from the ranks of the krewe's members or big name celebrities .

Now comes the Elvis Krewe with most of the members opting for the 70's Elvis look of white polyester jumpsuits with bell bottoms and the cape. Sunglasses, sideburns and a pompadour jet black wig are a must!

Anything related to Elvis will work though. They have had costumes of Ann-Margret, 50's type waitresses, and Marilyn Monroe. They've even had a Planters Peanut Elvis, an Afro Elvis, and the Graduation ELVI!!!

Some of things Elvis krewe members throw are extremely popular. Krewe of Elvis trinkets include the KOE bumper stickers, the "I flashed Elvis" scarves, the KOE "donut medallions" and the Blue Hawaii leis. This year will also prove to be a break through year for Elvis throws with the addition of the KOE to-go cups and the KOE golden records.

If you aren't going to be dolled up as Elvis then make sure you include something purple, green and gold, chosen in 1872 by that year's Rex. In 1892 the Rex parade higher-ups gave the official colors meaning: purple for justice, green for faith and gold for power.

The one ubiquitous food of the Carnival season is the king cake. Sweet roll-like dough is shaped into a big circle, cooked and brushed with purple, green and gold sugar or icing. Then a plastic baby, representing the Christ child, is tucked inside. Whoever gets the piece of cake containing the baby must, by tradition, provide the next king cake. That can get very expensive, so try to avoid getting that piece. You can break off a tooth and besides coming up with the slice that has the baby doesn't guarantee any sort of good luck.

Nowadays, king cakes come with a variety of fillings from chocolate to pineapple. New Orleans bakeries report selling 4,000-5,000 king cakes each day during the Carnival season, and cakes are shipped to destinations worldwide.


SWEET CHARITY

THE SEVENTH ANNUAL: RED BALL held on Valentine's Day at the Waldorf in New York City, honored Clive Davis and Elaine and Jerry Ohrbach.



JERRY ORBACH was once Mae West's chauffeur
Staged by Broadway producer Marty Richards in honor of his late wife Mary Lea Johnson who passed away from cancer. In her memory Richards created The Mary Lea Johnson Institute - she was from the Johnson & Johnson clan. Richards annually presents this ball to raise funds for the Institute The Ball also benefits the Children's Advocacy Center of Manhattan. The Center is a nonprofit, privately funded project of Childhelp USA, the Georgette Mosbacher Foundation, and the Mary Lea Johnson Richards Foundation in association with the Mt. Sinai Medical Center.

The Red Ball, in which ladies are requested to wear red, honors deserving individuals, including those in the entertainment industry. In the past those honored include Michael Douglas, Michael Bolton, Goldie Hawn and Kurt Russell, Angela Lansbury and Peter Shaw, Veronique and Gregory Peck, Joan Rivers and Jane Seymour and James Keach.

During this year's event honoree Jerry Orbach divulged that as a struggling actor he needed a job to pay the bills so he got a job as Mae West's chauffeur.


APPLAUSE, APPLAUSE

PHOENIX HOUSE honored John Spencer the actor who plays a recovering alcoholic on The West Wing, and his West Wing cohorts Martin Sheen and Aaron Sorkin for their enlightened depiction of addiction. Spencer is currently doing a double gig. In addition to West Wing he's battling the bottle right now on the L.A. stage in Warren Leight's play Glimmer,Glimmer and Shine.

MARK LINN-BAKER has been tapped by artistic director Carole Rothman to oversee the Second Stage company during her half-year vacation, that started Jan. 1. A co-founder of New York Stage and Film, Linn-Baker was last seen off-Broadway in Chesapeake and had recent Broadway roles in A Flea in Her Ear and A Funny Thing Happened on the Way to the Forum.


ART AND ABOUT

DANGEROUS CURVES: THE ART OF THE GUITAR is on display at the Museum of Fine Arts, Boston through February 25.



The Flying V model this was played by the legendary "guitar God" Jimi Hendrix for several months in 1967. The hand painted psychedelic decoration replicates designs originally applied by Hendrix himself, which were unwittingly removed by a subsequent owner.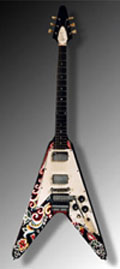 John Lennon purchased this modest guitar by mail for about ten pounds or $28.00 Trading up to an electric, he left this guitar in the care of his Aunt Mimi and later added the headstock plaque commemorating her early warning: "Remember, you'll never earn your living by it."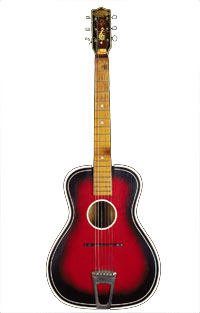 From the royal courts of Europe to the fans at Woodstock, the guitar has captivated audiences for centuries.

In the first exhibition dedicated to its visual design and evolution, Dangerous Curves Art of the Guitar reveals how fashion, technology and musical tastes have literally shaped the world's most popular instrument

Electric guitar Stratocast is the model favored by musicians from Buddy Holly to Eric Clapton. The world's most recognizable guitar, it may seen tame now, but it was wildly radical when it was invented

The exhibition features more than 130 guitars from museum and private collections around the world, including those owned by legendary performers, John Lennon, Jimi Hendrix, Les Paul, Chet Atkins and Prince.

A free audio guide, narrated by James Taylor, with commentary and recordings by leading musicians, takes visitors through this remarkable exhibition.

EDVARD MUNCHE: PSYCHE, SPIRIT and EXPRESSION including 70 paintings and prints, is on view through May 21 at the McMullen Museum of Art Boston.



VENECIA by Jorge Accame adapted by Arthur Laurents stars Chita Rivera. The comic fable Venecia has received a sparkling new adaptation by renowned playwright Arthur Laurents of West Side Story, and Gypsy fame. Set in the backyard of a small, broken-down brothel, the ladies who work there dream of better lives. The elderly La Vieja -- who once entertained men of great renown -- is still waiting for a chance to see Venice, the 'city built on water' that haunts her dreams. Her faithful friends devise a hilarious plan to help La Vieja reach her impossible dream one that both surprises and delights. Performed by George Street Playhouse at George Street Playhouse. Performances through March 11.

A THOUSAND CLOWNS starring Tom Selleck runs February 27-March 11 at the Shubert Theater, Boston, MA

AUGUST RISING direct from Beijing Historic folklore fused with grace and athleticism in a lyrical evening of dance and music. Presented by the Chica Dance Theater at The Shubert Theatre, Chicago February 27-March 4.

BROADWAY AT THE ALADDIN Hotel in Las Vegas presents Swing March 21-25 followed by Fame April 18-21 , Fosse May 22-26 with Les Miserables closing out the 2001 season with performances September 19-22.

PETE N' KEELEY the off-Broadway musical, has been injecting some name power to boost up attendance. Phyllis Diller did a turn followed by JoAnne Worley, of Laugh-in Fame. The next "special guest star from the 1960s" is - Charo!

MACBETH a full length ballet. Choreography by Francis Patrelle. Music by Peter Ilitch Tchaikoveky. Gillian Bradshaw-Smith Set Designer, Rita B. Watson Costume Designer, David Grill Lighting Designer. The Kaye Playhouse at Hunter College, NYC.

CIRQUE DU SOLEIL productions are hitting milestones. Mystere at Treasure Island Hotel in Las Vegas welcomed the production's 5 millionth customer last Friday, the first Cirque production to reach that mark. Quidam, which is playing in Manchester, England is about to pass 4 million, and O at the Bellagio in Las Vegas is nearing the 2 million mark. New kid on the block is Dralion in Miami. The VIP opening sponsored by Kremly vodka drew the likes of Jon Secada, Gloria Estefan, Pat Riley and Peter Beard.


WHO'S WHERE

ANN REINKING the talented dancer/ choreographer who was part of the creative spine that develop Fosse, joins the Broadway cast March 2-April 1. She'll be co-starring with Ben Vereen, a Bob Fosse veteran from Pippin and All That Jazz, who joined Fosse on January 26. Don't miss this show.

REBA McENTIRE elevating Annie Get Your Gun to don't miss status. Reba is schedule to be in the production through May 27, but it's no secret that the producers would like her to extend her stay.

LEE ANN WOMACK honored to be the first person President Bush and Laura Bush invited to perform during their first formal black-tie dinner at the White House. First Lady Laura is a big Womack fan and she requested the fellow Texan for The Annual Dinner for Governors February 25 at the White House.

ANN HAMPTON CALLAWAY the Tony nominated star of Broadway's Swing, who has lost 40 pounds and swore off red meat, alcohol and caffeine, performs Feb 22-25 at Founders Hall, Orange County Performing Arts Center, CA.

MATCHBOX TWENTY performs in Minneapolis, MN at the Target Center on February 27. The next night Feb 28 they can be found in Milwaukee, WI on stage at the U.S. Cellular Arena.

JENNIE EISENHOWER the 22-year-old granddaughter of President Richard Nixon and great-granddaughter of President Dwight Eisenhower, is making her New York stage debut in Suburb, staged by the York Theatre Company, St. Peter's Church in the Citigroup Center, NYC. Currently in previews, the official opening is March 1 with the production running through March 25.

AMANDA DONOHOE replaces Jerry Hall baring all on stage as Mrs. Robinson in Terry Johnson's stage adaptation of The Graduate. The official opening for the new cast - which also includes Andres Williams (as Benjamin) and Coral Beed (as Elaine Robinson) - is February 21. at the Gielgud Theatre. London The stage play is written by Terry Johnson, adapted from the original novel by Charles Webb and the motion picture screenplay by Calder Willingham and Buck Henry. Johnson also directs, with design by Rob Howell, lighting by Hugh Vanstone and sound by Mike Walker.

LEE MERIWEATHER Erie Meyer Civic Center in Gulf Shores, AL on February 20-22 Tickets $28-$32.

THE STATLER BROTHERS Von Braun Center in Huntsville, AL on February 21.

PETER FRAMPTON Rio Hotel, Las Vegas February 23-24.

TONY BENNETT February 25 in Fort Lauderdale, Florida at the Broward Center. Tony's daughter, Antonia, sings on alternate Wednesday nights at Brunelli's Italian restaurant in New York City.

BARBARA COOK and MICHAEL FEINSTEIN February 23-24 in Cerritos, CA at the Cerritos Center.

NELL CARTER opens at Feinstein's at the Regency, NYC Tuesday night, through March 3.

CLORIS LEACHMAN at Tower Records in Nashville on February 25 to autograph copies of her album of pop standards Have You Heard Singing and Swinging produced by Frank Lowe.

ST PAUL CHAMBER ORCHESTRA WITH BOBBY McFERRIN appears at the Performing Arts Center, Las Vegas on February 23. Since 1994, McFerrin, a ten time Grammy Award winner, has held the position of creative chair with the SPCO. He will perform the Vivaldi Concerto in G minor for voice and cello, the music of Bizet, as well as some solo improvisations.


THIS AND THAT

THREE THOUSAND MILES TO GRACELAND is a movie that spent two weeks filming in Las Vegas at the Riviera Hotel.

It's about a bunch of ex-cons who plan to rob a casino. They figure the best time to pull off the heist is during a convention of Elvis impersonators. Dressed up as one of them the perpetrators hope to blend right into the crowd. The flick stars Kevin Costner, Kurt Russell, Christian Slater, David Arquette. Bokeem Woodbine Kevin Pollack. Seeing that group dressed in spandex and sequins is worth the movie admission price. An added attraction is a cameo appearance by Paul Anka as a pit boss.

The world premier in LA happens on February 20, before opening to the general public on February 23. A New York City premier was planned, but cancelled. Warners said due to unavailability of the stars for two premiers. Riviera Hotel executives were given the choice of having a VIP screening in Las Vegas before the 23rd or being invited to the LA premier. It didn't take the executives long to opt for the red carpet treatment themselves and attend the premier in Los Angeles.

LORRIE MORGAN thinks she knows something about food because her late father - that would be country legend George Morgan - had a nifty recipe for hot and spicy chicken. Apparently, Lorrie inherited the recipe and last Tuesday opened up an eatery called Hot Chicken in White Creek, TN. Lorrie says that when she isn't on the road she'll spend time in the cafe and will sign autographs, providing the person has ordered something from the menu. A specialty of the house is - hot fried chicken liver sandwiches. Memo to Lorrie: Don't quit your singing job. She performs in Las Vegas March 30-April 1 at the Orleans Hotel.

AVA GARNDER

FRANK SINATRA AND AVA GARDNER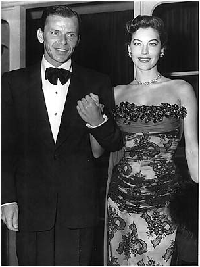 born on Christmas Eve, 1922, in a rural community 7 miles east of Smithfield, NC - the youngest of five daughters and two sons of Jonas and Mary Elizabeth Gardner is the goddess who graced movie screens during the Golden Age of Hollywood.

Along the way she married Mickey Rooney, Artie Shaw and Frank Sinatra.

If Rep. Bob Etheridge, a Lillington, N.C. Democrat has anything to say about it Ave will soon turn into a postage stamp. He began a campaign last Thursday to have the U.S. Postal Service issue a stamp in Gardner's honor.

Said Etheridge: "If they can put Daffy Duck and the dung beetle on a stamp, for sure there is a place for someone as glamorous and accomplished as Ava Gardner on one."




Mention BROADWAY TO VEGAS for Special Consideration
Call (800) 942-9027









Next Column: February 26, 2001
Copyright: February 19, 2001. All Rights Reserved. Reviews, Interviews, Commentary, Photographs or Graphics from any Broadway To Vegas (TM) columns may not be published, broadcast, rewritten, utilized as leads, or used in any manner without permission, compensation and/or credit.
Link to Main Page
---
Laura Deni



U.S. Postal Address: Post Office Box 60538, Las Vegas, NV 89160
( COMMENT SECTION )