! >
Broadway To Vegas
  
  REVIEWS INTERVIEWS COMMENTARY NEWS

| | |
| --- | --- |
| | |
A PORTABLE THEATRE - -MUSICAL SCANDALOUS CAUSES CHURCH SCANDAL - - WAIT, LATER THIS WILL BE NOTHING - - PLATINUM NIGHT SPORTS AUCTION - - THE ABOLITIONISTS AT ROKEBY MUSEUM - - OREGON SHAKESPEARE FESTIVAL'S 2013 SEASON OPENS - - THE BOB WILLS MUSICAL - - THE ELTON JOHN ACADEMY AWARDS VIEWING PARTY - - DONATE . . . Scroll Down




Copyright: February 17, 2013
By: Laura Deni
CLICK HERE FOR COMMENT SECTION


CHICAGO'S JEFF AWARD WINNER DESIGNS PORTABLE THEATRE: ANDREW LLOYD WEBBER FOUNDATION BANKROLLS
Jeff Award winner Lucy Osborne designed The Roundabout Auditorium. Photo: Paines Plough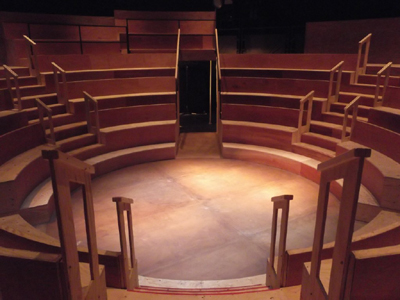 A fully self-contained portable theatre. A 111-seat portable theatre-in-the-round, which packs flat, and sets up in a few hours.

It's the brainchild of Paines Plough, known as the United Kingdom's national theatre of new plays and now partially bankrolled by Sir Andrew Lloyd Webber's Foundation.

Thanks to a Valentine's Day donation of almost $300,000 the portable theatre, called the Roundabout - no connection to New York's leading not-for-profit theater - will now be able to "pop up anywhere from theatres to school halls and sports centres, in every corner of the country."

Or, for that matter, in most parts of the world.

James Grieve and George Perrin, Joint Artistic Directors at Paines Plough, explained: "In October 2011 we built a prototype of the auditorium which housed three new plays by three of UK's hottest writers – Duncan Macmillan, Nick Payne and Penelope Skinner. The prototype and the plays had their first outing at Sheffield Theatres, with whom we co-produced the season. We then brought the prototype and the season of plays to Shoreditch Town Hall in Autumn 2012."

"It was the company's ambition to be able to tour this model, taking new plays across the UK to both established theatre spaces, and non traditional theatre venues. This ambition can now be realized thanks to the financial support of the Andrew Lloyd Webber Foundation."

The project designer is Lucy Osborne, who won the Jeff Award for Scenic Design (large) for Twelfth Night, staged at the Chicago Shakespeare Theater. She graduated from Motley Theatre Design School in 2003, and received a BA in Fine Art from the University of Newcastle.

The portable theatres will be constructed from sustainable materials.



Emma Chapman is the Roundabout's lighting designer. Photo: Paines Plough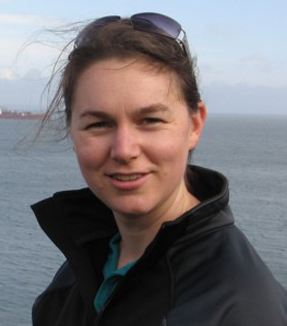 Lighting design is by Emma Chapman who trained at Bristol Old Vic Theatre School where she was the winner of the Douglas Morris Award for Touring.

Paines Plough Producer Tara Wilkinson answered some questions for Broadway To Vegas.

Can the structures handle lighting or sound equipment?

"The lighting and sound will be contained within the structure. Lighting will be a lighting box in "lid" and in the floor."

Does the setting up and taking down of the structures pose any issues with labor unions?

"No, as long as we pay overtime where overtime is due to SM or crew."

Do different towns or areas require the company to file for and obtain permits or permission from any government agency before setting up a Roundabout?

"If we are going into "found spaces" we may need to apply for entertainment license but we will ask near arts venues to be partners work together on the process."

The project is an evolving one.

"The first outing of the Roundabout in Sheffield saw the structure remain in it's original bare wood structure, this provided some challenges as wood bounces light making it difficult to focus the space – the audience however helped this with the variety of clothing," was a post by lighting designer Emma Chapman.

Chapman is excited about the feel of the portable venue.

"The proximity of the audience to the actors is fantastic, it has an old fashioned amphitheatre feel. The height of the auditorium gives uninterrupted views of the acting area from all seats, offering a unique experience from different areas – the front row feels as though you are onstage, whilst the areas over the voms give the feeling of a private box. It is quite unusual to have a pure round, from my first experience of working in the roundabout I feel this accentuated the audiences experience of the text and their ability to connect with the actors."

Grieve and Perrin call the Andrew Lloyd Webber Foundation donation "a game changer."

"We are hugely grateful to The Andrew Lloyd Webber Foundation for its gamechanging support of The Roundabout Auditorium. We are thrilled the Foundation shares our passion for finding new ways to enable more people around the country to experience new plays. Its support will play a major role in making Roundabout possible, meaning our pop-up in-the-round touring amphitheatre will hit the road with a repertory of three outstanding new plays, offering audiences everywhere a unique theatrical experience. For years to come, the best new plays will turn up on people's doorsteps in theatres, school halls, sports centres, warehouses and even parks. The ALW Foundation is supporting us to make this touring revolution possible, and we are galvanized as we seek to build a legacy of enjoyment of new plays."

The theatre with the unusual moniker - Paines Plough - is named after a beer and the location of the bar where it was drunk. It was 1974. John Adams and David Pownall were in their favorite pub located in Plough, drinking a cask beer called Paines bitter, discussing creating a touring theatre company. It's not certain the role alcohol played in their creative thought processes, but the guys decided to name their theatrical company in honor of the beverage and bar. Thus was fermented - Paines Plough.

Since that bar drinking event, the company has produced more than 100 new productions by world renowned playwrights like Stephen Jeffreys, Abi Morgan, Sarah Kane, Mark Ravenhill, Dennis Kelly and Mike Bartlett.

Their 2012 season saw 11 productions touring to 44 towns and cities across the UK and internationally.

Founder John Adams handed the Artistic Directorship to John Chapman in 1982. Pip Broughton succeeded in 1985, followed by Anna Furse (1990), Penny Ciniewicz (1994), Vicky Featherstone (1997) and Roxana Silbert (2005). The current Artistic Directors James Grieve and George Periin took up post on February 1, 2010.







Broadway To Vegas is supported through advertising and donations. Priority consideration is given to interview suggestions, news, press releases, etc from paid supporters. However, no paid supporters control, alter, edit, or in any way manipulate the content of this site. Your donation is appreciated. We accept PAYPAL. Thank you for your interest.


ART AND ABOUT


PICASSO AND CHICAGO

Pablo Picasso. The Red Armchair, 1931. Gift of Mr. and Mrs. Daniel Saidenberg. © Estate of Pablo Picasso / Artists Rights Society (ARS), New York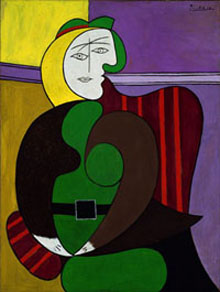 a major exhibition that will celebrate its exceptional holdings of works by artist Pablo Picasso (1881–1973).

Over 250 of the finest examples of the Art Institute of Chicago's extraordinary collection of Picasso's paintings, sculpture, prints, and drawings as well as major loans from private collections in the city will be on display.

The exhibition will coincide with the centennial of the Armory Show at the Art Institute, the first major exhibition of avant-garde European art presented in the United States and the first time Picasso's works were displayed in an American museum. The exhibition will be the first major Picasso exhibition organized by the Art Institute in almost 30 years.

The museum began its collection of works by Picasso in the early 1920s with two figural drawings (Seated Male Nude and Sketches of a Young Woman and a Man, 1905 and 1904/05, respectively), and in 1926 welcomed Old Guitarist (late 1903–early 1904) as a generous gift of Frederic Clay and Helen Birch Bartlett. Over time, the collection has expanded to include paintings such as the classically inspired Mother and Child (1921) as well as landmark sculptures including the cubist Head of a Woman (Fernande) (1909).

In addition, the museum boasts an exceptional collection of works on paper that include the monumental Woman Washing Her Feet (1944) and impressions of his most iconic works such as The Frugal Meal (1904), one of only three examples of the famous Blue Period etching actually printed in blue ink.

The exhibition will provide viewers a rare opportunity to chart Picasso's wide-ranging interests and explorations.

The presentation will not only survey Picasso's extensive material experimentations, but also subjects that are emblematic of the artist, including the emotive individuals of his Blue and Rose periods, the bold geometric forms of his Cubist years, the monumental personages from his post–World War II production, and his specific contributions to the city of Chicago. Special presentations on the themes and influences of the artist will be showcased throughout the museum's encyclopedic collection, allowing visitors to explore the broad and enduring impact of the eminent artist.

Picasso and Chicago organized by the Art Institute of Chicago and is on display Wednesday, February 20, 2013–Sunday, May 12, 2013.

WAIT, LATER THIS WILL BE NOTHING: EDITIONS BY DIETER ROTH art encompasses everything from painting and sculpture to film and video, but it is arguably through his editioned works—prints, books, and multiples—that he made his most radical contributions. These experiments include the use of organic materials such as "book sausages" filled with ground paper in place of meat, plastic toys mired in melted chocolate, a dazzling array of variations on printed postcards, and more, some of which explore issues of decay and decomposition.

Wait, Later This Will Be Nothing: Editions by Dieter Roth focuses on Roth's incredibly innovative and prolific period from 1960 to 1975. The centerpiece of the exhibition is an expanded presentation of Snow (1963–69), a Roth artist's book in MoMA's collection, featuring many more pages of the book than have ever been exhibited. These pages contain a trove of insightful information about the artist's creative process and plans for other works.

A selection of handmade books, miniature volumes, and the newly acquired Literaturwurst (1961–69), considered Roth's most radical experiment with the book format, will also be on view.

Beginning in the late 1960s, the German born Swiss artist began working with chocolate, a material that became intimately associated with his work, as he explored issues of decay and decomposition. Taken together, this selection of works offers a radical view of mediums that are historically considered staid and traditional, while giving insight into the work of one of the artistic titans of the 20th century.

The exhibition is organized by Sarah Suzuki, Associate Curator, Department of Prints and Illustrated Books, The Museum of Modern Art.

February 17–June 24, 2013 at MoMA in New York City.


SWEET CHARITY


HERITAGE AUCTIONS PLATINUM NIGHT SPORTS AUCTION

Beatles signed baseball. John Lennon signature shown in this photo supplied by Heritage Auctions.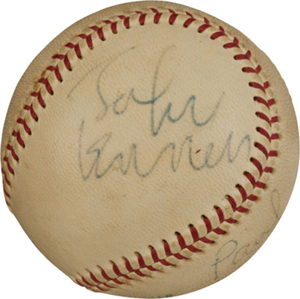 takes place at the Ukrainian Institute of America at The Fletcher-Sinclair Mansion in New York City on February 23.

A donation of $100 to the American Red Cross is required to attend the Live auction.

Over 100 items up for bid include the Beatles baseball billed as, "The Finest Known Example of a Baseball Signed by the Beatles." Estimated to fetch $40,000. Leave it to Charlie O. Finley, the Kansas City Athletics owner and peerless promoter, to coax one more show out of the Fab Four with the largest sum ever paid for a single performance ($150,000). Rather than a day of rest before engagements in New Orleans and Dallas, the young Liverpudlians took to the stage of Kansas City's Municipal Stadium, home of the loveable but hapless Athletics. Though the club was on the road when their stadium was set upon by over twenty thousand screaming fans, one of the ballplayers took steps to ensure that a stadium worker secured a memento for his girlfriend, utilizing a medium available in great supply, an Official American League (Cronin) baseball."

"From the sister of that lucky young lady comes the finest Beatles signed baseball we've ever encountered, a high-grade relic bearing 8/10 blue ballpoint signatures from John Lennon, George Harrison and Ringo Starr. Paul McCartney is just a touch lighter at 7/10. Each occupies his own side panel, and there is no other writing on the ball."

Then there is a baseball previously owned by Charlie Sheen. It's the ball Don Larsen threw on Oct. 8, 1956 in "the only perfect game in World Series history." Expected to sell for $20,00. The bloody sock worn by Kurt Schilling in Game Two of the 2004 World Series expected to be gaveled own for $33,000. Hall of Fame outfielder Earle Combs' collection, "The Finest 1927 Yankees Team Signed Baseball on Earth"; 20 signatures including Lou Gehrig, Babe Ruth, manager Miller Huggins going for an expected $200,000. Lou Gehrig's 1930 signed baseball expected to bring in $100,000. Same for Baby Ruth's signed baseball.

THE ELTON JOHN AIDS FOUNDATION (EJAF) will present its 21st annual Academy Awards Viewing Party on Sunday, February 24, 2013 at West Hollywood Park in Los Angeles. Sir Elton John and David Furnish will host the gala event.

Party guests will enjoy a sumptuous dinner whose menu has been designed by none other than Chef Gordon Ramsay, British celebrity chef, television personality, restaurateur, and holder of 14 Michelin stars. While chowing down the guests will watch a live telecast of the 85th Academy Awards. Following dinner, Jamie Niven of Sotheby's will conduct a live auction, a special musical guest will take the stage to perform, and DJ Johnny Dynell will spin tunes for guests to dance the night away.

This year's event co-chairs are Bill and Tani Austin, Johnny and Edwina Barbis, Joseph Blount, Chris Colfer, Miley Cyrus, John Demsey, Alec Gores, Tim Hanlon and Anthony Klatt, Neil Patrick Harris and David Burtka, Hugh Jackman and Deborah-Lee Furness, Diana Jenkins, Quincy Jones, Rashida Jones, Heidi Klum, Ryan Kwanten, Fred Latsko, Sandra Lee, Baz Luhrmann and Catherine Martin, Eric and Janet McCormack, Katy Perry, Tyler Perry, Caroline Scheufele, Sharon Stone, Edward Walson and John Waters.

The Foundation's Academy Awards Viewing Party is the most highly visible and successful fund-raising event in Hollywood on Oscar night. Over the past 21 years, this annual event has raised millions of dollars, which help the Foundation to support a wide range of initiatives, including direct treatment, care, and support services for people living with HIV/AIDS in marginalized communities, such as among young gay black men; providing injection drug users with clean needles to prevent HIV infection and transmission; and sexual health education for young people in America who are most at risk.


FLOP OF MUSICAL SCANDALOUS IS PROVING SCANDALOUS FOR RELIGIOUS GROUP


Money lenders have been purged and gossip mongers proliferate.

According to a story first published in the Los Angeles Times, investing $2 million in the Broadway flop of a musical Scandalous: The Life and Trials of Aimee Semple McPherson, based on the life of legendary Echo Park, CA evangelist, turned out to be a financial sin, inflicting substantial financial damage on her church.

Unnamed church officials told the L.A. Times that the Foursquare Foundation, which is affiliated with the Foursquare Church, reportedly suffering a $2 million loss when Scandalous closed on December 9, 2012 after 29 regular performances and 31 Broadway previews.

Foundation executive director Greg Campbell left the organization soon after Scandalous, folded its tent.

The church replaced most of the members of the foundation board following in the wake of the show's financial loss.

What isn't clear is whether the house cleaning had to do - not with a specific investment in Scandalous, but with the Foursquare Foundation investing in any high risk venture - a category in which all Broadway shows fall. Four out of five shows close without returning a profit for their investors. Or, if the negative fall out was because Scandalous closed without achieving the church's investment motive - recruiting new members.

If the production had made money, or if lines were forming to convert, would there have been a blood letting and a discussion about whether the religious foundation should have been involved in such an investment? Most grant making arms of religious organization have rigid, conservative grant making procedures.

While investing in Broadway is high flyer risky, using the theatrical boards to generate converts to a religion which strongly engages in evangelism outside church walls, is a reason which makes sense to those who follow that faith.

All evangelistic churches incur enormous expenses in attempting to recruit converts.

Its cost-benefit convert accountability.

The chip-and-dip-'em crowd, meaning you need to lure in prospects with such things as food (or revival shows, etc) in order to bring them to baptism, all cost money. Some churches estimate they spend $255 per baptised convert. On an investment of $2m, that's only 8,196 new sheep to the fold.

Churches know marketing.

The Church of Scientology, Mormons, Methodists and Unitarians all buy television advertising.

The Times quoted Dan Rupple, an Orange County-based Foursquare pastor who's also a comedy writer and a former production supervisor of Late Show With David Letterman and The Price Is Right. He said he thought the investment in Scandalous was "a good idea." Looking at the conversion aspects, he approves the marriage of evangelism and entertainment. "The media is the language of the day."

God knows that entertainment while spouting religion was Aimee Semple McPherson's forte.

Should Scandalous be reborn in regional theater, the producers might recoup some of their investment. The musical was created by Kathy Lee Gifford, who put her heart and soul into the musical, penning the book and lyrics with music by David Pomeranz and David Friedman. A Broadway cast recording of the musical is scheduled to be released this spring.

In a statement to The Times, the church said "the conclusion of Greg Campbell's employment with The Foursquare Church was completely unrelated to our investment in the musical 'Scandalous.'" The statement also said that the "changes made to the Foursquare Foundation board of directors were also unrelated to the investment in the musical 'Scandalous.'"

The Foursquare Foundation began awarding grants in 2005 using money that came from part of the church's $250-million sale of its radio station, KFSG-FM, five years earlier, according to the Foundation's website.

This isn't the first time the church has been involved in financial disasters. In 2004 Foursquare was criticized for investing in two "outside entities" which were described by federal agents as Ponzi schemes. The church's president and treasurer resigned.

The issue might not be whether to bank on Broadway but whether Foursquare needs financial advisers who actually understand that finance and hell have a symbiotic relationship.




SPREADING THE WORD


ROCKY MOUNTAIN EXPRESS by award-winning filmmaker Stephen Low, roars into the Heikoff Giant Dome Theater at the Reuben H. Fleet Science Center in San Diego, CA with a VIP Media Screening taking place on Thursday, February 28. Special Guest, Producer Pietro L. Serapiglia, will participate in a Q&A following the screening. The IMAX film officially opens to the public on March 9th.

Rocky Mountain Express weaves together spectacular IMAX aerial cinematography, archival photographs and maps and the potent energy and rhythms of a live steam locomotive to propel audiences on a present-day steam train journey through the breathtaking vistas of the Canadian Rockies and relates the extraordinary story of the building of the nation's first transcontinental railway. Ride the rails along deep river canyons and over high mountain passes - discover some of the most beautiful and rugged landscapes on earth and join in the human drama and epic engineering that shaped a continent.

Directed by Stephen Low, the production was filmed with full 15/70 negative - world's largest film format, guaranteeing spectacular image fidelity on the giant screen. Sound, too, is a vital part of the experience, and the team has carefully and faithfully captured and rendered in six-channel sound the remarkable symphony of sonic moods produced by a locomotive, matching this with an original musical score by celebrated composer Michel Cusson.

GIVE ME FEVER: THE MANY VOICES OF PEGGY LEE presented by 92Y's Lyrics & Lyricists. On February 23, 24 and 25 Lyrics & Lyricists tours Miss Peggy Lee's hip musical landscape with guest artistic director Billy Stritch and vocalists Barbara Fasano, La Tanya Hall and Gabrielle Stravelli.

Cabaret legend Marilyn Maye, who frequently includes Peggy Lee classics in her shows, joins the show as a special guest.

"Cool." "Sultry." "Refined." These are just a few of the adjectives used to describe the former Norma Deloris Egstrom, whose six-decade-long career encompassed jazz, popular music and success as a singer, songwriter, composer and actress.

February 23, 24 and 25 at 92Y in New York City.

THE ABOLITIONISTS will take center stage at Rokeby Museum in Ferrisburgh, VT on Sunday, February 24. Join in a discussion following up on the new PBS historical drama. The event will show a half-hour of excerpts from the broadcast and present a panel to get the conversation started.

The three-part series focused on five key figures from 19th-century America's most important reform movement. William Lloyd Garrison, Frederick Douglass, Angelina Grimke, Harriet Beecher Stowe, and John Brown all played different roles, but each made a lasting contribution. Abolitionists and their movement have often been sidelined in American history, and this series makes a convincing case for their enduring significance. They were ordinary people, but they made extraordinary change.

Rokeby Museum is a National Historic Landmark designated for its exceptional Underground Railroad history. Its mission is to connect visitors with the human side of the Underground Railroad and with the abolitionist Robinsons, who lived on this site for nearly 200 years.

CLYBOURNE PARK a staged reading of the Bruce Norris Tony and Pulitzer Prize winning play. Starring Tina Andrews and featuring Dana Segal, Edward Kassar, Parisa Fitzhenley, Tony D'Alessio, Jacinto Taras Riddick, Seth Hendricks and Alexandra Cohen-Spiegler.

Free admission. Tuesday, February 19, at Guild Hall in East Hampton, NY.

All staged readings at Guild Hall are sponsored in part by Dina Merrill and Ted Hartley.

KIDS' NIGHT ON BROADWAY 2013 FREE FAN FESTIVAL will take place at Discovery Times Square on Tuesday, February 26th.

The annual Fan Fest is free for all parents and children who have purchased a Kids' night on Broadway ticket. Aiming to enhance the experience of live theatre, the Fan Fest allow Kids' Night on Broadway kids to participate in special activities created by Broadway shows. The Fan Fest will include show-themed games and activities, makeup demonstrations, Autograph Alley with Broadway performers, a dance workshop with Revolución Latina, Broadway Karaoke, and much more, including a free theatre activity guide. The Broadway Green Alliance will also collect plastic bottle caps (plastic and metal) to incorporate in to the set for the new production of Peter and the Starcatcher Off-Broadway. For every handful of caps brought, a prize will be given.

Kids' Night on Broadway takes place February 25 – March 3 when kids ages 6 to 18 can see Broadway shows for free when accompanied by a full-paying adult. Participating shows so far include: Ann, Annie, Chicago, Hands on a Hardbody, Jersey Boys, The Lion King, Mamma Mia!, Mary Poppins, The Mystery of Edwin Drood, Nice Work If You Can Get It, Newsies, Once, The Phantom of the Opera, Rock of Ages, Rodgers and Hammerstein's Cinderella, Spider-Man: Turn off the Dark, and Wicked.

Off-Broadway productions participating are Avenue Q, Forever Dusty, The Gazillion Bubble Show, and Stomp.

During the entire week of Kids' Night on Broadway, the purchase of one Discovery Times Square adult ticket will admit one child for free to either Harry Potter: The Exhibition or Spy: The Exhibit.


OTHER PEOPLE'S MONEY


NEW YORK'S LEGENDARY BRILL BUILDING famous for housing music industry offices and studios where some of the most popular American music tunes were written is a building described as "the most important generator of popular songs in the Western world," has been sold. Informed sources indicate that the new owners intend to return the 175,000-square-foot building to its roots, targeting budding music and entertainment companies as tenants.

Eric Hadar has signed a contract to buy the Brill Building at 1619 Broadway for $185 million. The sellers are Ofer Yardeni and Joel Seiden's Stonehenge Partners, along with Invesco of Texas.

By 1962 the Brill Building contained 165 music businesses. A musician could find a publisher and printer, cut a demo, promote the record and cut a deal with radio promoters, all within this one building.

Singer-songwriter Paul Simon still maintains his office there.

ONCE The Broadway cast recording was named Best Musical Theater Album in the 2013 Grammy Awards on February 10. The winner beat out nominees Newsies, Follies, The Gershwins' Porgy and Bess and Nice Work If You Can Get It.



OREGON SHAKESPEARE FESTIVAL'S 2013 season officially opens on February 22, following preview performances from February 15.

The season will open Friday night, February 22 with Shakespeare's The Taming of the Shrew, directed by David Ivers. On Saturday, August Wilson's Two Trains Running, directed by Lou Bellamy, takes the stage, as does Lerner and Loewe's classic American musical My Fair Lady, directed by Amanda Dehnert. Sunday afternoon in the Thomas Theatre, Shakespeare's King Lear opens, directed by OSF Artistic Director Bill Rauch.

The cast of The Taming of the Shrew features Nell Geisslinger as Kate, Ted Deasy as Petruchio, Robert Vincent Frank as Baptista Minola, Royer Bockus as Bianca, David Kelly as Gremio, Tasso Feldman as Grumio, Christiana Clark as Biondello, Jeremy Peter Johnson as Hortensio, Wayne T. Carr as Lucentio, John Tufts as Tranio and Tyrone Wilson as Vincentio. Others in the cast include Catherine E. Coulson, Terri McMahon, Mark Murphey, Brent Hinkley and Andrew E. Yabroff. Musicians in the band are Evan Davidson, David Burns McClure, and Michael Caruso.

Scenic design is by Jo Winiarski; costumes by Meg Neville; lighting by Jaymi Lee Smith; music and sound by Paul James Prendergast. Lue Morgan Douthit is dramaturg; Scott Kaiser is voice & text director; U. Jonathan Toppo is fight director, and Amy Miranda Warner is stage manager.

Two Trains Running by August Wilson features Terry Bellamy as Memphis, Kevin Kenerly as Sterling, Josiah Phillips as Holloway, Kenajuan Bentley as Wolf, Tyrone Wilson as Hambone, and Jerome Preston Bates as West.

Scenic design is by Vicki Smith; costumes are by Mathew LeFebvre; lighting by Jaymi Lee Smith; music and sound by Martin Gwinup; dramaturg is Wind Woods; David Carey is voice & text director and D. Christian Bolender is stage manager.

My Fair Lady with book and lyrics by Alan Jay Lerner; Music by Frederick Loewe, based on George Bernard Shaw's Pygmalian, comes to the Angus Bowmer Theatre for the entire season. For this intimate production, two grand pianos will grace the stage and provide orchestration. Director Amanda Dehnert describes this two-piano version, written by Frederick Loewe, as "a beautiful way to hear the music again for the first time."

The cast features Rachael Warren as Eliza Doolittle, Jonathan Haugen as Henry Higgins, Anthony Heald as Alfred P. Doolittle, David Kelly as Colonel Pickering, Ken Robinson as Freddy Eynsford, Eduardo Placer as Zoltan Karpathy, Jeremy Peter Johnson as Harry, Chavez Ravine as Mrs. Higgins. Others in the cast are Kjerstine Rose Anderson, Mauro Hantman, Christina Acosta Robinson, Royer Bockus, Miriam A. Laube, Cecily Palzewicz, Leah Sanginiti, Justin Montalvo, Daniel T. Parker, Miles Fletcher, Rodney Gardiner and Chloe Brown. On the pianos are Matt Goodrich and Ron Ochs.

Scenic design is by David Jenkins, costume design by Devon Painter; lighting by Mary Louise Geiger; associate musical direction by Darcy Danielson; sound design by Kai Harada and Associates; and choreography by Jaclyn Miller. David Carey is voice & text director, and Jill Rendall is stage manager.

King Lear will feature Jack Willis and Michael Winters in alternating performances as King Lear, Armando Durán as Kent, Richard Elmore as Gloucester, Raffi Barsoumian as Edmund, Benjamin Pelteson as Edgar, Vilma Silva as Goneril, Robin Goodrin Nordli as Regan, Sofia Jean Gomez as Cordelia, Barzin Akhavan as Oswald, Daisuke Tsuji as Fool, Rex Young as Cornwall, Peter Frechette as Albany, Tony DeBruno as King of France and Ray Fisher as Burgundy.

Associate Artistic Director and scenic designer Christopher Acebo has created the set. Costumes are by Linda Roethke; lighting design by Christopher Akerlind, and music and sound by Andre J. Pluess. Barry Kraft is dramaturg; Rebecca Clark Carey is voice & text director, and Moira Gleason is stage manager.

The Tony Award winning OSF's 2013 season in Ashland, Oregon runs from February 15 through November 3, offering 791 performances of 11 productions.

NEW YORK THEATRE BALLET Legends & Visionaries Spring 2013 program includes Richard Alston's Light Flooding Into Darkened Rooms, is inspired by Vermeer's paintings. The ballet, a pas de deux, conveys a delicacy of feeling masking the formal facade of propriety and gracious behavior. Jo Kondo's Ars Breview, music inspired by Denis Gaultier's 17th century lute pieces, adds a more overt picture of the undercurrents swirling beneath a demeanor of dignity.

Jerome Robbins' Rondo, was choreographed in 1980 for New York City Ballet and is set to Rondo In A Minor by Wolfgang Amadeus Mozart. Original cast member, Kyra Nichols, is staging this production for NYTB. It has not been seen in New York City since 1982.

José Limón's The Moor's Pavane, with music by Henry Purcell and arranged by Simon Sadoff, is cited by critics the world over as Limón's masterpiece. The ballet captures the drama and passion of Shakespeare's Othello in a timeless portrayal of love and betrayal. Sarah Stackhouse staged the piece for NYTB.

Antony Tudor's pas de deux from Romeo and Juliet, was created in 1943 for Ballet Theatre. The one-act version is set to Frederick Delius's Walk to the Paradise Garden. This revival of the pas de deux was staged by Airi Hynninen for New York Theatre Ballet in 2008.

Pam Tanowitz's Short Memory. This ballet is set to a score by Henry Cowell and Lou Harrison, to be played live. Movement motifs are mined from classical ballet and filtered through a contemporary lens. .

February 22-23 at Florence Gould Hall, New York City.

THE AGONY AND THE ECSTASY OF STEVE JOBS adapted from the monologue by Mike Daisey, performed by Alex Lyras. Directed by Robert McCaskill with Multimedia by Tim Arnold.

Mike Daisey's highly controversial The Agony and the Ecstasy of Steve Jobs - in an "ethically made" version. The script, revised and updated by the author, now packs an even more powerful punch.

The Agony and the Ecstasy of Steve Jobs examines the controversy of globalization through the rise and fall and resurrection of Apple, illuminating how Apple's former CEO and his obsessions shape our lives. It follows the trail all the way to China to investigate the factories where millions toil to make iPhones and iPads, shining a light on the very human price we pay for our high-tech toys.

This compelling 2.0 edition, stages it's Los Angeles premiere, opening February 20 at Theatre Asylum in Hollywood, where it will continue every Wednesday through April 10.

A RIDE WITH BOB: THE BOB WILLS MUSICAL

Bob Wills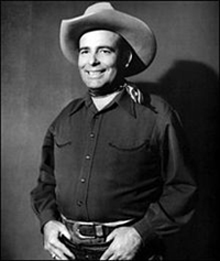 written by Ray Benson and Anne Rapp.

Directed by CK McFarland.

The play that started as a commemoration of Bob Will's 100th birthday in 2005 is returning to Austin, TX for one week of shows.

This first-ever musical drama about the legendary Bob Wills and his Texas Playboys debuted in Austin in 2005 and has since enjoyed success in 19 cities, most notably at the Kennedy Center in Washington DC where President and Mrs. Bush were in attendance.

In 1973 just after the release of Asleep at the Wheel's first album, young bandleader Ray Benson was invited to Dallas to meet the great Bob Wills. Upon his arrival, he learned Wills was not feeling well and the meeting was postponed for the next morning. But the conversation Benson was so eager to have with his idol never happened: that same night Wills had a stroke and went into a life-ending coma.

In A Ride with Bob, Benson finally gets to have his long-anticipated visit, albeit with the Spirit of Bob, who appears on the Asleep at the Wheel bus late one night. The fascinating and sometimes outrageous stories of Wills' career, his contribution to American music, and his raucous personal life unfold in theatrical detail, and through the process Benson rediscovers his own passion and commitment as a bandleader and standard-bearer for western swing music.

San Antonio Rose, Faded Love, Cherokee Maiden, Take Me Back to Tulsa, and many more.

This two-act play features Ray Benson (as himself), Asleep at the Wheel members including fiddler Jason Roberts (as Young Bob Wills), and an all-star cast of actors including Marco Perella (as Spirit of Bob Wills), Timothy Curry, Steve Uzzell, Walt Roberts, Taylor Maddux, rising star on the Austin music scene Ruby Jane Smith and 10-year old fiddling phenom Colby Sheppard.

Production credits also include: Robert Tolaro (Production Stage Manager), Christopher McCollum (Set Designer) and Bill Peeler (Lighting Designer).

February 20, 2013 - February 24, 2013 at the Topfer Theatre in Austin, TX.


WHO'S WHERE




JON BON JOVI appears Wednesday, February 20, at the Scotiabank Place in Ottawa, Canada. On Thursday the show is at the Consol Energy Center in Pittsburgh.

MAROON 5 are on stage Tuesday, February 19, at the Air Canada Centre in Toronto. On Wednesday their tour stops at the Bell Centre in Montreal. Friday's show finds them at the Mohegan Sun Arena in Uncasville, CT. On Saturday they'll be pleasing their fans at the IZOD Center in East Rutherford, NJ.

PINK in the spotlight Monday, February 18, at the HP Pavilion in San Jose, CA. On Thursday her tour stops at the Toyota Center in Houston, TX. Friday's show is at the American Airlines Center in Dallas.

NICOLAS KING who received the prestigious Julie Wilson Award from the Mabel Mercer Foundation at the 2010 Cabaret Convention, entertains February 19-23 at The Colony Hotel in Palm Springs, CA.

THE COLLEGIATE CHORALE will perform the New York Premieres of two works by major composers: Symphony No. 7 Toltec by Philip Glass and Oceana by Osvaldo Golijov, featuring international jazz vocalist Biella Da Costa and the American Symphony Orchestra conducted by The Collegiate Chorale's Music Director James Bagwell. Wednesday, February 27, 2013 at Carnegie Hall.

CHRIS BOTTI puckers up and kisses out the notes Thursday, February 21, at the Lied Center in Lincoln, NE. Friday's show is at the Paramount Theatre in Cedar Rapids, IA. On Saturday he can be enjoyed at Powell Symphony Hall in St. Louis, MO. Next Sunday, he'll be making sweet music at the W. L. Lyons Brown Theatre in Louisville, KY.

JUSTIN BIEBER is across the pond opening a two night gig Sunday, February 17, at the 02 in Dublin, Ireland. On Tuesday he begins a split three nighter with performances. Tuesday, Thursday and Friday at the Arena in Manchester, UK. Next Sunday, February 24, the show is at the Echo Arena in Liverpool, UK.

BOYZ TO MEN on stage Tuesday, February 19, at the Jesse Auditorium in Columbia, MO. On Friday they open at the Terry Factor Theatre in Las Vegas for a gig which runs through March 20, 2013.

MICHAEL BOLTON the Grammy Award-winner and multi-platinum selling music artist, performs Wednesday, February 20, at the State Theatre in New Brunswick, NJ.


FINAL OVATION


KEVIN GRAY Broadway actor most recently seen in the 25th Anniversary production of Phantom of the Opera died February 11, 2013 of an apparent heart attack. He would have celebrated his 55th birthday on February 25.

He appeared in more than 1,500 performances of Phantom as both Raoul and the title character. He was the youngest actor to play the title role in The Phantom of the Opera on Broadway and on the U.S. National Tour.

In addition to Phantom, Gray starred as Scar in the National Tour of Disney's The Lion King, directed by Julie Taymor. He toured the United Kingdom as The King in The King and I, reprising his role from the Broadway revival of Rogers and Hammerstein's classic, in which he became only the third actor in history to play the role on Broadway.

Gray starred as Pontius Pilate in the Broadway revival of Jesus Christ Superstar and starred in Harold Prince's production of Showboat, as Gaylord Ravenal. He toured as the star of Andrew Lloyd Webber's Music of the Night, and appeared as The Engineer in the Los Angeles and Toronto productions of Miss Saigon,

He also created the role of Valentin opposite John Rubinstein in the world premiere of the musical Kiss of the Spider Woman.

Additionally, he had numerous Off-Broadway and regional credits.

In 1987, he sang the lead in Heitor Villa-Lobos' Magdalena in New York, with George Rose, Judy Kaye, Faith Esham, and Jerry Hadley, a production recorded for CBS Masterworks. His musical credits include Che in Evita, the dual leads in Jekyll and Hyde, Zach in A Chorus Line, Henrik in A Little Night Music, Nick Arnstein in Funny Girl, Sky Masterson in Guys and Dolls, Macheath in The Three Penny Opera, the Caliph in Kismet, Billy Bigelow in Carousel, Lamar in Godspell, Lancelot in Camelot, Hero in A Funny Thing Happened on the Way to the Forum, The Minstrel in Once Upon a Mattress, Matt in The Fantasticks, and Perchik in Fiddler on the Roof.

In addition to Magdalena and The Complete Miss Saigon, he also can be heard on his solo album It's My Time to Shine, Broadway's Fabulous Phantoms, and two recordings by Dodie Pettit: Voices of Broadway, a joint venture with Broadway Cares/Equity Fights AIDS, and Songs from the Journey.

A graduate of Duke University, Gray has studied with William Alderson of The Neighborhood Playhouse School, Julia Wilson Dickson of The Central School of Speech and Drama, Michael MacGowan of the Royal Academy Of Speech and Drama, and at LAMDA. For the past two years, he served on the faculty at Rollins College in Winter Park, Florida, where he taught Meisner Technique, Acting For Musical Theatre, Acting for Opera, and Comparative Literature, and where he has directed Cabaret, Grease, and the Humperdinck opera Hansel and Gretel.

He left that position in 2011 to accept an associate professor position in theater at the Hartt School at the University of Hartford. He taught scene-to-song and career preparation courses at Hartt.

Gray is survived by his wife, Dodie Pottit, whom he met while starring in Broadway's Phantom. She was an original Broadway cast member Ballerina.

JOHN KERR a Tony Award winning stage and screen actor and attorney died February 2, 2013 from sudden heart failure in Pasadena, CA. He was 81.

Born into a theatrical family his parents, Geoffrey Kerr and June Walker, were both stage and film actors, and his grandfather was Frederick Kerr, a famed British trans-Atlantic character actor in the period 1880–1930.

A Harvard graduate, John Kerr worked at the nearby Brattle Theatre in Cambridge, Massachusetts and in summer stock.

He made his Broadway debut in 1953 in Mary Colyle Chase's Bernardine, a high-school comedy for which he won the Daniel Blum Award as the Most Promising Stage Actor of the Year. In 1953-54, he received rave reviews for his portrayal of a troubled prep school student in Robert Anderson's Tea and Sympathy. In 1954, he won a Tony Award for his performance. The production had a record run of almost two years(91 weeks, 720 performances). On the last day of his engagement in Tea and Sympathy, Kerr became a father of twin girls on May 29 1954. Kerr also reprised the role opposite Deborah Kerr (no relation) in the film version in 1956.

On September 1954, John Kerr appeared with his mother, June Walker for the first time on stage. They played mother and son in Robert Anderson's new play All Summer Long.

His numerous film credits include a major role in the film version of Rodgers and Hammerstein's South Pacific (1958), playing Marine Lt. Joe Cable.

Kerr served as a stage director for the La Jolla Playhouse, the Fred Miller Theatre, the Horseshoe Stage, the Theatre Group of U.C.L.A. and produced six plays in Beverly Hills for ANTA. He also organized a series of staged readings of original plays for the U.C.L.A.Theatre Group (now the Center Theatre Group of Los Angeles), for which Kerr also directed Love and Like, by Harbert Gold.

In 1966 John Grinham Kerr applied to and was accepted at UCLA Law School. He graduated law school, and passed the California bar in 1970. He later pursued a full-time career as a Beverly Hills personal injury and medical malpractice attorney, although he occasionally accepted small roles in a variety of television productions over the years. He retired from legal practice in 2000.

His first marriage to Priscilla Smith, whom he met while taking a class in Serbo-Croatian language and literature at Harvard, lasted 20 years ending in divorce. He married his second wife Barbara Chu in 1979. He is survived by his wife Barbara, three children from his first marriage Michael, Rebecca, and Jocelyn; step children Sharon and Chris; and seven grandchildren.







Next Column: February 24, 2013
Copyright: February 17, 2013. All Rights Reserved. Reviews, Interviews, Commentary, Photographs or Graphics from any Broadway To Vegas (TM) columns may not be published, broadcast, rewritten, utilized as leads, or used in any manner without permission, compensation and/or credit.
Link to Main Page
---
Laura Deni



For the snail mail address, please E-mail your request.
CLICK HERE FOR COMMENT SECTION